Qui a dit que la magie des parcs Disney devait s'arrêter à la sortie du Disney Village ? Vous pouvez la prolonger en plongeant dans les nombreux livres dédiés disponibles ! Mais que choisir ? Laissez-nous vous présenter une petite sélection des meilleurs titres autour des parcs et de leurs attractions les plus populaires !
Aujourd'hui, nous vous présentons un ouvrage pour les fans de cartes : Maps of the Disney Parks !
C'est la tradition pour chaque visiteur arrivant sur le parc que de consulter la carte détaillant les lands et les attractions. Un objet culte, un souvenir mémorable que l'on range dans sa boite à souvenir ou que l'on accroche fièrement chez soi.
Kevin et Susan Neary et Vanessa Hunt ont décidé de reprendre et de raconter l'histoire des parcs Disney via les nombreuses cartes qui ont vues le jour au fur et à mesure des années. Concept art, objets promotionnels pour les nouvelles attractions, la Carte chez Disney, c'est sacré. Et Maps l'a bien compris !
Evolution des Fun Map de Disneyland (1958 – 1962 – 1979) que l'on retrouve dans le livre. On peut y voir les changements des différents lands au fur et à mesure des années, notamment Frontierland et Tomorrowland qui ont accueillis de nombreuses nouveautés en 20 ans.
Classé par décennies, on suit ainsi l'évolution des idées des Imaginieurs, que ce soit sur le parc principal ou sur ses nombreux petits frères. Peu de texte pour bien mettre en valeur chaque modèle présenté, de quoi permettre au lecteur de savourer chaque page comme il l'entend.
Car il n'y a pas qu'une seule lecture de Maps, mais une infinité ! On peut le feuilleter, comparer les cartes d'un même parc, ou de plusieurs. Comparer les attractions et les concepts développés et amenés d'un parc à l'autre. Ceux qui ont disparus. Ceux qui ont été modifiés ou dont les espoirs ont été réduits. Bref, de quoi passer des heures et des heures sur cette bible indispensable pour les amoureux des parcs, que l'on soit un passionné hardcore aimant décortiquer chaque détail ou un visiteur occasionnel qui aimera plutôt découvrir les différents styles de design des cartes et de concept art comme c'est mon cas.
Evolution des cartes de Disneyland Paris. A gauche, la Fun map d'Euro Disneyland, A droite, une carte récente du parc Disneyland Paris. Le style a changé. Le parc, pas tellement. On s'amusera à retrouver les attractions disparues ou modifiées de Frontierland.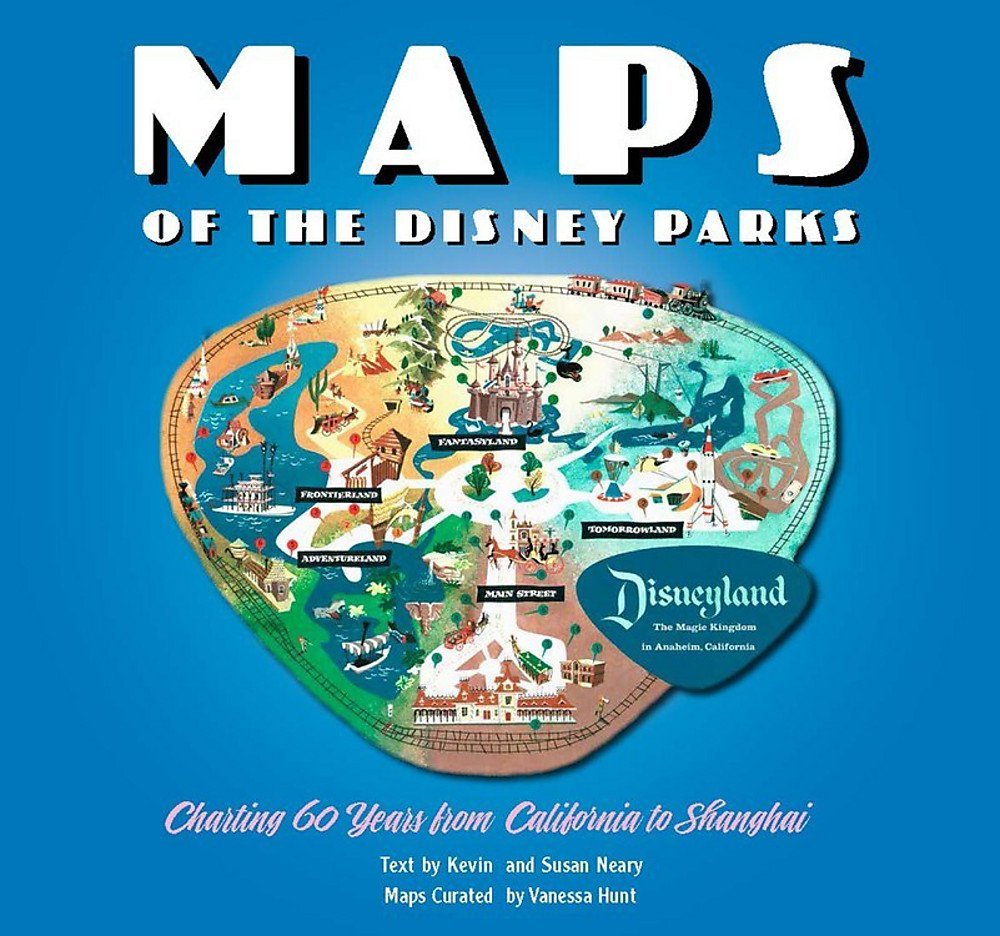 Disponible sur Amazon à ~40€
Relié : 144 pages
Editeur : Disney Editions (18 octobre 2016)
Collection : Disney Editions Deluxe