The Insidears team recently met up with Julien Baptist, who is the show director for the New Years Eve Party hard ticket event, to learn more about what's in store this year:
Hello Julien Baptist, can you introduce yourself to our readers?
Good morning, everyone! I am Julien Baptist, Event Designer and Show Director at DLPEG (Disneyland Paris Events Groups). I have been working at Disneyland Paris for 19 years, I have been a performer on parades, comedian… For three years now, I have been a director for DLPEG, with a rather varied background since I have also worked in the artistic field on television and musical entertainment.
What are the events you have been working on?
I work mainly on Disney Live Events. One of the most significant for me is Disneyland Paris Pride this year, which is very important for its socio-cultural dimension, and has a very strong emotional force for the teams and guests alike.
The Disneyland Paris Run Weekend races are another great highlight for me every year. The dedicated team is exceptional, and even if I am not a great sportsman at the base, I found the emotional dimension very strong on these events. I am therefore delighted to participate in the Disneyland Paris Princess Run, which will be held for the first time in May.
And for the past two years, I have been working on Halloween Parties and New Year's Eve Party, hand in hand with the Entertainment teams. Our studies show that there is clearly an expectation of themed evenings with exclusive content, so it is an opportunity to reinvent oneself even more to continue to surprise our visitors.
How is the design of an event like the New Year's Eve Party approached?
First, we look at what was done the previous year, and ask ourselves: what can we do as well, while at the same time innovating to offer a new experience to visitors?
Of course, we analyse satisfaction surveys, we read a lot of comments from our guests on the internet (including those of fans of course!) and we see how we can answer them, depending on what we are able to do of course.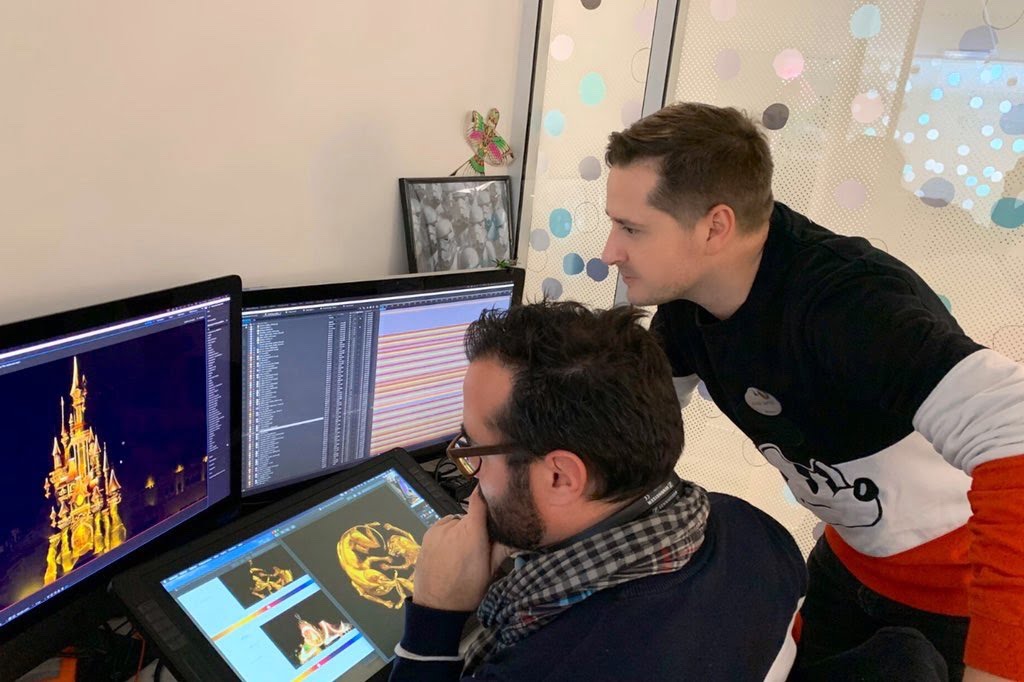 We have heard that the concept of the great parade has changed. Can you tell us more about it?
That's true. This year, we decided to break the rhythm of the evening. Rather than proposing a single huge parade that blocks some of the park's lanes and requires a lot of time for guests who want to see it, we will offer two different and complementary parades.
With Emanuel Lenormand (Show Director), we thought: What is a New Year's Eve party? It is a festive moment where we relive the past year milestones, while looking forward to the next year. These are two moments, two themes to materialize.
The first parade will therefore celebrate all the great moments of 2019 at Disneyland Paris, and the second will take us to 2020 by giving us a glimpse of what awaits us. The two formats will be different, so will the songs.
Can you tell us a little more about it?
Let's take the first parade then: we worked a lot on the strong "franchises" of 2019. Of course, you can't bring out entire shows like Rhythms of Pride Land, Pirates and Princesses for one night only, but the themes must be present. So, we thought a lot about how each story can be represented or told. For the song, we took a theme, that the fans know well, we play on nostalgia, with an air that symbolizes a Disney parade. Of course, we reinvented it, with the teams that composed the Electroland anthem.
For the rest, it will be a surprise! But I think guests and fans will be positively surprised.
I guess we'll meet a lot of Disney Characters….
Like our parades, we set off on the most emblematic Characters of 2019. It's a real Best of! Of course, Oogie Boogie had a huge success for Halloween, so he will naturally be back (with the Lineberty system).
But we also know that our guests prefer to see many Characters rather than visit each photolocations, which can be very popular. As a result, we will find a lot of Characters on our two parades, so that guests can see as many as possible.
This year we will dance to the rhythms of DJ Afrojack's beat!
Thanks to the events of recent years, we have good relationships with the big names in DJs. Many want to come and play at Disneyland Paris, it's fun, it's a different audience It brings an extra touch to our guests.
It also happens that DJ Afrojack is a big Disney fan. He regularly comes to Disneyland Paris even outside of events, so it was a pretty simple choice to offer him. For us it is an honor to have it at home on New Year's Eve, because it is a very popular date all over the world.
The idea is to be on a more adult, more electro DJ Party, which will be held in front of the Château de la Belle au Bois Dormant, after the fireworks. It will last until 2 am in the morning.
We also have a DJ Party with Stitch behind the turntables, which takes place all evening at Discoveryland. It's a more family atmosphere, with hits from yesterday and today.
How long have you been working on this event?
I started thinking about it last February, before talking with the Marketing and Entertainment teams to validate the concepts and move forward.
With almost a month to go before the event, what remains to be done?
A lot of things. There are many points to check and refine. We're currently working on the sound design, I'll be in the studio this afternoon for that. We want to have a precise identity for this evening, which differs from the day.
And of course, there is the programming of the fireworks.
We were going to get to that… this year the fireworks will change?
Yes, we're going to propose something exceptional. We wanted to go in a different direction, to propose something more than a simple firework.
At Disneyland Paris, we have expertise in light shows, projections and mapping. Look what has been done recently on Phantom Manor, Skull Rock… everything is made in house.
With Christophe Leclercq (Show Director), we have put all the expertise of the lighting technicians, special effects and mapping technicians on the Château de la Belle au Bois Dormant, to celebrate in the most beautiful way possible the great Disney stories and films of 2019, which is a very beautiful film year with many great successes.
It is also the first time in a Disney Park that the Château will display the Marvel stories!
The moment not to miss?
The fireworks display that will last nearly 15 minutes! You won't forget it any time soon.
Thank you again and good luck for this evening which promises to be great!
Tickets for the New Years Eve Party are on sale on the official website.