"Another One Bites the Dust" – John Deacon, Queen.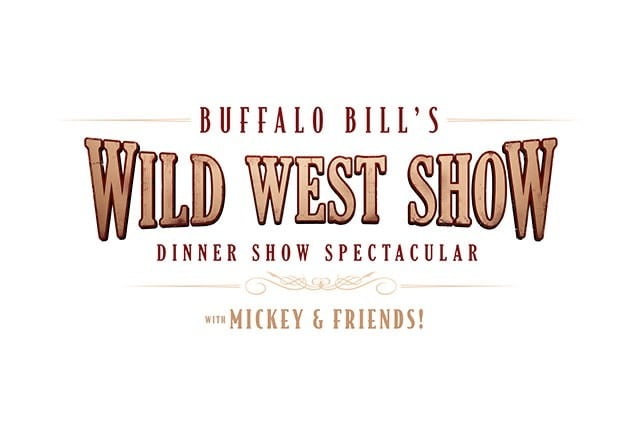 2020 has certainly been an eventful year. The coronavirus pandemic has changed the world, Disneyland Paris included. The French parks were closed for four months and even though they reopened in July, there is still a distinct lack of parades and performances, along with plenty of new safety measures. Now we're faced with another closure that could continue uninterrupted until February 2021.
Unfortunately, Disney Village has permanently lost one of its main attractions – Buffalo Bill's Wild West Show.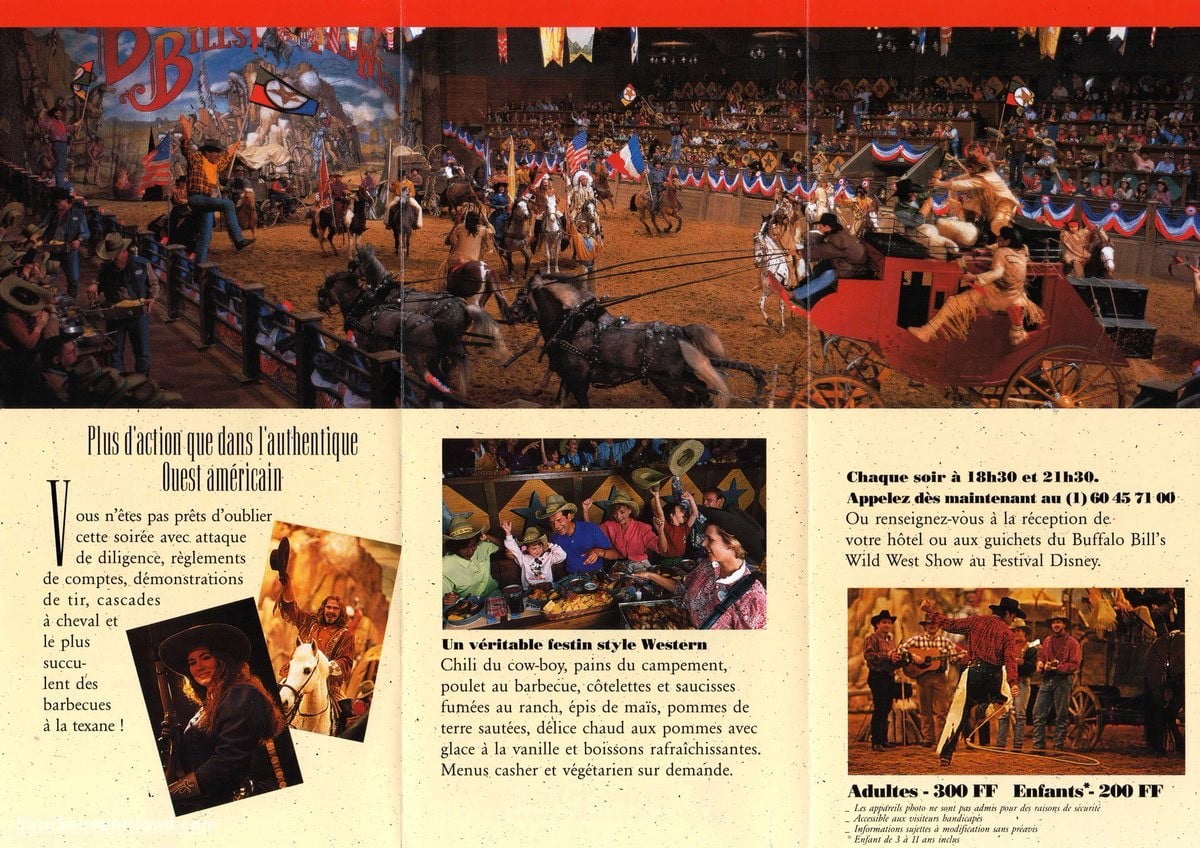 Photo credit: Euro Souvernirland
Buffalo Bill's Wild West Show . . . with Mickey and Friends, also known as La Légende de Buffalo Bill, has been a staple in "Festival Disney" since April 12th, 1992. As one of the main attractions in the district now called Disney Village, the show was a popular choice for guests to have dinner while enjoying a fun performance.
The show's entrance was remodeled when the Gaumont Cinema opened and used to be more decorated than it was before. There were two figures – A man, presumably Buffalo Bill himself, sitting on a white horse and a bust of a Native American chief. Once Disney characters were added into the show, Mickey Mouse in cowboy garb replaced the other statues, swinging down a rope and pointing at the entrance.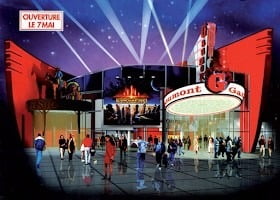 A western style shop in Disney Village also sold all sorts of toys and Far West memorabilia: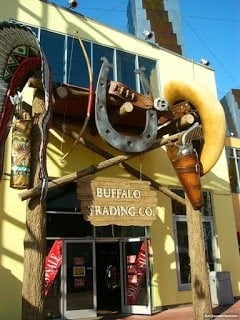 The show is based off of the original Buffalo Bill's Wild West spectacle presented by William Frederick Cody, "Buffalo Bill" himself. The original Buffalo Bill's Wild West show began in 1883 in Omaha, Nebraska and would continue to travel around the world for decades. Both Native Americans and women were included in the show, something that was progressive for the time, as both groups of people were discriminated against during the 19th-century (and still are). People of color were even a part of the show as cowboys for a while, but that changed as the "white cowboy" became the main image in the minds of Americans and others around the world. In total, Buffalo Bill's Wild West had around five hundred cast and crew members who traveled around the world with animals like draft horses and buffalo as well as tents for thousands of spectators. The original show ended in 1913 but is still remembered in pop culture.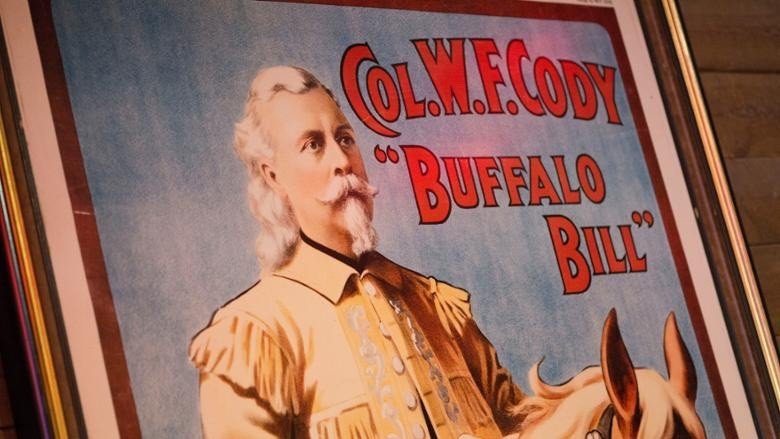 The Buffalo Bill's Wild West Show has never been an exact copy of the original, but it still tells an interesting story that allows audience members to interact with the cast. A man named Auguste Durand-Ruel introduces the characters, who tell the story of what life was like in the Wild West. Guests are encouraged to cheer and yell "Yeehaw" throughout the show and are even asked to participate in some segments. Annie Oakley shows off her sharpshooting by extinguishing candle flames with fun shots (an audience member even got to take a shot as well). The show takes on a darker turn when Chief Sitting Bull and other Native American warriors attack Buffalo Bill and his crew. In a quick break from the drama, the cowboys play some "rodeo games" and compete for each of the groups of audience members.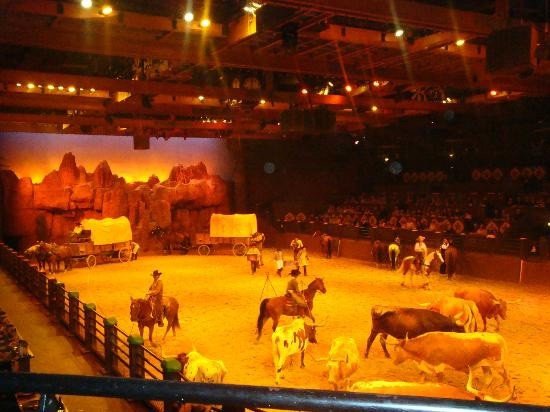 Longhorn cattle and bison would be brought into the arena at times and horses were used by many of the characters, both cowboys and Native Americans.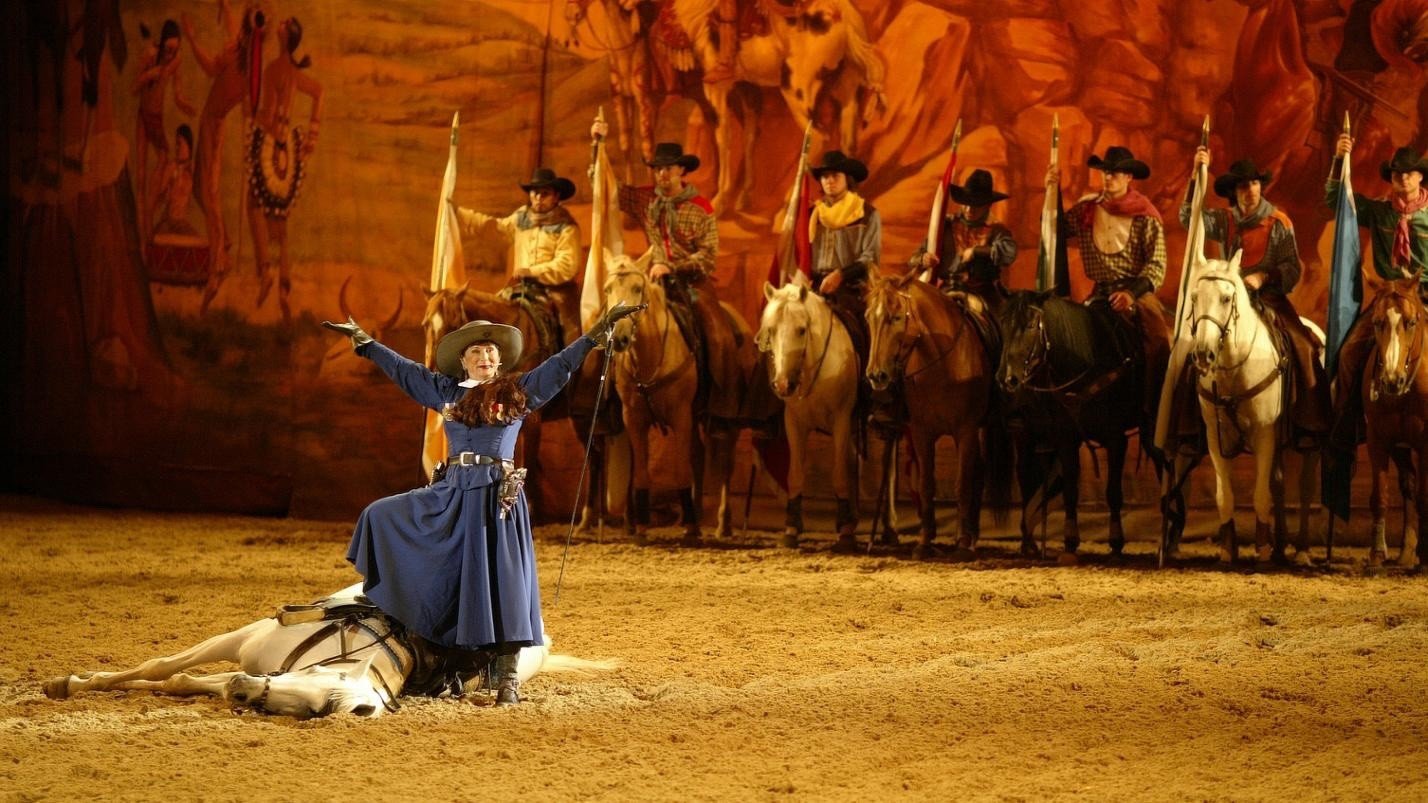 Ultimately, there is a stagecoach robbery where the Native Americans take cowboys hostage before they are defeated by the cowboy cavalry. The show ends with Auguste Durand-Ruel announcing the winner of the night and a curtain call for the cast.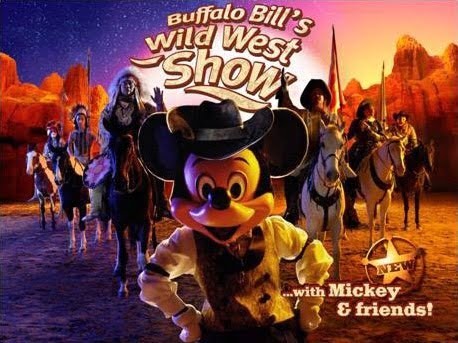 Throughout its nearly twenty-eight-year run, there were some changes made to the Buffalo Bill's. After March 17th, 2009, the show was changed as Mickey Mouse and his friends were added to the script. Mickey Mouse, Minnie Mouse, Goofy, Chip, and Dale were added into the fun, singing songs like "If You're Hungry and You Know It", "Back in the Saddle", "She'll Be Coming 'Round the Mountain", and "You Are My Sunshine".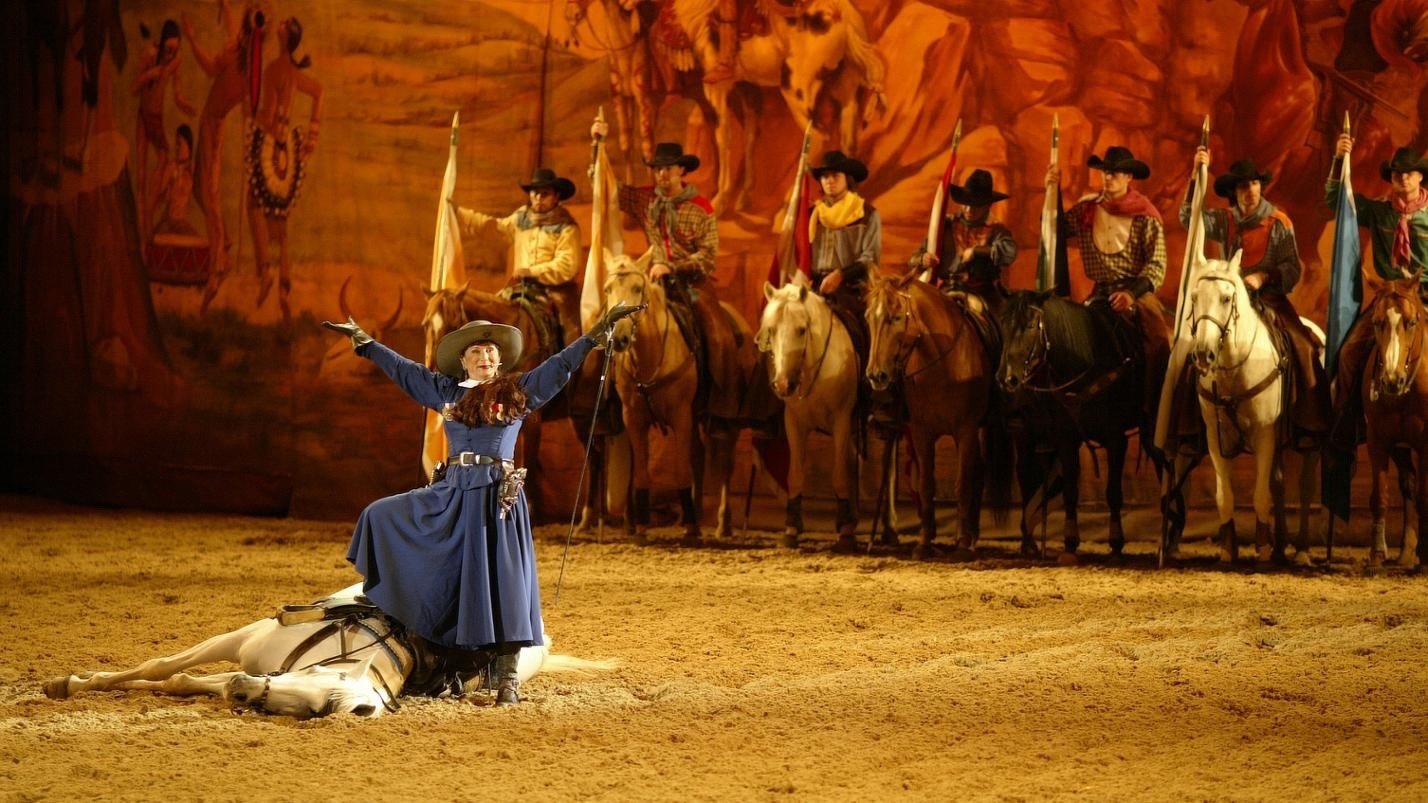 The characters were added as part of Mickey's Magical Party and stayed in the show until its closure. Animals like the bison and horses were brought over from North American to keep with the American West theme, but some of the animals were recently removed from the show and replaced with projections.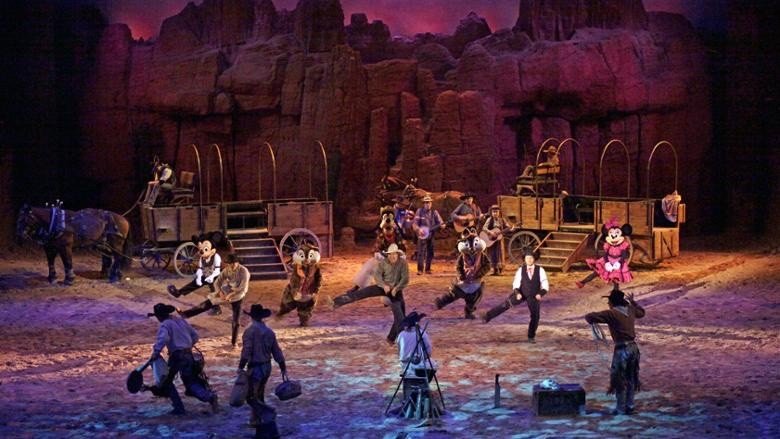 After talking about the history and storyline of Buffalo Bill's Wild West Show, I thought it would be fun for me to talk about the time I went to see a performance myself. For a time there was an opportunity for Annual Pass holders to receive a complimentary ticket to the show on their birthday. I was lucky enough to get a ticket for my birthday in February on my last visit to the parks before returning to the States.
After purchasing an overpriced but delicious Glowtini at the bar, I headed over to the small pre-show stage to enjoy some fun performances. There was a cowboy who spun guns, a rowdy band, and even a few appearances by Goofy in Western attire! At one point I mentioned that it was my birthday to some people next to me and they started singing "Happy Birthday" in perfect harmony. Turns out they were the Mainstreet Quartet from the opening of Disneyland Paris!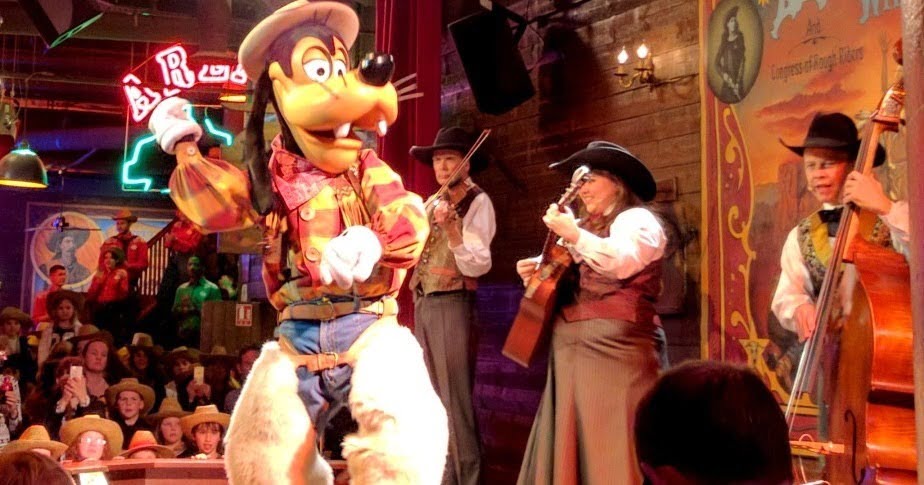 The arena itself is much larger than I expected it to be, with plenty of seating for the different groups that guests are sorted into before entering (I was in the blue group and still have my blue-ribbon cowboy hat).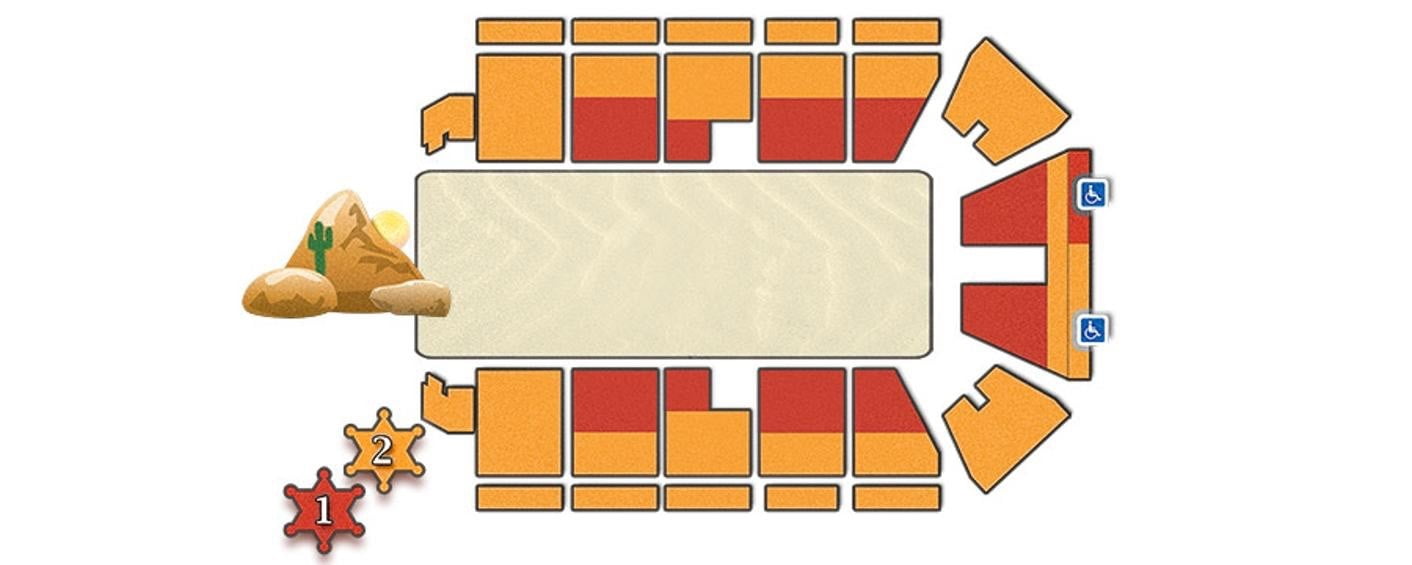 As an American who loves a good barbeque meal, I was pleasantly surprised by the food at Buffalo Bill's. The chili, cornbread, potatoes, chicken, and even the crumble all tasted like food that I would've gotten at a barbeque restaurant back home.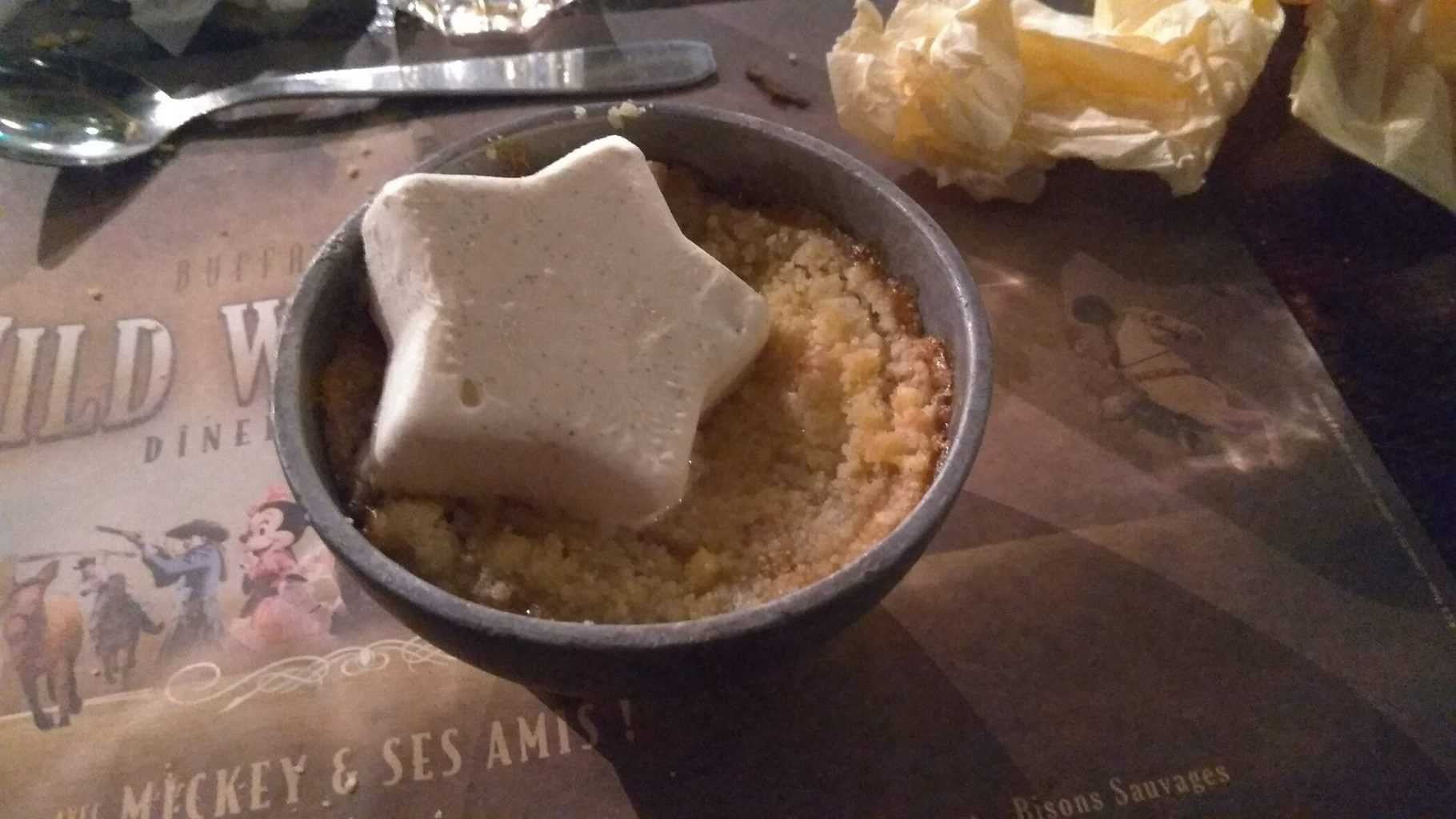 The show felt a little bit outdated as it has some racist moments with Native Americans and keeps family-friendly by failing to show how the cowboys massacred the Native Americans and stole their land, but in my slightly inebriated state I found myself enjoying the show a bit more than "Sober Political Science Major Kat" would have.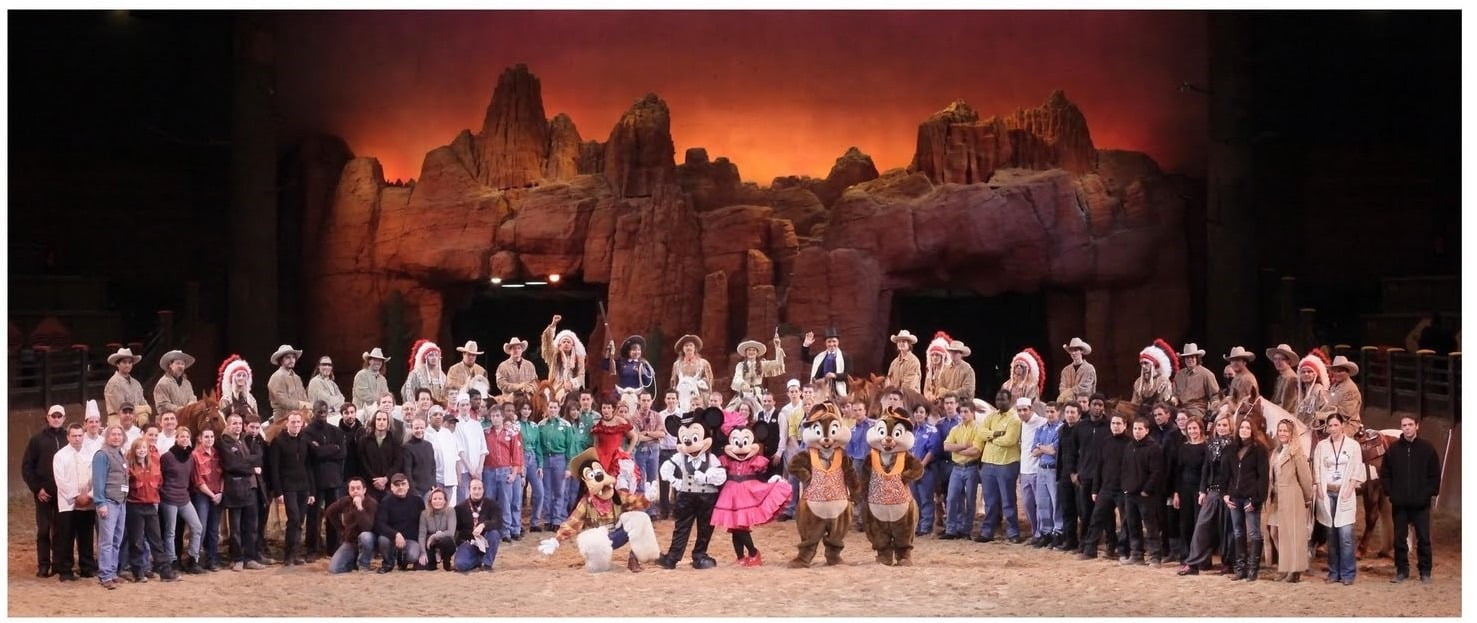 Buffalo Bill's Wild West Show closed along with the two theme parks due to the lockdown measures in France back in March of 2020.
Unfortunately, unlike the parks, the show will never be reopening, having been permanently closed. There are no official plans as to what will replace the show, but I hope that there will be a new type of dinner shows for guests to enjoy in Disney Village. Was the show outdated? Yes. Was it racist? Oh yeah. But did I have fun? Also yes. Buffalo Bill's Wild West Show had definitely reached the point where it was outdated and problematic, but it still brought joy to families from around the world for over twenty-five years.