Well kids, it's finally time to get spooky! Halloween at Disneyland Paris is officially launched into orbit and we've got your full roundup of all the fun: decorations, entertainment, selfie spots, food and more – let's dig in!
Decorations
Frontierland
Frontierland was as usual the first land to receive Halloween decorations well in advance of the season. We've got all the favorites returning this year and in particular the Coco / Dia De Los Muertes theming and colors so popular for the last few years.
The real magic happens at night with the wonderful lighting and colorful lights! So great to see this festive and spooky area come to life once again.
Fuente Del Oro is also seeing the return of the "Coco" theme and posters.
In the back of Frontierland things get a little darker with these scary scarecrow, also returning.
Closer to the entrance of Thunder Mesa, category is pumpkin realness with the pumpkin men and women!
Decorations extend all the way to The Lucky Nugget and Silver Spur Steakhouse, as well as Fort Comstock with its lovely Mickey Halloween wreath:
As usual, Frontierland is the place to be for that all over Halloween atmosphere!
Main Street and Central Plaza
The garlands are back of course! Introduced a few years ago they've been a hit.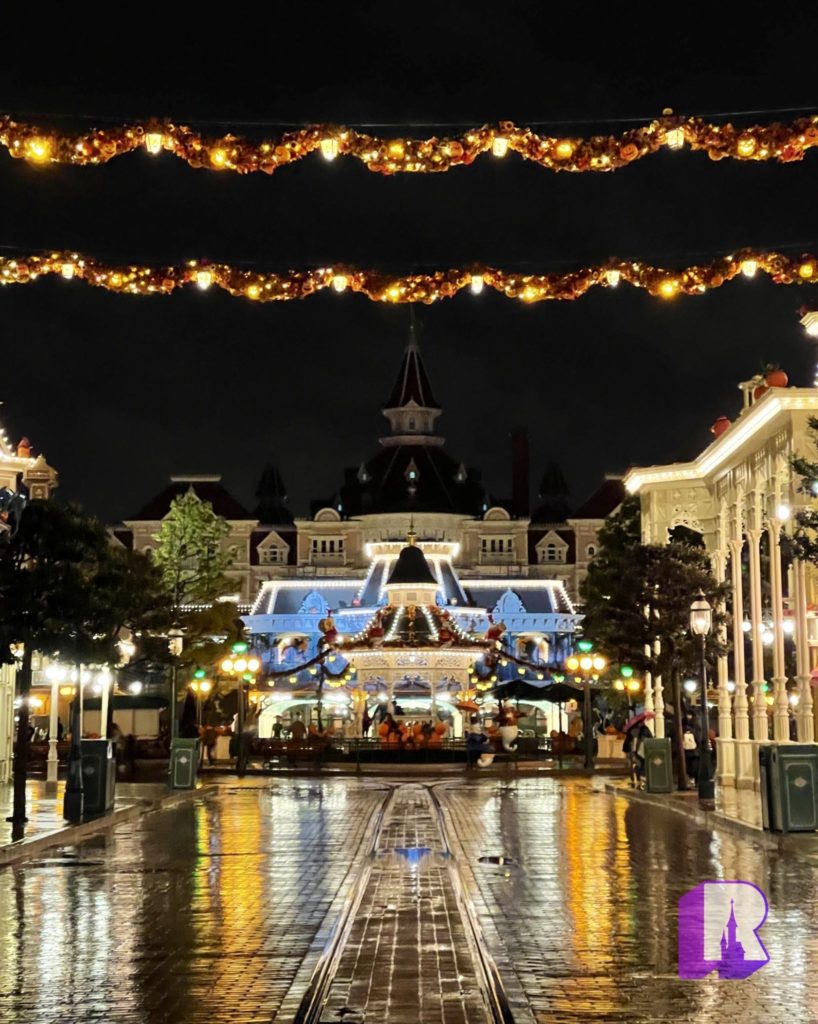 And even better at night!
It's also the return of the fun pumpkins on the buildings windows and roofs, and the ghost residents of Main Street throughout the land:
Down by Main Street Station the Happy Halloween and tacky window blockers are also back. It is what it is… can we have a new and better design next year ?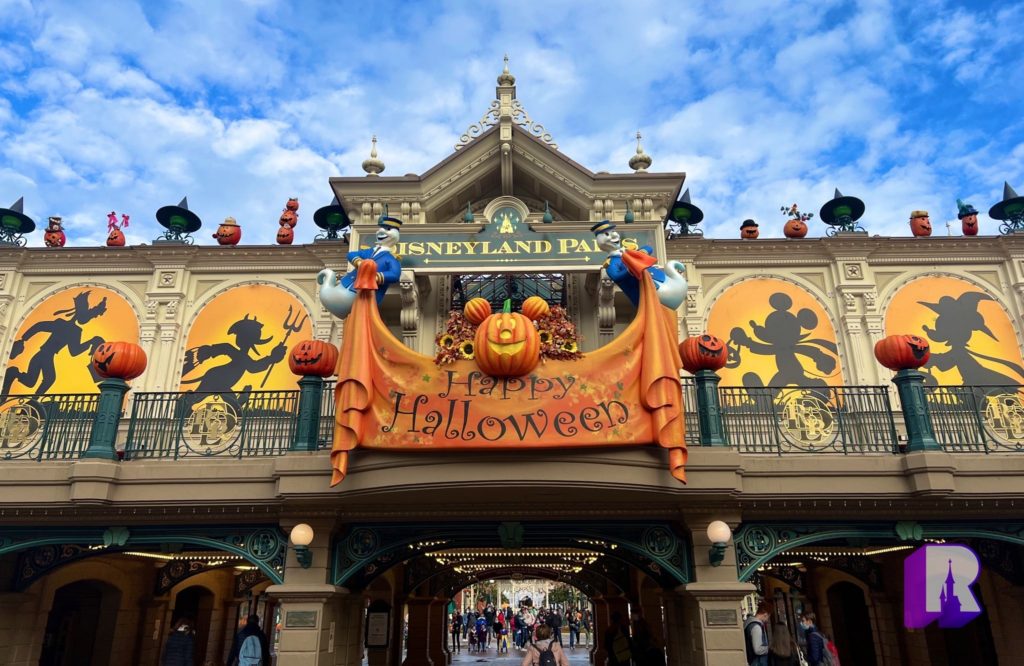 The Mickey entrance planter is also getting into the spirit of the season with an orange design: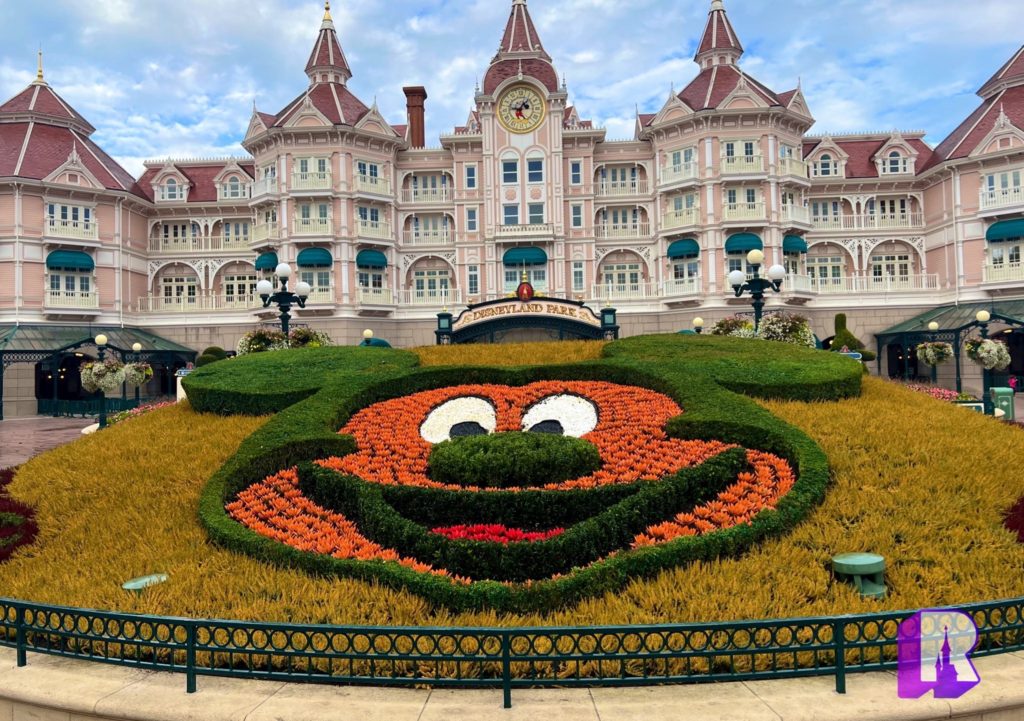 The orange design also extends to Central plaza with the center stage planters, random props thrown on Castle Hill and the fun Witch Hats and orange globes on the lampposts:
These lovely pumpkin planters have also returned – love them!
Halloween arrangements have been added to the planters stages stairs as they're not gonna be used this year:
Disney Village
Disney Village has a right balance of kinda basic and kinda fun as you'd expect from that place. It works!
Media Event
A week before the start of the season, we got the chance to experience a bit of pre-Halloween offering with a media event in Frontierland. The event featured Mickey in his Halloween costume for a selfie spot and surprise appearances by Mickey and Friends and Disney Villains including the rarely seen Yzma! We also got to meet the upcoming Disneyland Paris Ambassadors Carmen and Quentin:
🎃 Mickey and Friends are here to start the party to the tune of "It's Halloween – loween"! pic.twitter.com/I9rrYX8ePb

— DLP Report (@DLPReport) September 25, 2021
🎃 It's a Disney Villains invasion! pic.twitter.com/bpZnZ3Dii2

— DLP Report (@DLPReport) September 25, 2021
At the end of the night, Maleficent in dragon form was waiting for us on Main Street: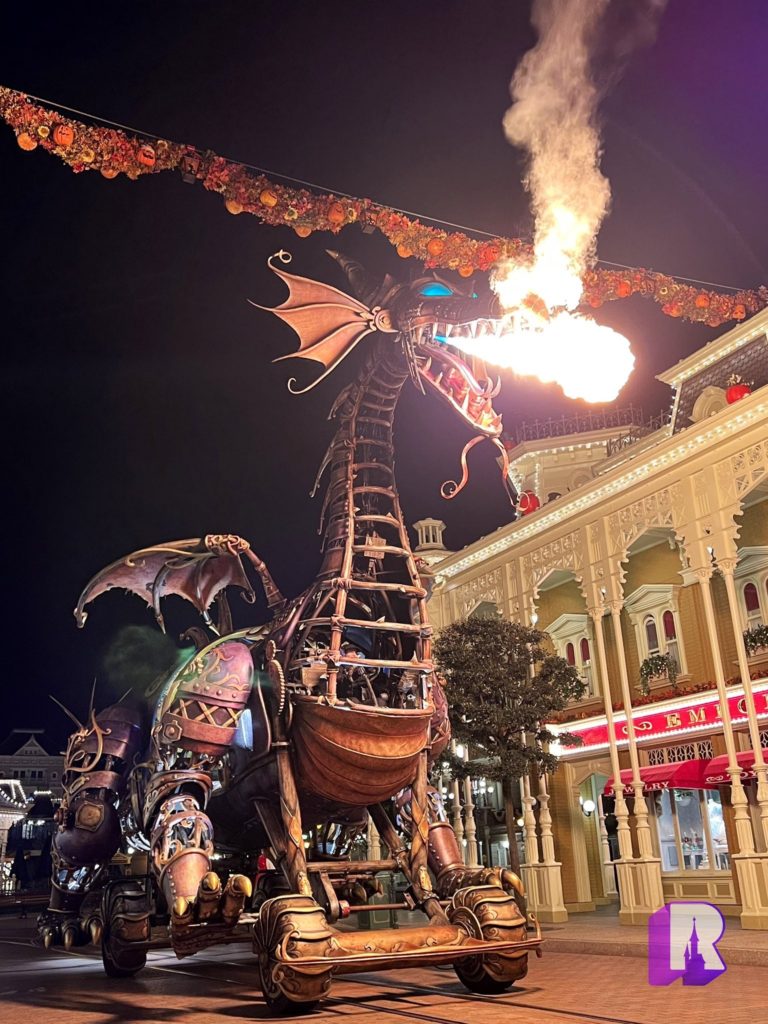 Our thanks to the InsidEARS team for this fun night!
Entertainment
It's no secret there was supposed to be a full Halloween Parade this year. Unfortunately the pandemic made this impossible (still..) but several individual floats have been gracing the parade route throughout the day nonetheless: the Maleficent dragon, Harvest float and Illusion Manor float:
🎃 Second surprise of the Halloween season: the Illusion Manor float on the Parade Route! 🦇 pic.twitter.com/rTewwrpxQ8

— DLP Report (@DLPReport) October 1, 2021
On Castle Stage, Disney Villains greet guests for a selfie spot:
Similarly Guests can meet Disney Villains at Studio Theater over at Walt Disney Studios:
You'll also find Max in his weird Halloween Costume, Goofy and his crazy bonbon machine and Stitch, all on Main Street the through the day:
Over at Meet Mickey, things get spooky with Mickey and Friends, also for a selfie spot with the special Halloween background:
In Frontierland it's the return of the cutest Mariachis: Mickey and Minnie!
And finally each morning and evening, Mickey and Minnie greet guests hello and goodbye in their Halloween costumes on Main Street Station (the other Disney Friends on these sets however don't have any costumes):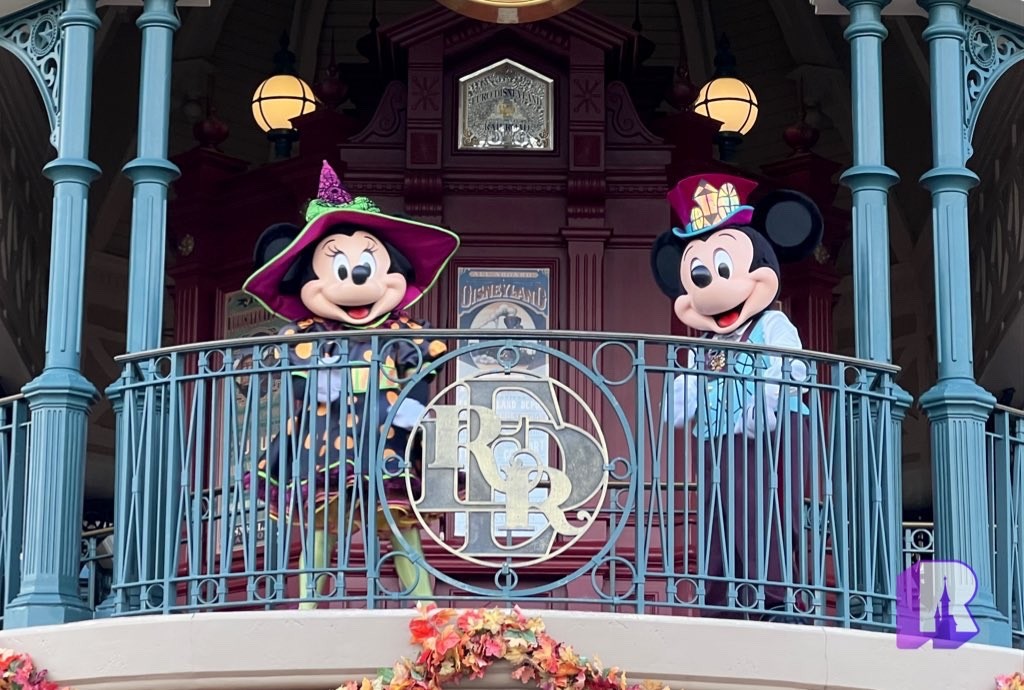 We also ran into David Duffy, the new entertainment VP who was here to check out the season: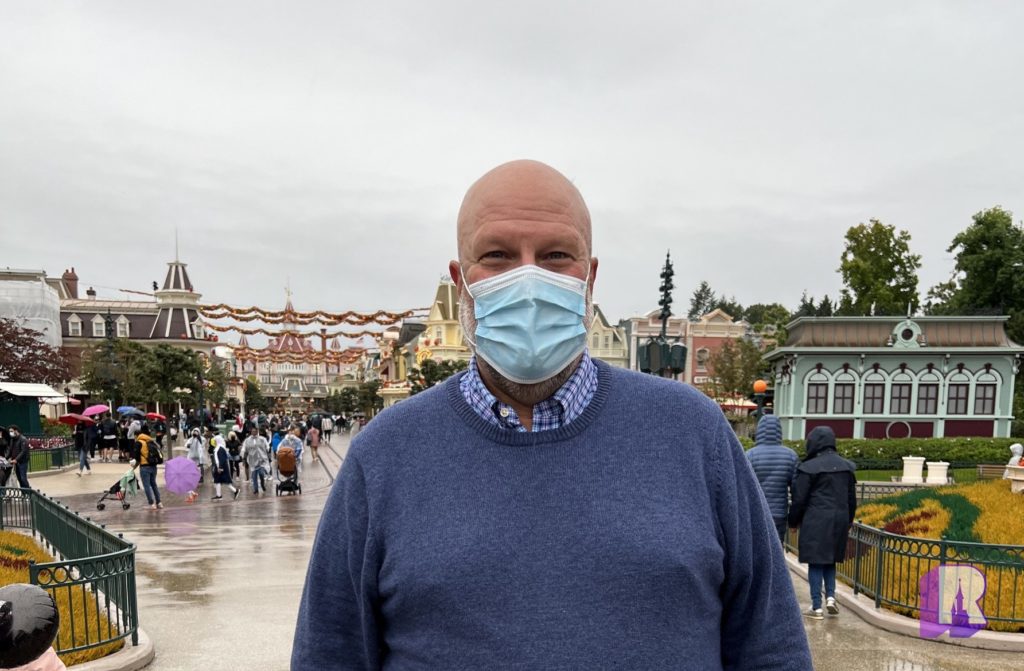 Food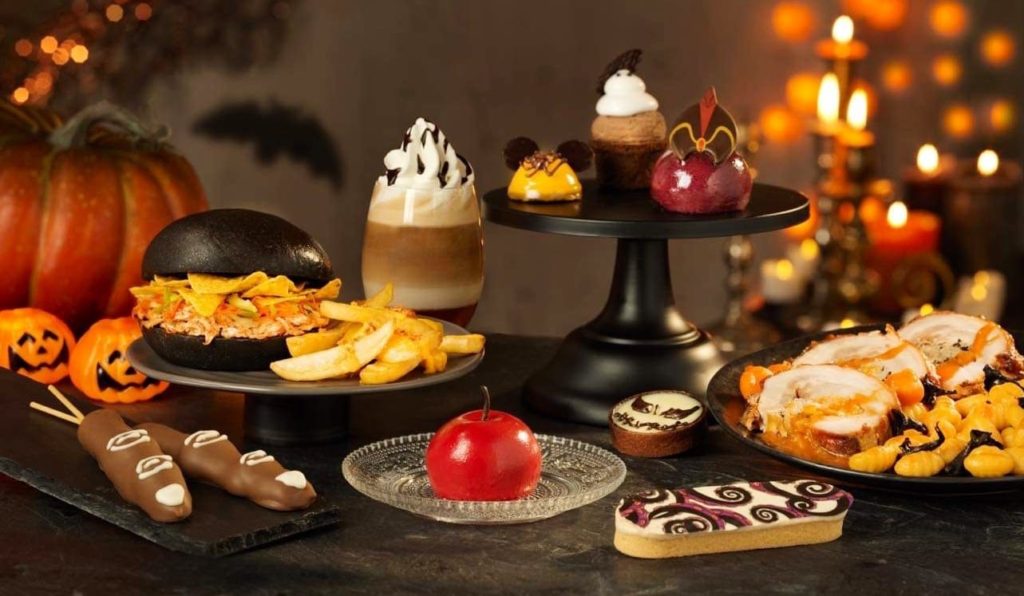 Plenty of seasonal offerings this Halloween! While it's definitely better than some years ago, the products are really hit and miss. Here are all the various snacks, drinks and dishes for this year (little bat means it's new for 2021):
We got to try some of these in the parks. The cookies are what you'd expect really but one dessert that stands out is the red apple mousse dessert. At the Lucky Nugget, the "Doritos burger" was a miss but the carrot cake sundae was a hit!
Sometimes you do really wonder who approves ideas like this: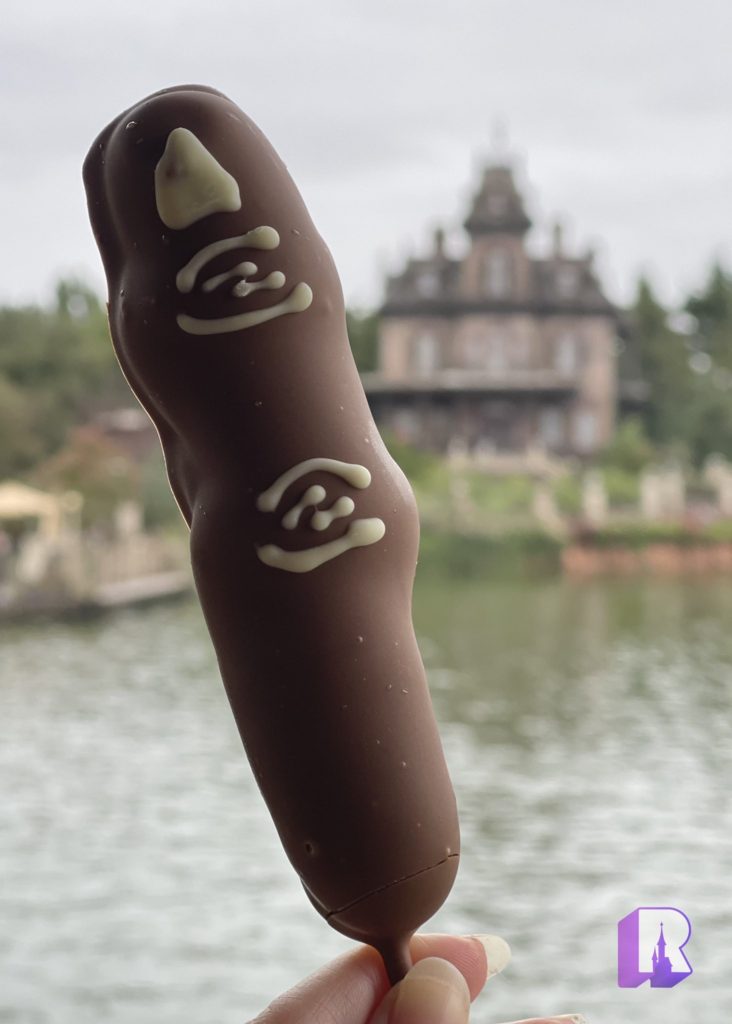 Merchandise
While Halloween merchandise is available at several locations from Thunder Mesa Mercantile to World of Disney, there's really not much new this year. A couple plush.. a dress.. a few T-shirt's. Really not much to write home about. Better luck next year!
And that's your roundup of everything Halloween this year! A bit of a bittersweet season, where the Disneyland Paris teams have made the best of what they were allowed to do for a second year in a row. We try to not think too much of what could have been. It's great to see single floats on the Parade Route, the decorations, atmosphere and all the characters – even if from afar. Disney's Halloween Festival runs until November 7 at Disneyland Paris.