Hello Recuits and welcome to our Avengers Campus Paris Special Report! On July 9, 2022 we got the chance to attend the Grand Opening media event and boy did it not disappoint. Attended by TWDC CEO Bob Chapek, Disneyland Paris President Natacha Rafalski, Brie Larson, plenty of celebrities and Imagineers, the night will remain in the Resort's history books for ever. It was of course also the occasion to unveil the land for the first time so let's take a look!
Curtain Drop and Dedication Ceremony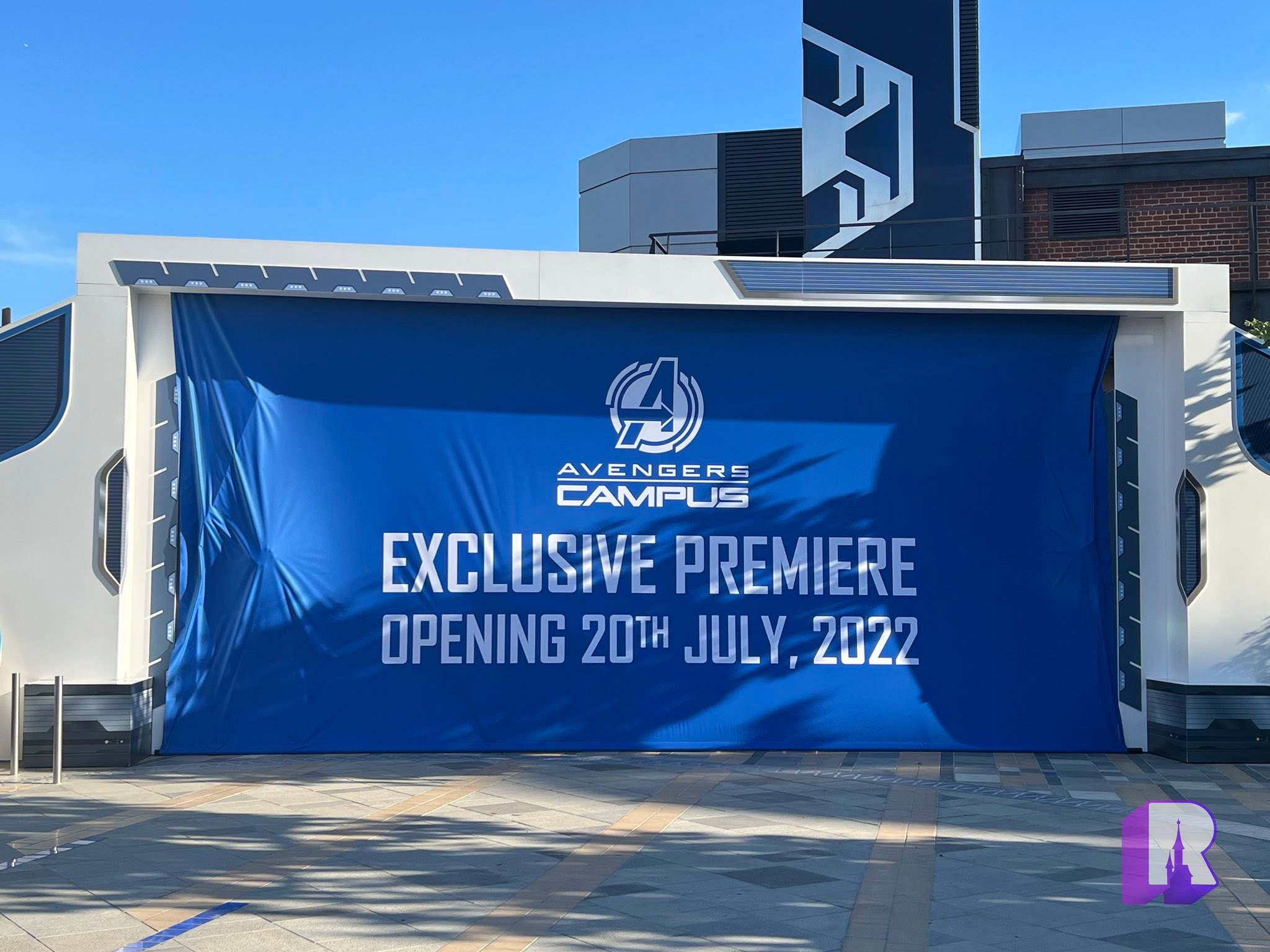 Guests were gathered in Production Courtyard for the "curtain drop", hosted by the Disneyland Paris Ambassadors with a surprise appearance by Spider-Man, Captain Marvel and Captain America. We also saw the famous ADV for the first time!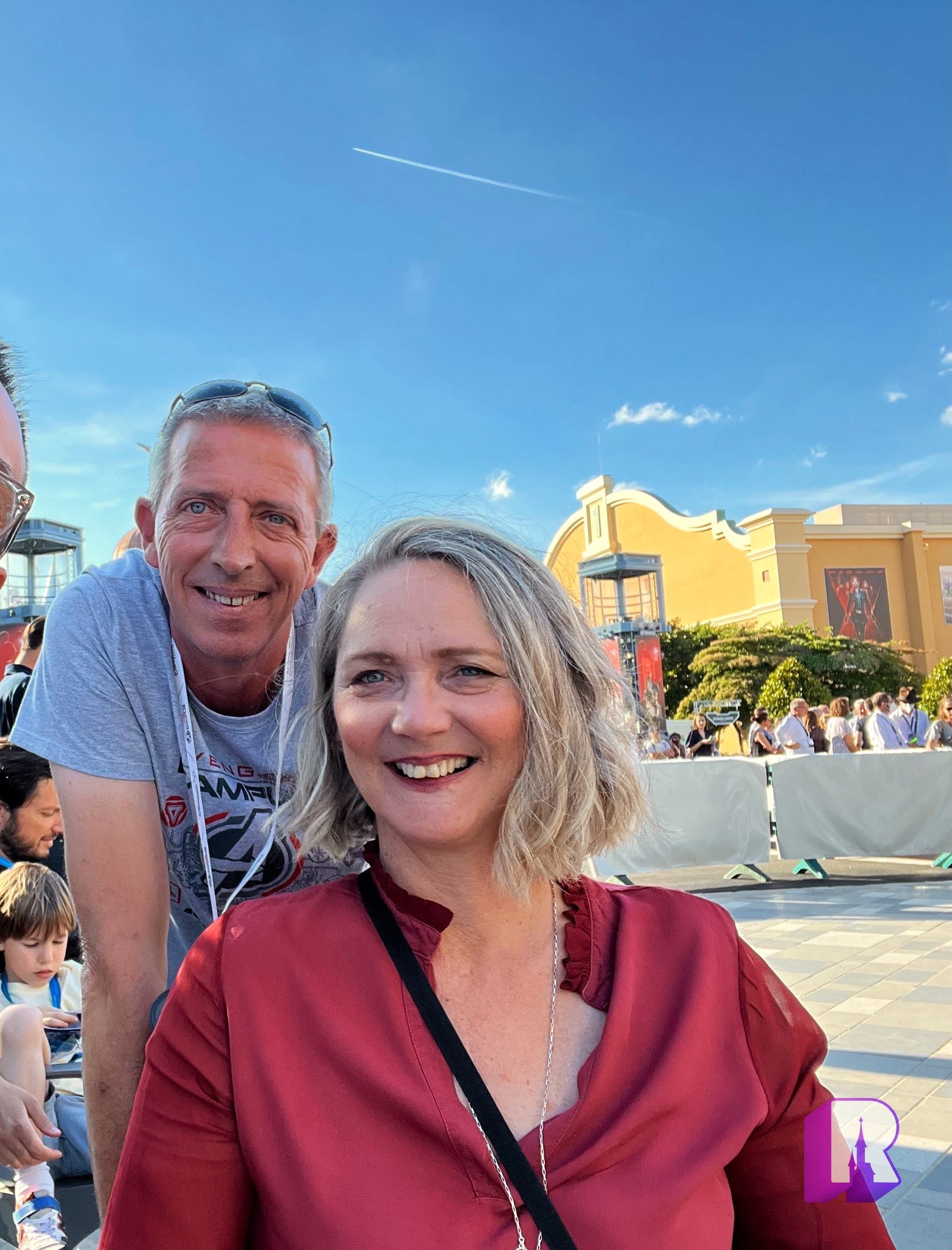 Part of the fun was that many of the Imagineers that worked on the land were right there with us including Beth Clapperton, Björn Heerwagen and Scot Drake!
Invitees were then allowed into the land, walking down to the Quinjet Platform for the very first time.
TWDC CEO Bob Chapek made a speech, and no matter what we all think of him, it was nice to have him here in Paris on an official visit as a CEO of the Company. The Resort doesn't get this opportunity very often so thank you for being here.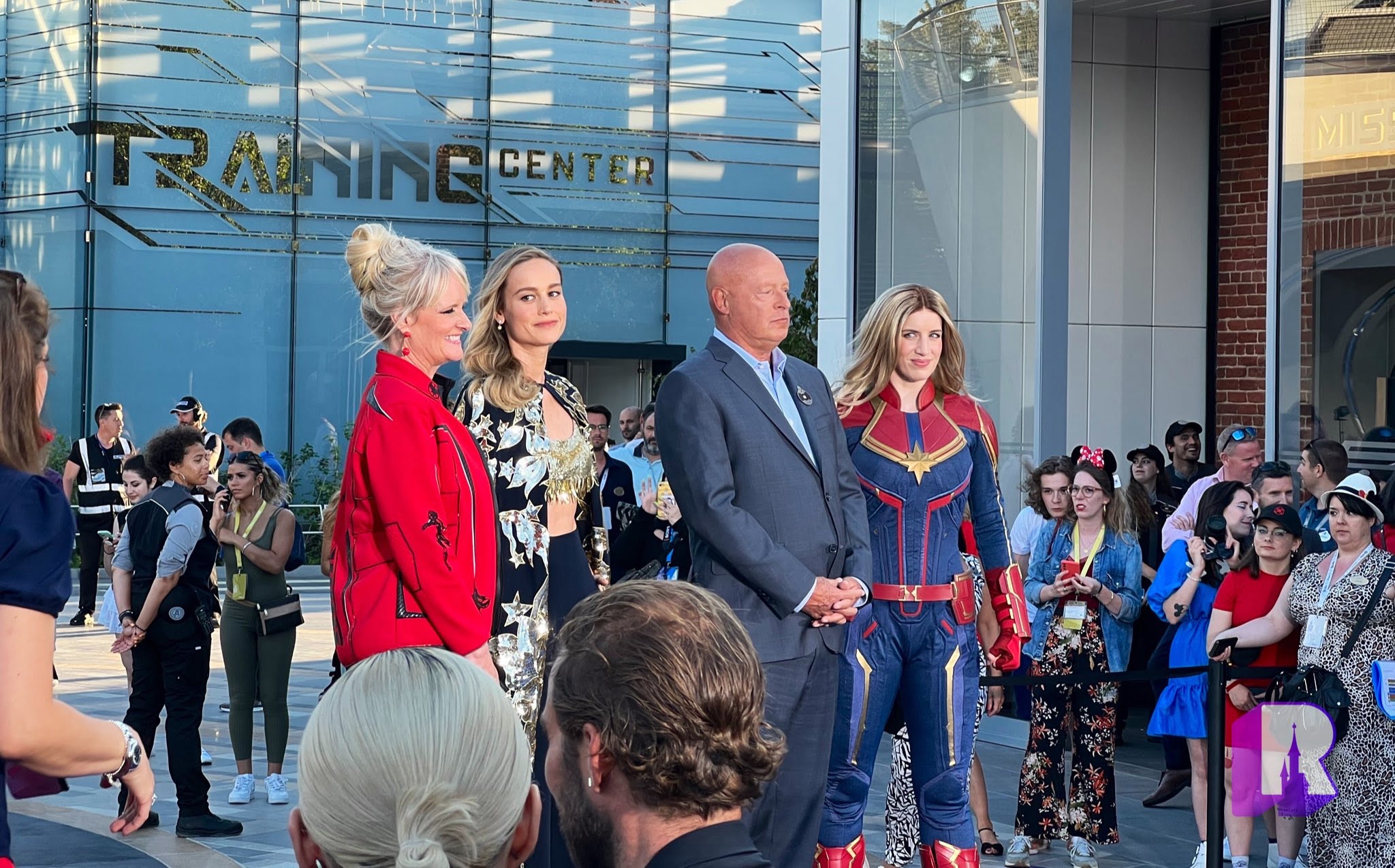 Bob Chapek was joined for a photo call by Natacha Rafalski, Captain Marvel and Brie Larson… aka Captain Marvel of course. It was a world class opening moment like we haven't seen for a very long time at Disneyland Paris.
Avengers Moment
The finale of the media event was the Avengers Assemble moment, a fireworks and drone show which highlighted each of the heroes. Absolutely incredible to see above the Quinjet and the entire Campus!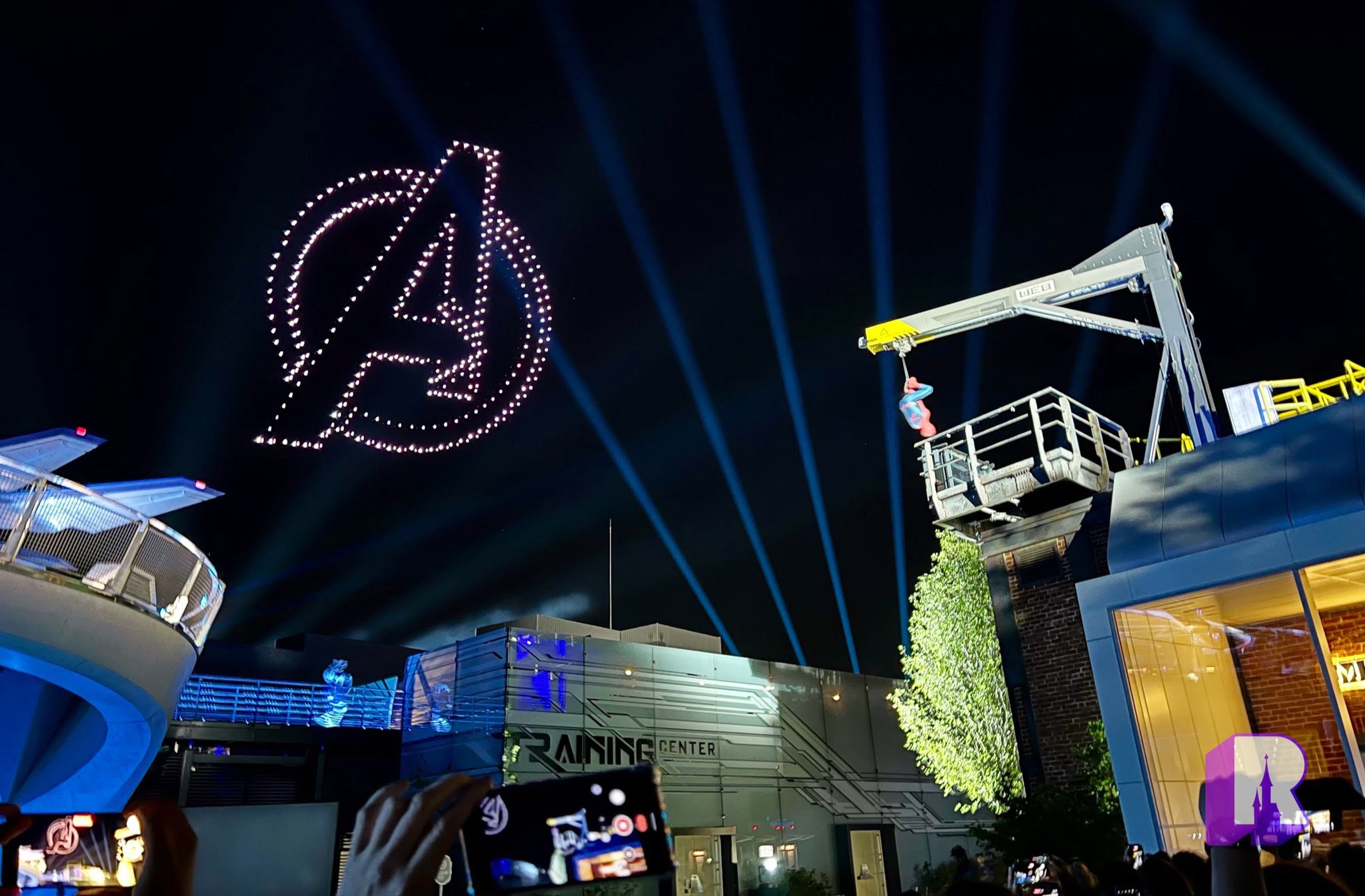 Attractions
Avengers Assemble: Flight Force
The queue and preshow is really the highlight of this Rock n' Roller retheme. It's so hard to even know where you are in the building compared to the old one because so much has changed. The quality of this entire section of the attraction is truly world class and it's so good to see in Paris!
The key element of the preshow is of course the brand new all electric Iron Man Audio Animatronic. It's fluid and impressive as he not only stands there but also execute subtle hip and posture movements.
The loading area is sleek as well. But then there's the on ride. The music is great and story holds up but it's hard to follow exactly what's going on. Why? Because not much is going on. A few screens flash up and you can guess Captain Marvel has flown by but even that depends on where you are in the train. Depending on where you sit you'll see some of the screens better than others as it all goes so fast but in any case it's not that much as most of the ride is fully dark. Don't get me wrong this is still a good coaster but I was under the impression that LED screen "tunnels" for example would be installed. Unfortunately it's more like Space Mountain style projections (albeit very HD). Overall the attraction is still an awesome time when you combine all the pieces of the puzzle, making it a great piece of the new land.
On the facade of the Attraction you'll notice "F.R.I.D.A.Y." the famous AI who has been uploaded from Iron Man's helmet to the facade display. Throughout the day F.R.I.D.A.Y. will announce hero arrivals, check on the "status of the campus" and other super important tasks of course. F.R.I.D.A.Y. is best viewed in the evening but the feature also works well during the day.
Spider-Man W.E.B. Adventure
Well Tom Holland has been dubbed in French. This has been a big debate on social media that I won't get into but maybe the solution could be to have the room randomly switch between French and English automatically ? That way part of the Guests would be a little happier and the ones that would prefer the other language can ride again and hope for the best?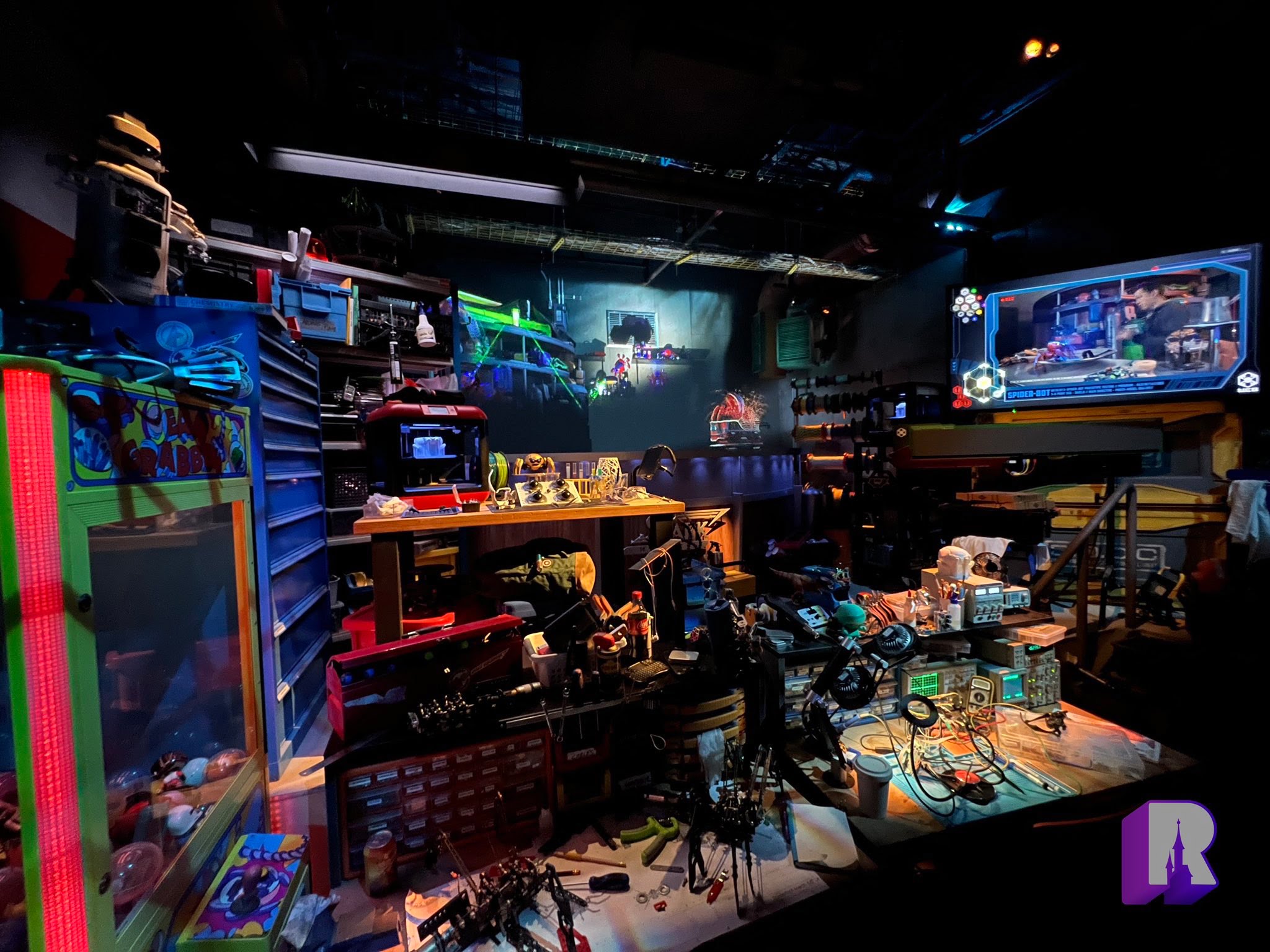 The queue again shines at Spider-Man W.E.B. Adventure for other reasons than Avengers Assemble: Flight Force. It's not sleek or high tech but it's just COOL with a million details that fans will enjoy. A beautiful work of art.
As for the on ride it's largely similar to the US and having ridden it for the first time in Paris I can say I personally LOVED it. I went with a few friends and we were all shouting, clapping, cheering … and working out our arms! A very entertaining Attraction and a brand new concept for Paris. It was much needed for the Park!
Entertainment
Entertainment at Avengers Campus is all over. On the roofs, on the streets, in every corner. As such it's still hard to review or showcase everything as there are so many different happenings. Avengers Campus doesn't have "a Marvel show" in the traditional way. Instead the whole land becomes a stage and super heroes pop up here and there. Still we could see previews of The Amazing Spiderman and Avengers Unite. I must say it's unusual to stare at rooftops to watch a show but it works in the context of what Avengers Campus is at its core. A real living recruiting center. Street level interactive happenings also pop up through the day with the Guardians of the Galaxy – for a dance off of course – and the fearless Dora Milaje warriors who are absolutely fantastic and will take Guests into the show on a training session.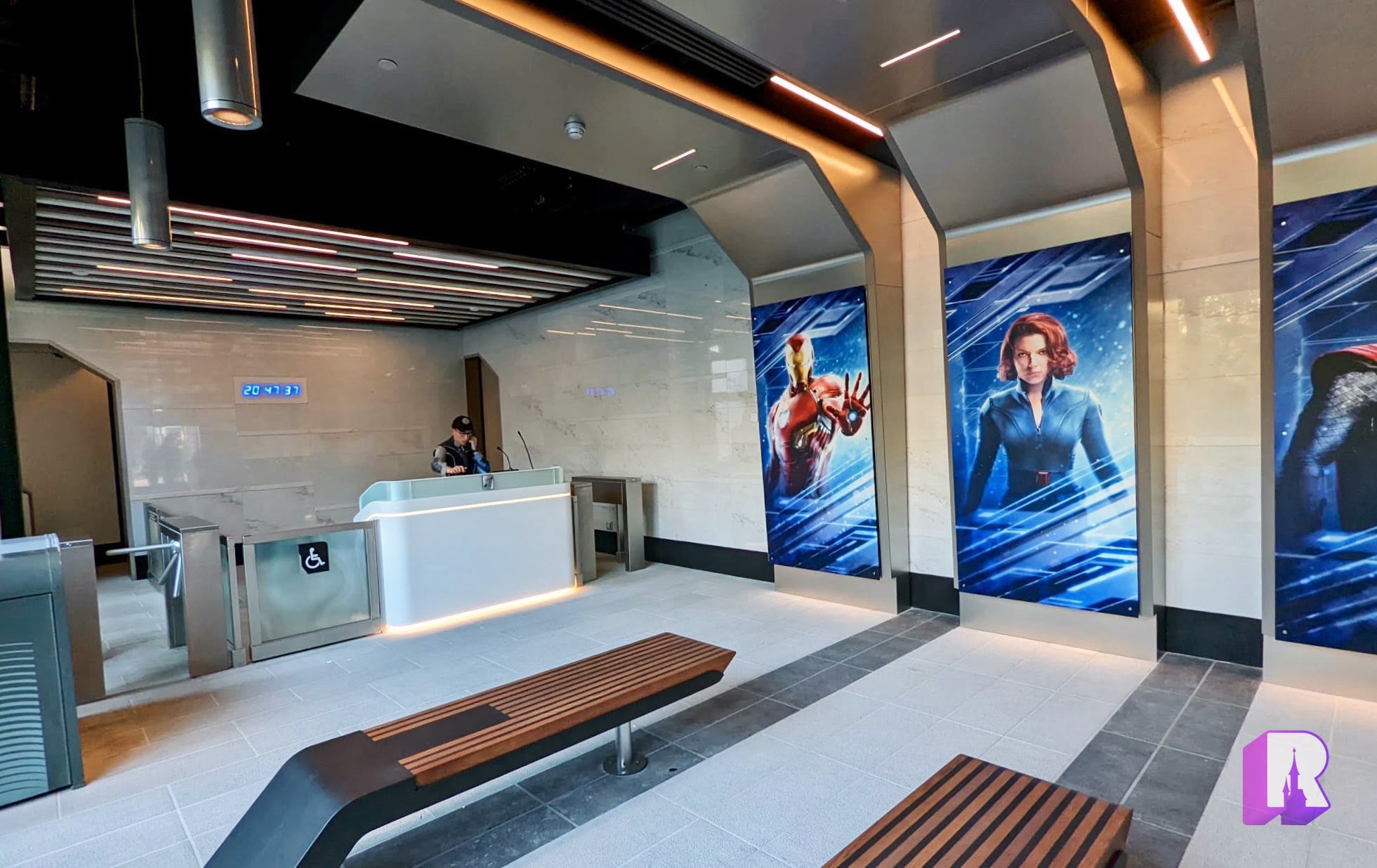 Entertainment also comes to life in the Training Center where Guests can meet the likes of Iron Man, Captain Marvel, Spider-Man and more. For starters, this venue is beautiful! Glass, marble, a private garden and even lockers for the super heroes to keep their things! The rooms are also stunning circular pods with lots of details and a brand new 360 photo option. Easily the best place to meet characters at the Resort, well done!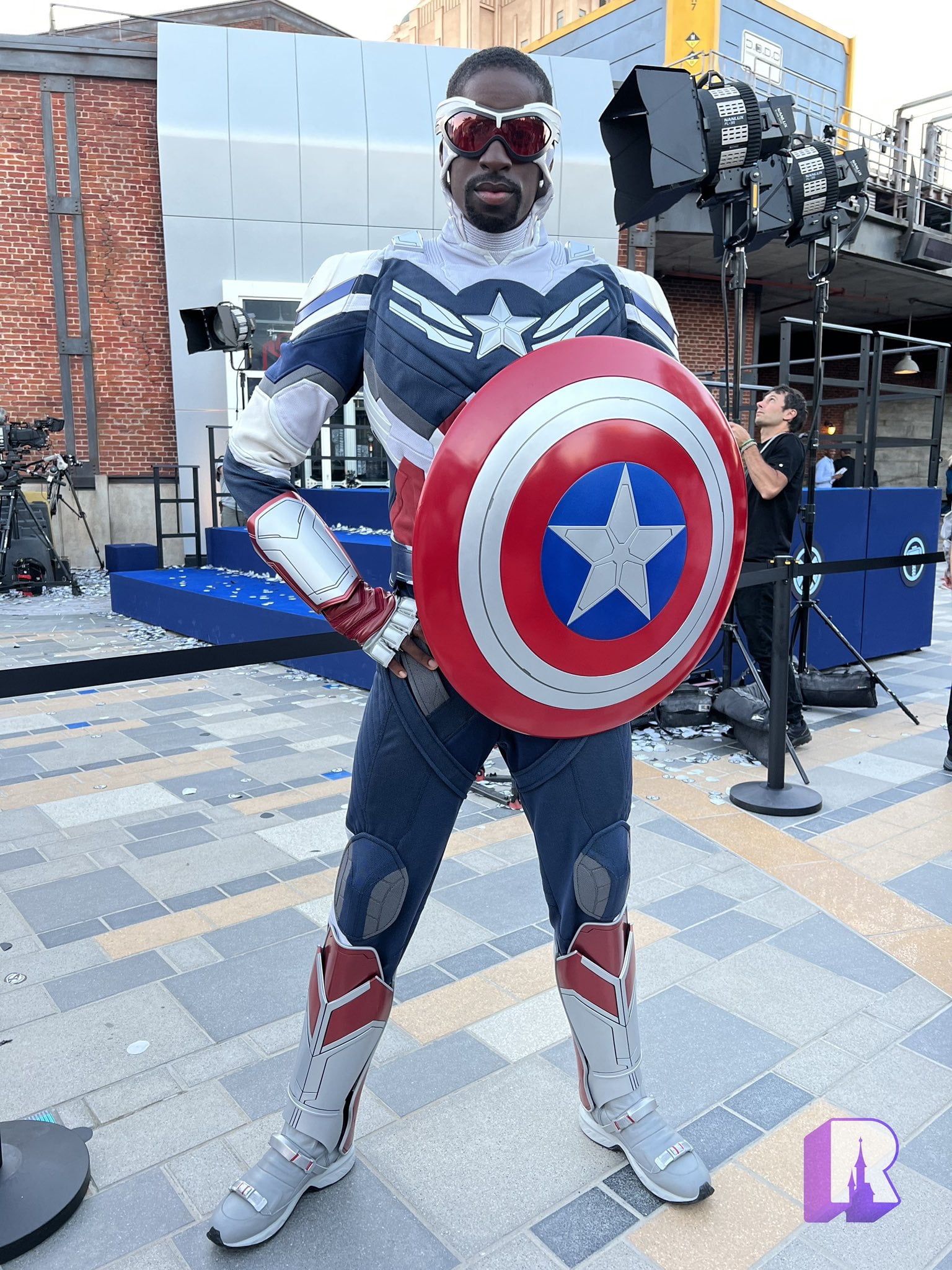 As Avengers Campus is a real living campus, heroes pop up here and there and you just have to keep an eye out for them! This is a really cool feature of this new land and a great idea but it will be interesting to see how it all works in practice once the land is open and at capacity.
Food
PYM Kitchen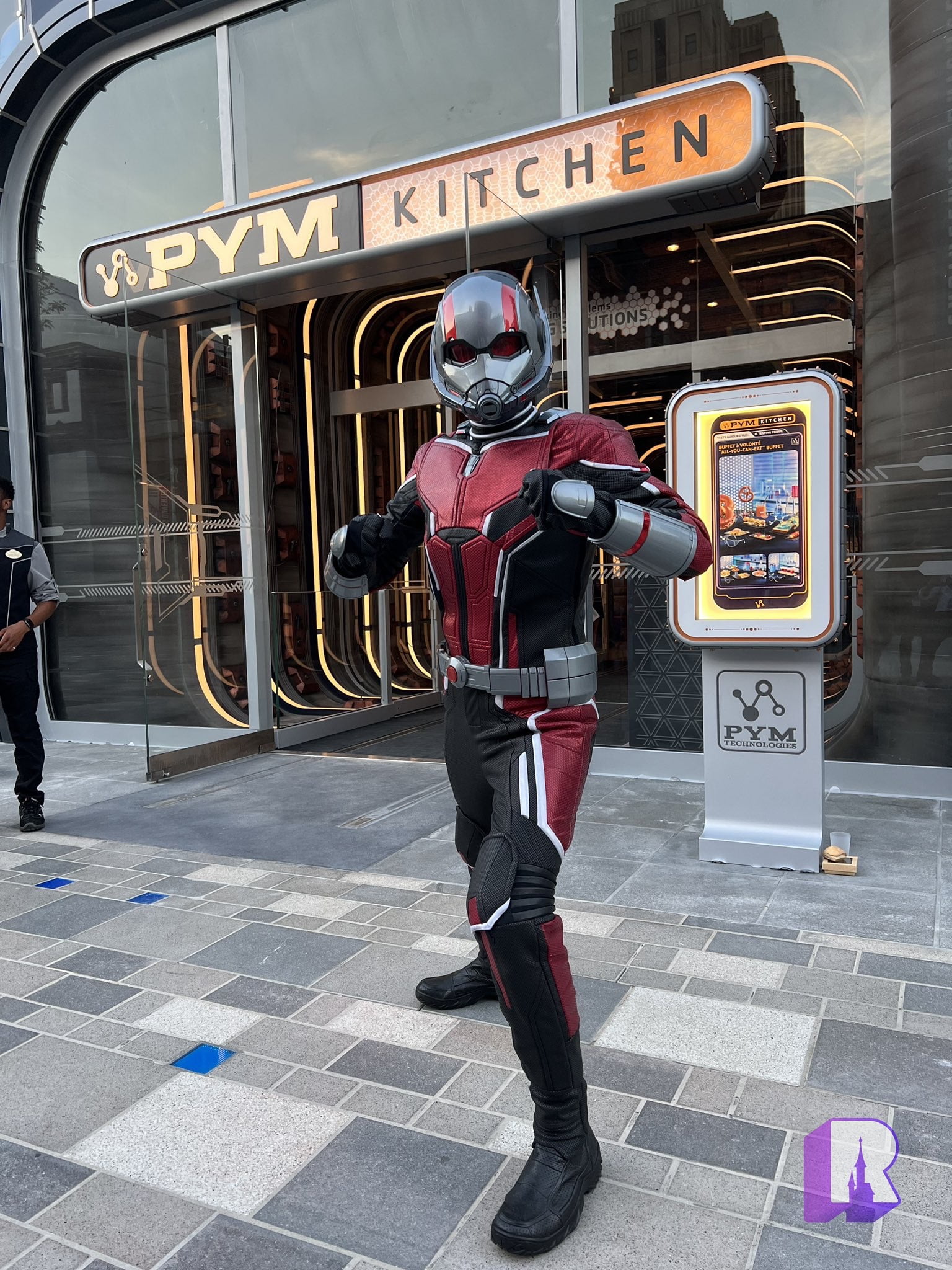 PYM Kitchen in Paris is not a quick service location but a buffet. The space is pretty unrecognizable from the old restaurant des stars – it's more sectioned with a lot more theming including a striking entrance tunnel and incredible dome you have to see in person!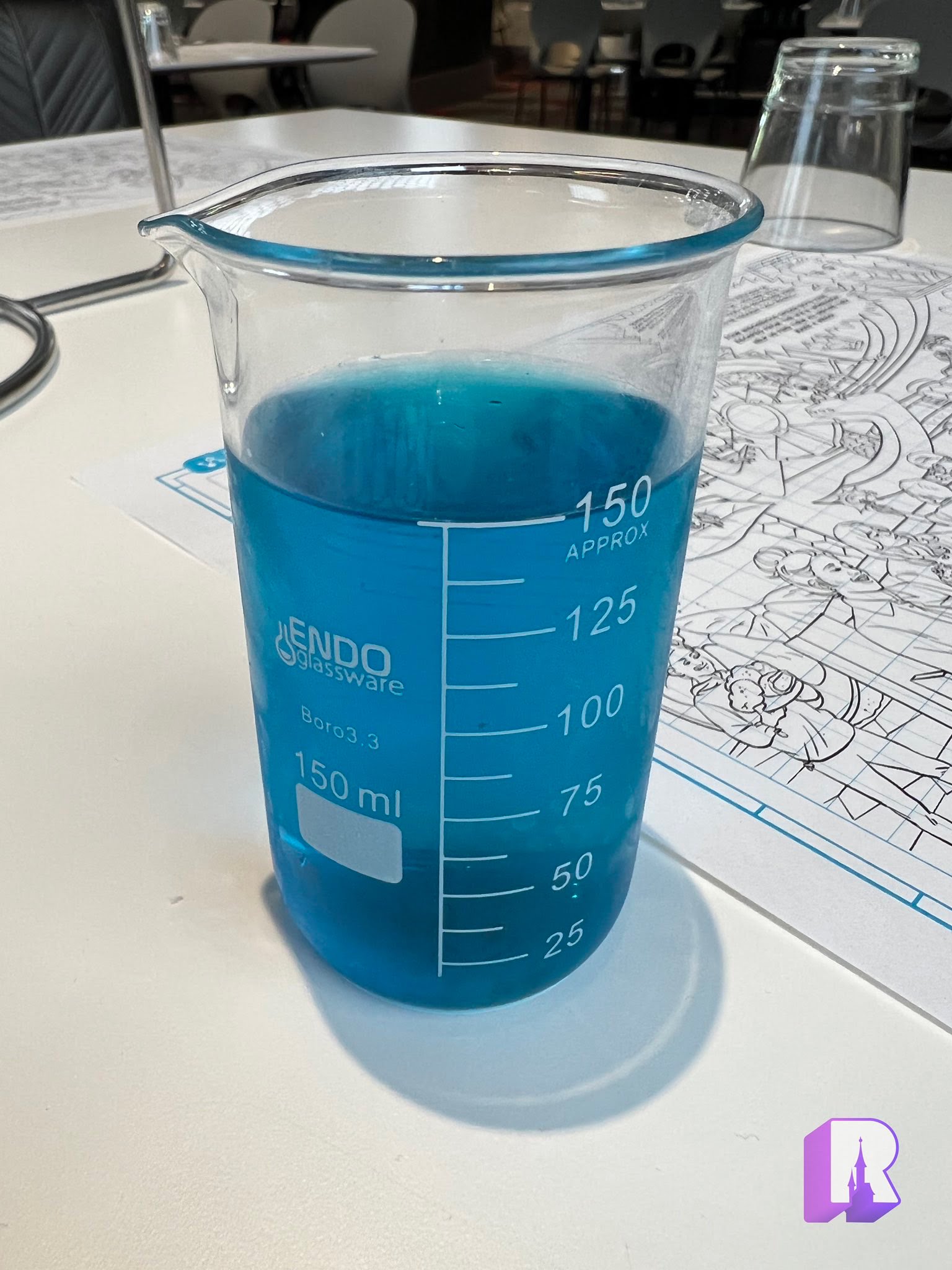 Food and drink wise, PYM has some cool elements like the blue Chardonnay, some of the dessert presentation in a "lab" style, the placemats and table accessories. However the buffet – even though we of course haven't tried everything yet – looked a bit messy and too similar to other classic buffets. The "one big and plenty of small versions" gimmick doesn't quite land and no one will believe any type of lab shrank or blew up anything. The potential is here but it doesn't seem to have fully realized despite the few "cool factor" items.
Stark Factory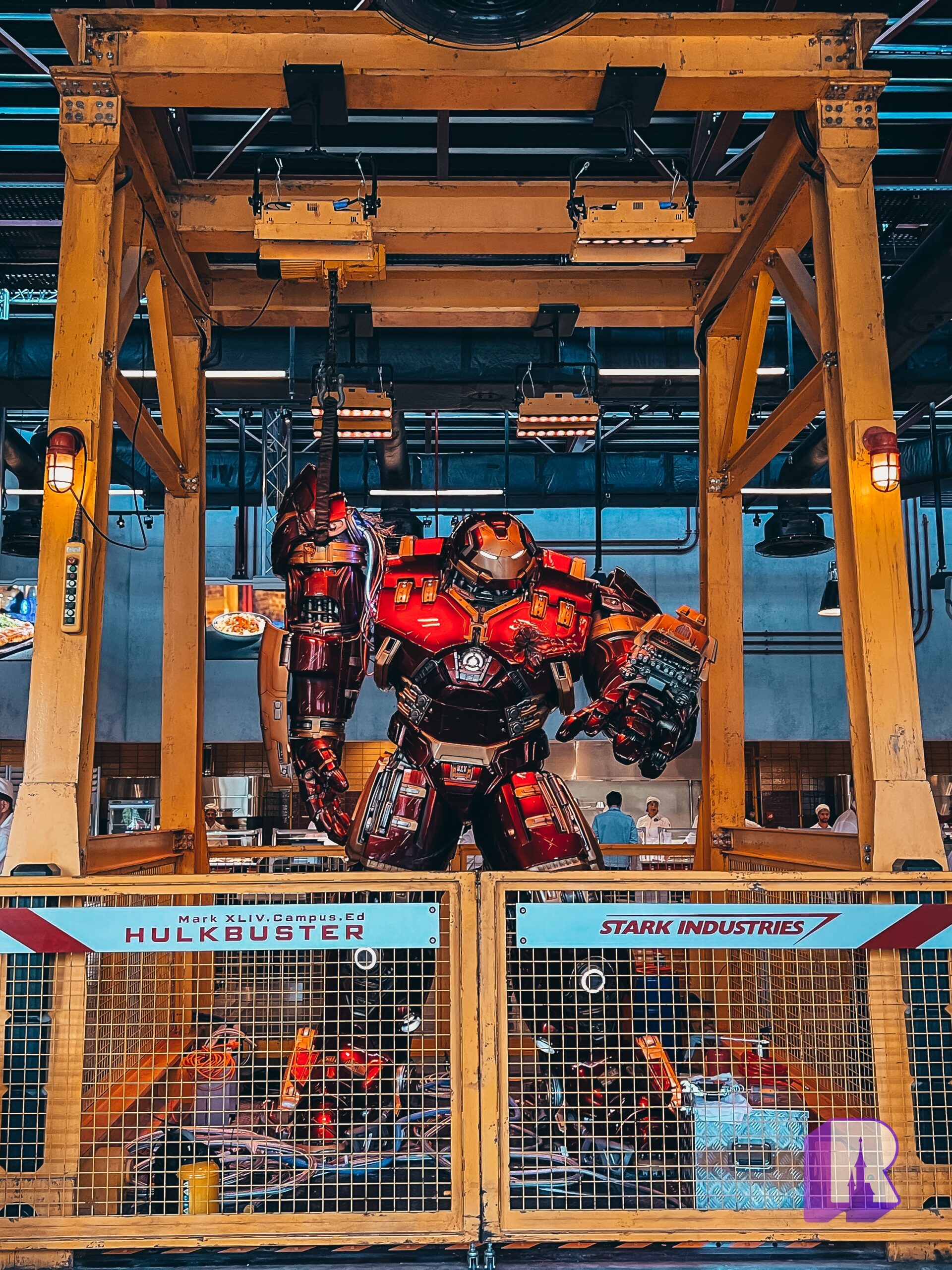 At first glance it would be easy to dismiss Stark Factory as a blank walled big eating space once you've walked by the – super impressive- Hulkbuster. But you'd be wrong. Stark Factory has layers! Peggy Carter has a desk here as it used to be a S.H.I.E.L.D facility. The next room is even an SSR Bunker. Lots of cool details!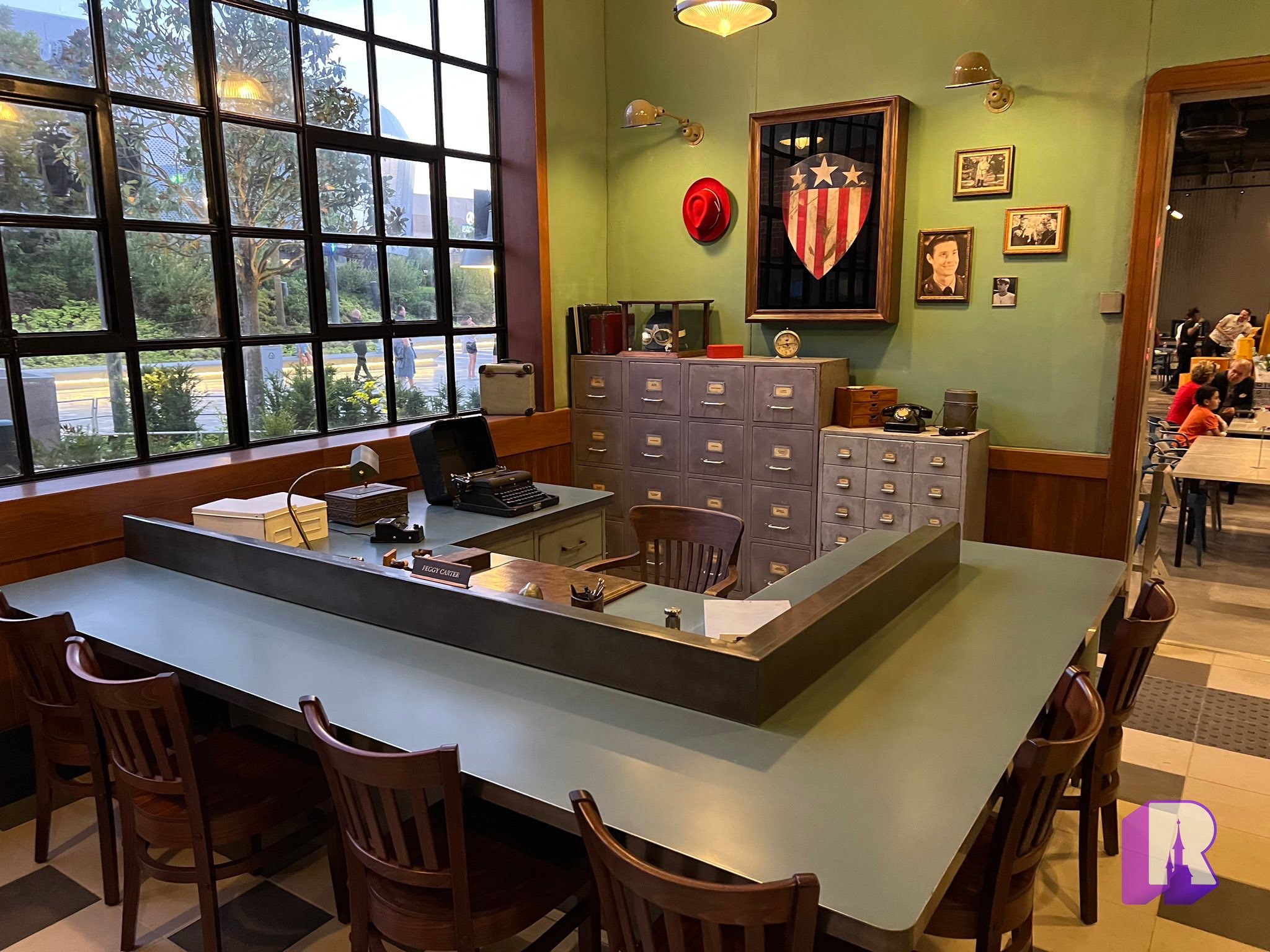 Food wise it's pizza and pasta. The pizza is made on site in a real pizza oven and it's actually pretty good! Is it €14 good? Unsure. But on Disneyland Paris standards this is a great meal. The pasta was pretty unremarkable and some of the salads stood out more than others: the poached egg and bacon was nice but the "vegan" was really simple and bland. I would not recommend the dessert which is another weird Bel cream cheese creation.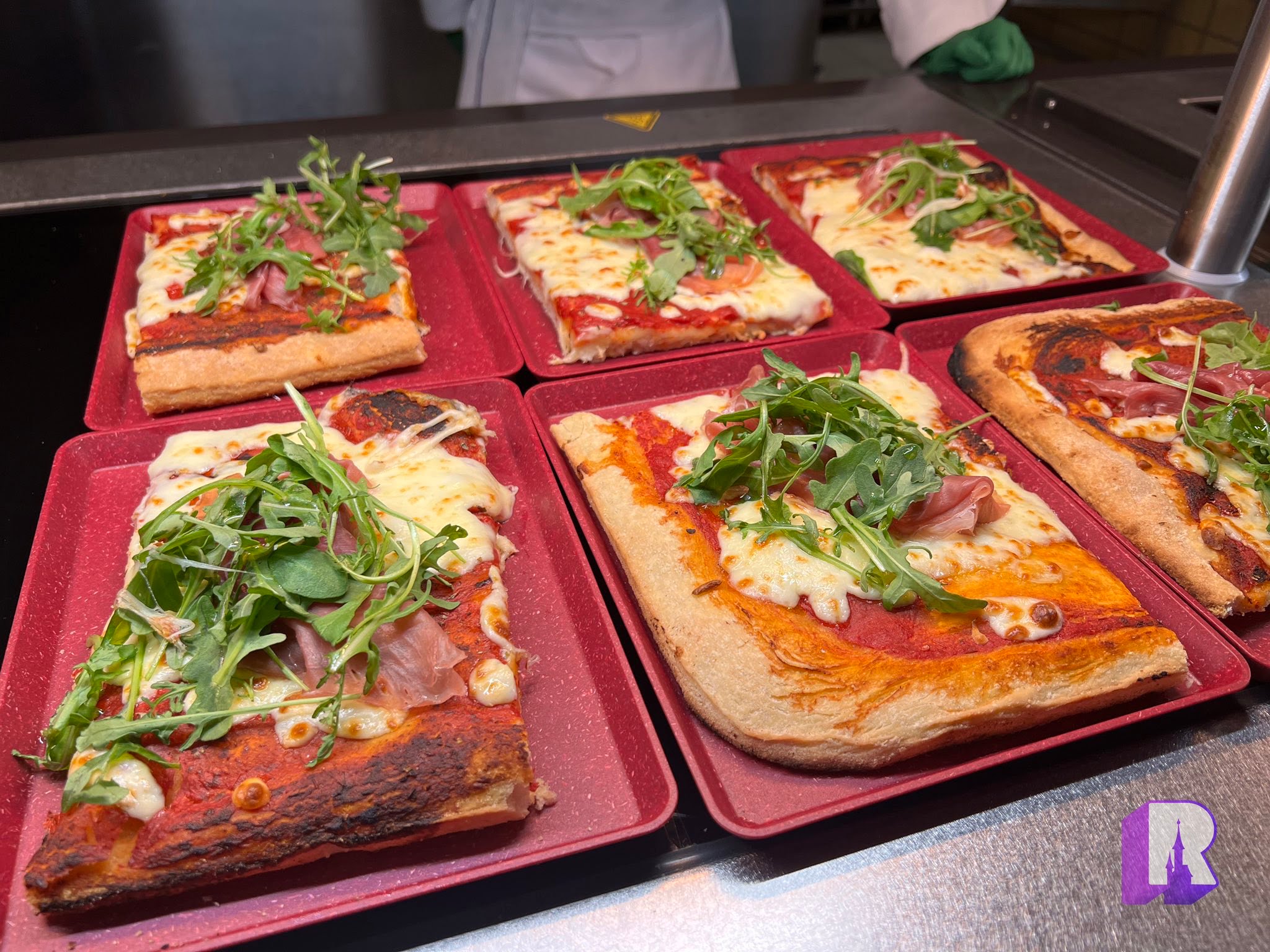 Food Trucks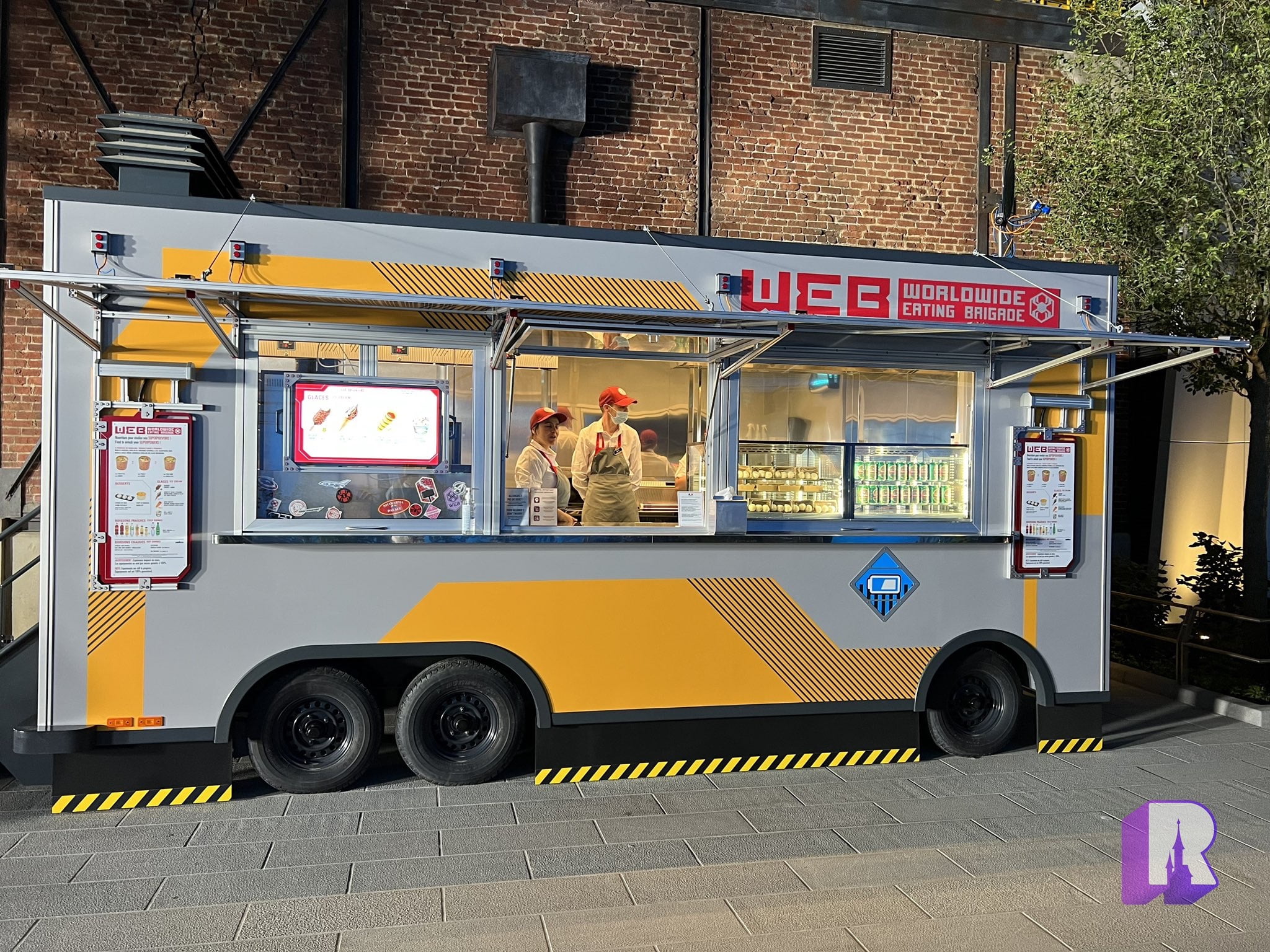 The food trucks are super fun! You have the choice between the FAN-tastic truck serving hot dogs which I haven't tried but am told are pretty good and the Worldwide Eating Brigade which serves noodle soups and coconut balls. I've tried these two items and they were pretty good! They also have a lot of flavor which is so refreshing for the Resort. Plenty of little details are also sprinkled around, as is the norm across the entire land – so there's a lot to explore and we will have to try all these items over time.
Super Diner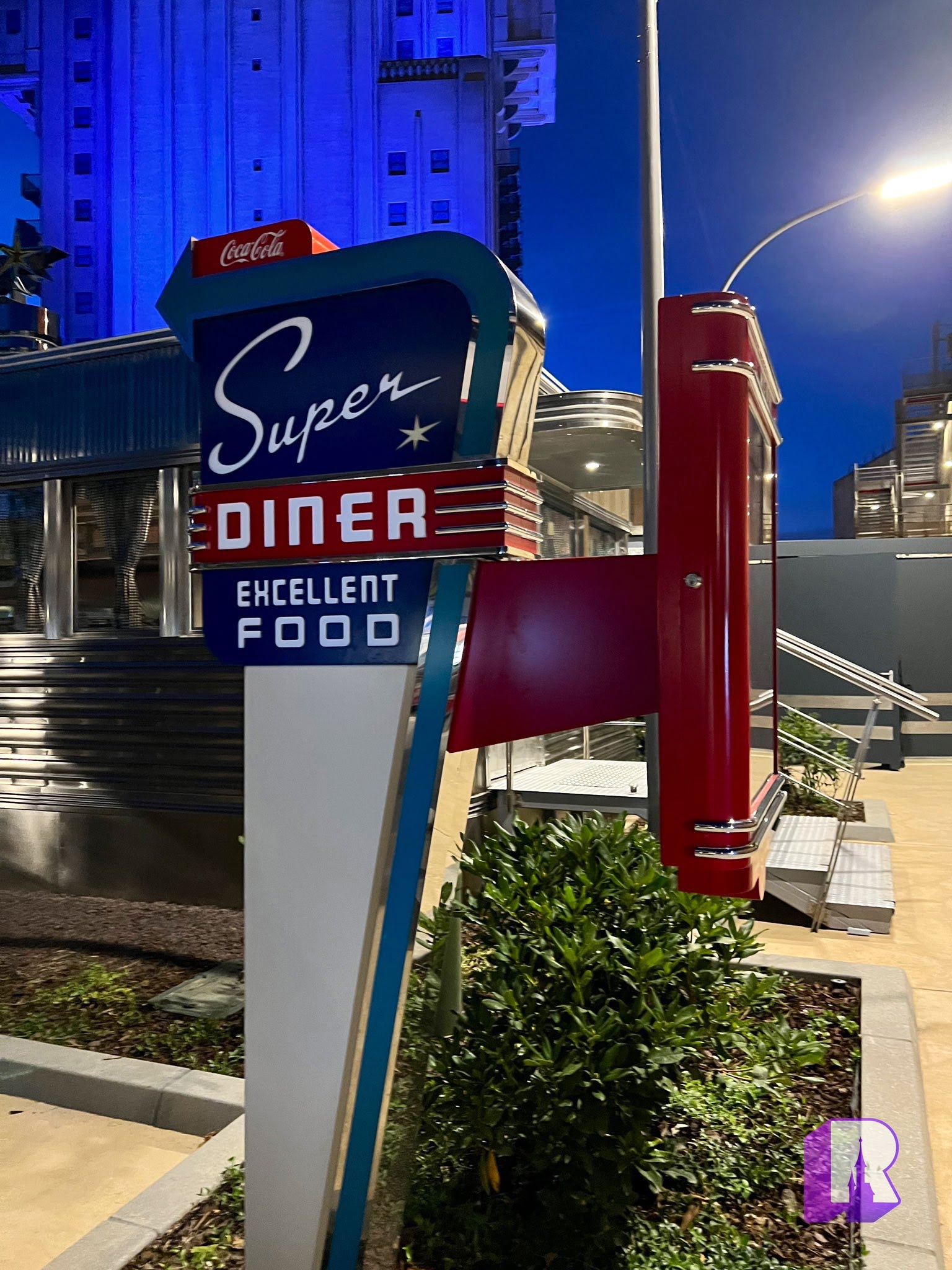 Café des Cascadeurs lives on as the Super Diner! The location wasn't yet opened for the preview weekend but when it does it will feature grab and go grilled Reuben sandwiches. The diner has been completely refurbished and now features its own terrace.
Merchandise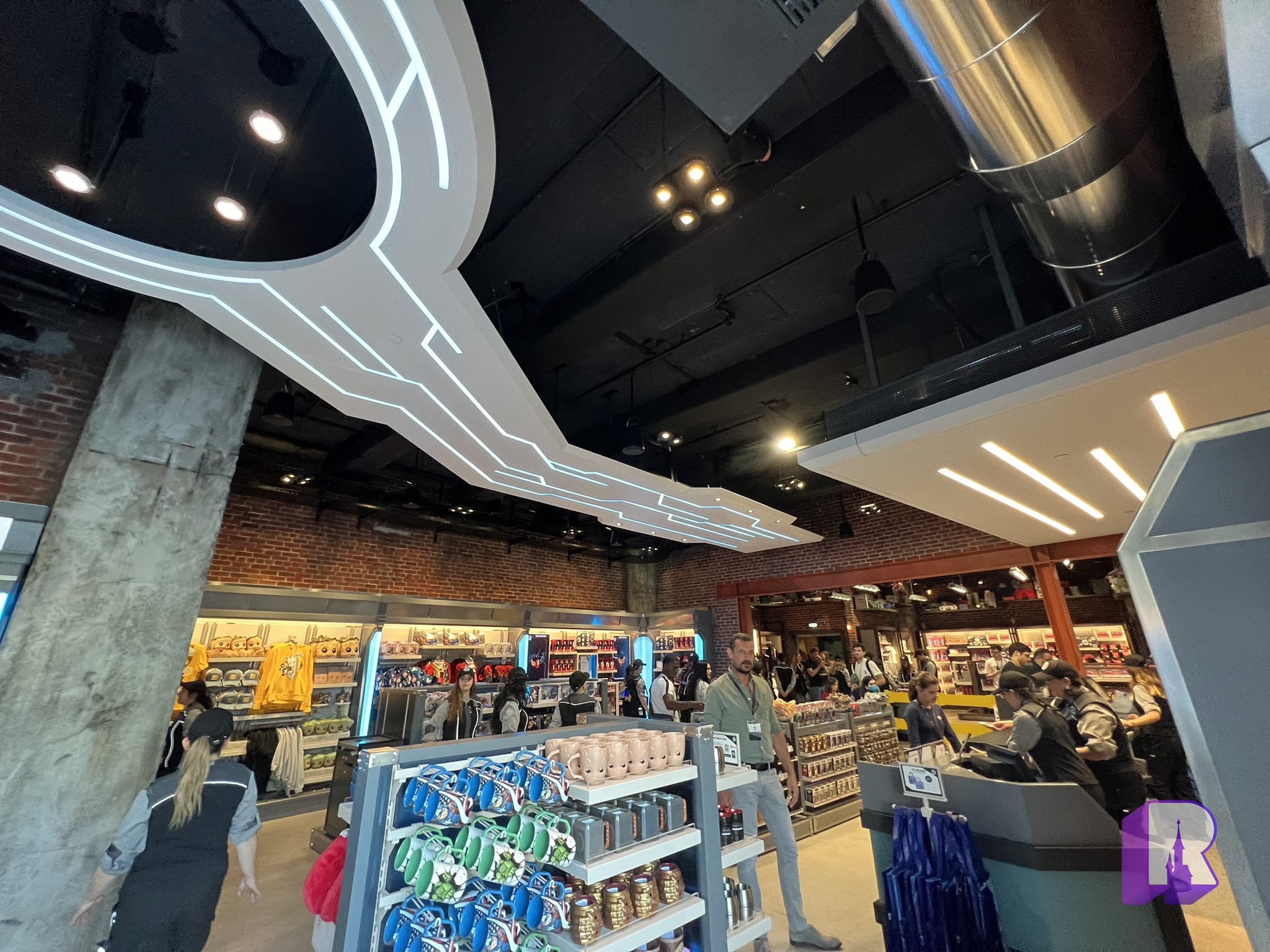 Mission Equipment is the main – and only – shop at Avengers Campus and it's beautiful! Spacious with several rooms that represent the two "vibes " of the land: the high tech futuristic style and the gritty factory style. Each feature items in like with the general theme of the room.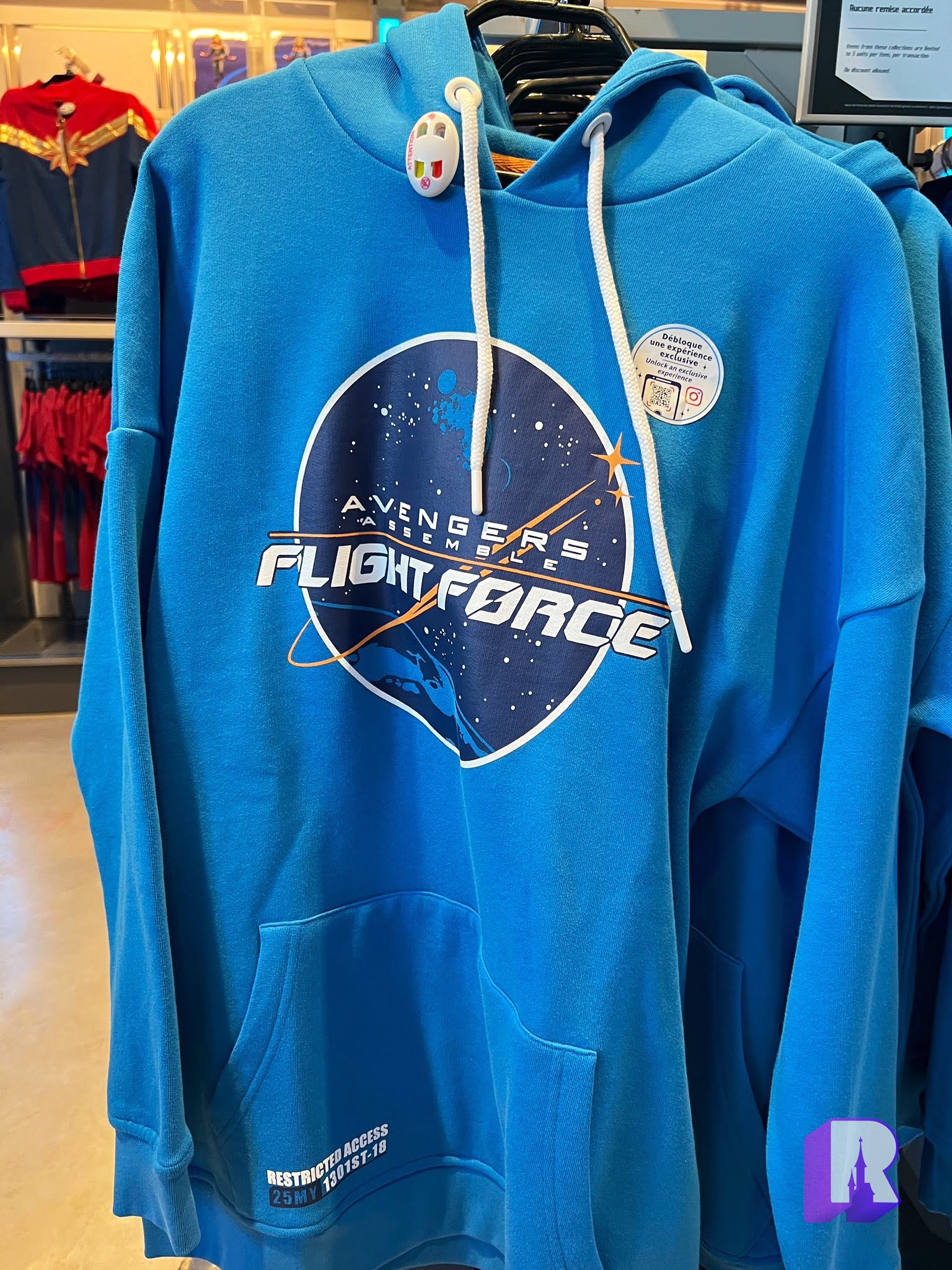 One thing is for sure – options are aplenty. The merchandise team went all out on this one and you'll find both classic items like mugs and clothing and true innovations that the Cast Members will be super excited to show you. Personal standouts for me are the flight force designs. A lot of the items are also either Paris branded or Paris exclusive which is very nice. A really great job on this front, make sure to bring all your credit cards !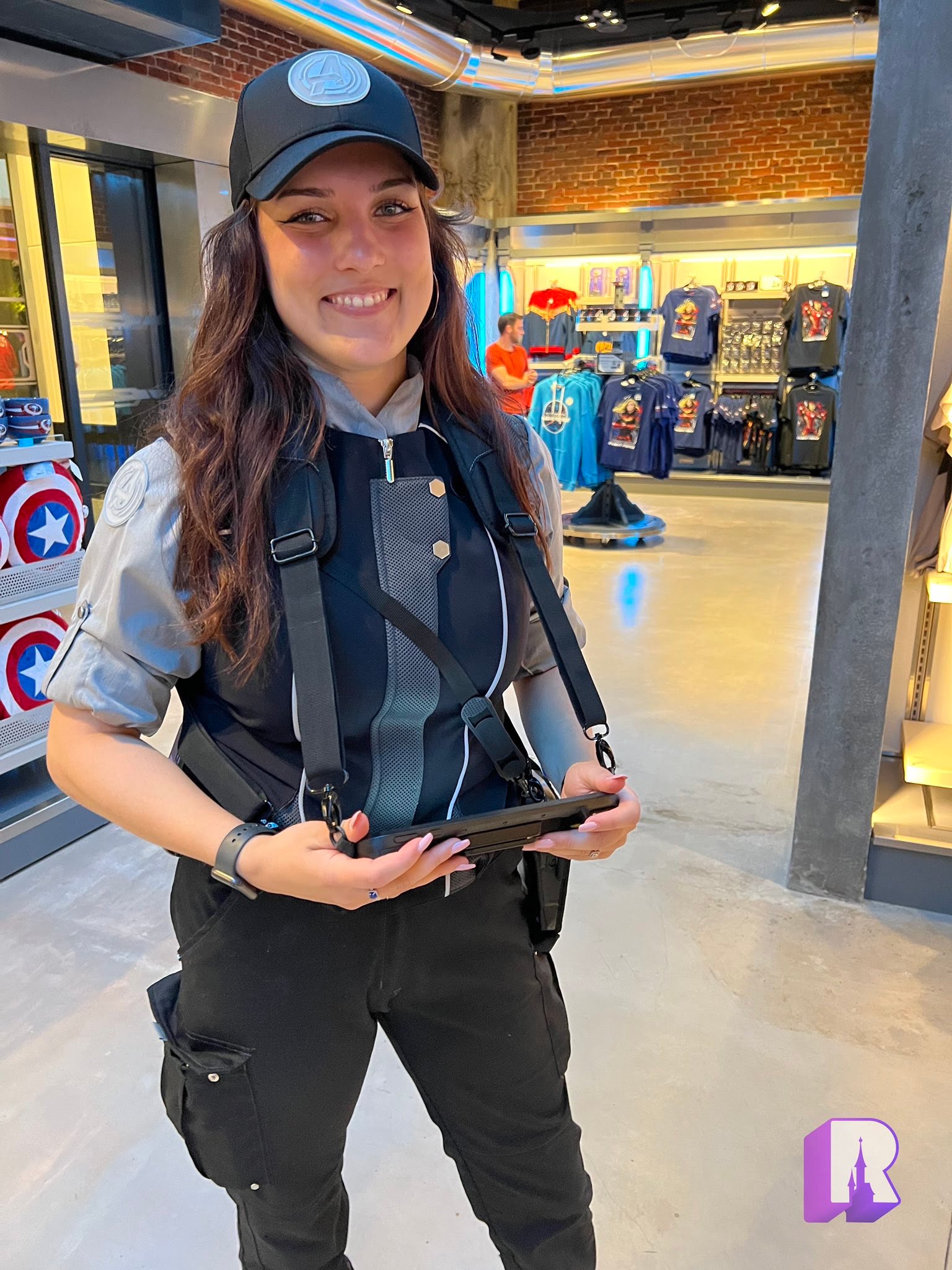 The shop also stands out for being the first st the Resort to offer mobile checkout devices. No need to go to the till, the Cast Member can check out on the spot and even print your receipt !
Guys. We have an entire new land to play in! And what an accomplishment. A ton of work and talent has gone into the intricate design of the space, and the land shines even brighter for being immersive in ways never seen in Paris. Here you are not just watching the story, you ARE the story. So recruits, assemble at Avengers Campus, officially opening July 20!
The DLP Report team would like to thank Insidears, the Imagineers, Avengers Campus Personel, and Disney Hotel New York – The Art of Marvel Cast Members for welcoming us this weekend and sharing their passion with us.