Looking back at Disneyland Paris' history is a tumultuous affair with highs and lows throughout its history
Michael Eisner successfully brought The Walt Disney Company back from the brink of destruction after a disastrous dark period in the 1970s and the beginning of the 1980s. Eisner's confidence in the EuroDisney project led to massive overspending and he ignored all the warning signs at the time.EuroDisney opened in 1992 to a lukewarm reception which had catastrophic financial results for The Walt Disney Company. Eventual expansions were either reviewed or scrapped altogether. Eisner put increasing pressure on investors and banks to cut a deal for the park's parent company EuroDisney SCA, even going as far to say in a 1994 interview with Le Point magazine "If the engine of an airplane fallsout in full flight, what are the options?" adding "Anything is possible today, including closure." Whether this was actually sincere or just an extraordinary game of poker we will never know. One thing is for sure, the park underdelivered and overpromised in visitor numbers and the last meaningful investment on the cards was the addition of an E-ticket attraction to Discoveryland, in the form of Space Mountain.
Space Mountain was always planned to be included in Disneyland Paris, just not as an opening day attraction in order to boost interest after the original fanfare had died down. Tony Baxter's original vision saw the iconic Space Mountain dome give way to a mountain inspired by French Author Jules Vernes, which would house the Space Mountain coaster, a drop ride, the Nautilus attraction as well as shops and restaurants. This was deemed too costly especially with the original EuroDisney project running over budget and financial issues marring the park from Day 1. Tim Delaney, artistic director for Discoveryland oversaw the mammoth task of bringing Space Mountain to Paris – for the right price. Delaney took inspiration from Jules Vernes' 1865 classic novel "De La Terre à La Lune" which saw a group of businessmen use a cannon to shoot voyagers into space from a town in central Florida. The Columbiad cannon took direct inspiration from this and as part of the launch sequence the base of the cannon would retract and advance, the shaft would spin as if a bullet were fired along with copious amounts of smoke. This added to the kinetic energy of the land which was at the heart of Delaney's vision for the land. Coming in at the top end of his budget for the attraction, Space Mountain: De La Terre à La Lune opened to the public with great fanfare on June 1st 1995 and to this day is the newest purpose built attraction in Parc Disneyland. The attraction went out of its way to adapt to European culture including sponsoring the European leg of Elton John's tour and although the dome looked familiar to its American and Japanese counterparts, the track layout inside was much more thrilling including the only loop and corkscrew for any Space Mountain to date.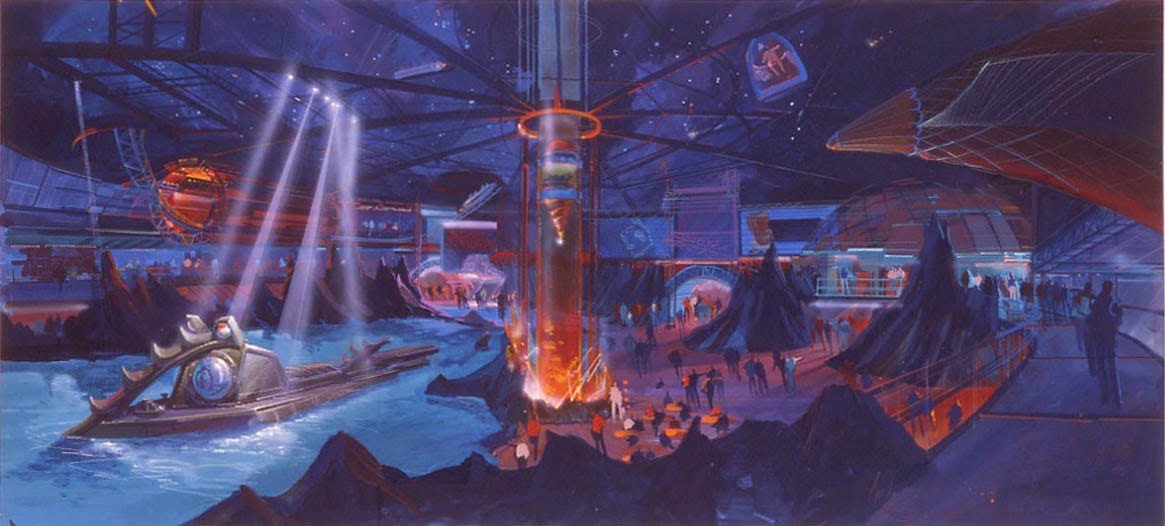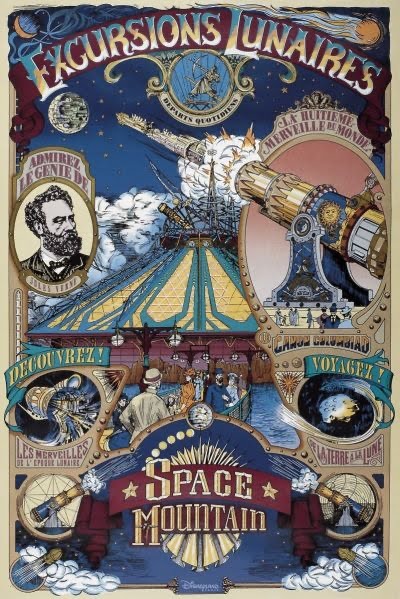 At opening a soft boom could be heard throughout each land of the park as a reminder of Space Mountain's epic arrival. Space Mountain: De La Terre à La Lune was a hit with guests and fans alike. Its unique look integrated perfectly with the visionaries of the past theme whilst giving a prominent place to European stories in a park that was considered by the French to be the bastardization of American culture in the heart of France. Just like the park however, difficulties were on their way for Space Mountain: De La Terre à La Lune with the cannon over time falling partly into disrepair. The cannon no longer advanced and pulled back for each launch with indicators pointing to the company who made the parts having gone out of business. Smoke became more and more erratic before being stopped completely. The Columbiad cannon became a shadow of its former self.
After just shy of 10 years in operation, Guests took their last mission to the moon on January 17th 2005. Gone was the classic story which was heavily anchored in the Jules Verne universes. Gone was the moon. Gone was the classic score created by Steve Bramson. In its place Space Mountain: Mission 2 took Guests on a high octane trip to a supernova with a more modern updated score more in line with other Space Mountain attractions worldwide by Michael Giacchino. Minor new effects were added like the red tunnel but much of the old theming was simply deactivated. Eagle eyed riders could spot the whole end tunnel sequence of the original iteration intact with the lights simply switched off. Opinions were divided. The exterior and interior did not seem to be as harmonious as before. What was the reason for this? Well it is hard to know for sure, but marketing a reskinned attraction as "NEW" seems to be a habit at Disneyland Paris to make up for the chronic lack of actual newly built attractions. Financially the park became even more burdened with the arrival of the Walt Disney Studios Park next door. In 2012 the 20th anniversary saw an unsuccessful strategy of free entry promotions and in the years leading up to 2014 all available resources were directed to the arrival of Place de Rémy in Walt Disney Studios Park. Times were tough and resources were stretched. Space Mountain: Mission 2 became the stalwart that its predecessor was despite fans increasing desire to return to the moon once more.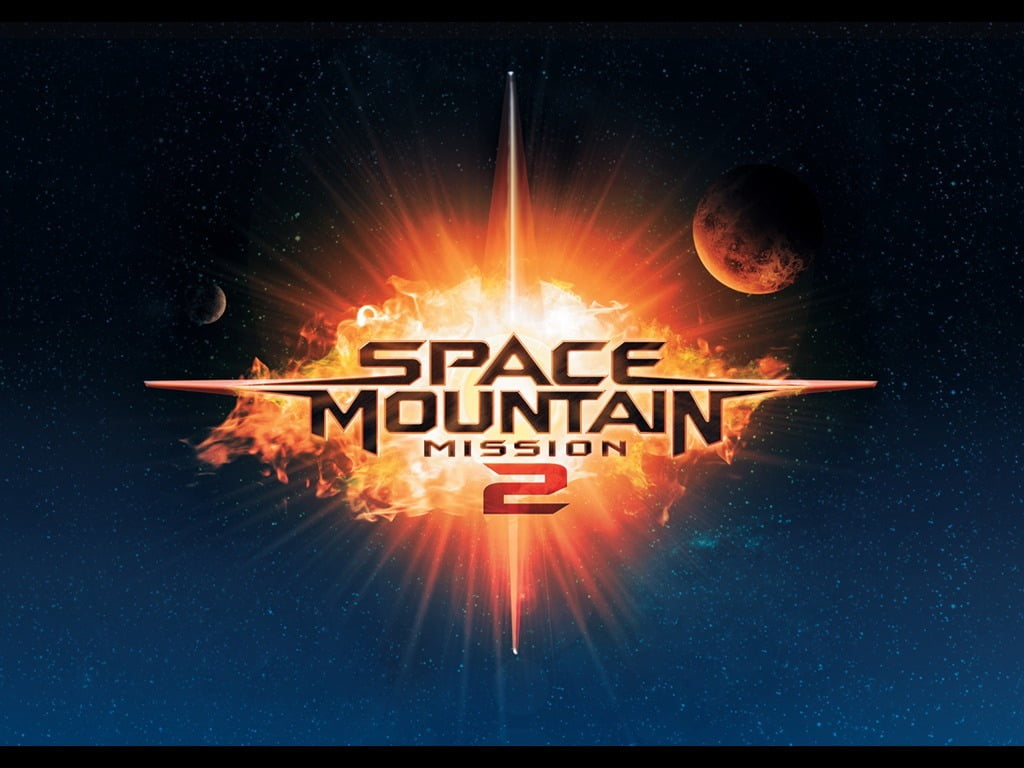 With Disneyland Paris' 25th anniversary looming, Project Sparkle was set to bring back the magic with maintenance and upkeep that was sorely lacking under previous EuroDisney SCA President's tenures. Catherine Powell arrived in the summer of 2016, and was tasked with executing the 25th anniversary festivities. Powell was well known for her excellent business savvy and her keen eye for a synergies. With Star Wars having been acquired by The Walt Disney company, and Star Wars overlays on international versions of the Space Mountain attraction proving popular with Guests, it came as little surprise towards the end of 2016 when it was announced that Space Mountain: Mission 2 would close on January 8th 2017 to give way for the Hyperspace Mountain overlay as partof the 25th anniversary. Guests would now take a trip to a galaxy far, far away and fans took to forums and social media to deplore the idea of taking a Jules Verne to now flying alongside TIE fighters and X-wings. On May 7th 2017 Hyperspace Mountain opened to the public becoming arguably just as divisive as Mission 2. Some people loved it, some people hated it and some people just wanted to ride a thrilling rollercoaster and had no opinion either way. Regardless Space Mountain began to show its age. Projections looked low resolution and unimpressive. The newly installed trains were more comfortable for many Guests, but the onboard audio suffered constant problems. Effects used in Space Mountain: De La Terre à La Lune remained unused. Was this overlay again just a way for marketing to capitalize on the December 2017 release of Star Wars: The Last Jedi? A cheap way to sell "NEW ATTRACTIONS" (with the arrival of a renovated Star Tours: The Adventures Continue)?
Change is a complicated thing. Changing attractions is something fans rarely rejoice at. Nostalgia is at the heart of the memories that we make at Disney Parks worldwide. Those who were lucky to experience the original version of the Space Mountain hold it dear in their hearts as a pinnacle of Imagineering. A quintessential success. The following sequels however, have been much more mitigated. Today, as Space Mountain turns 25 at Disneyland Paris we can reflect on how we could have almost never had a Space Mountain at all to begin with. As The Walt Disney Company's portfolio has increased over the past decades, it is not unreasonable to see these new IPs present in the parks. After 3 years of the Hyperspace Mountain overlay, one could wonder how beneficial is it for the park to present this overlay for so long. One could also wonder how much more of a draw would it have been, from a marketing perspective, to bring the Hypersapce Mountain overlay back periodically to coincide with movie releases and park seasons. What originally began as a sign of Paris catching up with the other Disney parks worldwide has become a sign of what changes need to come in the future. Disneyland Paris seems uninterested in seasonal overlays with the Christmas overlay of It's a Small World failing to make an appearance for the 2019 season.
One could hope that there are plans for life after Hyperspace Mountain. Or perhaps it really is here for the long run? Change in this scenario would not be a terrible thing, but in these uncertain times it is far from being a priority. It is not to say that Disneyland Paris should #BringBackTheMoon but moreso explore exciting adventures to thrill guests just as Space Mountain did on its opening day 25 years ago.