We all expected plenty of art, new rooms and amenities but the new food and beverage offering has taken all of us by surprise! Gone are the generic dishes available at all the Disney Hotels bars and restaurants, we're talking location-specific themed quality products and concepts! If this is the direction Disneyland Paris is going, sign me up. Let's take a look at everything we tested during the first couple days of operation.
Bleecker Street Lounge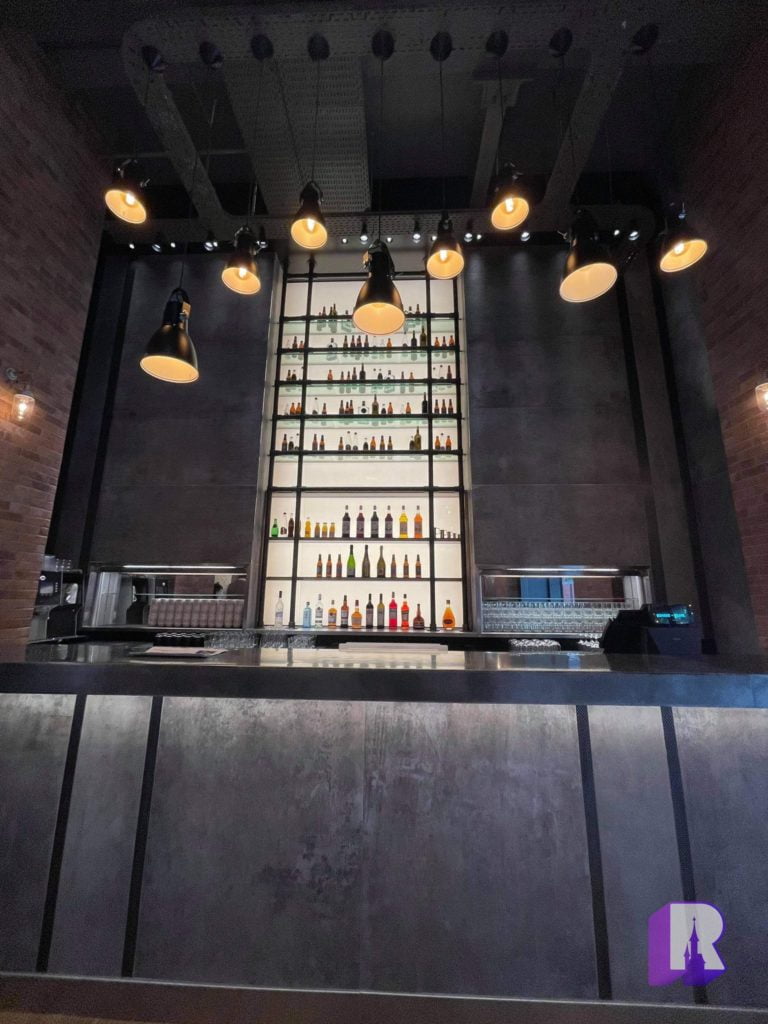 Bleecker Street Lounge is what I would call the underdog of the hotel. Everyone was looking forward to the Dr. Strange cocktails but no one expected everything to be so on point! Take a look at the menu, which is not available on official medias: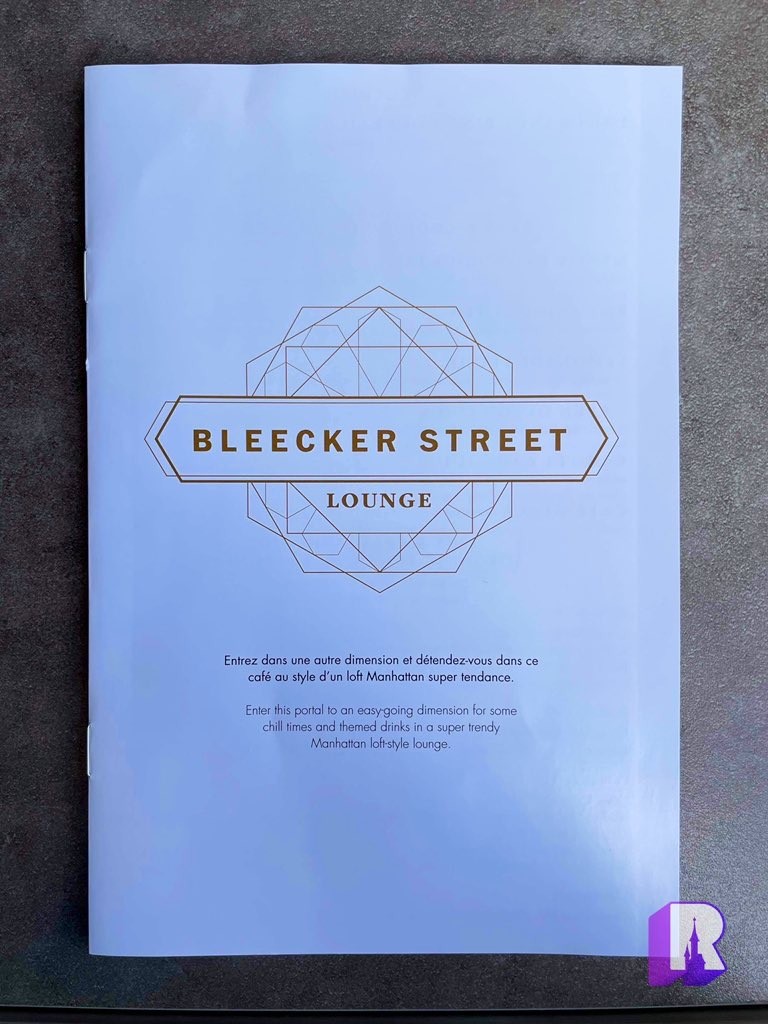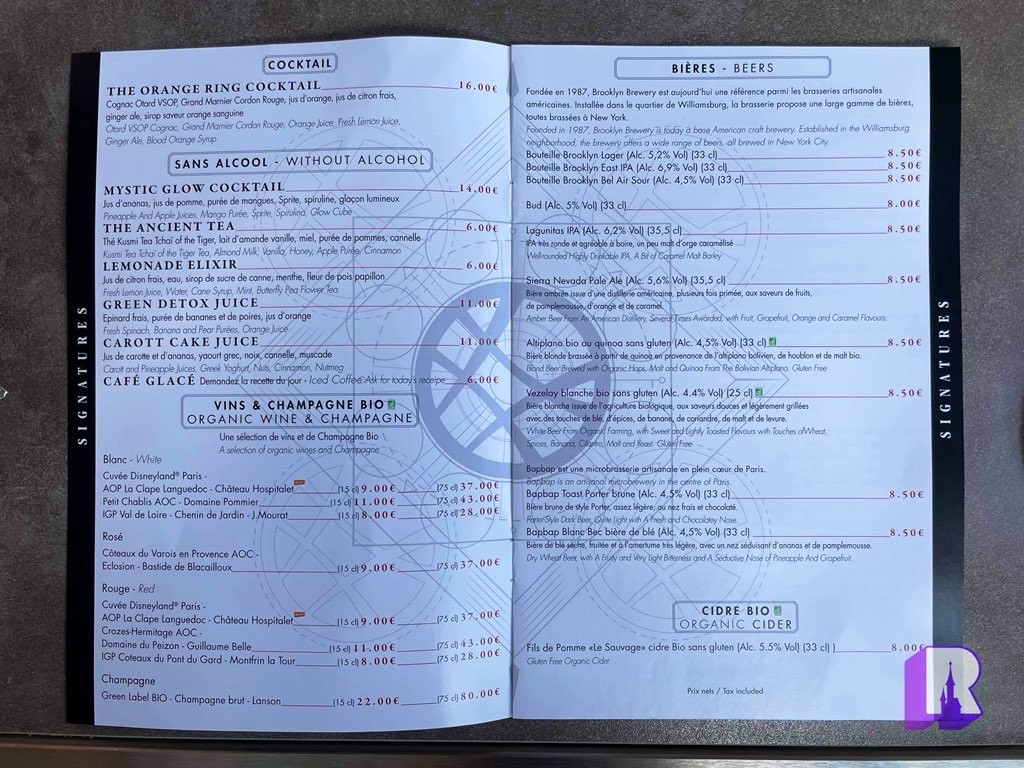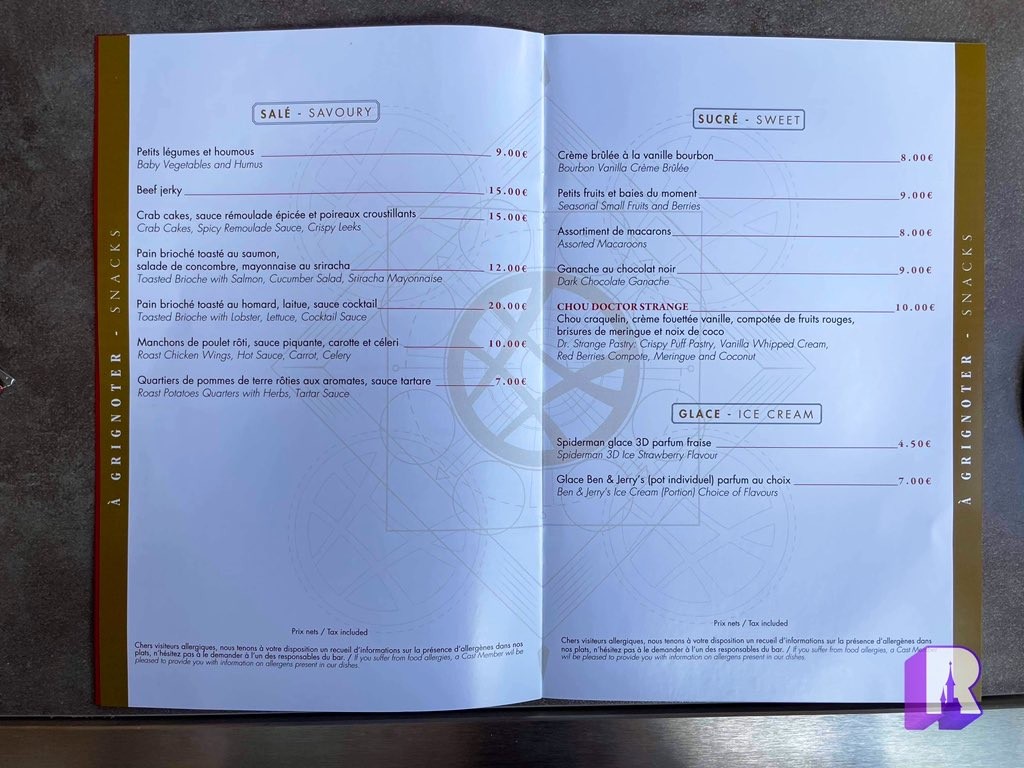 The headliner here is the Orange Ring Cocktail, reminiscent of the Doctor's powers of course, it's Cognac, Grand Marnier and ginger based with a ring (obviously) of candied orange peels. The taste is well balanced, and it's not too sweet. Most of all it's displayed on this awesome magnetic levitating base:
If you drink alcohol, this is the cocktail to get here. But if you don't, the Lounge also has something fun for you: the Elixir Lemonade is a magical experiment in itself. Made with fresh lemons (none of that concentrate) and magic obviously, this mix-it-yourself will stun your instagram readers when they swipe on that story. Again the flavors are not too sweet, it's very refreshing for the summer: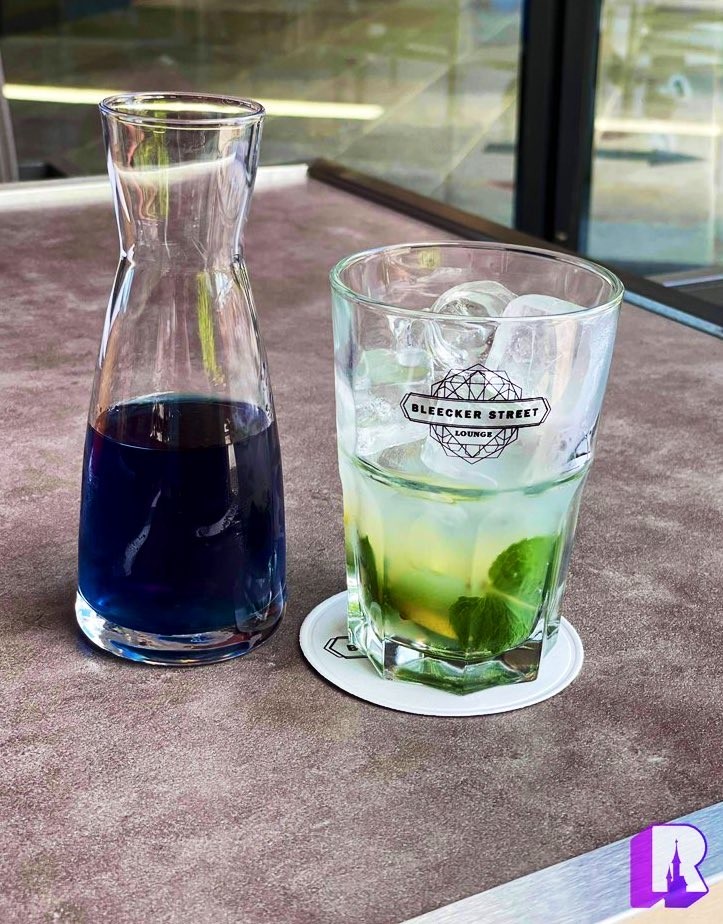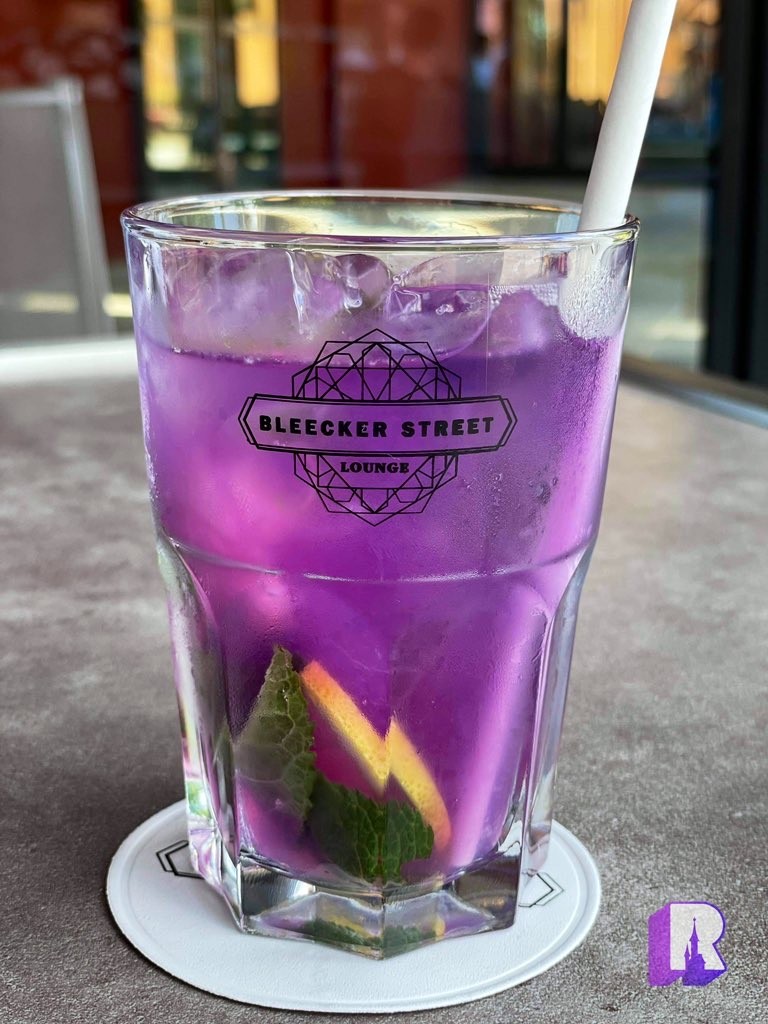 Bleecker Street Lounge also has snacks, and we tried the obvious choice here which is the Dr. Strange Pastry. It's filled with whipped vanilla cream with some meringue and coconut shavings – plus the Dr Strange design on top. Delicate, and interesting flavors: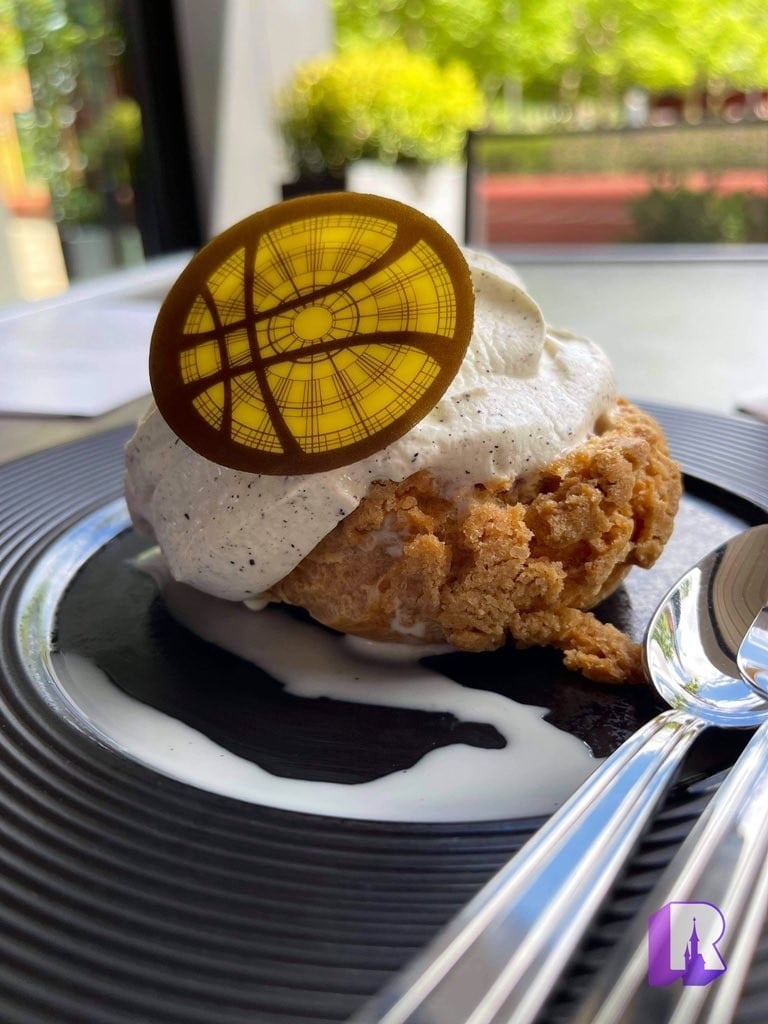 In case it wasn't obvious we love it here. The place also has an outdoor terrace, and a full bar with all the usual favorites.
Skyline Bar
When you're done with your afternoon at Bleecker Street Lounge, why not move on to the Skyline Bar (it's all for research come on). This anticipated location features a view over New York City, with Iron Man, Spiderman and the Quinjet making occasional appearances as they jet off across the "windows".
The effect works pretty well and adapts with the time of day – no one will be completely duped into thinking this is a REAL view obviously but that's why the place serves exciting cocktails. Here's the menu: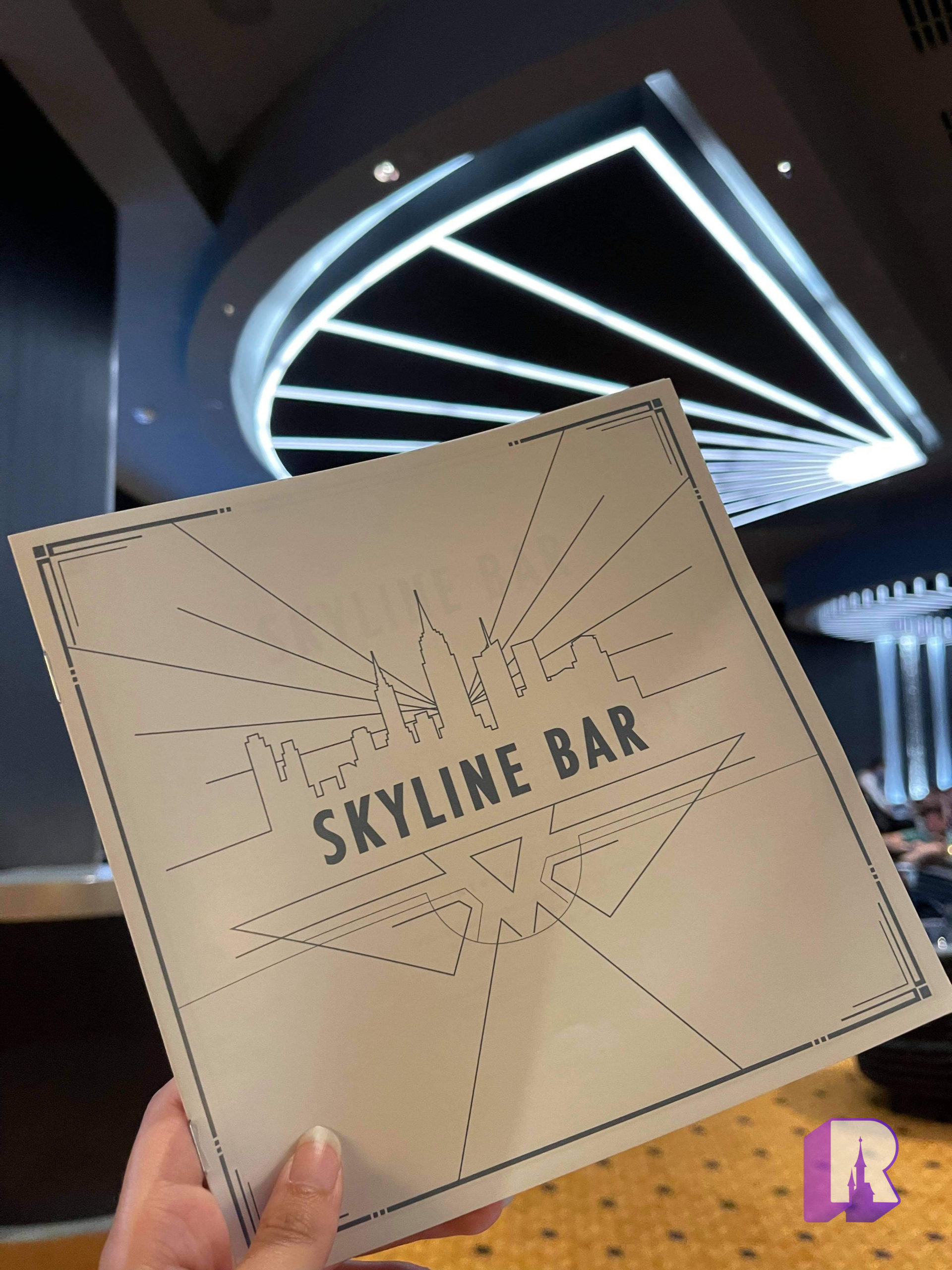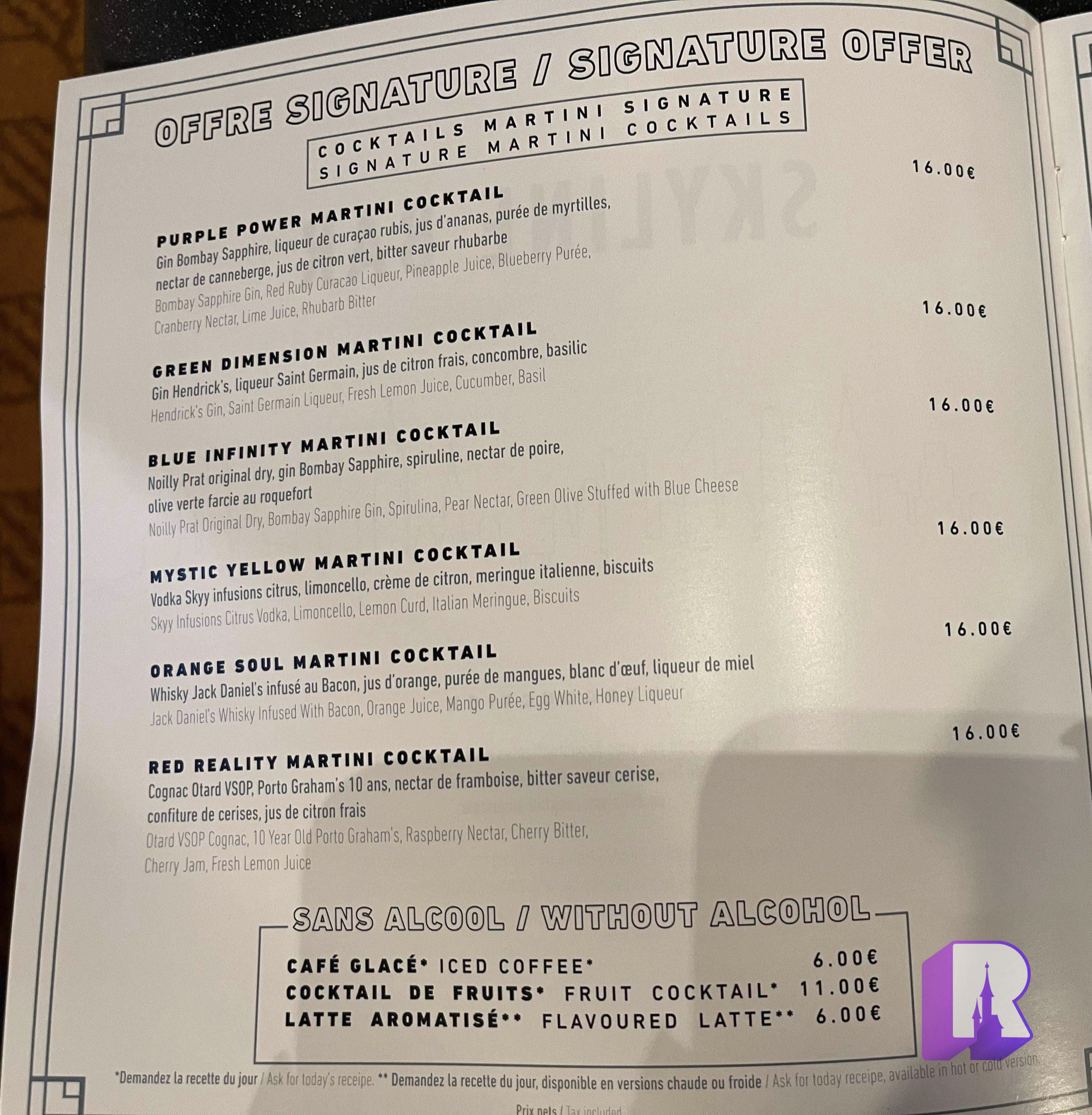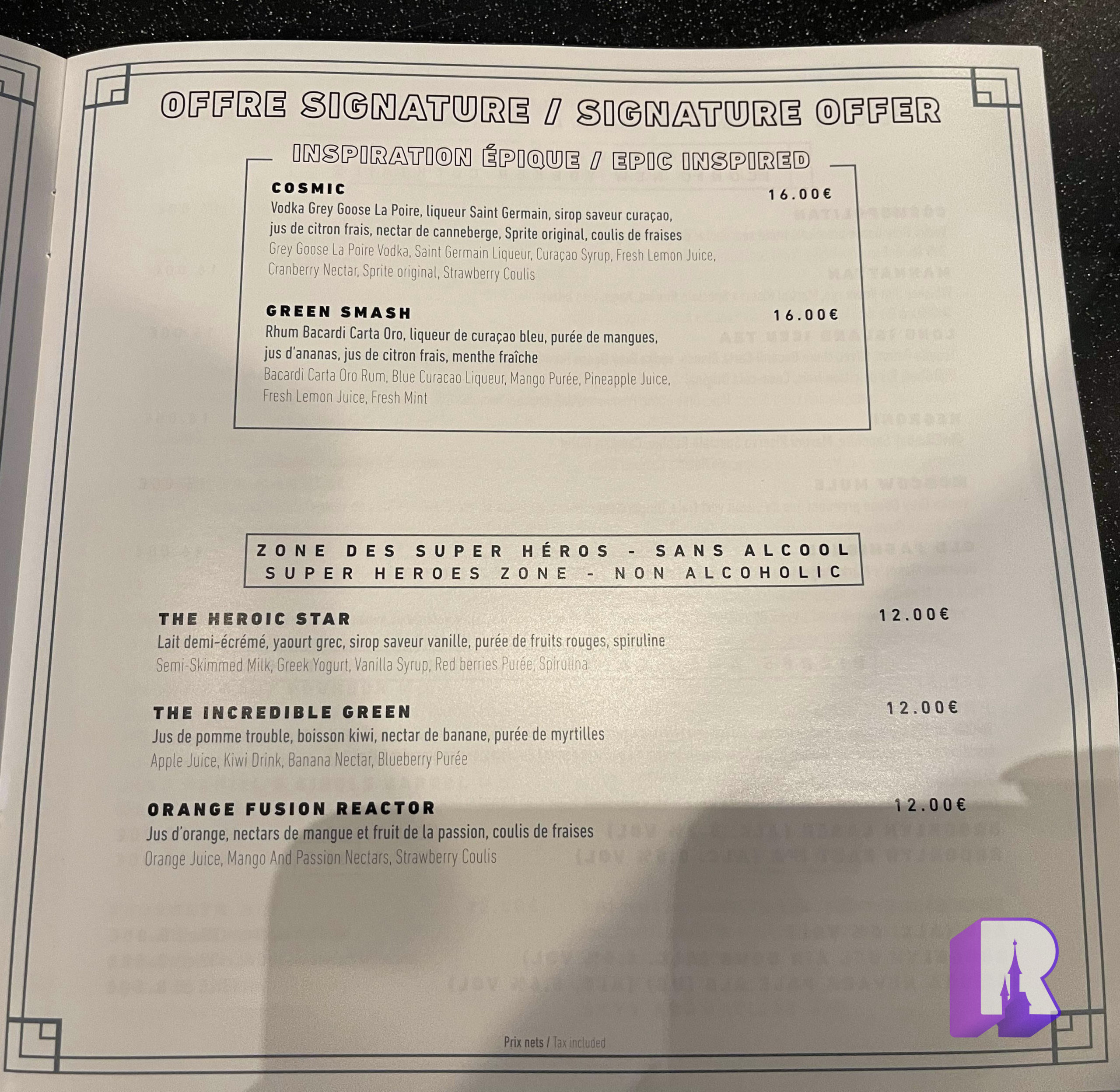 That's right this place has a set of INFINITY STONES COCKTAILS and I mean how can you not try them all? Do you want to save humanity or not? That's what I thought. Given it's day one we have not tried them all yet – the Green Dimension (Gin based, lemon cucumber flavors) and Mystic Yellow (Vodka based, limoncello meringue flavors) were both very nice and a testament to the proven talent of the Disneyland Paris bar team. At 16€ a pop you are definitely paying for that view but look over there! Iron Man! so who's counting right?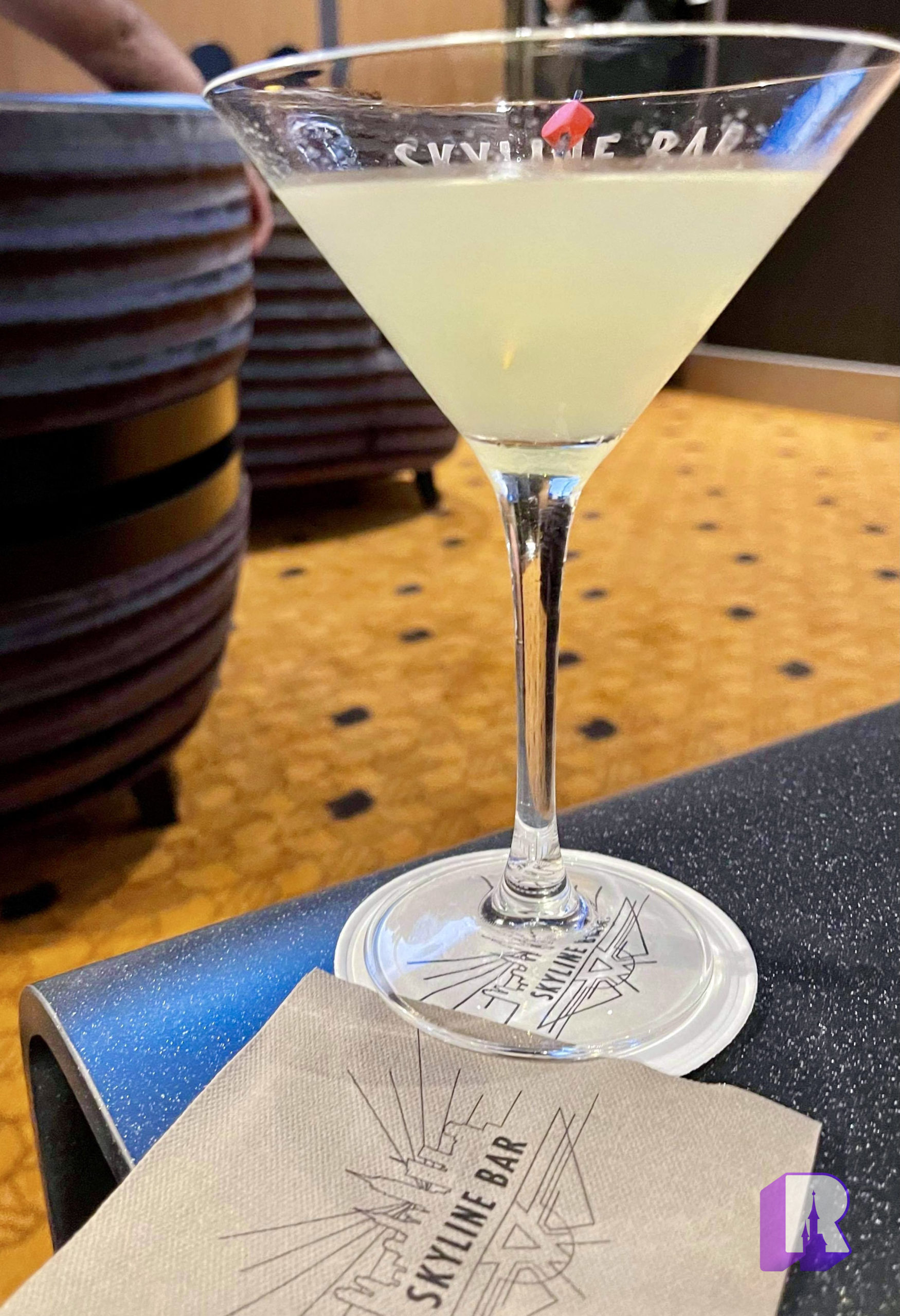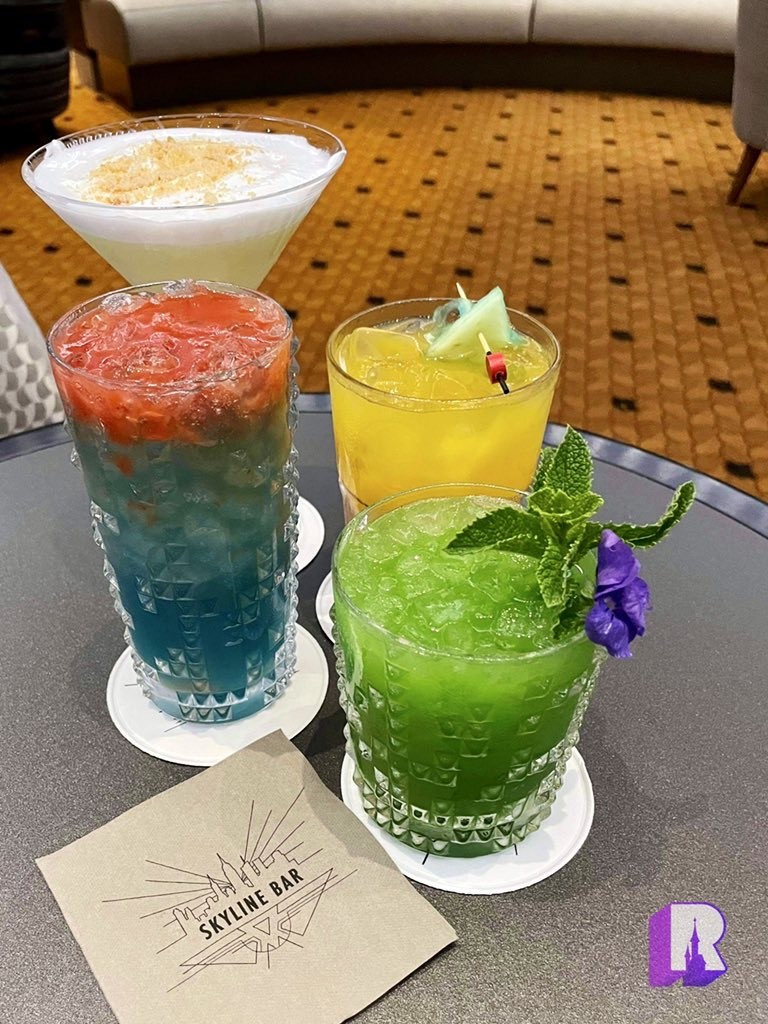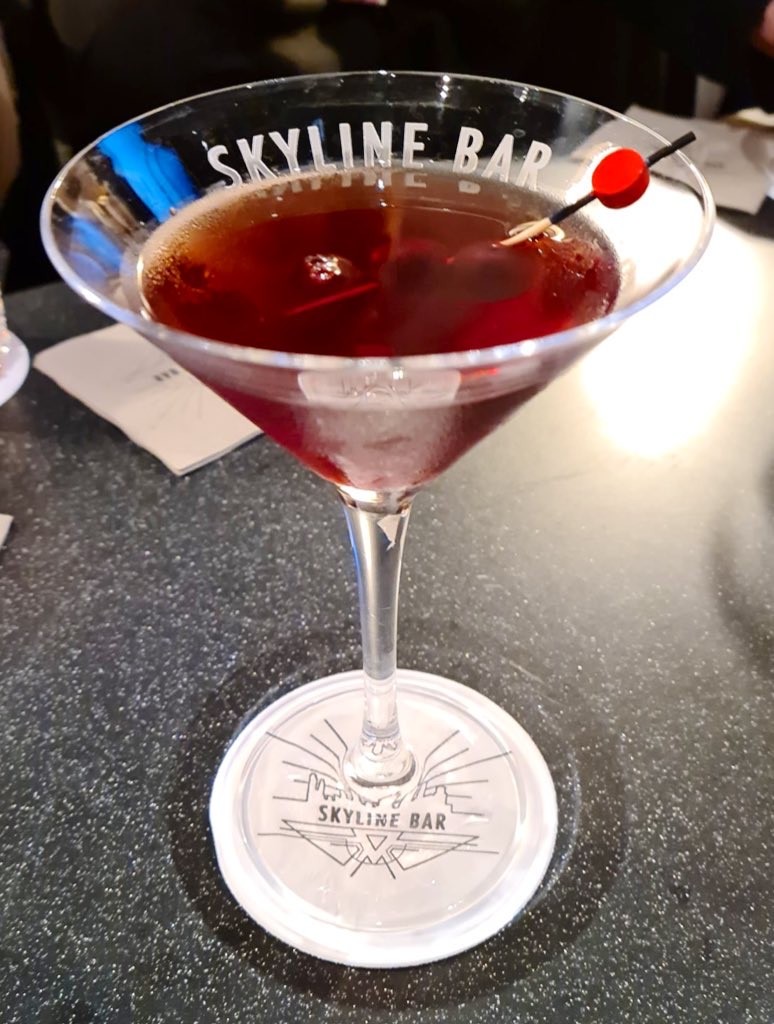 In the photo above you can also see the Green Smash (Rum based, tasted like a Mojito), Orange Fusion Reactor (Orange Mango Passion, non Alcoholic) and the Cosmic (Vodka based, a mix of a million flavors like the galaxy itself). The glasses are produced and customized by Disneyland Paris partner Arribas – they are lovely and some will be on sale soon (no you can't take the one your cocktail came in). Skyline is quickly becoming the place to be. Meet me at the Skyline, Tony!
Downtown Restaurant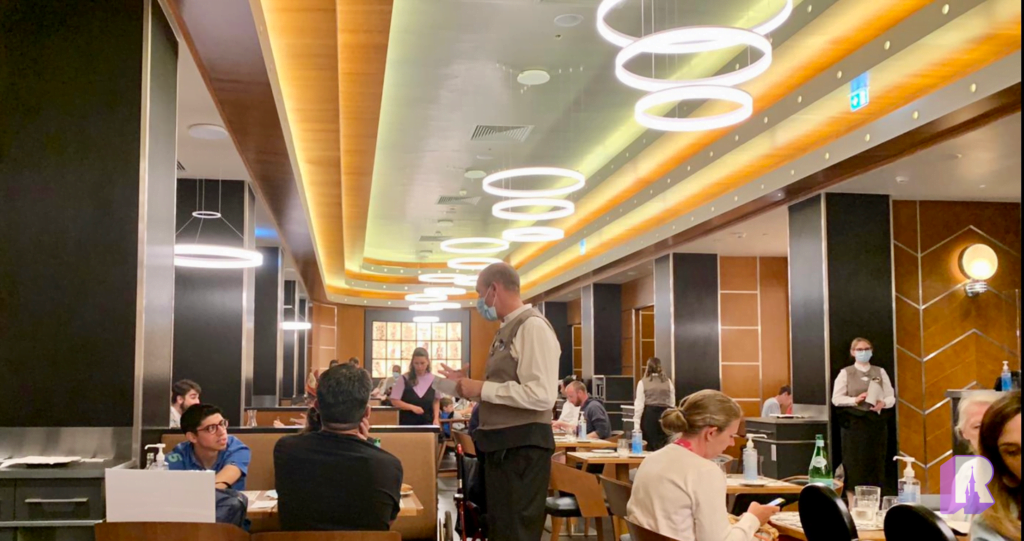 The first thing you'll notice at the Downtown Restaurant is that WOW this is so different from the old Parkside Diner which was a little retro and a lot dated. The wood, black chairs and modern lights really transform the place. The second thing you'll notice is the cool menu, organized in 3 "New York food neighborhoods": Chinatown (asian flavors), American (well.. American) and Little Italy (Italian flavors). The dishes are all you can eat so make sure your room is near the elevator okay, because those hallways are a trek.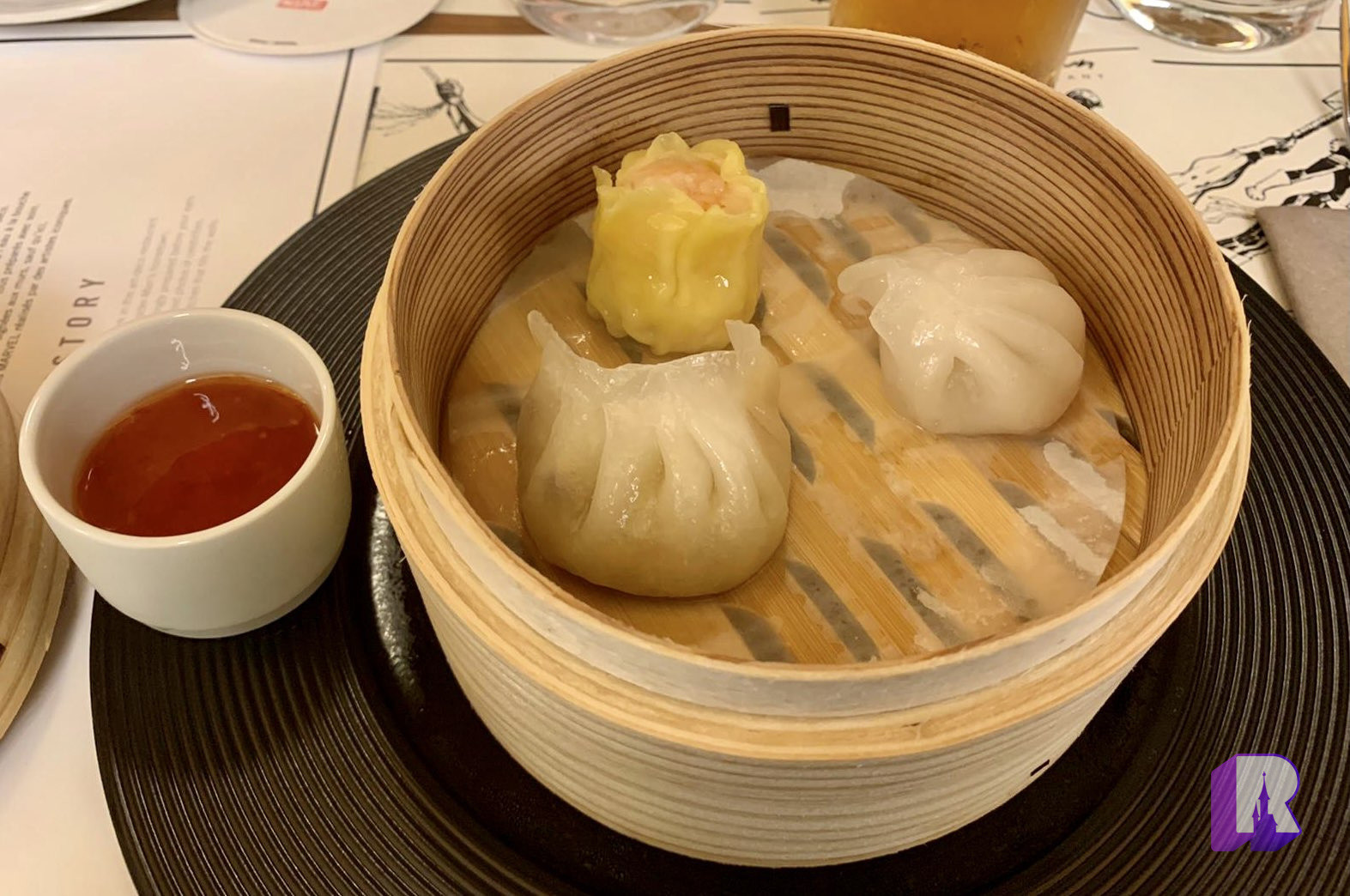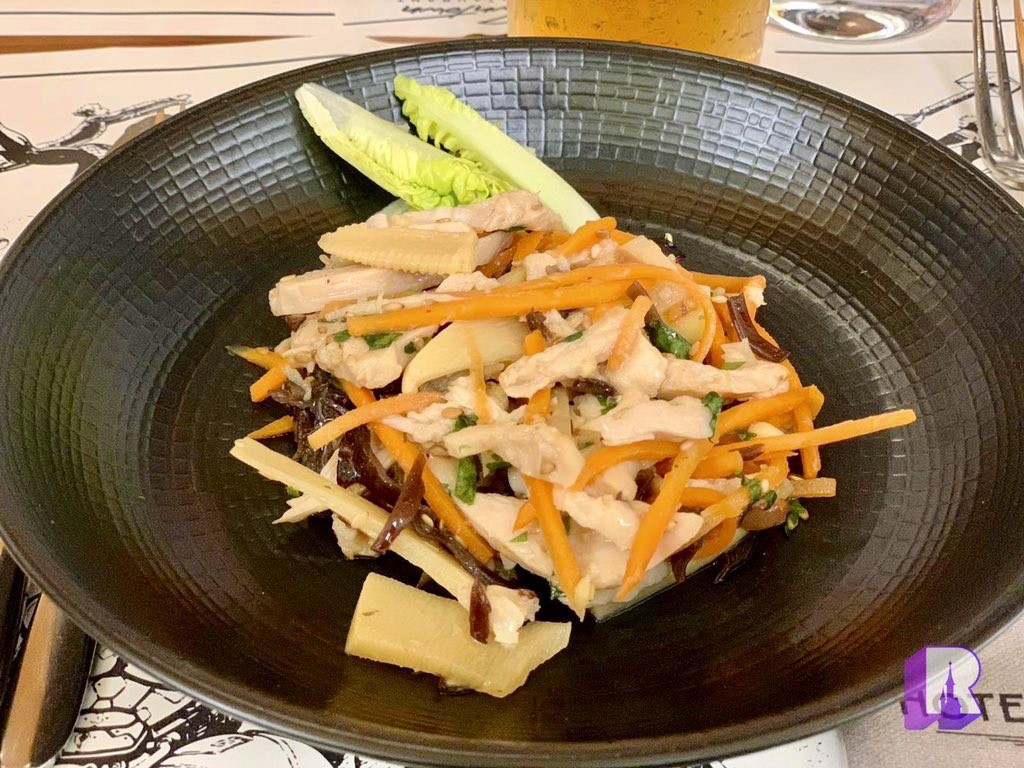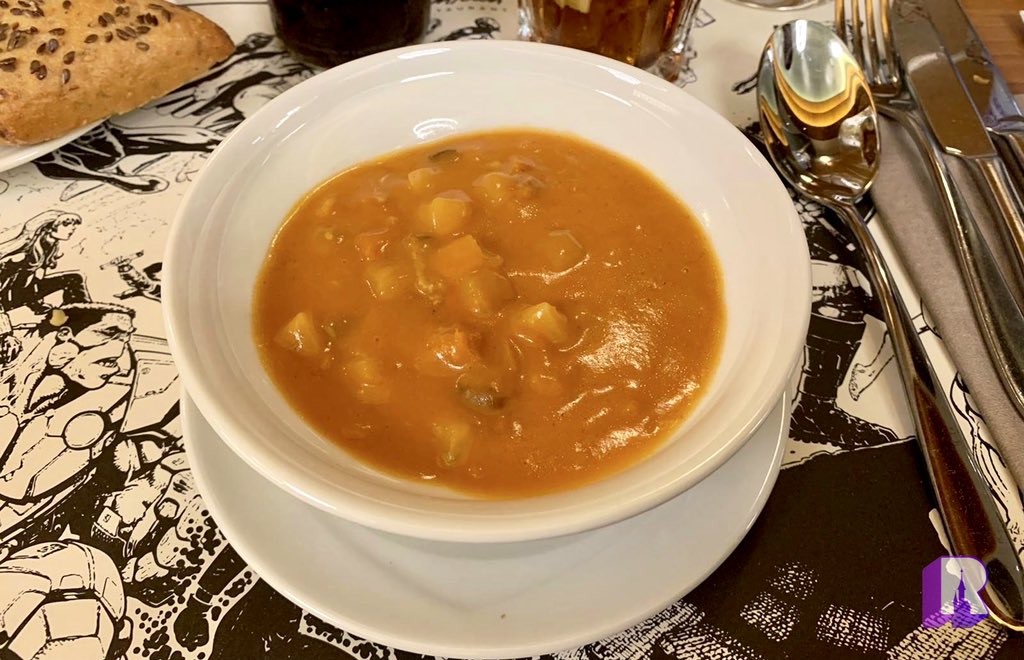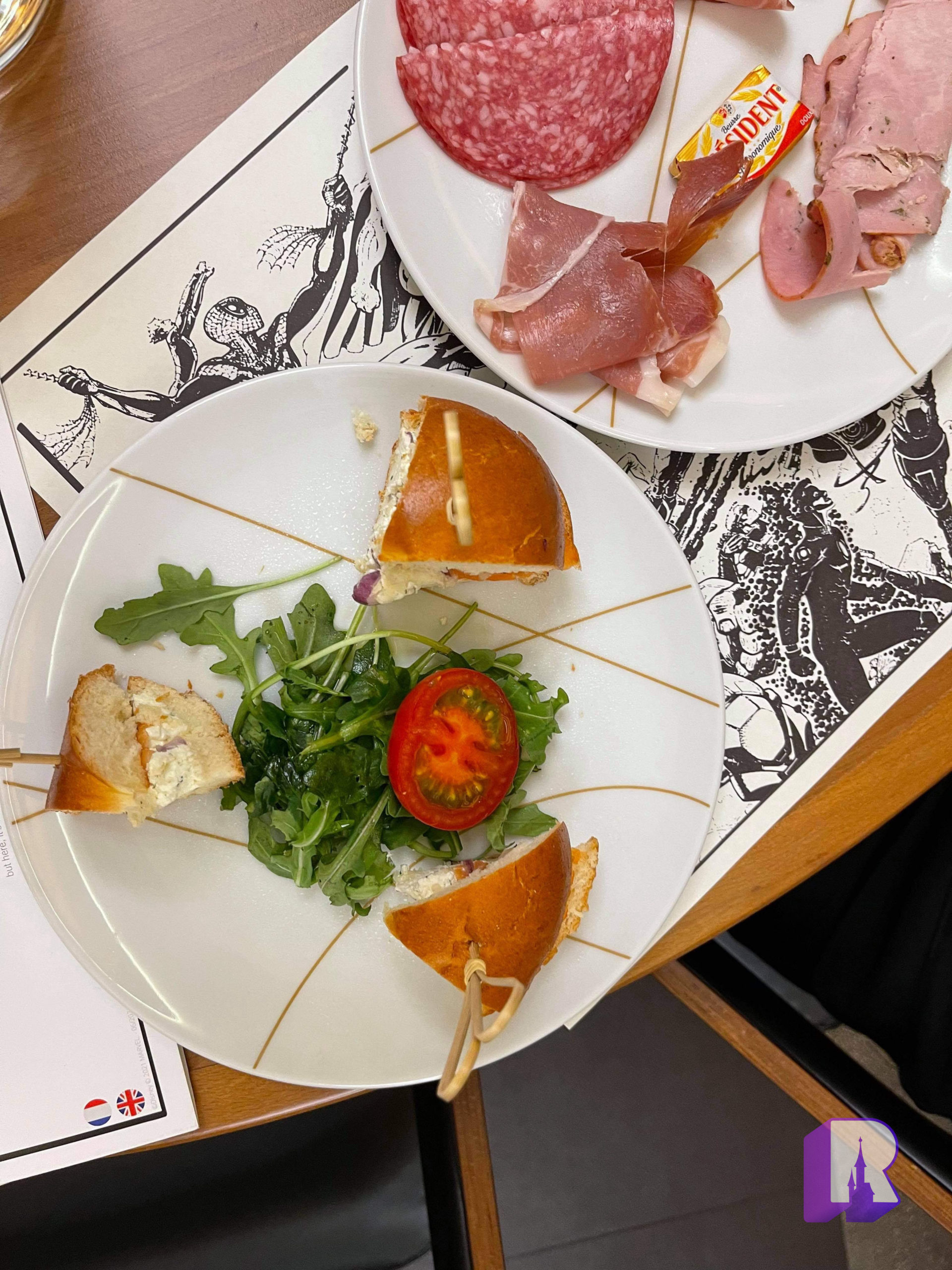 For appetizers we tried the Dim Sum (DIM SUM AT DLP!) which was nice if standard, the Asian Chicken Salad (fresh and crispy), the Clam Chowder (a classic American fare), the smoked salmon bagel that HAD to be made with Kiri from Bel, the new cheese maker partner, and the Italian meat platter. Now for the mains: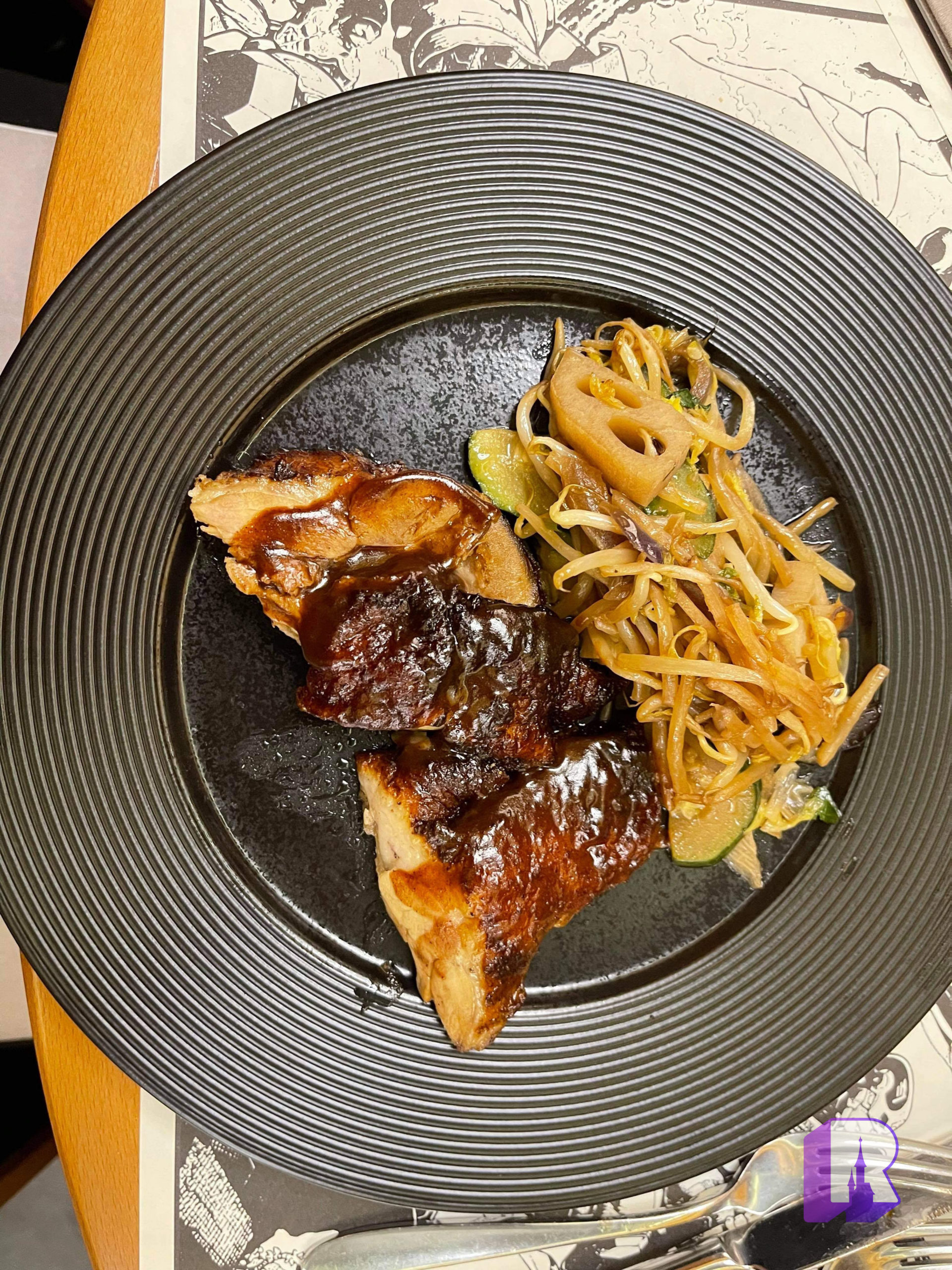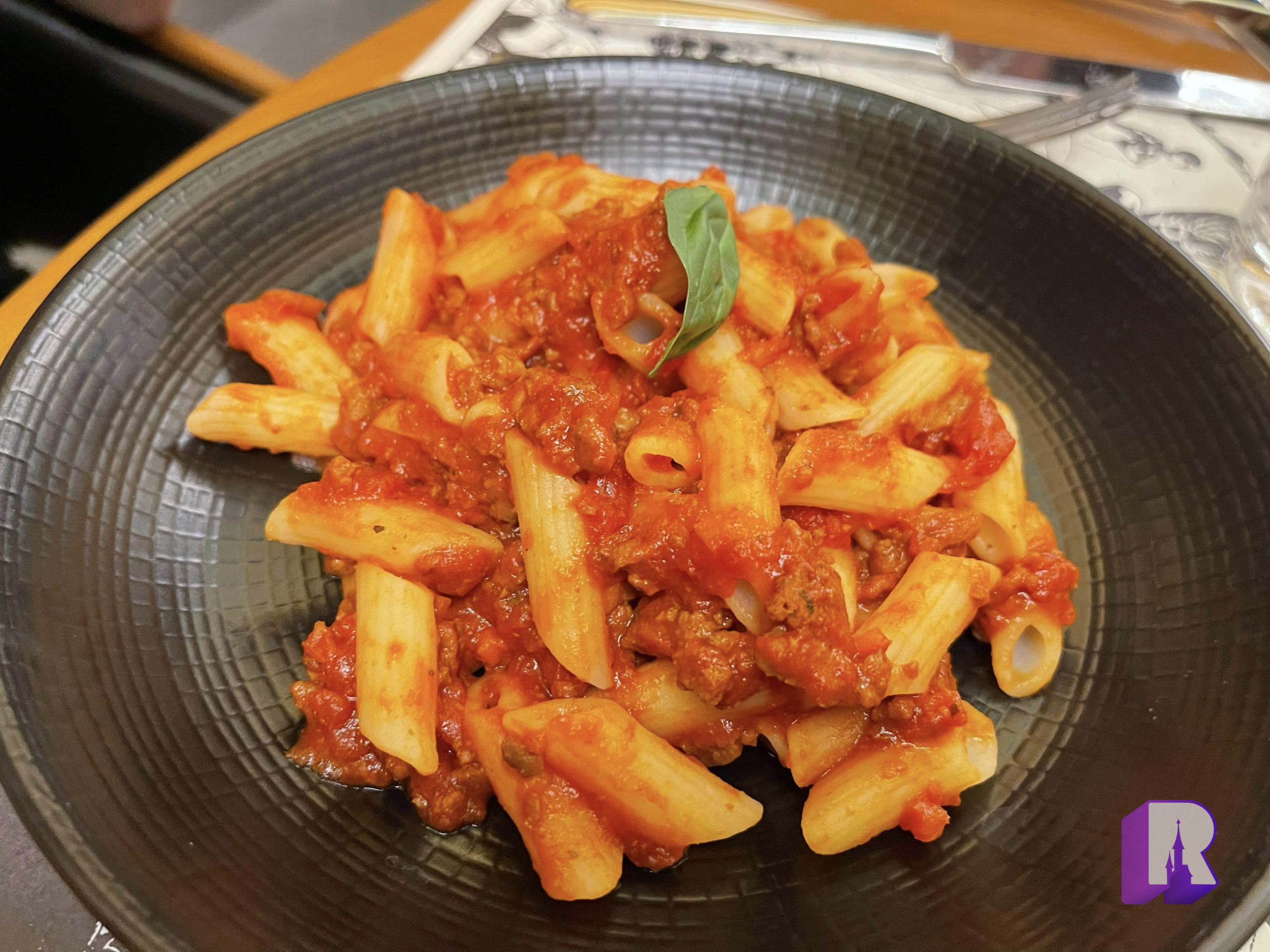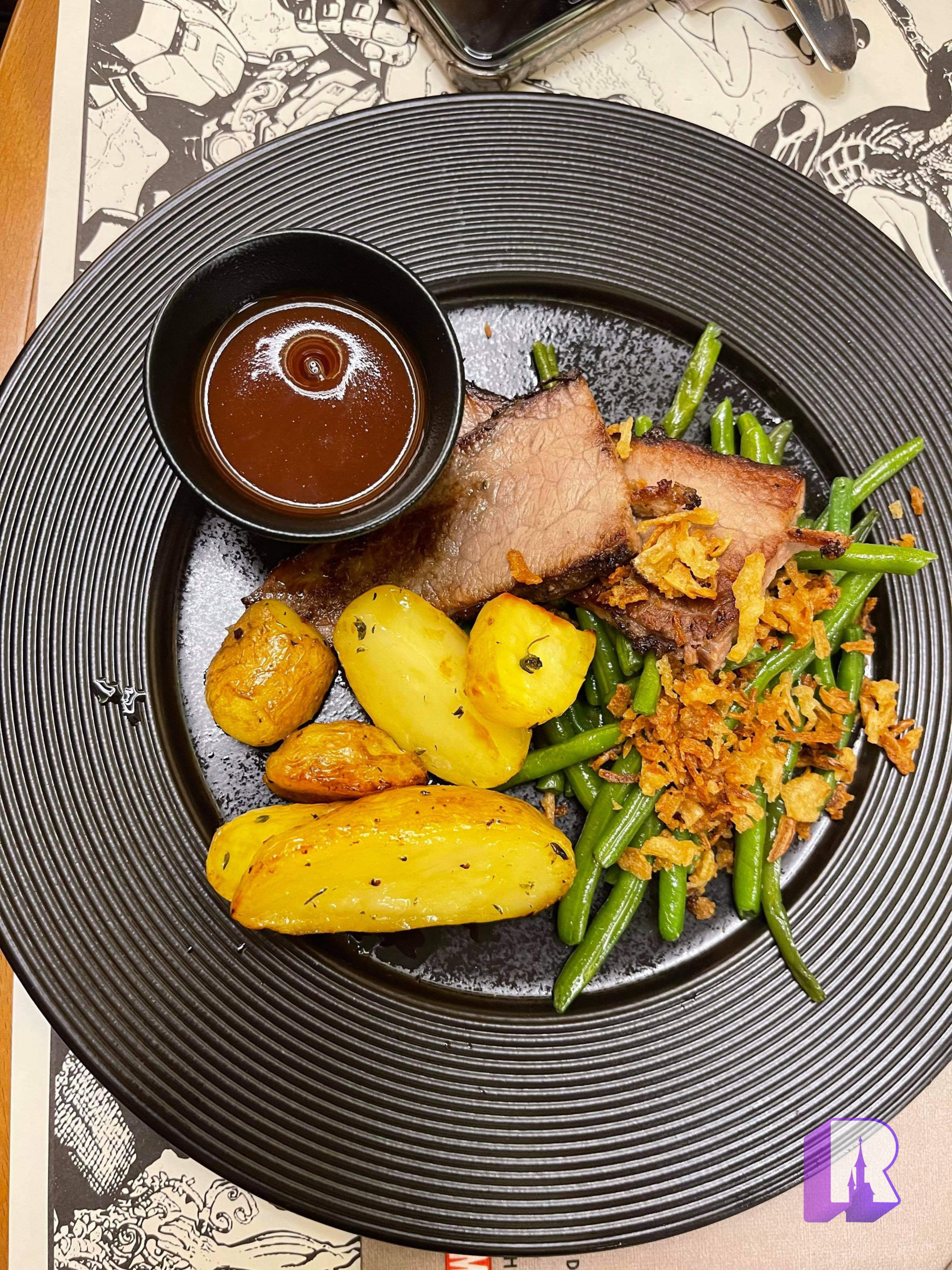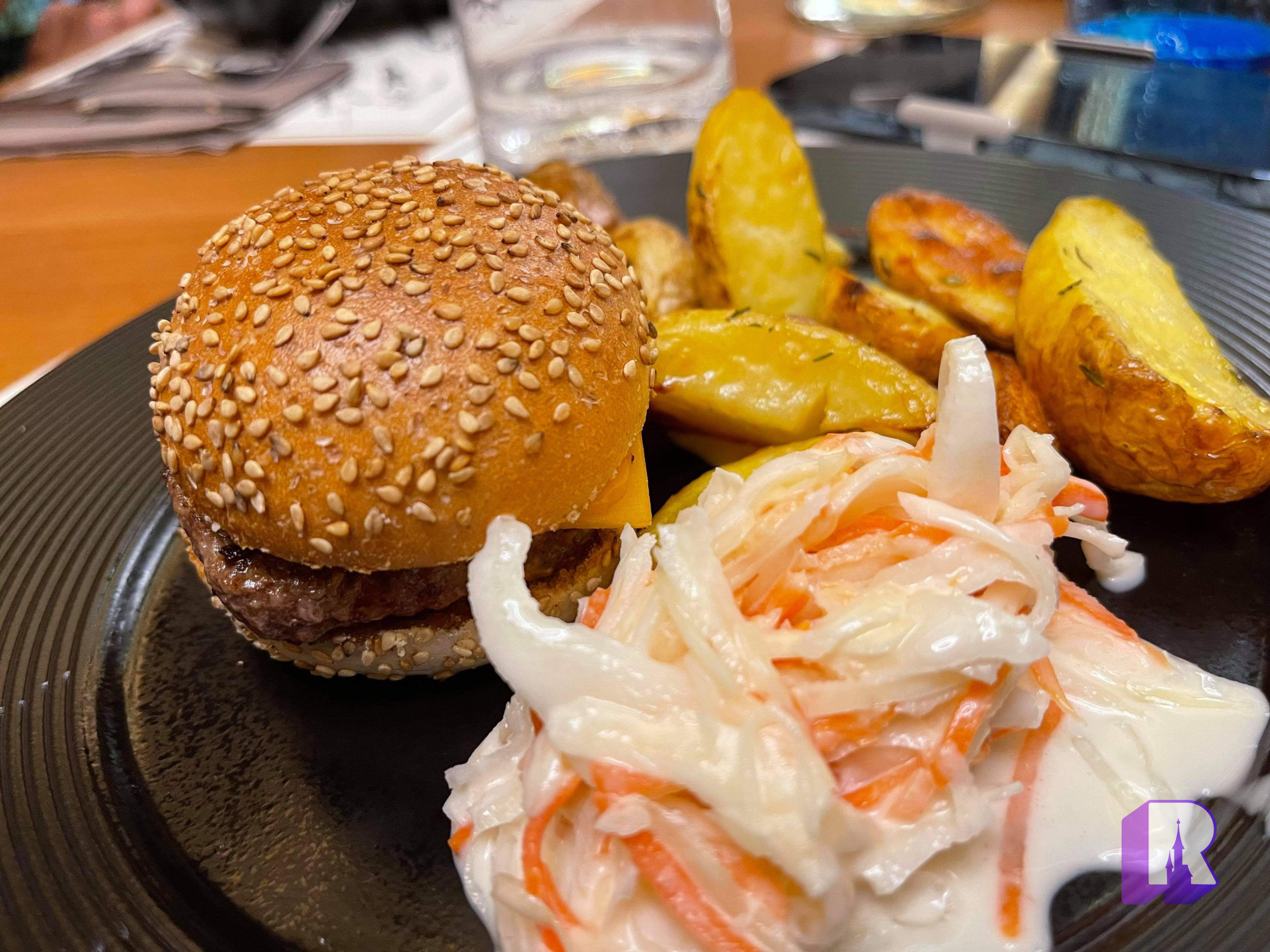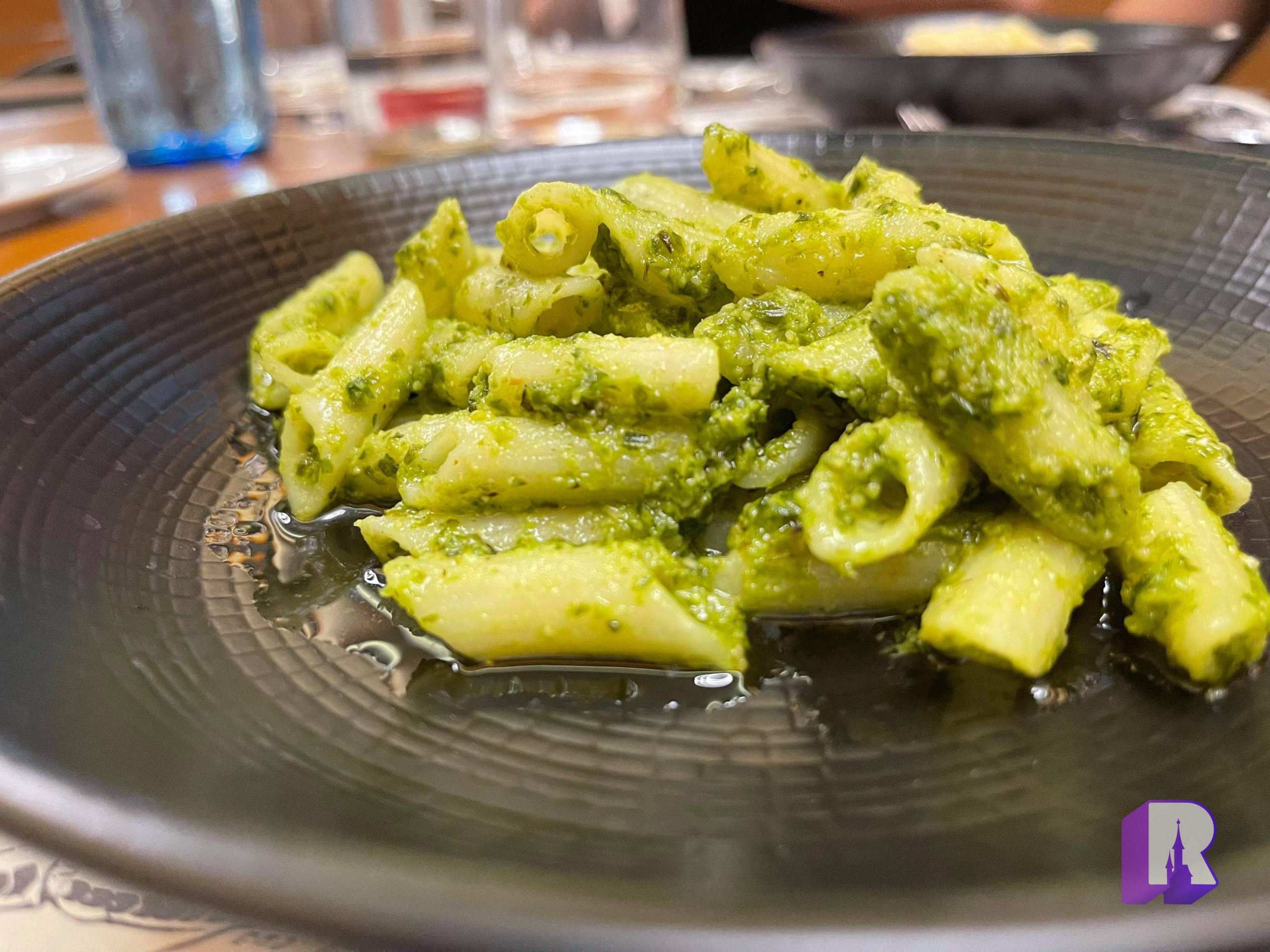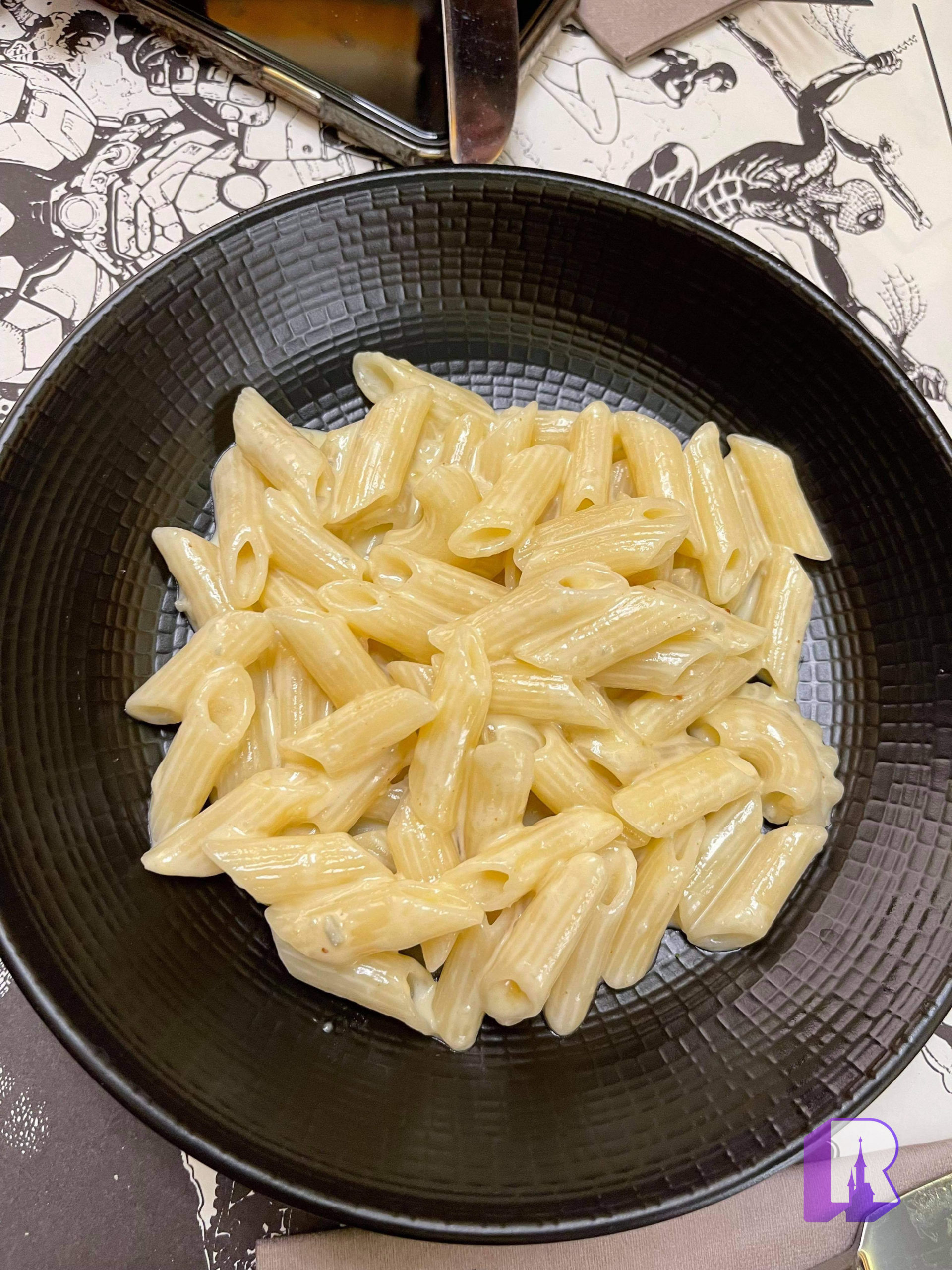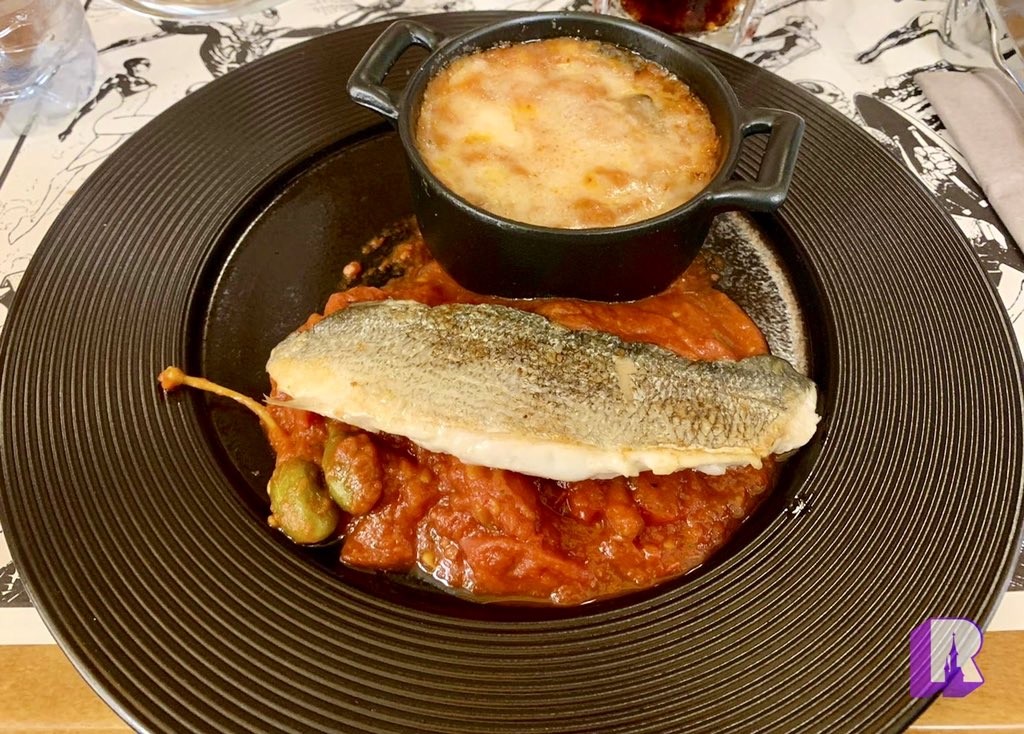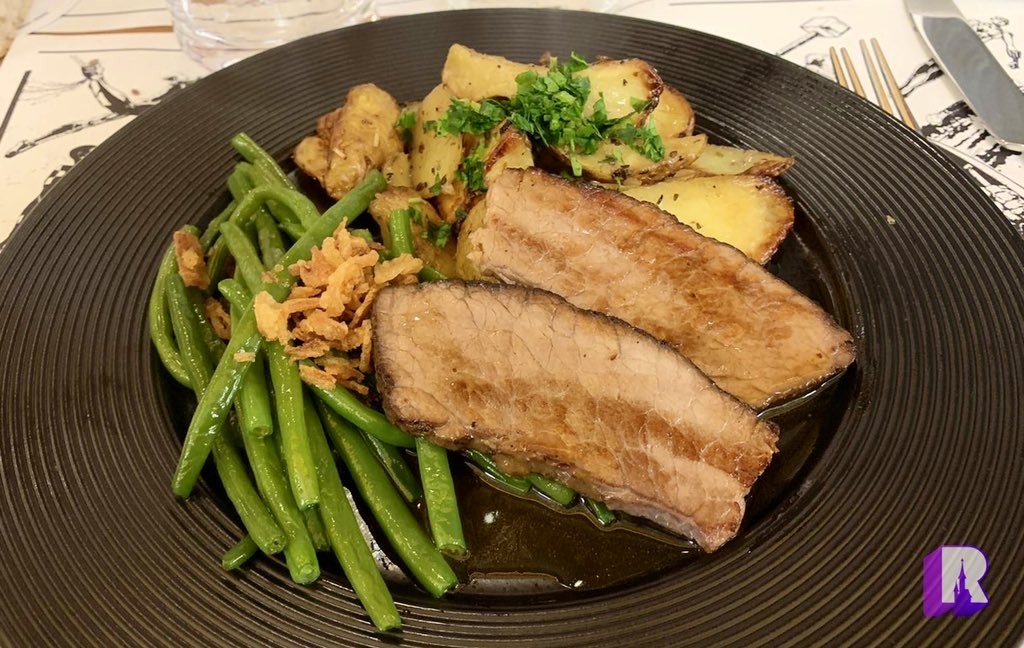 So here we are. Hoisin Duck (great, great looking, and asian food at Disneyland Paris for bonus points), Beef Burger (above Hyperion thank Thanos), Beef Brisket (was too cooked for my french teammates but of course that depends of your habits), Pastas of the day, and Sea Bream with Aubergine Parmigiana (very nice!). A special mention for the new open kitchen, for a bit of added "show":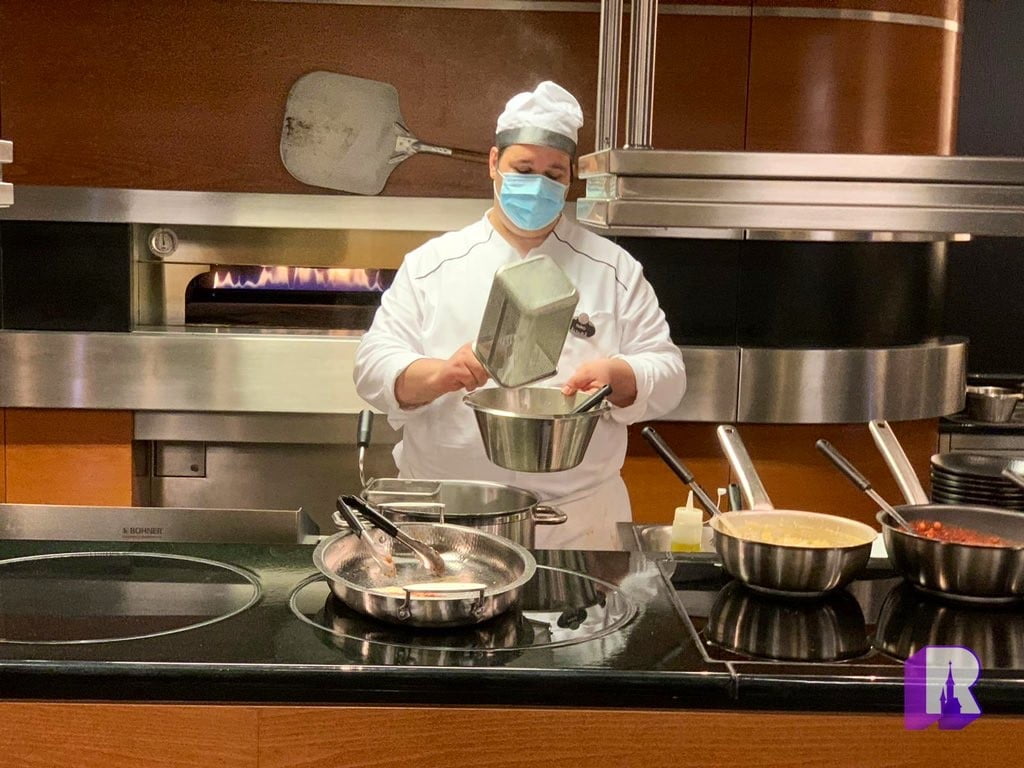 Dessert?
There's a Groot chocolate mousse! Obviously if you're into pastries you're gonna want the Italian AND the American plate in order to get not only all the flavors but also all the theming: Groot is in the chocolate mousse, Captain America is on the Panna Cotta (always pictured him as a Panna Cotta kinda guy) and Captain Marvel sponsors the lovely meringue. The Asian dessert plate was also nice, with exotic flavors. Quality and portions are nice (meaning not one bite but also not so big that you will regret it (remember the hallways are long).
So, Downtown: the key here is let's have FUN. This is your all you can eat Shakira Try Everything type of place with a side of Marvel. Quality is good (it's not the Resort's top level but you get your money's worth for 30 euros). It's your foodie weekend in New York without having to leave town. Come with friends and family and enjoy the multiverse of flavors.
Manhattan Restaurant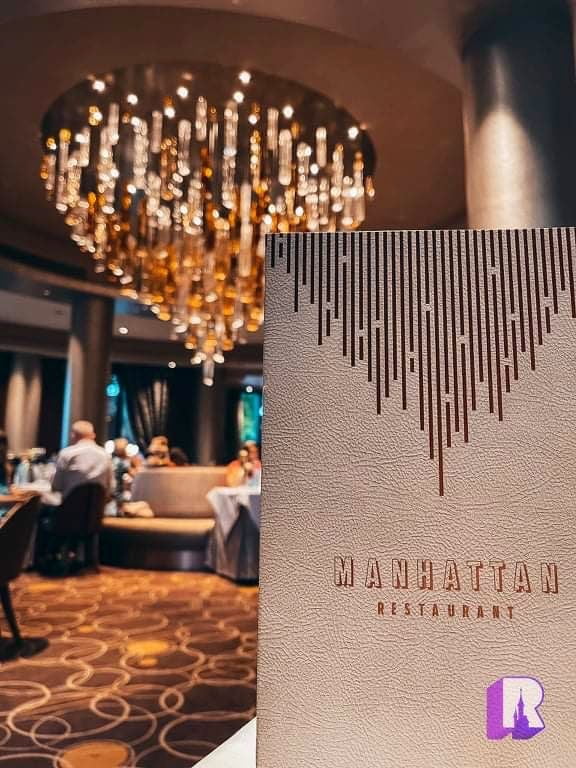 Manhattan Restaurant has always been the upscale venue of the hotel and it's set on holding on to that title. The room was revamped with THE fancy expensive huge Asgard Chandelier (I'm sure you've heard of it by now) which looks impressive in person, and a relaxing classy setting with impeccable service. We opted for the Greenwich Menu (and it seems everyone does).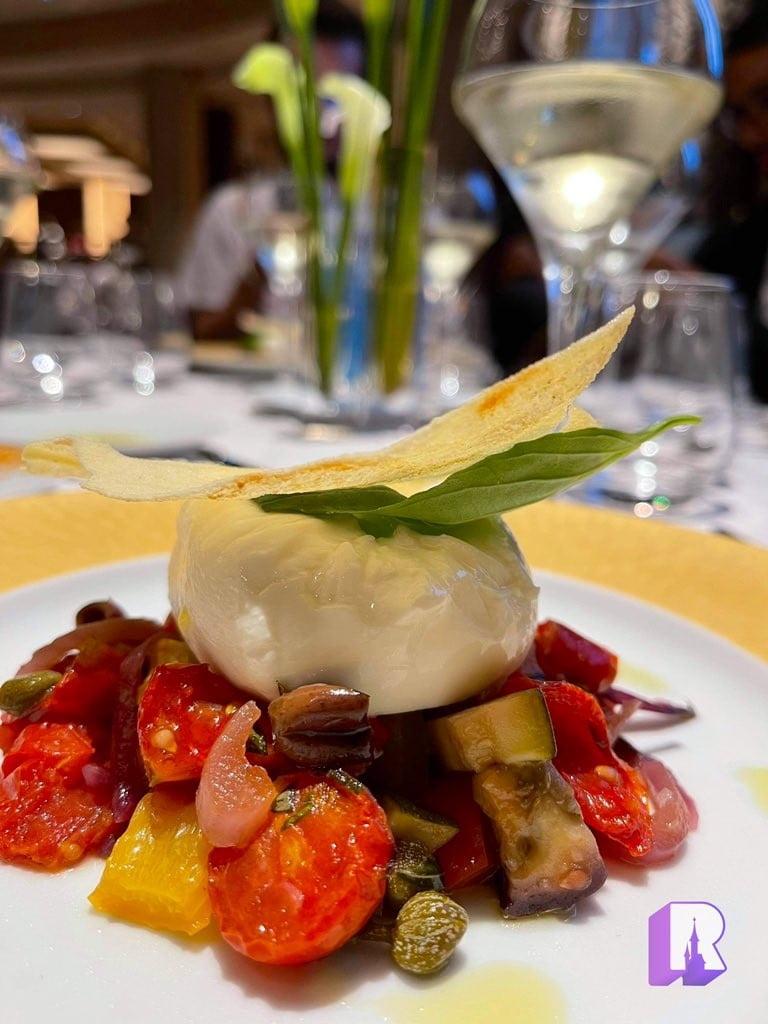 Already with this Burrata Pugliese Mozzarella appetizer you can tell things are different around here: large portions, a bit of a spectacle in your plate, and nice interesting flavors. Manhattan Restaurant is what I would call 'elevated Italian' – you're not at Cafe Mickey anymore. We also tried the Prosciutto di Parma which was nice but maybe not the most original option. Mozza is the showstopper here.
For mains we chose the Lasagne which is nicely presented and again a large portion. The sauce is delicious and the dish itself is a lot (remember we're having dessert – oh and you have to make it back to the room). The Branzino Filet and roast potatoes was light and delightful, definitely the lighter option (you'll make it to Skyline Bar for a night cap).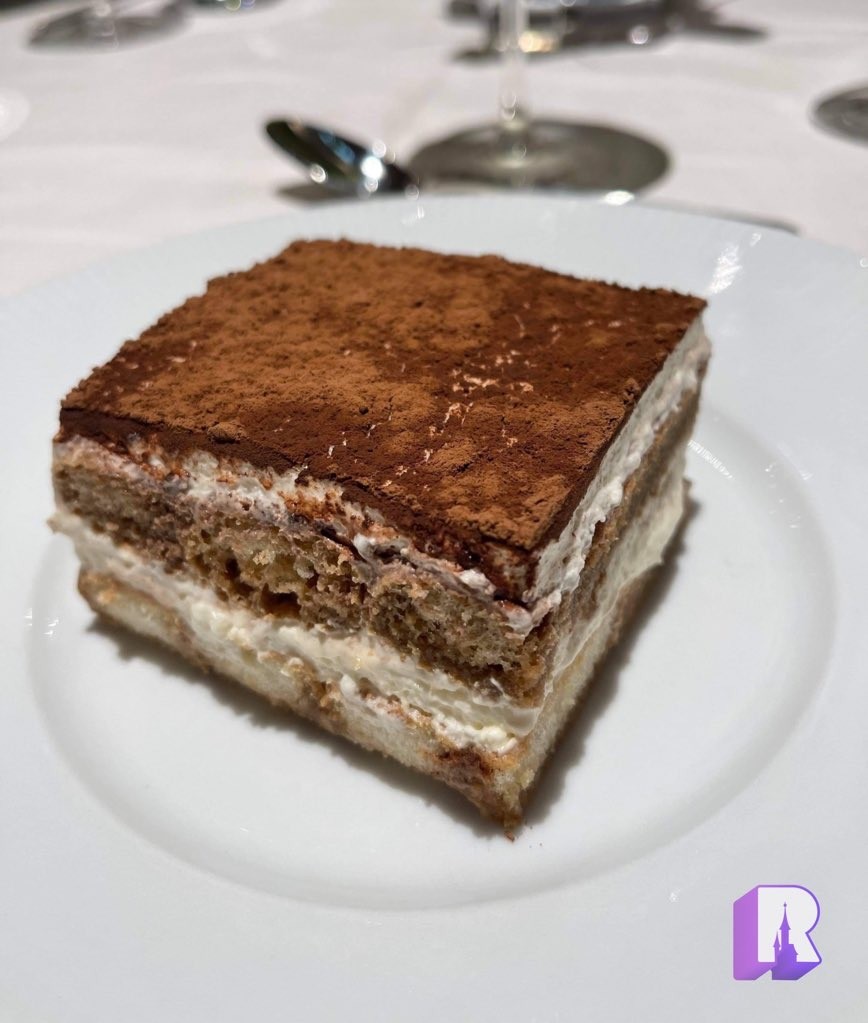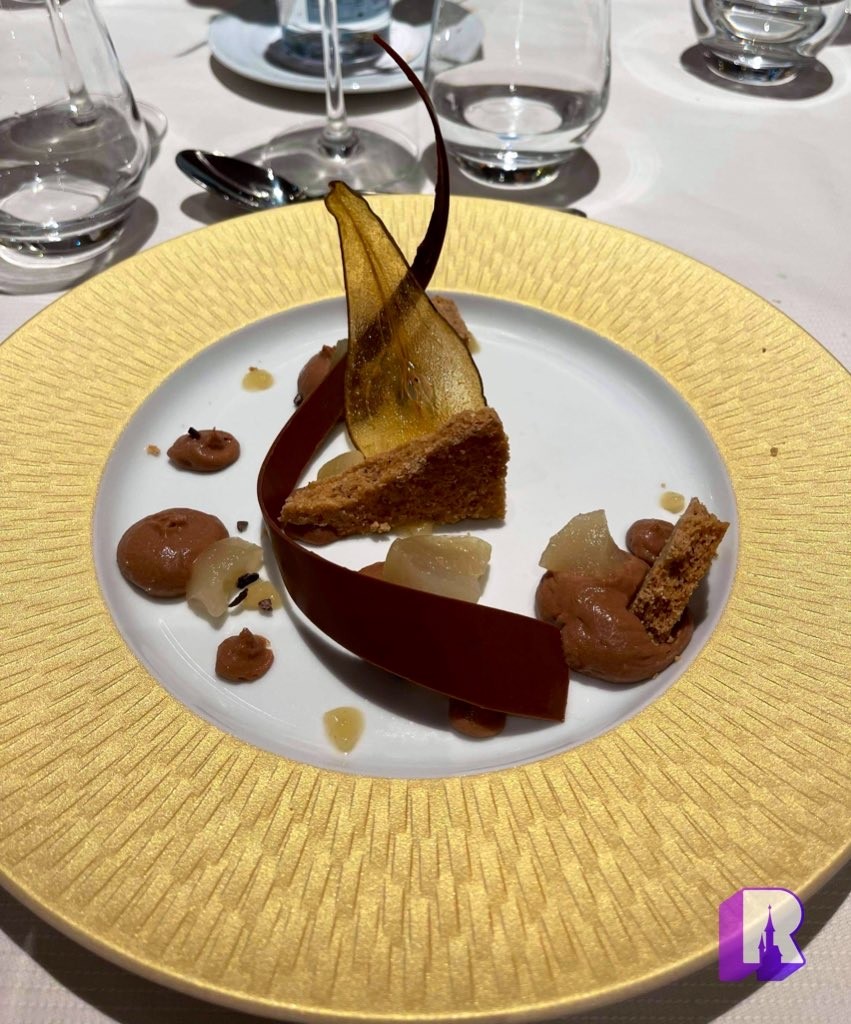 For dessert we've got a perfectly balanced Tiramisu (again – it's a lot but a delicious lot), and the Chocolate Cremoso which is the Vegan option, with light and delicate flavors – hats off to the chef for offering proper Vegan dishes.
Manhattan Restaurant does a good job at holding on to its title as one of the most higher end venues at Disneyland Paris. Keyword here being Disneyland Paris – while our team expected to be a bit more 'wow'ed', the food was delicious and it's still a big leap from a lot of what was offered before and at the Resort generally, so we can only support and encourage this new direction the Food & Beverage team seems to be taking.
So there you have it – YES, come eat and drink the 'new Disneyland Paris' at Disney's Hotel New York, The Art of Marvel, you will not be disappointed. Reservations are available in limited quantities for Downtown and Manhattan in the official app, with more slots available for Hotel Guests – see the Concierge, Empire State Club or Check in desk.