KAT: Hello, everyone! Today for an American in Disneyland Paris, we're going to be doing something a little different. This week's article is going to be a comparison of American and British favorites with a special collaboration between DLPReport and Zoe, more commonly known as Caffeine & Pixie Dust on social media and YouTube!
ZOE: Quite often I am asked to share my list of my favourite things to do or see at Disneyland Paris by guests understandably wanting to experience all the magic the parks have to offer.
This is so hard to do because your favourite aspects in the park can vary on a daily – sometimes hourly – basis. Often I have walked away from an exhilarating spin on BTM declaring 'it's definitely my favourite' and literally within the same hour said the same about HyperSpace Mountain – it's so hard to choose!
However, for the sake of this post (and for you, if you are planning your next adventure in the parks!) I will try…
Favourite Restaurant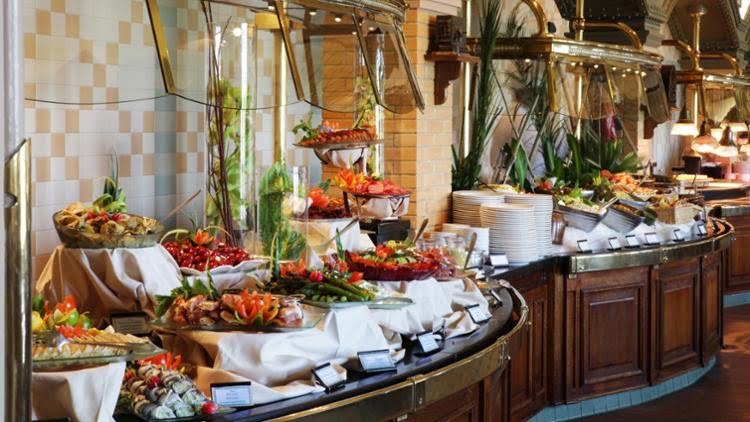 ZOE: For the first option my favourite is – and always will be – Inventions in the Disneyland Hotel. Inventions offers the most beautiful views across Main Street USA and the dreaming spires of the castle. The meal is a buffet service which we really enjoy, as we all tend to make a beeline for a different section (I quite often have at least 2 plates full of seafood!). It adds to the holiday feeling to know that even the most 'selective' eater in your party will find something they want to eat due to the sheer variety of food on offer.
But enough of the details, onto the main event…the characters! Inventions is a character meal, which means that throughout the meal a variety of Disney characters will stroll through the restaurant and pause at every table to meet guests, sign autographs, have photos taken and (depending on how busy the sitting is) it's a chance to get some really good interaction. You will tend to get perhaps 4 characters at the lunch sitting, and between 6-8 at dinner. You never know for certain which characters you will get to meet, but it tends to be the classic crew (with perhaps a couple of wild cards like Smee and Captain Hook) – and all without queueing! We have made some amazing memories at Inventions, and so if it is within your budget I'd always recommend it.
For my fast service restaurant, I have chosen Fuente del Oro in Frontierland. I like that the food is a little bit different in this restaurant – people often talk about eating lots of burgers while in the parks, but Fuente del Oro is proof that if you know where to look you can find a real gem. There are set menu options and a fair bit of choice. I tend to go for the Chicken Fajita meal, but that is because it is the meal deal that includes churros as a dessert! Set in the midst of Frontierland and facing Big Thunder Mountain, the theming is beautiful and if you are visiting during Halloween season you might even be greeted by the sounds of a live Mariachi band floating through Thunder Mesa which really adds to the immersive experience.
KAT: So I'm not one to usually go to restaurants, typically you can find me bringing a whole stack of Nature Valley bars and getting a Wookie Cookie (or two) from one of the snack kiosks. That doesn't mean I haven't been to restaurants, though! Here are a few of my favorites in the parks, with one in Disney Village as a bonus.
My favorite sit-down restaurant is probably Inventions. At Inventions, there were so many options at the buffet that I couldn't try everything, but I particularly loved the adorable Star Wars desserts and delicious vegetables (totally opposite sides of the spectrum but why not). The best part of the meal, however, was meeting some classic characters like Mickey, Minnie, Chip, Dale, and Eeyore! Each of the characters made a special effort to interact with me as a solo traveler, which is always a perk of visiting alone.
A quick-service restaurant that I absolutely adore is Chalet de la Marionnette in Fantasyland, just across the bridge from Peter Pan's Flight. The place may be simple and occasionally pretty crowded, but it has some of the best chicken that I have ever eaten. It's also the restaurant endorsed by my mom, so what are you waiting for? Try getting some delicious chicken with a side of fries and a nice mini Magnum bar.
And finally, my favorite restaurant of all time – Earl of Sandwich in the Disney Village. Where else can you get reasonably priced sandwiches with a delicious side of wedges and an incredible brownie made with Ghirardelli chocolate?? Does anything else need to be said?
Favourite Attraction: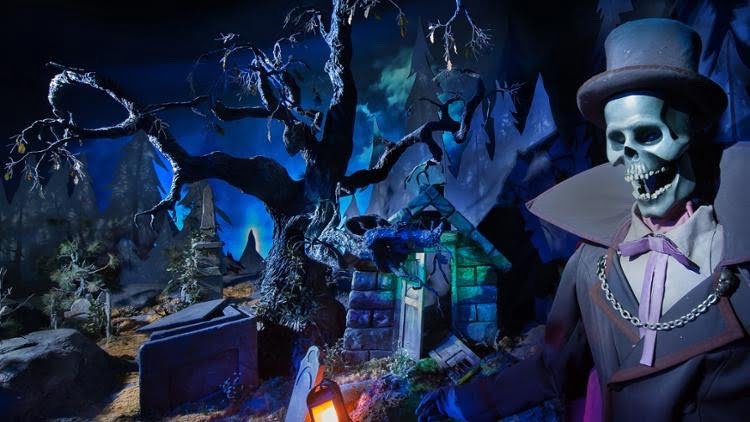 ZOE: Okay, so as I mentioned at the start, this is a really tricky one for me to answer, as I'm constantly changing my mind – however, there are some clear front runners.
Coming in at third place is Tower of Terror – I have to jump on this one at least once a trip (especially now with the new storylines and random drops). I am a big fan of the 'front row and no hands' technique (as suggested by fellow #DisneyLad Cat) for the perfect ToT experience.
In second place (for now…) is HyperSpace Mountain. I didn't get a chance to experience it before the Star Wars overlay -but as a Star Wars fan – I am here for it. I love the speed, the dynamics, the lighting effects and the fact that you leave with hair twice the size it was before you boarded.
So that leaves the top spot for Big Thunder Mountain. Oh, how I love this ride, I love hopping on it during Extra Magic Time and then smugly pocketing a Fastpass to ride again later, I love watching Illuminations with the backdrop of a twinkling Disneyland Paris from the ride at night and I even love whizzing along the tracks in the rain! I think aside from the amazing theming, the jovial hat-tipping cast members and the dramatic setting – I really love the sensation of roaring through dark tunnels at high speed and giving in to the exhilarating nature of the ride. It is called the 'Wildest Ride in the Wilderness' for a reason, so be sure to take your ears off!
KAT: As Zoe said, this one is a pretty difficult question to answers, but I managed to narrow it down to my top two. We actually have one favorite ride in common! For me, both of my favorites are located in Frontierland, which is definitely going to be mentioned again later in this article. But for now, here are my top two favorite rides in the parks, in no particular order as they always switch depending on the day.
First, we got Phantom Manor. This should come as a surprise to absolutely no one, as I mention it in every single one of my articles and somehow have managed to bring it up in many of my university finals (and don't worry parents, I still passed). I'd been dreaming of riding in the French Doom Buggies since I did a project in French class back in the States in my freshman year. Unfortunately, when I first arrived in Paris, Phantom Manor was still undergoing the incredibly long renovation. The day it opened in May I was in line as soon as the park opened and have ridden it over 100 times (once 10 times in a row). The tragic storyline mixed with incredible music and gorgeous lighting makes it not only my favorite attraction of the Paris parks but of all of the Disney parks I've been to.
The second ride that I adore in Frontierland is Big Thunder Mountain Railroad. As you'll hear many people claim, the French BTMR is almost definitely the best version out of any of the parks. Zooming in pitch-black darkness, seeing some classic animatronics, and sometimes even seeing all effects working at the same time is such a fantastic experience! Unlike the majority of guests, I am always excited to ride this attraction in the rain, as there's nothing like flying down a mountain, rain hitting your face and wind whipping your hair around. Makes for a great ride photo! Confession – Every time I ride this attraction my fingers are crossed for an in-ride evacuation. Who wouldn't want to walk through the tunnels under the river??
Also a fun update – The bats are back in the final tunnel of Big Thunder after having been in the dark for months!
Favourite Character to Meet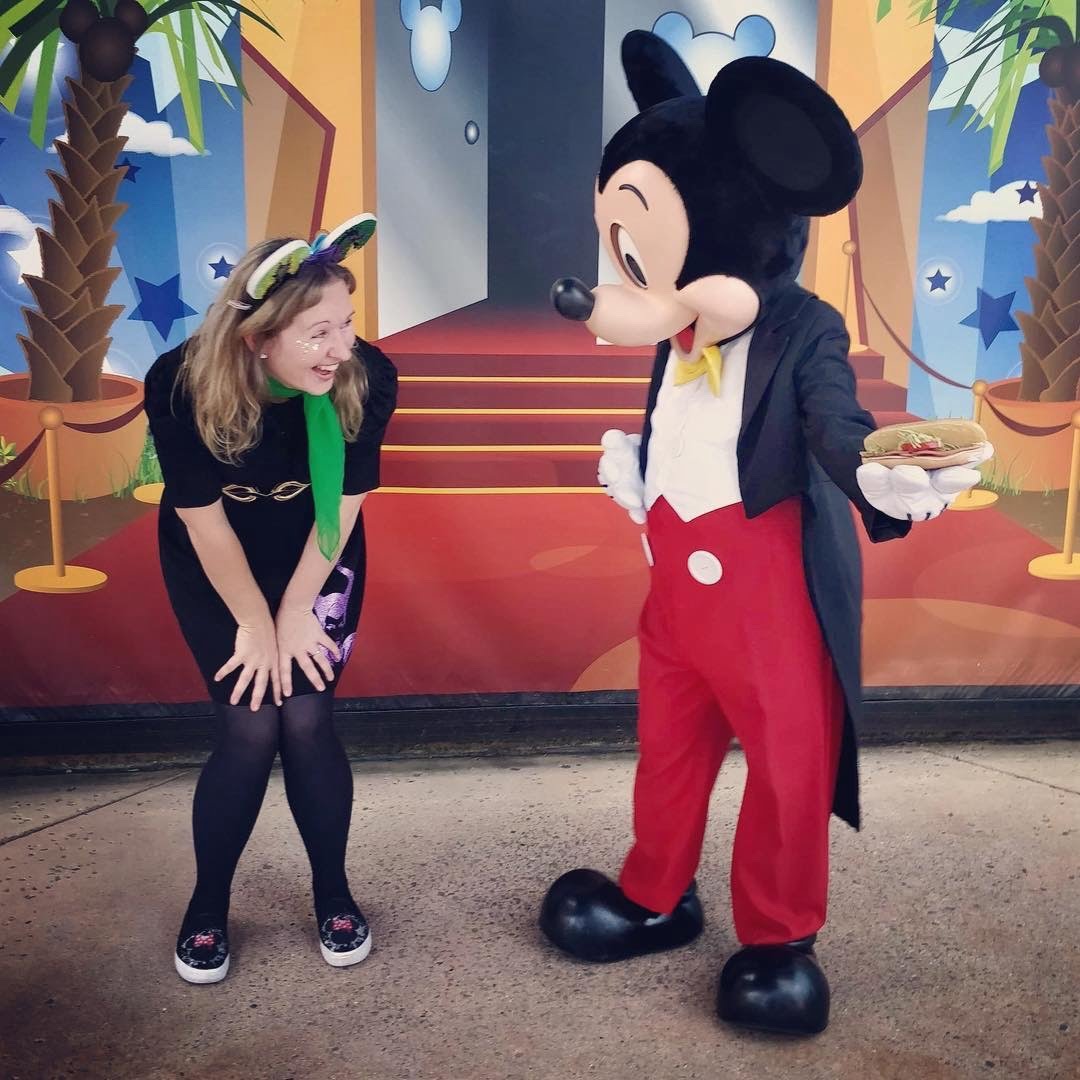 ZOE: Now then, you might be a little surprised by my answer here. If you've watched any of my vlogs or follow my socials, you'll know that Donald is my No.1. Donald is cheeky, sassy and not afraid to stomp his webbed feet to get the attention he rightly deserves. I always make sure I meet Donald at least once a trip but there is another character who draws my attention, he is – of course – Mr. Mickey Mouse.
The famous Walt Disney quote reminds us 'that it all started with a mouse' and this is definitely the case at Disneyland Paris. Mickey is everywhere in the park, from the giant flower bed at the main entrance to the hidden Mickeys on the fire hydrants in Studios. To visit Disneyland Paris without paying respects to The Boss simply isn't done – and he's such a gent too – he once brought me a sandwich, and from that moment on he had my heart.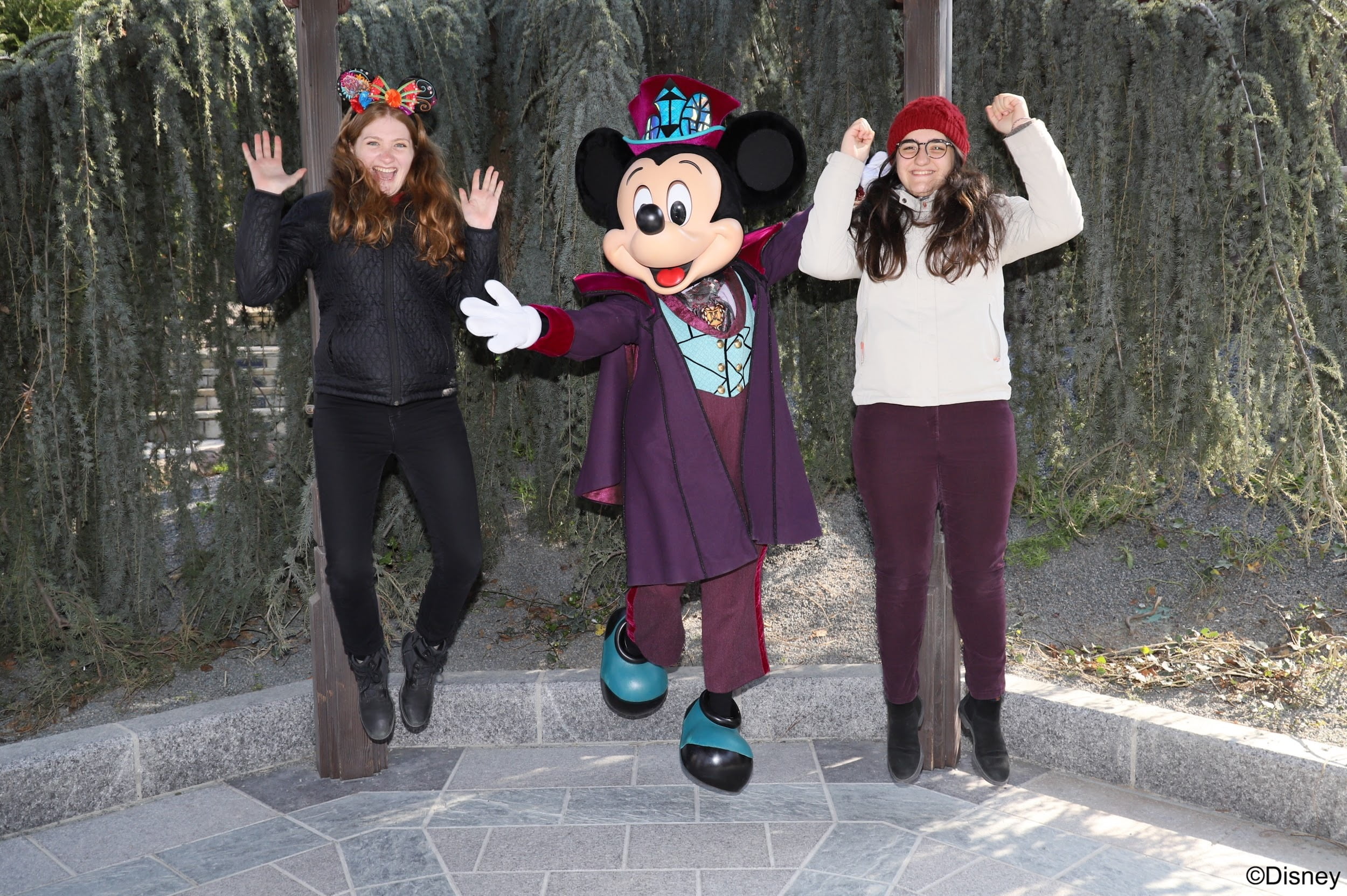 KAT: Meeting characters isn't my top priority when going to the parks, but I usually try to meet at least one or two each time I go.
My favorite costume to meet Mickey in has to be his Phantom Manor outfit! He always points out my Halloween-themed ears and gives the best hugs. My friend and I have a great photo of the three of us jumping in the air, happy as children in a candy store. I was so happy to see Phantom Mickey return last month, but again he has left me without a goodbye, being replaced by vampire Stitch. May Phantom Mickey return again to haunt the gazebo where he belongs.
Keep your fingers crossed that Melanie Ravenswood will be out-and-about in Frontierland during the next Annual Pass soiree on March 13th (which is a Friday, making it even better for creepy theming)! If she is, catch me watching in line for the entire night to see her.
Favourite Hotel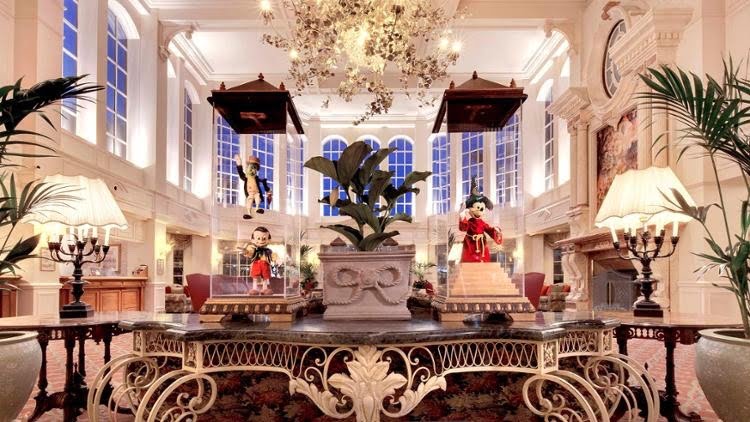 ZOE: This is a tricky one. I have been lucky enough to have stayed at the Cheyenne, Santa Fe, Newport Bay Club (Compass Club) and the Disneyland Hotel (both standard and Castle Club level) and each hotel has its charms. My top two are very close indeed.
The Cheyenne was the hotel we stayed at on our very first trip and, as Toy Story fans, the theming (even before it was re-imagined) really captured our imagination. The way the hotel is laid out with building facades covering the room blocks really gives you that Frontierland town atmosphere. We also loved that although we were still firmly in the Disney bubble as we were staying onsite, we were a little removed from the hustle and bustle of the parks. Walking back down the dusty street outside Hotel Cheyenne enabled us to slow the pace and relax a bit after a day full of fun in the parks.
However, for the styling, the position literally over the gates and of course – the hotel fragrance- my favourite has to be the Disneyland Hotel. The minute you walk into the Disneyland Hotel you feel you have truly stepped into the heart of Disneyland Paris. Even as you wait in the reception lobby (complete with an enormous fireplace, inviting sofas and a sparkling chandelier) you can spot all the Disney touches surrounding you – so next time you are there take a closer look at the wallpaper pattern…
Both our stays at the Disneyland Hotel were so special; falling asleep with the twinkling lights of Fantasia Gardens and waking up to the distant strains of the familiar Main Street music will always be magical memories of our stay at the Pink Hotel.
KAT: I think I'm going to have to pass on this one as I've only stayed in one hotel (Newport Bay) and it was for just two nights! But I do love the Disneyland Hotel lobby and the Café Fantasia as well. So this answer is pretty short and sweet.
Favourite Photo Location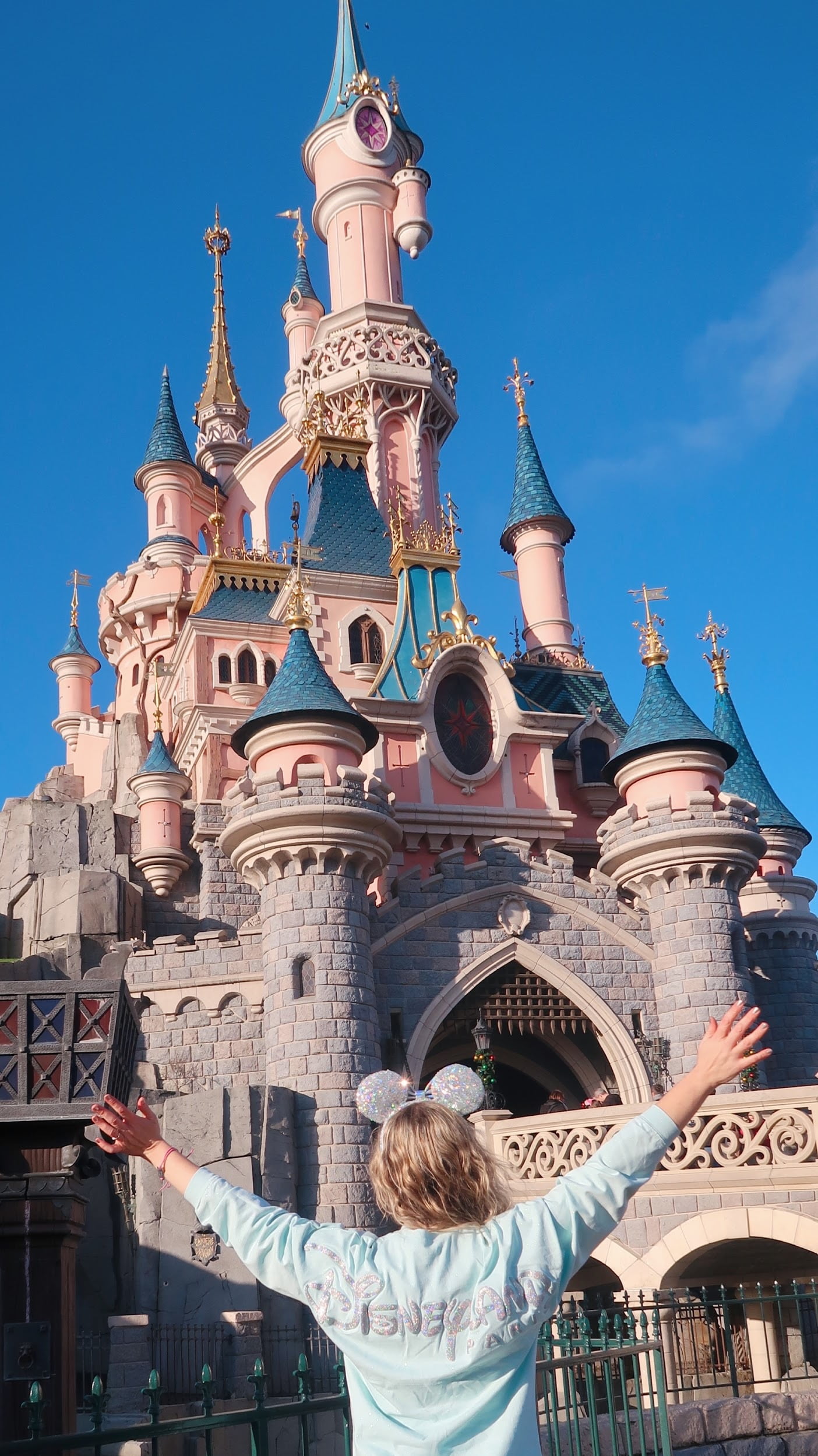 ZOE: Disneyland Paris is super photogenic, I am yet to see a bad angle for that Castle and even on the dreariest of days the perfectly selected shades of pink and blue ensure the castle always dazzles its guests. If I were to pick my favourite viewpoint of the castle it would be by the entrance to Adventureland, the sand dunes and the palm trees swaying in front of the castle give the scene such a mysterious and exotic feel.
For the perfect photo with the castle in the background, then I'd always suggest the little courtyard to the left of the castle. This spot gives you a great view of the castle but even on the busiest of days if you choose the right angle you can make it seem as if you had the park all to yourself!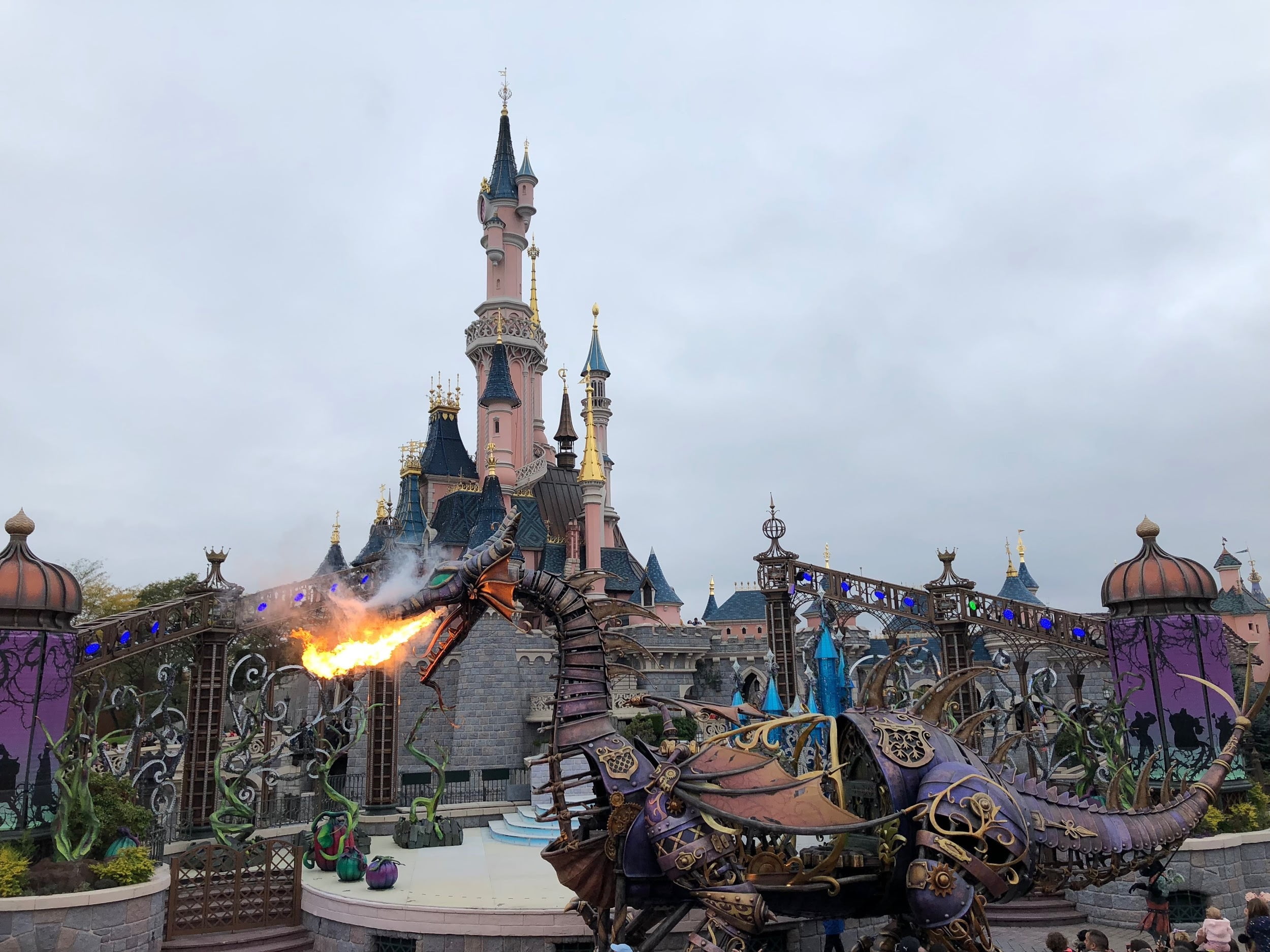 KAT: For photos of people, my favorite spot is the little balcony with a view of the Castle stage and the Castle itself in the background. It's perfect for getting a nice view of Sleeping Beauty Castle without all of the people in your shot!
If you're trying to get some pretty photos for your memory or for the Instagram feed, my favorite place to get some #aesthetic pictures is Discoveryland, in particular Hyperspace Mountain, the Nautilus, and Videopolis. All of these places have beautiful color schemes that shine brilliantly in the sun and then light up in a wonderful way at night, making it possible to take great photos at any time. If you go in the Single Rider line for Hyperspace, be sure to get some close-up photos of the Columbiad (whose name gives me hope that one day Space Mountain will return)!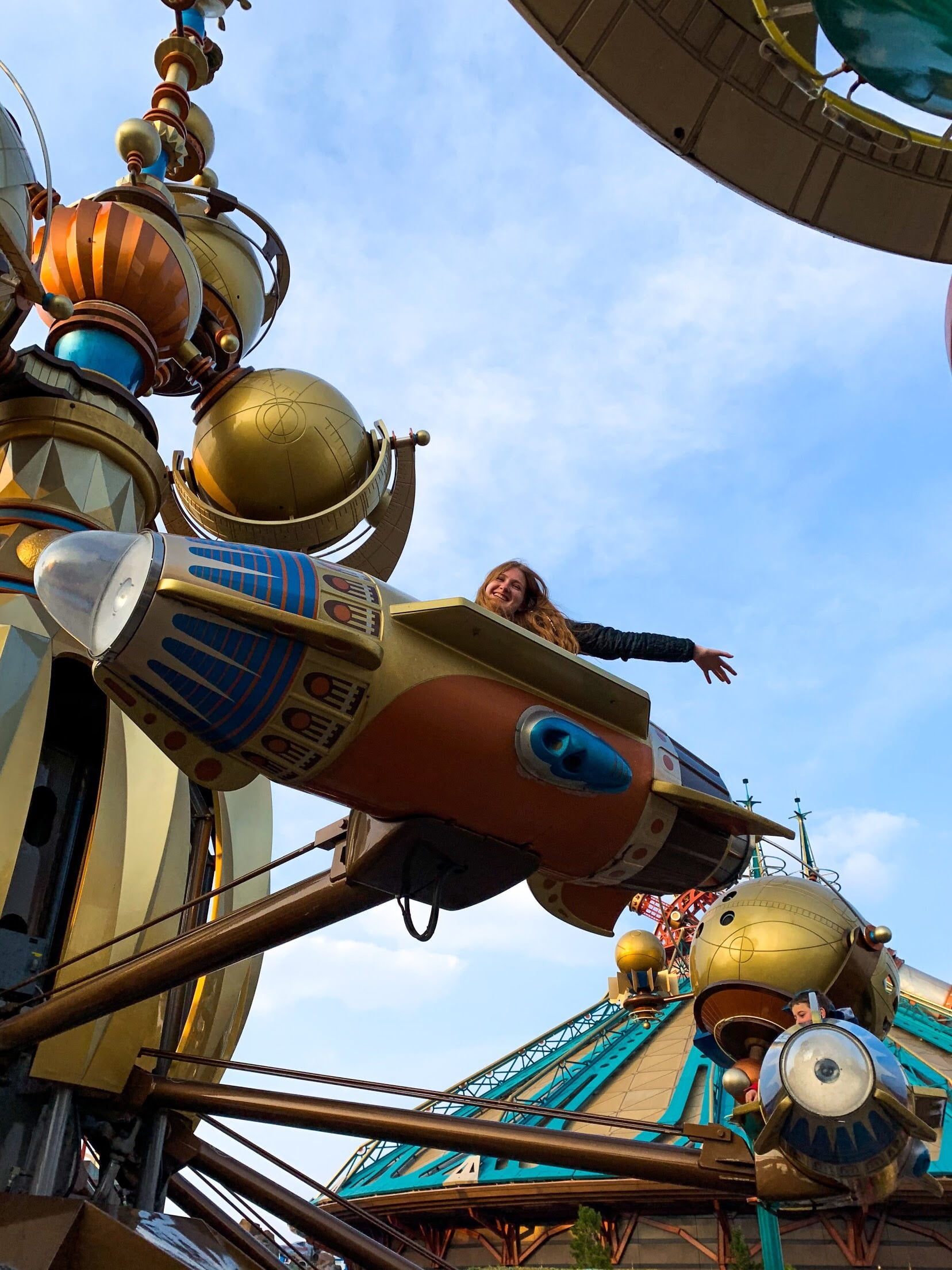 Favourite Season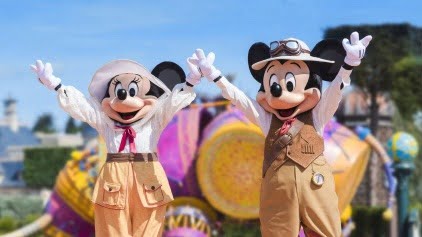 ZOE: So far I have loved each different season I have experienced at Disneyland Paris – but the one that leaps to the forefront of my mind is definitely Halloween. The first Halloween season I saw was towards the end of the season when the parks were still in the midst of the 25th Anniversary celebrations and as a result, the decorations and theming were rather sidelined in Frontierland.
When we visited for Halloween in 2018, I was so happy to see Main Street dripping in Halloween garlands with cheeky pumpkins perched on every windowsill and rooftop. But it's not just the decor – as you wander through the gates you will catch the giggle of jovial ghosts and slapstick style sound effects which all add to the general atmosphere of mischief on Main Street. Add into the mix yummy themed Halloween snacks, special shows and parades, and your favourite characters dressed ready to trick or treat (I still can't get over Maleficent Donald Duck…) and you have the perfect season at Disneyland Paris.
KAT: I'm with Zoe on this one! As a lover of Phantom Manor, the Halloween parade is such a great time to dance along with Melanie and the Sparkly Phantom (No one should consider him a part of the storyline's canon. Why does he flirt with his daughter? That's a secret Disneyland Paris will never tell). This parade also has my favorite music from the pre-parade song to the explosive finale!
With Coco being one of my favorite movies of all time, every Halloween I am thrilled to see the Day of the Dead decorations return to Frontierland. Walking beneath the colorful decorations and seeing the smiling skeletons brings a smile to my face each time I wander down the path to get to the Big Thunder Mountain FastPass line. It will be interesting to see if there is more Coco representation in future Halloween seasons!
Favourite Land
ZOE: Aww can I choose my favourite three lands/areas – this is too hard! Okay, I will try and pick out my favourite but first here are my two runners up – Main Street USA and Fantasyland.
I think the imagineering, the colour palettes and the attention to detail in both Main Street USA and Fantasyland are just breathtaking. If I wasn't so eager to dash around and hop on rides I could happily spend hours just wandering around and taking in all the Disney details. At different times of the day and in varying lights both areas look so different, and perhaps this is why it feels as though every time I visit I notice something new – a whimsical detail that adds to the enchanting atmosphere.
My favourite land, however, has to be Frontierland – collaborating with Kat on this post has really made me realise how much I love it there! However when trying to decide why it is top of my list I found it difficult to pick out just one or two reasons, then I realised it's because it isn't just a land or an area to walk through, it's truly an immersive experience.
From the moment you walk through the Frontierland entrance, there is a shift in atmosphere – the sound effects and the music, the oil lamp lighting and even the scent all work together you draw you into the Wild West. The attention to detail is amazing, as you wander through Frontierland you'll see the building styles changing and becoming more opulent until you reach the formidable gates of Phantom Manor. On my last trip, I finally explored the wooden fort around the entrance to Thunder Mesa. Quite often we have dashed past it on the way to Phantom Manor or Big Thunder Mountain, but I really enjoyed taking the time to wander around it and take in all the imagineering details (although watching my vlog back it does have a feeling of a found footage scary movie as I'm a bit of a wimp ha ha!)
Frontierland is beautiful at any time of the day – but for me, I love exploring Thunder Mesa at dusk. The fire coloured sunset really sets off Big Thunder Mountain and as night falls (if you're brave enough) after visiting Phantom Manor you can scamper about in Boot Hill Cemetery and try and hear the faint beating heart from beyond the grave…
KAT: Is anyone surprised that I'm in agreement with Zoe on this one? Frontierland has one of the most well-developed stories of any Disney "land" in the world. Each ride is connected to the others in its own way, with the Ravenswood family ruling from above in their gorgeous and foreboding Manor (that is until the earthquake arrives…). Along with having a great storyline, I love walking around Frontierland and listening to the fantastic music loop while taking in all of the different sights and smells around the area.
Even when some sections of Frontierland are under construction, the posters used as decorations have hidden references to different areas of the land. One advertisement for the Silver Spur Steakhouse may appear to picture a normal couple having a nice meal, but when inspecting it more closely, guests might see some striking similarities between the woman in the artwork and Melanie Ravenswood herself. Even the Phantom occasionally makes an appearance in advertisements, watching over his daughter and making sure no man will ever take her away from him.
Favourite Snack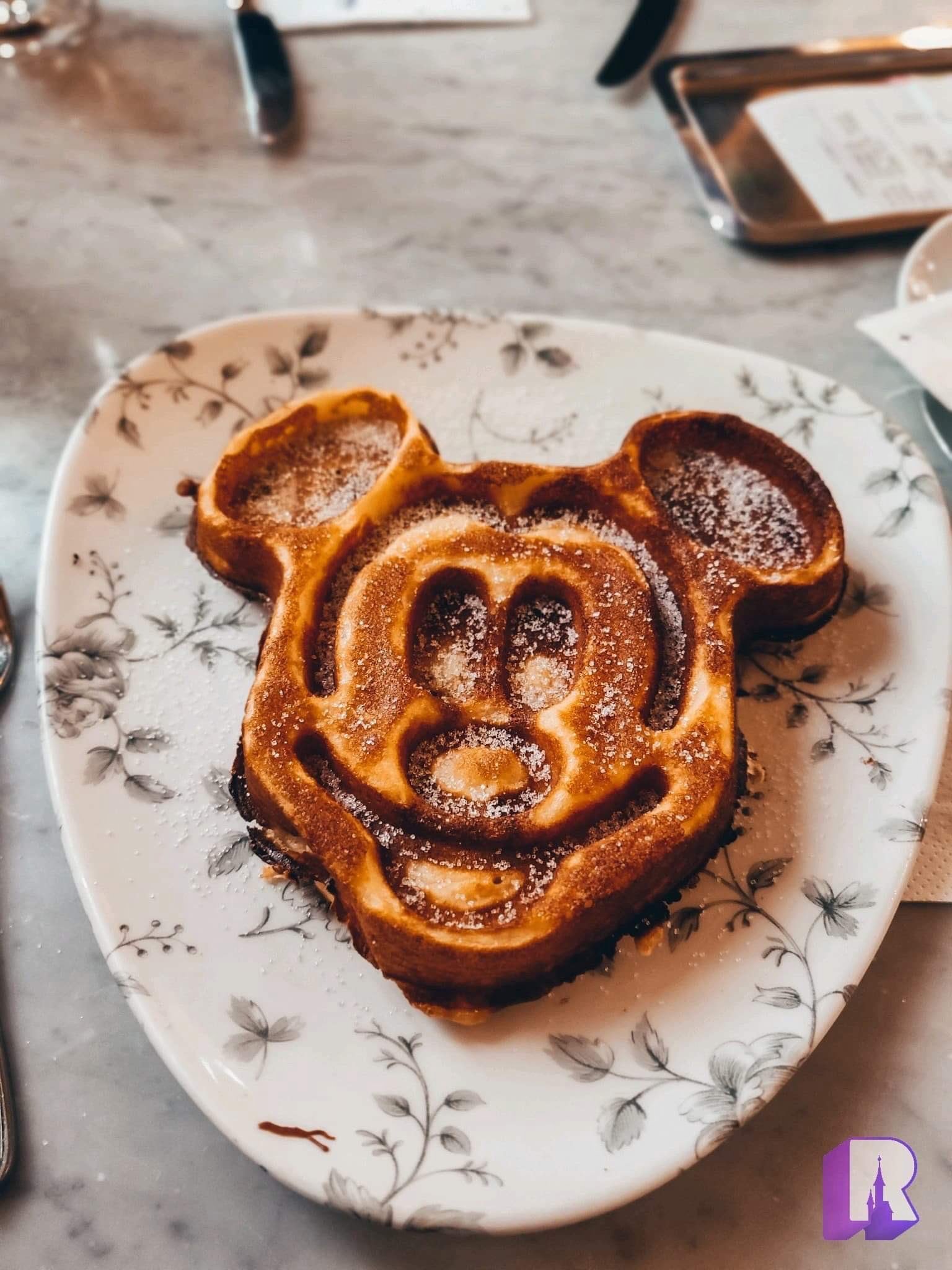 ZOE: There are many snacks I have tried and loved at Disneyland Paris (and many more on my wishlist…!) However I recently tried the delicious Mickey Waffles in Fantasyland and they are my new favourite!
We bought ours at Old Mill next to the Princess Pavillion on a great snack deal which gets you a yummy treat and a hot drink for €6 – bargain! I chose mine drizzled with a Nutella topping and with a Disneyland Paris hot chocolate and so enjoyed seeing it freshly made to order in front of me. The Mickey Waffle was gooey, sweet and filling – the perfect Disney sugar rush to keep you full of energy while you're dashing around the parks.
KAT: Wookie Cookie hands down. Everyone who knows of my love for Disney has also been made aware of my undying loyalty to the adorable cross-eyed shortbread cookie (filled with hazelnut, of course, because it's Disneyland Paris and we would expect nothing else). I don't know why this snack brings me so much joy – it just does! At the beginning of the Star Wars season of 2020, I feared we would never see these cookies again, but luckily they were recently restocked!
But during the Frozen season in Disneyland, I have discovered a new favorite snack combination at Victoria's – The Mystical Maple Coffee with three little pastries for only around 11 euros. I tend to get my coffee from Starbucks (please sponsor me, I love you) in the morning when I first arrive, but by the time 2 o'clock rolls around I'm ready for Round 2 of my daily caffeine intake. The maple coffee is lovely and has a healthy serving of whipped cream on top with some nice chocolate decorations of a maple leaf and the silhouettes of Kristoff and Sven.
Favourite Shop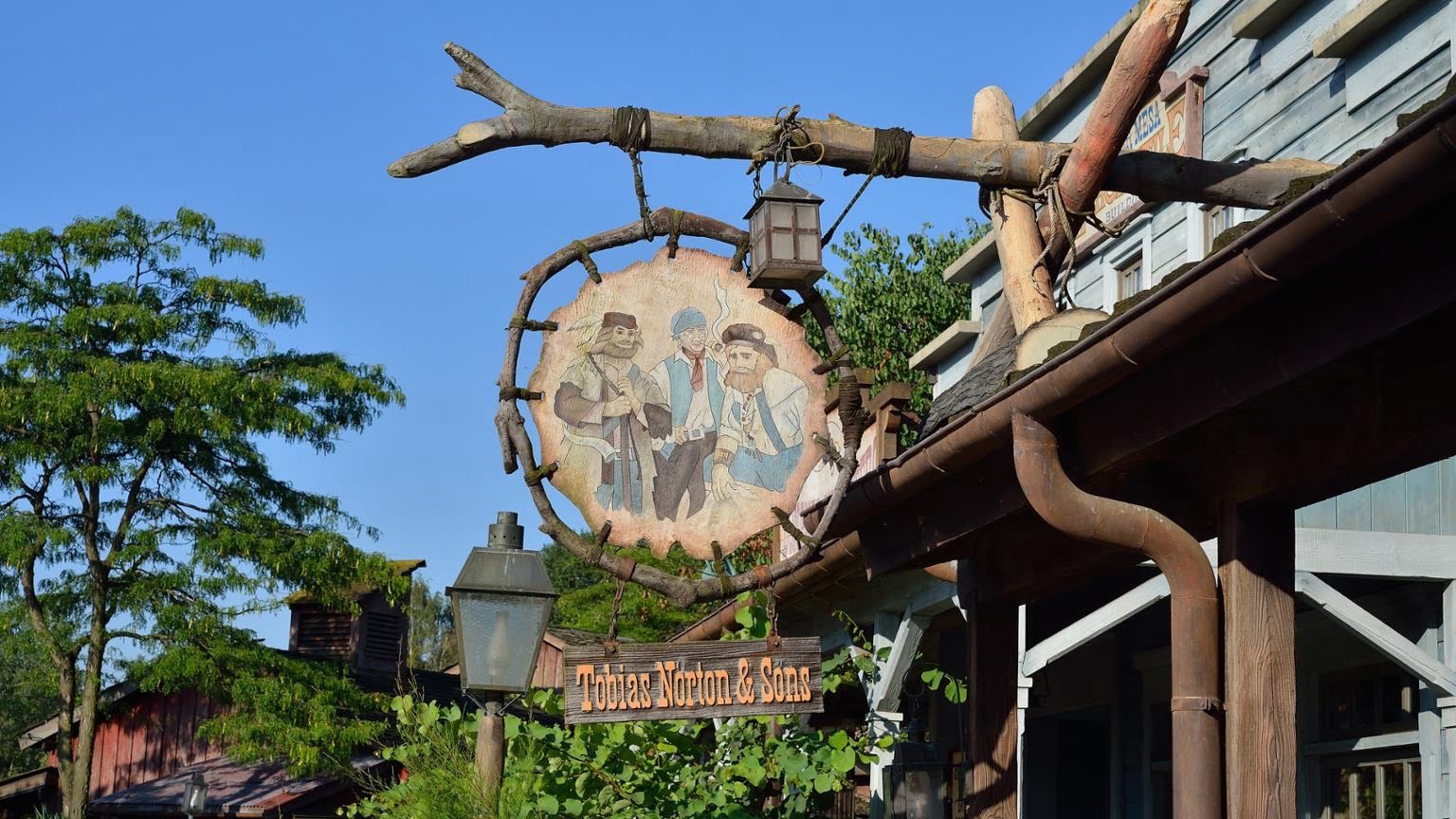 ZOE: Again this is a hard choice (maybe because Disneyland Paris is full of all my favourite things ha ha!) I really enjoy shopping in Gallerie Mickey in the Disneyland Hotel – it has a beautiful tranquil atmosphere, the displays are gorgeous and you can often find pins and other things exclusive to the Disneyland Hotel.
However, my all-time favourite shop is Thunder Mesa Mercantile in Frontierland. I love the theming, the setting and the treasure trove of Disney goodies you can find in there! Quite often I will pop into this store in a bit of a panic on the last day when hunting for that *perfect* gift and I will find it as if it had been placed there just for me to stumble across it. There is such a wide variety of merchandise in this store: a mountain of plushies, a whole area dedicated to homeware and cookery, seasonal merch, oodles of Jack Skellington items and of course western-themed clothes and accessories to keep any Frontierland inhabitant happy. Due to the location of this shop, it's also the perfect way to while away some time while you wait for your Big Thunder Mountain Fastpass slot – just don't buy anything too fragile!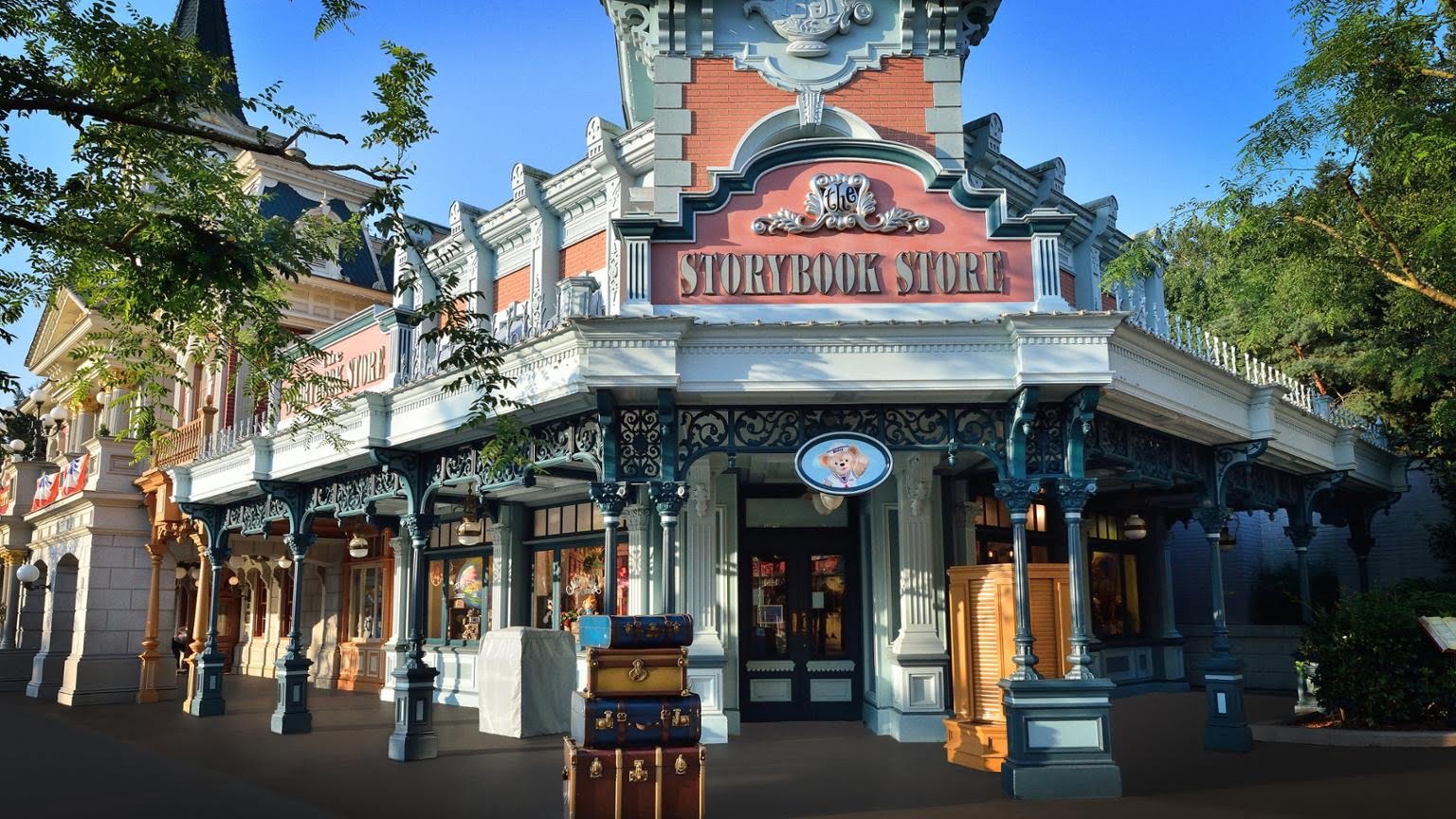 KAT: I feel like I'm betraying my mother but shopping just doesn't really appeal to me! If I had to choose, my favorite store would probably be The Storybook Store right next to City Hall as it has adorable theming and a wide variety of different books, including the coveted Phantom Manor one! The store is also a fantastic place to get small gifts for friends back home like postcards, journals, pens, and coloring books. You can also buy stamps at the cash register and then put your mail in the mailbox right outside of the store!
Favourite Walkthrough Attraction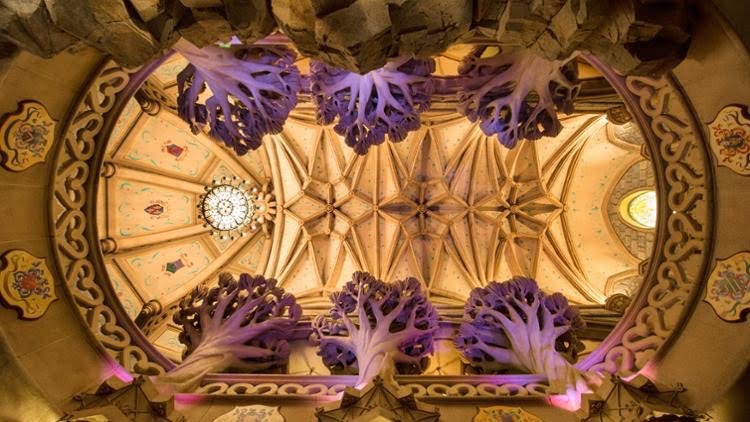 ZOE: I think my favourite has to be the breathtaking Sleeping Beauty Castle. I love the fact that we can explore inside the Castle and experience the story of Sleeping Beauty complete with all the magical touches. Once you make your way upstairs you will see twinkling tapestries sparkling with spells, the enchanted spinning wheel constantly in motion, snoring guards in suits of armour and a stone statue of Maleficent's crow (and if you take a picture with your flash on, his eyes will glow red in your photo!) These details combined with jewel-toned stained-glass windows re-telling the story really place you in the midst of the fairytale.
Also in picking the Castle, I have been sneaky because this means I can also mention the Dragon coiled on the rocks beneath the castle. If you go down the steps at the back of the jewelry shop inside the castle you can visit the giant dragon snoozing – but be warned sometimes it wakes up and will suddenly emit growls and plumes of smoke (which can sometimes be a bit intense for little ones!)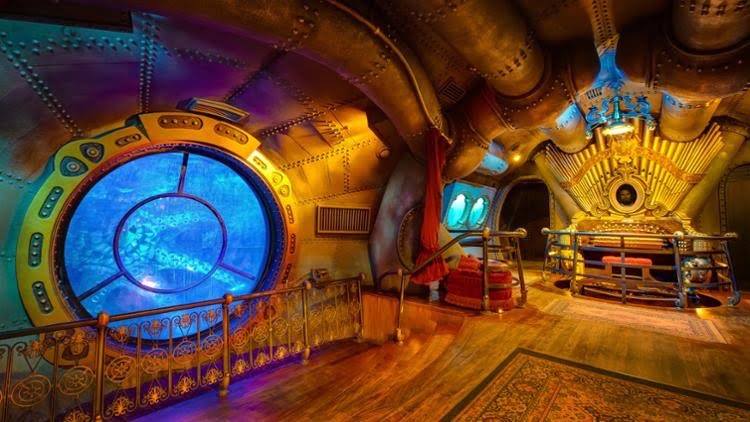 KAT: I'll shout it from the rooftop of the Disneyland Hotel. I'll scream it from the top of the Tower of Terror. I'll sing about it in "it's a small world". Les Mystères du Nautilus is one of the most underrated attractions in Disneyland Paris and is my favorite walk-through attraction. Being able to explore a submarine straight out of the mind of Jules Verne is a unique experience that many wouldn't expect from a Disney theme park, expecting more fairytales and magic. But the Nautilus is, in my opinion, a truly magical place. You can see how much loving detail the Imagineers placed into this attraction from the smallest scraps of paper to the giant squid attacking the window. If you've never walked through this attraction, do yourself a favor and check it out the next time you're at Disneyland Paris.
Favourite Show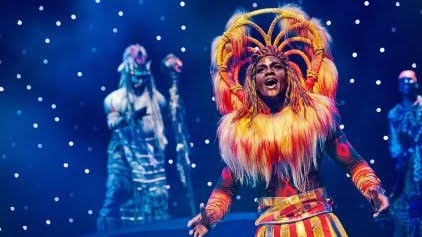 ZOE: Now then I am going to bend the rules a little bit and choose an indoor show and an outdoor show as they really are so different and I just can't choose!
For my indoor show, it's still a tough choice, as I was totally blown away by the Rhythms of The Pride Lands last summer as part of the Lion King and the Jungle Festival. This stage show totally exceeded any expectations I had and the emotion it evoked was so strong that I had goosebumps even as the curtain rose!
However, for my favourite indoor show, I am going to choose Mickey and The Magician. This show takes a variety of magical Disney memories and weaves them together with a sparkling story featuring our beloved Mickey Mouse. I have watched this show a couple of times now and both times it had me on my feet for a standing ovation with tears in my eyes. The fantastically talented cast, the amazing music and the beautiful design and special effects will bring moments from Cinderella, Beauty & The Beast, Frozen, The Lion King and Aladdin to life right in front of you – a spectacle not to be missed!
For my favourite outdoor show, I'm choosing Jungle Book Jive from the Lion King and the Jungle Festival last Summer. Before our visit, I tried to avoid spoilers as much as possible, but I knew it would be a colourful and exciting show on Central Plaza finishing with a rainbow-hued powder firework display on the Castle.
The parade and the show itself left my jaw on the floor. When Goofy led his troupe of sparkling drummers and dancers to Central Plaza and all our favourite characters started to dance to that Jungle Rhythm I couldn't help but get swept up with the festival spirit – it really was a celebration. The costumes, the energy, the amazing singing and that fantastic music (that you just can't get out of your head!) will always remind me of sunny days, bright colours and happy memories at Disneyland Paris during the Lion King and Jungle Festival.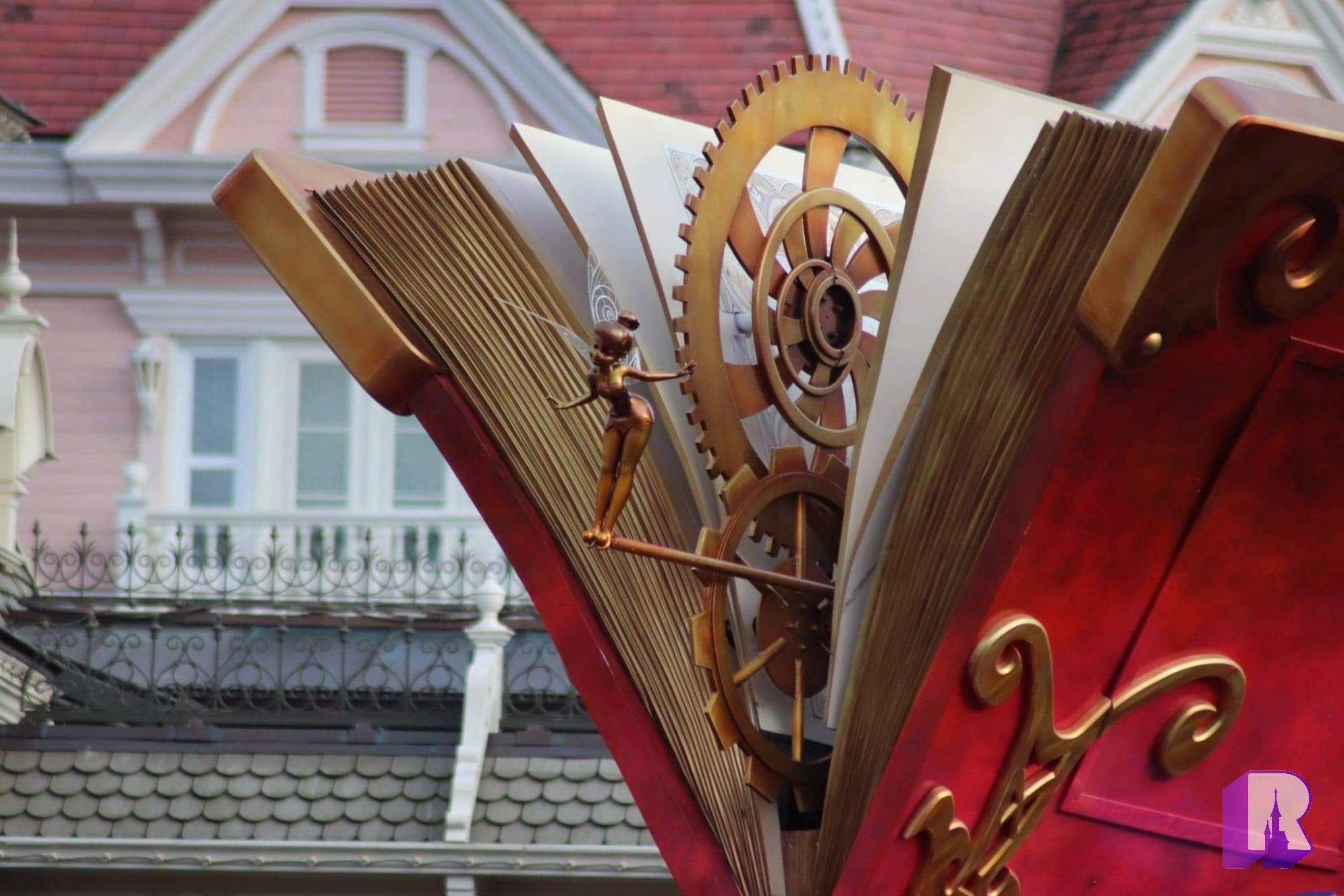 KAT: If parades count as shows, I'm definitely going with Stars on Parade, one of my favorite things to see at Disneyland Paris every time I go (except for that one time it hailed, rip). From the first announcement of "Et maintenant" to the last bass beat as the gates close on Main Street, I am truly "lost in the magic". Dancing with Tigger, waving "hello" to Pluto, scaring Captain Hook with "crocodile clapping", hugging Kristoff, what more can you ask for in a parade?
In conclusion, it turns out that Zoe and I have quite a few similarities in favorites! It just goes to prove that even though we come from different countries and backgrounds, we can all bond over the beautiful theme park that is Disneyland Paris. Thank you again to Zoe for agreeing to this collaboration!
Disclaimer: All of the beliefs stated in this series are my opinions, not the opinions of DLPReport and its associates. I only wish to give my thoughts and do not intend to hurt anyone with my words.