The InsidEARS team met up with the show director of the fan favorite show:
At the Walt Disney Studios Park, Christmas is celebrated with rhinestones and sequins, to the rhythm of the great standards of the 1930s. With his orchestra and his live singers, tap dancers and Disney Characters, Mickey's Christmas Big Band gives life to Animagique Theater like never before. For InsidEars, the Director Arnaud Feredj has accepted to open the doors of this jazz club like no other!
Arnaud, to stage a show like Mickey's Christmas Big Band, you need to have a real passion for music. What is the place of music in your career?
I've been singing since the age of five and started working at Disneyland Paris a dozen years ago as a comedian and singer. It's been almost three years since I was Show Director and in this context, I was able to participate in the creation of Timon's MataDance. I am also Associate Show Director with Juan Fuentes on another great musical show, Mickey and the Magician, for which I developed the sign language and the role of the narrator.
My favorite style has always been jazz and gospel. When Disneyland Paris asked me to develop Mickey's Christmas Big Band, I took this as a gift. It's really a musical show that echoes my artistic and scenic culture and that's why it holds a special place in my heart.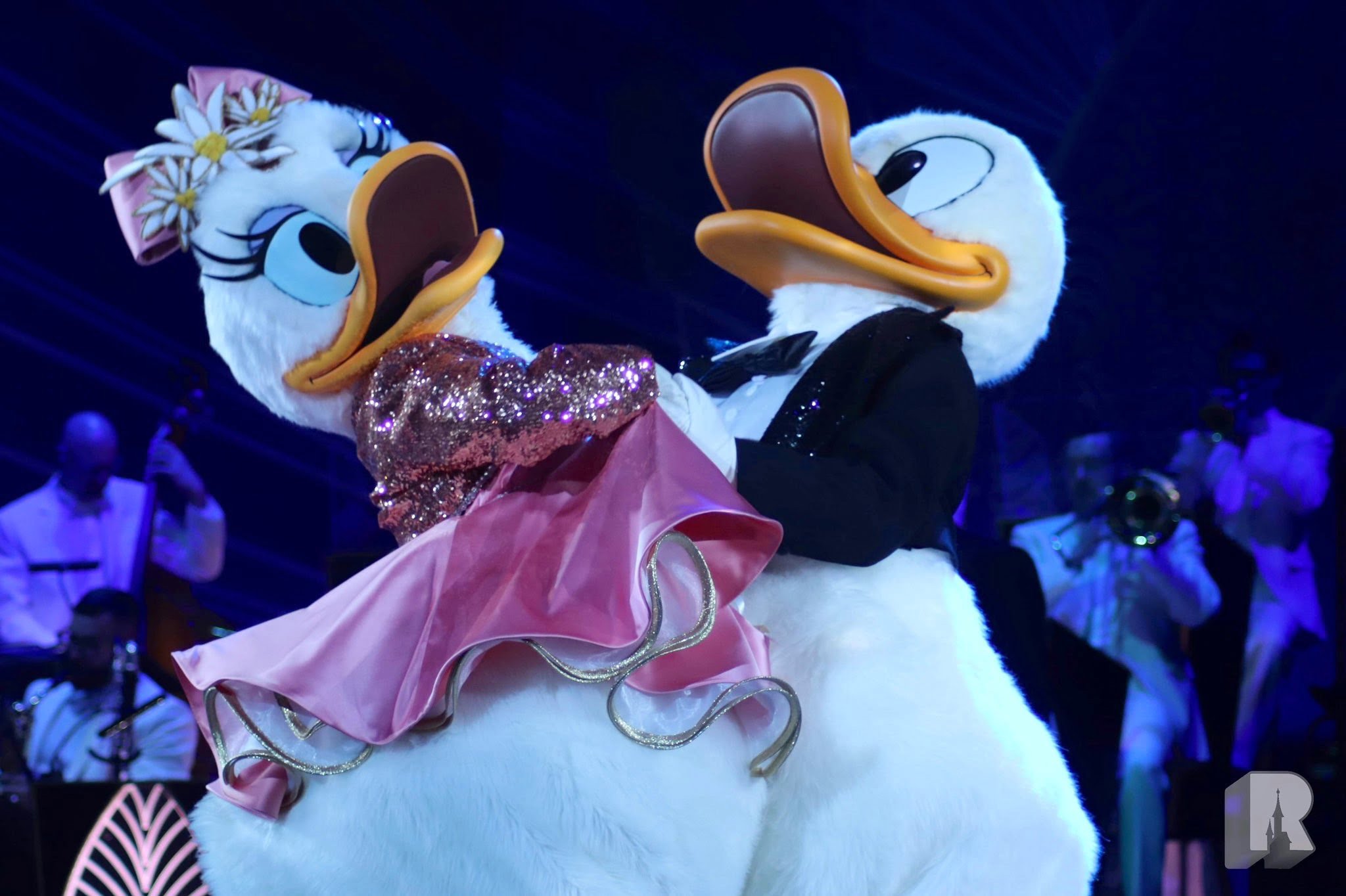 How did you approach the creation of this show?
Mickey's Christmas Big Band is a tribute to the jazz universe of the 30s. We are in the Mickey Jazz Club, which invites us to rediscover the traditional songs of Christmas and the most iconic songs of the repertoire of the years 30. It's a live show with 13 musicians on stage, three couples of singers and four couples of dancers who have the particularity to tap.
What were your sources of inspiration?
We started from a show called Big Band Beat that used to play at Tokyo DisneySea in Japan, before following our own direction. Our desire was to highlight jazz and New York jazz clubs. For the creation of Mickey's Christmas Big Band at Videopolis in 2017 on which Emmanuel Lenormand had collaborated, the scenery and the scenography were different: there were buildings and a Statue of Liberty which underlined this tribute to New York. The show has evolved quite a lot since: our favorite Disney Characters have contributed by bringing their own musical desires and we have integrated new standards of jazz, like this year the famous Cheek To Cheek. It was obvious to me to include it because it's my favorite song. I also really wanted to bring a tribute to the legendary duo Fred Astaire / Ginger Rogers.
How does one create such a show?
I have around me a whole creative team. For example, there is the choreographer, the music department that gives me all its expertise and advice, the vocal department, or the Designer Costumes with whom I have many exchanges on how we can develop these costumes, how they can represent an idea, or the way I want a costume to move in choreography. There's also the Lighting Designer, the Audio Designer, the Video Designer, the Special Effects Designer, who is in charge of confetti that explodes at the end or the smoke mat during the song White Christmas, as well as the Scenographer. There are really a lot of trades around the show and for the show. And of course I can not forget Astrid Gomez, the producer who follows me every year since the creation of the show!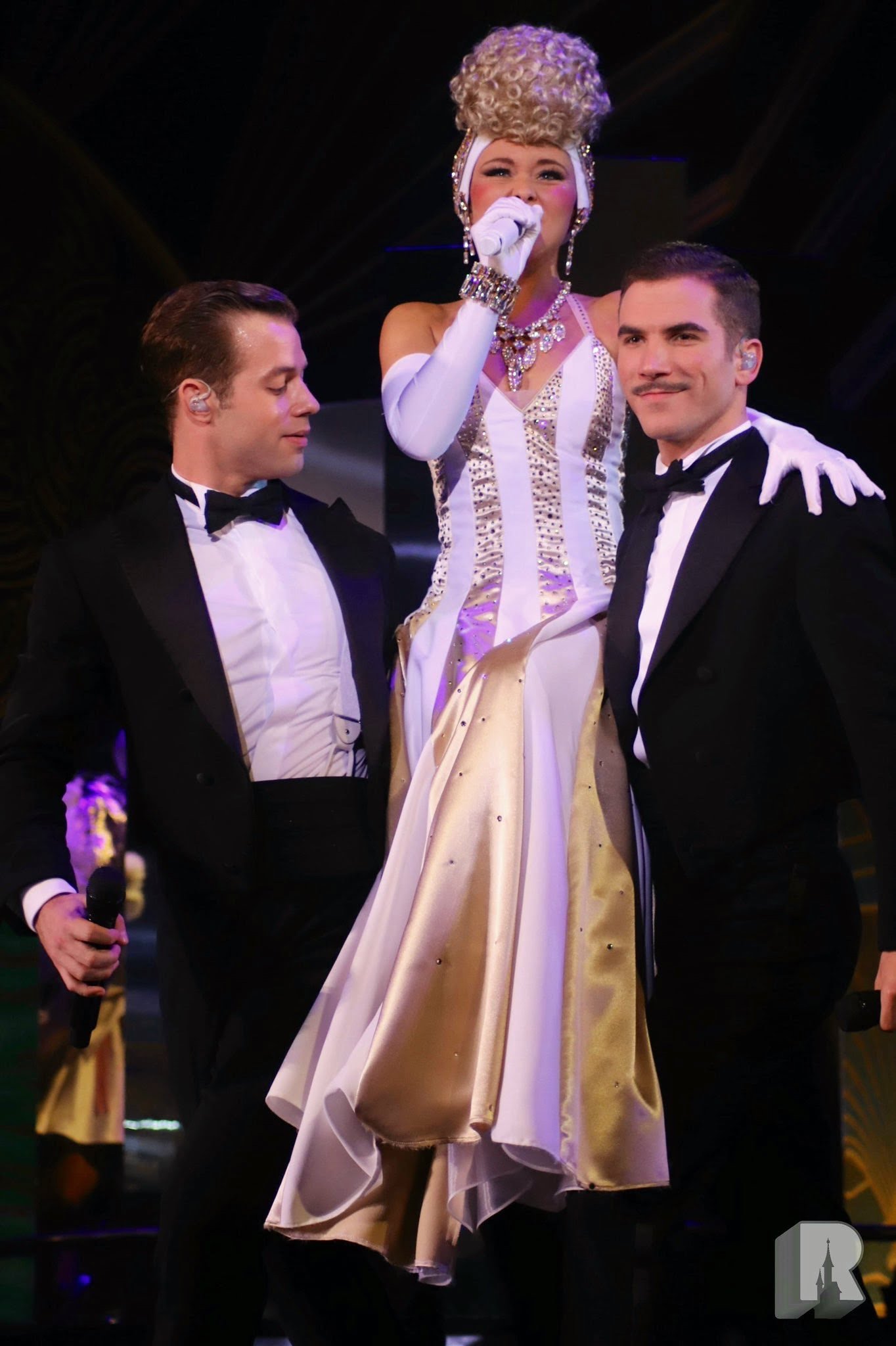 Mickey's Christmas Big Band is really for all audiences, from young children to music lovers. How did you achieve such a balance?
We have discussed this aspect a lot. First, this is the Mickey Jazz Club. Mickey is at the center of our show. There is also Minnie, who speaks to children right away when she sings I Love the Piano with charm but also with humor. As for Goofy, he introduces them to the instruments that make up the big band. This year, we were lucky to have Donald, who joined the troupe, and who invites Daisy to join him. It's a pretty magical moment because Daisy goes from spectator of the show to perform on stage. It makes the grown-ups smile, amazes children, and helps introduce them to jazz. At first glance, this style of music may seem elitist, but it is not. The origin of this music is anything but elitist. It is addressed to everyone and to the greatest number.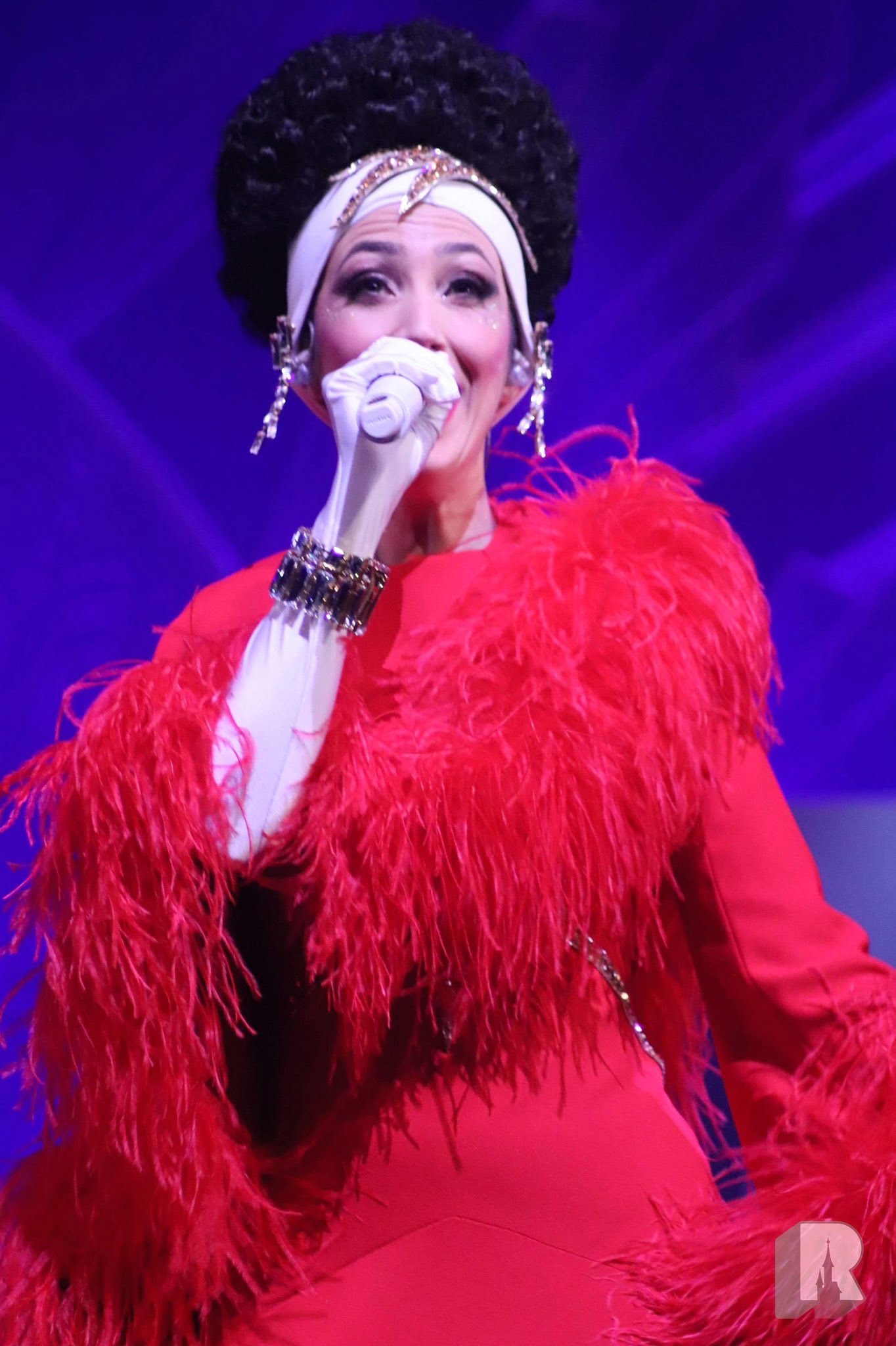 With all his singers, musicians and dancers, Mickey's Christmas Big Band brings together an impressive troupe.
Absolutely. It's a very big logistics, a huge machine that starts every year. We have a lot of people on stage – more than thirty artists for each performance – and even more if we count the whole troupe. In addition, there is a real osmosis between the stage and the backstage. Because what you do not see is the huge infrastructure behind it that allows Mickey's Christmas Big Band to be played up to five times a day.
On the one hand there are dressers. It's a show that has a lot of costumes: 31 different designs, a hundred pieces. In fact, we need a lot of dressers to make all the changes. It does not stop! Of course, there is also the entire management team: the management board and the machinery team behind. The cosmetology team, which is here to make all of our artists shine, the lighting team, and the entire sound crew doing an amazing job. You should know that each musician of the big band is sounded, as well as the six singers present on stage, without forgetting Mickey when he plays the drums, and even our dancers, with a very specific work on the sound of the "clappers". It is a really huge infrastructure and at the same time, it is a real beautiful family, totally devoted to our show. I will never thank them enough!
The artists seem indeed very attached to this show.
Over the years, real links have been established. Some artists spontaneously ask us to come back from one year to the next. Each of them brings to the show, feeds it and takes it to new horizons.
It is also a family that grows from year to year. How were the castings of this season?
For Mickey's Christmas Big Band, casting process actually starts in the month of February – so I'm a little in the Christmas spirit all year long! We are thinking about casting in March and we are launching auditions in April. There are many people to recruit, a lot of candidates to see and hear, new talents to discover. For me, this phase is a very special moment in the development of the show because I'm going to look for the artists who can best embody the show and its particular universe. It's not a musical; it's really jazz. And to the extent that the entire show is choreographed, we ask our singers true qualities of dancers. Part of the casting took place in Paris, another part in London, and we performed video auditions for our international artists. I am very proud to have an Australian singer, an Israeli singer and an American singer. It's really a very large cast, and all these different cultures revolve around jazz. For the dancers, a large part of the casting took place in Australia, Sydney and Melbourne. Another part of our dancers were recruited in England and the last part in France.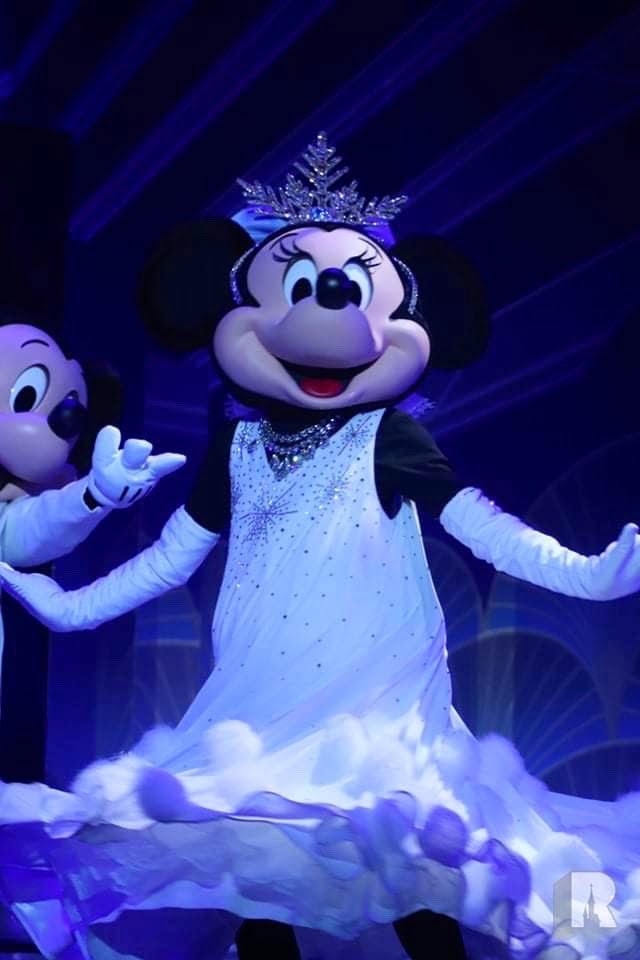 Between Hollywood Boulevard and Toon Studio, Animagique Theater is the perfect venue to host such a show.
Indeed, we are here at the crossroads between the art deco style of Hollywood Boulevard, typical of America in the 1930s, found in our scenography and scenery, and the presence of our favorite Disney Characters – Mickey, Minnie, Goofy and this year Donald and Daisy -, which make the link with Toon Studio.
Animagique Theater is also a very special room for me because it's also Mickey and the Magician's stage, the other big production I'm working on. It is a magnificent hall, with a very large plateau offering enormous possibilities, whether technical, scenic, artistic and acoustic. For example, we have state-of-the-art special effects equipment, such as heavy smoke, which immerses us even more in the mood of the 1930s and the Mickey Jazz Club as I imagined it. The acoustics are also particularly fitted to allow us to welcome our big band and to sound the best possible. Not to mention the clappers!
What are the challenges of tap sound?
The work of taps is what we hear of course, but it is also what we do not hear! We have all a preparation in advance to determine the type of sound we want to have, what particular steps of the choreography we want to highlight, which artist we want to sound at this time of the show, especially in the solos. And then there are some parts of the choreography that do not need to hear the sound of the tap and you have to take them into account. That's all the work we do with the Audio Designer, the Audio Engineer and myself.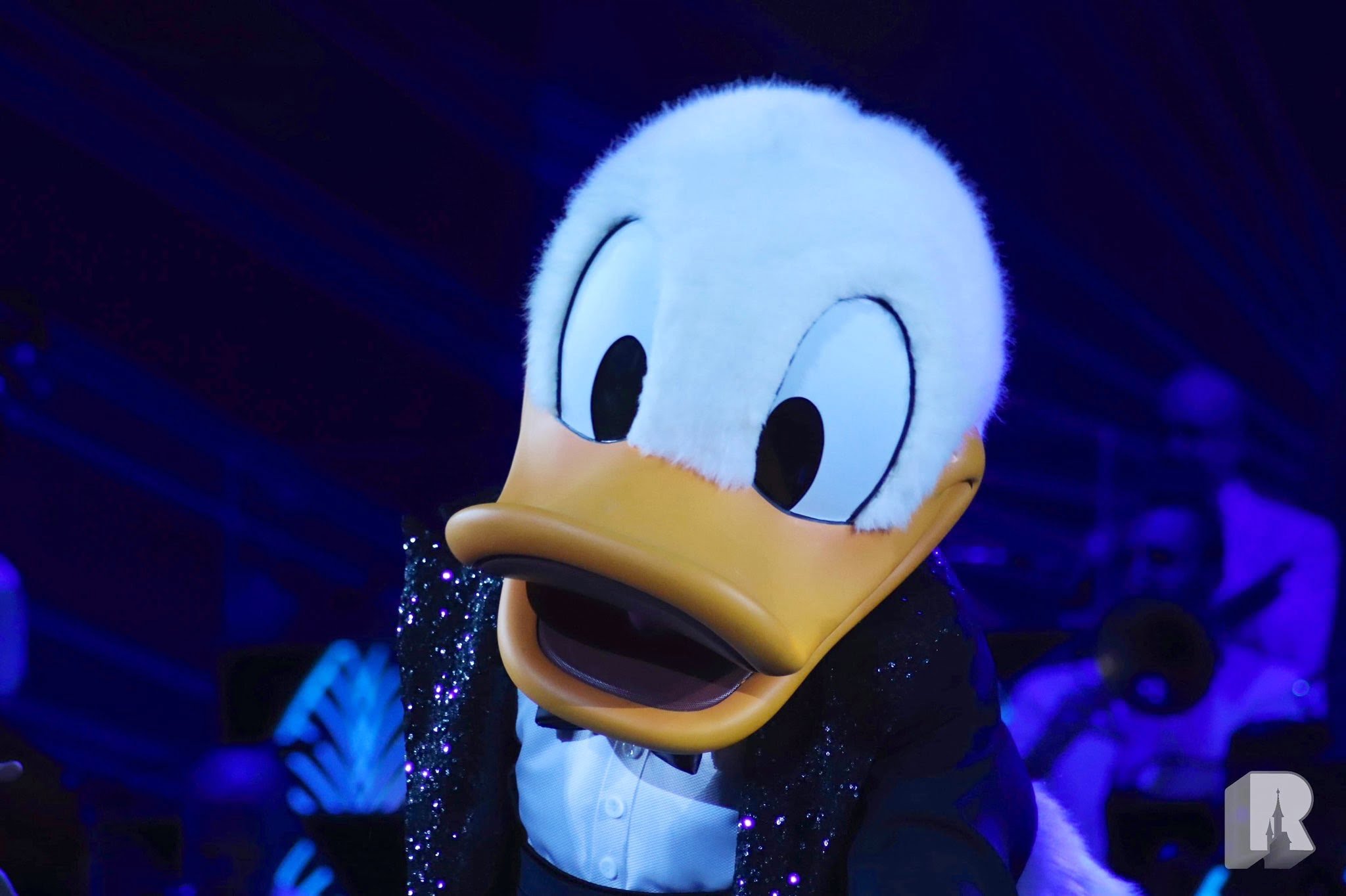 And there is not only the stage since the show also invests the room!
Effectively. It was my desire to bring the glamorous side closer to our visitors and make them go down in history. Mickey's Christmas Big Band is a story in a story, a jazz club in a jazz club! Goofy comes into the room in his Santa costume, just like Daisy, who gives us the pleasure of coming to admire the show before Donald invites him to go on stage. Finally, there is the All Of Me number, in which the crooner descends into the audience to invite one of our guests to dance with him!
What is your favorite moment in the show?
In fact, I have two. There is Cheek to Cheek, because it's really my musical culture and the glamorous side that I want to infuse and communicate to the visitors of Disneyland Paris, and Sing, Sing, Sing, because it's when Mickey expresses himself fully artistically playing drums, which is quite exceptional, and because we find our favorite Disney characters gathered around jazz and tap. Because it's not just artists. Our Disney Characters also deliver a strong artistic message and I hope it will educate the youngest in this beautiful style of music!