Music is an essential part of the magic of Frozen: A Musical Invitation. The InsidEars team discussed the show with two of its creators: Matt Walker, who is in charge of music for all Disney Parks around the world, and Yaron Spiwak, a Sr. Music Creative Director on his team.

InsidEars: You have both worked on many different Frozen projects for Disney Parks and Disney Cruise Line. To you, what makes Disneyland Paris' Frozen: A Musical Invitation special?
Matt Walker: Frozen: A Musical Invitation is about moments from the film that are beloved by our audiences. And what's unique about it is that you're able to re-live them and really participate. It's very immersive, very inclusive on the part of the audience. That was wonderful to take the music of the film and make it very much a part of this whole experience for the guests.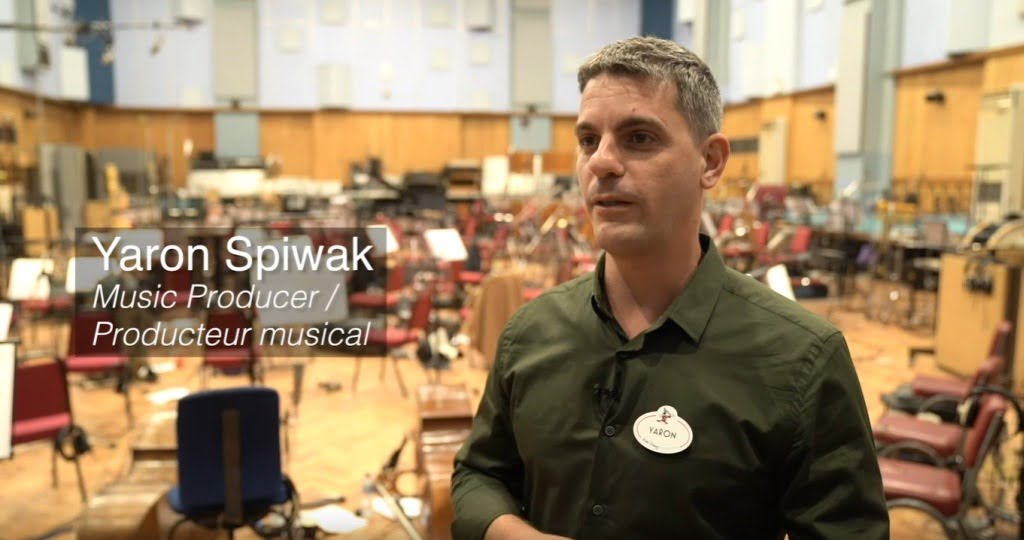 Yaron Spiwak: Be it the Frozen 2: An Enchanted Journey parade, the Frozen segment in Mickey and the Magician a few years ago, Frozen – Live at the Hyperion at Disney California Adventure Park or the shows for Disney Cruise Line, no two versions are the same. Each show really gets what's best for it and we give it a lot of love and care so that people enjoy a different vision of the film each time. Frozen: A Musical Invitation is a unique combination of techniques from our movies, attractions and stage shows, which makes this attraction really special.
What was your role on this project?
MW: We were involved every step of the process, guiding and supporting the team from development and kick-off through the recording and final installation.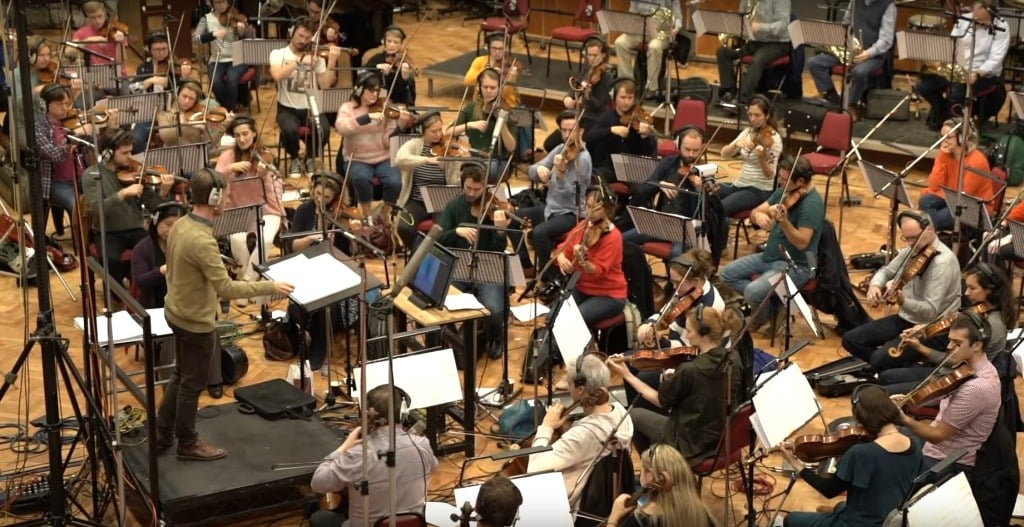 How did you start out working on it?
MW: We started working on this show about a year before the opening of the attraction. Yaron has been working very closely on other Frozen projects since the film's release. That made him the perfect creative and producer for this project. Then, we asked Jonathan Barr to be our local music producer. Because it's essentially a piece of theater, you need to have an expert in music to be in the room and help the directors.
YS: Jonathan worked with show directors Françoise Baffioni and Matteo Borghi and the team on a day-to-day basis and did a really great job. Jonathan is a great musician and has been working for Disney for many years. For this specific project Matt and I recommended on Andrew Cottee (who works with John Debney and Joel McNeely on a show called The Orville). We had heard great things about him and we thought he might be perfect for the project. He has a very contemporary flavor but a very classical orchestration style. Then we matched him with another musician named Marco Paguia who is a music director on Broadway and worked on the Disney Cruise Line Frozen show. Together, they designed what would be best for each scene of our show in Paris.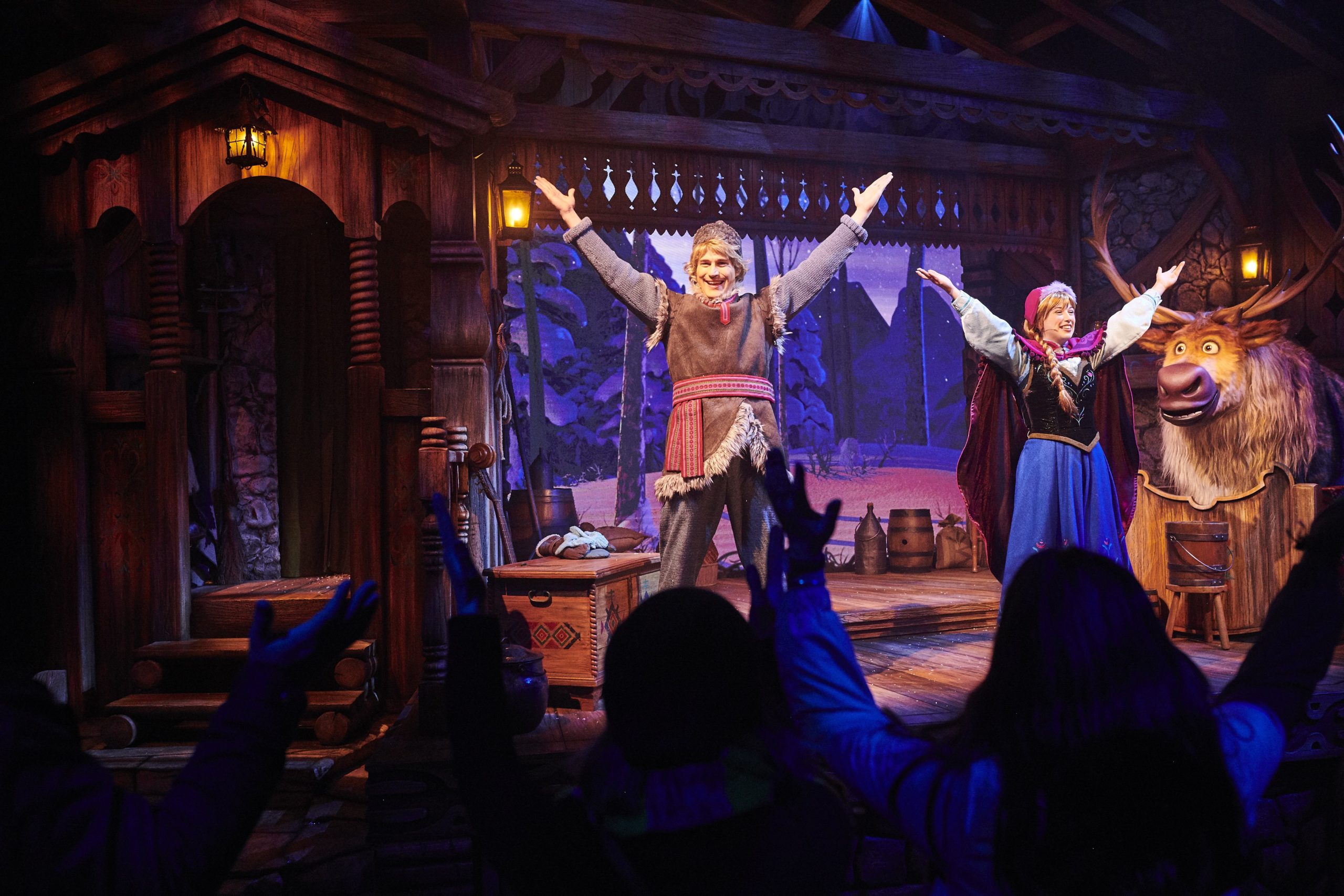 How did you develop the music for the show together?
YS: It was a very close collaboration, and in the end, it's hard to say who did this or that. It was great teamwork. We started to scout out the best moments in the film's score and then, with some of them, we made our own edit that would fit the show and recorded it. And then, for the final installation, Jonathan worked in collaboration with mixer Stephen Morrow, who has a lot of experience to fit the music to the attraction.
That's what's so great about Walt Disney Imagineering: you're really collaborating and everyone is holding on each other. You're not just working in the studio alone and delivering. You're creating something new and exciting together.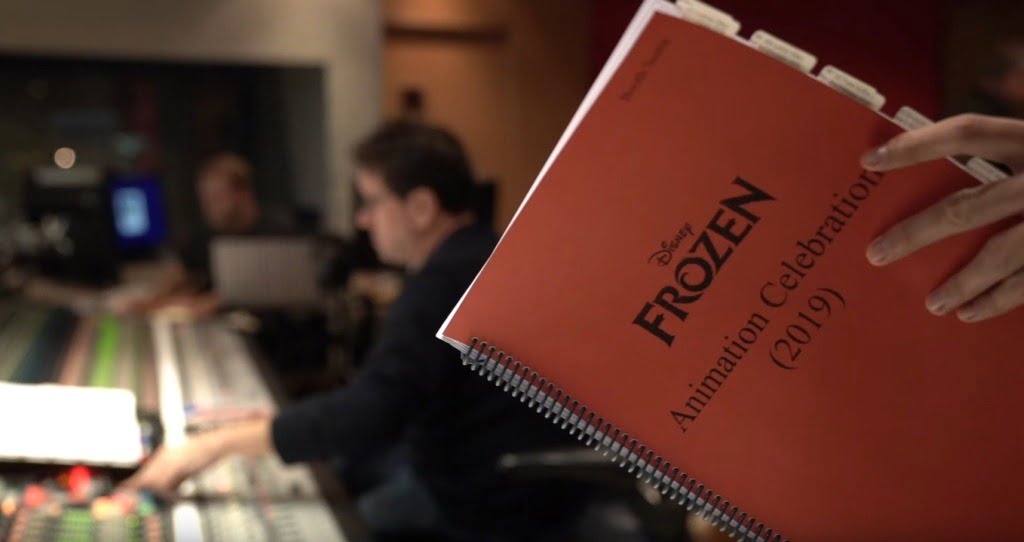 How did you adapt the score to the needs of the attraction?
MW: Frozen: A Musical Invitation is an immersive theater, multi-media experience. Because of that, it does draw from all our different backgrounds: live performance theater, attraction and film. It's one of the things that makes this job fun.
YS: One of our first challenges was, when you first enter the room, we had to find a way to recap the movie for guests and we needed to do that without using any dialogue. So, we created this medley that encapsulates a lot of the songs in a way that's both poignant and heroic which gets guests excited to see the show. Andrew and Marco did a great job, and the first time the show directors heard it, they got very emotional. I did, too. You're back into the story the same way as with the montage sequence from Up. For that moment, we're using film scoring techniques. It's music and picture, and it's magical.
After that, we use music just like we do in the attractions for a seamless transition from room to room. You're entering this special kingdom and you have to be in character the whole time. Once the show starts, it's a live performance where we use techniques from our stage shows like Mickey and the Magician to showcase the singers.
How did you stay true to the original music?
MW: For any of our projects, like Frozen: A Musical Invitation, where we partner with our colleagues at the film studio, it's very important for us to produce music that belongs and feels authentic to the original film. As in any other productions that we do for Disney Parks, the first step is determining what the creative needs are for that production. So, we would sit with the creative team in Paris to discuss their needs. For example, how can we take the beloved music of Frozen and re-arrange it, re-record it so that the guests have the same experience they had in the film and even take them to a higher level of immediacy and intimacy?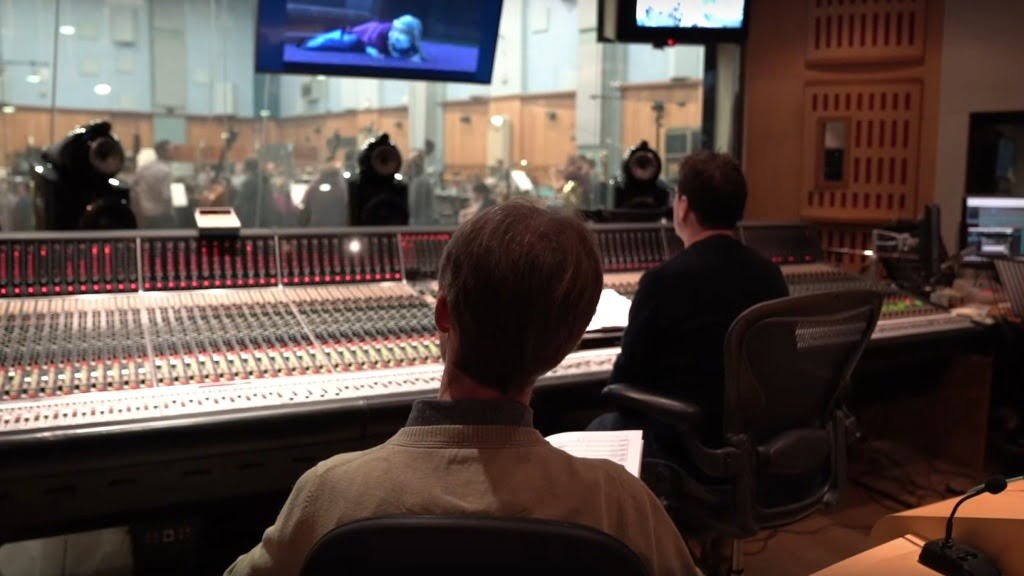 Secondly, from the music standpoint, we either engage the original composers and songwriters, or we have access to not only the recordings but the scores themselves. In this case, we researched heavily the original Christophe Beck as well as the Dave Metzger orchestrations because we knew we wanted to start there as our base, they're already fantastic. And then Jonathan Barr, Marco Paguia and Andrew Cottee began to adapt those for the needs of the show.
Were the original songwriters involved in the project?
MW: Absolutely. If we are going to experiment and take a beloved copyright from one of our writers, we make them part of the process as well. We want to make them feel as enthusiastic and excited as we are about our project. When I showed Bobby Lopez and Kristen Anderson-Lopez the recording of Andrew Cottee and how he adapted the arrangement of "Let It Go," bringing even more fever to the piece for this particular production, they were moved to tears. It was a beautiful experience. What Yaron and Jonathan produced with Andrew Cottee was really respectful of the original piece and felt like it belonged in that world, but also brought something new and fresh to the performance.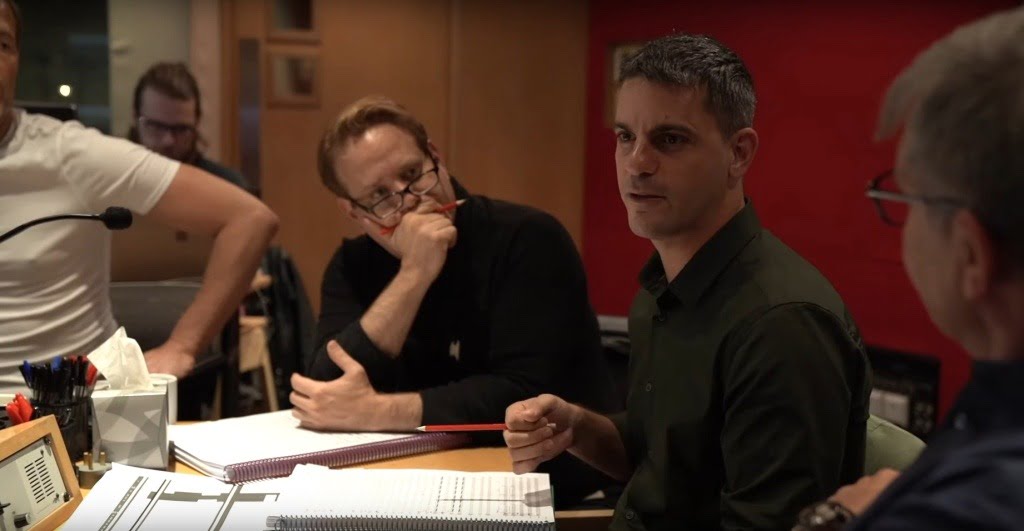 It seems one of the highlights of the production was recording at Abbey Road Studios in London.
MW: Being a project for France, geographically of course, London made sense. It was easy for our show directors and show producers to get there. And then you have the fantastic British musicians and the legendary recording studio of Abbey Road. Since we were going for this almost magical, ethereal quality of different moments in the score, when we were able to book Studio One at Abbey Road, the world's largest recording space, we knew we were in for a phenomenal treat. It was great to see the directors' and the producers' eyes light up when they heard the music for the first time live.
YS: To make sure that everyone knows what to expect, we work first with synthesizer mock-ups. It's all generated by computer. And to hear the same thing you heard so many times played by real instruments is really magical. I always think of recording sessions like a holiday. You work so hard for so long and then everything comes to life. It's very emotional for everyone in the team. Andrew Cottee did such a great job of making it very familiar but at the same time very contemporary and lively. I think that's what we all responded to.
MW: Andrew Cottee works very closely with a gentleman named Tom Croxon who reached out to an incredible collection of demographically diverse and outstanding musicians. There was almost 70 of them. Their sight-reading abilities and their ability to bring life into the performances is what leaps out when you're listening down in the control room.
YS: We were able to get very specific people like a lute player and a dulcimer, which is a string instrument very close to Norwegian traditional folk music, to stay as authentic as possible to the original score. Also, the orchestra plays in a lot of Disney movies. And that's what's also nice when we use them. They know the cinematic sound, and they can play so many different styles. That's one of the joys of working with them.
The music for Frozen: A Musical Invitation was produced by WDI Music Studio, which is a whole new music department at Imagineering that you created, Matt, after being Senior VP of music at the Walt Disney Studios. Can you tell me about it?
MW: Music is a rich tradition at Disney Parks. It has been an essential element from the very beginning and it's part of our DNA. When Bob Weis, the current President of WDI, approached me and discussed the possibility of creating a music department, I jumped at the chance. To be able to take music – my background is originally in film and theater – and approach how we score the music for our experiences seemed like a perfect path to pursue. So, I created a music department selecting some of who I believe are the best music producers in the world to help me create, design, produce and install the music for our attractions, experiences and live entertainment.
The wonderful thing about having worked on film during all that time is the relationship with the talent and the experience of taking music and scoring a moment. That's what we're doing at Imagineering. Music is there to enhance the emotions and support the story that we're telling. Because we're essentially storytellers. We've been asked to raise the bar of the music across the globe in the parks. Every project that we take on, we approach with the goal of trying to create something unique. That's how we approached things at Disneytoon Studios. No matter what the film, we tried to bring in the best talents and produce it with love and care and put hours and hours of energy into the production. And I think that's also how we work with the parks. There's such an opportunity with music to help entertain our guests and create those unforgettable moments for them.
Also, what's so great about creating this new music department is bringing talent that you really know as well as contemporary fresh writers like Pinar Toprak (Captain Marvel). Having John Williams come in and write fresh new themes for our Star Wars: Galaxy's Edge project was such a joy. We also recorded it at Abbey Road, this time with the London Symphony Orchestra.
YS: And it even won a Grammy!
MW: Absolutely! It's a joy to be able to work with that level of talent from the composers, artists, musicians as well as the writers' point of view.
Musically, what can we hope for in the future at Disneyland Paris?
MW: The level of creative investment at Disneyland Paris is incredibly exciting. I think it is a park that continues to push the envelope creatively. Regarding music, and without giving too much detail, I can't tell you how excited I am about the future and all the plans that we have to create even more incredible experiences for our guests!