During Disney's Halloween Festival, Disneyland Paris is transformed into a playground for spirits and ghosts thanks to the decorations imagined by Disneyland Paris' Scenographers.
But how do they go about immersing guests in the spirit of the party? Jérôme and Thomas reveal some of their secrets to the InsidEARS team: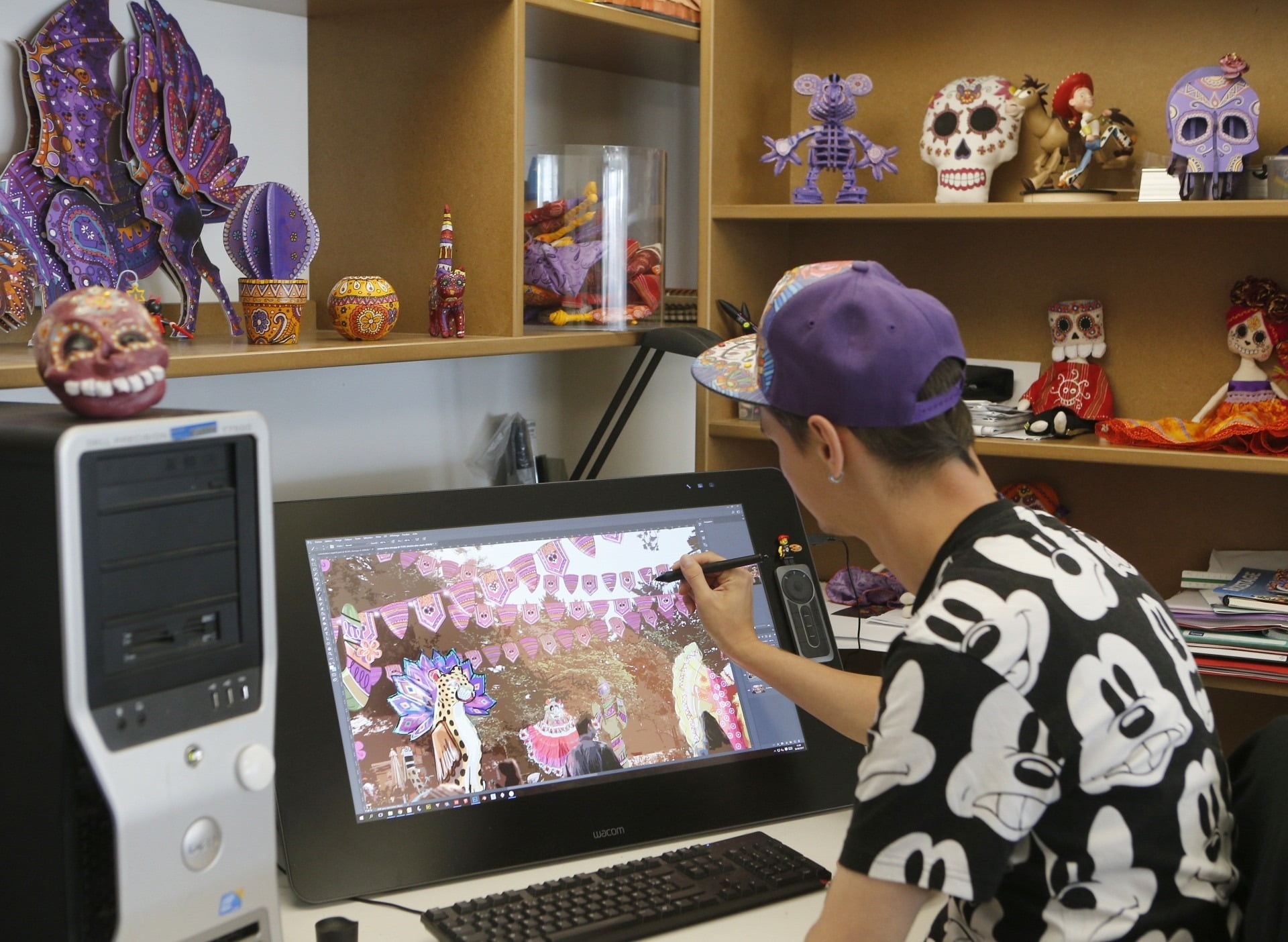 What does a scenographer at Disneyland Paris do?
Thomas Gallou: A bit like a theater or cinema designer, our job is to create sets for shows and parades at Disneyland Paris. But in addition, in the word "scenography" there is the idea of design. It is, literally, "writing a scene." We rely on the work of the Director to create a space that will accompany the concept he has imagined. There is therefore a whole phase of reflection to determine how the experience is going to be structured. It's really about dealing with space.
What does the Halloween season mean to you?
Jérôme Picoche: Halloween is always a very busy time of the year. It's a period that I know well. Since 1997, when we launched the Festival, this is my 23rd edition! Over time, the approach can change, but the decoration remains an essential part of this celebration. Each year, our guests impatiently await this season's return to immerse themselves in this very special spirit and to discover the novelties that we have in store for them.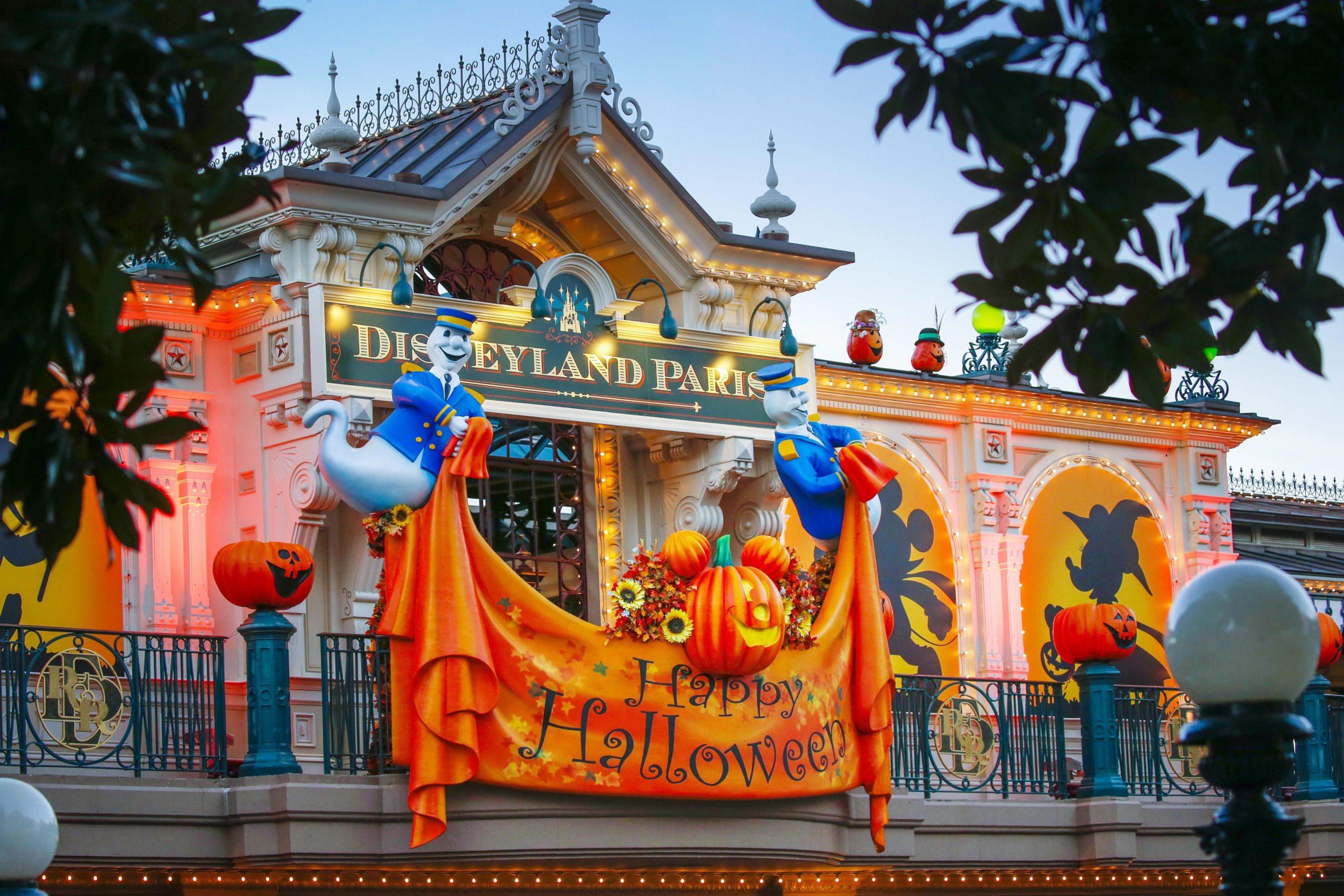 It is indeed a pleasure to find the traditional decorations at Main Street, U.S.A. and Frontierland.
JP: From the moment they arrive on Main Street, U.S.A., guests are immersed in the Halloween atmosphere. We transform the street as if ghosts took over, with all kinds of characters and floral and plant elements linked to autumn. The decoration tells a very special story, which can be found in the Victorian-inspired costumes of our ghosts that fits perfectly into the aesthetic of the place.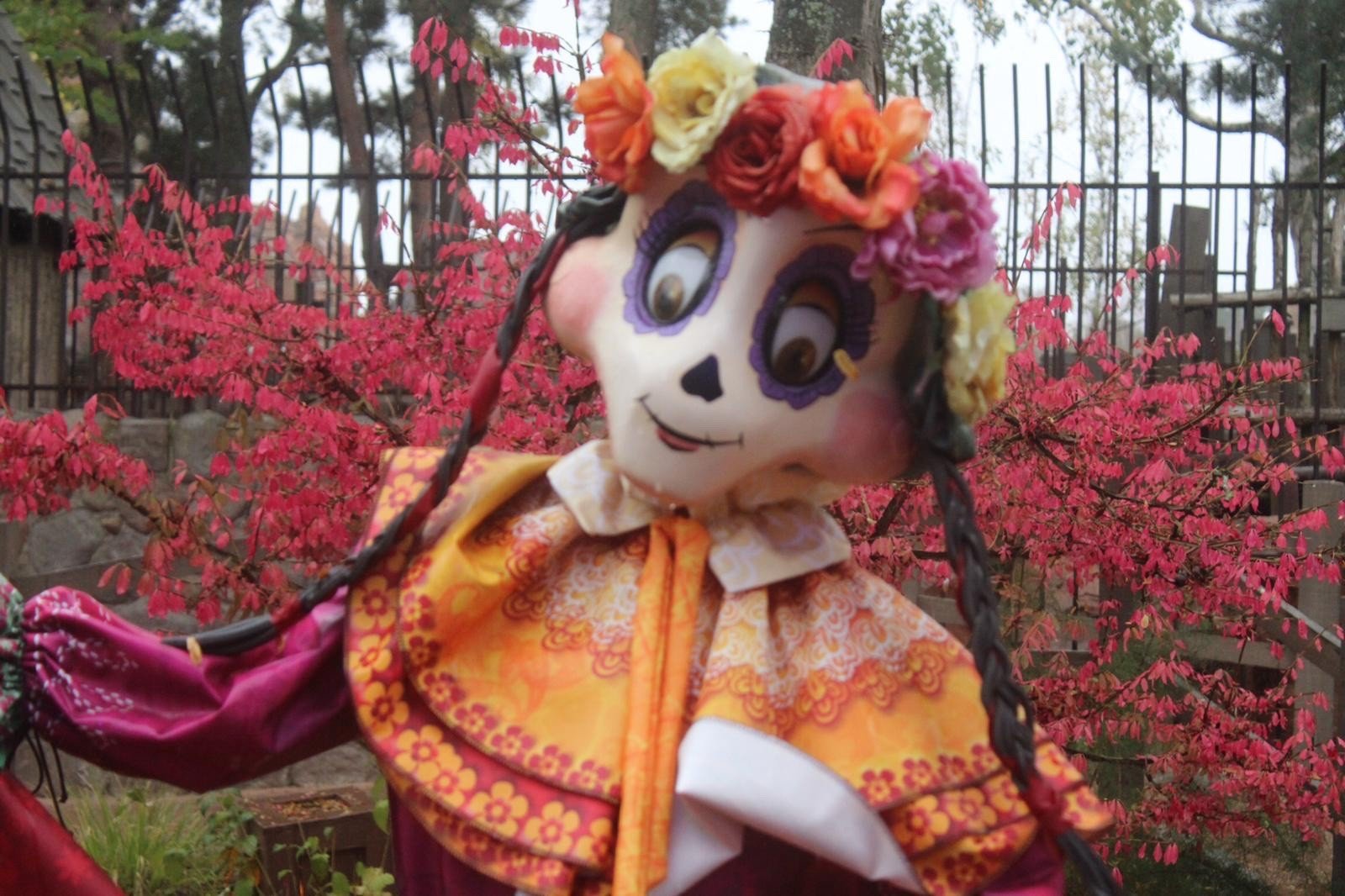 TG: In Frontierland, in addition to the pumpkin men, we find that Mexican atmosphere inspired by the movie Coco that we imagined in 2017. The people in charge of the season wanted to add a new story, and I was given carte blanche to imagine a decor that accompanies the release of the film while being part of the universe of Frontierland. We already had a typical Halloween area near Phantom Manor, and we wanted to develop something different in an area that was less used on this occasion. Fuente del Oro Restaurante's Mexican theme corresponded exactly to that of the movie. So, I immersed myself in the spirit of Mexican holidays, and I developed a whole set from a story that I imagined which allowed me to connect all the elements together. From there came the alebrijes, those fantastic creatures typical of Mexican folklore, and those scarecrows that line the alley. This work was accompanied by a reflection on the way in which Frontierland was built, particularly in terms of the materials used to integrate our décor as well as possible. Hence this very artisanal side, in a papier-mâché style.
How did you imagine these alebrijes, most of which are unique to Disneyland Paris?
TG: When we decided to create this Mexican story, the film wasn't finished yet. We were just aware of its theme. We worked with Pixar so that our stories could fit together, while still having some leeway. When the movie came out, our worlds crossed, and we realized that our research had gone in the same direction. From there, we decided with Pixar to focus on the film more precisely, including Dante's alebrije and the "papel picado" garlands, as seen in the opening credits.
This season is particularly rich in decorations.
JP: Indeed, overall this year there are more than usual, especially on the Cottonwood Creek Ranch side that we haven't been able to use for some time.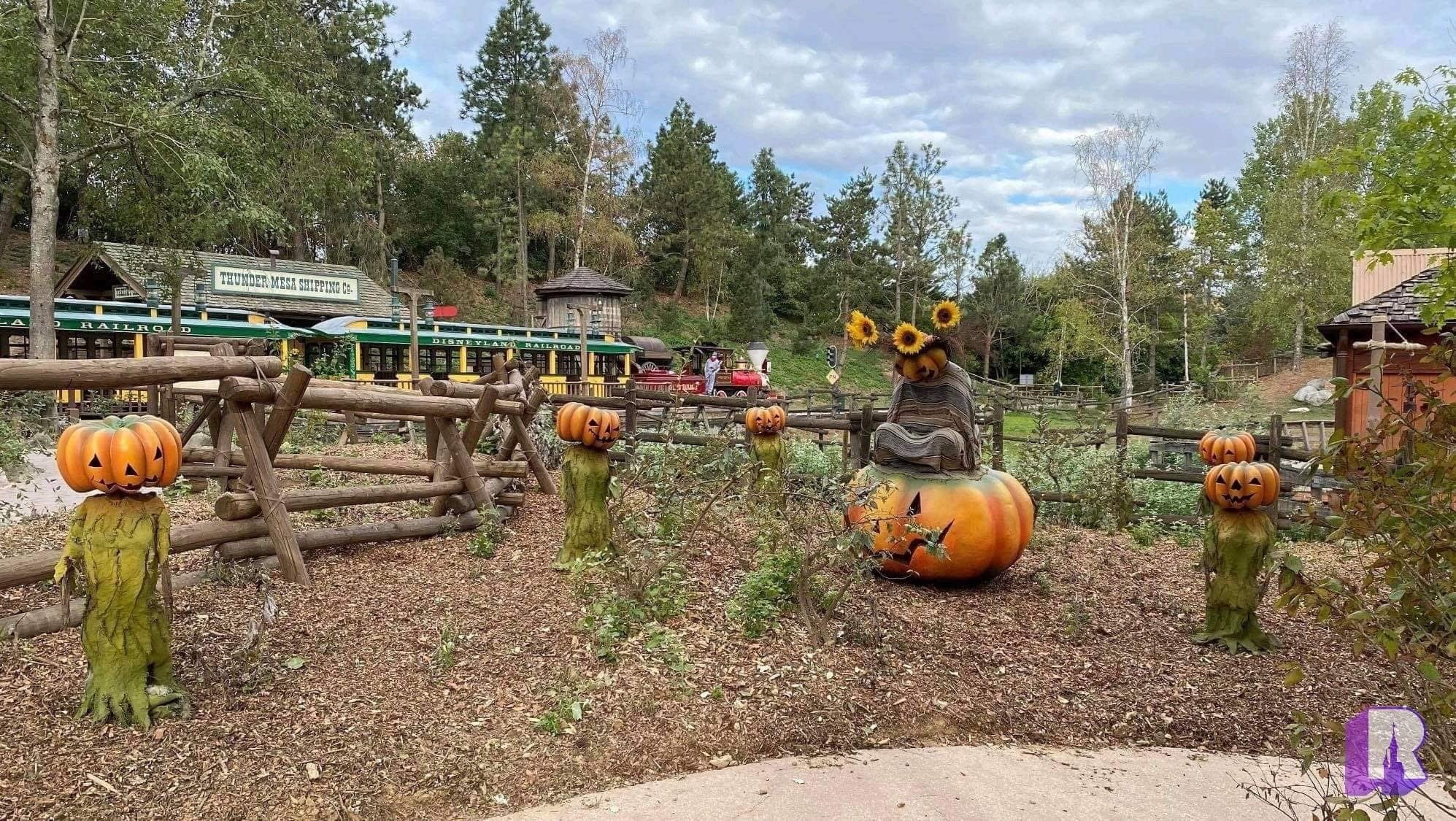 How have the decorations evolved, such as at the Théâtre du Château with Ursula?
JP: It all started last year, for the show "Attention … Méchants!". There was a part of the scene dedicated to Ursula in her shell, and all kinds of Villains on the other side. This year, to accommodate the furtive appearances of Ursula, I had the different decor elements such as brambles reprocessed in bluish tones to create a kind of cross between the aquatic world and Halloween. The ground has also been treated as paving, which makes the Théâtre du Château a sort of terrace for the Sleeping Beauty Castle. Finally, we had the possibility of animating the magic mirror thanks to the integration of an LED screen which will give more life and presence to this essential element of the decoration.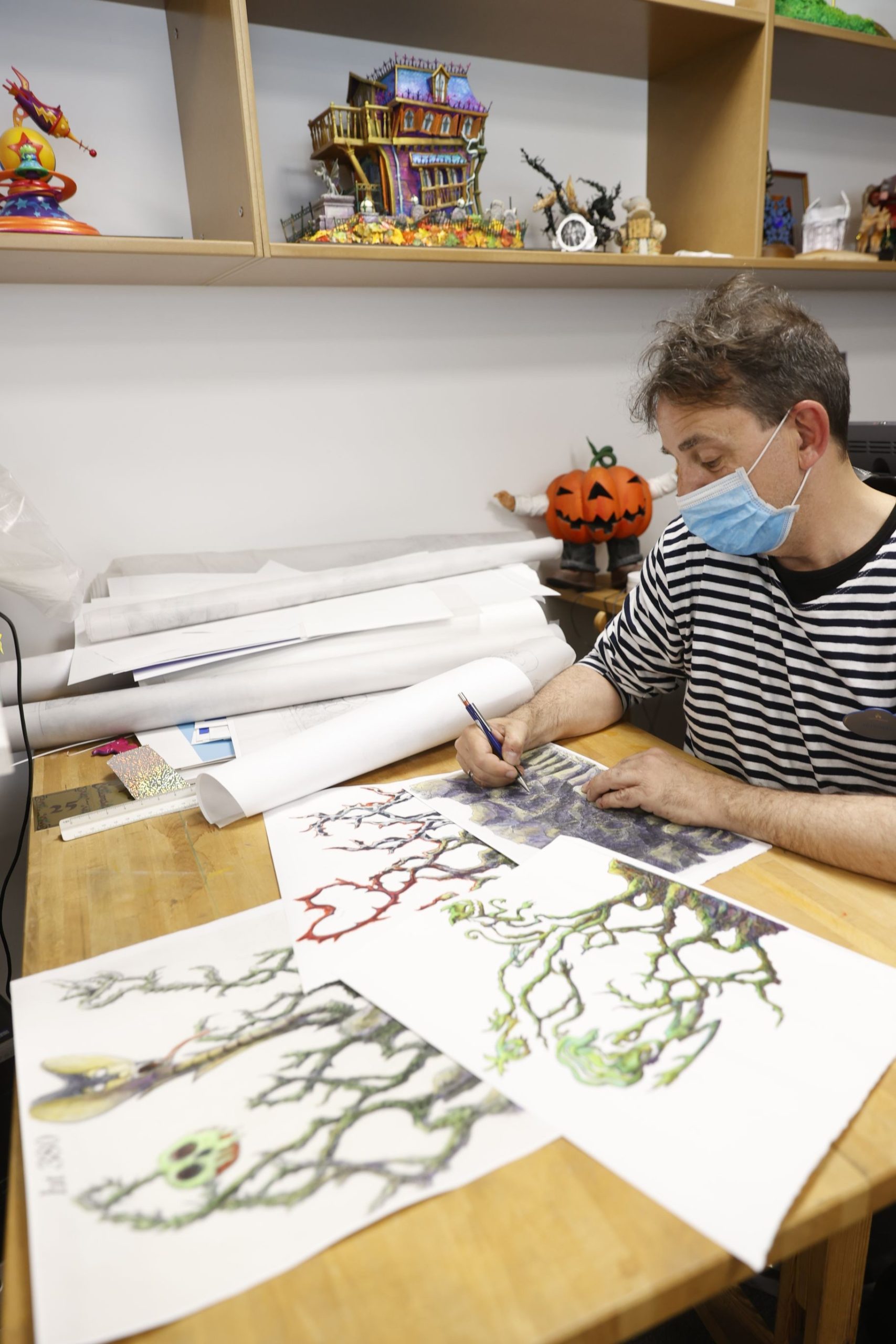 What can you tell us about the new Halloween-style Selfie Spot of Meet Mickey Mouse?
JP: For this meeting with Mickey and his friends in Halloween costumes, we imagined a mix between a somewhat nocturnal, strange atmosphere, and more joyful colors that can be found especially in the decor behind the Characters. We took the approach of the party from a family- friendly angle.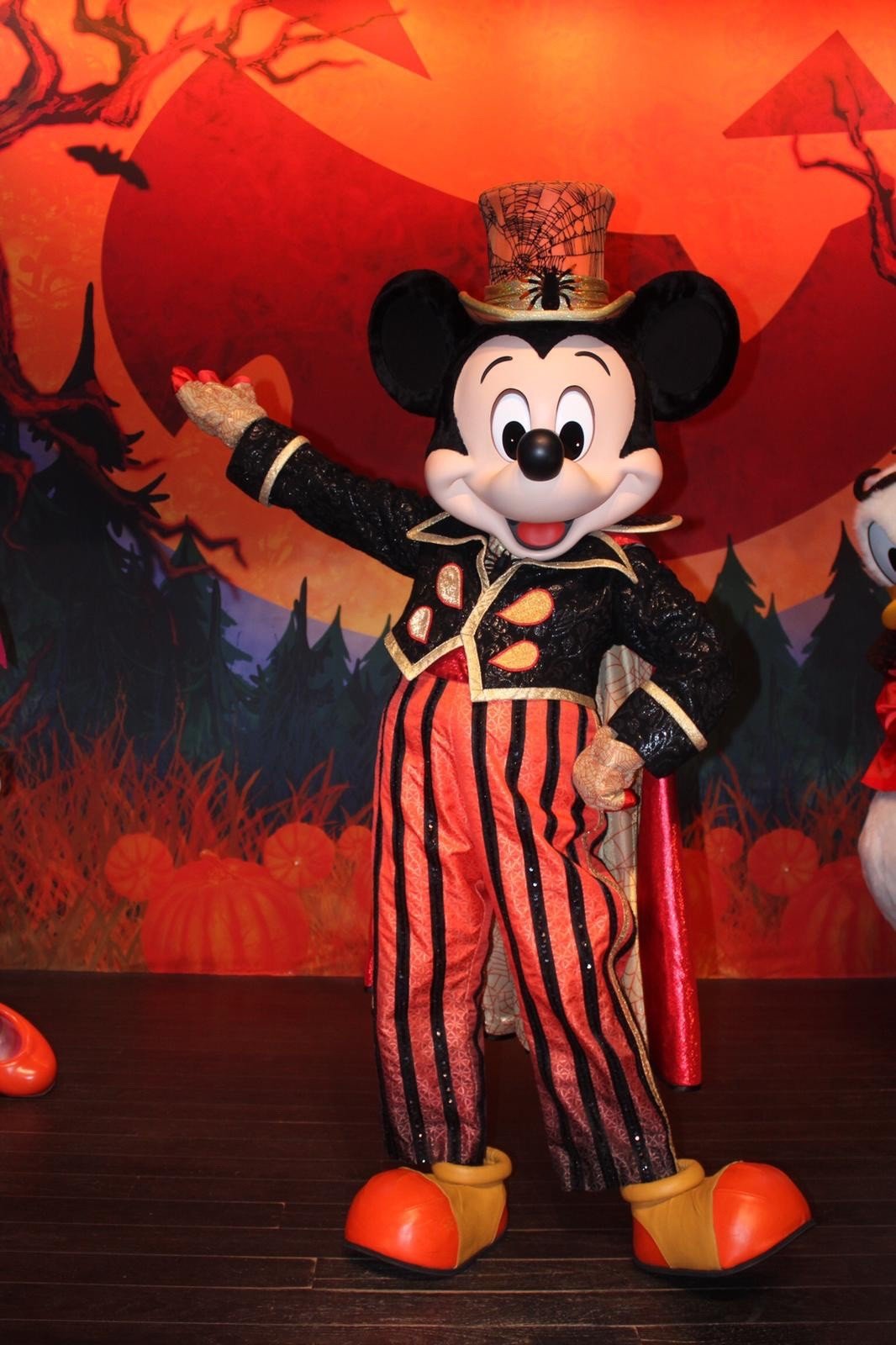 How about the Selfie Spot at Studio Theater with Disney Villains?
TG: Whoever says "Halloween" says "Disney Villains." It was the perfect opportunity to see them reunited. In the beginning, we started with the idea of a mirror, like that of the Evil Queen in Snow White and the Seven Dwarfs, and we worked on the gloomy and mysterious side of its reflections. We have combined this with a happy atmosphere by adding some pop colors, which will underline the festive side of Halloween. The challenge was to find graphic elements that suited several Villains at the same time, without the colors of one or the other dominating. Each of them has a very strong character. It should not create jealousy!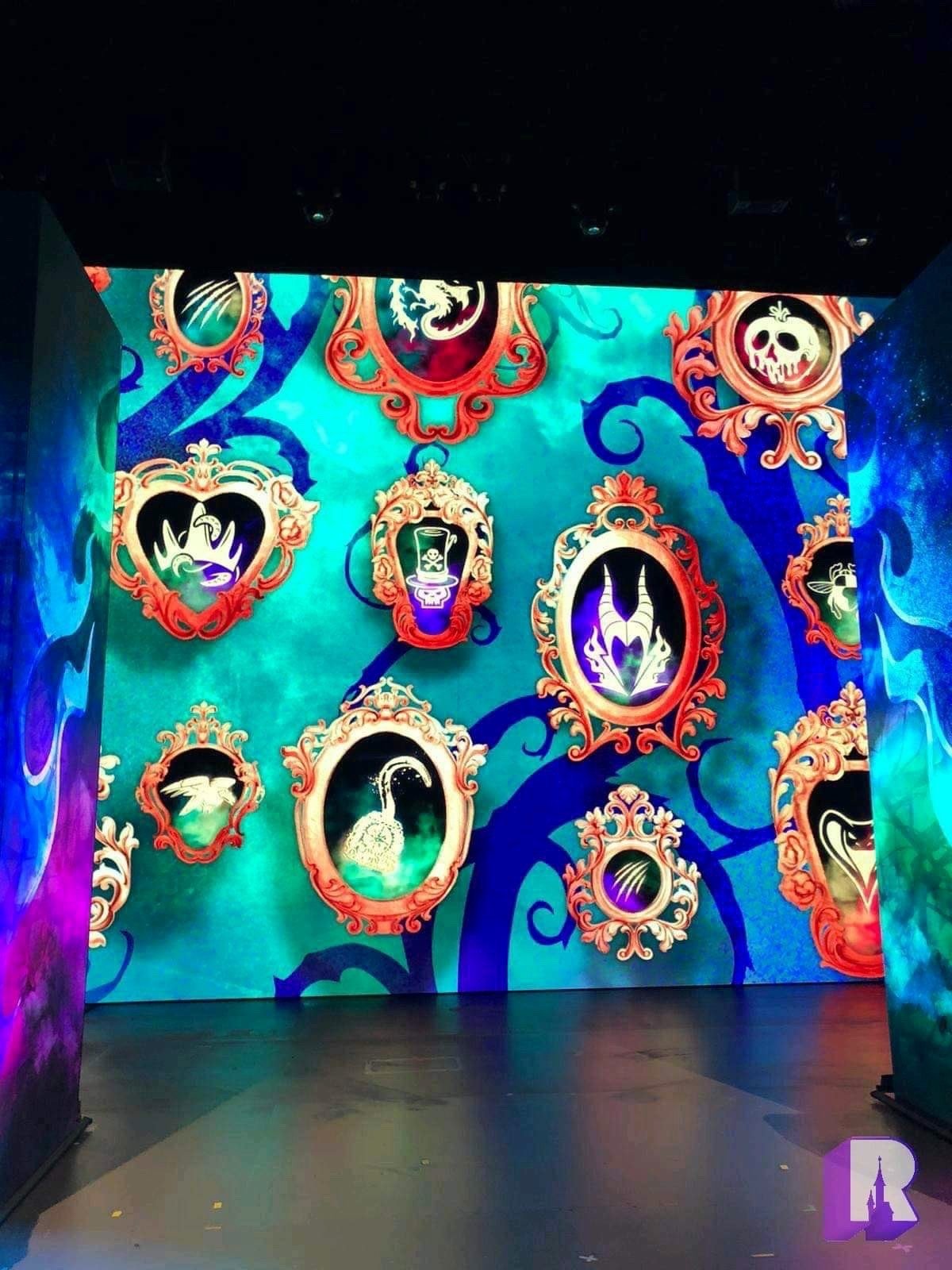 Thomas, before coming to Disneyland Paris, you created the sets for several escape games. How has this experience been useful to you in designing immersive sets like this?
TG: The principle of an escape game is to find yourself immersed in a universe and take part in a story by solving puzzles. It's very close to what we do at Disneyland Paris. We have all kinds of stories inspired in particular by Disney films, on which we will graft a new story or which we will treat from a different angle. There are all kinds of immersion techniques available to do this, and it is all the easier here since we are in a closed place. Studio Theater is a state-of-the-art stage that has all kinds of technical tools – floor projections, side projections, LED screens – to create an experience. It takes a great deal of collaboration with the animation, lighting, special effects and music teams to bring this backdrop to life. Everything is done so that guests find themselves immersed.
How do you create sets like this?
TG: Each project is different, and there are as many methods as there are personalities, both among the Directors and the Scenographers. But what doesn't change is the fact that we all come together around a strong idea. It can be a graphic idea or a staging idea, music, light or whatever, and all the other elements of the show will revolve around it. Our job is to take that idea, interpret it in terms of space, and make it real. During the design, we can go in different directions, but everything converges to the same result. The Director is in a way the captain of a ship and we're the sails. It's real teamwork, which also involves musicians, lights and technical teams.
JP: As Thomas says, everything starts with a strong idea. Take the dragon which is in La Coeur du Château. This is purely a decorative idea, born from the encounter between the universe of Fantasyland and that of the film. It is as if the brambles found in the story of Sleeping Beauty have invaded the courtyard taking the form of a dragon. This idea of metamorphosis is at the heart of Halloween at Disneyland Paris, like the pumpkins transforming into pumpkin-men and the mirror of the Théâtre du Château coming to life before our eyes.
How do you bring those ideas to life from there?
TG: Within the team of scenographers, everyone has their own method, which is based on their background and their strengths. Me, I have a geek, nerd side, from my video game culture. I first do a lot of research, sketches with a graphic palette, or collage or montage. It all depends on the themes. For Coco, I did color sketches on large sheets. I can do 15 or 20 tries before I get to the final drawing.
JP: A good sketch can give you all the information and emotions you need. Then I move on to the model. This is an essential step, which comes to us from the world of theater. The one for the Théâtre du Château that I made last year was simply made of cardboard. There are obviously a lot of technological advancements that make it possible to model a setting, but what matters is the idea.
TG: 3D is just a tool. As well as gouache, watercolor or Photoshop. We continue to make working models, blank models. Not so long ago, we made them out of featherboard with different pastes. Today, you can also make set models using a 3D printer. Between the hand of the model maker and the printer, the finish will be different, but the result will be similar. It all depends on what you are looking for. 3D can be particularly interesting for parade floats, as it will allow technical departments to visualize the whole float, including its internal structure.
This indeed makes it possible to consider the integration of technology.
JP: Absolutely. This is essential. Sometimes it is not easy to integrate the elements of machinery into a setting. The Théâtre du Château has many technical elements, including bubble machines and lots of lights. However, this is not a closed theater. We can see it in 360-degree perspective. It is therefore necessary to find locations and means to camouflage all of this as best as possible.
How do the seasonal decorations fit into the aesthetics of the lands that welcome them?
JP: At Disneyland Paris, depending on the land, there are different degrees of finish. Halloween decoration is truly emblematic of this diversity of styles and approaches. It's very interesting. In Frontierland, we can stay a little rough. It's the world of cowboys, nature, wood, with pumpkins and other elements that have an artisanal, even rough look. While on Main Street, U.S.A. or Fantasyland, we have very advanced levels of finish, with very elaborate objects. The pumpkins found in Central Plaza or Town Square have very specific sanding and varnish to match the spirit of the place.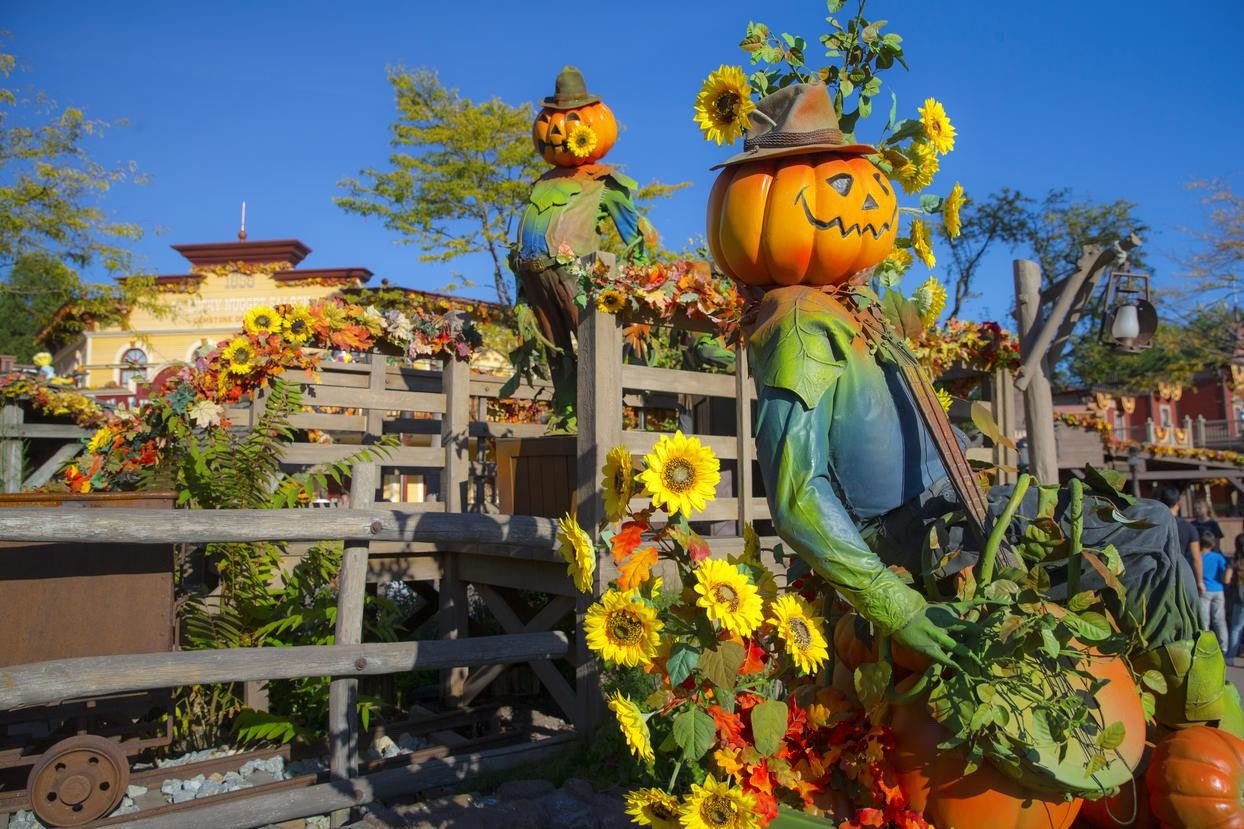 Where and how are these decorative elements constructed?
JP: At the Disneyland Paris Decoration Workshop, we make accessories or modify decorative elements, but these are made in outside workshops. For Halloween, we work a lot with French companies, but also with Holland, Germany, and Italy.
Once the sets are built and stored, they must be installed. How does this decisive step go?
TG: Part of our job is to keep track of the sets throughout the installation period. Especially for Halloween and Christmas, it's quite short. So we have to work at night. You have to ensure that these sets are correctly put in place because there are always last-minute adjustments. We have to check that they don't interfere with guest flow, a queue or anything else, and we are there to correct if necessary. Our in-house decorators are also there to give a bit of paint on a scratch or to make repairs in case an item was damaged during transport. These are magical moments, because it is there, in place, that our sets come to life!