Welcome back to our weekly news update where we discuss everything happening at Disneyland Paris. And oh big did we have some news in the last week! Shows, Parades, Fireworks… life as we know it is gradually returning to the Resort. Let's take a look!
Mickey's Dazzling Christmas Parade
After years of speculations and even a slip from an exec talking about it almost 2 years ago, it's finally official: "Mickey's Dazzling Christmas Parade" is officially premiering on November 13! The photos released simply look magical!
The parade will run during the day AND also at night with a "light up" version that will also serve as a tree lighting ceremony. As you can see the Disney Princesses are joining in the fun as well as Santa, Stitch, Tinker Bell and more Disney Friends. The production will be orchestrated by the legendary Yaron Spiwak (goodbye "Christmas is Here"), and feature two show stops: in the hub and on Town Square. The floats have a wonderful level and details and are in the "shiny pop" style of the Stars on Parade (newest) floats.
⚠️ Video: First look at Disneyland Paris' upcoming new Christmas Parade, "Mickey's Dazzling Christmas Parade, debuting on November 13, 2021! 🎄 pic.twitter.com/bLEbamX8mc

— DLP Report (@DLPReport) October 18, 2021
Needless to say there's a lot of hype and pressure on this production which will be the focal point of the entire Christmas Season- apart from "Let's Sing Christmas" at Videoplis, this is it for Christmas 2021.. but what a wonderful "it".
The Christmas Parade announcement also came with an update from the merchandise team: look out for a model of Mickey's Flot in Mickey's Dazzling Christmas Parade (a hefty €165.. what is it made of ?), as well as a new tea advent calendar, spirit jersey and of course ornaments.
Talking about Christmas, we also had a look at the new UK commercial:
🎄Video: Disneyland Paris 2021 UK Christmas Advert: pic.twitter.com/DEuzyMyIdZ

— DLP Report (@DLPReport) October 20, 2021
Returning Shows and Parades
Two headliners are returning soon: Disney Illuminations on December 21 and Disney Stars on Parade on January 10. What a wonderful news for these shows we got so used to but have grown to miss. Or et least it'll be nice to have daily fireworks again.
This weekend also marked the return of "Frozen: A Musical Invitation". The show has become a selfie spot during the pandemic and is now back to its original format of… dance learning… whatever that is but the sets are beautiful and Sven is back to life ! It was interesting to see some fans online preferring the selfie spot version, maybe some feedback to take into consideration for Disney.
Saturday ALSO saw the return of fan-favorite "Rhythms of the Pride Lands". The show returned mostly unchanged: some choreography and lighting adaptation and the usual musical tweaks.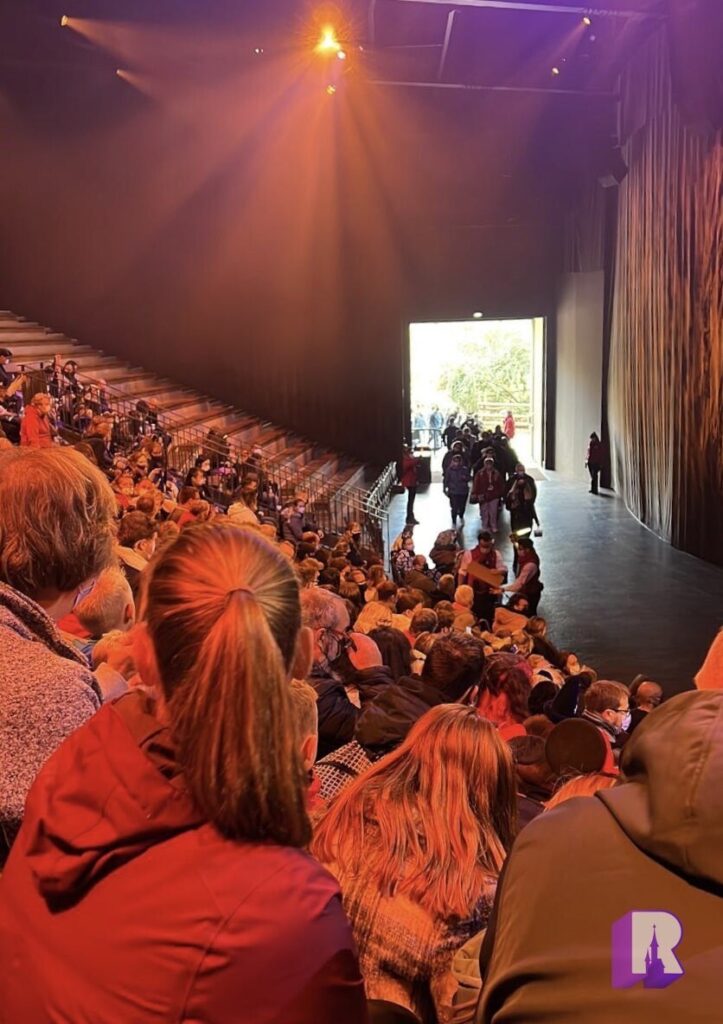 One big novelty however is "Secure Your Seat", a new paid product which allows guests to enter first and choose a seat in the central (best) sections for €15.
Once most Secure Your Seats guests have entered (don't wait til the last second), the rest of the audience is let in to fill up the leftover central seats and side seats. About 200 seats are allocated to the paid product which leaves a lot of seats to the general audience but obviously not necessarily the best seats. Reception has been a tiny bit more positive for this products with some Guests saying it's worth it for the lack of queuing and premium viewing spot. This is in contrast to its Attraction cousin "Premier Access" which has received negative feedback from pretty much everyone except Bob and the accountants.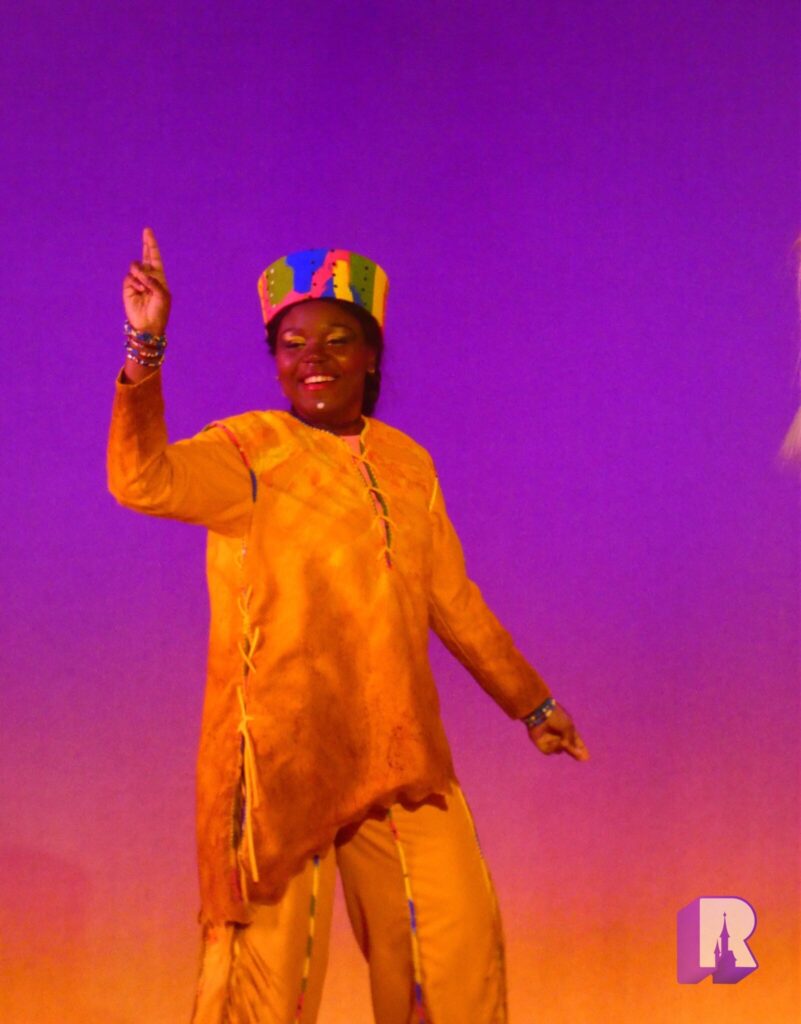 The show is still presented in sign language by the (amazingly talented) performer who is fully integrated into the production.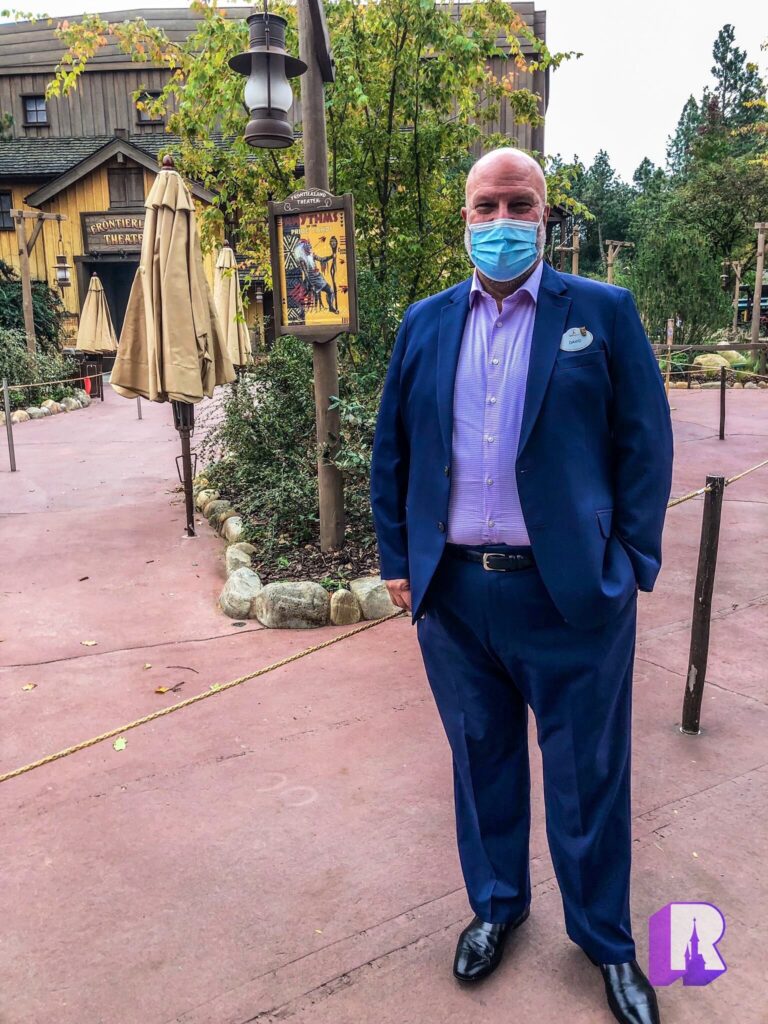 Entertainment VP David Duffy was on hand to check out the Cast Previews.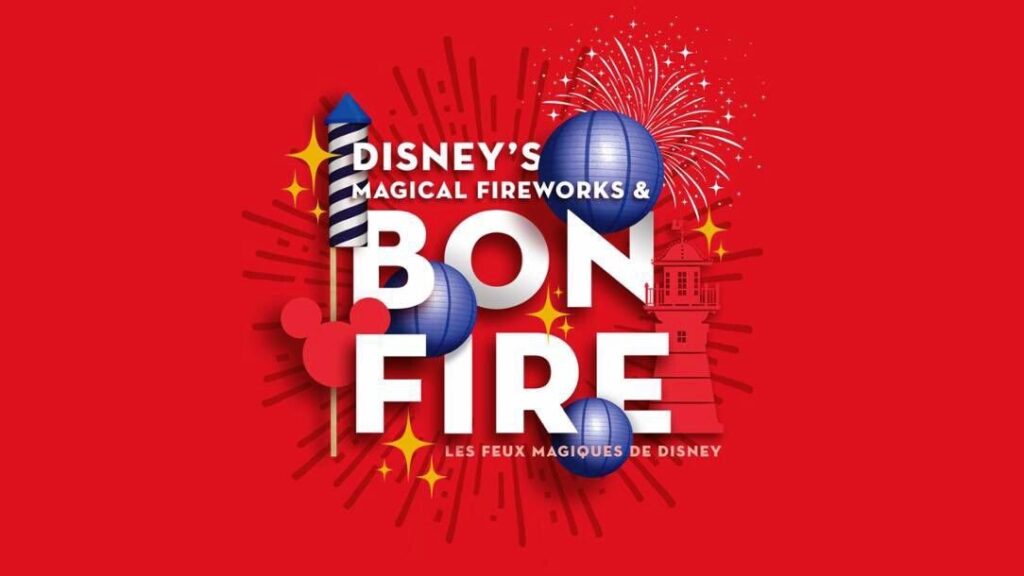 The bonfire nights – or as they are now called "Mickey's Magical Fireworks" have also been reconfirmed for November 2, 4 and 9 but this time from Disneyland Park. As the castle is under refurbishment they will be performed from behind Fantasyland but viewable on Main Street.
Halloween Rebooted
With updates to social distancing rules (see above and best section), Parades are set to return at Disneyland Paris! This means that since last Saturday, the single surprise float outings are replaced by one multi-float parade: Mickey's Halloween Surprise! Make sure to catch it daily at 5:30pm until November 7.
🎃 "Mickey's Halloween Surprise", Castle Stage view.
Parades are back at Disneyland Paris! 🥰 pic.twitter.com/KWYLUZjxi8

— DLP Report (@DLPReport) October 23, 2021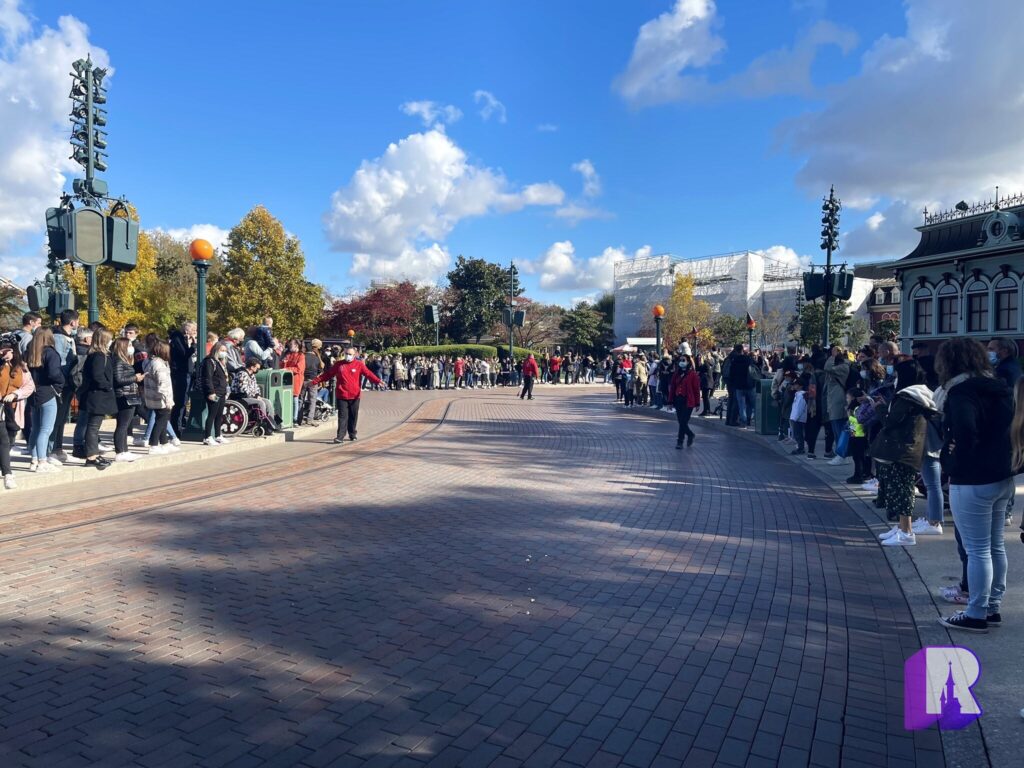 All the show times are now also available in the app which makes everyone's day better.
It was really heartwarning to see Guests wait along the route for a real (albeit scaled down) parade. So far everyone has been well behaved but remember to give people some space as not everyone is ready for crowds.
Additionally some late merchandise arrivals and new Photopass MagicShots have appeared in the park.
The Halloween Soirée on October 31 was also reconfirmed with a vague agenda:
decorations, fog, lights..
selfie spots
Halloween floats
Mexican fiesta (Frontierland) dance party (Discoveryland)
"Reveal your inner Villain" finale show in the hub
Skeletoon Party w/ Max & Goofy
Captain Hook Pirate Academy
Goodbye Social Distancing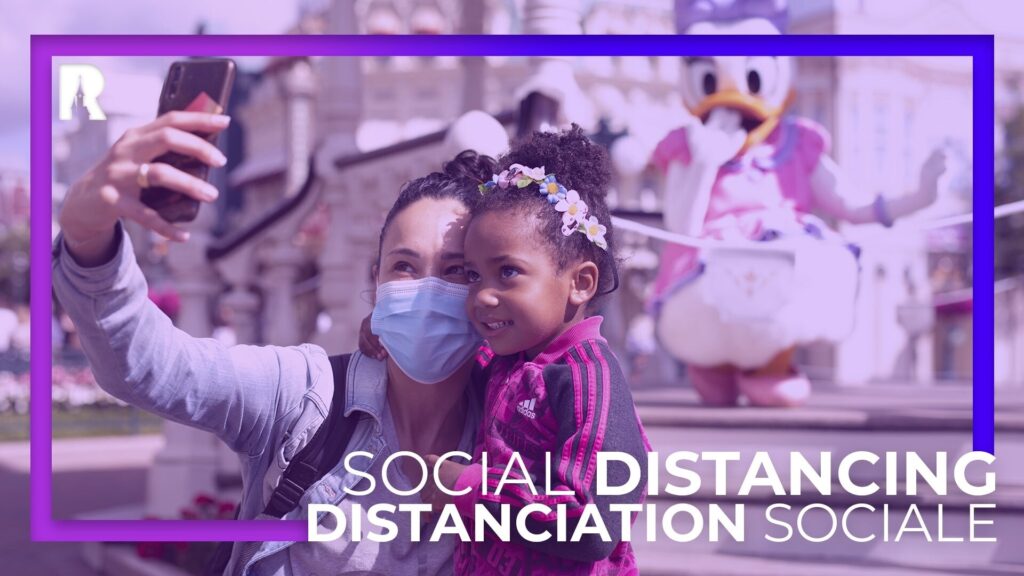 Social distancing was more or less abolished at the Resort, which means that guests don't have to distance from each other any longer. Masks are still required everywhere and at all time for 11+ Guests unless eating or at designated photo spots.
Cast Members did not waste any time removing all the big green stickers from the entrances, queues, and attractions. No one was using them anymore anyway.
🛎The library preshow is BACK at Tower of Terror! pic.twitter.com/DSGS9HdHJL

— DLP Report (@DLPReport) October 22, 2021
The beloved Tower of Terror preshow was able to resume as a result.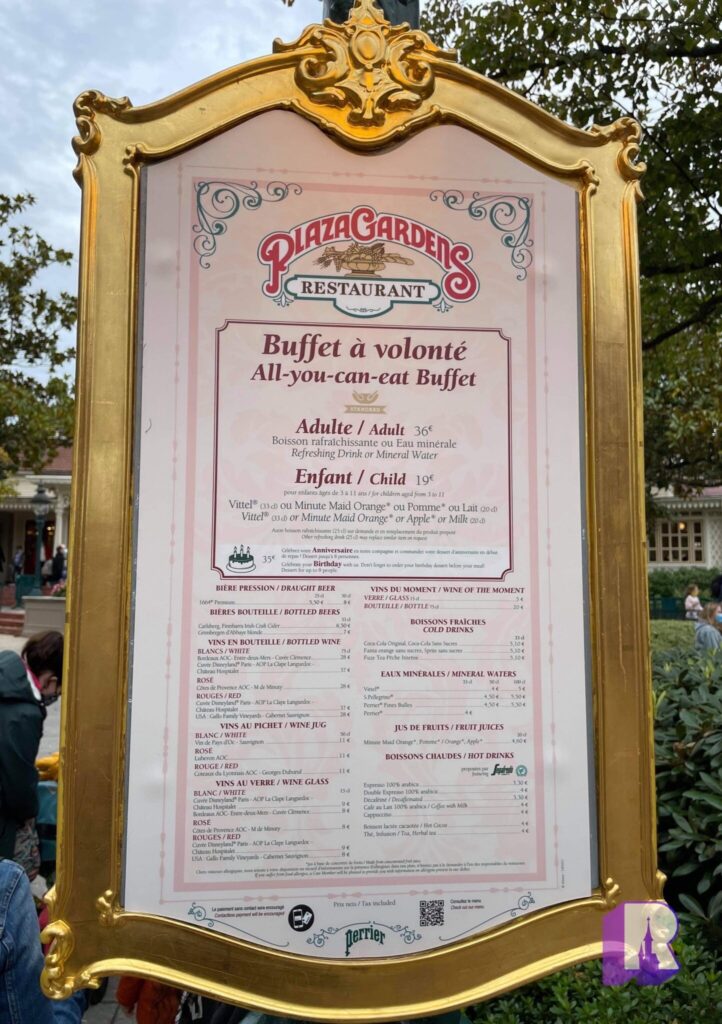 As well as buffet service across the Resort!
Capacity continues to be re-evaluated meaning more slots are opening for AP holders. These go quickly but they also evolve daily so keep checking if you're waiting for a particular day.
Many of you are asking about when the December Billets Privilege will be available. We don't have any info yet but will share as soon as we spot them.
Welcome back, Disney's Hotel Santa Fe
Disney's Hotel Santa Fe reopened on Saturday after almost a year of closure. Welcome back Cast and Guests. Now please renovate the rooms and add AC!
The front desk was updated during the closure and now features Cars backlit backdrops. It's.. IP. Not the best, not the worst, does the job.
Maintenance and Refurbishments
One of the big ongoing project, Orbitron is moving along with a published return date of December 18. The queue awning returned with support for Premier Access. The Nautilus which is also closed across the steer is however not expected back until late April 2022 as a lot of work has to be done on the metal structure in the basins.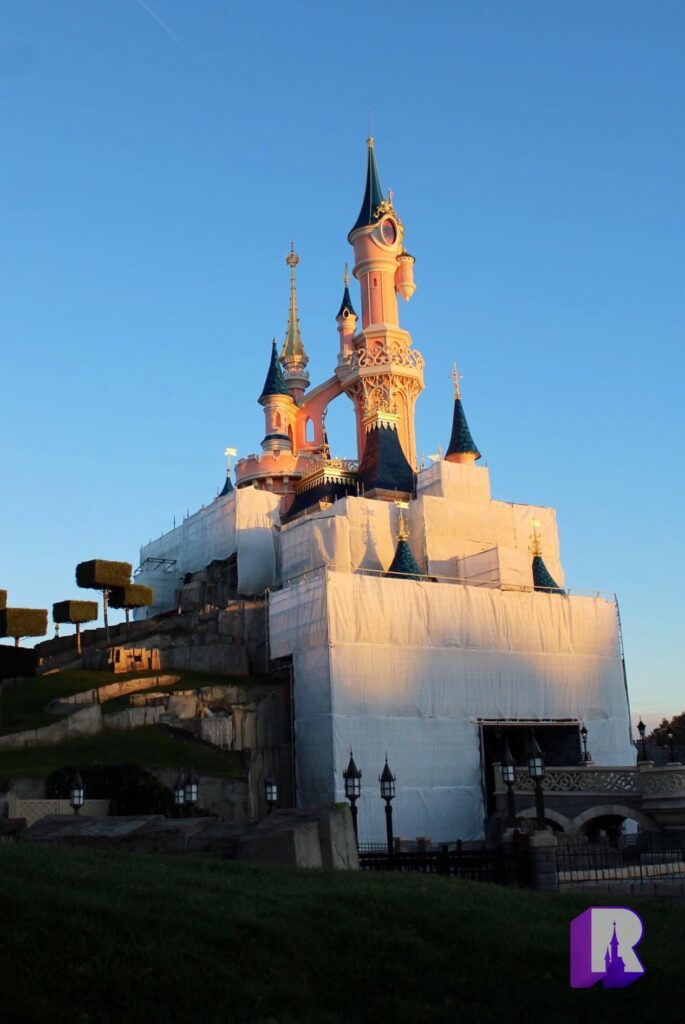 Over at Sleeping Beauty Castle, the themed tarp was removed on all sides, a fold sign scaffolding will continue to come down at a good pace. Many of you are also asking when it will be done and given that "La Taniere" is set to reopen on December 1, a good guess is late November to early January.
Moving on to Walt Disney Studios with our latest check on Avengers Campus. The complicated Spiderman show building structure continues to grow, while across the street the restaurant complex is slowly taking shape. With 9 months to go, we should start seeing some noticeable progress soon.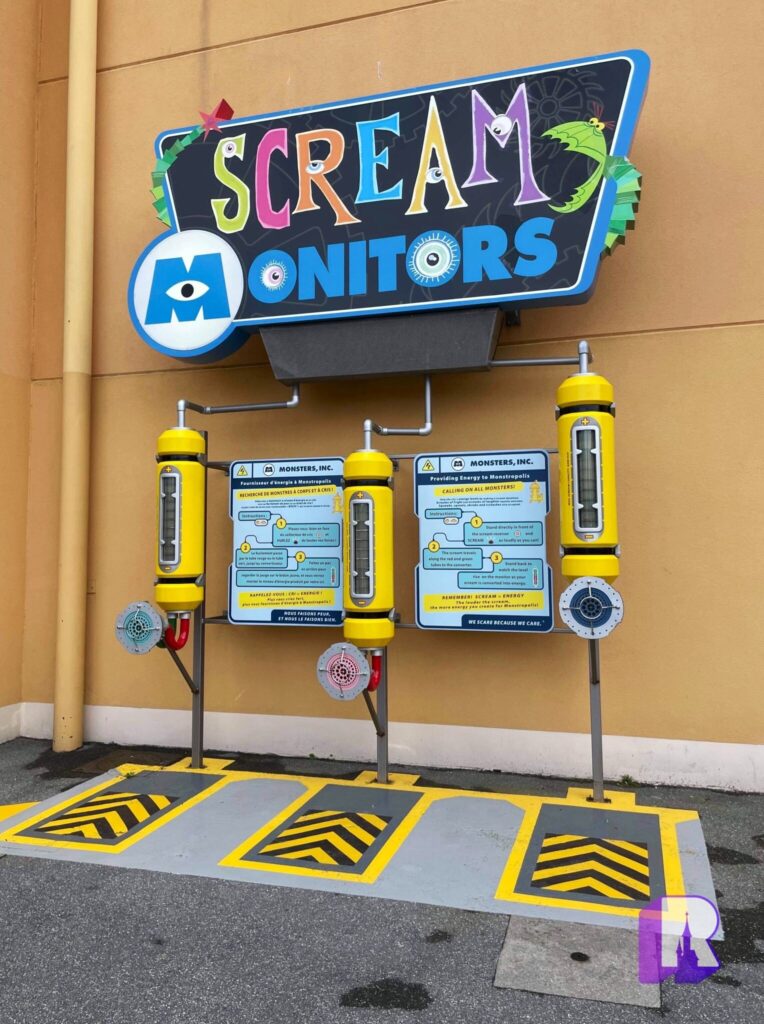 A result of the drop in social distancing, the Monsters inc. "Scream Monitors" have been reactivated.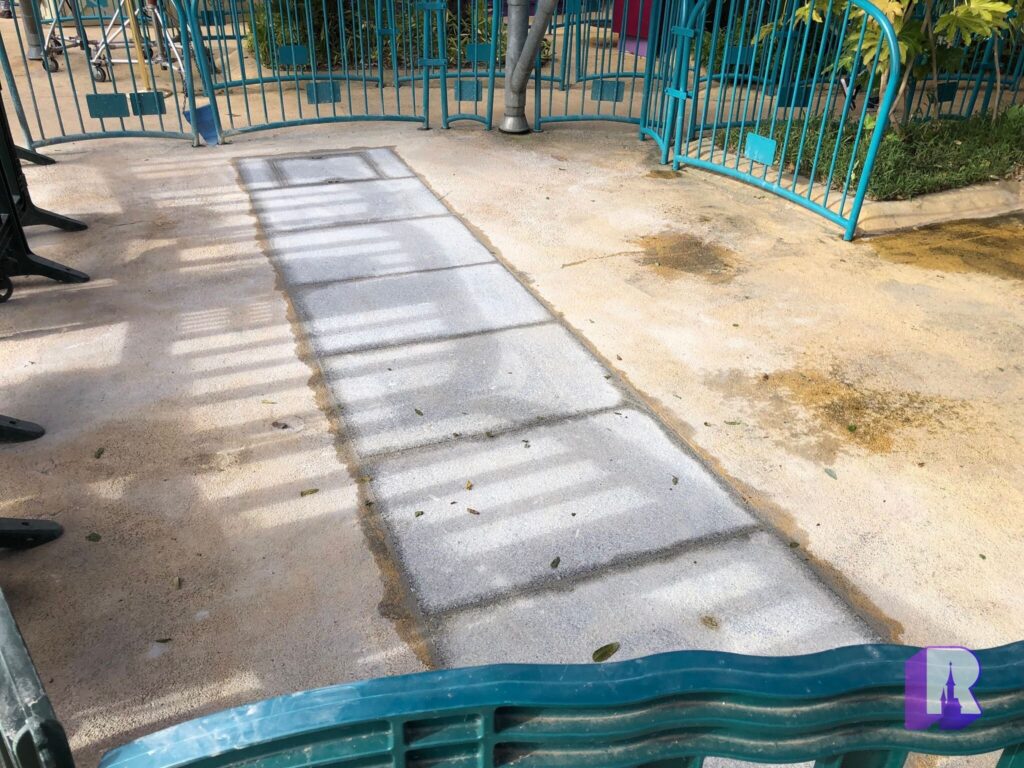 And we're still not done with Fastpass removal with a bit of a rough job here at Flying Carpets over Agrabah.
Finally just outside the parks, two projects are almost complete: the Pret a Manger location in the main train station and the Vapiano covered terrace.
WDS Expansion Aerials
We also shared some new aerial photos from above the Walt Disney Studios expansion site. We're talking about the lake and associated lands here. Progress is finally being made with works on the Frozen show building outline, the associated marina, the lake and all the place making that will hopefully breathe some new life into the Park.
And that is our PACKED news report. Finally a ton of good news and plenty of things to look forward to. On my end I look forward to see you everyday on our media platforms and right here next week for another update!