Welcome to a new edition of the DLP Report! This week we focus on two major events: the Christmas Season has arrived with an outstanding new parade, and Disney+ day brought the fun with a big synergy event plus our usual weekly coverage recap. Let's go!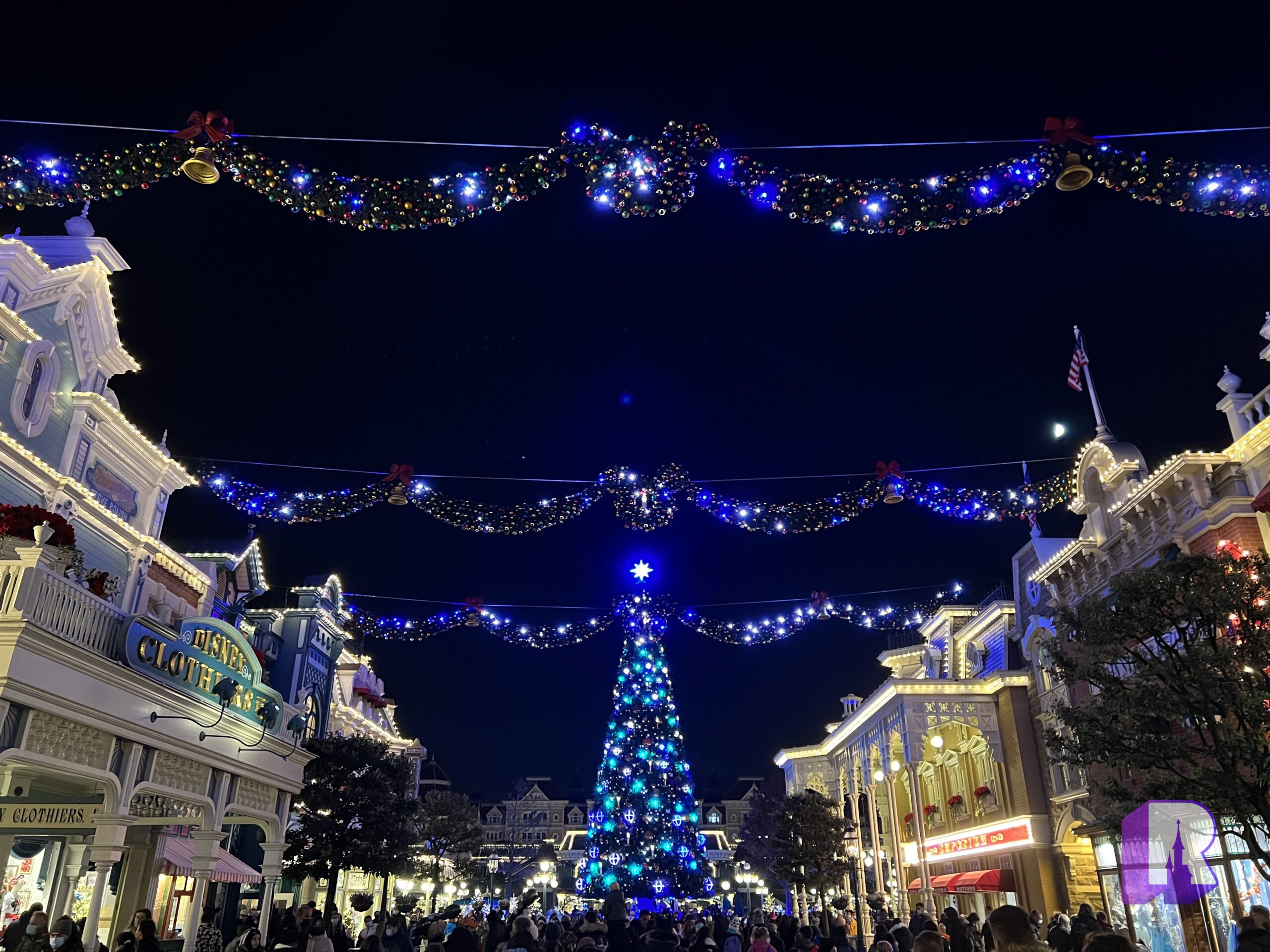 We waited to through too many things to count and finally, Christmas is here! It's an almost all-new production this year:
Disney's Enchanted Christmas Launch
Mickey's Dazzling Christmas Parade
Where to START! Mickey's Dazzling Christmas Parade is an all new production featuring original float designs, original music, two show stops, a day and night mode, thousands and thousands of lights and lighting effects, brand new costumes, pyrotechnic effects, and more surprises to come!
Now that we got this out the way – let's get to the details: despite a very technical and modern design, the show manages to enchant and dazzle (as the name says) guests during the day, but particularly at night with its hypnotizing lights, and can't-get-out-of-your-head soundtrack by legendary producer Yaron Spiwak. You'll even hear a sample from "world of color" in one of the segments and a dozen classic Christmas songs cleverly remixed into the main theme – that's how rich the multi-segment score is.
You'll recognize the floats style from Disney Stars on Parade and it's not a coincidence – they are by the same creators: Kevin and Jody, who are big fans of the "shiny toy" appearance. Of course this style applies fantastically well to Christmas and even links the two parade in a way. They're even more detailed than their "Stars" counterparts with everything from little animals to jewels, glowy hydraulic valves and dripping icing!
Santa's float is also brand new and although we will miss the long articulated float with many reindeers, this one is pretty awesome too! Santa only brought 3 reindeers tho, and the Toy Soldiers are no longer part of the parade which is a bit of a disappointment as this could have been an opportunity to redesign their outfits with lights and a modern style that matches the parade. Talking about the dancers – there are SO MANY and they are all wearing the same outfits. Another odd choice which does work to give the impression of size but sometimes it's hard to remember which unit you are watching or even if you've seen these dancers already or not. Maybe color matching the same design to each float would've created more of a sense of unity in each.. unit while keeping that scale effect.
With a flick of a switch, every thing changes: at night the parade comes to life in a sea of glowing / flashing / swirling / projecting light. This parade was announced as "night ready" but really it feels like it's more of a "day ready" night parade. You simply cannot miss it at night. As a result the day version of the floats feels a bit static once you have seen them at night, because there are not many moving parts, the bulk of the wow factor is done with light.
The parade is designed with 2 show stops: in Central Plaza in what could be described as "Jungle Book Jive" style, and then in Town Square with dancing routines during the day and the Tree Lighting ceremony at night which is fully integrated in the production and no longer a separate show. At the time of this review we could only see the night version once, on soft opening day before full darkness. It looked lovely but we'd have to see it at night to really get the full effect. Sadly technical difficulties with the show stops have resulted in them being halted for a few days, so check our social media for an update. Here's the version we got to see:
So, overall a very very strong performance for Disneyland Paris which reaches heights of scale, extravagance and technical feats (when it works) only seen in Tokyo or with Paint the Night Parade. A 35 min show with so many angles that you can watch it from 10 different spots and get a completely different experience. It's however a departure from more "traditional" holiday parades historically produced at Disneyland Paris and even in the American parks so some Guests might get taken aback but hopefully will still fall in love with it. Repeat and WOW factor is essential and the production teams are definitely hitting the spot on both so it doesn't feel like we're gonna get bored of it anytime soon. Great job to all involved for this wonderful "Holiday Fantasy"!
Let's Sing Christmas
Let's Sing Christmas is a cute Christmas Carol based show with Disney Friends that involves "Disney Performing Arts" choir at some performances. It's a classic production that will bring the nostalgia, with some great ensemble by the choirs. However performances without the choirs feel unnecessary scaled down, even with a blank background instead of the nice projected one.
A Funny Snowy Winter
In Production Courtyard this year we have a surprise little show when Donald and Goofy! It's only 7 min so obviously don't expect the world but it's actually very cute and funny (Donald gets almost caramelized). The production uses the effects of the stage (sparklers, fire, the elevator) and adds snow. At the end, D&G pose for photos so Guests can get a quick selfie. Yep it's not surprise Mickey but it doesn't claim to be. Go check it out, you'll have fun! Here's our full video of the show:
Meet Santa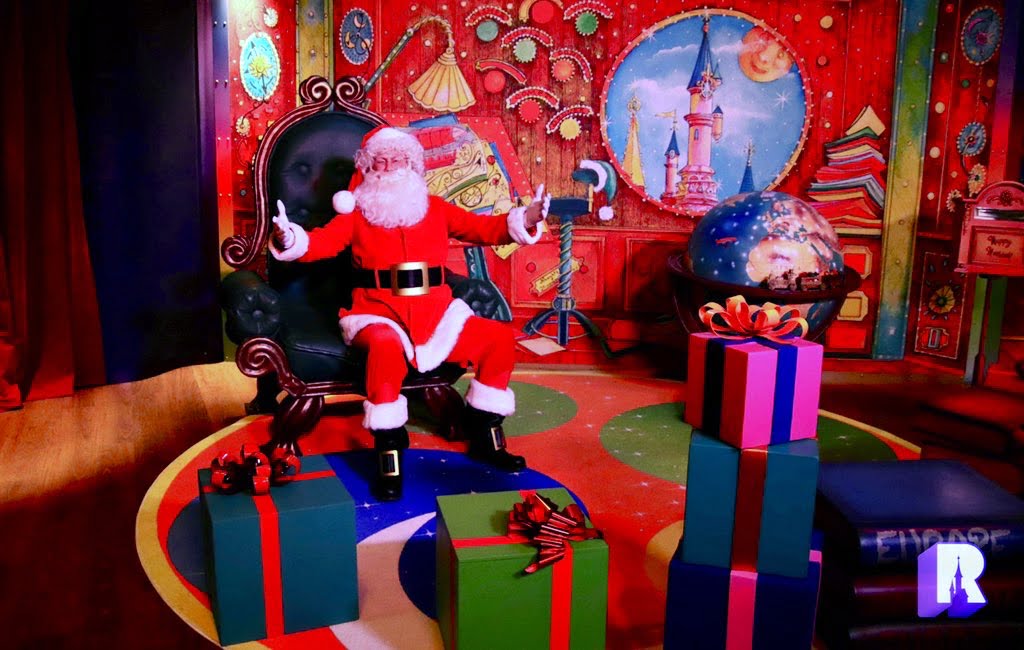 Santa has moved to Arcade Beta! (When he's not on parade). A new set was created for him, themed to a "Christmas Control Room". A modern take on the Santa meet.. it's Discoveryland after all!
Selfie Spots
The Stars of Main Street this year are Pooh, Eyore (in a NEW outfit) and Santa Stitch!
At Meet Mickey, Guests can take selfies with Disney Friends in a lovely Christmas setting.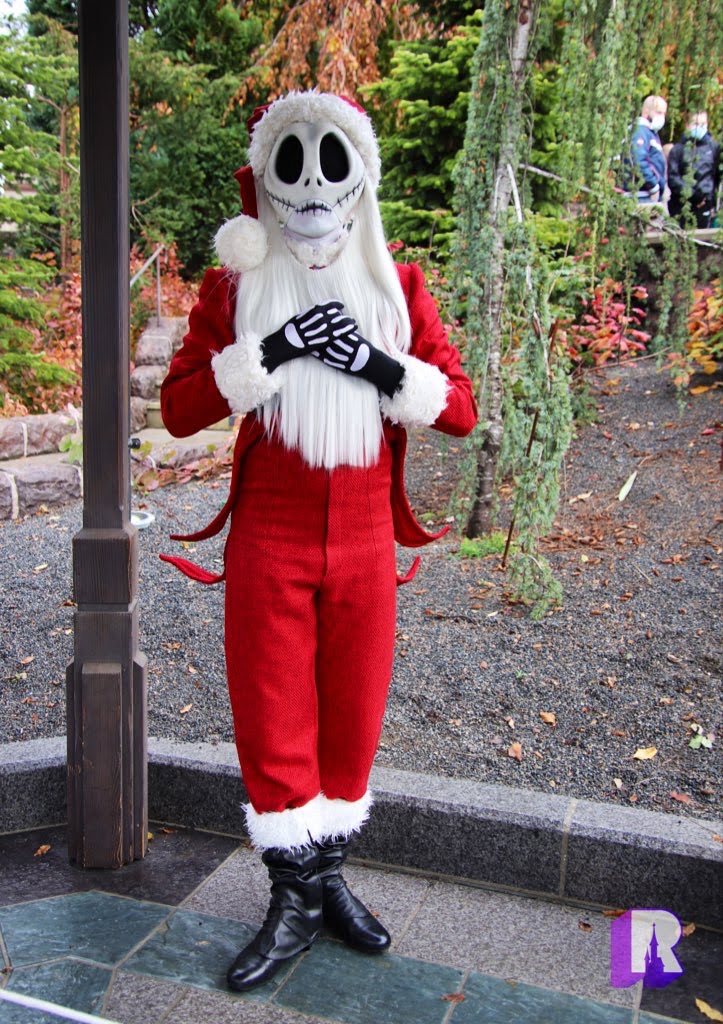 And of course let's not forget Sandy Claws at Phantom Manor!
Decorations
What would Christmas be without the fantastic over the top decorations!
With the stages being used for the Parade this year, the Christmas statues have moved to the top of Main Street.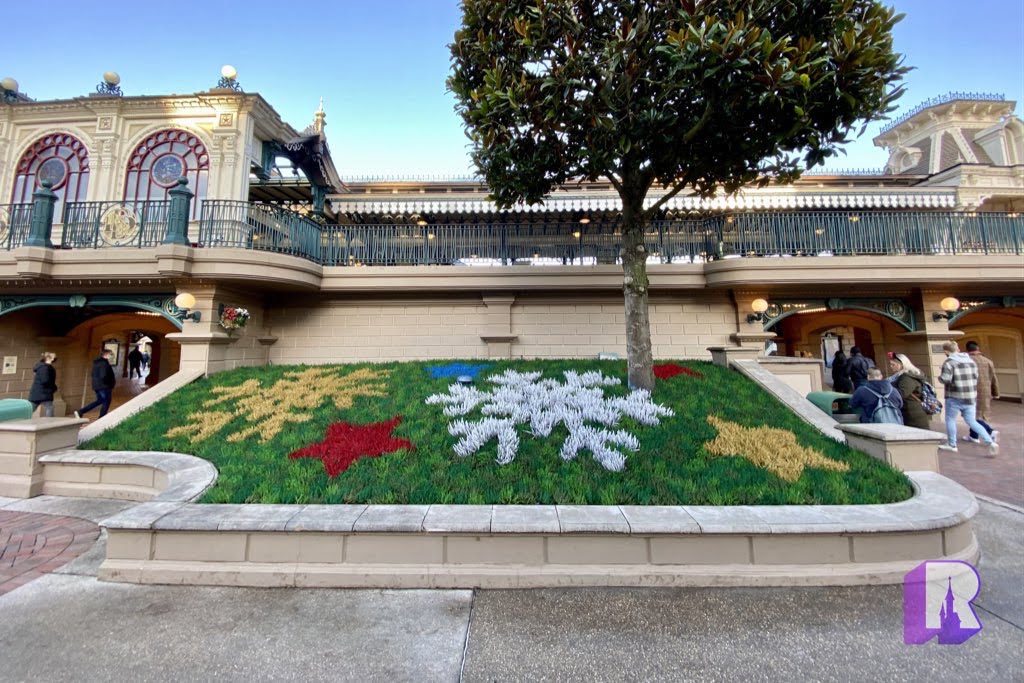 As you can see the landscaping teams have done a terrific job with the designs again this season. Major prop to them!
New lamppost covers were added to Central Plaza. They're lovely and recall some of the designs seen in other parts of the season.
Castle Stage isn't being used this year but still has a few decorations..
The Main Street windows also have some new designs that match the season.
Of course there are the Main Street garlands, but the real magic turns on at night in Town Square with the usual "Winter Wonderland", all along Main Street and even in Central Plaza with a blue Sleeping Beauty Castle which – turns out – is not just for Disney+ day. The whole lighting package is mostly blue, as if they forgot about Disneyland Paris 25, but overall touches of white and color ensure a magical atmosphere:
You'll also find Christmas on Place de Rémy with the usual "Central Paris" vibes:
I've decided to skip Christmas food reviews. Another season of uninspired designs and bland flavors, a lot of which weren't even available at launch. As some parents would say: I'm not mad, I'm just disappointed.
Disney+ Day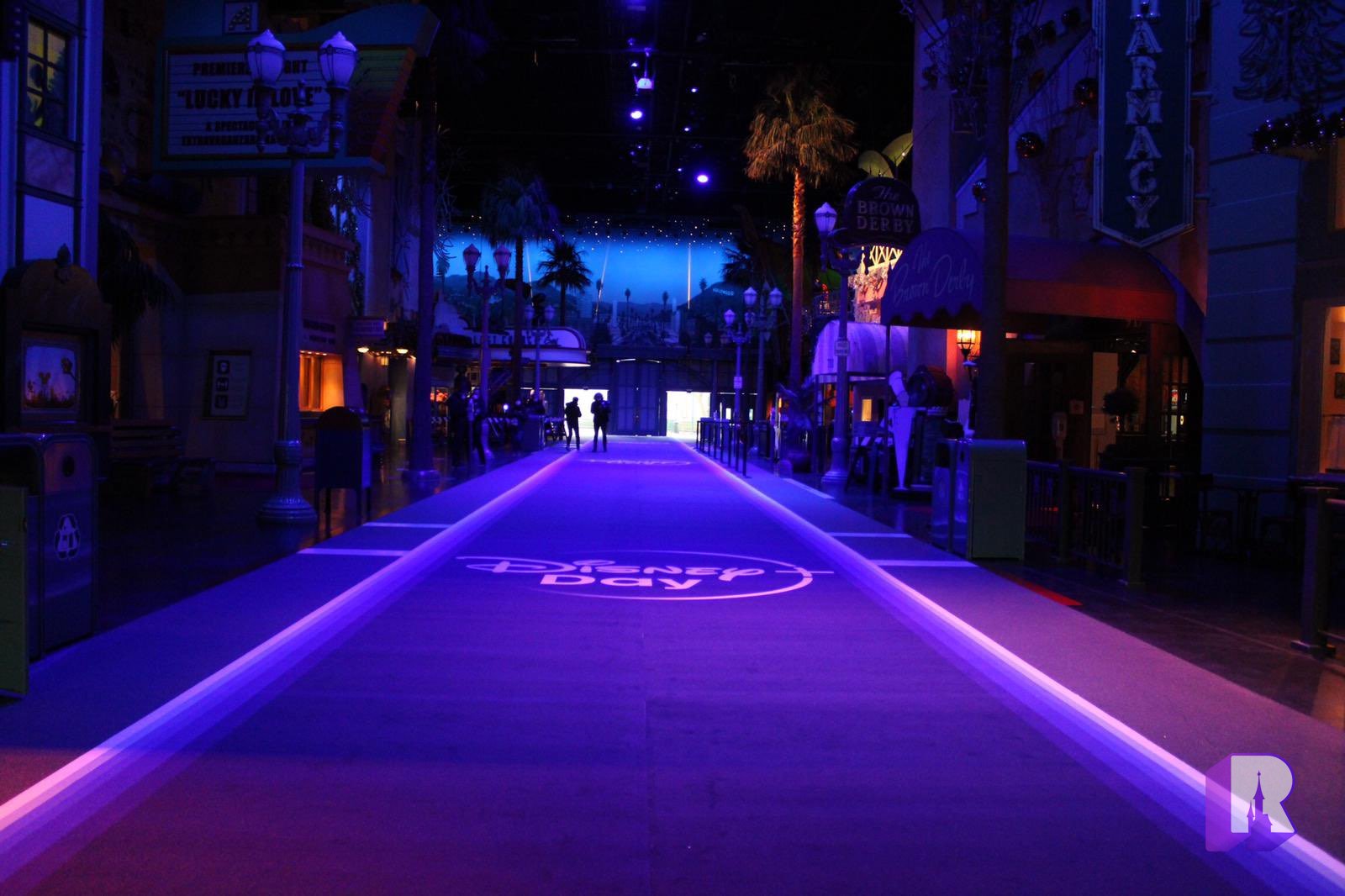 Disney+ Day came out of nowhere and ended up being a really fun offering ! Only available on Nov 12, the day offered plenty of special features, starting with that blue carpet!
A ton of rare characters and special double meets from the Pixar universe were showcased (it did feel a bit like Pixar Day)
A few days before, Wanda Maximoff premiered as a selfie spot at Studio Theater. It's unclear if it was FOR Disney+ Day but it did more or less coincide. She is however a permanent addition!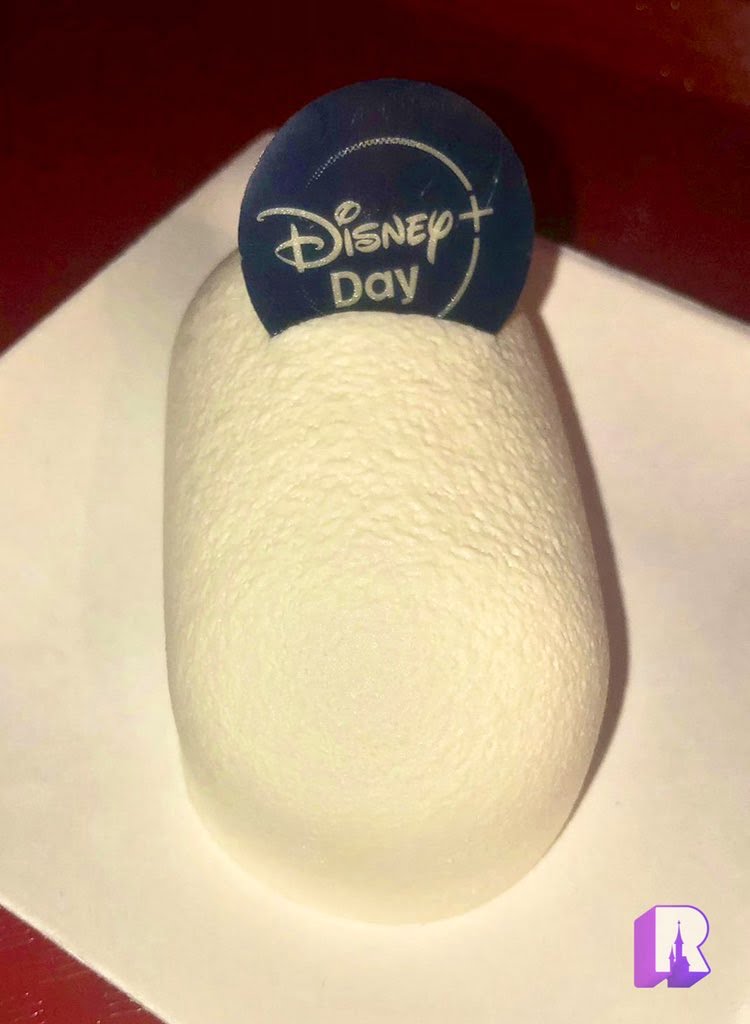 A special dessert that's meant to be a Tsum Tsum was also added to all menus at En Coulisse.
As well as free buttons..
Disney Friends in blue outfits..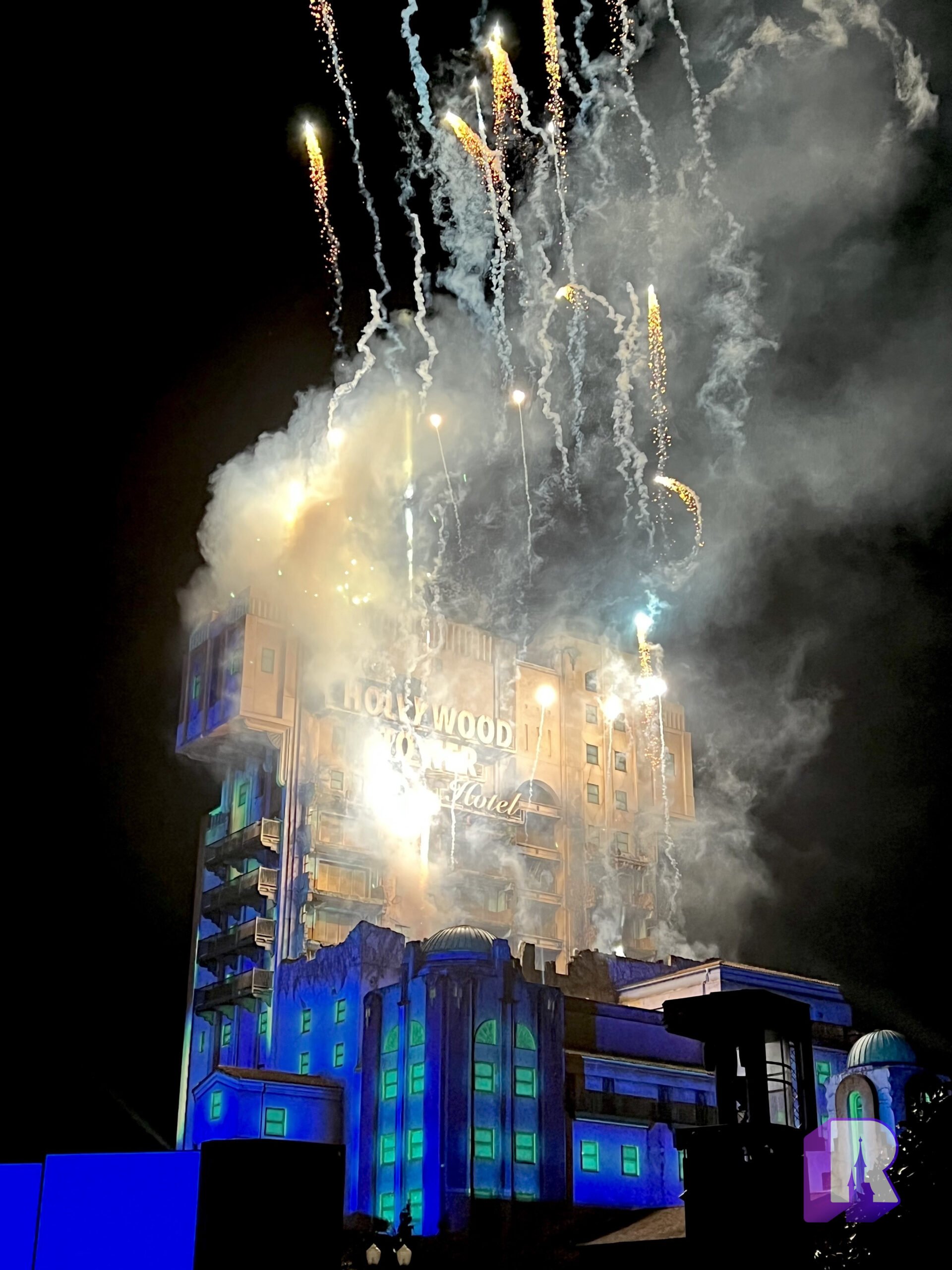 And a very short but pretty projection mapping and fireworks show on Tower of Terror. I personally knew it was 2 min but it was funny to see hundreds of Guests waiting in silence for the rest of the show that never came. Awkward.
Meanwhile in Central Paris, giant inflatable icons were installed across from the Eiffel Tower by the Disney+ France teams. Similar installations have been popping up around the world.
Overall a really cool idea – please do it again next year!
Hiver Gourmand
The French food festival has returned in its festive version on Place de Rémy with winter favorites. Oh the portions out there are frightfully small but the atmosphere is so delightful. You can find the menus here:
Hiver Gourmand runs daily until March 20.
Sleeping Beauty Castle
The front facade of Sleeping Beauty Castle has been unveiled this week, with only scaffolding on the back and side remaining. It's great to have our icon back!
Refurbishments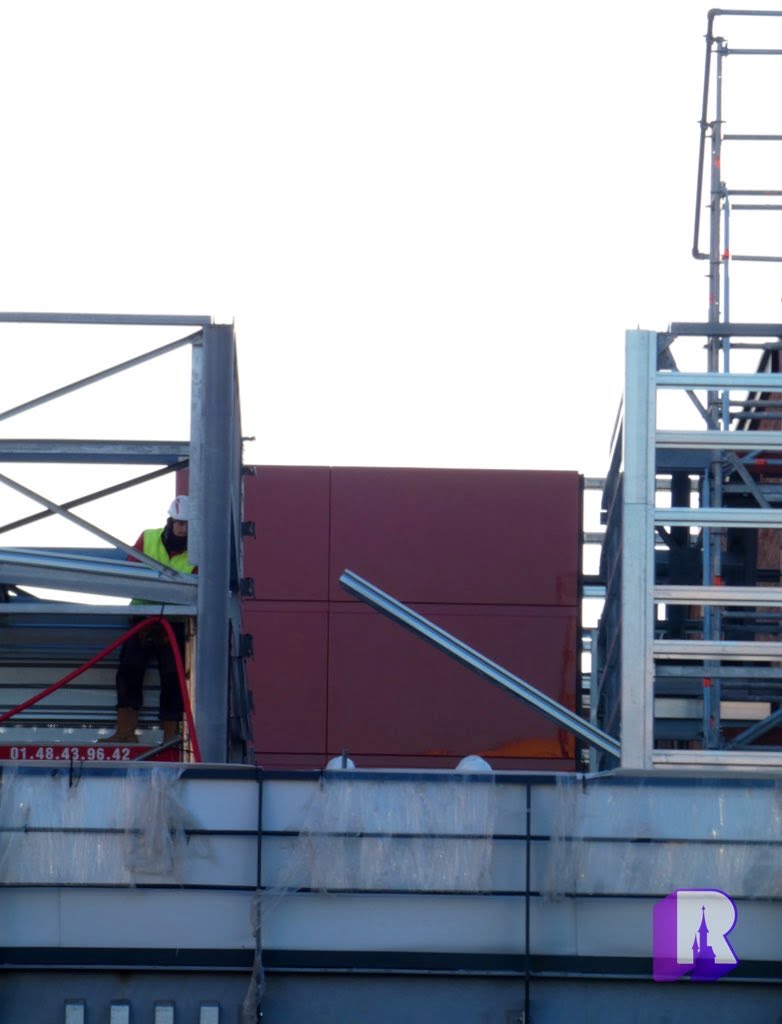 At Avengers Campus, the first red panels have arrived at the Spider-Man building!
The Toad Hall toilets have reopened and look great!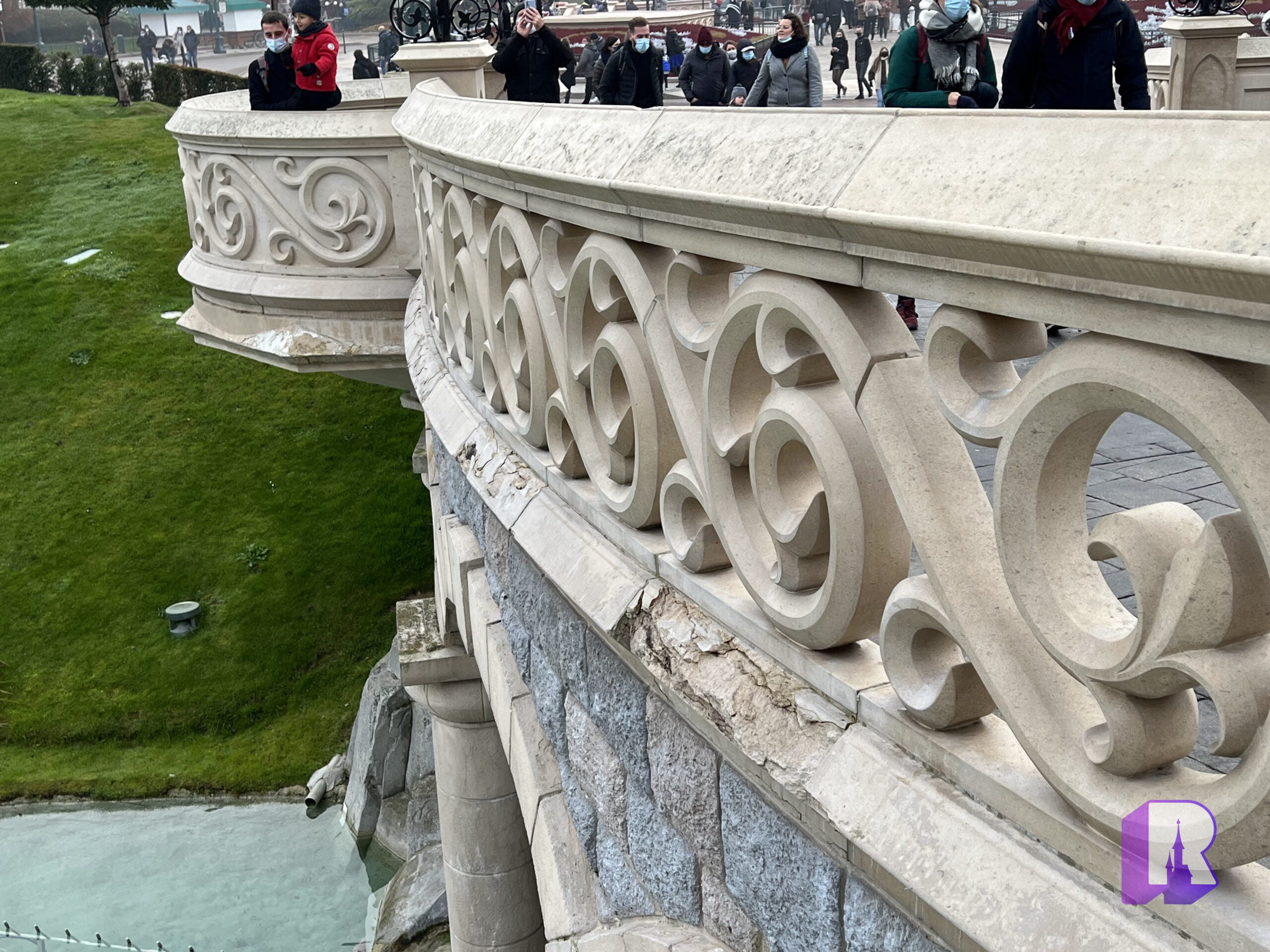 The Sleeping Beauty Castle bridge is in dire need of repair and it's next on the list of refurbishments.
Thanks for joining us for this HUGE update! We hope you enjoy Mickey's Dazzling Christmas Parade as much as we did. See you next week for a new update on everything happening at Disneyland Paris!