My last News & Photo Report article was about the closure of Disneyland Paris. At the time we had no idea of the devastation what was later labeled a pandemic would cause, and how long our beloved Resort would be closed.
Last week it was announced that Disneyland Paris would reopen on July 15, 2020 and well.. it's good to be back with some news and photos! These three months have been a rough ride for many, and I'm particularly proud of our team for continuing to put together engaging content, our readers for their support and enthusiasm and the Disneyland Paris community as a whole for its strength and kindness. Thank you, and on with the show!
The Giant Awakens
With France in a strict lockdown, time has been suspended at Disneyland Paris for several months, except for essential Cast Members. These photos were shared by "AirOxygene" in March, newspaper Le Parisien back in April and the HeliSmur helicopter in May: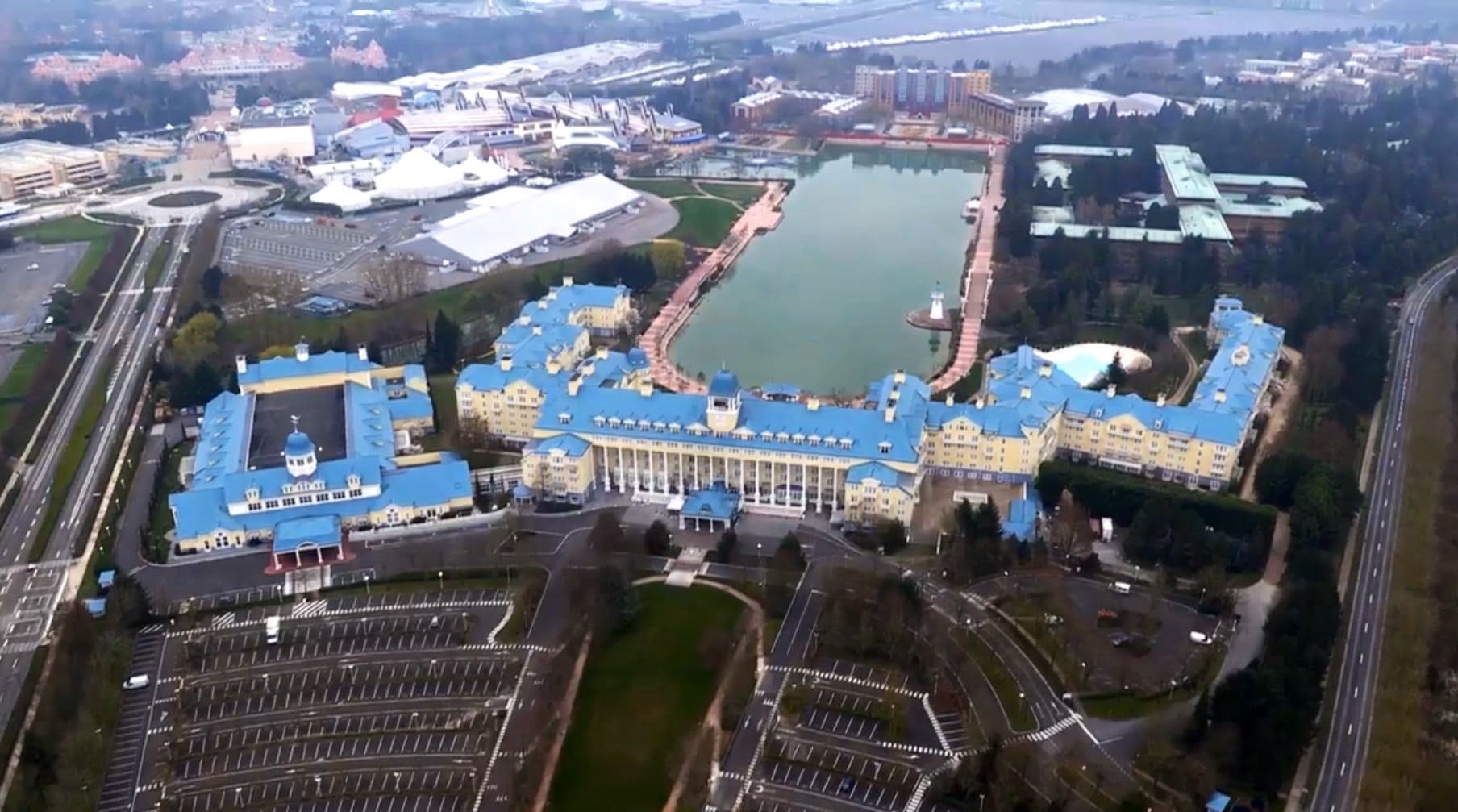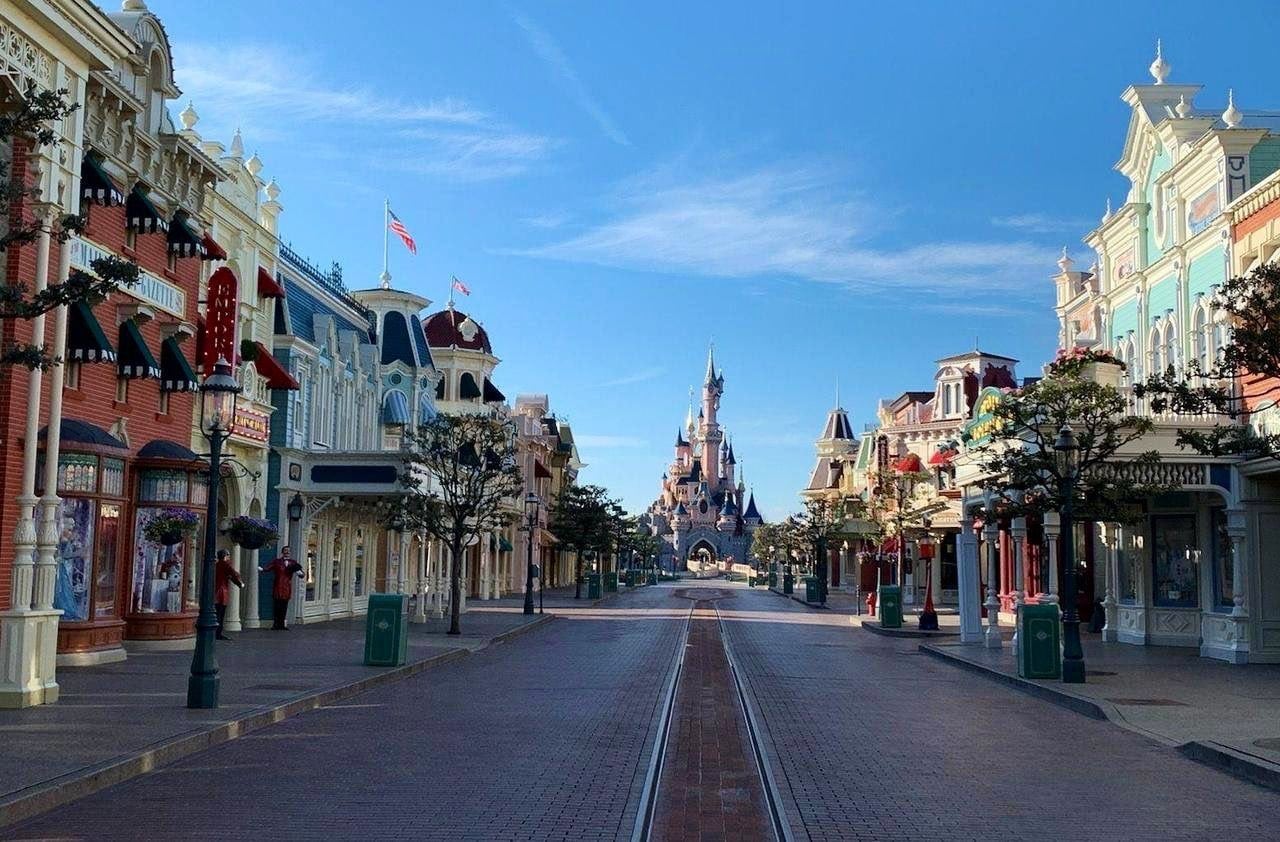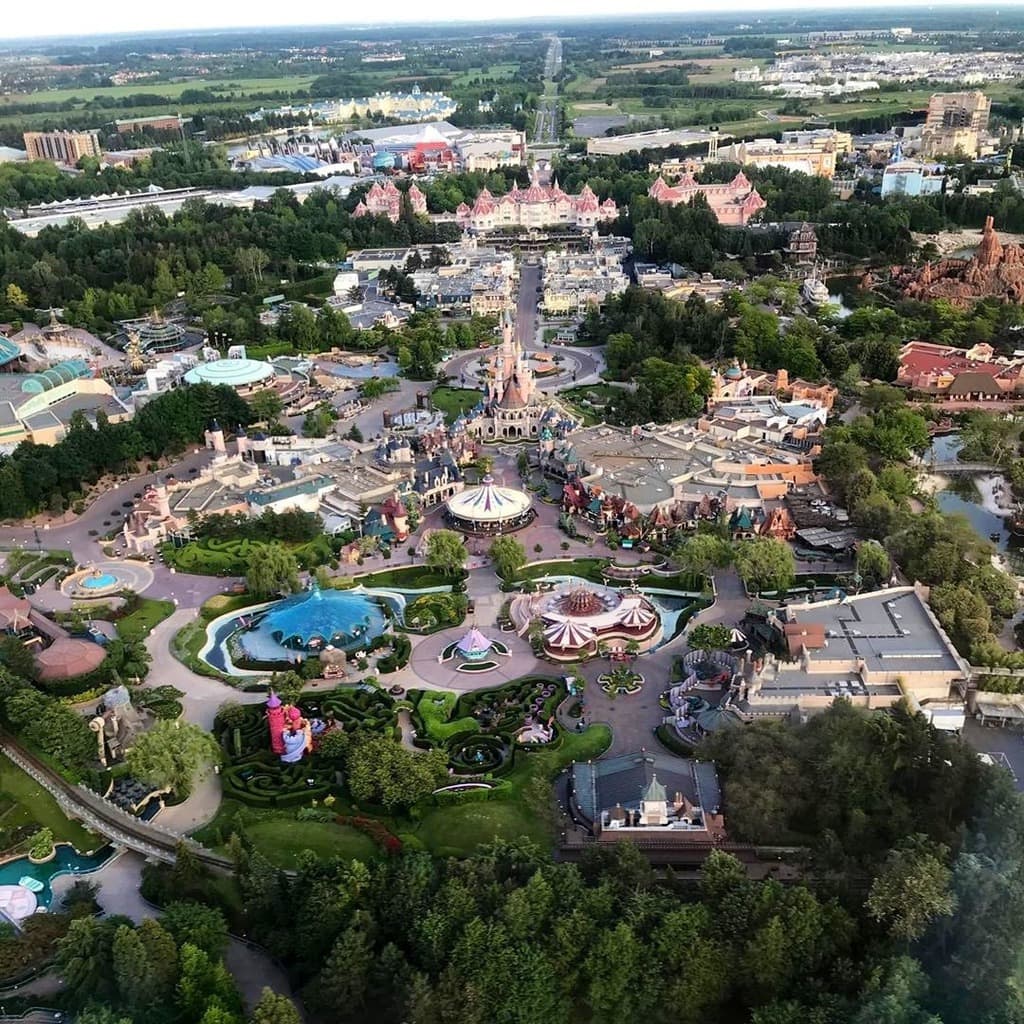 As lockdown restrictions eased, a corridor crossing Disney Village opened mid-May to allow travelers to get from one bus station to the other: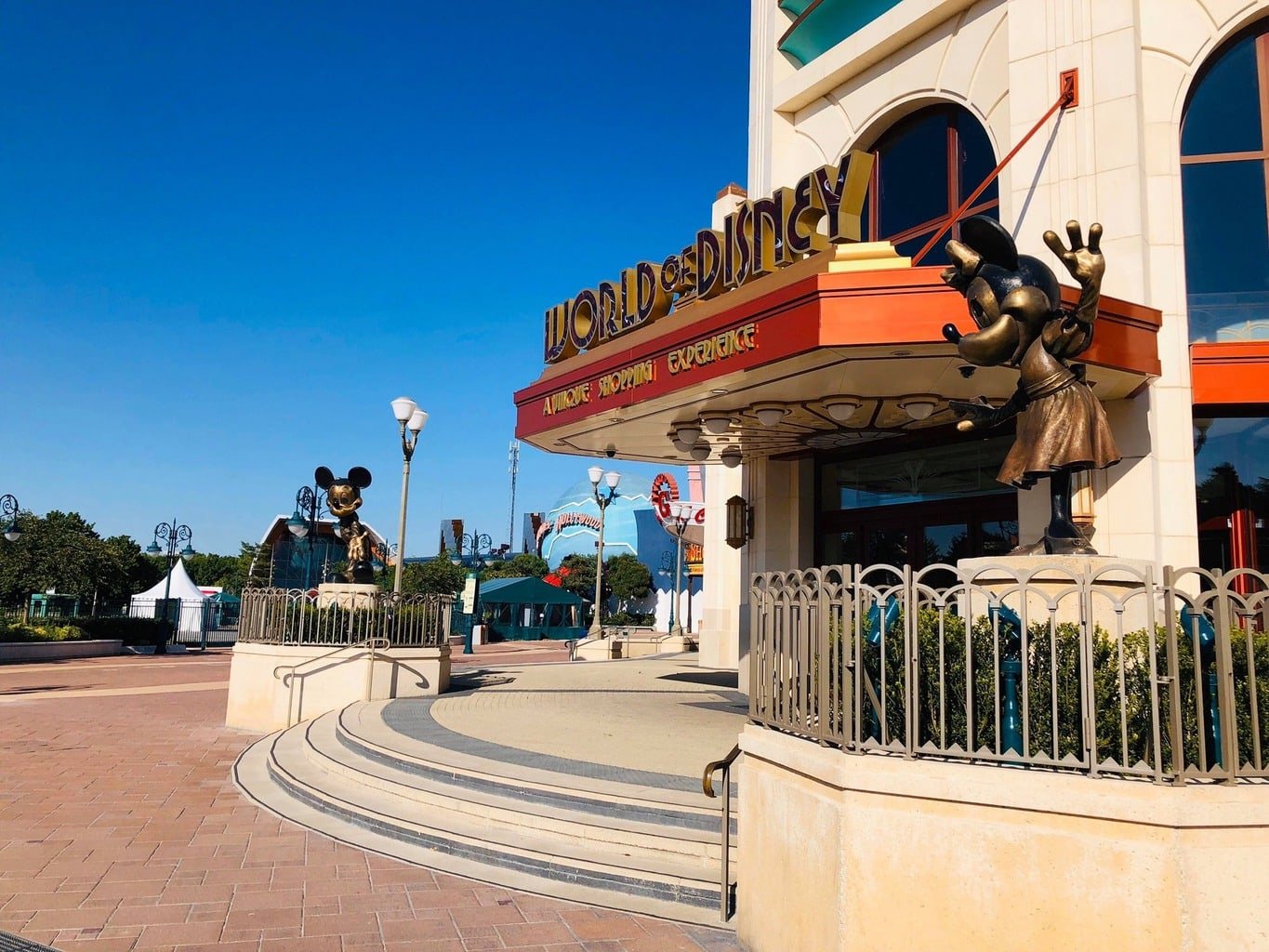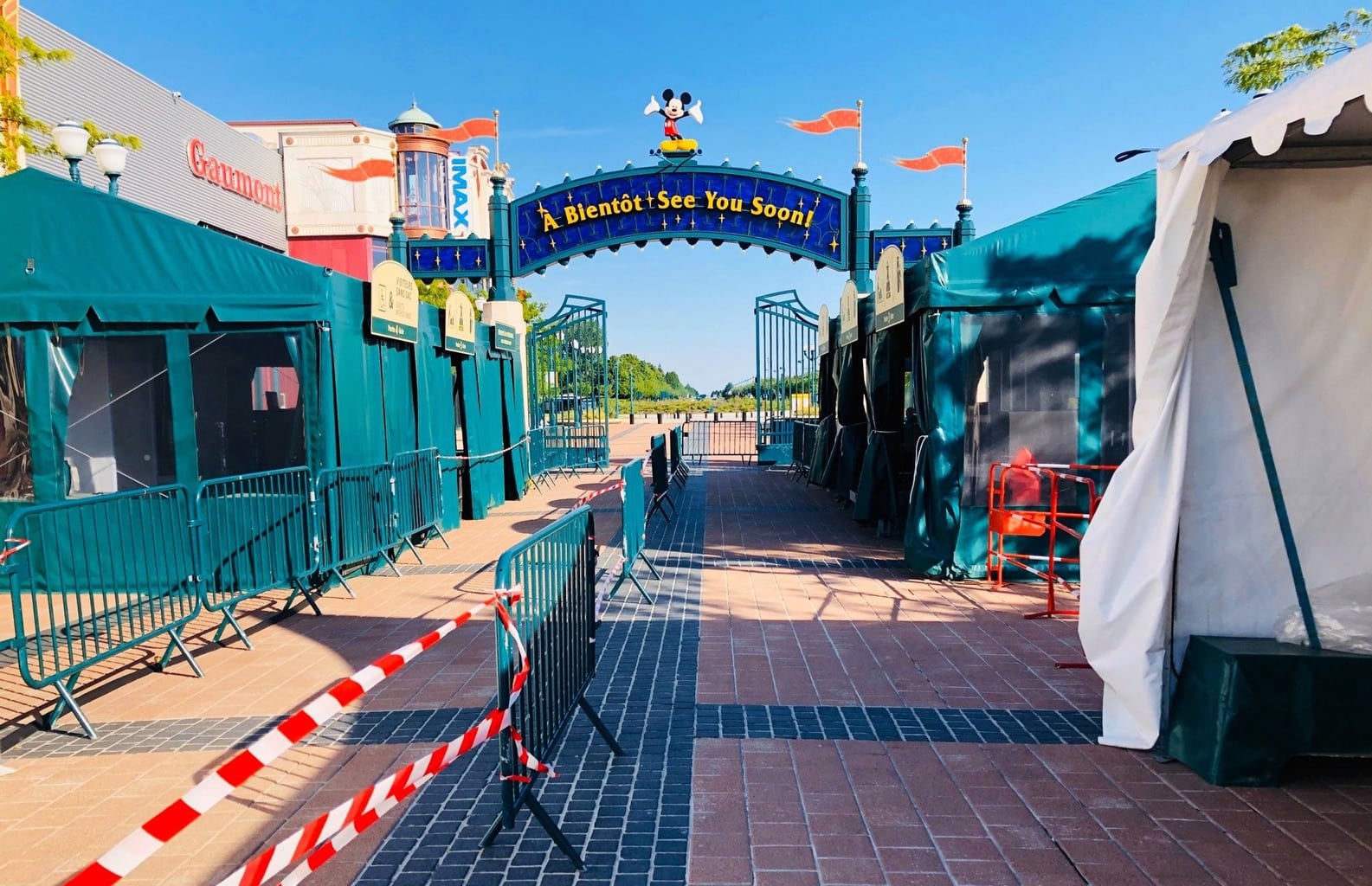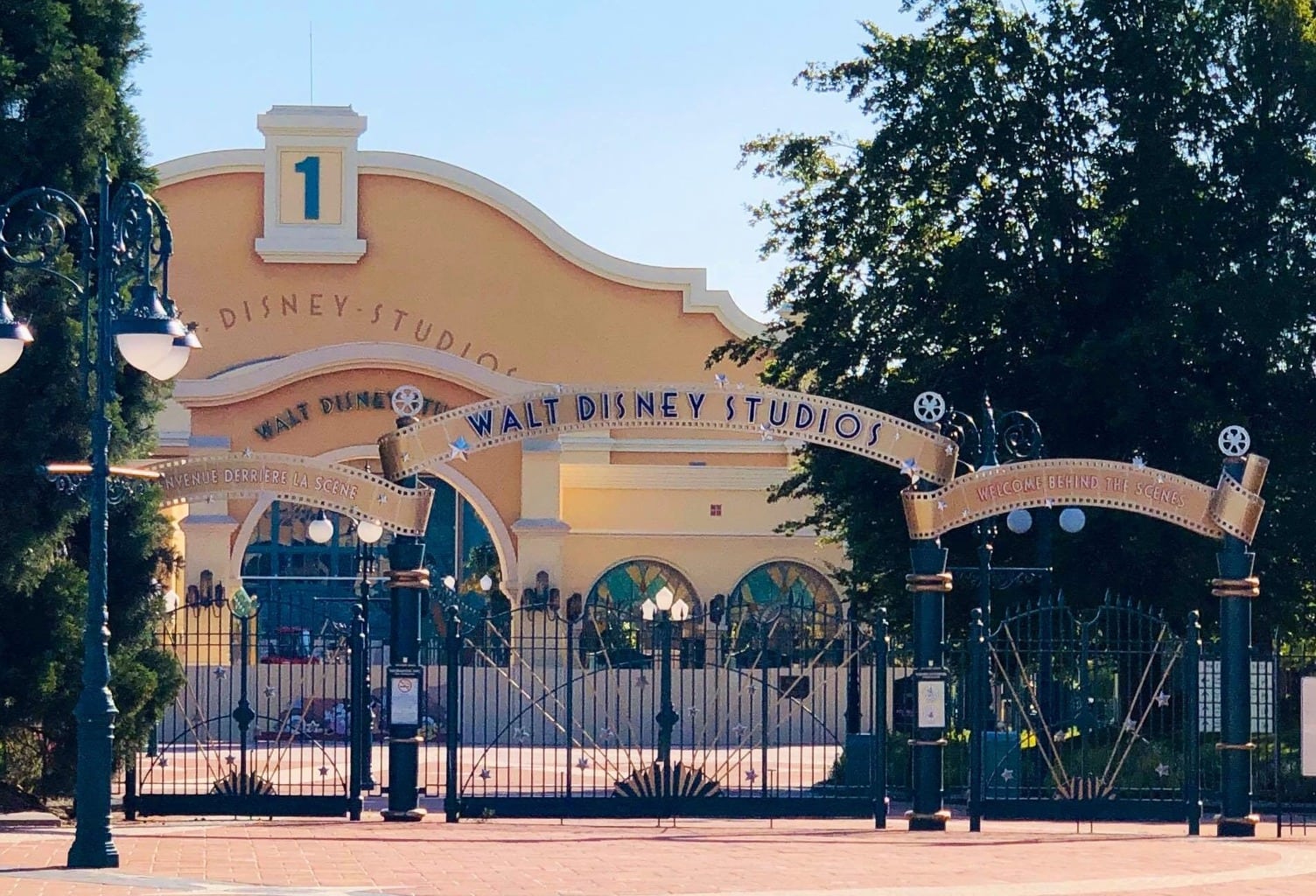 With more Cast Members returning to work, the Resort slowly awakened in June with several projects:
Landscaping all around the area: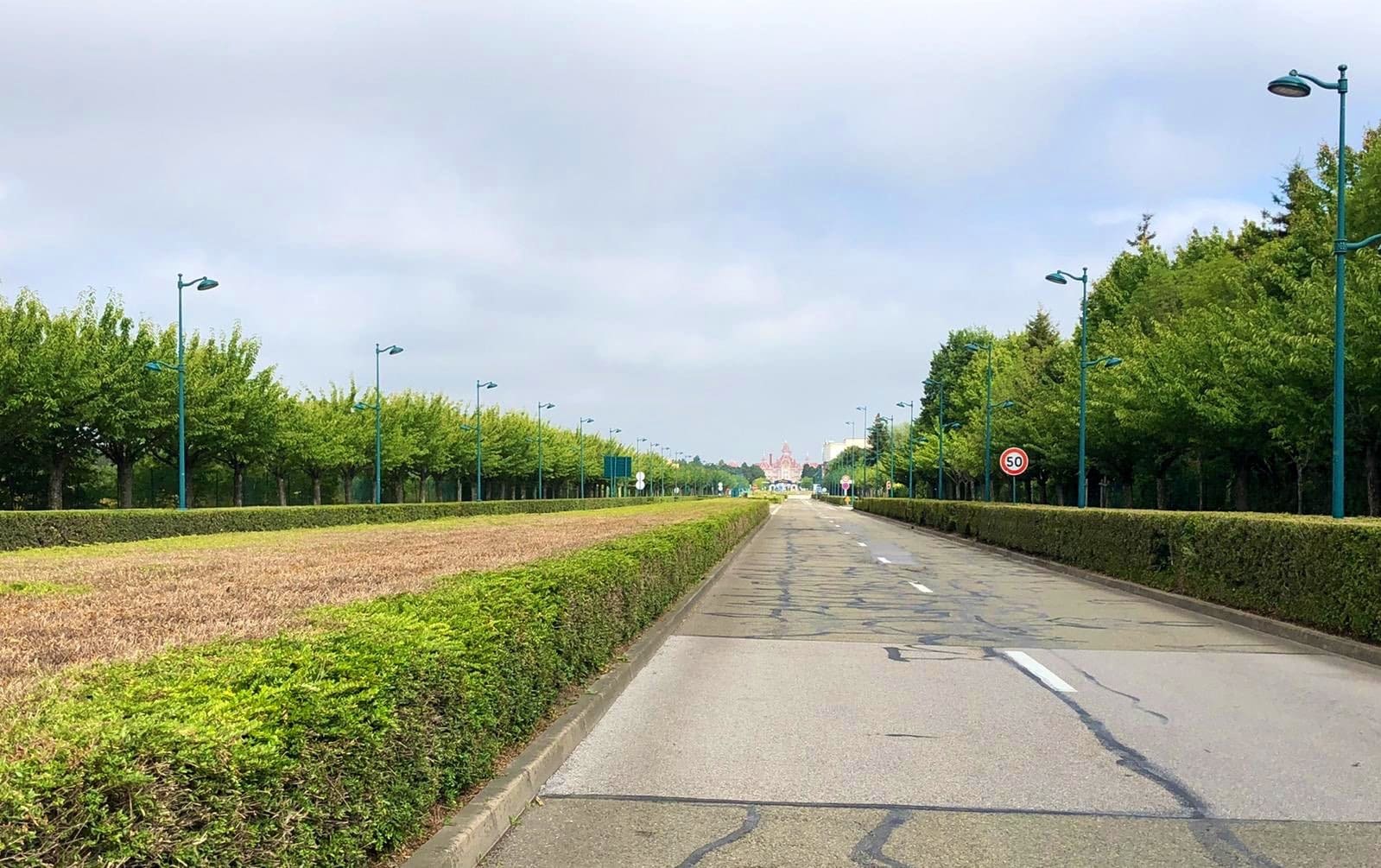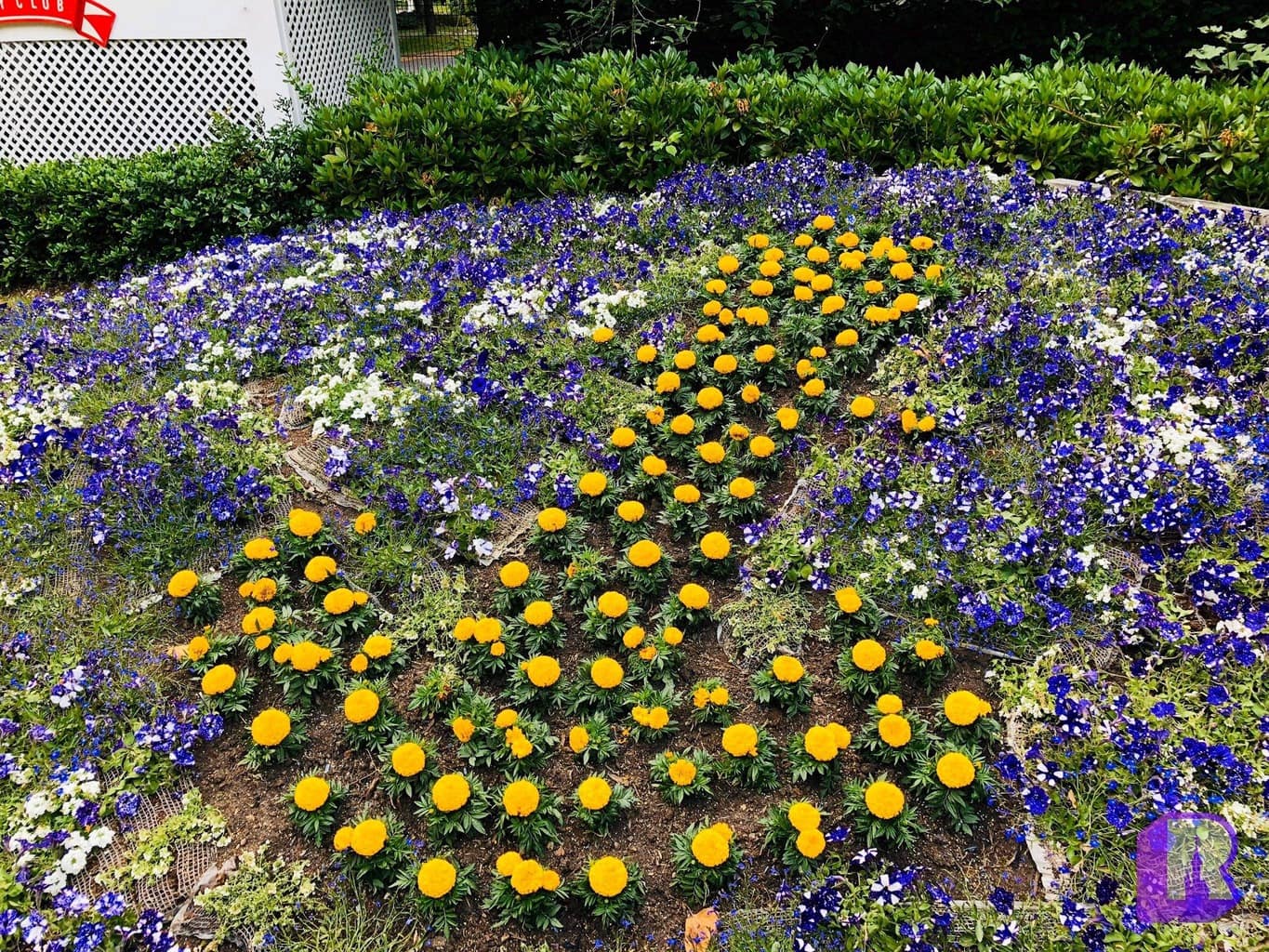 A flurry of refurbishments
..in and outside the parks (of course we can only see the latter, here at Disney's Newport Bay Club):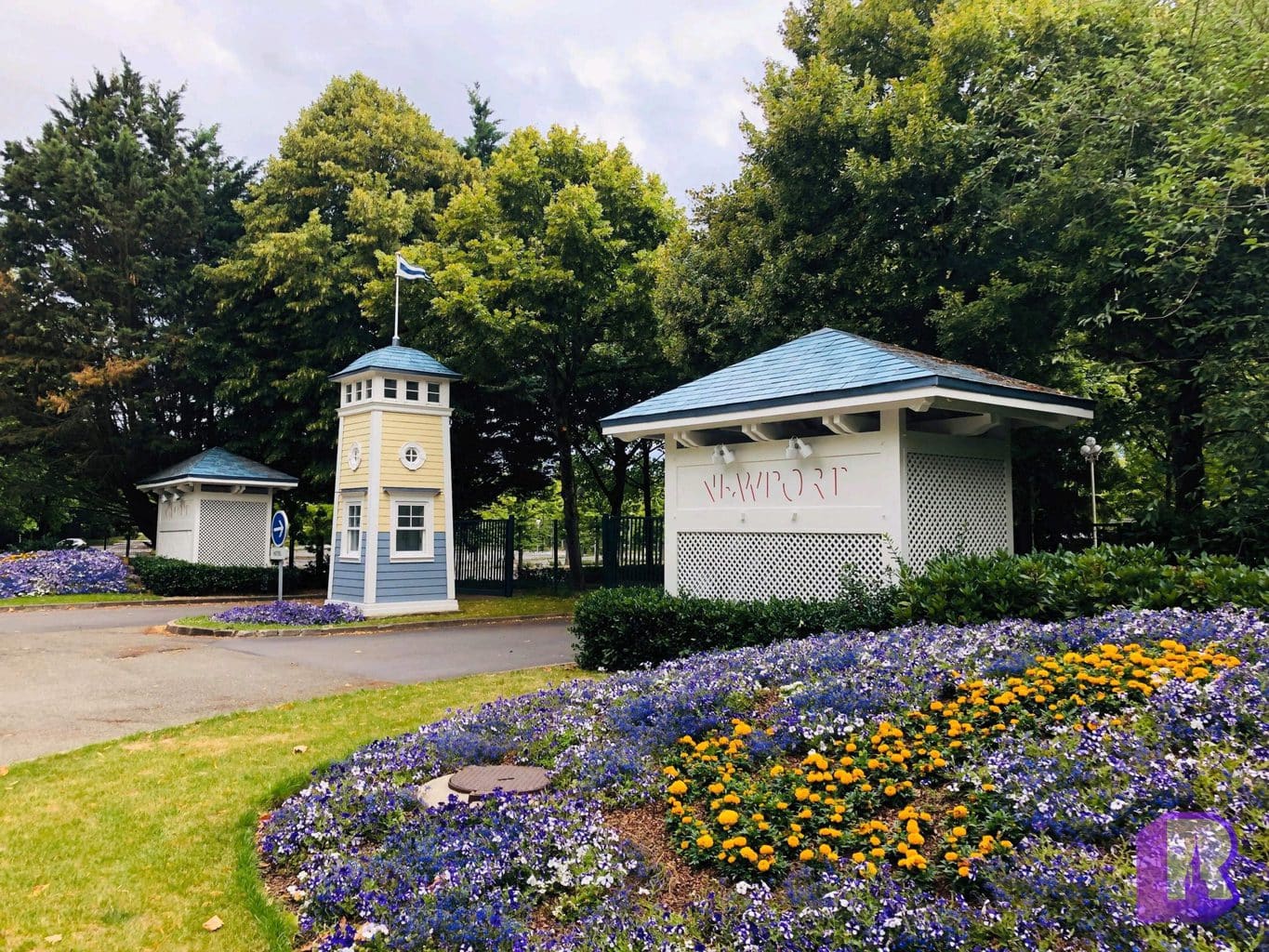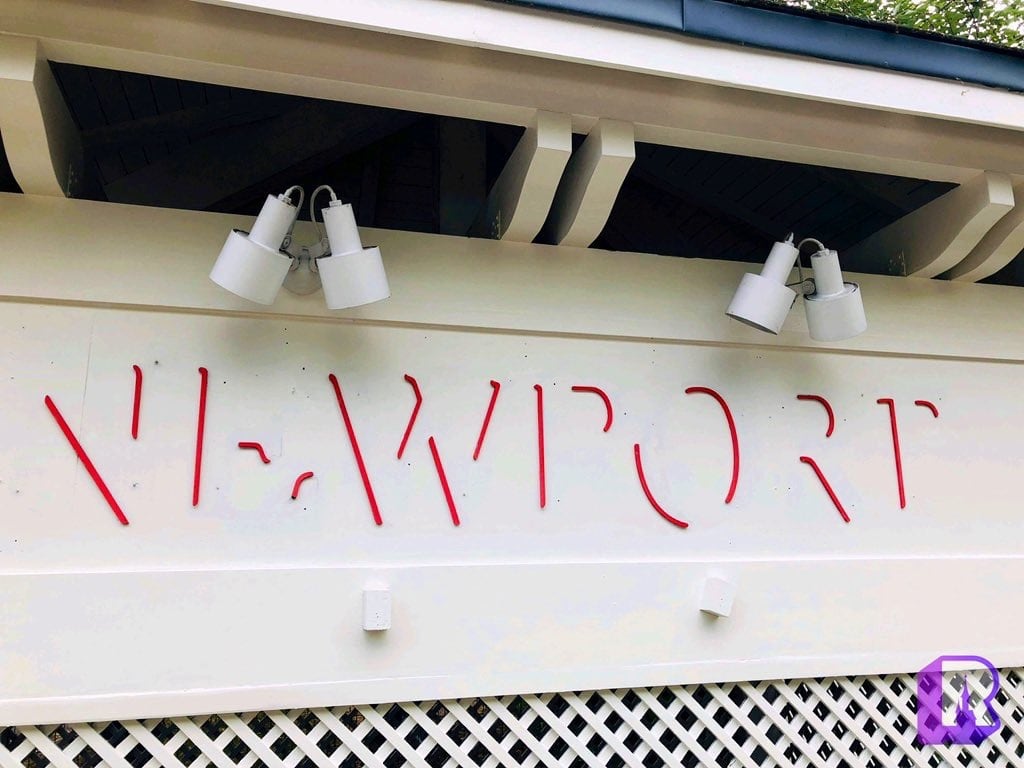 And the new security gates project
..which sadly means the central hill at the entrance to Fantasia Gardens is being mostly removed: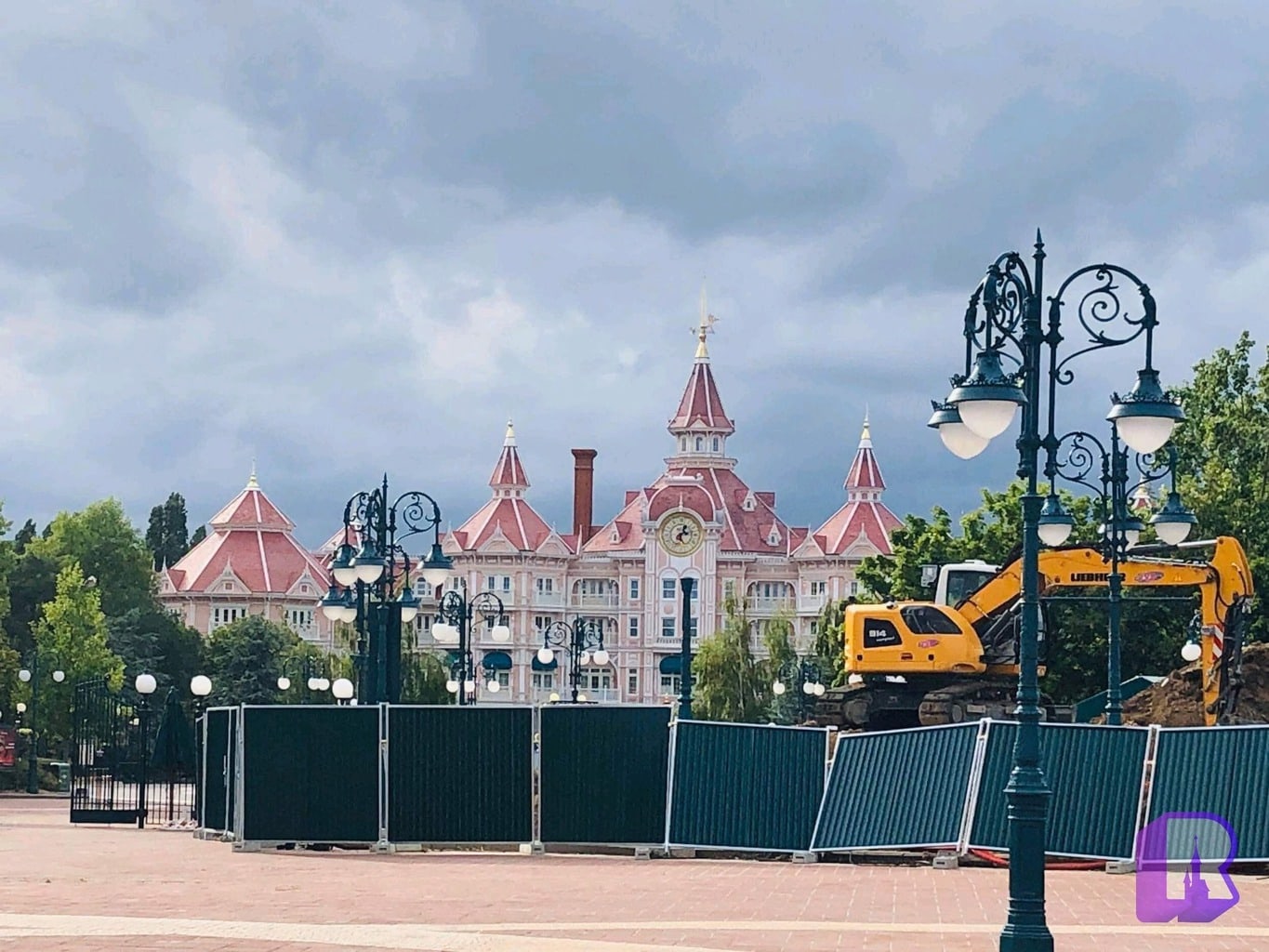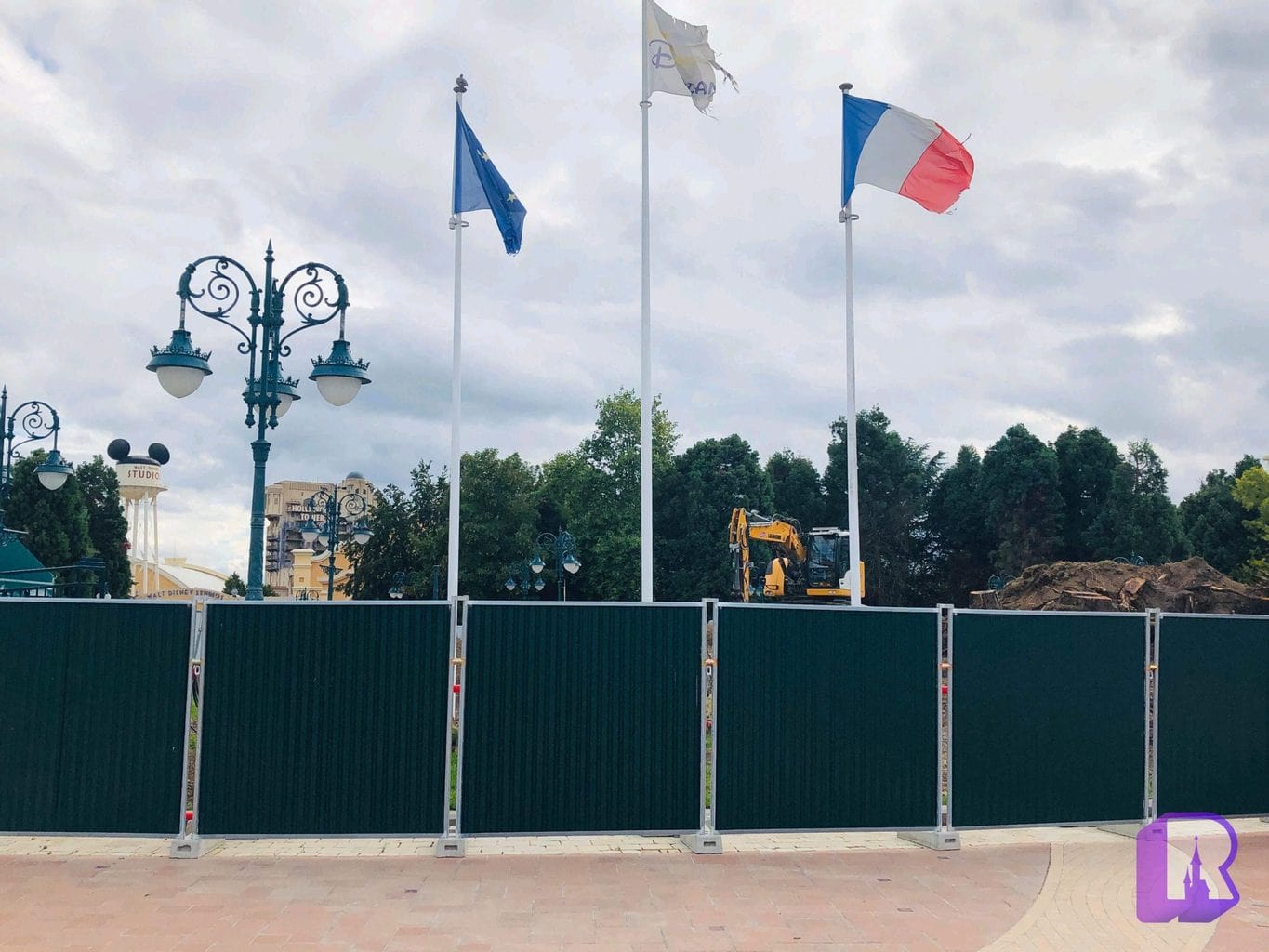 Social Distancing Measures
Things will look quite different when the Resort reopens: Guests will have to follow a laundry list of safety measures for everyone's health, including pre-booking their visits, wearing masks, cleaning their hands often, and standing between markers on the ground. You can read the details of all these measures and more on the official website HERE and general reopening information HERE.
On Saturday we noticed the social distancing markers had been installed in Disney Village: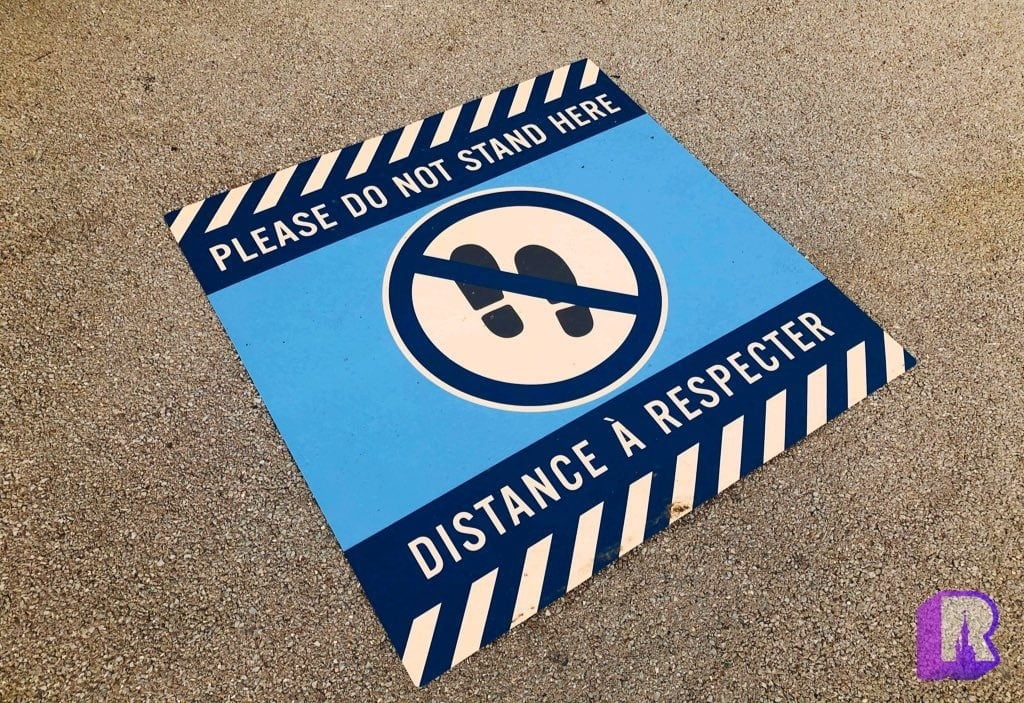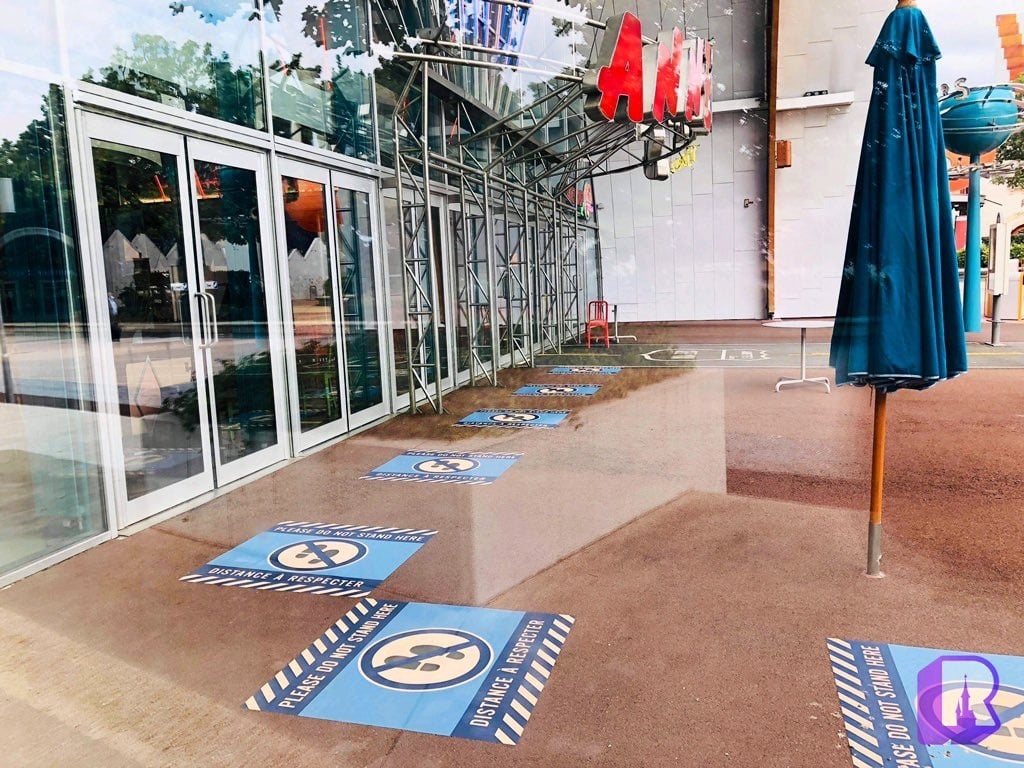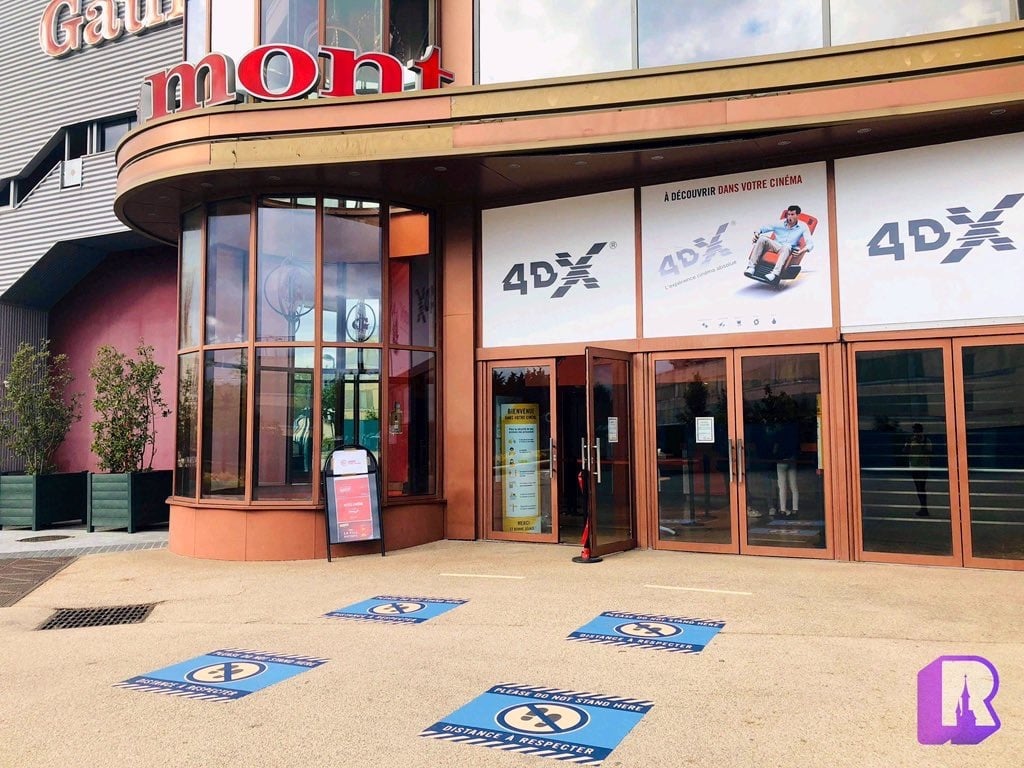 Markers are blue at Disney Village, Green at Disneyland Park, and Red at Walt Disney Studios Park. We can also expect markers in hotels matching the property's color scheme (for example they'll be blue at Disney's Newport Bay Club).
Gaumont Cinema Reopens
The first business to reopen at Disney Village was the Gaumont Cinema on Monday June 22, in accordance with national guidelines and the chain's general rollout.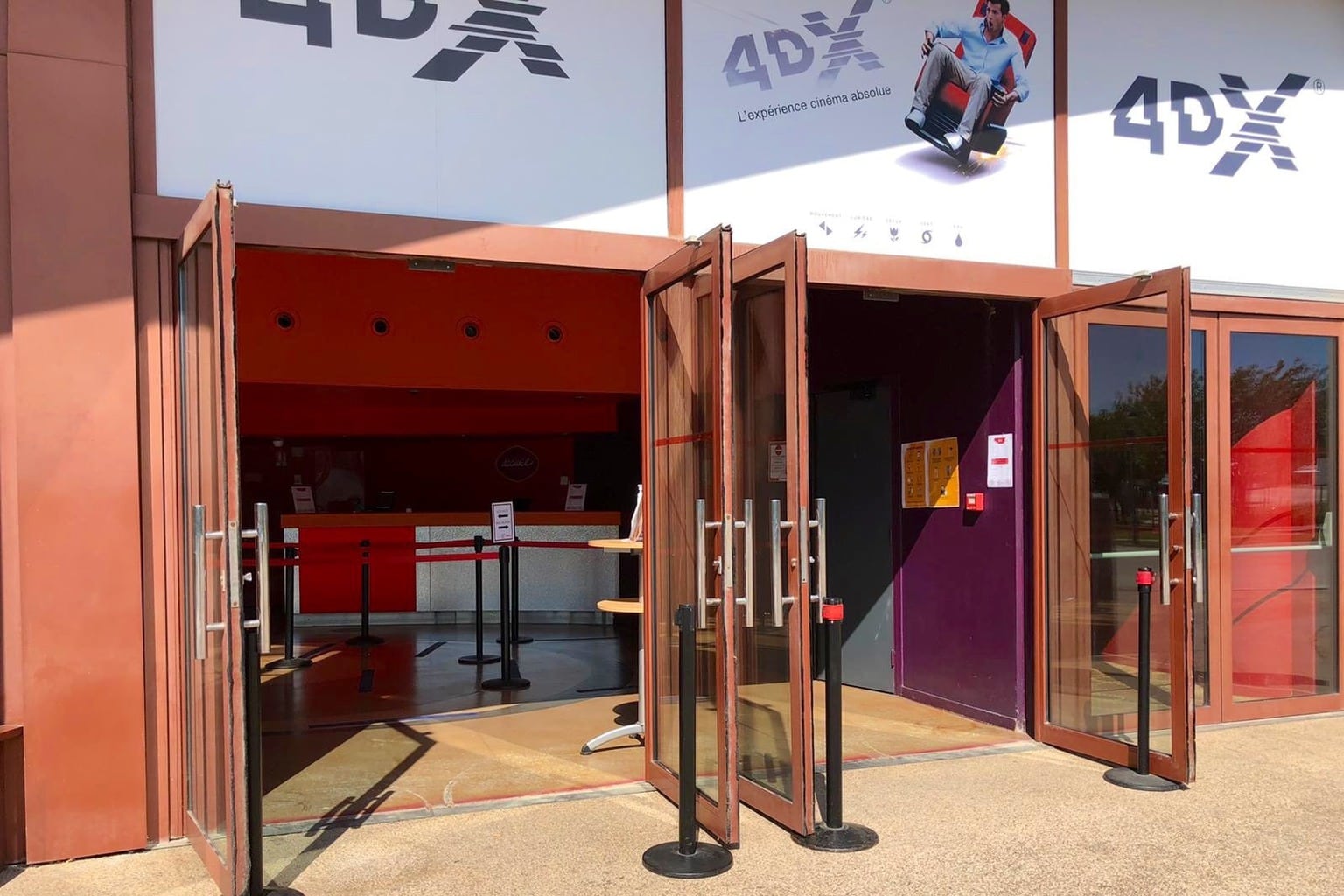 The cinema is using its back entrance and exit – outside the security zone – which hasn't been used in years. As a result there was no need to extend the access at the main Disney Village throughway.
New Name Tags
With the reopening announcement came the news of some new name tags for all Cast Members. The design is classy and timeless, very well done!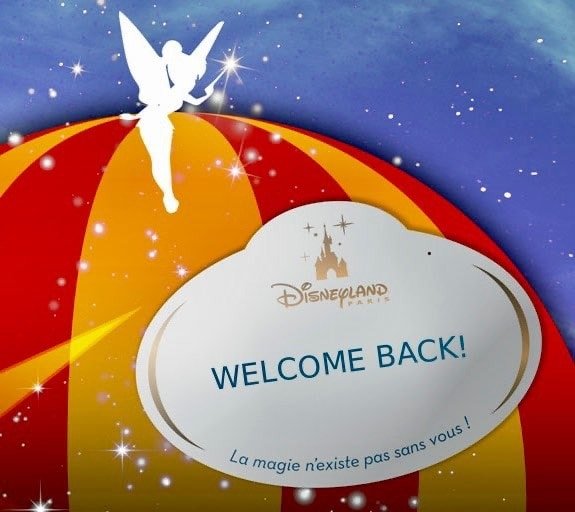 There is no Magic Without a new Ad.
"There's no Magic Without You" is the new Disneyland Paris tag line. A new ad created by BETC simply features Sleeping Beauty Castle with the song "Someday My Prince Will Come" in a male voice:
While pretty and effective, it's a bit of a shame all of the footage was recycled from years ago – but I guess we can't be too picky with a closed park and a tight deadline.
Cars-tastrophe Canyon
This is one of those "let's keep an open mind until we see it" situation. Buried in reopening announcements was this concept art for the retheme of Tram Tour to "Cars Route 66 Road Trip" coming later this year. Will they set Disney characters on fire? Time will tell.
Entertainment Shuffle
In other "coming up" news, the Resort has has announced that "Disney Jr. Dream Factory" was still planned for later this year.
Two shows will also return "later this summer": Lion King – Rhythms of the Pride Lands, at the Frontierland Theater, and Jungle Book Jive at a new location or park.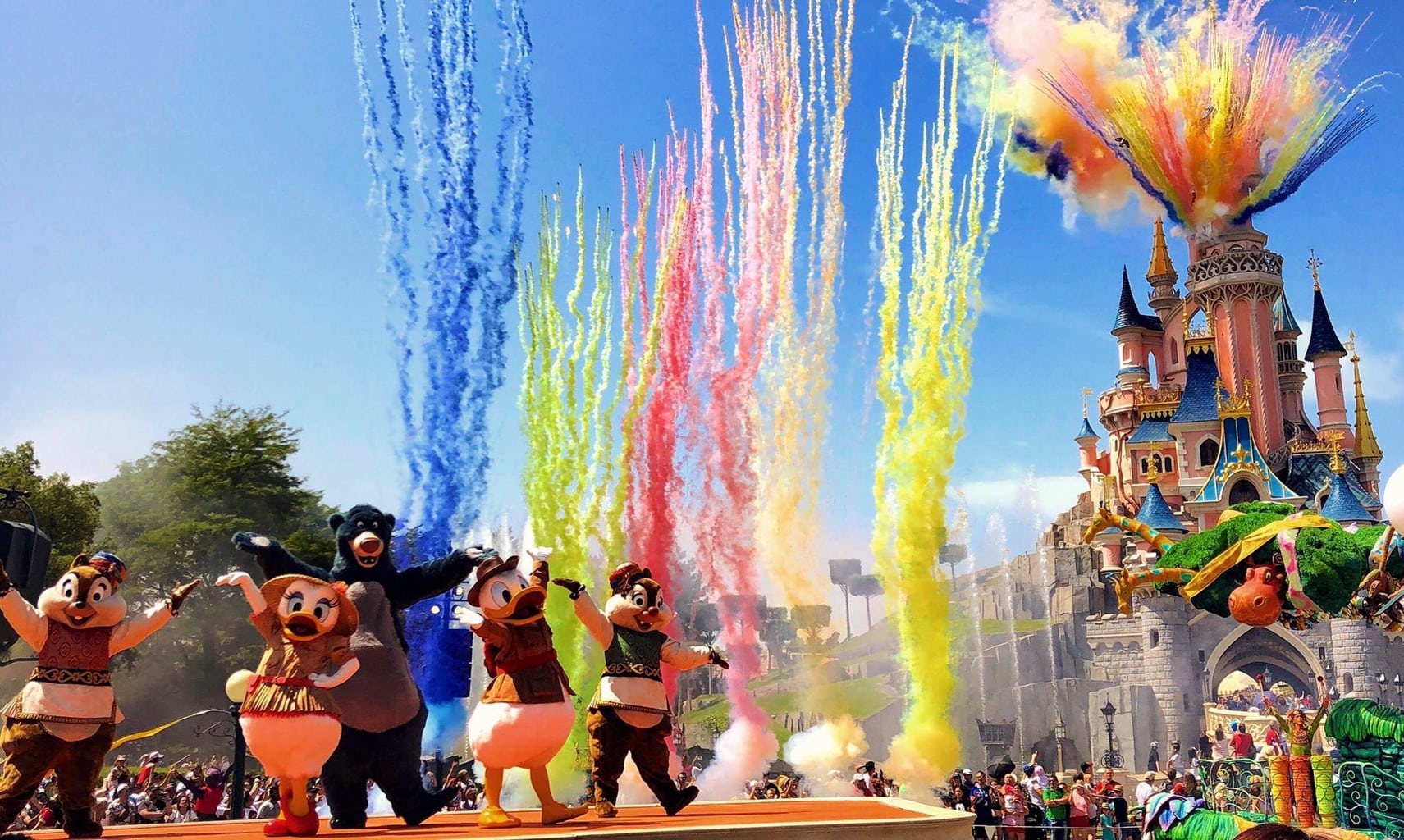 In the meet and greet department, the return of the "kiss good night" on Main Street Station and the new "welcome kiss" in the morning will be ones to watch.
Some stages will be adapted for meet and greets, notably Animation Celebration (Frozen characters) and Studio Theater (Marvel characters).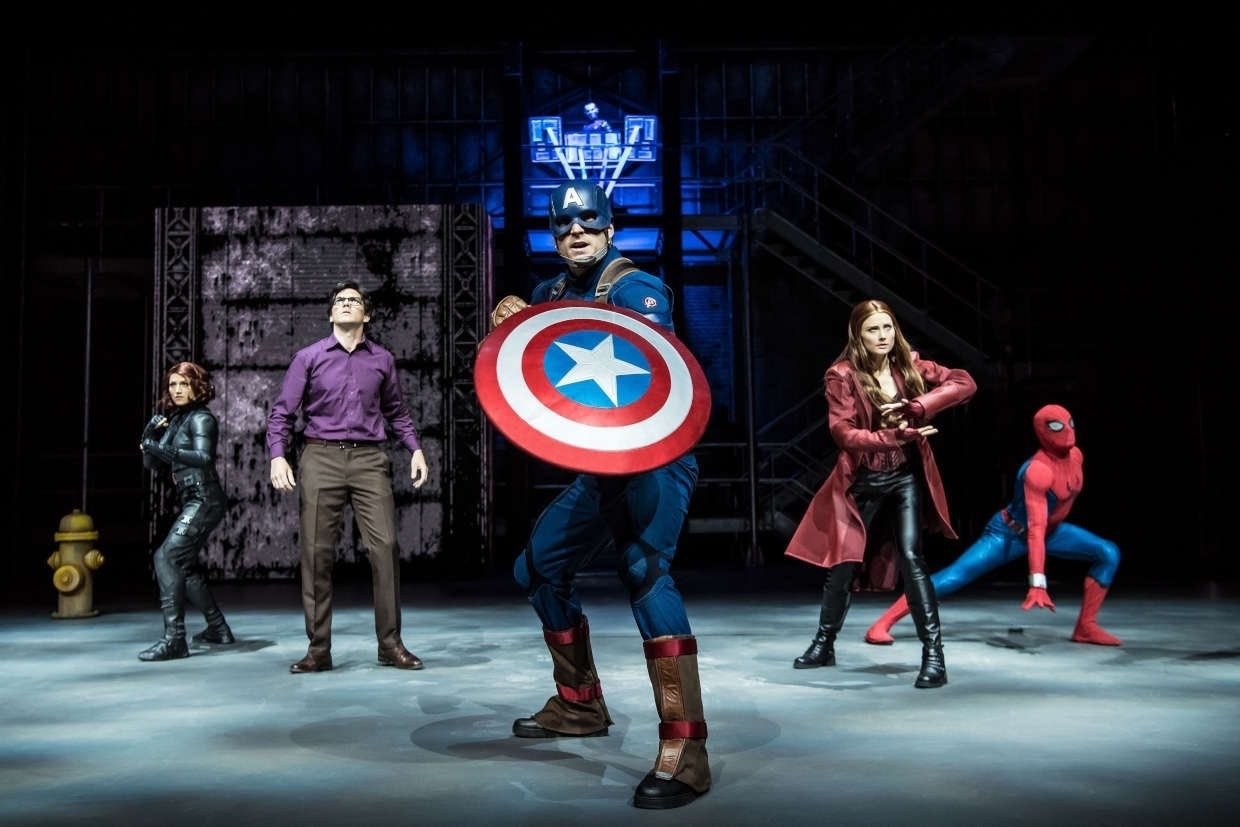 Annual Passes Extensions
As it was announced at the beginning of the crisis, Annual Passes are being extended by the amount of days the parks were closed, which will be 123.
Disneyland Paris is also topping up an extra 30 days as a commercial gesture. Simply add 153 days to the date written on your pass (even if it expired during the closure) to calculate your new end date, or logon to the AP portal.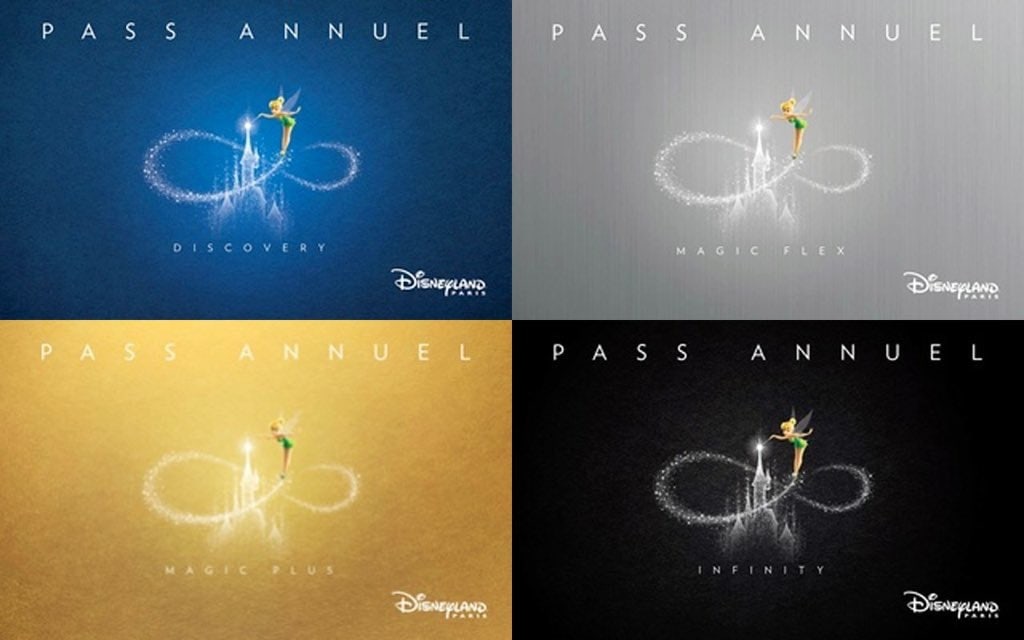 Privilege Tickets will return as well, but will only be available over the phone and shipped in the mail. They have to be for a specific date and as a result won't require an additional online booking to visit (the pass holder still needs to book).
Another point to note is that going forward, staying at a Disney Hotel will no longer overwrite your AP's blackout dates.
Ambassador Program Extension
With 4 months of closure, Ambassadors around the world have been denied a lot of wonderful experiences. When you add the fact that time was running out to select new teams for 2021-2022, the logical decision was made to extend all the ambassador teams by one year. In Paris, this means our superstar Gio will continue until the end of 2021!
He will continue the adventure alone however, as Joana has decided to quit the program at the end of this month to pursue new dreams outside The Walt Disney Company. We wish her all the best, and can't wait to run into Gio in the Parks for the next year and a half!
On Friday, Gio and Joana posted a series of fun photos from around the Resort as it prepares to reopen. Follow their new Instagram account HERE!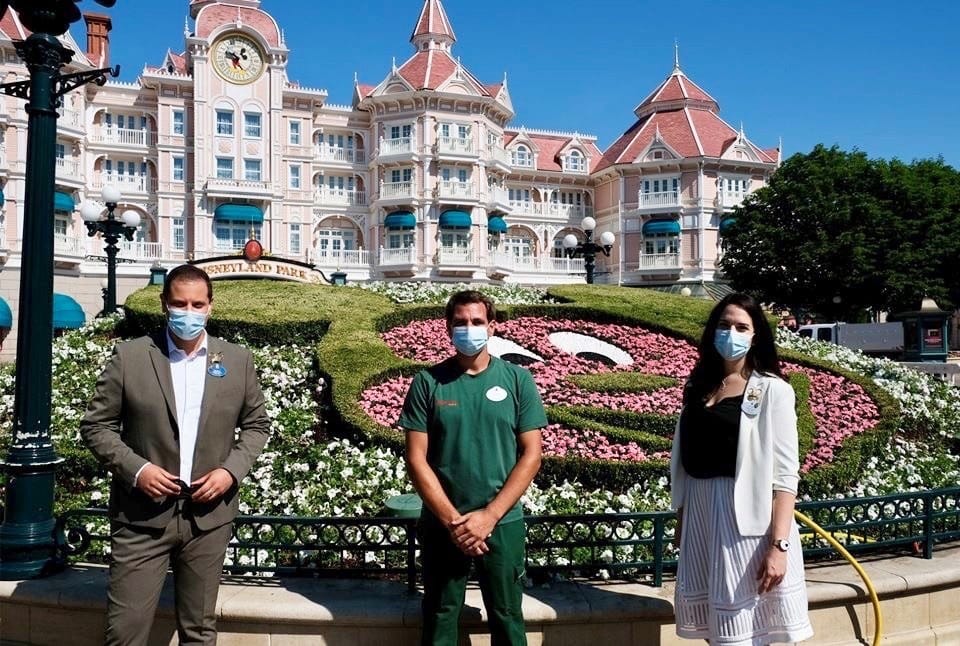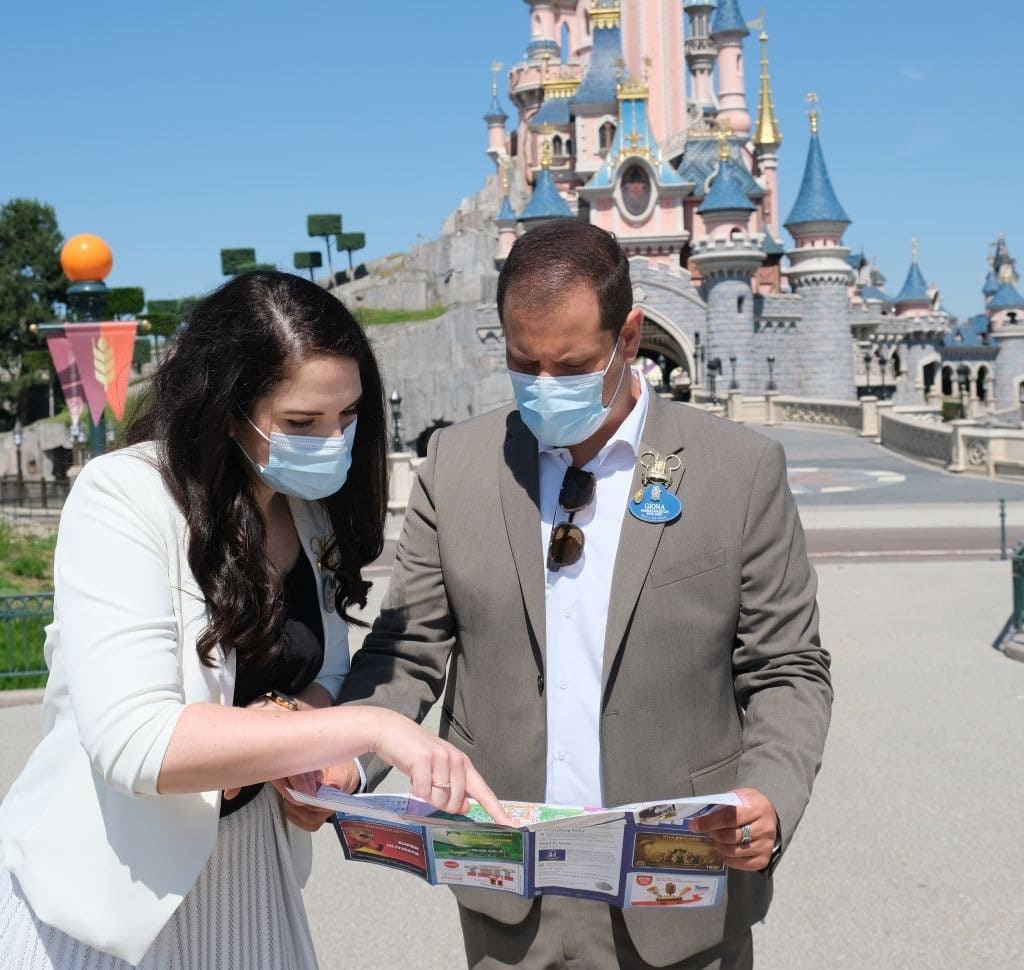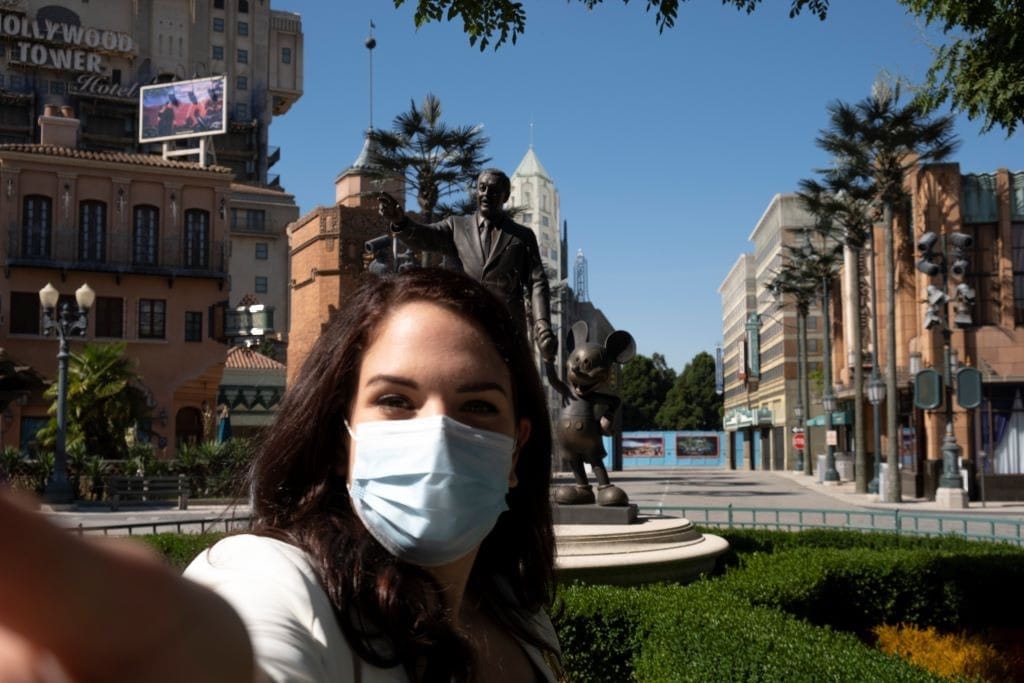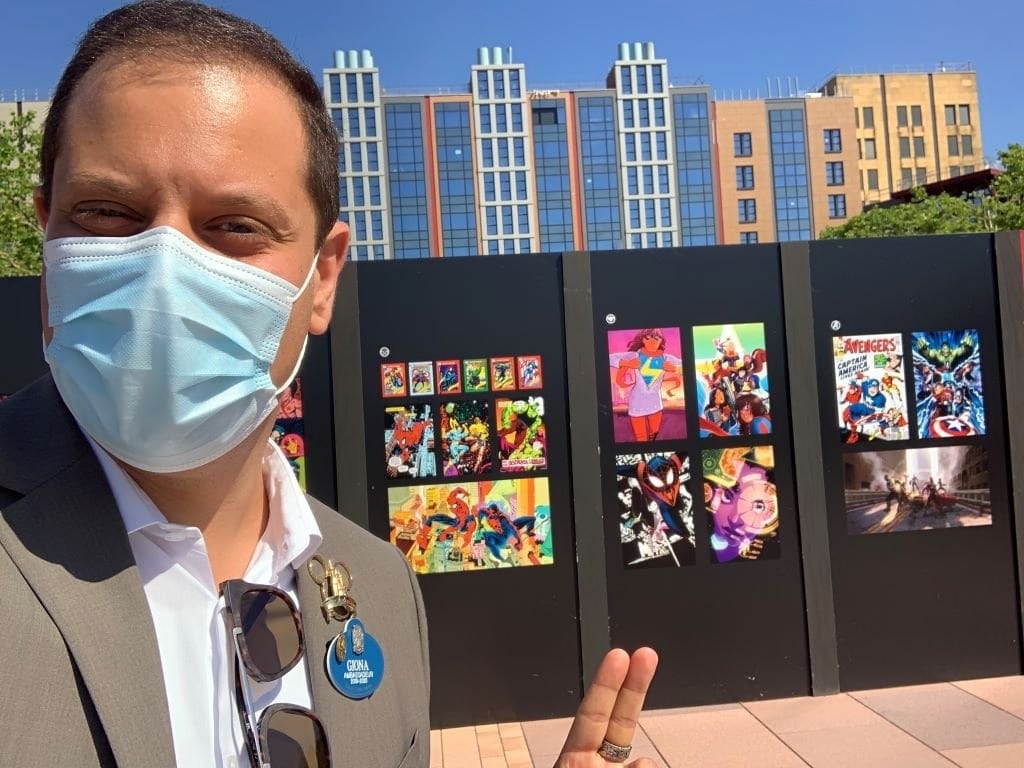 Disneyland Paris Présidente Natacha Rafalski also posted some photos touring the Parks, and you can now also follow her on a new Instagram account HERE!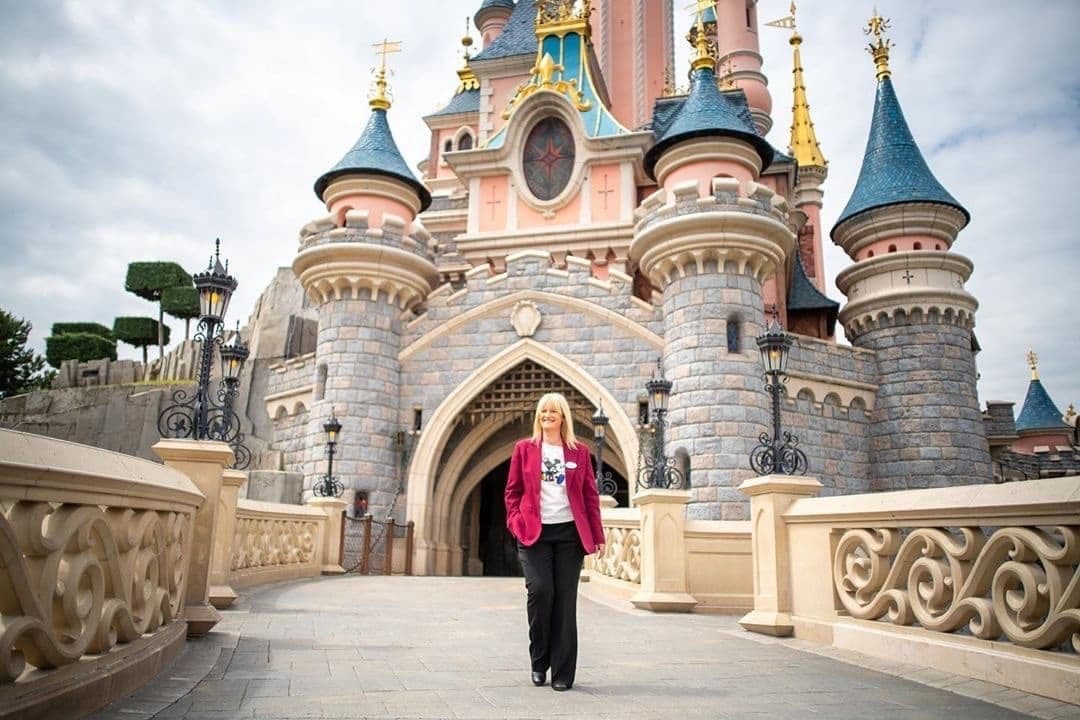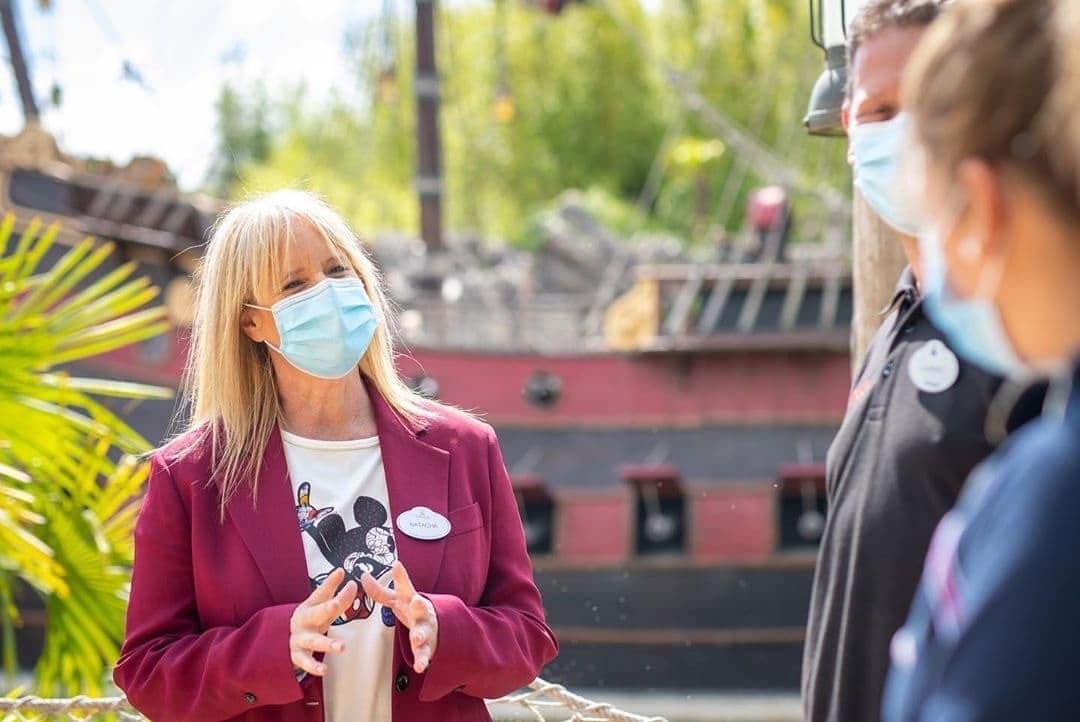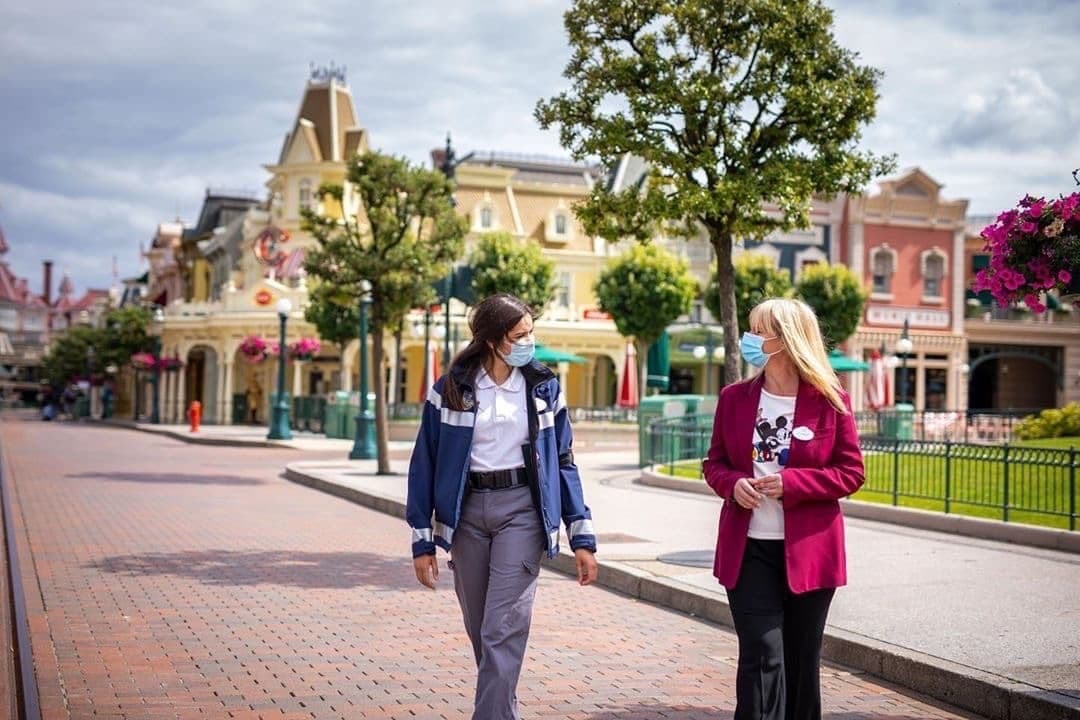 Goodbye Alain!
Longtime Guest Flow Cast Member and Main Street Magician extraordinaire Alain Mounier has announced he will leave the Resort this month to focus on his family and love of teaching magic. If you're a frequent Guest you may have seen one of his fun magic tricks. Thank you for all the wonderful times, Alain!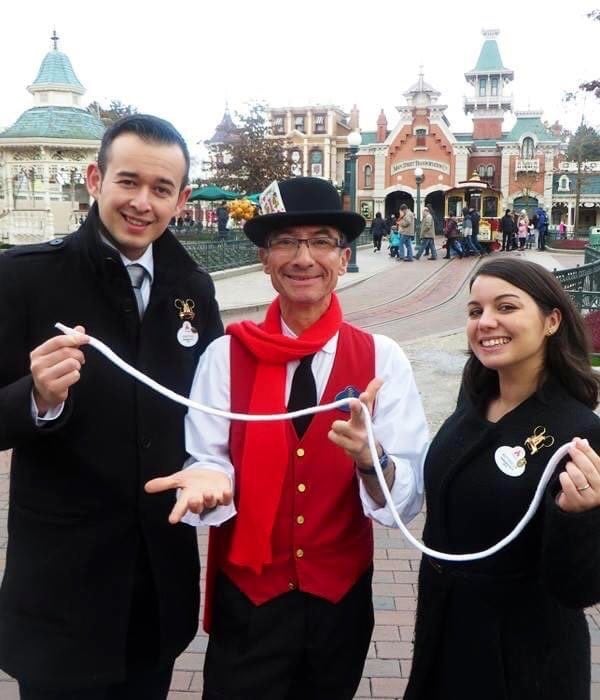 That's our report for this week. Thank you again for reading and see you next week with more news and photos leading up to the exciting July 15 reopening!