Welcome back to a new edition of our Disneyland Paris news report! This week saw a big milestone for the new security gates project, the announcement of the return of a popular show, some progress at Avengers Campus and more. Let's take a look!
New Security Gates Open
We've been peaking through the walls for months and now the time has come to lipsynch.. wait no.. to ale a look at part 1 of the new security gates in the Resort Hub! This rather quiet project has surprised us through and through and this reveal is no exception. From themed roofs to park icons, Disney touches and an overall upscale feeling, what remains a classic security check point turned out to be a big glow up!
What's undoubtedly an upgrade for Guests is also a big upgrade for Cast Members and staff working day and night in the structure with heaters, privacy and wind screens and more amenities that help make their day more bearable.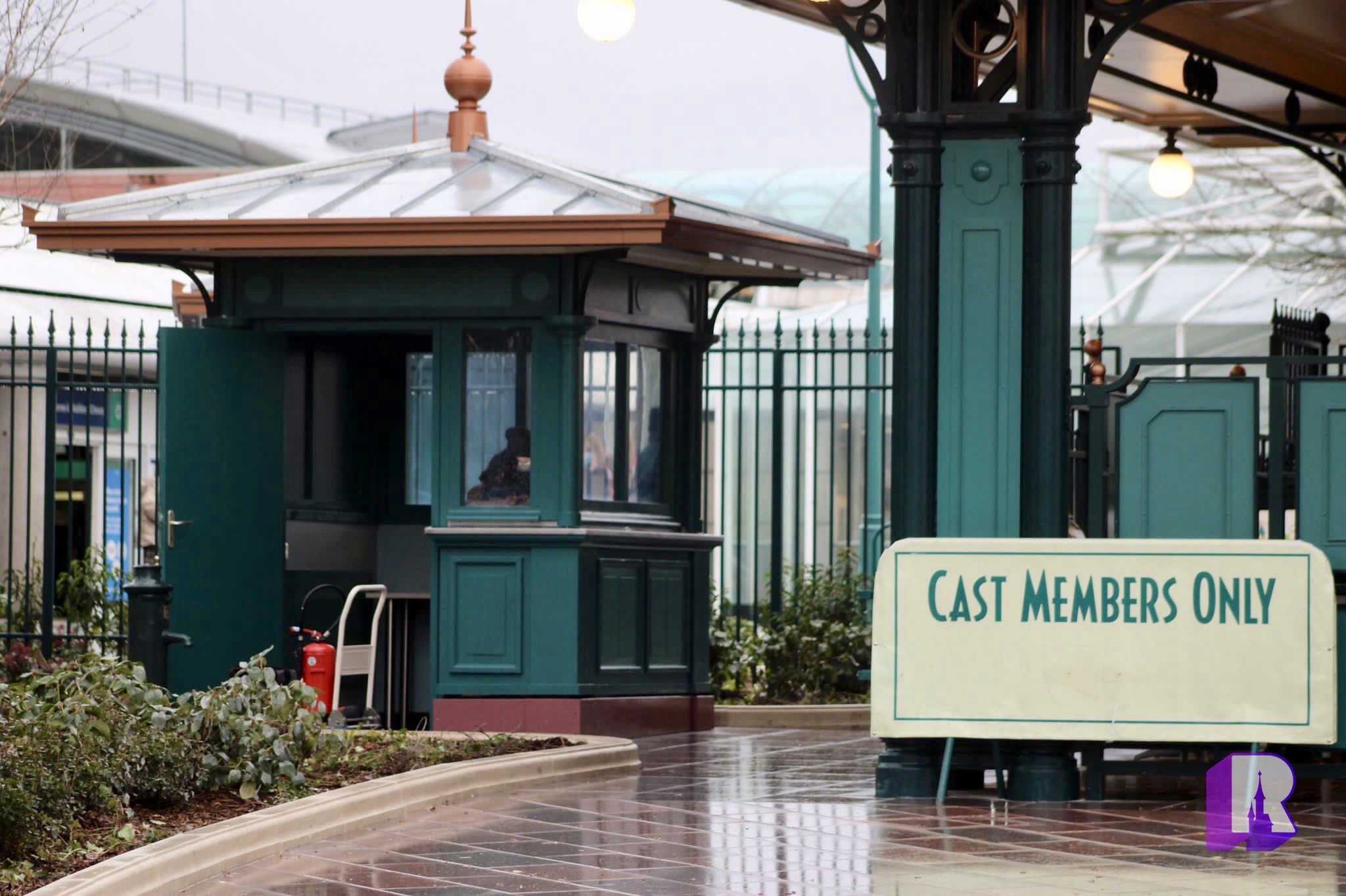 The structure also contains screens with a nice little safety video:
Well done to everyone involved in this project and remember this is only about a third of the overall structure which should replace the entire line of green tents by 2023.
Avengers Campus
Things are in constant evolution at Avengers Campus, with the land opening planned for just over 6 months from now! At the back of the land, large trees and a berm have been set up on front of the Iron Man Coaster facade while the Quinjet platform is really taking shape. Apparently they're gonna hide this former Moteurs Action set with a giant themed tarp – great LOL
Talking about the Iron Man facade – kaboom the lights are on. This is a preliminary test of some of the LED backlighting devices that will eventually light up the entire thing with various video designs.
At the Spider-Man building, a ton of equipment is being installed at various levels of the roof, plus more theming structures. The Spider-Man performer "crane" is there but it's still unclear if we will get the "Stuntronic" permanently, sadly rumors point to no.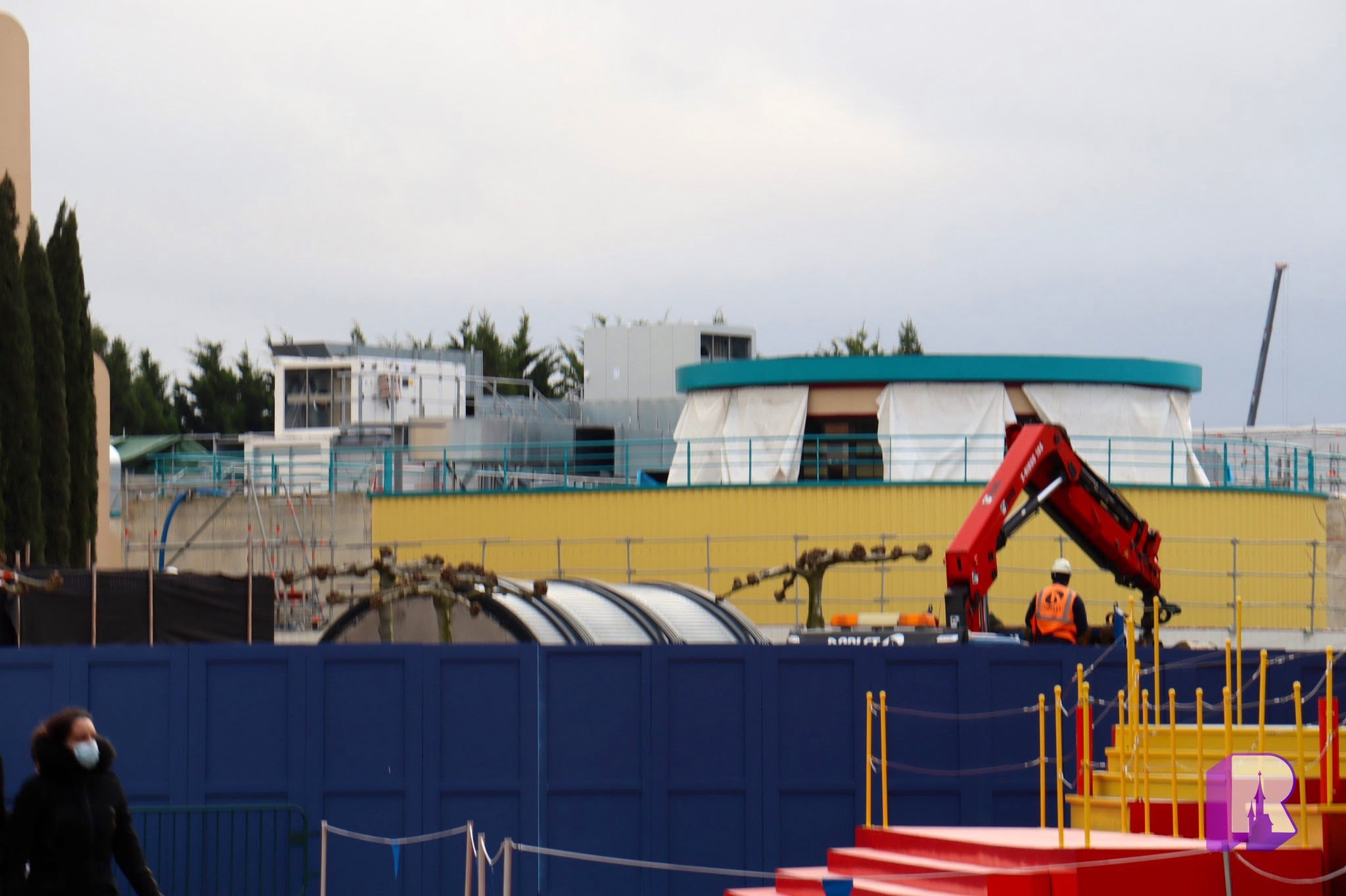 Closer to the entrance, the new circular ring structure we spotted previously has been enclosed. It may be a meet and greet location.
And on the other end of the Spider-Man building, these gorgeous red panels continue to be assembled, together with more structural and theming items.
Finally on the walls outside the construction zone, new designs were installed at the beginning of the week. It's unclear if this is in relation to DPEP's Chairman Josh D'Amaro visiting this week. He had a tour of Avengers Campus, of course (and went to see the Lion King Show)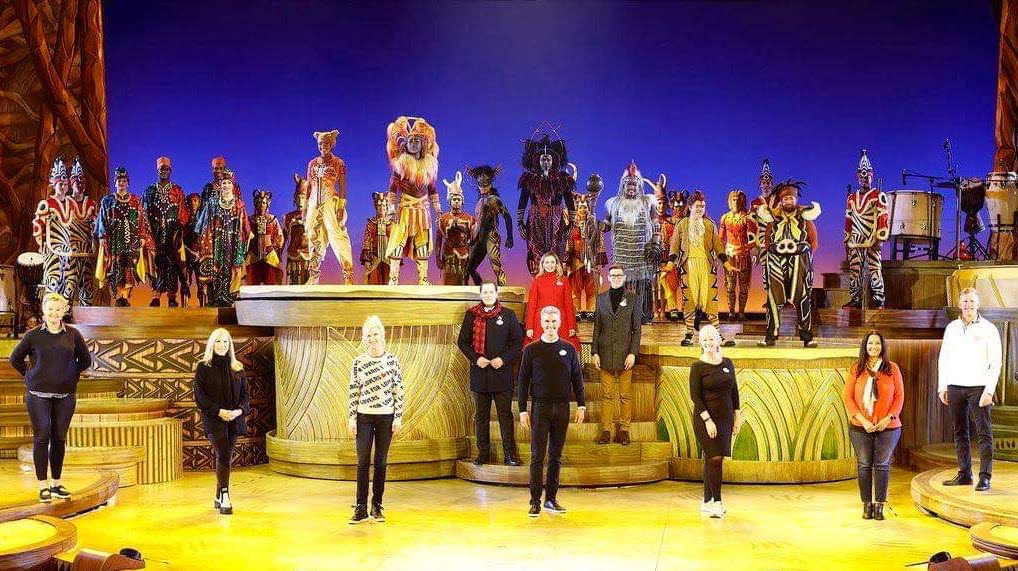 So- lots to get excited about at Avengers Campus, and it's not over. As often with these projects, everything comes together in the months – if not weeks – before opening, so keep your eyes peeled!
Mickey & The Magician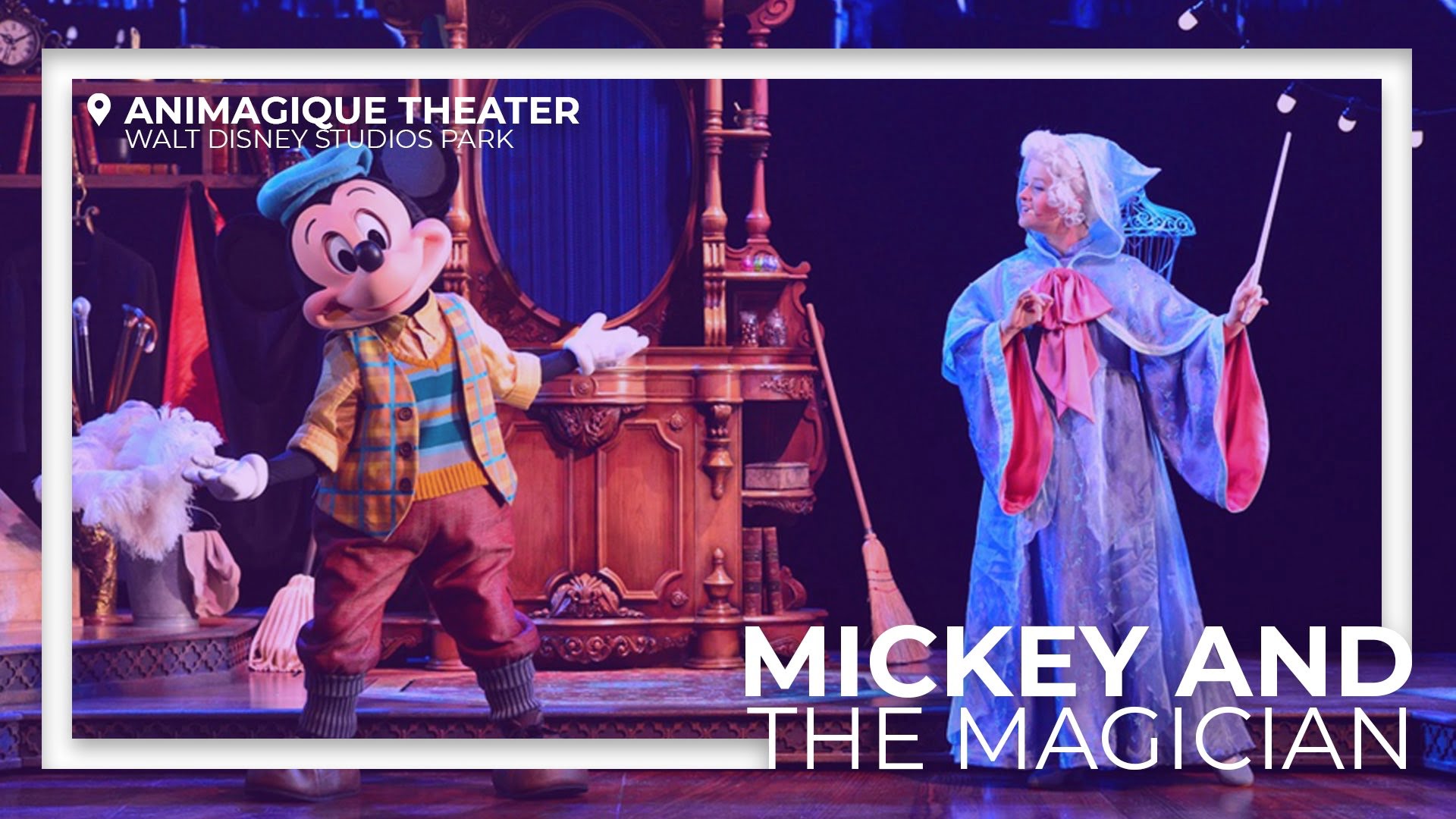 Before we could see the audition calls that inevitably ensued, Disney officially announced that acclaimed show "Mickey and the Magician" would return "for the 30th Anniversary". Assuming that means spring, as auditions will take place in January and February.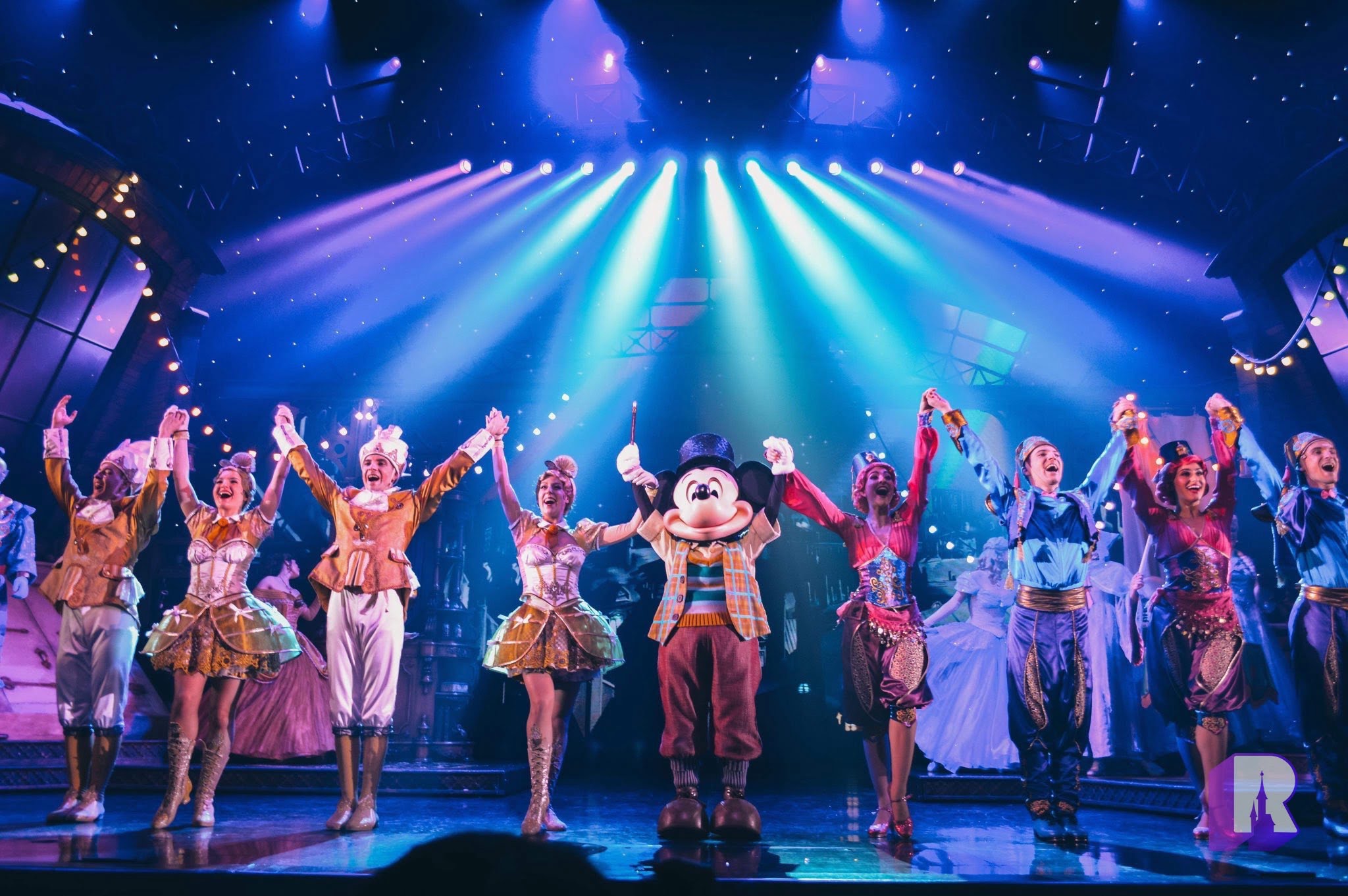 With the success of "Secure Your Seat" at "Rhythms of the Pride Lands" it's almost certain that Magician will also be part of the lucrative system. The upside of this at least is that as shows become closer to self financed by Secure Your Seat, Disney may be starting to look into bringing back or producing more of shows.
Maintenance and Refurbishments
We start on Central Plaza where posters have been added to the Victoria's and Discovery Arcade construction walls. These facade refurbishment projects usually take a long time.
Across the hub, some construction walls have been removed at La Taniere du Dragon. The walk through attraction is set to reopen – with the Sleeping Beauty Castle gallery – on Dec 18.
Inside Sleeping Beauty Castle, La Boutique du Chateau had to close following a pipe bursting and flooding this lovely shop. If your heart can handle it, you can watch the waterfall video HERE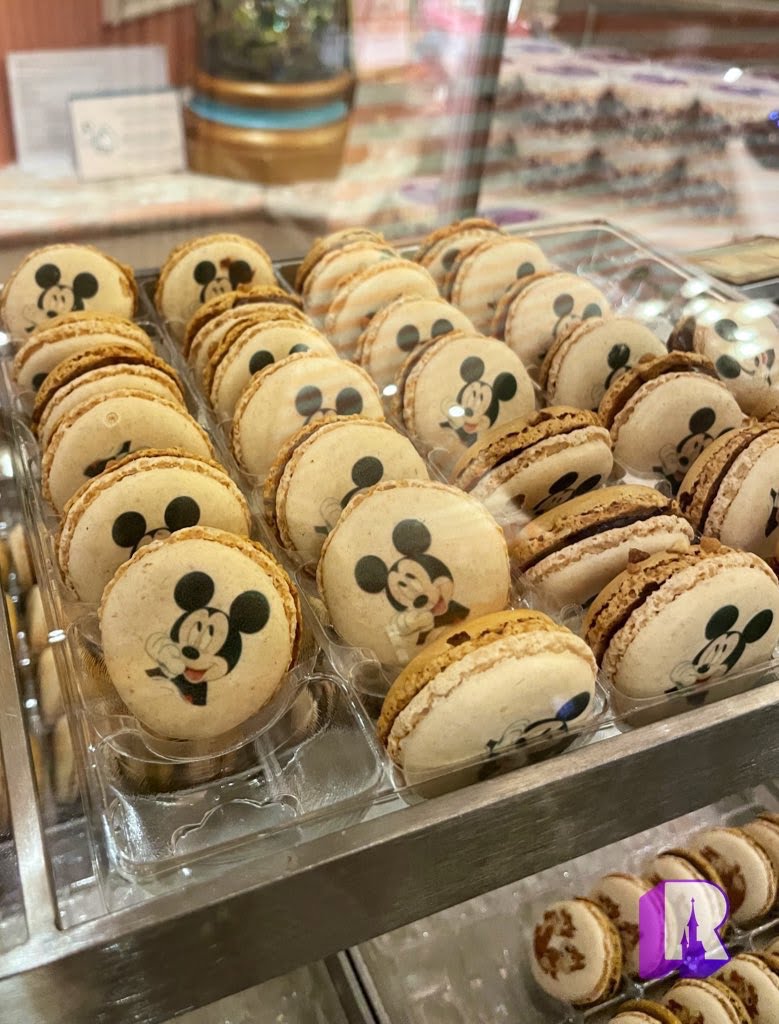 At Boardwalk Candy Palace you can now buy industrially made poorly printed unimaginative characters macaroons for €2.20 each. Yay!
Over in Fantasyland the Cinderella fountain has been cleaned. It looks beautiful.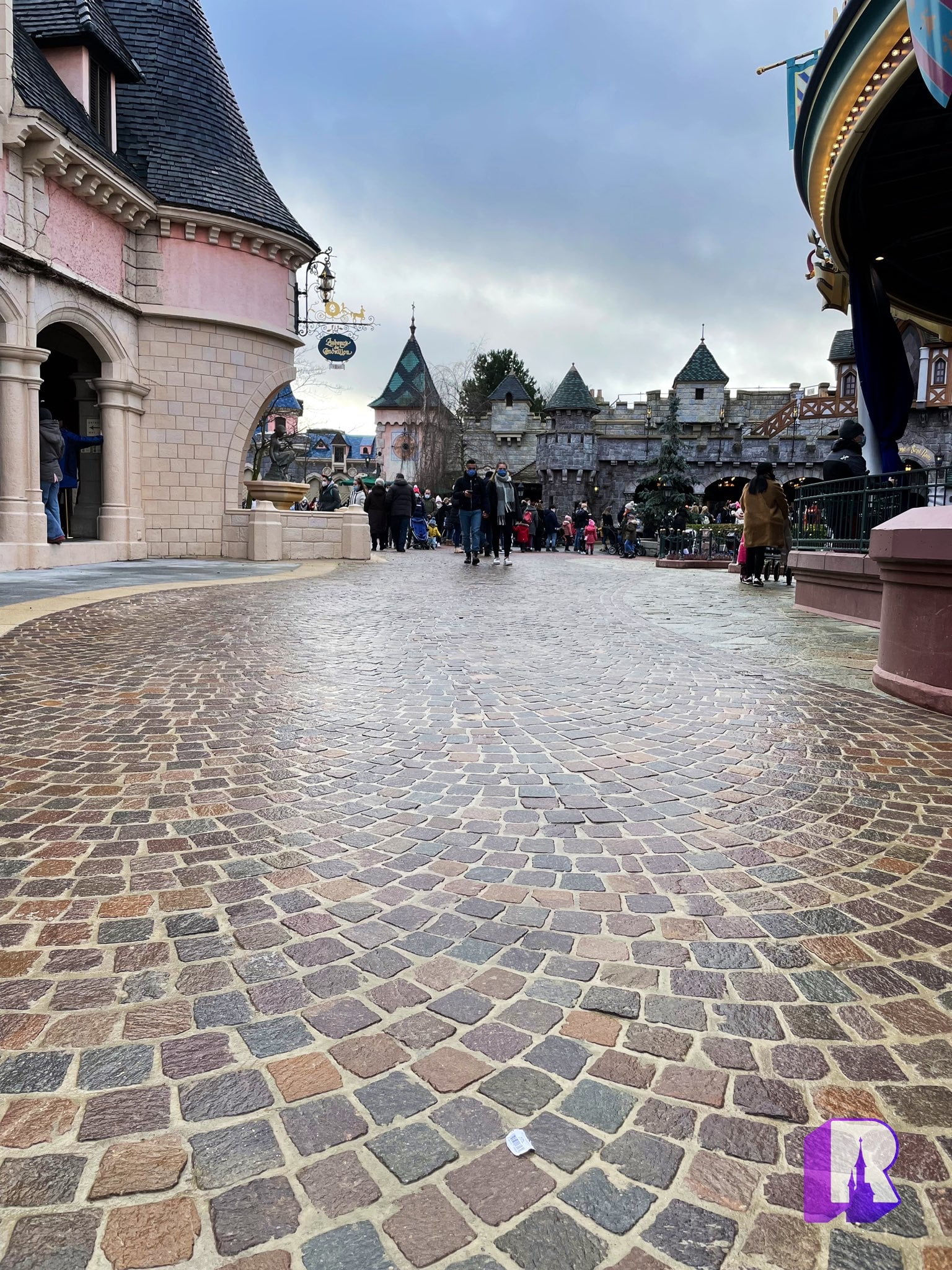 And walls are down on the resurfacing project near Sir Mickey's – also looking great.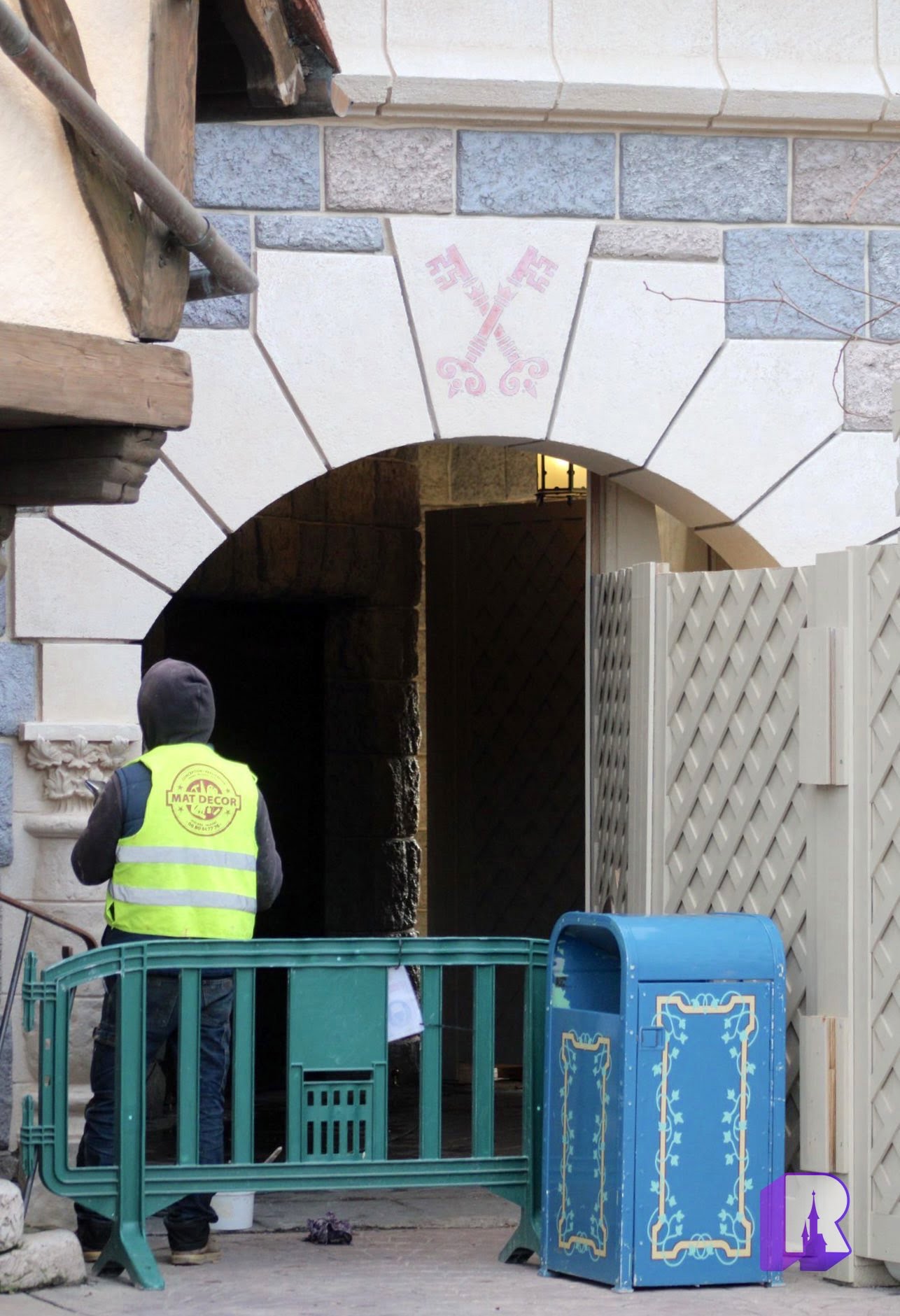 Also in Castle Courtyard: touch ups for moldings and arches near Auberge de Cendrillon, reopening March 2022.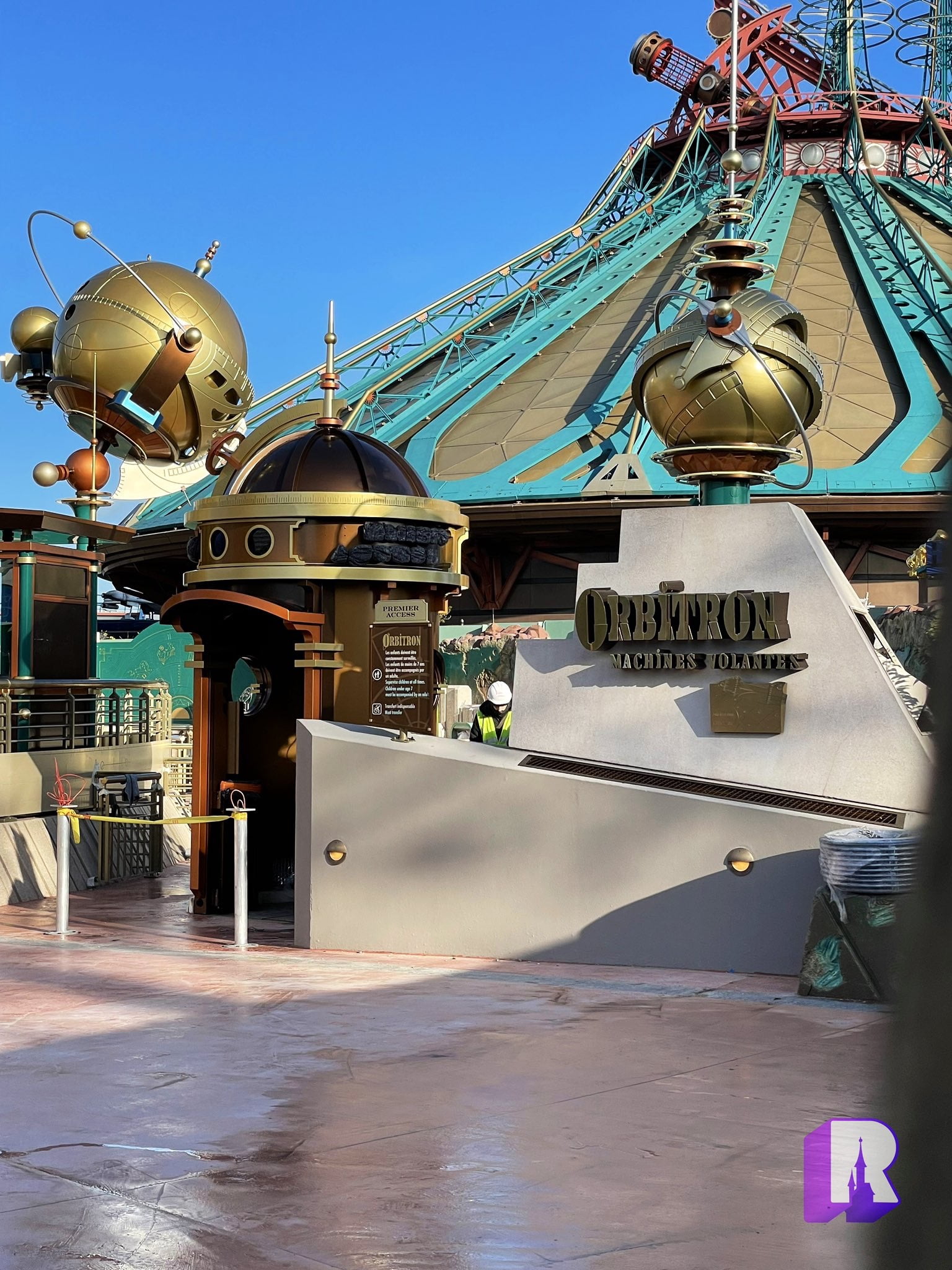 In Discoveryland we got a peek at the new booth an entrance for Premier Access at Orbitron. Looks nice and in theme.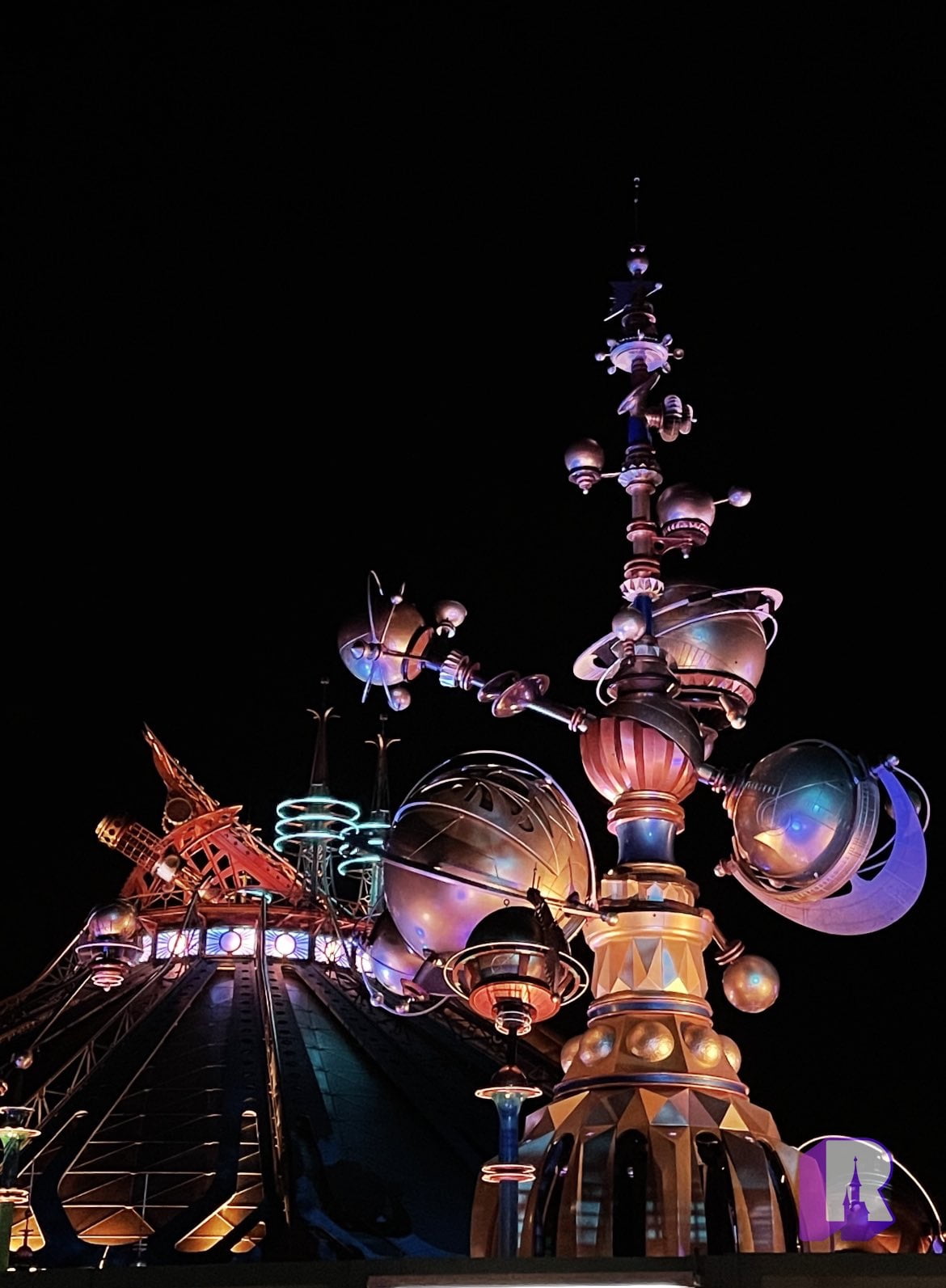 The Attraction which officially reopens Dec 18 also received a great new lighting package.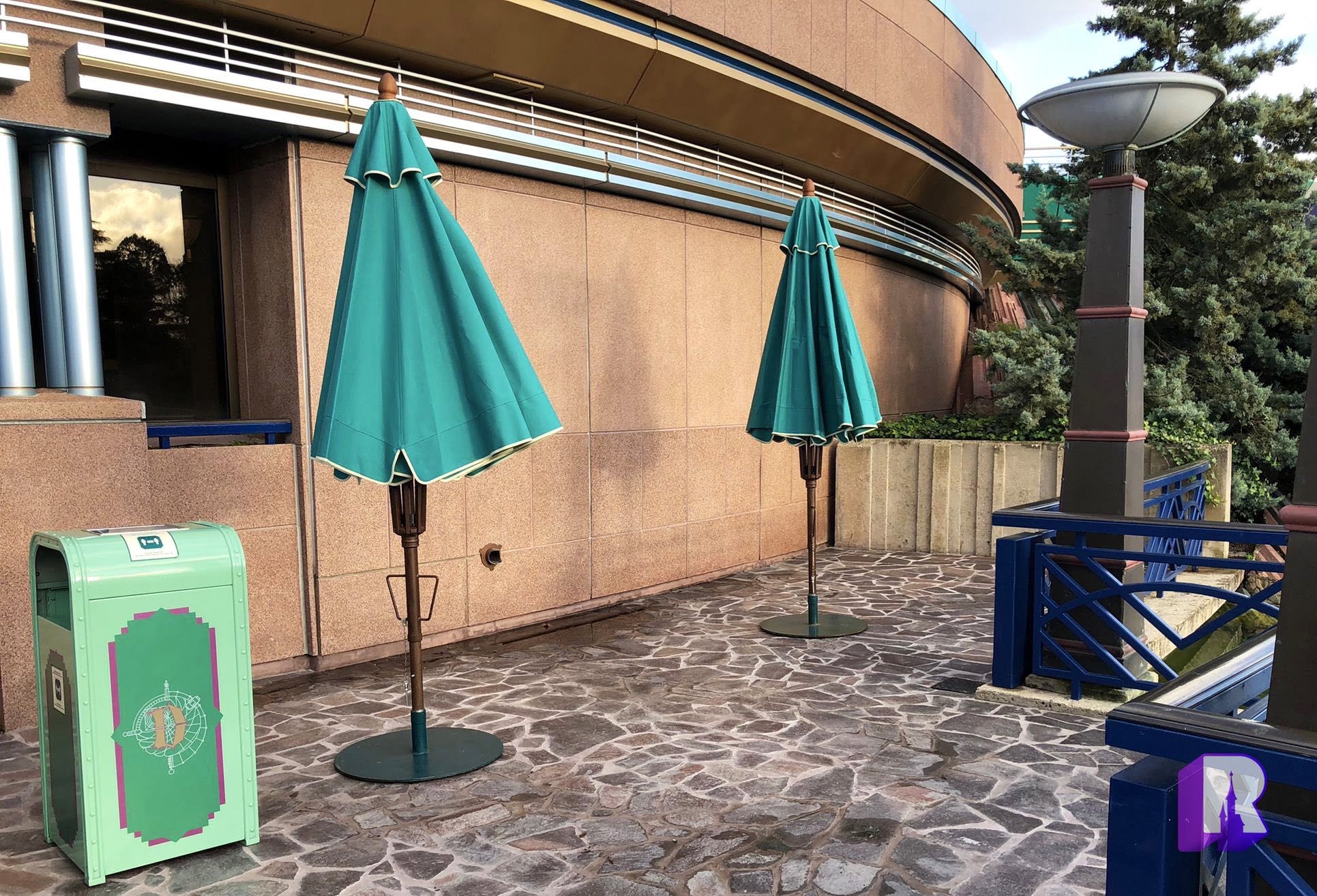 Still in Dicoveryland-ish, a new smoking area was set up near the former AP Office. Gross.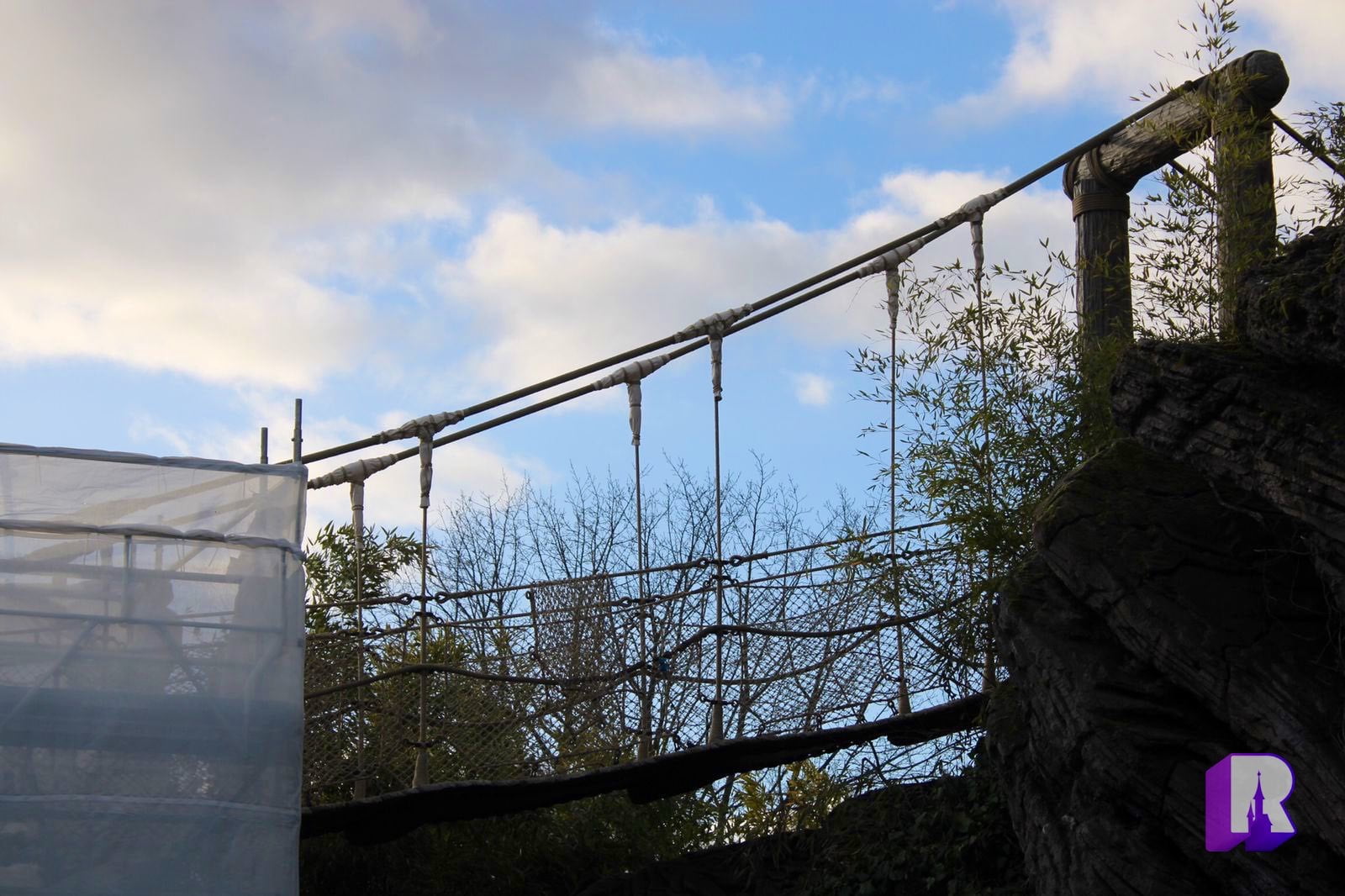 And in Adventureland, the suspended bridge is slowly being unwrapped after a lengthy refurbishment.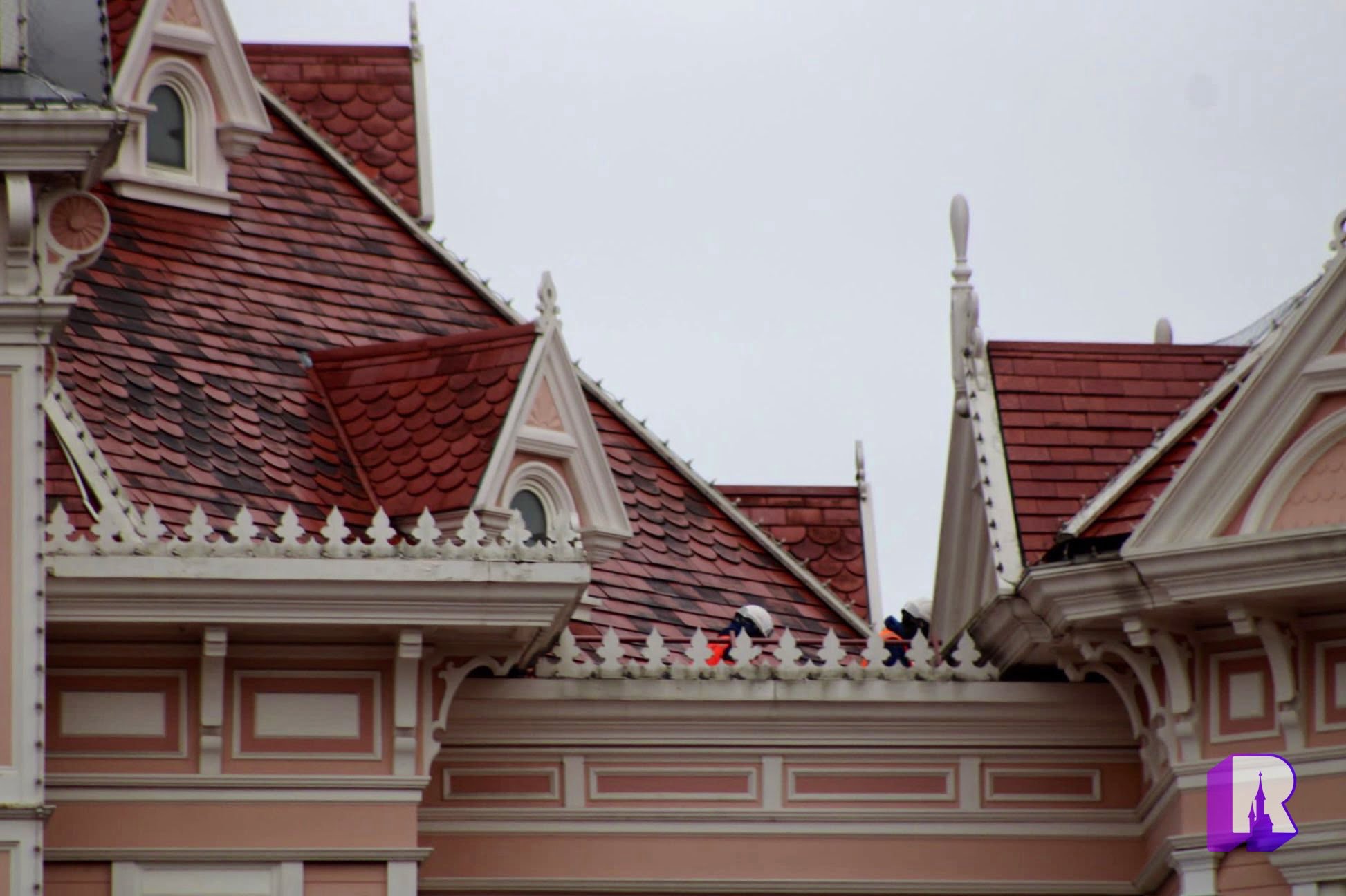 Heading out of the park, we noticed some activity on the Disneyland Hotel roofs which really need a lot of love. The property is being remodeled to a new "princess" theme and won't reopen until sometime in 2023.
White tents were installed in Fantasia Gardens likely for special events. These really are terrible especially in that location.
Over at Disney's Hotel New York – The Art of Marvel, a new giant bauble featuring an Iron Man artwork by artist Liam Brazier was installed at the lakeside entrance. Looks cool!
This and that…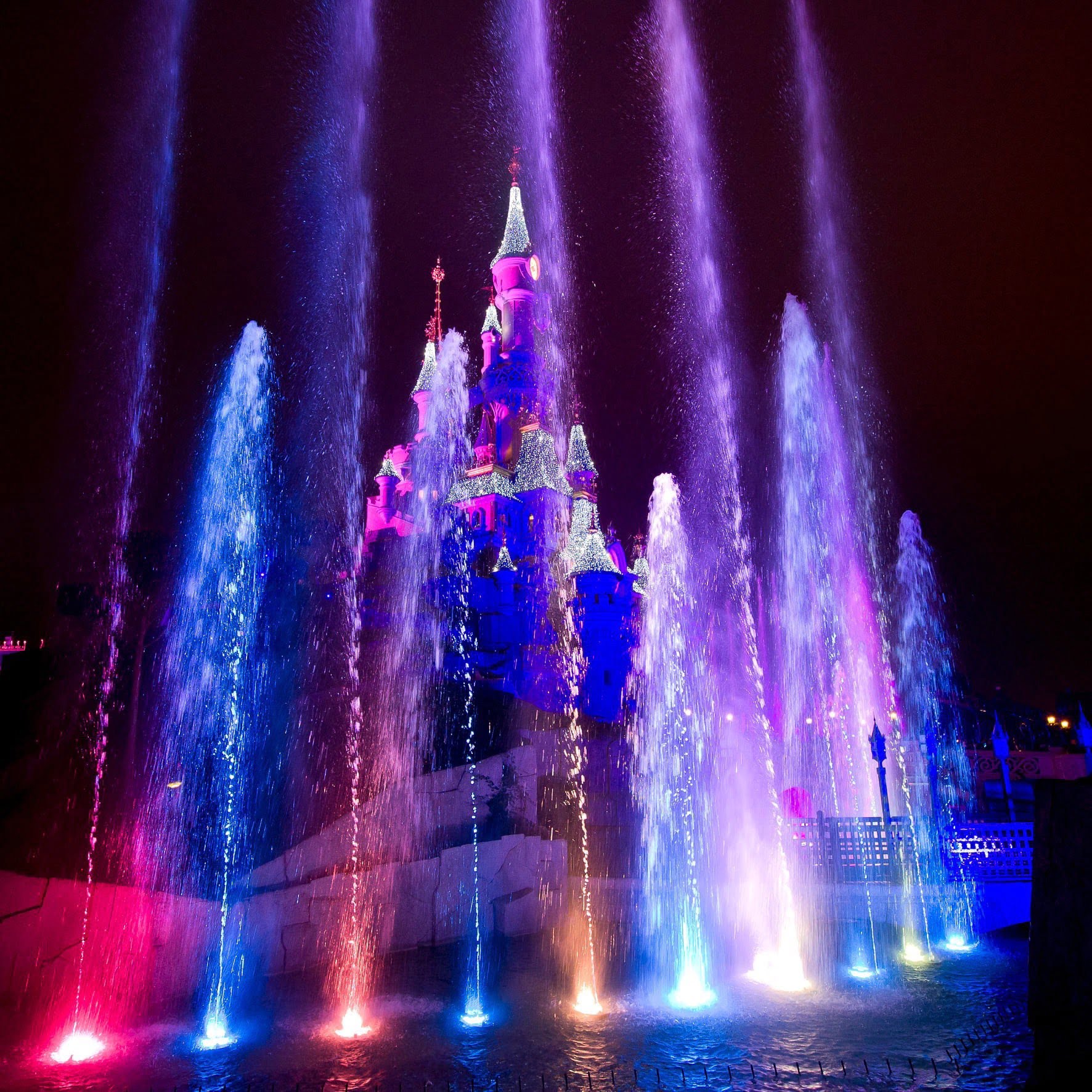 Disney has revealed that a fountain show themed to Encanto will be performed at the New Years Eve Party hard ticket event.
A look at some of the "2022" pin trading designs and Attraction based sets: Sword in the Stone and Indiana Jones et le Temple du Peril.
Some of the new Christmas Pins releases: Pluto and Chip & Dale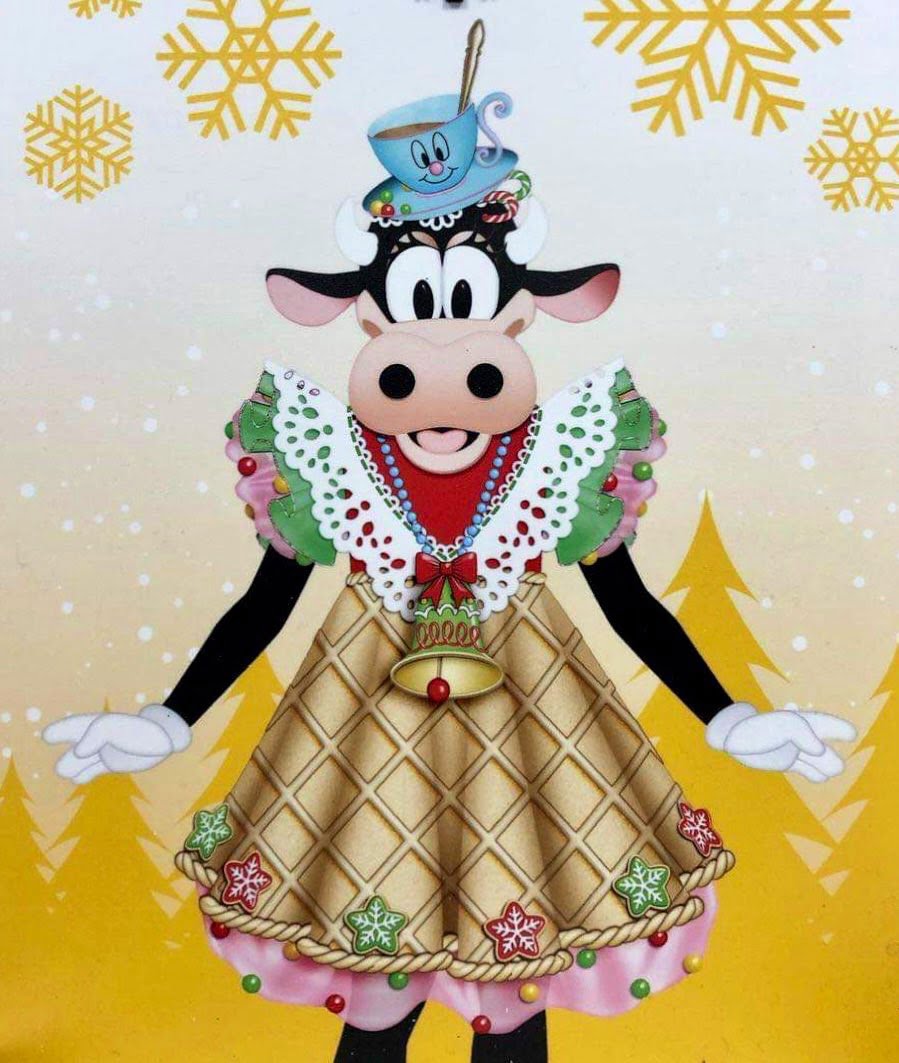 A concept drawing of Clarabelle's costume randomly released on Emmanuel Lenormand's Instagram – the place for entertainment scoops these days.
The Storybook Store will open for 2 days for AP Holders only, on Dec 14 and 15, selling Loungefly bags and Ears from the WDW50 collection.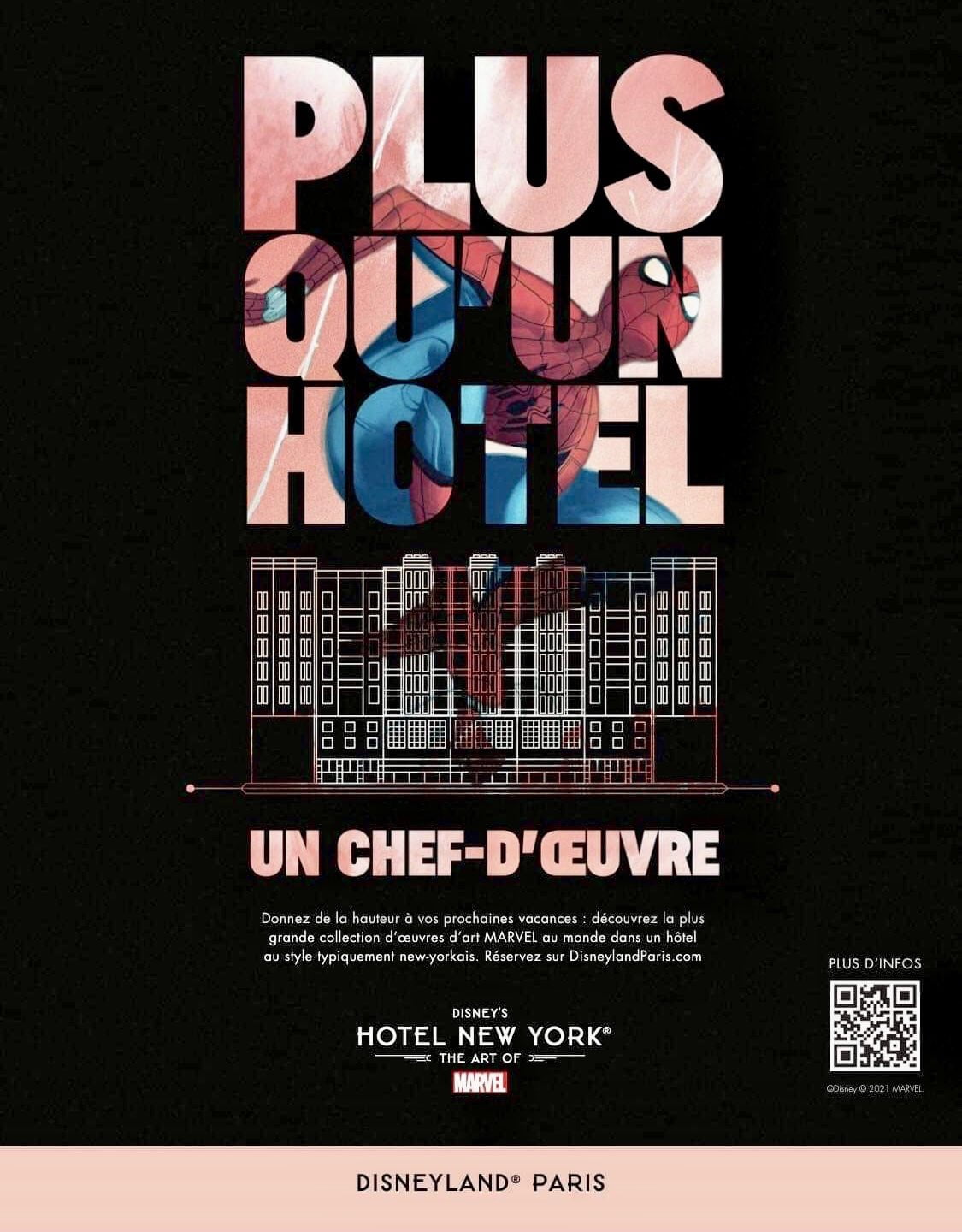 And a look at the new print campaign for Disney's Hotel New York – The Art of Marvel.
Another week of news, all wrapped up! Thanks for joining us as always, and I will see you back here next week for another roundup of everything happening at Disneyland Paris !