End It's Halloween! Wait – already? Frontierland started to get spooky this week with almost all the decorations in place. Not that many people were here to see them as weekday attendance levels dropped considerably. It's still a lot of fun so let's take a look at what's new!
Halloween is here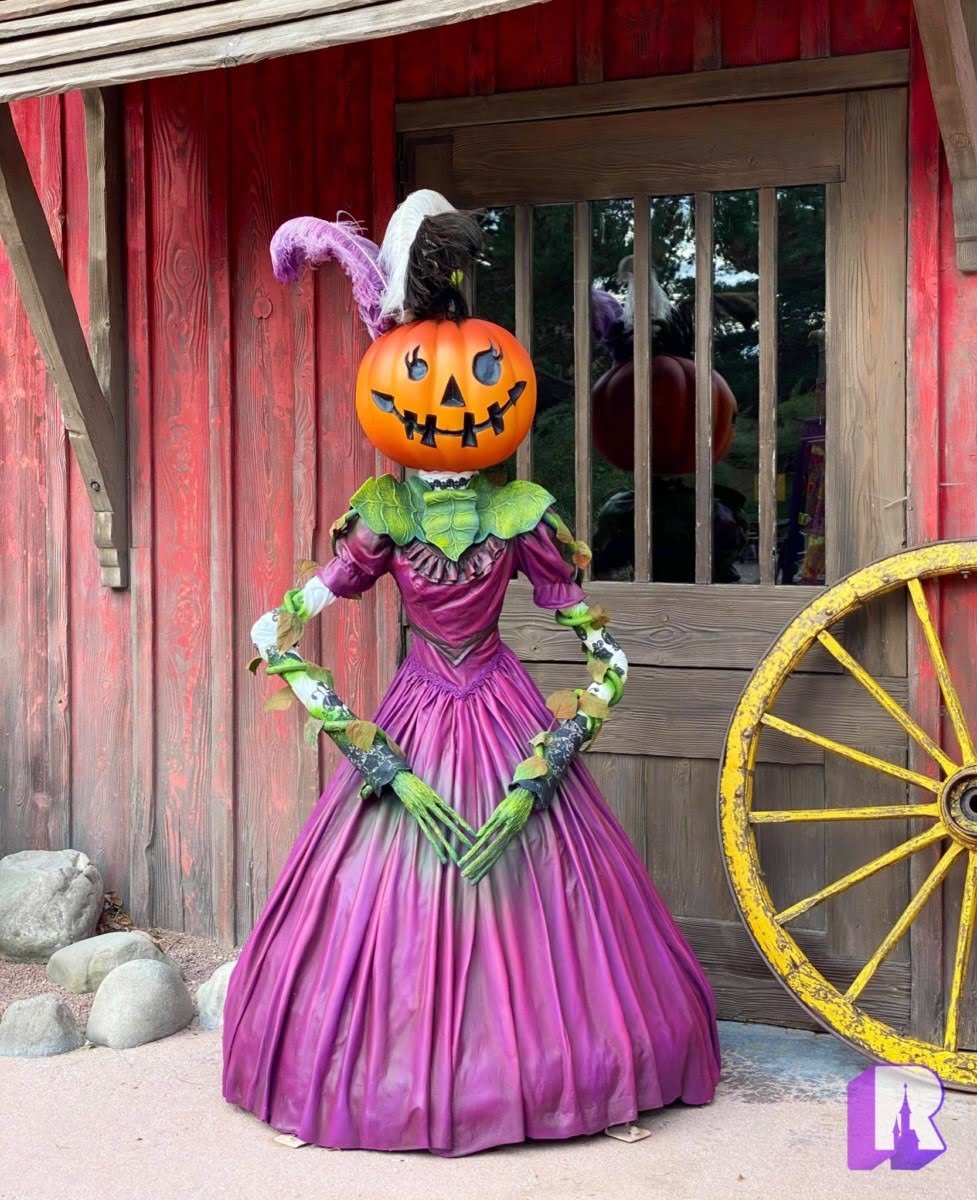 Big surprise on Thursday – a lot of the Halloween decor had arrived in Frontierland!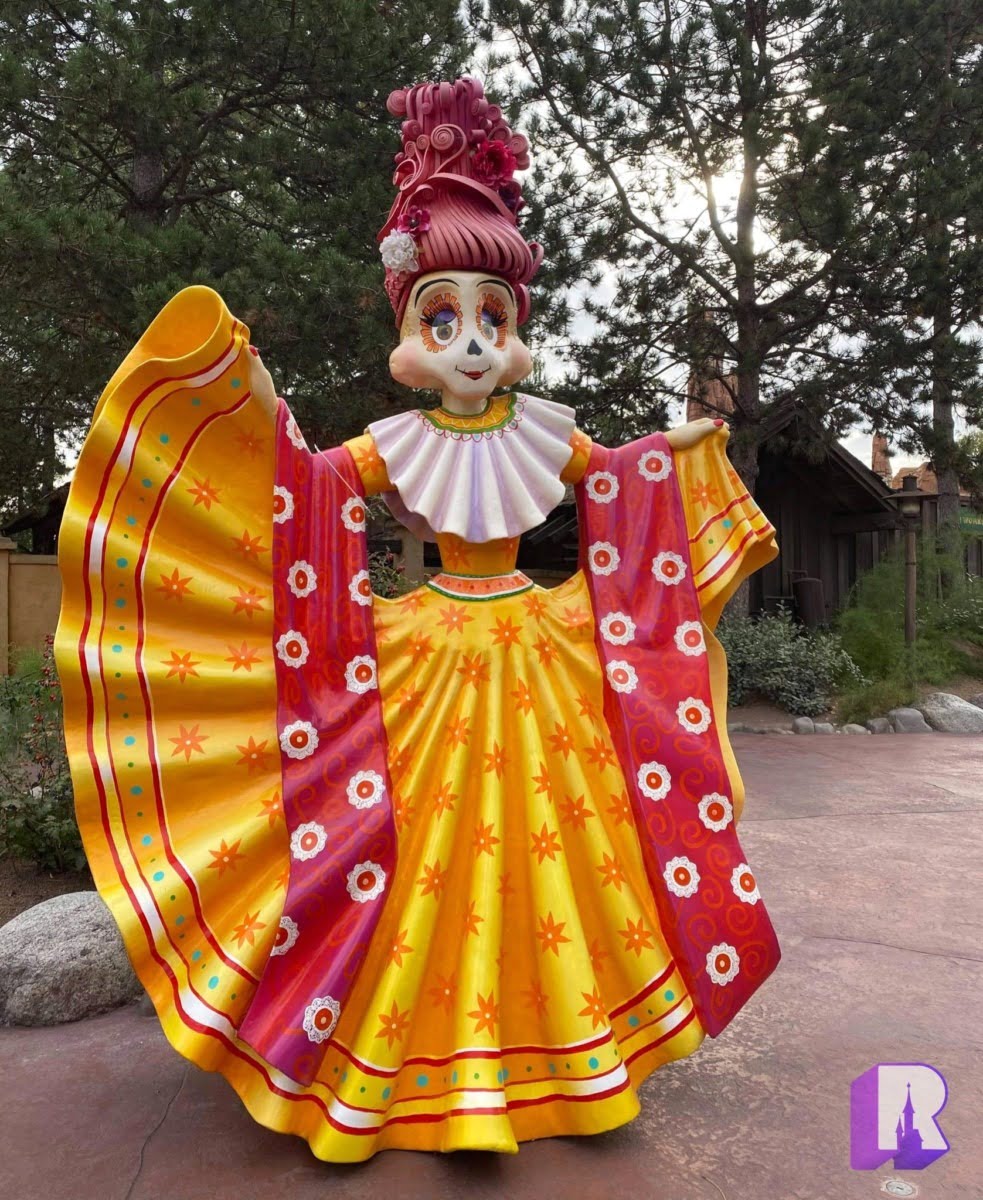 With a smaller entertainment offering this year, the atmosphere will take center stage and it looks like they are throwing everything they have at us – not that we're complaining!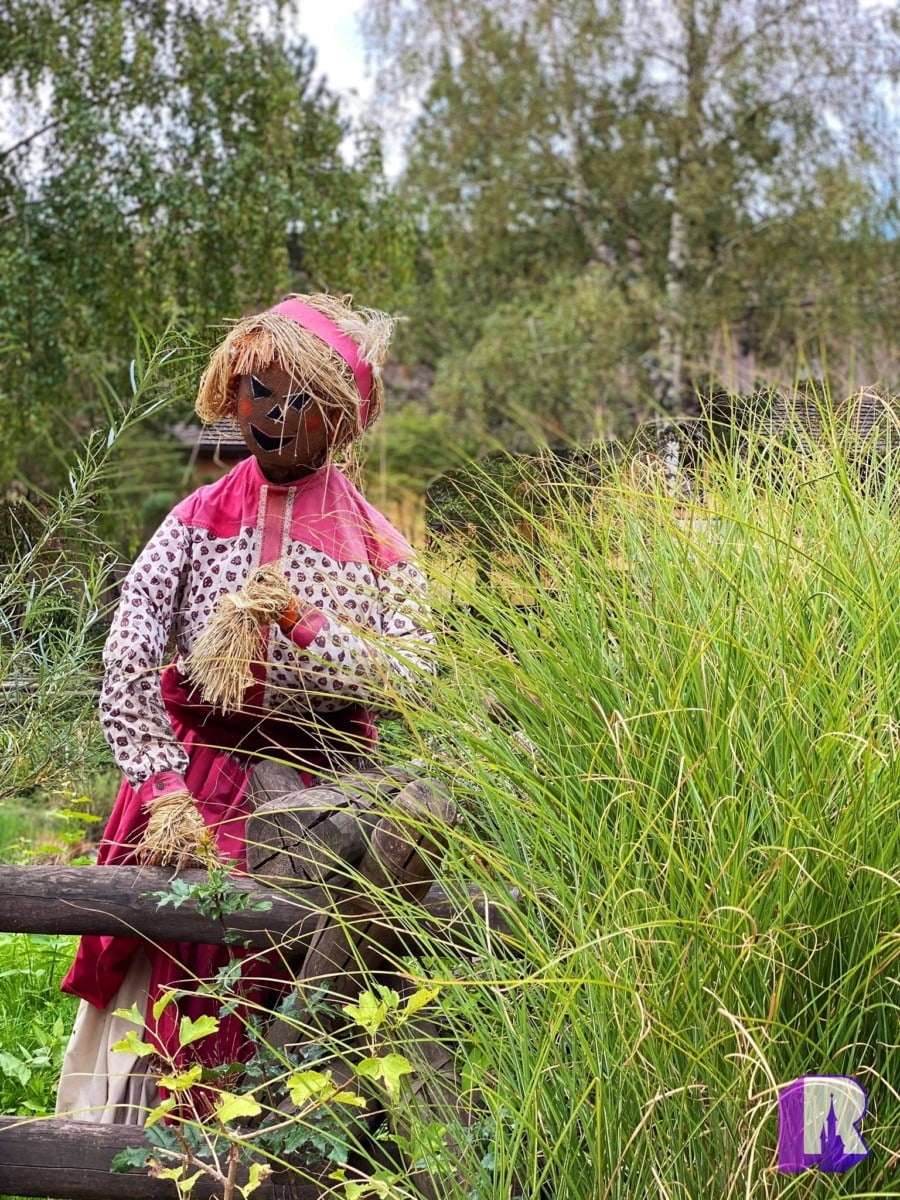 Even some older rather terrifying props are back..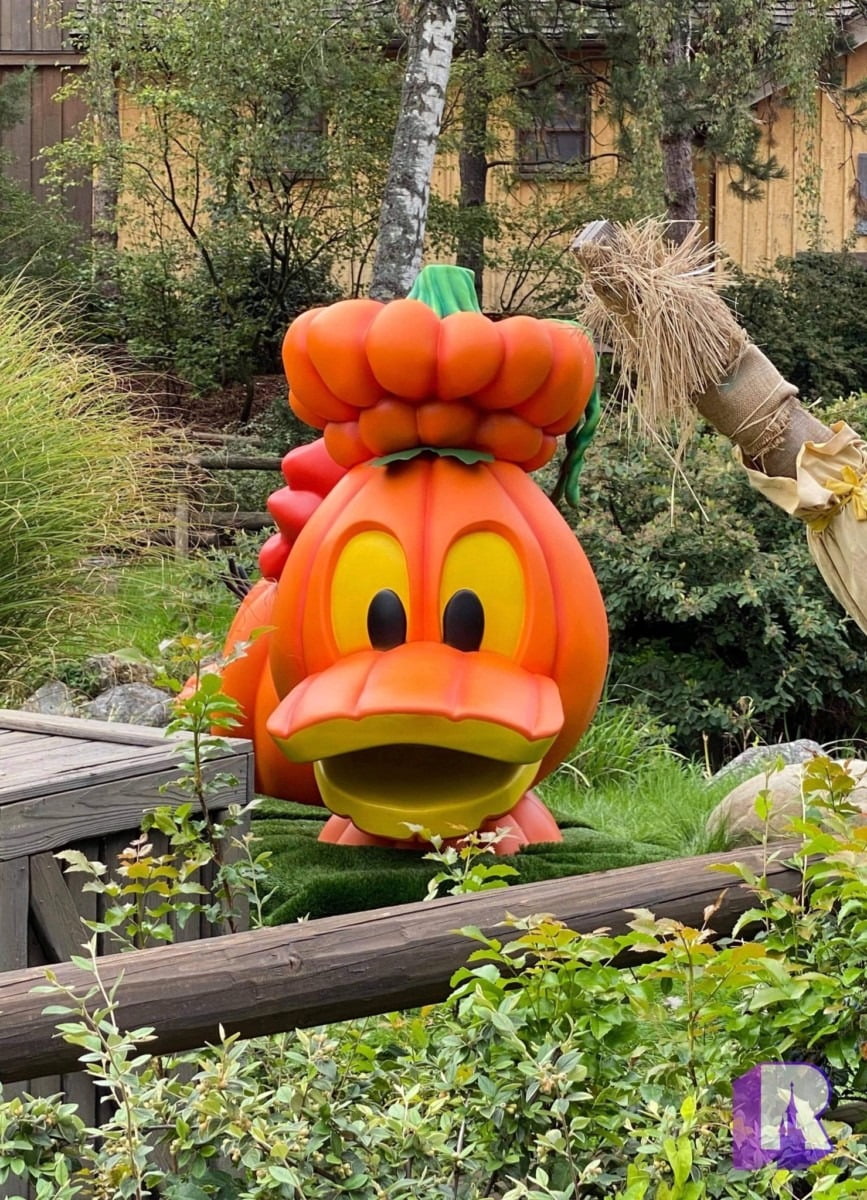 And the Disney Characters pumpkins!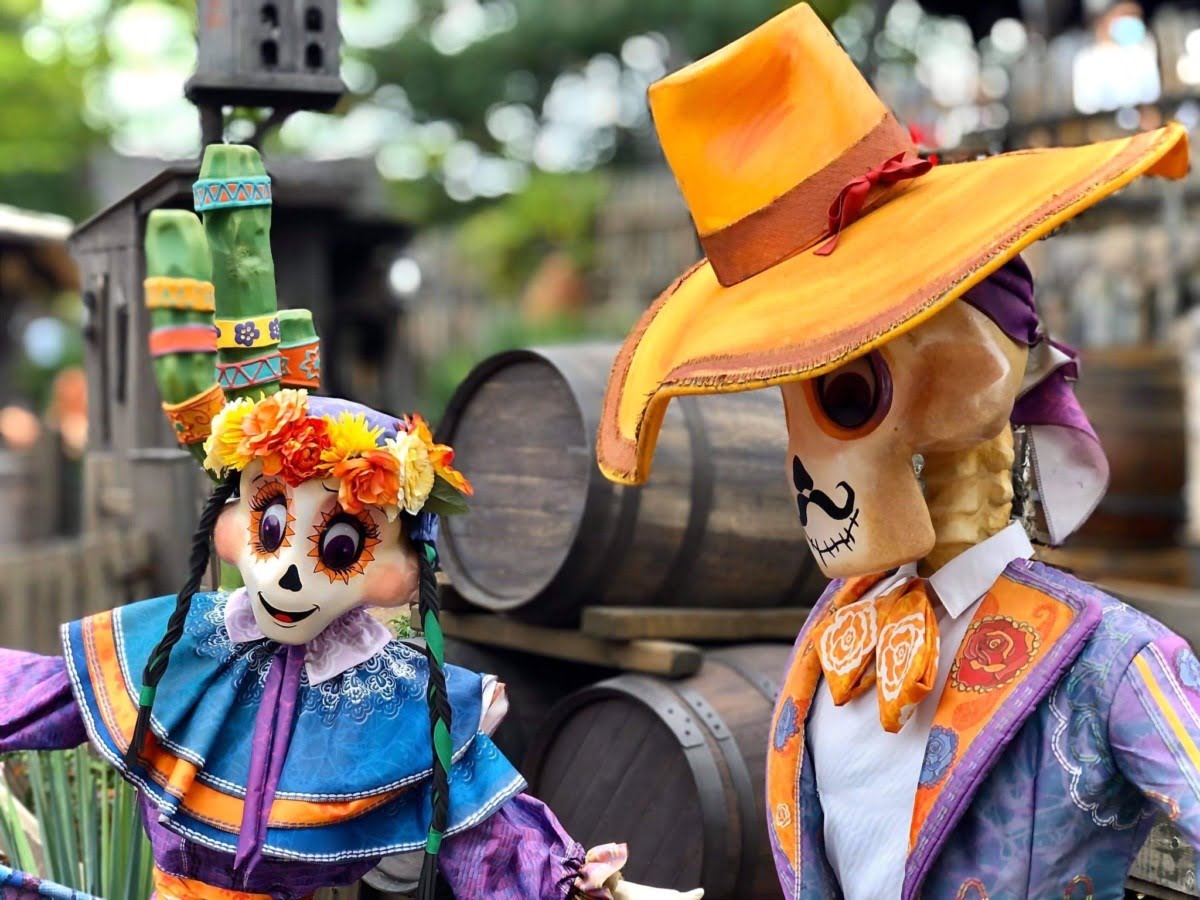 The rest of the gang arrived a bit later in the week.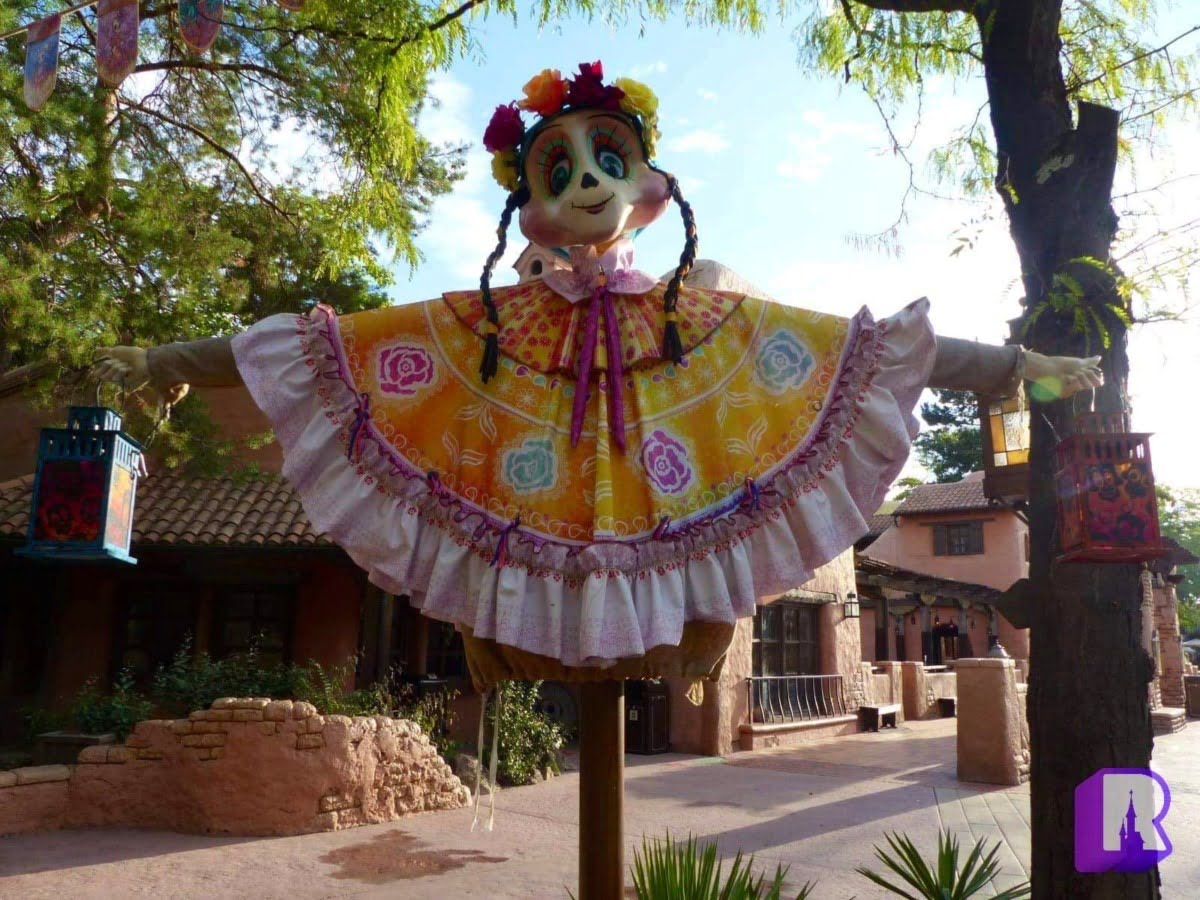 For the full roundup of that first wave of arrivals, check out our full special report right HERE
Frontierland is not the only place that's getting ready for Halloween. Later in the week, Maleficent started casting her spell on Castle Courtyard where her legendary brambles will soon take over: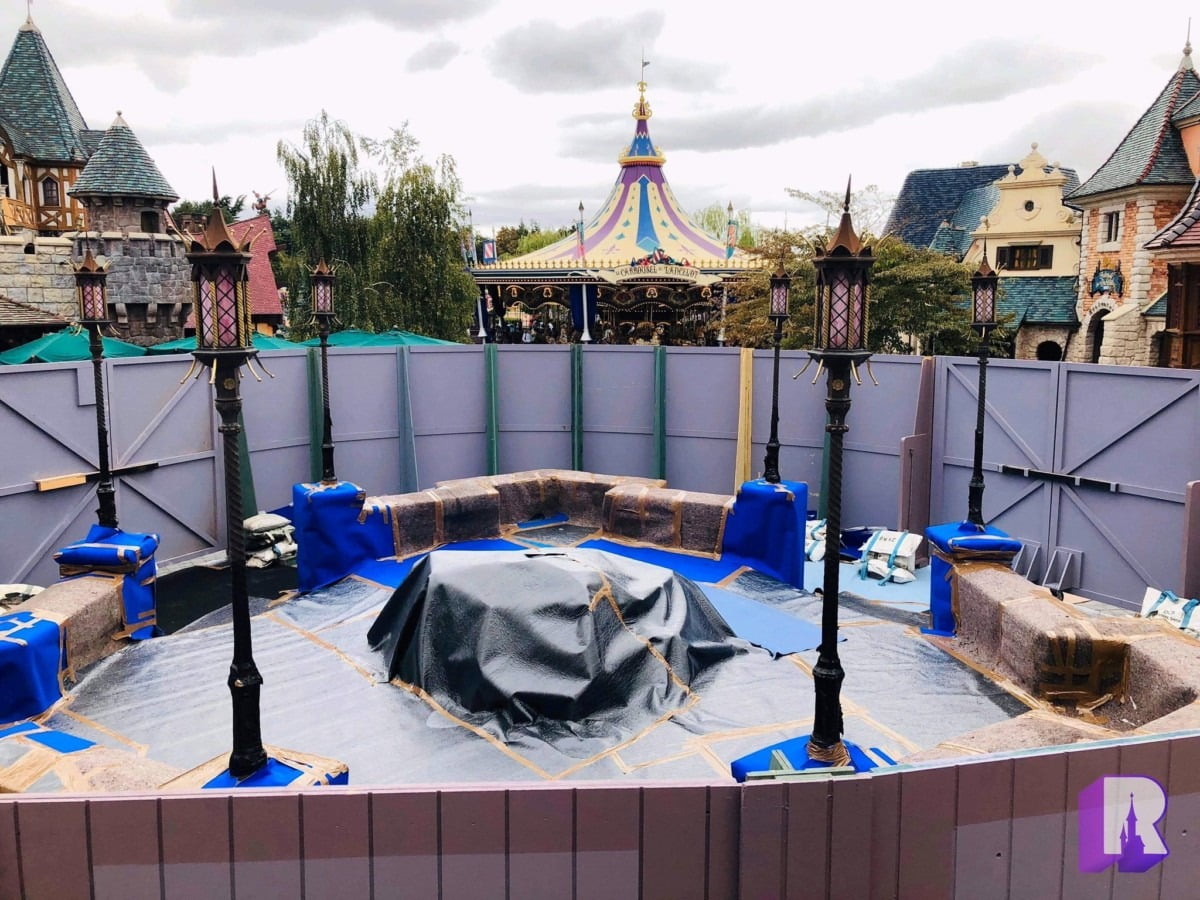 As the season start approches (on September 26) our team created these great Fan renderings based on available information for the upcoming Villains selfie spot and Mickey and Friends in Halloween costumes selfie spots. Take a look!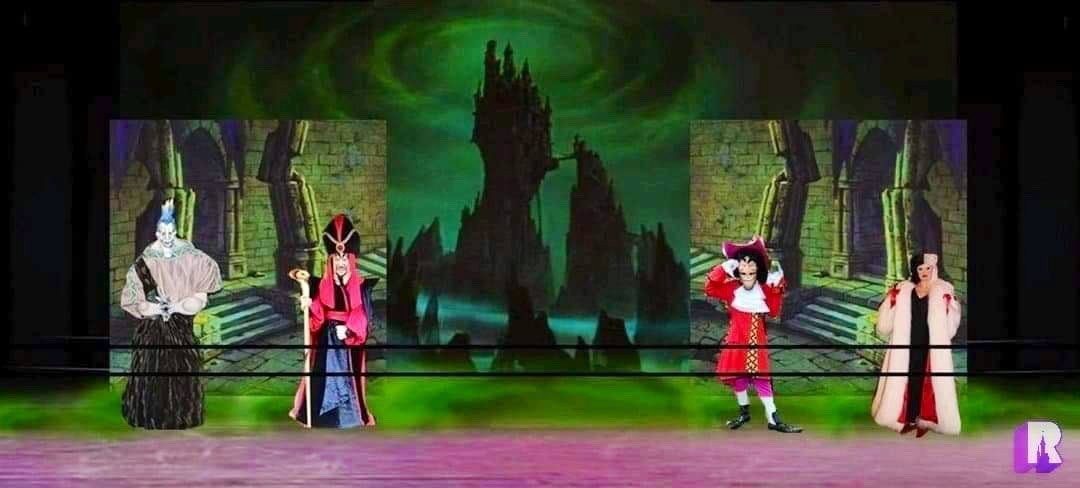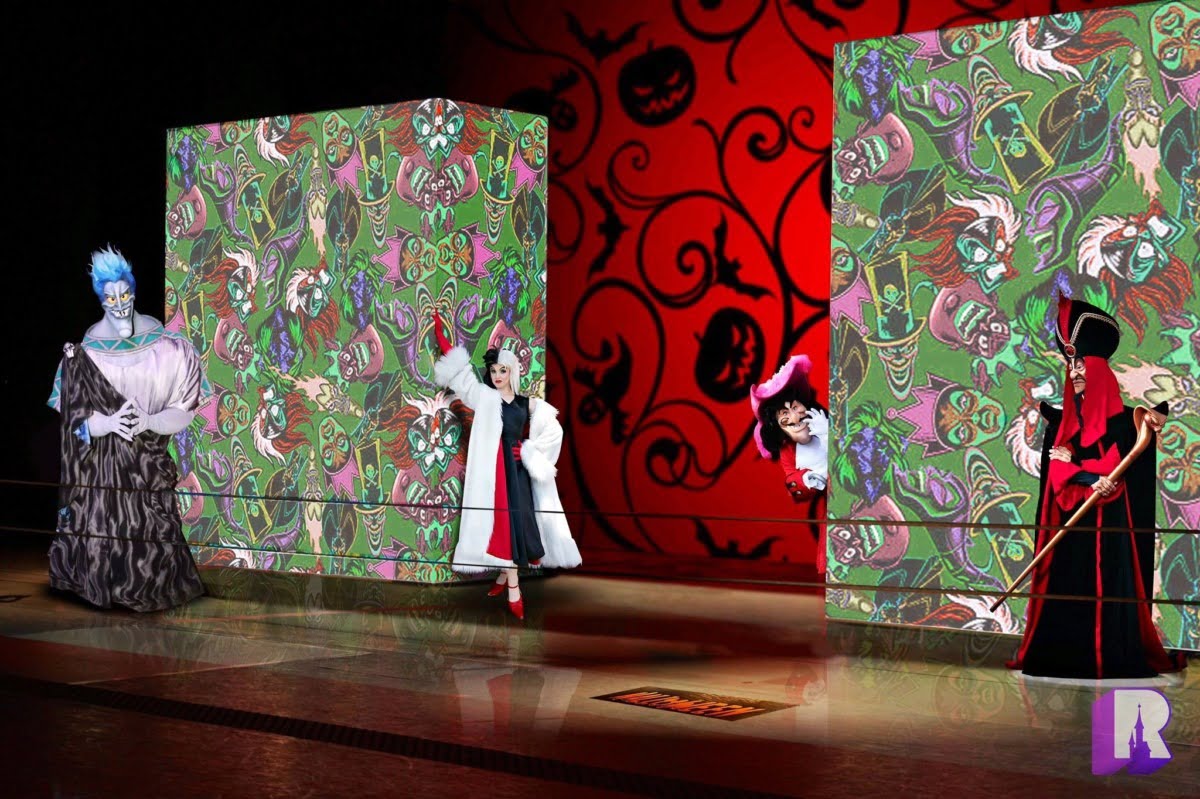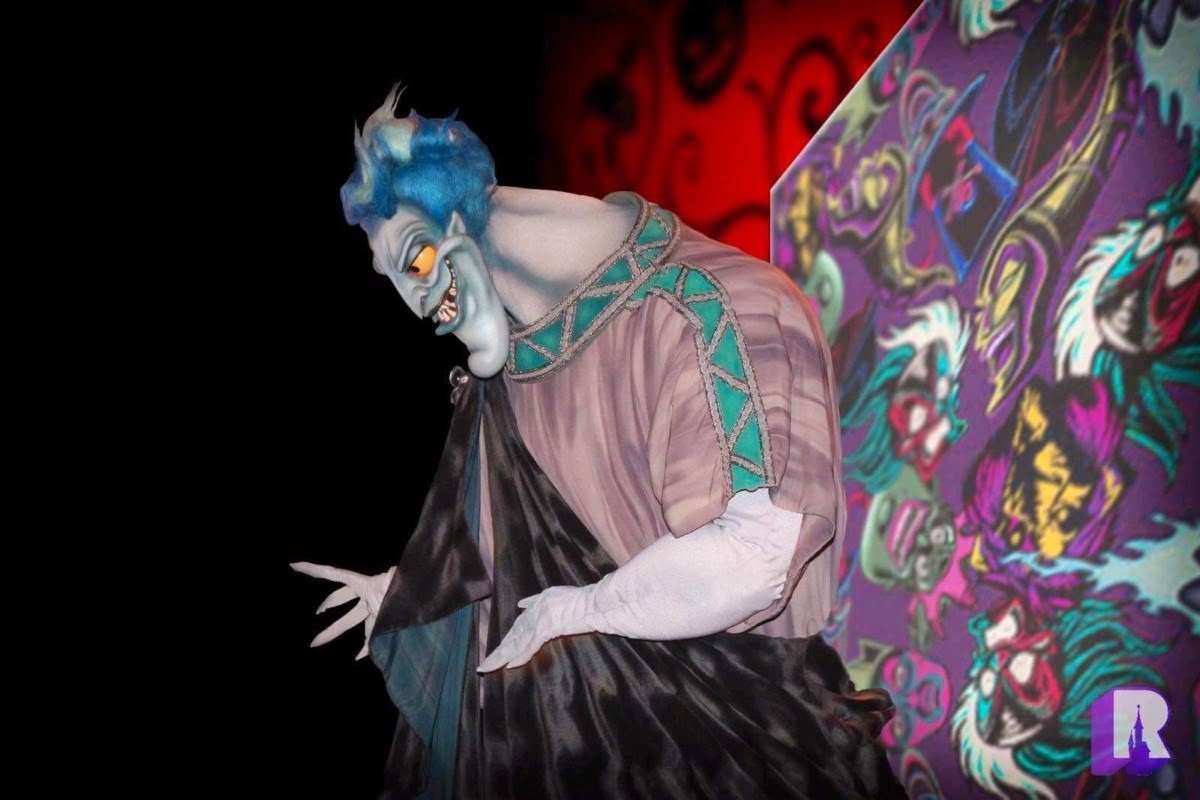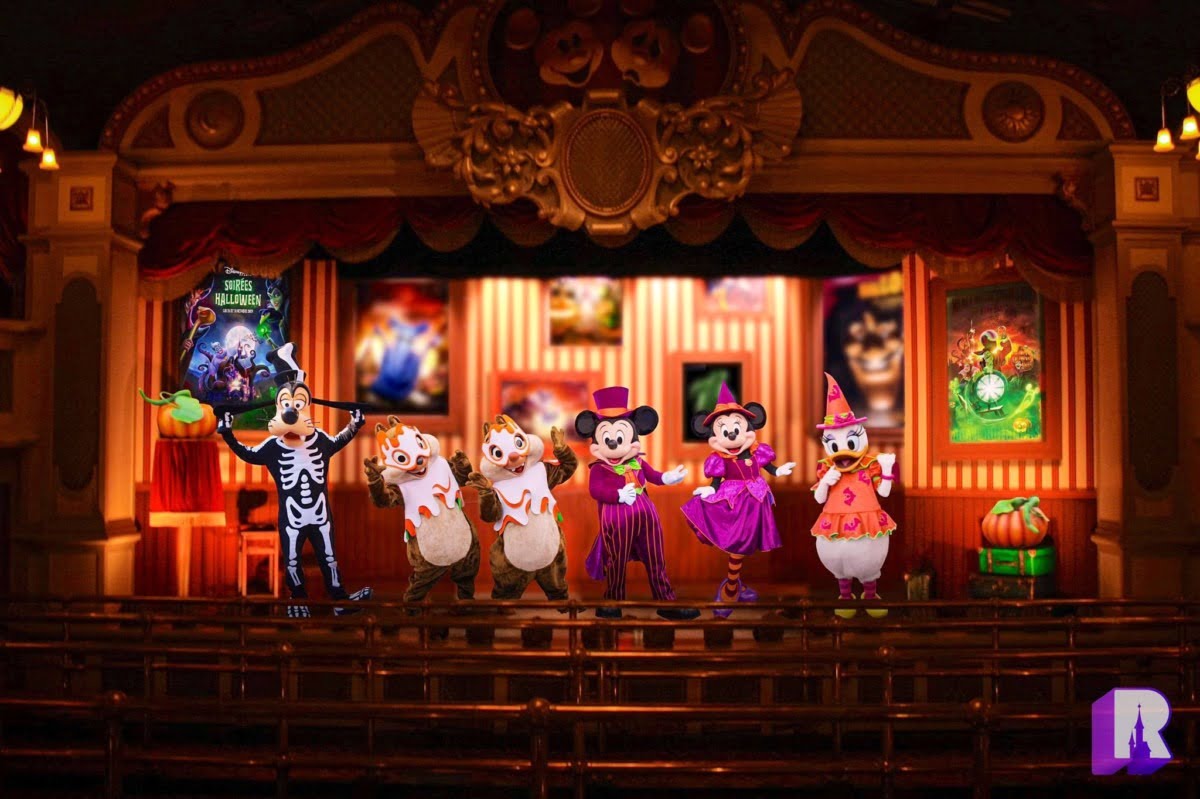 It's oh-so-quiet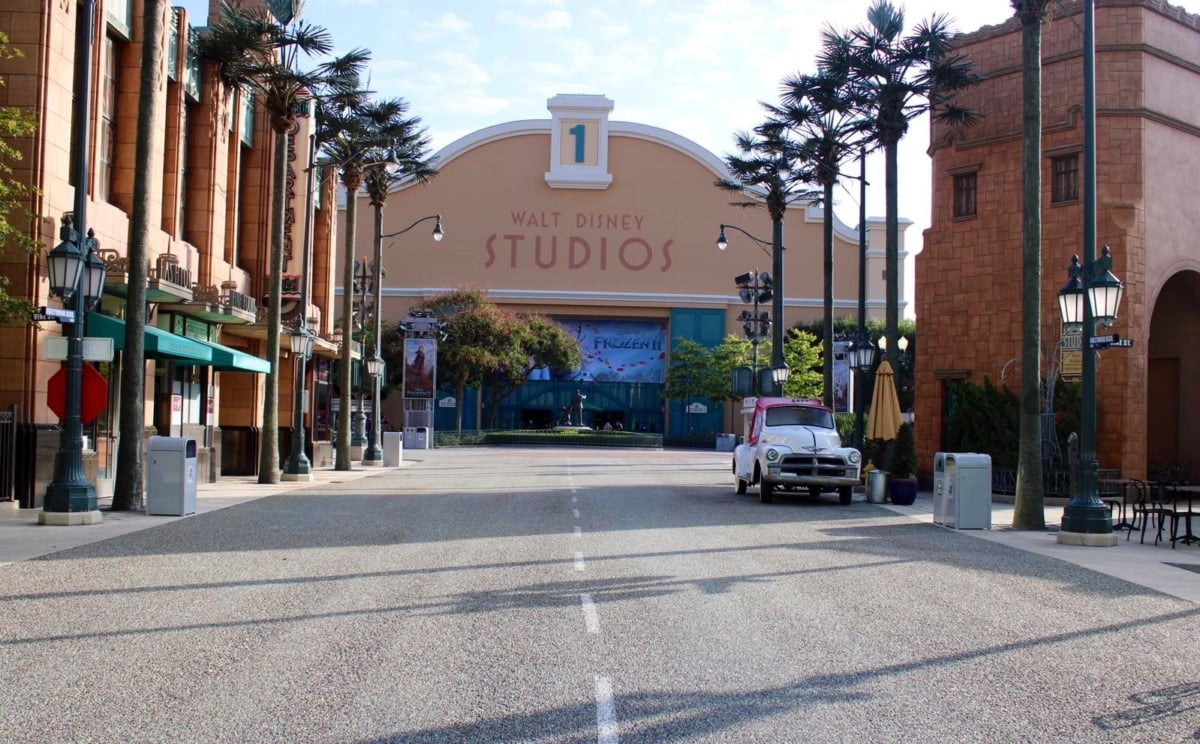 September is here and the Guests are not – at least weekdays.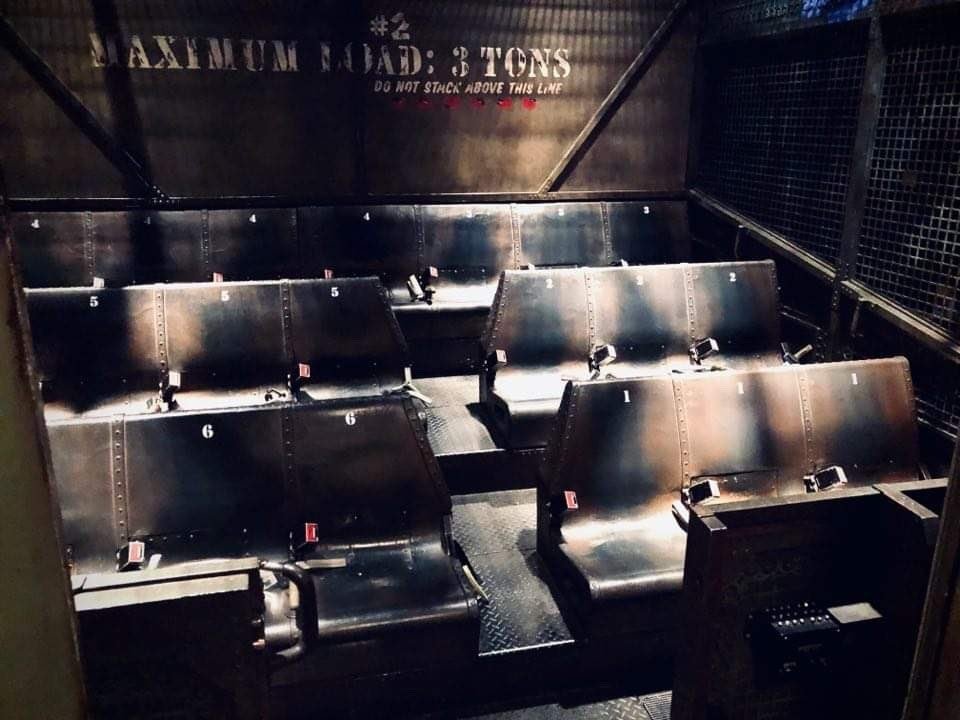 A private elevator at Tower of Terror – the dream! Yes, but not for the accounting department. A combinaisons of quarantine requirements in the UK, negative travel advice and "red zoning" of the region, coupled with the overall "back to school" and "back to the office" effects resulted in very low attendance Monday to Friday.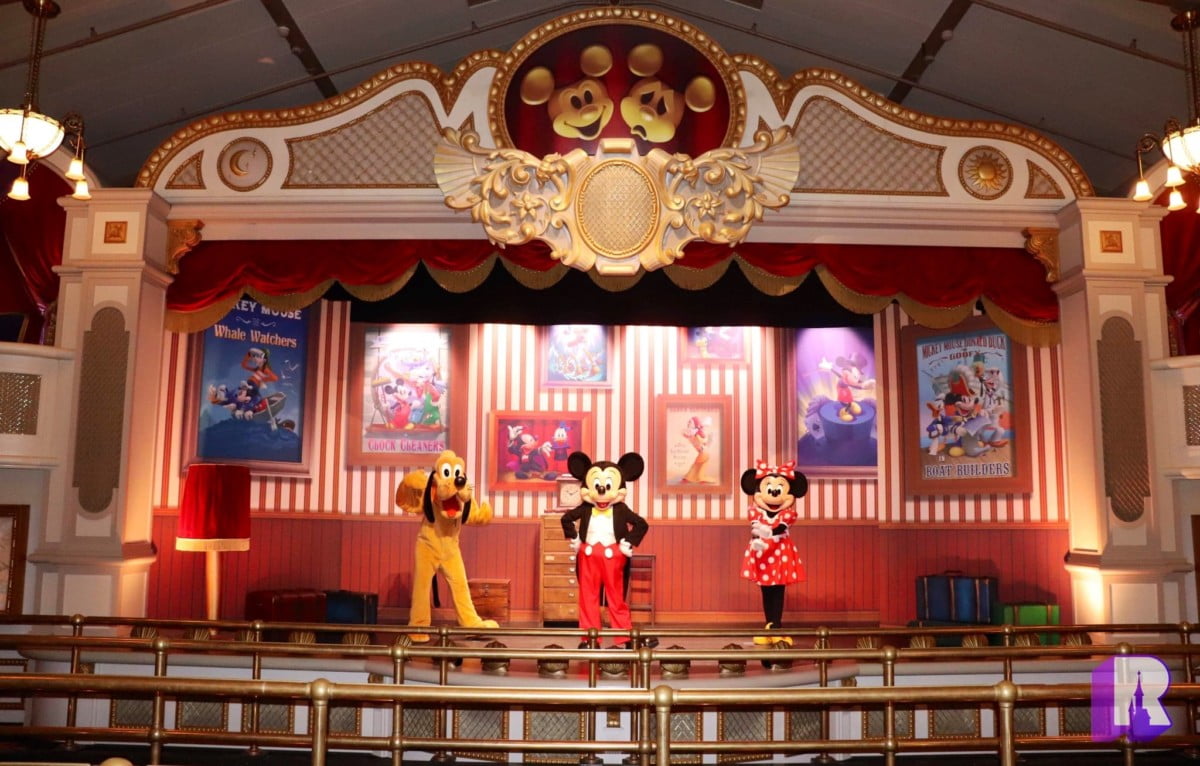 Crowds were back at the weekend but the days have been long this week for Mickey and Friends.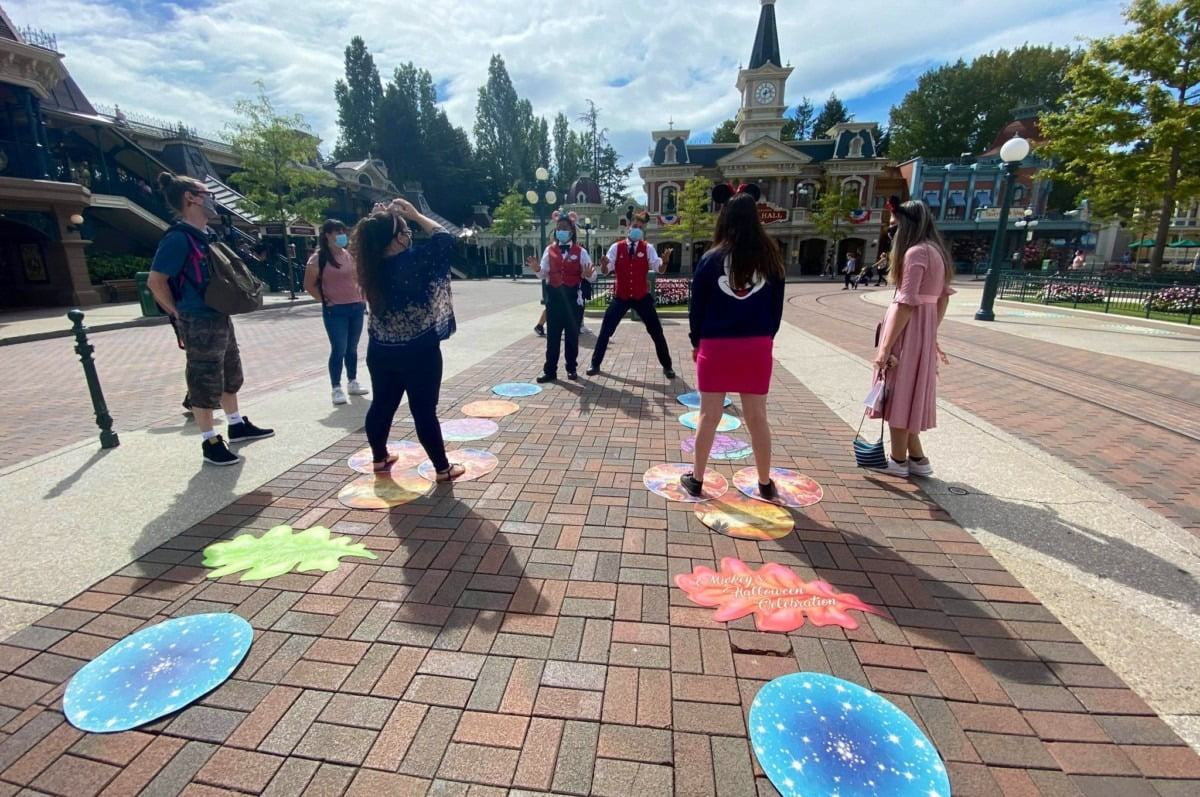 Guest flow even had the time to play games with Guests – using floor markers from former seasons which is an awesome idea! (We see you Pirates and Princesses!)
MagicShots improvements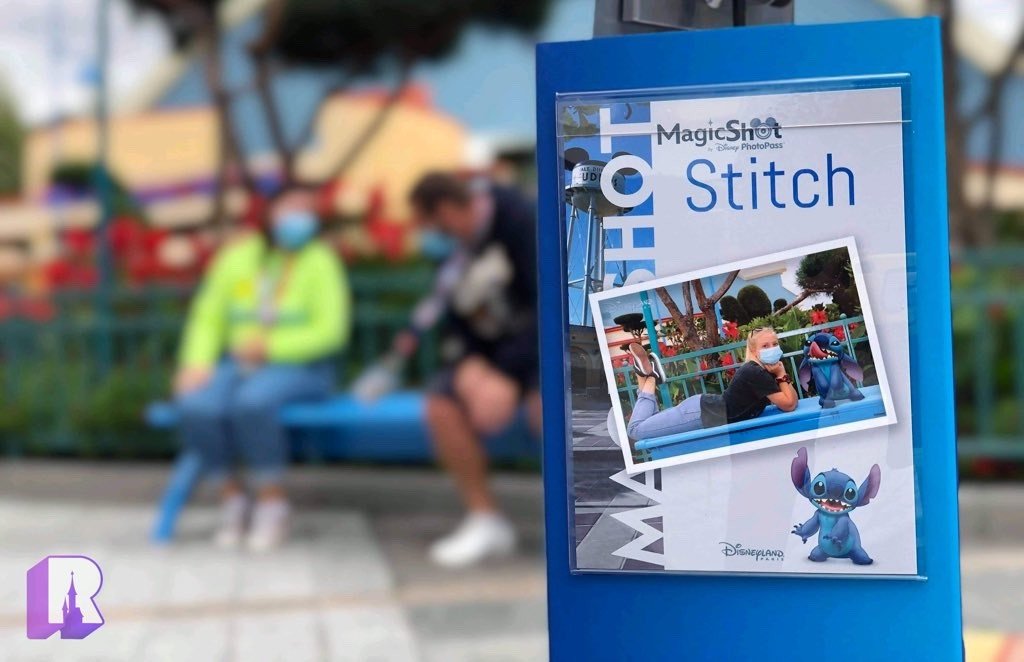 Everyone seems to love the MagicShots but it's often hard to know where they are or what the photo will look like. Thanks to these new displays and signs it's much easier now: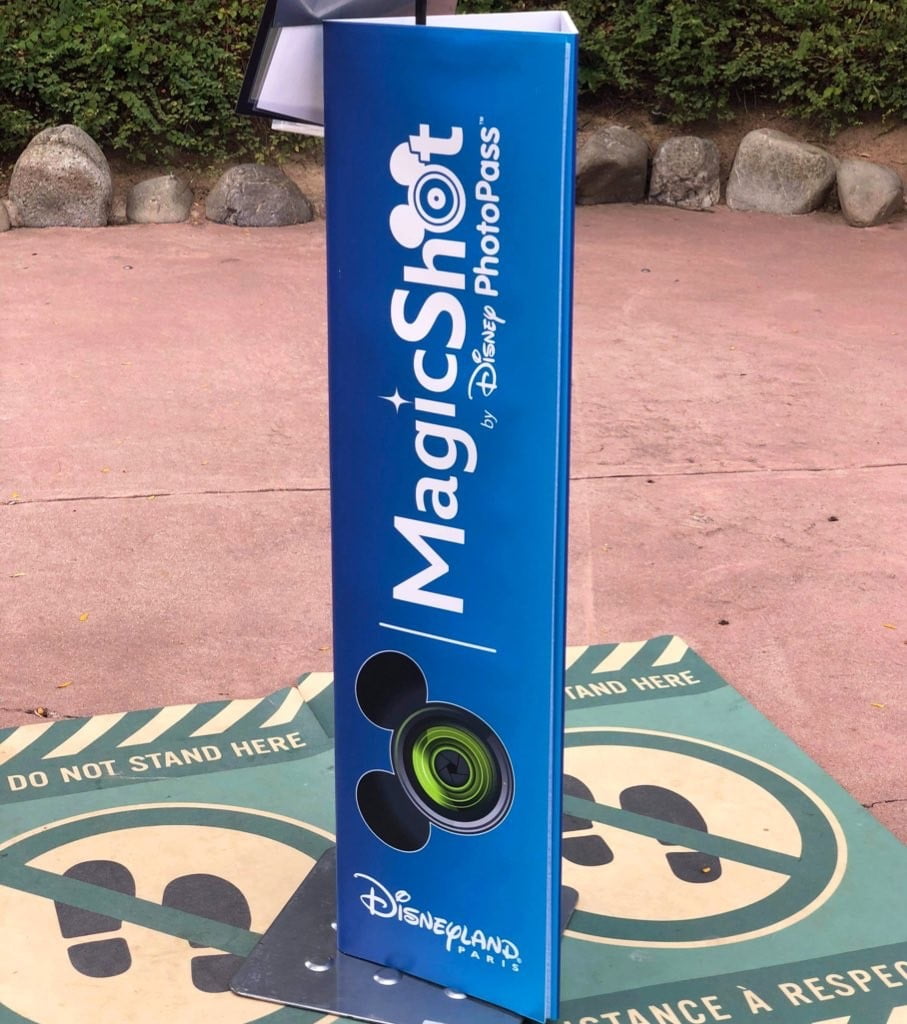 A new MagicShot even arrived this week near Tower of Terror.. it's a cartoon bellhop for who knows what universe but it's fun I guess: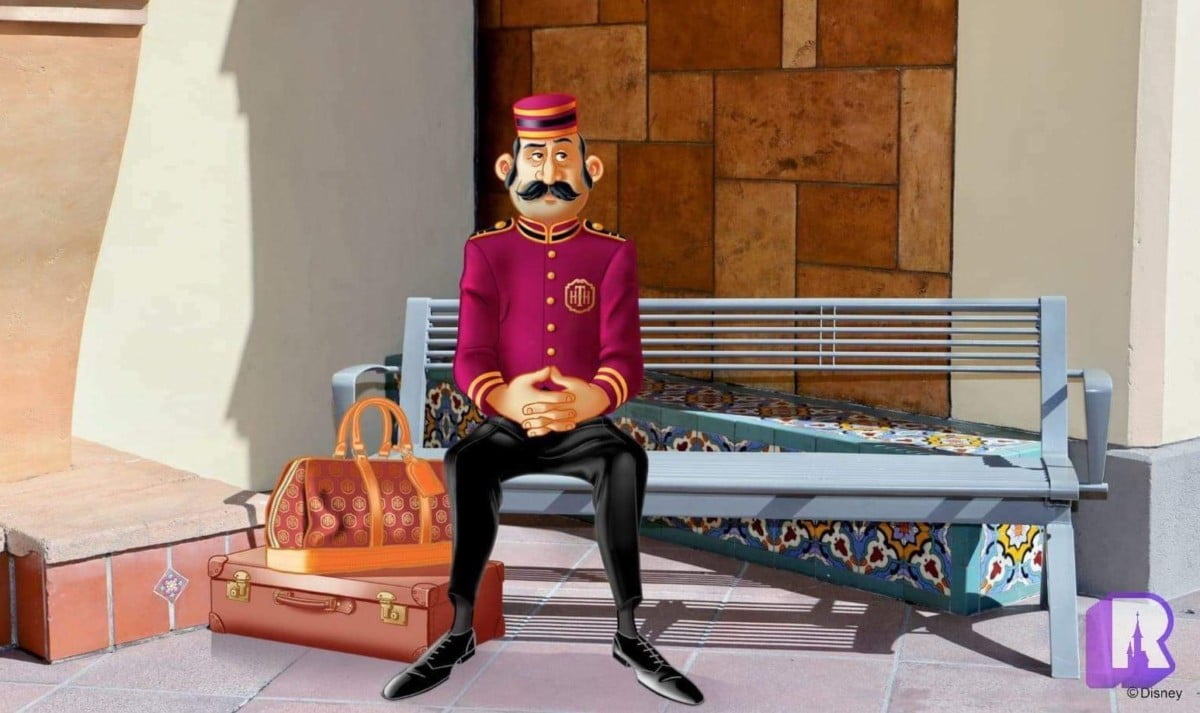 Maintenance and Refurbishments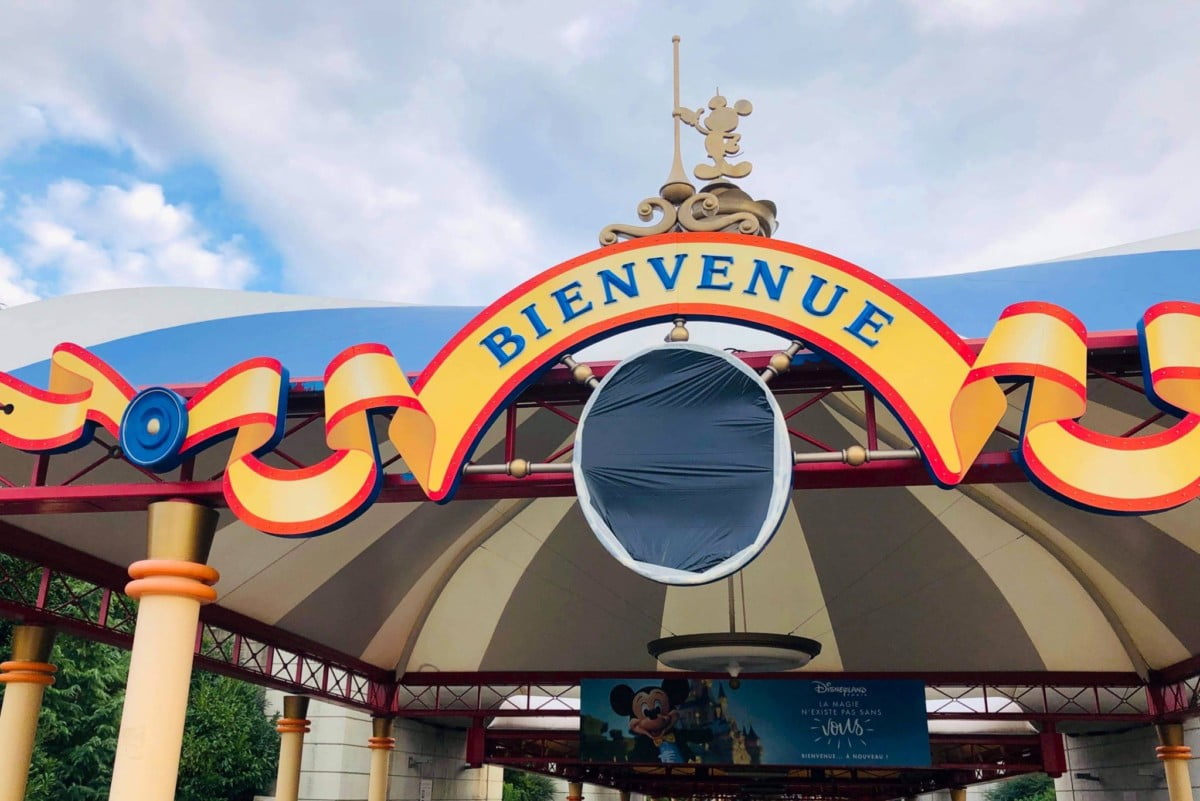 Minnie fell off from the welcome awning. She's back since.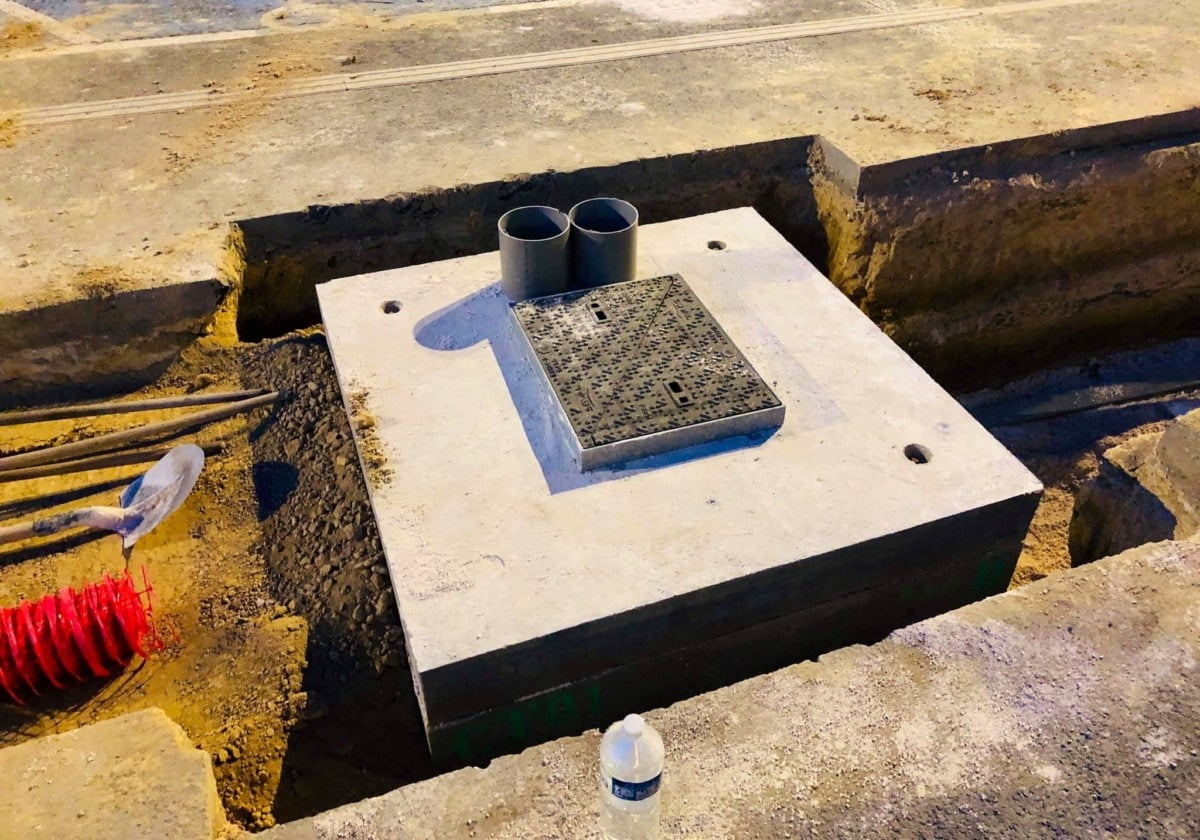 Work is progressing on the solar panels canopies with installation of the first junction boxes.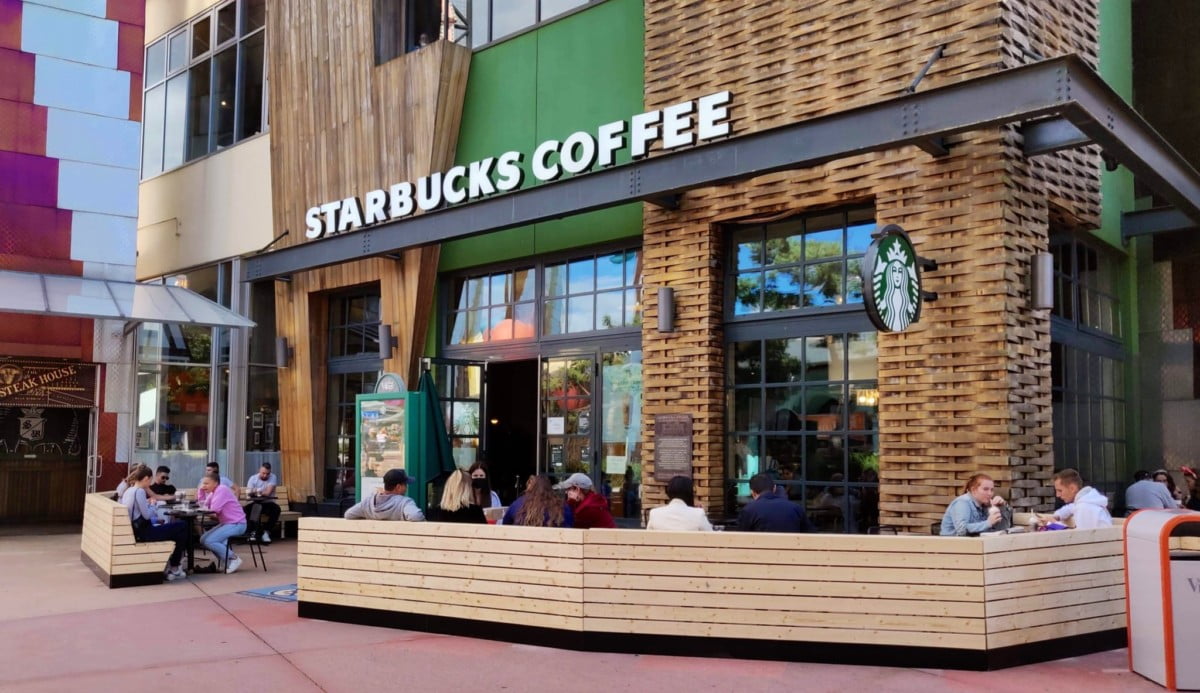 Starbucks at Disney Village got a nice new terrace!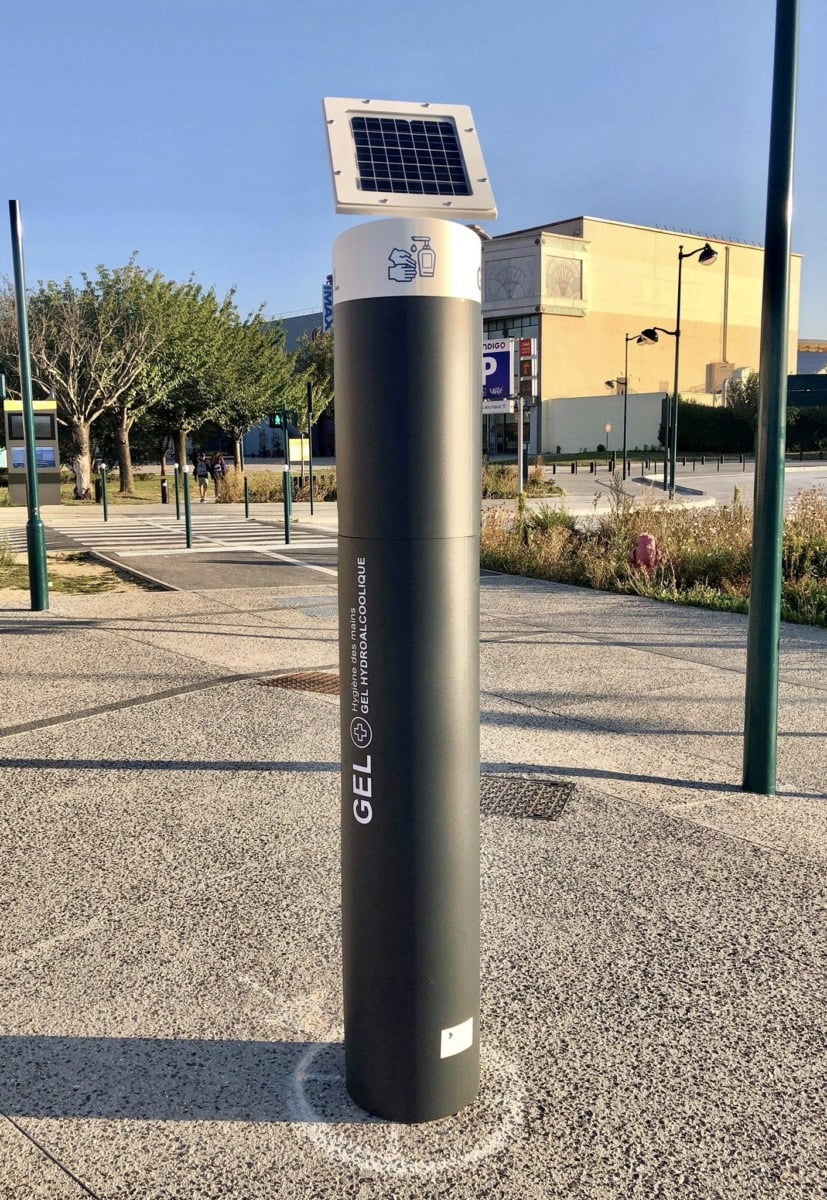 A new permanent solar automatic hand sanitizer dispenser at the bus station – a welcome addition and also sign of the times..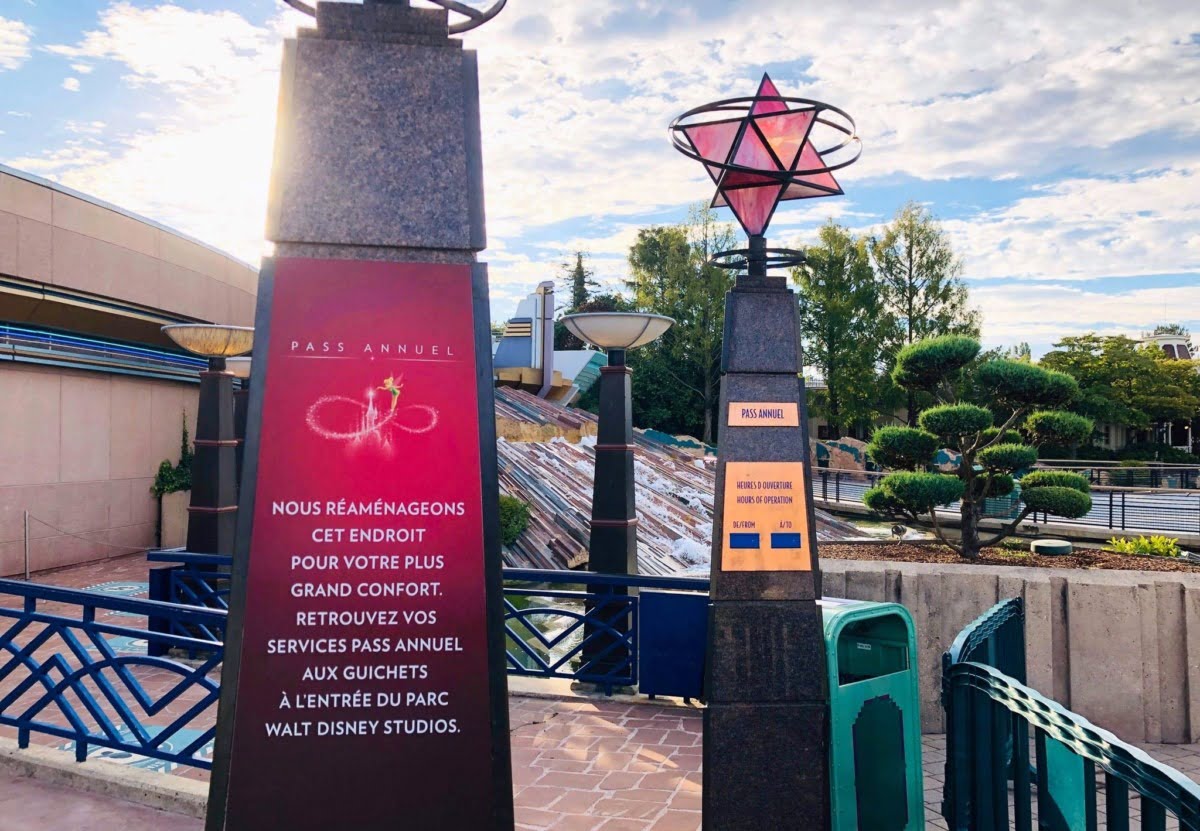 The AP office is now closed after more water infiltrations were discovered..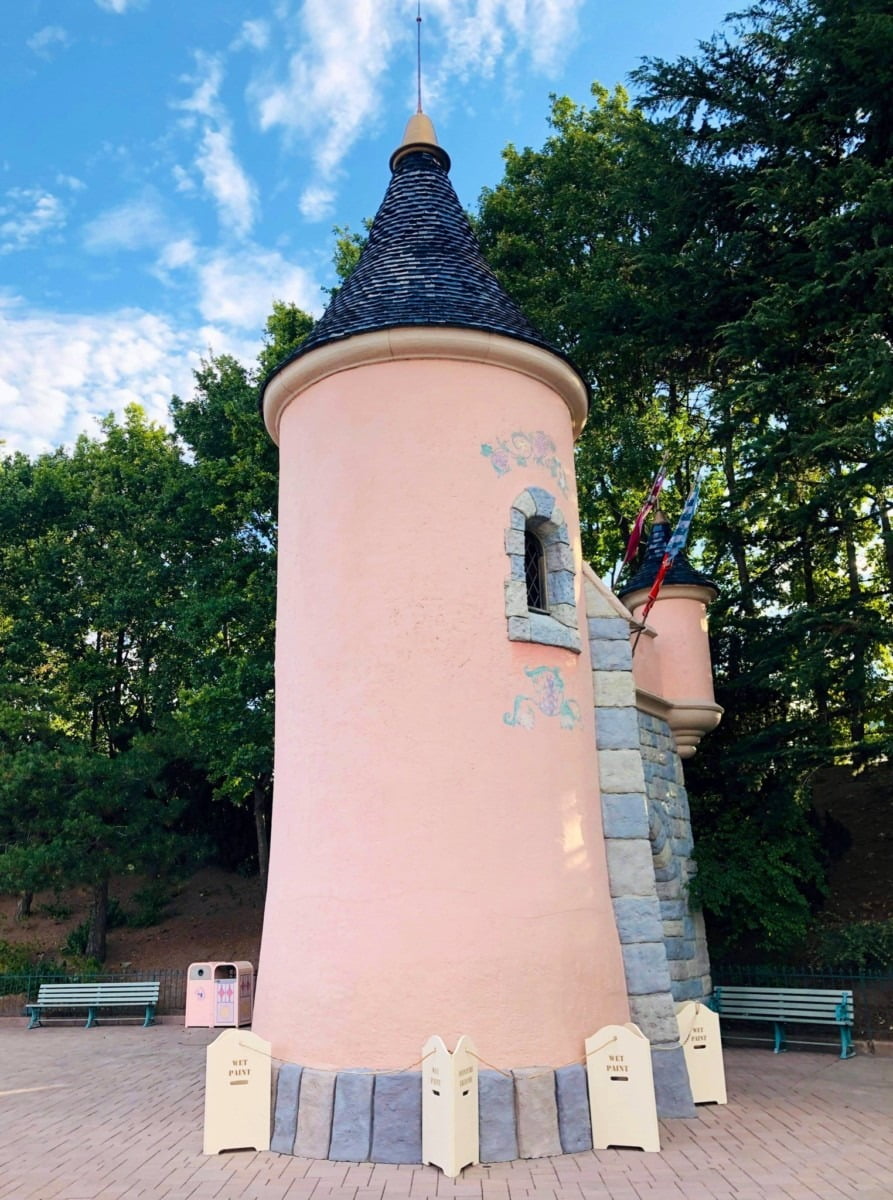 Nearby the fantasyland entrance turrets got some love – they look so clean !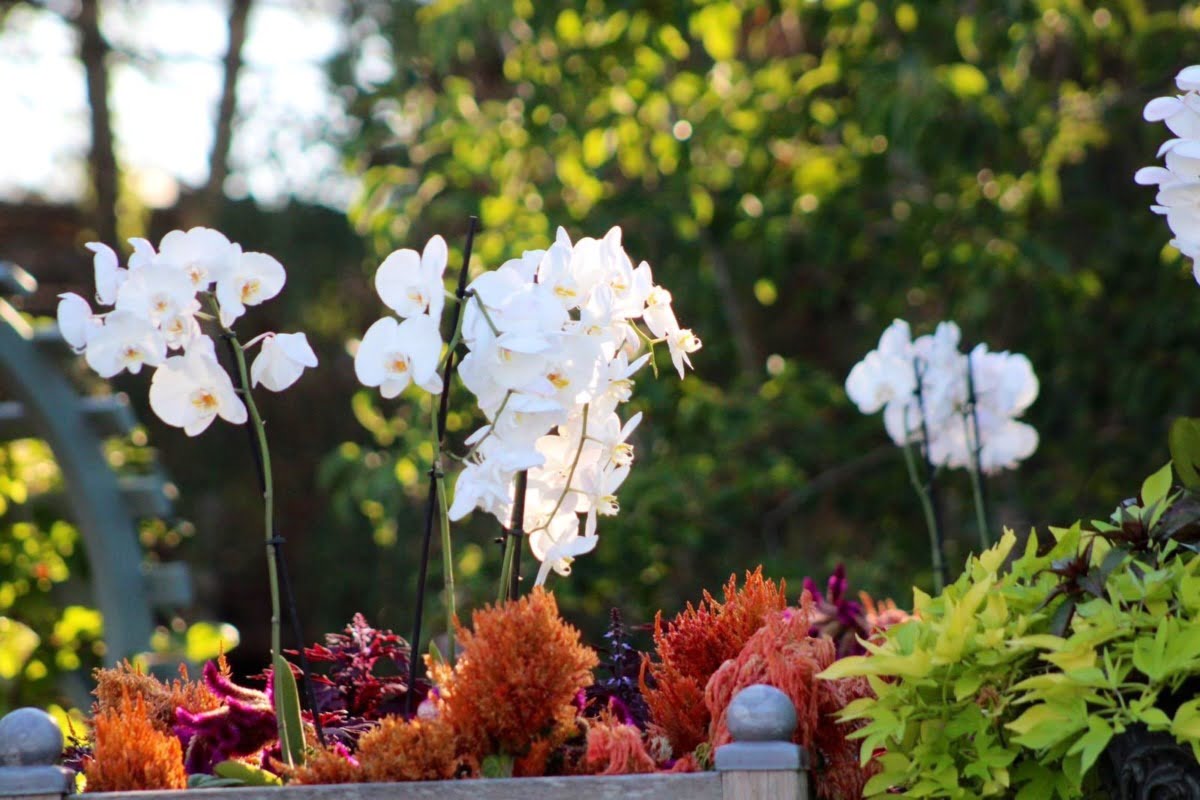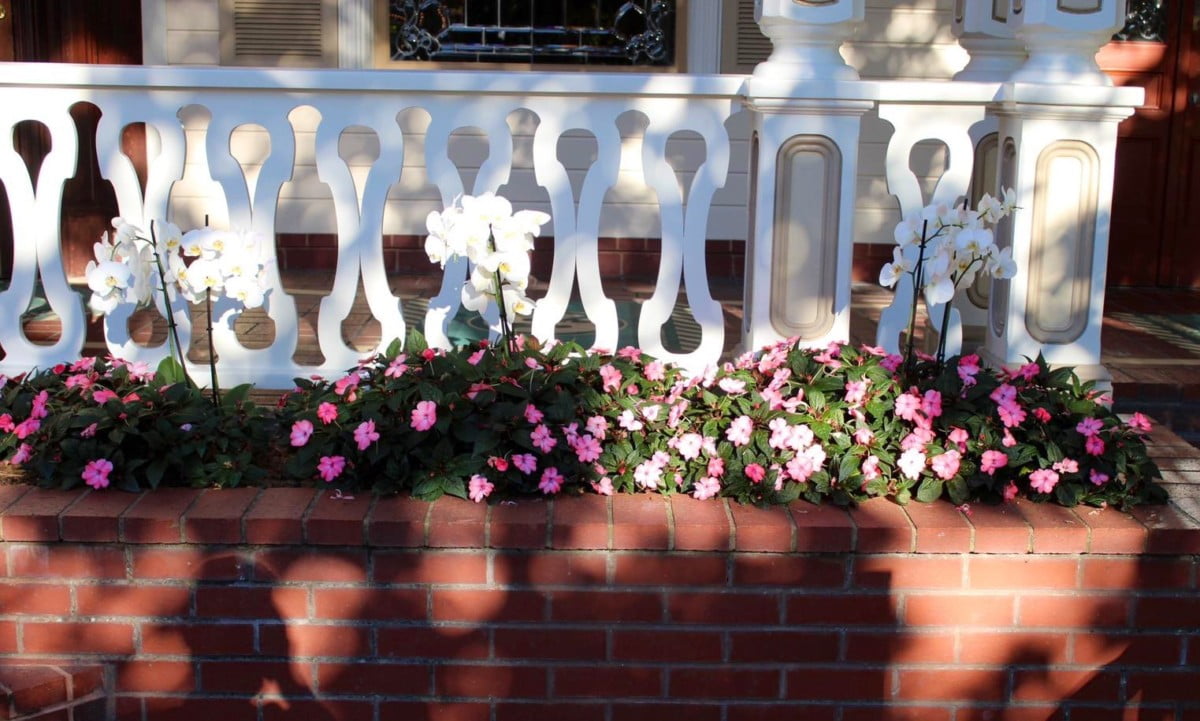 The landscaping department has added orchids to their floral creations – they look lovely. Look for them near the Central Plaza control room, Victoria's and Plaza Gardens.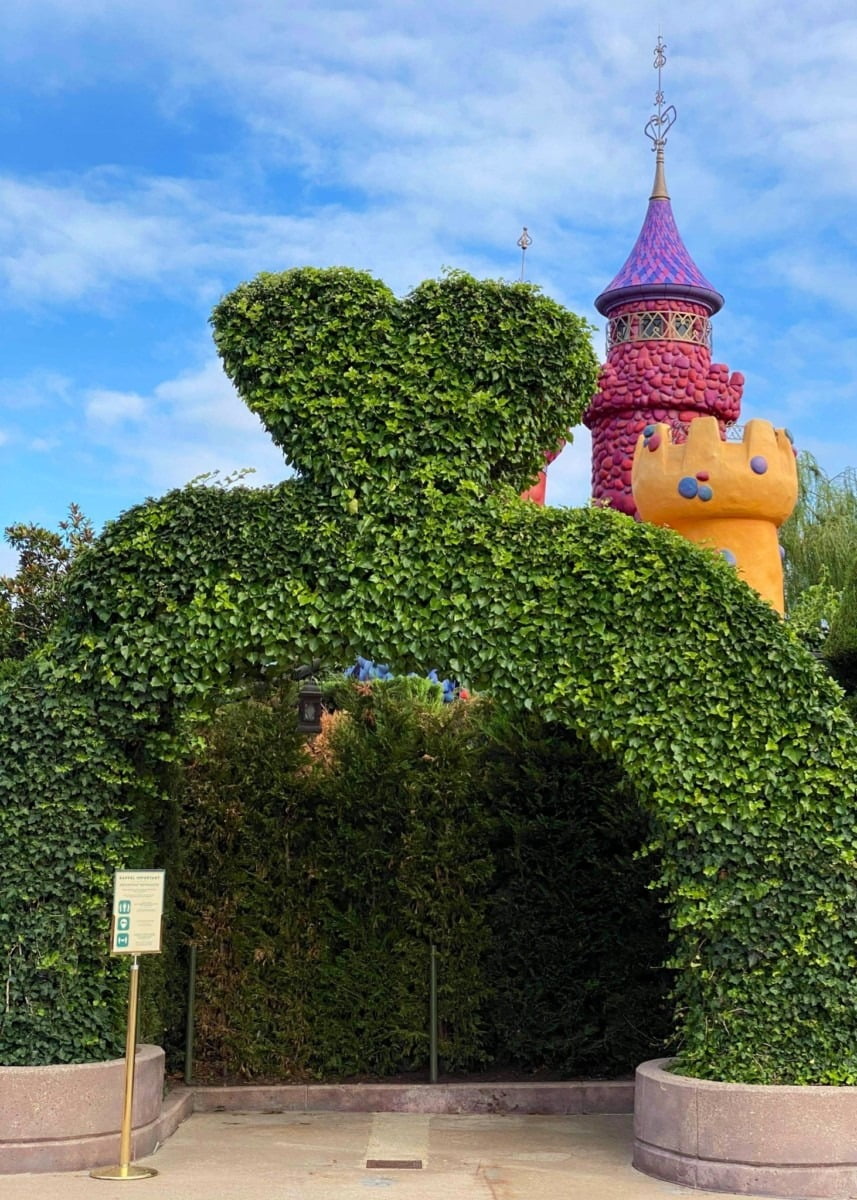 The rest of the Tea Party photo location has been removed for refurbishment.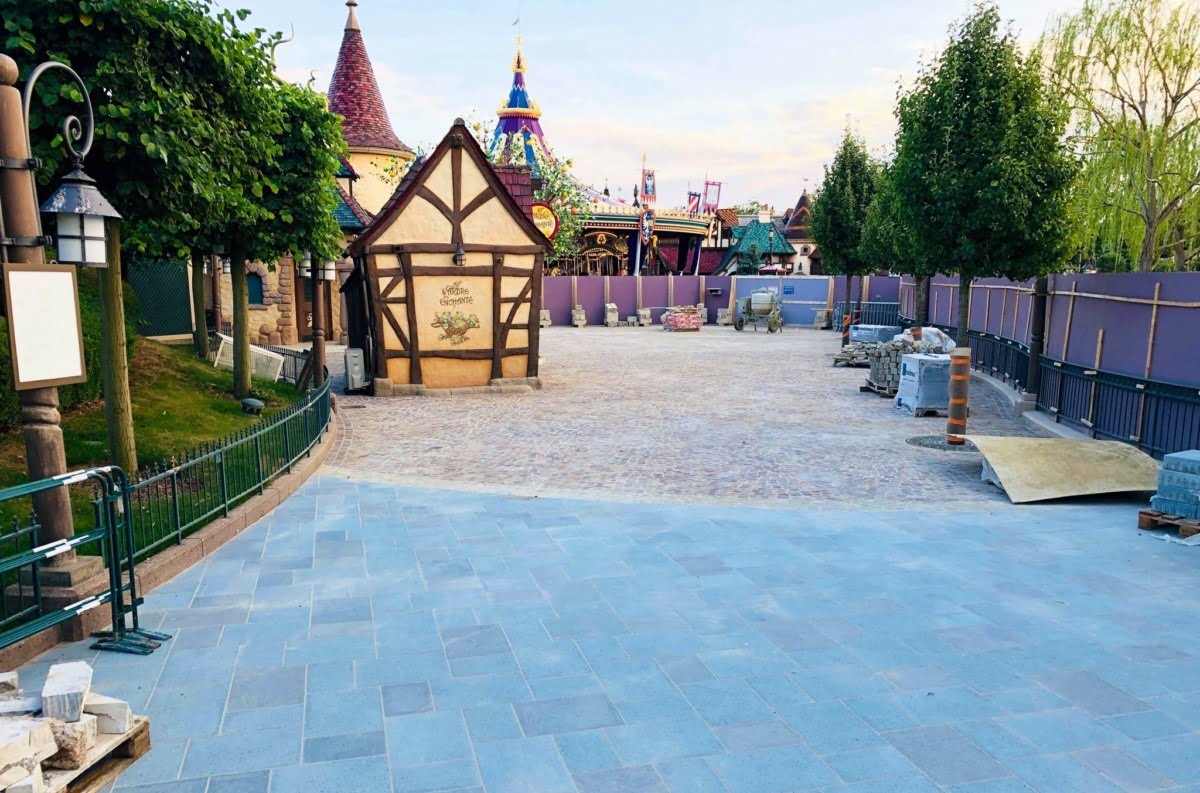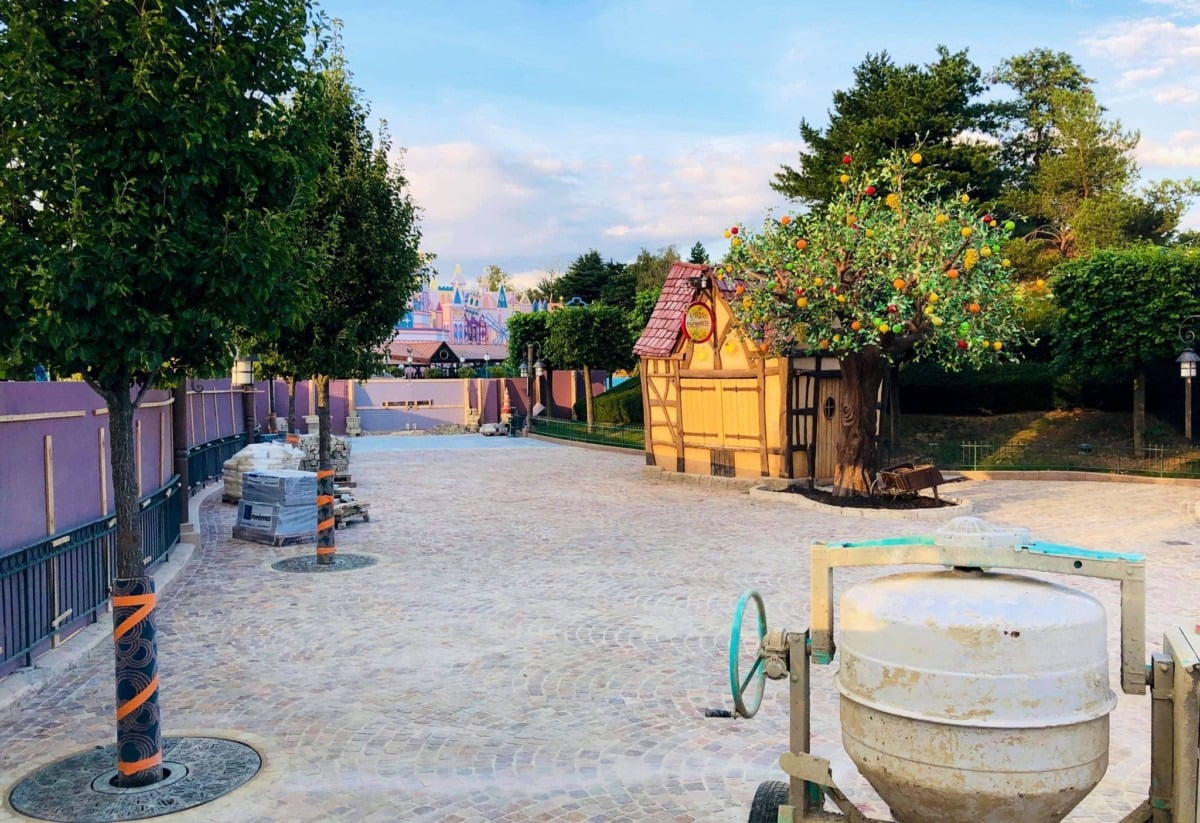 And the fantasyland repaving project near l'arbre enchanté is almost finished!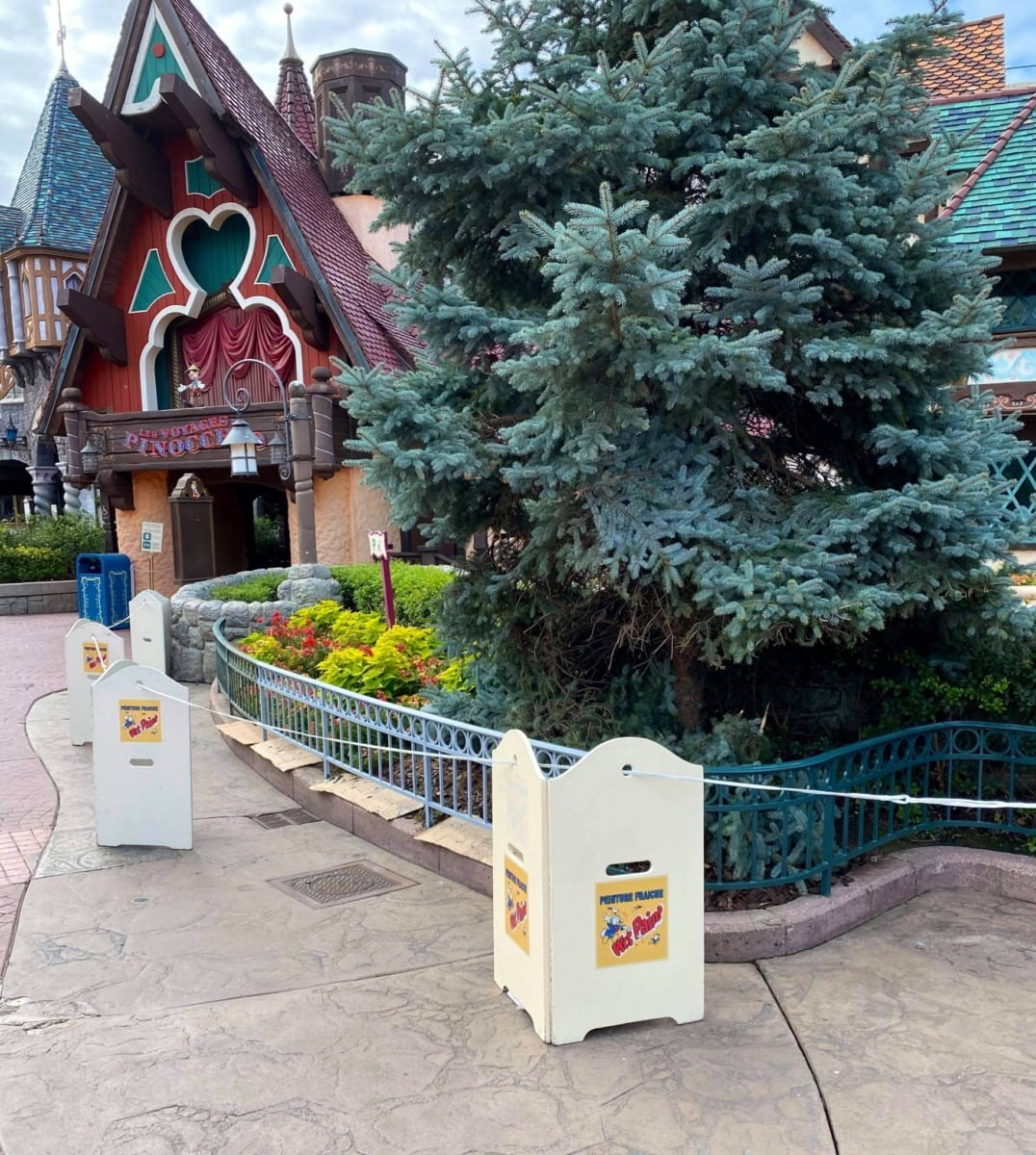 Railings railings railings.. they keep being repainted all around Fantasyland and Central Plaza.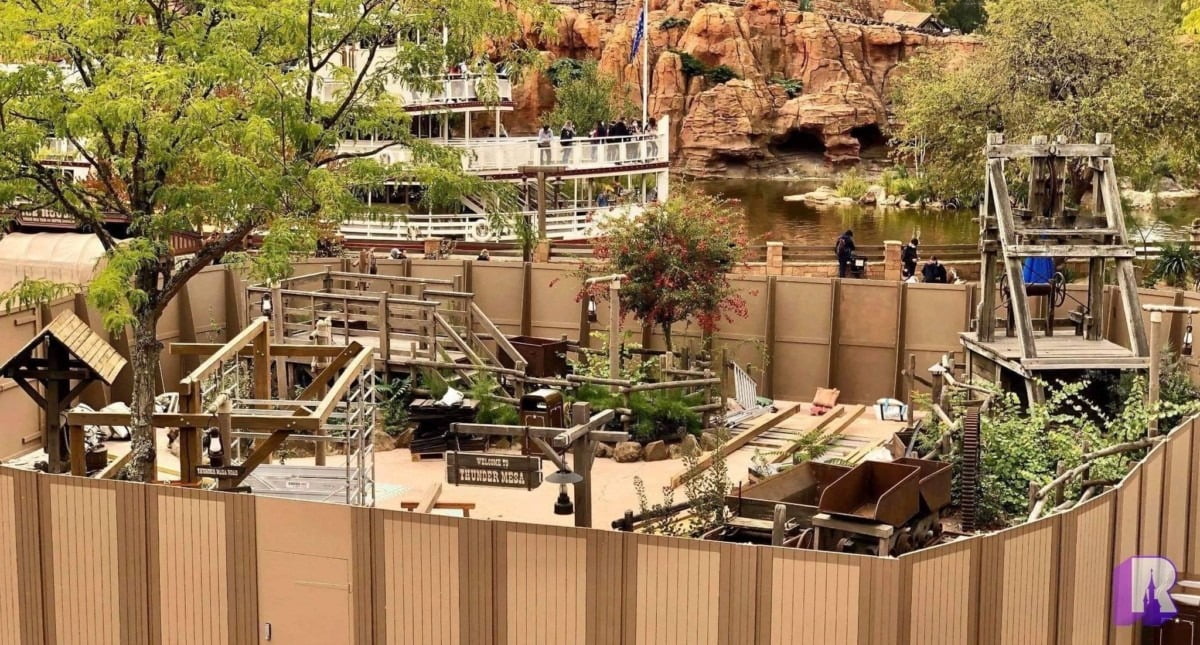 In Frontierland a not-so-mysterious-after-all wood structure is being built, it's a replacement / improvement for the vending cart awning and setup.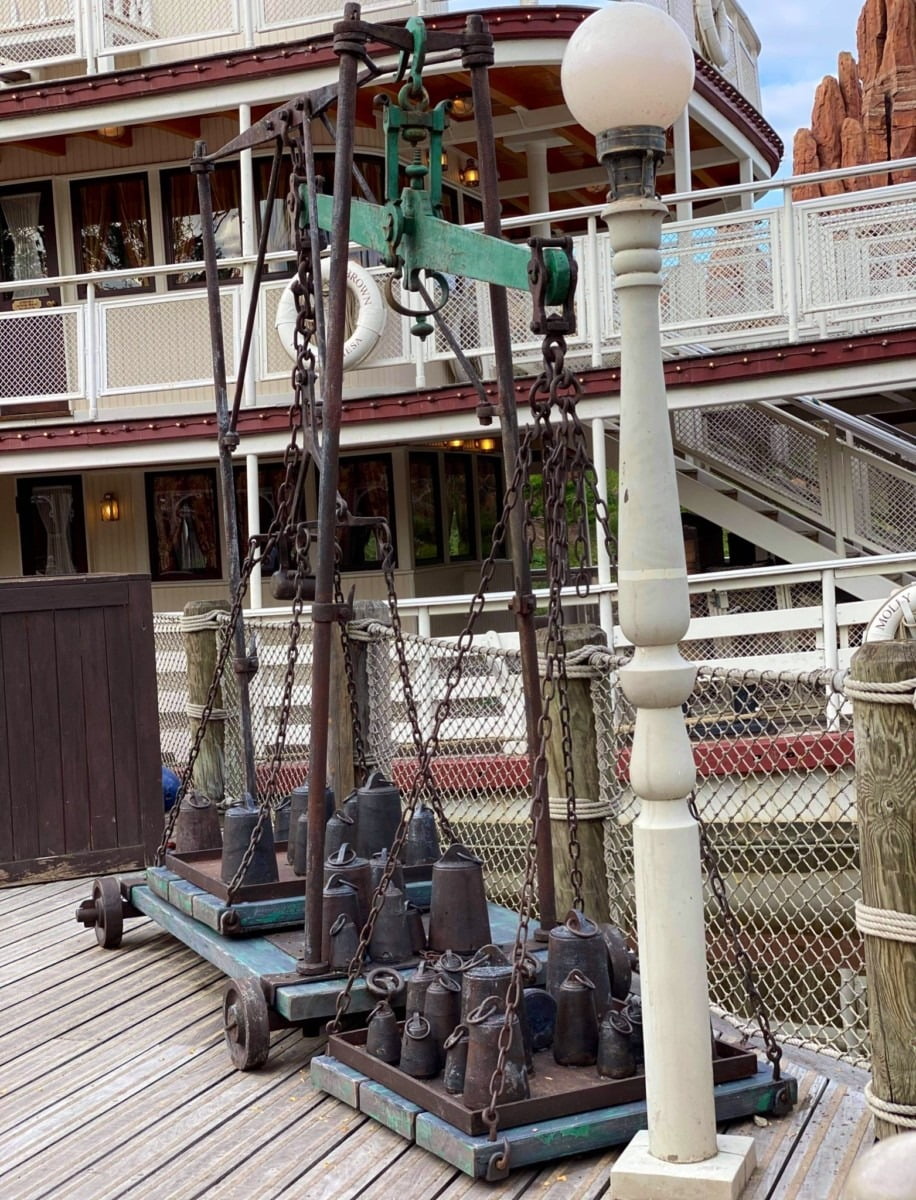 Nearby the scale is back on the Riverboat Landing Dock after refurbishment. Yes it still looks old but that's the idea!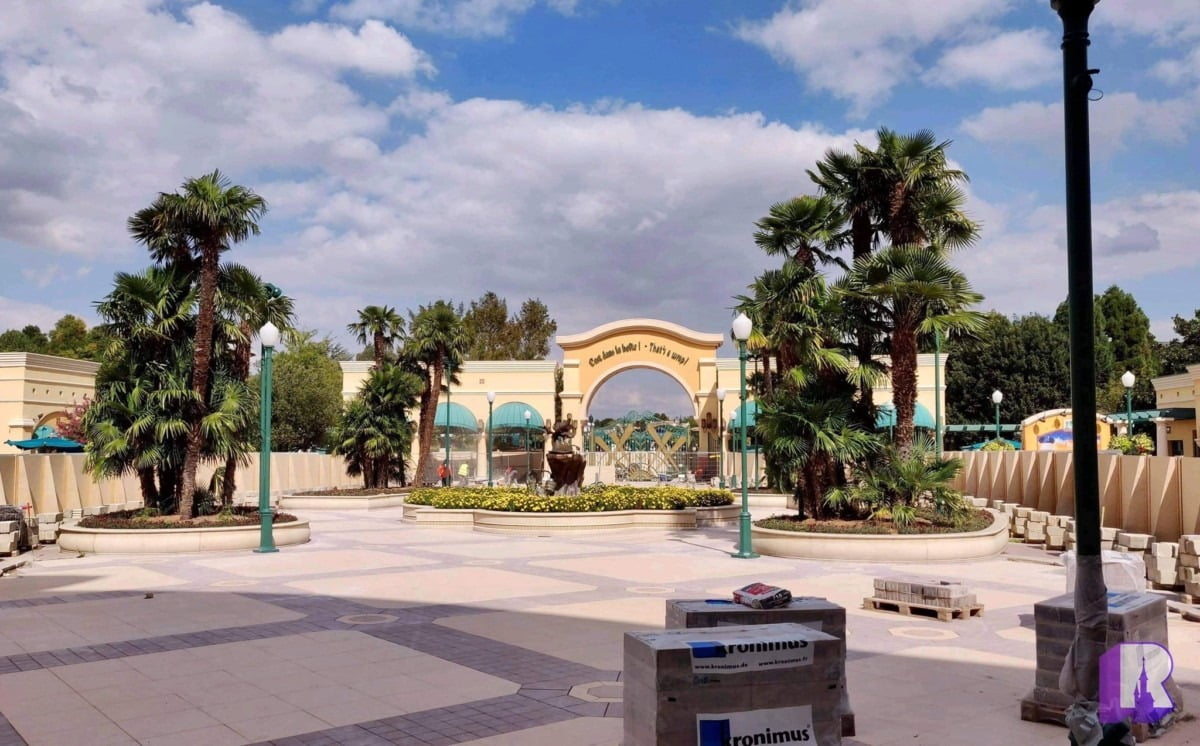 Over at Walt Disney Studios we're still waiting for the central part of Front Lot to reopen. They're working on the turnstiles area.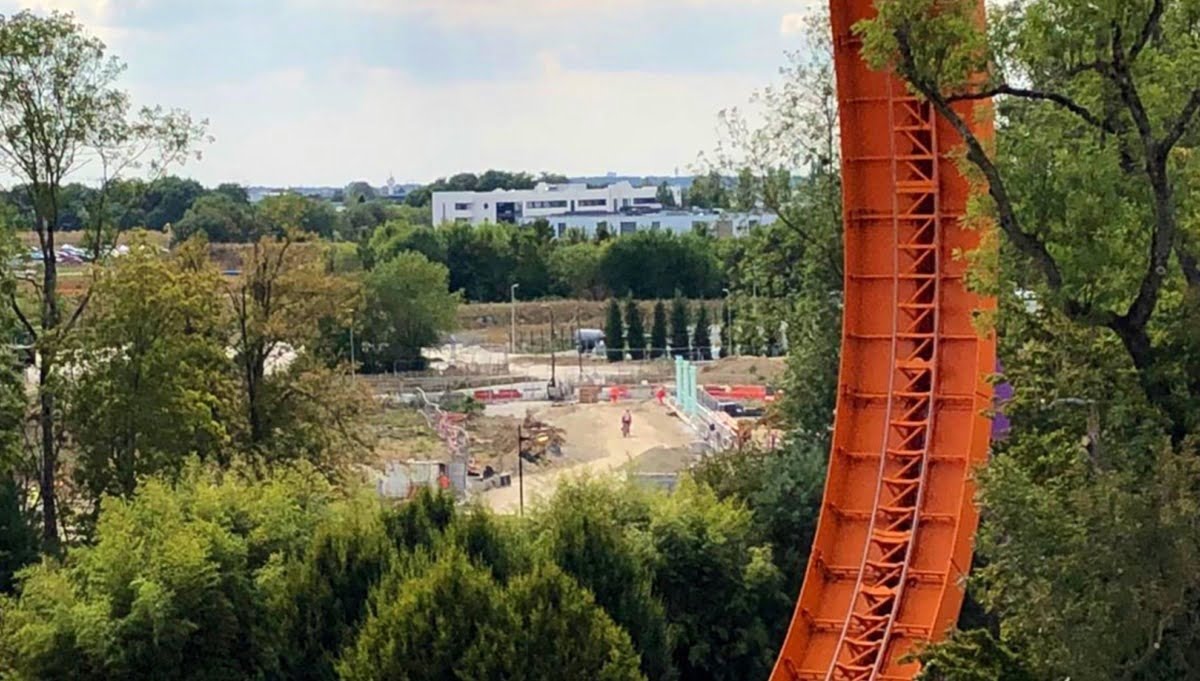 And finally some activity for the Cars Route 66 station. We're still a long time from opening – definitely not in 2020.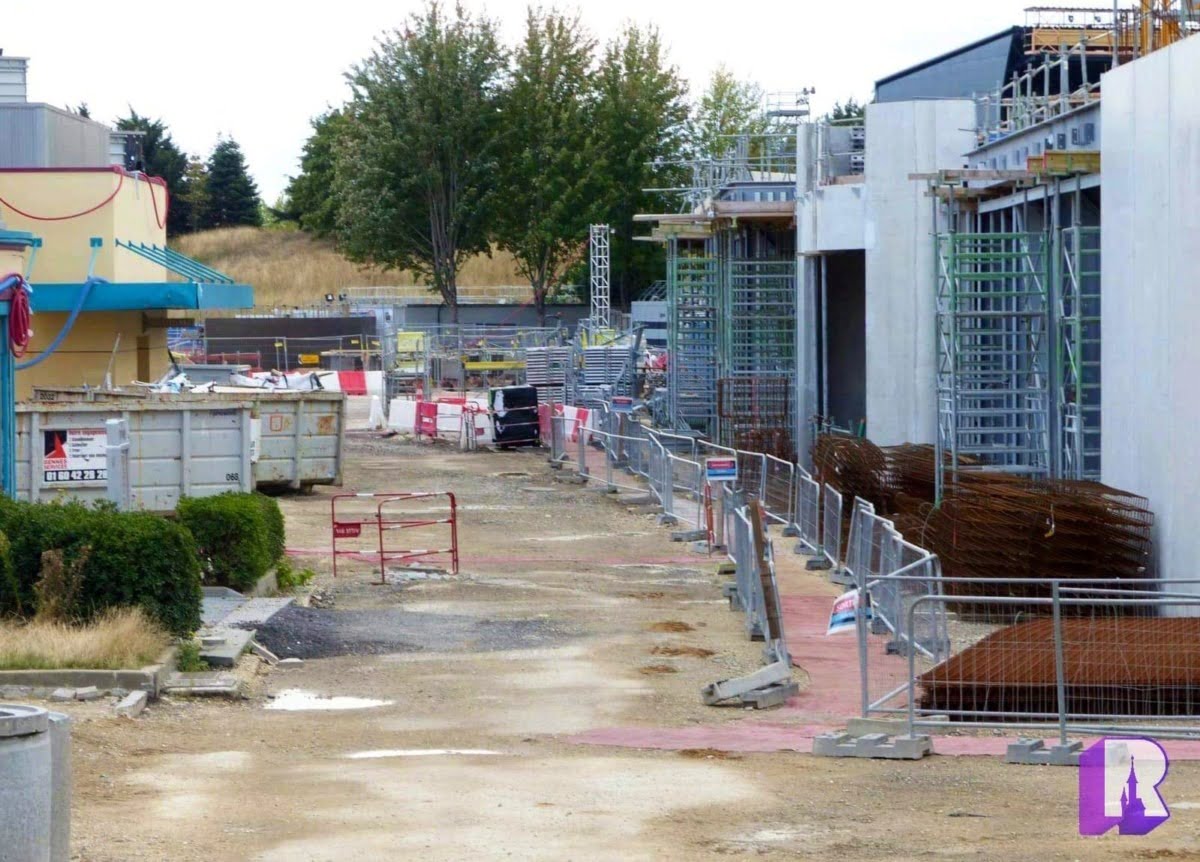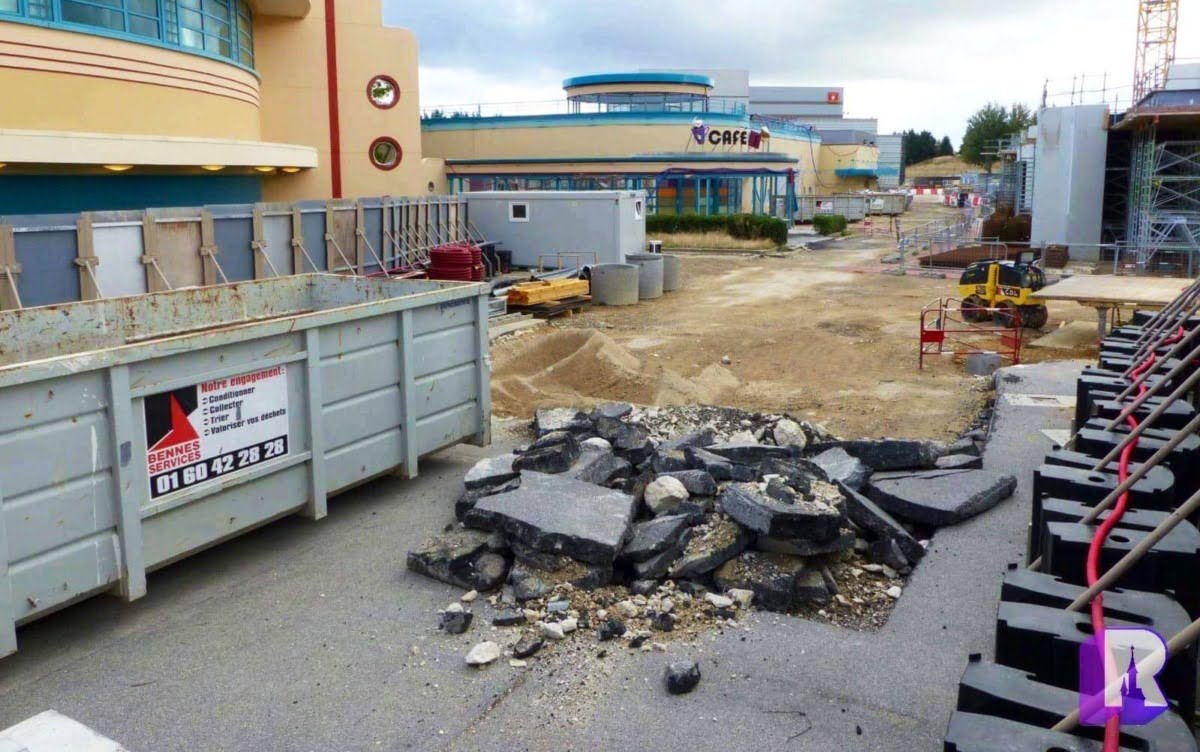 Meanwhile Avengers Campus keeps taking shape and who knows when THAT will be opening at this point. Patience..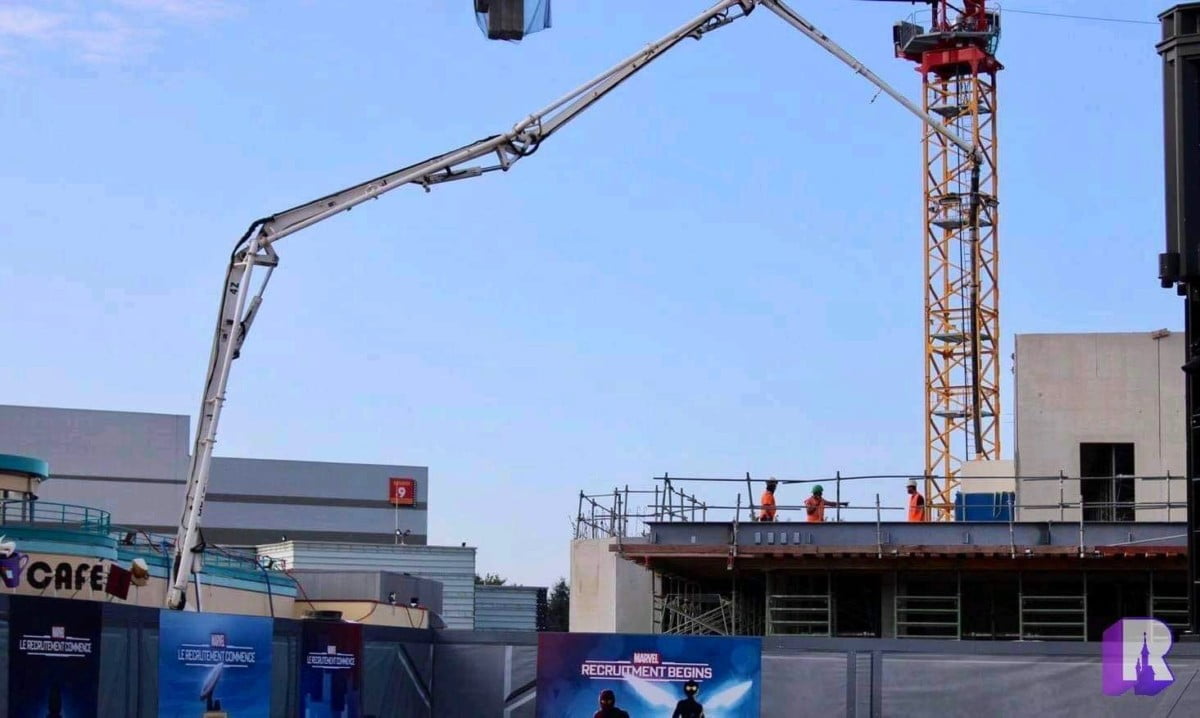 Concrete was being poured into the Spider-Man show building which was kinda cool to see.
Merchandise
A new Walt Disney Studios jumper. Why ? Why not !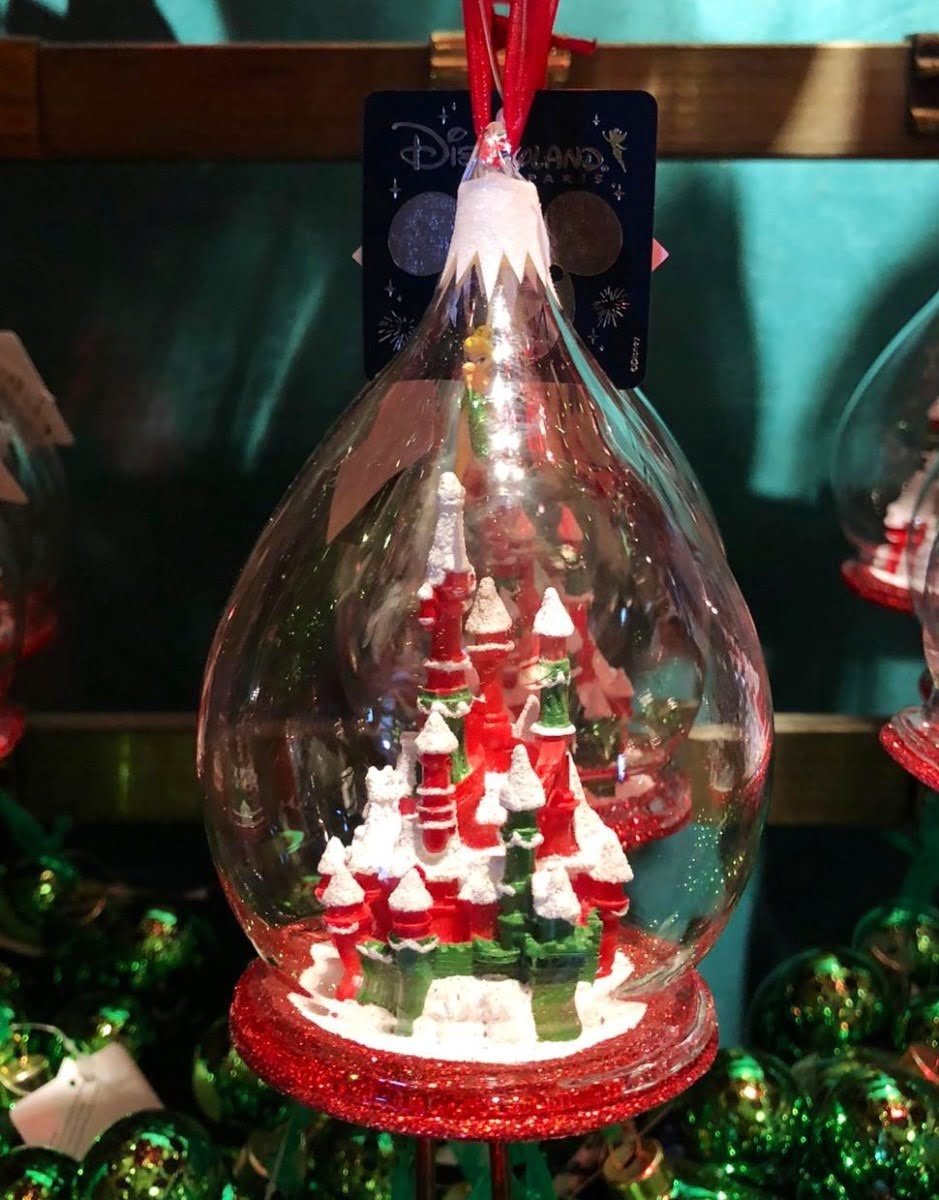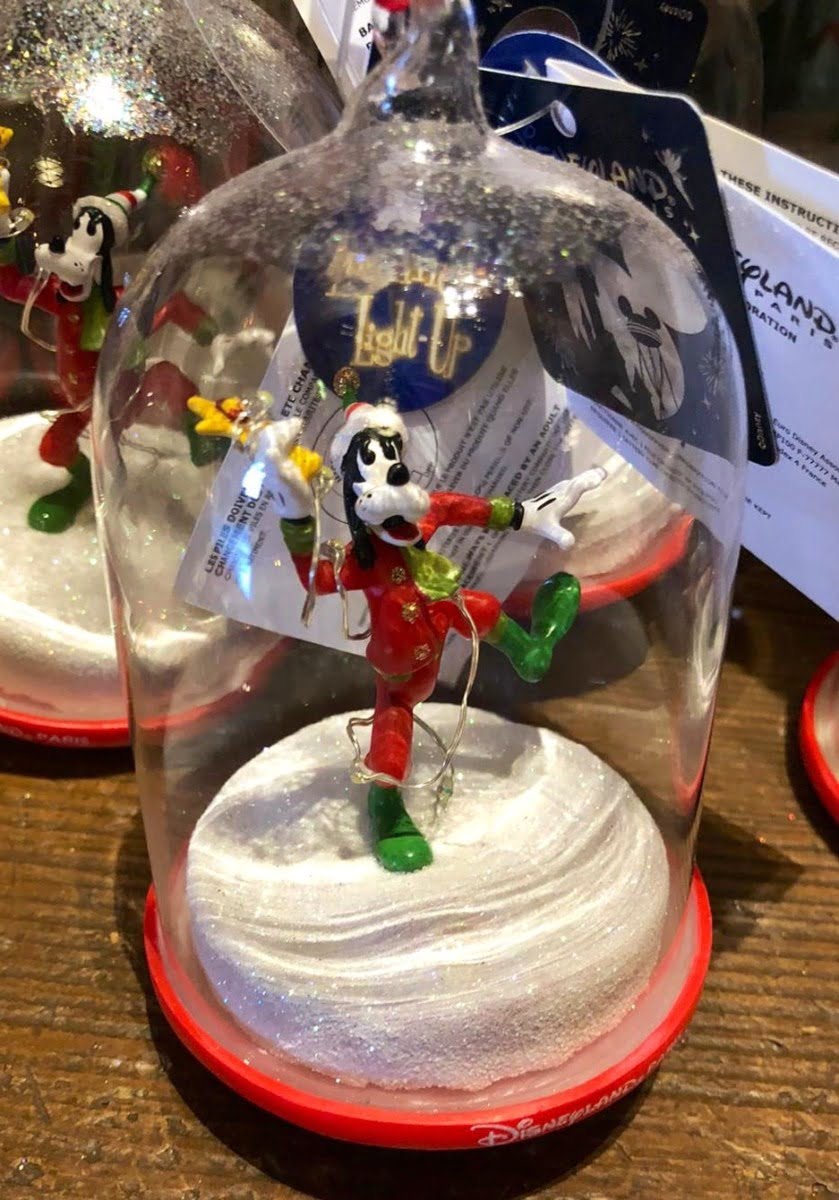 Plenty of new Christmas arrivals – we will have a special report soon on this topic!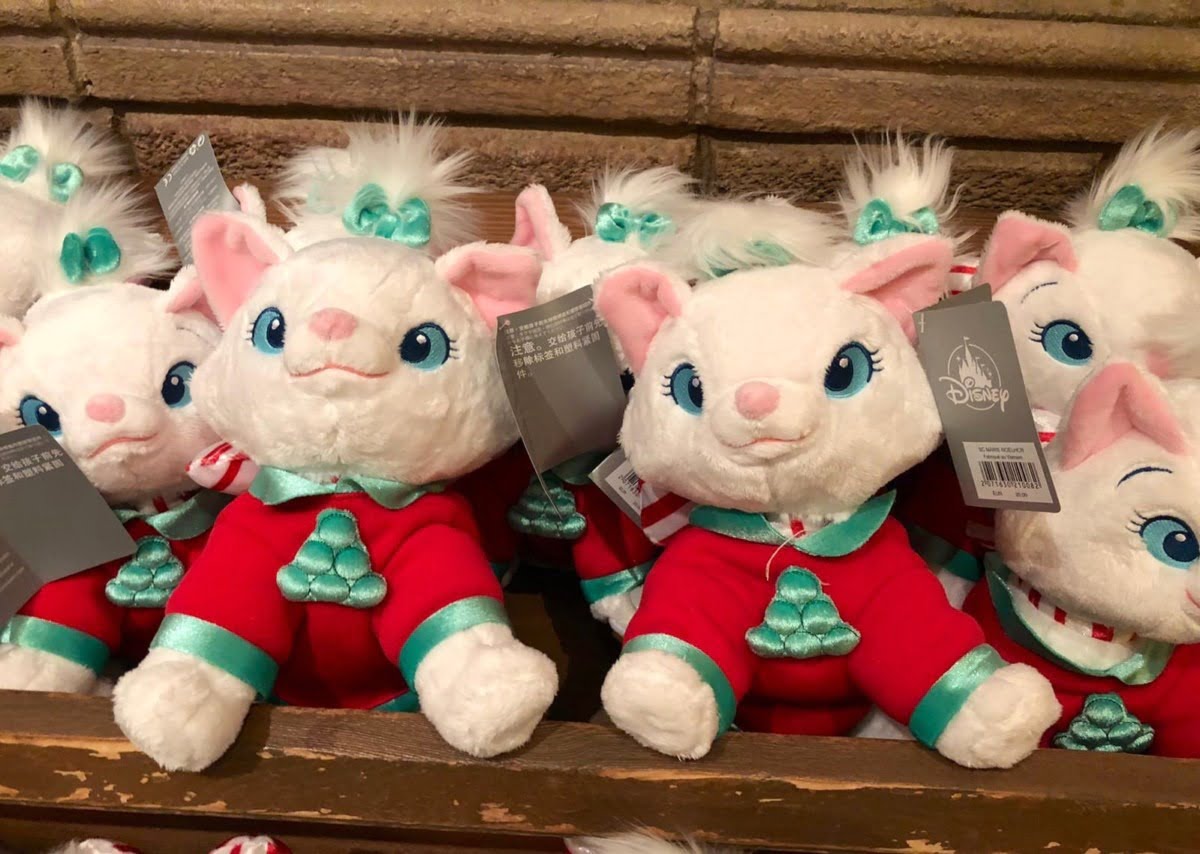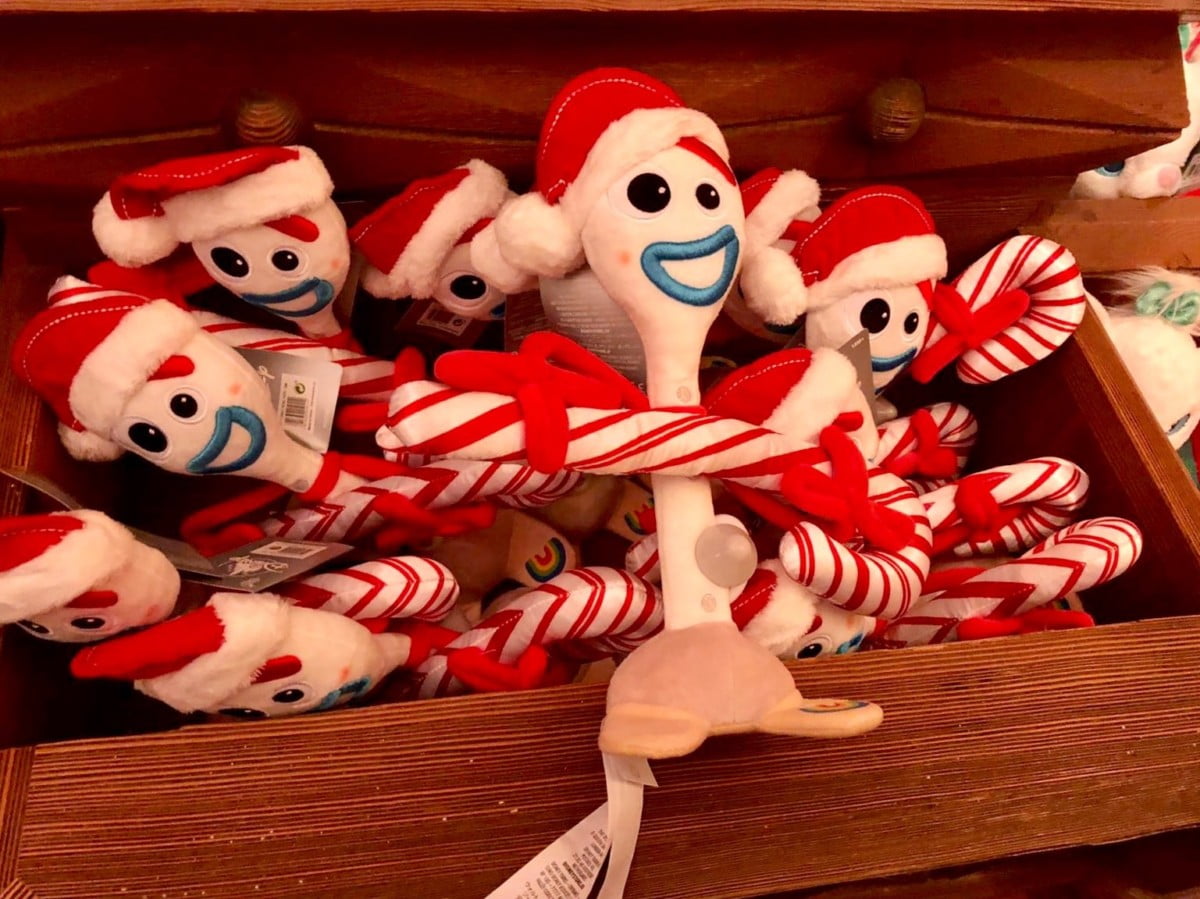 Marie and Forky are both super ready for Christmas!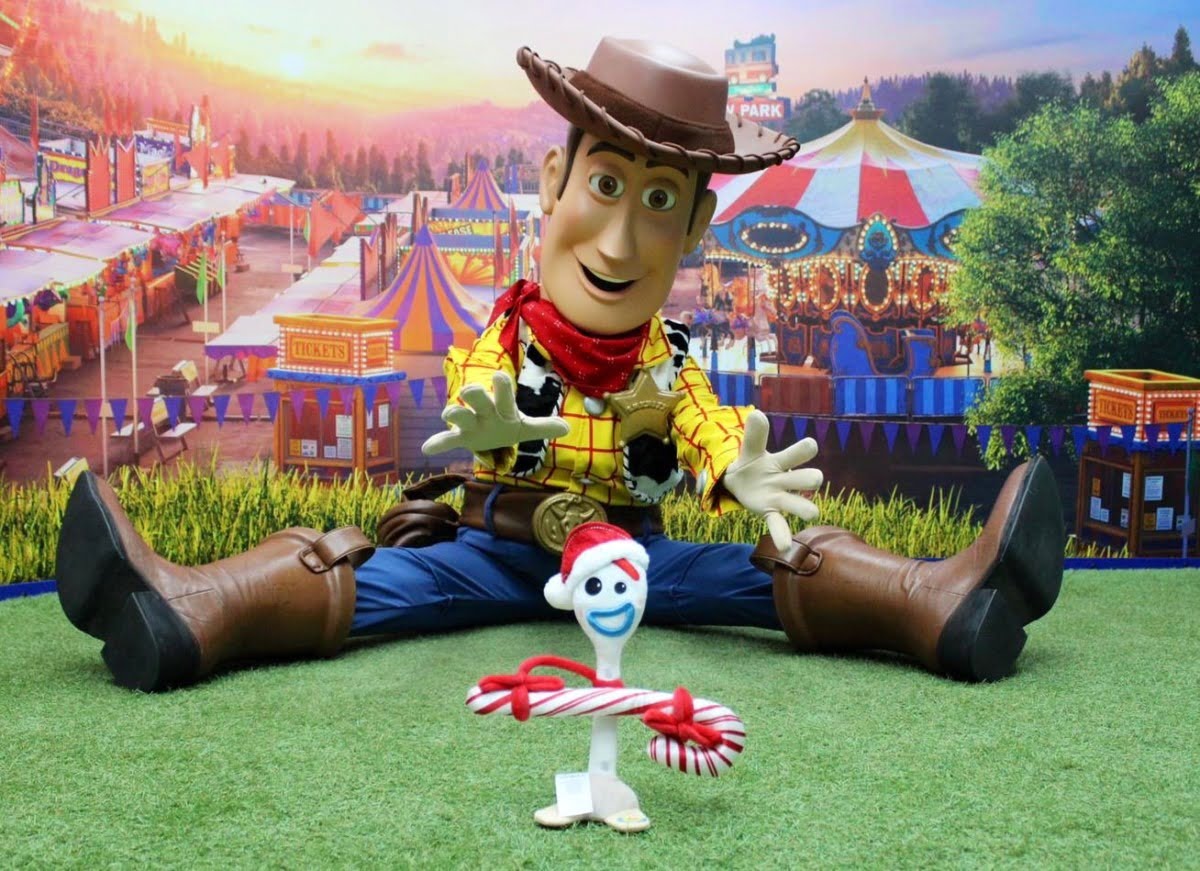 We even took Forky see his Toy friends.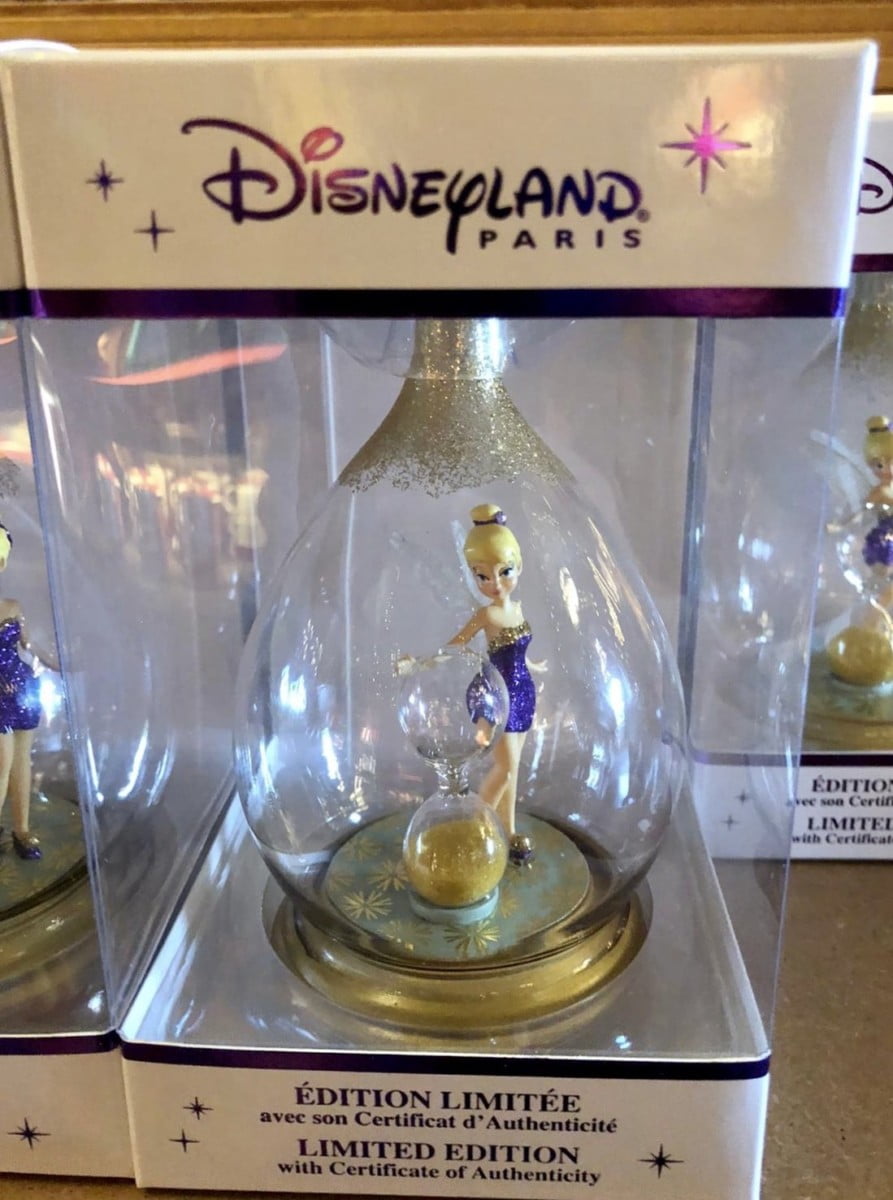 The traditional limited edition ornament is out – this hear it's Tink in a purple dress.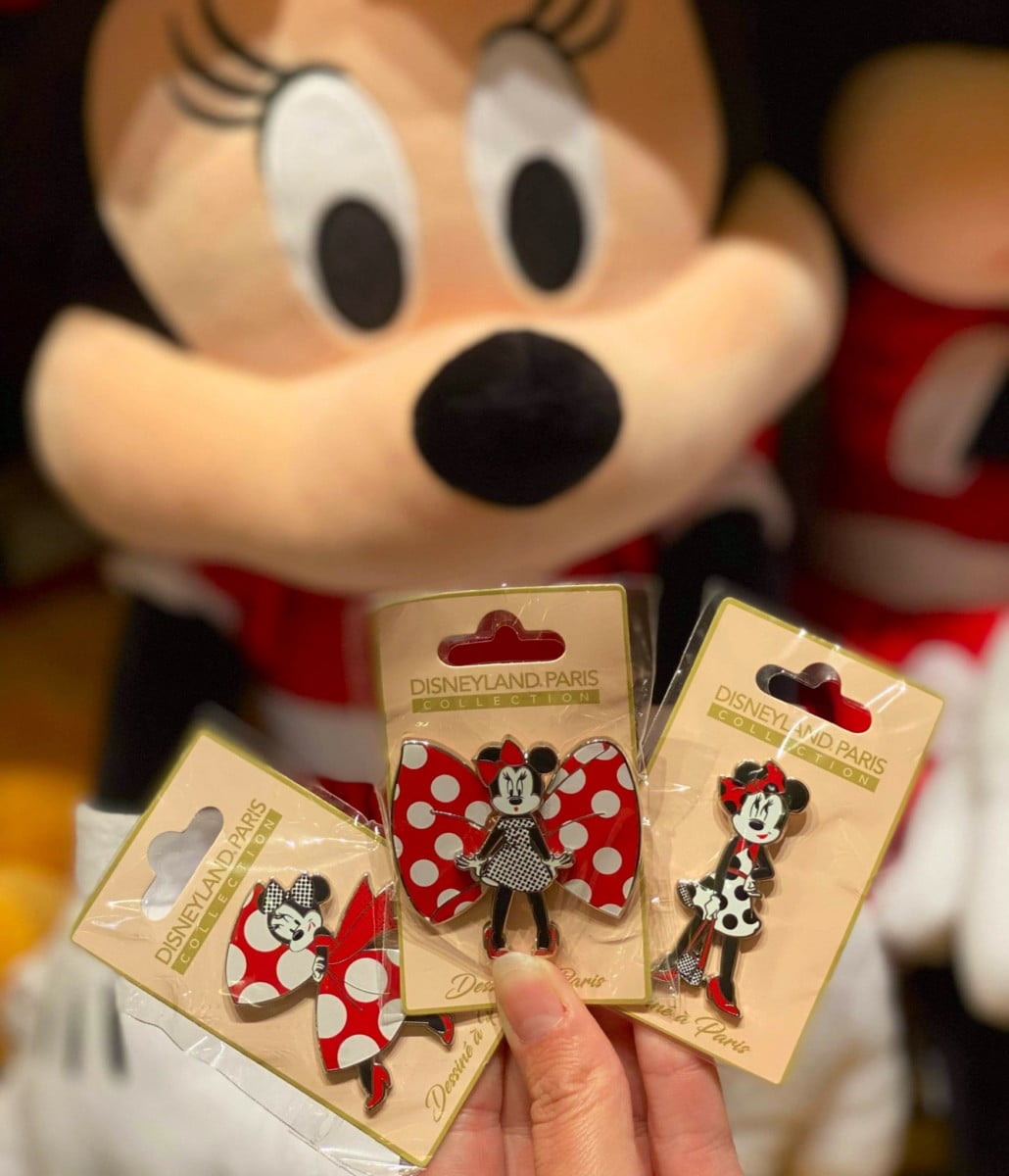 And this week's new pins release is all about Minnie Mouse.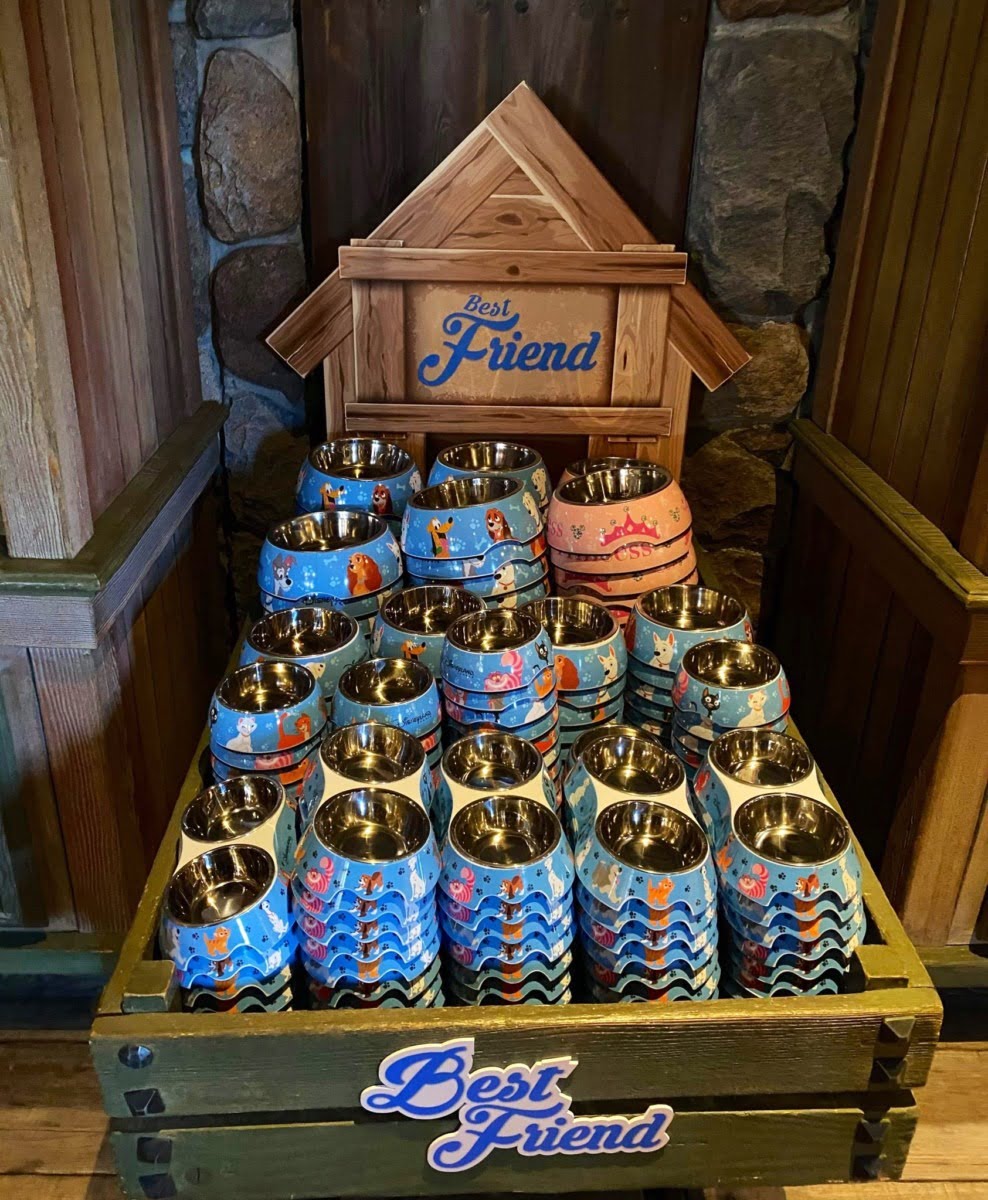 A cute new display for the "Best Friend" collection for cats and dogs at Thunder Mesa Mercantile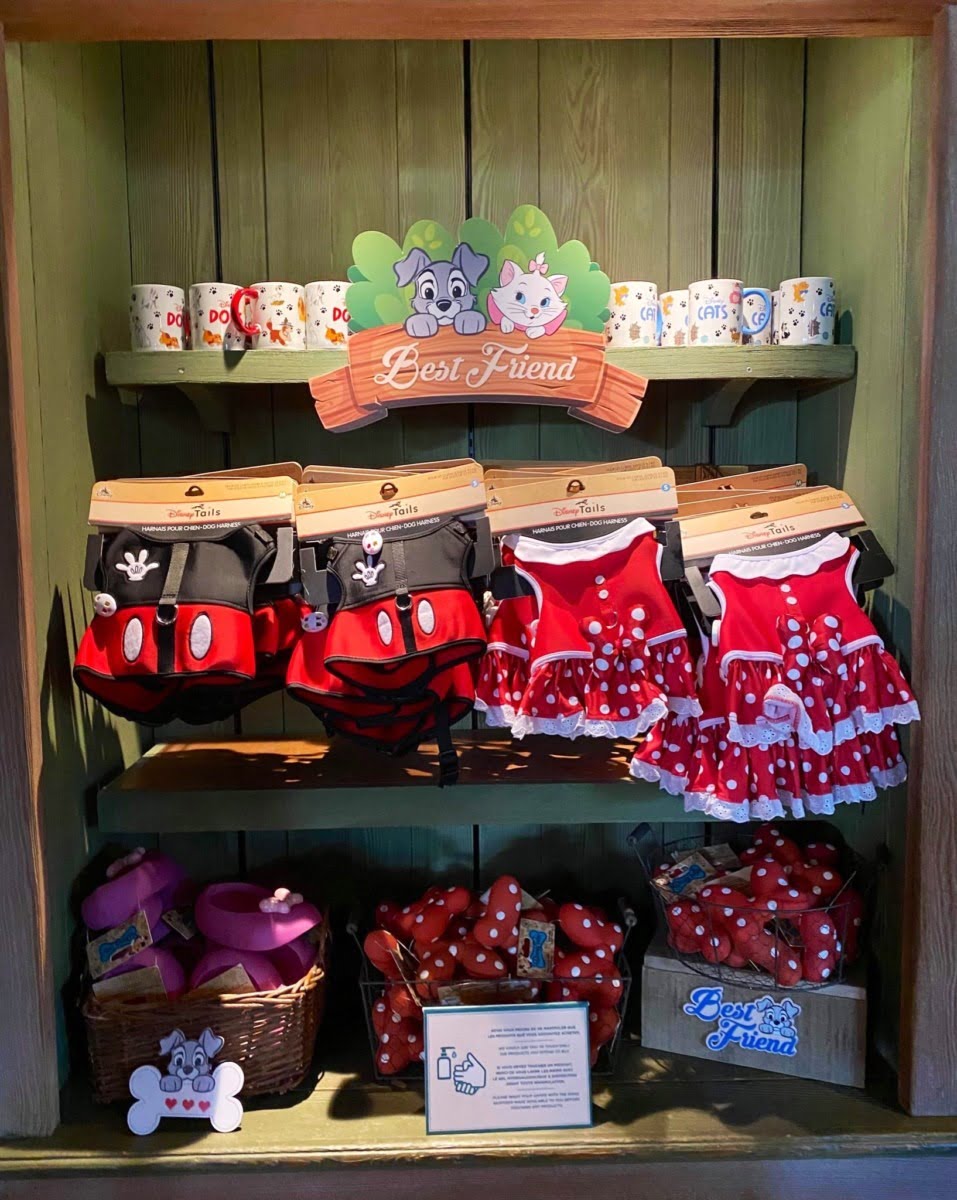 And on Friday, free Disney+ buttons were handed out at Walt Disney Studios Park: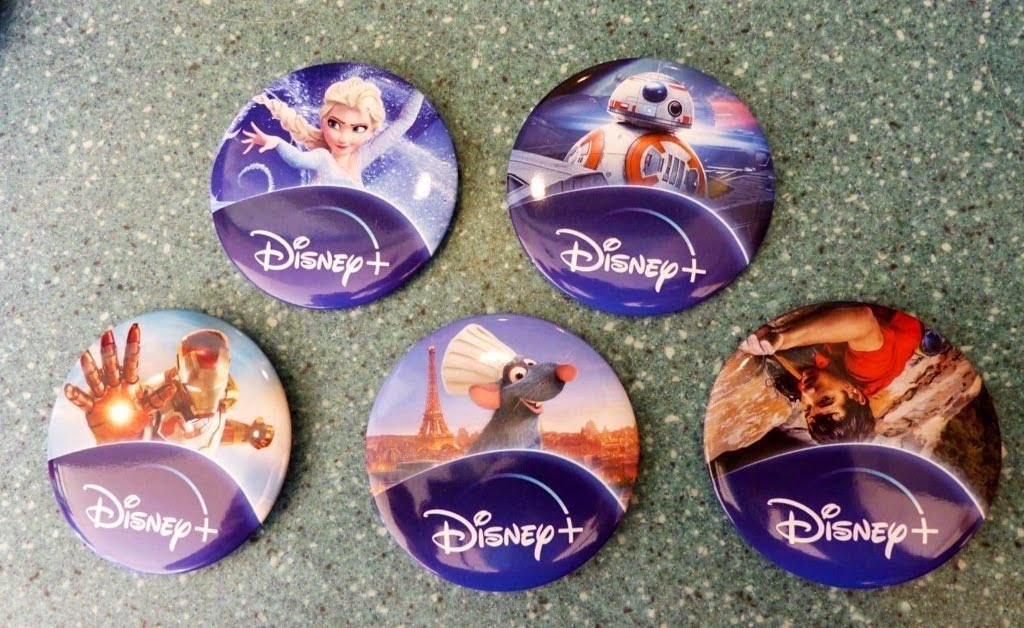 Restaurant Changes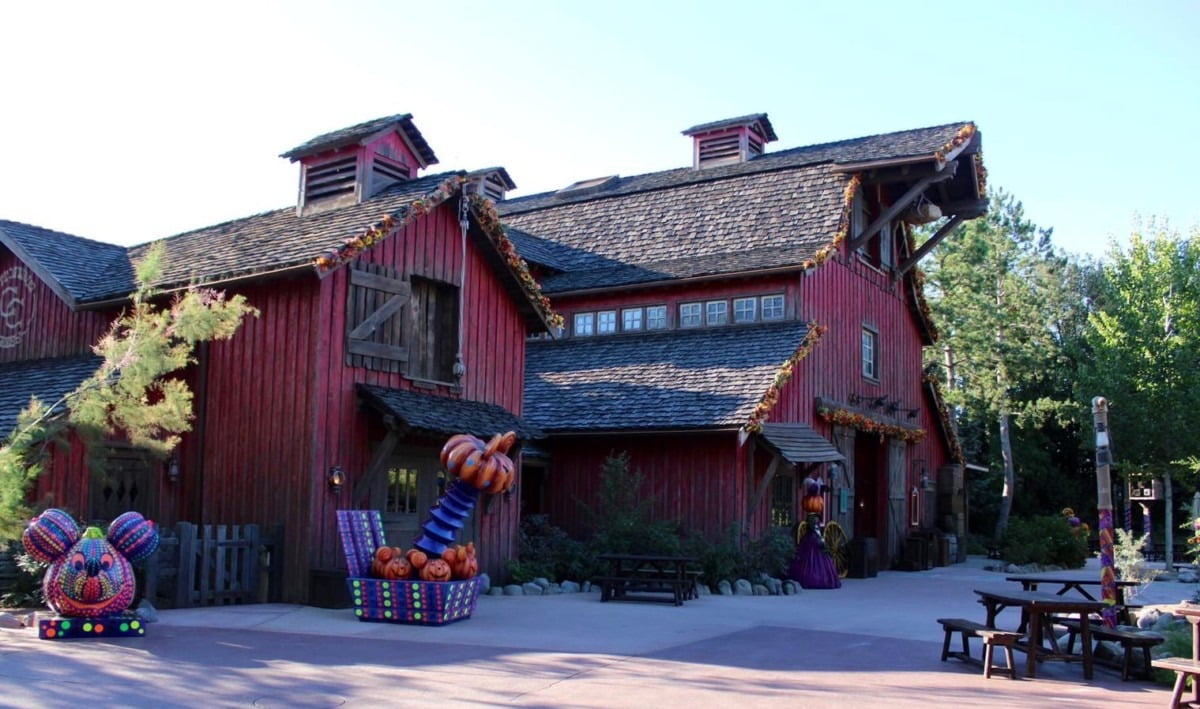 This week we said goodbye once again to Cowboy Cookout BBQ which is reclosing early due to low attendance.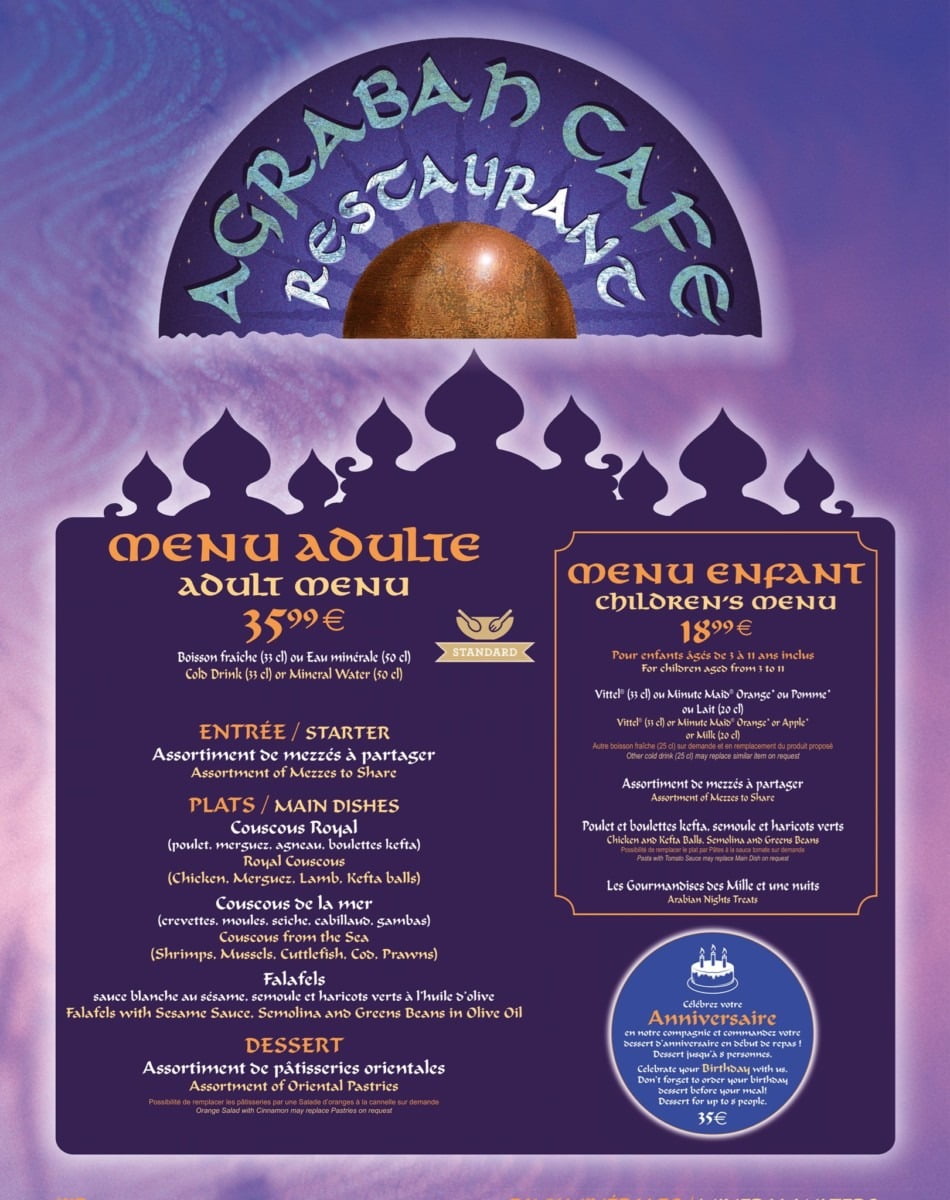 The Agrabah Cafe menu was also "updated" or rather "simplified" with only 1 choice instead of 3 for appetizers and desserts which are now "sharing platters". Nickel and diming even in Agrabah.
Shorter Days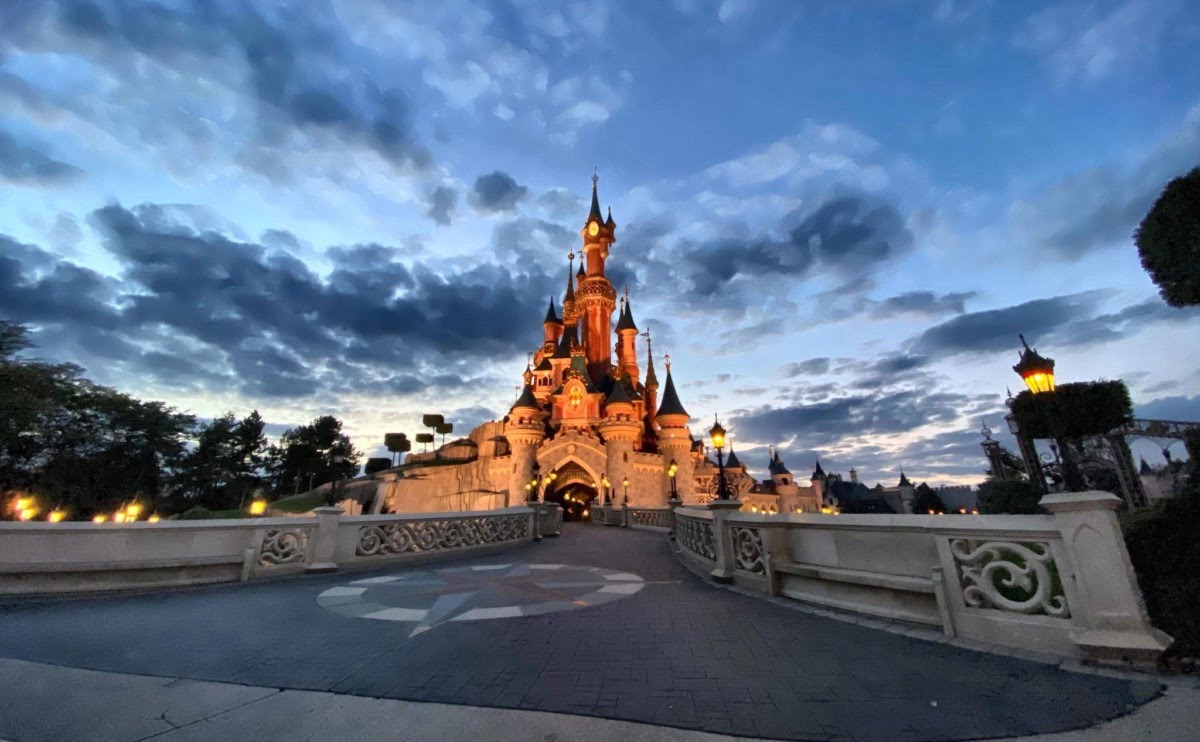 With slightly shorter days incoming we are starting to get a taste of the Parks at dusk!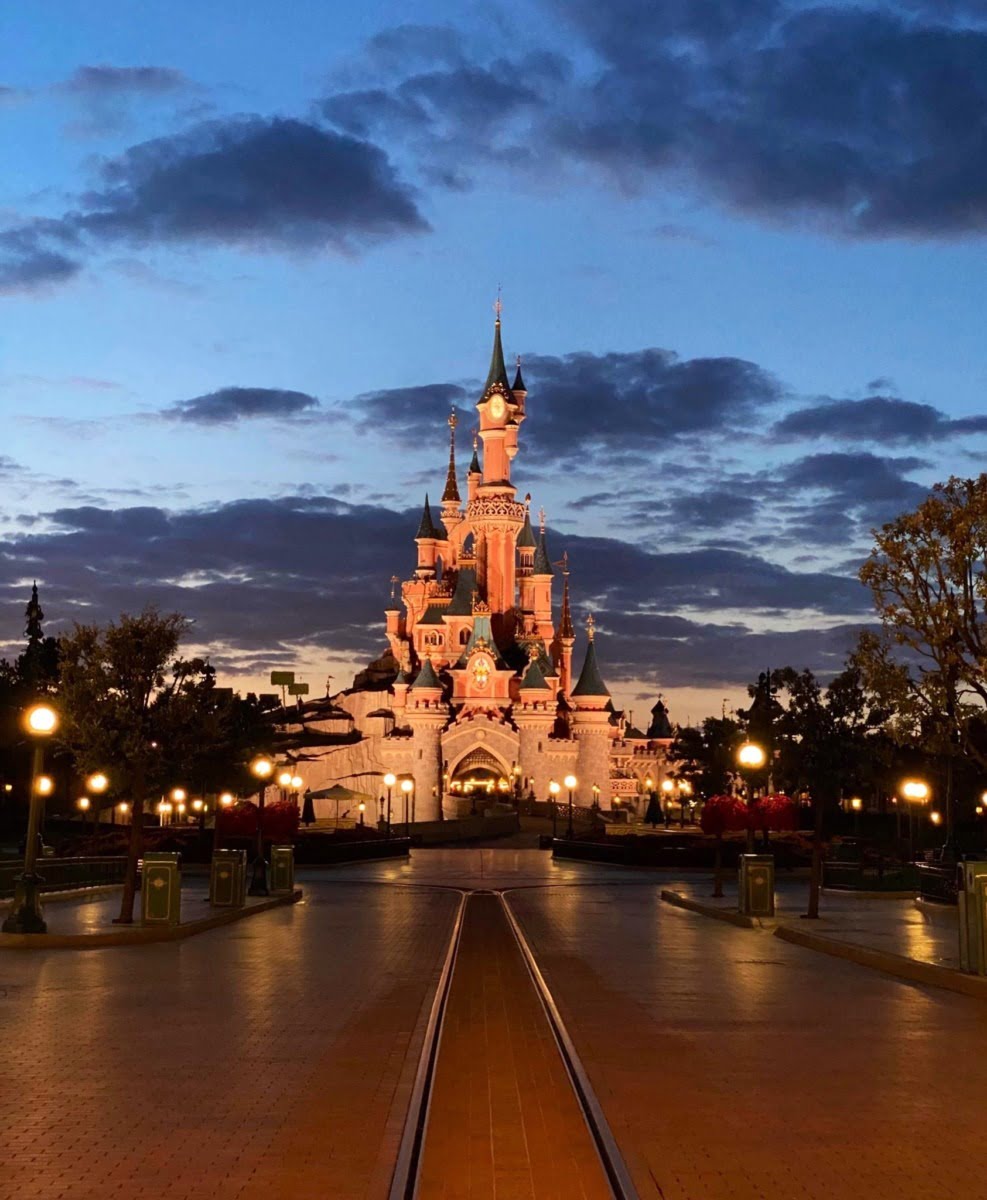 Sadly opening hours are being shortened starting September 14 (6pm close most days!) so we will have to wait a bit longer after that to see these magical views again.
And that's our report for this week! I want to thank each and everyone of you who reads, likes and interact with me on Twitter, this week we've passed the 15K mark!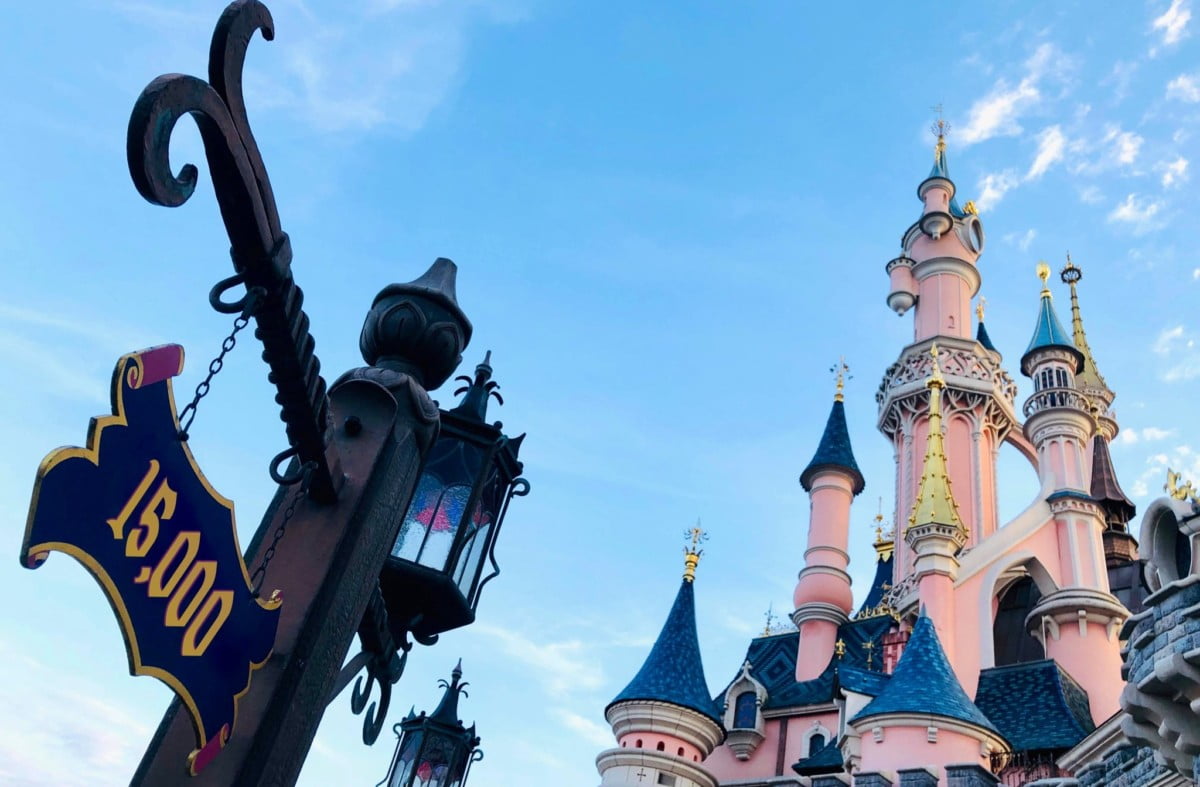 I'll leave you as usual with a few magical shots and will see you next week!