While the Parks continue to operate, something we are so grateful for, times are tough at Disneyland Paris and it was again quite obvious this week with another live show shut down and opening hours shortened from mid September. In more positive news we have details of the Halloween season which looks super fun, and the Parks continue to be improved! Let's take a look:
It's Halloween!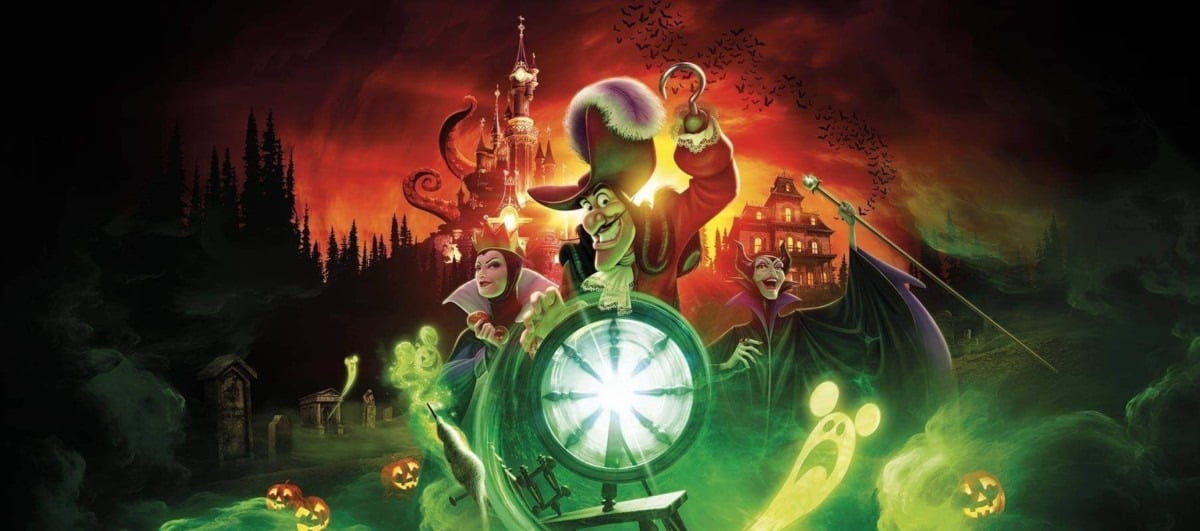 With this new visual, the official website suddenly updated on Thursday with the long awaited Halloween season details. Of course in true 2020 fashion it will work differently this year with mostly spooky versions of the existing offering .. but with a few surprises: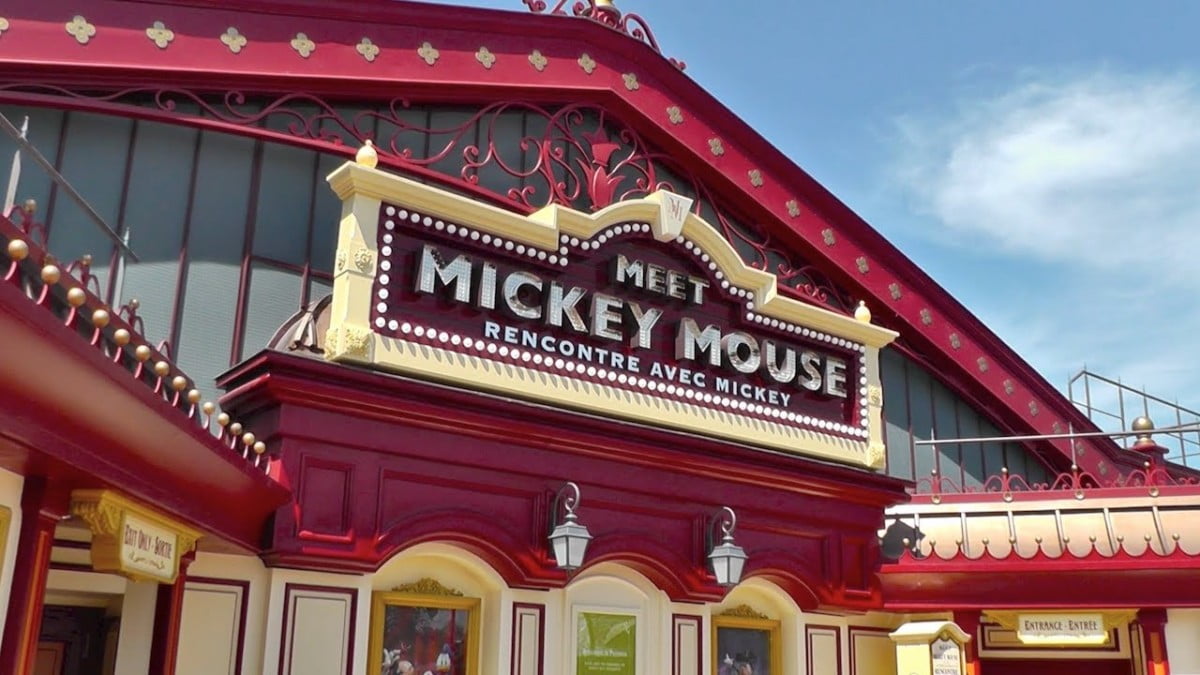 Meet Mickey (Selfie Spot) will turn spooky, with special decor and Halloween costumes for Mickey and friends! It's expected this will also take place on the stage. Daisy's been shopping so look out for her here or on Main Street!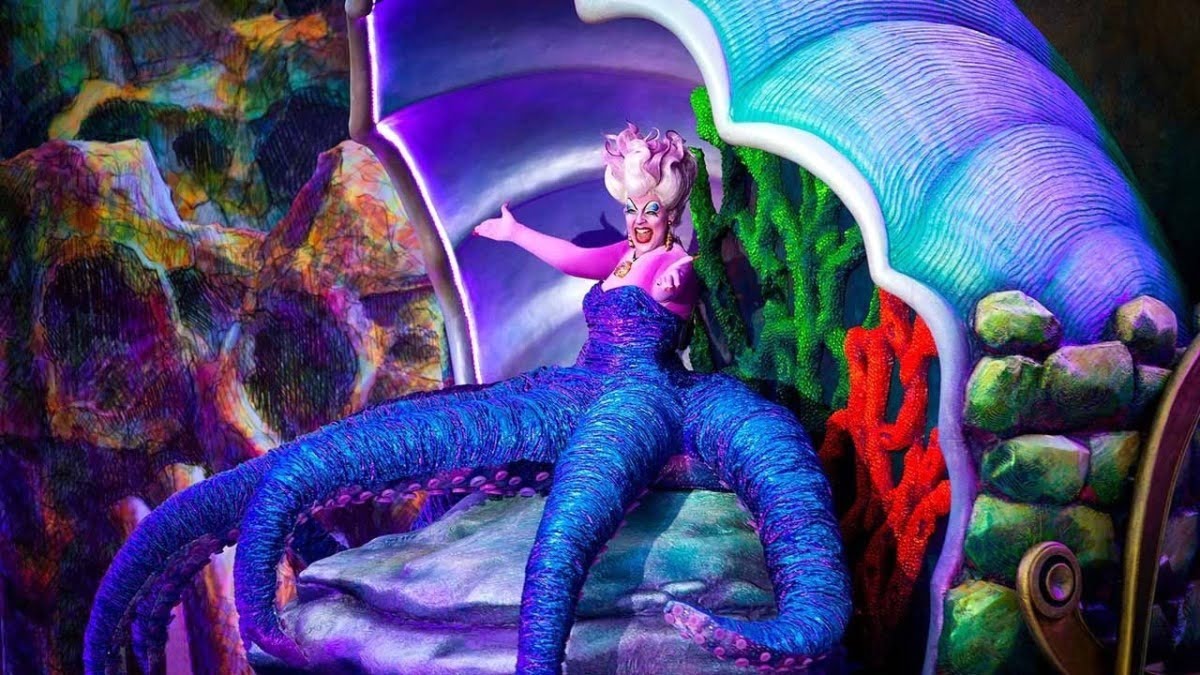 Selfie Spots around the Land will also become "Halloween" with the mention of Ursula – presumably in her shell from "Are you Brave Enough" on Castle Stage.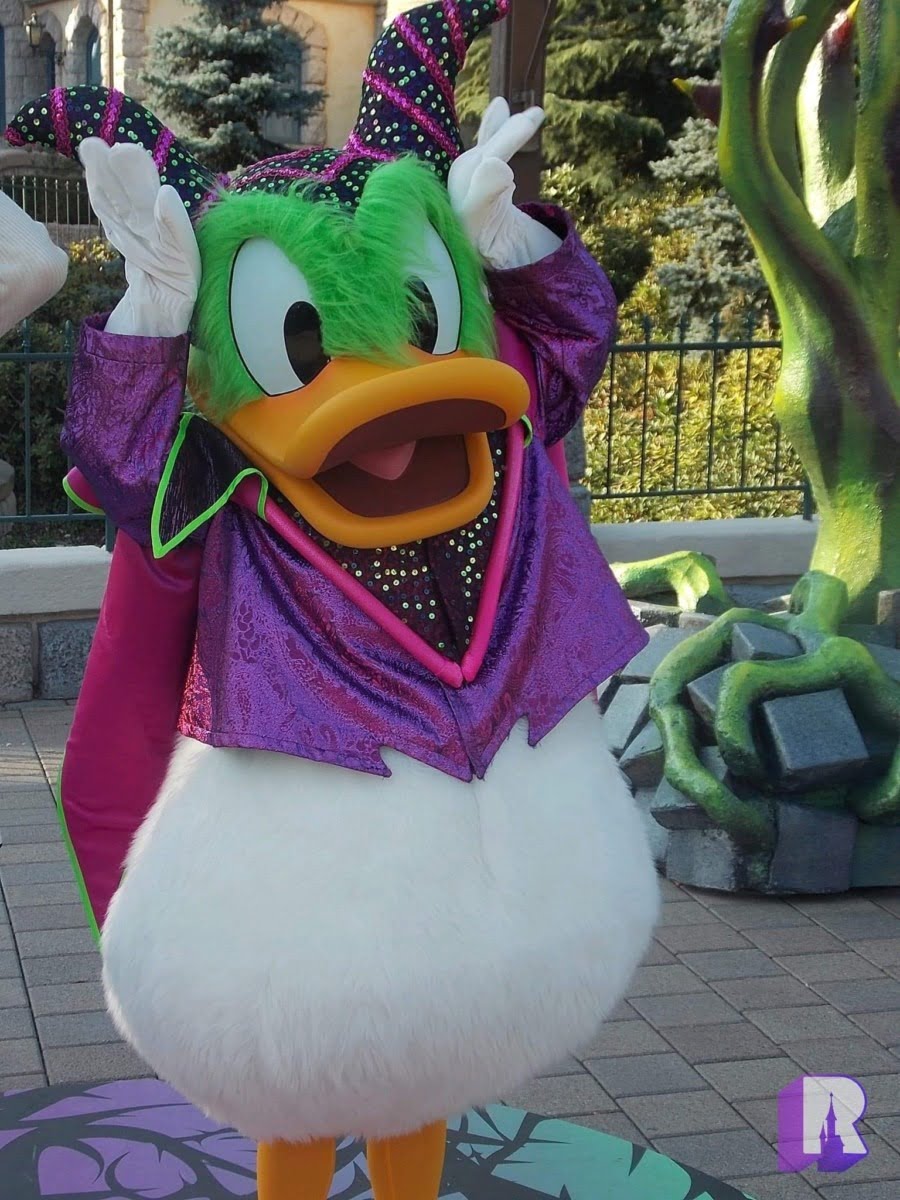 Donald in his Maleficent costume is also a highlight, as well as Maleficent on the Castle Courtyard Balcony, Evil Queen at the Wishing Well, and more.
Much like the current "surprise happenings", expect to see a few favorites floats from the Park's Halloween Parades randomly popping up on Main Street!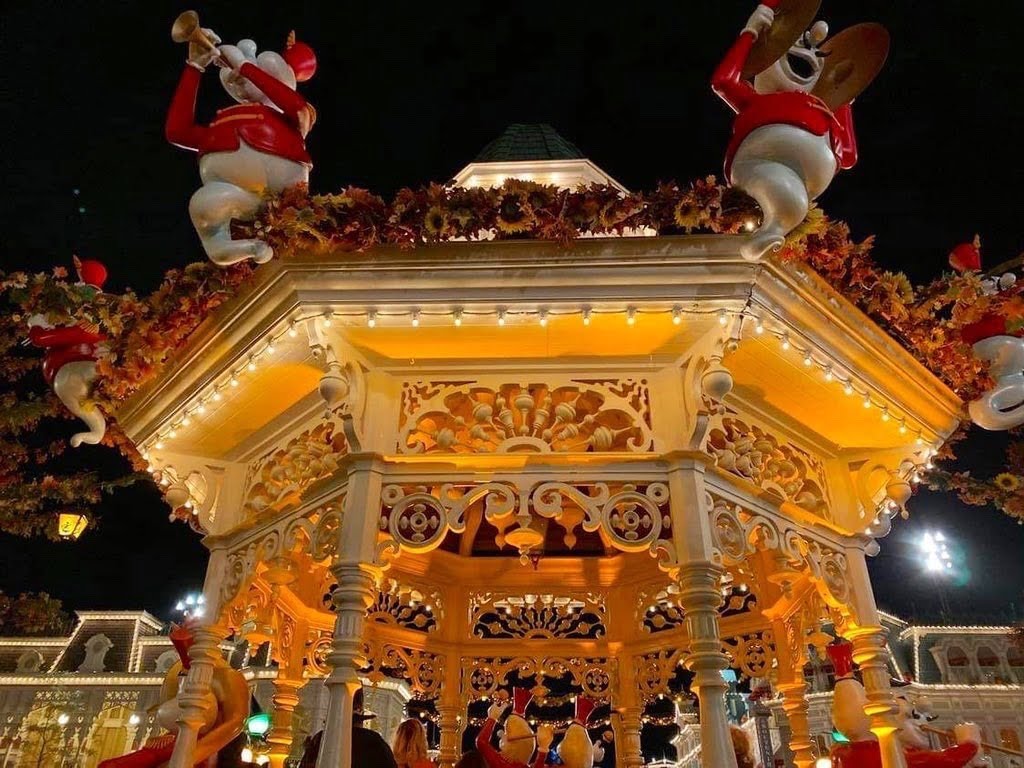 Decorations will of course be back and in these times of reduced entertainment this will really be something to look forward to this year on Main Street and in Frontierland which could have a few musical happenings of its own!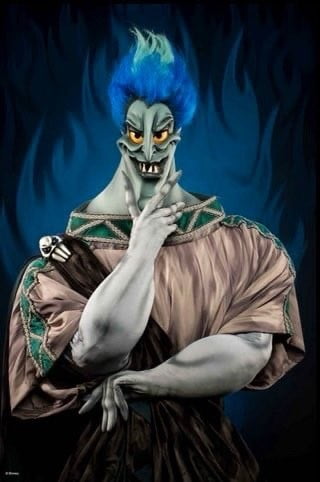 The big surprise comes out of Walt Disney Studios Park, which usually doesn't produce any Halloween offerings. Studio Theater will host a whole gang of Villains for some selfies, with rare special Guests !
Overall, while of course this is not Halloween as we know it, the Resort has really done its homework and is trying to offer as much fun and opportunities to feel the spirit of the season this year. The season starts September 26 (October 1 for Studio Theater) and we can't wait !
Suspension in the Pride Lands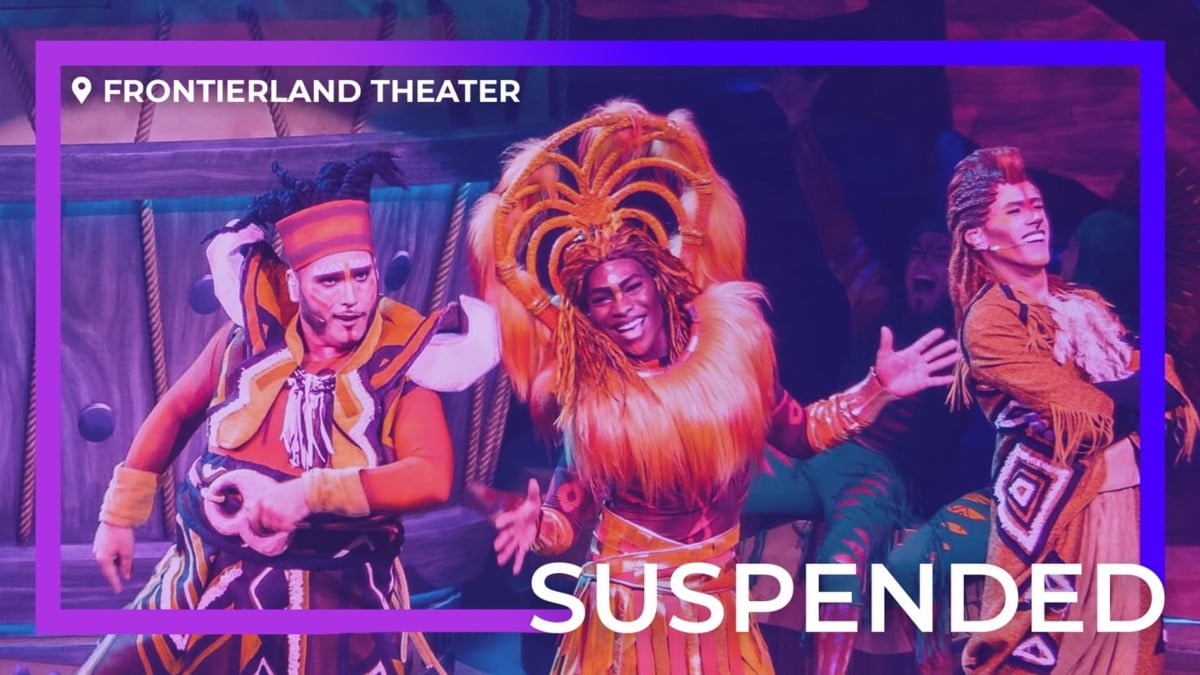 After last week's failure to launch for the Jungle Book Jive, it's now Rhythms of the Pride Lands' turn to get suspended.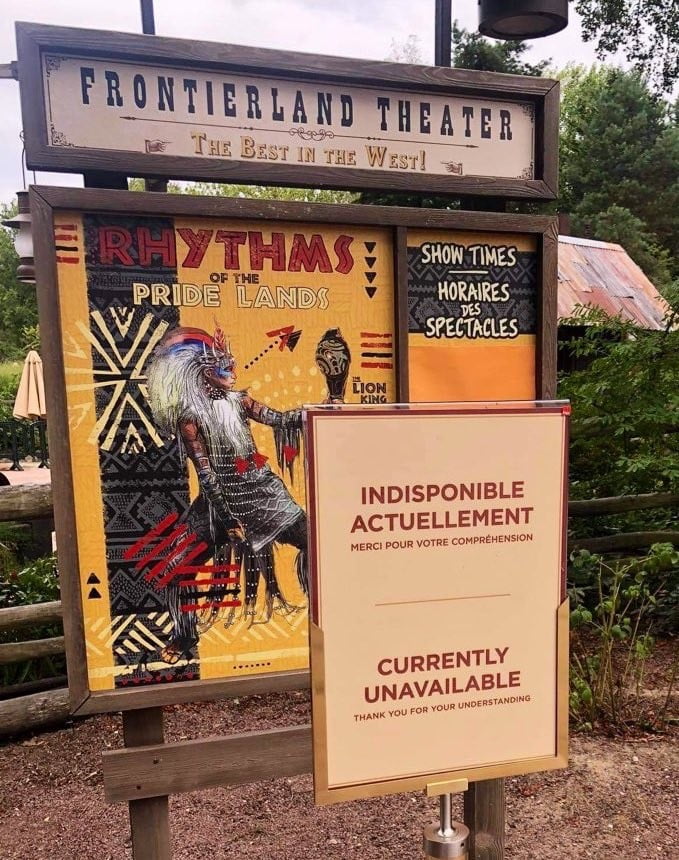 The show first failed to open on Tuesday, before being entirely suspended on Friday.
While both shows could potentially come back "14 days later", it's currently unclear if any will sadly open again. These events raise the question of the need for extra protection or isolation measures for the live shows Cast Members when the show is being performed, as it is impossible to replace them on such short notice.
Recent events in France and Europe have also deterred many Guests from visiting due to worry or quarantine measures upon return home. From our perspective, social distancing and safety measures for Guests and operations Cast Members have been and continue to work very well and the Parks are as safe to visit as they've been since reopening. There is currently no plans to reclose the Parks either on Disney or the government side, but we should all still very much stay in a "enjoy it while you can" mode especially as we approach winter.
Shortened Hours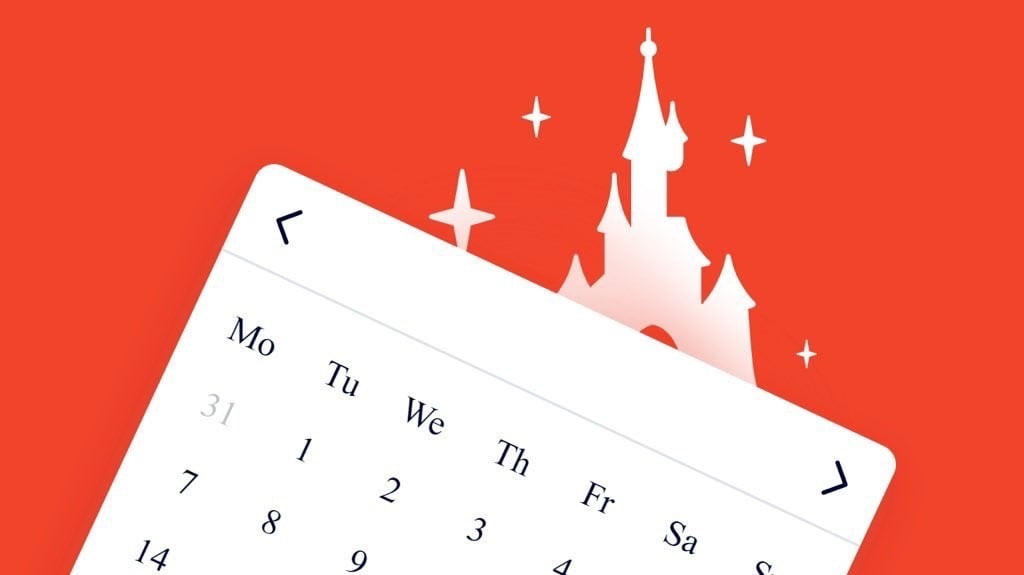 As Disney continues to adapt its offering to the situation, Park Hours have been reduced from September 14 with a disappointing 10am – 6pm day at both parks Monday to Friday, and a 7pm close for Disneyland Park on weekends. Extra Magic Times remain the same (8:30-9:30am).
While hours typically reduce after summer, this is a bigger reduction than usual. Still we remain in a "better than closed" mindset, I guess.
Construction and Maintenance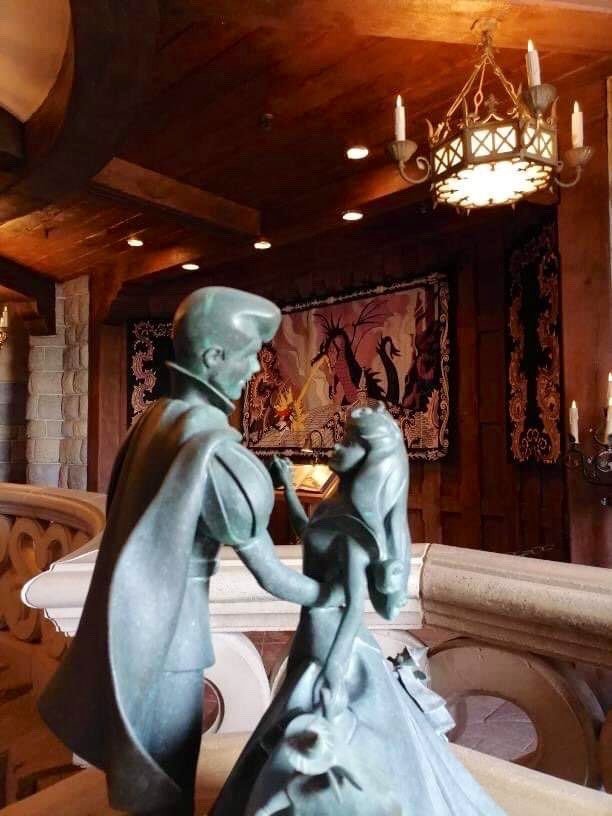 The Sleeping Beauty Castle Walkthrough reopened this week in the morning.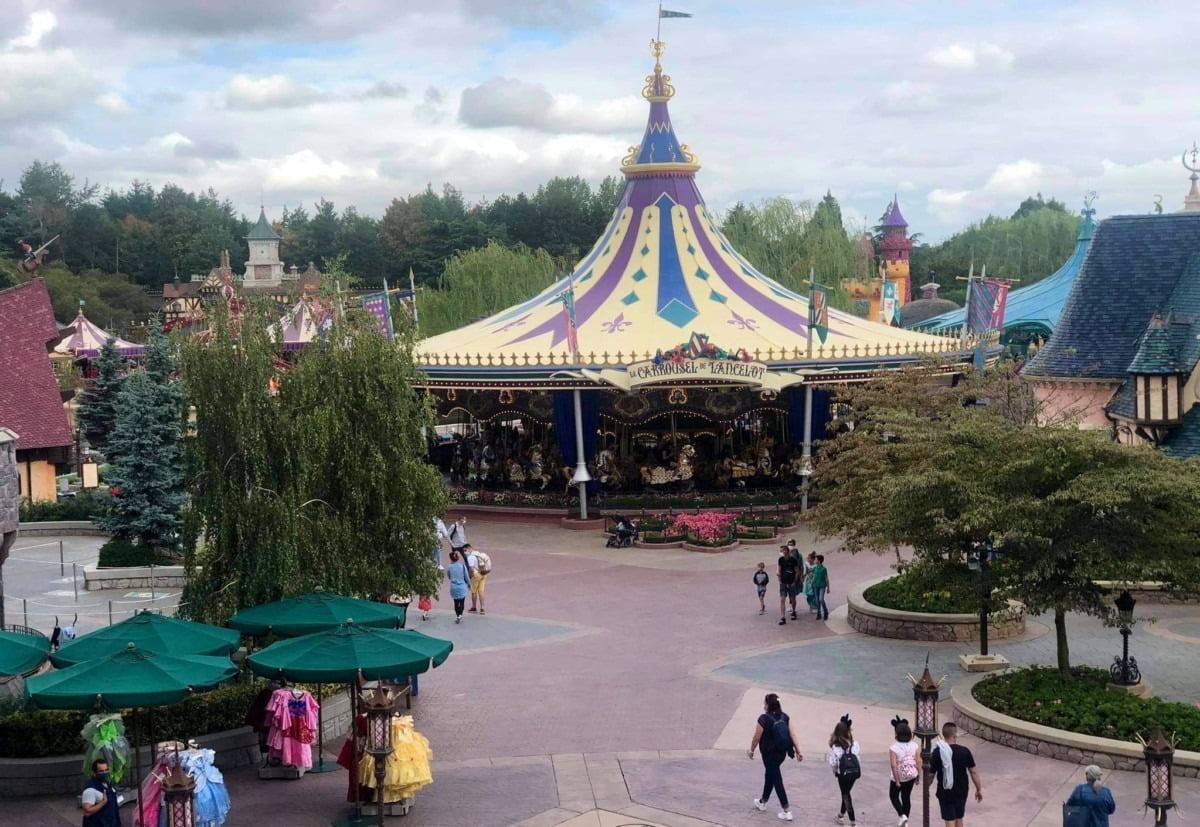 Great to have this view from the balcony back!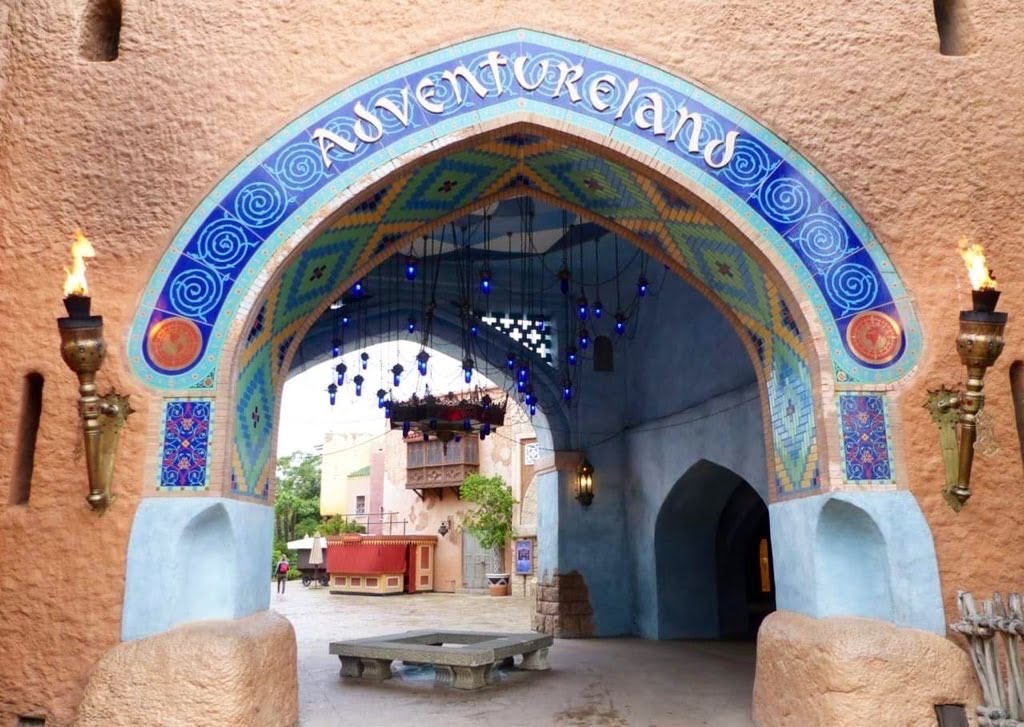 Adventureland has started to open during Extra Magic Times. It's unclear what shops are open or when ..or even while this is happening but – why not, more places to walk around.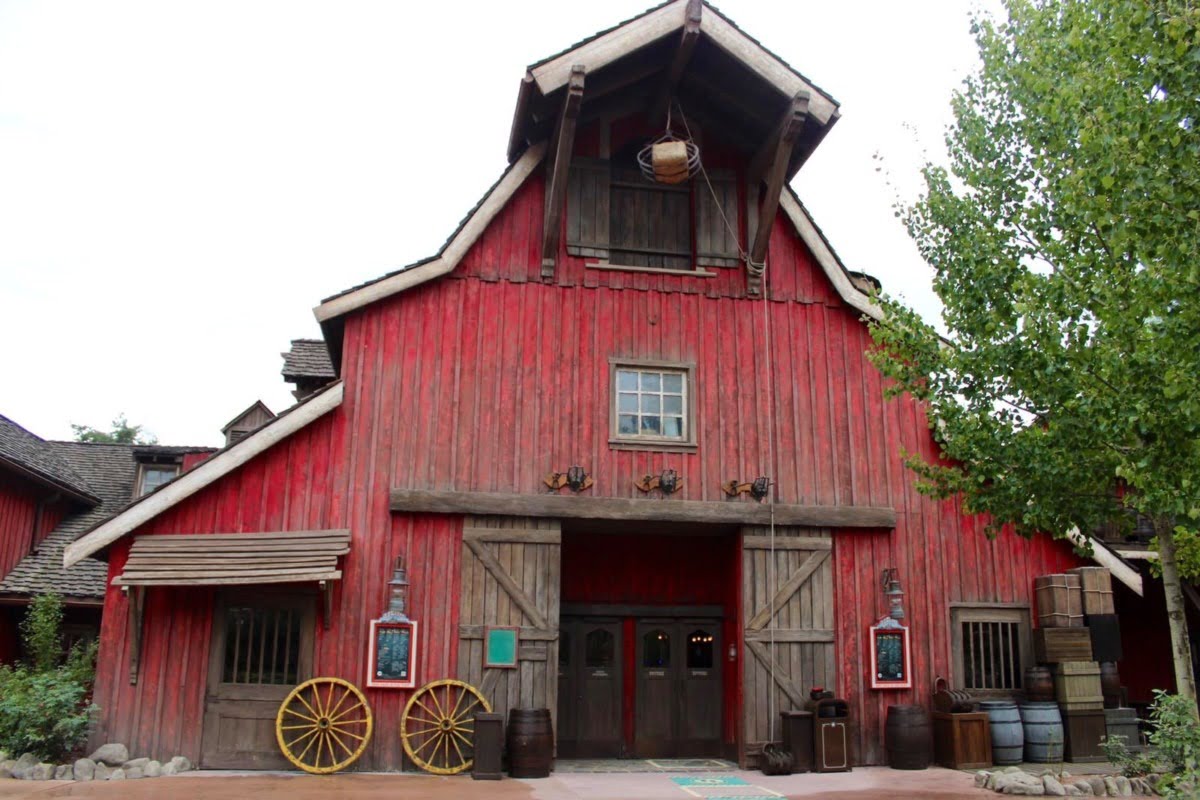 The Cowboy Cookout BBQ sign has been removed for refurbishment. Who knew there was a window behind it!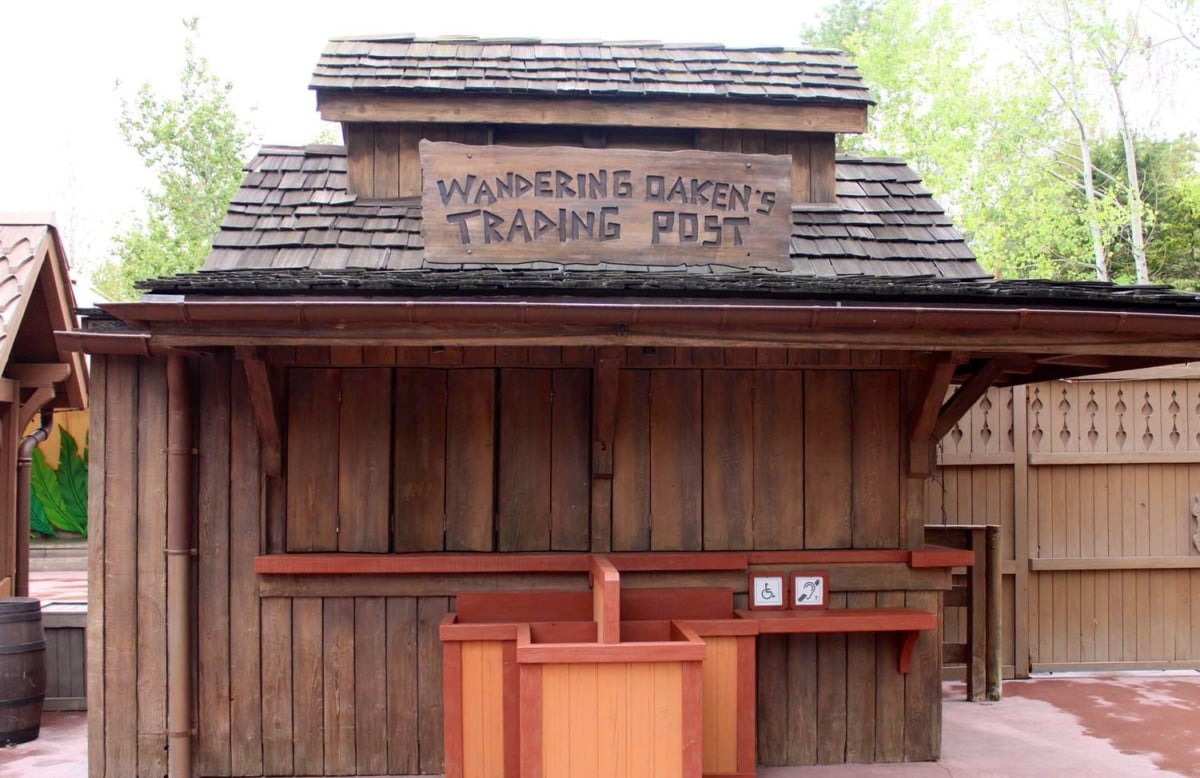 Near the Frontierland Theater the "Wandering Oaken's Trading Post" sign is still uncovered. Flashbacks from "Frozen Summer Fun" years ago..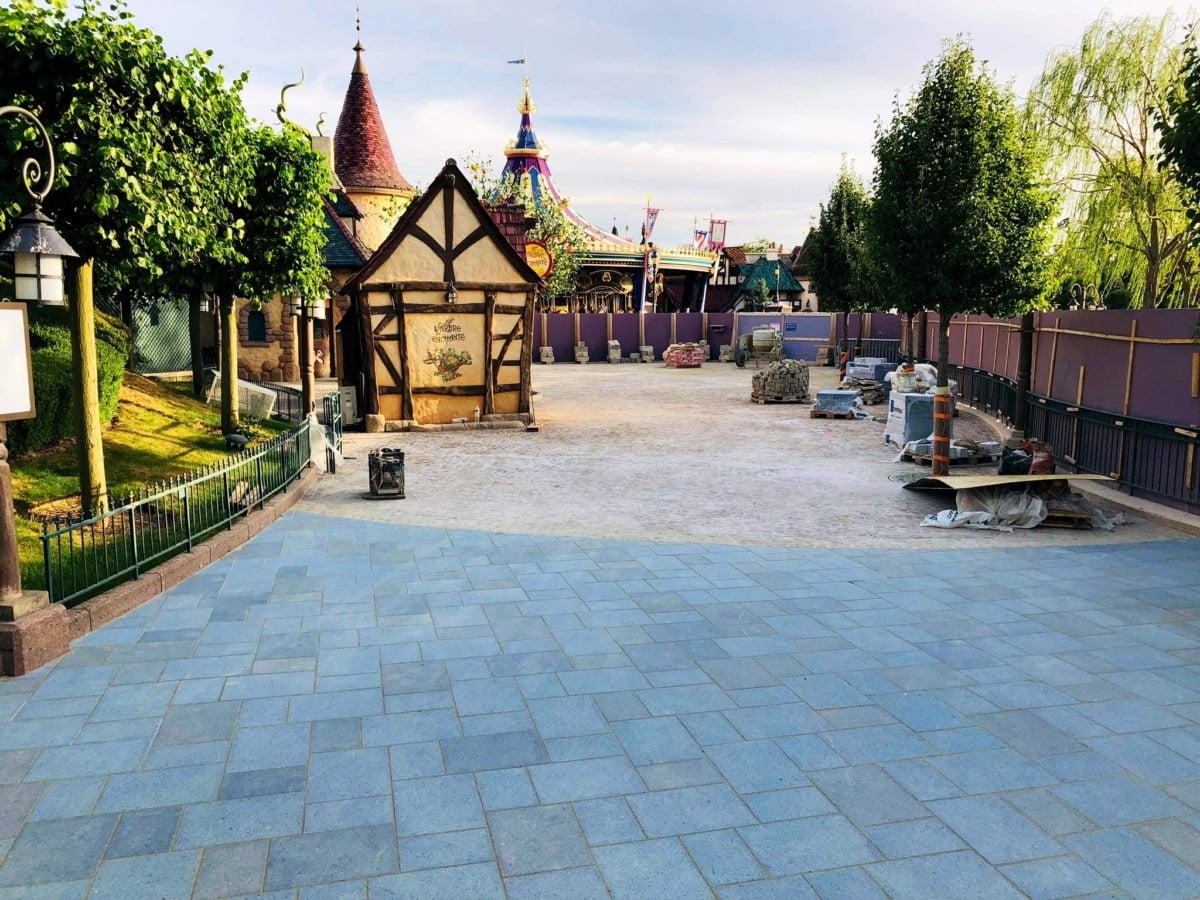 Our favorite project (who said obsession!), cobblestones and new pavers in Fantasyland, is going great and the area should open soon!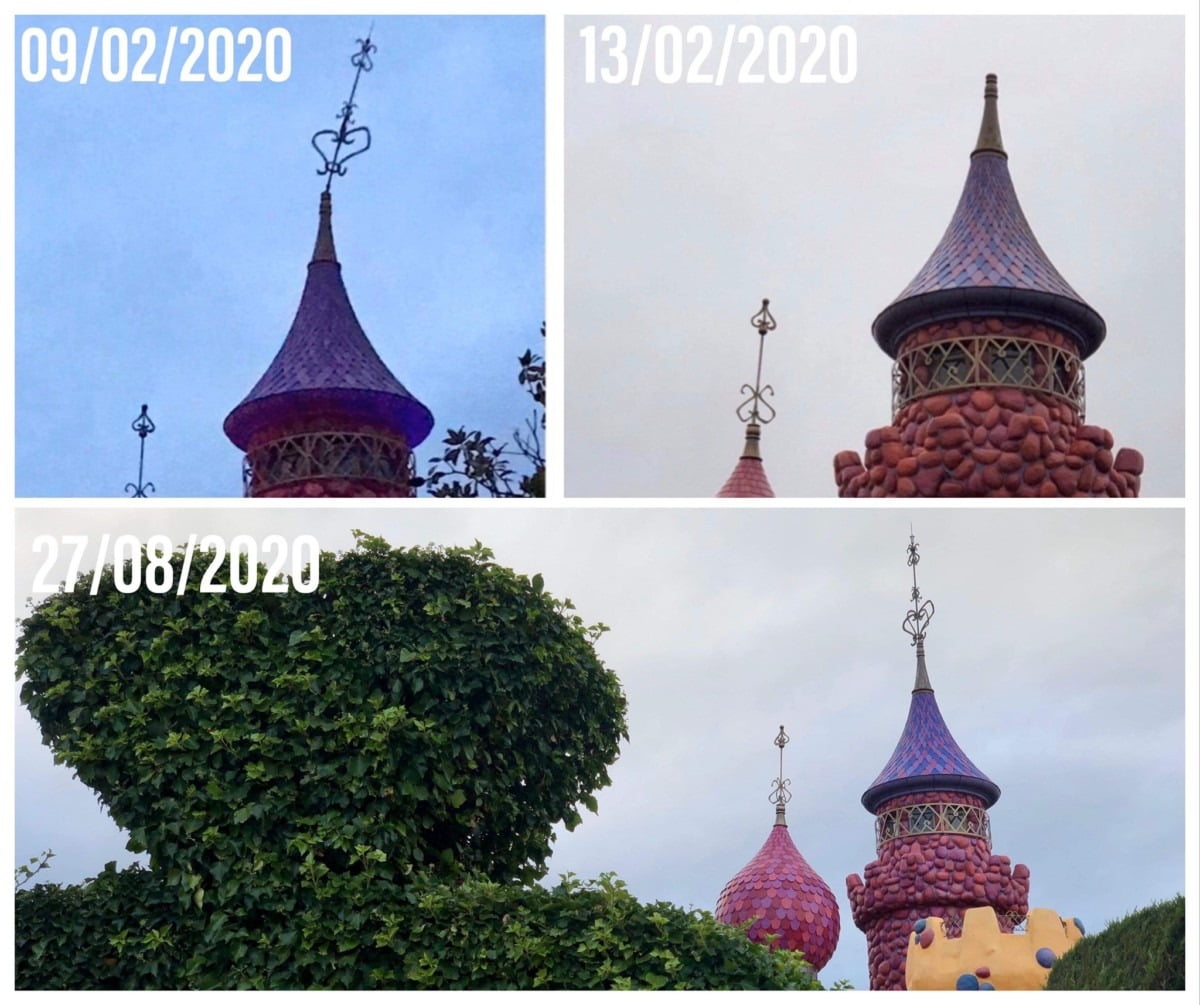 The Queen of Hearts Castle spire aka lightning rod is back after being removed when it got bent by a storm in February.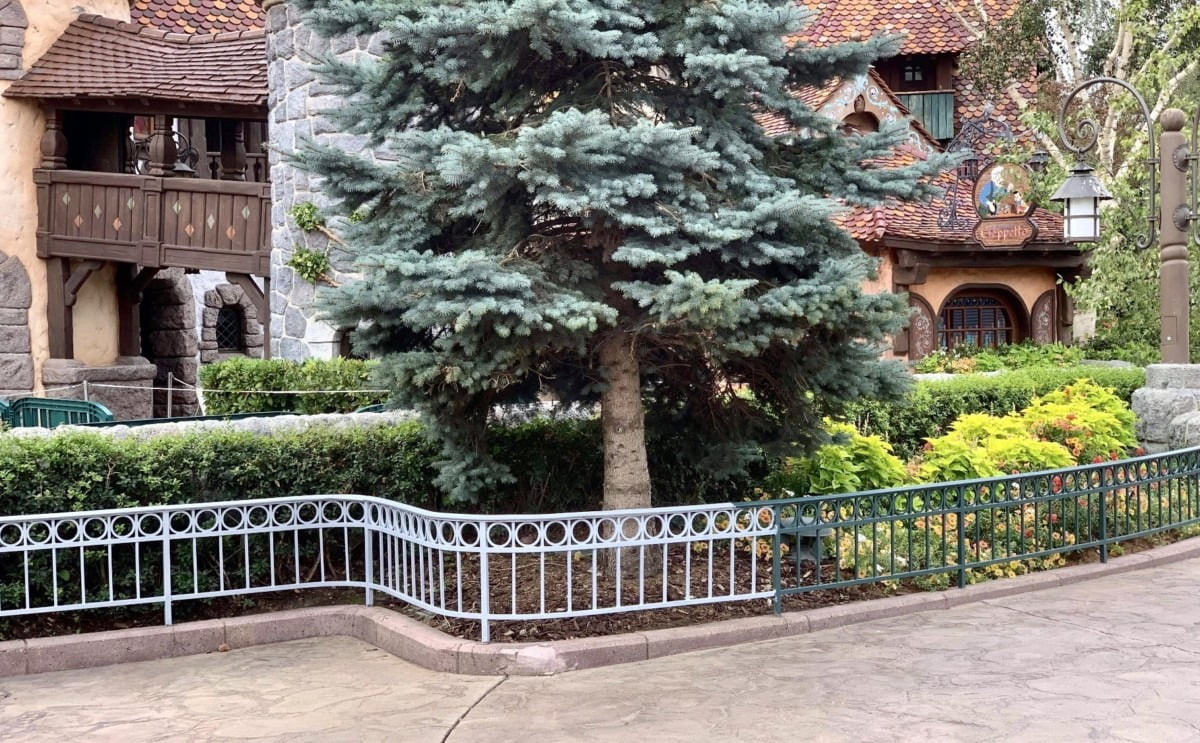 Railings continue to be refurbished everywhere. Looks like they ran out of time on the night shift in this particular case.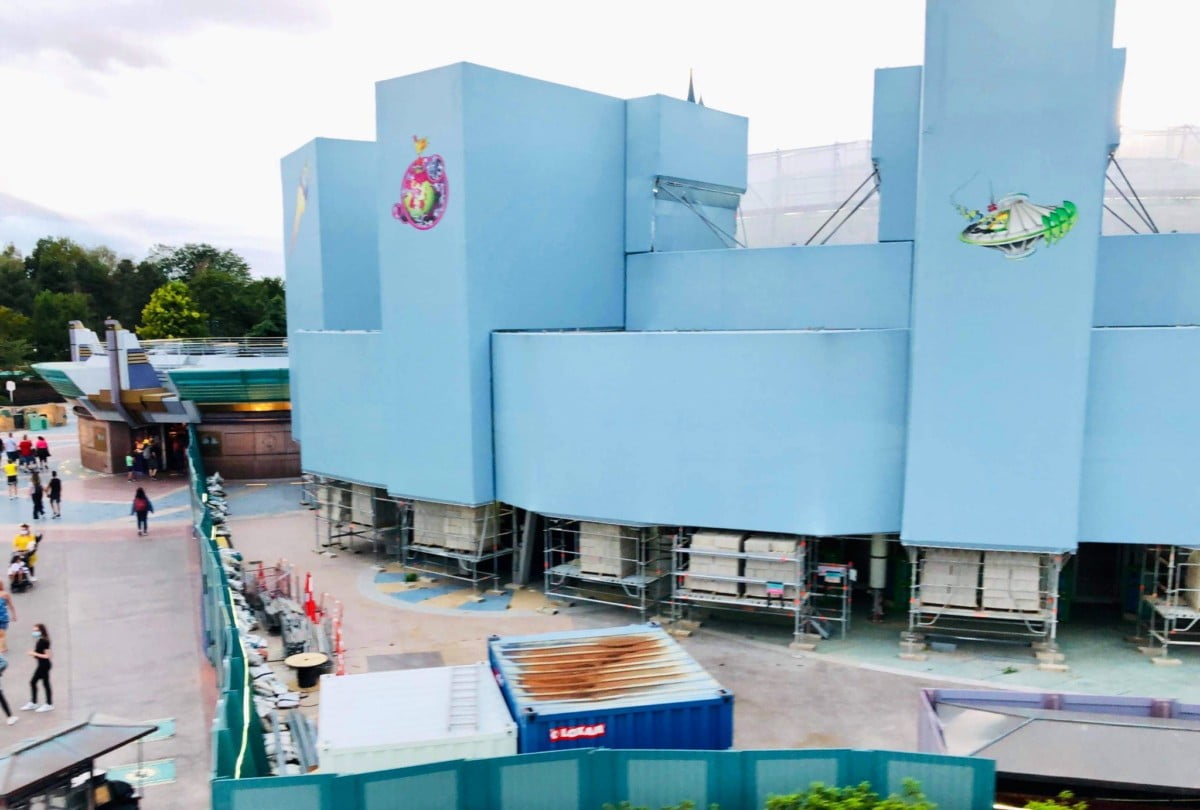 At Buzz Lightyear Laser Blast, the metallic structures we spotted last week have been moved or brought inside. The attraction refurbishment is late, we're hoping to see it again in February.. maybe.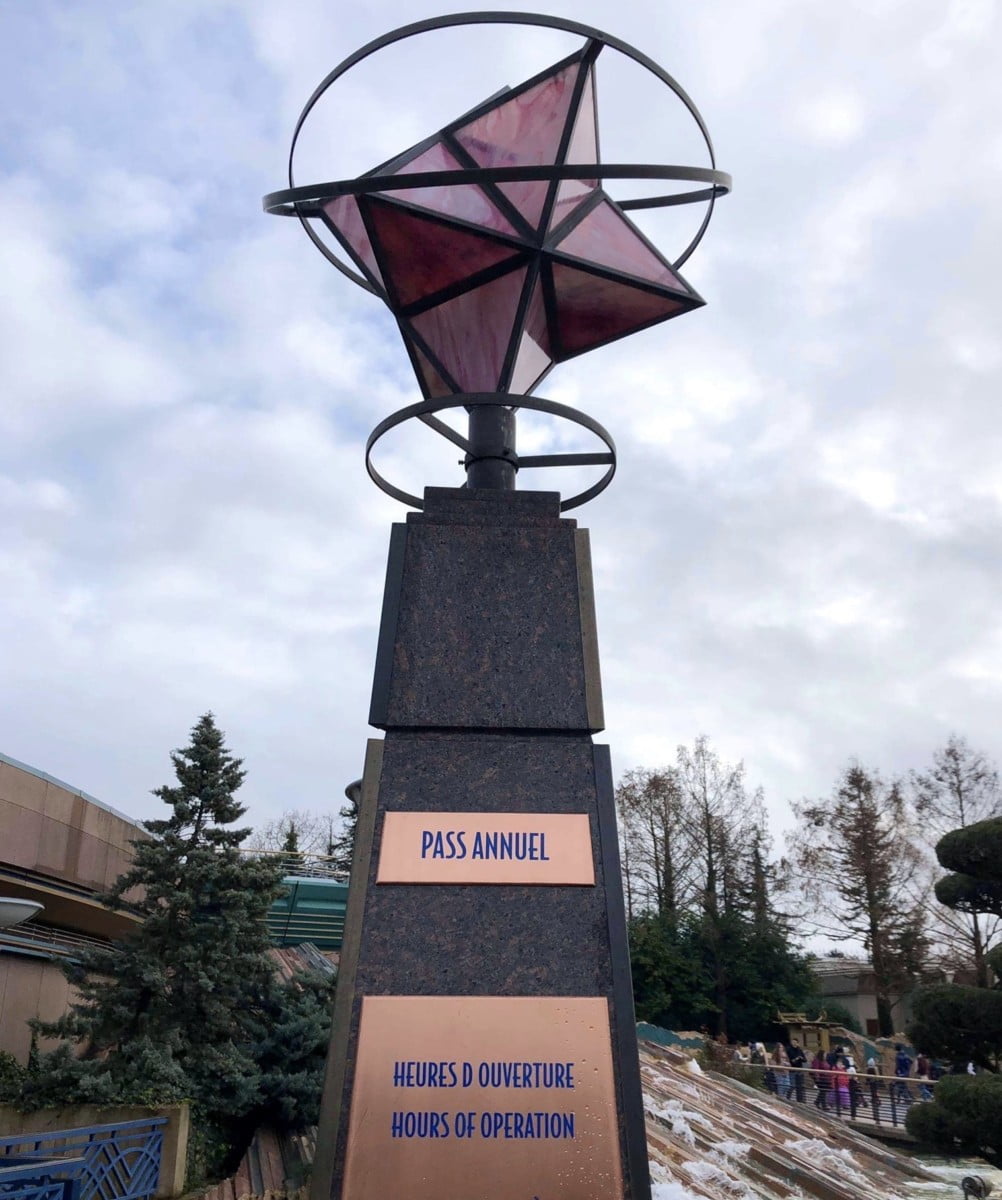 In related news, the AP office is closing because of structural issues during the Buzz Lightyear Refurbishment. Guests now must go to the Walt Disney Studios AP ticket windows between noon and 6pm daily for all their AP needs. To be honest this is a better solution even for the long term – this prime real estate with Sleeping Beauty Castle views is SUCH a waste as a boring AP office.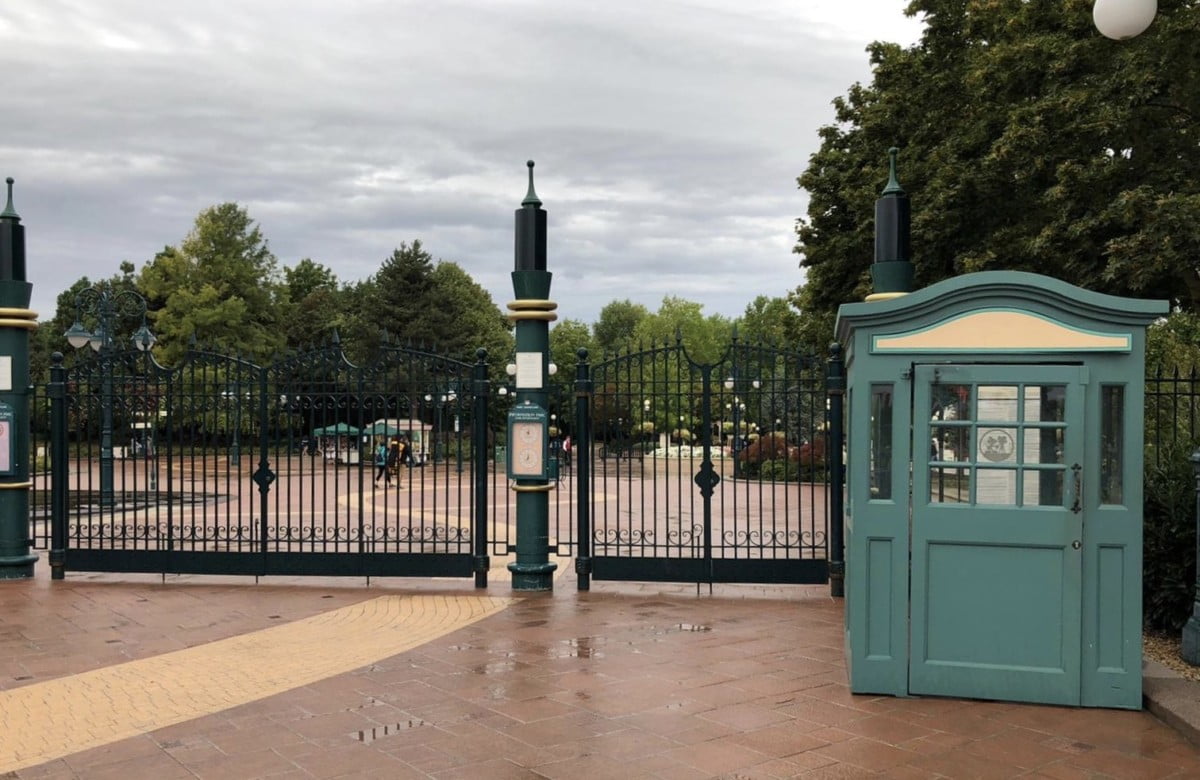 A "new" security booth has been installed in the Resort Hub where the old arch was removed. If you recognize this design it's because it's been reclaimed from the old Walt Disney Studios entrance turnstiles.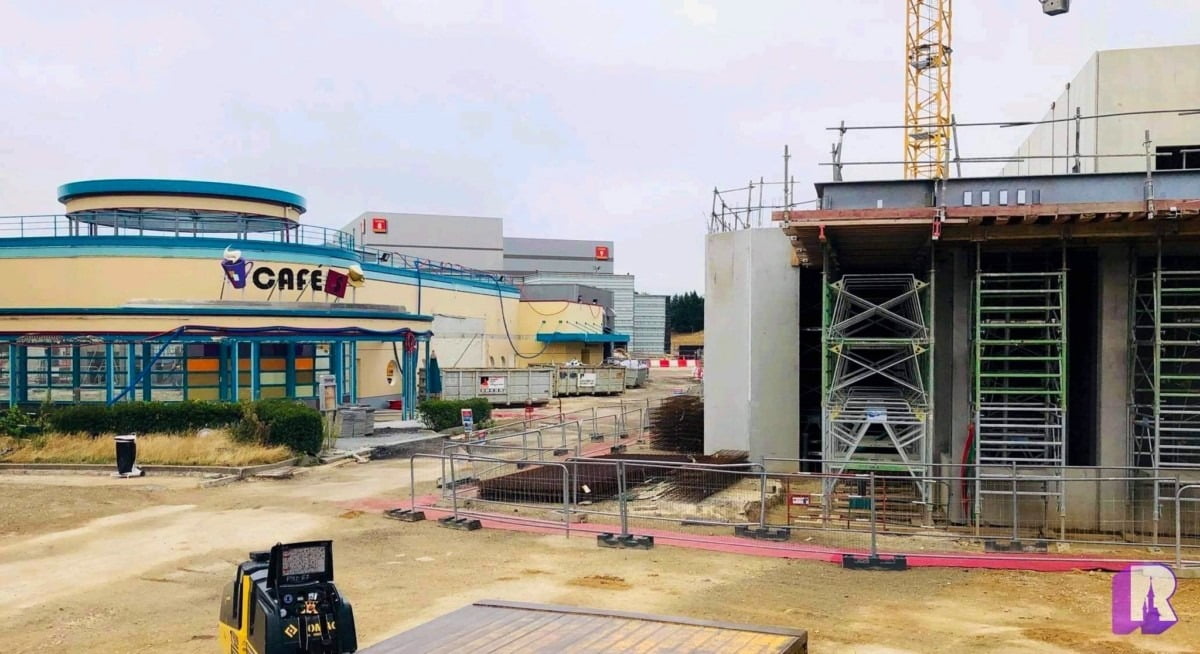 Over at Walt Disney Studios we took a look at progress on Avengers Campus construction. Note how the former Restaurant des Stars entrance has been walled off.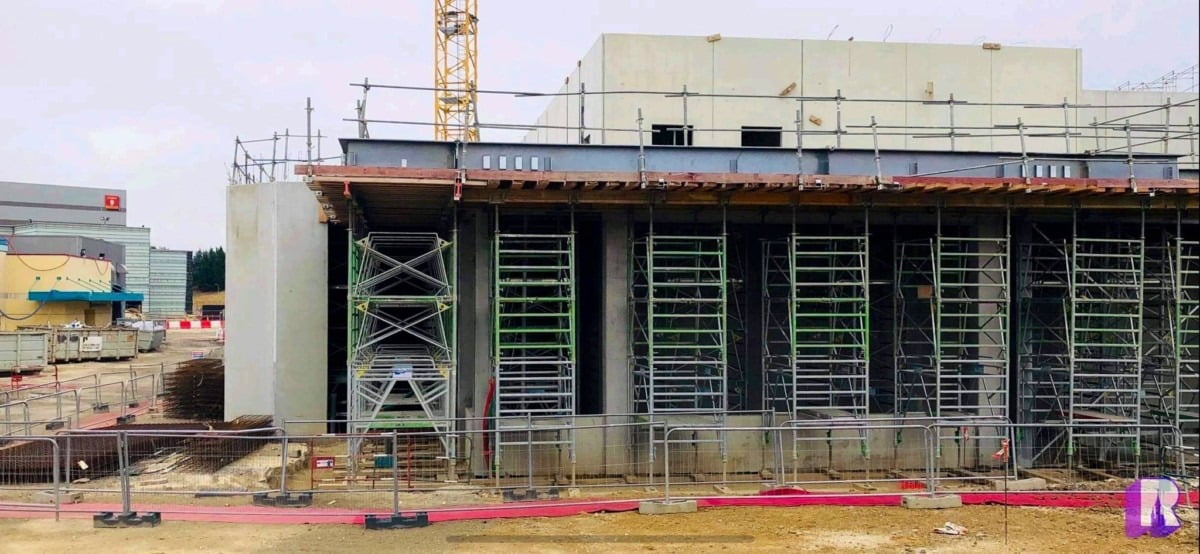 We also take a closer look at this intricate side of the Spider-Man Attraction show building. Avengers Campus is or was slated for Summer 2021, but no opening plans are known.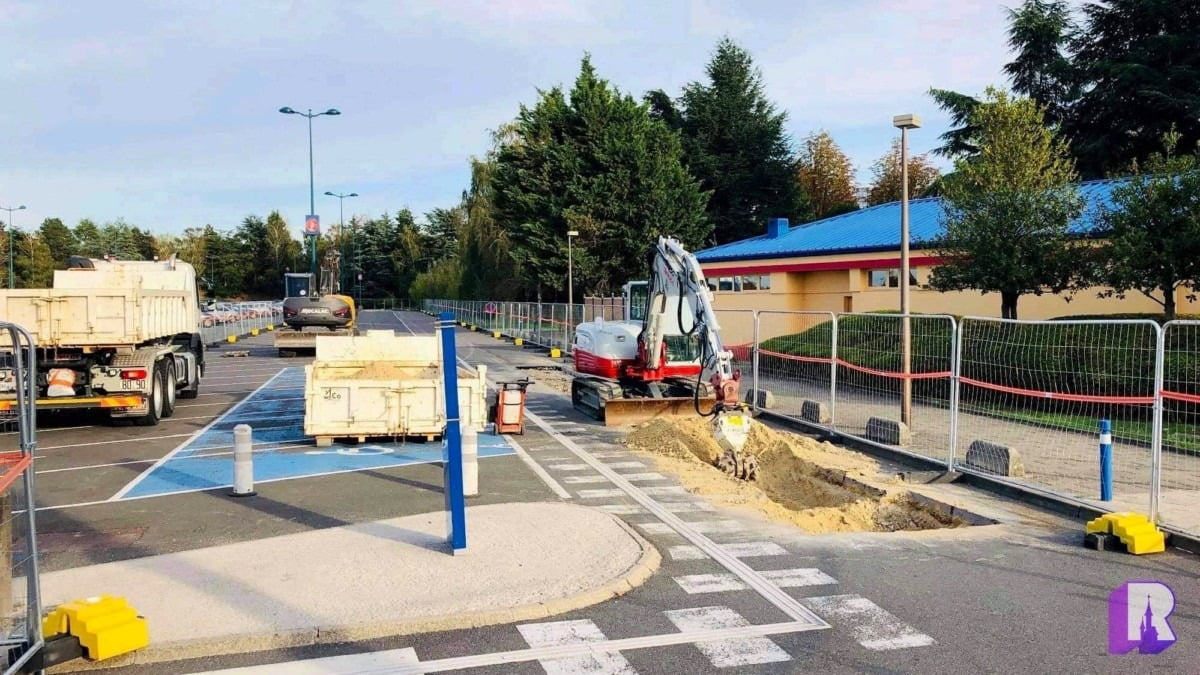 And construction has started on Guest Parking for the solar panel canopies designed to provide shade for the cars and renewable energy for the Resort.
Characters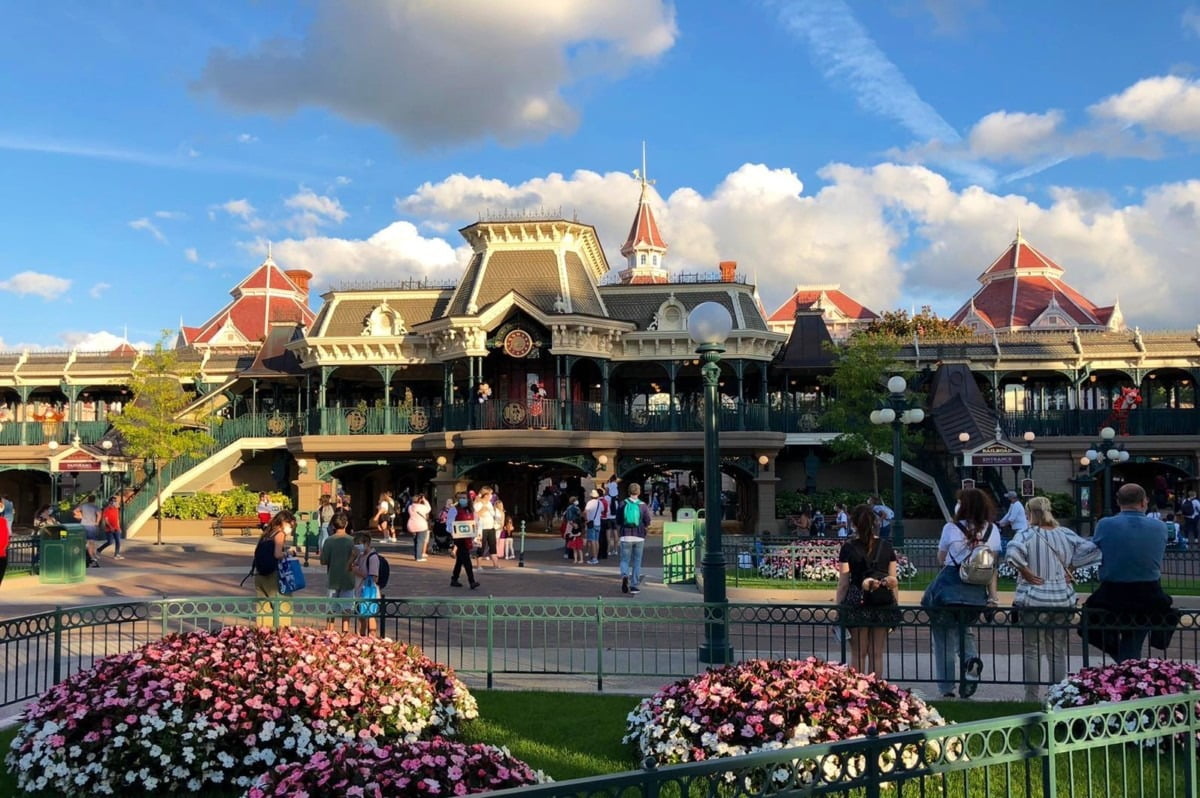 A few changes for the "good night kiss" on Main Street Station: while Mickey and Minnie stay in the center, other Disney Friends are being placed all the way past the stairs in order to make guests exit in a more distanced way using all the Main Street Station underpasses.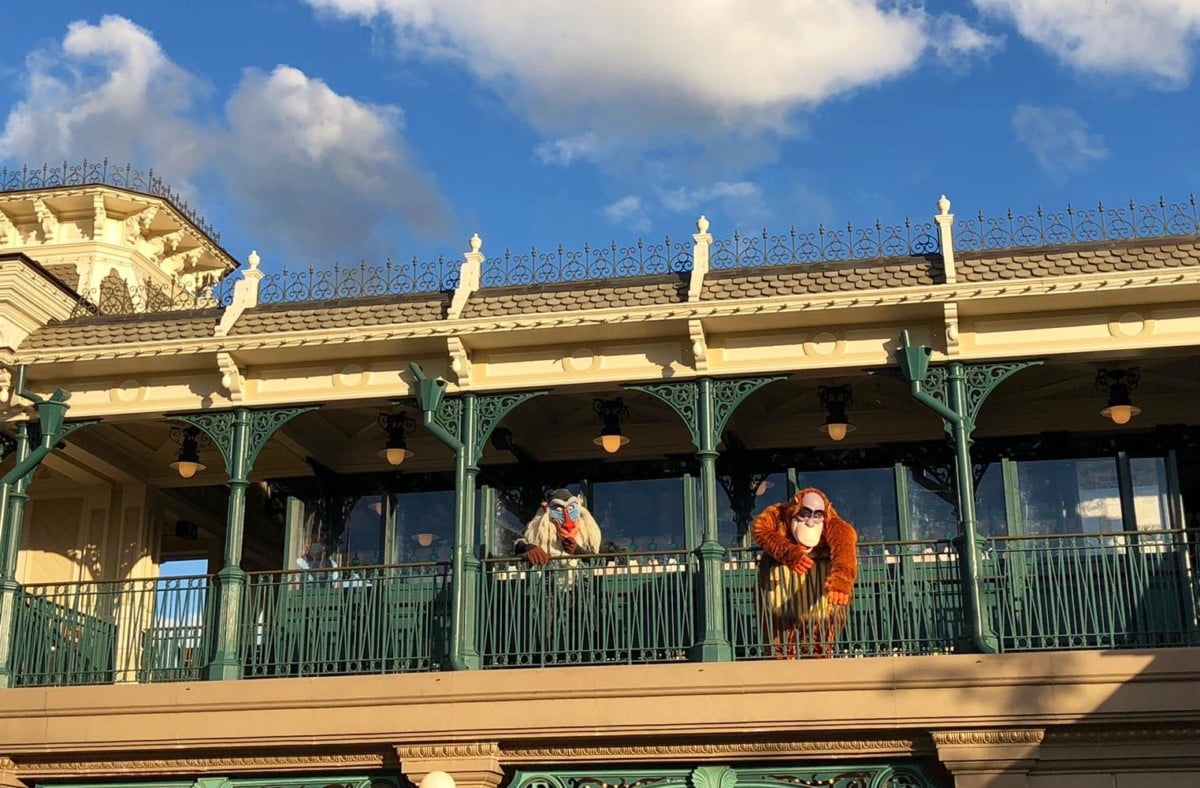 It's not really the best view as the plexiglas screens are visible behind the characters, but safety first!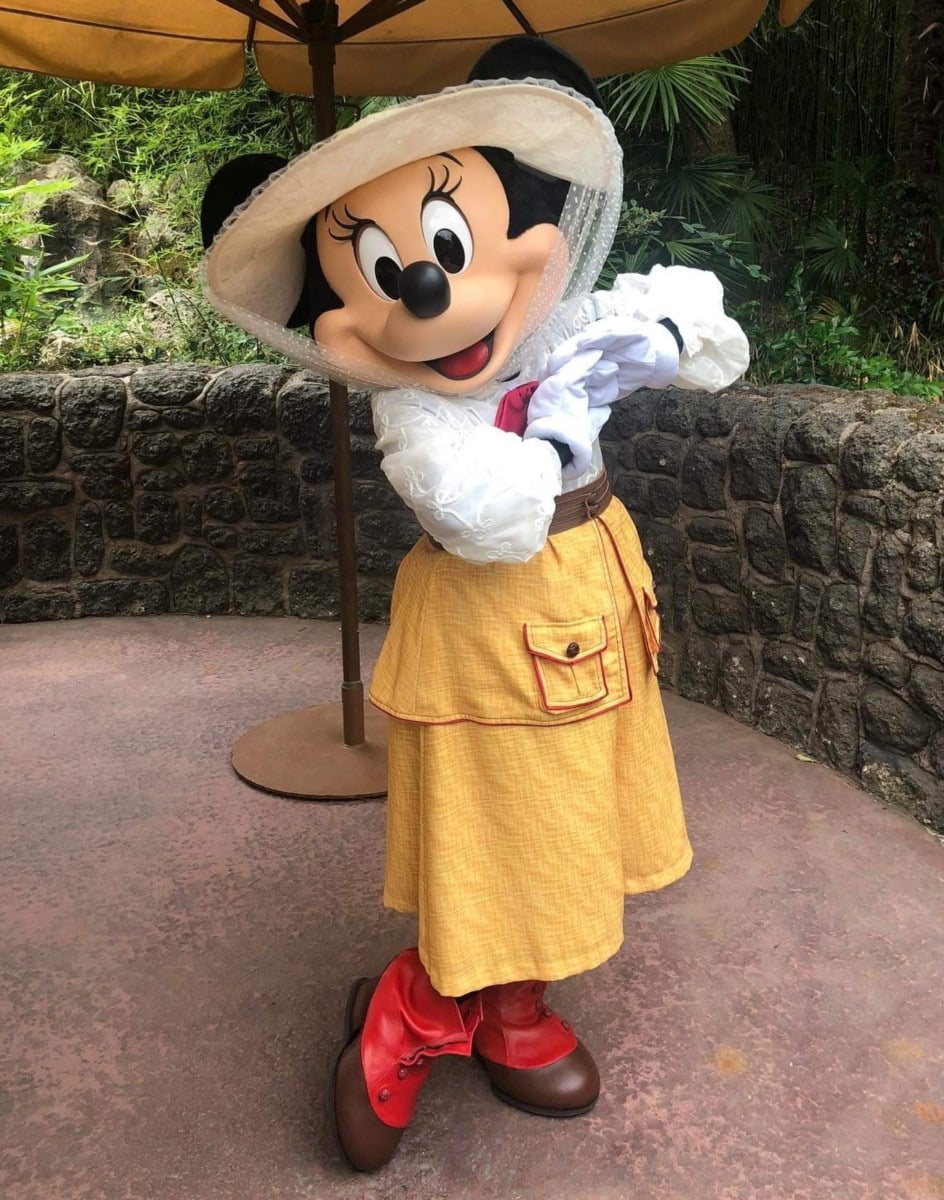 We figured out the current Adventurer Minnie outfit schedule: every other day. So if you miss her in that outfit one day, come back the next!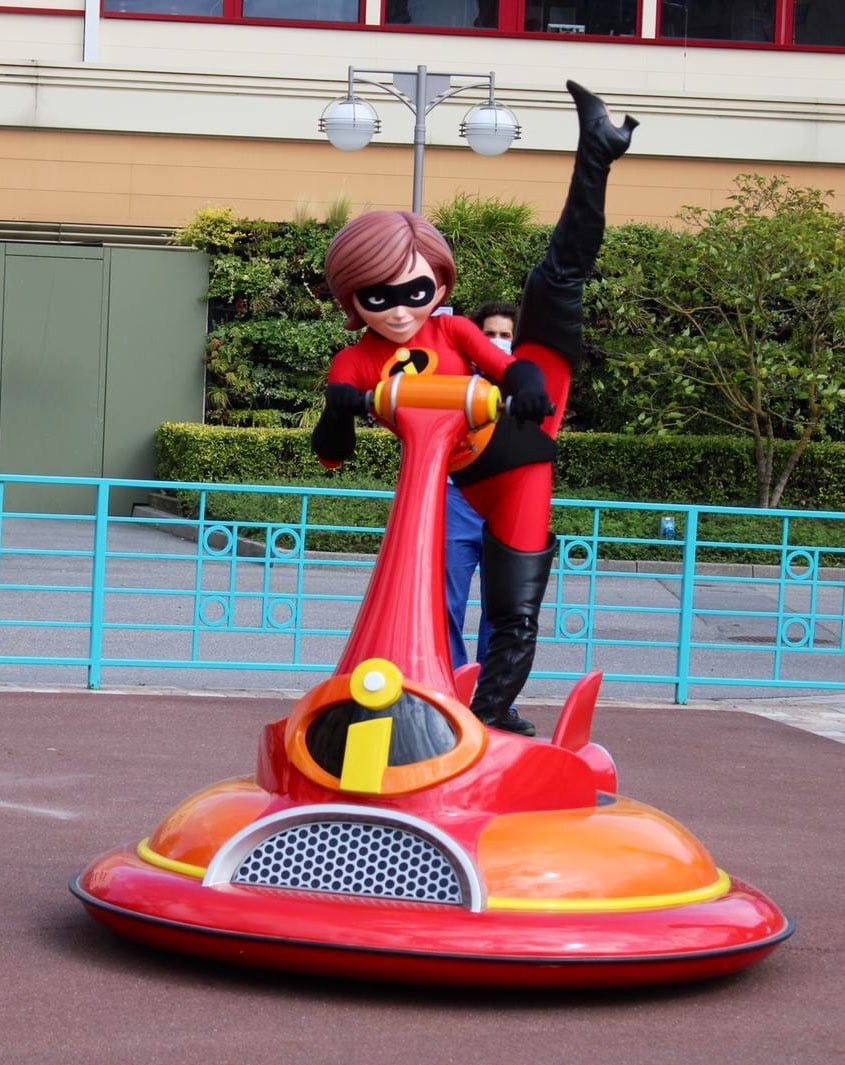 Elastigirl proved she deserve her name.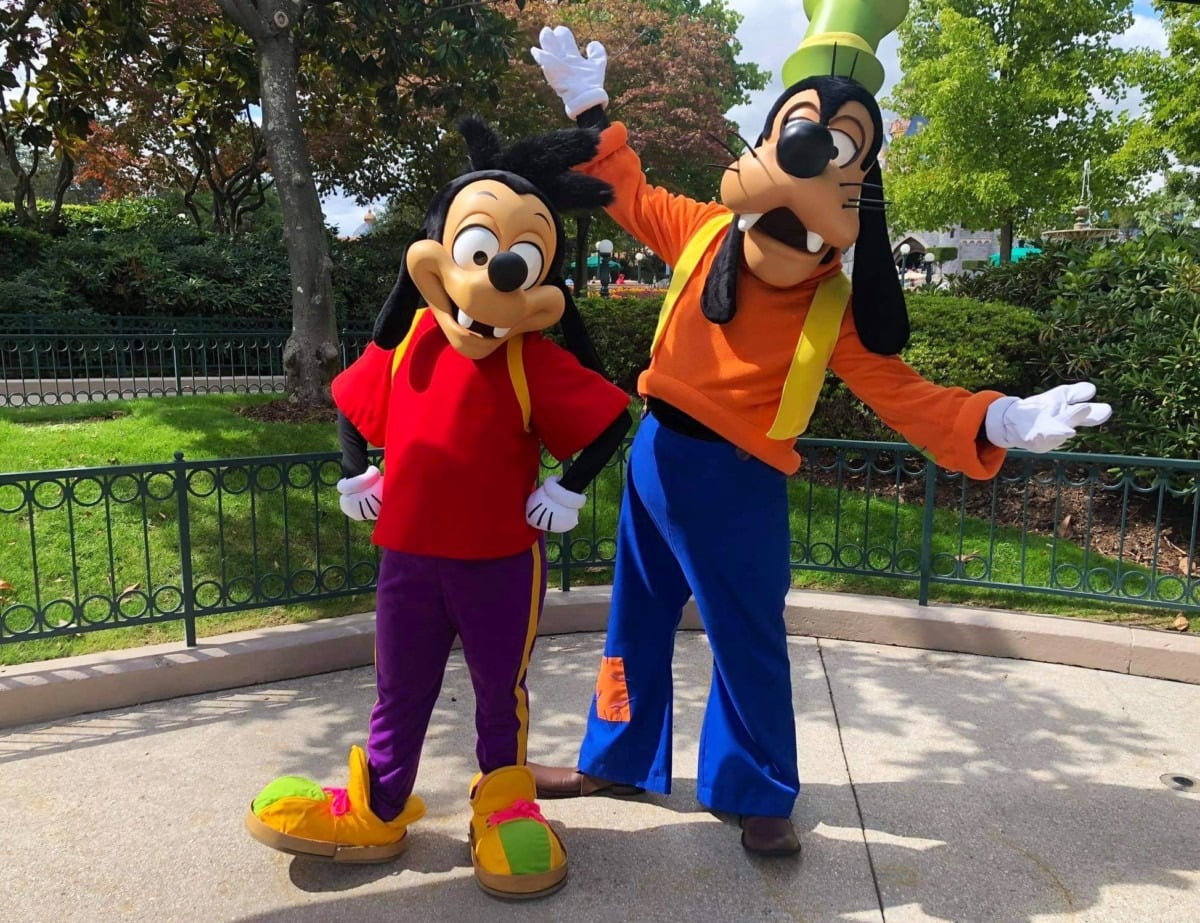 And it's been a very "Max and Goofy" week ! Good to see them having fun together.
Merchandise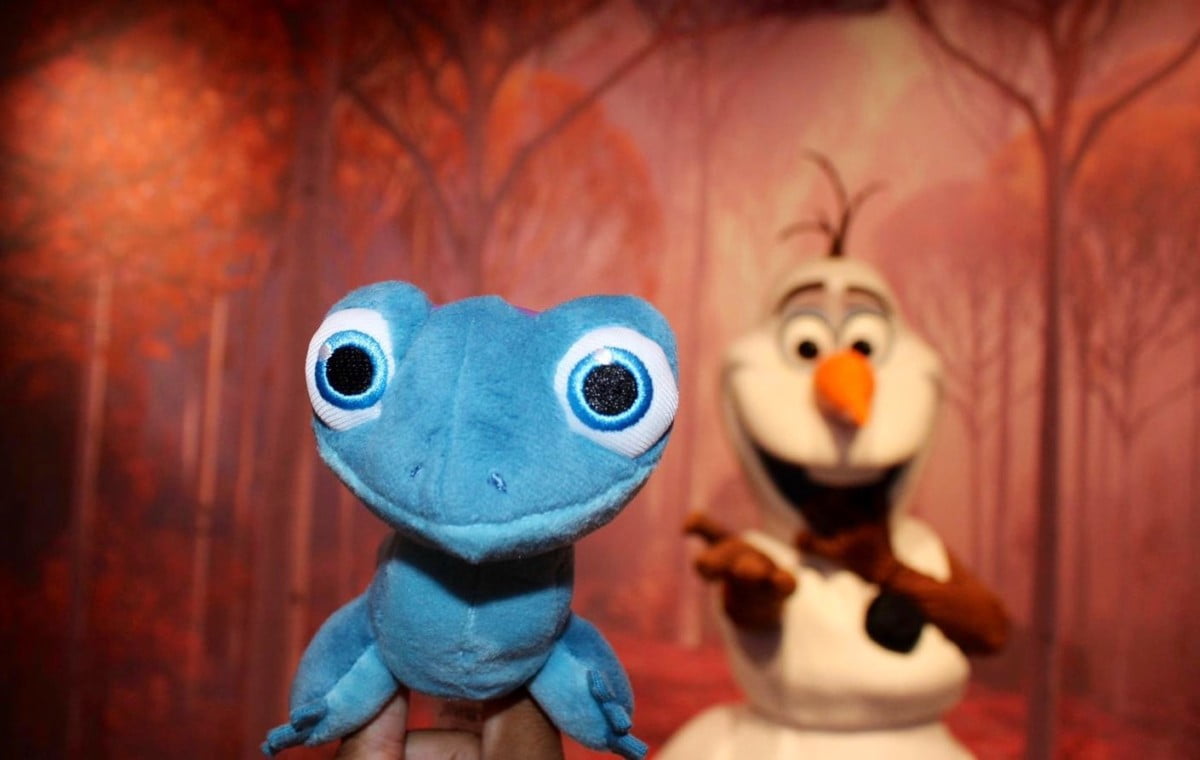 We love this litre Bruni shoulder plush!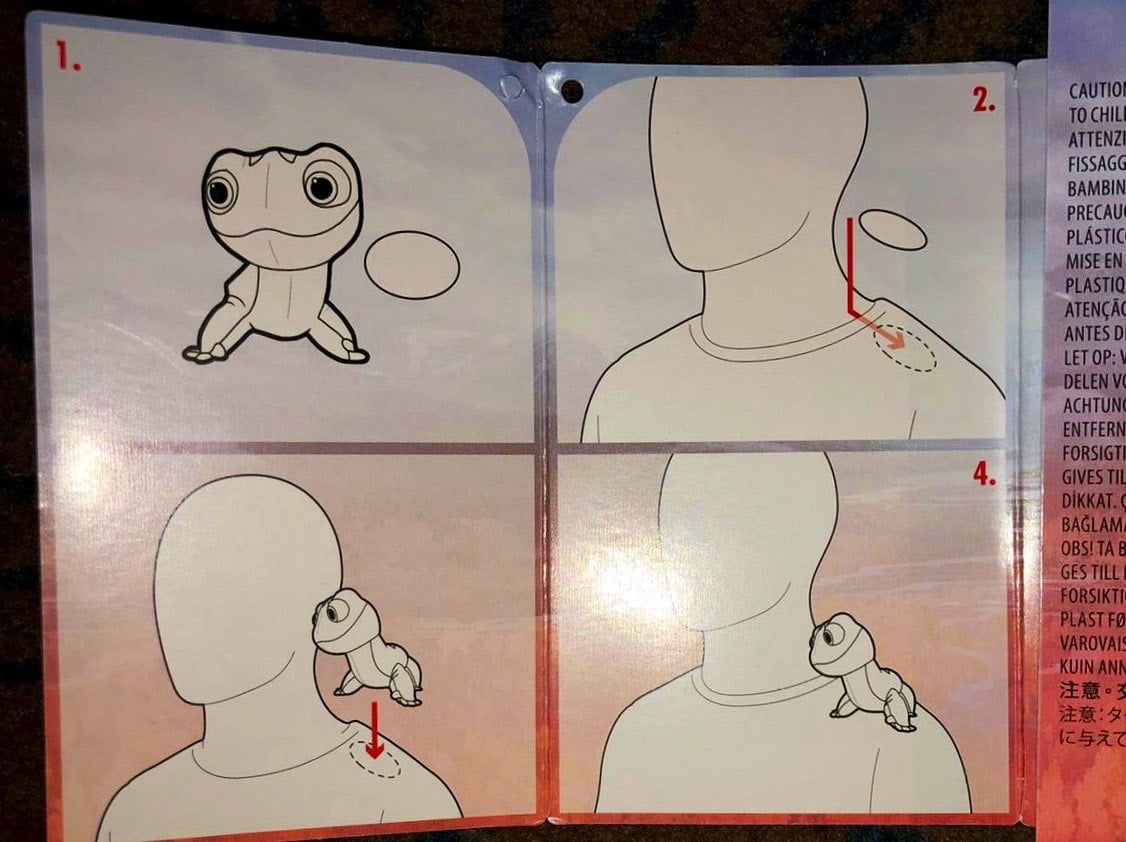 It works with magnets under your shirt as described above. (€14)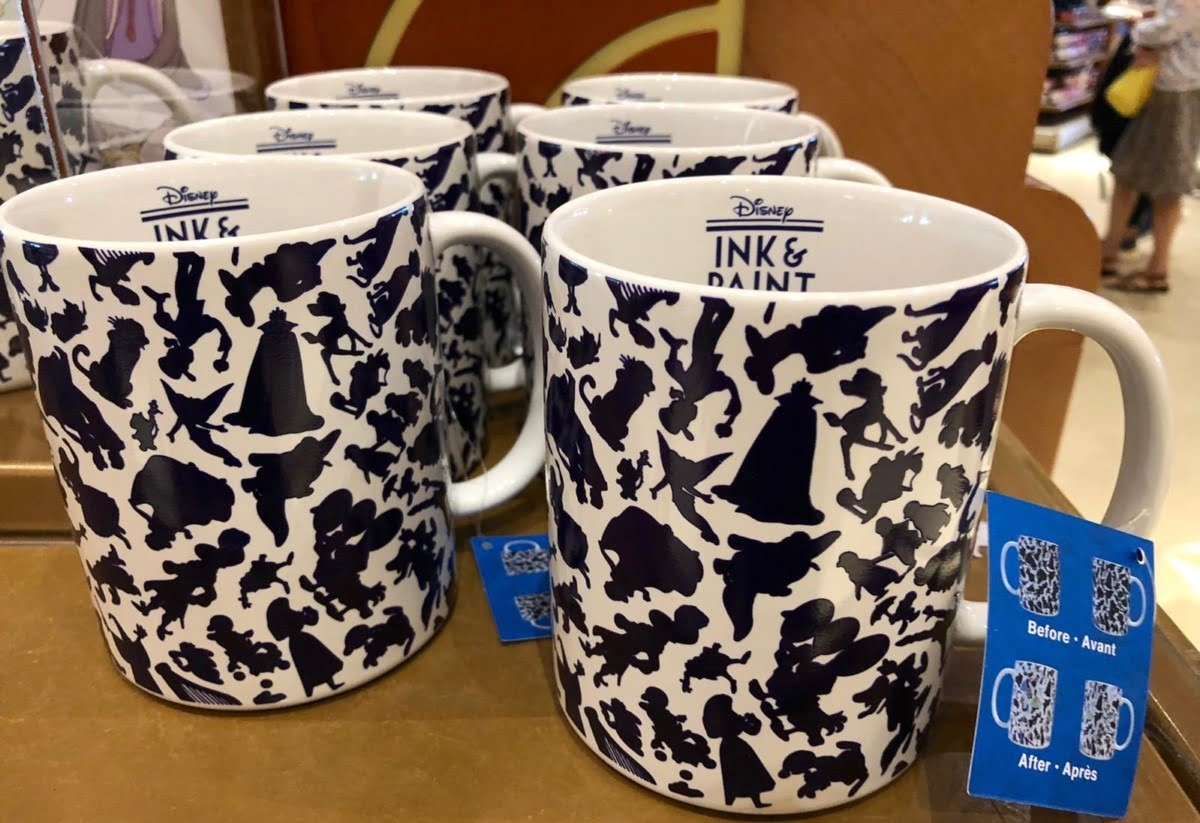 This awesome Ink and Paint Mug reveals the characters in color as you pour hot liquid (€8.99)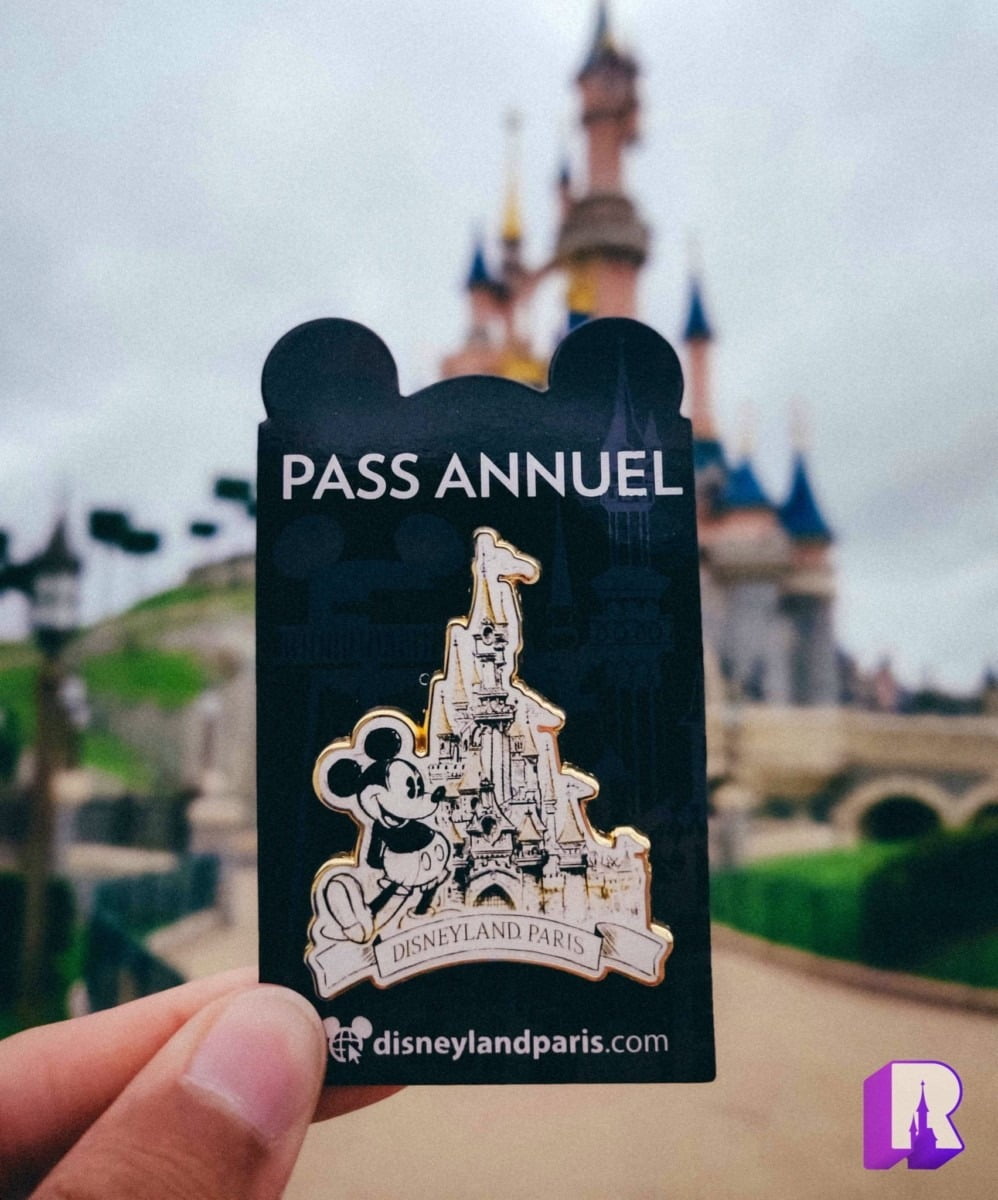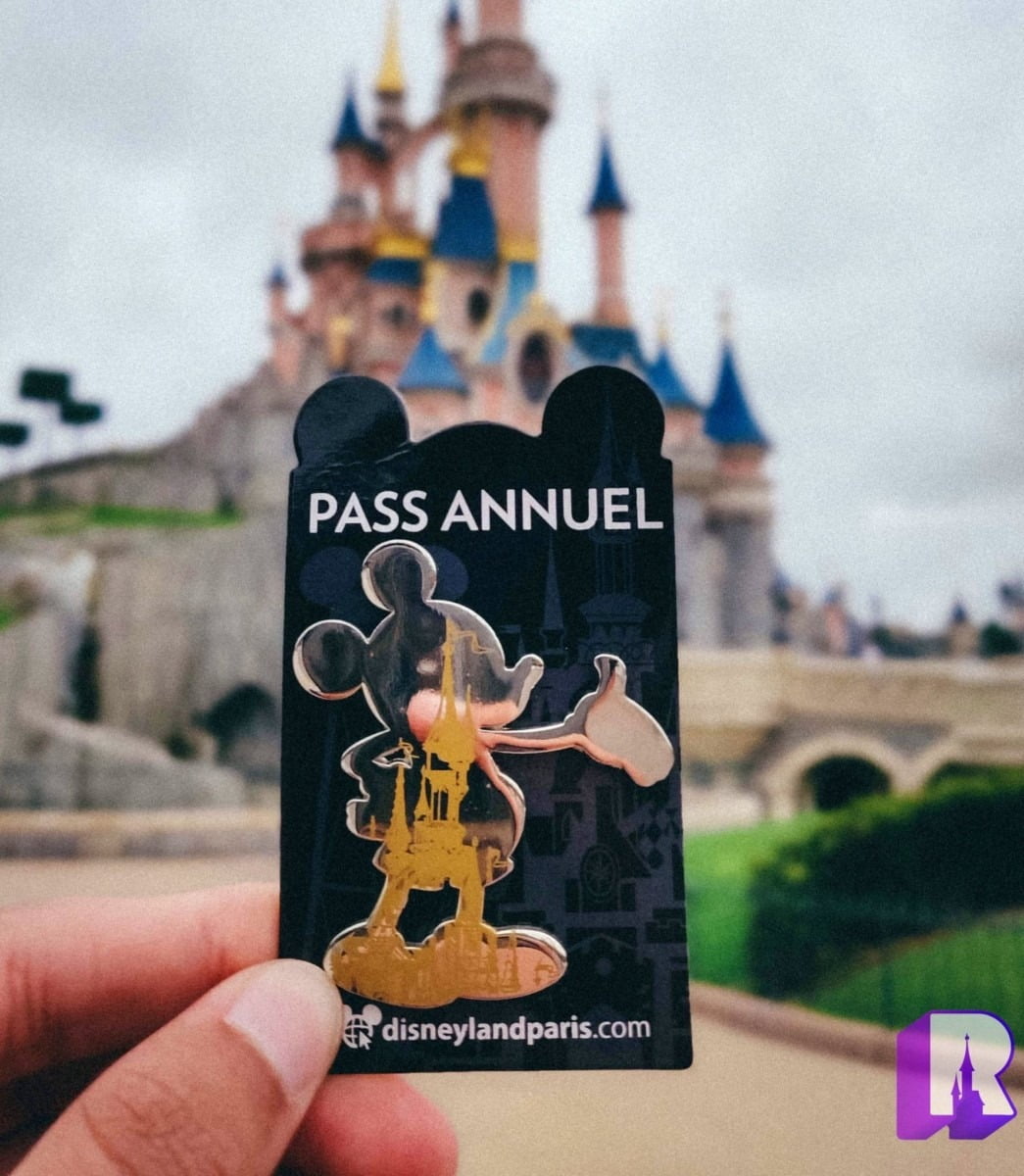 Two new AP Pins (unclear why they are AP branded) turned out really nice! (€6.99, on sale for anyone even non pass holders, open edition)
A new Minnie Swarovski jewelry collection with many personalized items (letters, month of birth) to choose from (from €18.99 at Sir Mickey's).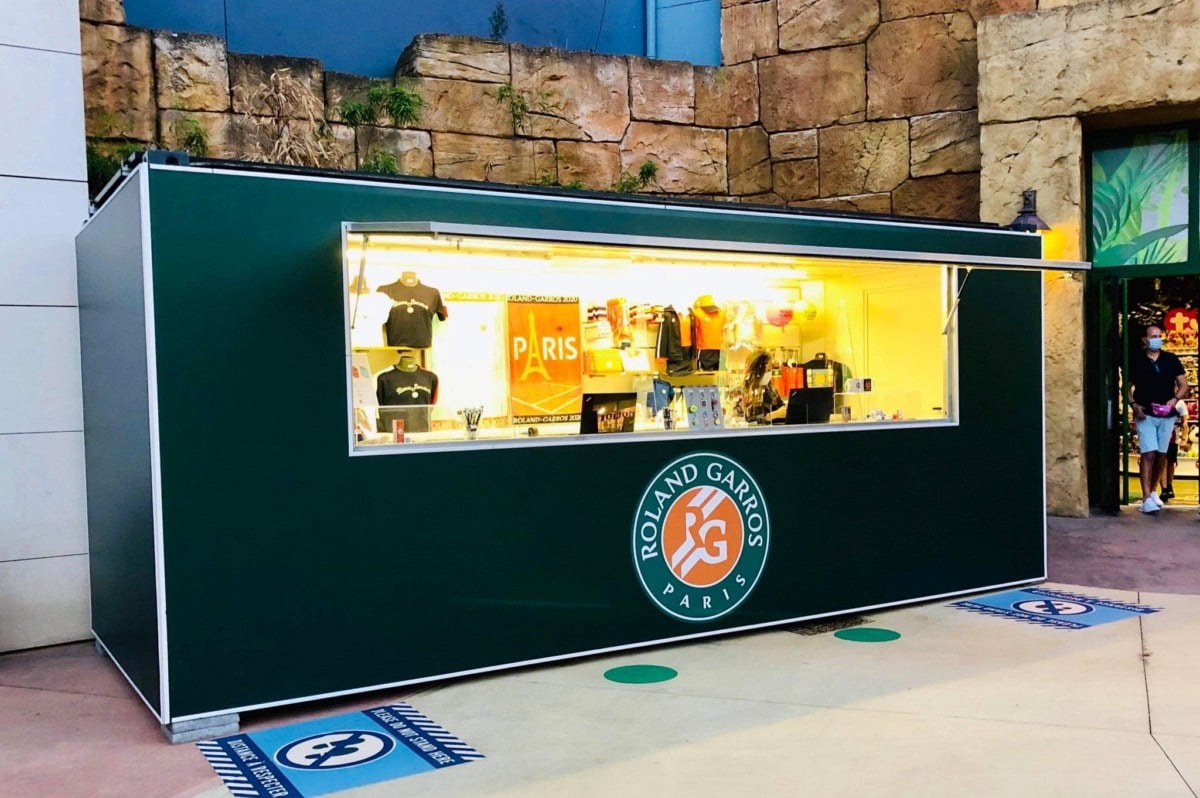 And at Disney Village, the Roland Garros Pop Up shop has opened.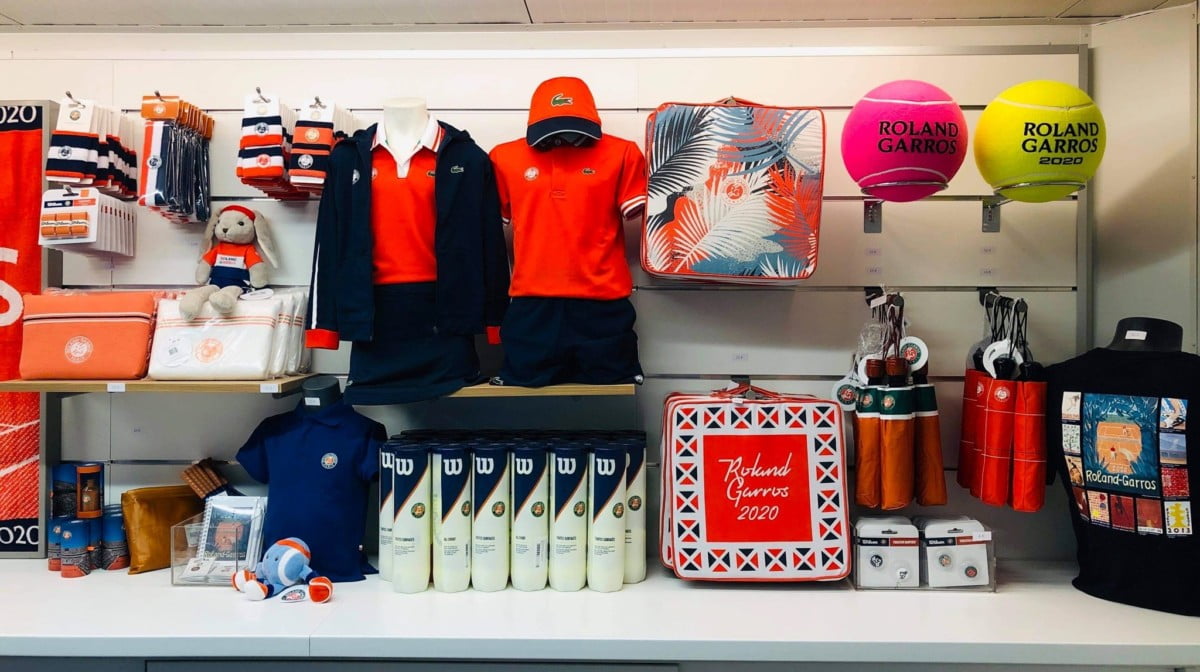 It sells merchandise from the famous tennis open until October 11.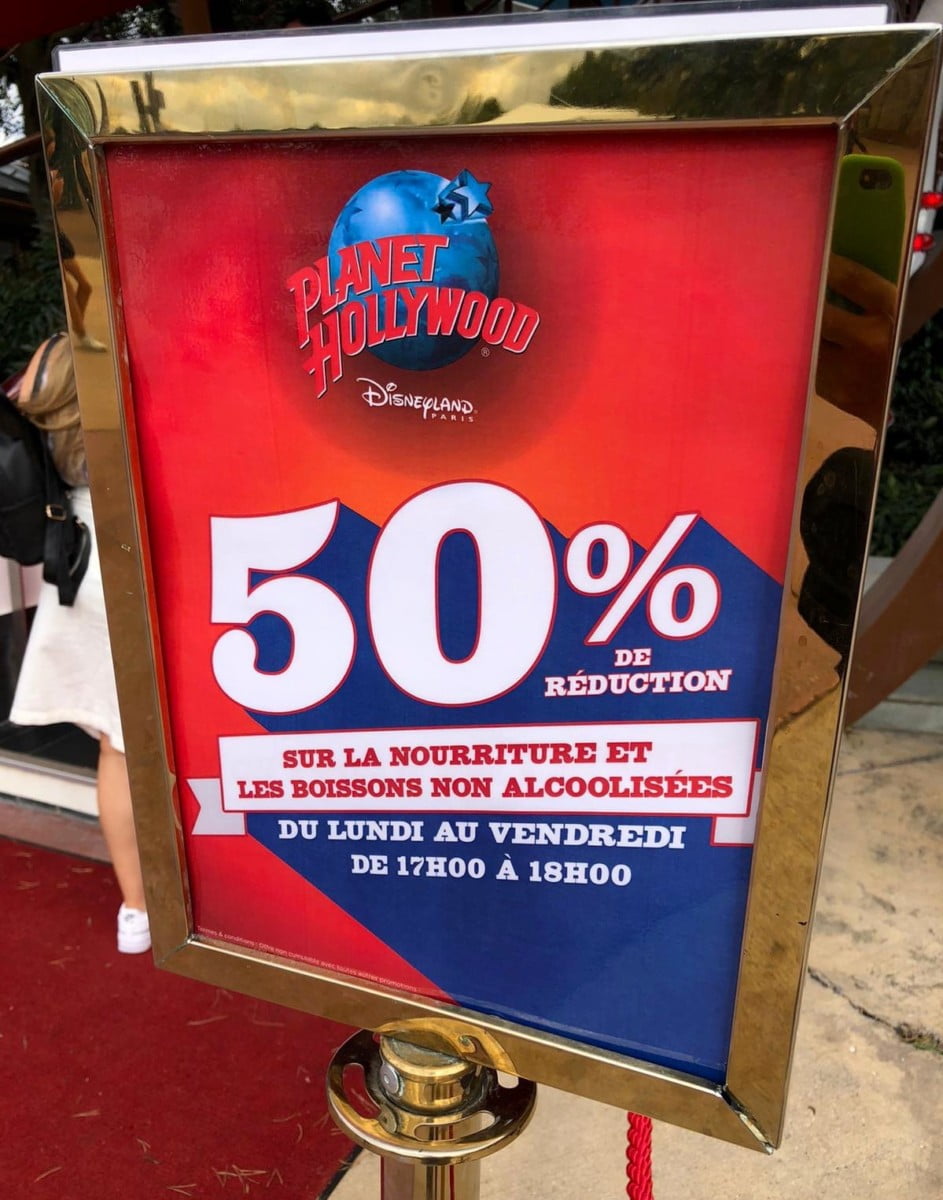 Not technically merchandise, but Planet Hollywood is having a 50% off food and non-alcoholic drinks offer, Monday to Friday between 5-6pm (you have to be seated before 6pm but can finish whenever). Like their food or not it's still a good deal especially if you've never been inside this 90's time capsule.
And that's out report for this week! As usual I will leave you with a few pretty pictures of our beloved Resort and see you next week for more adventures!