Welcome to a new DLP Report! This week is of course the big Christmas Season launch and we've got everything covered! We also talk about Magic Over Disney and the new Black Panther!
Disney Enchanted Christmas Launch
Tis the season to be merry and once again the iconic Disneyland Paris season is bringing the over the top Christmas vibe we expect from Disney:
Mickey's Dazzling Christmas Parade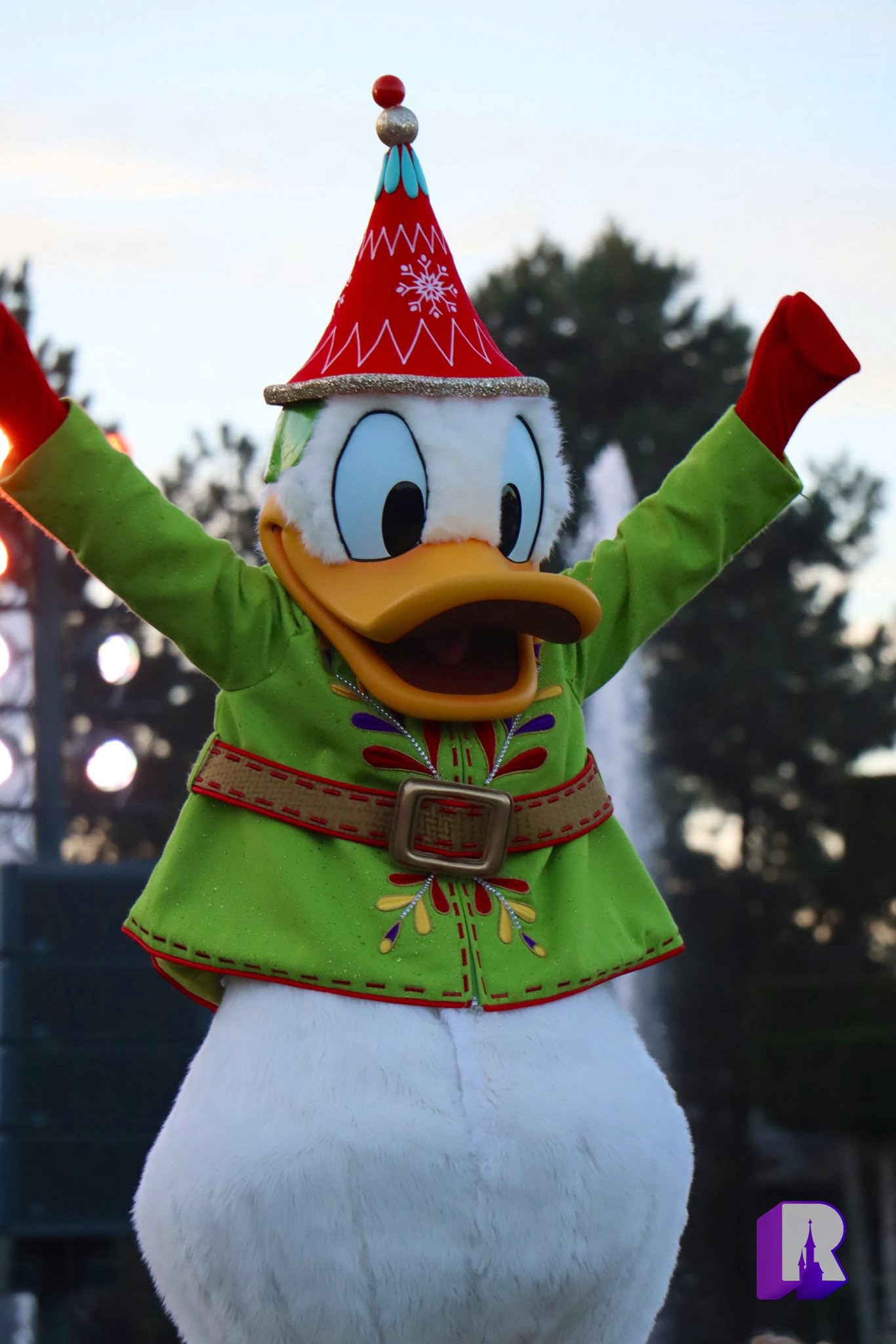 Returning this year is the fantastic parade that chaotically debuted last year: Mickey's Dazzling Christmas Parade. If "Dream… and Shine Brighter" succeeds with simple modern floats, Dazzling succeeds with a "more is more"design that fits the season. During the day performance, Central Plaza is the place to be with a fun show stops to remixed holiday classics: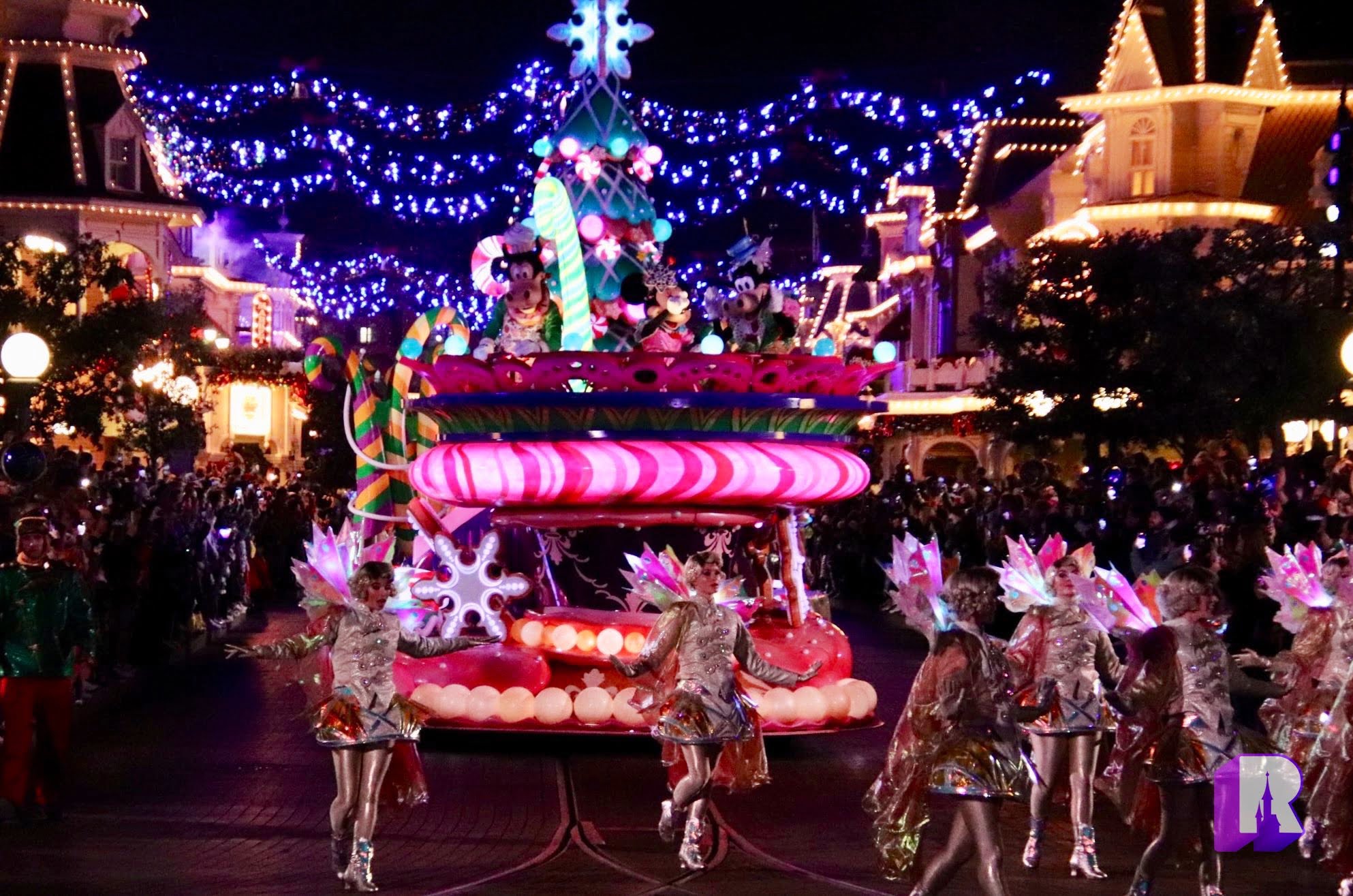 But it's at night that the magic truly comes to life as the floats get into "night mode". Town Square is the place to be for this performance as Disney Friends and Santa will light up the Christmas Tree as part of the show. This year, shows stay in movement so that everyone can see all of them and not get stuck behind a single unit. Good idea!
On Central Plaza, it's a "virtual" tree lighting ad Sleeping Beauty Castle becomes a tree with the help of projections which fall a bit flat. This is the "lesser" show stop, but it has surprise pyro so we'll give it props for that.
Disney Dreams of Christmas
Created in 2013 and updated in 2014, Disney Dreams of Christmas is a holiday projection and fireworks show completely unrelated to the iconic Disney Dreams! show. It's back this year for the holidays and it's nice to have variations of nighttime spectaculars with the seasons! (and also a relief from Disney Illuminations). The show is enhanced with the new Sleeping Beauty Castle LED lights (see our section about decorations). It's a fun succession of holiday traditions hosted by Olaf but does feel very dated and the video is old and not as crisp as more recent projection shows (yes, Disney Illumination is much better quality in the technical sense). Still a lovely way to end the day!
Now the real fun begins after the show with a new post show sequence that truly reveals the magic of these new lights as Sleeping Beauty Castle transforms in a sparkling wave of light:
Disney D-Light also benefits from the new LED lights with an "enhanced" version. The show has not changed and still features the drones but it now has additional effects on the turrets that reinforce this already very strong show:
Let's Sing Christmas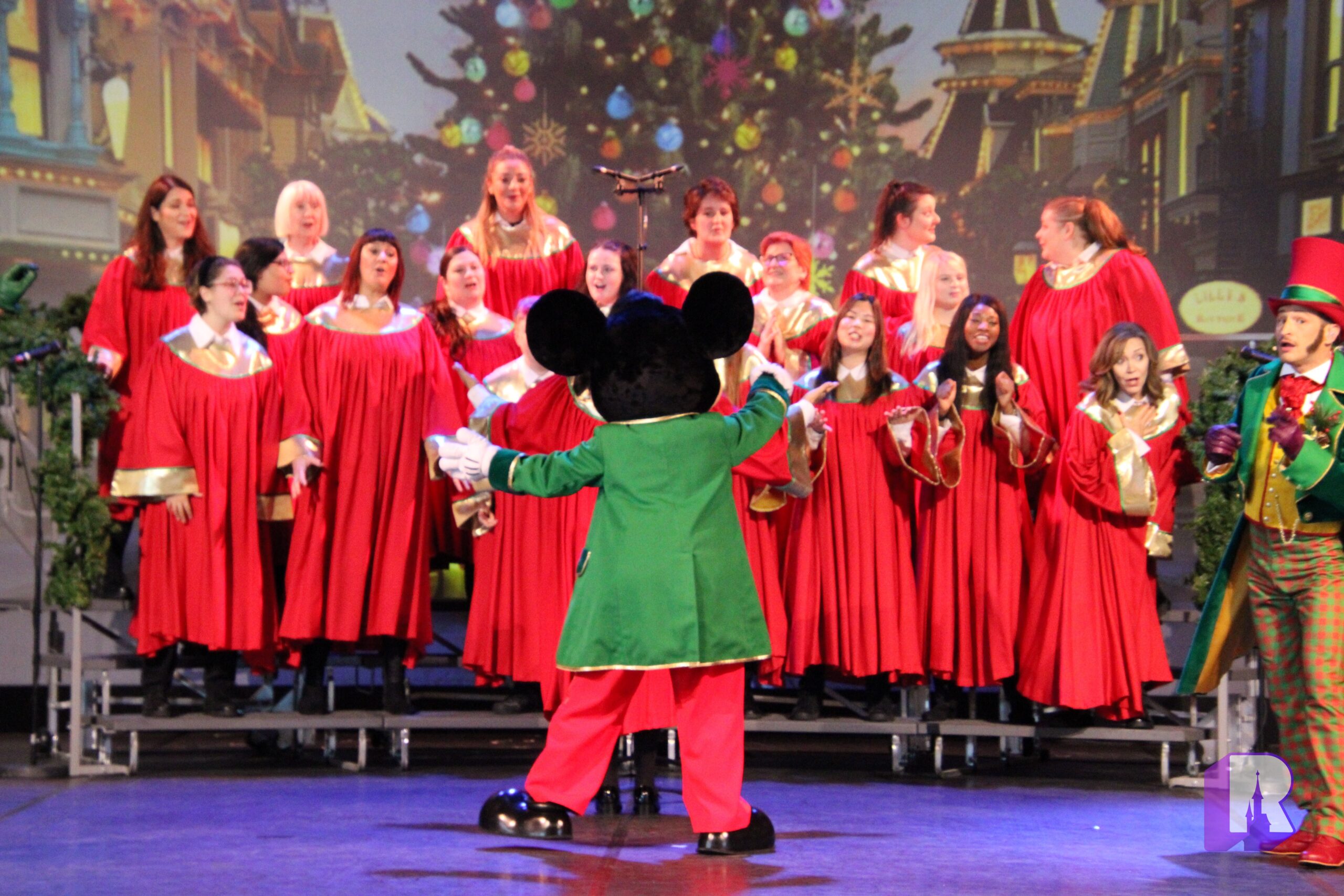 The holiday caroling show is back this year at Videopolis, bringing the more "traditional" side of Christmas entertainment. New for this season, Minnie with a partially new outfit sings "All I want for Christmas is You":
Tree Lighting Sequences
Separately from the Dazzling Christmas Parade Tree Lighting segment, the Town Square Christmas Tree comes to life up to 9 times a day randomly with 3 different sequences that blend music, snoap, and synchronized lights on the tree and the garlands. Sequence 1 features a slow version of "Shine a Light" (my favorite), Sequence 2 starts with a "world of color" intro (also great) and Sequence 3 is a mix of holiday favorites. It's a really lovely surprise for Guests walking up Main Street so make sure you catch it if you're in that area of the park!
Decorations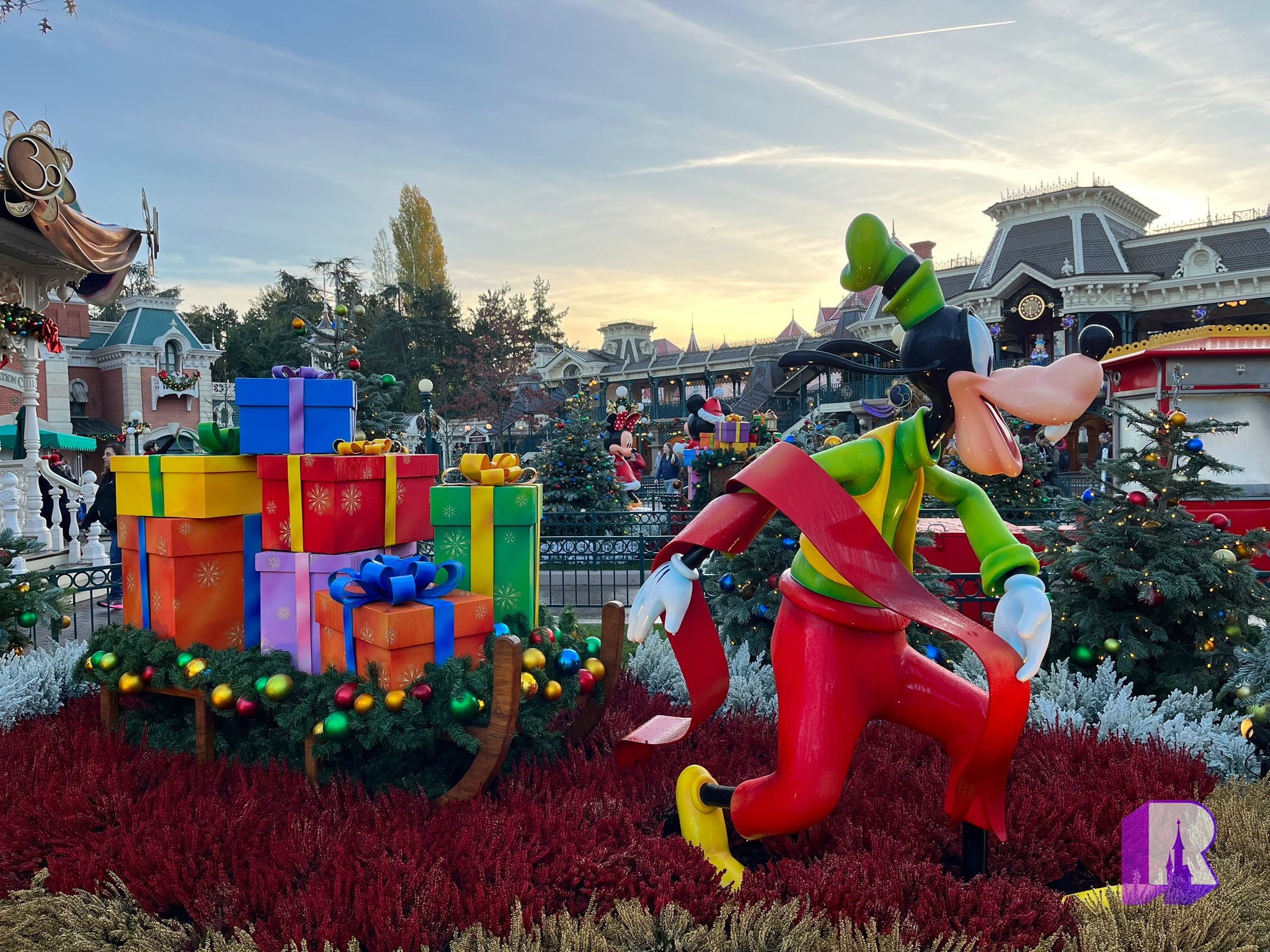 It's impossible NOT to feel merry when you walk into Disneyland Park! Main Street Station once again blends the anniversary with discrete seasonal themes (that don't block the windows!) while Town Square features a new design this year with multicolor baubles on the tree and a repositioning of the Christmas statues that debuted with the 25th Anniversary. I'll admit this is not my favorite version of Town Square – I find it too much of a patchwork of colors, themes and styles.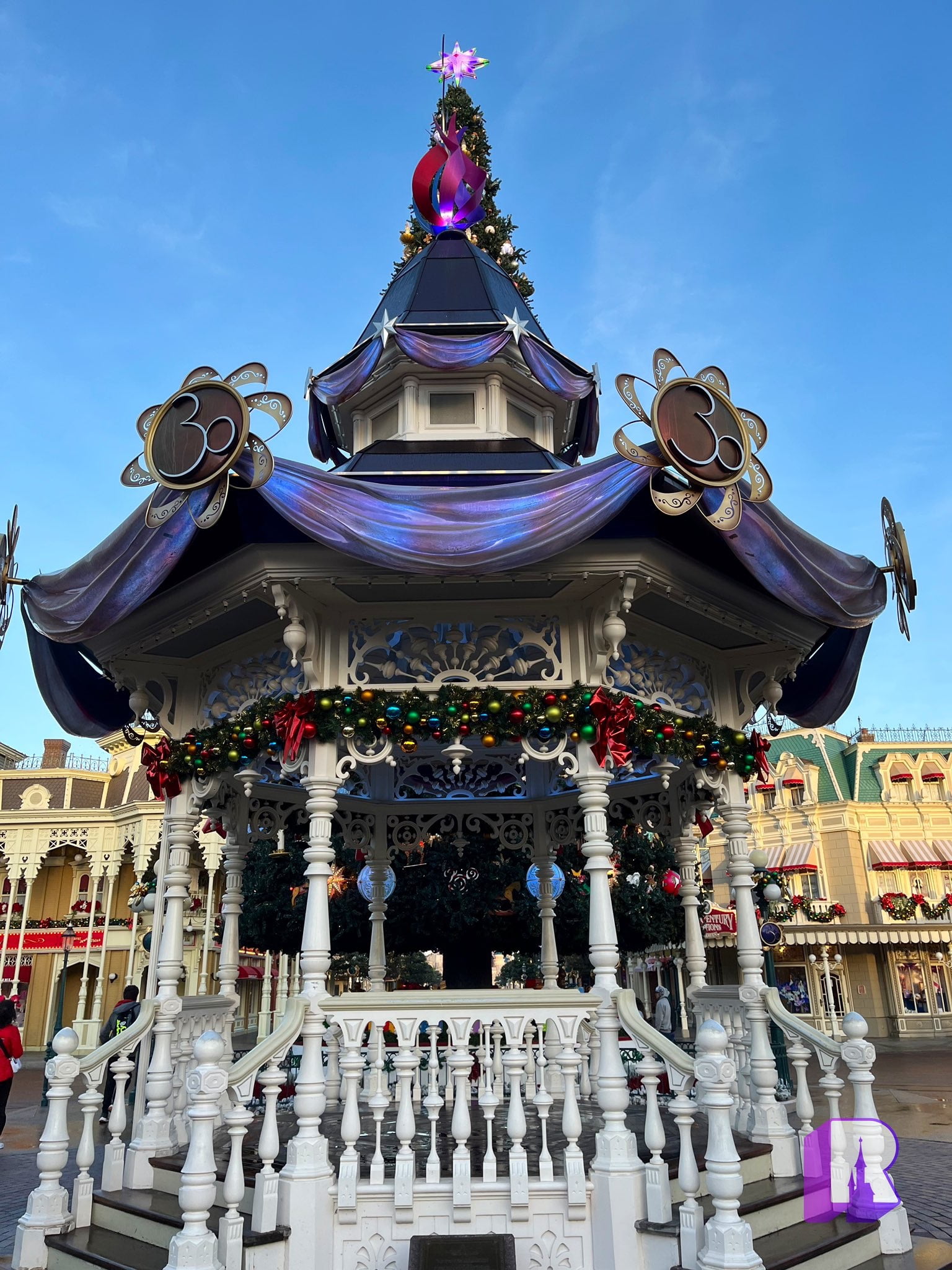 Of course the iconic garlands are returning!
Over on Castle Stage, no show this year sadly but the stage is decoration and the screen used for Halloween already has been revamped with actual "Happy Holidays" lettering on top of it – a really cool idea!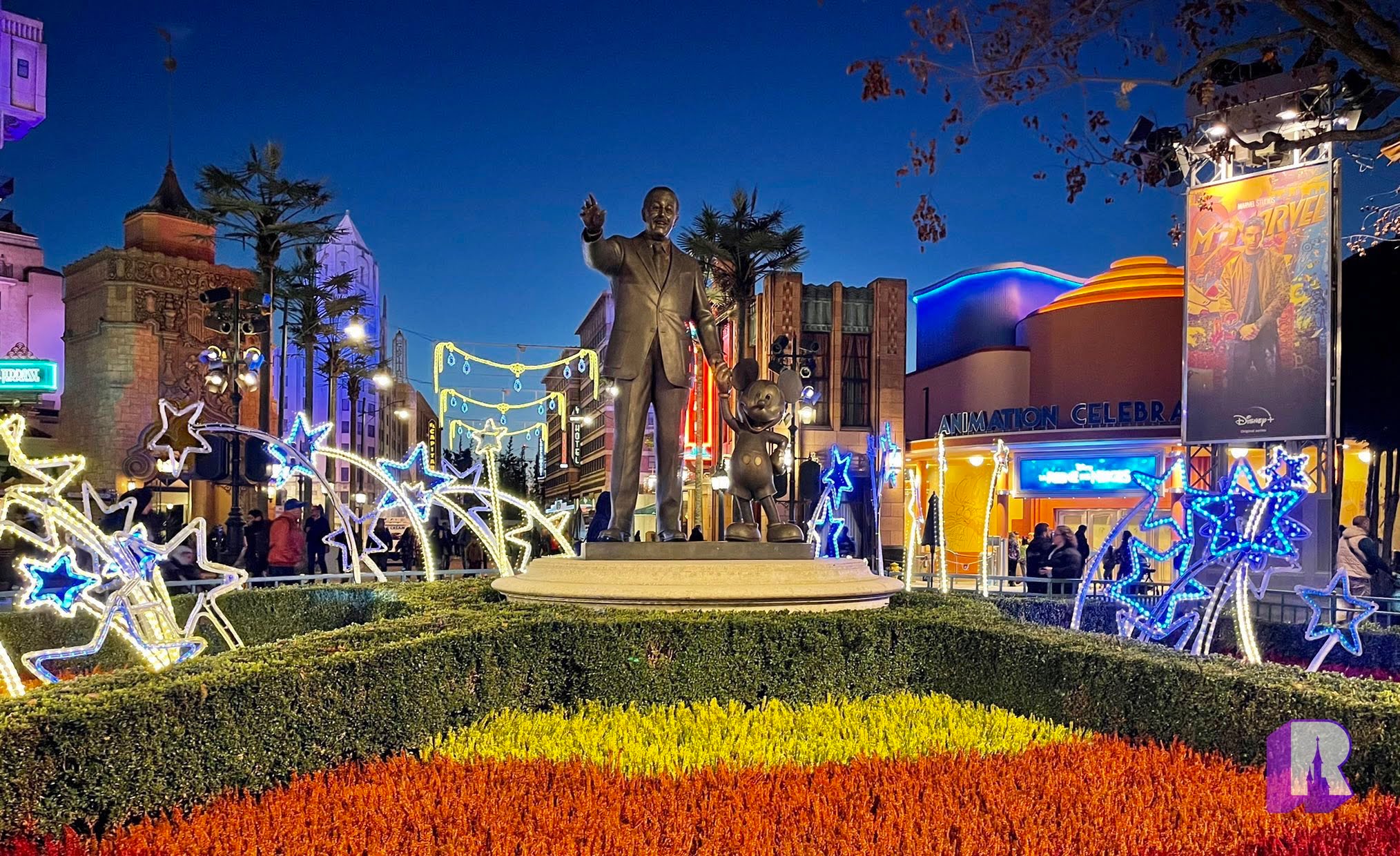 At Walt Disney Studios Park it's the same off brand looking Christmas decorations. I think everyone is well used to them now.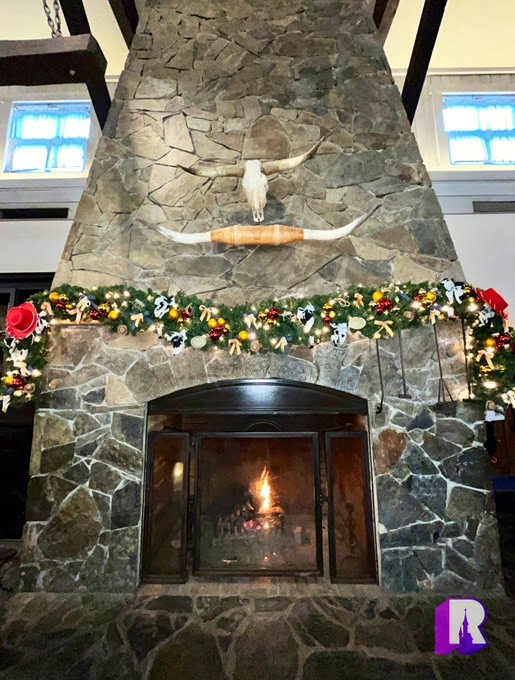 Disney Hotels are also ready for Christmas with a lot of custom and themed decorations throughout. It's nice to see all this effort being put into the hotels!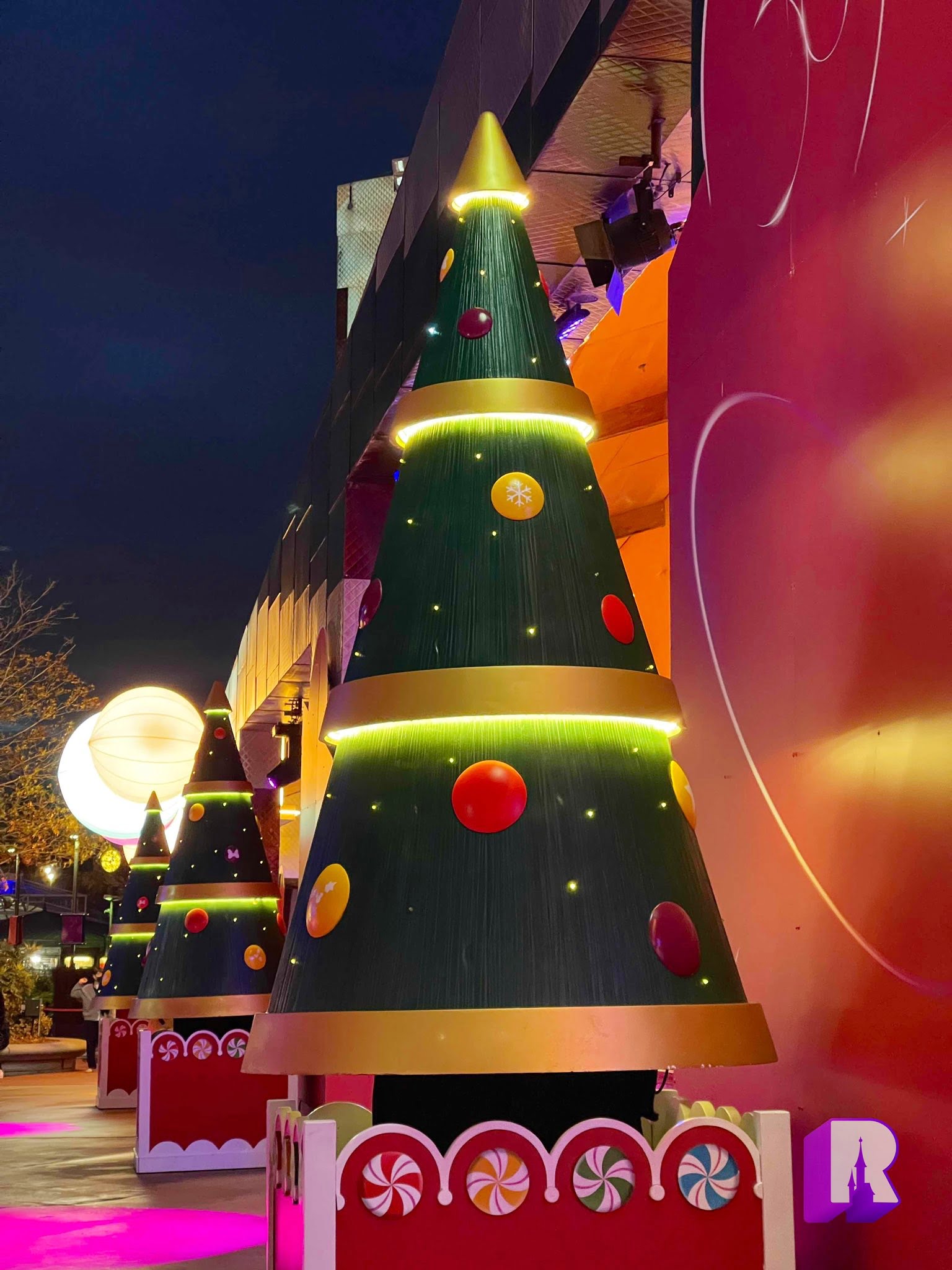 Disney Village of course also has its own theme and it's actually pretty nice. Christmas is the season where Disney Village has found the right balance of modern and not too tacky for its decorations.
Characters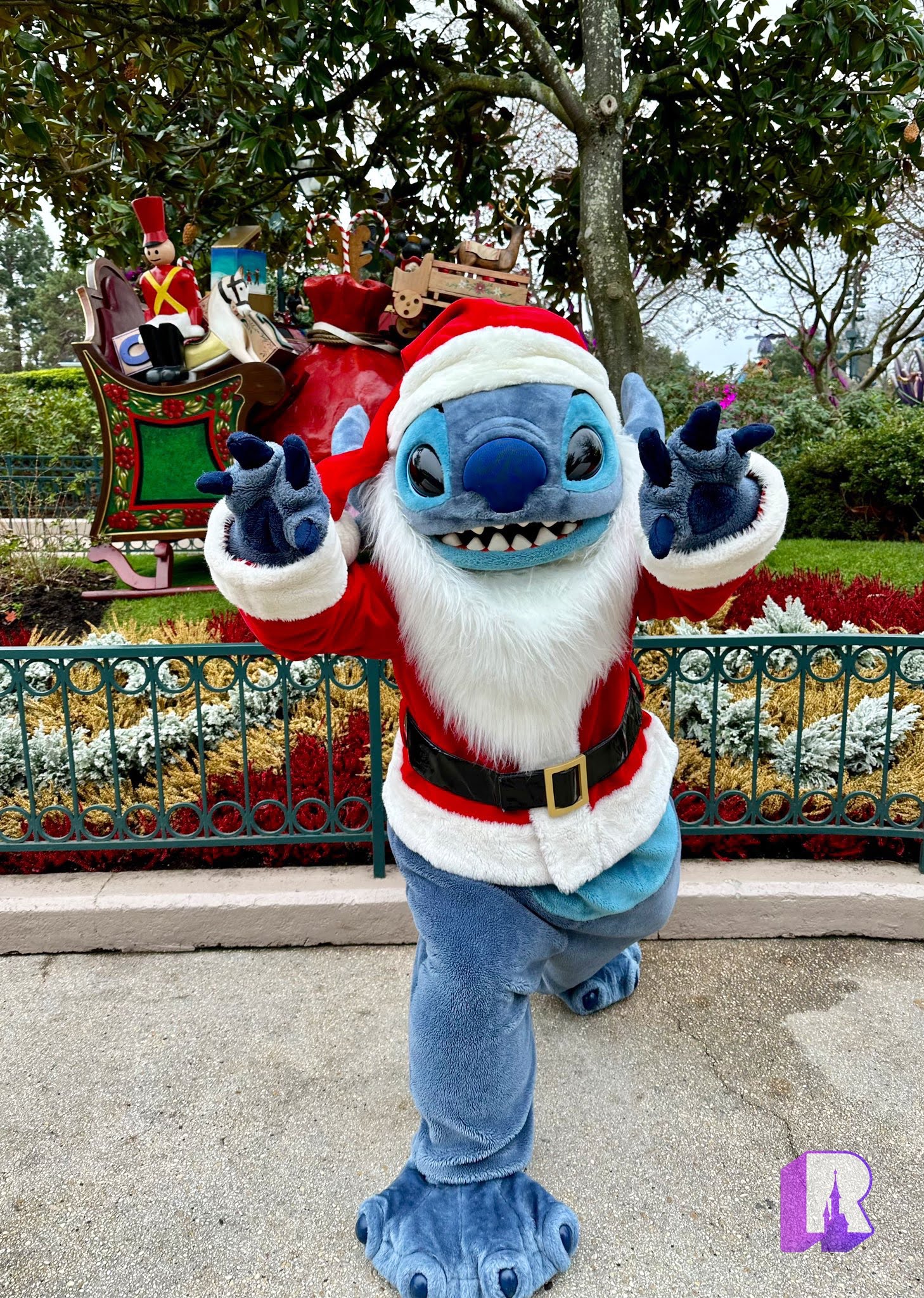 Favorite Disney Friends are back again this season to meet Guests in their holiday best. nothing extremely groundbreaking this year at Disneyland Park except maybe Chip and a Dale near Casey's Corner who have a "new" background – you'll recognize the heart first used during the Spring seasons. Pooh, Stitch, Santa, and Sandy Claws are also on hand.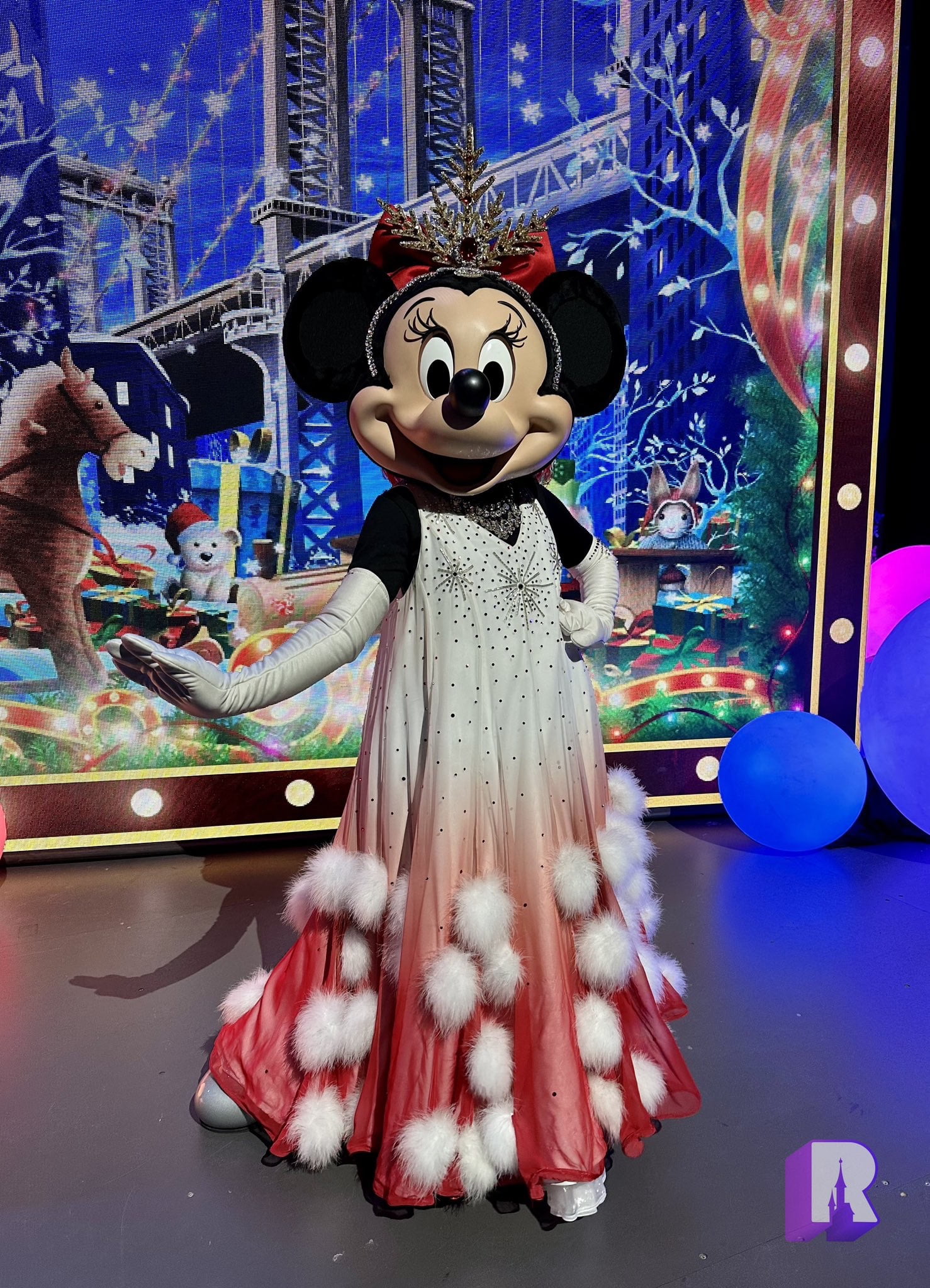 At Walt Disney Studios Park, no big Christmas celebrations but Guests can meet Minnie and a friend at Studio Theater in Christmas outfits with a new background. Some of the costumes are of course from "Mickey's Christmas Big Band" which is not performed this year.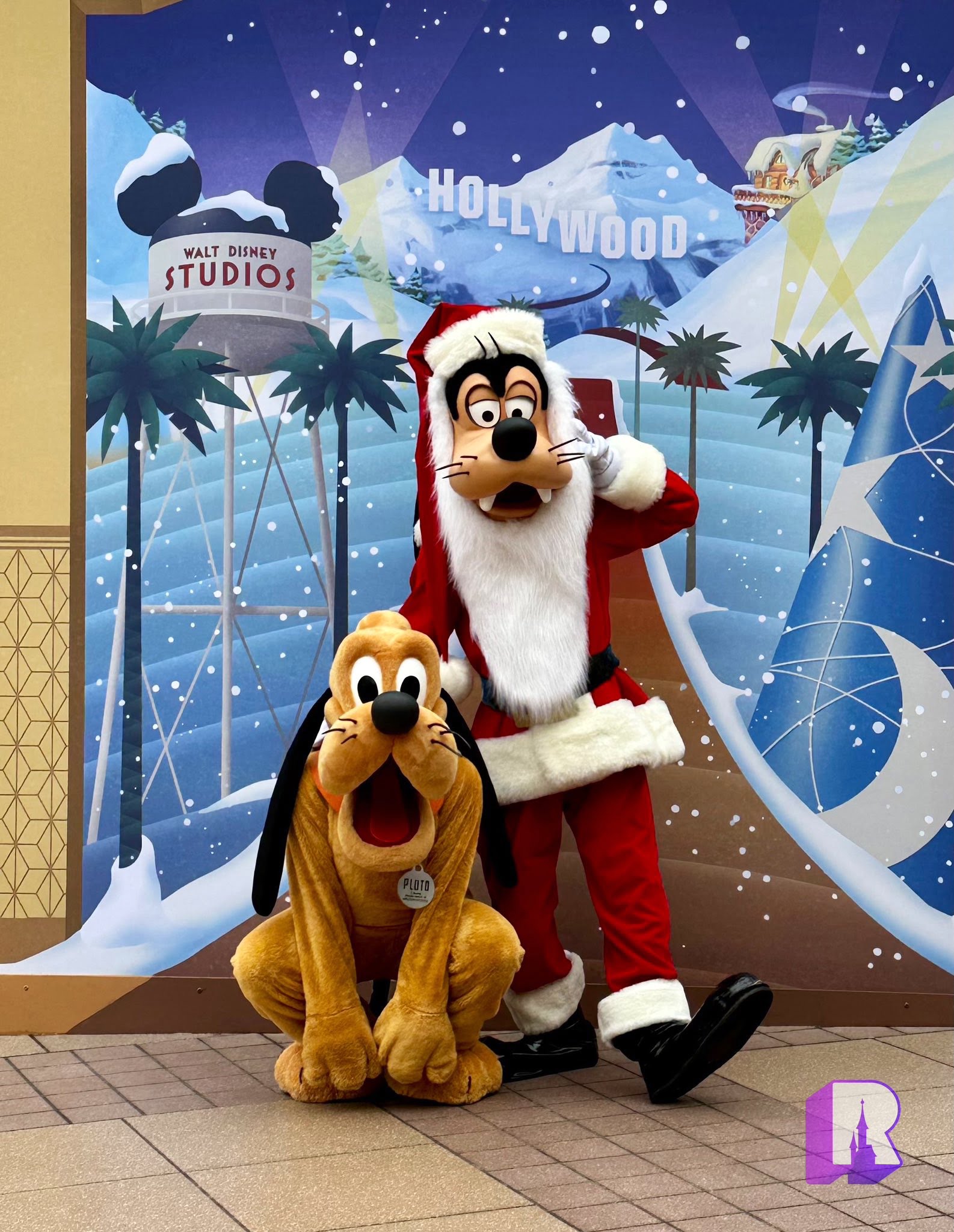 In Front Lot, it's Santa Goofy who is often joined by Pluto!
Food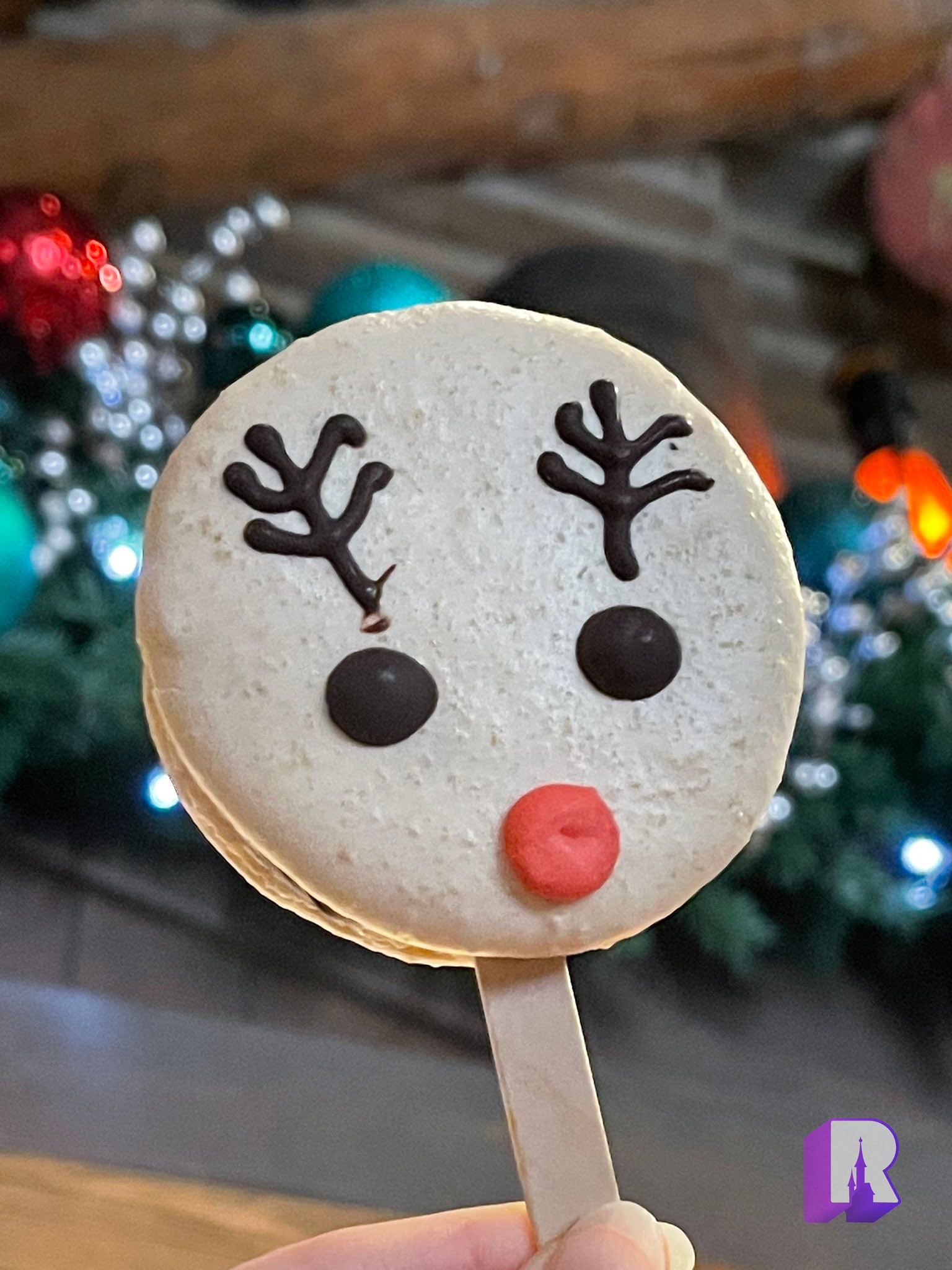 Not a ton of new snacks this year but the ones being rolled out are all pretty good over all! The macaroon pop in Frontierland is a hit, as well as the returning gingerbread trees (available in many snacks locations).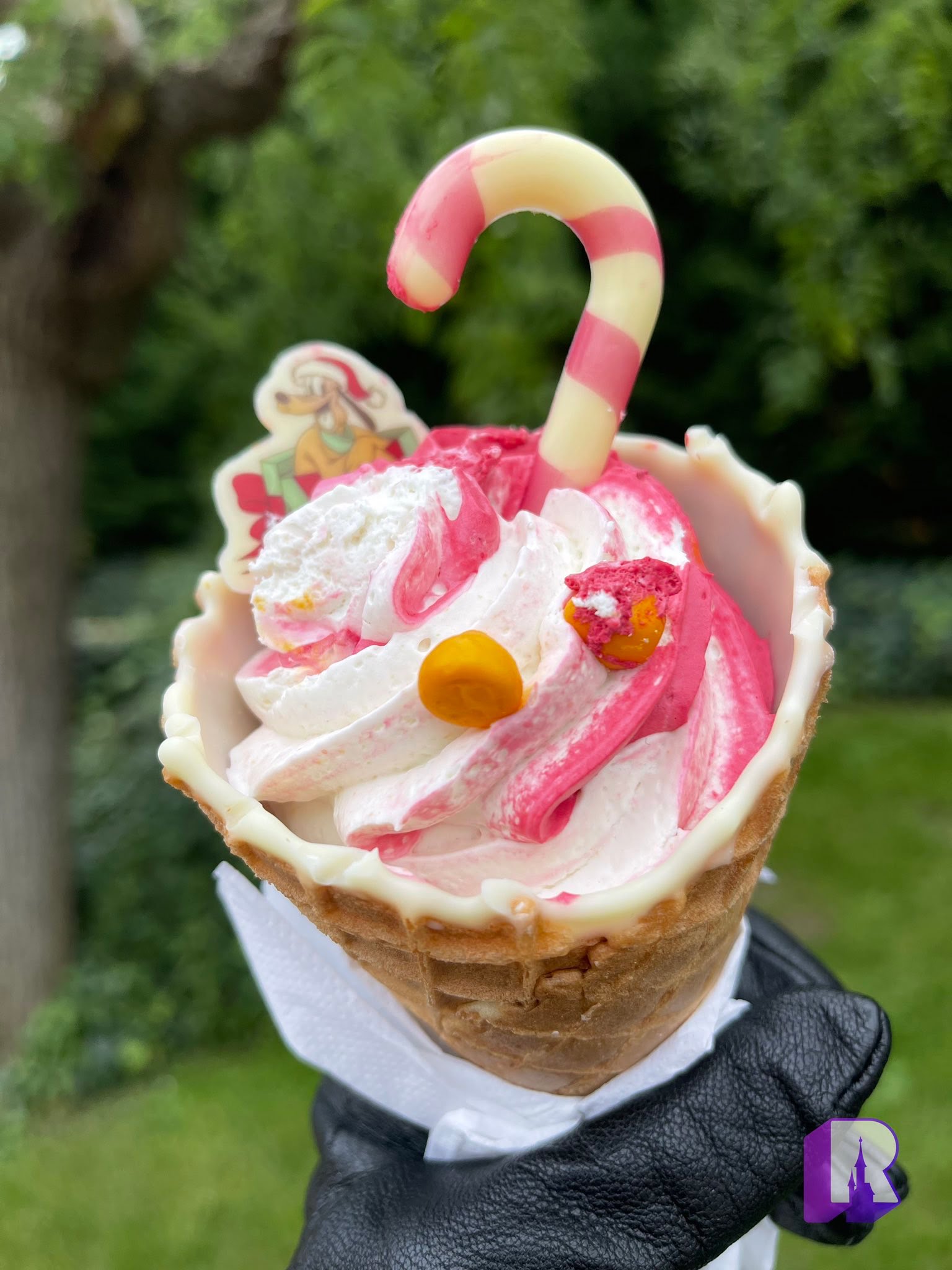 The Old Mill is back with a mousse cone, this time it's less and chocolate. These mousse cone snacks are nice (and filling) but let's not let this become the new shortbread with a new flavor of the same thing every single season.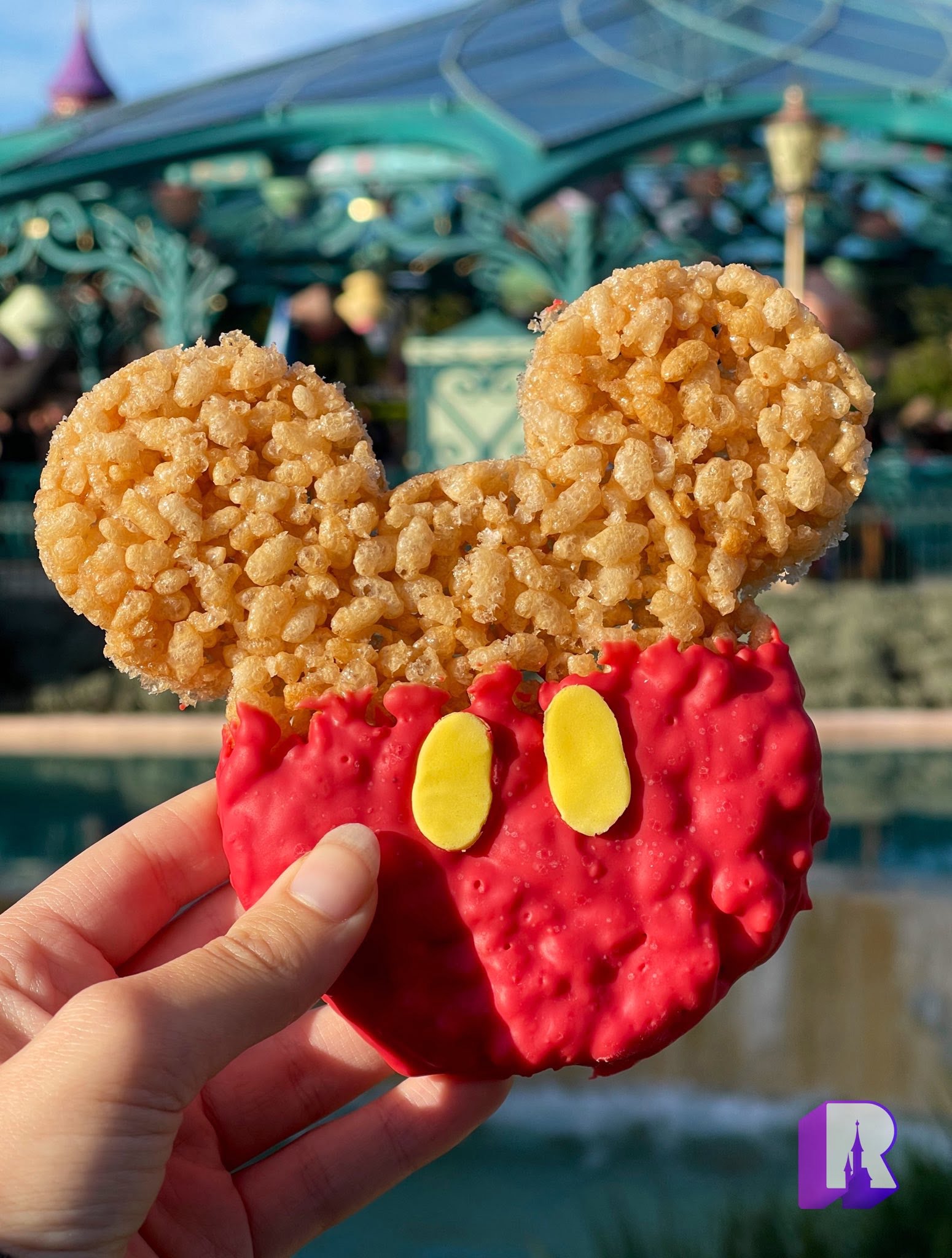 A new Mickey or Minnie rice crispy snack has also débute. It's very sweet but nice.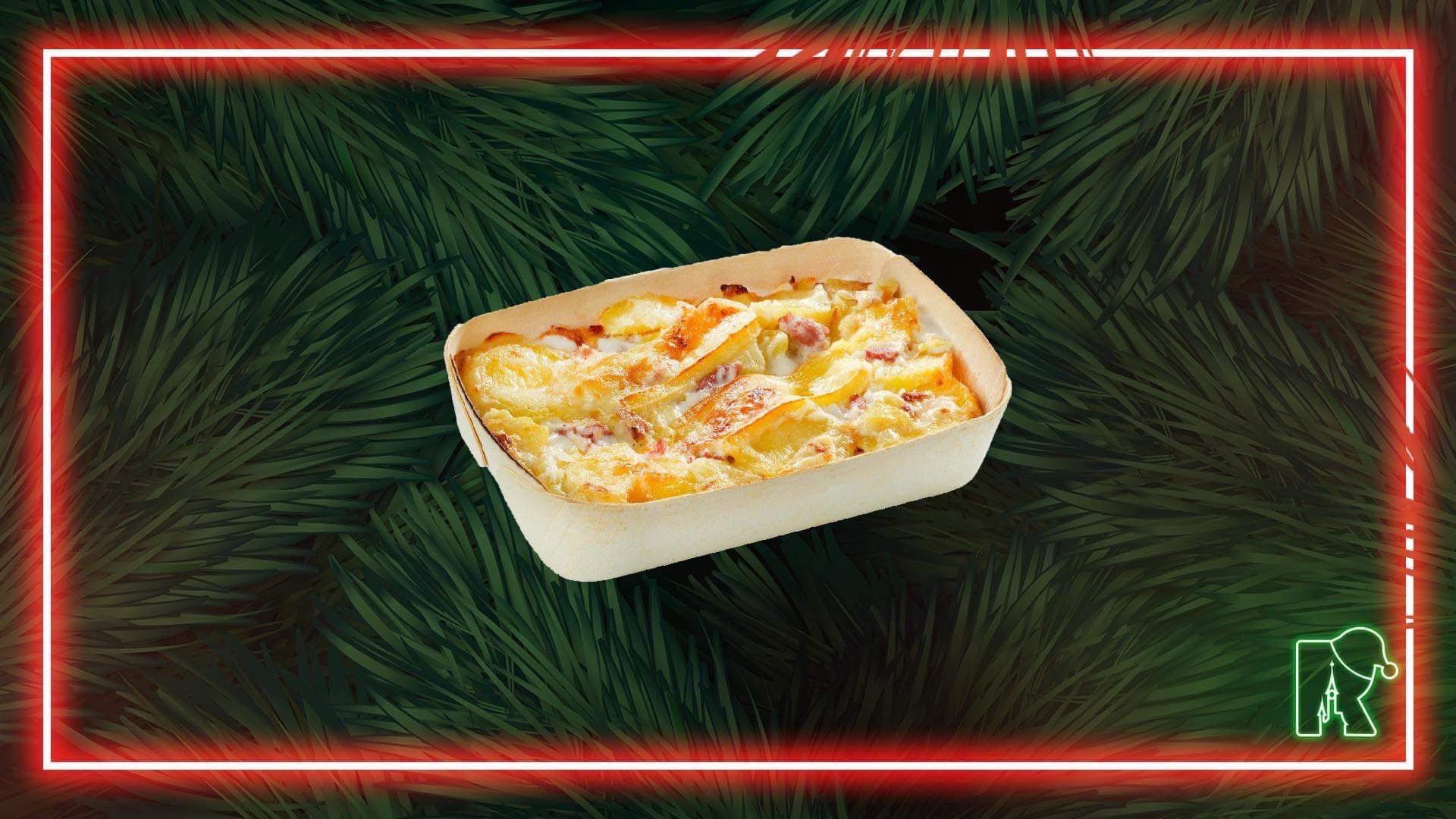 At L'Arbre Enchanté, a new Tartiflette snack has been introduced (potatoes, cheese and bacon) it's nice but takes a LONG time to eat which is an operational challenge.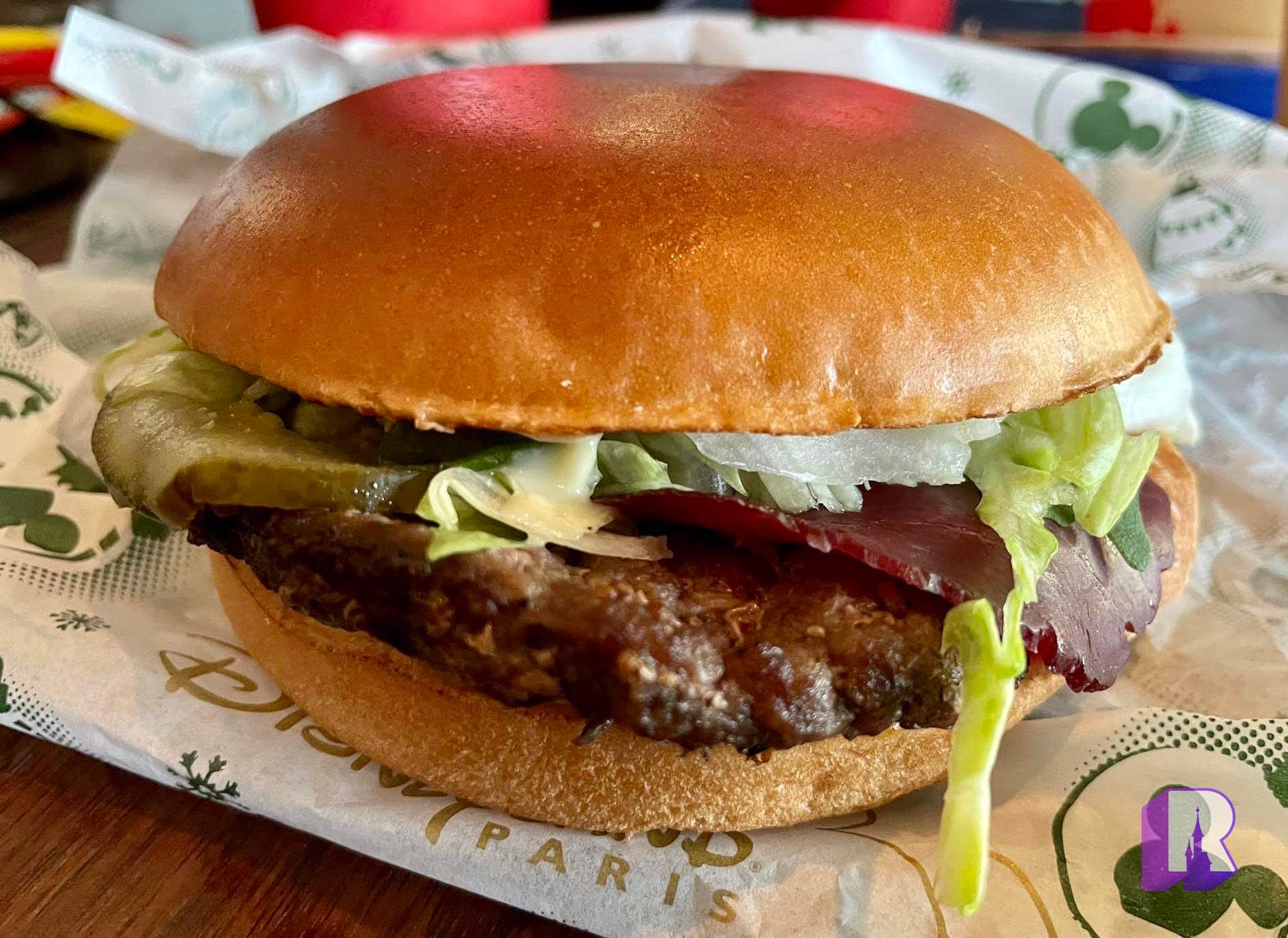 At Hyperion Cafe, a new Raclette burger has arrived with actual raclette cheese and bresaola meat. For dessert, a cute igloo made of vanilla and chocolate mousse. Overall quality of product or being able to serve warm fries is till a problem at Hyperion but this menu is pretty nice!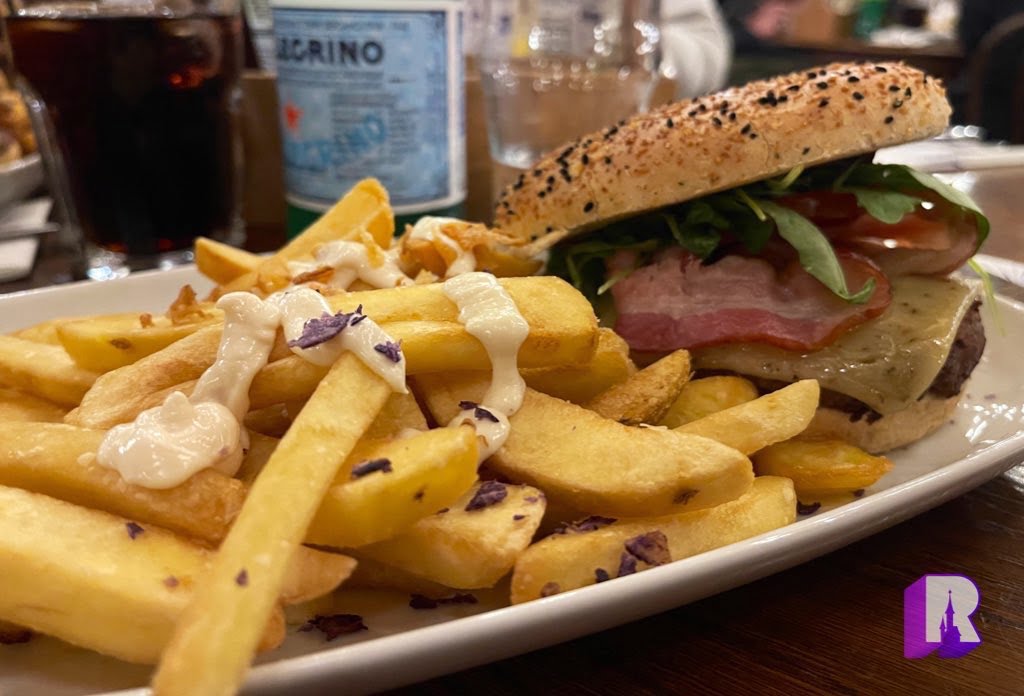 At The Lucky Nugget, no Christmas menu this year sadly. Instead there is a new DLP30 celebration menu with a super dry burger and a new golden nugget dessert which is a decent caramel mousse (€25 for this menu)
A selection of holiday specialties is also a available at buffet restaurants (hello truffle potatoes)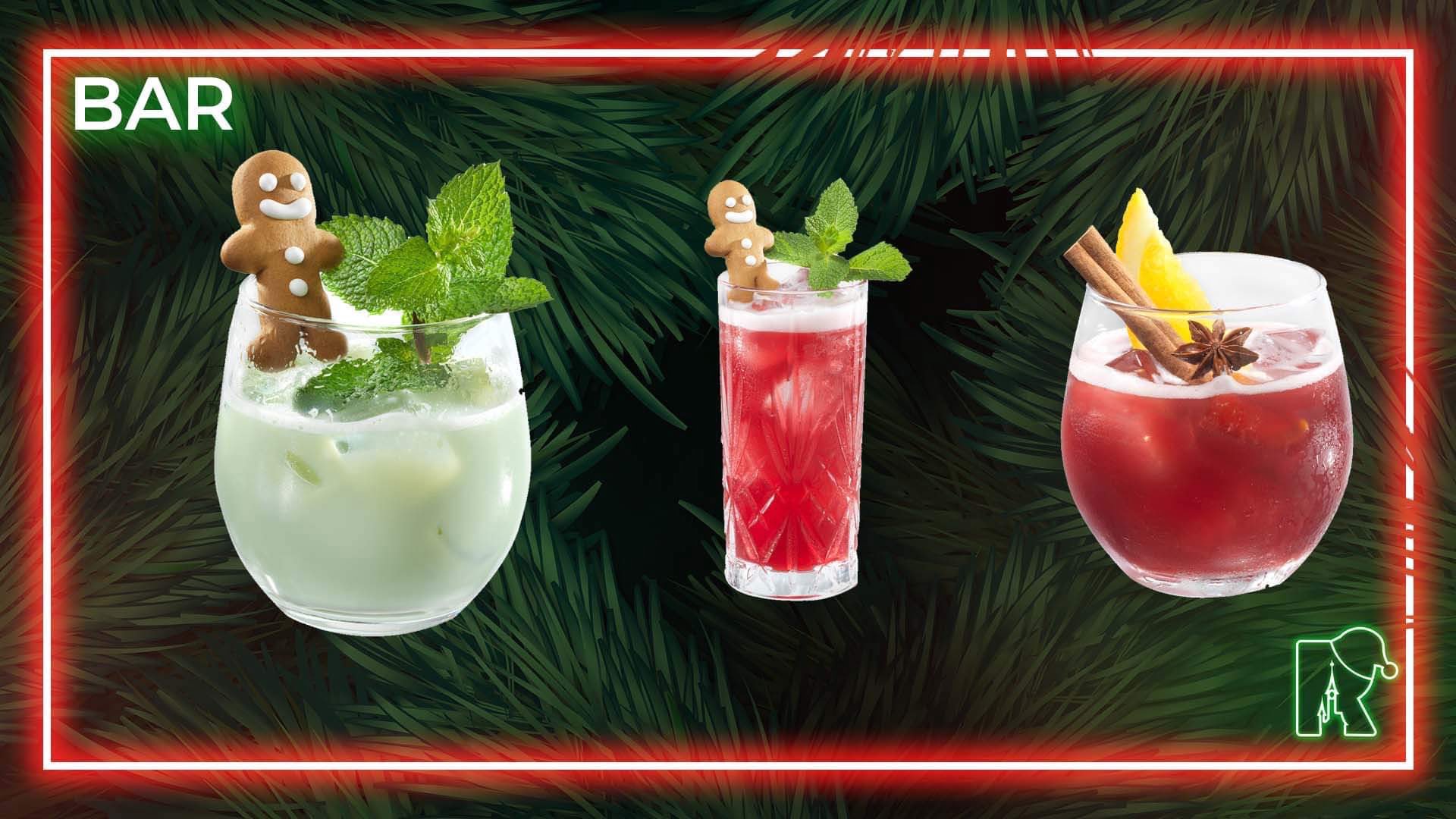 And at hotel bars, Disney Village bars and some table service restaurants in the parks you'll find a selection of holiday cocktails.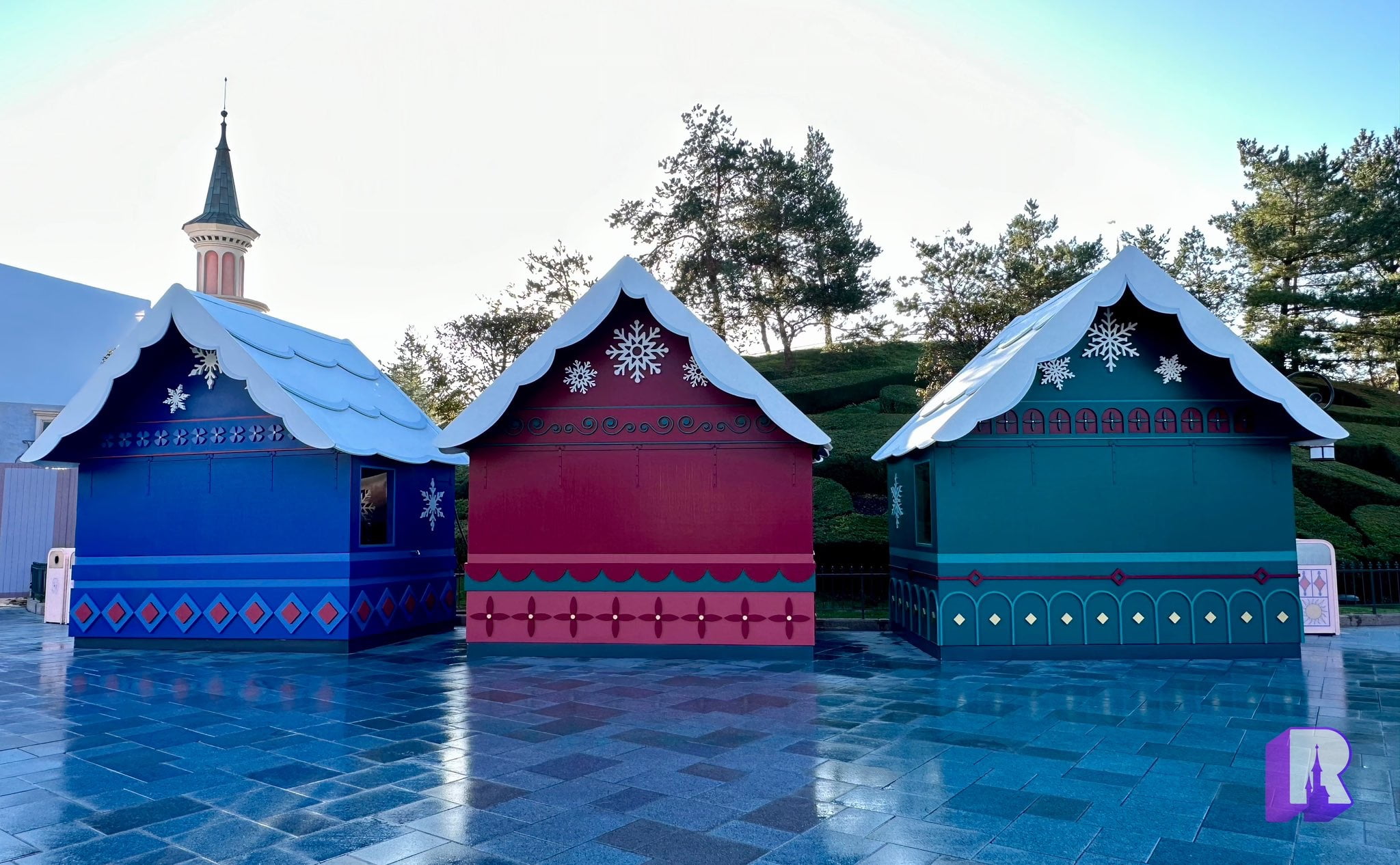 3 chalets have arrived in Fantasyland across from "it's a small world" for a new extension of the Hiver Gourmand food festival. They're not open yet but will soon sell holiday specialties until Jan 8.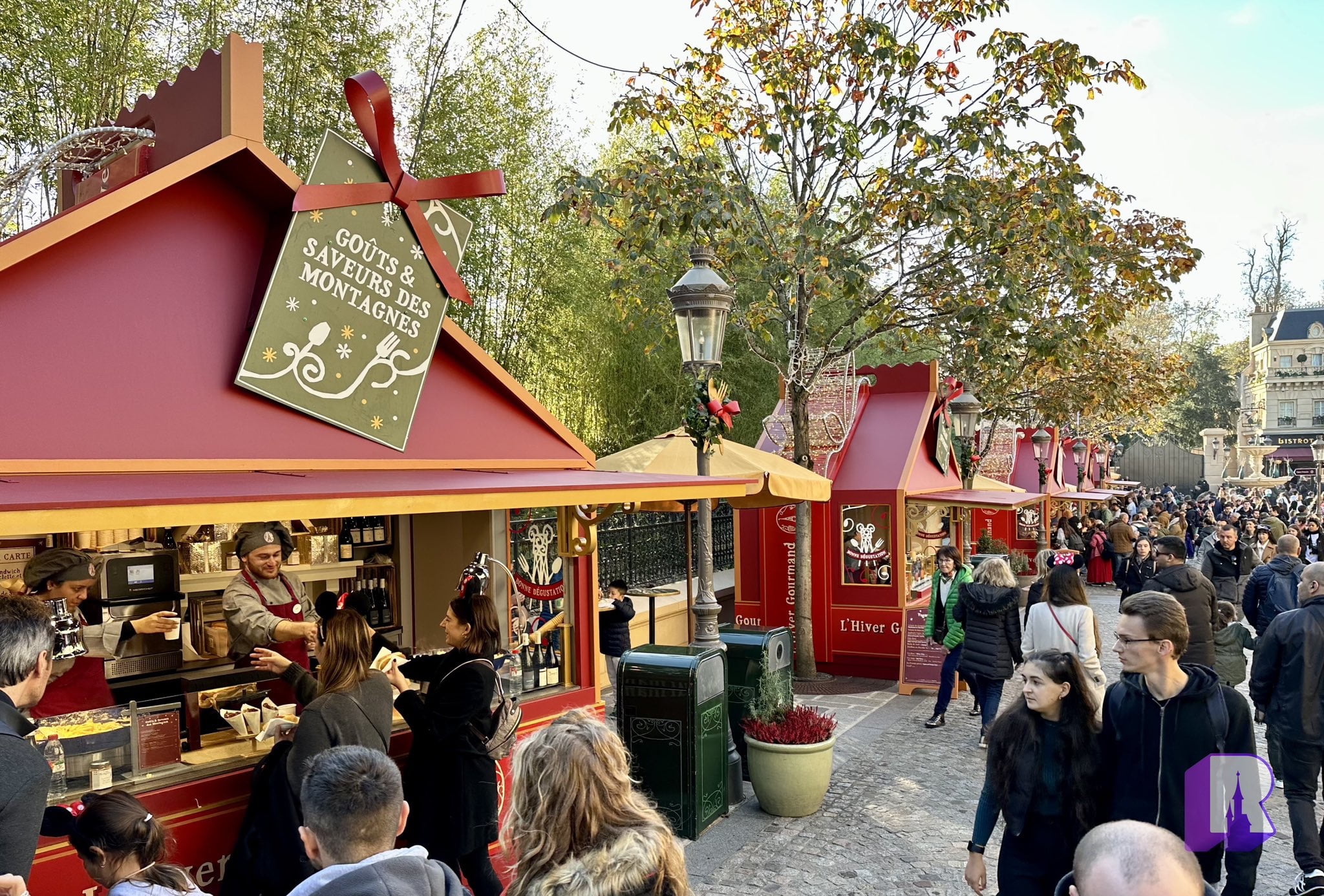 L'Hiver Gourmand is however fully open at Walt Disney Studios Park and will also offer seasonal specialties , until Mad
Merchandise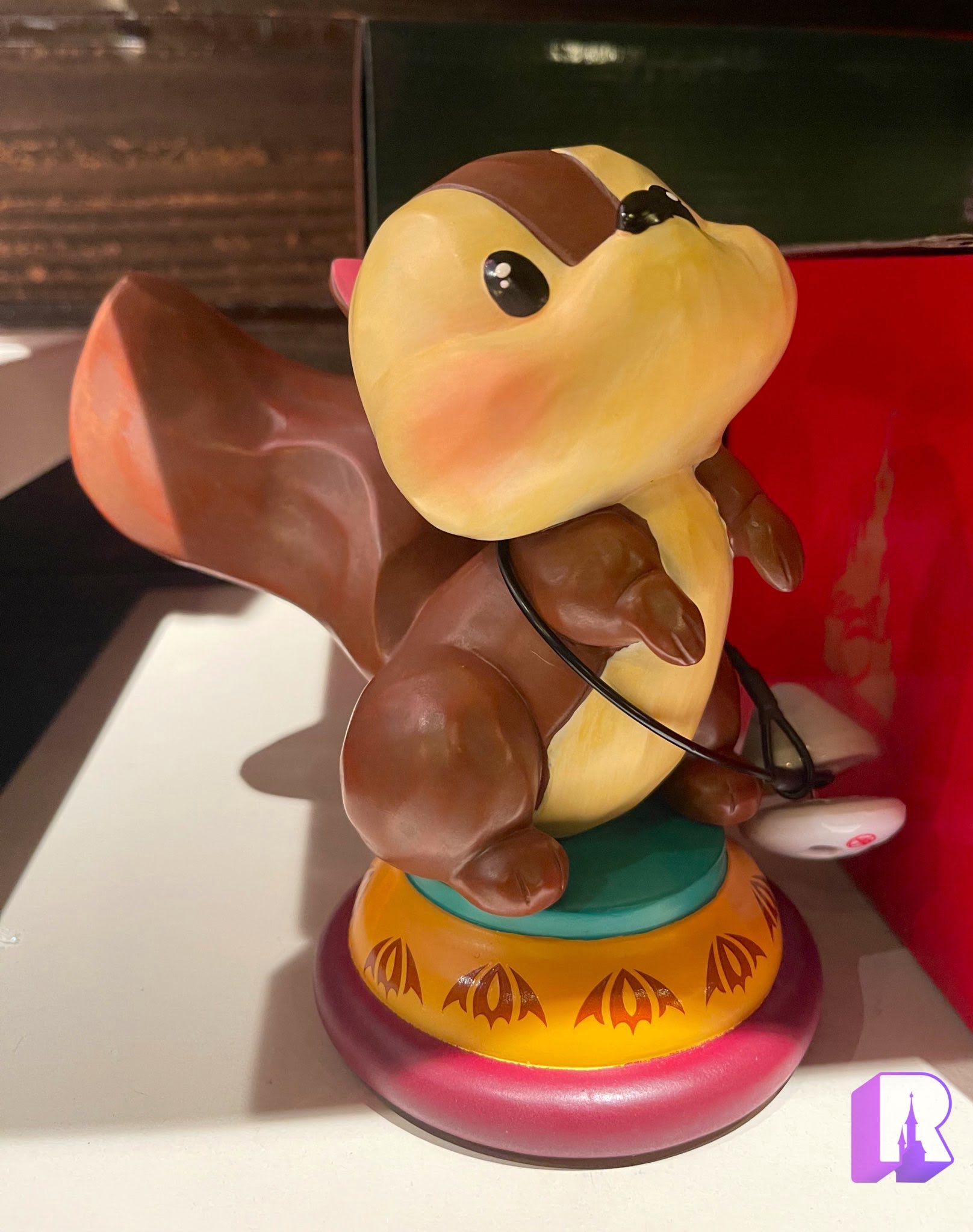 We of course have been covering Christmas merchandise for weeks if not months now but in recent arrivals are these adorable figurines inspired by Mickey's Dazzling Christmas Parade floats. Got the squirrel and love him!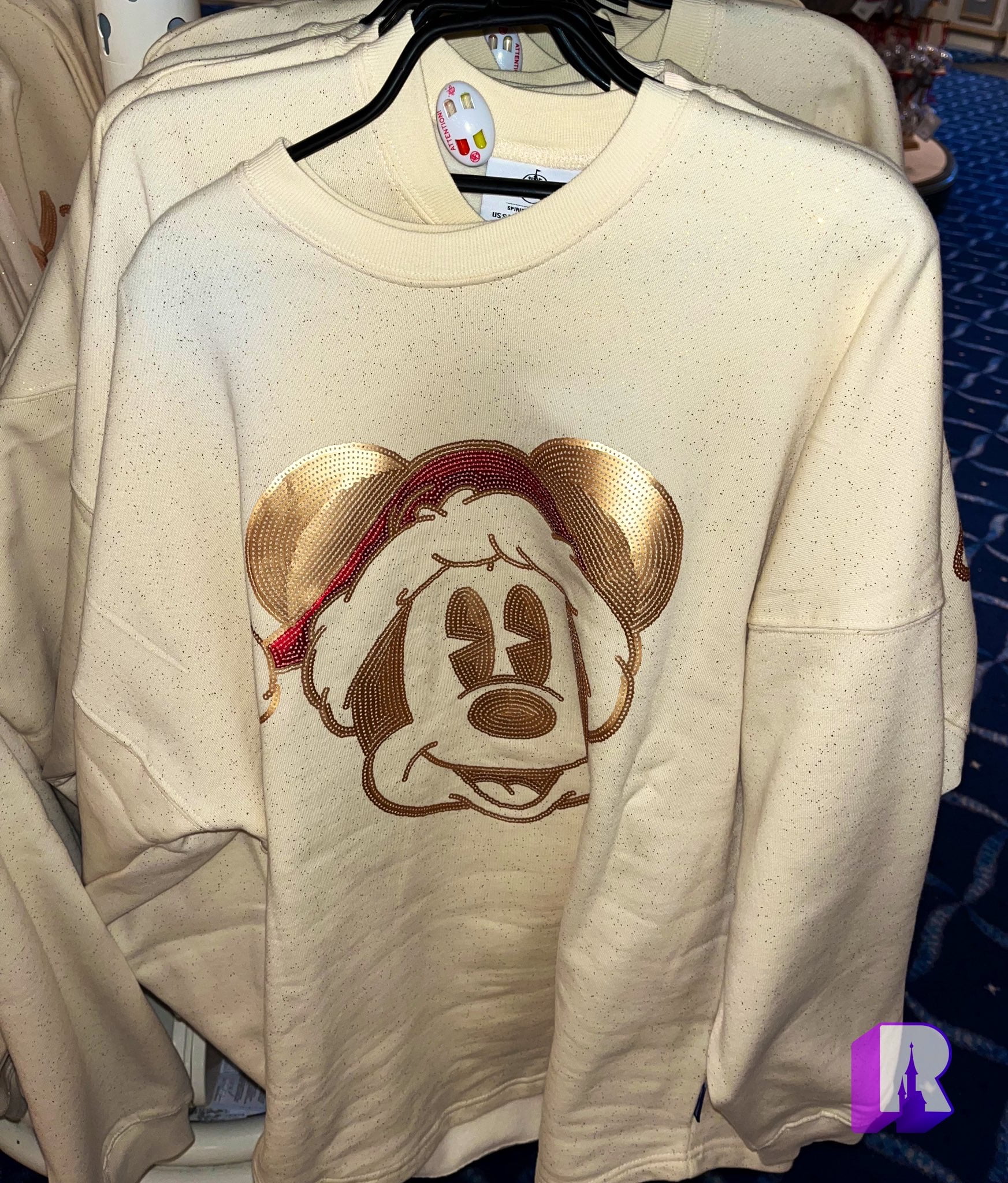 A new sparking / sequin Spirit Jersey has also arrived for a whooping €90.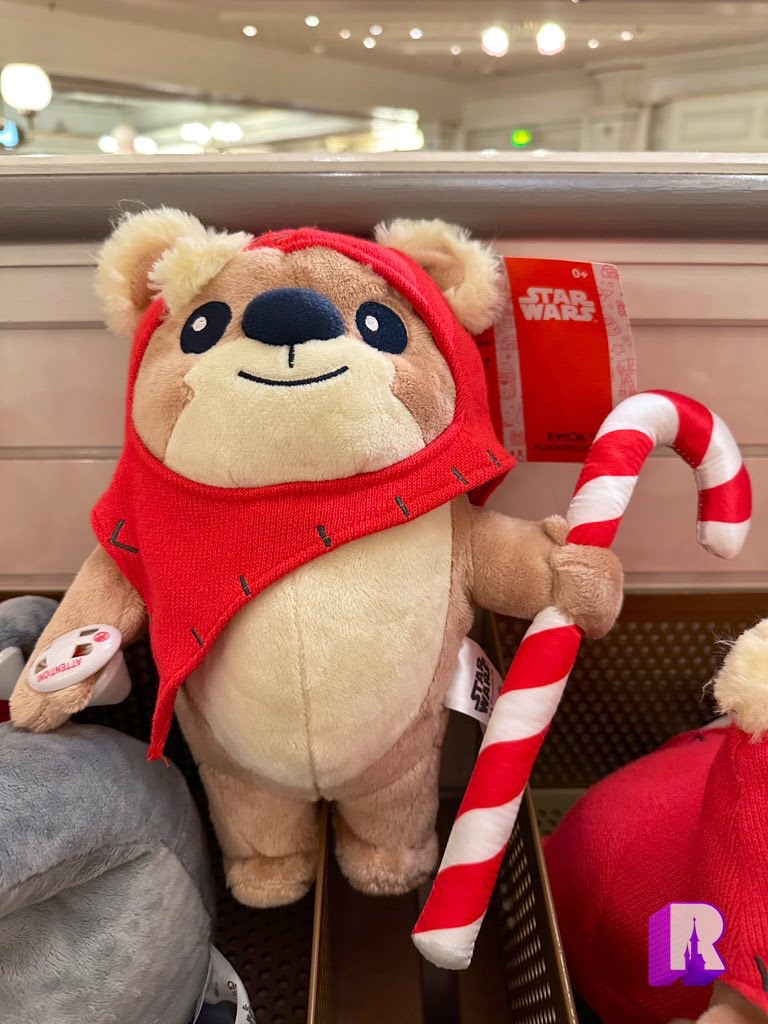 We love this Christmas Ewok (€26 at Emporium)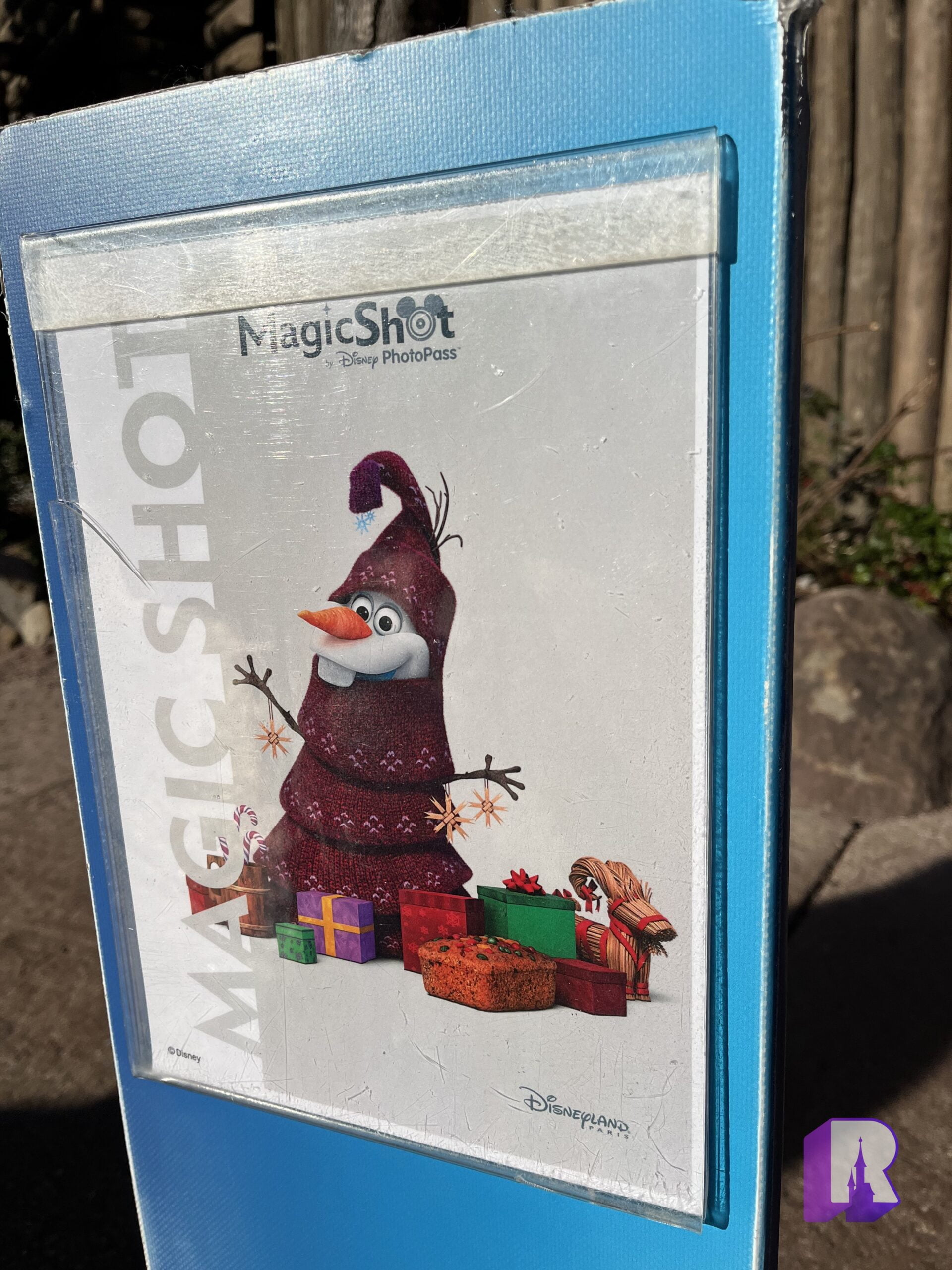 And because it's managed by merchandise – seasonal MagicShots are available in Frontierland and Discoveryland.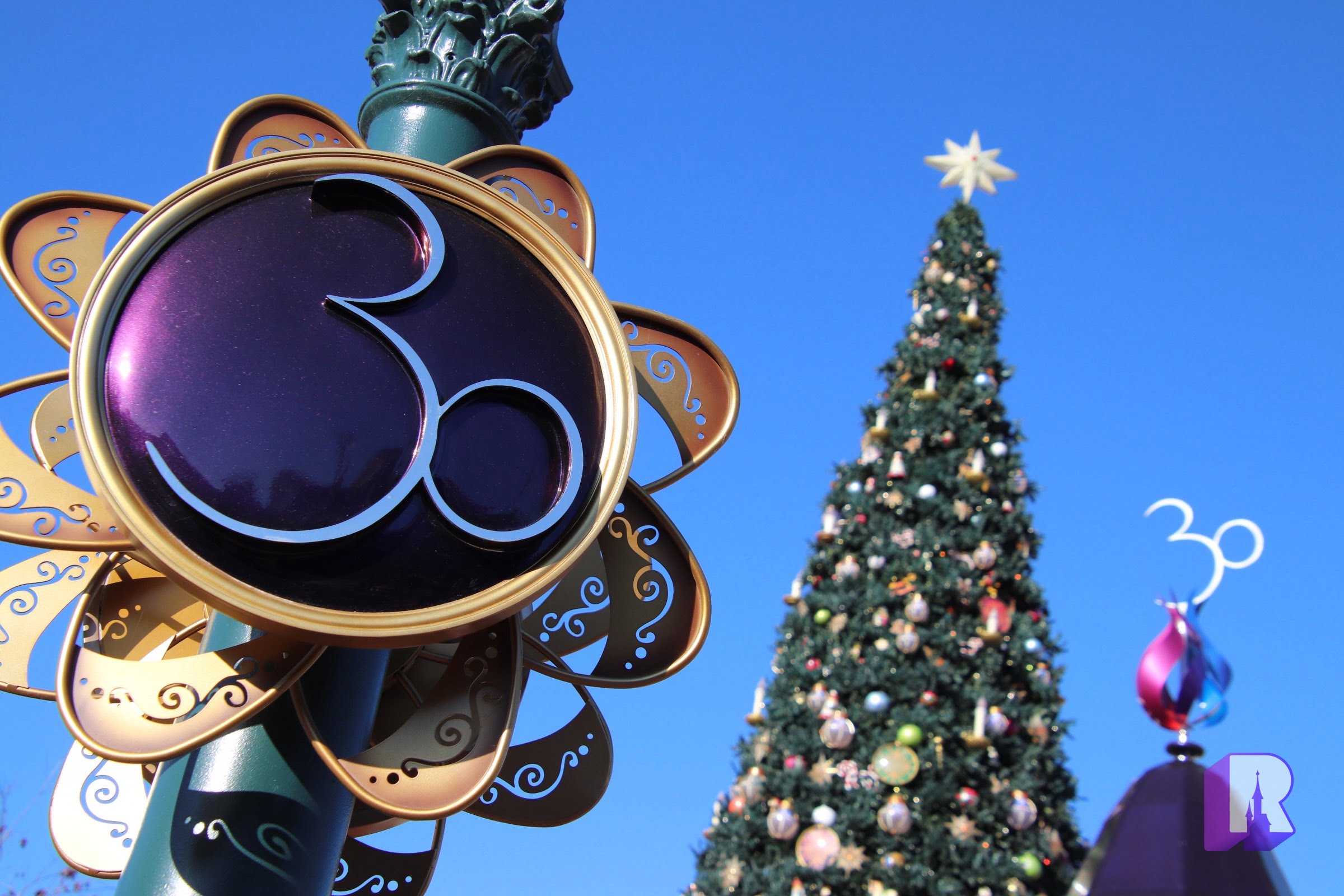 And that's Disney Enchanted Christmas 2022, the merriest season of all until January 8, 2023!
Black Panther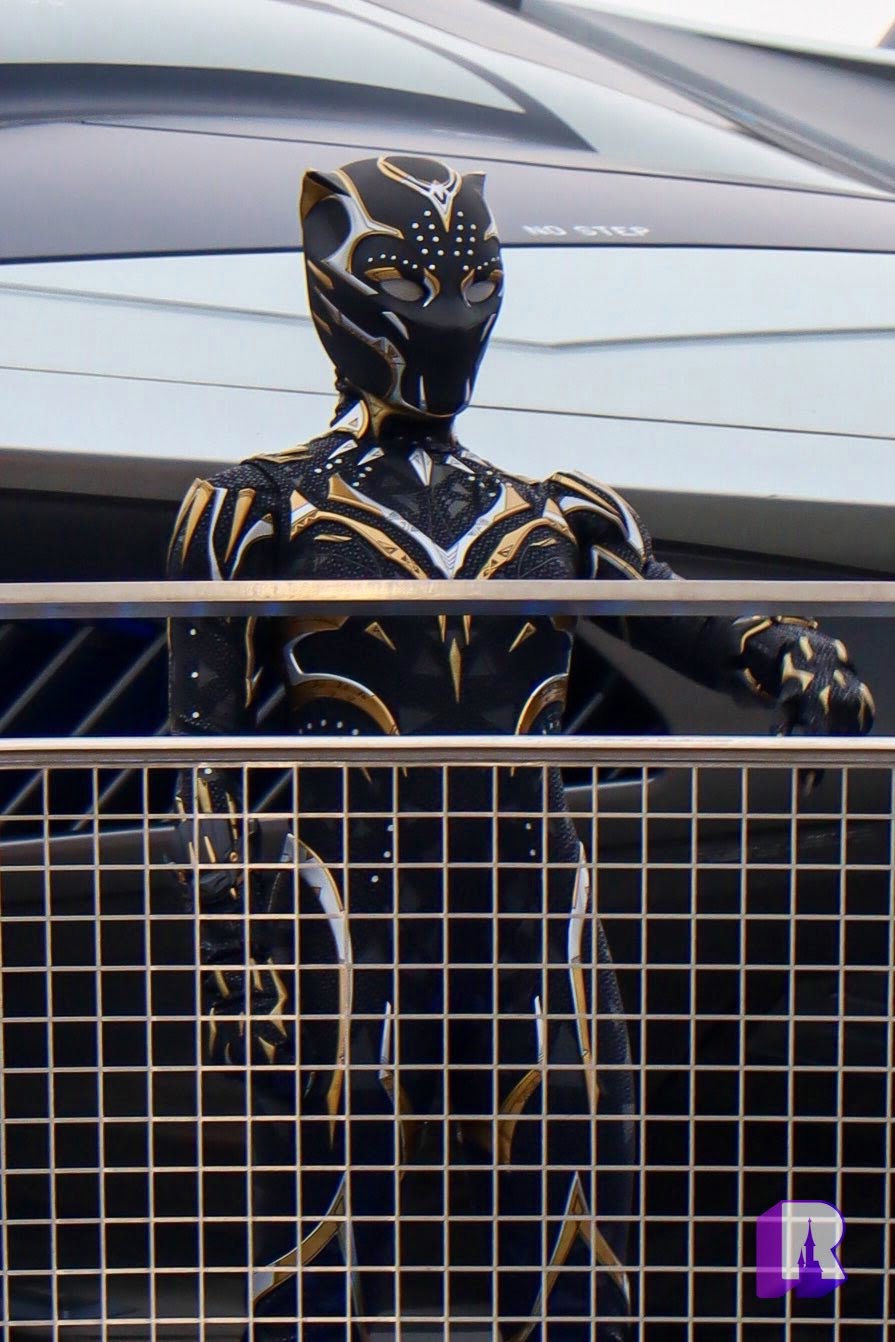 In an encouraging sign of the synergy machine, the new Black Panther is now meeting Guests at Avengers Campus ! You can see Black Panther on the Quinjet platform and also down on the ground several times a day.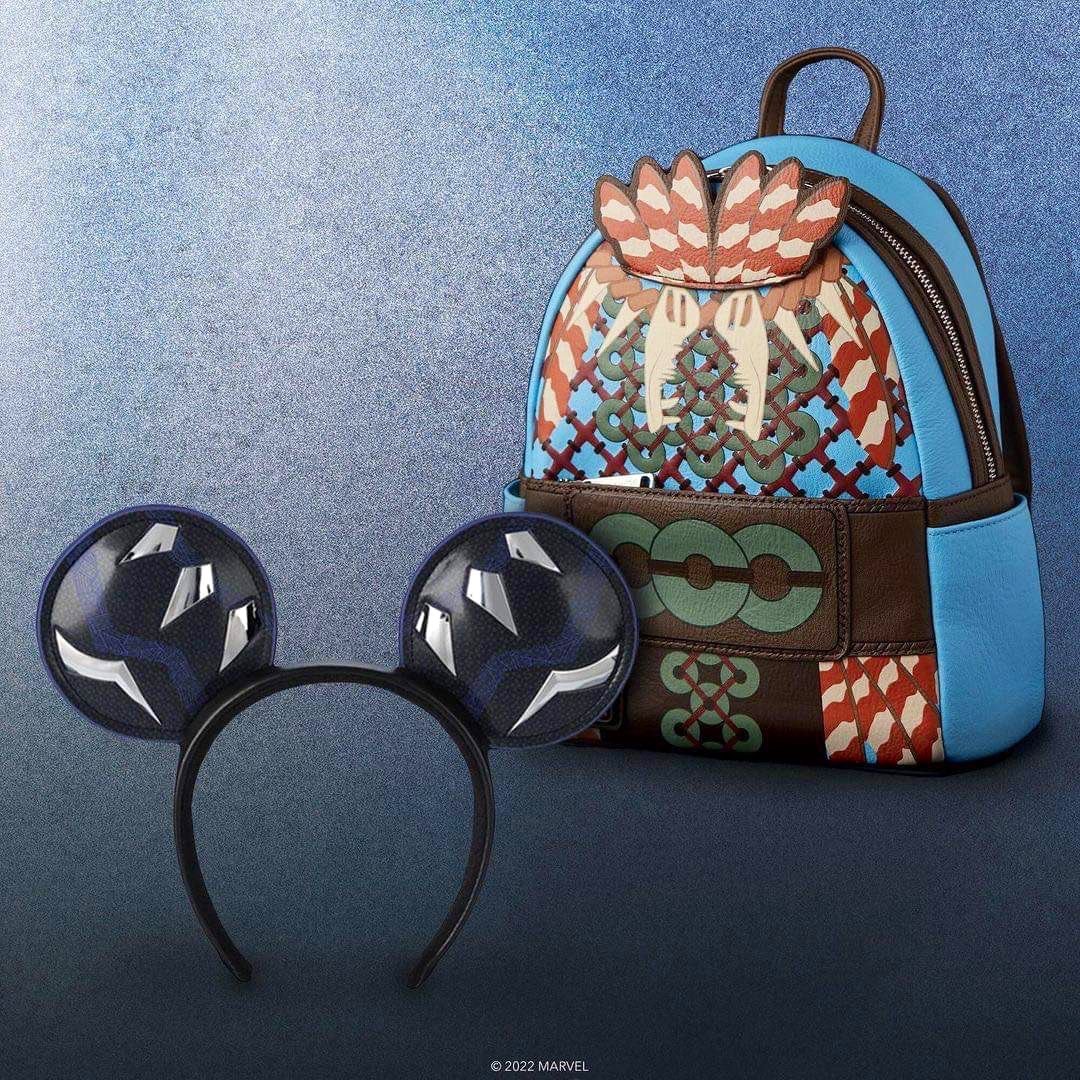 Merchandise linked to the movie is also going to be available as well as a new background st the Super Hero Station of Disney Hotel New York – The Art of Marvel. There's even a cocktail at Skyline Bar!
Magic Over Disney
This week we also saw the first two performances of "Magic Over Disney", a limited time nighttime spectacular at Walt Disney Studios Park. The soundtrack is a version of "Mickey's Mix Magic" and it comes with projections and pyro on Tower of Terror and also on the ground. It was a lotta fun and you can see it again on January 19, 23 and 25. Check out our full video above !
Inclusivity at "it's a small world"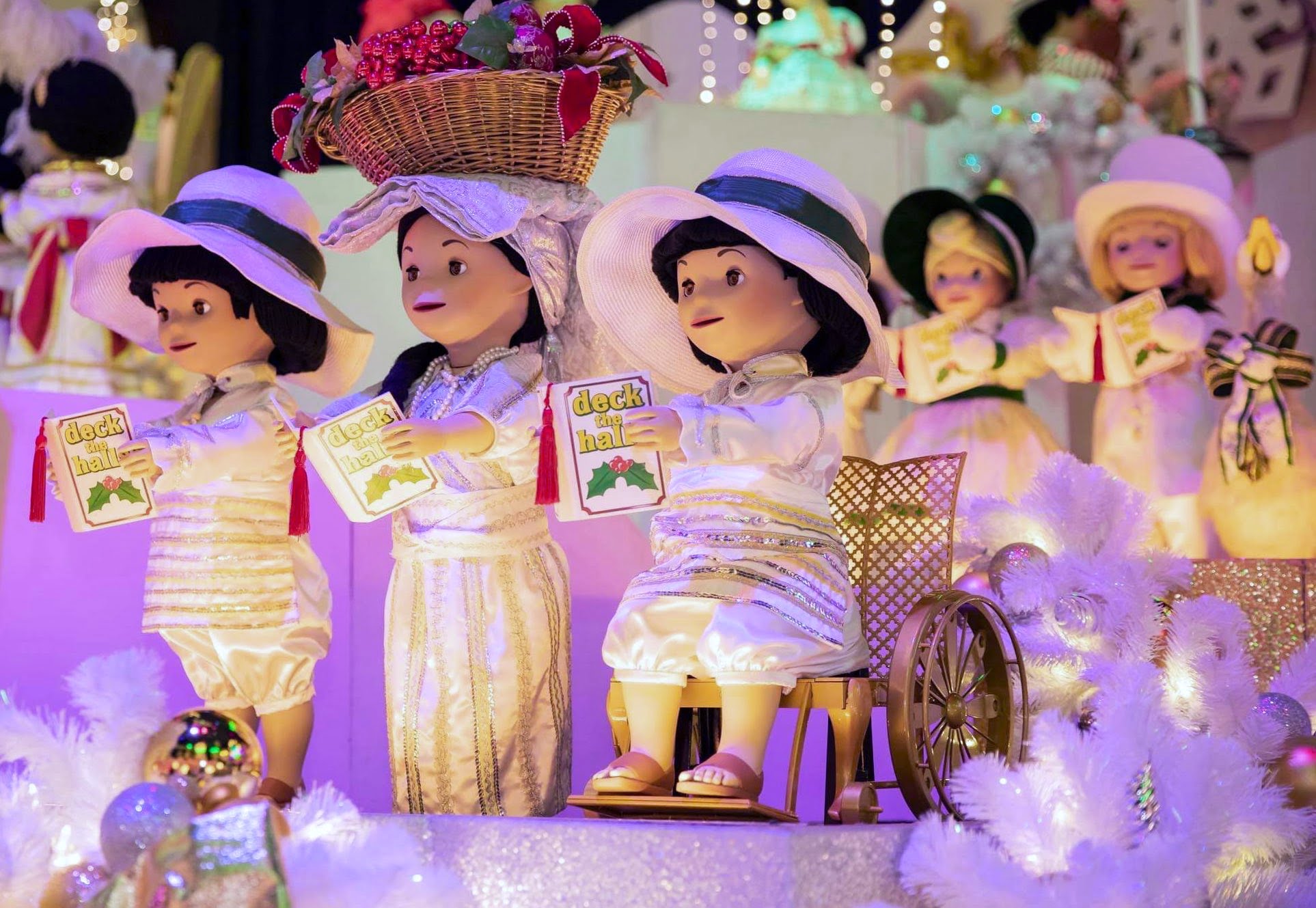 Disneyland has announced that new dolls in wheelchairs will soon be featured in "it's a small world". They will also be featured at Walt Disney World and at Disneyland Paris when the Attraction reopens in Spring 2023. A great initiative!
And that is our BIG Christmas report (and more ) for this week. Have a great early start of the holiday season and I will see you back here next time with the latest from Disneyland Paris !