Welcome back to the DLP Report! This week marked the first day of the World Princess Week at Disneyland Paris with plenty of limited time offerings. The Resort was also hit with a flash storm and a drama storm at Avengers Campus. Let's take a look!
Princess Week Premiere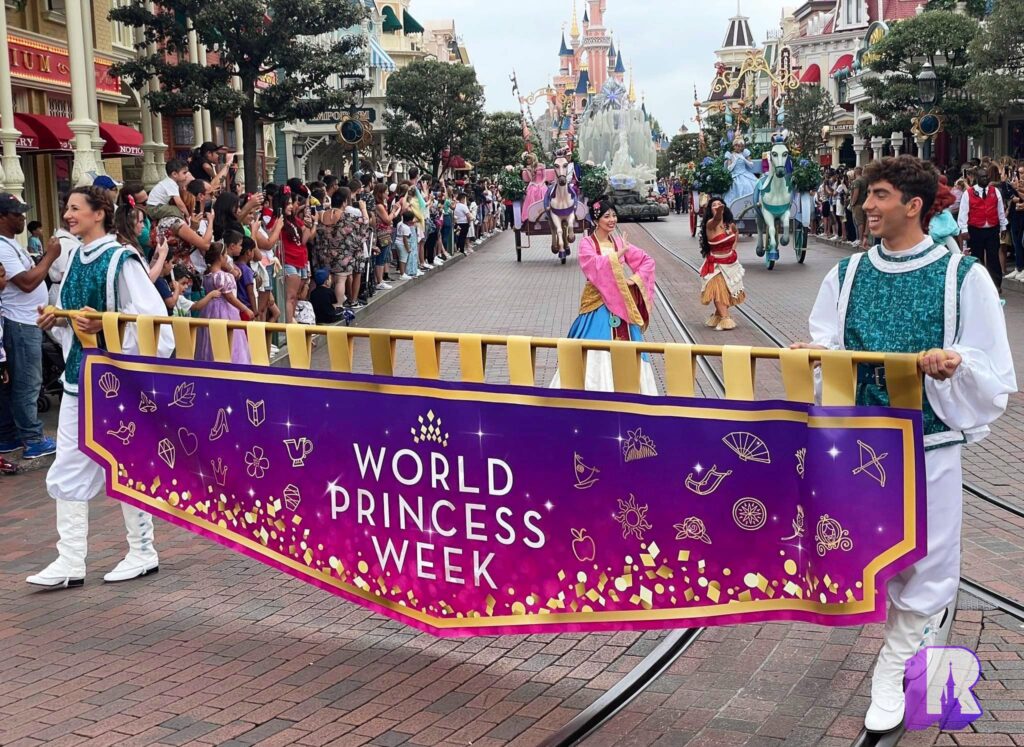 It's back! After a successful 2021 Princess Week, the Resort is back at it with the same time of vibes: small scale limited time offerings revolving around a prominent Disney Franchise: the Princesses. Is it a mind blowing operation? No. Is it absolutely lovely and fun? YES! Plus it feeds the synergy monster. I mean machine.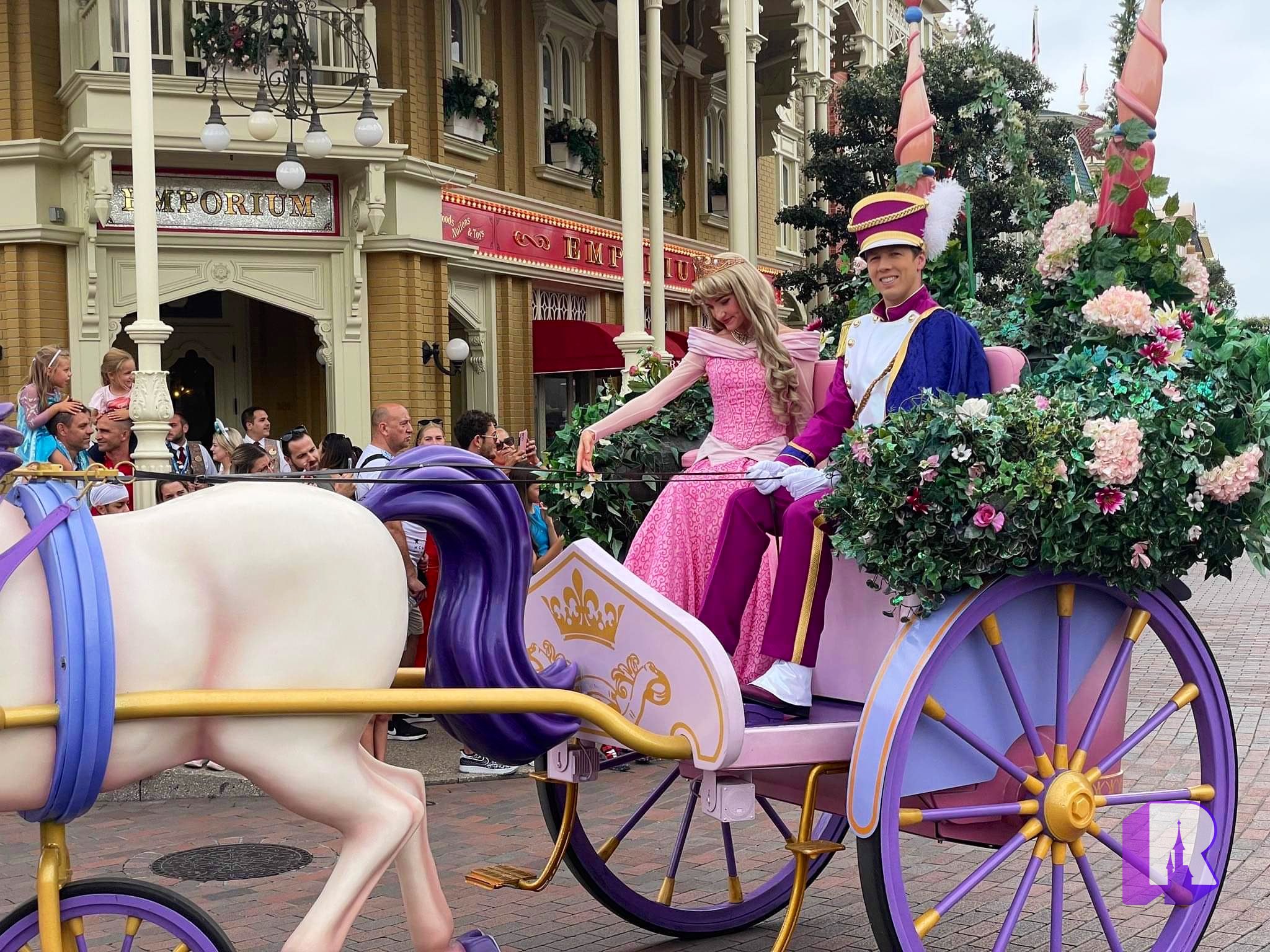 The "main event" is the Royal Promenade, once again gathering the Princesses – this year on their old school carriages (it's good to see them back!). On foot are Mulan, Ariel and Moana. "Starting Now" resonates through Main Street for this upbeat (but polite – it's the Princesses) procession.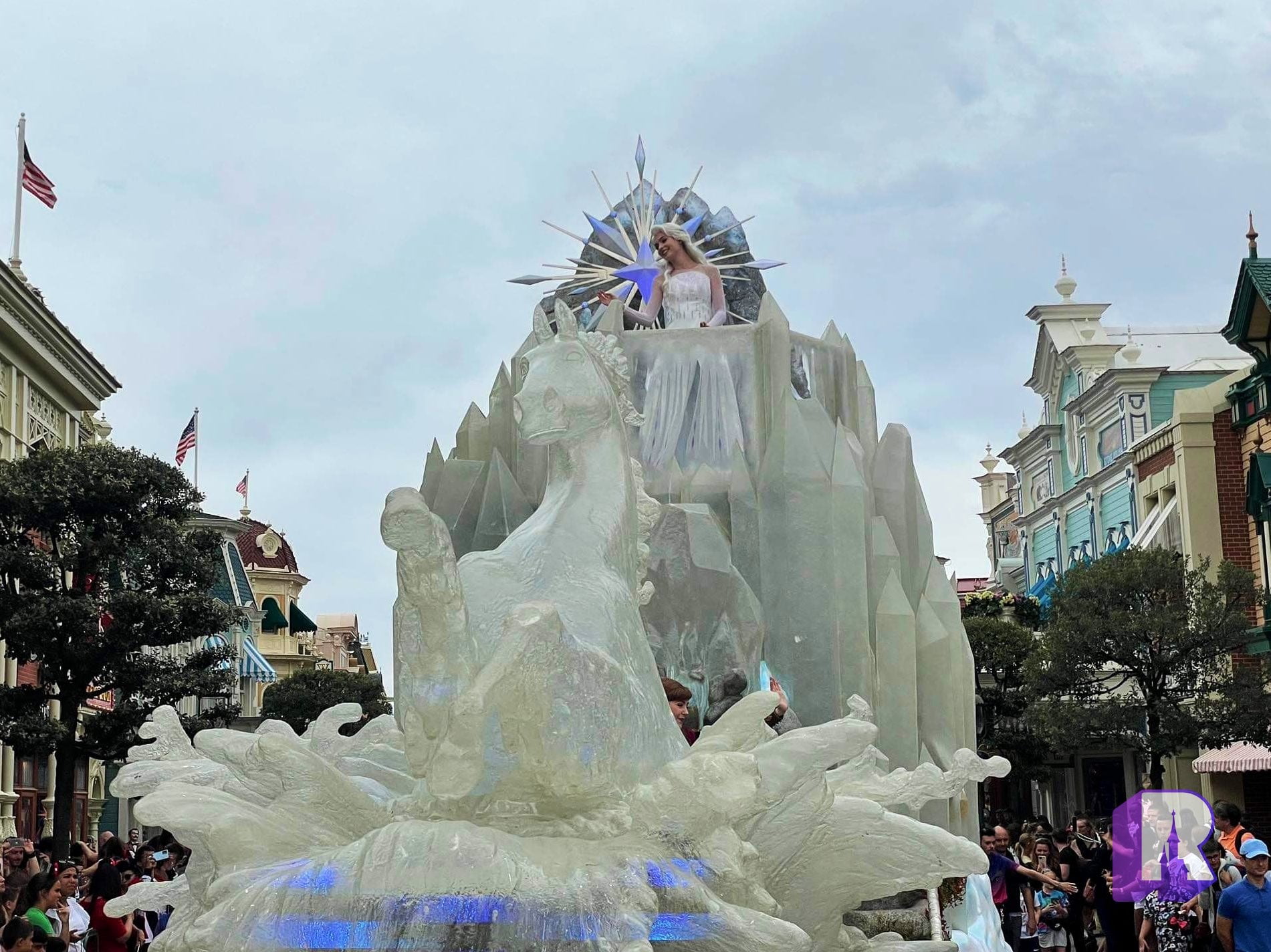 We also welcome back the Frozen 2 which does not get a lot of airtime these days after the 2020 Frozen Celebration debacle. Sadly Sven was not moving but – it's nice to see this fantastic float again.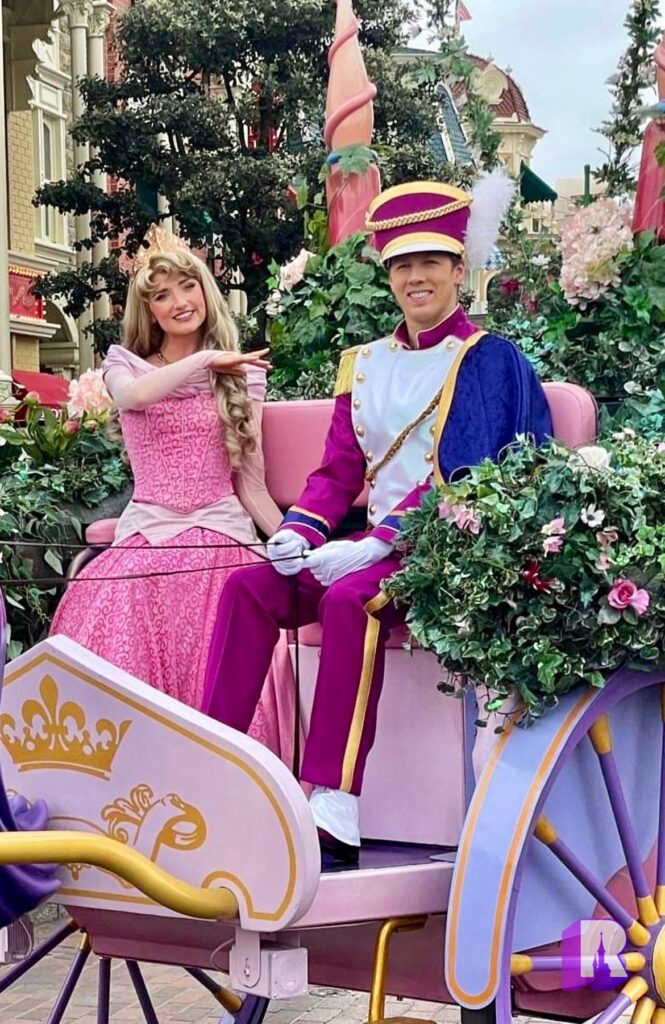 The carriage drivers received new outfits for this event. They are very pink. And very blue. Make it Pink. Make it Blue.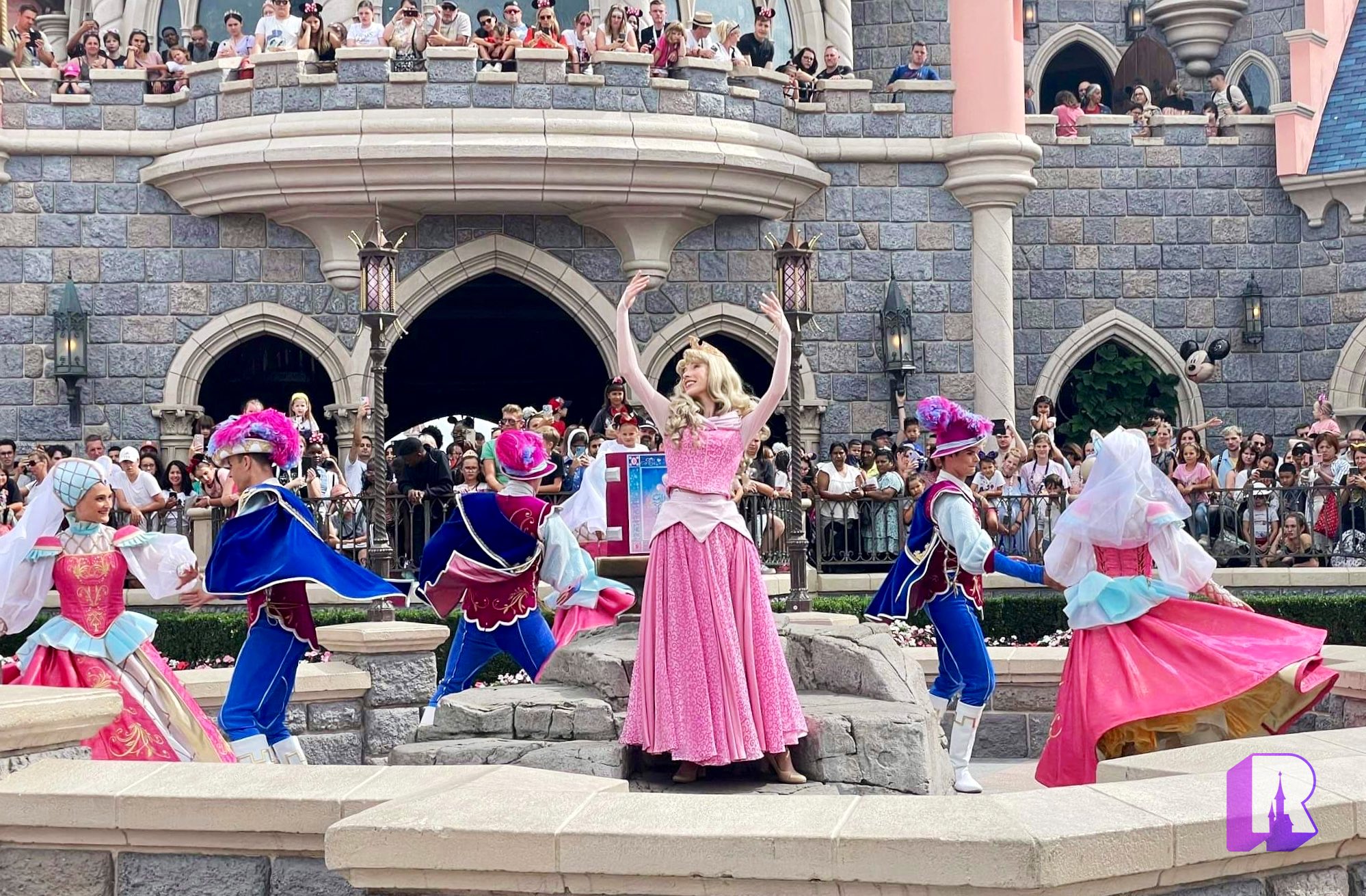 In Castle Courtyard, Aurora and her court entertain Guests with a "Welcome Greetings". Not quite what everyone was expecting but it's actually a lovely traditional piece of entertainment like we don't really see anymore. To the tune of instrumental classical music, Aurora and her subjects waltz around our lovely Courtyard. It's very old school, very pretty, very Paris.
You can watch the full 10 min show in our YouTube video just above.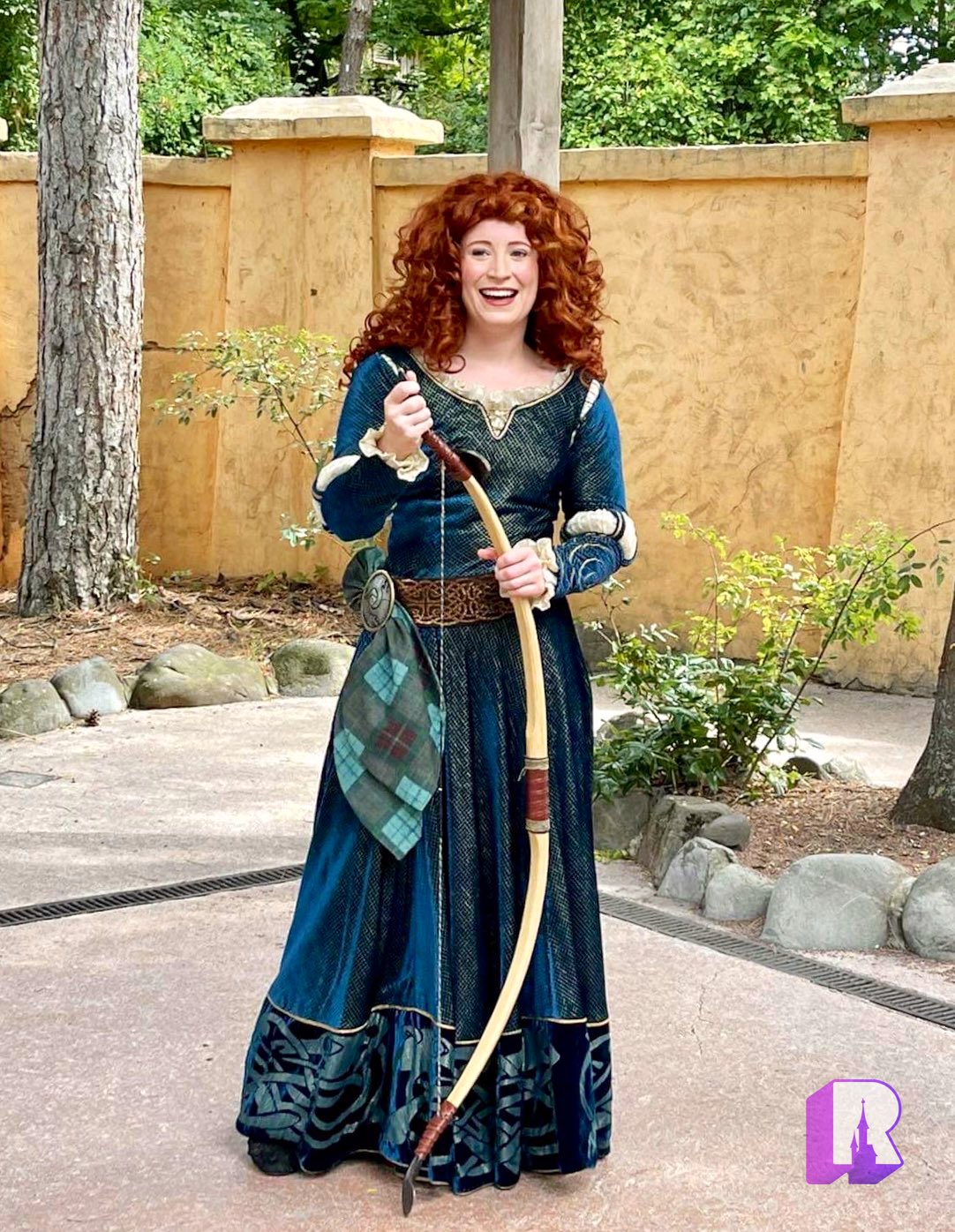 Around the lands, Disney Princesses take turns meeting Guests: Merida, Snow White but also Rapunzel and more in the next few days.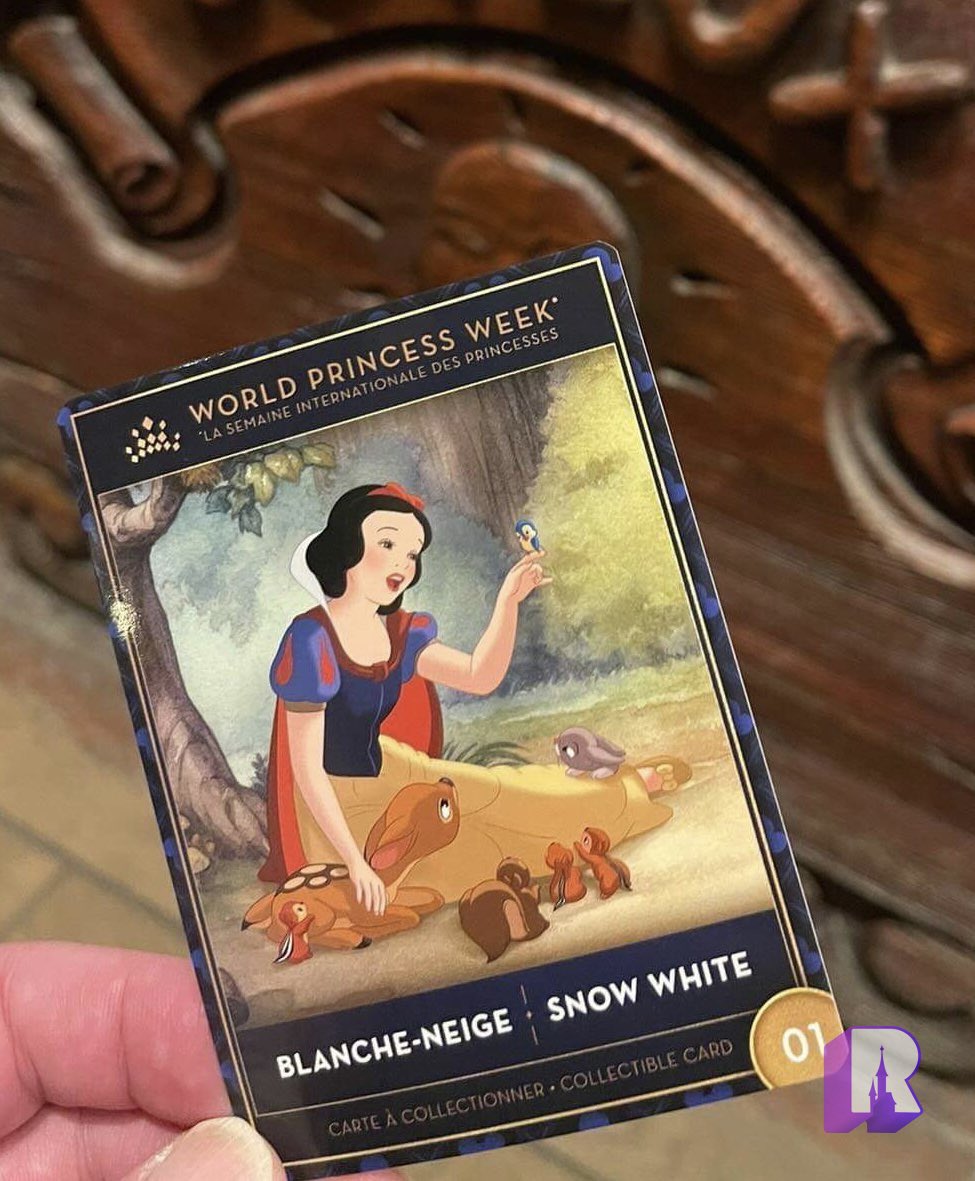 This year, Guests can collect free Disney Princess Week cards! So far 8 have been released and they are available at City Hall, Princess Pavilion, some of the shops, Guest Flow, PhotoPass and custodial Cast Members. What a fun idea – people are going crazy trying to collect them all !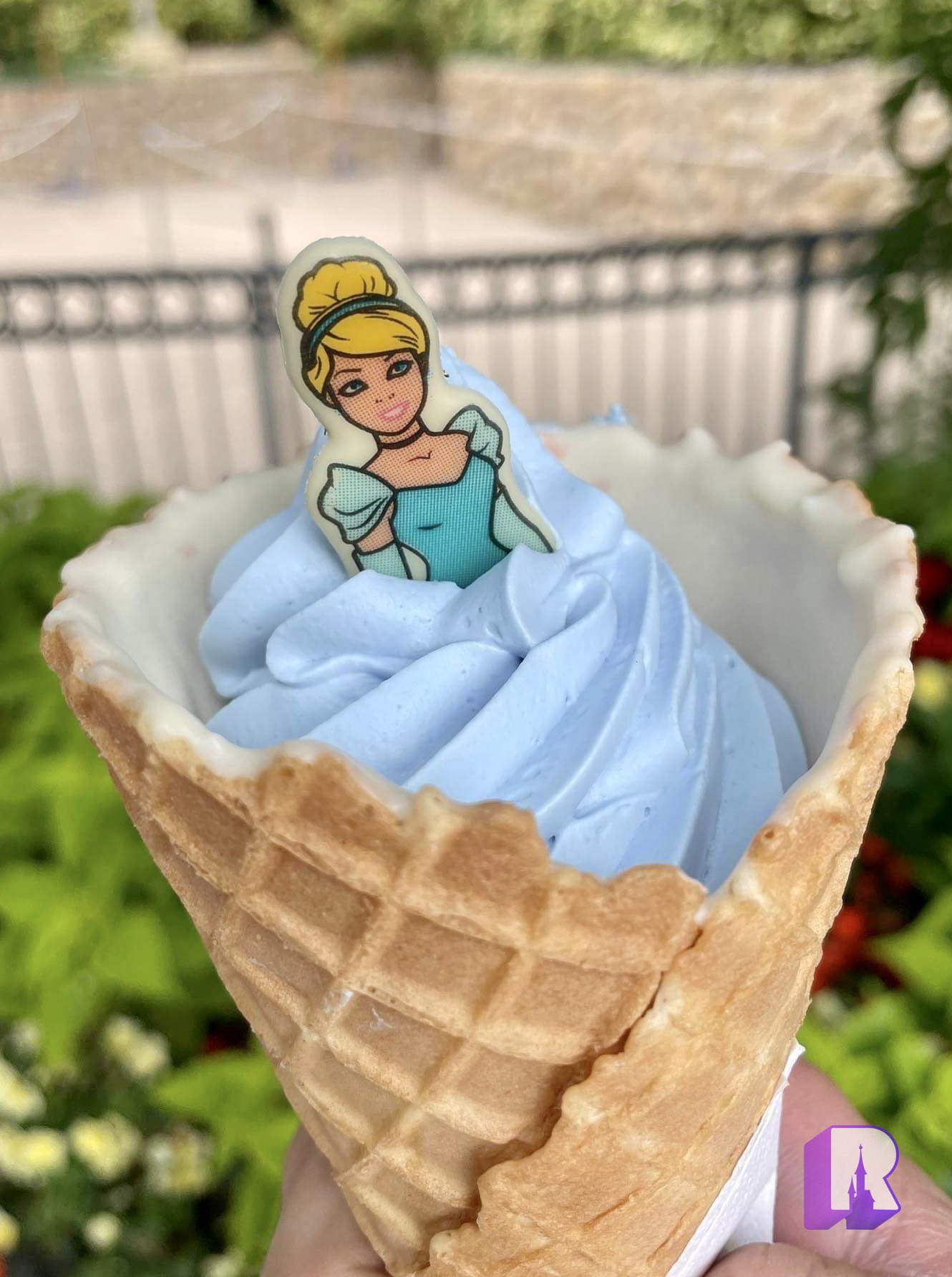 There are of course SNACKS and the standouts this year are these white chocolate and coconut ganache cones, with actual strawberries at the bottom. They are lovely and good value at 4 euros. You'll find them at the Old Mill. Victoria's also has a 12 euro Sleeping Beauty cake, Plaza Gardens has macaroons.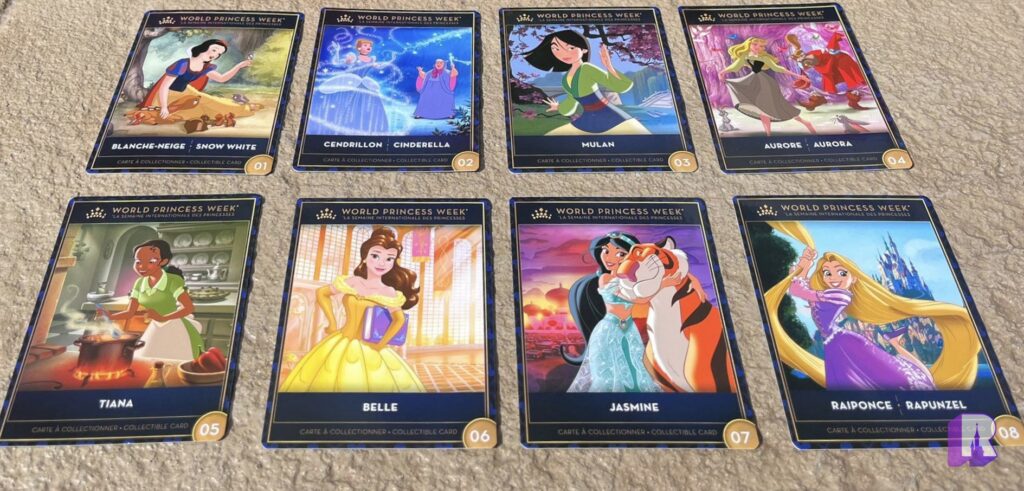 Here is the whole collection available so far.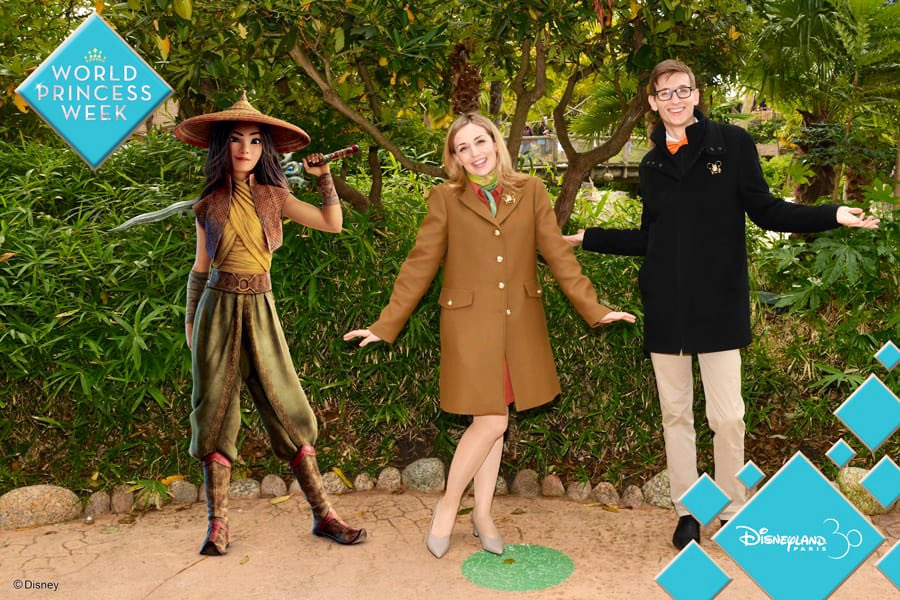 There is also a new MagicPass themed to Raya, the newest Disney Princess, and a lot of returning MagicShots all around the lands. Again this year, Princess Week brings in the fun and excitement for a limited time. It's not a fully fledged season but something nice to do and see if you're visiting in late August!
Flash Storm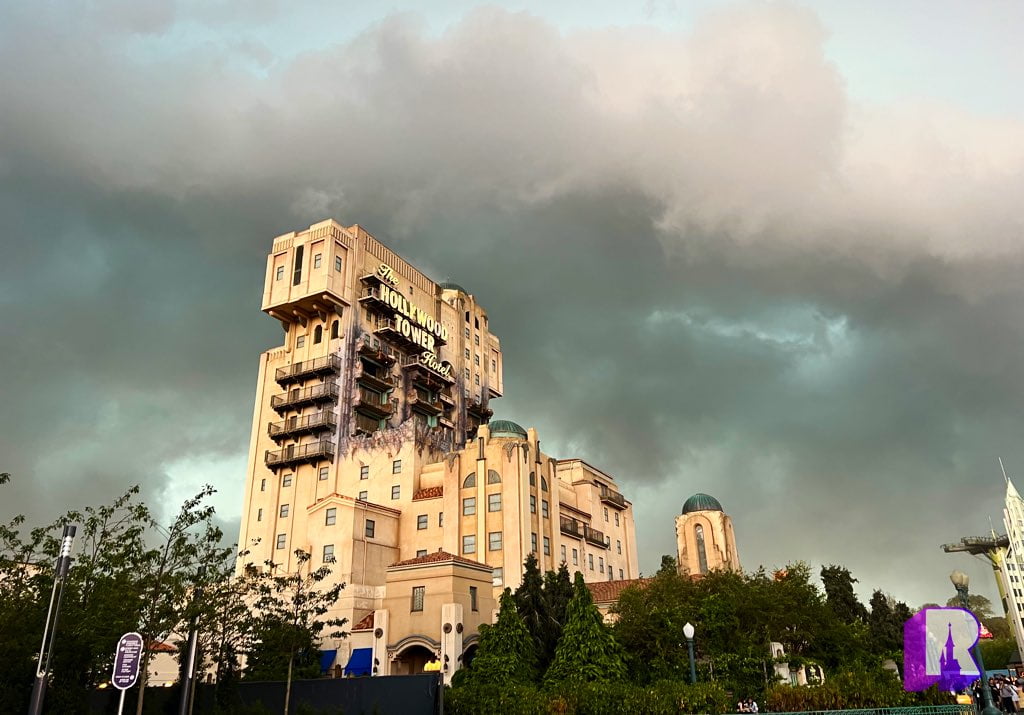 It all started with menacing skies on Tuesday night. How cool right? But then..
A huge flash storm caused Guests and Cast alike to run for cover..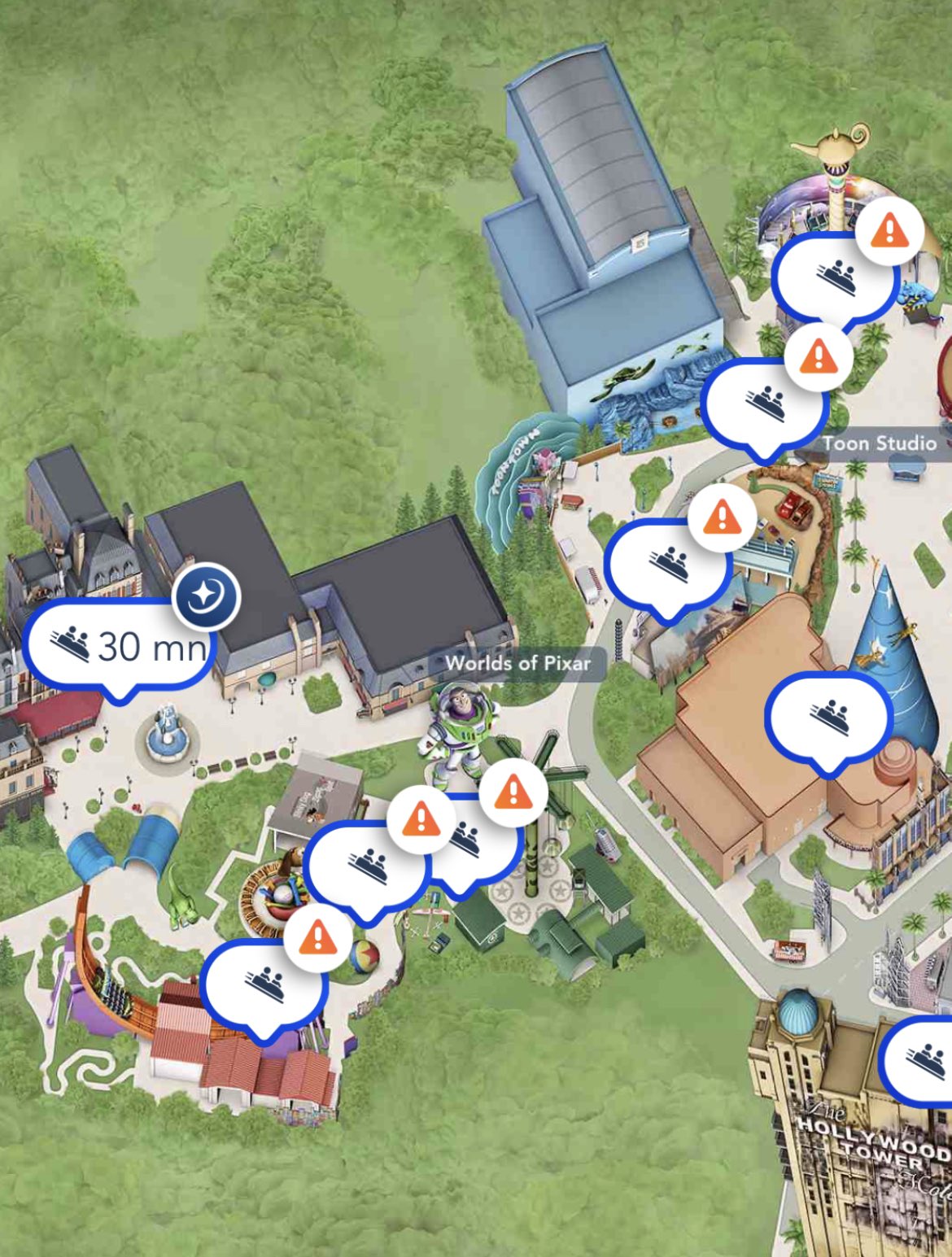 We lost all outdoor attractions, and even some indoor ones. Nothing ot do at that point than wait and ride it out.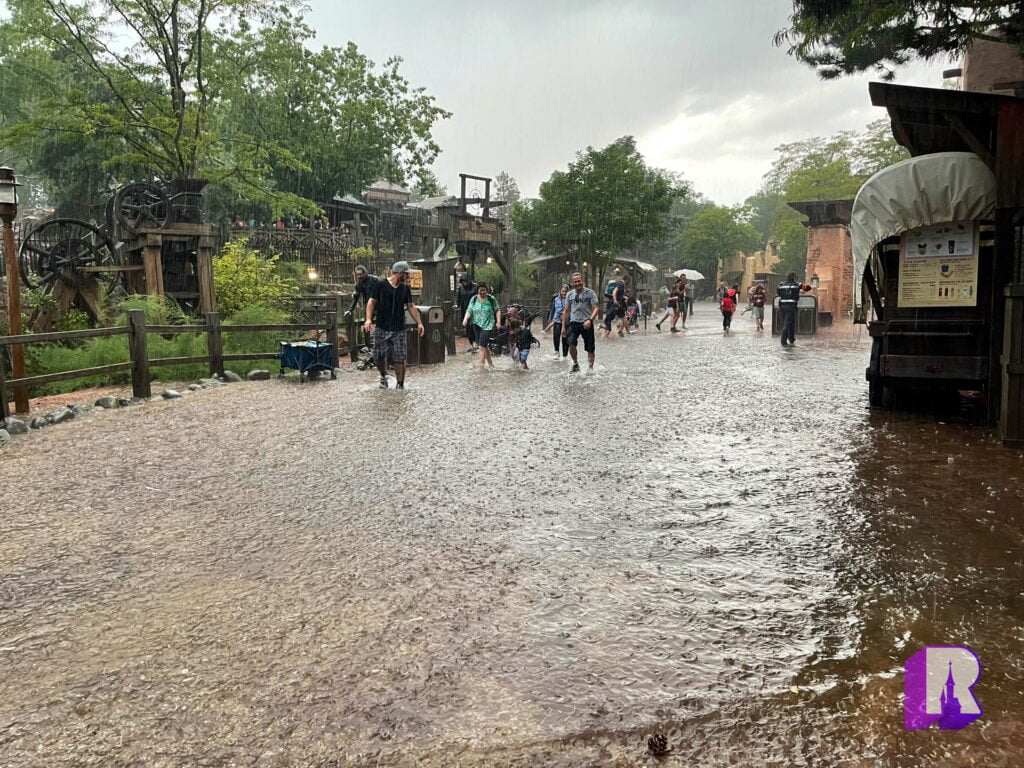 The result was pretty impressive, with flooding in several areas – Frontierland became a river..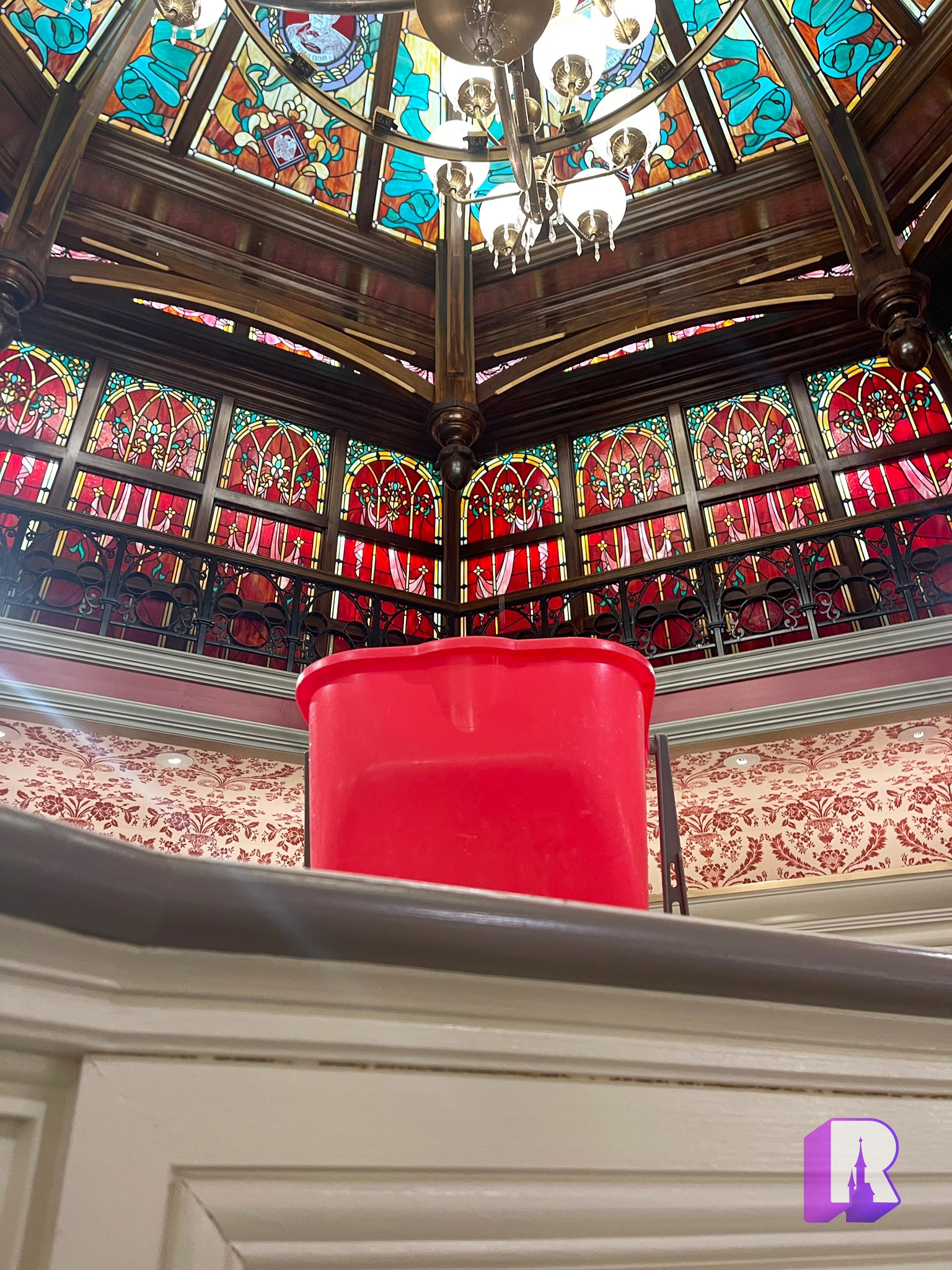 Several shops were hit (Emporium, Star Trader.. ) with leaks in the roofs. Spiderman WEB Adventure and PYM Kitchen also both got some level of flooring and had to close for additional time.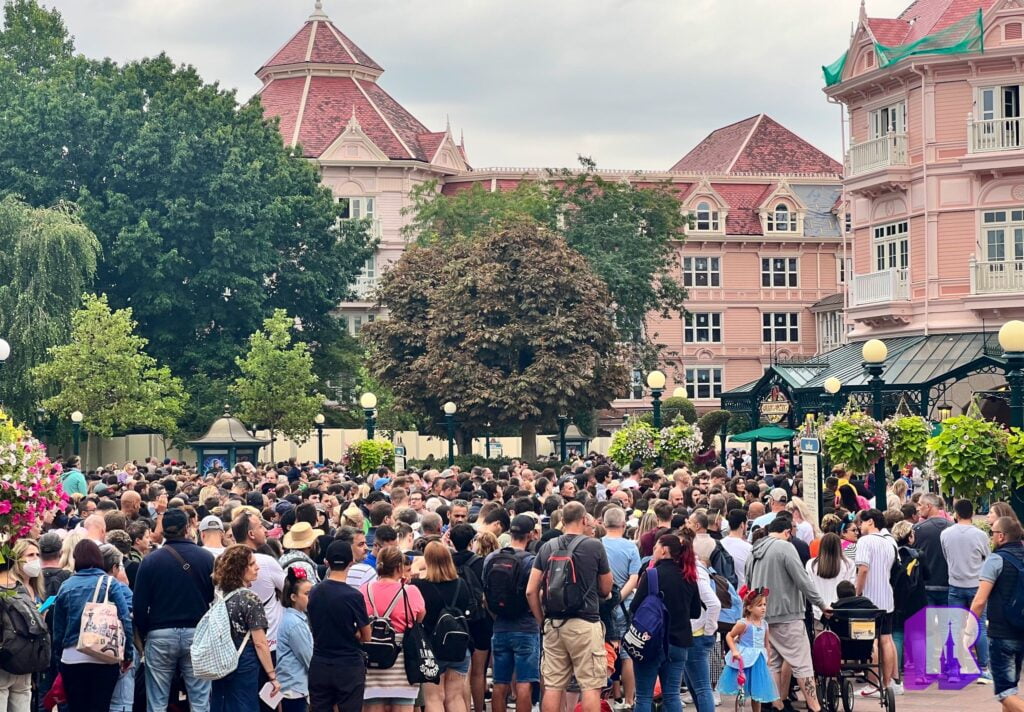 The next day, the Disneyland Park turnstiles, which are models not typically designed to be installed outdoors, were not working, causing a huge backlog in Fantasia Gardens while the brave ticketing Cast Members had to manually check tickets.
Avengers Campus Drama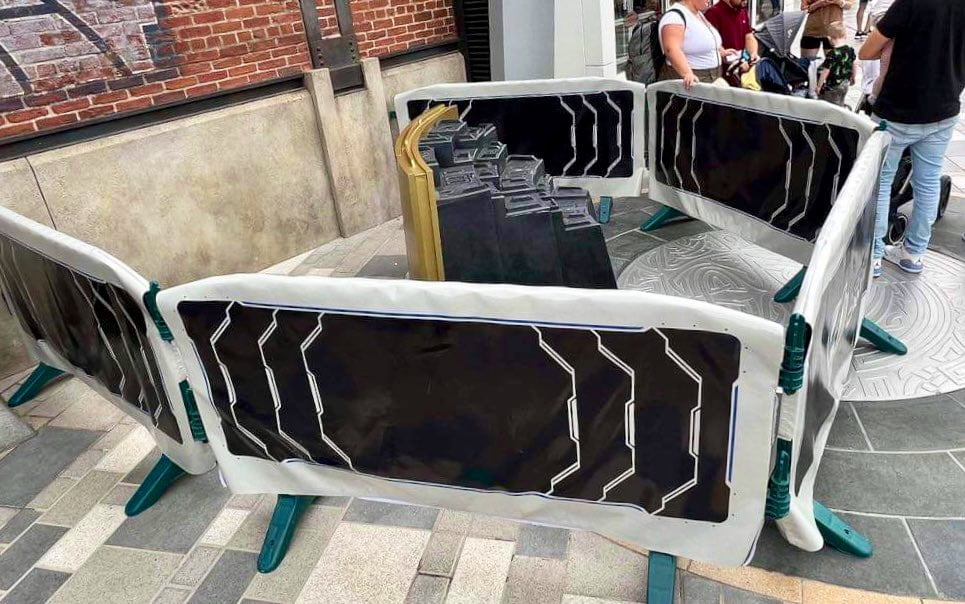 It all started with the Asgard Pedestal was put behind barricades – as expected. Guest shave been sitting on it and climbing it, causing some damage. It was repaired once, but here we are again. TO be clear, the blame should not only be pointed at Guests here – Disney Parks are pretty wild, Guests will climb everywhere and Imagineers know it. Most areas of Disneyland Park are "Guest proof" and sadly this was not the case here with a choice of design and.or material that just did not stand a chance. So – please stop climbing on things, but also make stronger things!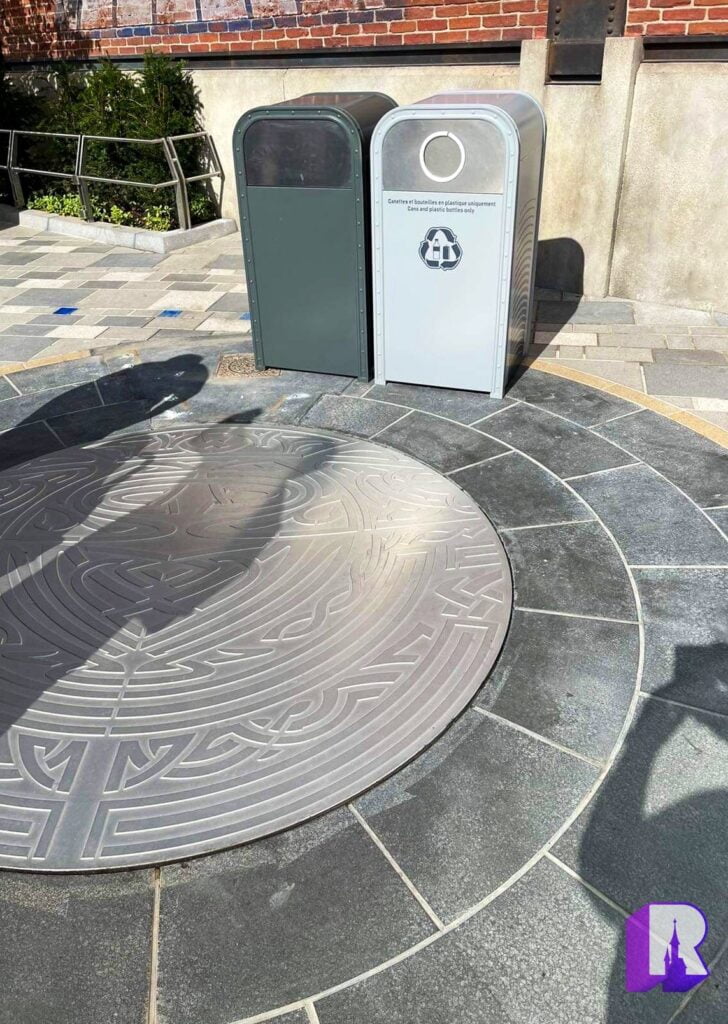 Shock the next day – the entire thing has been removed. No word as to what to expect (repairs, replacement, or gone forever). Hopefully this well get sorted as the show it's used for it lovely!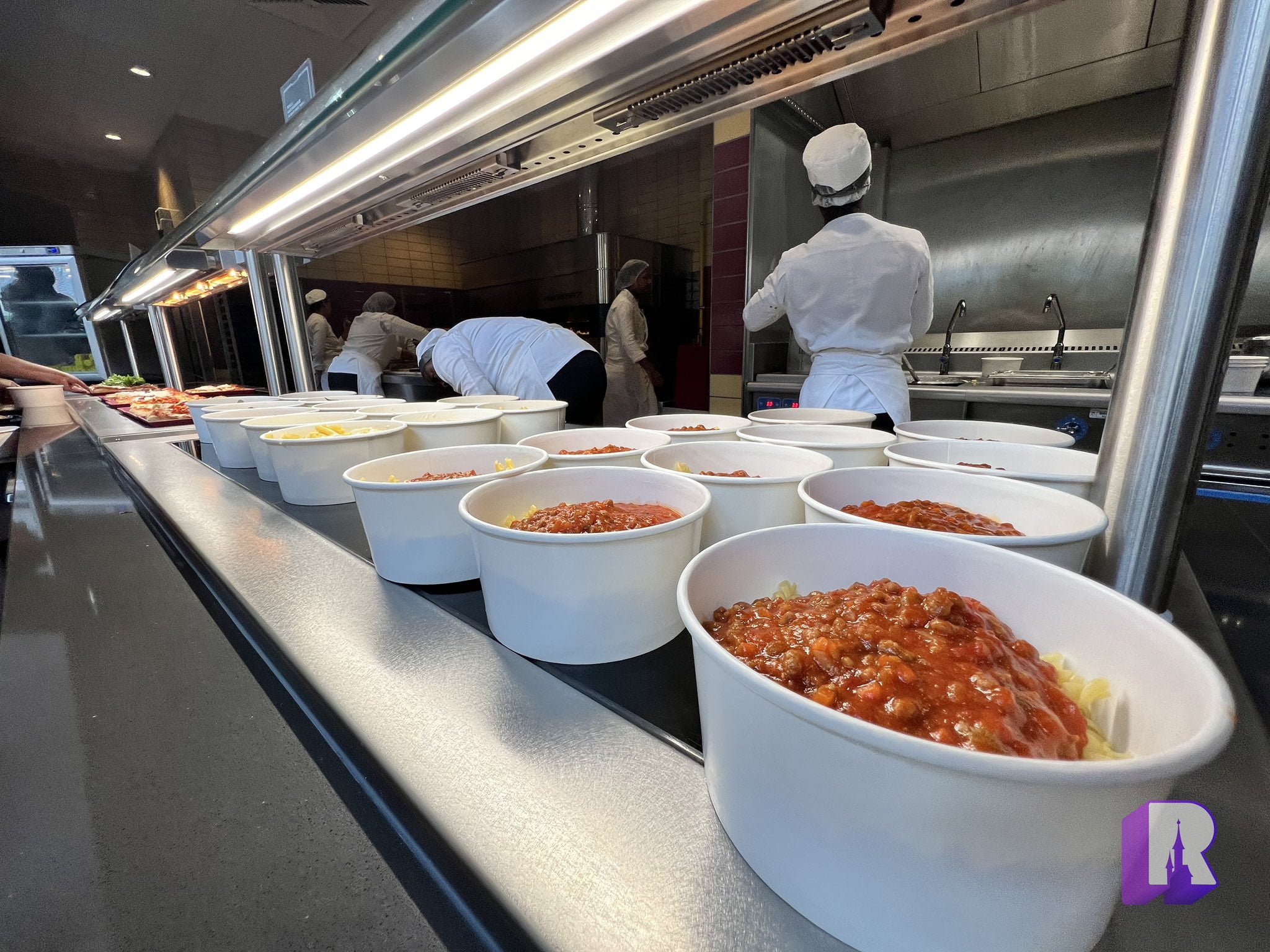 Next drama at Stark Factory where all the reusable bowls have been removed. They are very nice and so my guess is Guests take them home. They may also be throwing away a lot of them. So cardboard it is.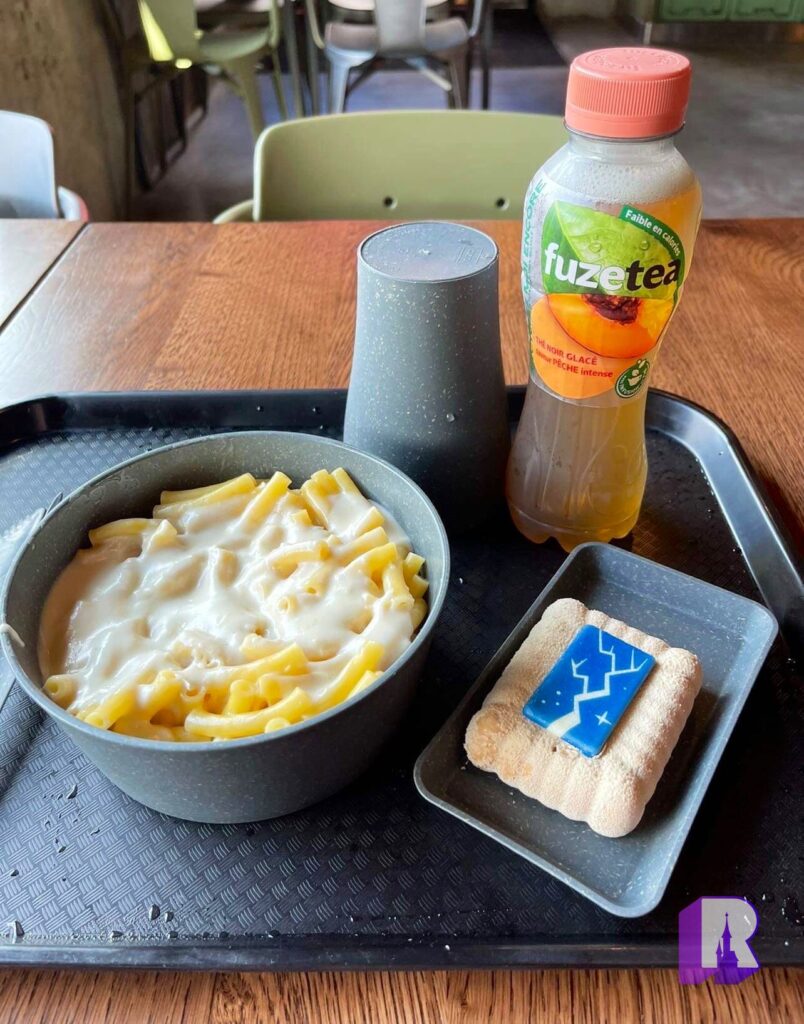 They returned a few days later, but for how long? A permanent solution and policy has to be implemented so we can continue to have nice things.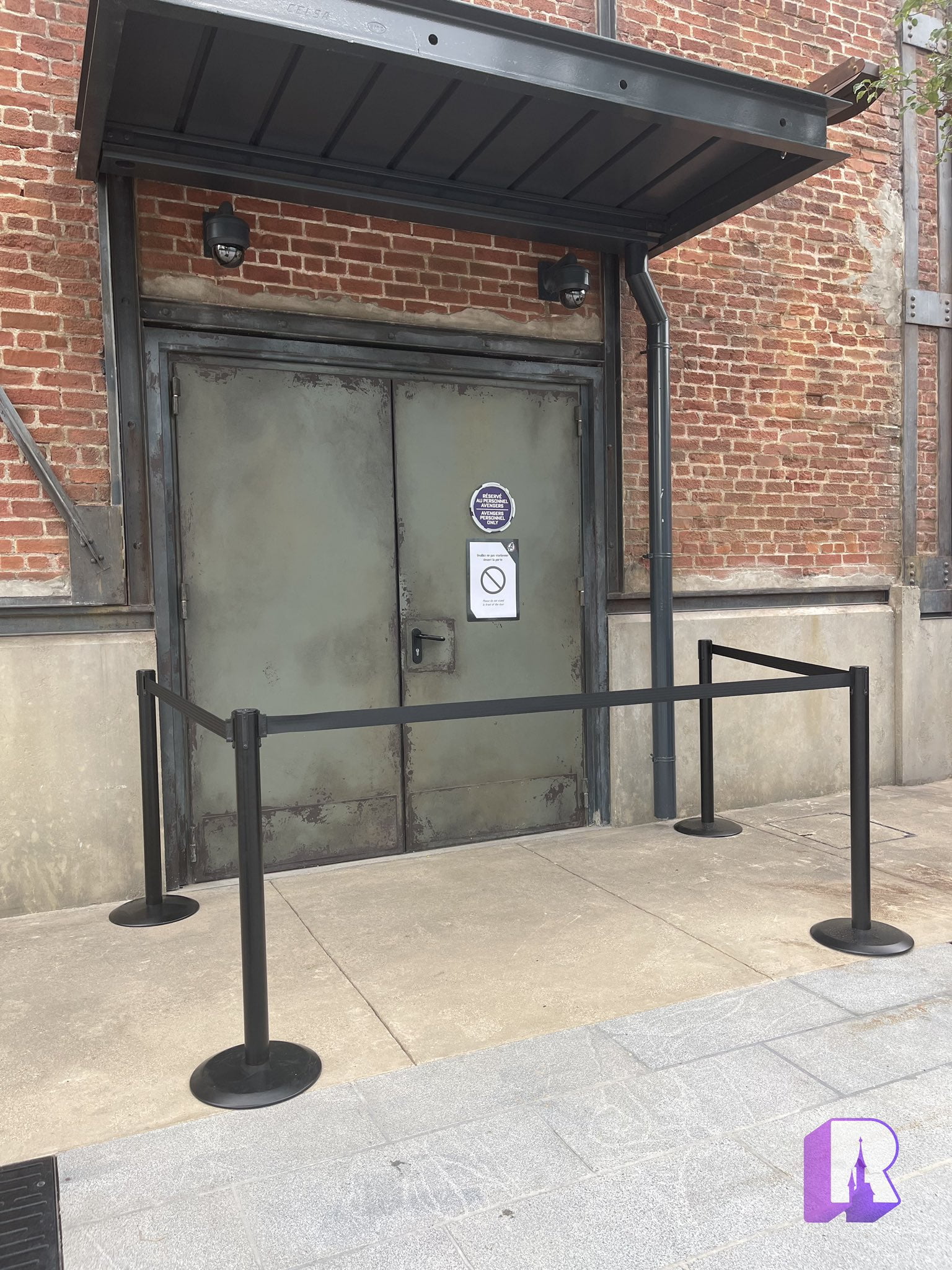 A lot more things and areas have been roped off lately, the result again of poor Guest behavior, but also maybe poor design. As Avengers Campus is still very new, I have no doubt these teething issues will get figured out over time.
Construction and Refurbishments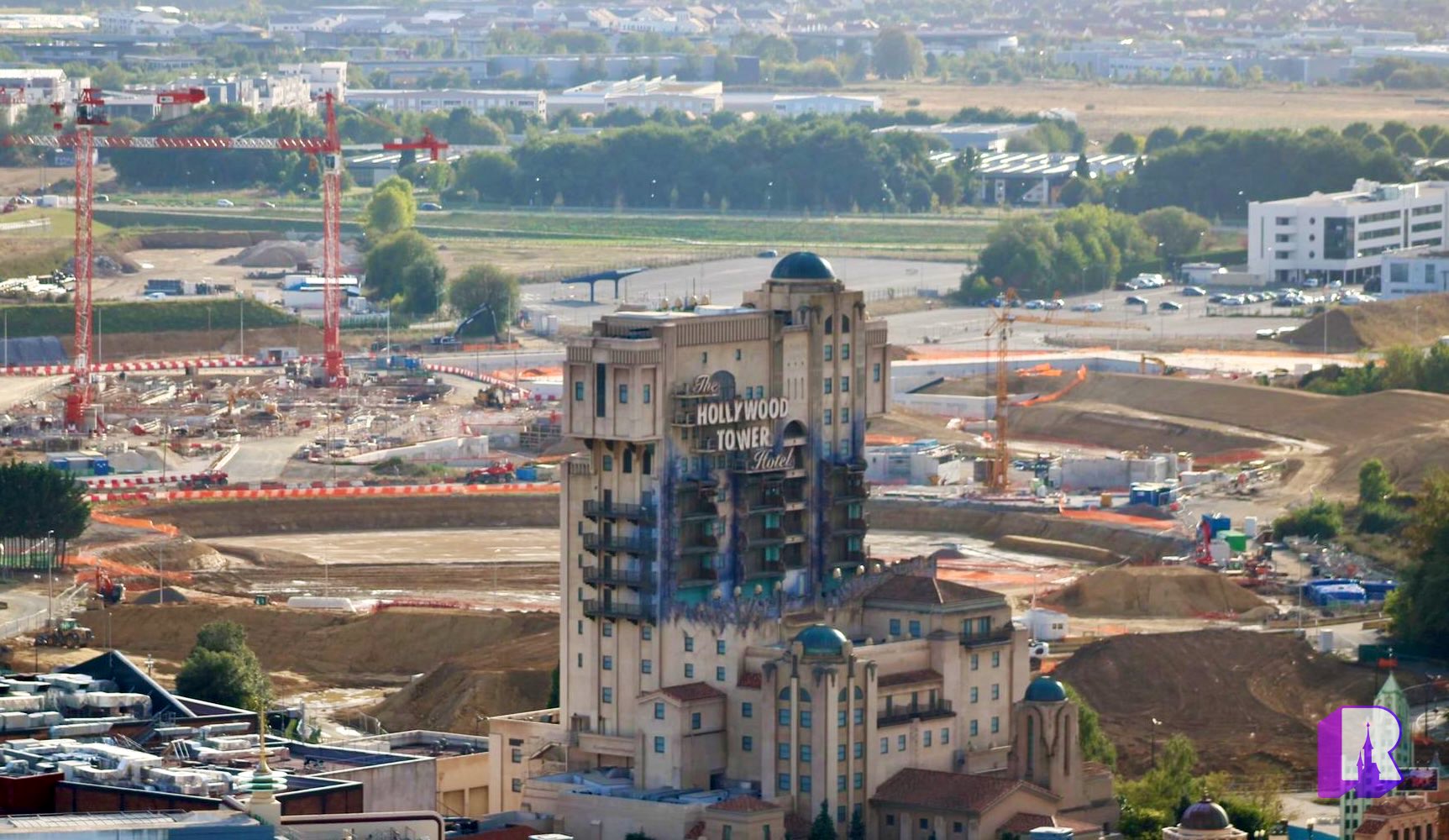 I gasped when i saw this photo. HERE IT IS GUYS, the Walt Disney Studios Lake ! It magically took shape recently and is BIG – don't be fooled by the perspective here.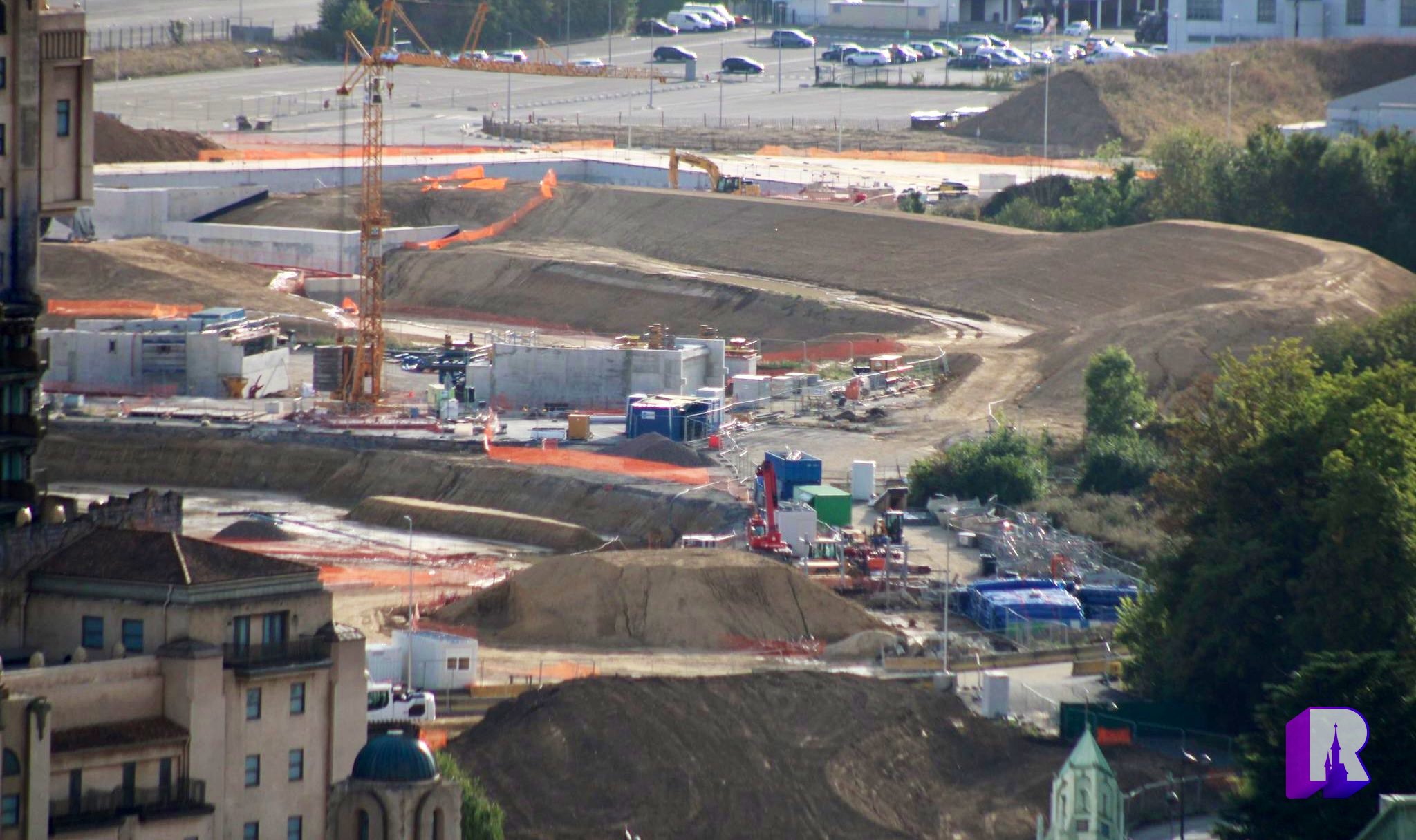 On both sides you can see the Lake's shores taking shape, the preparation for the landscaped avenue, a bridge linking to Frozen Land, the Frozen land bay, a maintenance marina, foundations for Arendelle and the show building. So much to look at and of course to look forward to!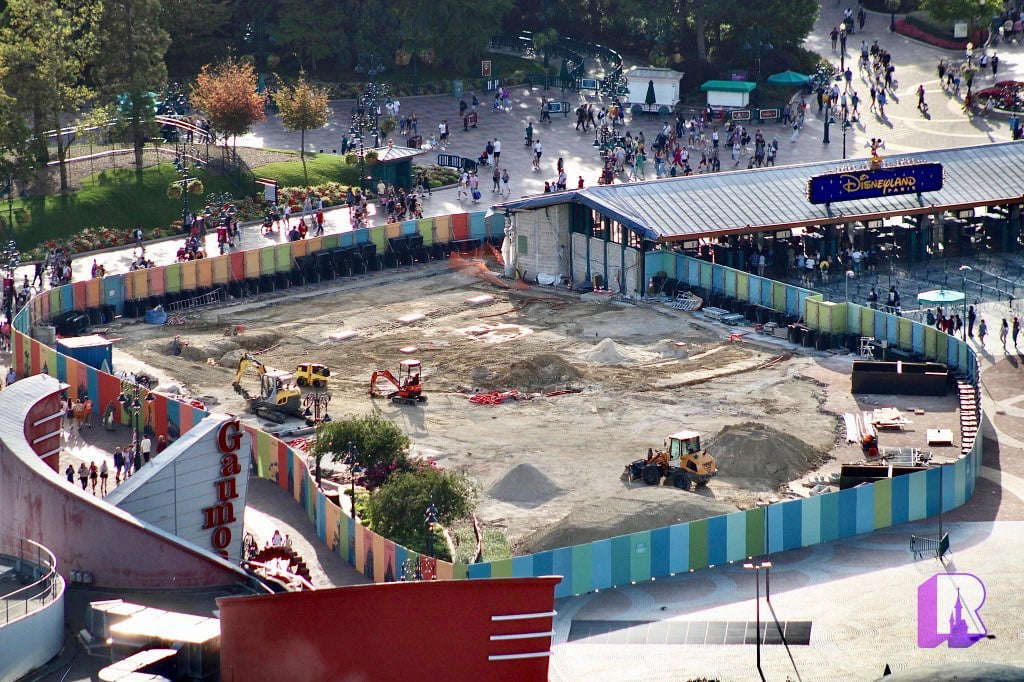 While in the air we also checked out progress on the new security gates – phase 3 -, the Guest Parking tent refurbishment and Solar Farm, a new shiny roof for Disney Sequoia Lodge pool, and the structural refurbishment of the bridge near Earl of Sandwich.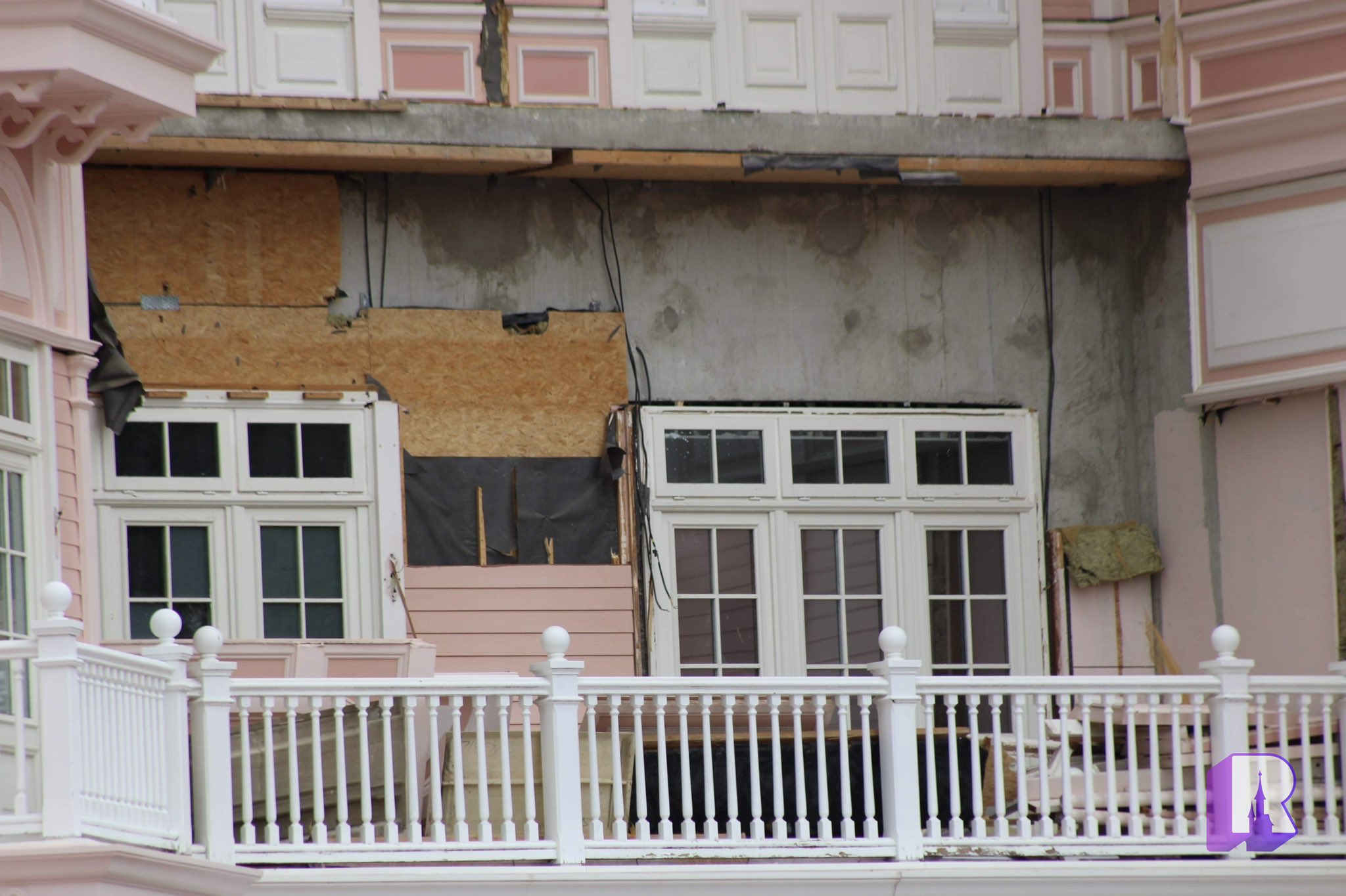 Re-imagining continues at the Disneyland Hotel and while we do see constant progress, it's clear that there is a lot to do over the next 80 weeks.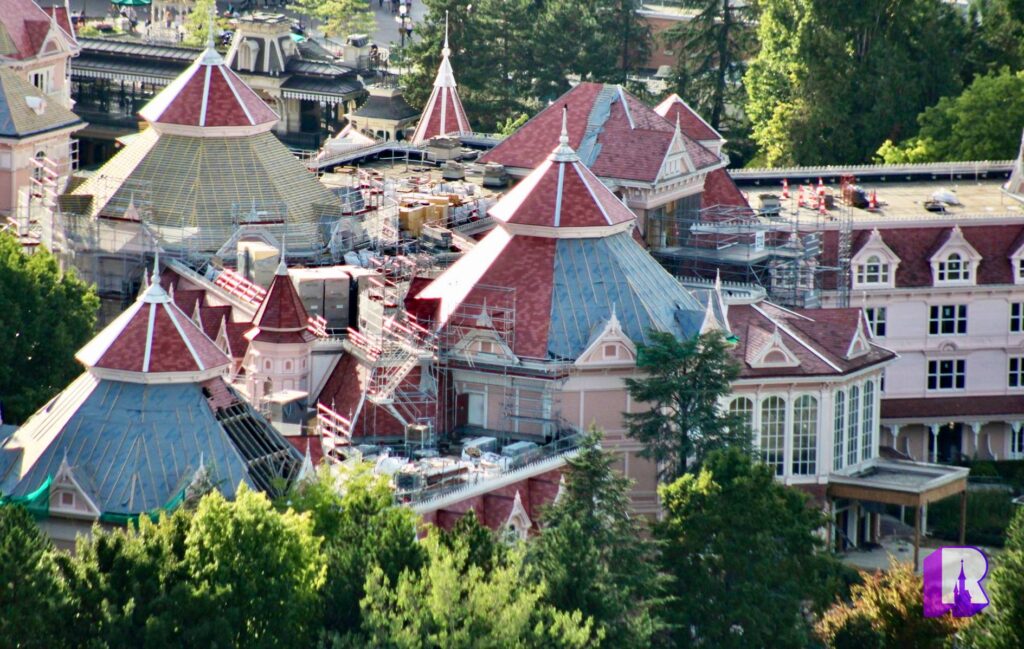 From the air we could see a side of it we don't normally see: the main entrance on the parking side.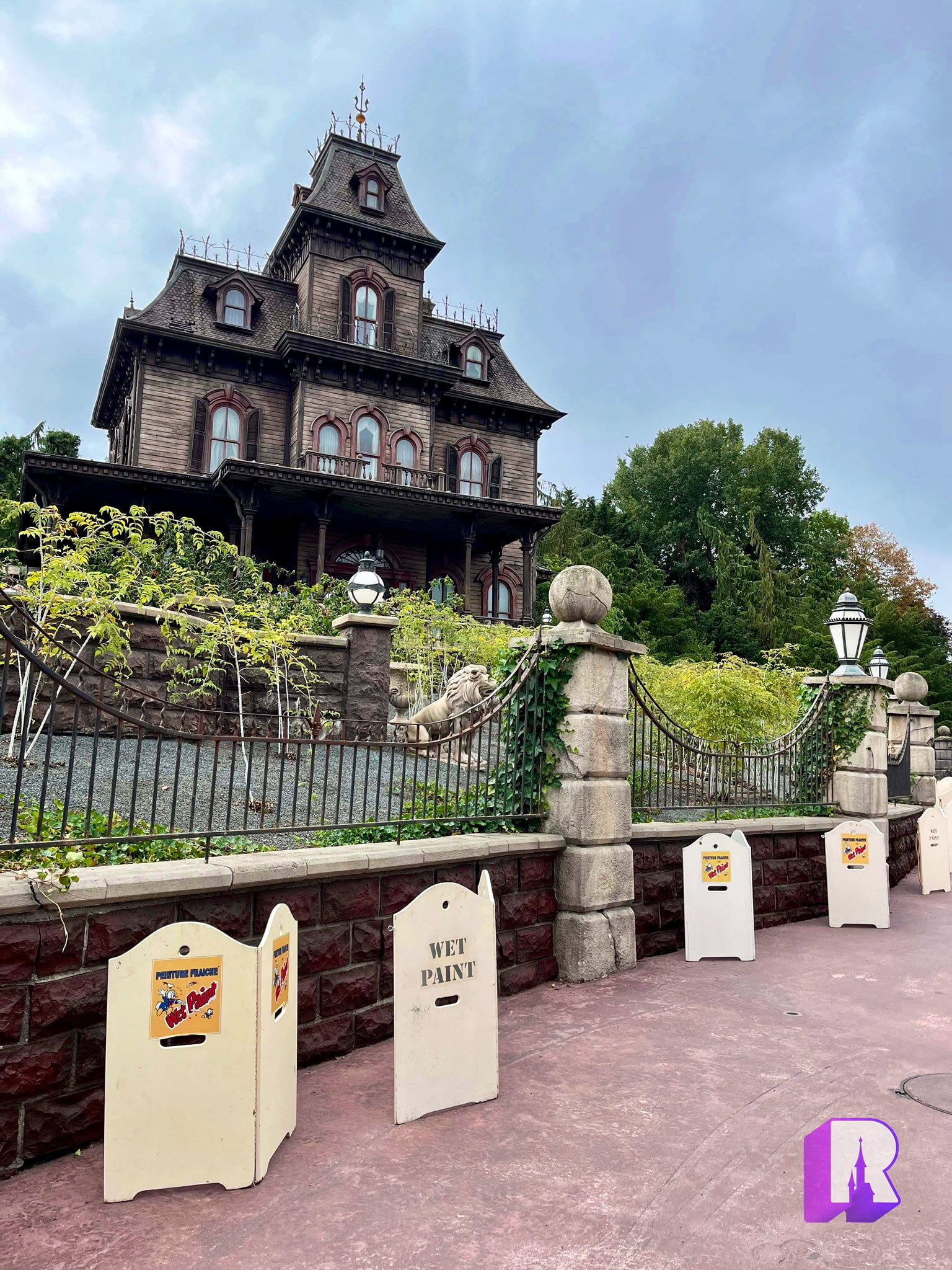 At Disneyland Park, Phantom Manor has been getting a bit of TLC with a paint job on the low walls.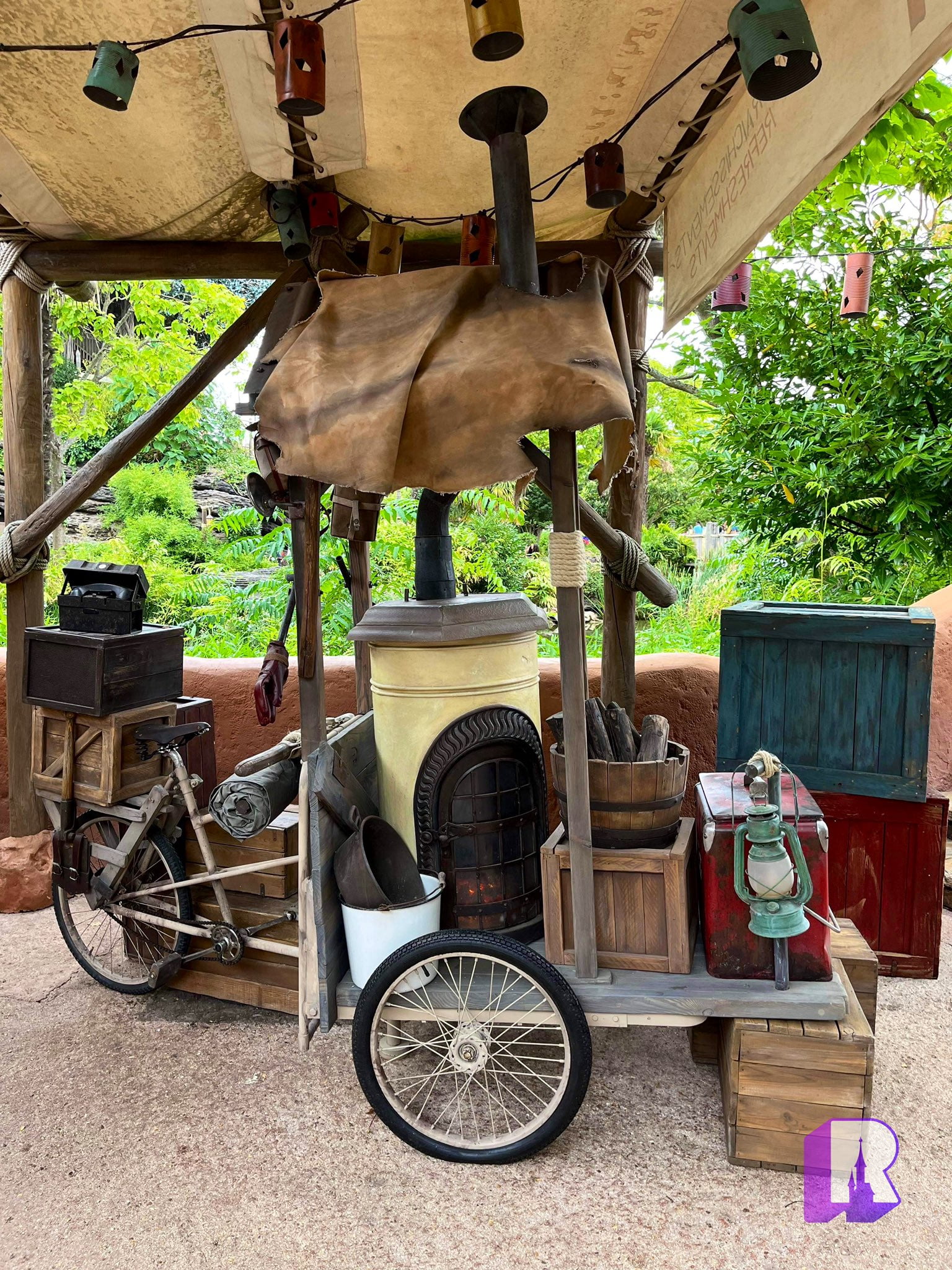 At Cool Post, this new set piece has arrived. It's fantastic with many details and even sound effects in the Coca-Cola box !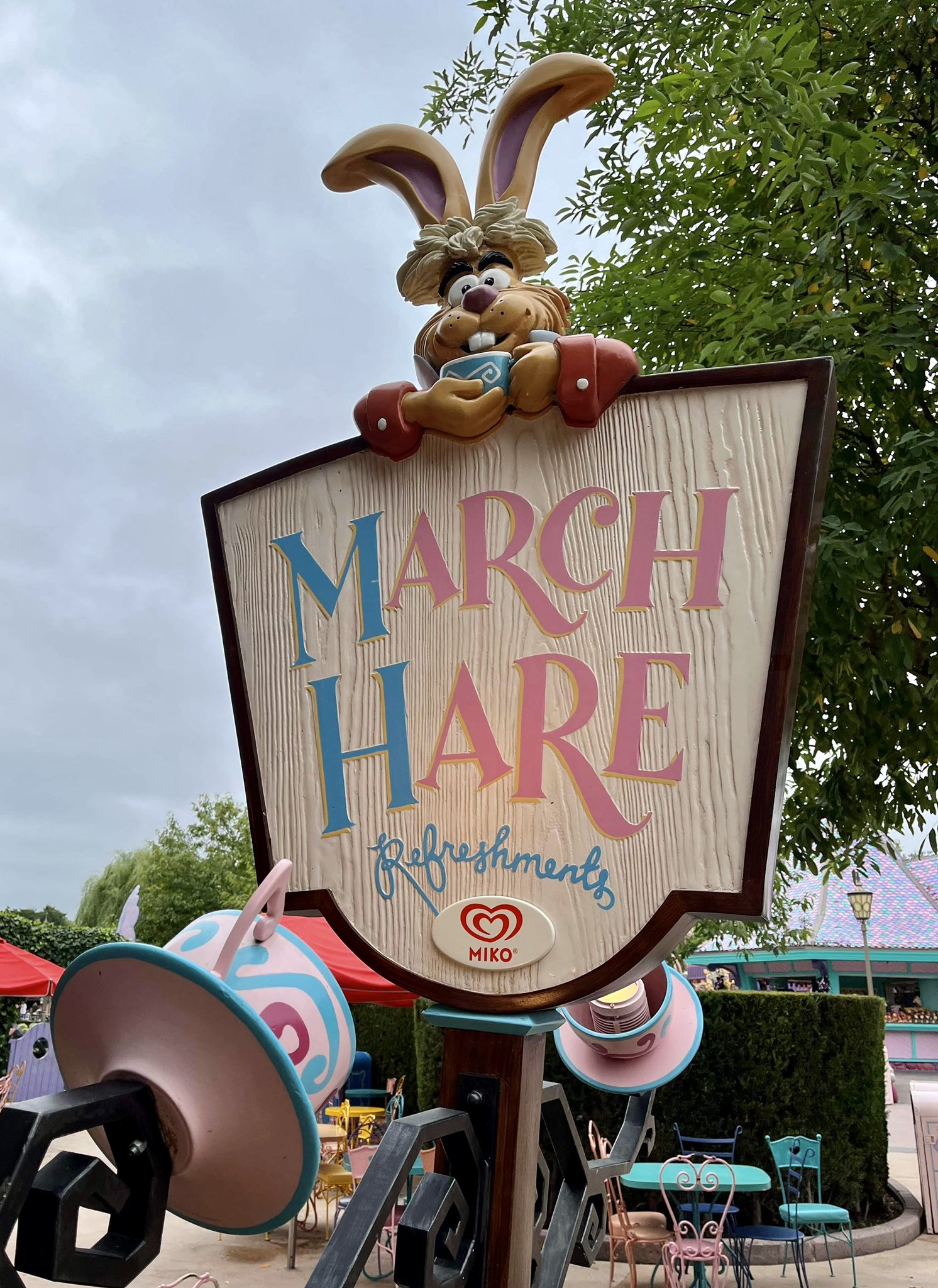 In Fantasyland, a MIKO sponsorship medallion was added to the March Hare refreshments sign. Sponsorships are fine but this medallion hides a bit of the design (the flourish in the R). Too bad..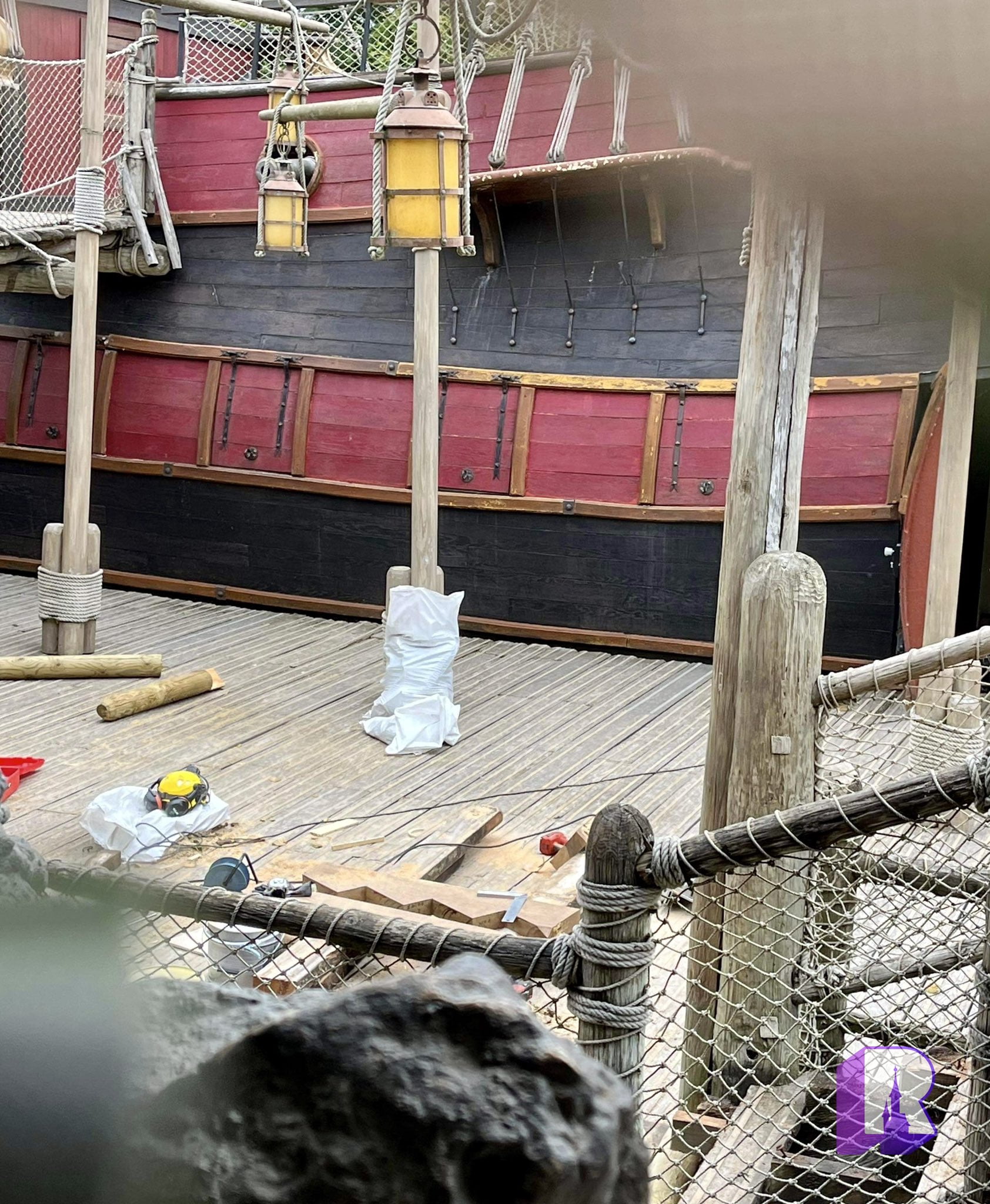 In Adventureland, refurbishment continues around the Galleon, particularly on the dock.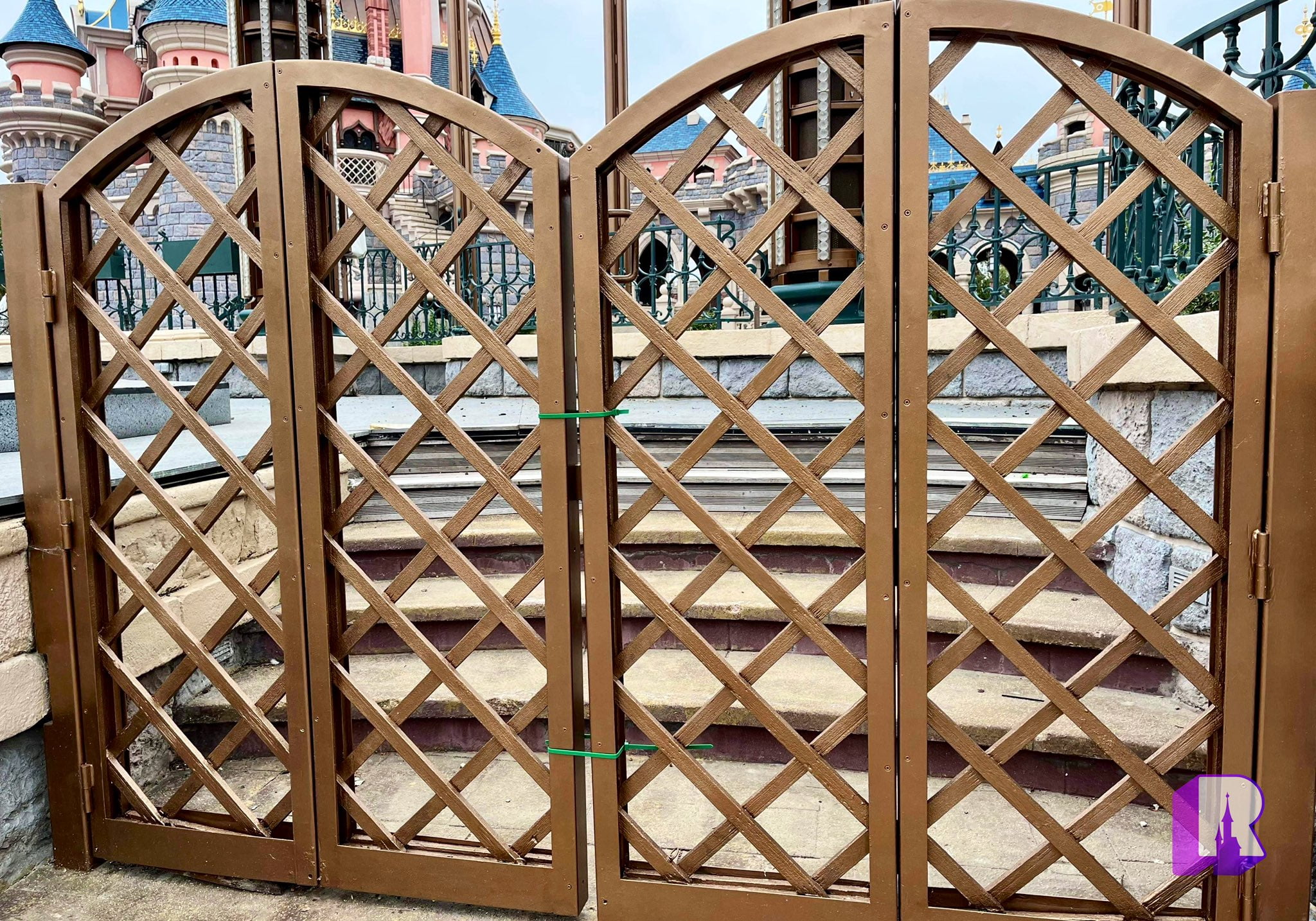 Another sign of poor Guest behavior, at Castle Courtyard the gates have been locked shut with cable ties.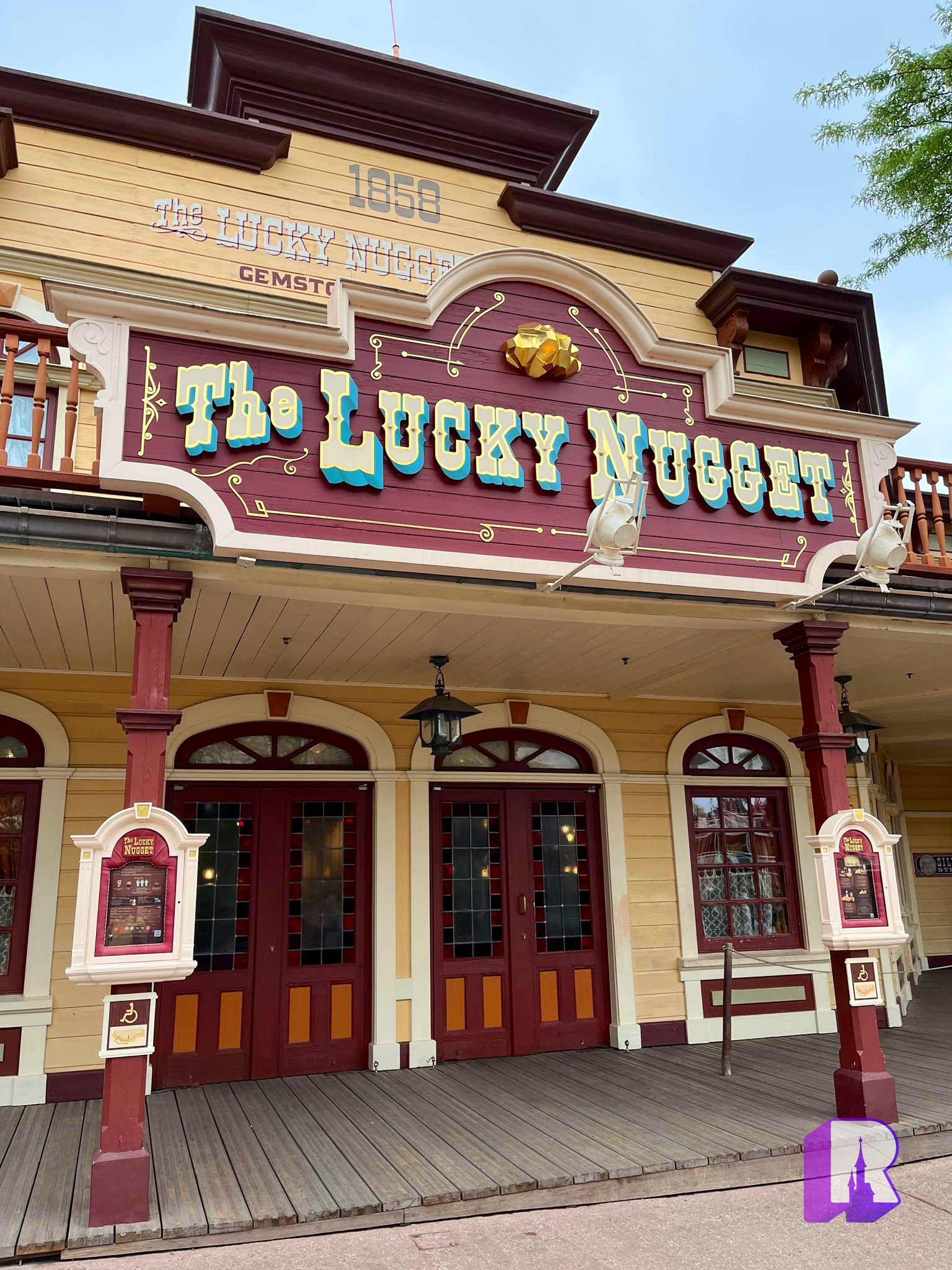 And in Frontierland, a nice new themed sign directs Guests to the accessible ramp for The Lucky Nugget.
Merchandise
Some more great arrivals at Mission Equipment! Jackets, jumpers and rubber wristbands. The place to shop these days.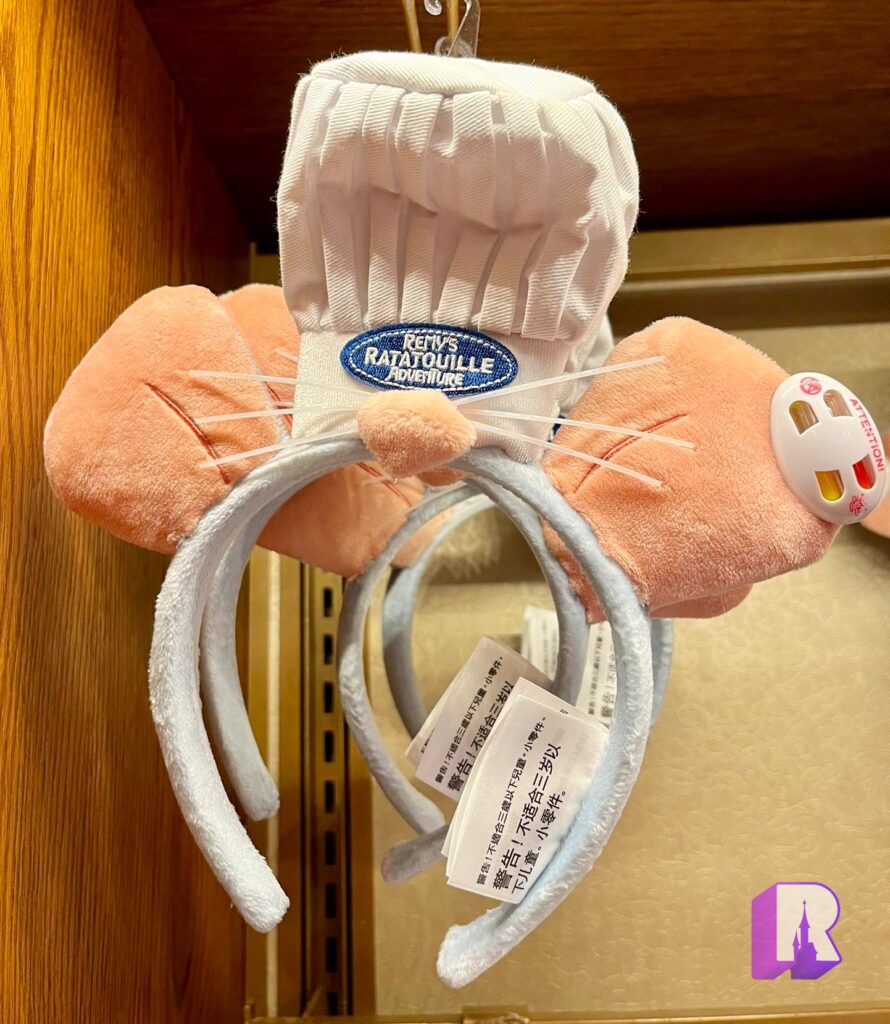 At Chez Marianne, the Ratatouille Adventure merchandise form Epcot has arrived, including the ears and the socks !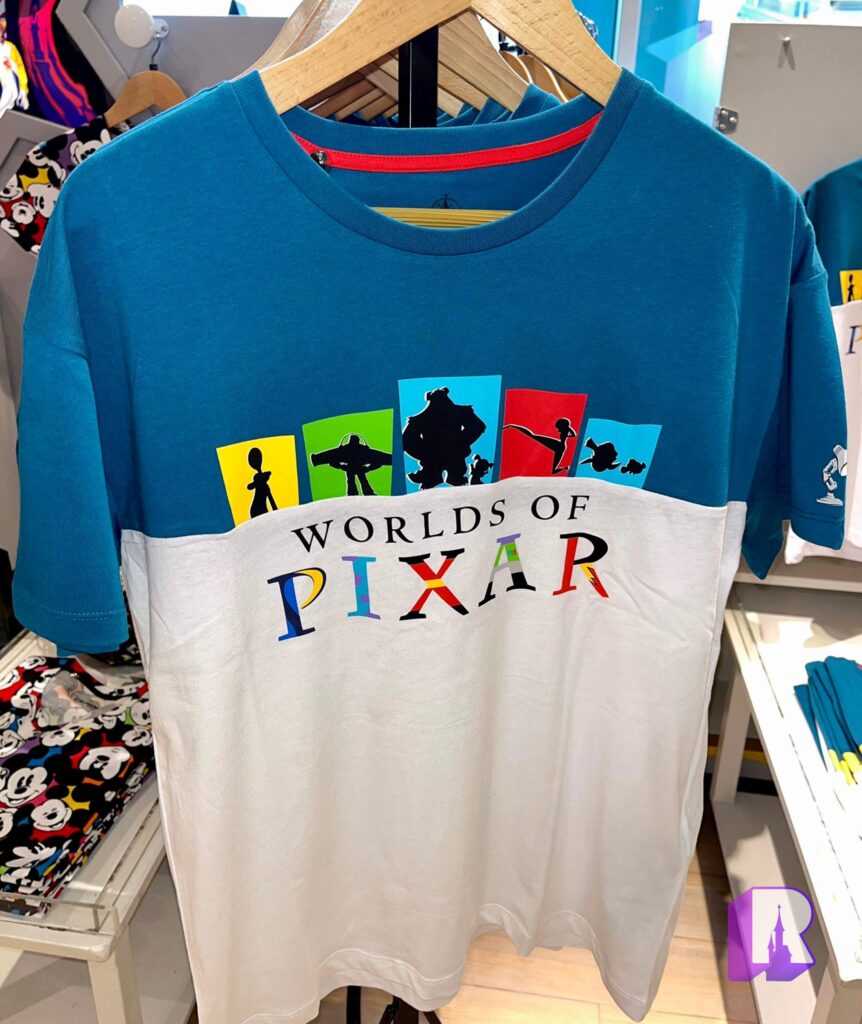 And at Disney Fashion you can now find this nice Worlds of Pixar t-shirt. The land itself still makes zero sense with even less Pixar signage than before.
This and That..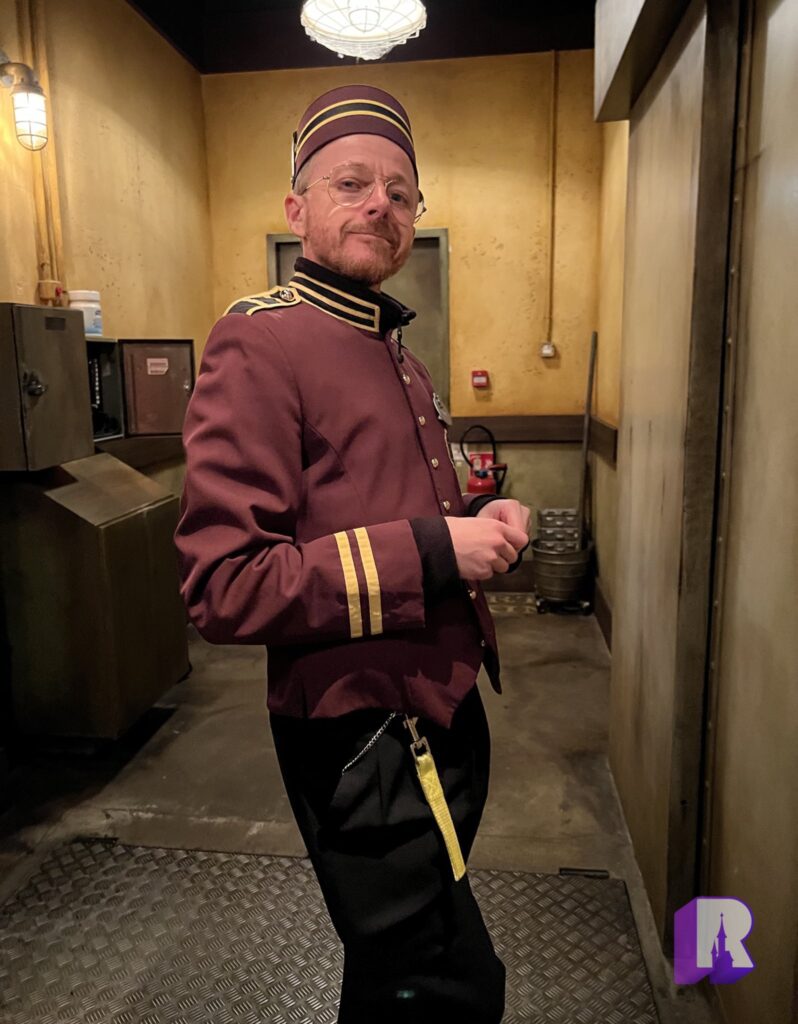 This week, Cedric, legendary Tower of Terror Bellhop, has left the Hotel. We hear he will stay at the Resort, but we want to thank him for all those years of terrorizing Guests!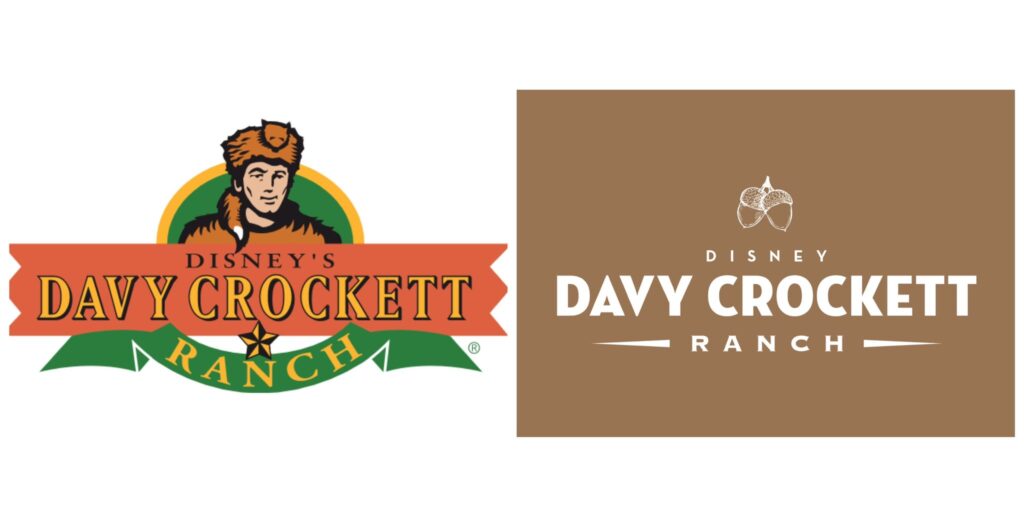 Disney Davy Crockett Ranch is the final Disney Hotel to get a new logo and lose the apostrophe in Disney. Basic is the least we could say about the new design.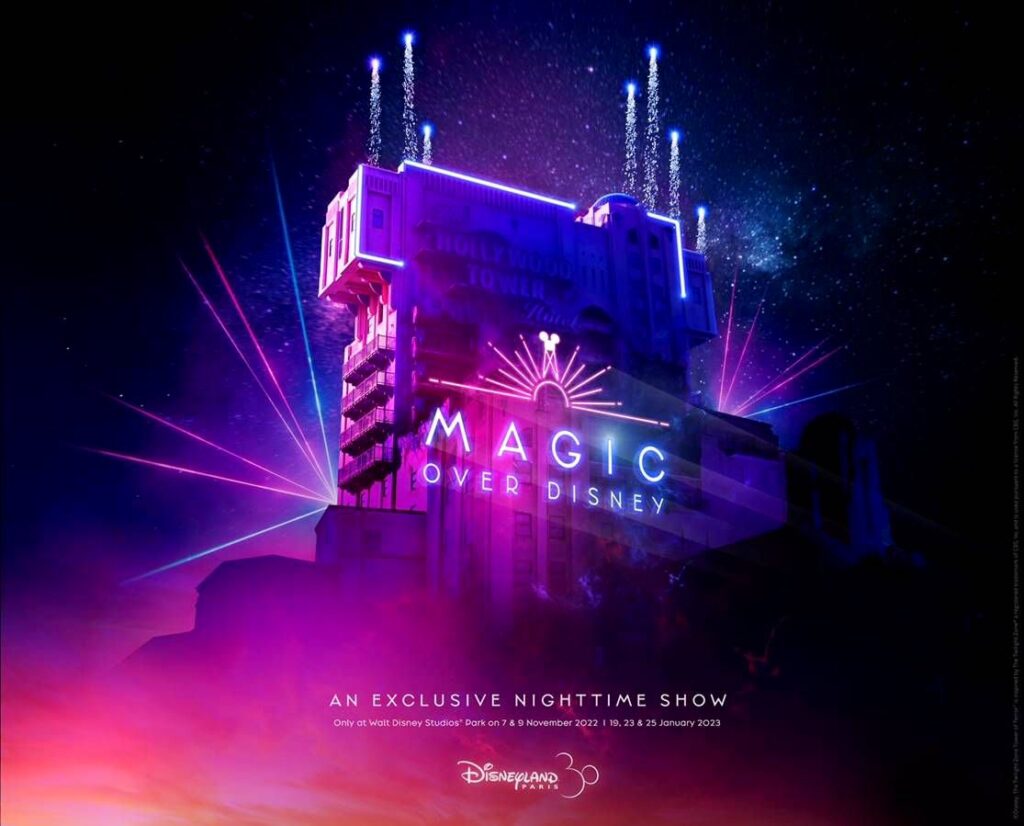 Magic Over Disney", the limited time nighttime spectacular at Walt Disney Studios Park (open to all Guests with valid admission) has a new visual. It will be performed on November 7 and 9, 2022 and January 19, 23 and 25, 2023.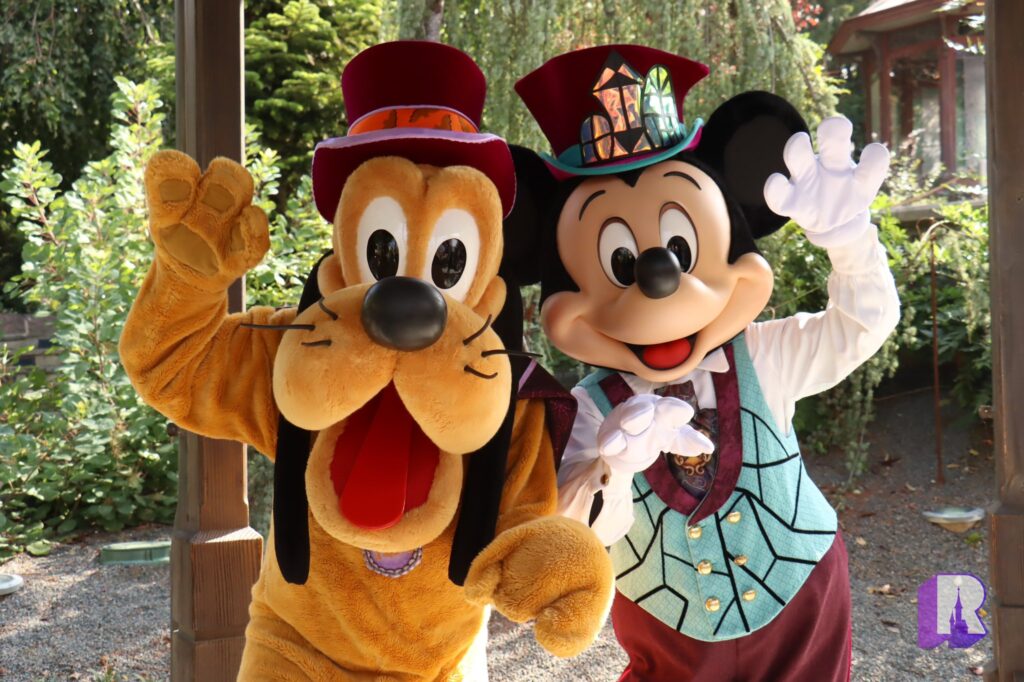 Mickey and Pluto met together in their respective Phantom Manor outfits. It was too cute not to share!
And that's our wrap up of the week! Princesses, drama and inclement weather – just how we like it! See you again next weekend for a roundup of the latest happenings at Disneyland Paris!