We are back with a new DLP Report and oh boy did a lot of things happen over the weekend! We've had the AP "Villainous Night", the end of the 30th Anniversary with wonderful surprises and of course the start of the Halloween Season. Let's dig in!
Villainous Night
With little to no programme we really didn't know what to expect and well the Villainous Night for AP and Disneyland Pass holders turned out to be pretty fun! Part of it was the very low capacity – the party didn't feel rammed – and the few surprises. Was it groundbreaking ? No. Was it a fun evening ? Yeah!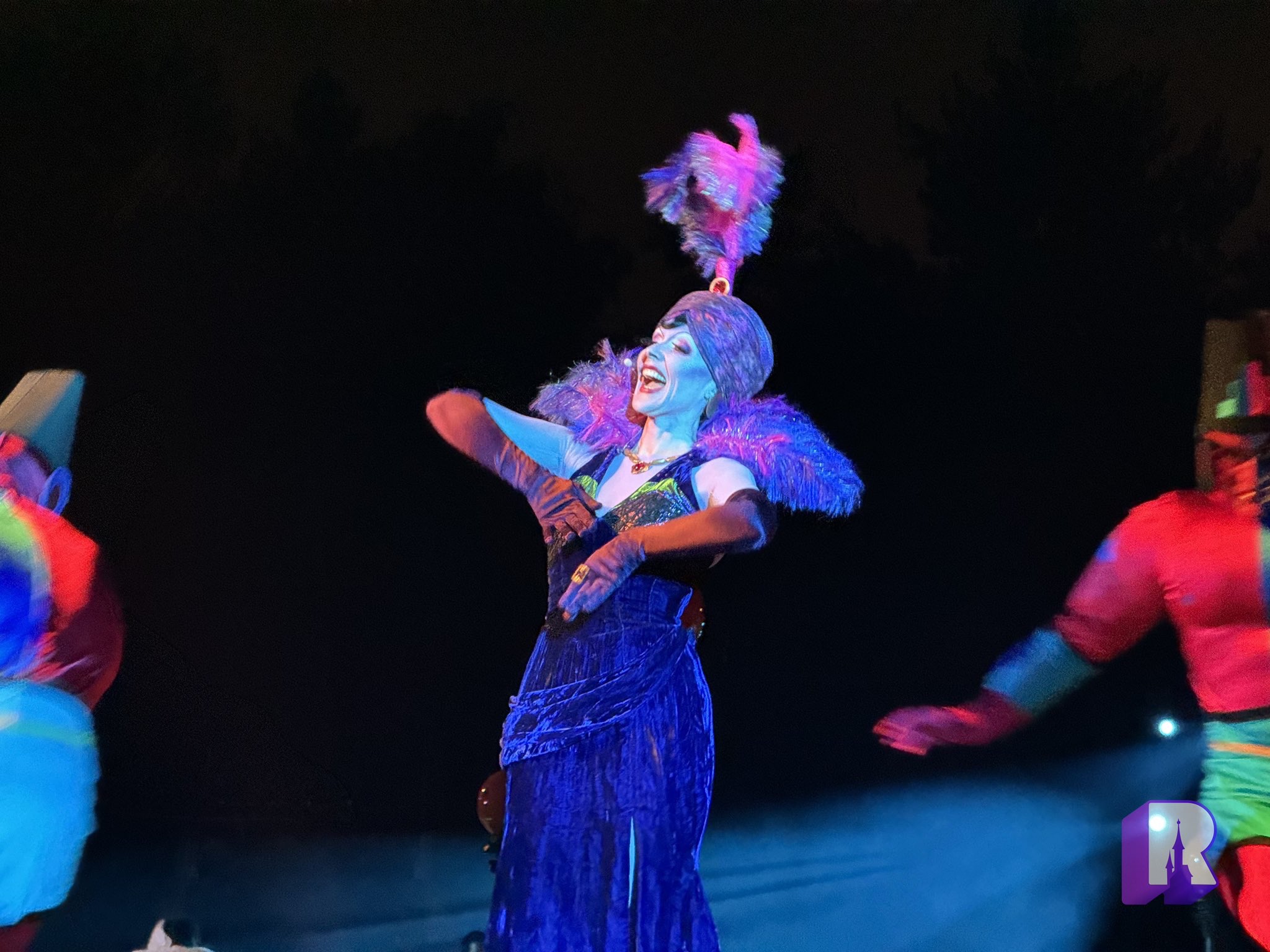 The night was opened by Maleficent of course with special guest Yzma, in her "face" incarnation. What would an AP Party be without Betty and Jimmy so of course, they were here. It's the longest running gag in the history of this resort.
You can watch the whole opening ceremony just above!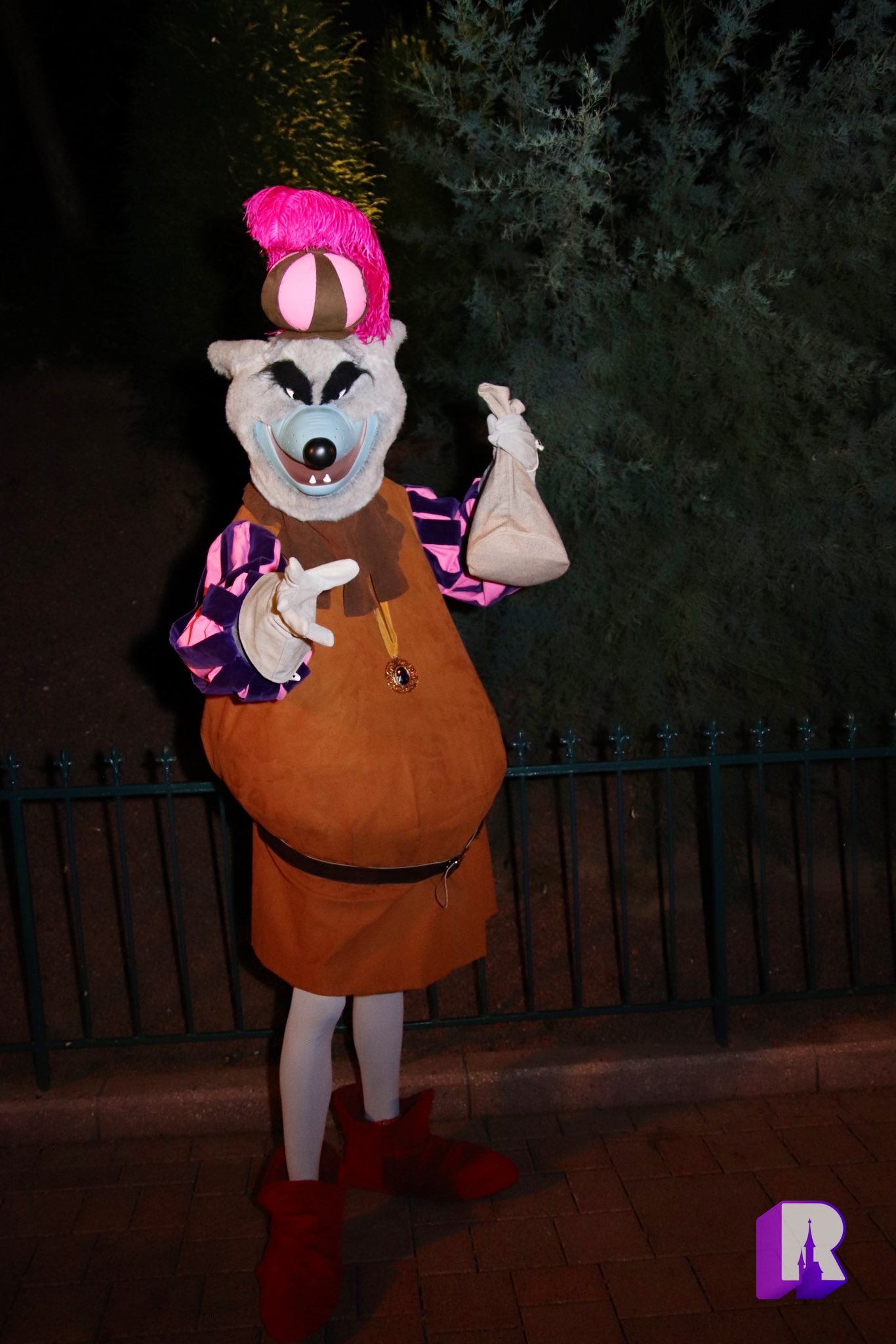 Characters characters ! So many were out and about but only in selfie spot mode. I'm not a huge fan of queuing for hours to get my photo with them – I'd rather see them act around – so I enjoy this but pure character fans have been voicing their anger that they can't really capture the perfect photo with selfie spots. A long debate.
Ooogie Boogie had a "Selfie Spot +" of sorts with a musical number from time to time and the usual selfie spot and interactions. Pretty fun although performances at that location near cowboy cookout are so so hard to see unless you're up front. A temporary elevated stage would have helped.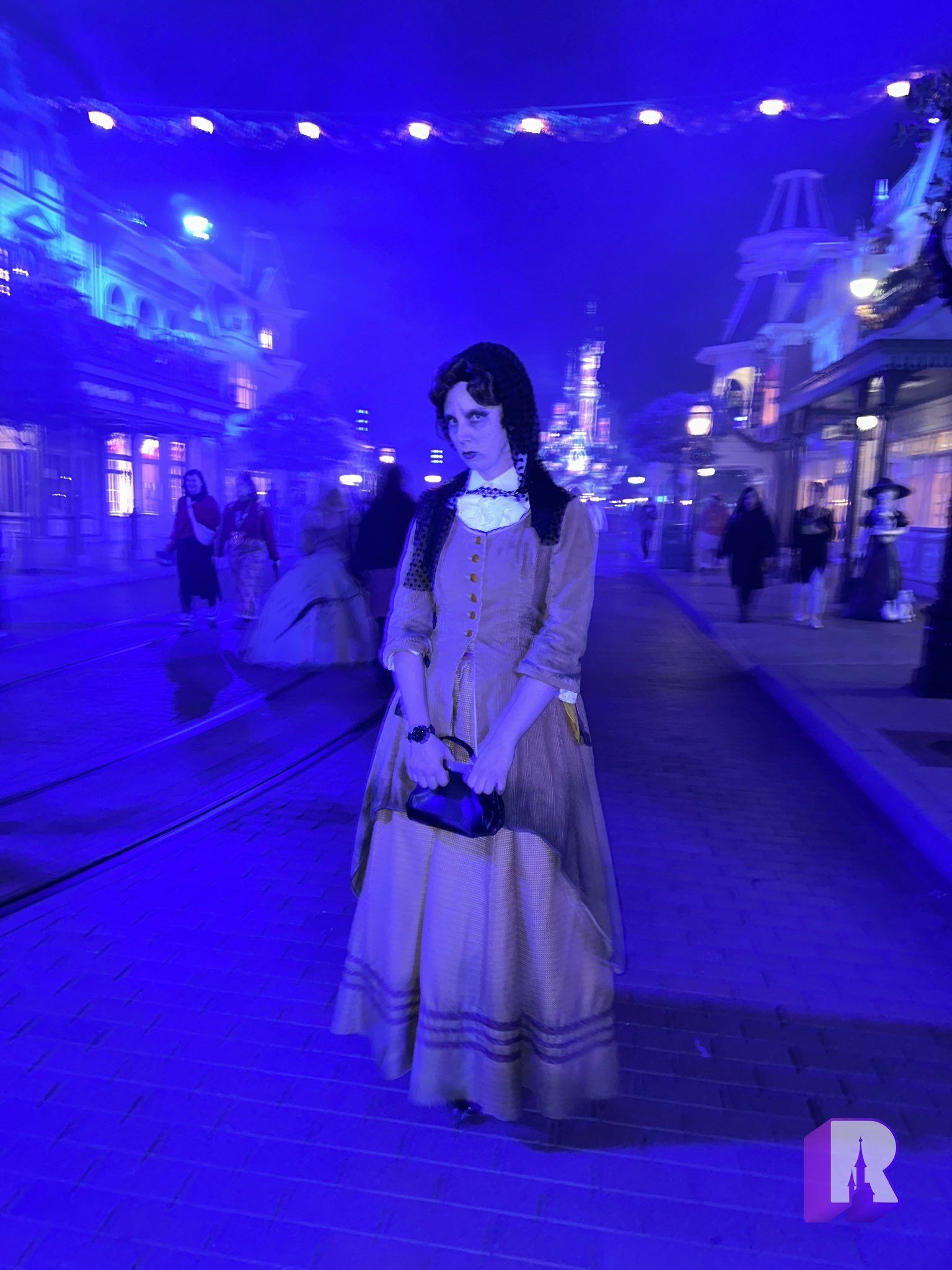 There was also a lot of "streetmosphere" and "citizens of" in all the lands with the ghost crew of the Nautilus, weird guy with brain cutting device at Discoveryland Theater, zombie residents of Main Street and the Lucky Nugget gang – special shout out to them, they were so fun and deep into the role!
Over on Castle Stage the "Ball of Lost Souls" was okay if a bit forgettable. I enjoyed the DJ playing the Descendants soundtrack more, to give you an idea. Video above !
Everyone gathered at 2am – so late – for Maleficent'a final send off which was okay. The show's storyline seemed to imply the Sanderson Sisters were invited but "couldn't make it" – weird way of roping into a script the fact that the resort does not feature these characters?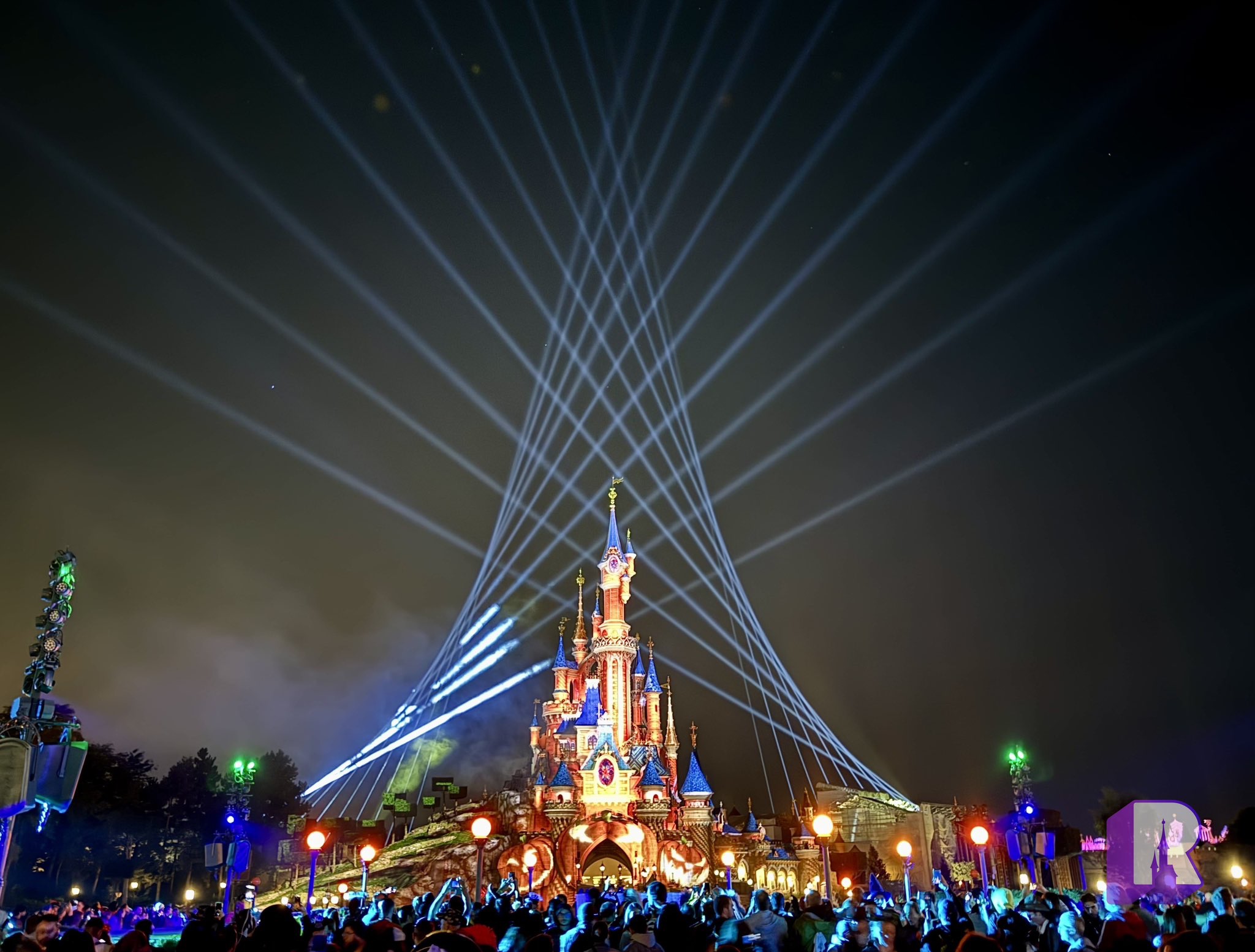 The Sleeping Beauty Castle spotlight did create this awesome new pattern so that was worth staying up late!
Overall an enjoyable night. The AP teams seem to be focusing on easy to handle, mid-level special offerings that make for a pretty fun night out, but gone are the days of the massive extravaganzas. Would do again, with same managed expectations.
Goodbye, 30th Anniversary!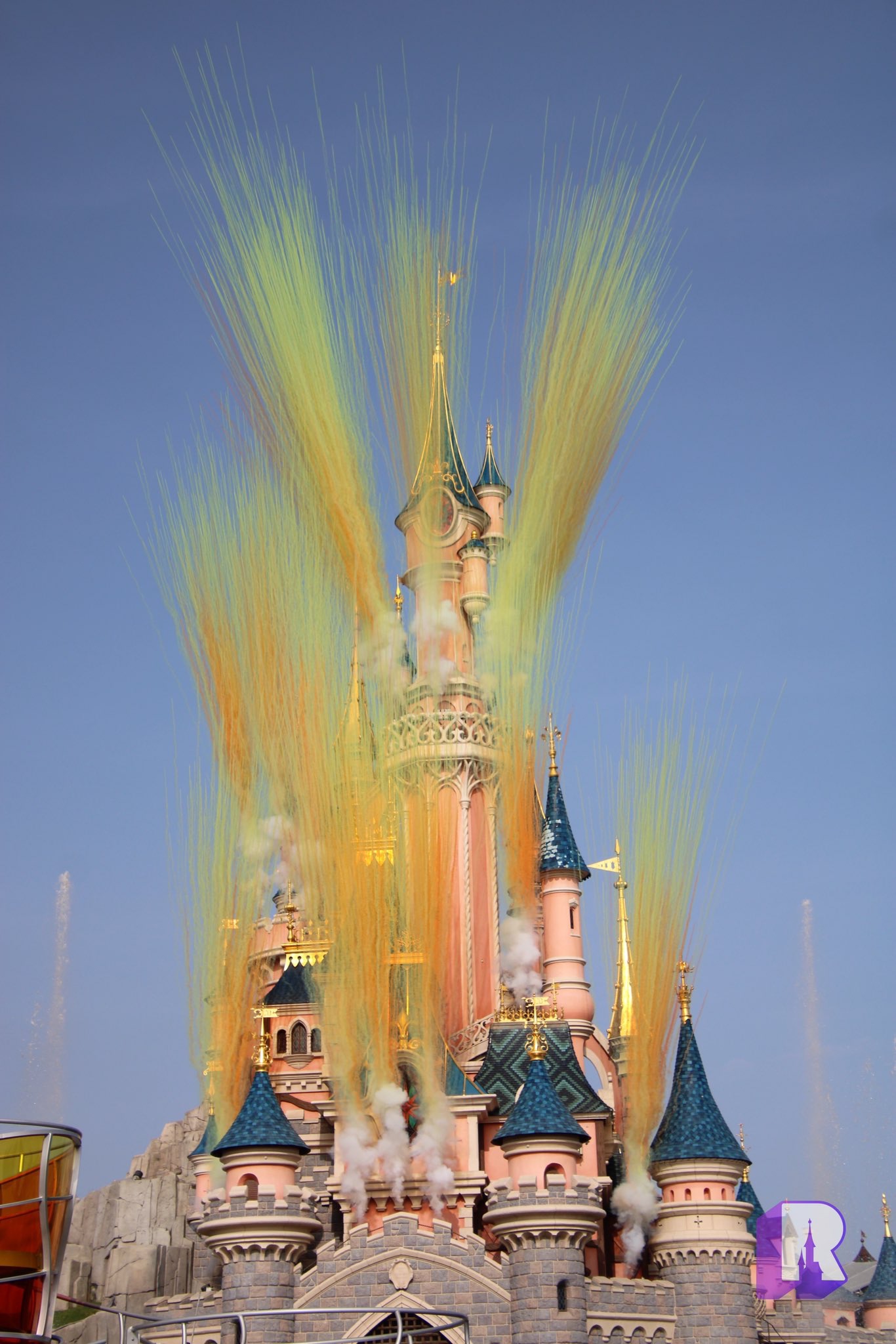 After 18 month of monde qui s'illumine and ready for the ride, #DisneylandParis30 came to a close on Saturday.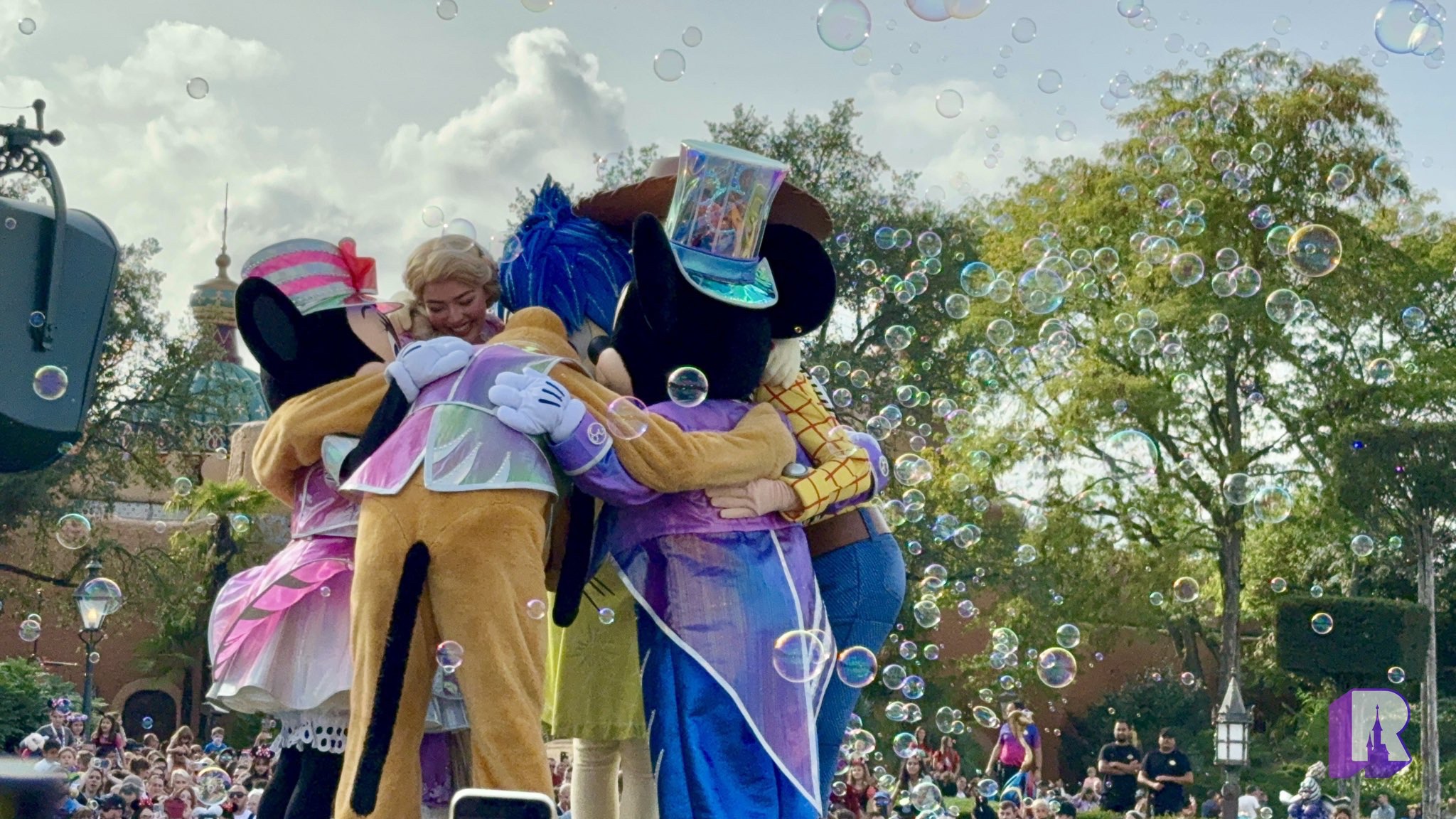 An emotional cast, some of them reunited from Season 1, performed 4 of the most energy packed "Dream… and Shine Brighter" we've seen, to an overflowing sea of Guests in Central Plaza and Town Square.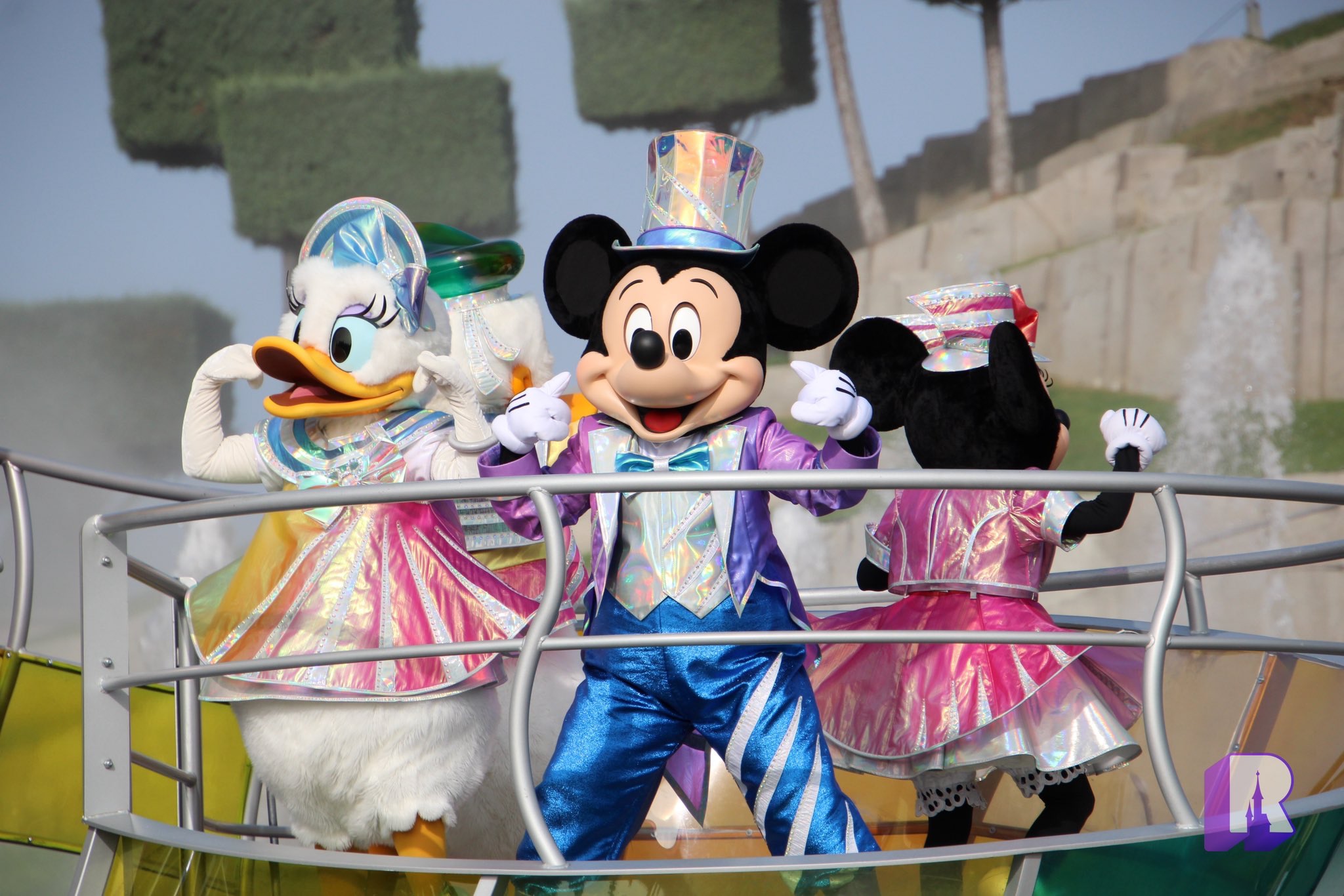 Despite its innovative format and unusually modern floats, the show really captured the hearts of Guests – and in the end isn't that what it's all about. It will be remembered as one of the best productions in history.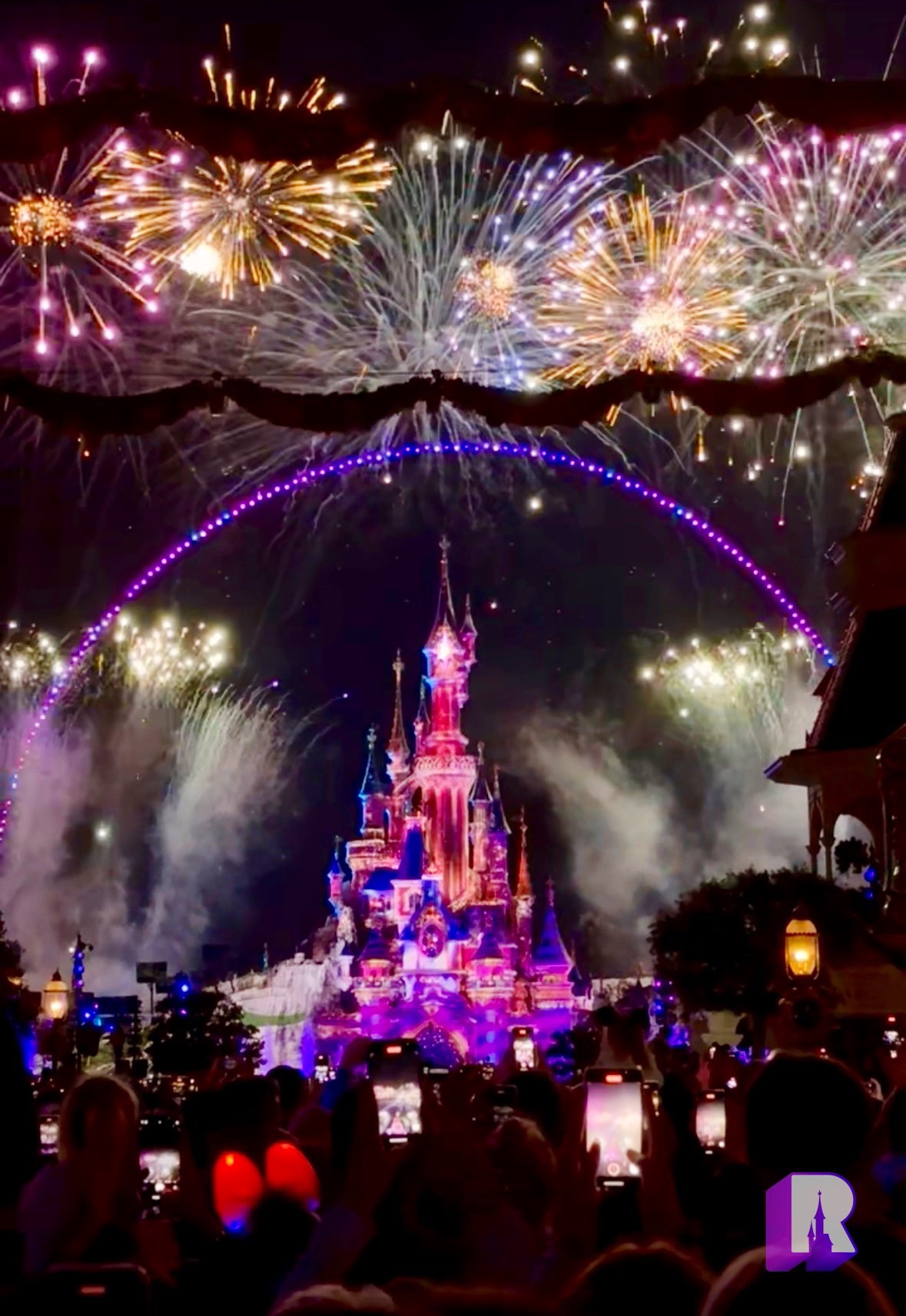 But that's not all! At night, the final performance of Disney D-light was enhanced with fireworks! A fantastic moment.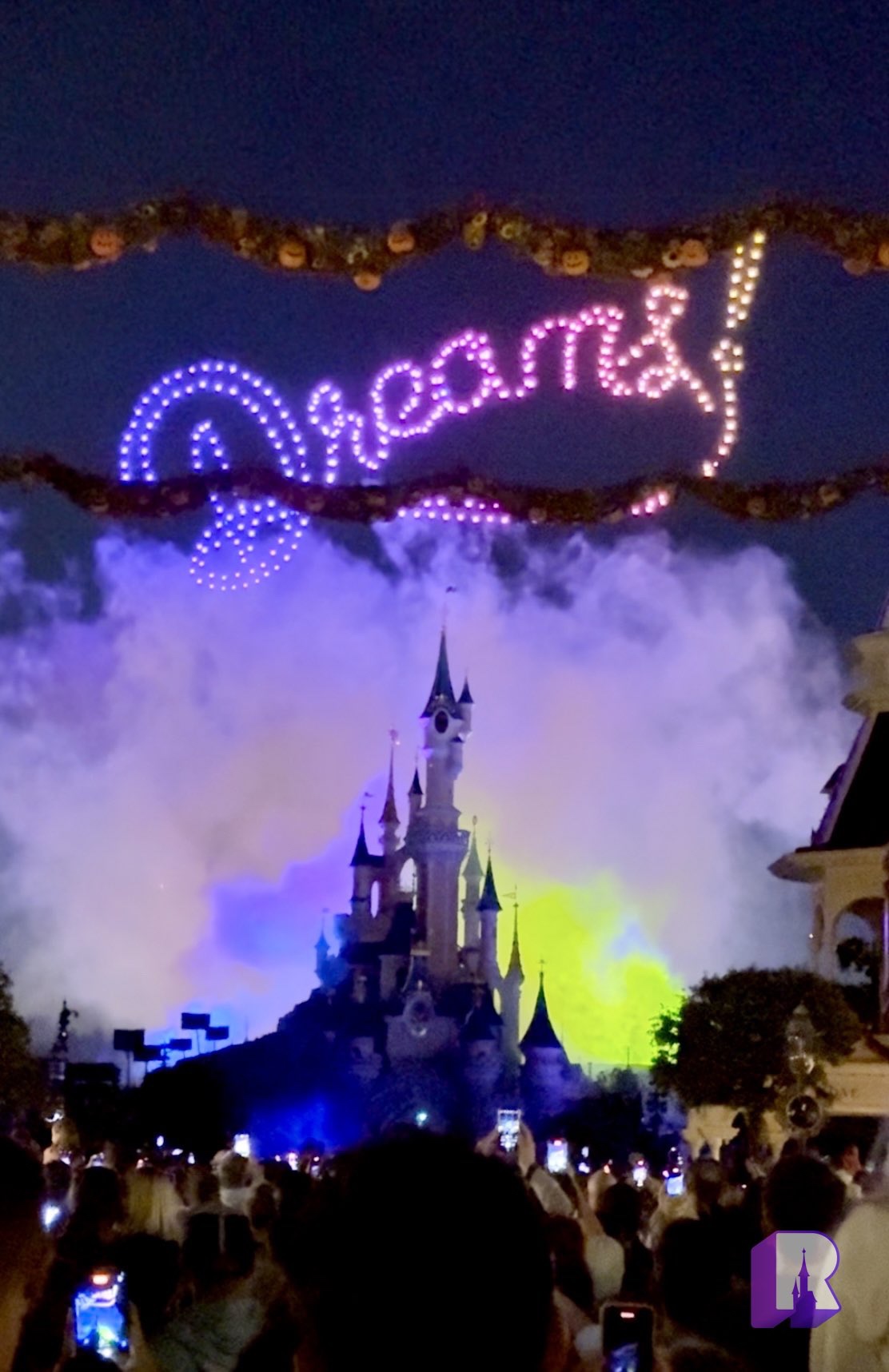 But that's still not all! After Disney Dreams, the shows logo in drones appeared in the sky. The prelude to the incredible surprise that came next:
A fantastic "thank you" drone and fireworks sequence with all the iconic elements of the anniversary. What a way to send off the celebrations! Thank you to all the teams behind the 30th Anniversary – what a ride!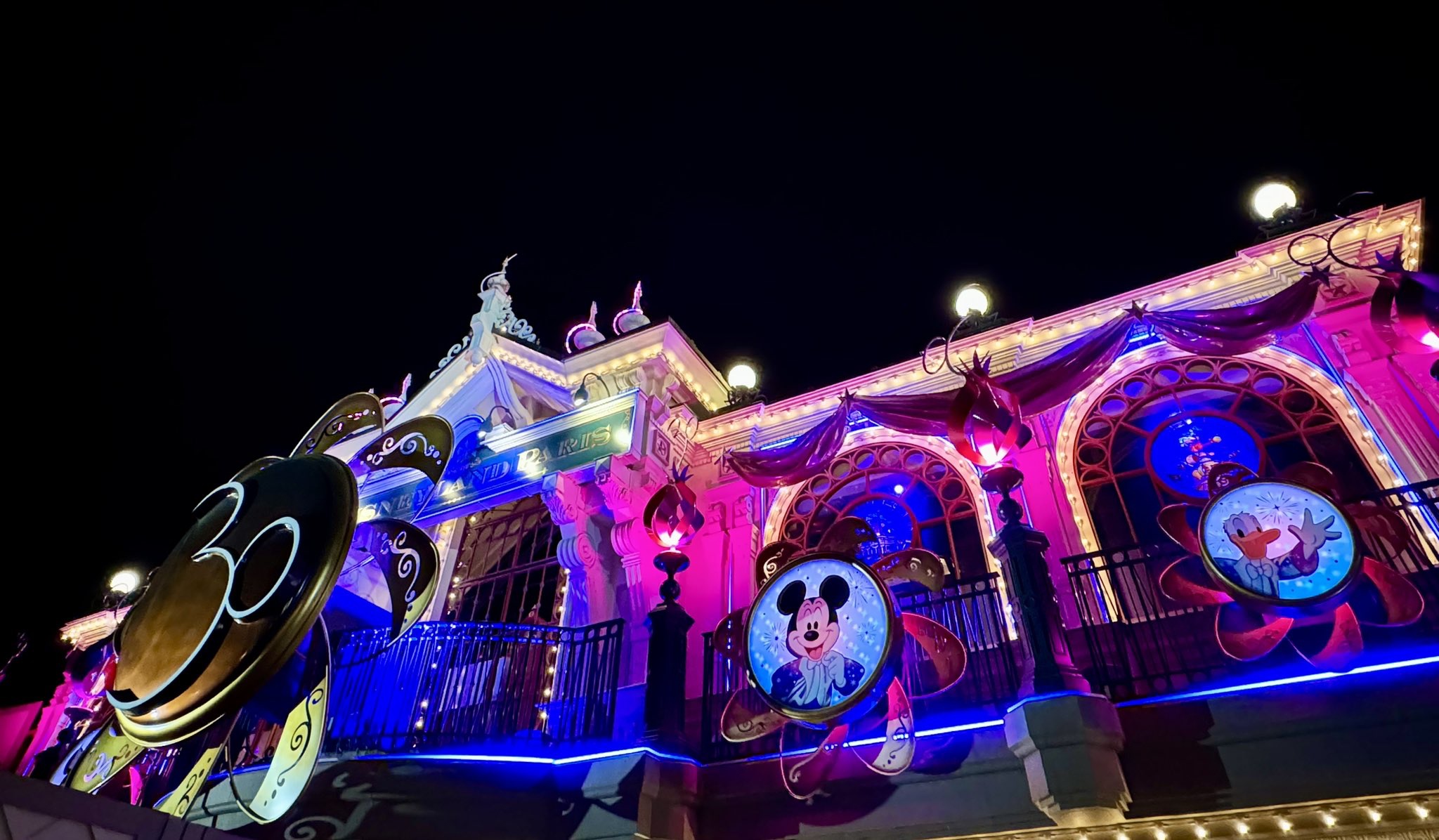 Halloween Season Launch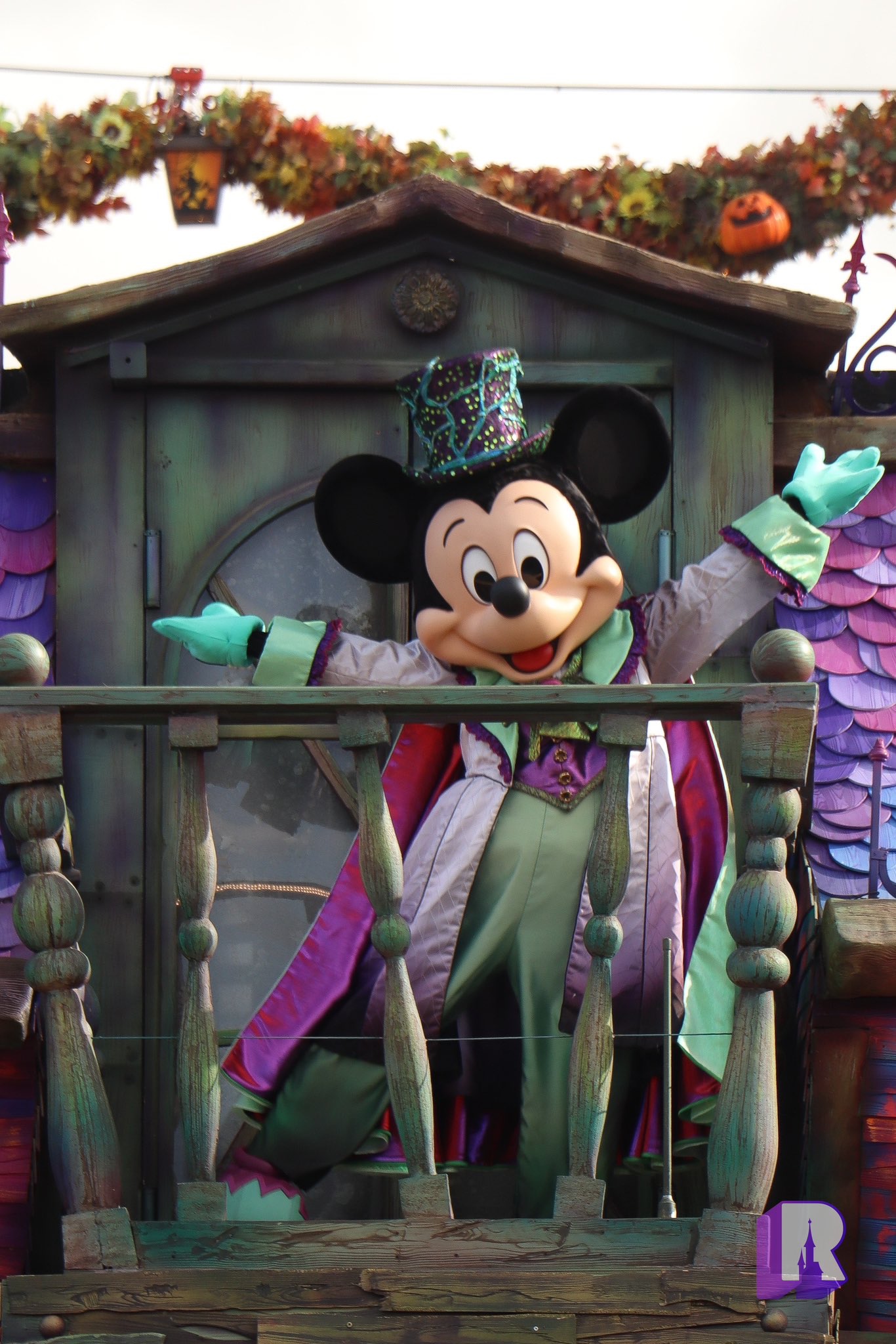 Well what do you know, spooky season is here ! I'll prelude this section with saying that 2023 is a "basic" season with nothing new and even some removed offerings. With that said, maybe we're used to "too much" daytime fun compared to US parks.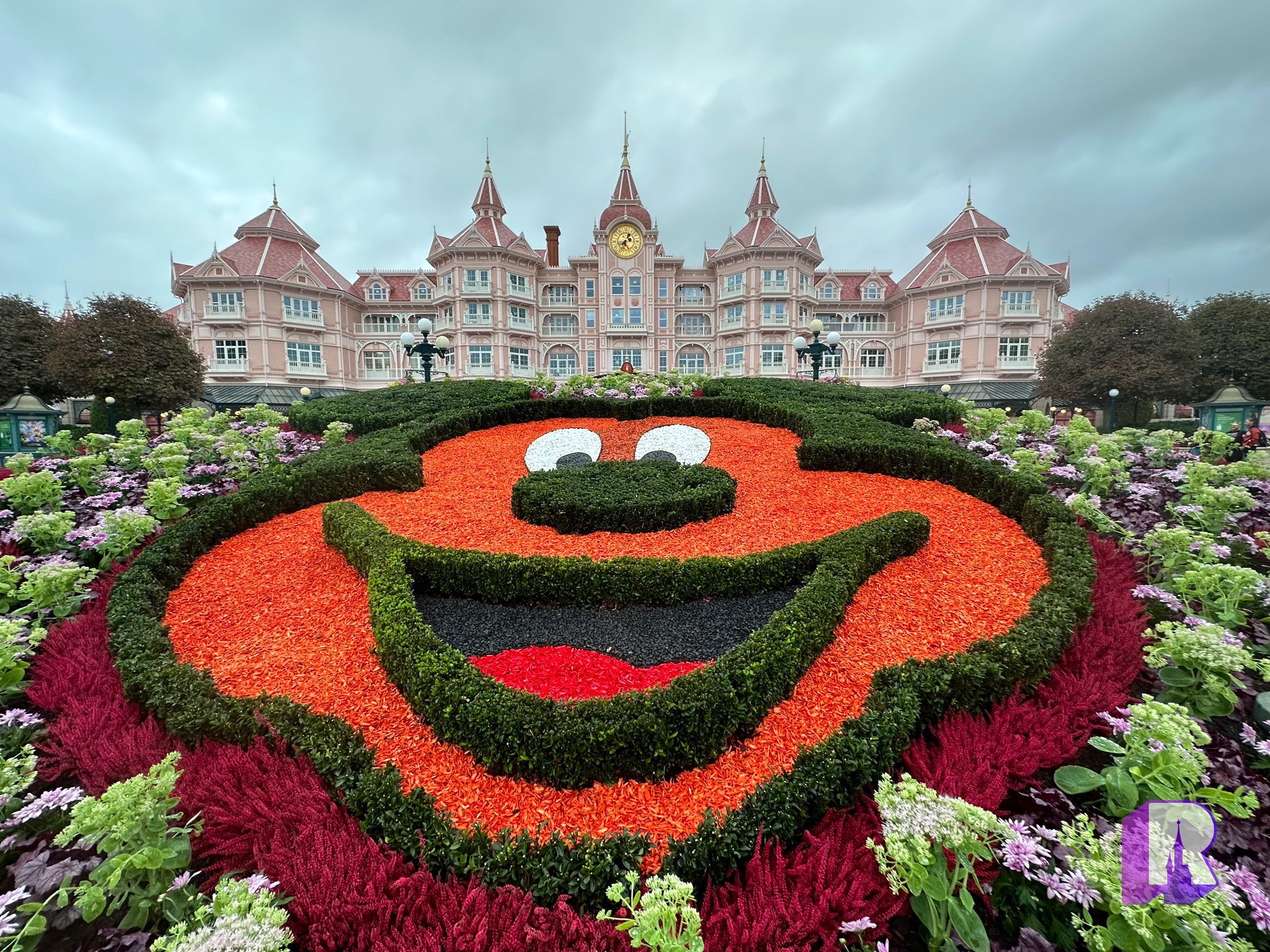 Of course seasonal decorations are front and center with the orange Mickey planter, pumpkins – some real ones this year! – and floral arrangements. Disneyland Paris landscaping always on top of things !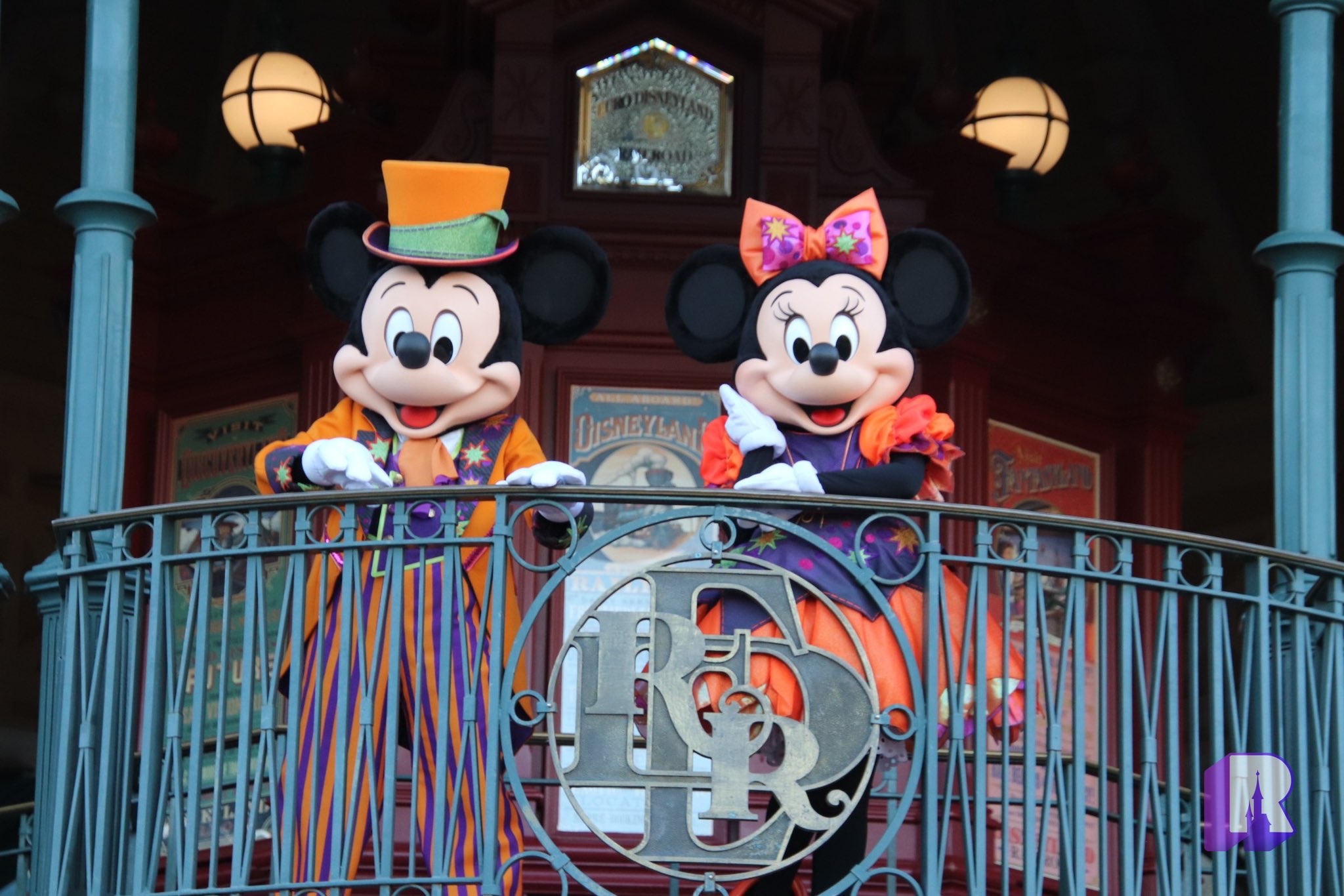 Mickey and Minnie debuted new costumes for the morning greeting this year on Main Street Station and fun fact they are made of "Sequal" which is polyester made with recycled sea plastic trash, fitting with the resort's sustainability actions.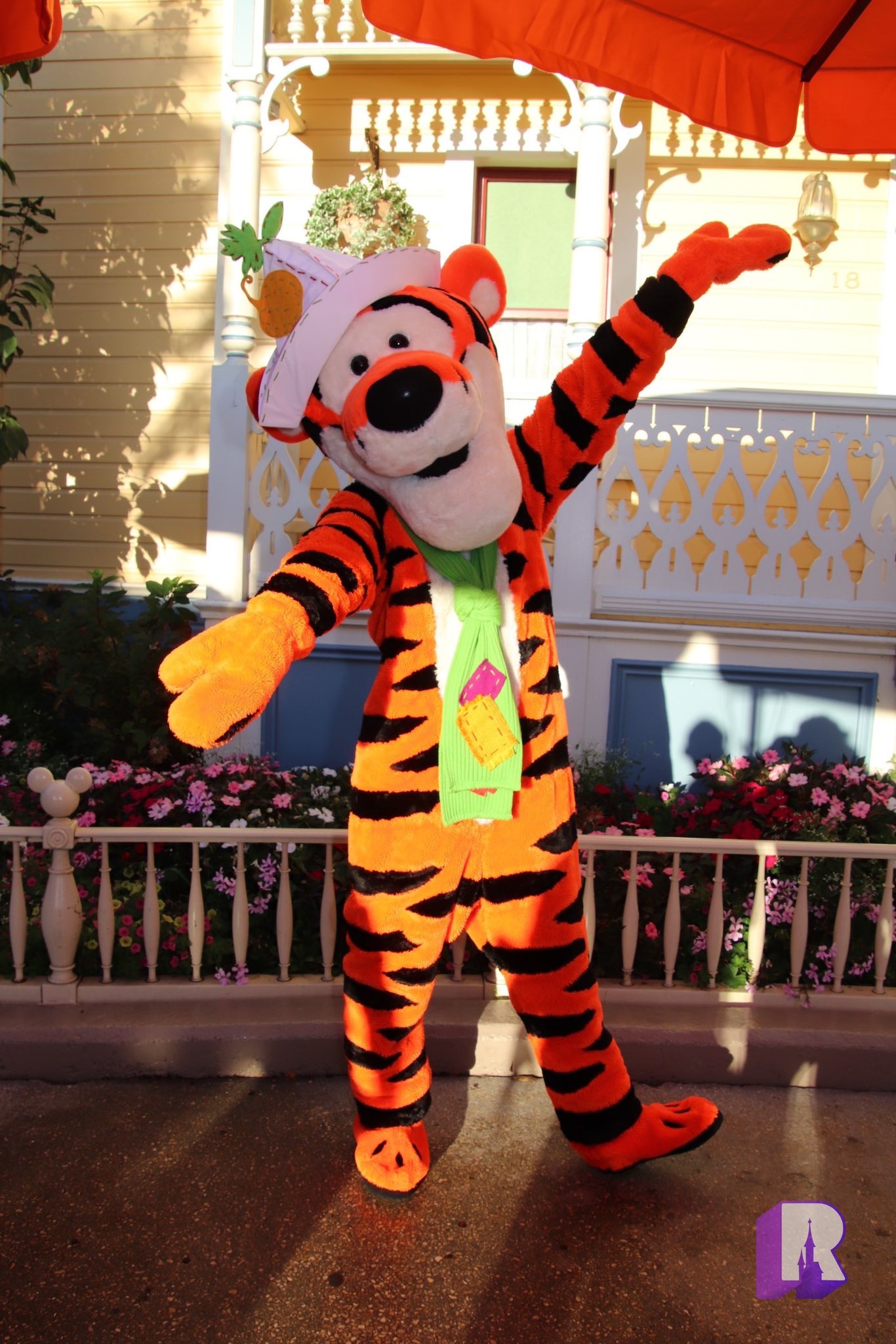 In terms of recurring character interactions we've got a decent selection, notably with a new costume for Tigger and Sally who joins Jack this year! Some are posing, some are roaming.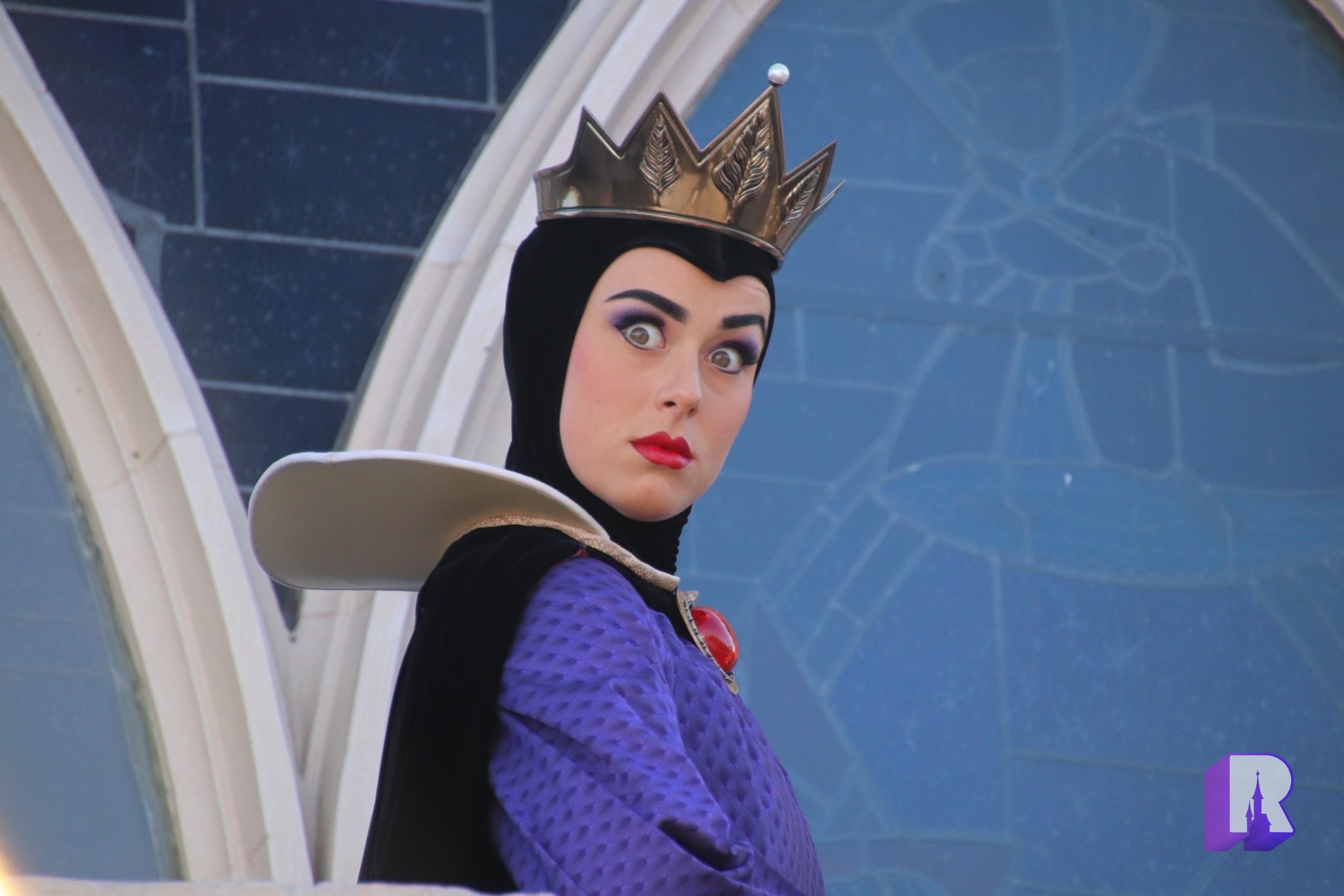 However – two popular Disney Villains, Evil Queen and Maleficent are only available on top of the balcony in Castle Courtyard. Why?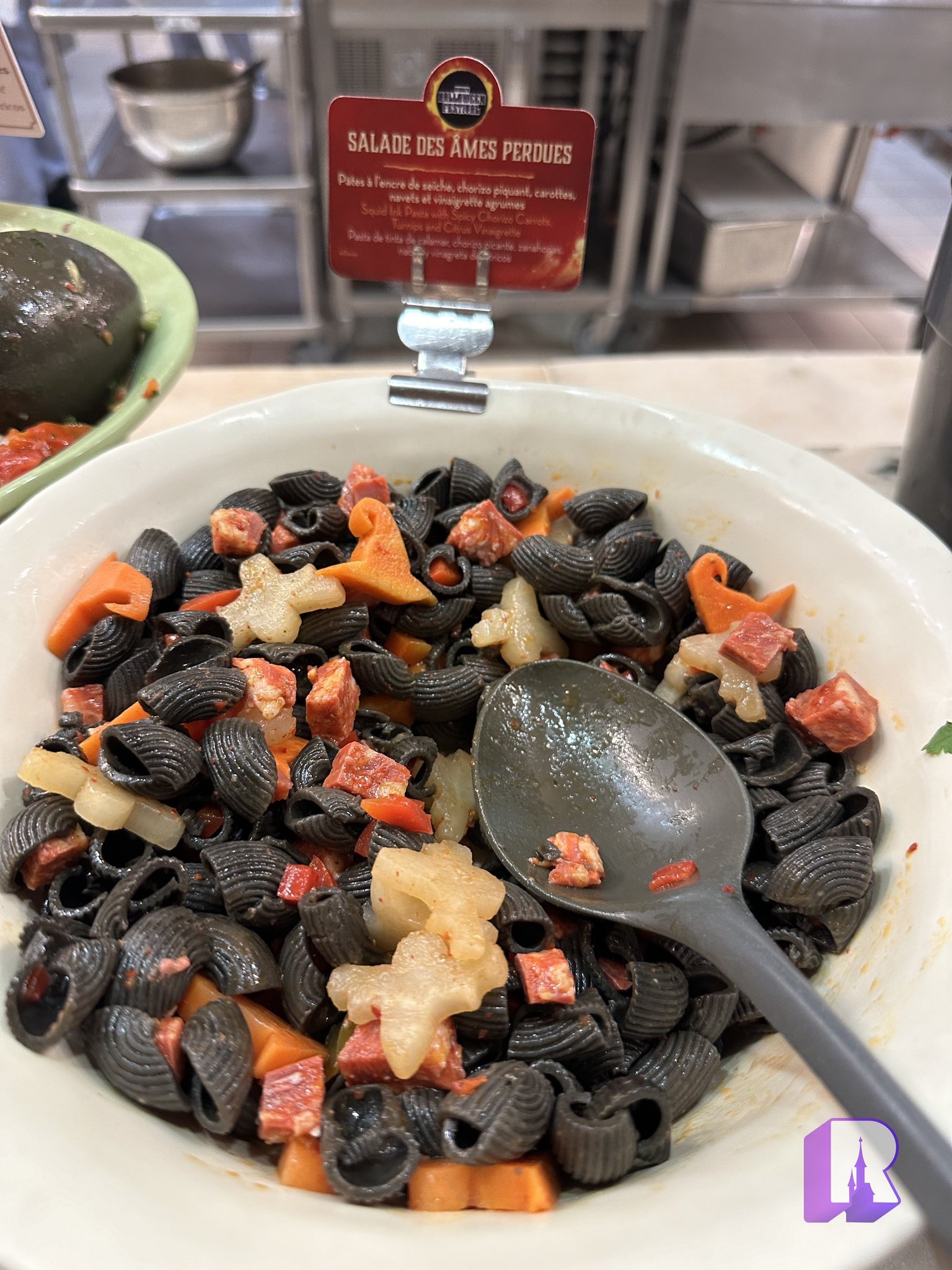 In an effort to always do less, the food department is marching the "basic" aspect of this year's season with a few underwhelming snacks, some dishes at buffets and a couple cocktails. Would not recommend anything.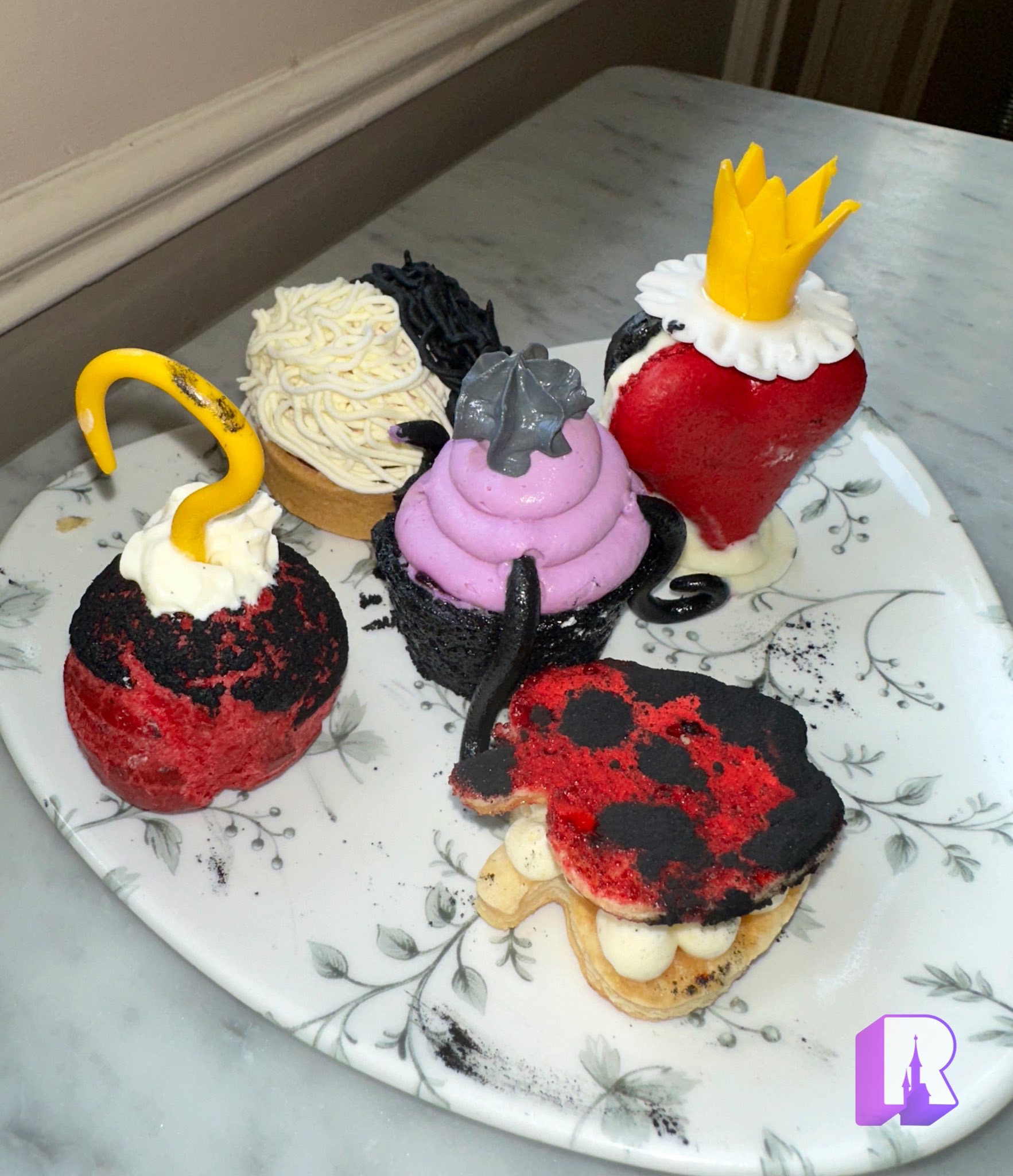 One exception may be the pastries at Victoria's but with the never ending price increases – are they even still worth it ?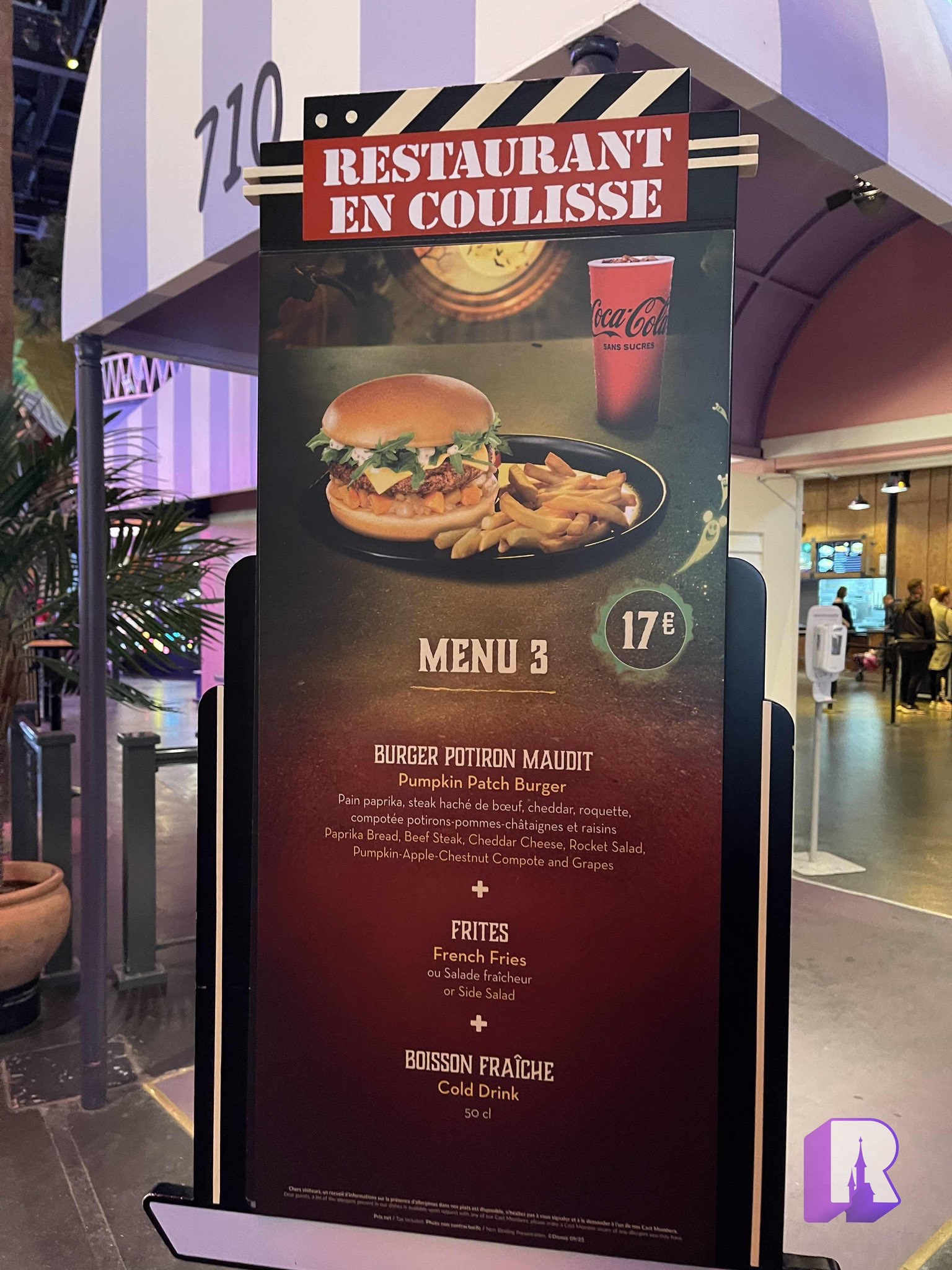 Fast foods and The Lucky Nugget also have special Halloween menu and well – nothing really stands out here either. It's.. adequate I guess. The fast foods don't even have a special dessert anymore !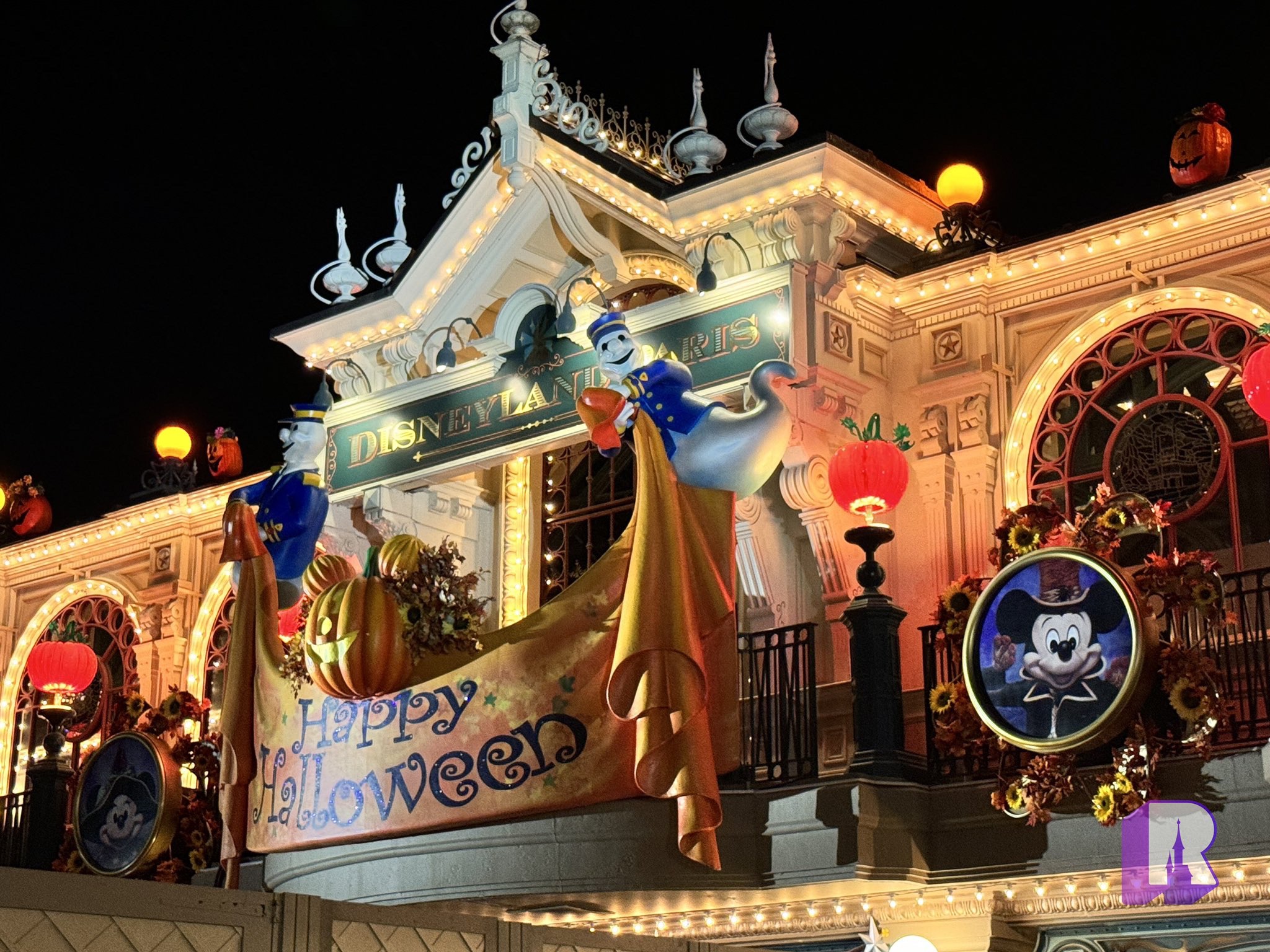 Even the Main Street Station decorations are lazy, a mix of old props and recycled #DisneylandParis30. Again – adequate I guess!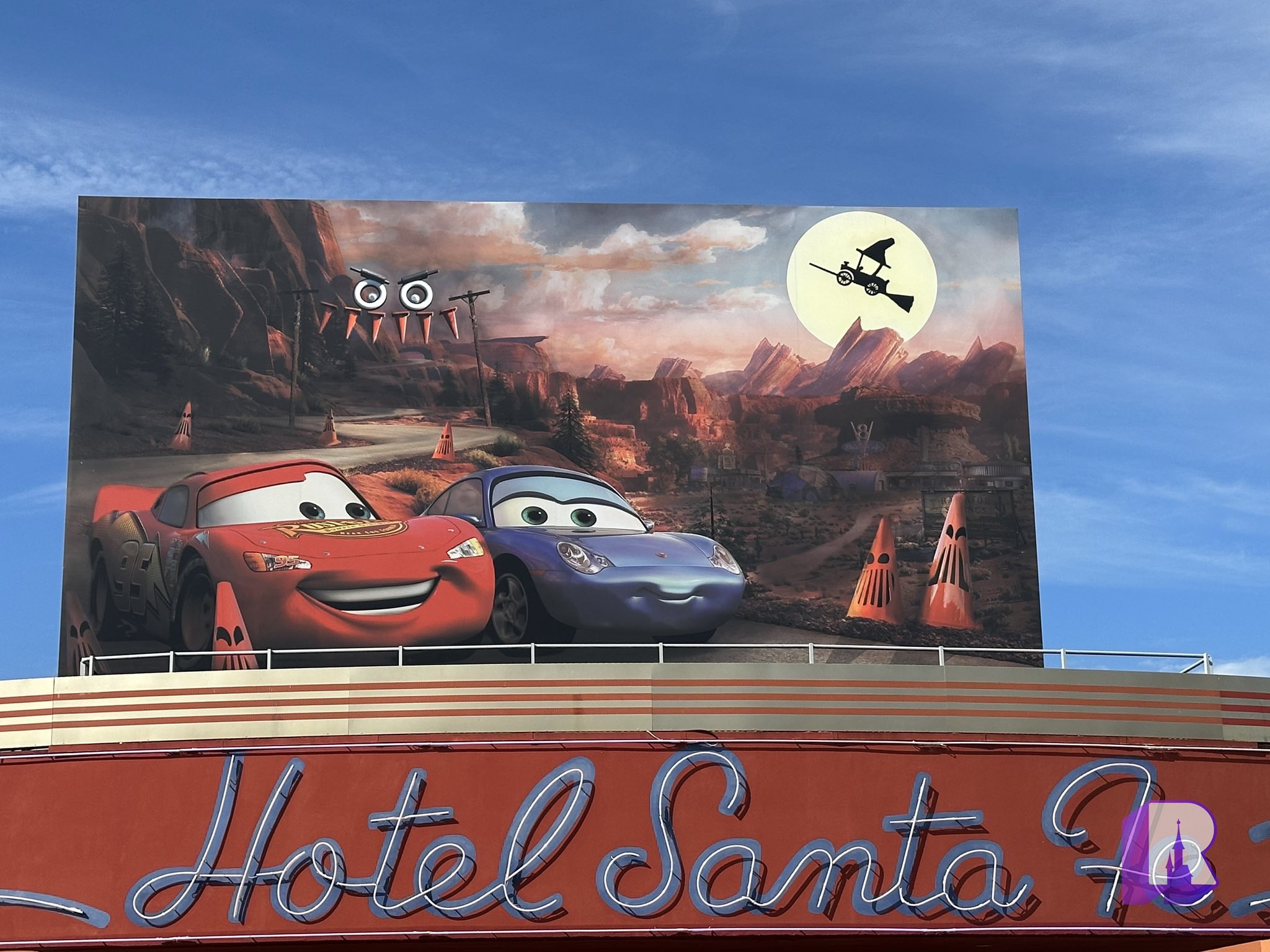 While not completely new this year, the Disney Hotels may be the only ones really trying to innovate.
Don't get me wrong – Halloween is still a lovely super fun season, possibly one of the best "free" offering in the world but for frequent Guests, the current iteration feels a bit tired and hopefully it's refreshed soon, just like Christmas was.
Construction and Refurbishments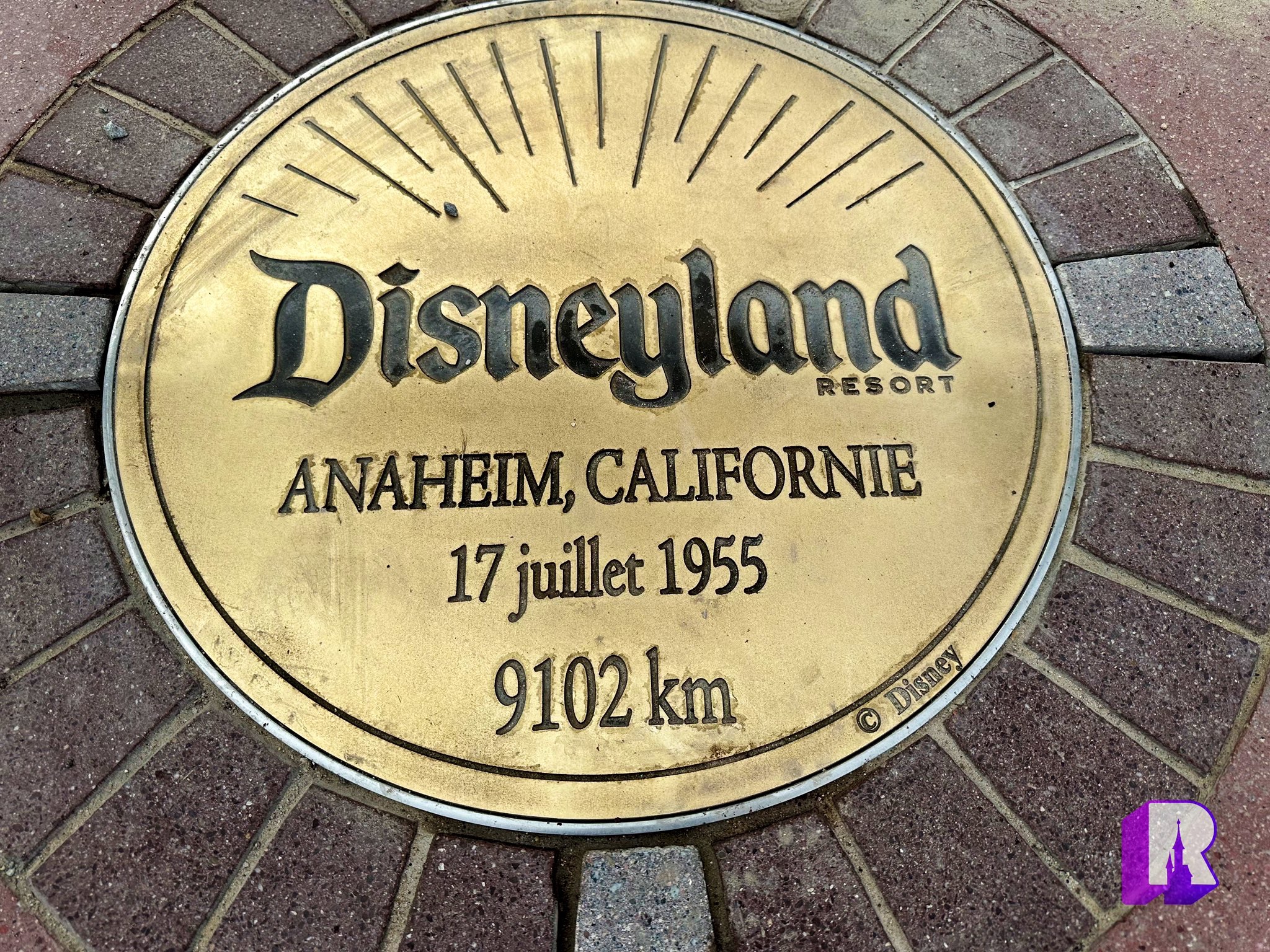 The Resort plaques are back in the Resort Hub!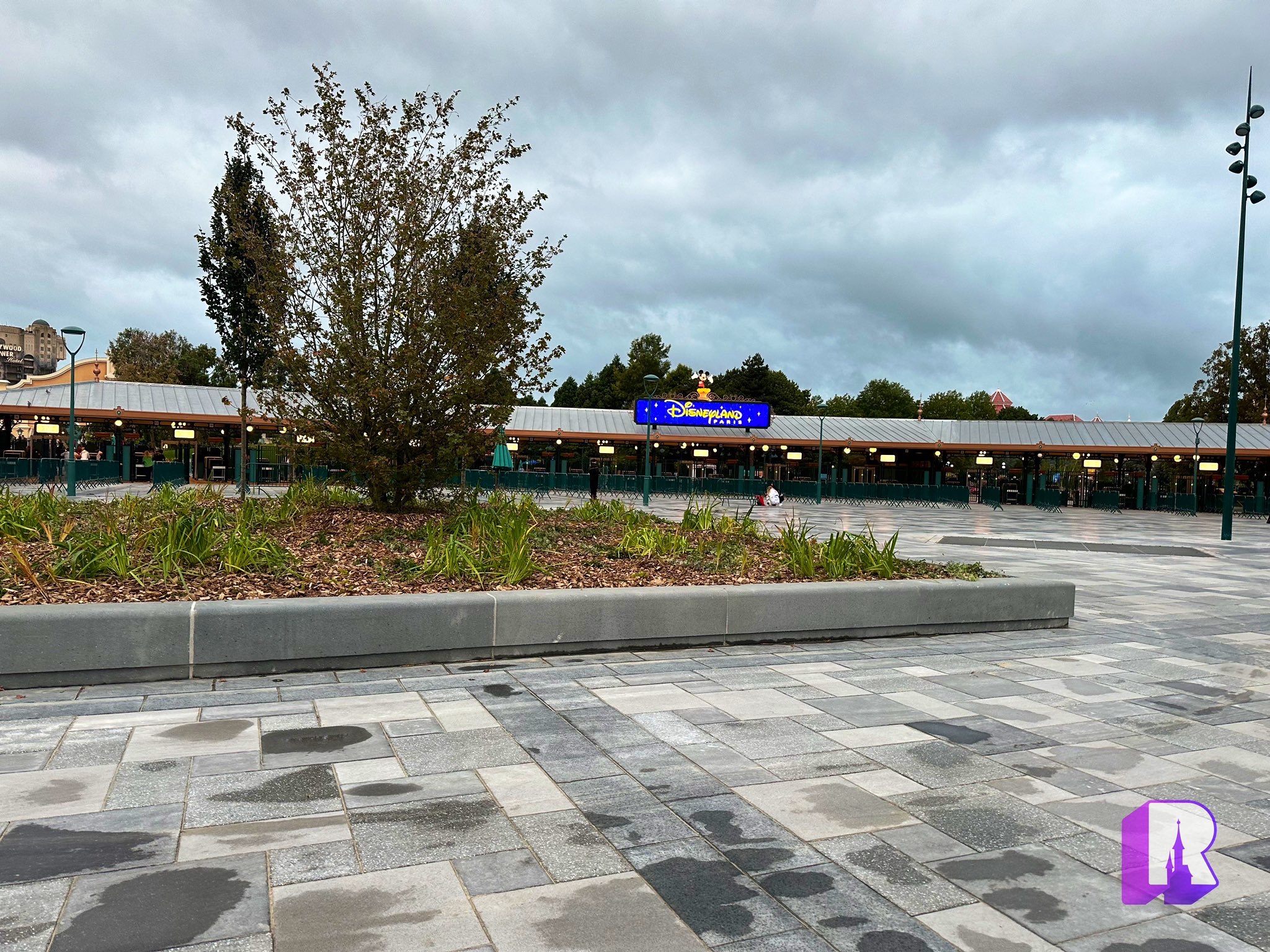 Coincidently, new sections of public and Resorts side repaved areas have opened this week. looks great.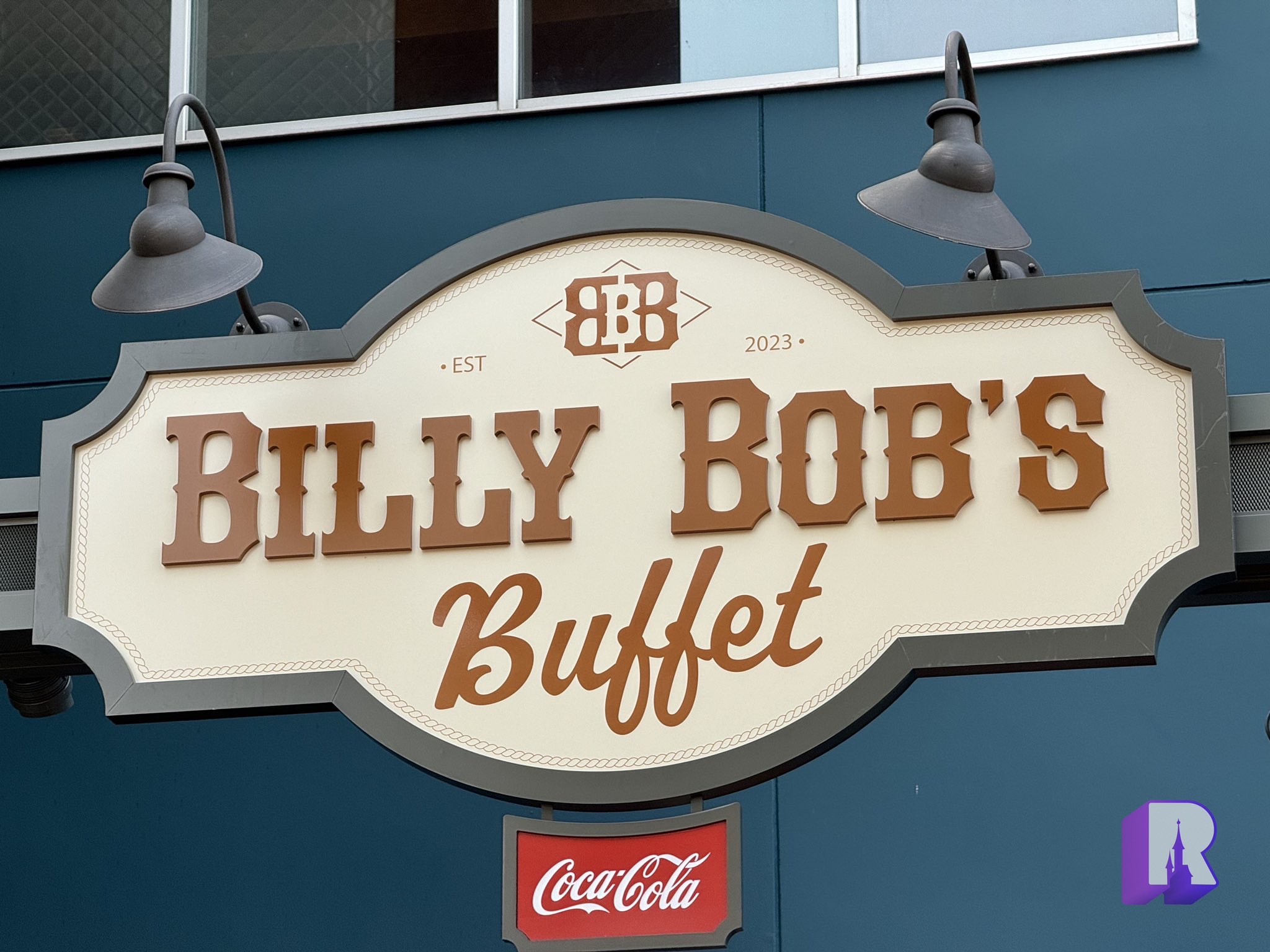 Nearby, the new "Billy Bob's Buffet" is getting ready for opening.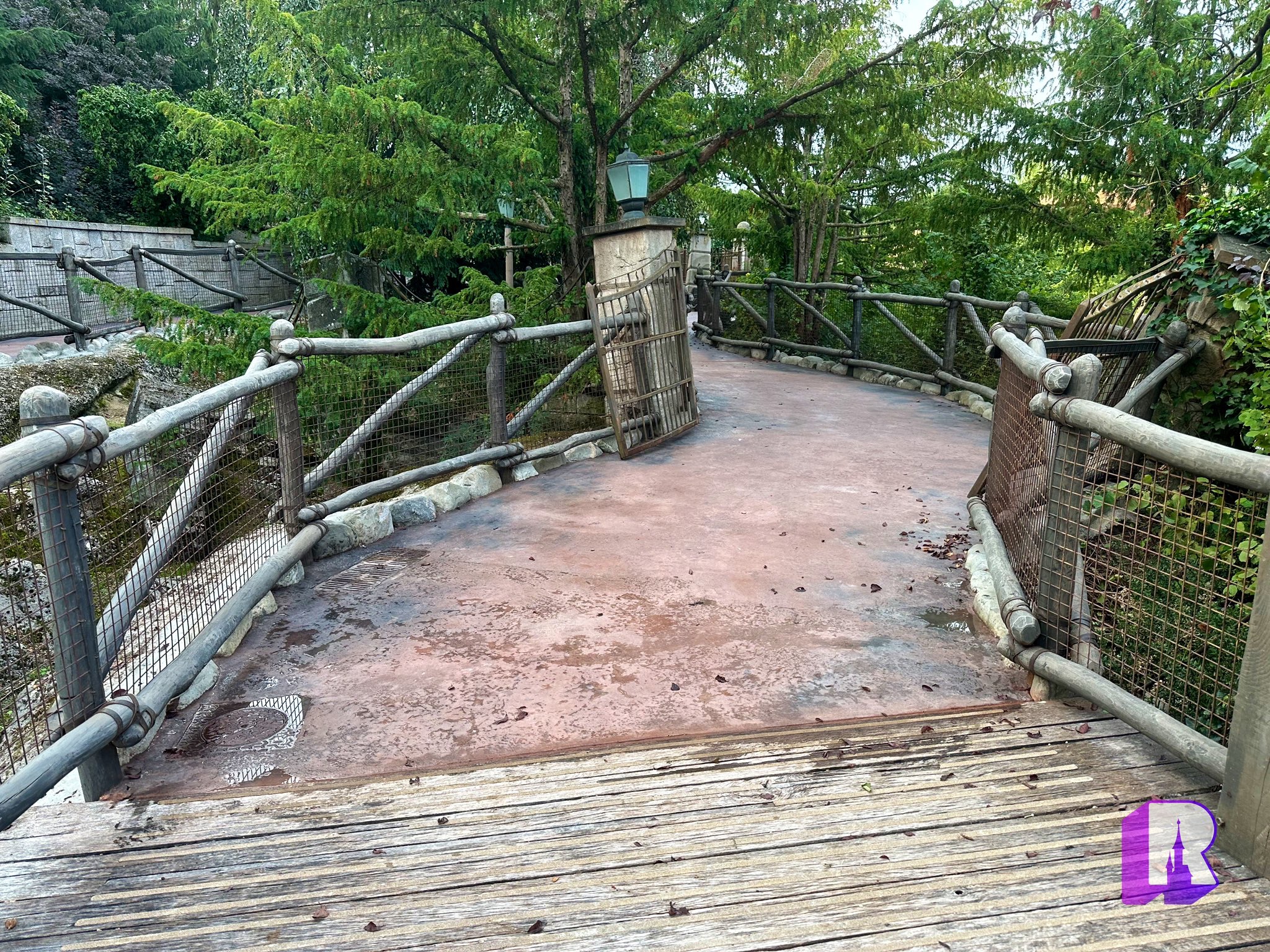 Another area reopened from resurfacing is Boot Hill.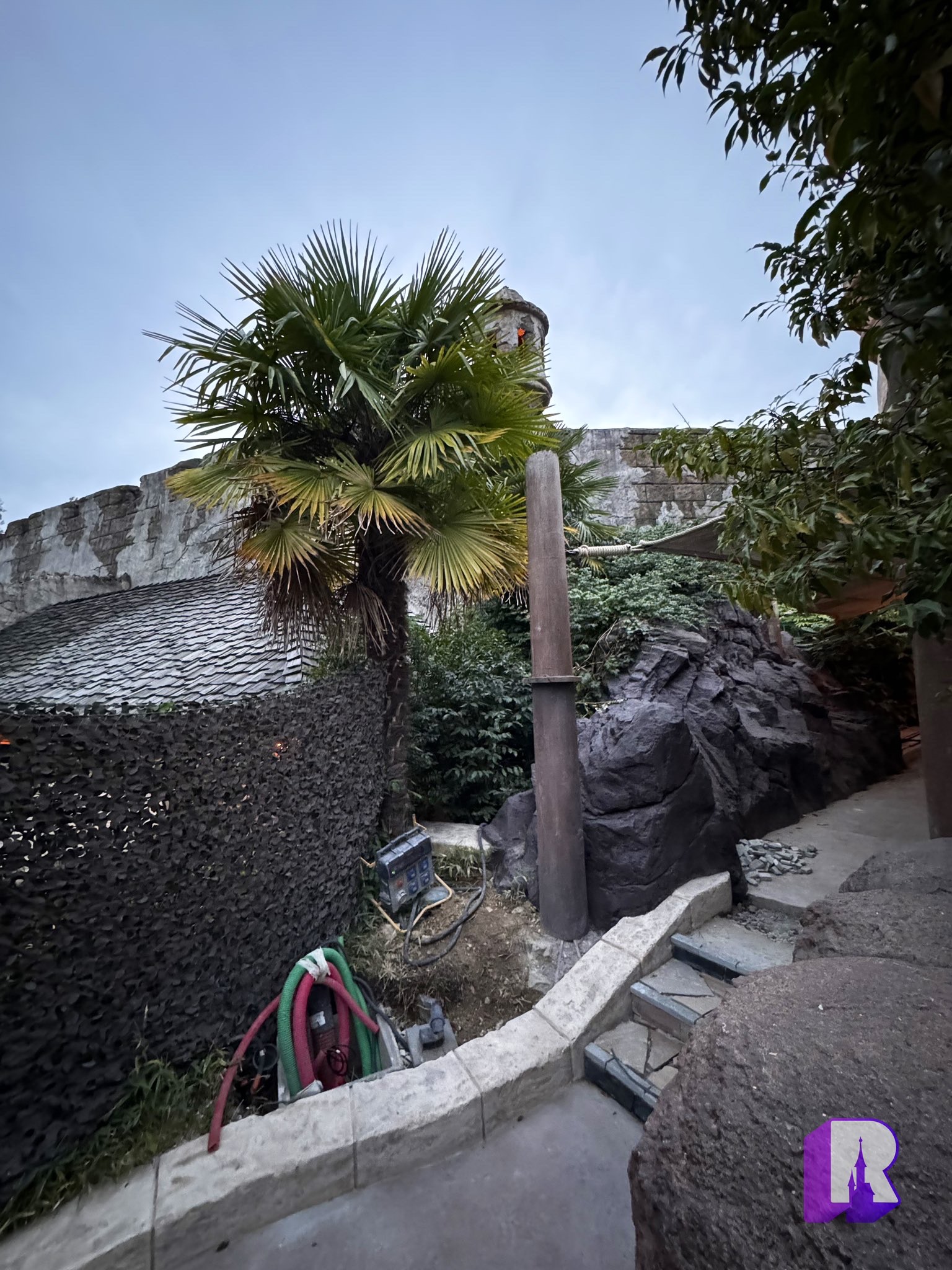 In Adventureland, the POTC queue continues its transformation to accommodate Disney Premier Access, and it has finally received a digital display.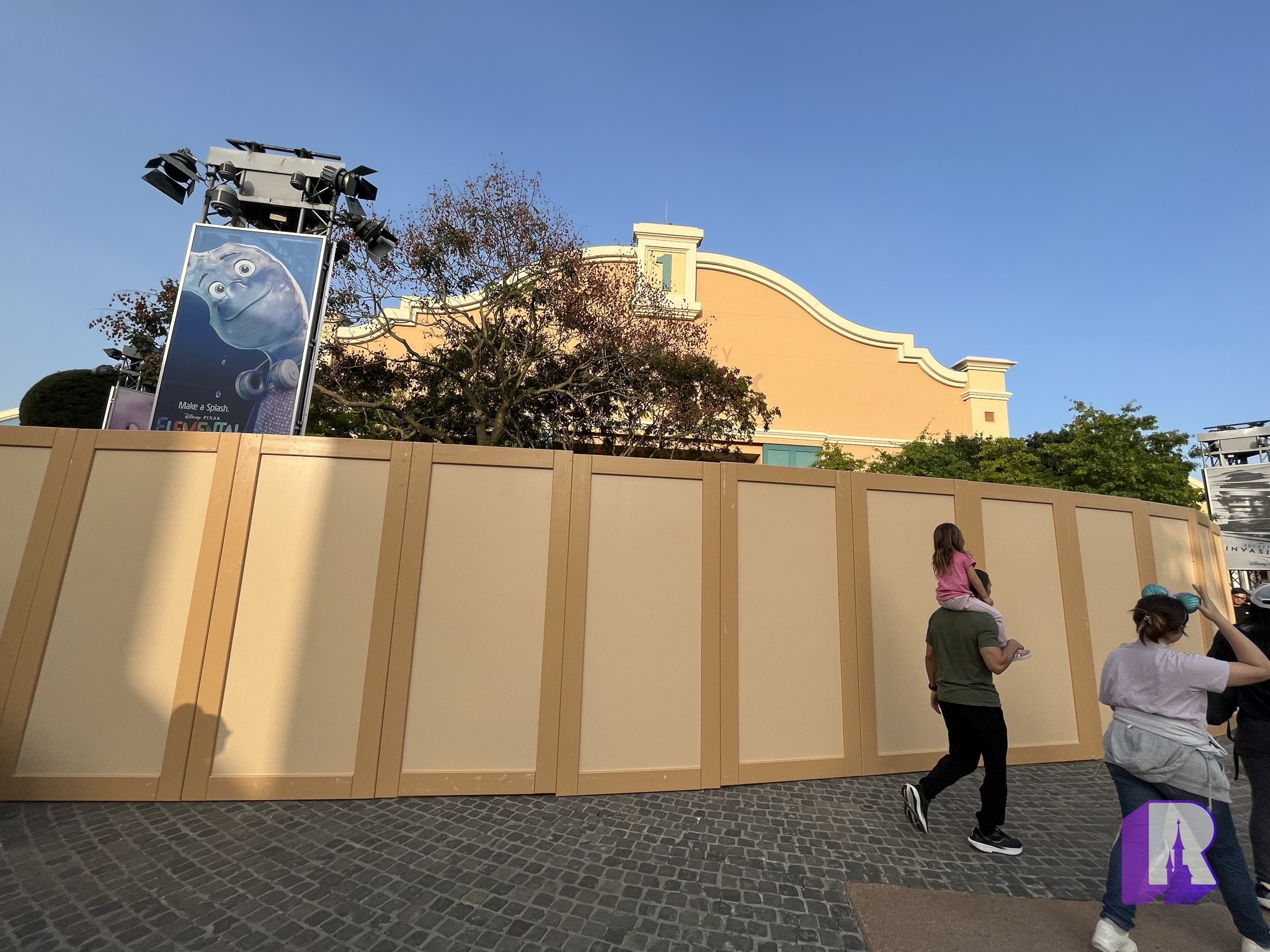 Preparations are starting at Walt Disney Studios Park for the transformation of Studio 1 a Toon Studio / Production Courtyard / Hollywood Blvd which will take all of 2024 and beyond as it merges into the expansion project.
This and That..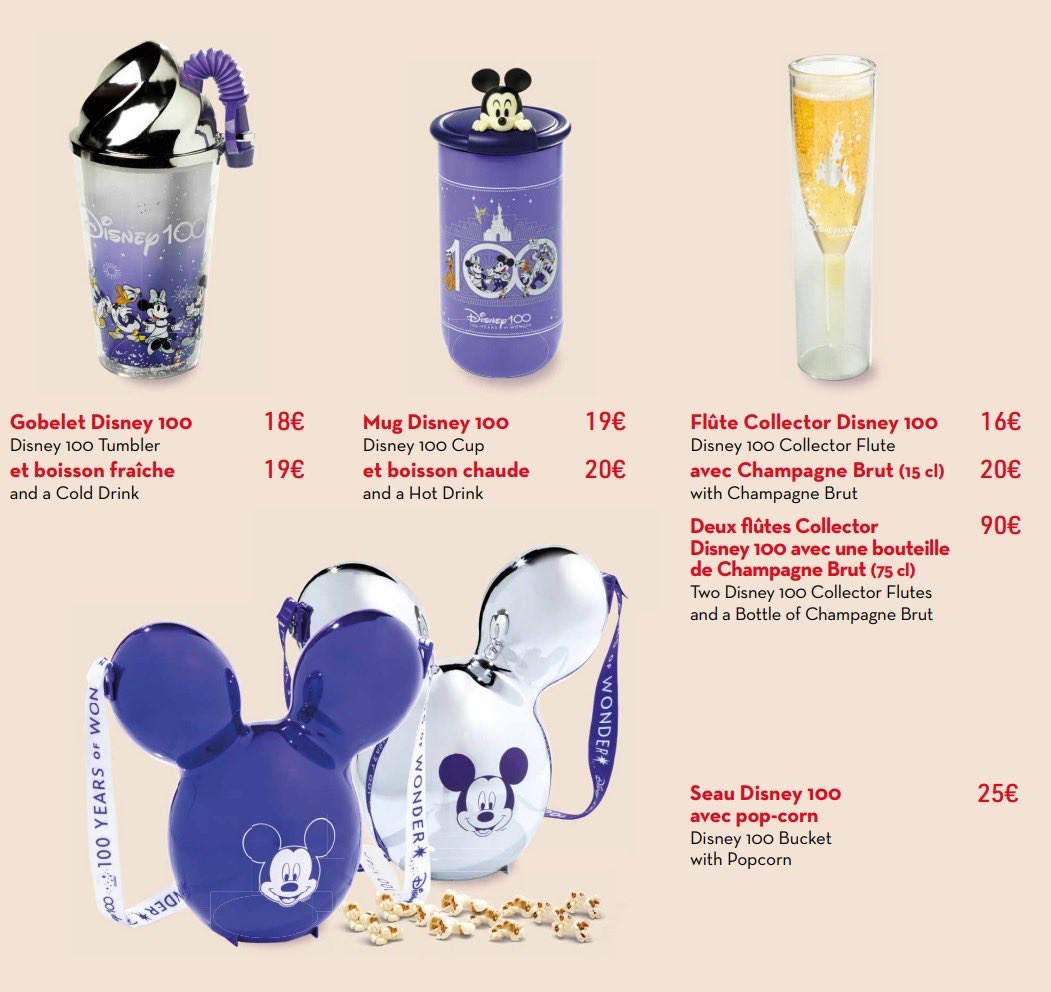 With the single day of #Disney100 celebrations on October 16 fast approaching, souvenir snack containers have started to arrive.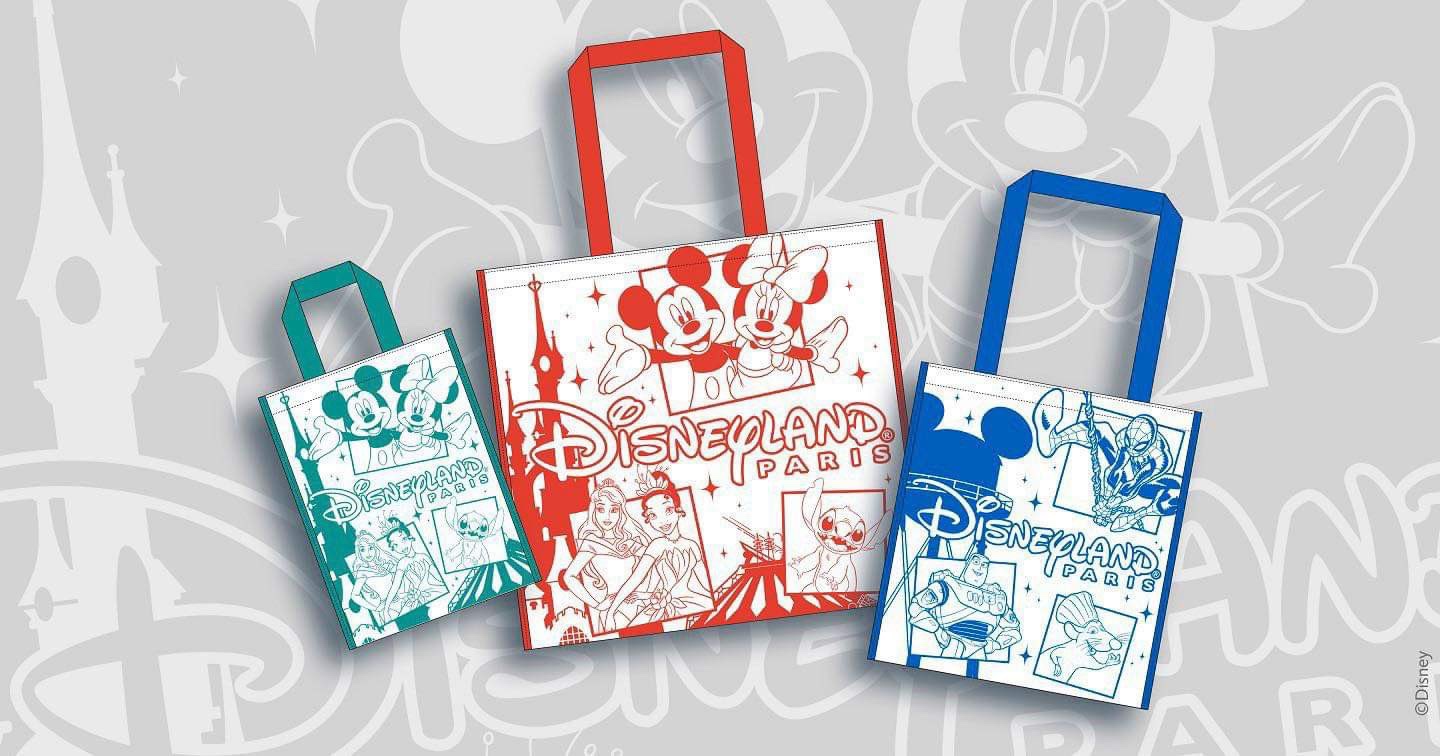 And with the anniversary over, new designs will soon be rolled out for the Disneyland Paris reusable shopping bags.
And that's our big wrap up of the latest news and events at Disneyland Paris ! Thank you for reading / sharing and supporting the team – I'm not alone in this adventure, everyone on the team is making fantastic contributions each and every day. See you next time!