Welcome back to a new DLP Report ! This week Halloween crept in even harder with decorations and merchandise. We also crowned new Ambassadors and saw some developments at Disney Village.
Halloween-loween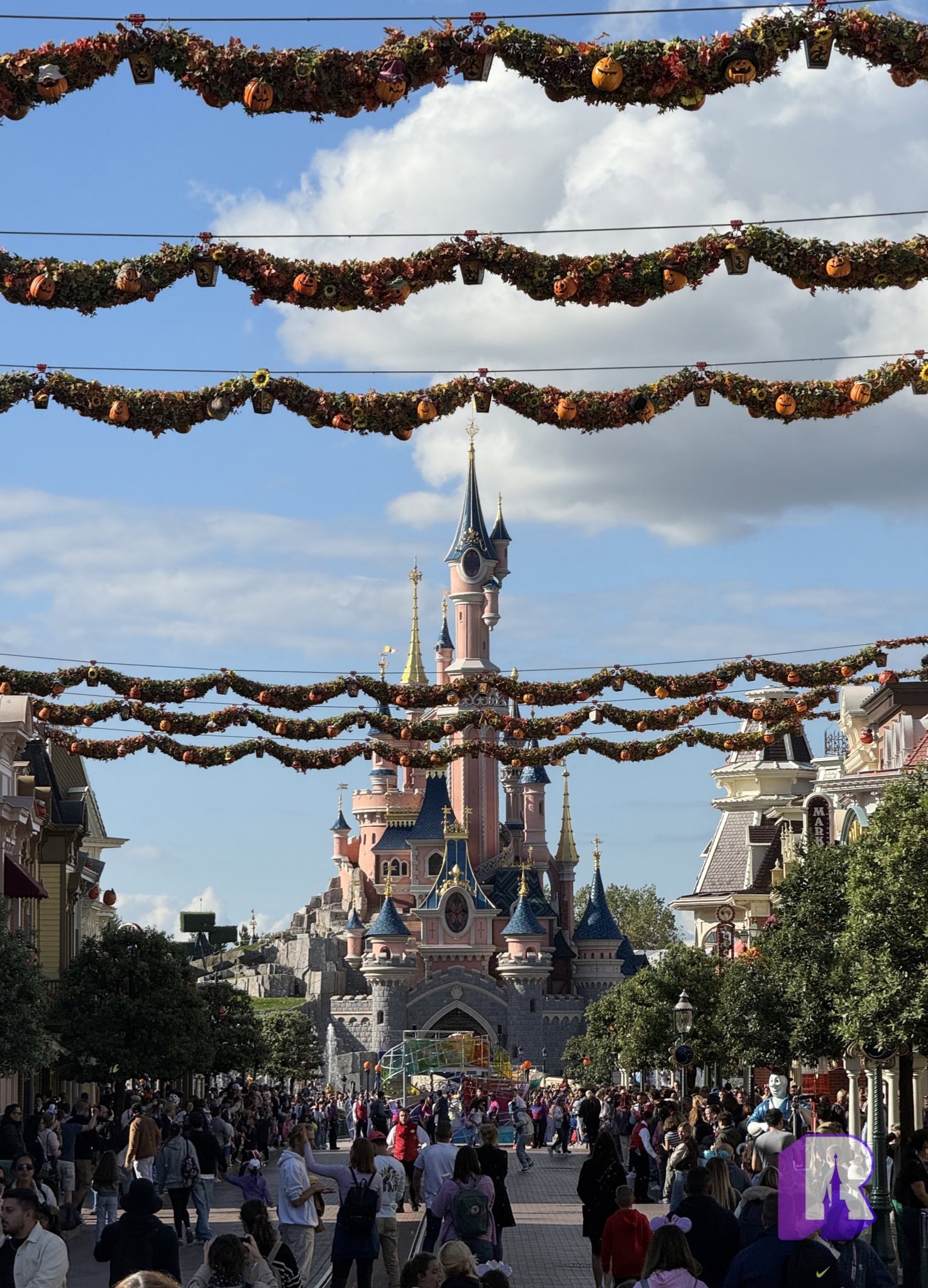 The air is getting crisp (depending on the day), days are shorter and cables are installed over Main Street…. It's almost Halloween! Let's take a look at this year's unpacking.
Decorations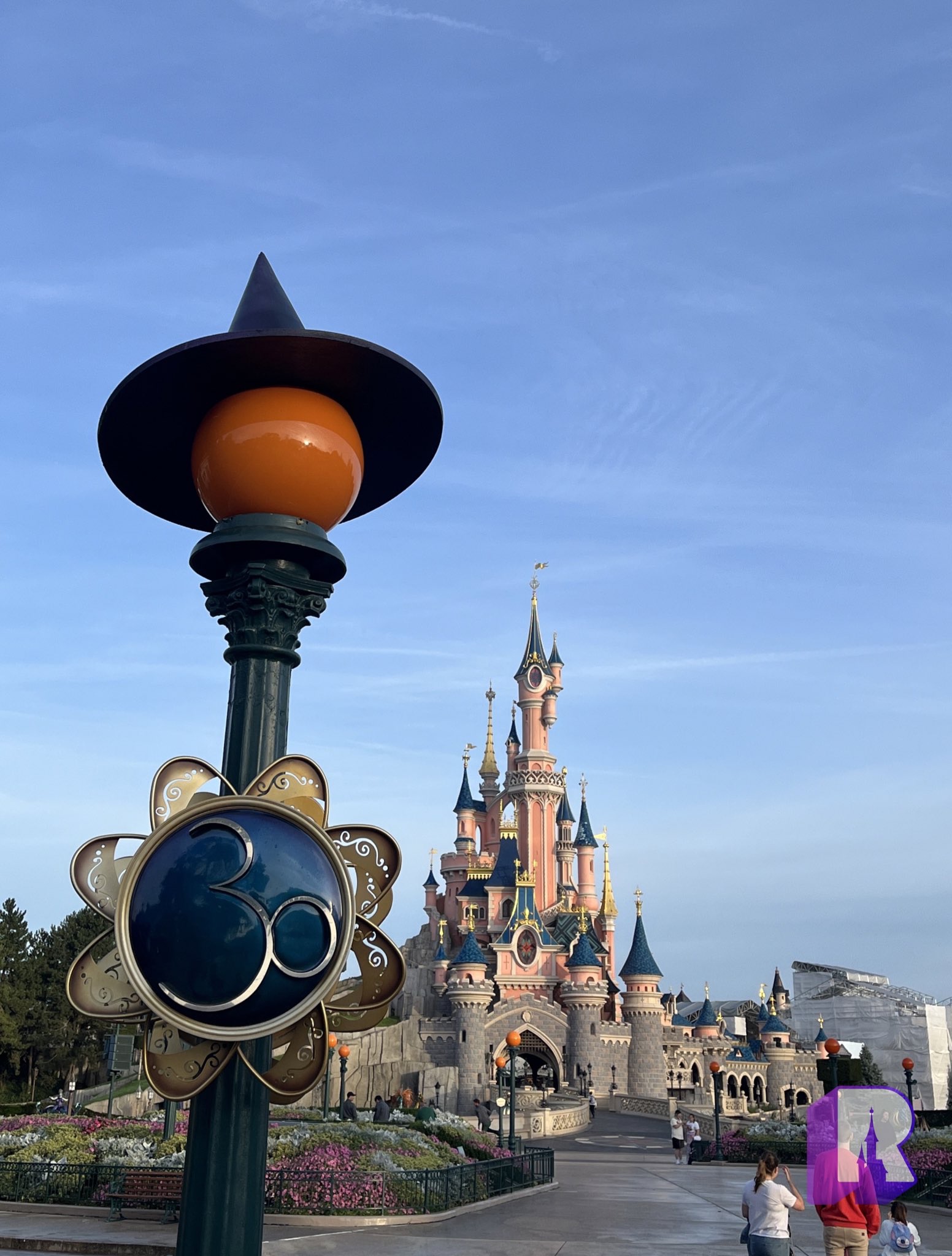 After Frontierland, Main Street is now getting spooky: Witches hats on lampposts and the Costume Corner photo location.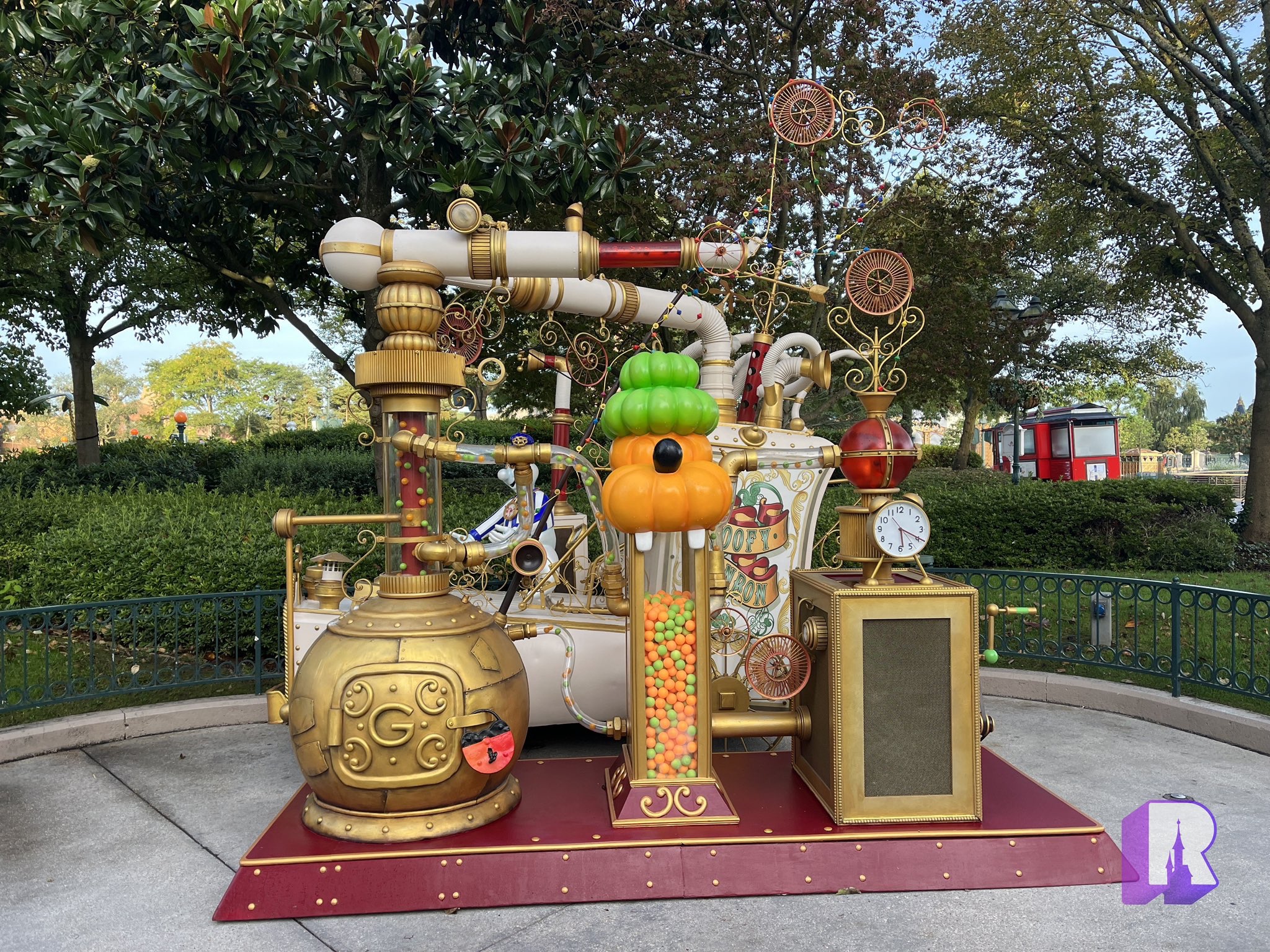 This year, Goofy's candy machine is in Plaza Gardens. It's kind folded on itself, making it hard to see the full prop. It's a bit weird.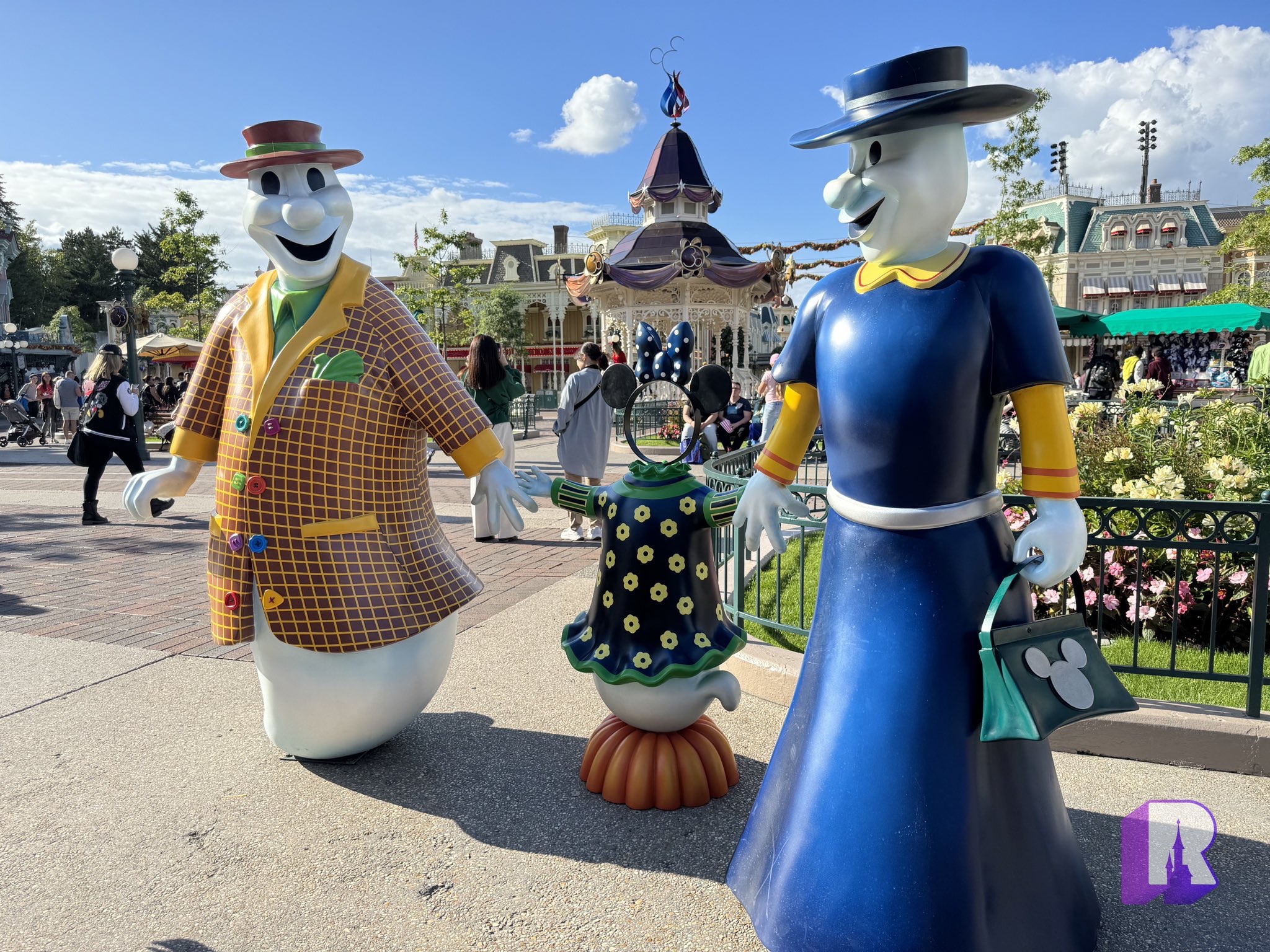 And all over Main Street the "Ghosts of Main Street" have materialized once again. Some have gotten a cost of paint with a new theme – like the pumpkin recipe book. Why not.
Guests can once again place their head inside some of them for fun photos – something that was blocked out during "pandemic times".
Merchandise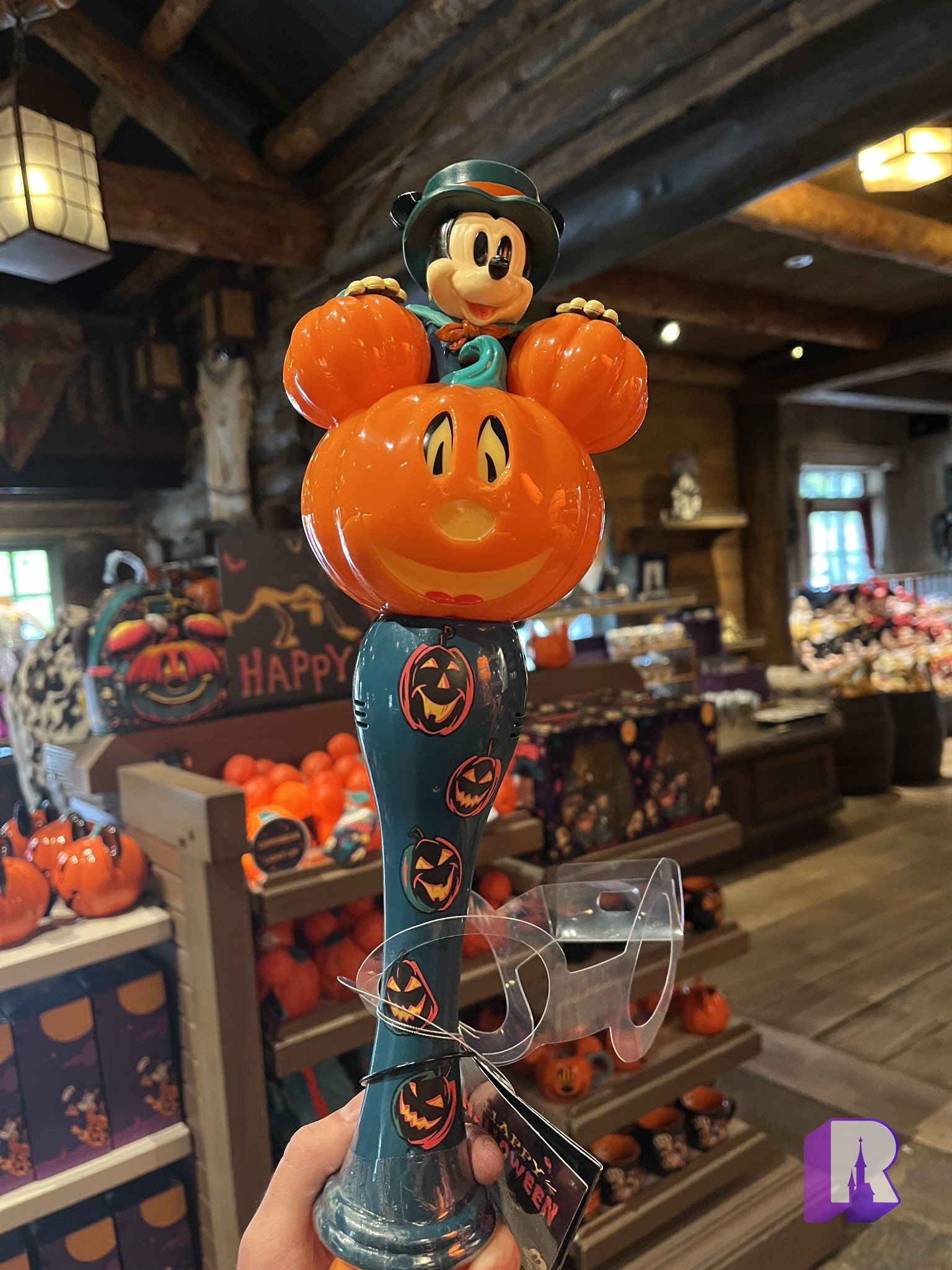 Tons of Halloween merchandise has arrived, mostly at Thunder Mesa Mercantile and Emporium. Amongst them this fun wand for €30. These things get more and more expensive with each new edition ! Let's take look st everything else: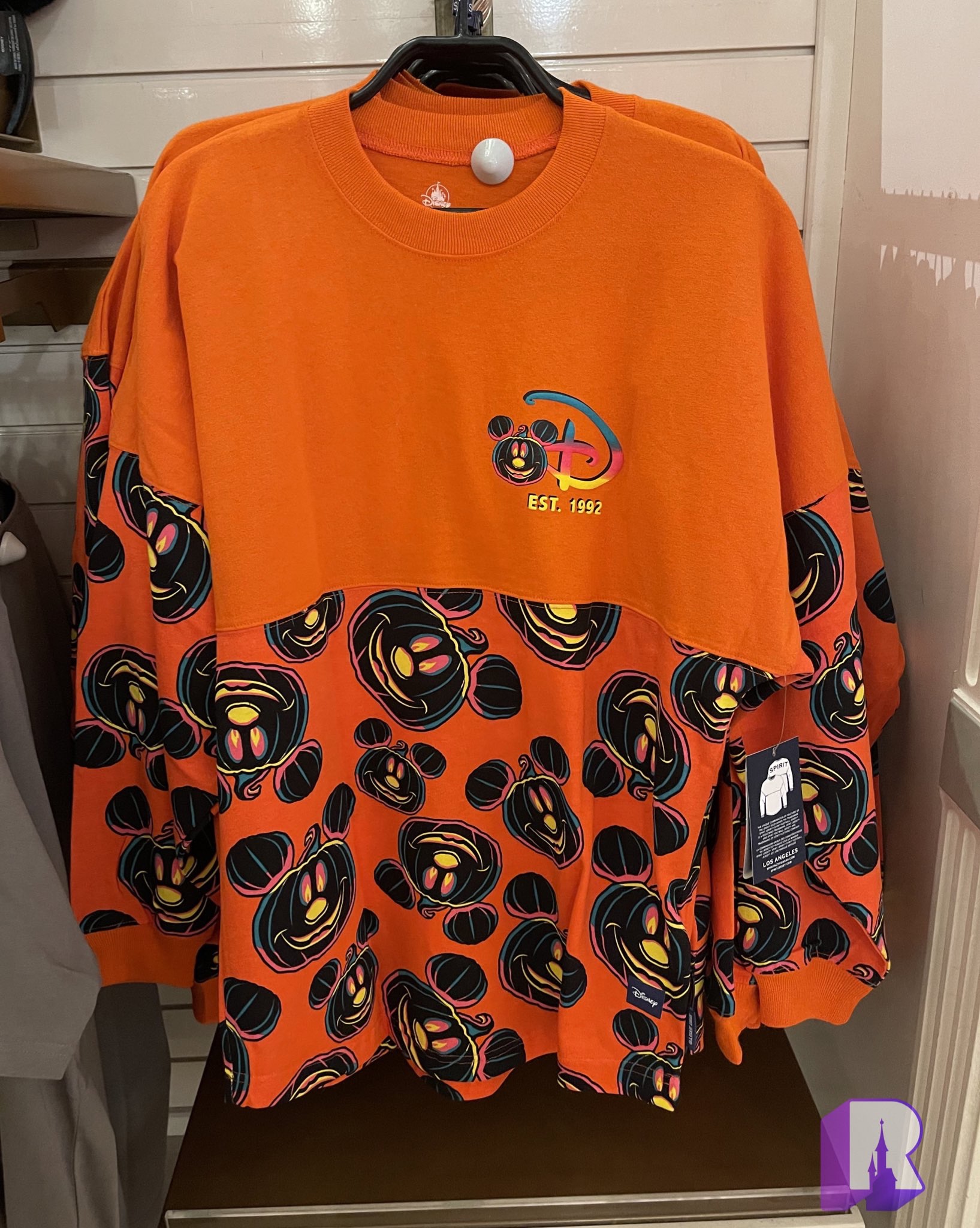 New Disneyland Paris Halloween Spirit Jersey (€80, Emporium and Thunder Mesa Mercantile)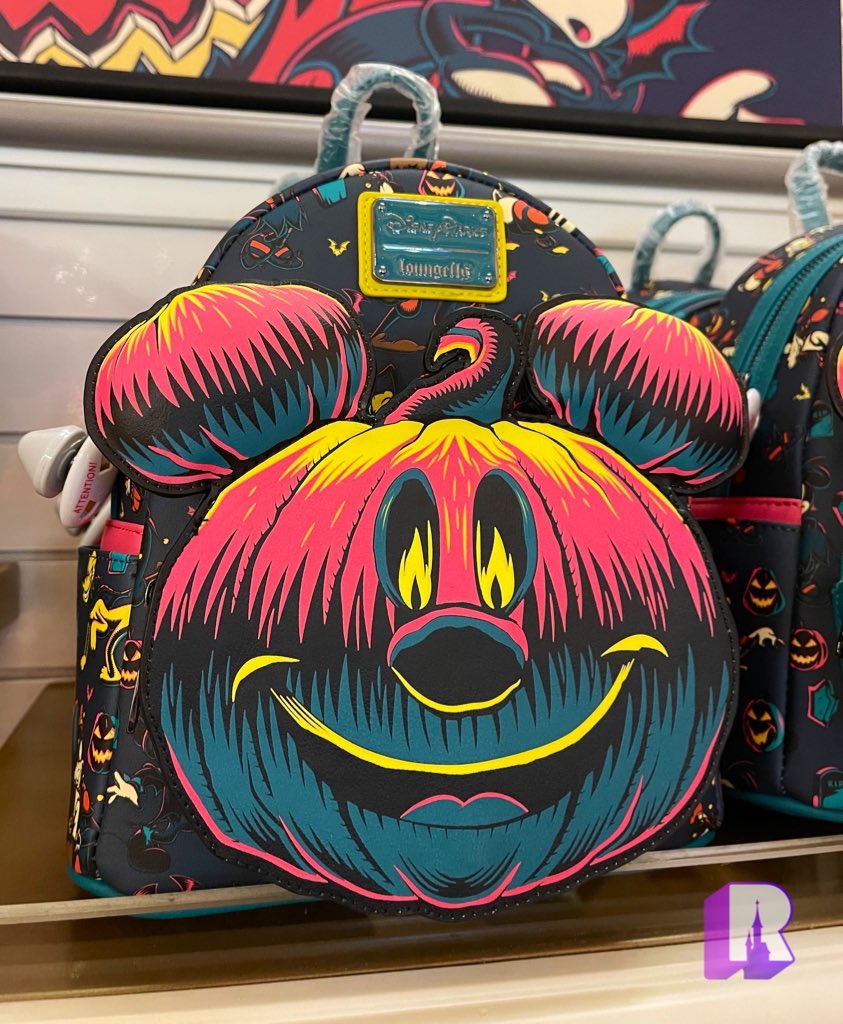 Loungefly Bag (€80)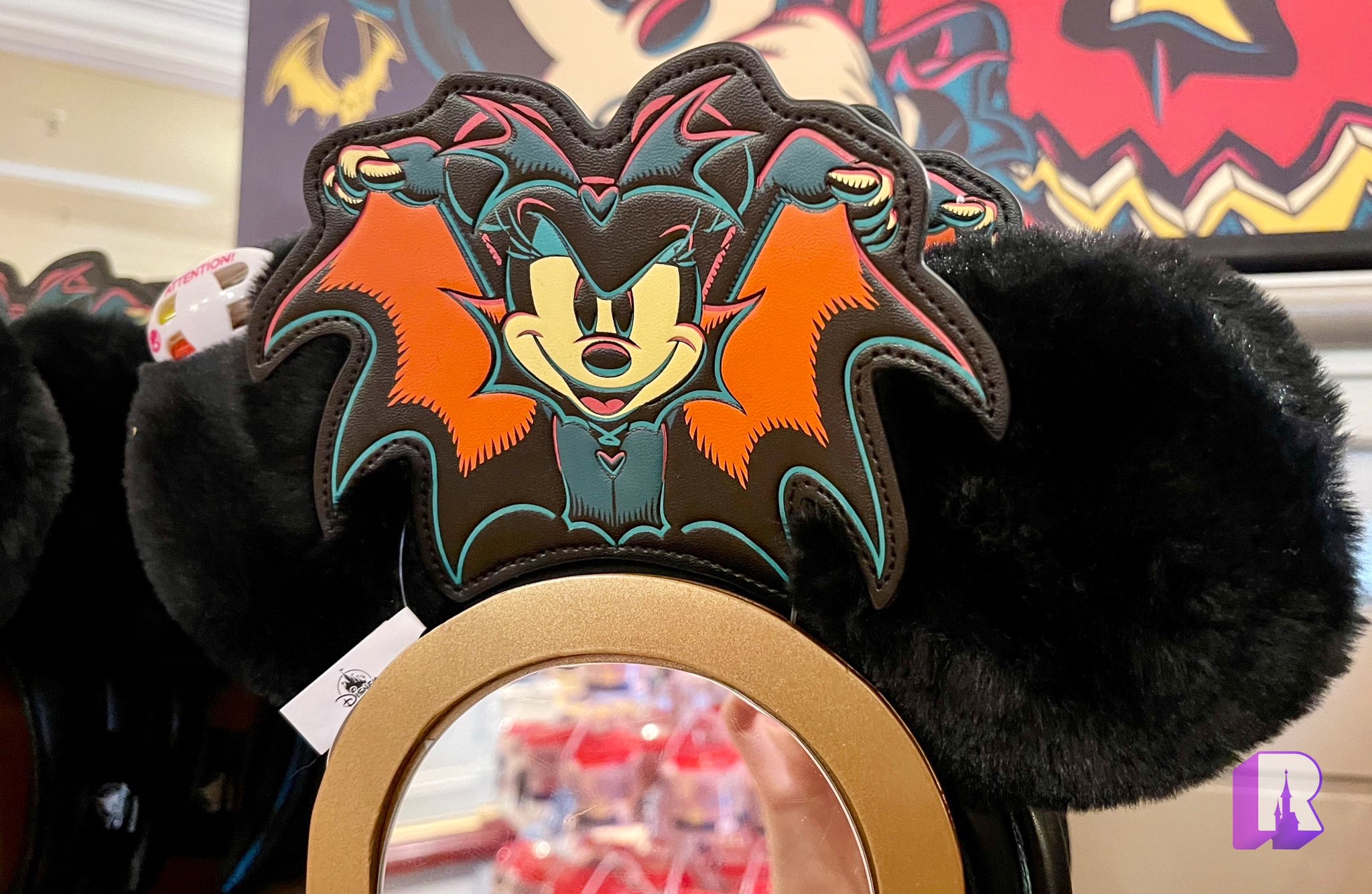 Headband (€25), light up pumpkins, hoodie (€60), shirt (€60)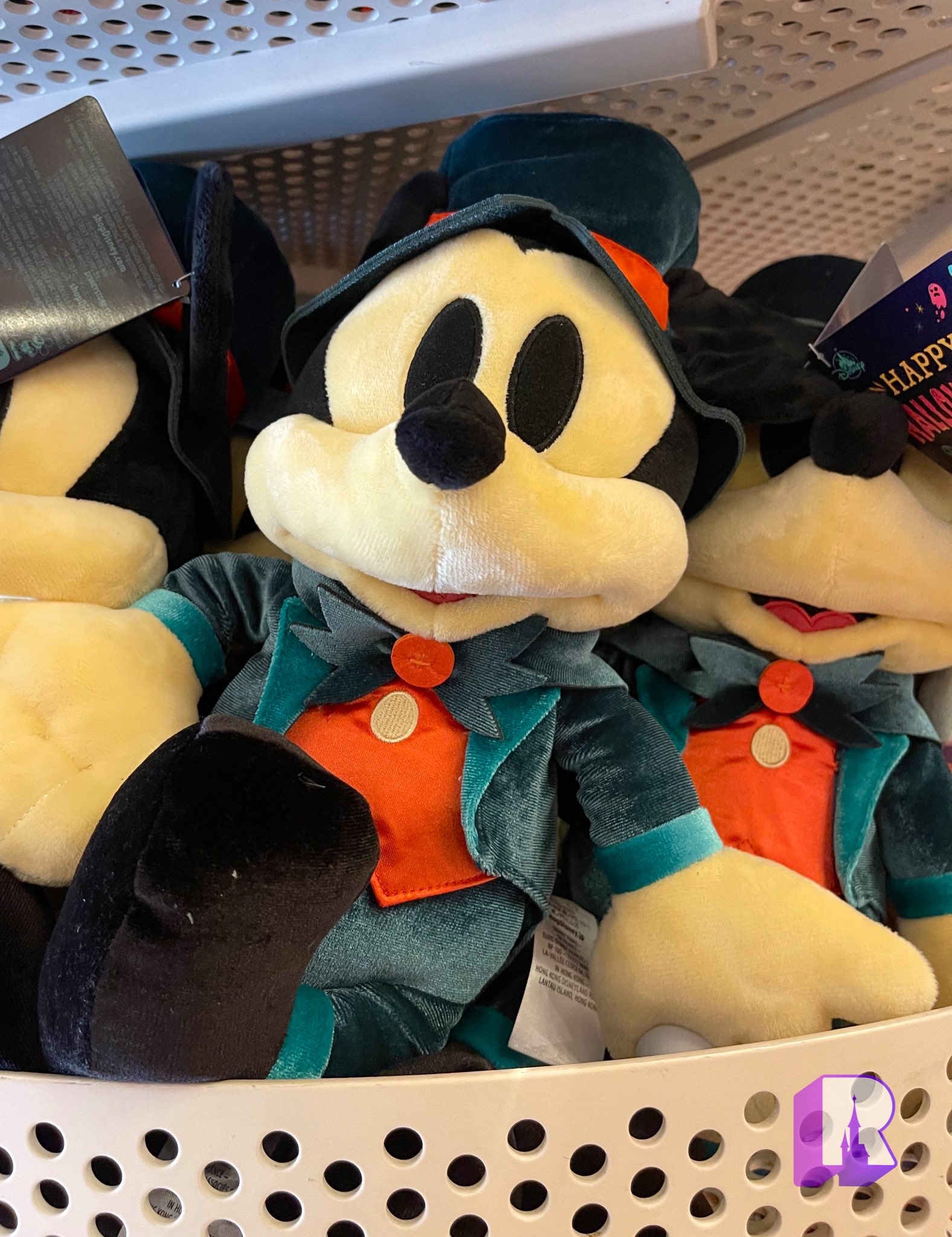 All the plush: Mickey / Minnie (€30 each), Grogu (€27), Stitch (€35)
More stuff: mug (€22), throw blanket (€60), pasta (€5), light up buckets (€30)
And a huge Nightmare Before Christmas collection: Loungefly bag (€90), headband (€25), button down shirt (€60), purse (€40), Jack Skellington t-shirt (€40) and Hoodie (€60), light-up wreath (€60) and two figurines (€149 each), porcelain candle holder (€25) and Jack & Sally Poncho (€60).
Character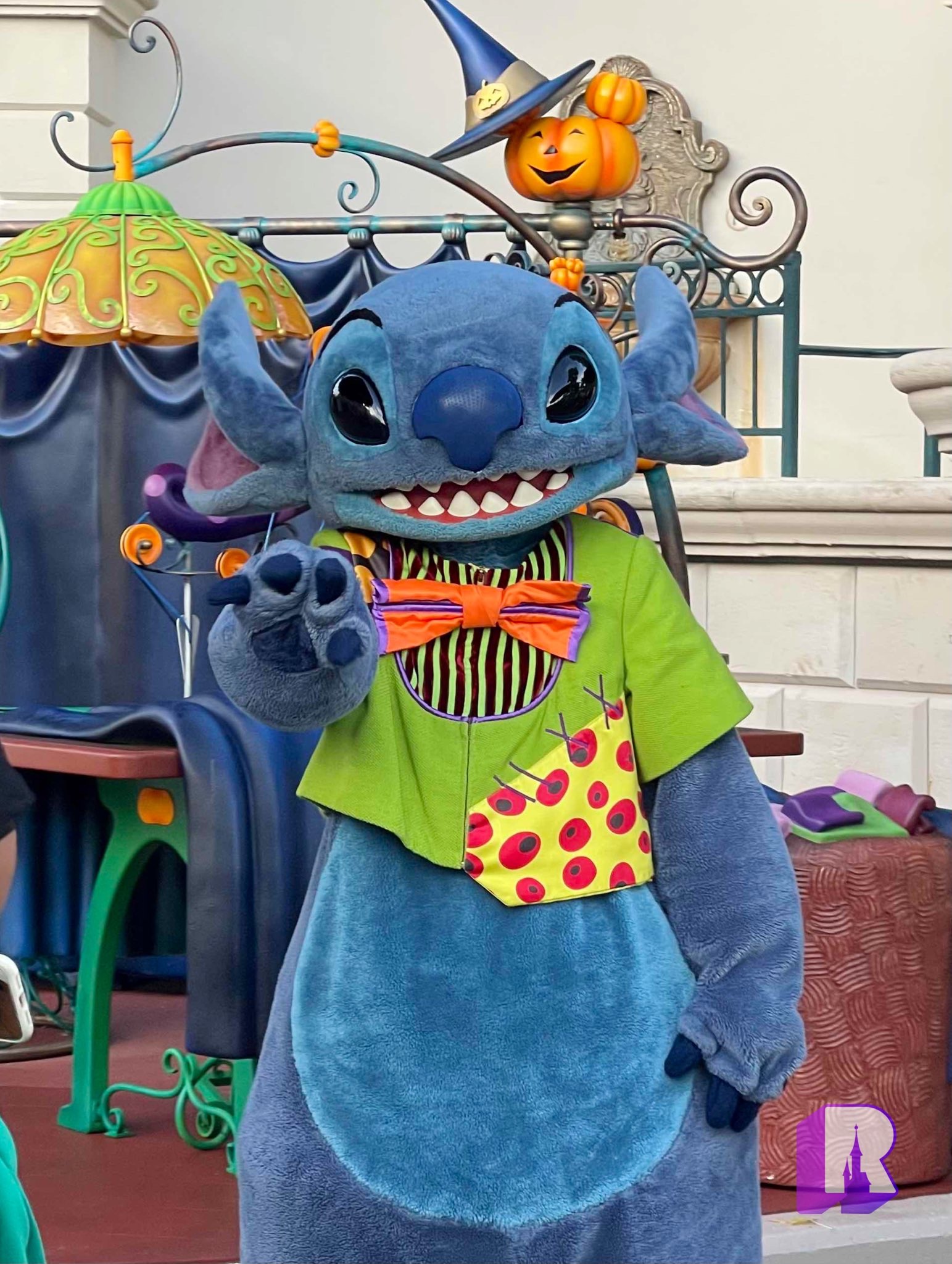 Character – singular – because Stitch is already in the Halloween spirit (pun intended) in his usual costume at Costume Corner. Of course more meet and greets will be available starting October 1.
Disneyland Paris Ambassadors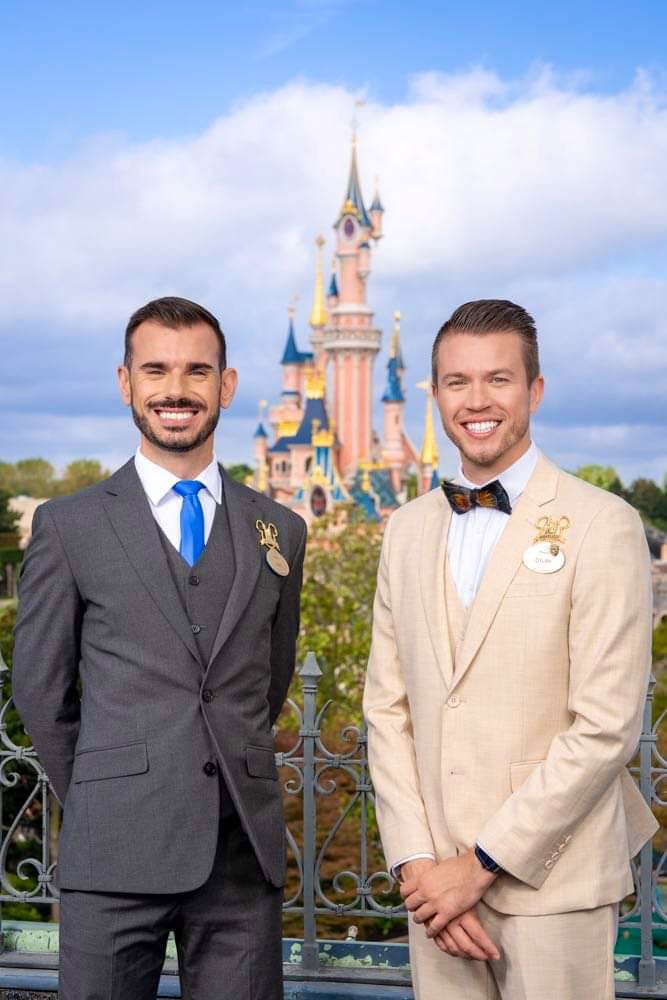 This week the Ambassador committee chose two new Cast Members to represent the Resort in 2024-2025. Condragulations to Jose Alfaro Navarro and Dylan Legras! They're about to embark on a life changing whirlwind experience that will take them backstage, on stage and around the world.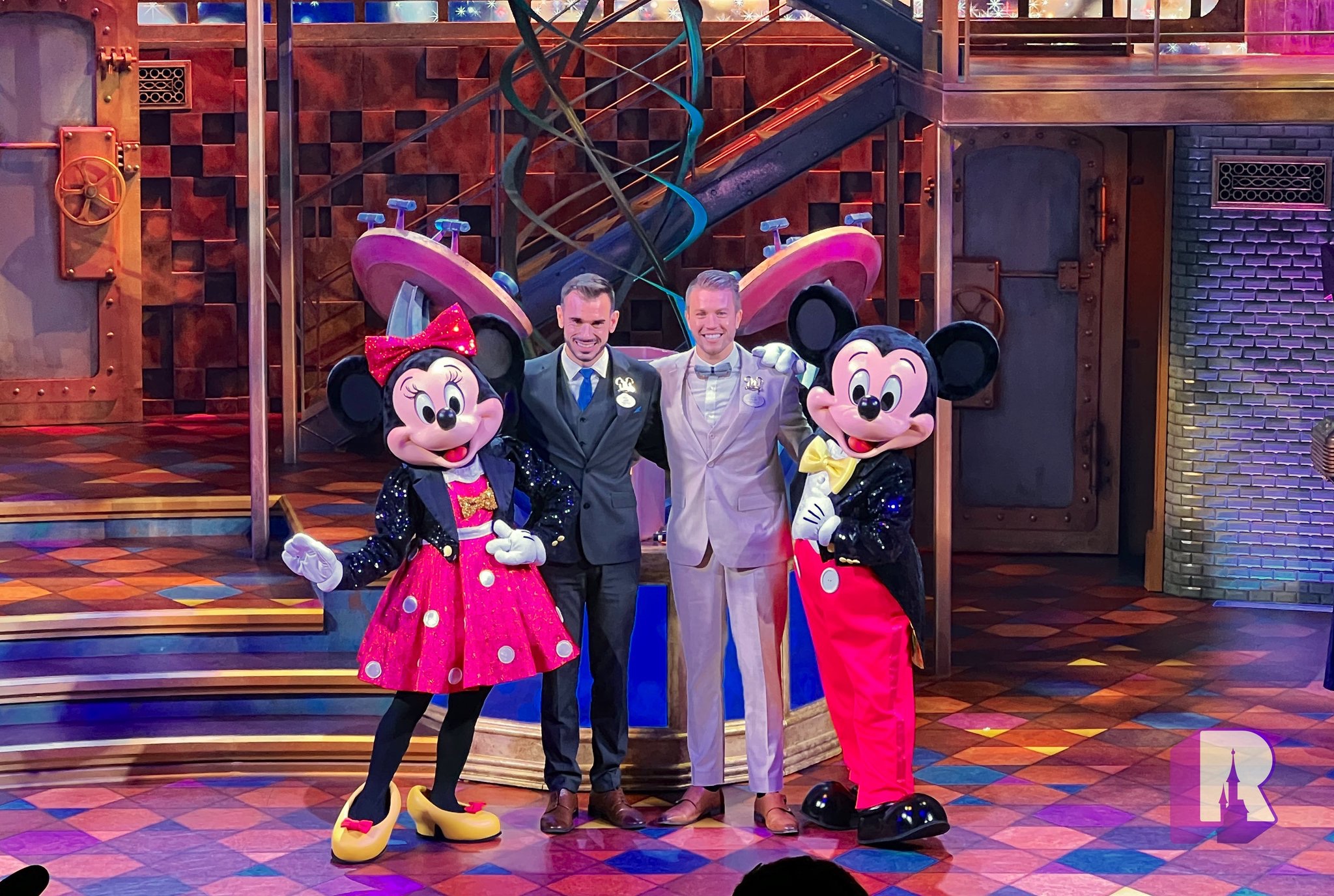 The ceremony was once again held at Studio D.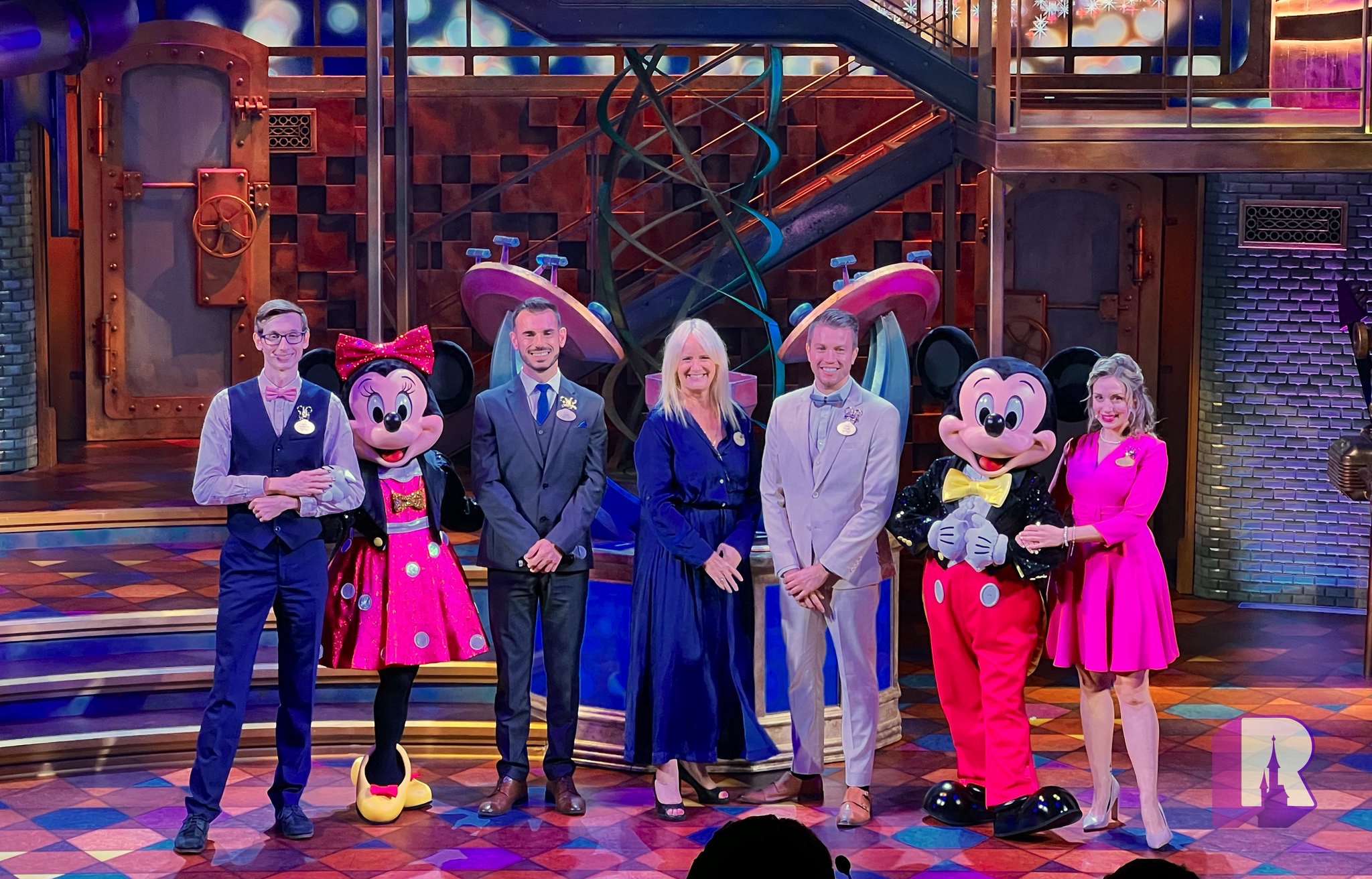 With of course Mickey, Minnie, Disneyland Paris current President Natacha Rafalski and the current Ambassadors Carmen and Quentin who we thank for their (almost) two years of service!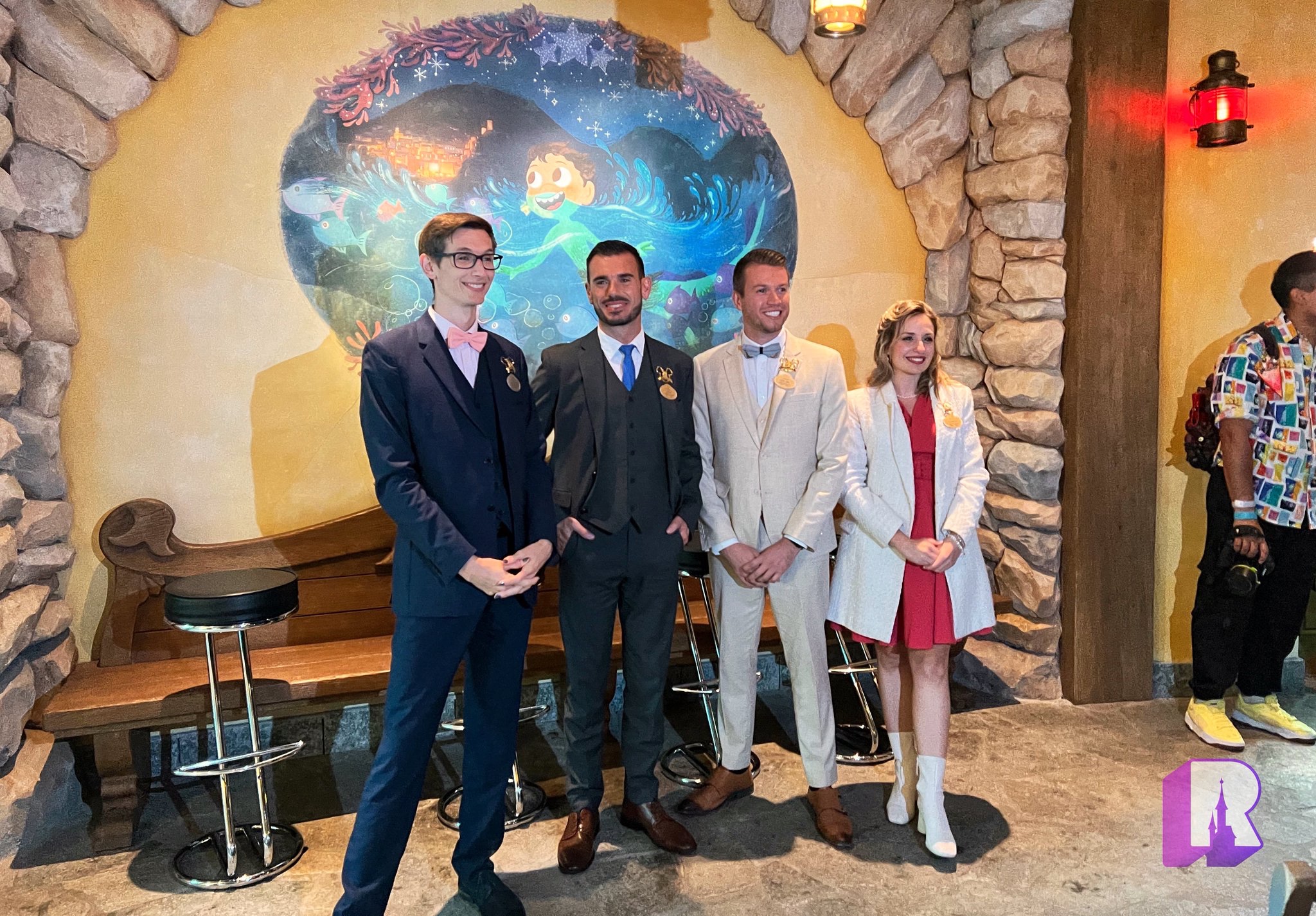 Later in the day the new Ambassadors held a lesss conference in the Luca room of Pizzeria Bella Notte.
And of course took part in the traditional pre parade! We look forward to seeing Jose and Dylan around the parks as they start learning about their function. Carmen and Quentin continue to serve until December 31.
Disney Village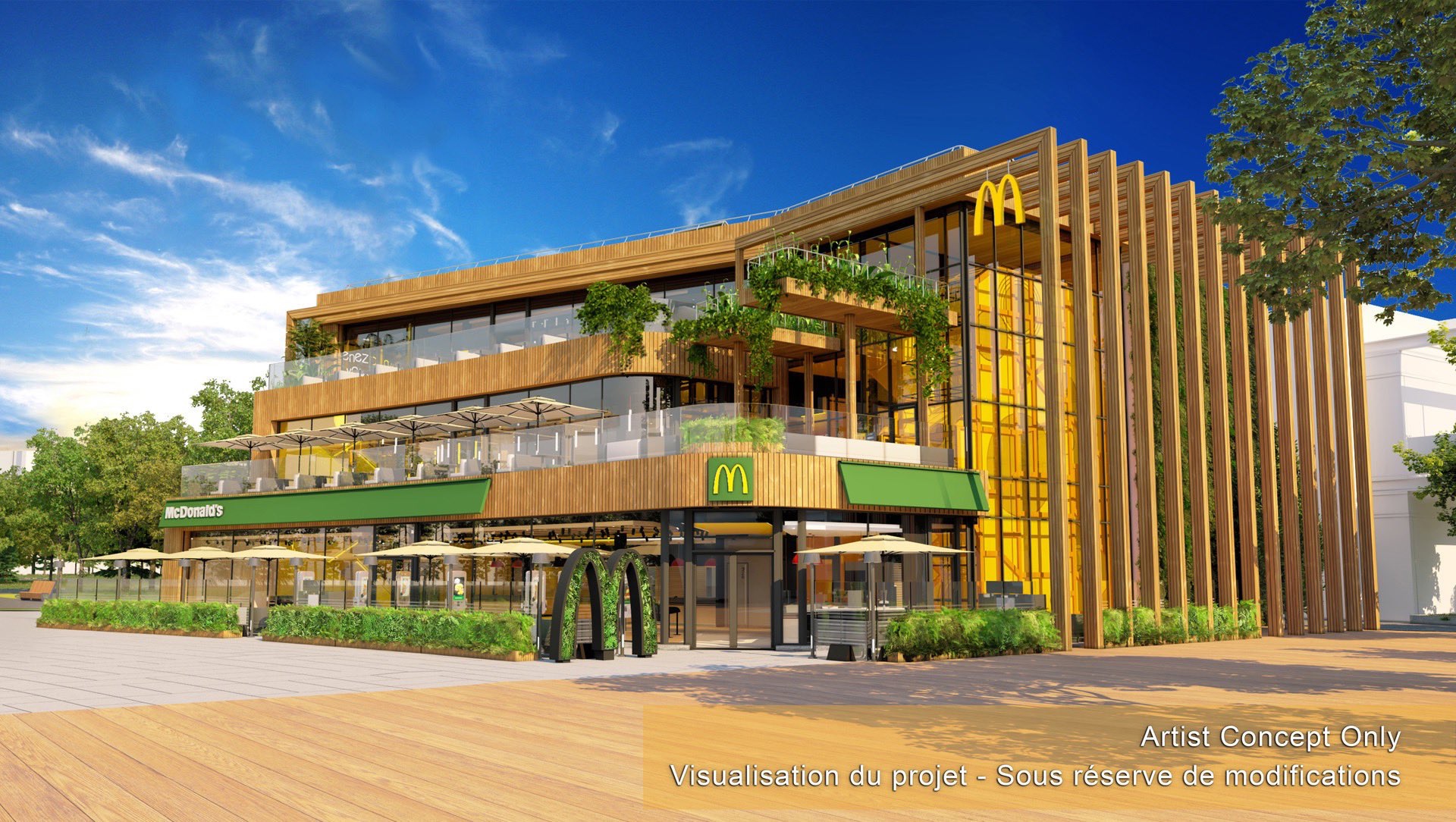 On this episode of the Disney Village multi-year saga: you get a new Mc Donald's! This random news (probably because the construction permit is about to be filed) was shared this week even though the building won't start being worked on until September 2024. It's pretty much in line with the remodel vibes and will be built just down the street from the current one which will be demolished.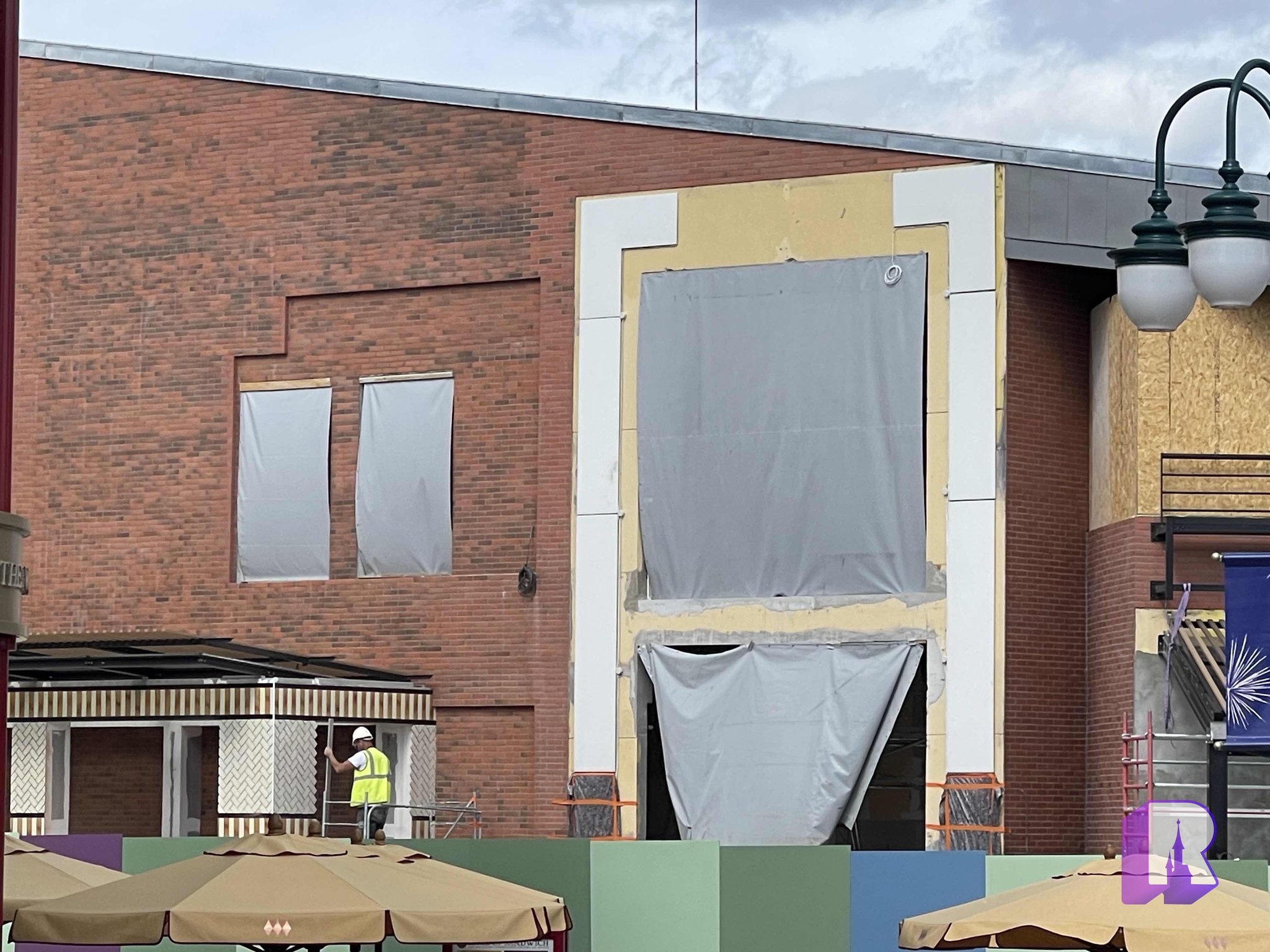 In the current multiverse, good progress is being made at Brasserie Rosalie with the takeaway counter coming together as well as the covered terrace. The restaurant opens in December.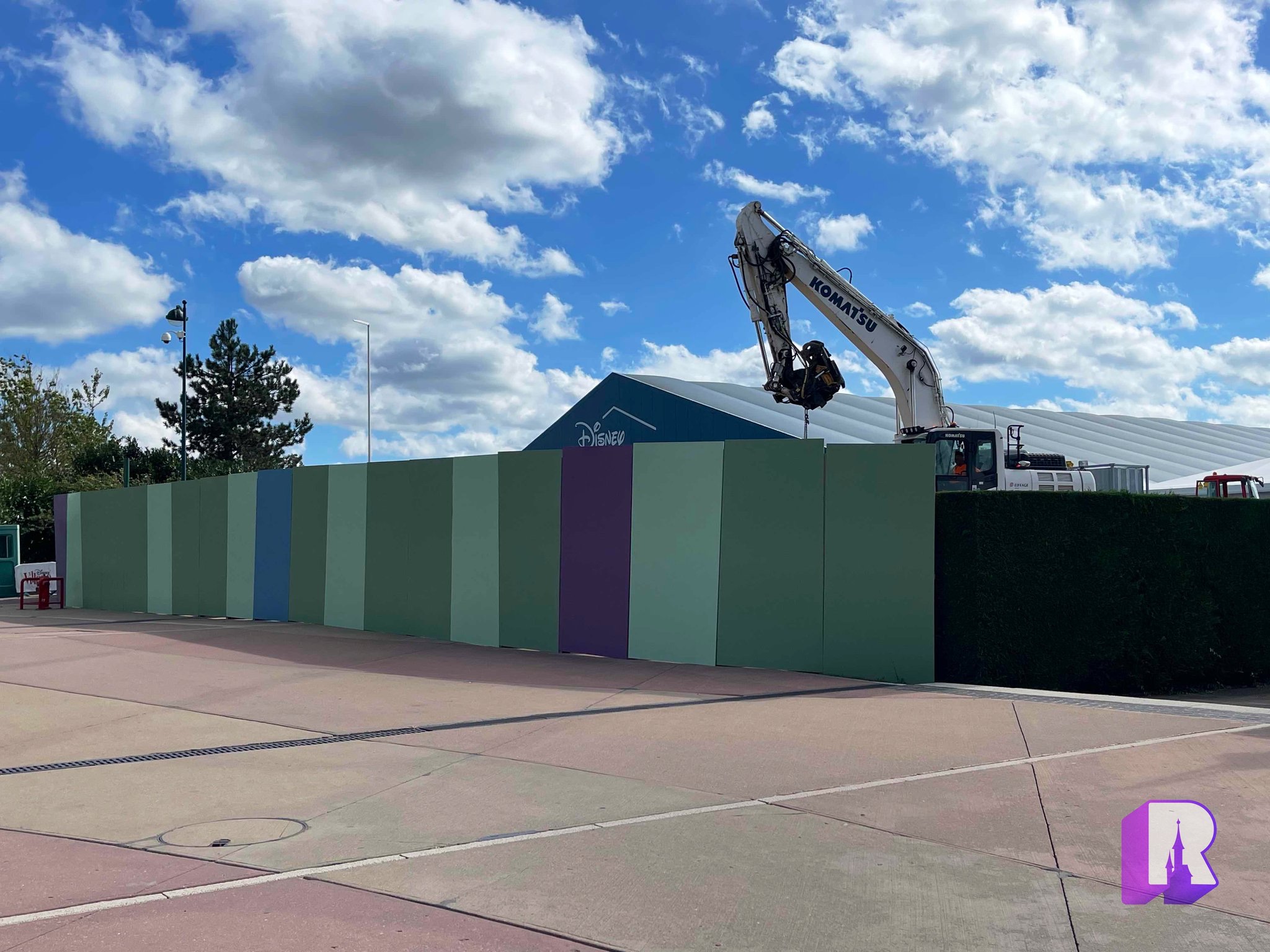 There is also some mysterious unrelated construction at the entrance of the Disney Arena.
Construction and Refurbishments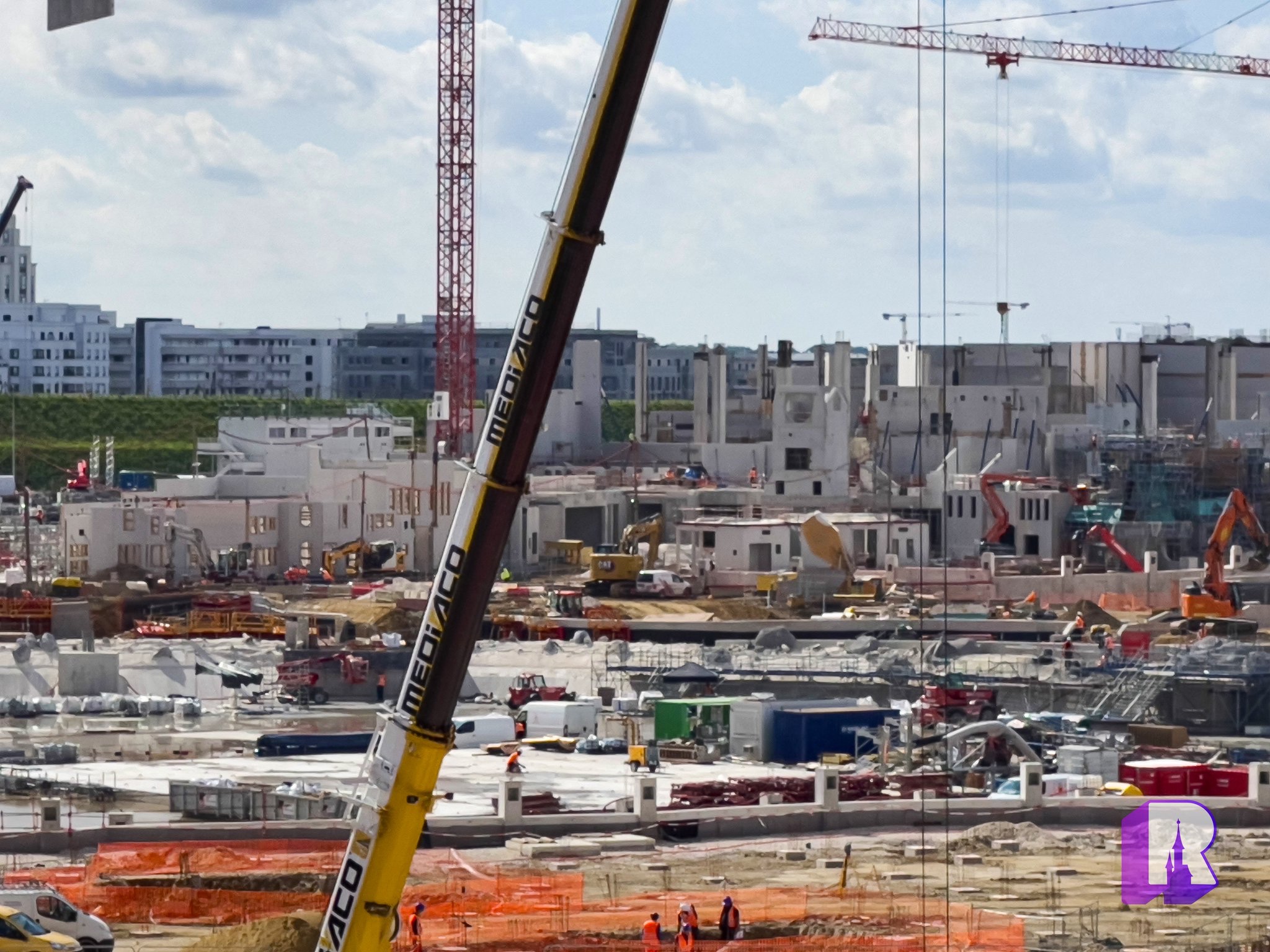 It had been a while since we checked on the Walt Disney Studios Park expansion project so here we are! Virtually every area is under assault including Arendelle, the lake, lakeside restaurant and Tangled Attraction. Only the landscaped avenue seems to be a bit behind.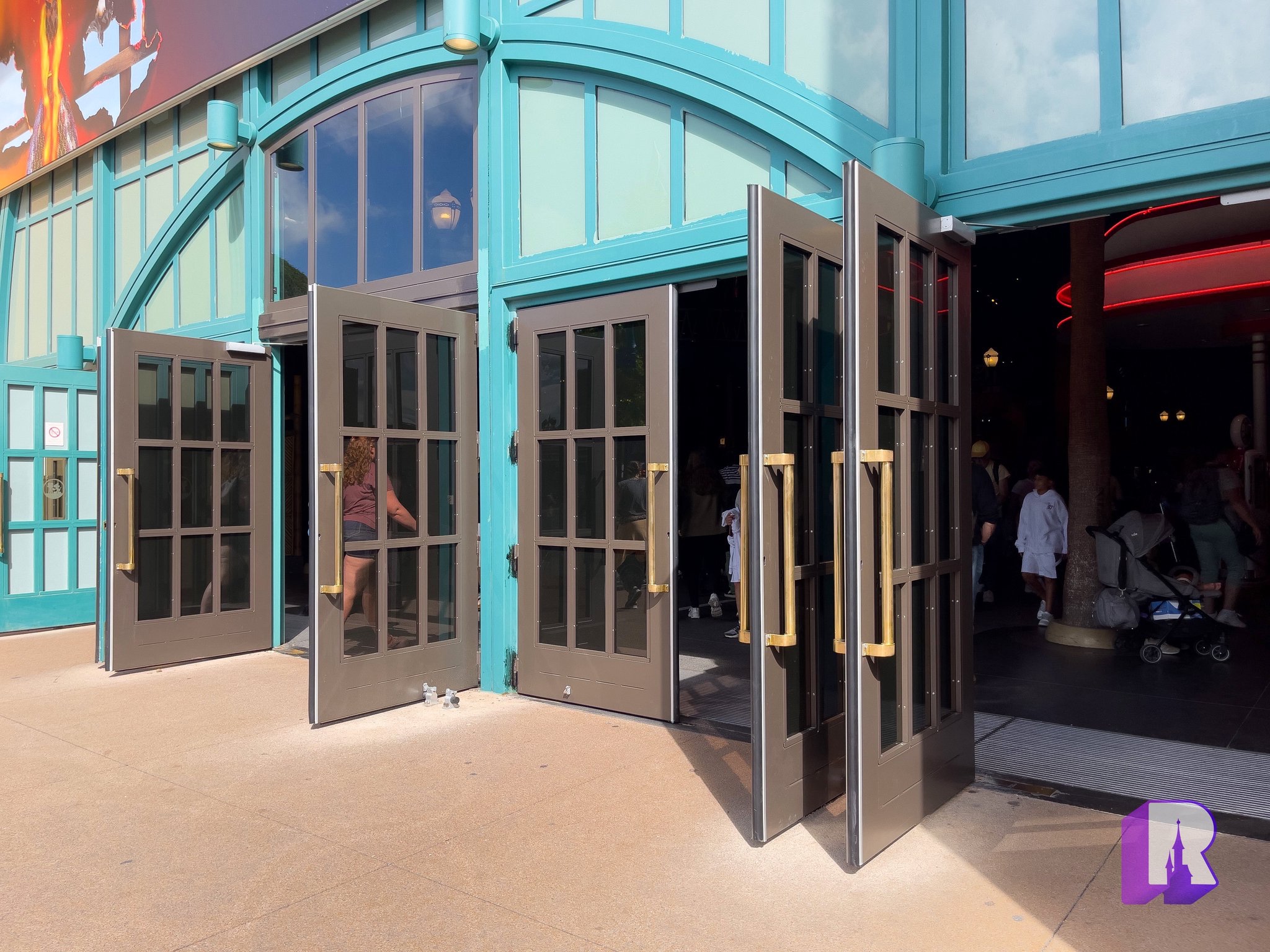 Studio 1 has started to receive new sets of doors and windows, in a new color scheme.
The building is expected to be closed most of 2024 for re-imagining as part of the Walt Disney Studios Park improvement project. The entry sequence will be diverted to the sides.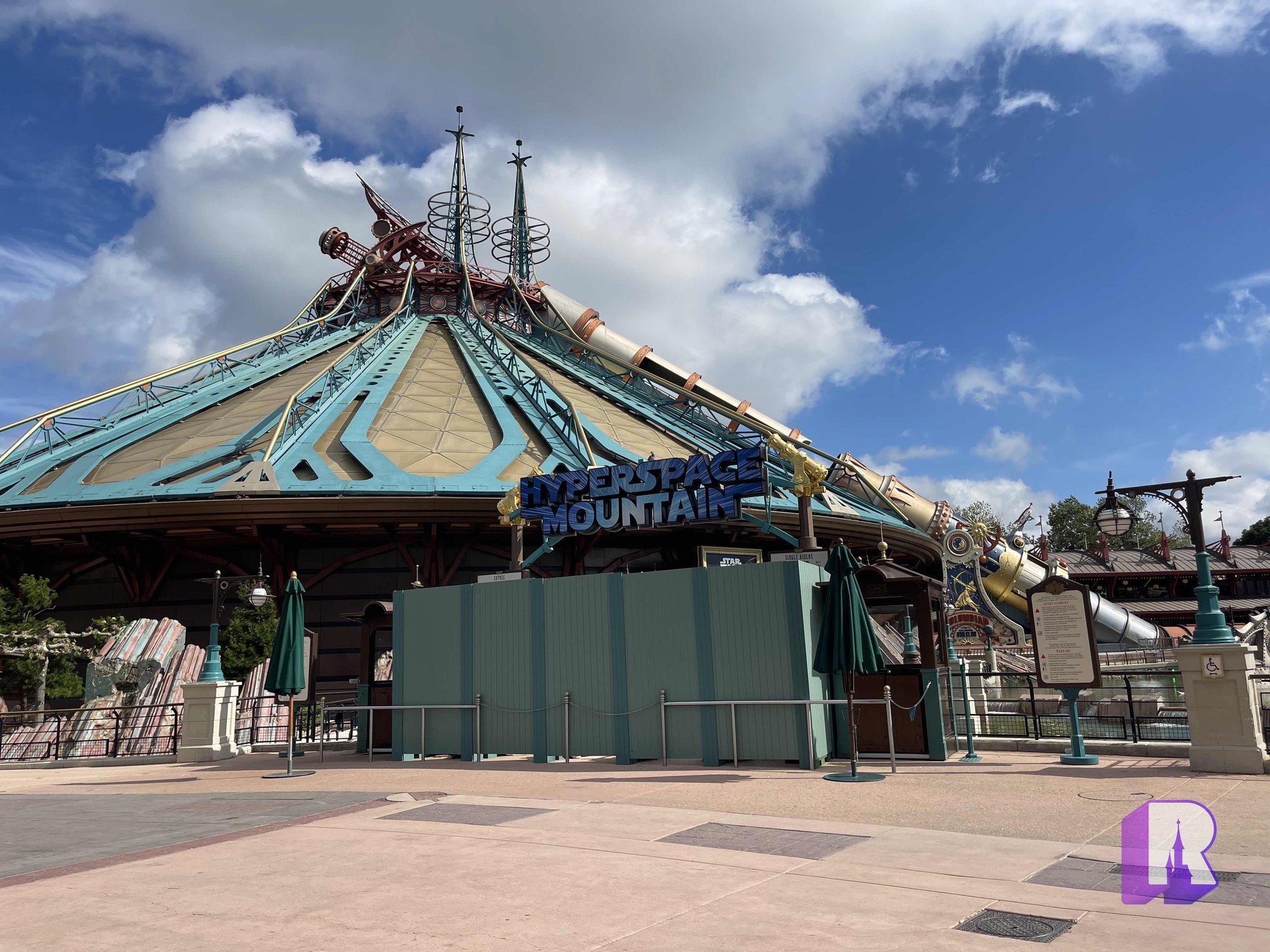 This week tons of major attractions were closed for refurbishment as the resort uses this somewhat quiet time before Halloween and Christmas to work on them. Still it was often a bad surprise for some guests who did not realize.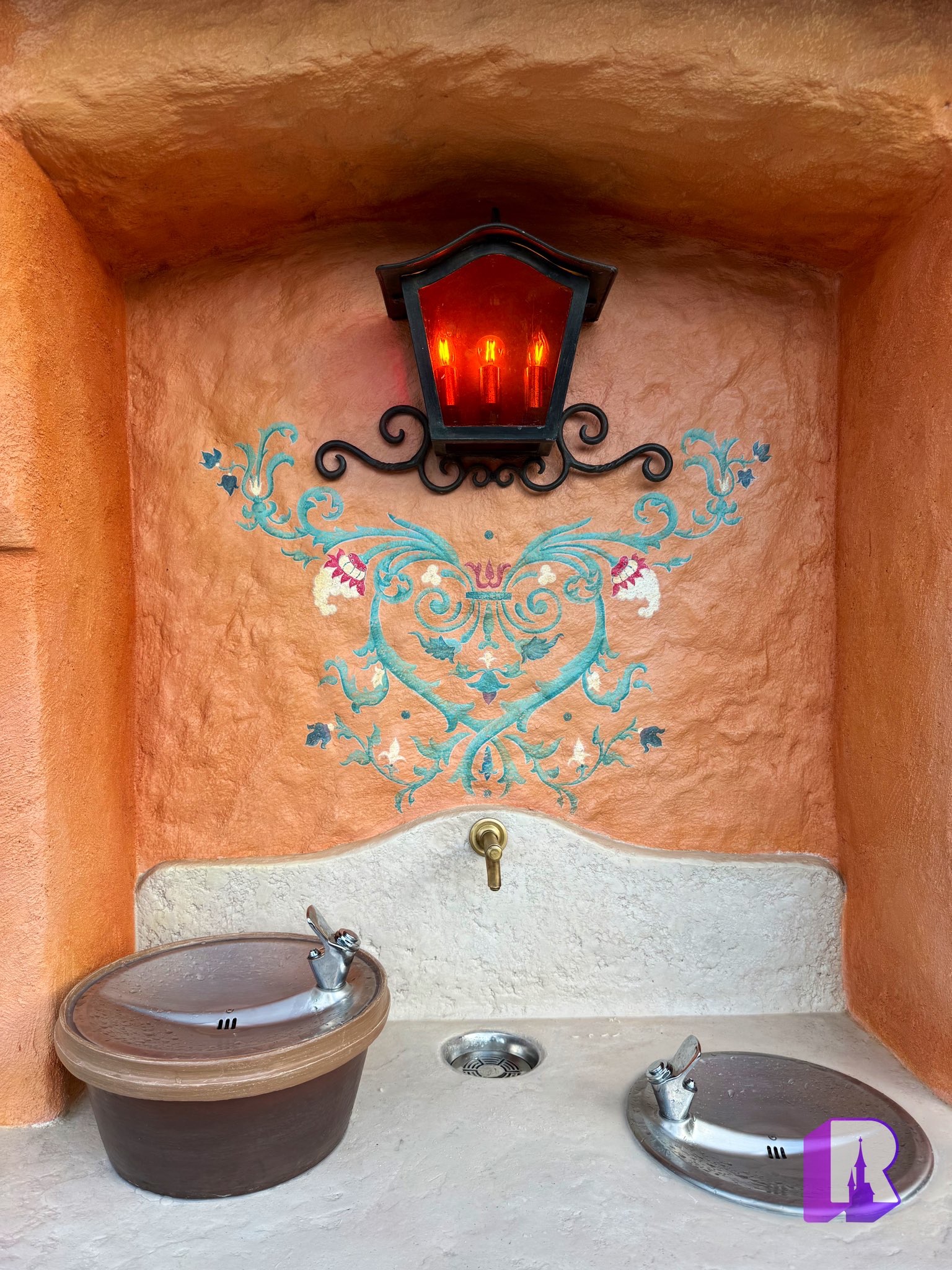 In Fantasyland the area around the Chalet de la Marionette restrooms has finally reopened! It looks fantastic with new pavement and a refurbished building. The water fountain now features water bottle filling.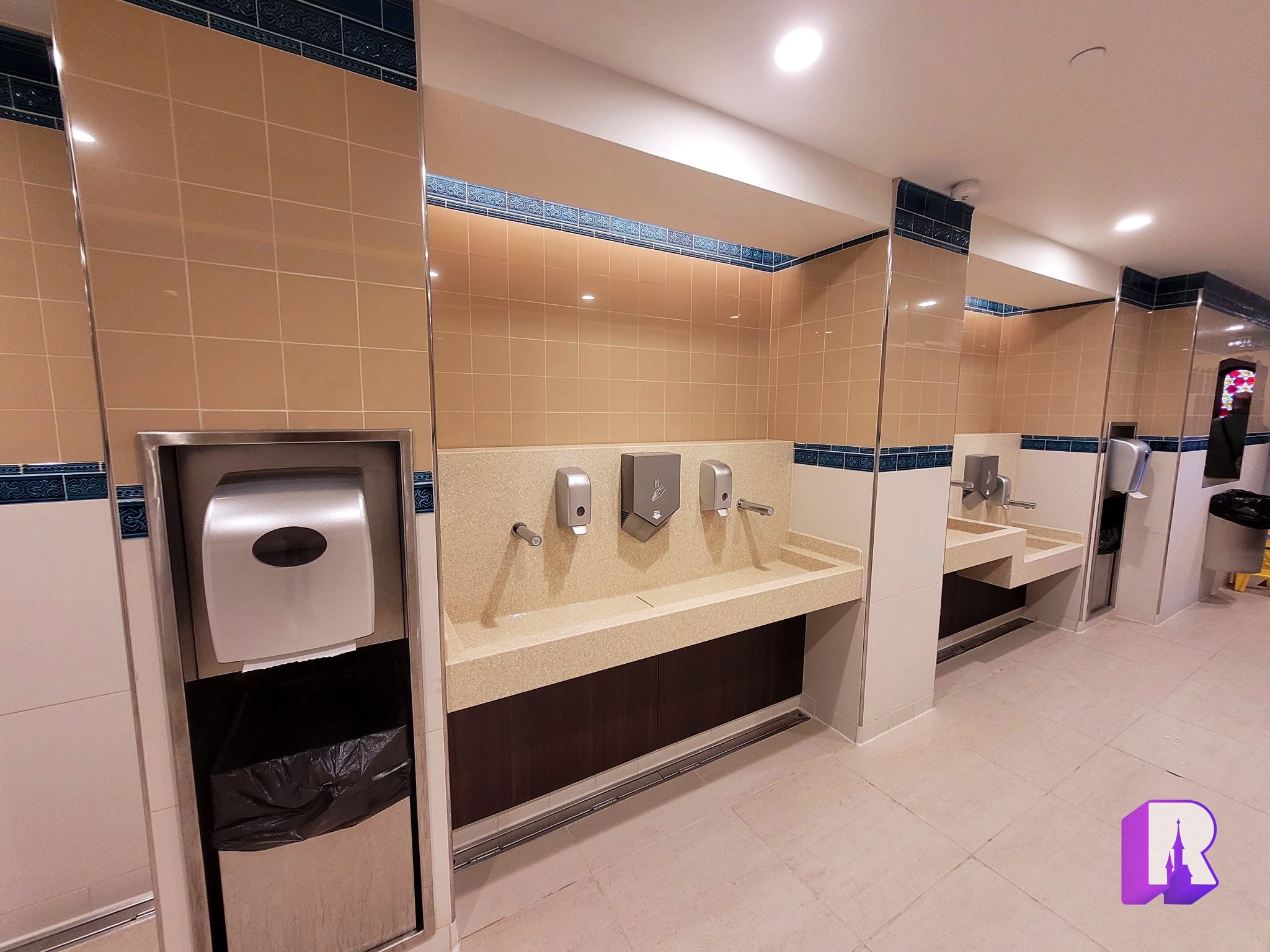 The restrooms themselves were of course refurbished as well with the same modern quality we've come to expect from these great projects!
And that concludes this week's roundup of everything happening at Disneyland Paris! Thank you as always for reading and sharing and see you again next week for the end of the 30th Anniversary celebrations and the start of Halloween!