Welcome to a new edition of our weekly report! This week we got all the details about the Disneyland Hotel with the digital conference. We also look at Halloween arriving in the parks and the latest projects!
Disneyland Hotel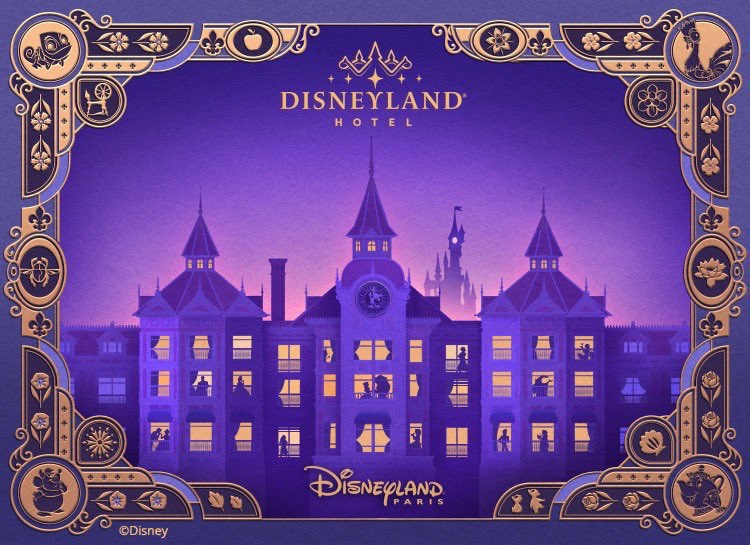 Closed since March 2020, it's almost time to reopen the Disneyland Hotel with a re-imagined concept centered around Royalty.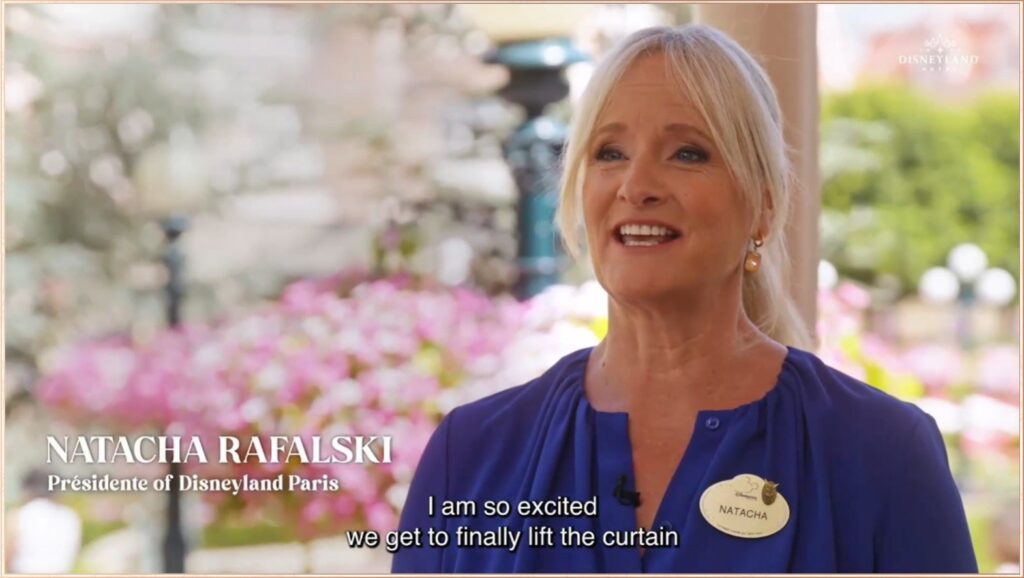 At a digital press conference, Resort President Natacha Rafalski revealed that the hotel will reopen on January 25, 2024. Let's take a look at the various areas and offerings of this 5 star property.
Lobby and Common Areas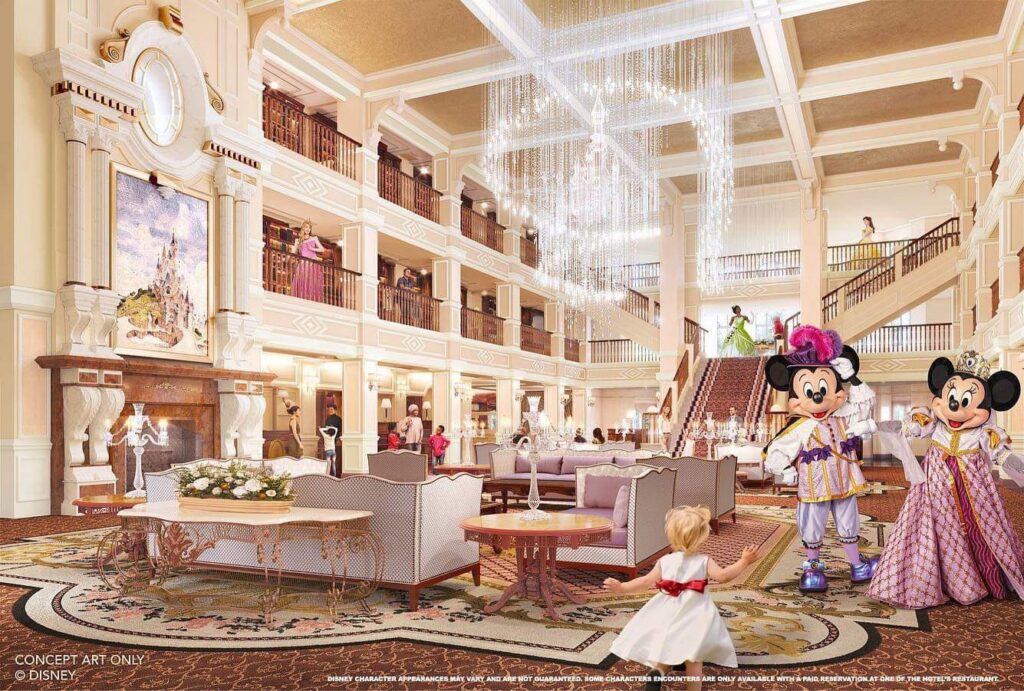 While not completely different, the lobby has been renovated and expanded. It will have a library feel inspired by Beauty and the Beast.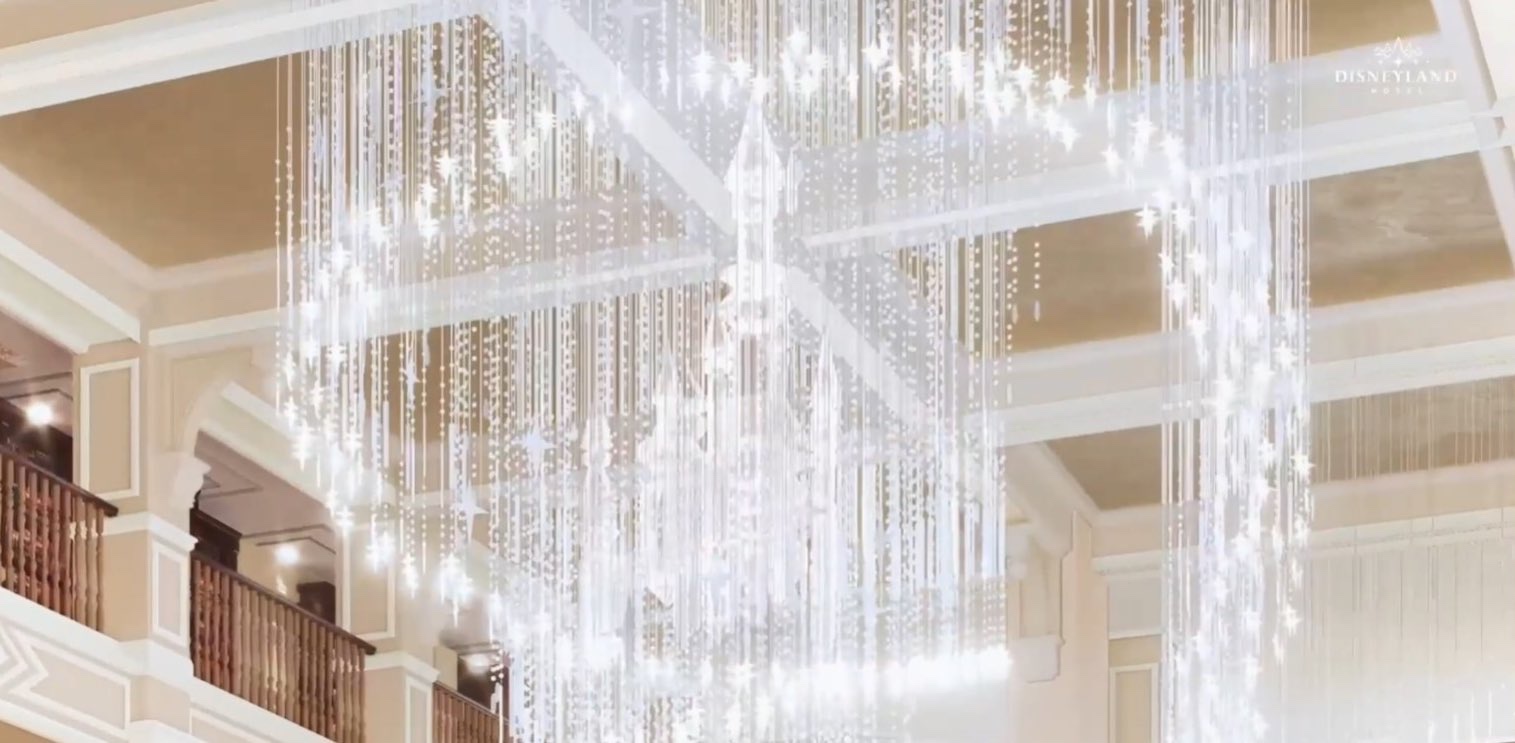 The ceiling will feature a new lit up crystal chandelier with a few surprises.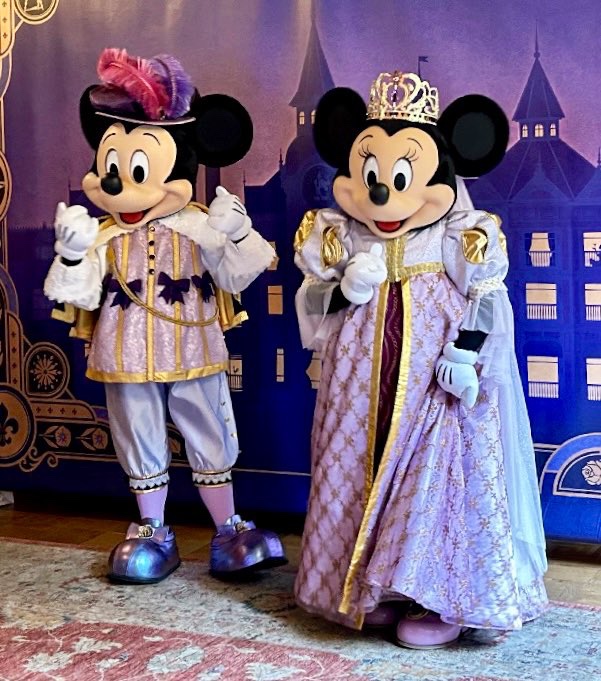 As you can see on the concept art, Mickey and Minnie will be available through the hotel at various times in new Royal costumes !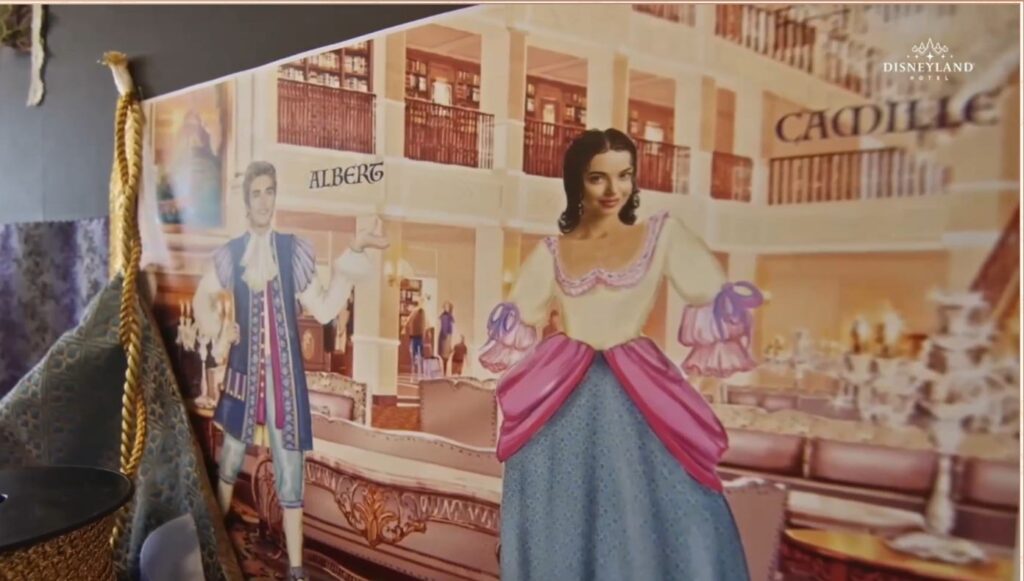 This will all be part of a constant storytelling which will also be sustained by a group of performers called "La Troupe Royale" with Mickey, Minnie and the Disney Princesses, they will surprise and entertain Guests staying at the hotel through the day. Needless to say, access to the hotel is probably gonna be extremely restricted to Guests with reservations.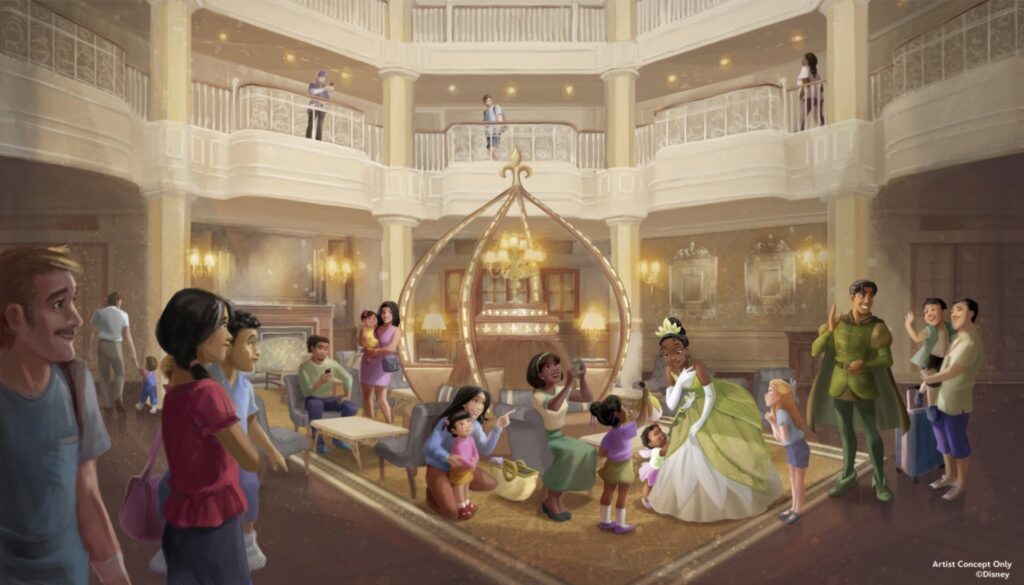 In the upstairs lobby, gone is the bird cage, the theme is "modern Royal" with various areas for Guests to relax.
Restaurants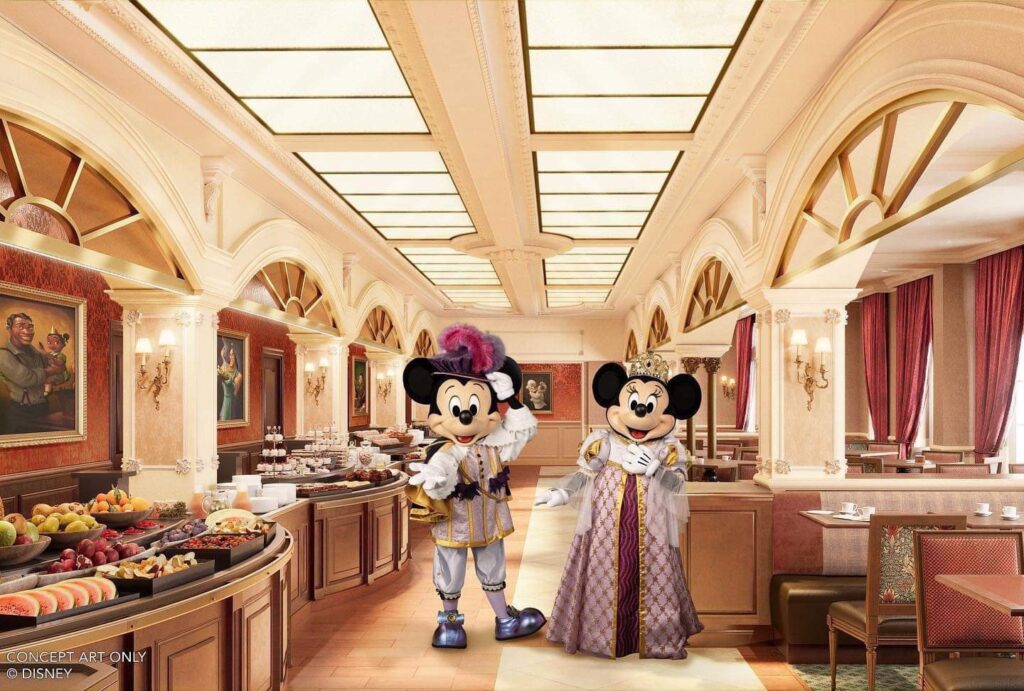 At the "Royal Banquet" buffet service restaurant which of course is the reworked "Inventions", Mickey, Minnie and their friends will welcome guests at all seatings. Meals are priced at €100 per adult, open to all Disney Hotels Guests for lunch but only Disneyland Hotel Guests for dinner.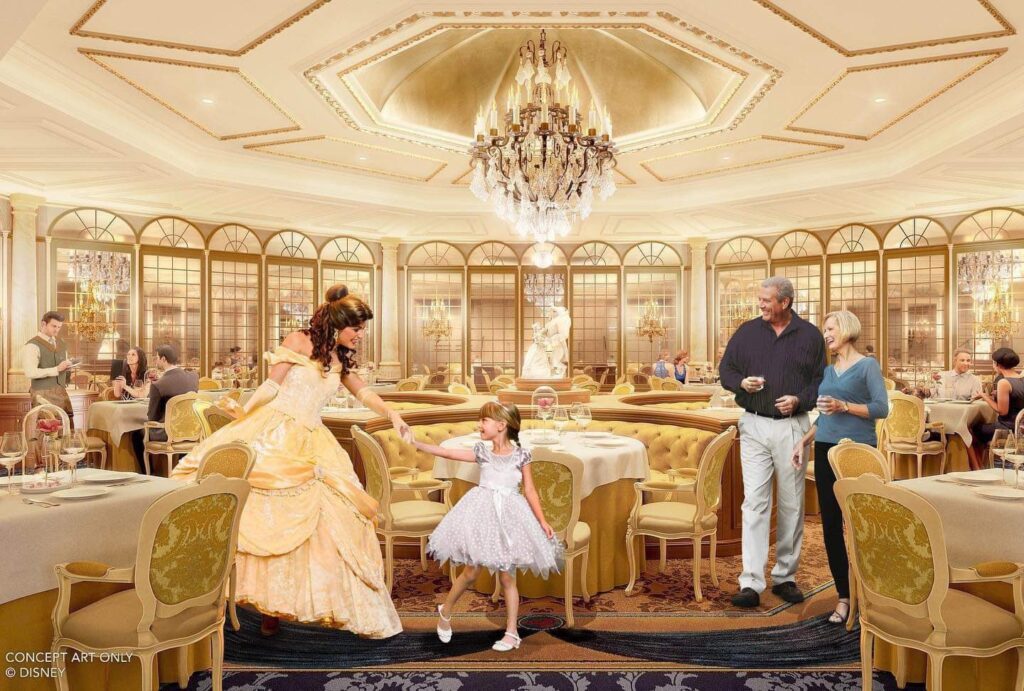 Next door at the "Table de Lumière" upscale restaurants, Guests will get to meet Royal Couple each night in a Beauty and the Beast inspired setting with beautiful food.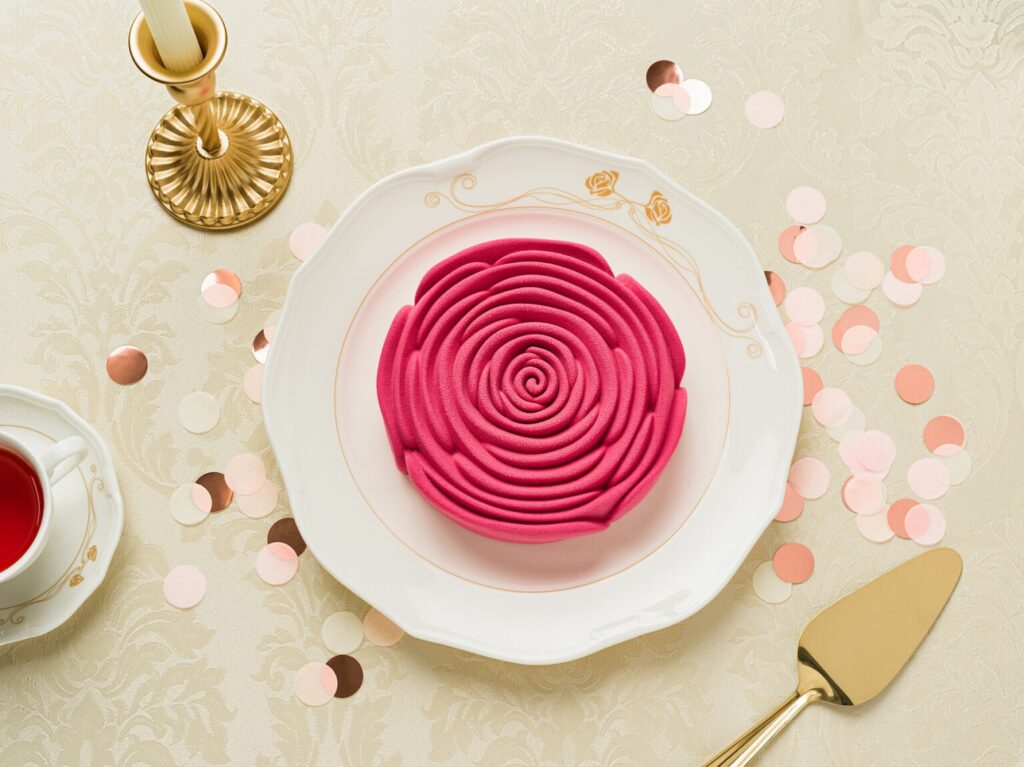 The venue will feature a prix fixe menu for €120 per adult and is restricted to Disneyland Hotel Guests only.
"Fleur de Lys" will be the new main bar, replacing Cafe Fantasia. No concept or photos was released for it just yet.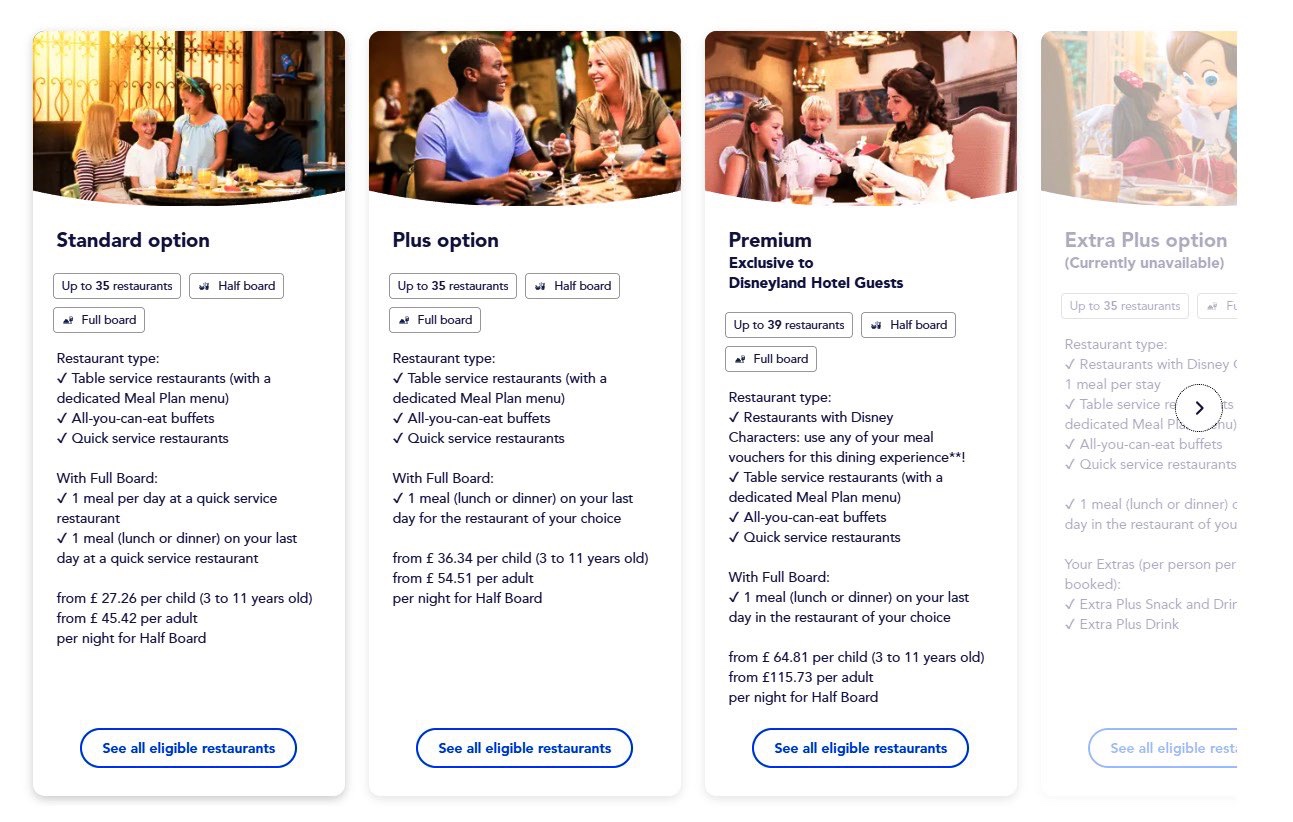 A specific meal plan is also available for Disneyland Hotel Guests.
Rooms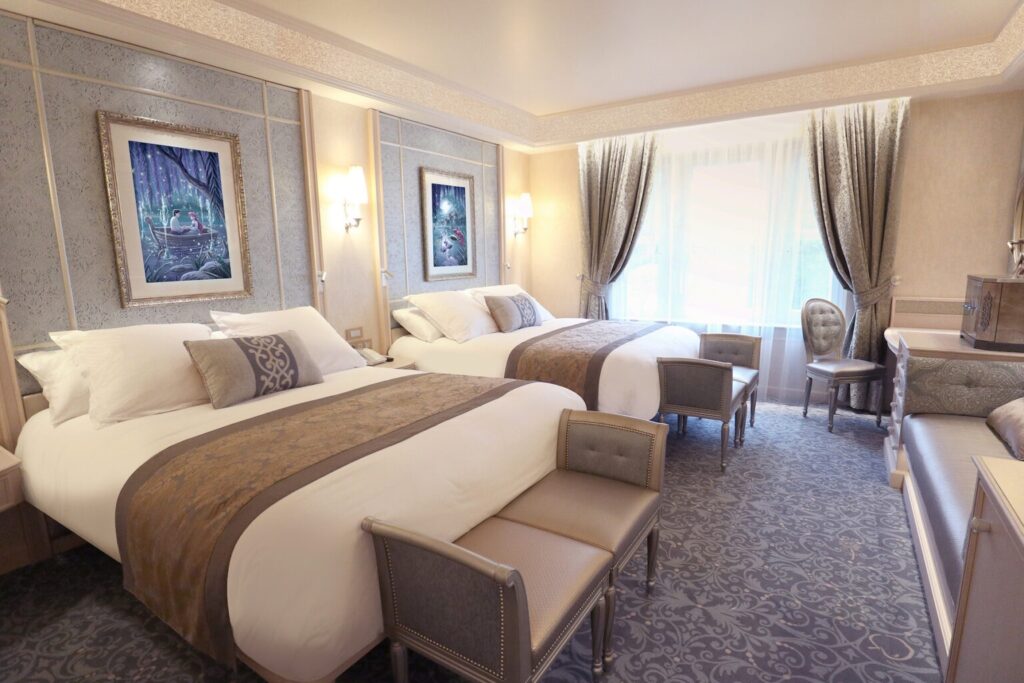 The "Superior" rooms will be draped in blue and silver luxury fabrics. These are the entry level rooms.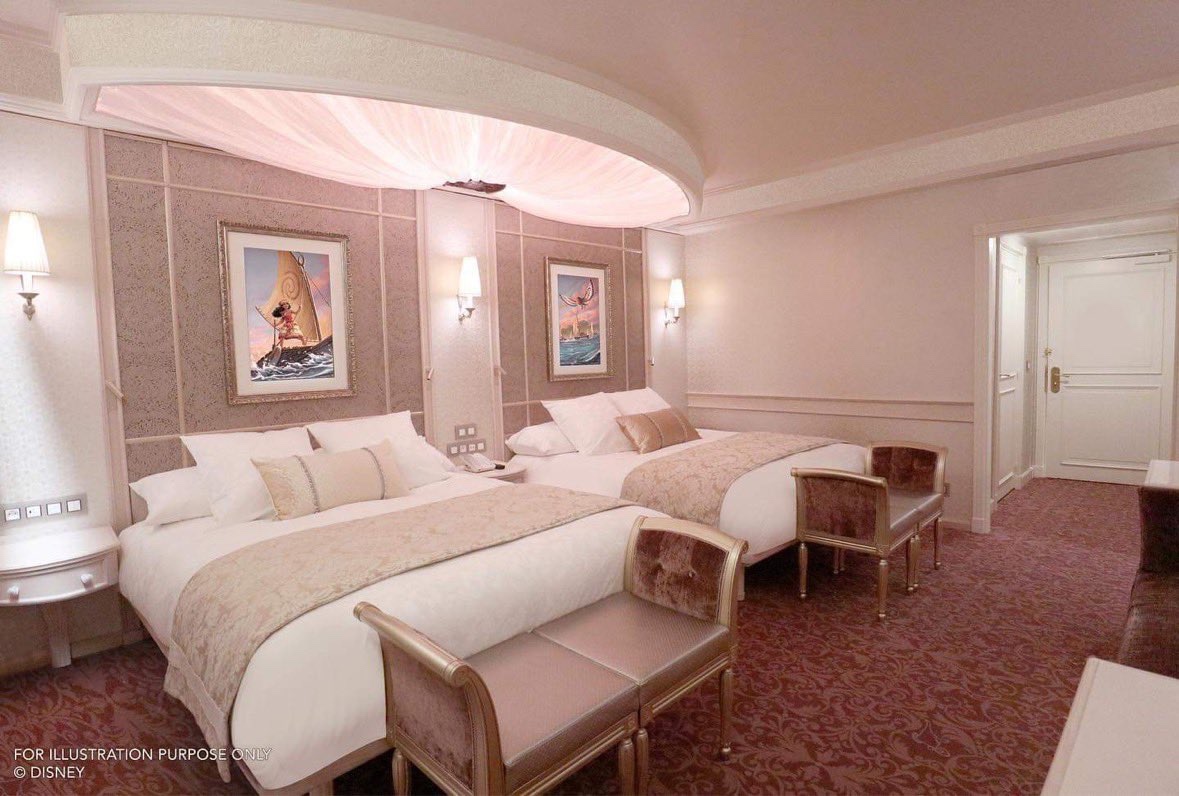 One level up are the "Deluxe" rooms will offer a higher level of luxury with custom canopies that will light up in line with the theme of the room.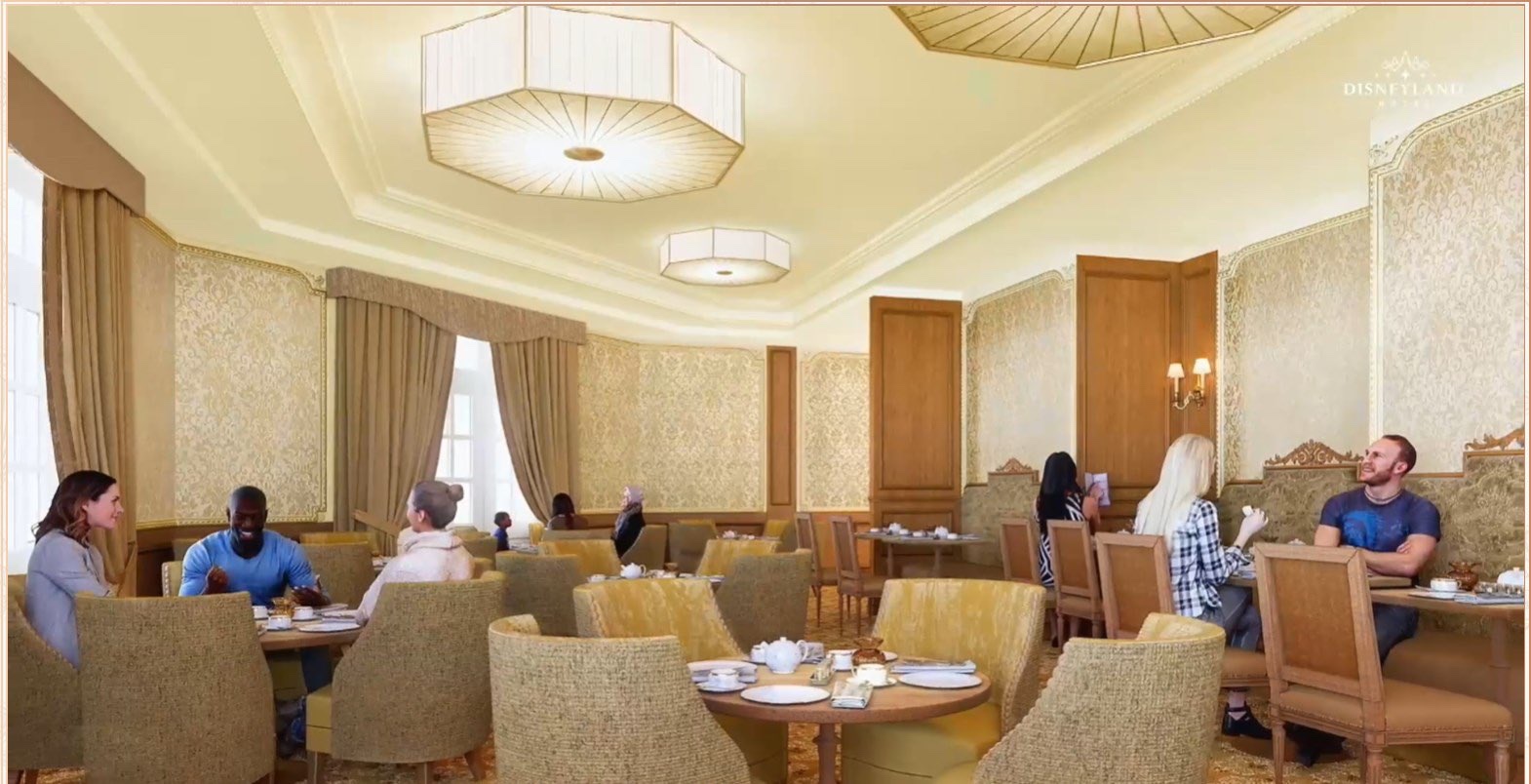 Guests in the deluxe rooms will also have access to the Deluxe lounge offering extra services, plus a dedicated check in area.
Suites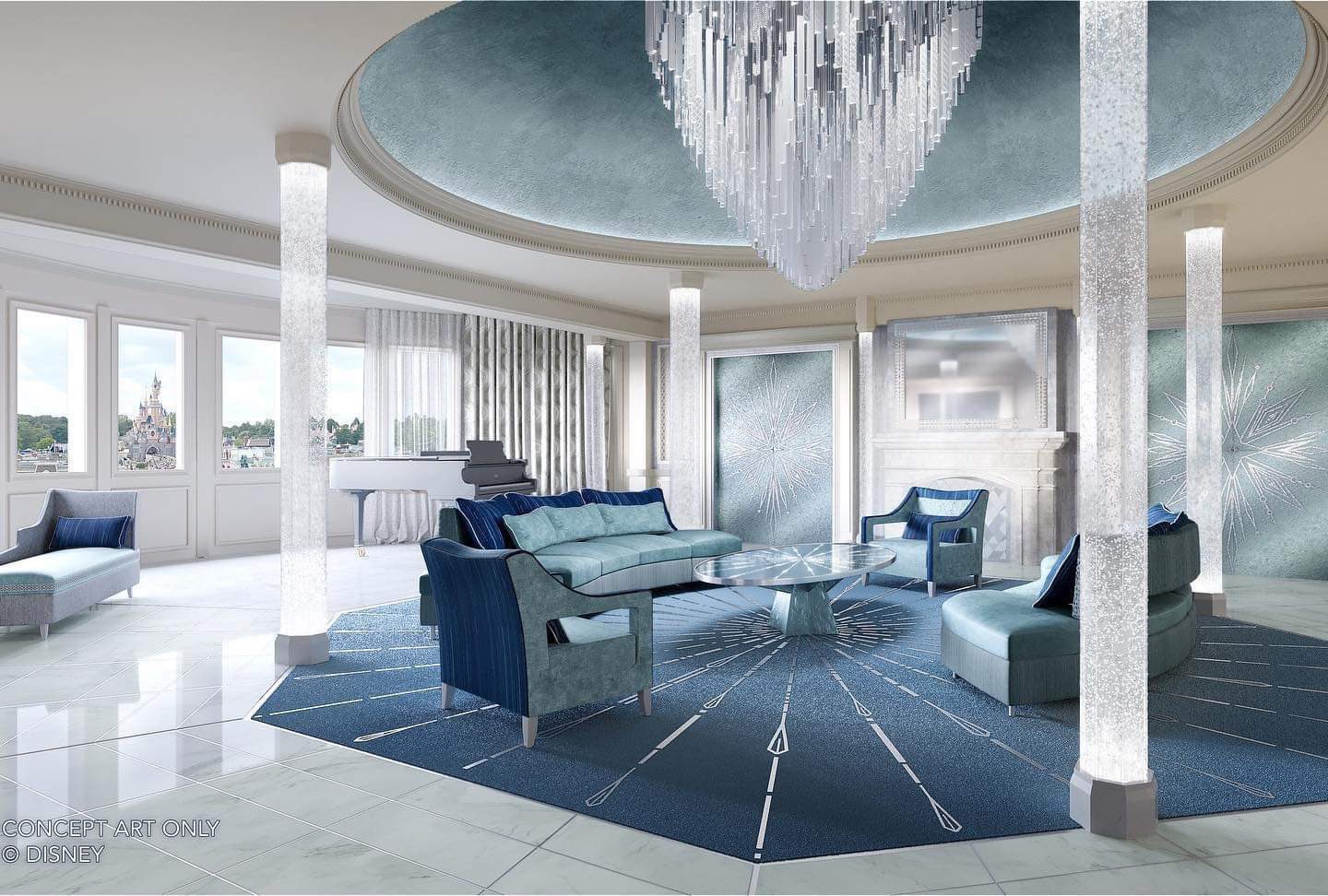 The Royal Suite Frozen is the headliner here with the largest and most luxurious accommodations in the hotel.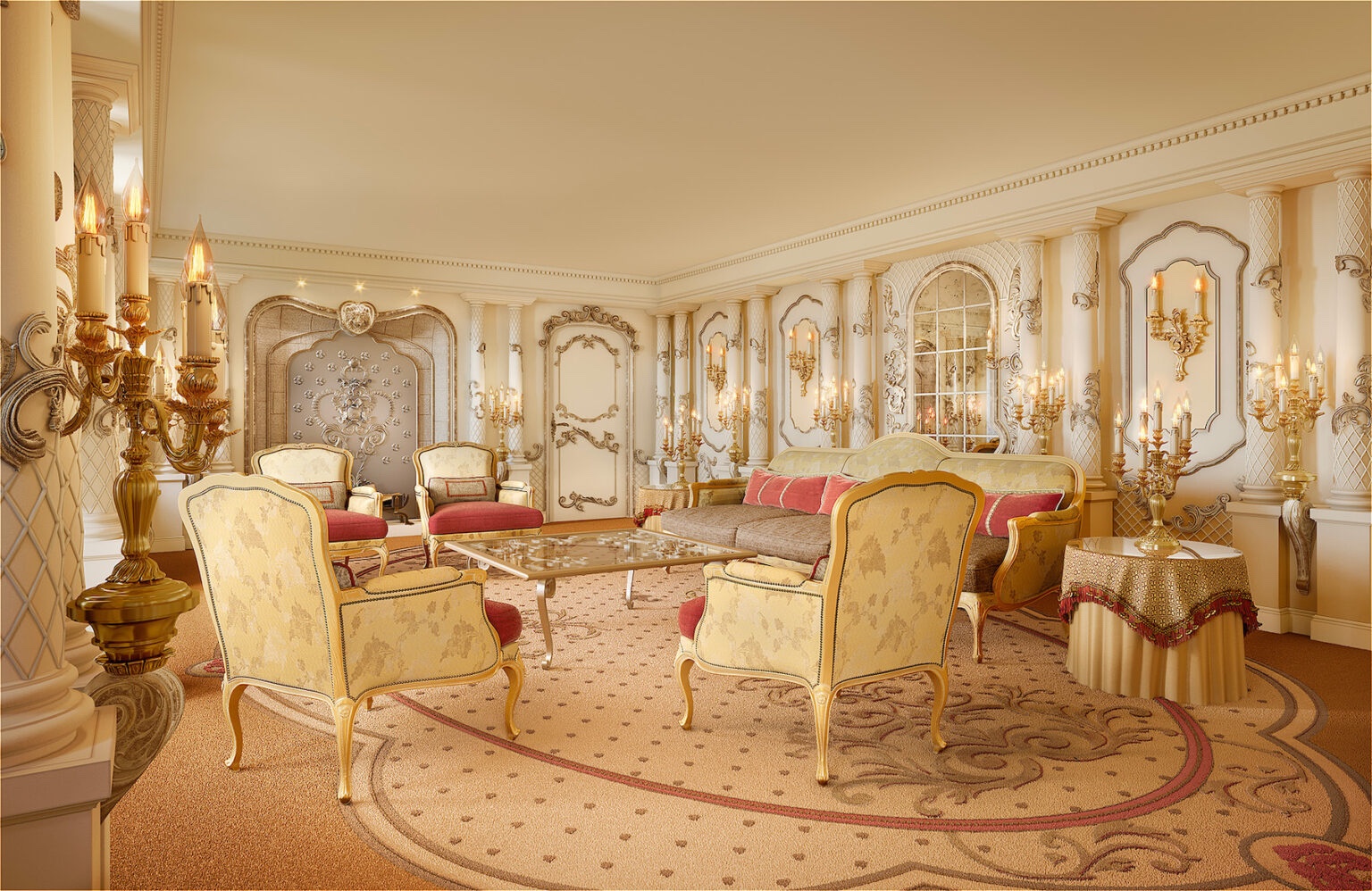 The "Princely Suite" inspired by the live action Beauty and the Beast film will offer Guests in search of an over the top ornate extravaganza accommodation exactly what they came for. at least imagineers didn't go for a modern bland design here!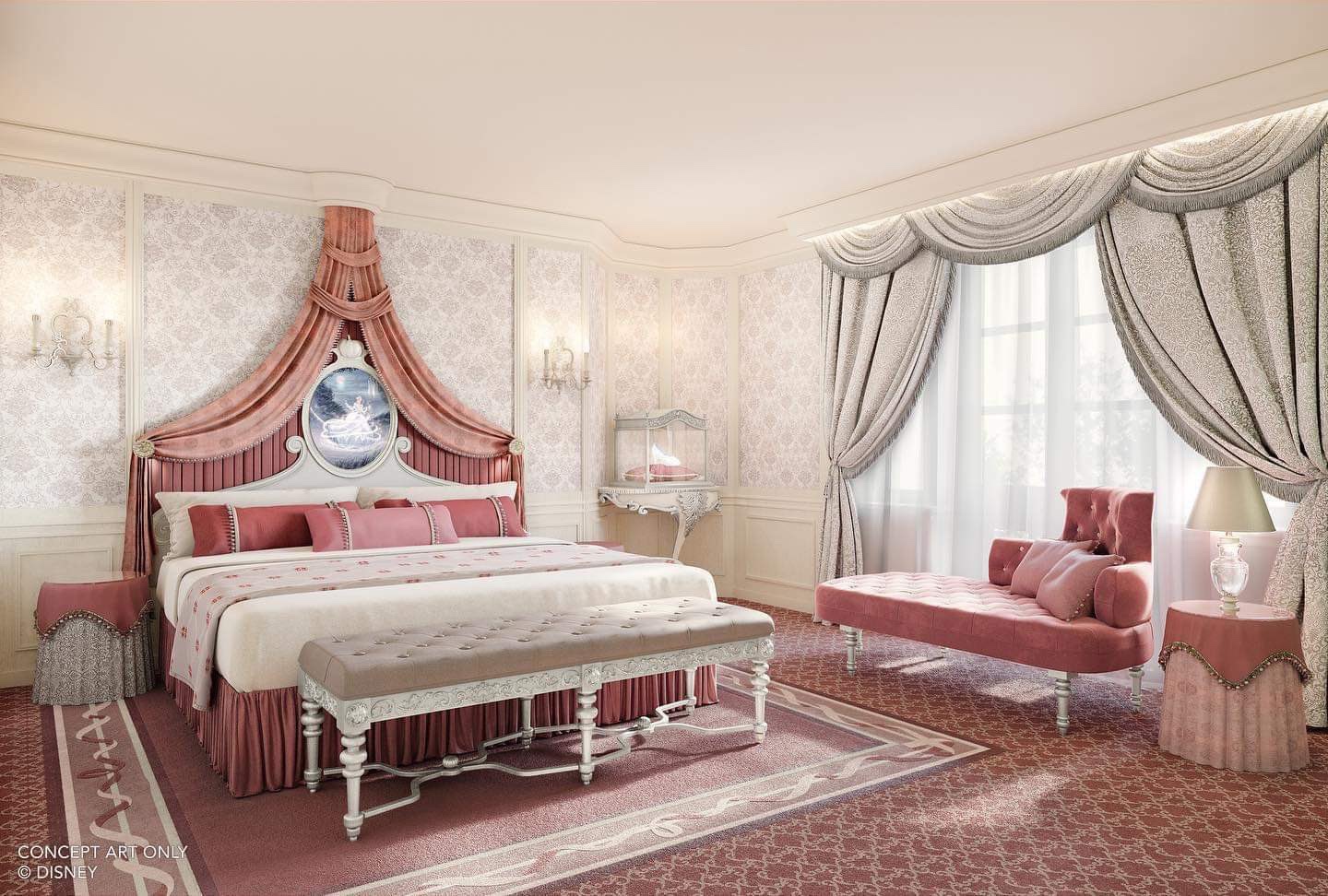 The signature suites will come in 5 flavors inspired by Sleeping Beauty, Beauty and the Beast, Cinderella, Tangled and Frozen.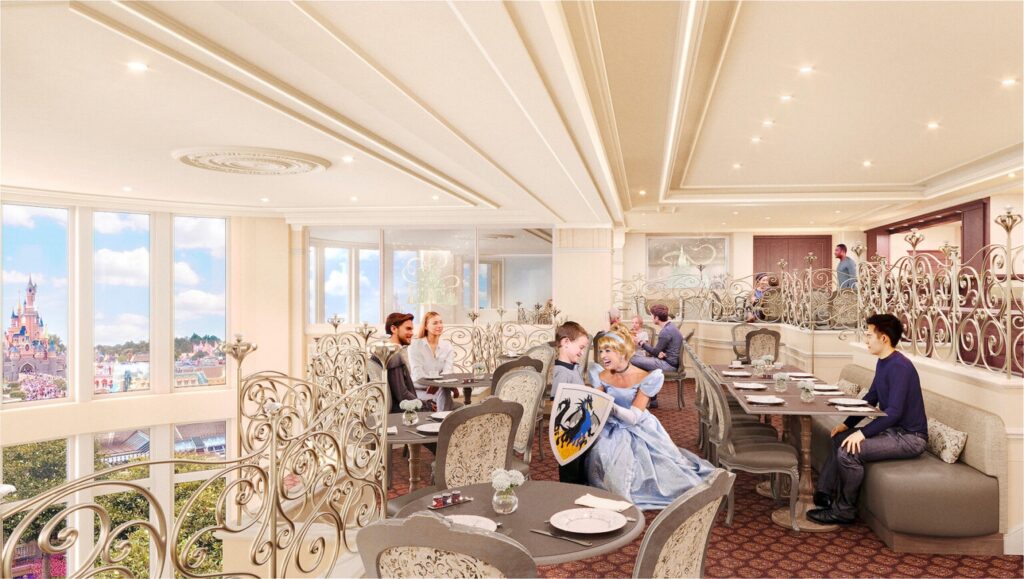 Top and Castle Club Suites will also grant access to the legendary Castle Club Lounge featuring character breakfast, snacks, drinks and top level service.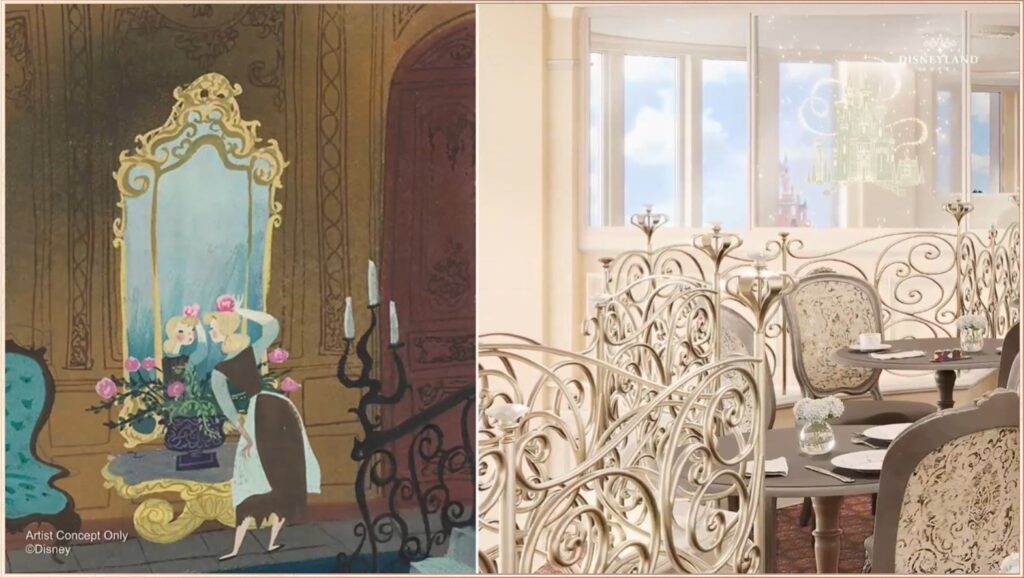 So how much to stay at the Disneyland Hotel ? At the time of the announcement, prices for opening night start at €901/£818 a night and up to €1182/£1074 a night in the mid/high season in February.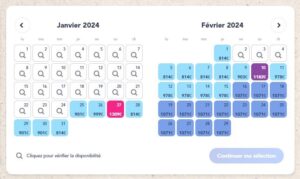 Disneyland Hotel Suites in Feb 2024 (1 night, 2 Adults, 2 days tickets) will cost you a pretty penny:
– Signature Suites (Cinderella/S.Beauty/Tangled/Frozen/BATB): €3,112.26
– Castle Club Suites (Cinderella/S.Beauty/BATB): €4,702.26
– Princely Suite: €7,162.26
– Royal Suite Frozen: €10,342.26
Kids and Meet and Greets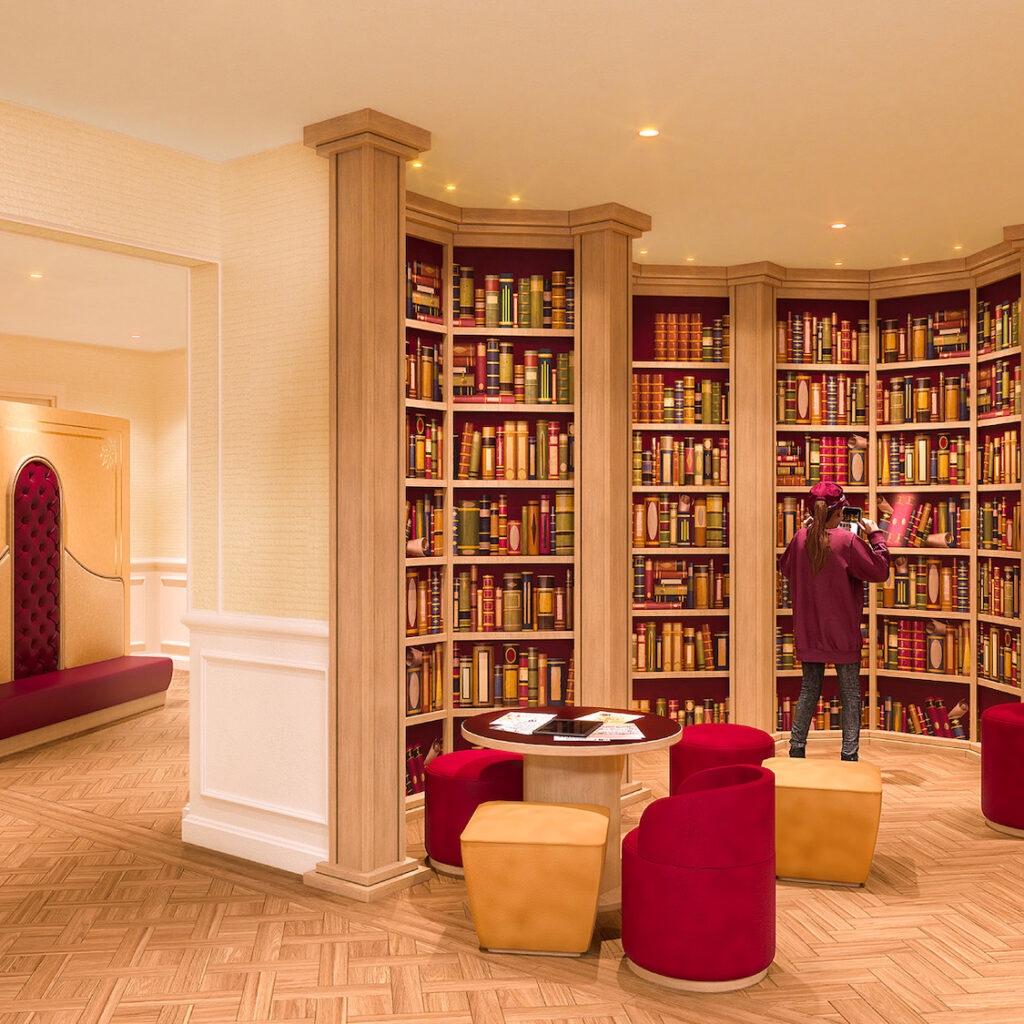 For kids, the Disneyland Hotel will provide a kids club called "Royal Kids Club" which will feature an "interactive library" with virtual reality experiences. The hotel will also host a Bibbidi Bobbidi Boutique.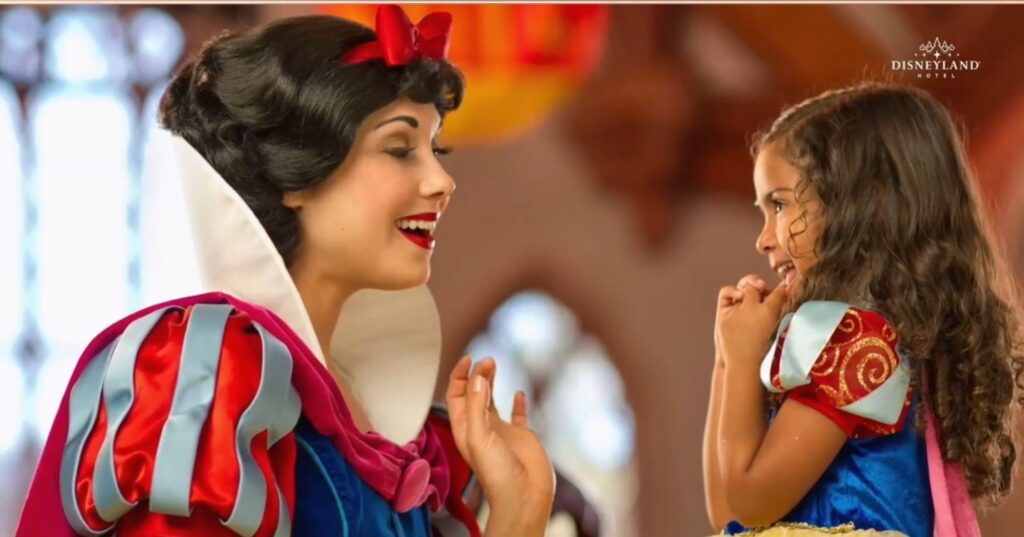 Guests will also get to meet the Disney Princesses. This will work by reservation and for hotel guests only, like the Super Hero Station.
Spa
While some plans suggested that the pool would be expanded, that is not the case. the spa has been renovated in a somewhat Royal style and will feature new mindfulness and yoga rooms as well as all the premium spa service you'd expect.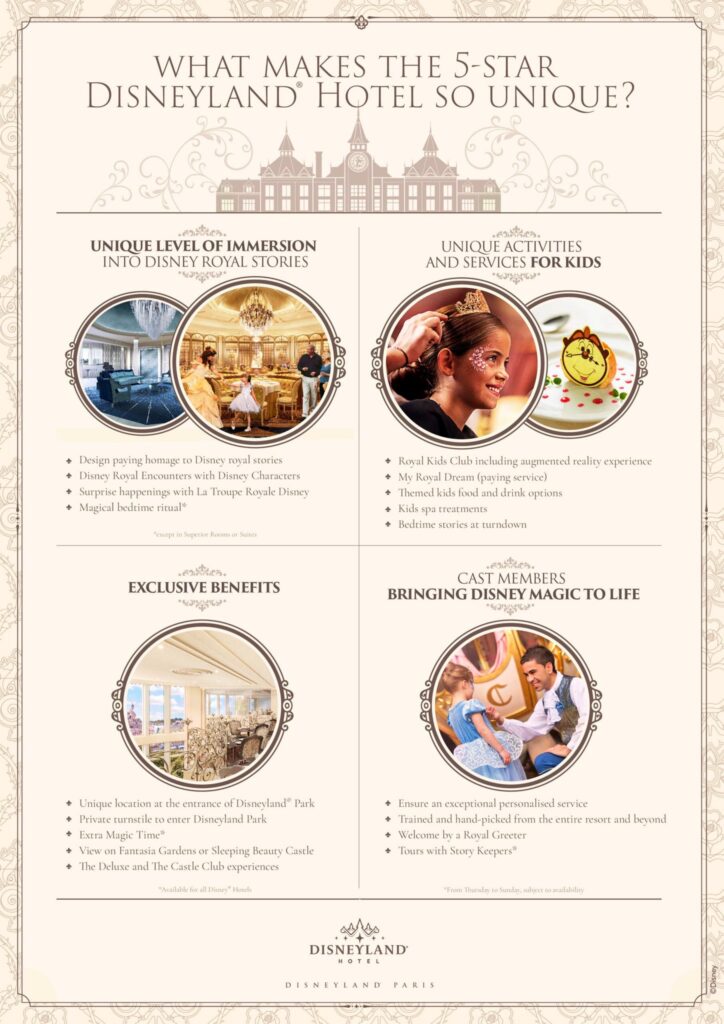 So – while we are losing the classic Victorian theme of the original design, times have changed and this new approach will definitely resonate with Guests looking to get immersed in their favorite Disney Princess and Royal stories. From the standard rooms that will feature various art including new stories like Raya to the classy Cinderella Suite, fun Tangled suite and over the top Princely and Frozen suites, there is something for everyone and kinda sorta every budget. The interactive storytelling aspect also sounds promising, we will have to see how that works in practice. The Disneyland Hotel reopens January 25, 2024 and is not open for reservations.
Halloween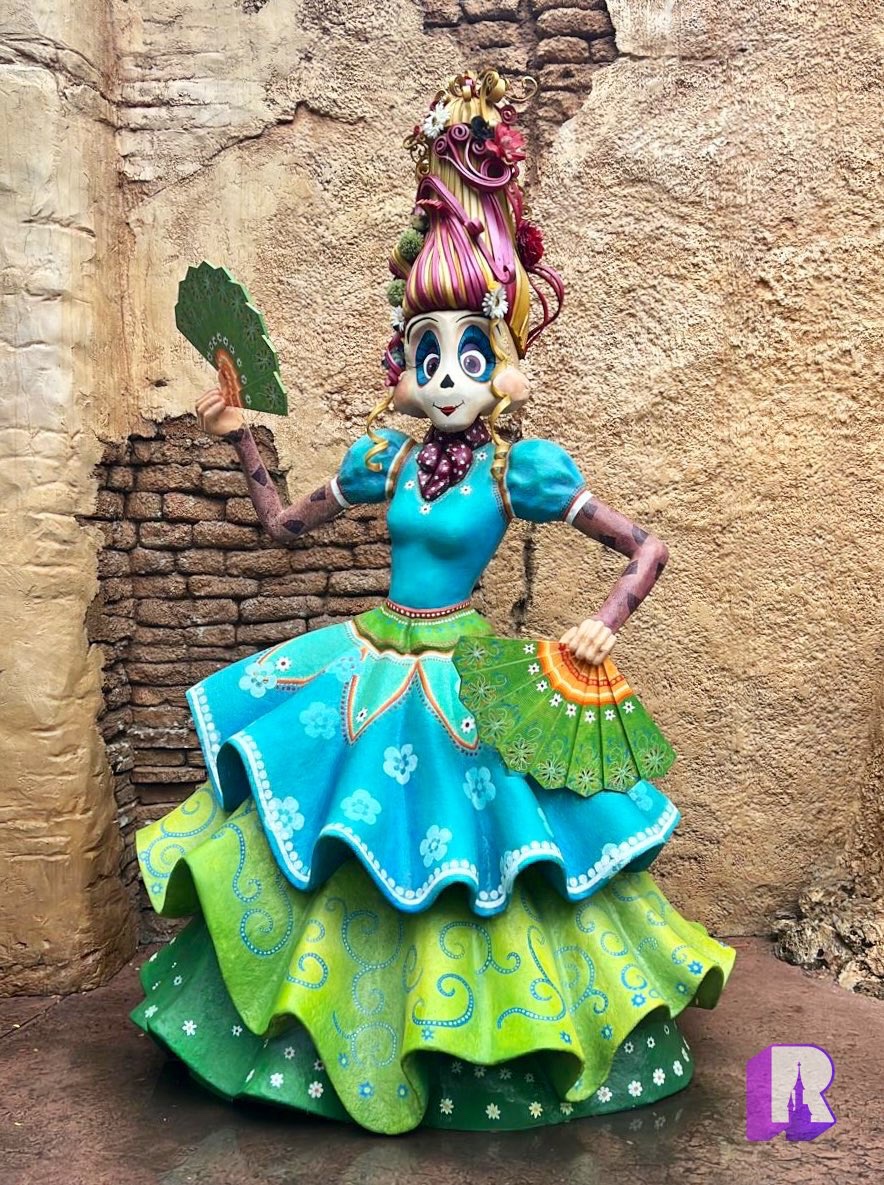 It's Halloween! The first seasonal decorations have started to appear, as usual, in Frontierland this week.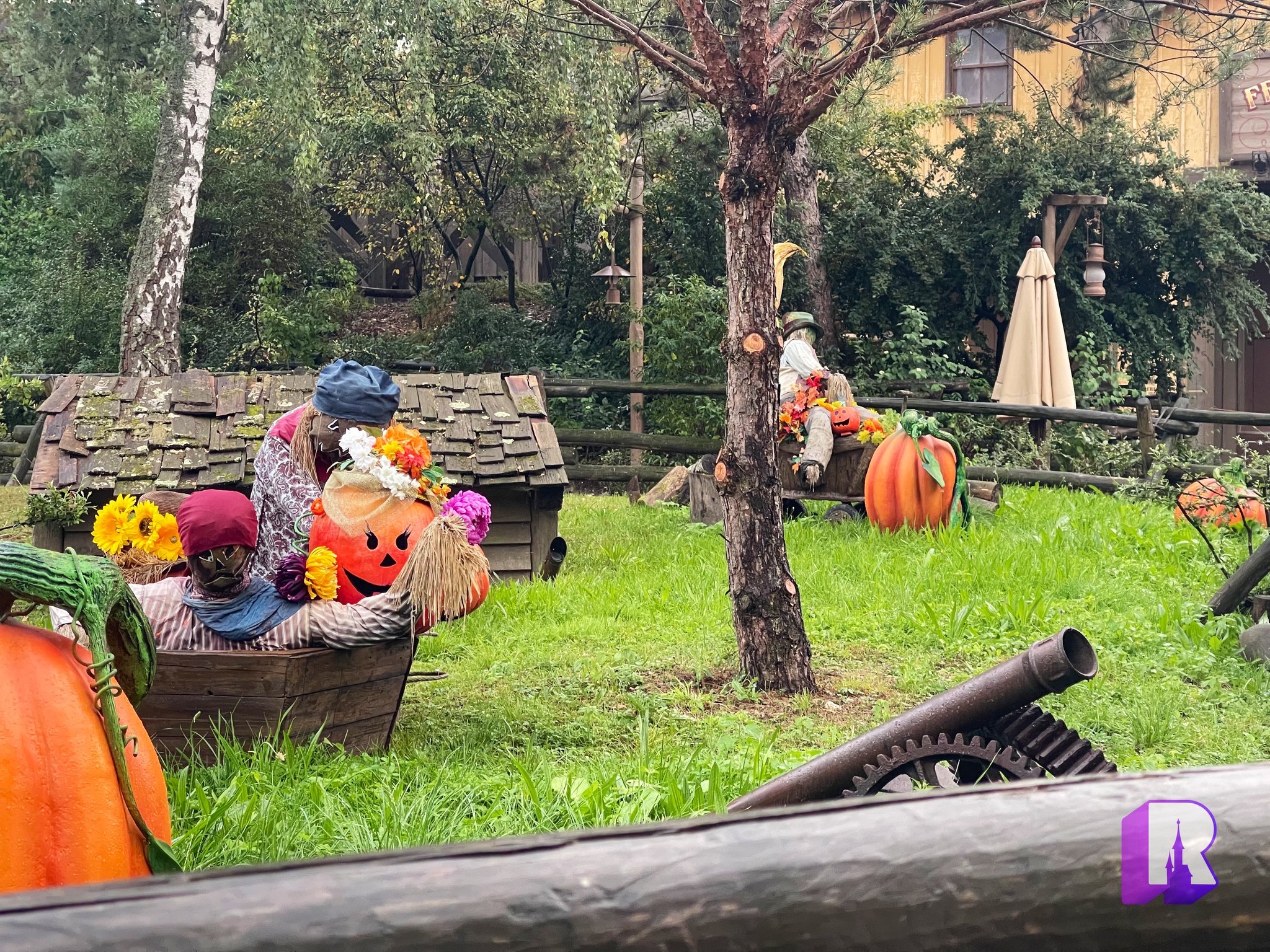 Nothing groundbreaking this year with the return of the usual pumpkin men and women and the Dia De Los Muertos statues.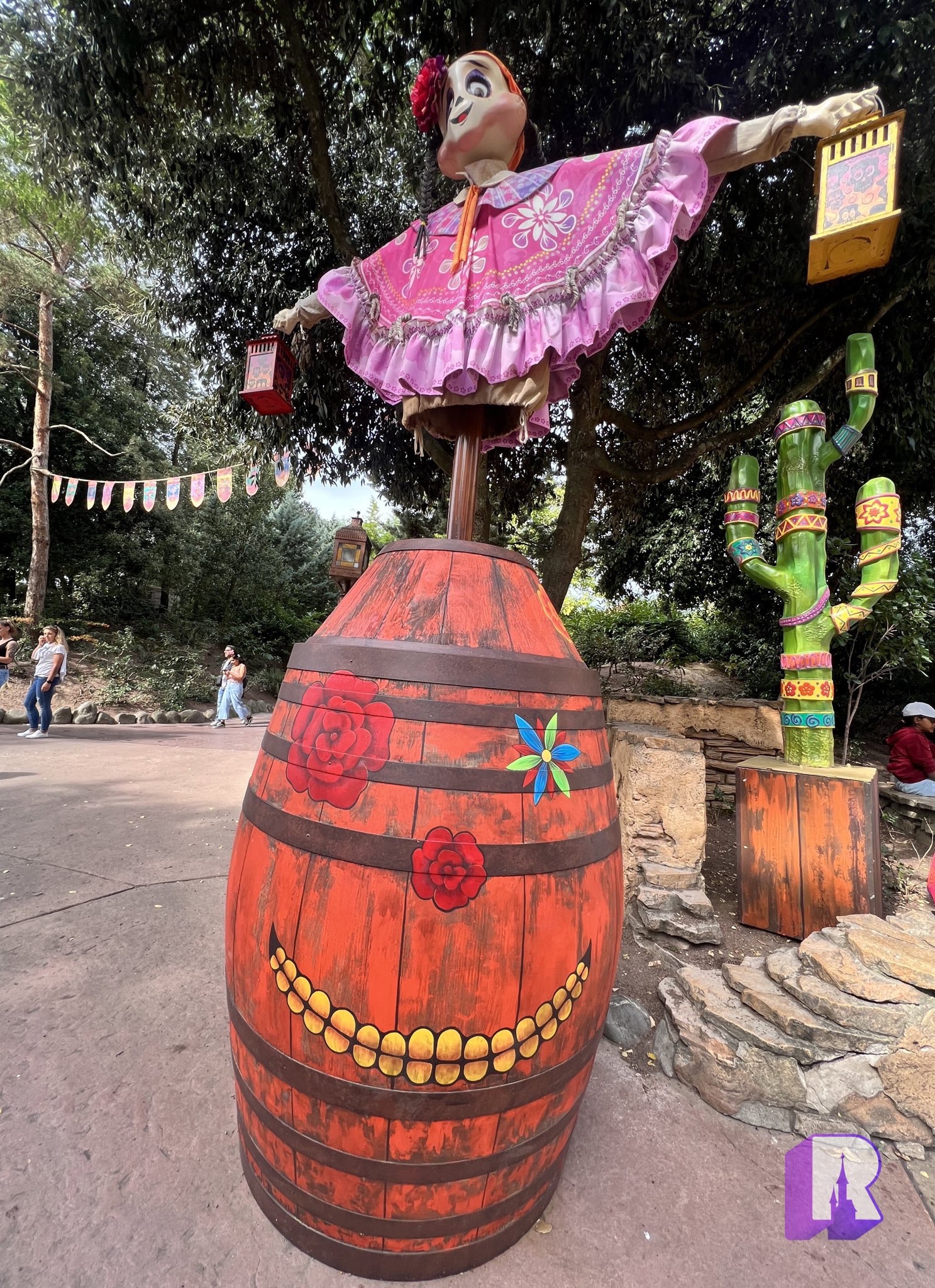 Seemingly the only new things of the entire season are these "themed" supports…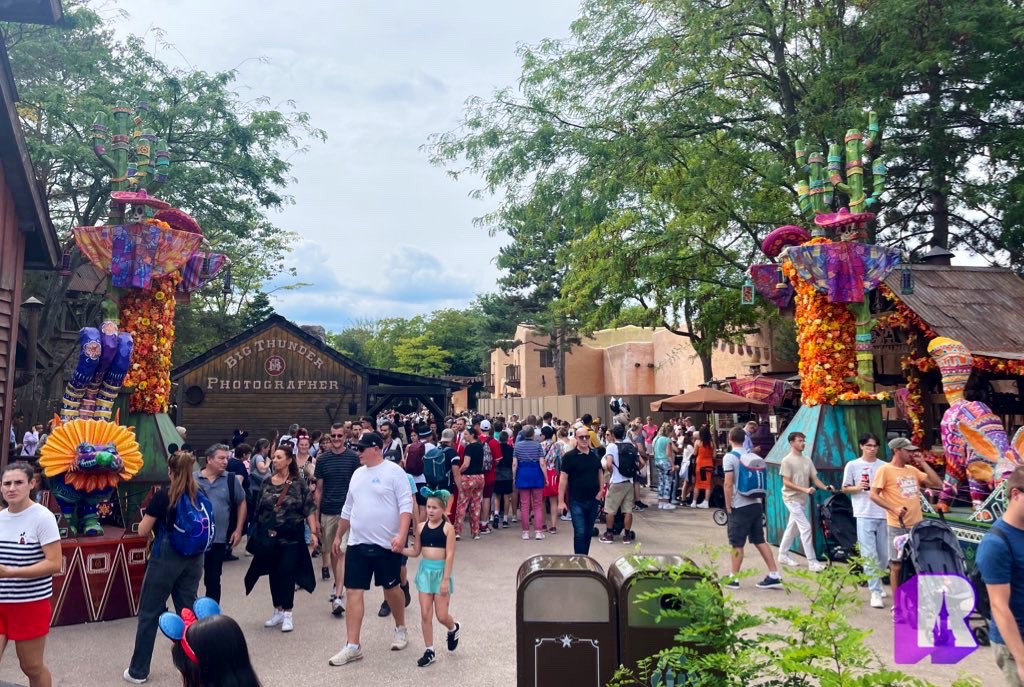 Sadly it looks like we're not getting the flowery arche or the colorful lights and flags this year as installation is complete.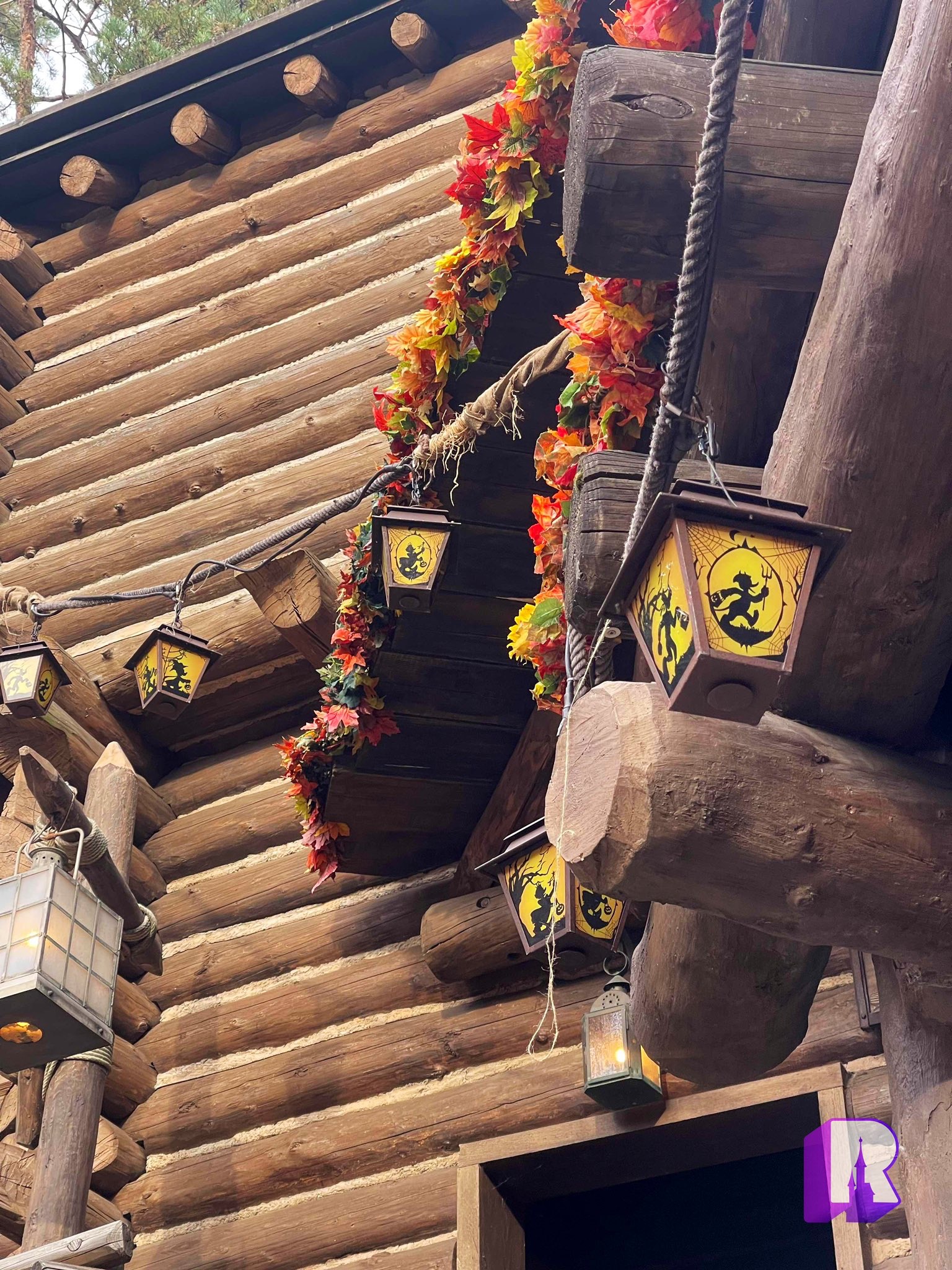 Bieber we're still getting these cute themed lanterns. Halloween will continue to get installed in the coming weeks with Main Street, before the season starts on Oct 1.
Construction and Refurbishments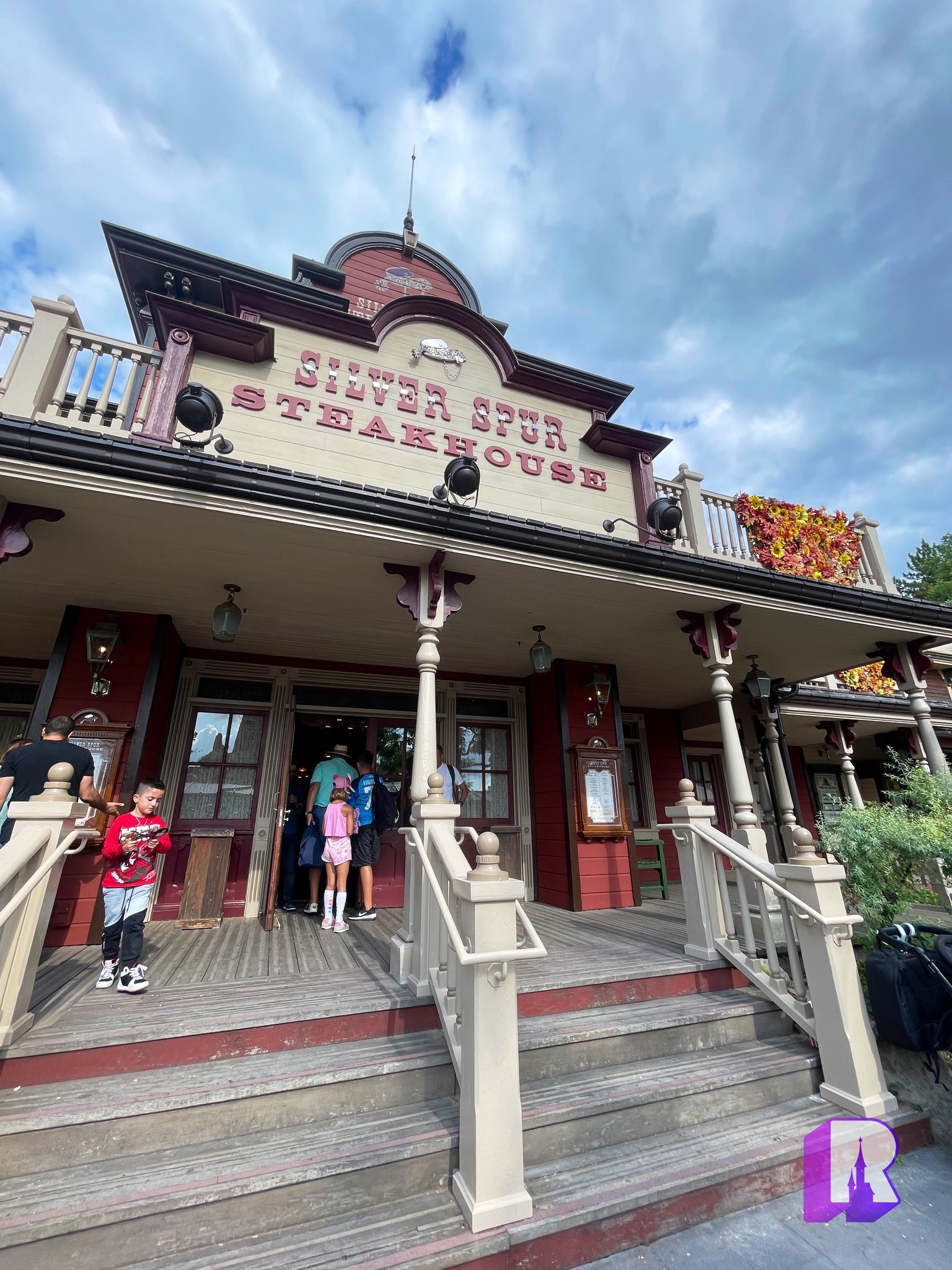 Silver Spur Steakhouse in Frontierland has reopened from a 3 month refurbishment. Not a lot of new but the kitchen has probably been upgraded.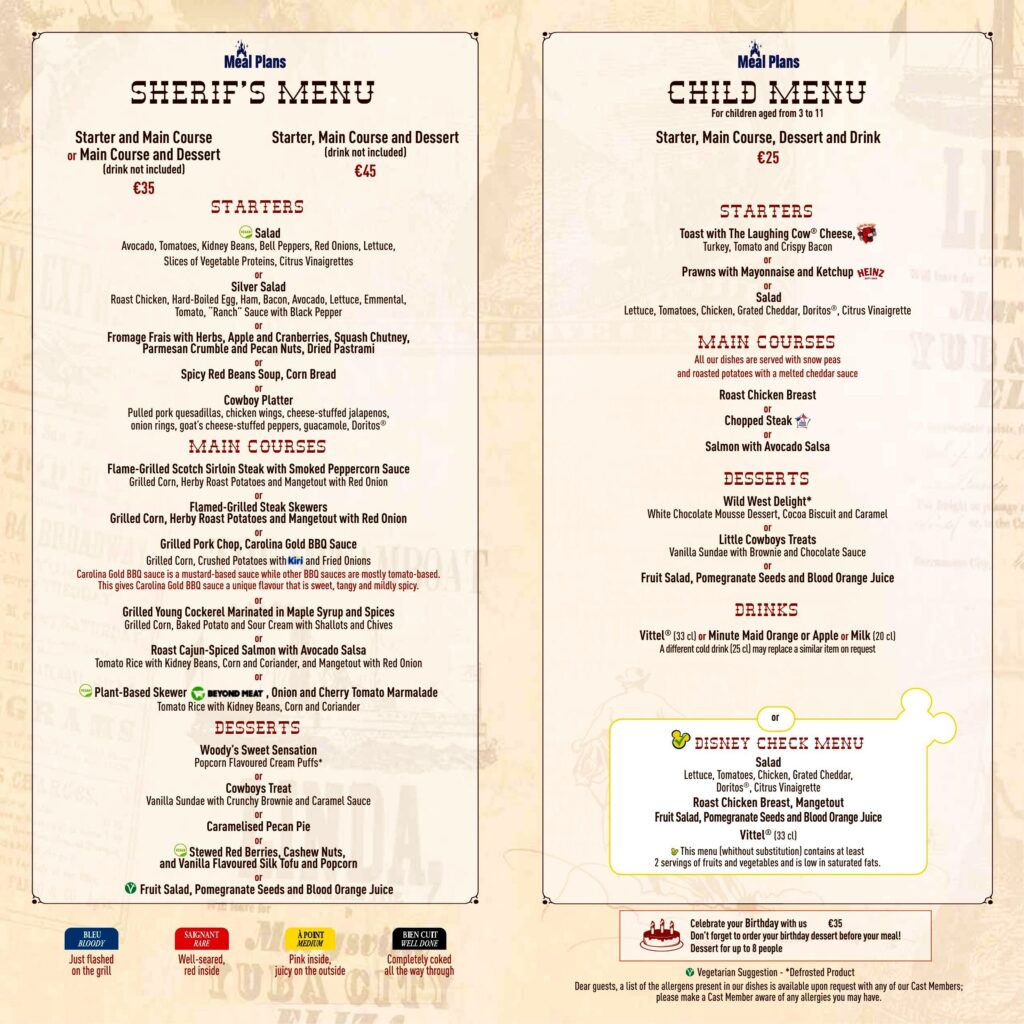 The restaurant also has an updated menu.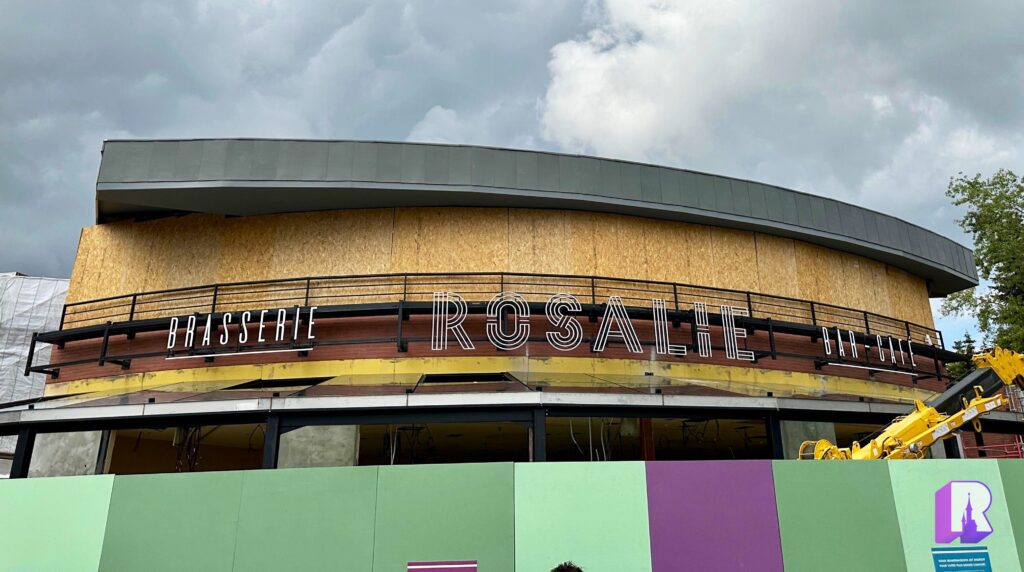 At Disney Village, signage for the new Brasserie Rosalie restaurant has been installed.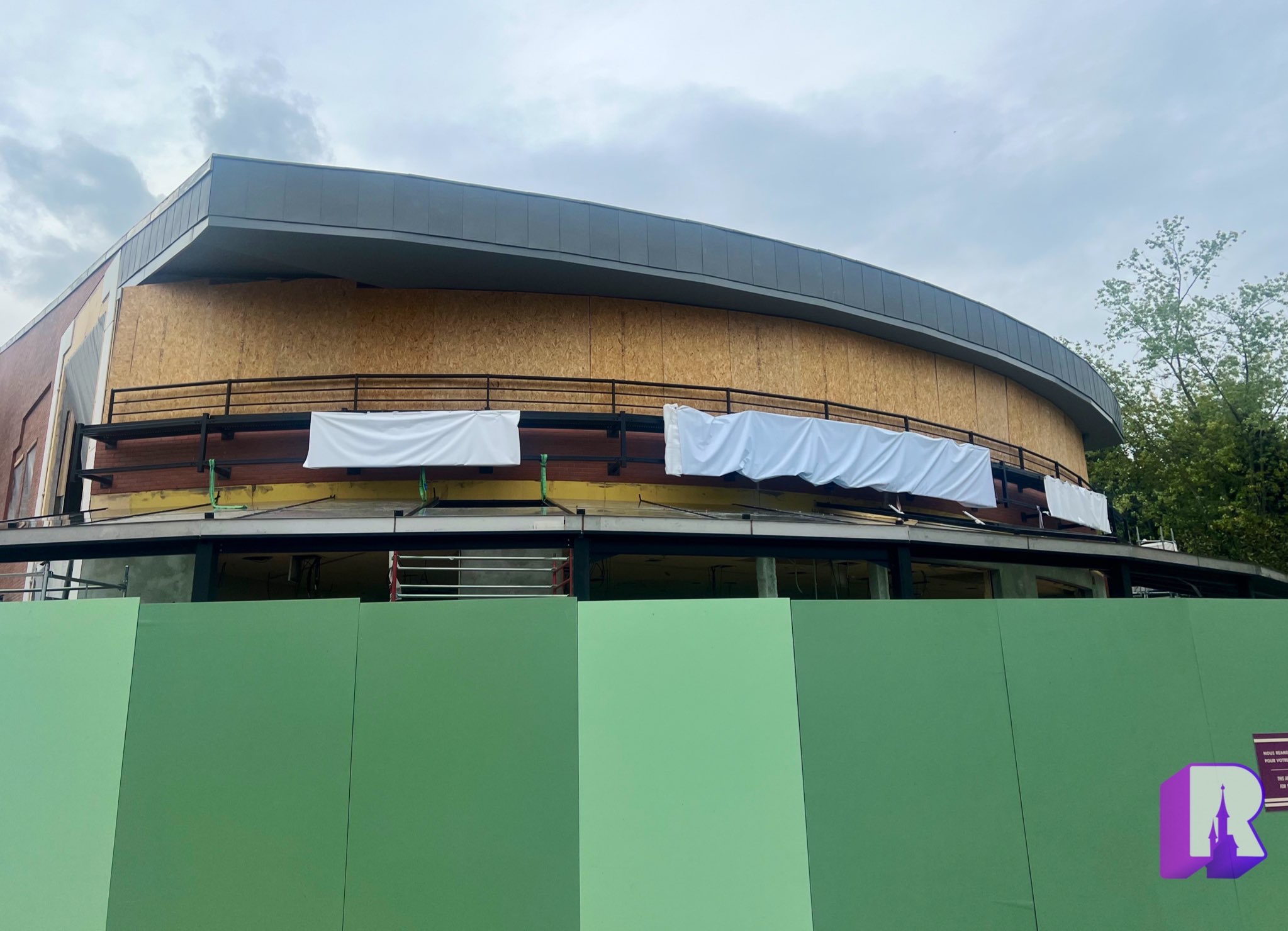 And quickly hidden with the nearest bedsheets LOL. The restaurant is set to open in December.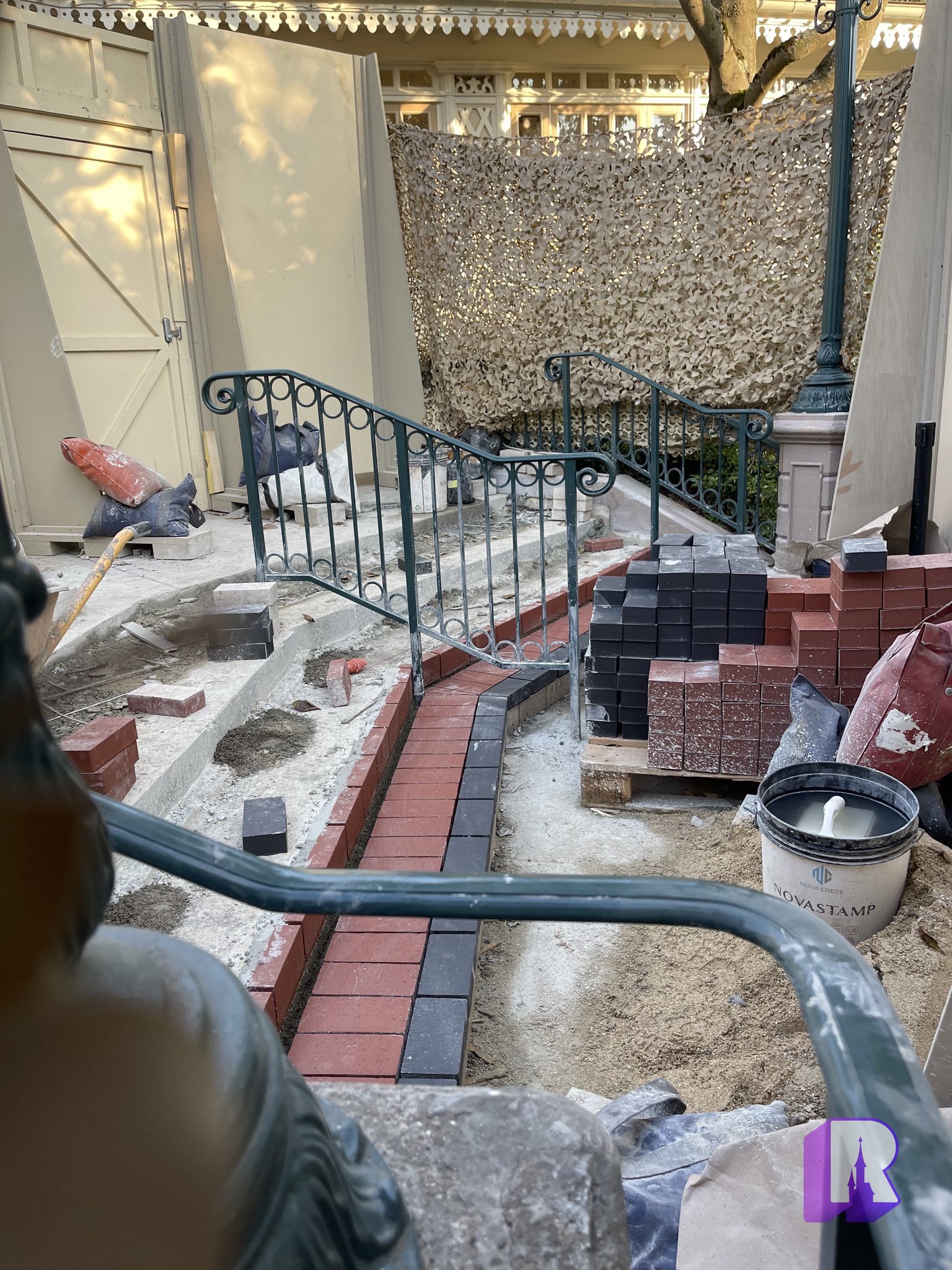 In Plaza Gardens, the steps are being redone and repaved. Part of the overall repaving era.
This and That..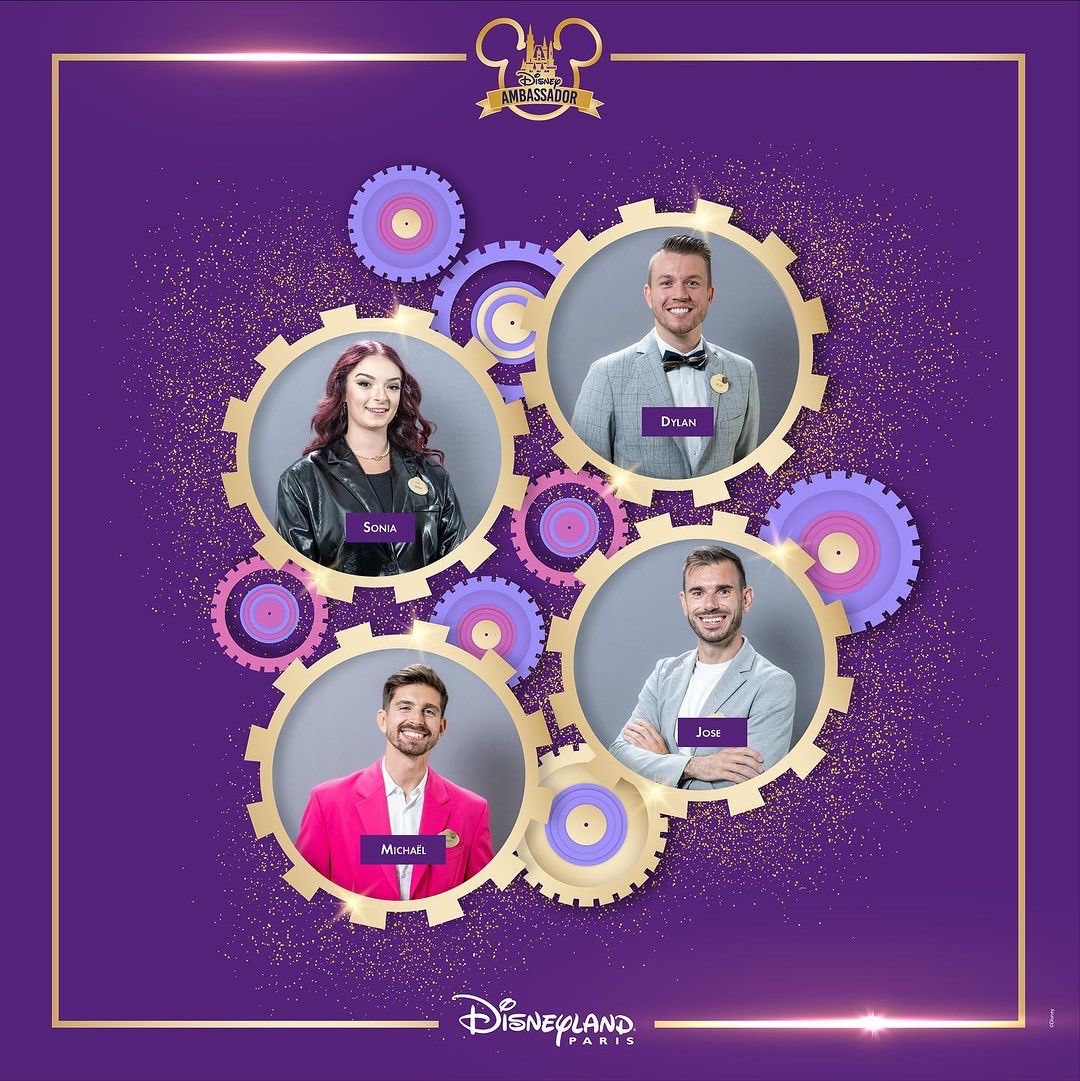 Disneyland Paris has announced the finalists of the 2024-25 Ambassador Program: congratulations Dylan, Michaël, Jose and Sonia!
Two of them will snatch the crown on September 21.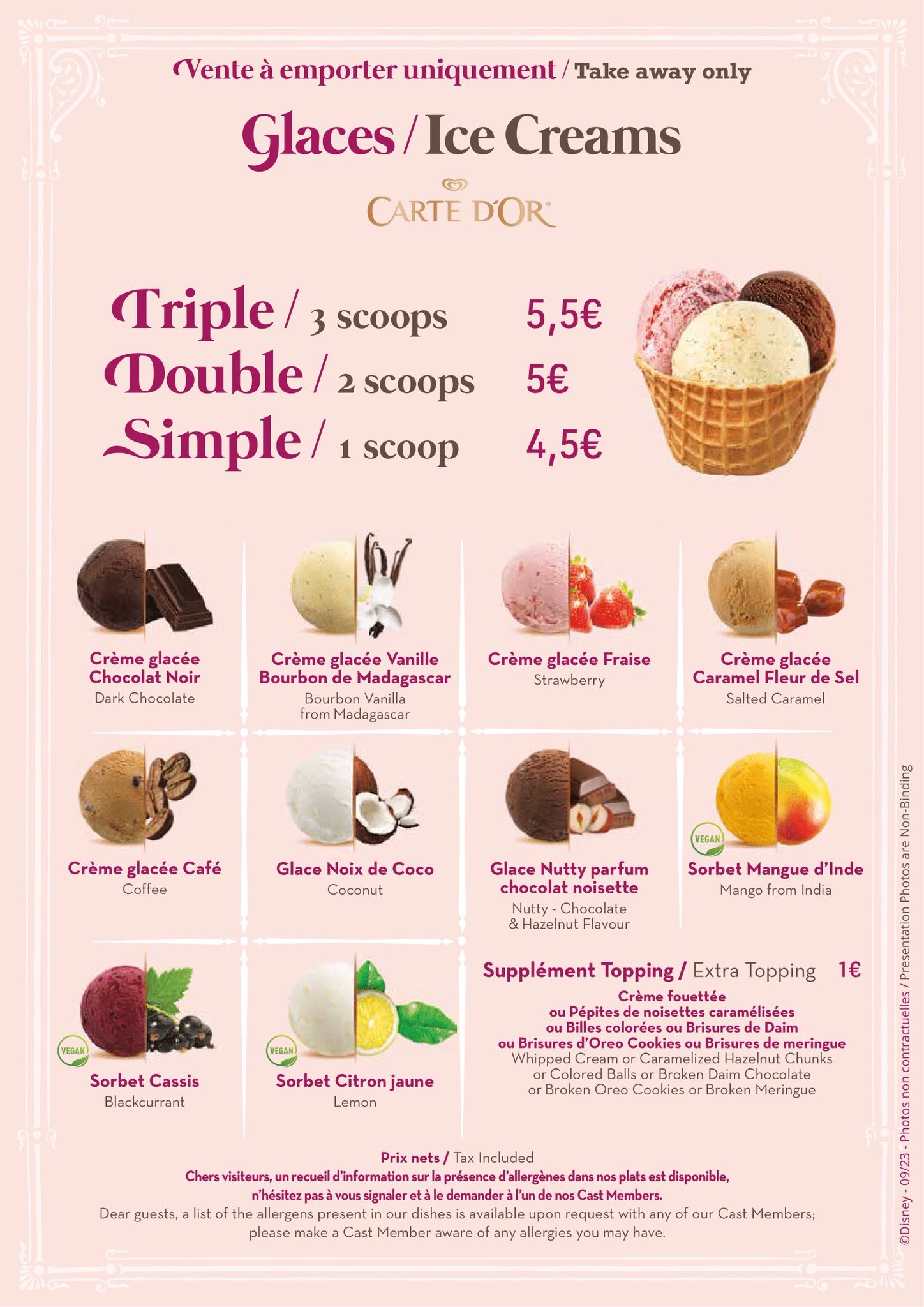 Gibson Girl Ice Cream Parlor is losing the Ben & Jerry's sponsorship and products. The location now serves Carte d'Or.
Flavors are basic and scoops have increased €0.50. 30th Anniversary ice creams are gone but there's still the Lotso Ice Cream which increased €3 to €8.50.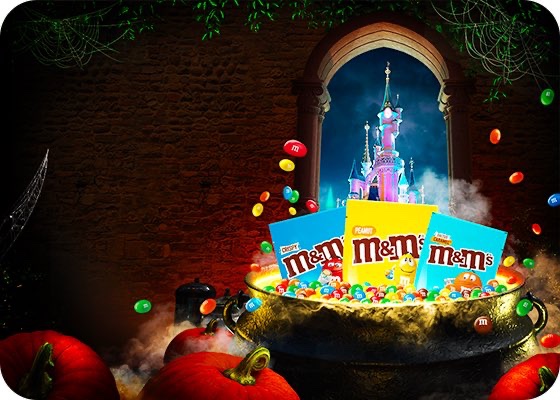 And this Halloween Season, official partner Mars will present a special "M&M's Challenge" activation at Disney Village from Oct 21 to Nov 5.
And that's our wrap up of everything notable this week at Disneyland Paris! Thank you for reading and sharing and I will see you again next week with, amongst other things, the announcement of the new Disneyland Paris Ambassadors team.