Welcome to a new edition of the DLP Report! This week was the 2023 edition of Disneyland Paris Pride, filled with fun and drama. We also got more news about Disney Village, and take a look at the latest projects around the Resort.
Disney Village

So here it is. The super long, kinda barebone new concept art for the Disney Village remodel shared by Disney. We knew about Brasserie Rosalie to the right but the rest of the facade had never been shown. One thing is striking- this whole thing is really a facade remodel. The style is what it is – it's not bad, it's not particularly inspiring but at least, when done, it will be clean and coherent. Disney and no incentive to make this free-to-access area magical or inspiring: this is the fun after hours or on the way to the parks place and as such it will probably do a decent job. The magic is for inside the parks and (some) hotels.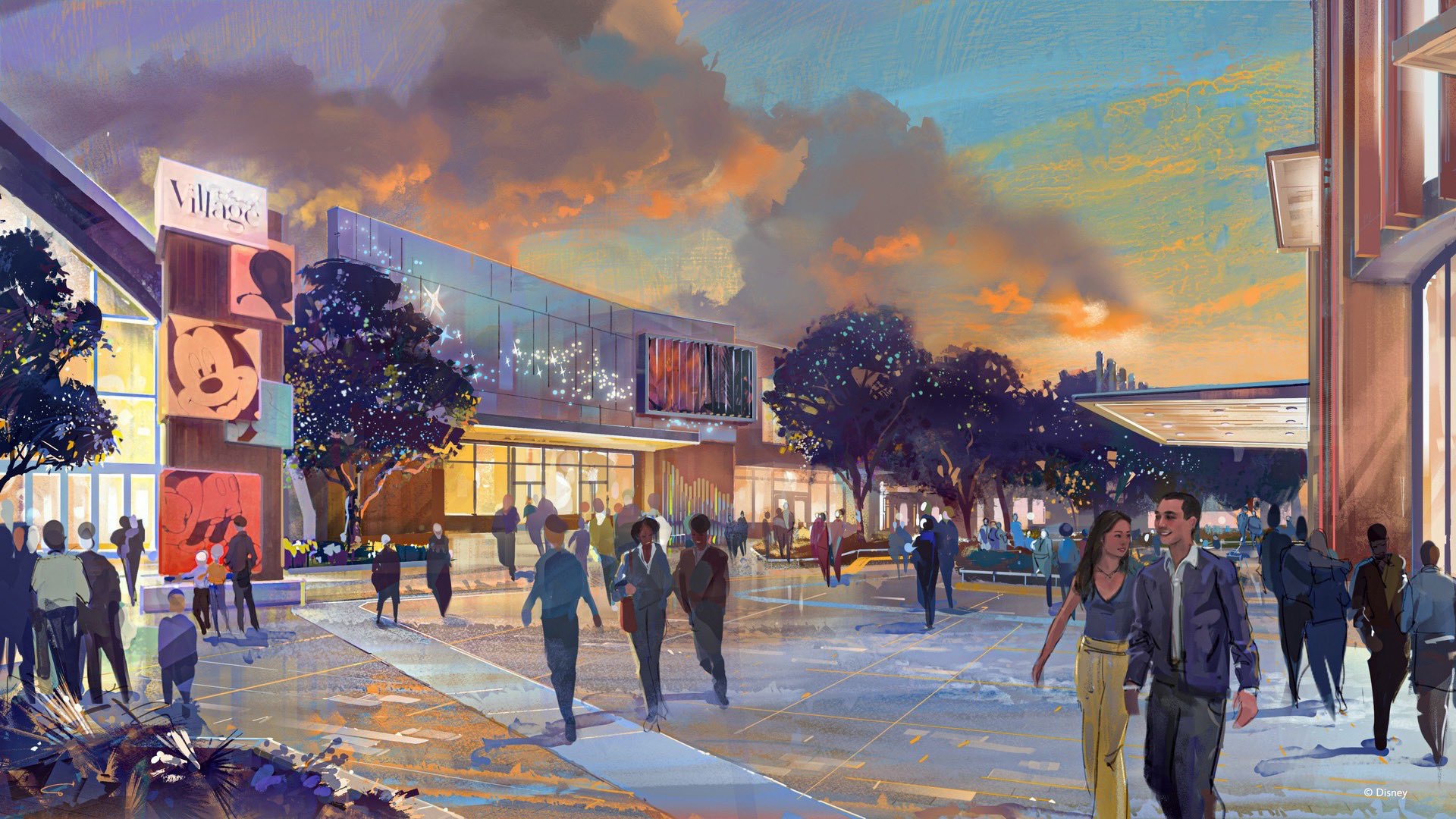 We also got a but more "copy" regarding the idea and the projects being developed for Disney Village: "Once completed, the shops will feature new shopping concepts such as Fashion & Lifestyle, Home Décor, Disney Art & Collectibles, and the major Disney, Pixar, Marvel and Star Wars franchises. The shops will include new layouts, fittings and decoration. The work also includes brand new facades to give Disney Village a new, more contemporary and inviting visual identity, with natural tones mixing wood, brick and metal, creating a dynamic and unified impression. Large awnings will also protect guests from inclement weather." So there you have it.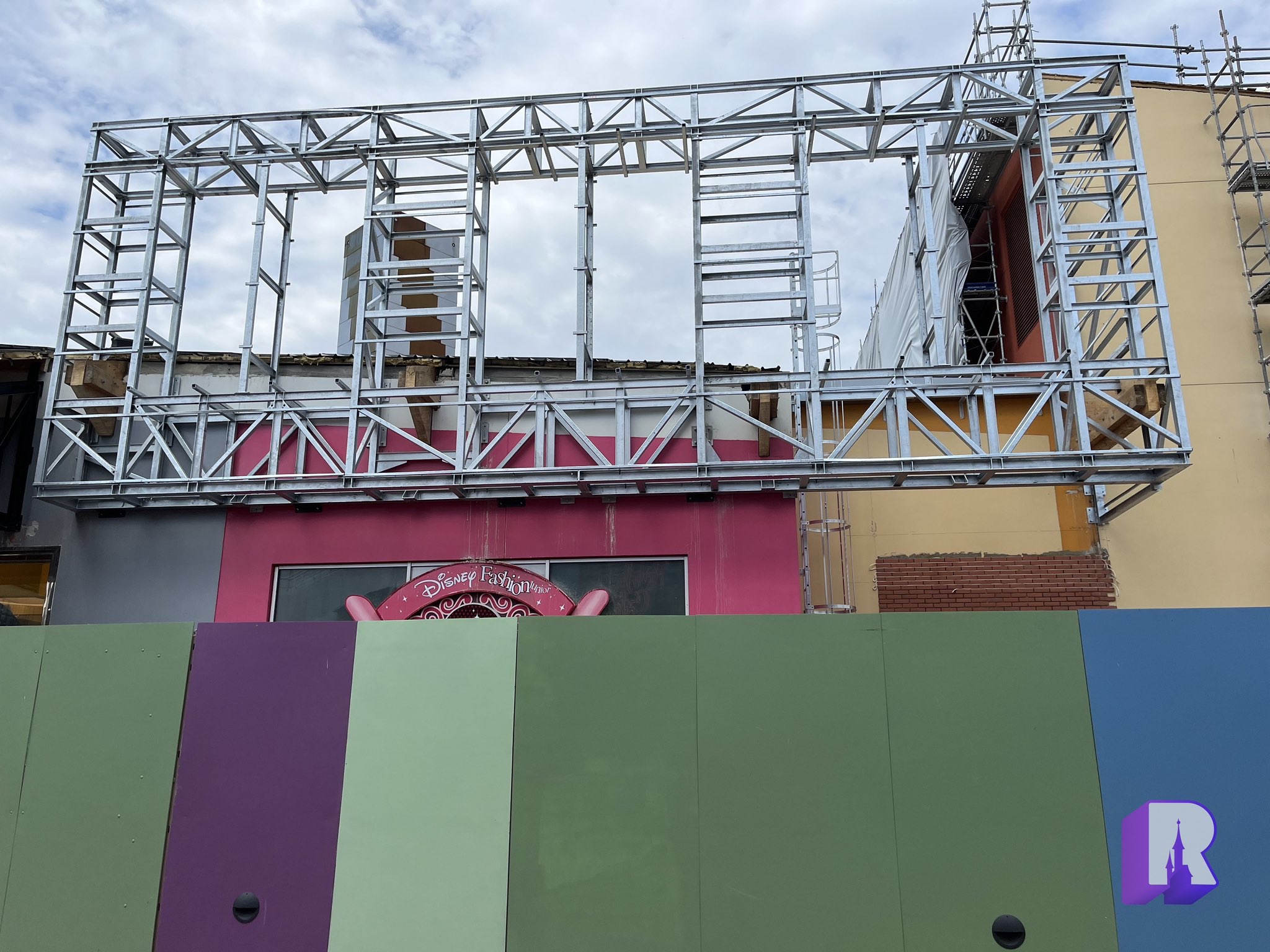 On site, metallic structures for these "fake windows" are already in place. We now know what they will look like.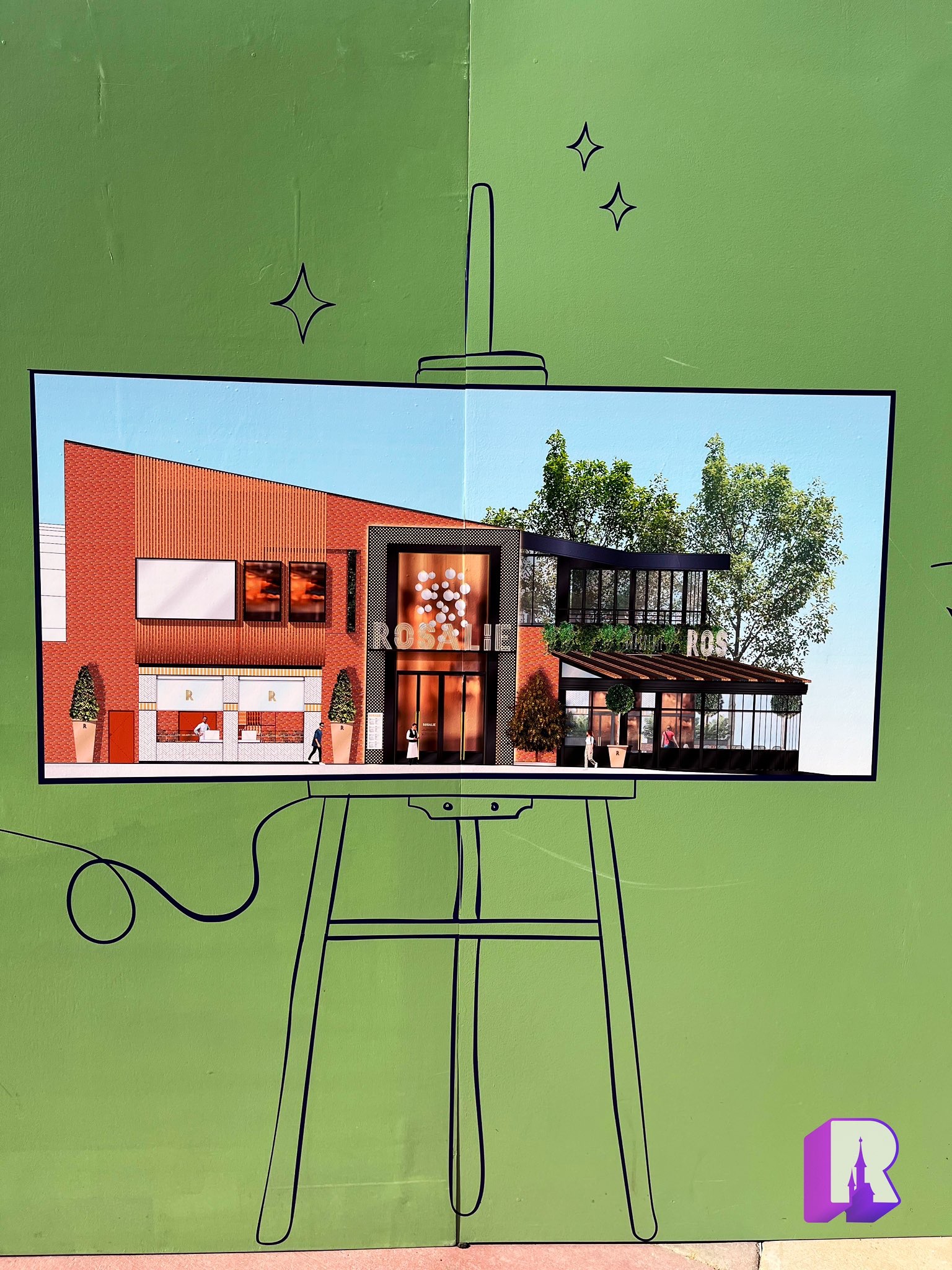 Concept art and a few doodles were also added to the construction walls, at least for Brasserie Rosalie.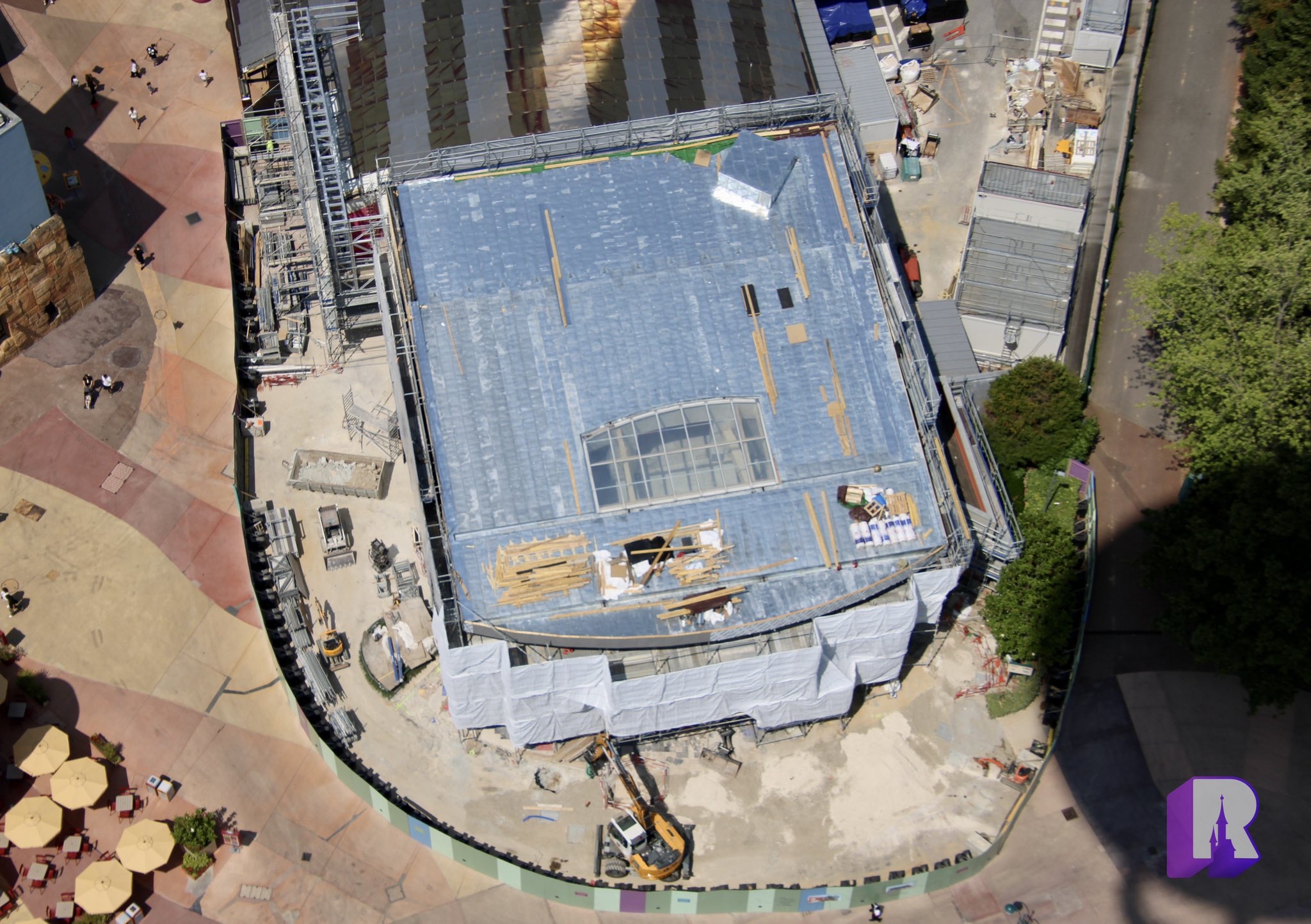 Talking about Miss Rose, we took a look from above and the building is slowly coming together. You can see that facade is really a cover up for the old building which is staying, albeit with the front sliced off.
Disney estimates works will take two years from early 2024 so we can expect the final result by early 2026.
Disneyland Paris Pride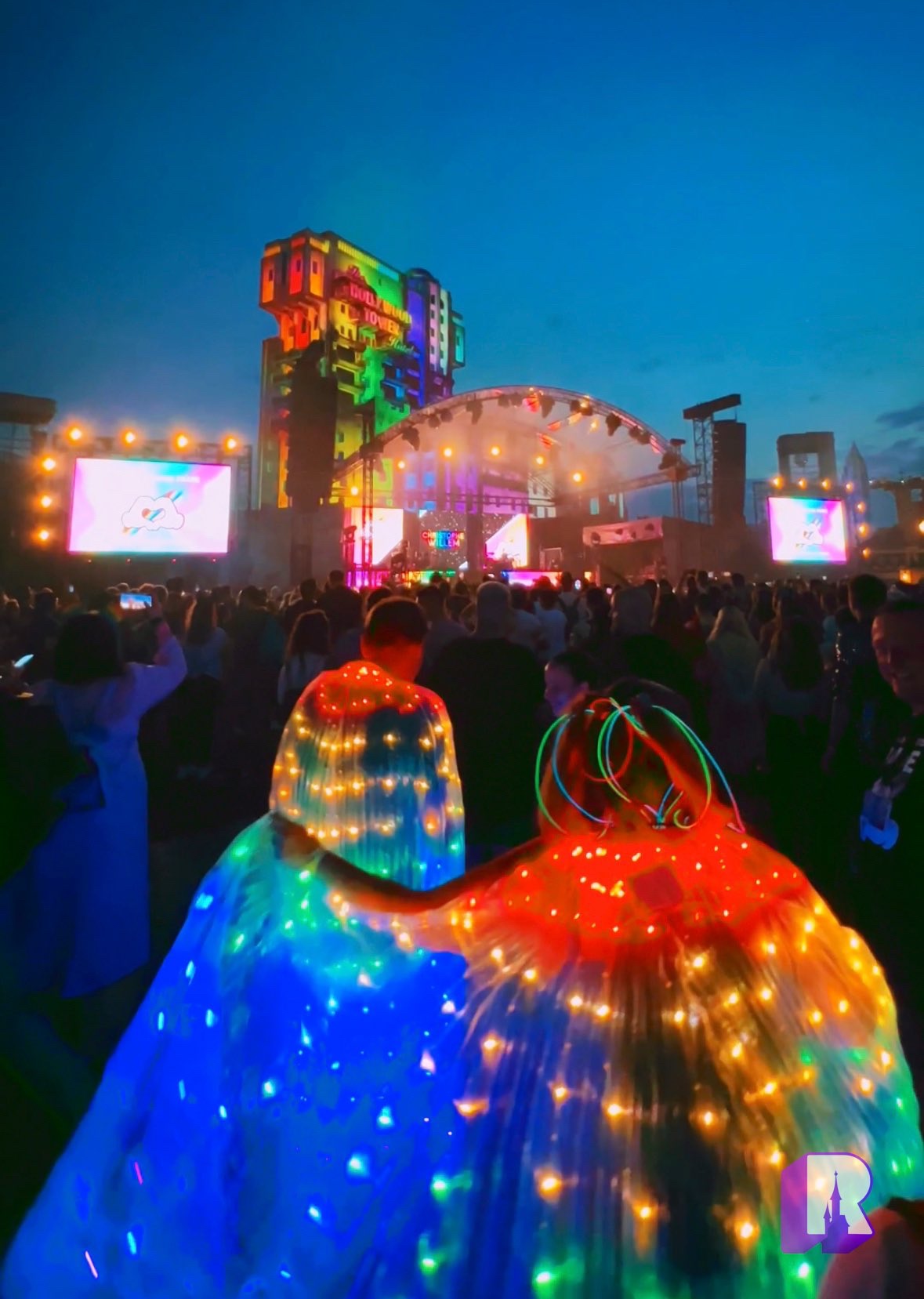 This weekend was the 2023 edition of the Disneyland Paris Pride special event, celebrating diversity and inclusion at the Resort.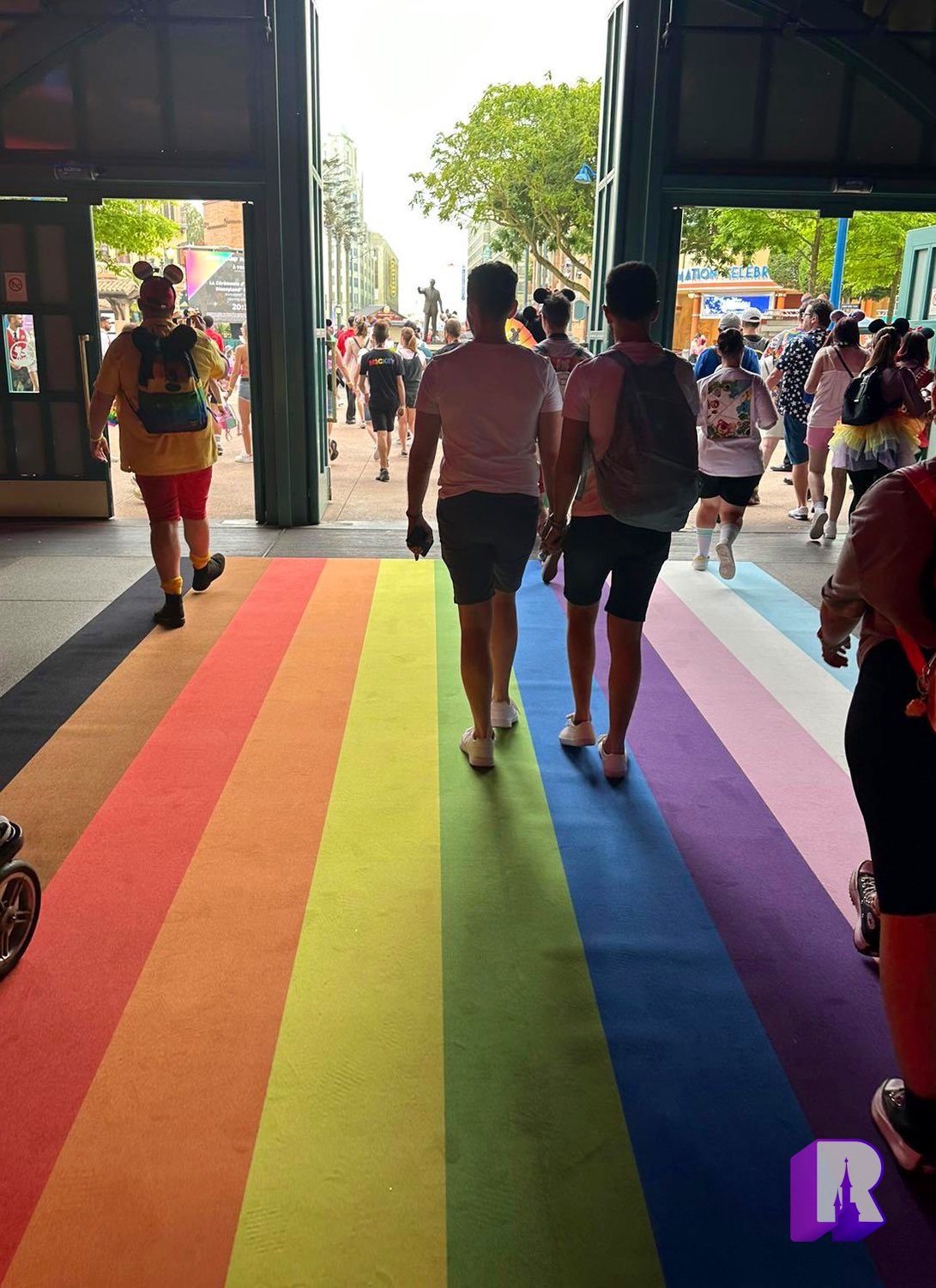 A lot of special sets and decorations were installed, including a long rainbow carpet in Studio 1, new this year. This party is special in the sense that Guests and Cast Members are absolutely lovely and bring such a wonderful atmosphere to the park, something the operational issue never diminish (more on that later!). So thank you to everyone who attended, the Cast and Disney Friends!
Talking about Disney Friends – what an opening number!
The "Colorful Pride March" was performed again this year – and it's always nice to see Disney Friends and cast Members perform. This year the music was remixed and we also welcomed Clarice in a new dress!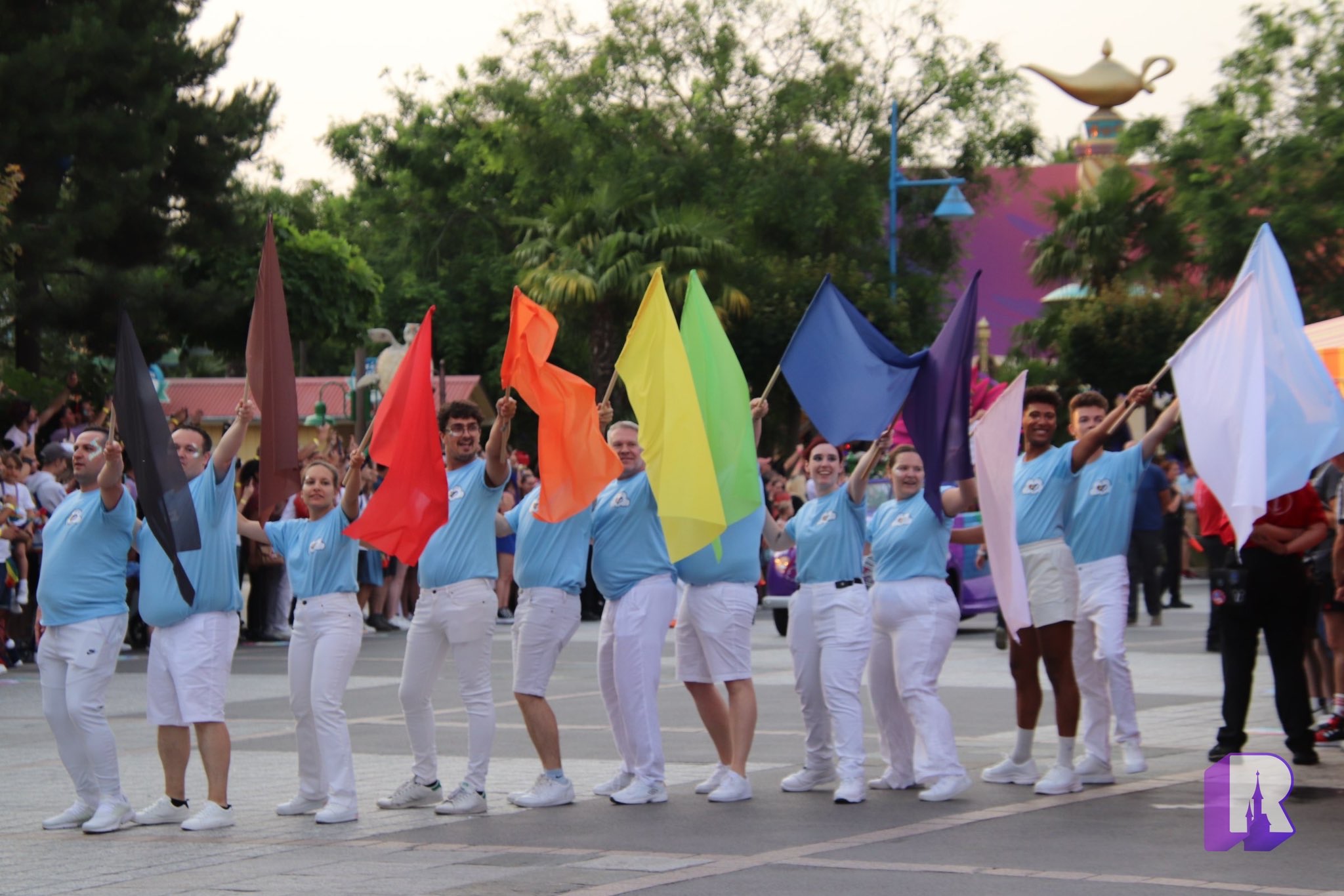 Now off to Character activities..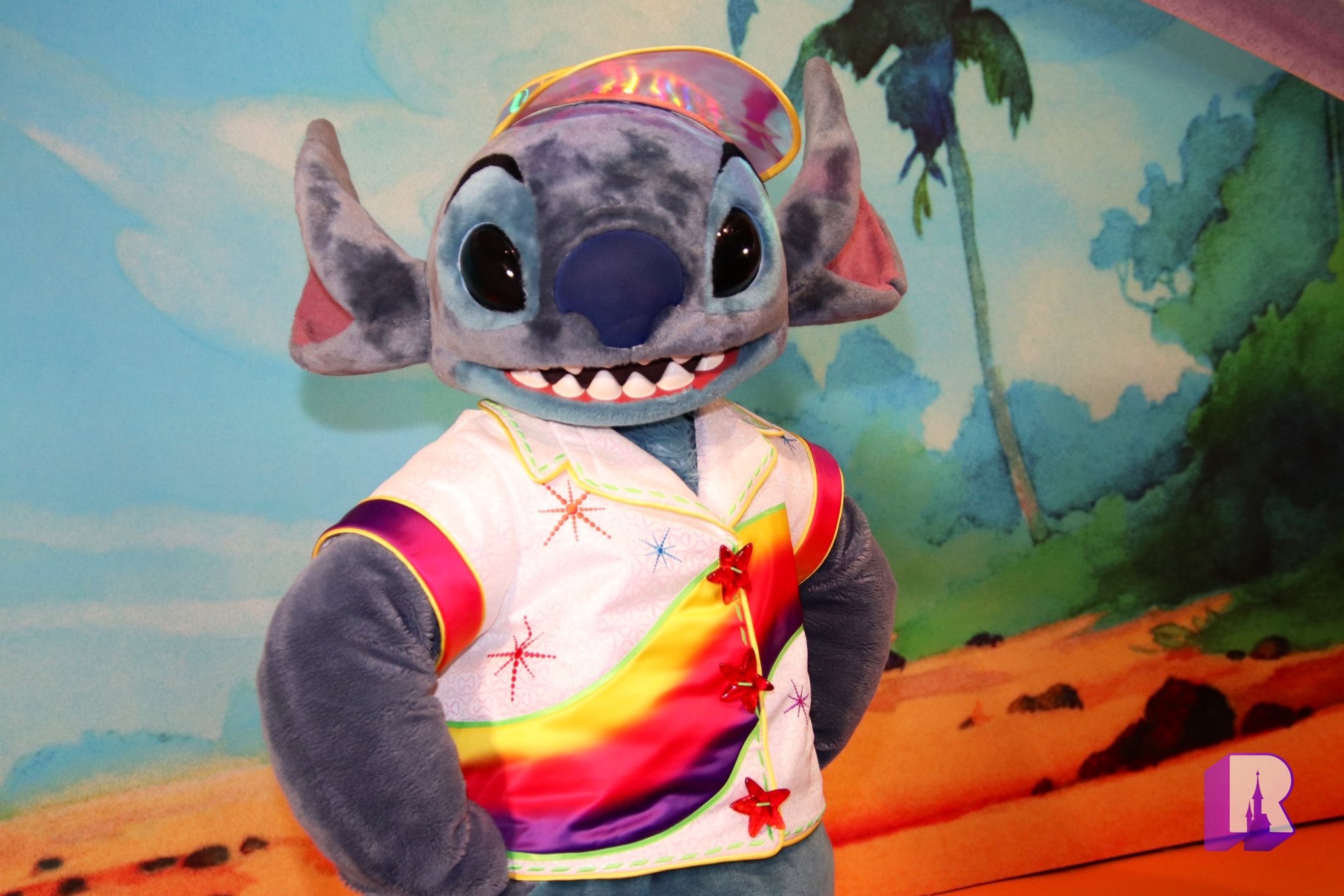 Several rare characters were out meeting Guests including Edna, Emile, Marie and Stitch in a new outfit this year.. with an extremely long queue. Sadly all the VIPs in Studio 1 were in "selfie spot" mode, something Guests generally don't want anymore. Disney Friends did realize thankfully and performed some fantastic runway dances which really made Studio 1 the center of the party.
So maybe some constant performing / runway is better for this party, or speedier traditional meets with attendants that really do insist that Guests take a few seconds per group, like in the US Parks.
On top of the various operational messes, the main stage also had issues. After waiting for over an hour, Guests were told by Emmanuel Lenormand that Calum Scott, one of the headliners that many Guests had come to see was canceled. Calum was in the crowd visibly upset and talking to fans. He said he offered to do an acoustic set but Disney refused, likely because at that point the main stage schedule was so late that producers decided to just pull the plug on Calum and his fans. Lots of drama. Lots of disappointed Guests. Jenifer, the final artist, went on as planned.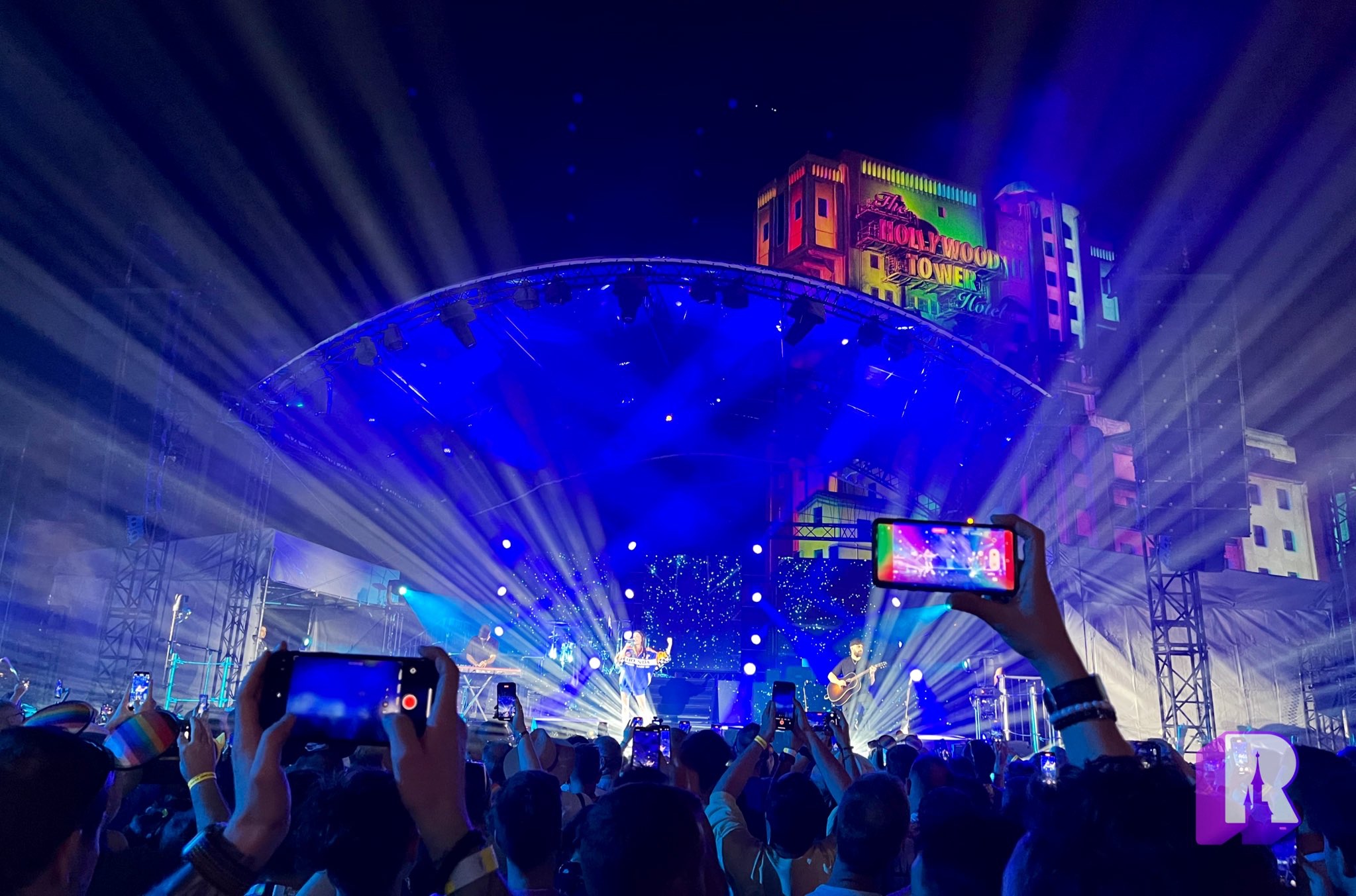 Since the party did not sell very well with rumors of about less than 2/3 of the tickets sold (likely due to the late release of the lineup of performers, and Disneyland Paris' tradition to not release the programme until a few days before – who's gonna pay for something they don't even know what it is?), the ambiance died down later in the night.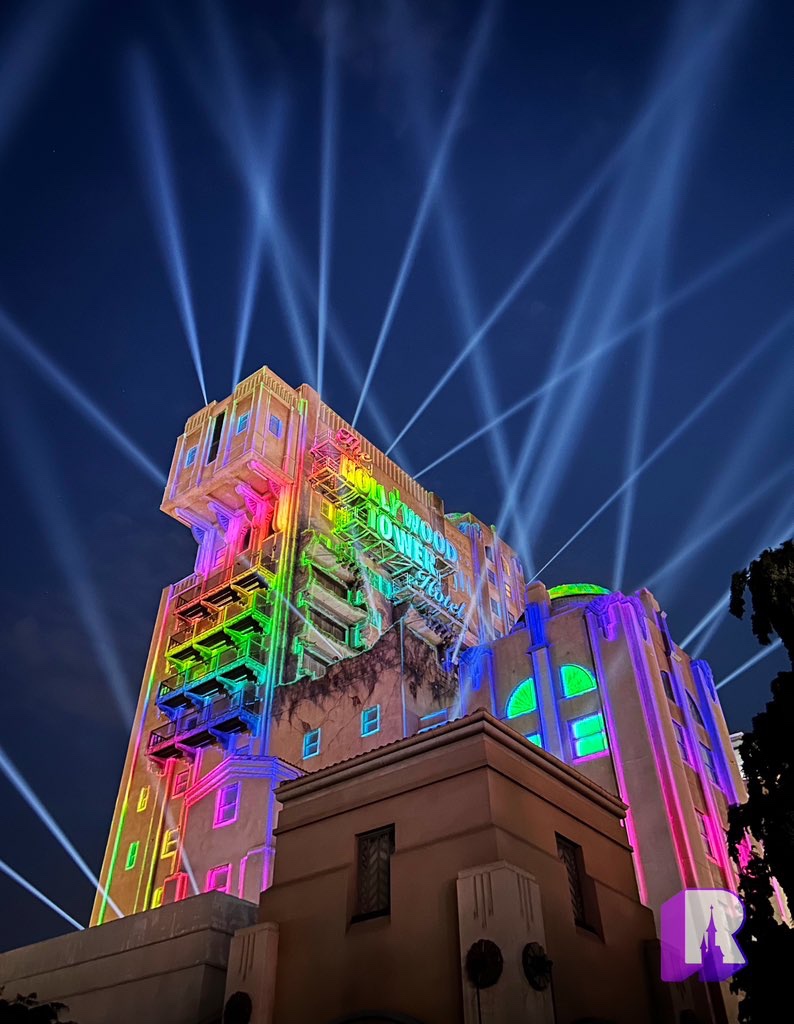 So there you have it – a mixed bag for this edition of Disneyland Paris Pride. Lovely crowd of Guests and Cast celebrating diversity, but once again we're faced with the inability of the Special Events team to understand what Guests want at these parties, and how to implement it without chaos.
Maintenance and Refurbishments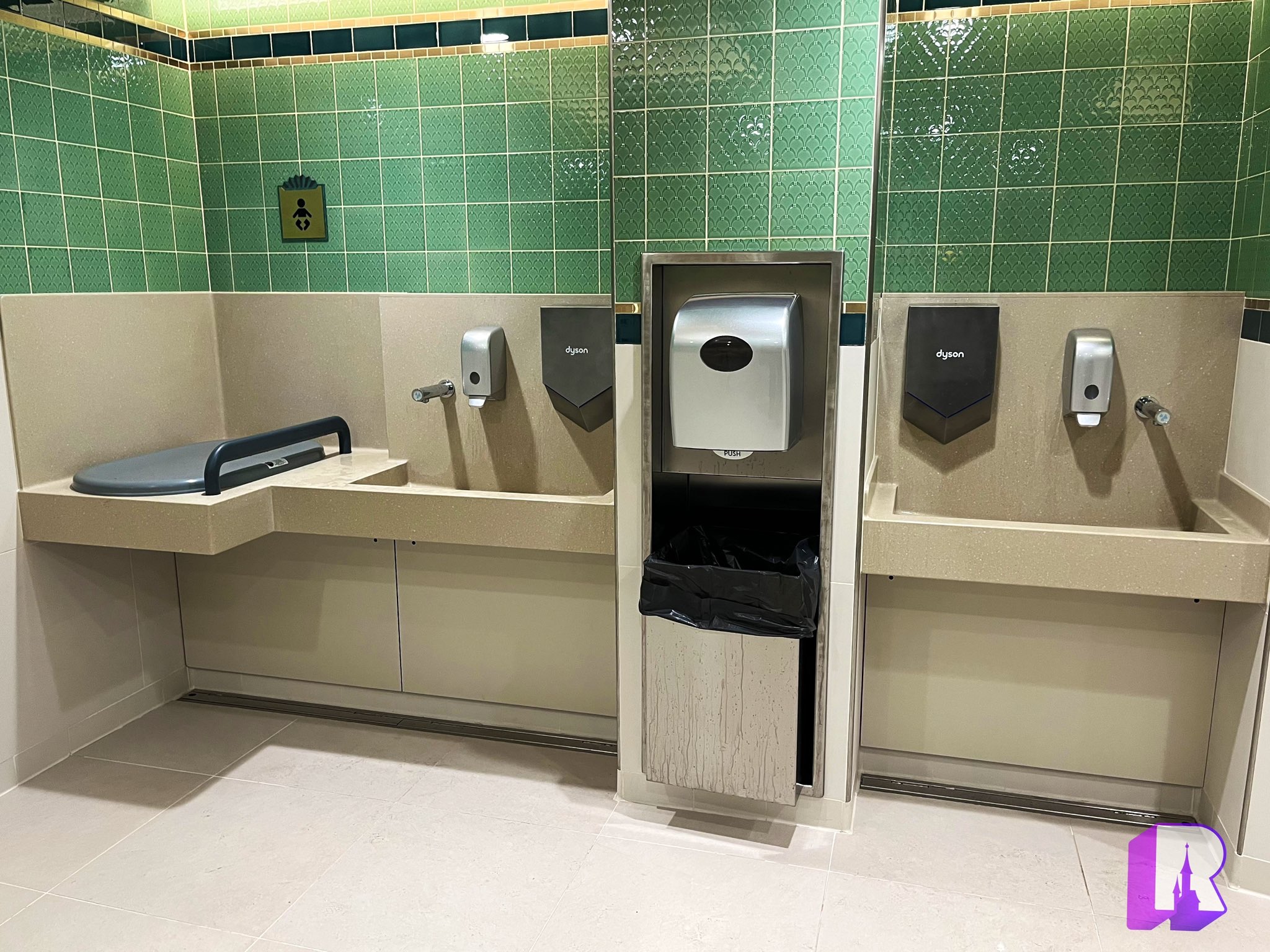 We start with some restrooms breaking news. The Videopolis location has reopened sont new green and gold tiling, new cubicles and appliances. And yes the iconic mirrors are gone.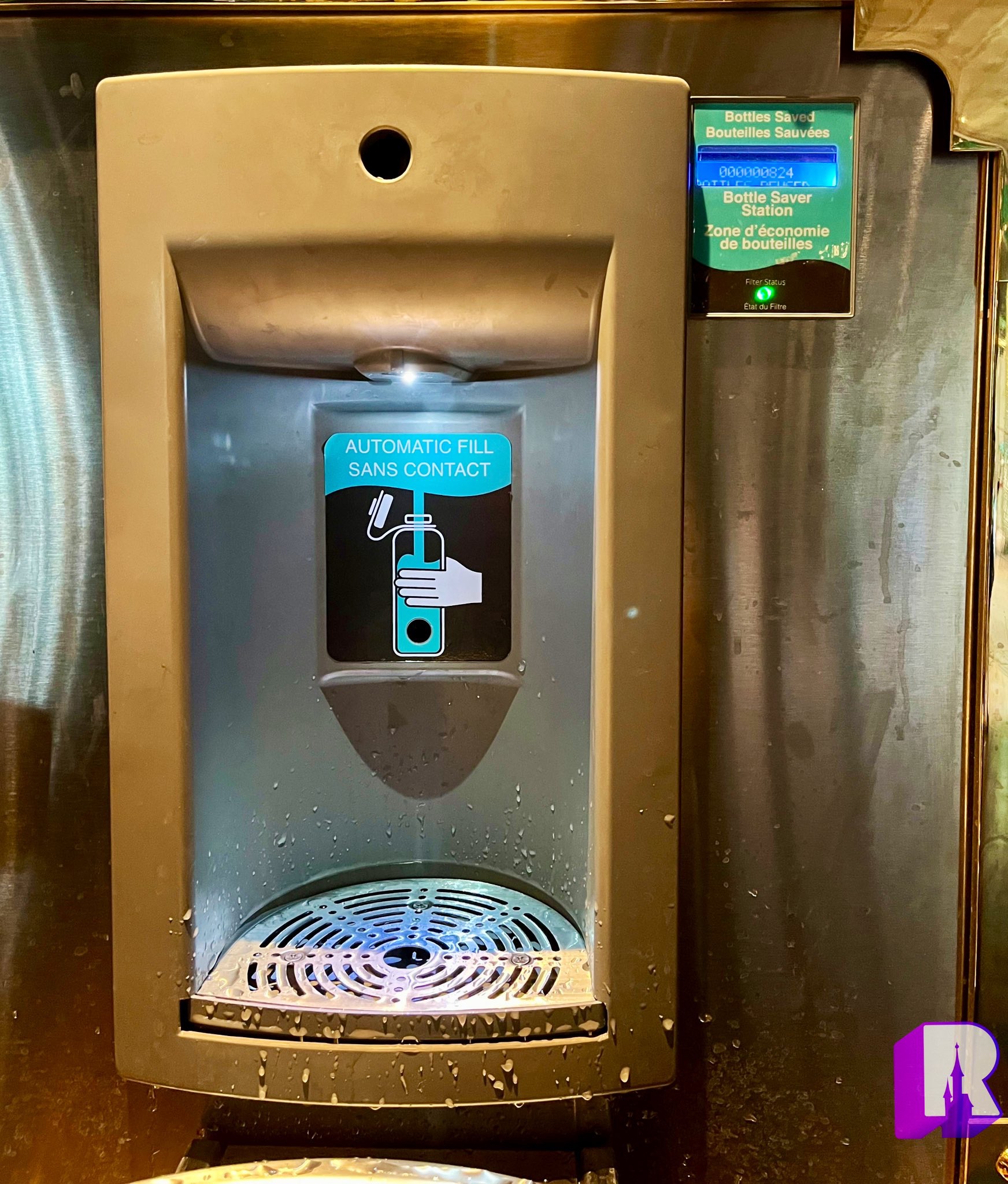 Just outside, a new filtered water bottle filling station has been installed and it's most welcome!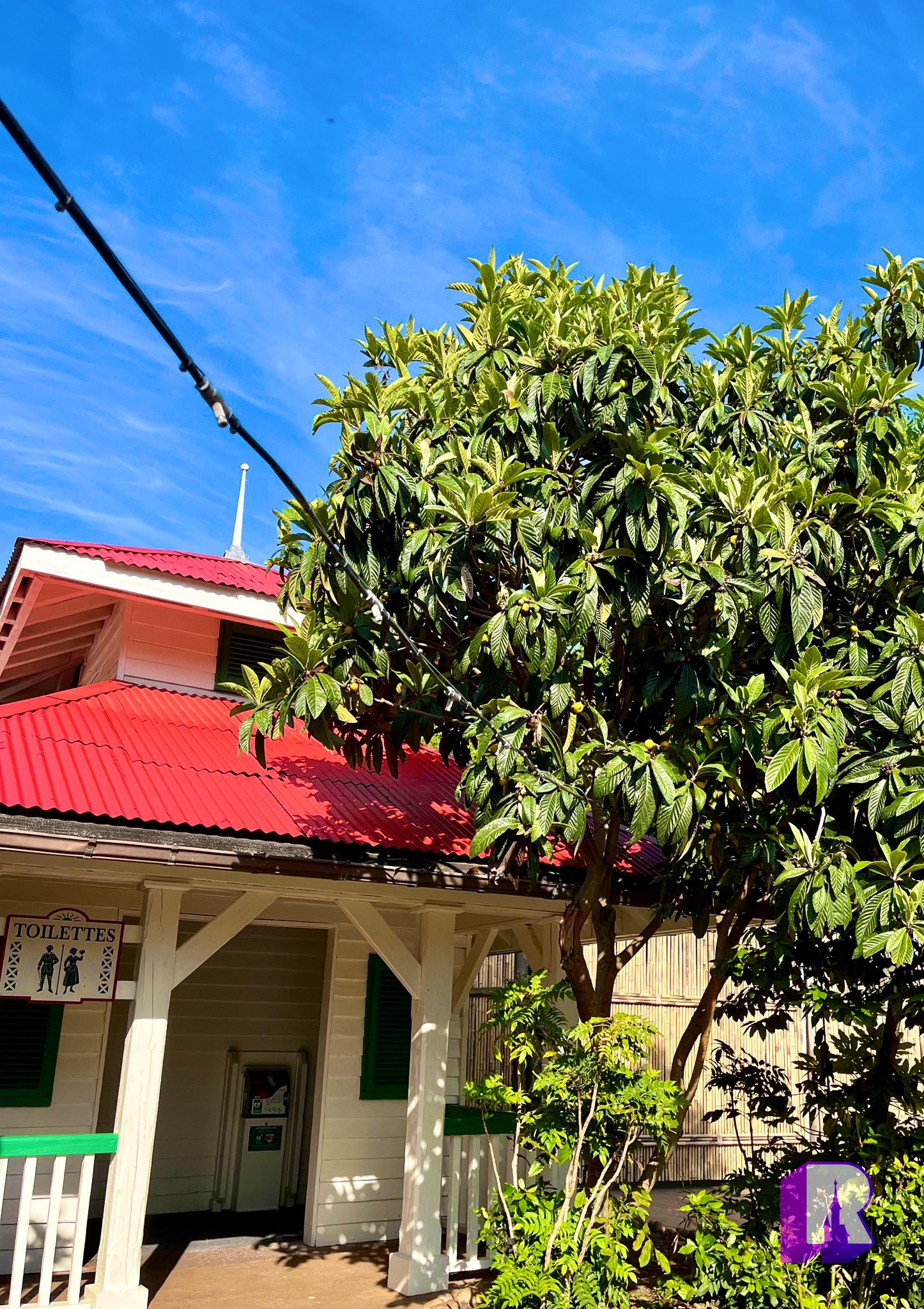 Talking about water, misters have returned in many areas of the parks, for the warmer days ahead.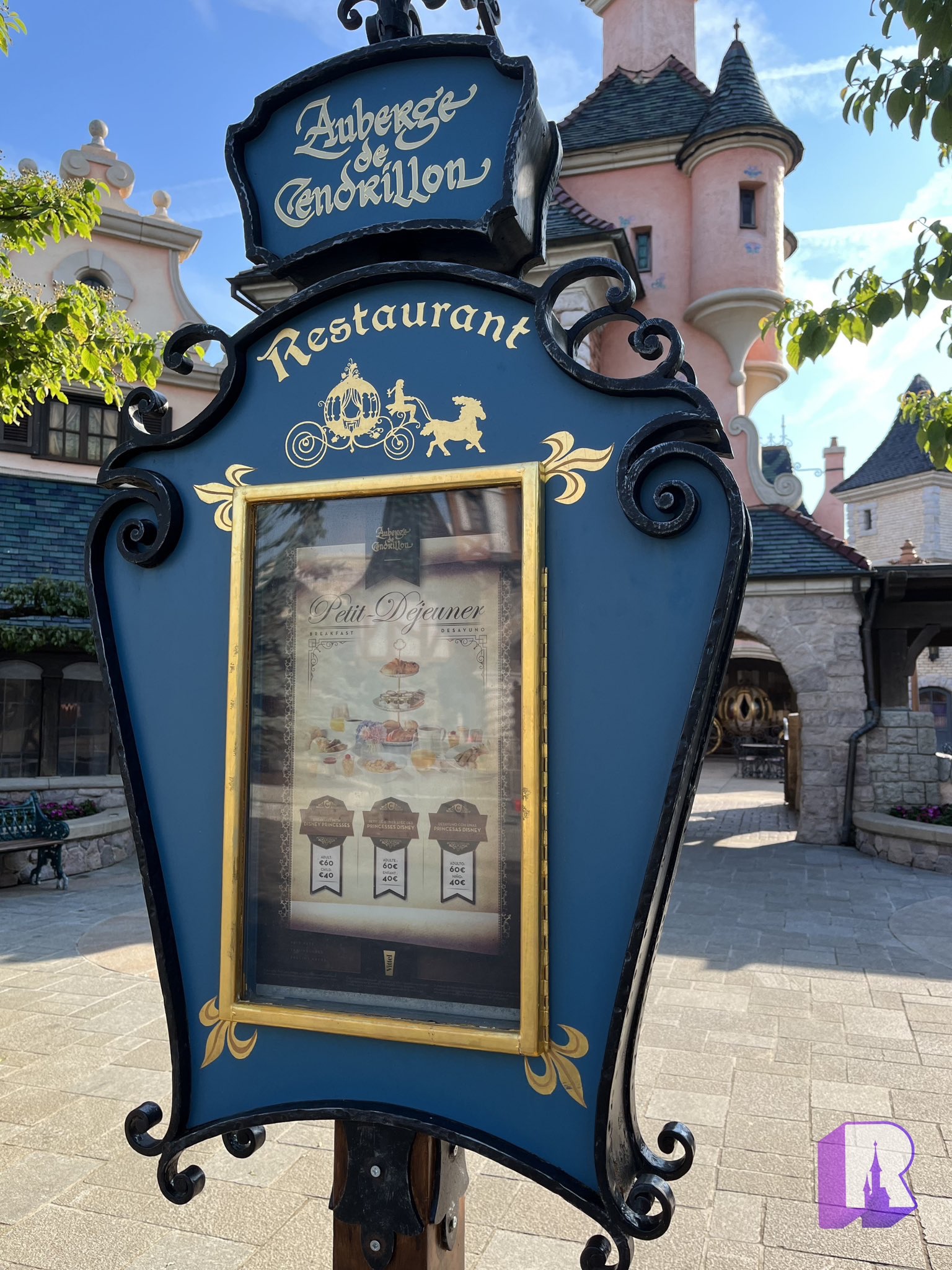 The menu board at Auberge de Cendrillon advertised the €60 breakfast with Princesses (it's listed as €50 if booked with a package). It's unclear if this means walk ins are welcome, as usual any communication about food offerings is either nonexistent or chaotic.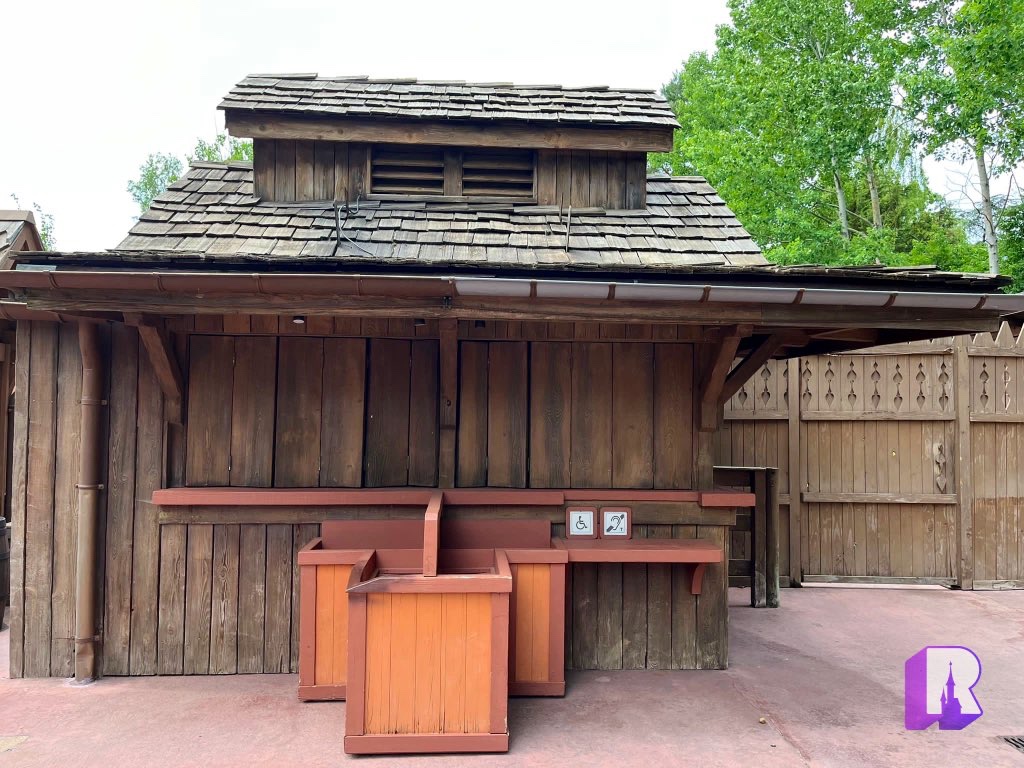 Near the Frontierland Theater, the "Wandering Oaken" sign is finally gone. It dated back to the Frozen Summer Fun season in 2015. Will they put it somewhere as an Easter Egg in Frozen Land? That would be wild.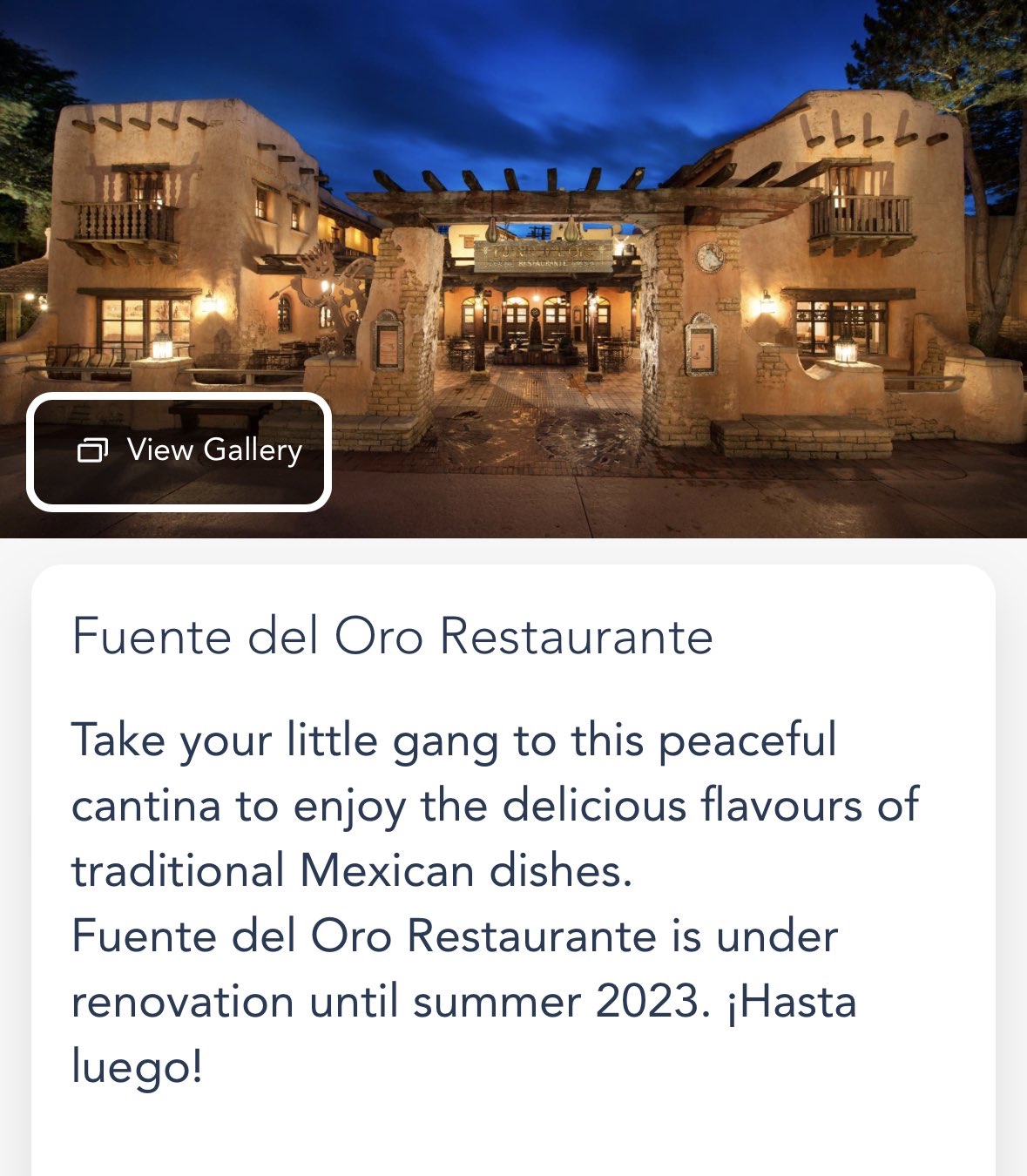 Still in Frontierland, the Casa de Coco opening has been pushed from June to "Summer 2023" as the world are, as usual, late.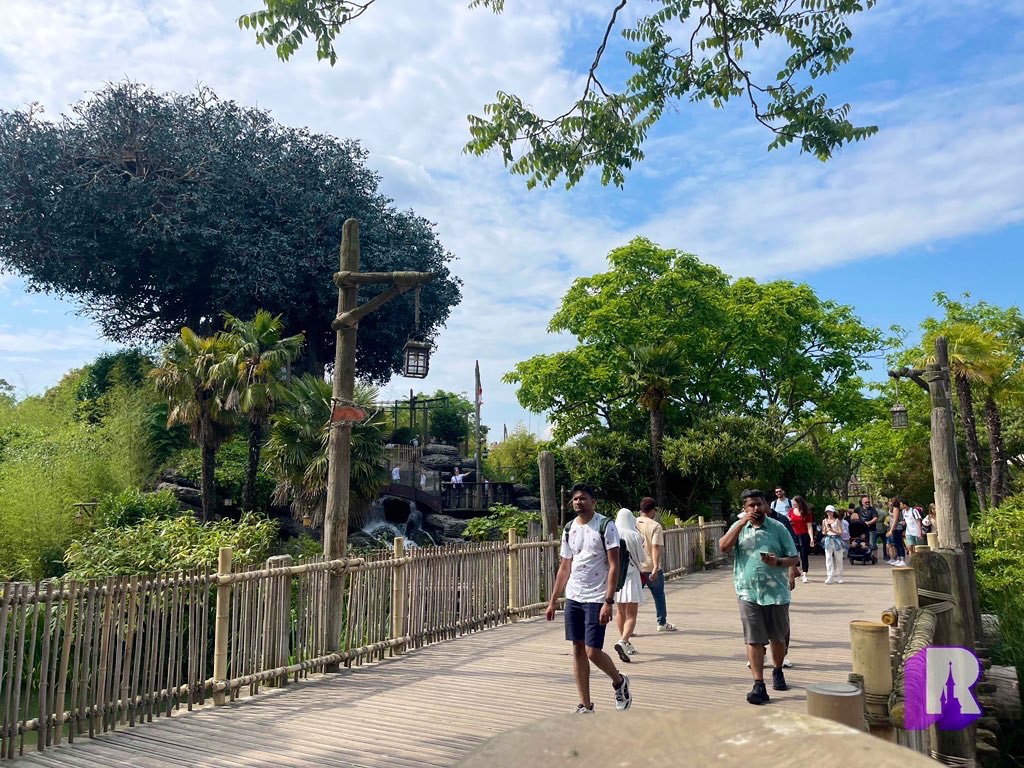 And in Adventureland the Adventure Isle sign has been removed.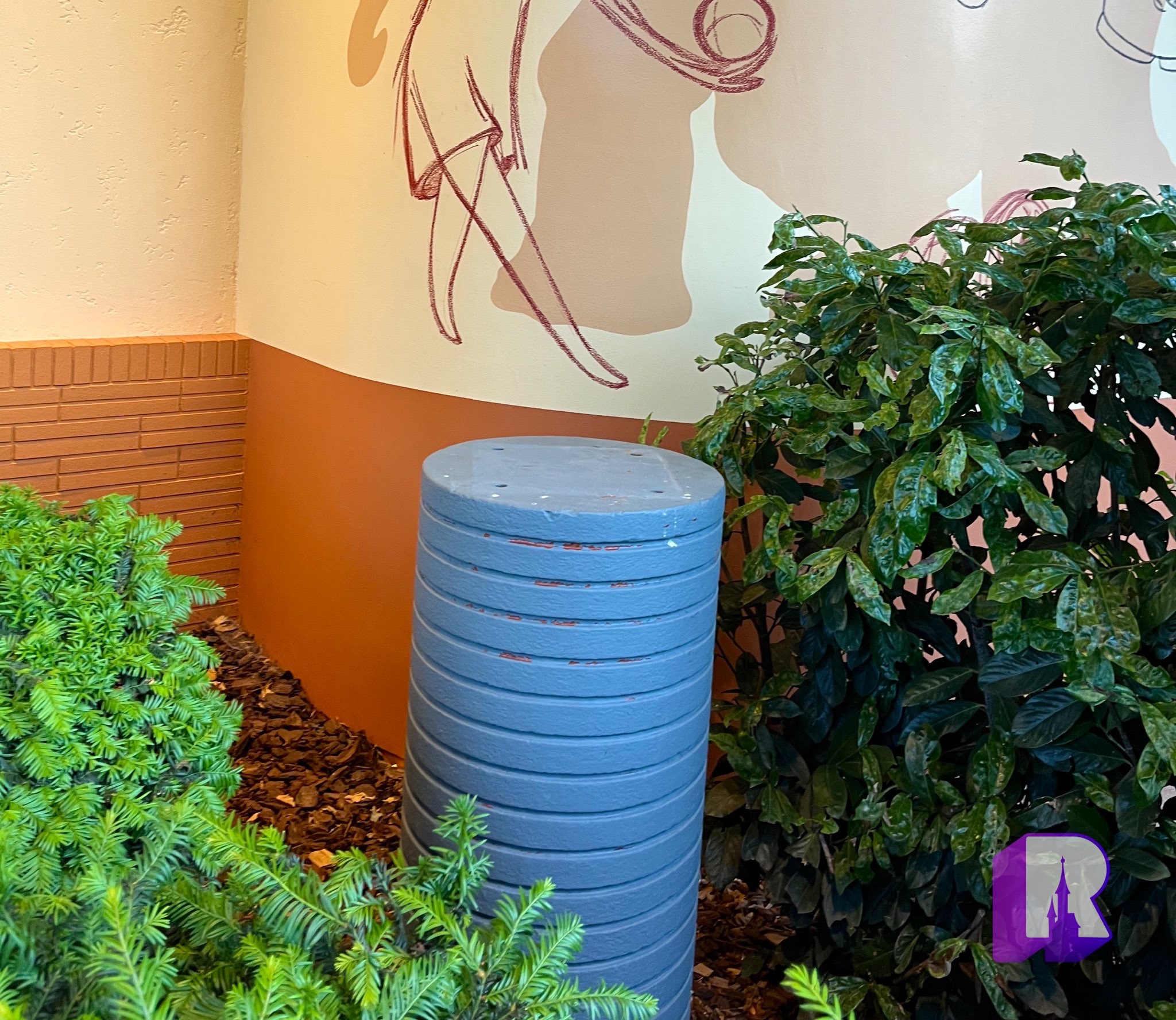 At Walt Disney Studios Park we say goodbye to the Brer' Rabbit statue. Is it after our tweet? Maybe. Sorry.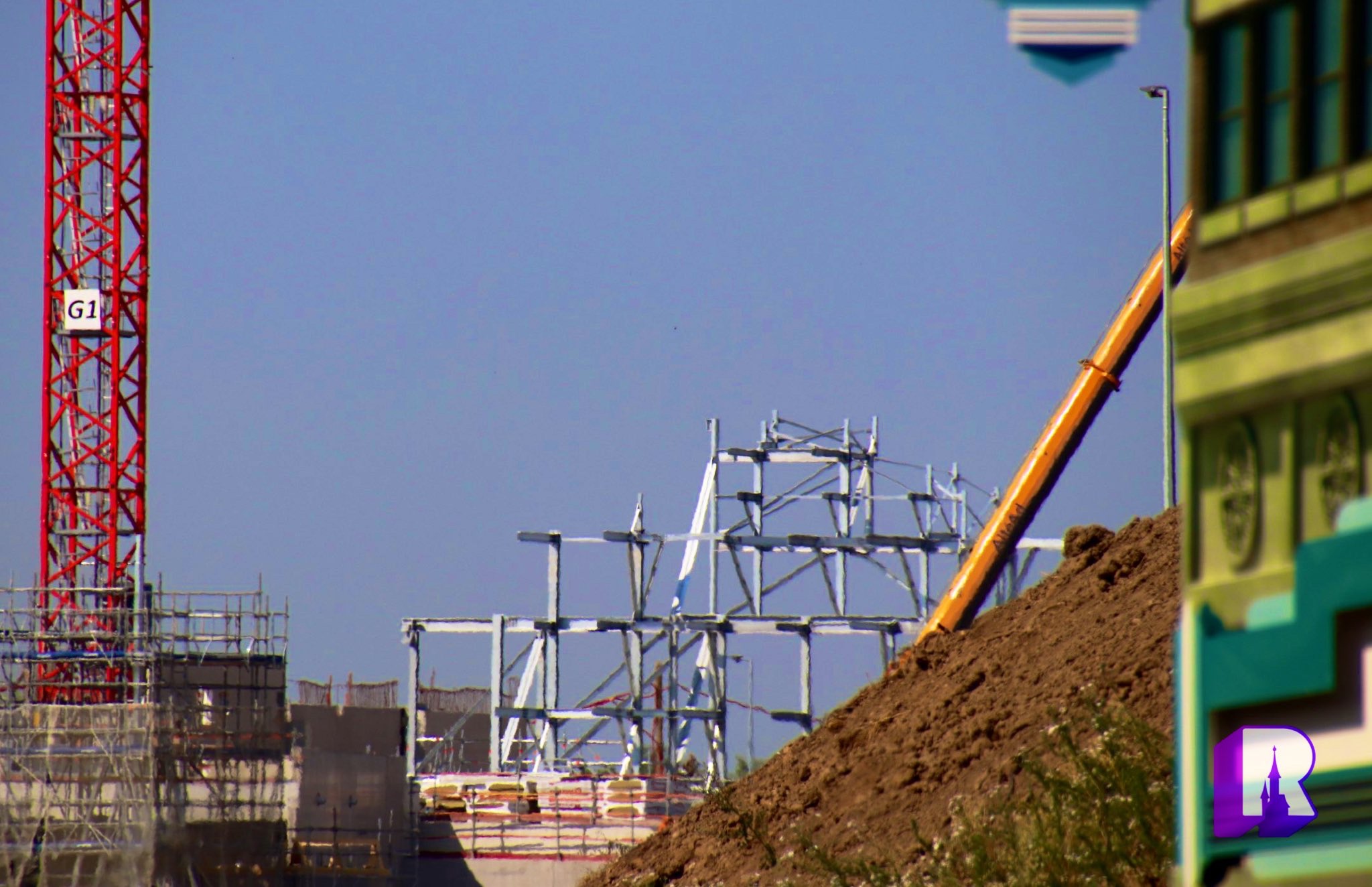 Our regular check on the Walt Disney Studios Park expansion project: the North Mountain continues to grow, the metallic structure that stands next to the backstage marina dock is being assembled, and the first walls around the Tangled attraction are here !
A strong storm on Sunday brought down the Walt Disney sign in the Resort Hub. It was kind of time for this sign to go anyway and thankfully no one was injured that we know about. The storm also caused quite a bit of flooding in the works.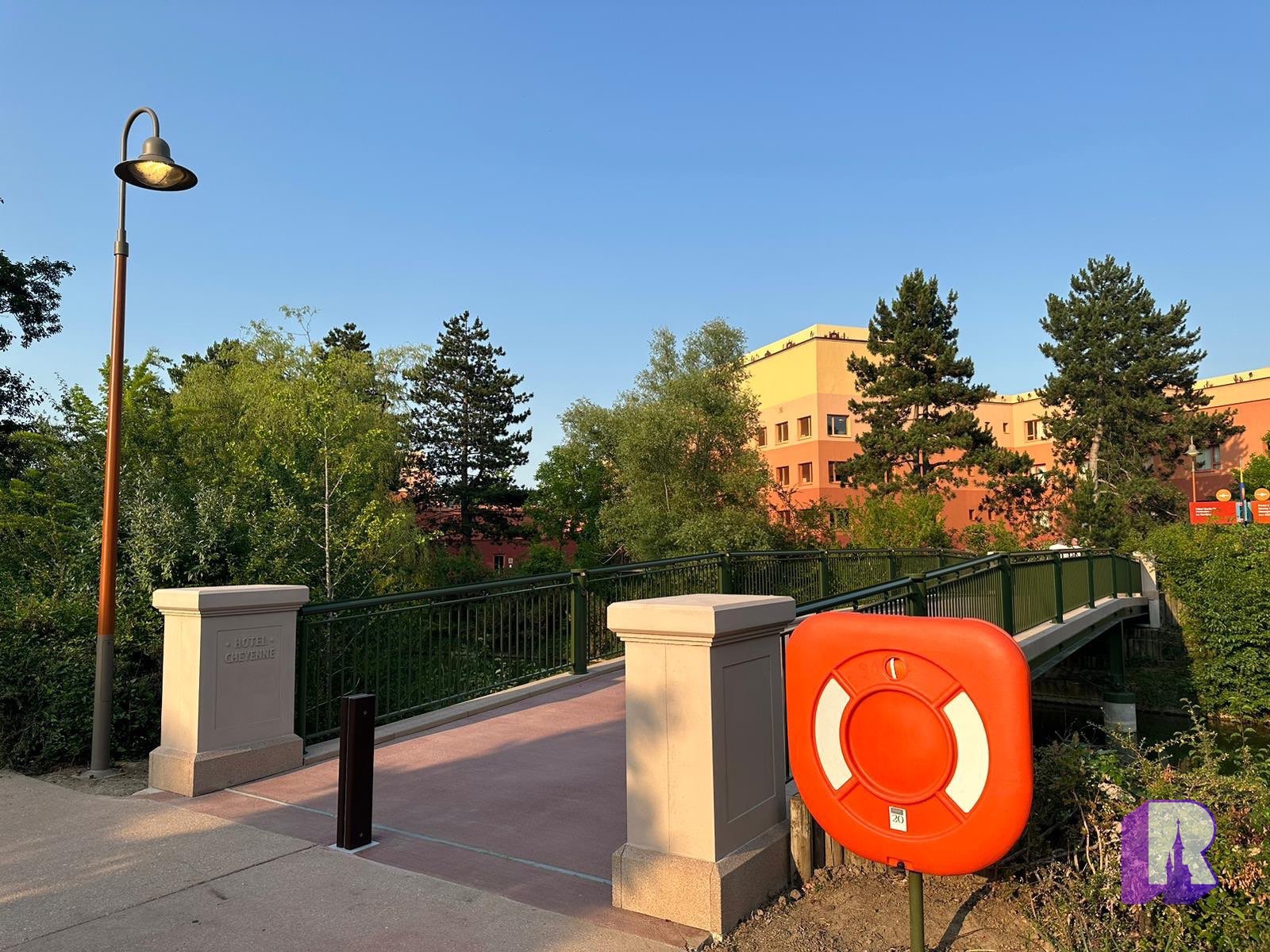 And at Disney Hotel Cheyenne and Santa Fe, the final bridge under refurbishment has reopened. It looks fantastic with some nice details.
This and That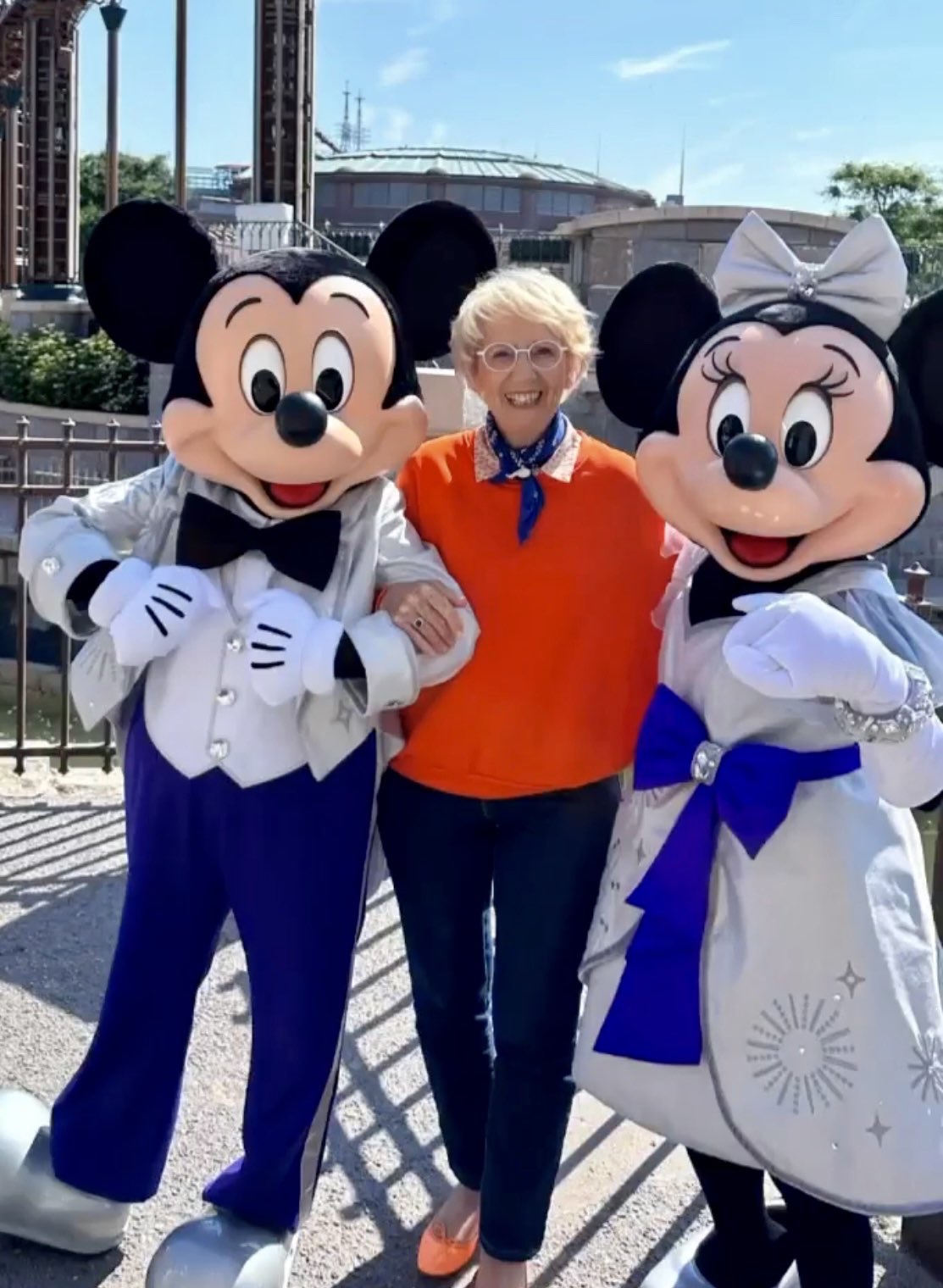 Mickey and Minnie debuted their Disney100 outfits at Disneyland Paris this week for the filming of "Le Meilleur Pâtissier", the French adaptation of "The Great British Bake-off"
Disney Hotel New York – The Art of Marvel is launching "The Marvel Art Atelier", a new program for aspiring MARVEL artists from June 14 with mentor Giuseppe Camuncoli, and Stormbreakers Peach Momoko & Natacha Bustos. The creations will be on display at the hotel from June 21.
And that's our wrap up of everything happening this week at Disneyland Paris! As always thank you for reading and sharing. I'll see you again next week with a new DLP Report!