Welcome back to a new DLP Report! Yours truly took a break last week so this week it's a double edition packed with news. Let's take a look!
On Stike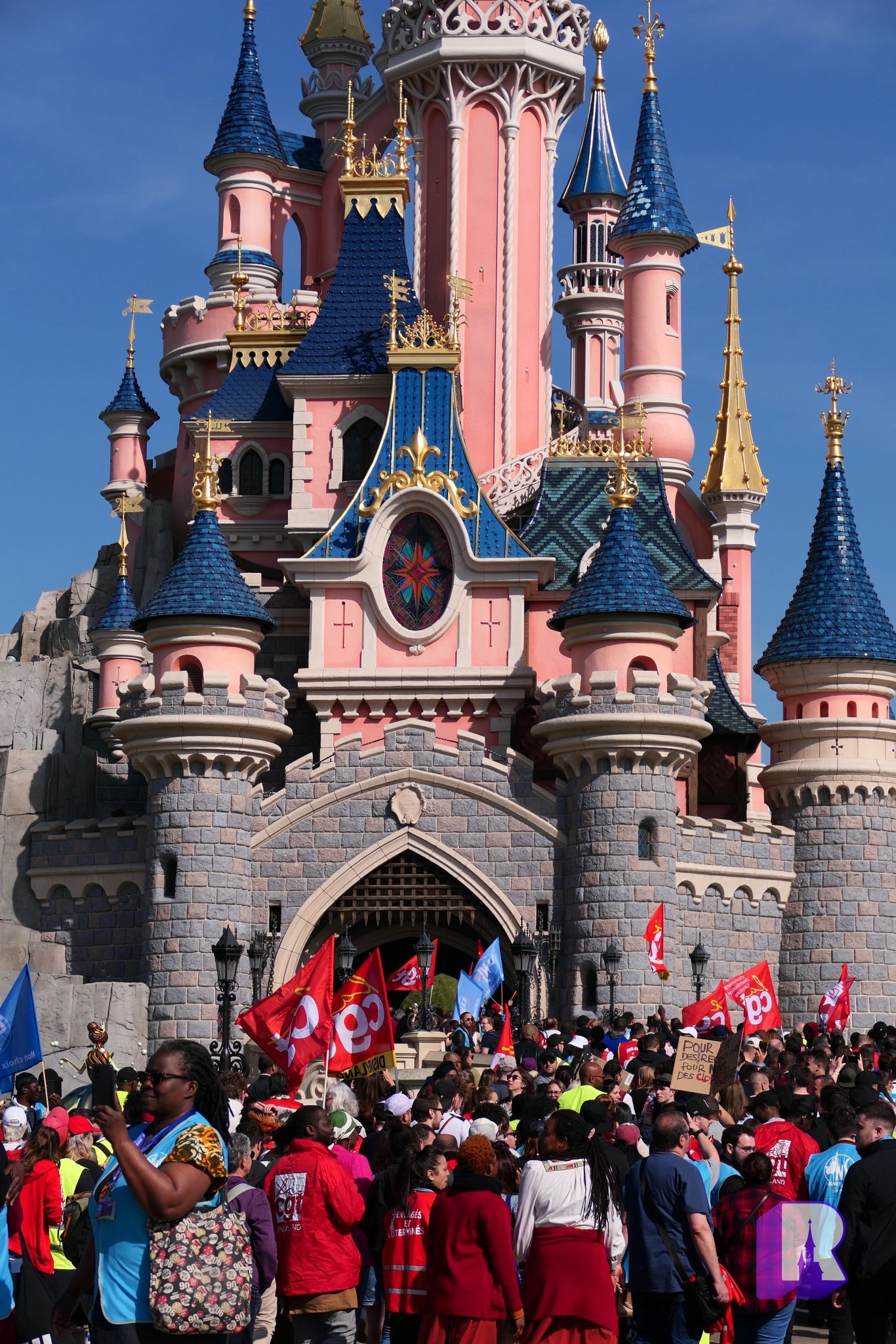 What an incredible couple weeks it's been for Cast Members (and management). Multiple historical on stage strikes were held on May 30, June 3 and June 6, expressing their discontent with their pay and work conditions.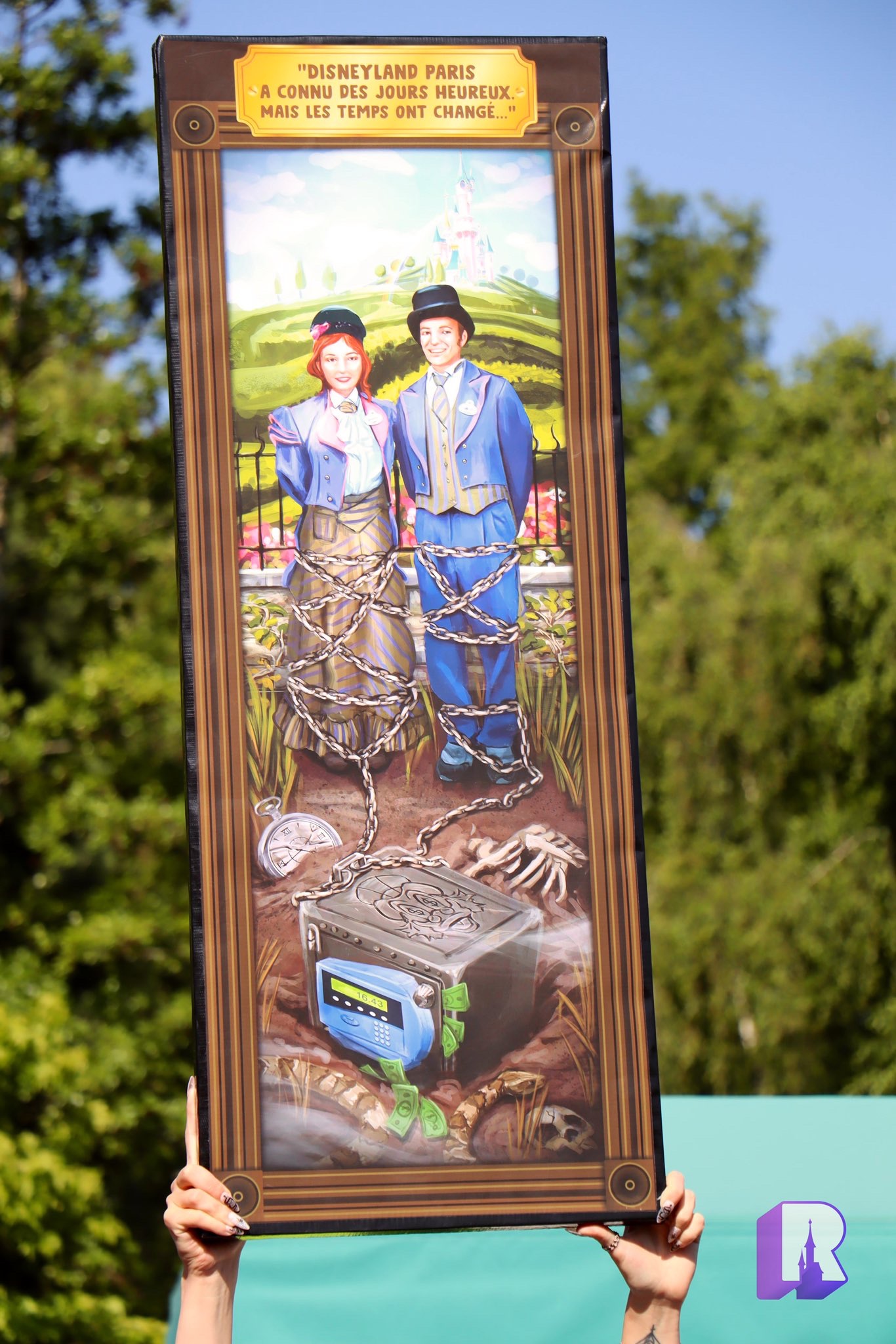 The creative and touching signs tell a story of Cast Members who are overworked, underpaid, and struggle to make ends meet and maintain a decent quality of life.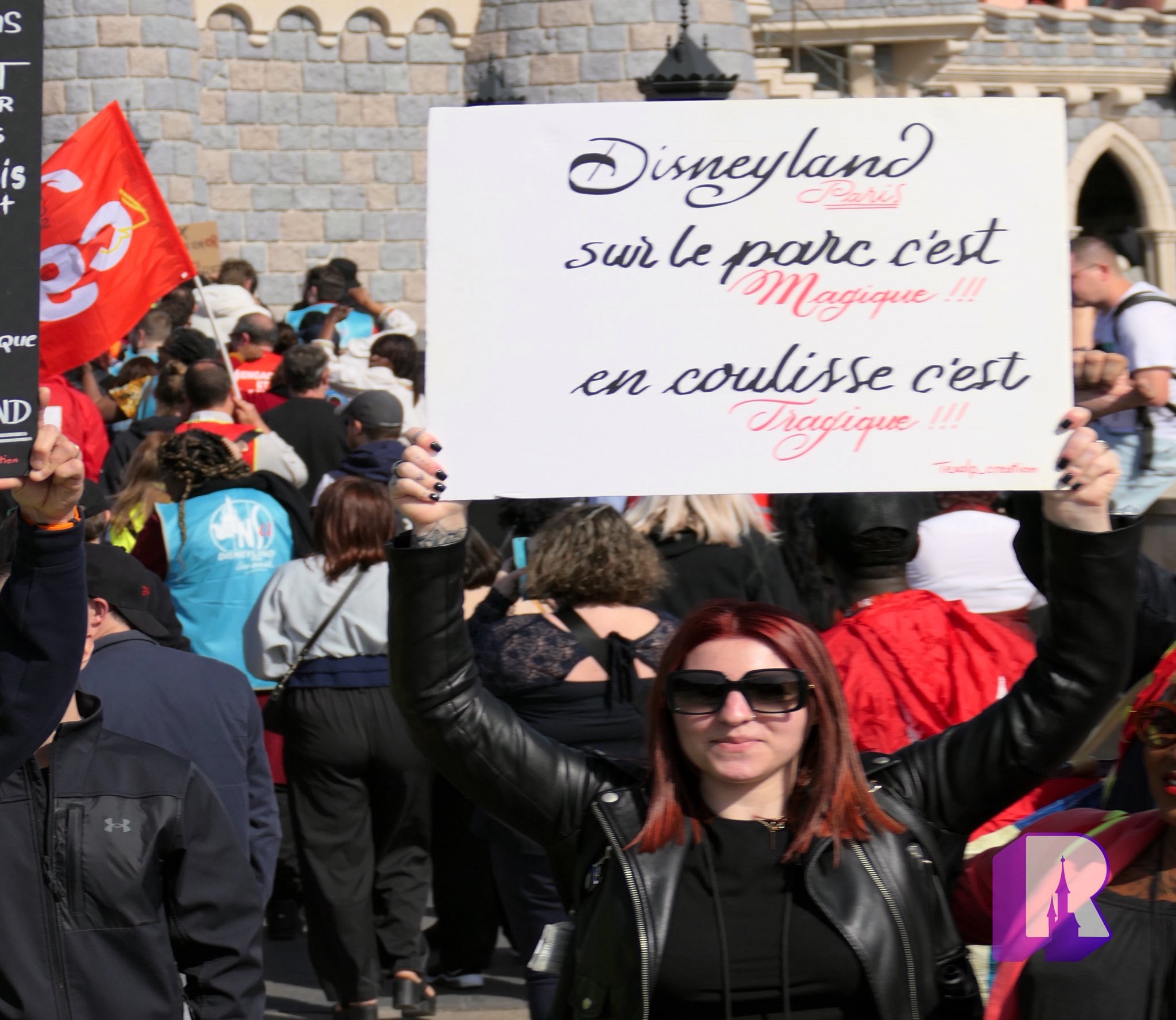 Disneyland Paris management has been doing the first thing it usually does when Cast Members are unhappy: ignore and hope it goes away.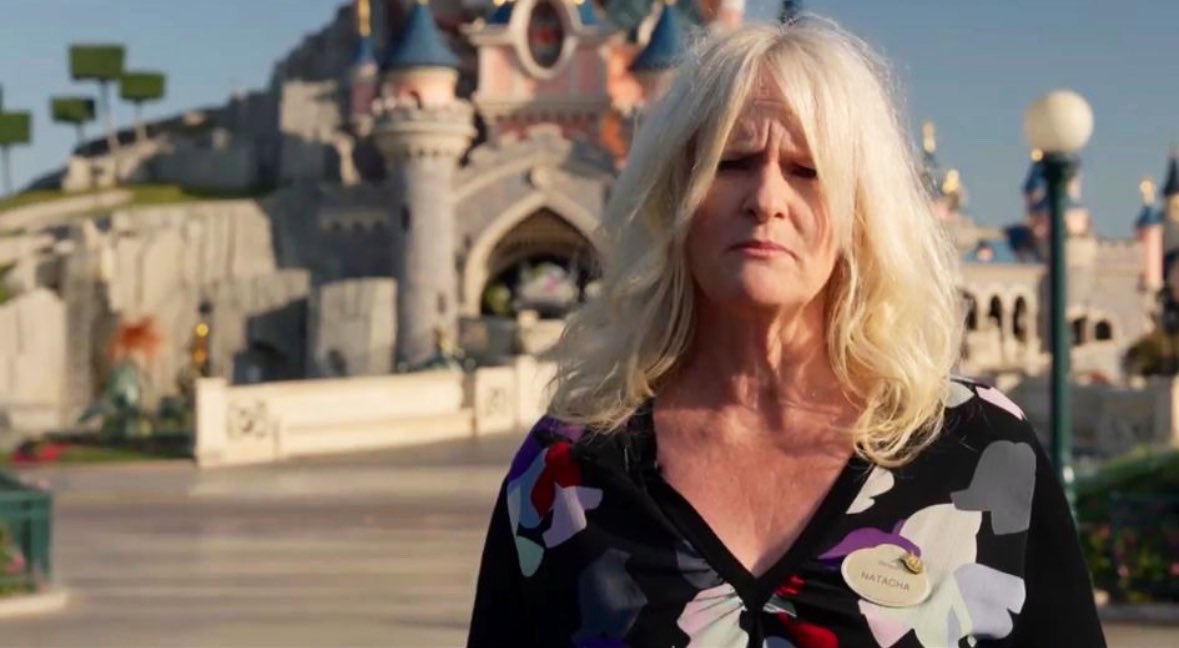 With the problem not going away, Disneyland Paris President Natacha Rafalski broke the silence to execute the second option once the first one hasn't quite worked enough: tell them that "it's not that bad", that "the company already does so much for them", that "history and the Covid crisis has been tough".. all the while refusing to move forward any negotiations. In other words: computer says no.
Even when Cast Members on strike canceled all nighttime entertaining, causing absolute chaos in the parks and understandably upsetting guests, management hosted a live Q&A the next day, with the exact same answer.
So where to next? It seems that management is willing to let this drag on, likely hoping that Cast Members will get tired and get back to work. While strikes may happen again in the coming weeks, the numbers of participants has gone down and so this may soon be it for the current movement. Nevertheless the crisis and its handling has tarnished the reputation of the Resort and its management, it's unclear if there's any coming back from that.
Disneyland Paris Pride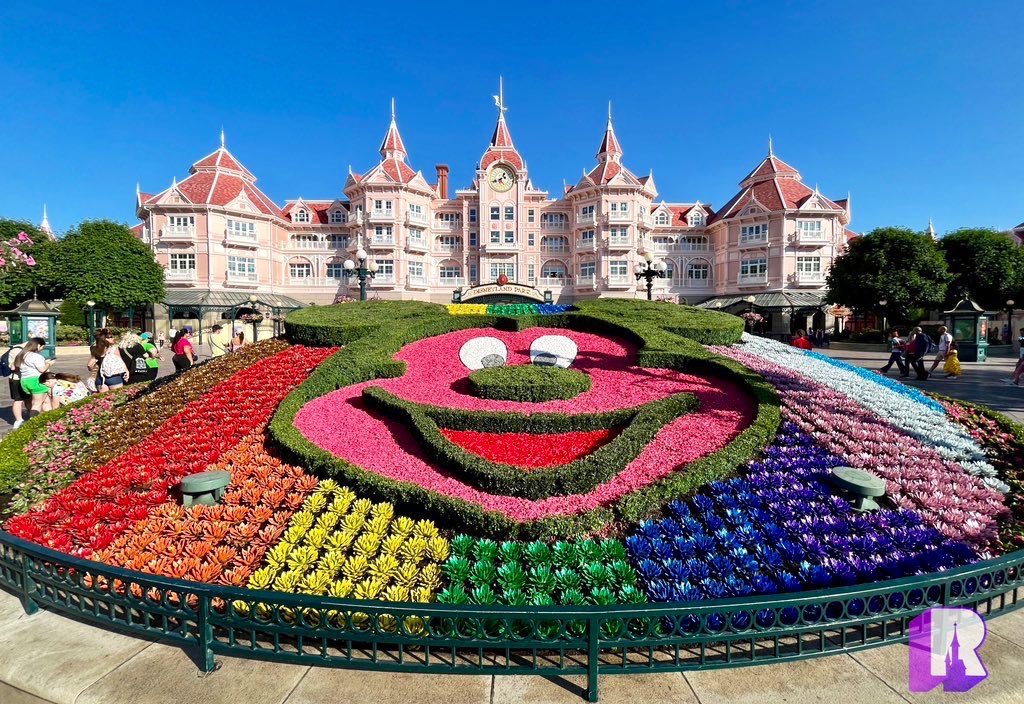 It's June which means, welcome to Pride Month! The Disneyland Paris Landscaping team has outdone itself this year with a gorgeous rainbow planter showcasing the Progress Pride that will be in place all month!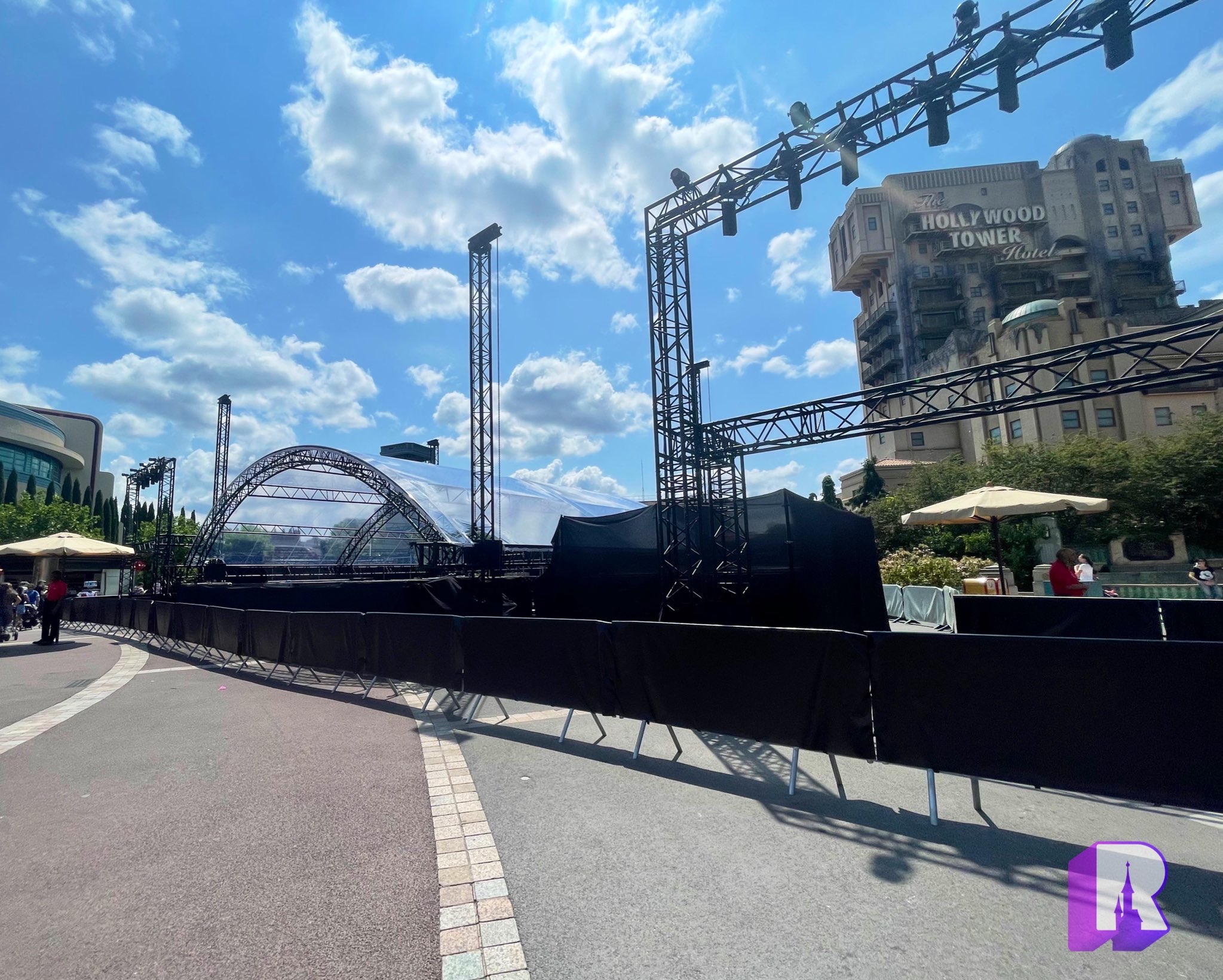 On Production Courtyard, construction has started for the stage – with the "toolbox" stage now gone, a temporary (arguably better) one is being built for the occasion to showcase artists.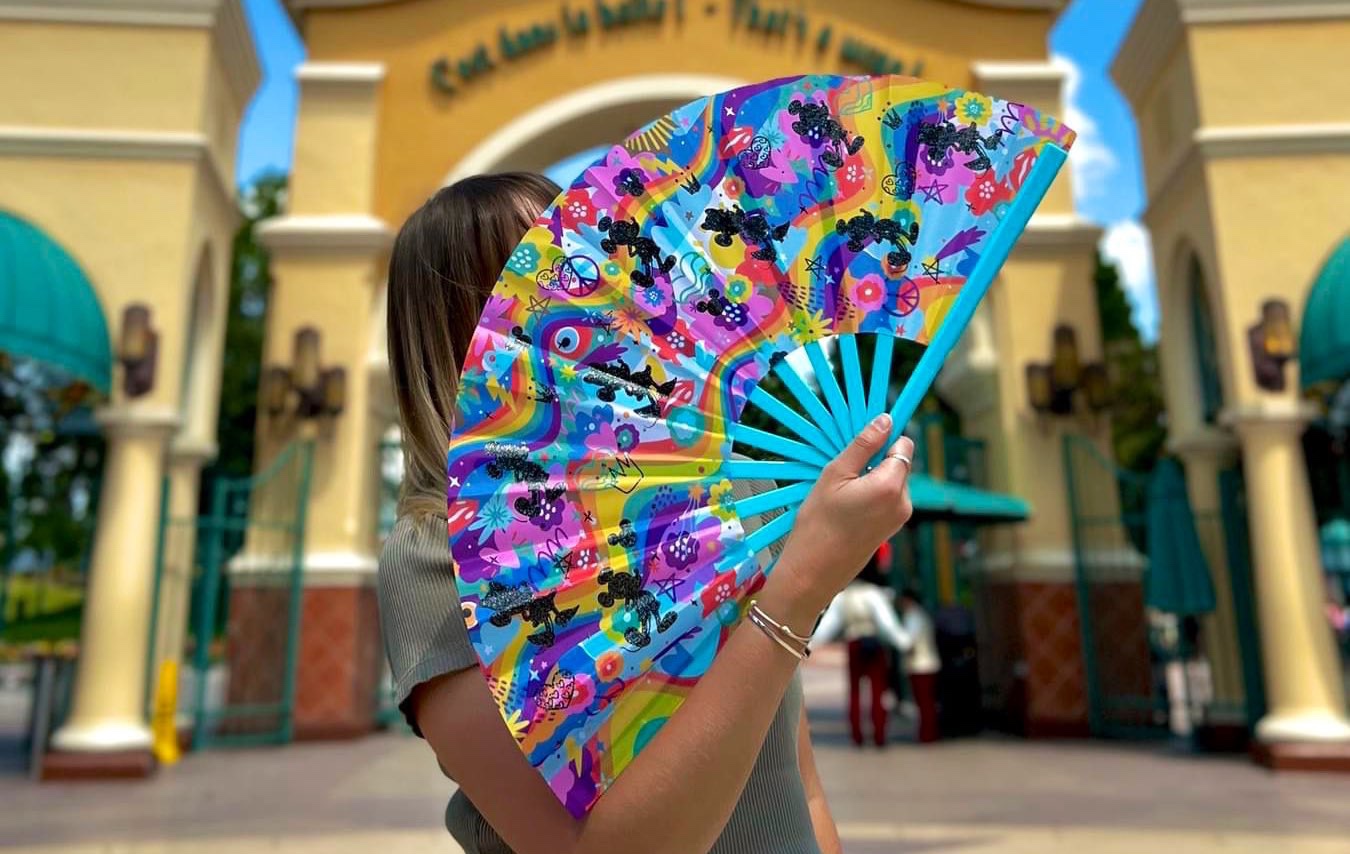 On top of the price of the ticket you'll also get the chance to buy exclusive merchandise.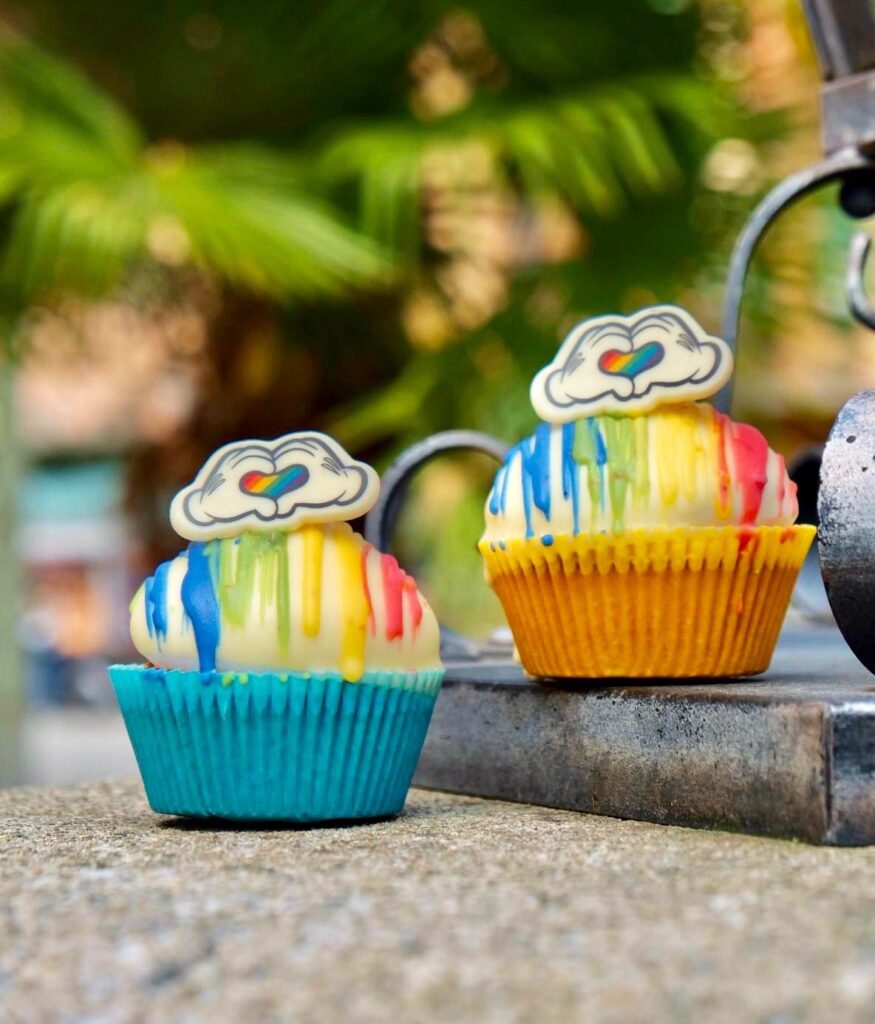 And enjoy some special treats. The night will also feature some partners booth and all sorts of activities and of course the Pride March which is really lovely, probably the best part of the night this year given the lackluster artist lineup. Tickets are far from sold out so there's still time to get yours before June 17!
Rendez-vous Gourmand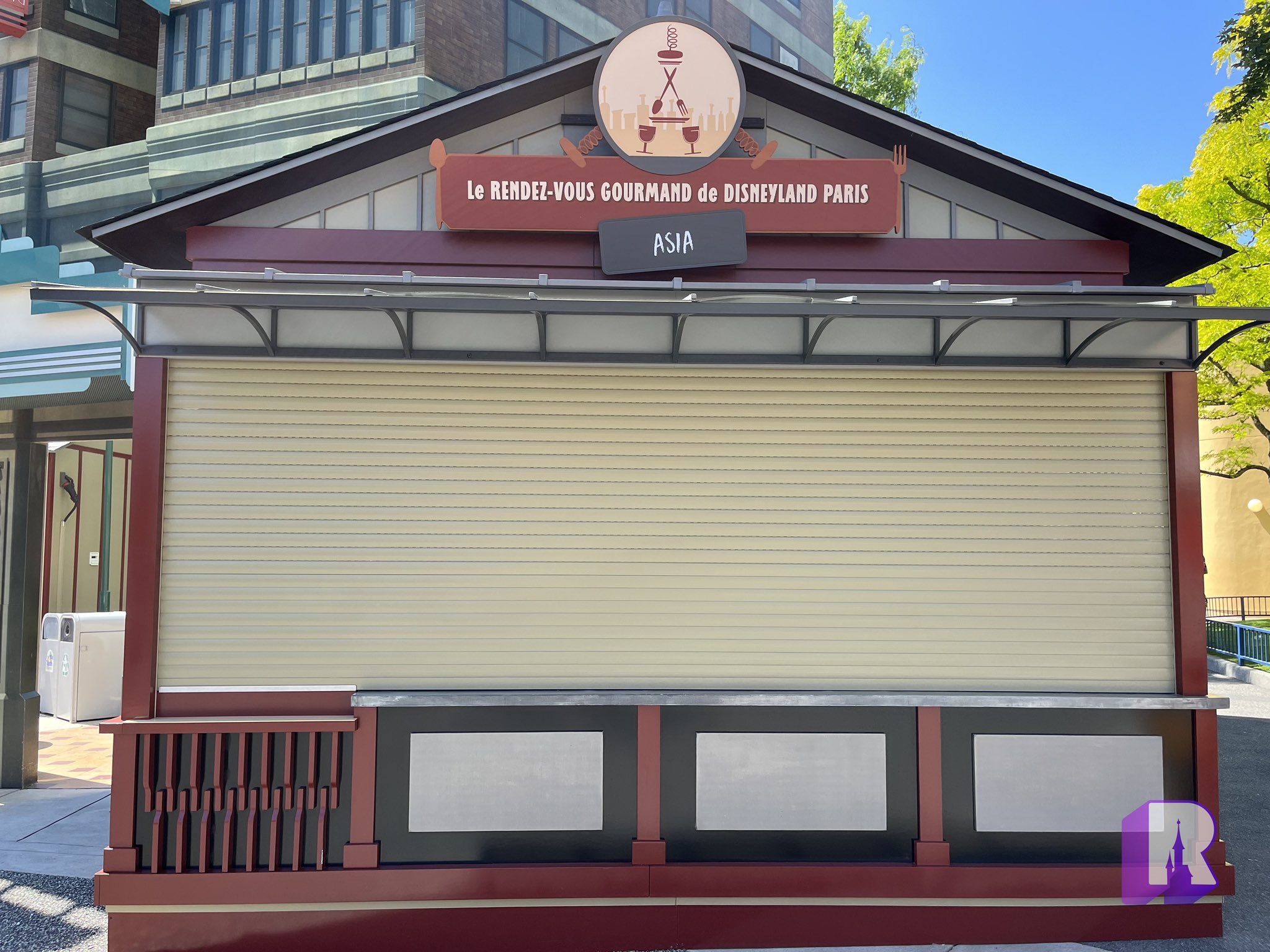 And just like that- it's back! Seemingly out of nowhere the Rendez Vous Gourmand food festival has returned. No end date has been announced but last year it was on until mid October.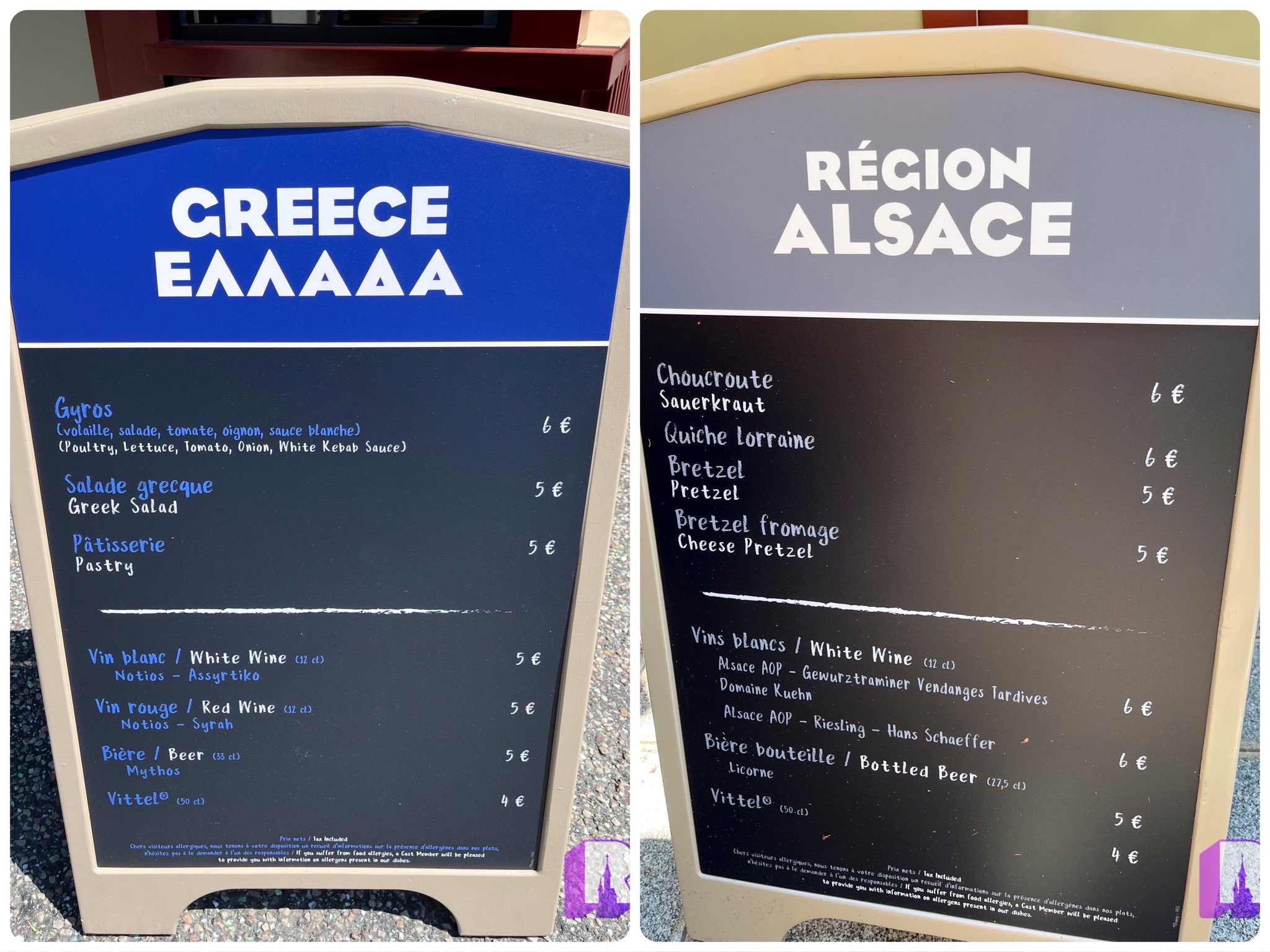 Plenty of options for all kinds of cravings – yes it's overpriced yes the portions are small but it's summer and you're outside in a Disney Park, in the end it's a good good time. Notably new this year is the nondescript "Asia" booth with flavors from across.. Asia.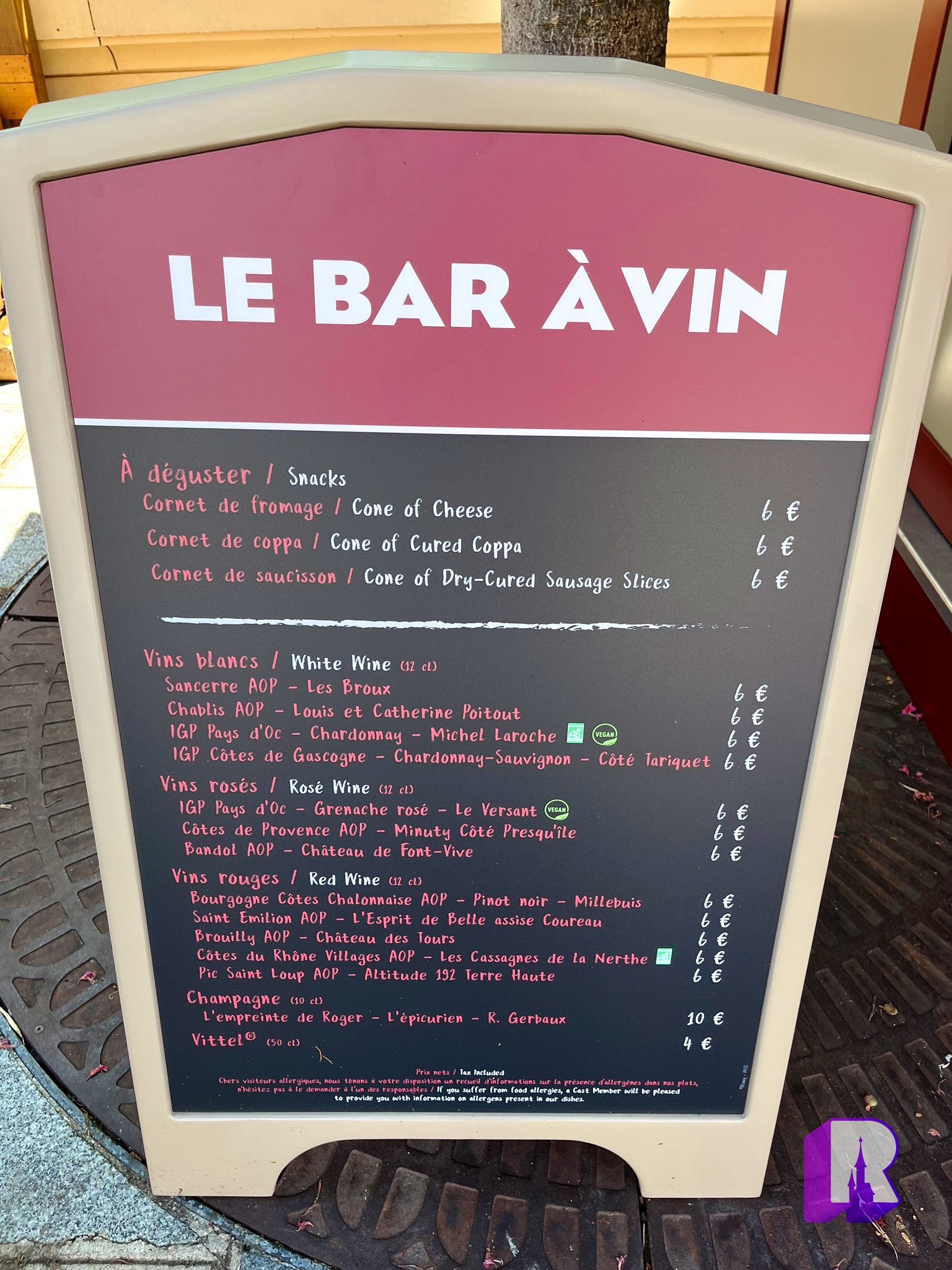 But really who are we kidding it's summer and we're here to drink a nice rosé for Apéro before a battle of Spider-Man W.E.B. Adventure and the rendez vous has us covered!
"TOGETHER: a Pixar Musical Adventure"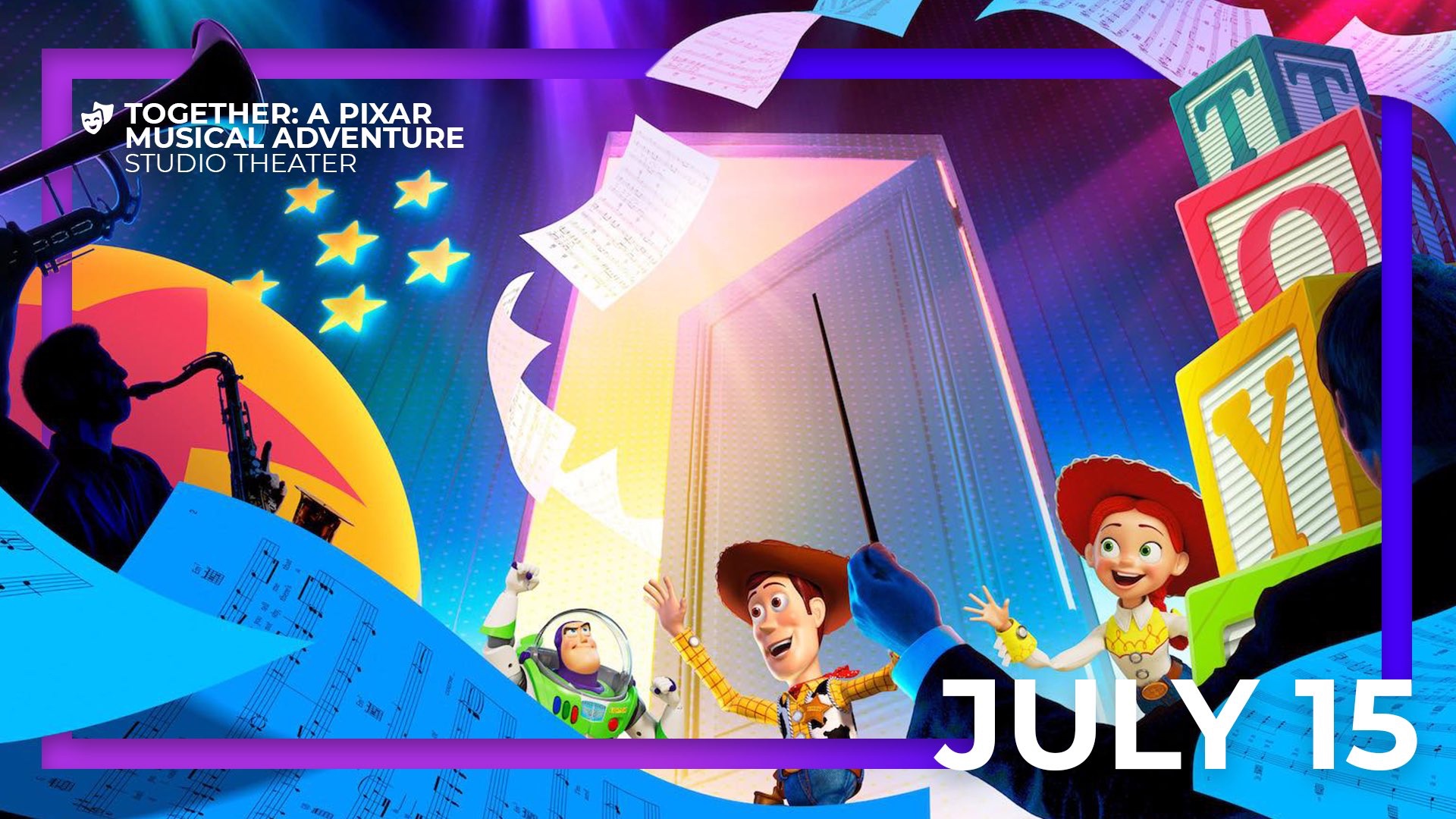 The highly anticipated show "TOGETHER: a Pixar Musical Adventure" will officially debut for all Guests on July 15! Note that there will be a press preview on July 8 as well.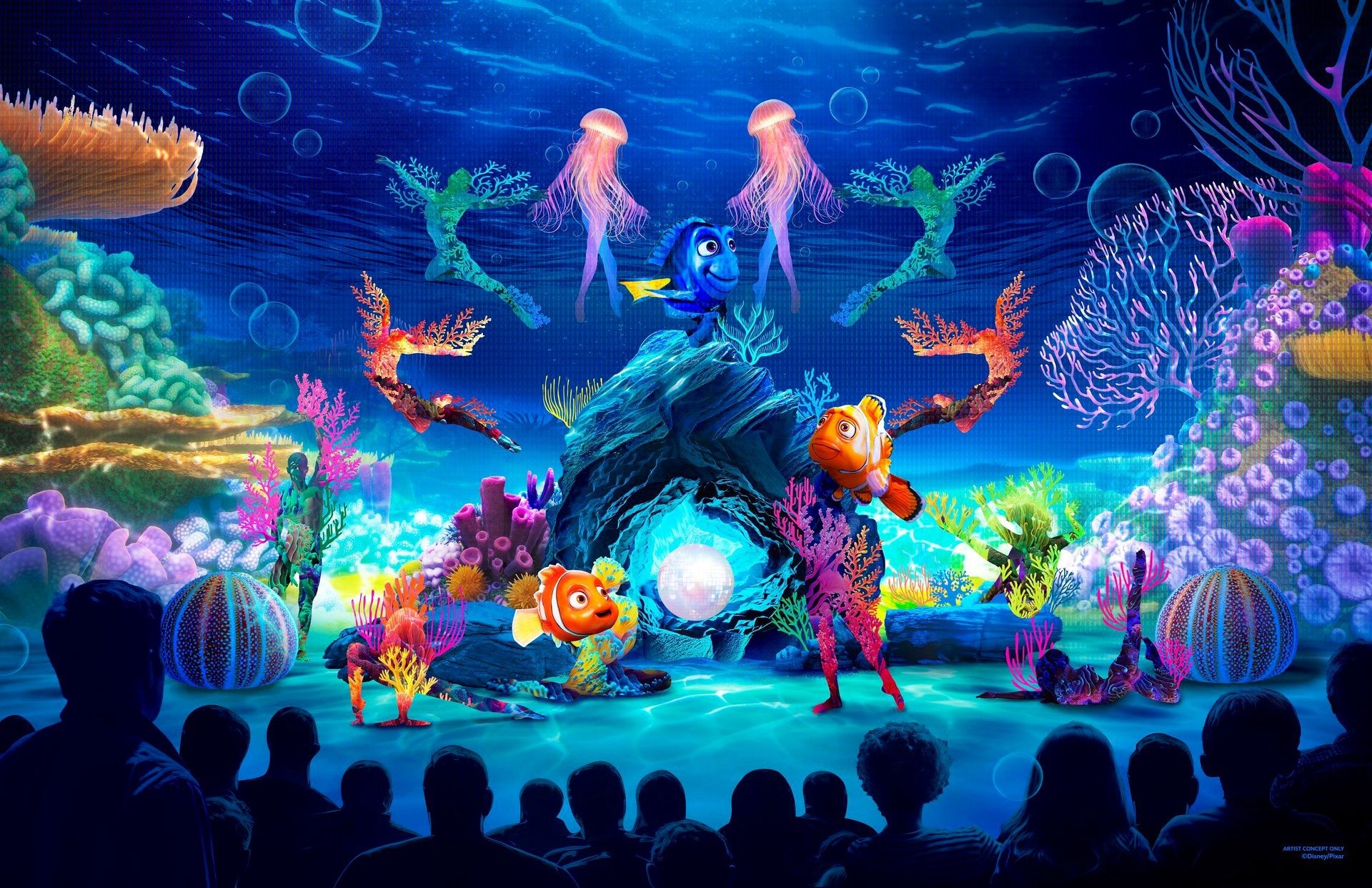 We also got a look at new concept art for the show which will include 5 main Pixar films and franchises and many characters:
Toy Story: Woody, Jessie, Buzz Lightyear, Bo Peep, Lotso +more
Up: Carl and Russell
Finding Nemo: Nemo, Marlin & Dory
Monsters, Inc: Sulley, Mike Wazowski, CDA Agents
Coco: Miguel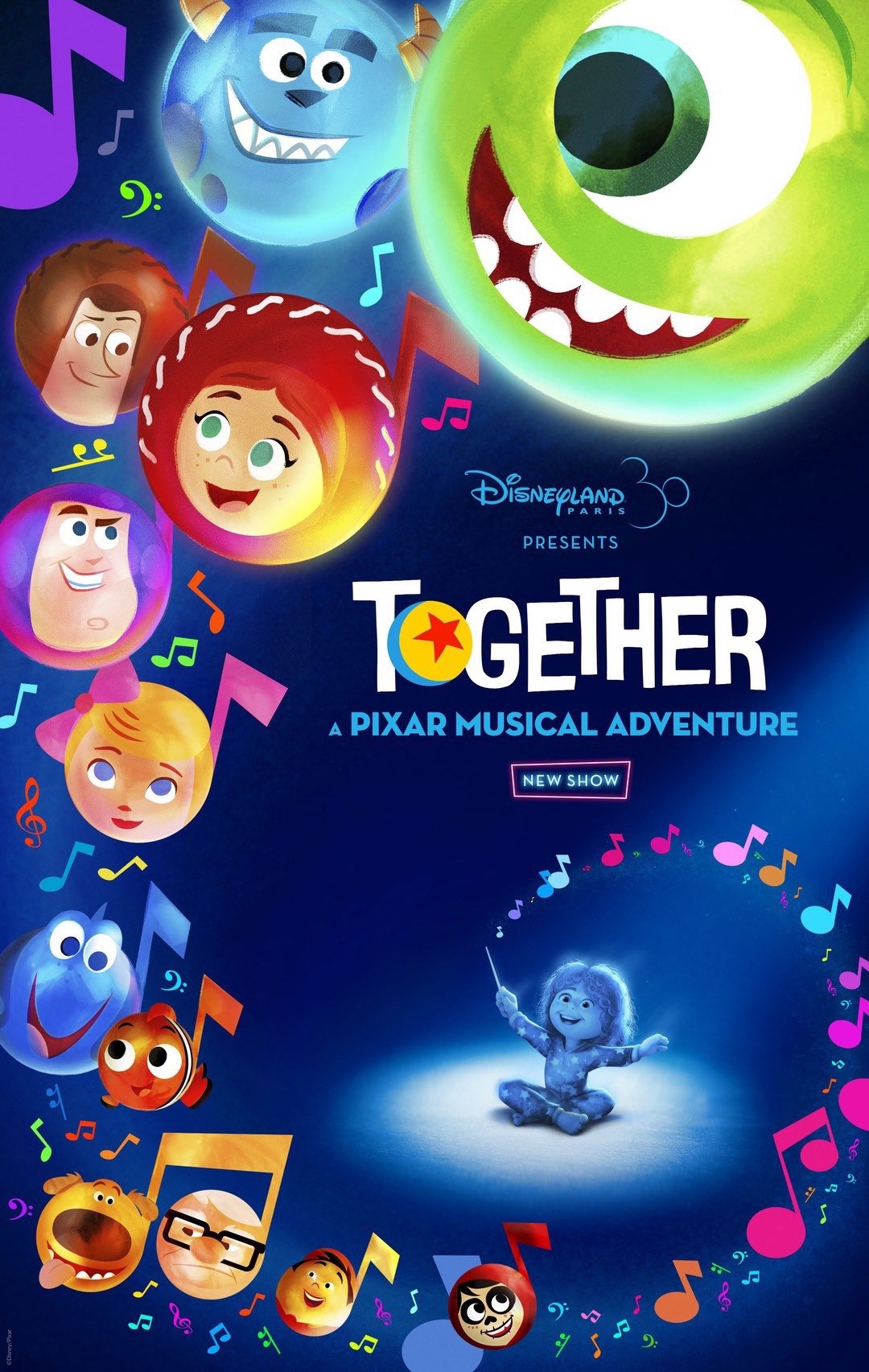 A lovely new poster was also revealed for the show, according to Disney "a multi-layered sensory experience, stimulating guests' senses through live music, visual technologies, water effects, scents and more, blurring the line between fantasy and reality".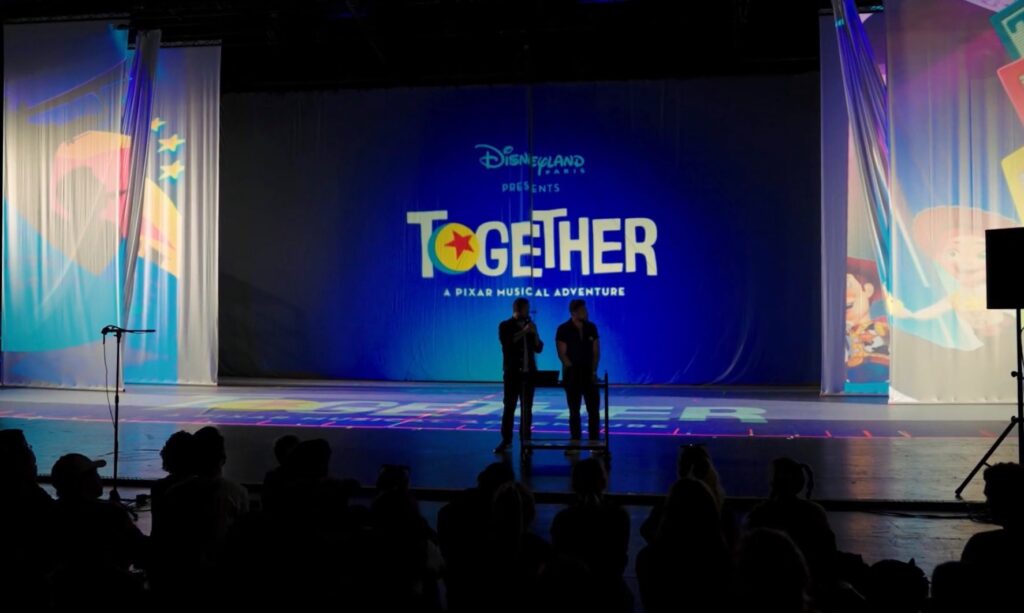 The show promises to also be a technical feat with "impressive but invisible technology" to move the story along:
6.2m high, 30m wide full size mobile sets,
453sqm floor to ceiling LED screens,
650sqm immersive stage,
200 moving lights blending the surface and performers on stage.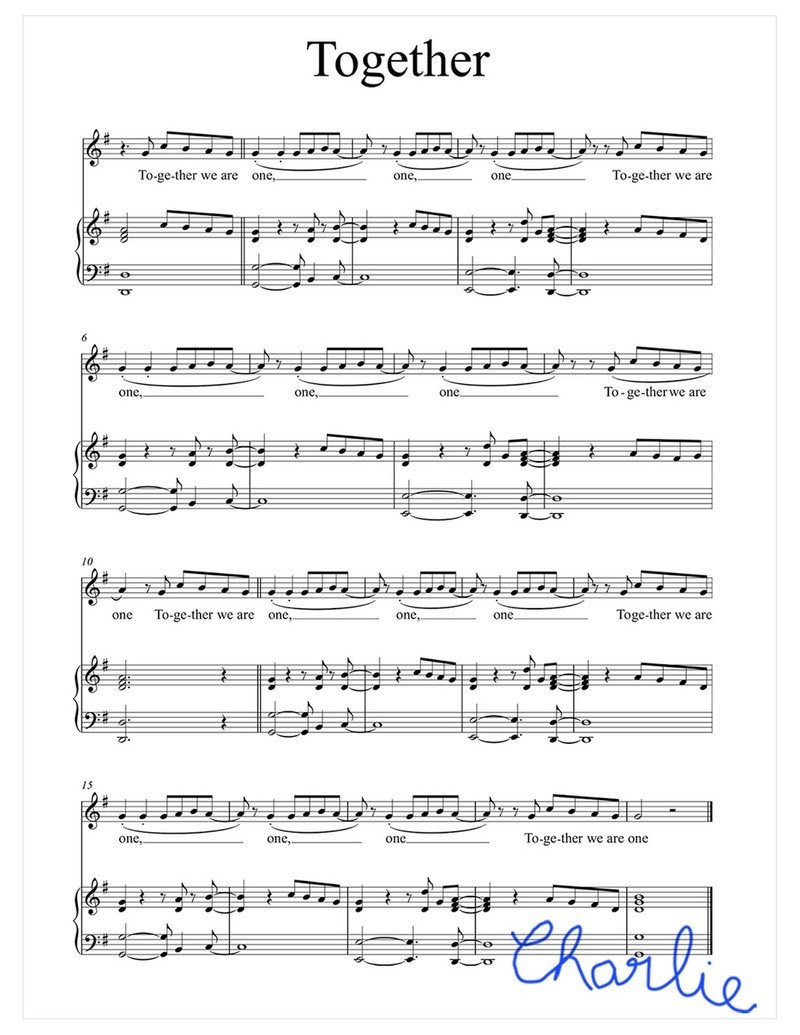 Music will be a key component of the production with eight musicians: piano, violin, trumpet, cello, guitar, drums and saxophone, who will be an integral part of the story and guide the audience throughout each scene.
We can't wait for this new ambitious Disneyland Paris exclusive production that promises to delight once again!
Donald's Birthday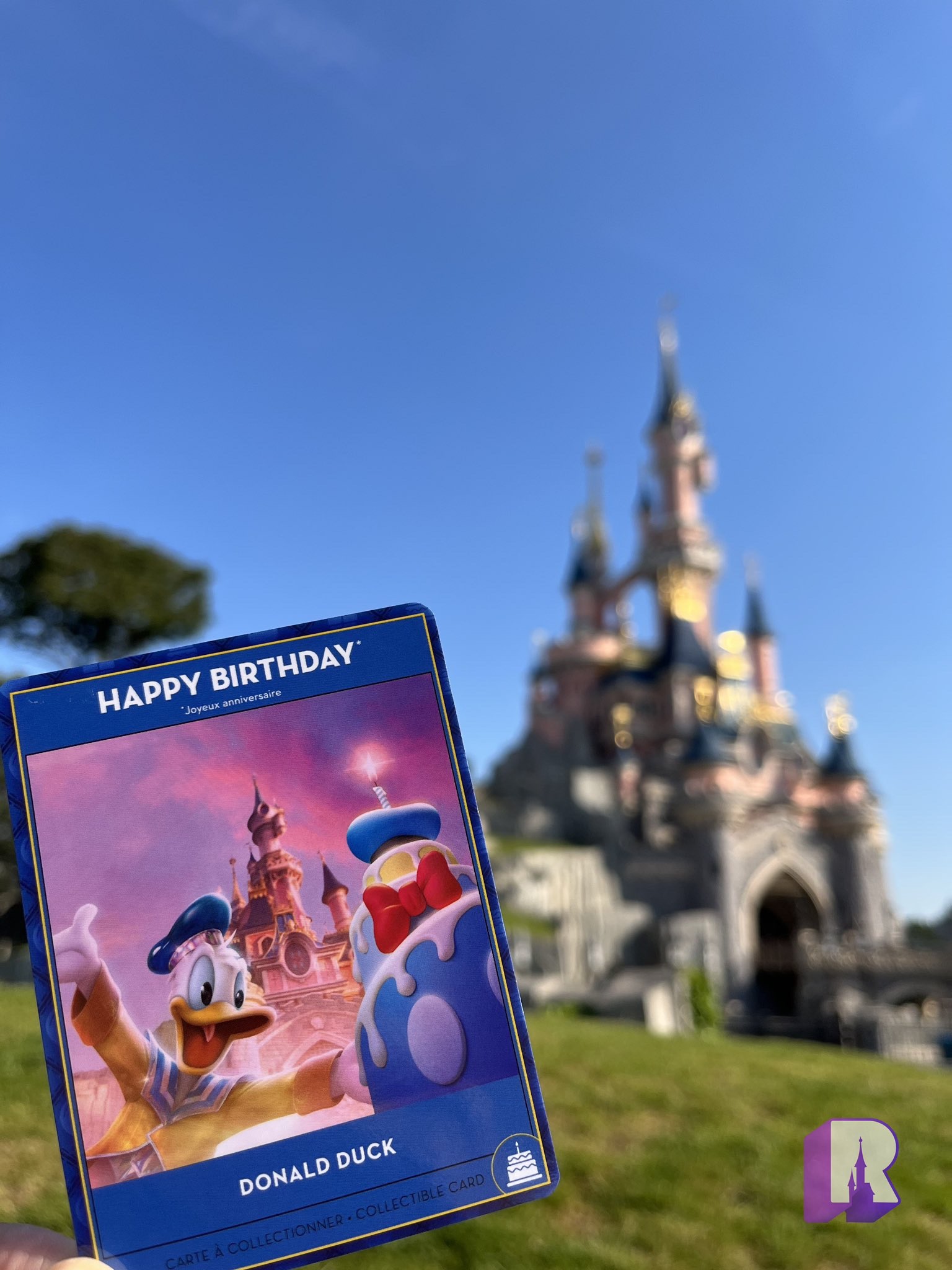 For a couple years now, Donald's Birthday has been a thing and what a wonderful idea ! This years guests could get a free collectible card..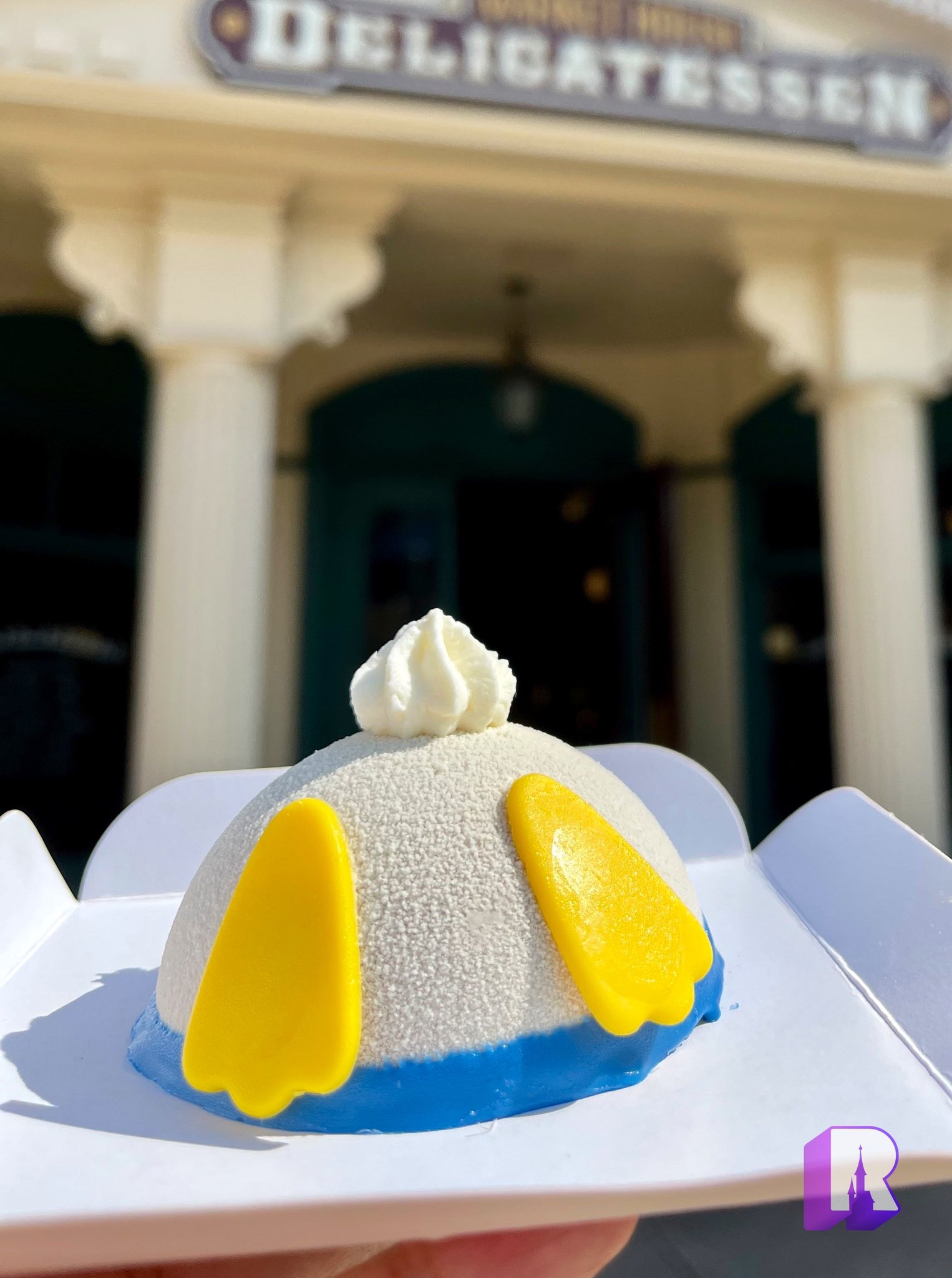 Enjoy a playful Donald's Butt cake and guess what it was even delicious!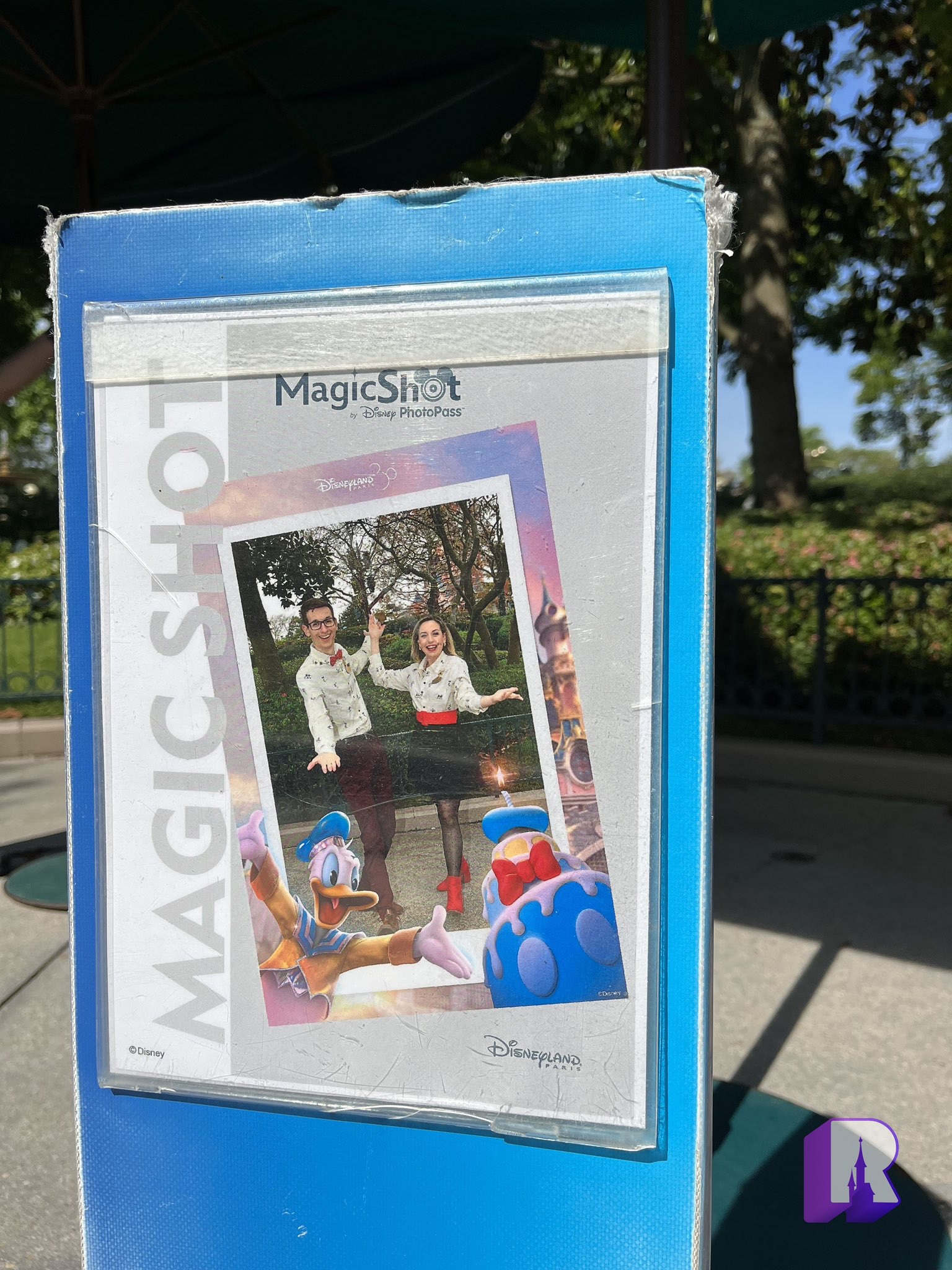 Commemorate the occasion with a MagicShot..
And even attend an special ending to "Dream… and Shine Brighter" to wish our favorite Duck a Happy Birthday!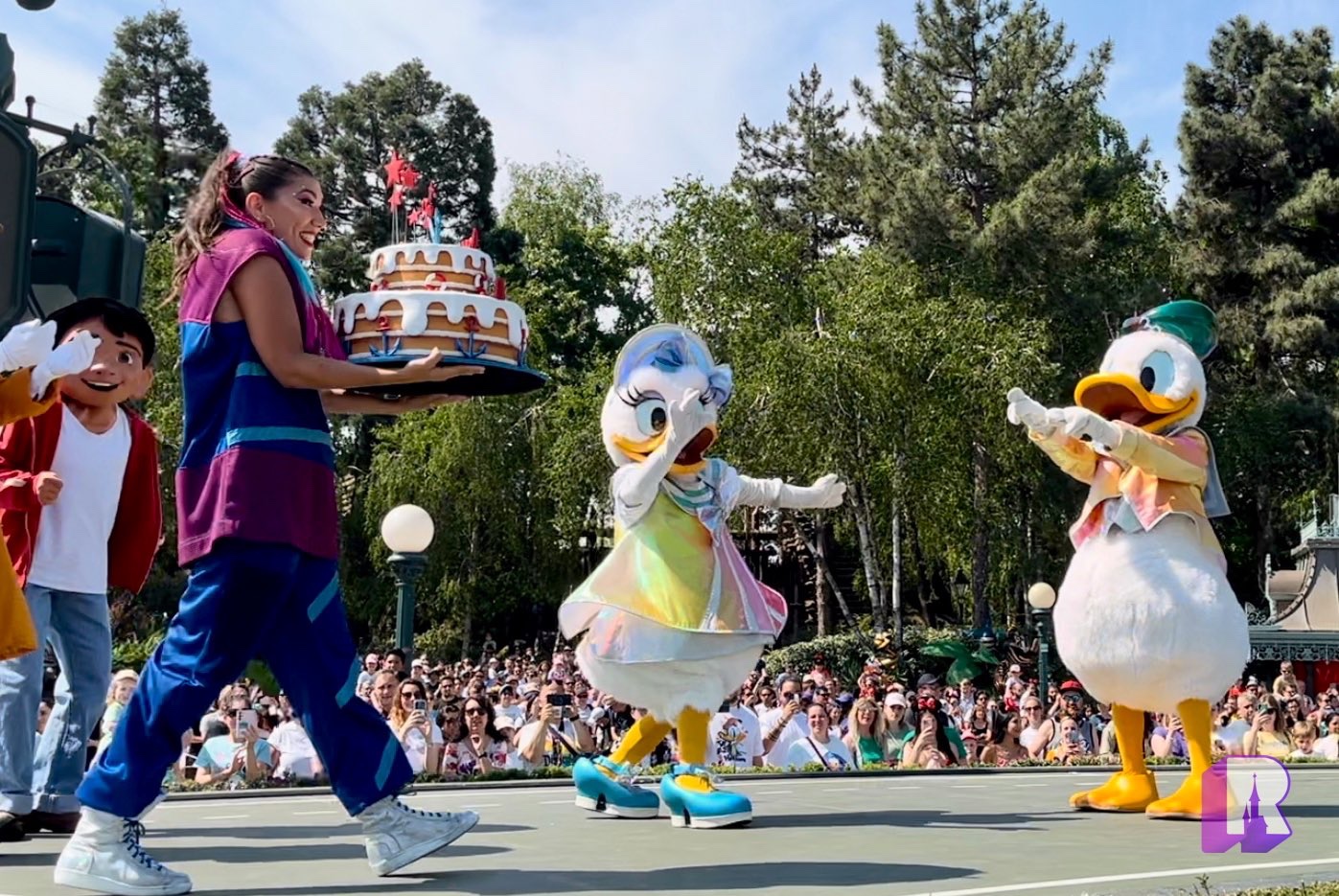 These mini celebrations really make a difference in the life of the park that day, bringing a special vibe and excitement. Well done!
Construction and Refurbishments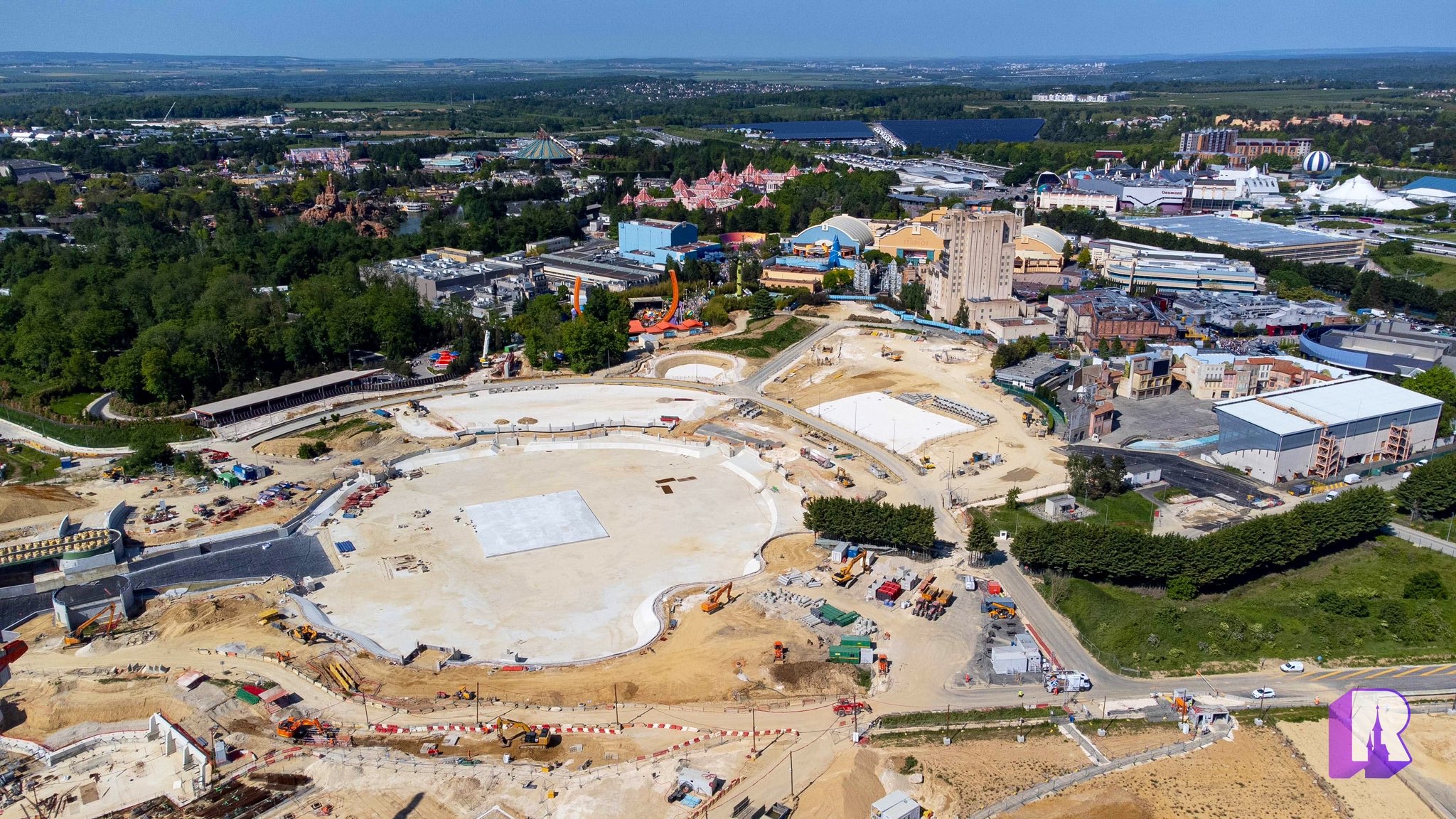 We had some fantastic updates from above at the Walt Disney Studios Park expansion site with this overview of the lake which is really coming together.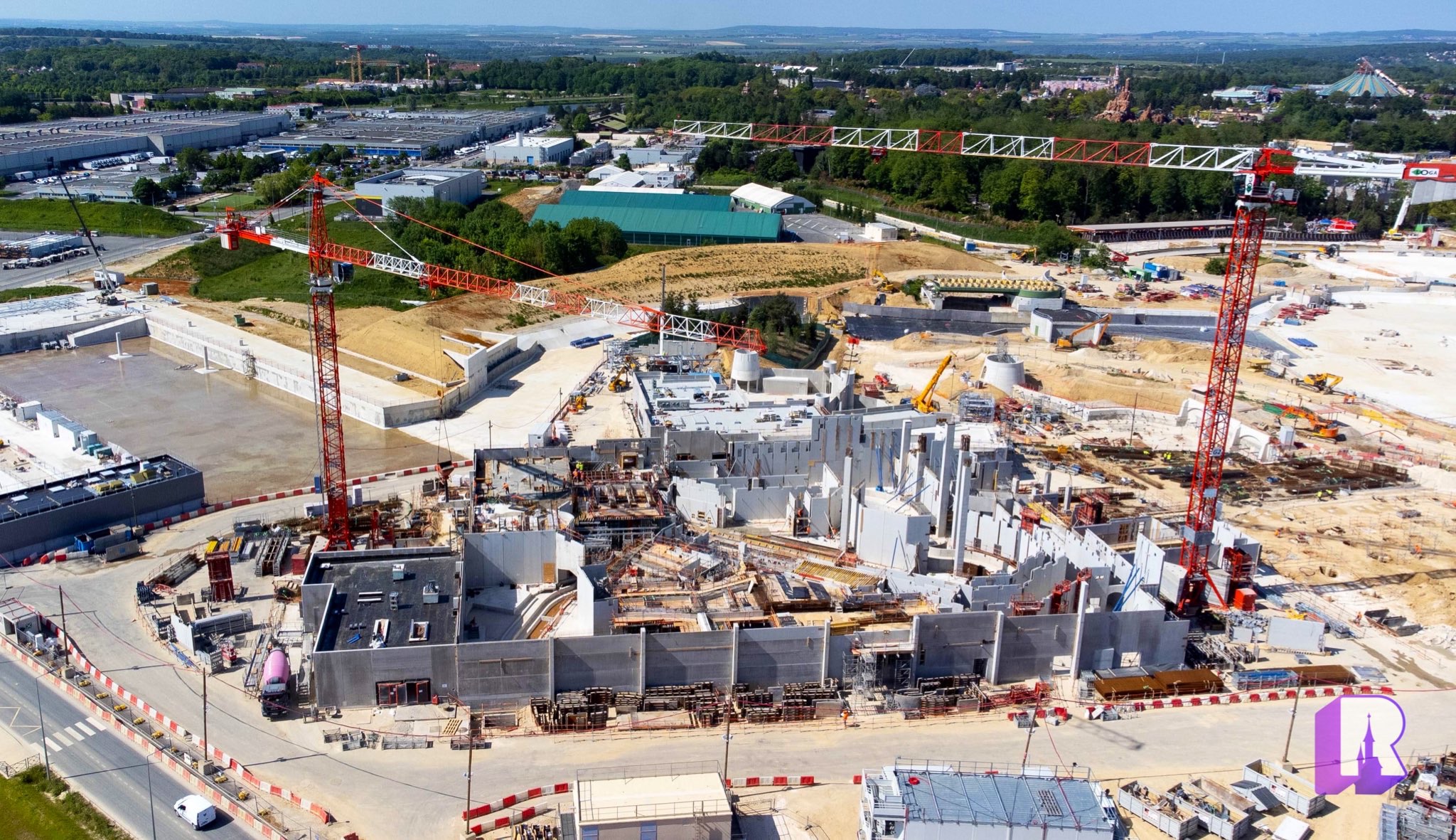 The Frozen Attraction is also taking shape with the canals and many rooms for the various scenes starting to be recognizable.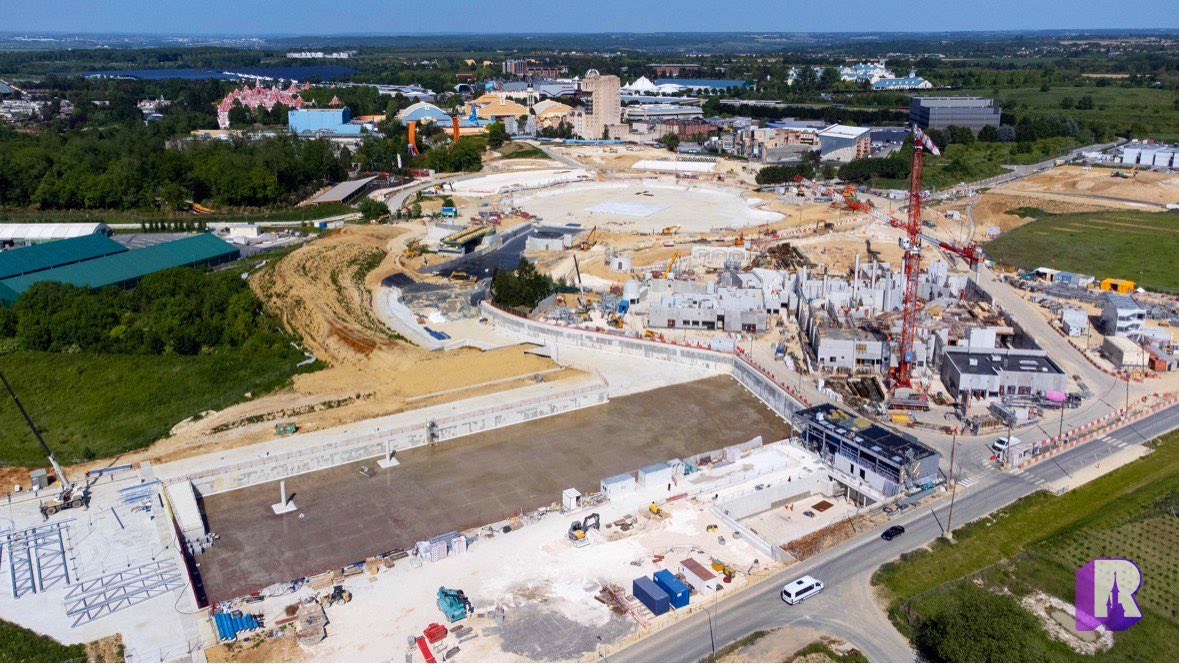 The impressive technical marina is also taking its final shape. This is where various water-crafts and floats will be prepared for the nighttime shows. Can't wait !
More recently, metallic structure for the North Mountain has started being assembled on top of the meet and greet show building. What a milestone! No official opening date has been announced but it's expected to be ready for mid-2025.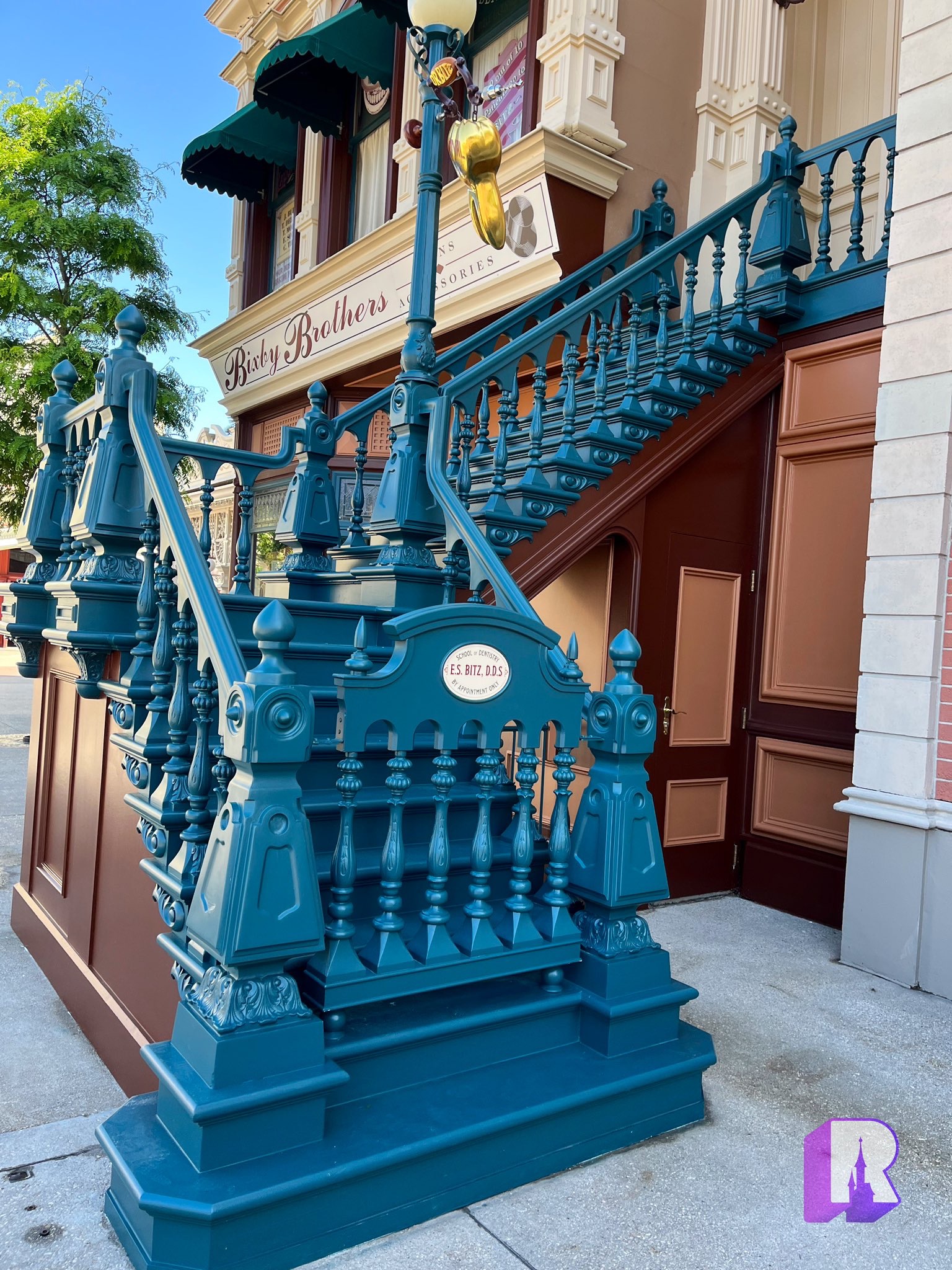 At Disneyland Park, the dentist stairs have been repainted and woah they look amazing !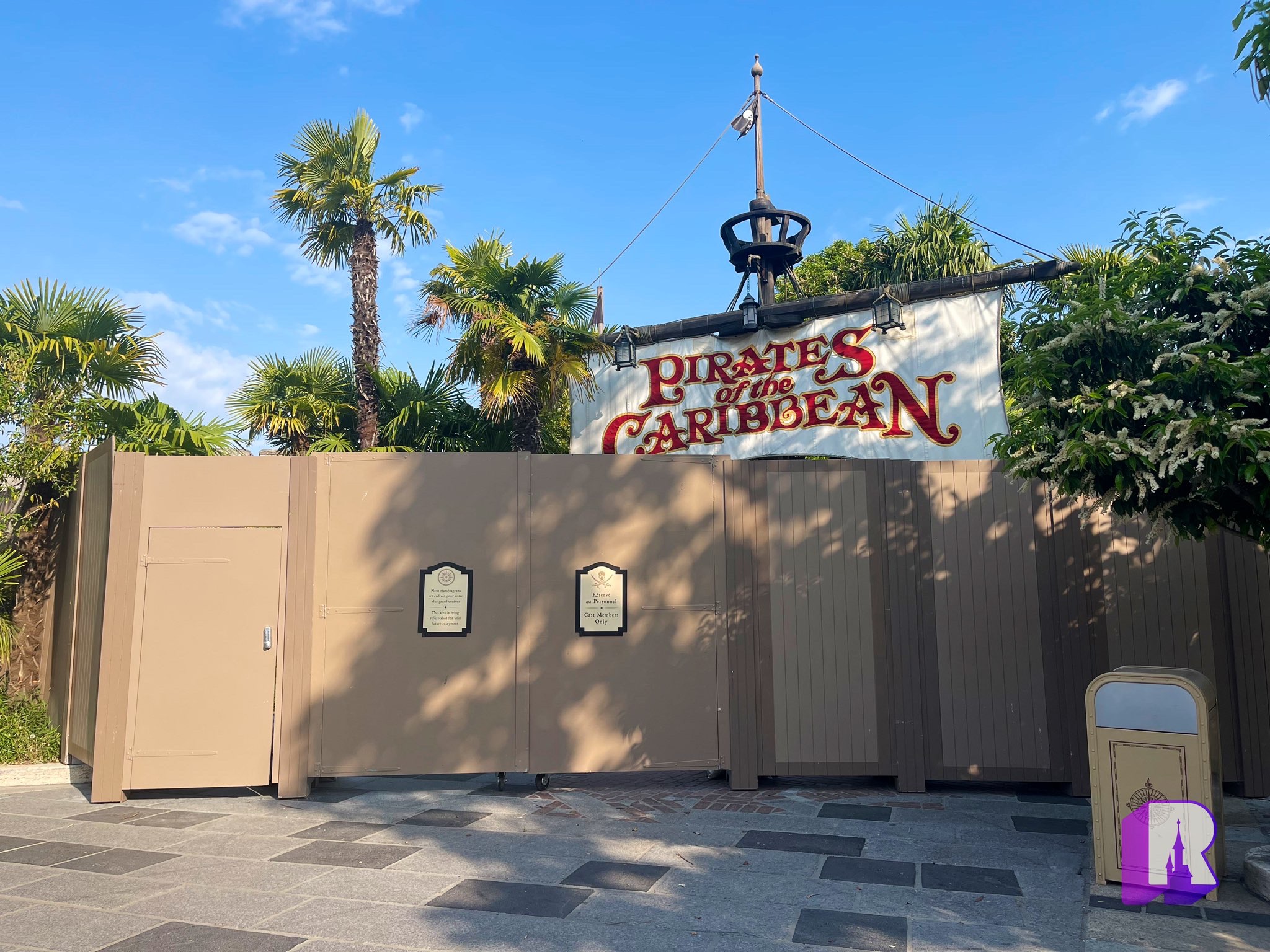 Some ongoing refurbishments: Pirates of the Caribbean (until July 1) and Carousel de Lancelot.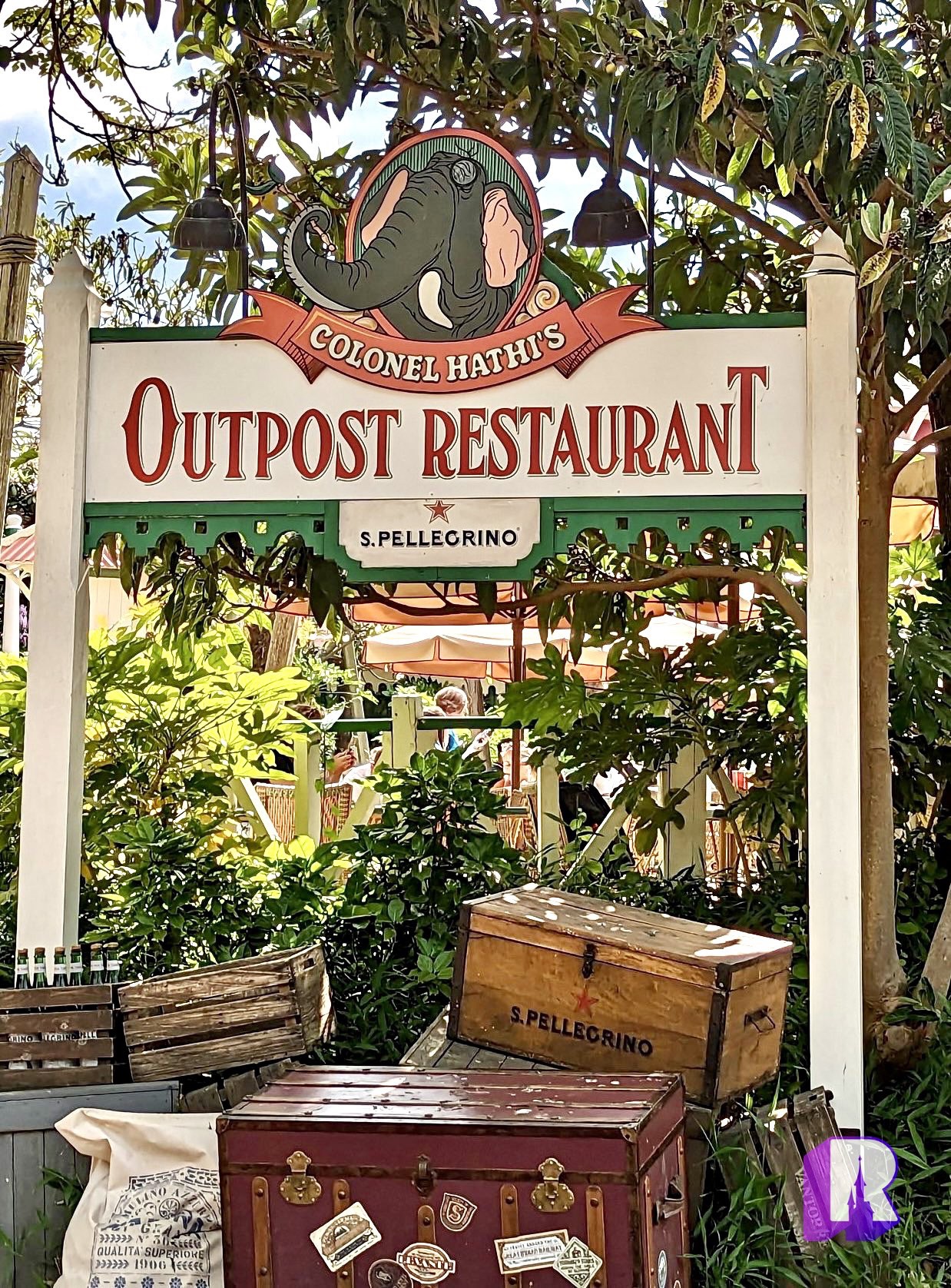 And in Adventureland, "Colonel Hathi's Pizza Outpost" has been officially renamed "Colonel Hathi's Outpost Restaurant". No explanation given except that it makes a bit more sense than an elephant serving up some pizzas.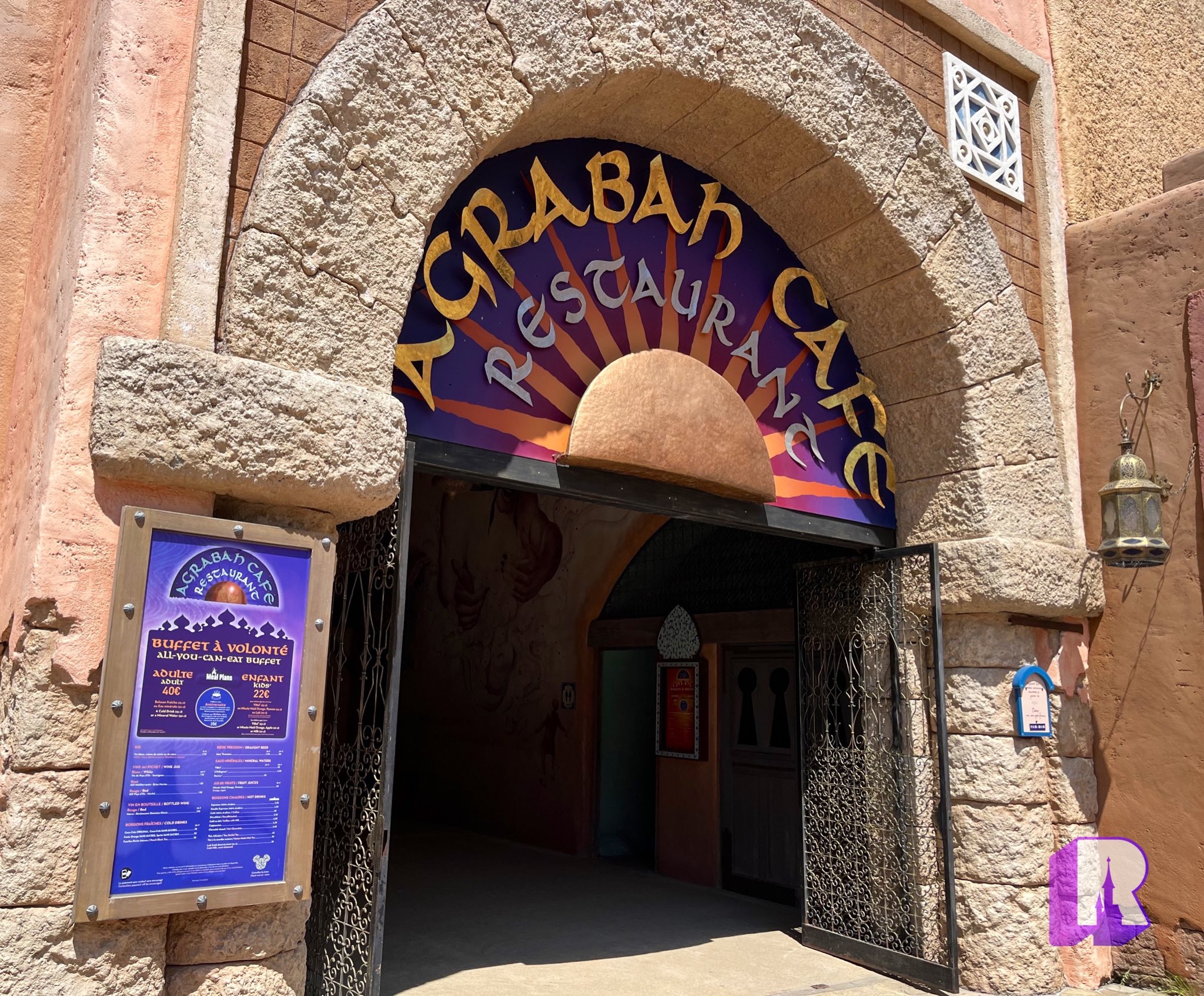 Agrabah Cafe has also reopened from refurbishment after a 3 month closure.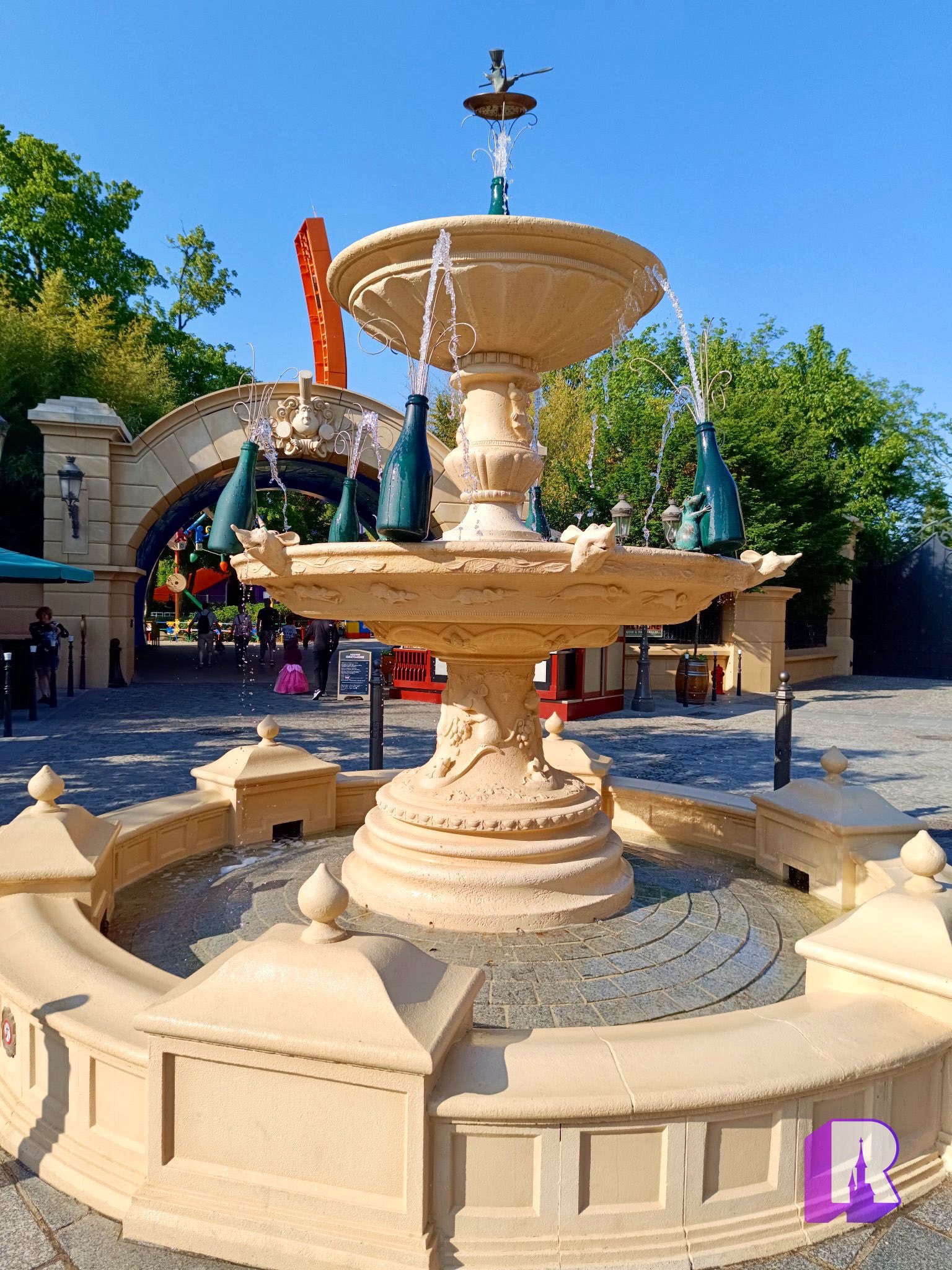 At Walt Disney Studios Park, the Place de Rémy fountain has returned from a thorough refurbishment and later on even Remy's hand has been repaired !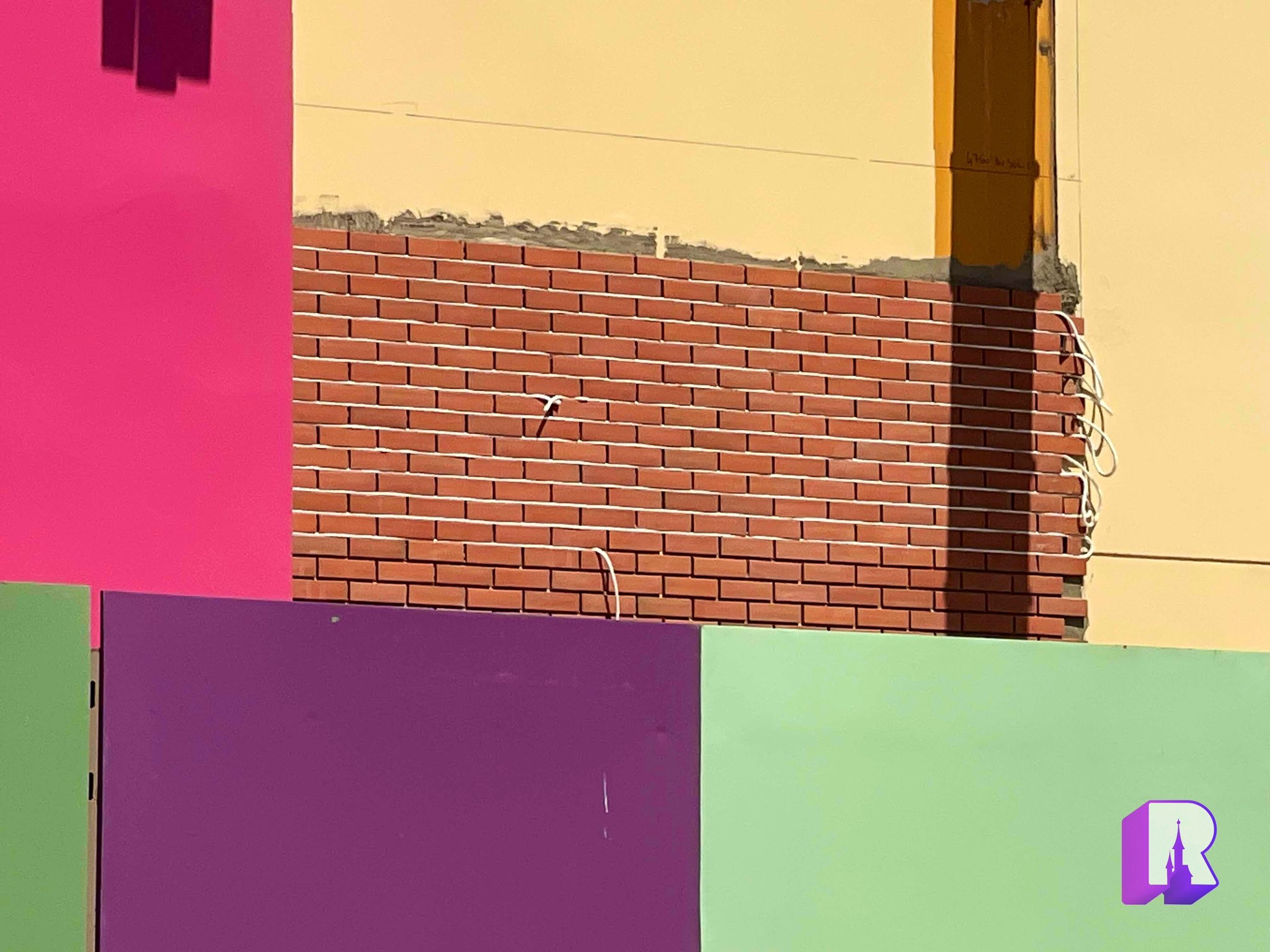 And at Disney Village, the first elements of fake brick theming have started to be applied at Miss Rose aka Brasserie Rosalie.
Merchandise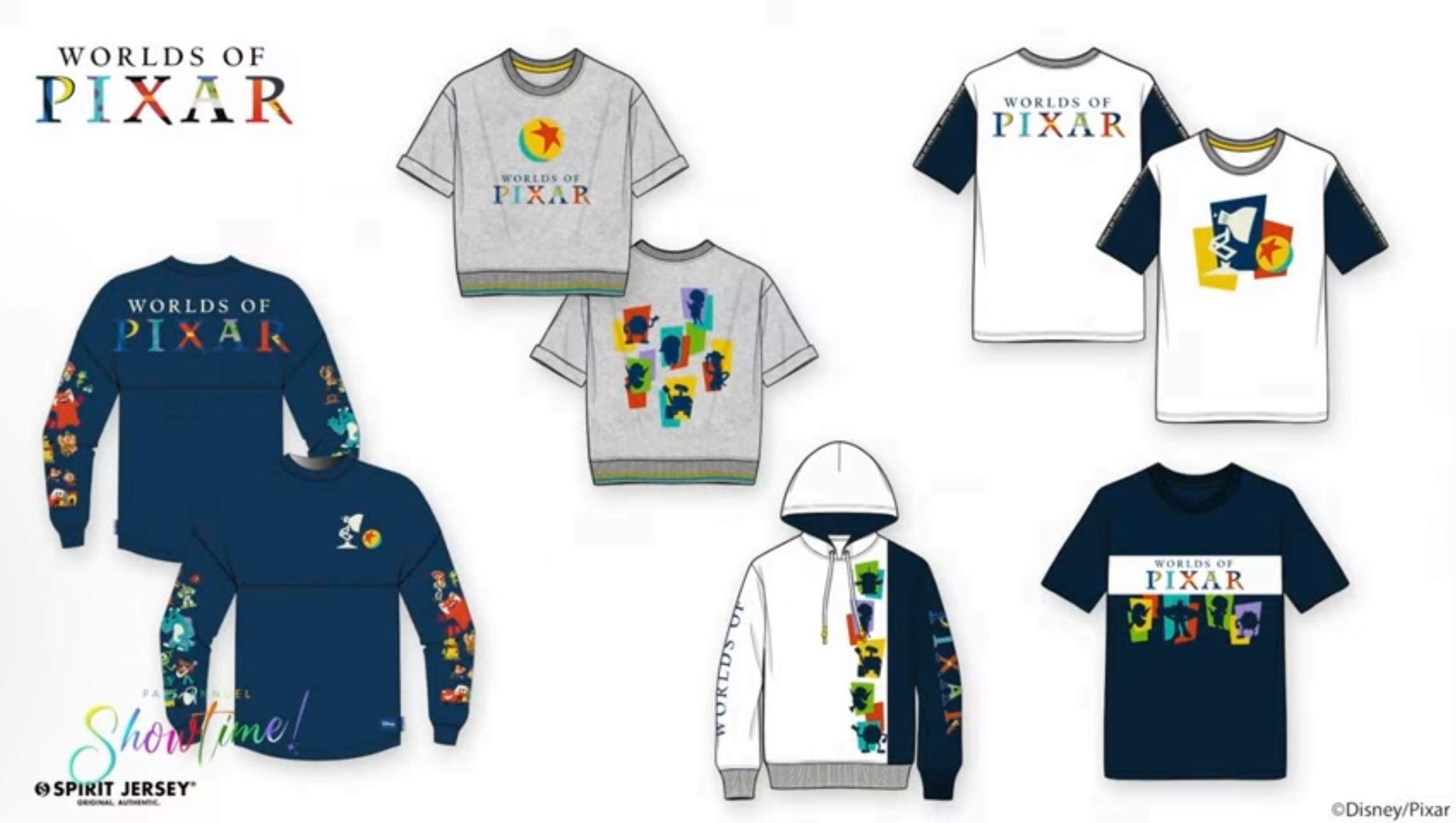 Well it's clearly gonna be a cool, cool Pixar Summer and the merchandise department is ready worn this World of Pixar collection, available soon.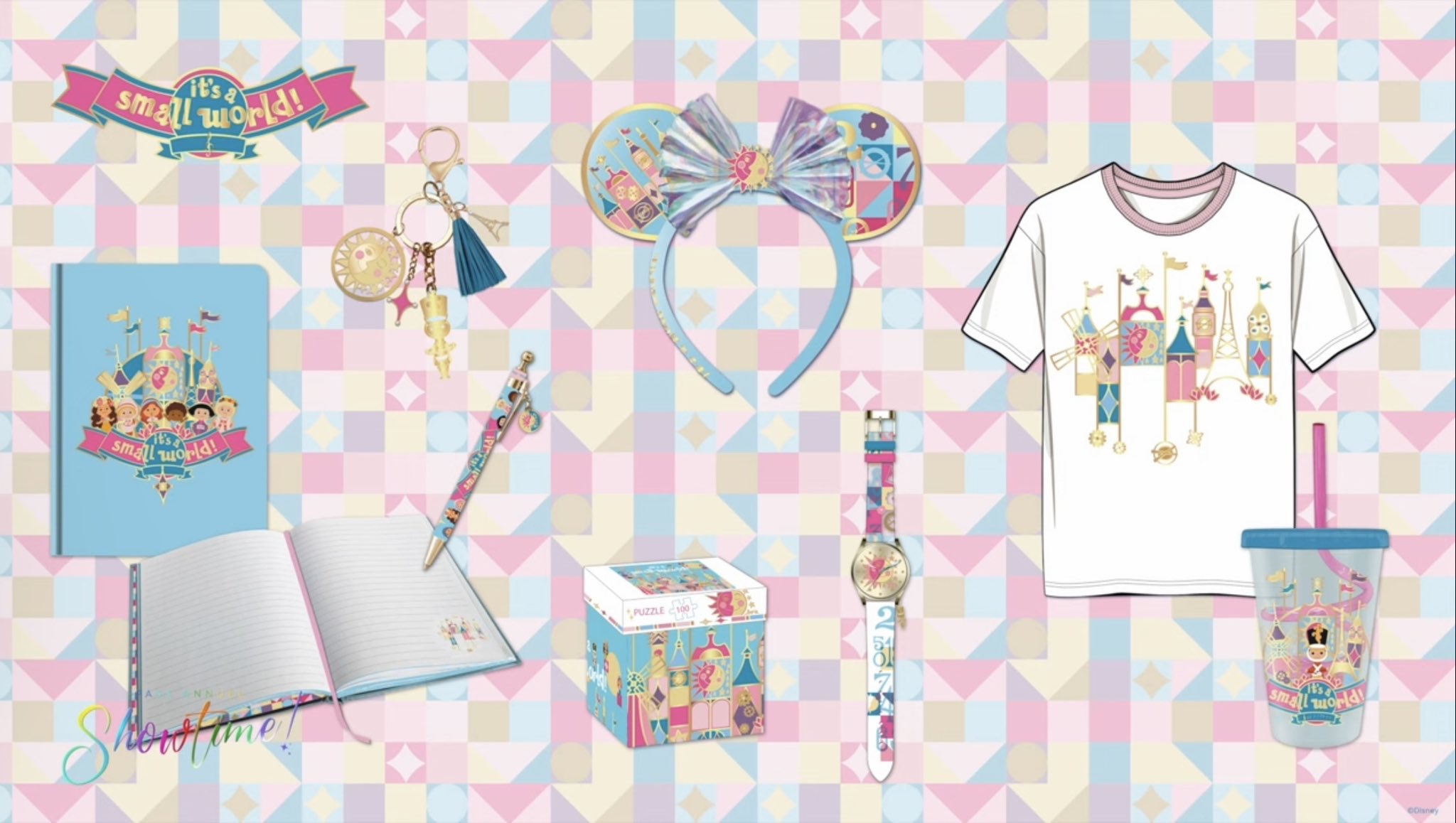 But what's REALLLLYYY been getting everyone excited including us are the brand new Attraction collections to be released progressively. We're being treated to collections themed to "it's a small world", Pirates of the Caribbean, Phantom Manor, Big Thunder Mountain, and Tower of Terror to begging with. Can't wait!
Meet and Greet across Europe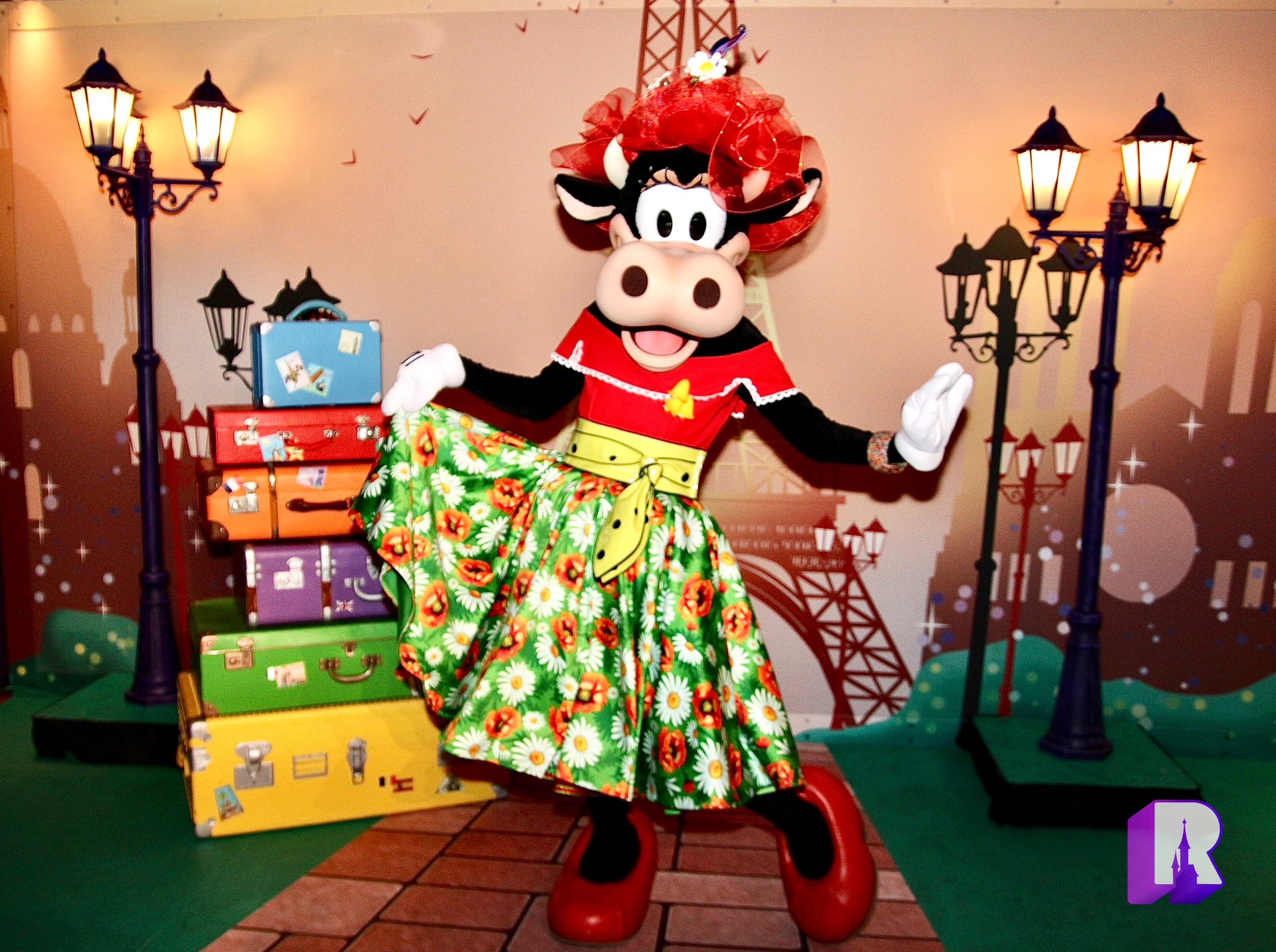 At "Meet and Greet across Europe with Minnie or Friends, guests can meet Minnie or one of her iconic Friends in fantastic outfits as they travel across Europe!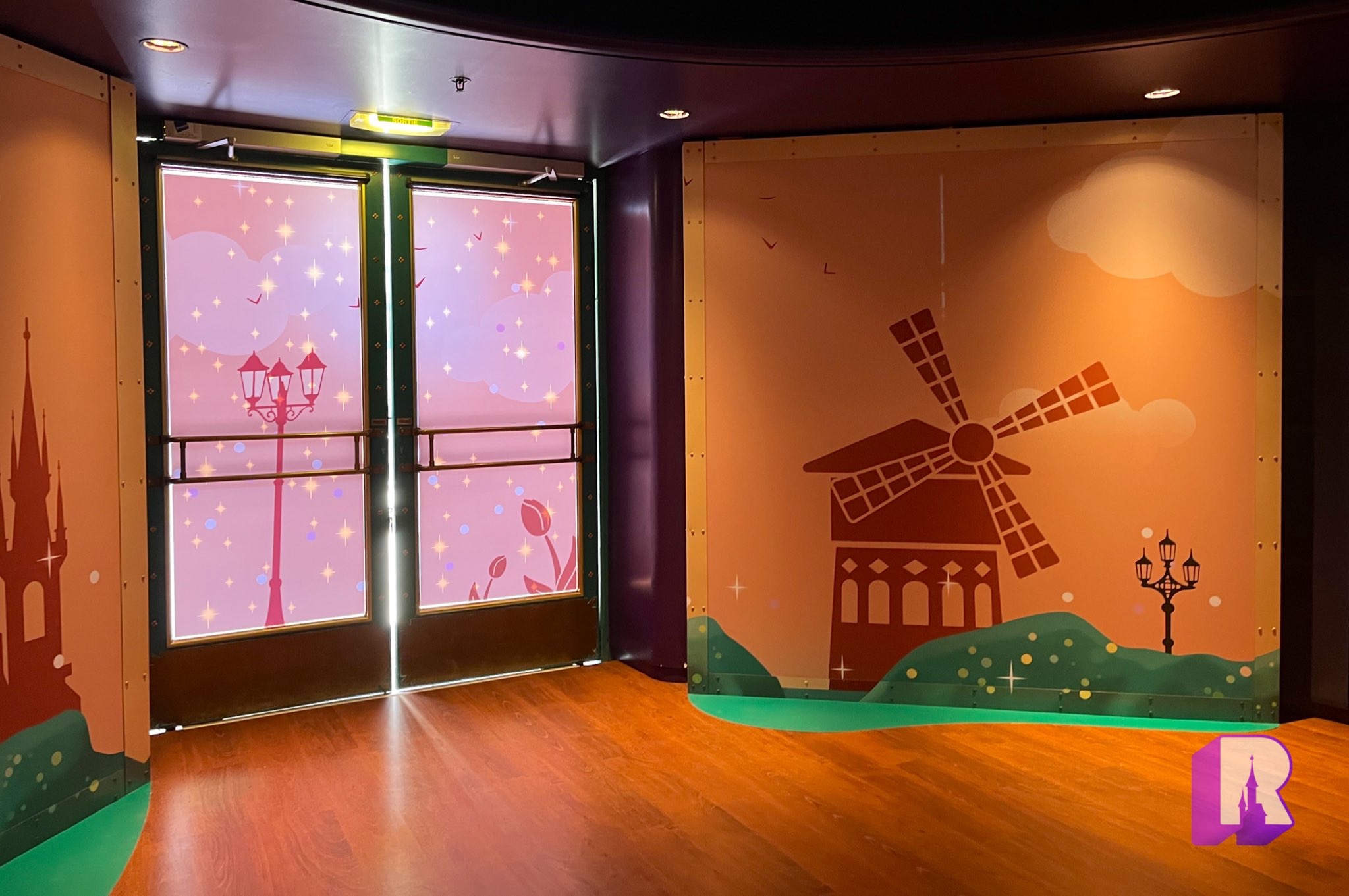 A great use of the Videopolis Arcade with a queue even themed to the travels of the Hyperion around Europe, to loosely link it to Discoveryland. This new meet and greet is expected to run until Christmas season (then Santa will return).
This and That..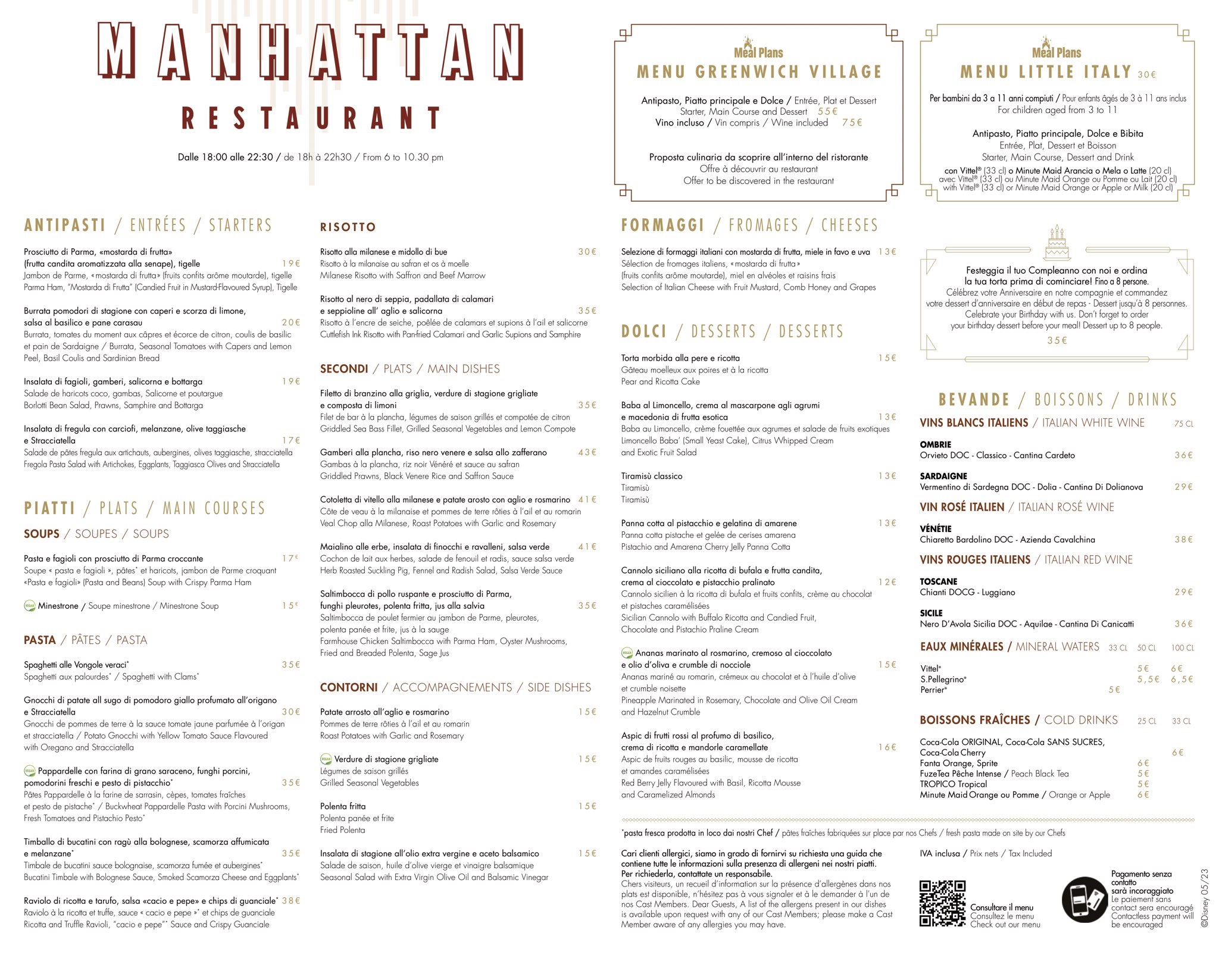 There a new menu at Manhattan Restaurant, Disney Hotel New York – The Art of Marvel. New dishes include:
Burrata Salad w/capers, lemon and basil,
Ricotta Truffle Ravioli,
Cuttlefish Ink Risotto w/ pan-fried Calamari,
Pineapple Chocolate Cream dessert:
And sadly it was recently the final journey of the direct Eurostar train to Disneyland Paris. A sad consequence of Eurostar, Disney, the French government and the UK government being unable to come to an agreement on customs and other operational aspects for the service.
What a packed update ! Thank you everyone for reading, sharing, and also coming along for the ride daily during these unprecedented times for the Resort. We really appreciate it. See you next time !