It's been a pretty standard week at the Resort with no major events (call it calm before the storm), but we're of course still taking a look at the latest changes in the parks, merchandise and more. Let's go!
Maintenance and Refurbishments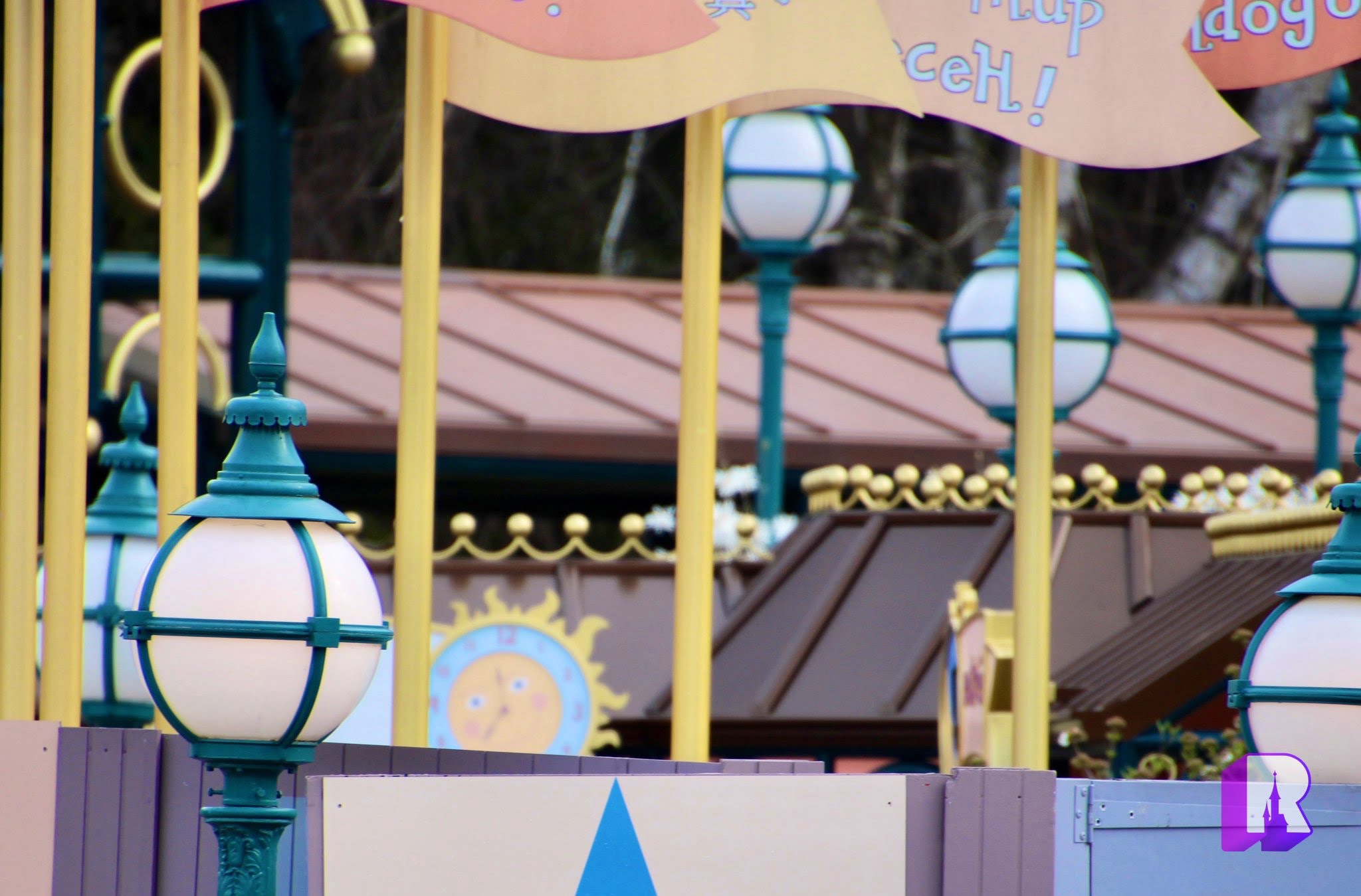 We are of course keeping track of 'it's a small world', one of the largest ongoing project which, in true Disneyland Paris fashion, has been dragging forever. The clock has been installed for Disney Premier Access, and the sign for the attraction has also returned. Before you start thinking oh who's gonna pay €5 for this attraction remember that 1) some guests get it as part of the ultimate package and one more attraction on the list is more perceived value 2) some guests are on a schedule and there are busy weekends in the year and 3) having DPA at every single attraction is the key to developing other products of this type that may be cheaper as the Resort needs reservation capacity on the system before launching any type of unlimited offering. Again there is perceived value in skipping even a 15 min queue especially if you're using an all inclusive package. Thank you for coming to my TED Talk and we're of course awaiting an opening date, but beware it's still gonna be some time away as the attraction is marked closed all of April.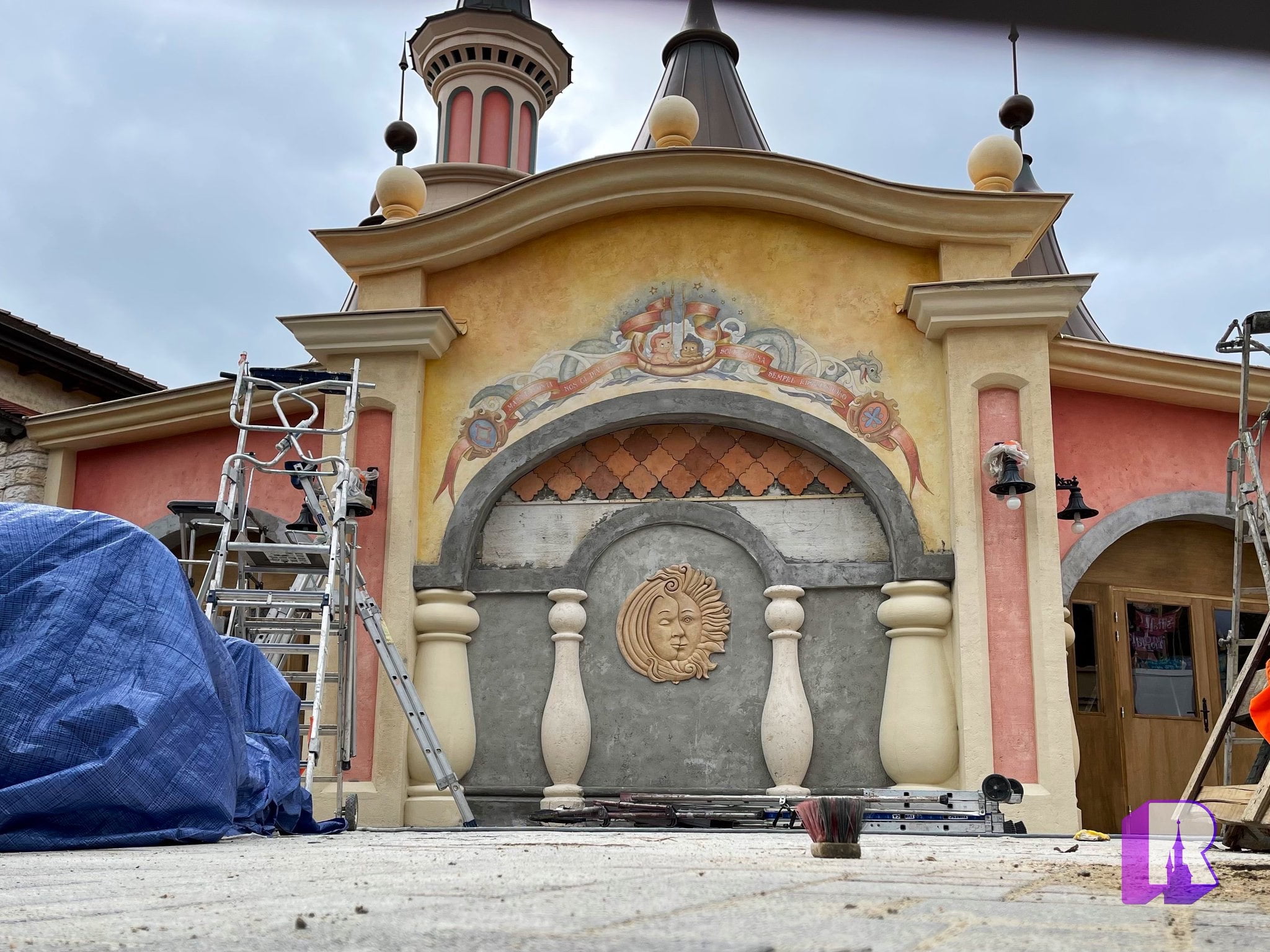 Another project nearing completion is the transformation of Fantasia Gelati into an additional dining room for Bella Notte themed to "Luca". The outside design is uninspired to say the least, amounting to a bit of wall dressing, so let's hope the inside is more exciting.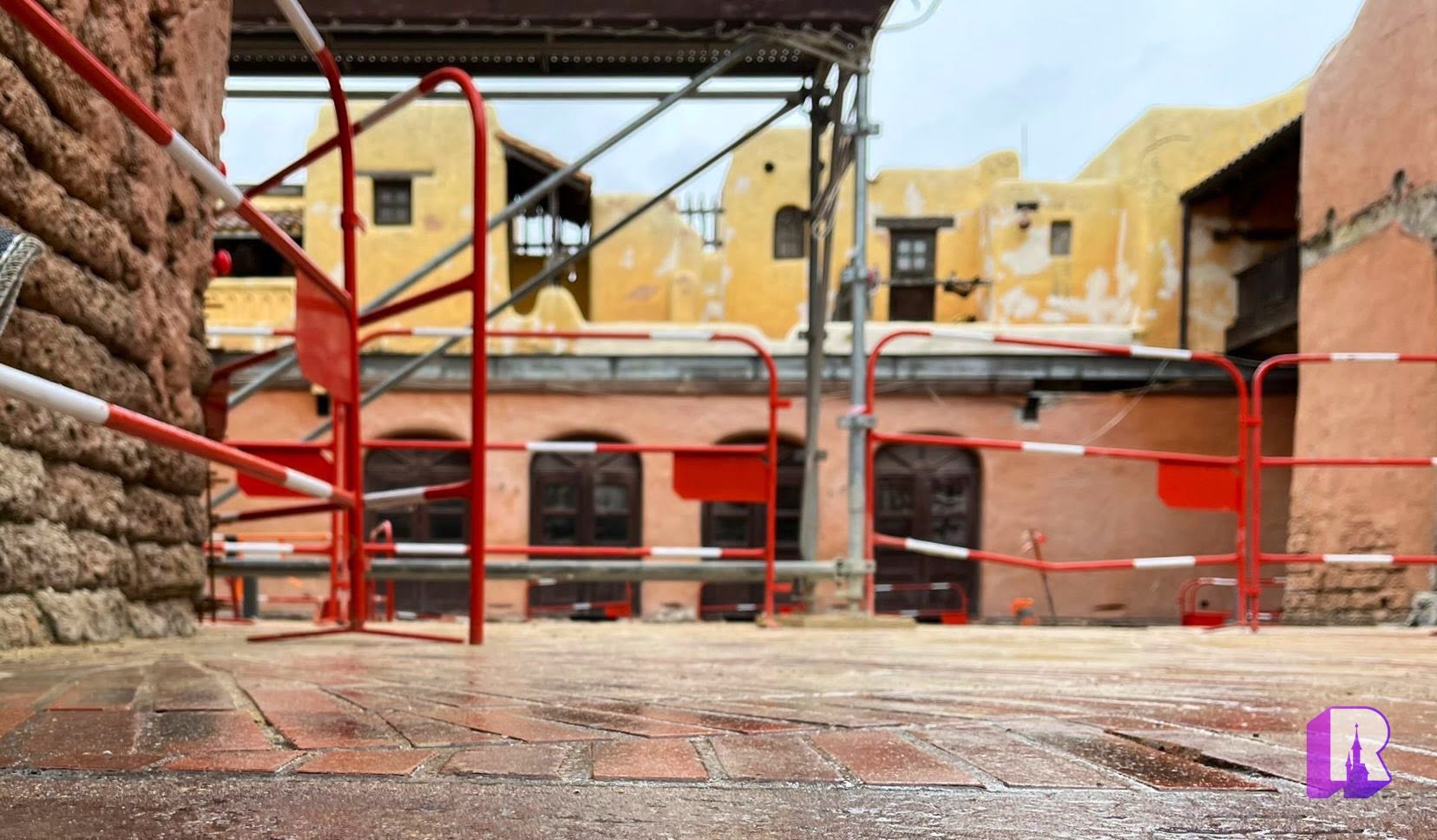 A similar project taking place across the Park is Margarita central aka Fuente Del Oro. As part of the transformation the terrasse will be mostly enclosed and as you can see all of the previous awning that was wrapping around the courtyard has been sliced off. The fountain is also gone, it's still unclear if it'll return in an indoor version for example.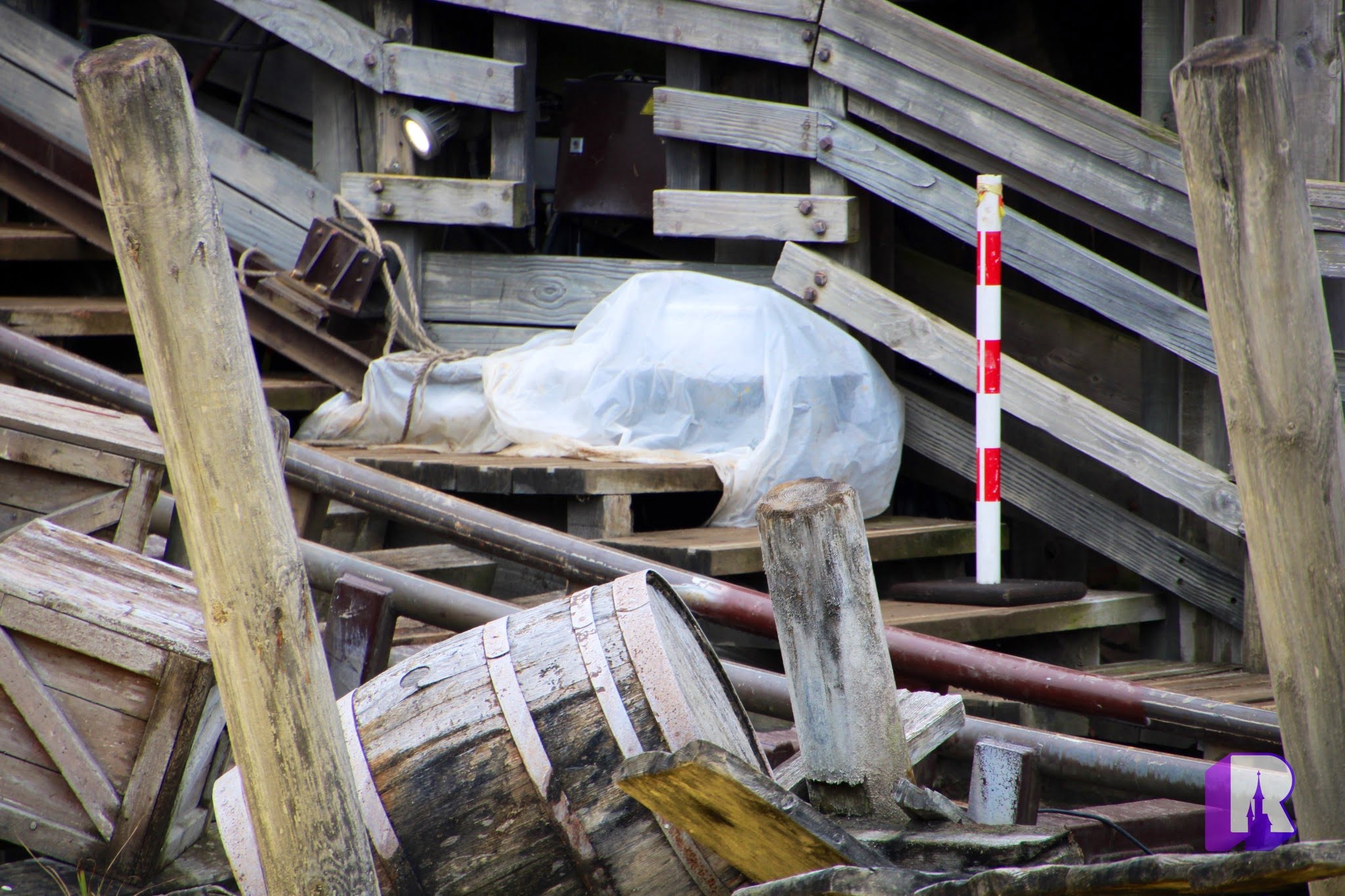 Staying in Frontierland at Big Thunder Mountain which is under refurbishment until April 1. Part of the work includes a complete refurbishment of the splash down effect which should be nice and powerful for the reopening!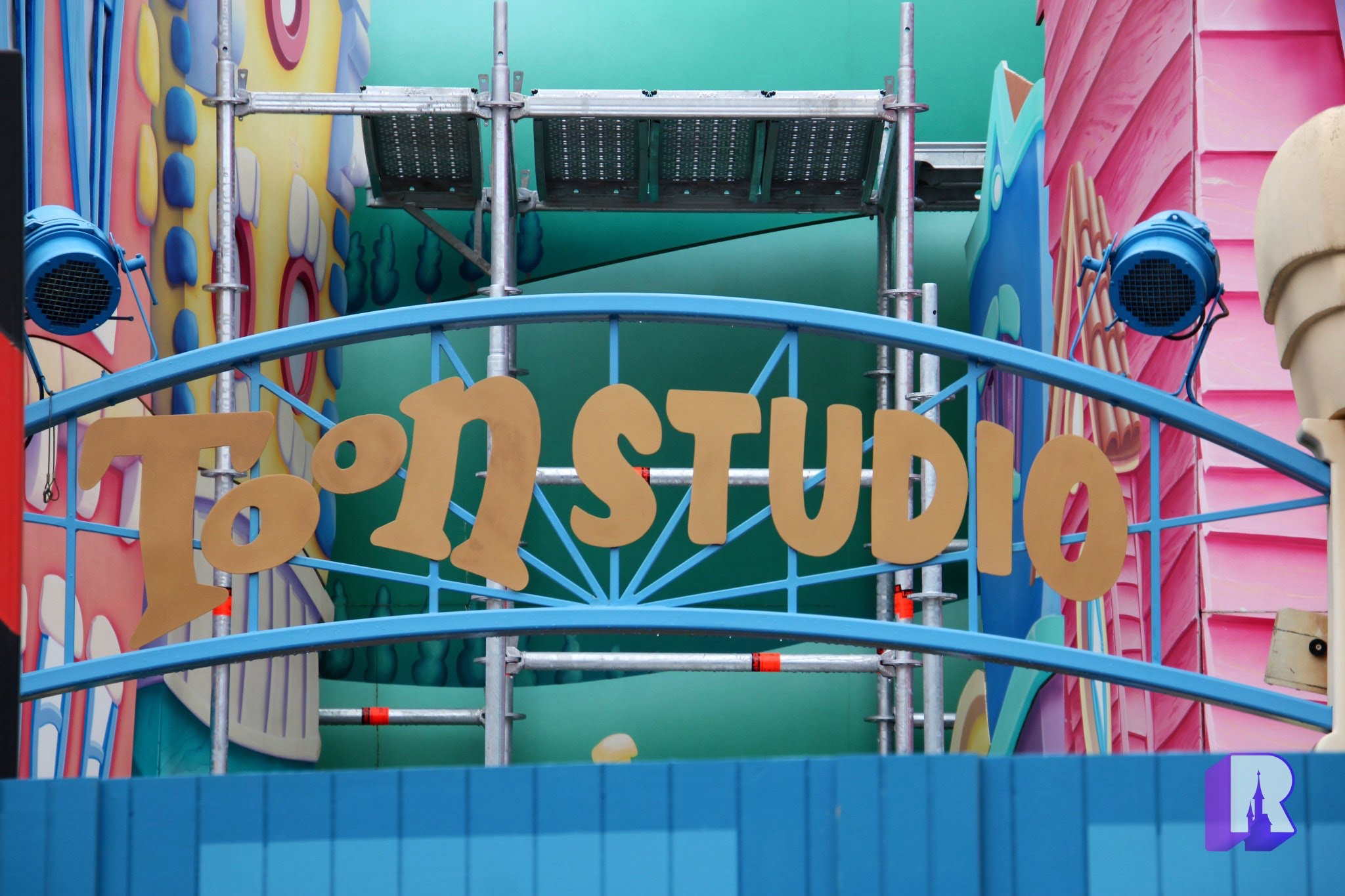 Over at Walt Disney Studios Park the action is taking place at Worlds of Pixar where the now out of theme "Toon Town" photo location is behind tarps. Now before you ask no – there is no room here to build Mickey and Minnie's Railway but let's see if they can bring this location back in theme.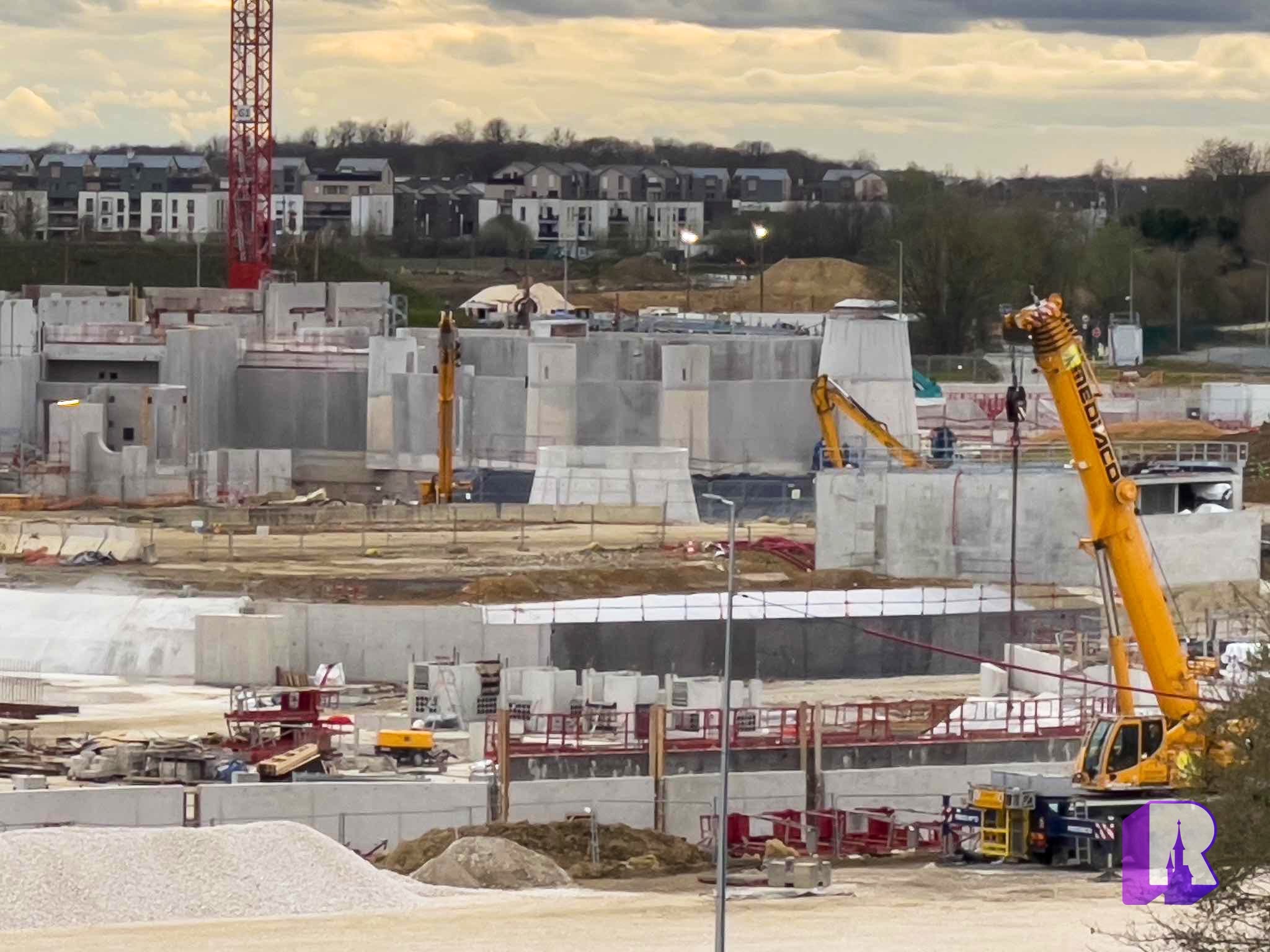 Each day we get closer to having our very own Frozen themed land ! Good progress is being made on Arendelle Town with the Castle becoming recognizable, and the attraction is getting taller and taller. At the lake, the shores are getting their final shape while the lakeside restaurant and the themed gardens are being prepared.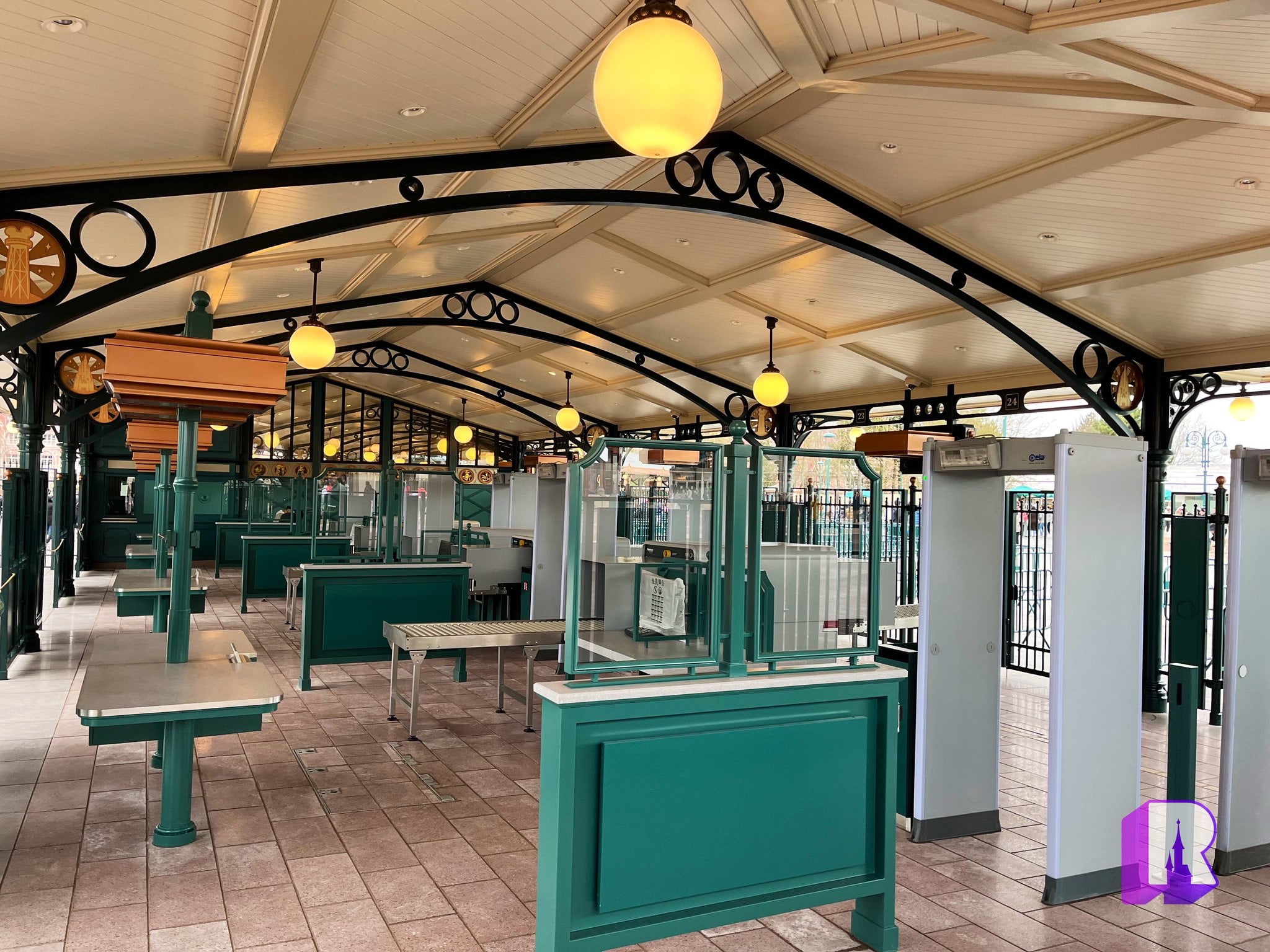 In the Resort Hub, the third and final stretch of security gates opening is finally moments away Everything has been installed, the screens are on and we're just waiting for it to happen now.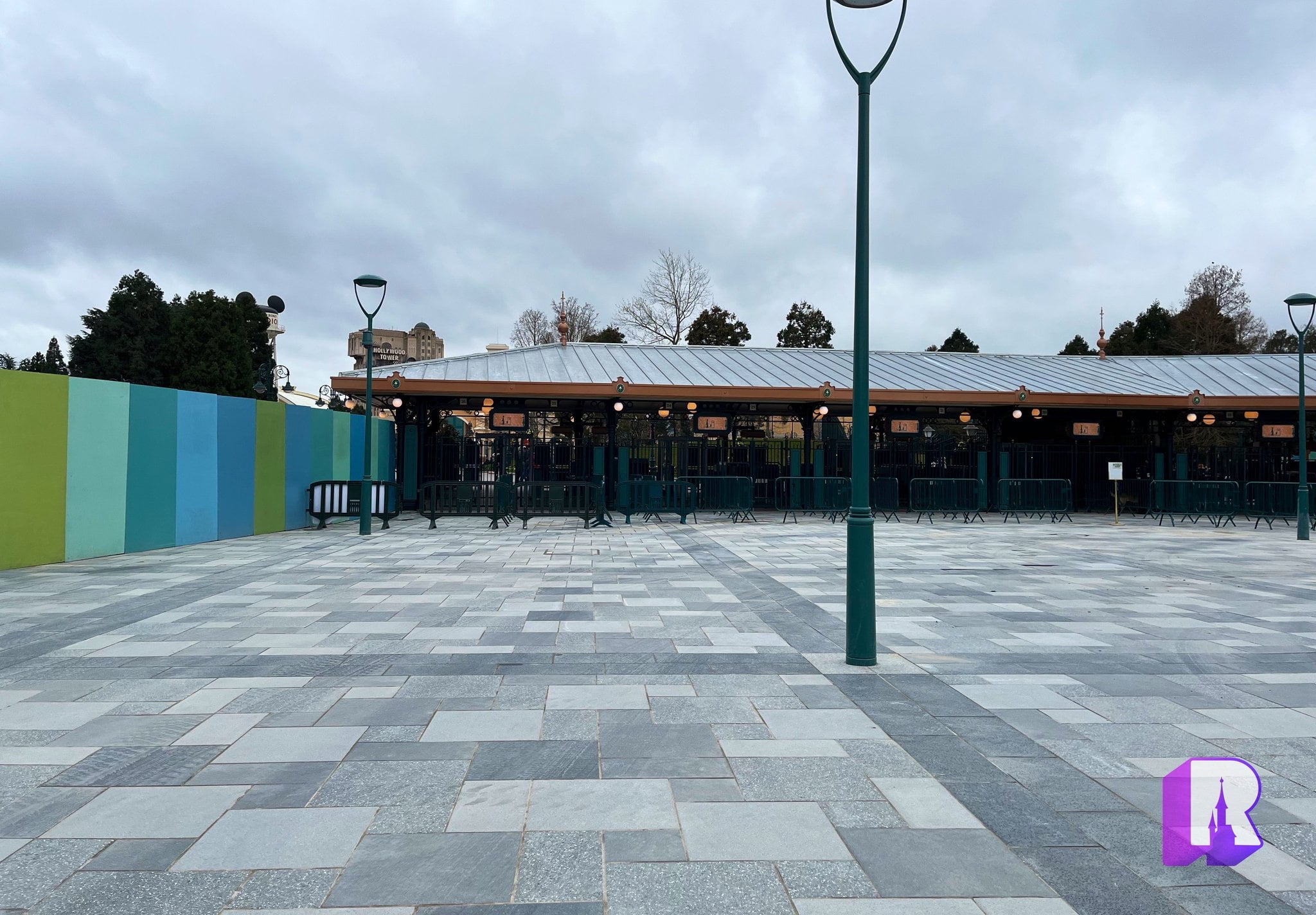 The imminent opening also means walls have moved around the Resort Hub and new pavement has been unveiled. It seems the idea is grey on the "outside world" (public plaza) and pink in the "magical world" (Fantasia Gardens and Walt Disney Studios Plaza).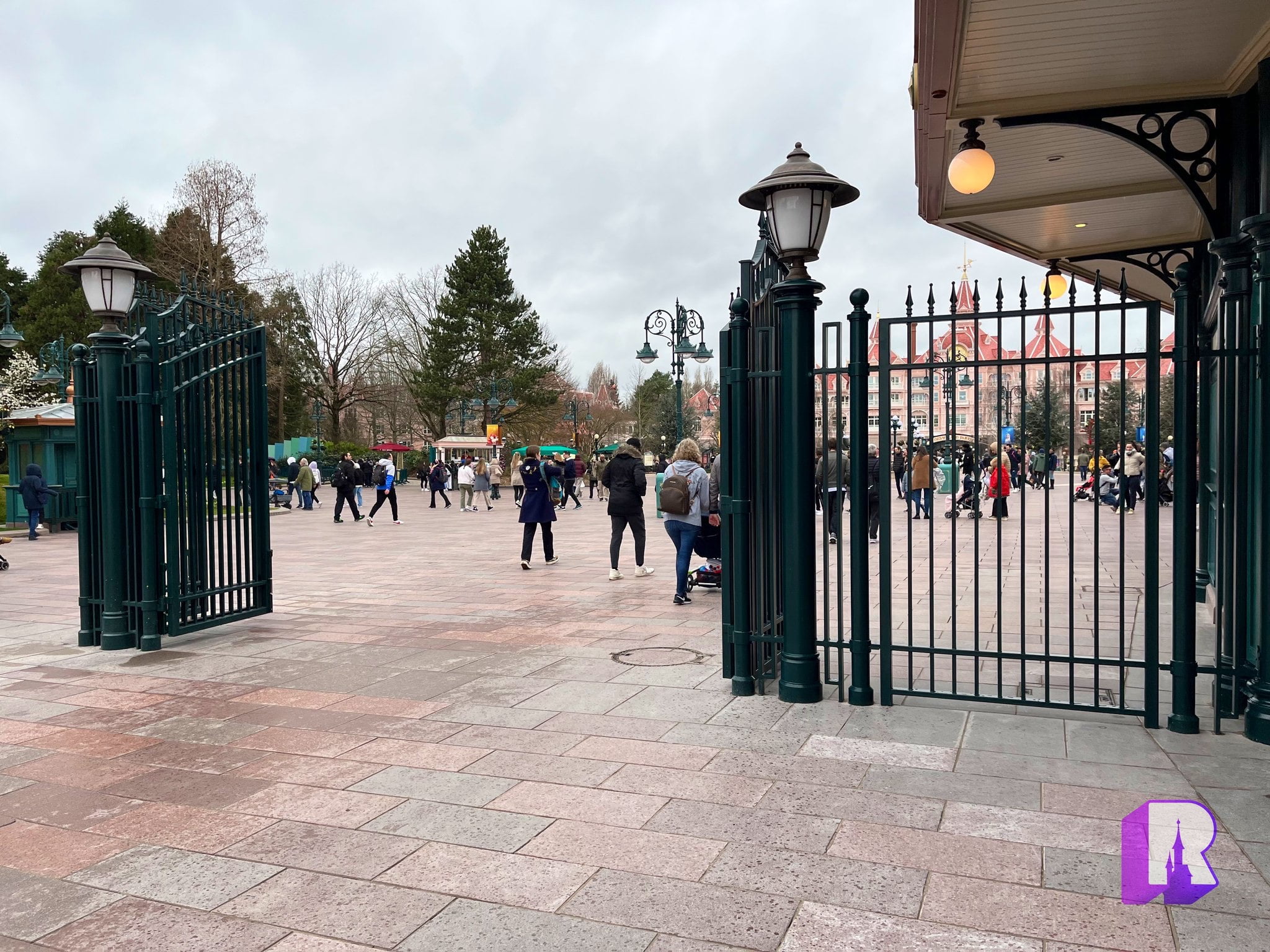 The move also means that the gate designed to close Fantasia Gardens and Walt Disney Studios Plaza after hours is now complete.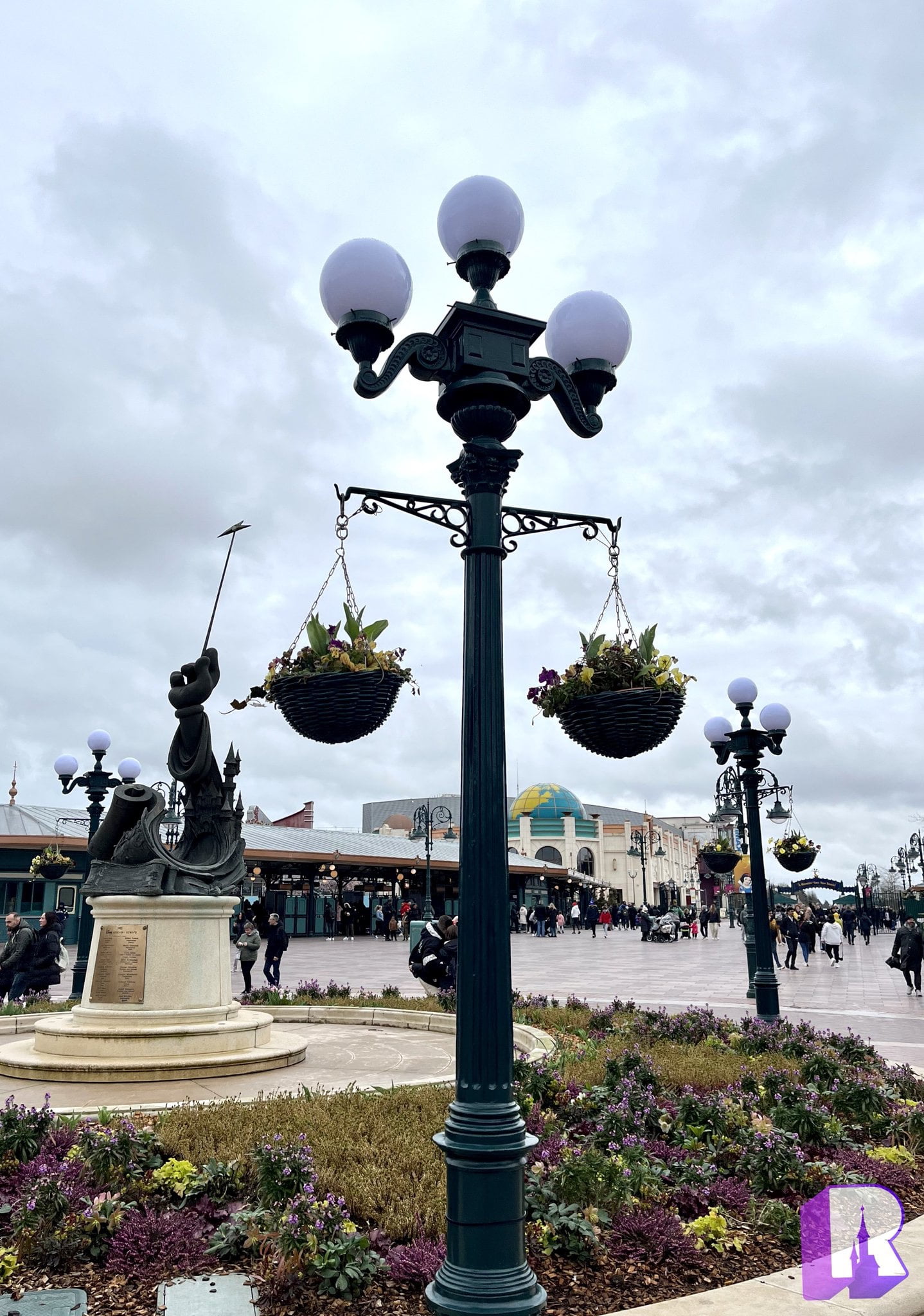 Just down the road by the Legends Statue, lampposts have also been refurbished. This entire area is really starting to look like a real Disney Park entrance!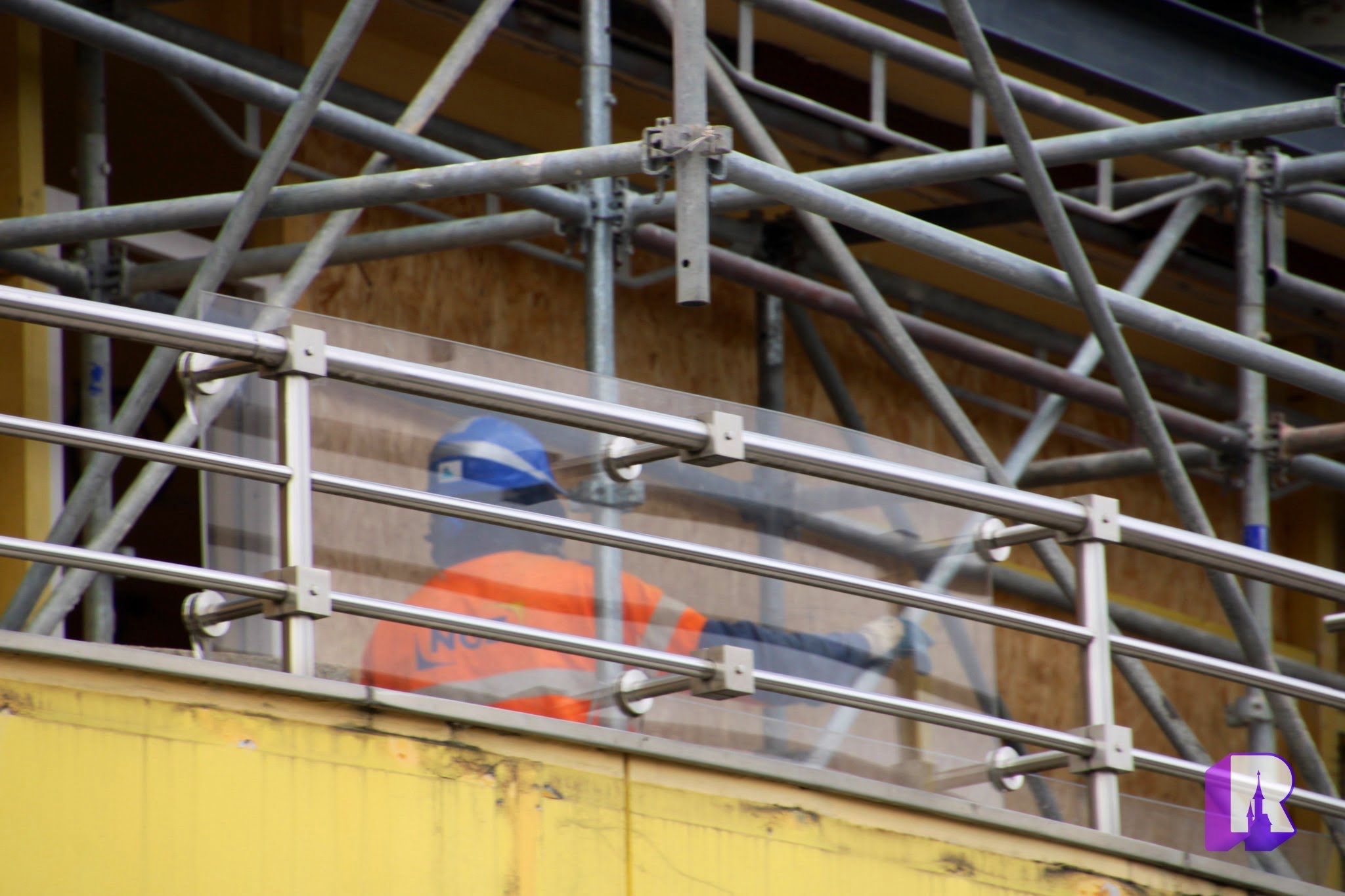 Next stop, Disney Village where Brasserie Rosalie is taking shape. Looks like the project is on track for an end-2023 opening and it might just make it.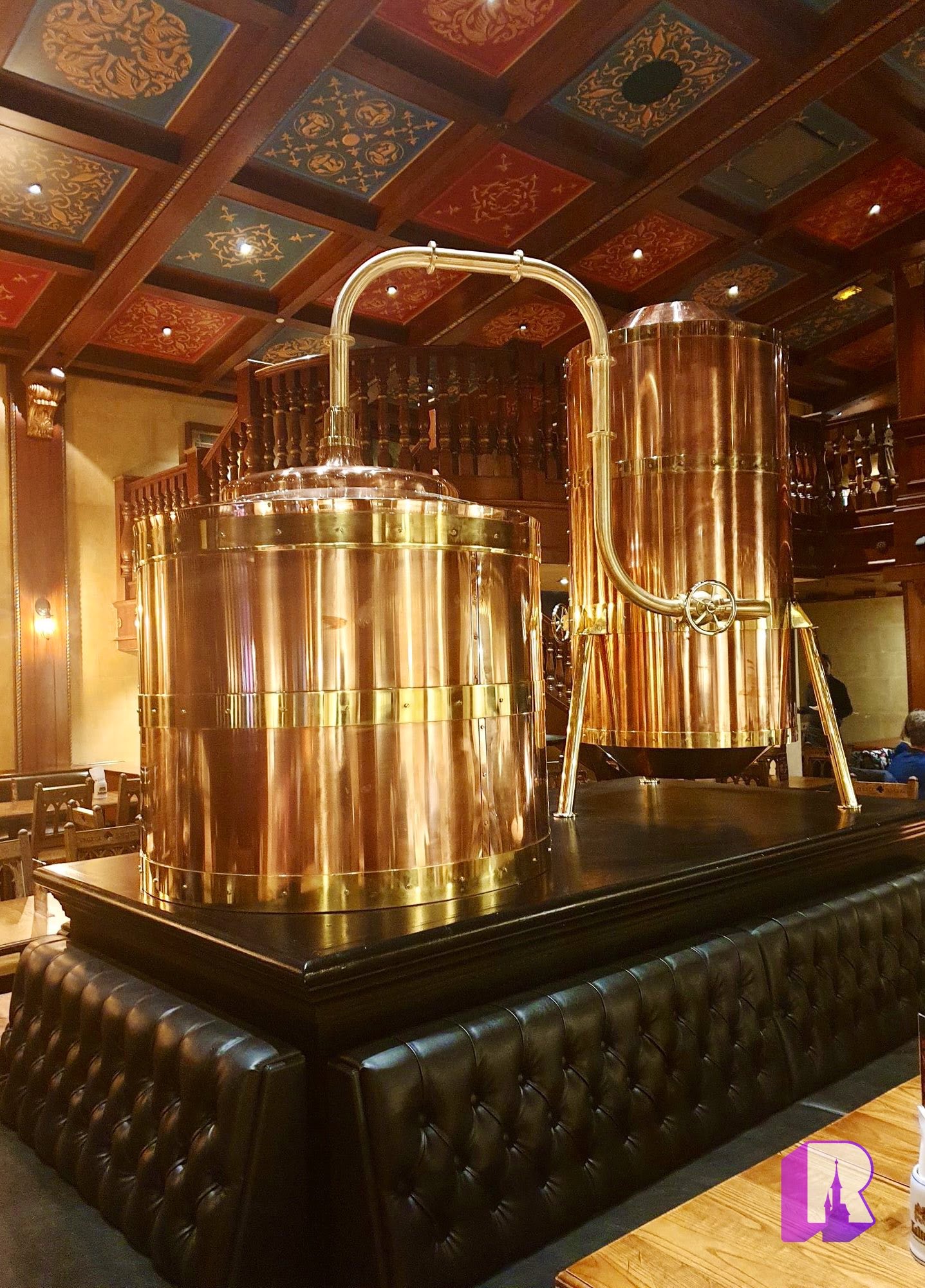 Also at Disney Village, the empty platform where King Ludwig's statue used to be now displays some brewing equipment. Better than nothing!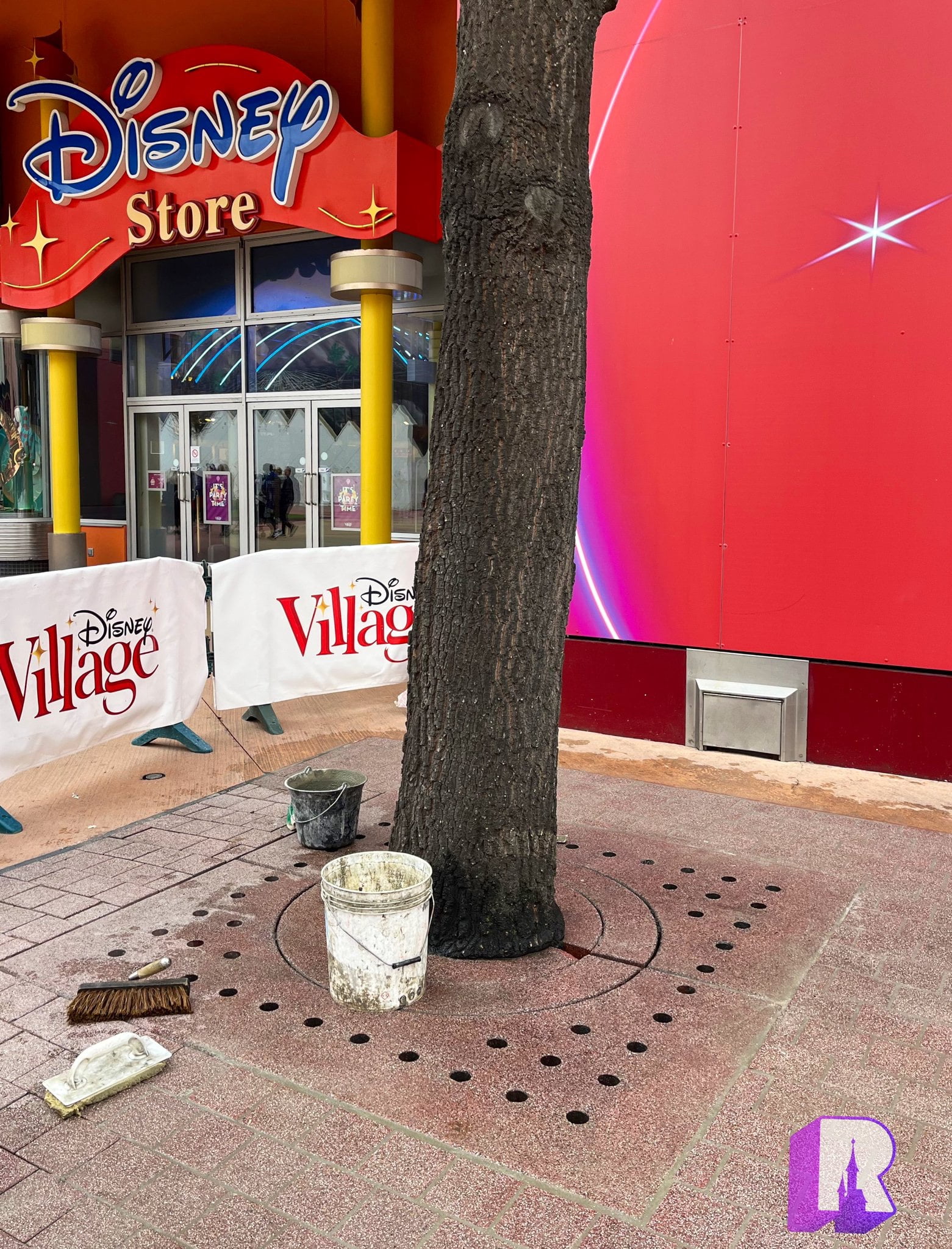 And near the Disney Store, this peculiar little paving project around a tree has appeared. Given none of Disney Village has ever been paved like this, it may be a test of future pavement for the remodel.
Merchandise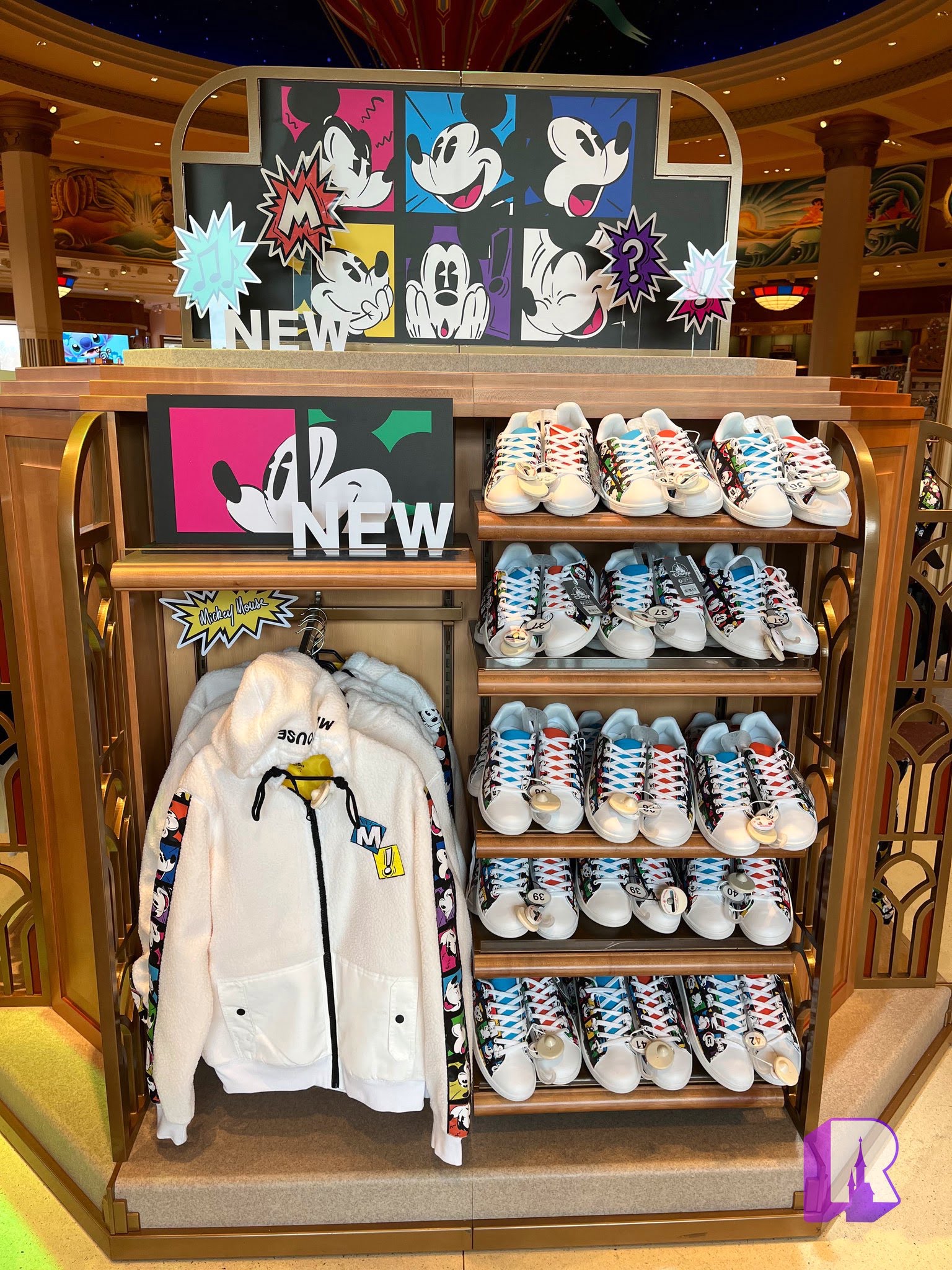 The new "Mickey Color Pop" collection has arrived in shops. This is a pretty classic basic line that is more of an update of previous collections and features a wide array of products from shoes to hoodies, t-shirts and underwear.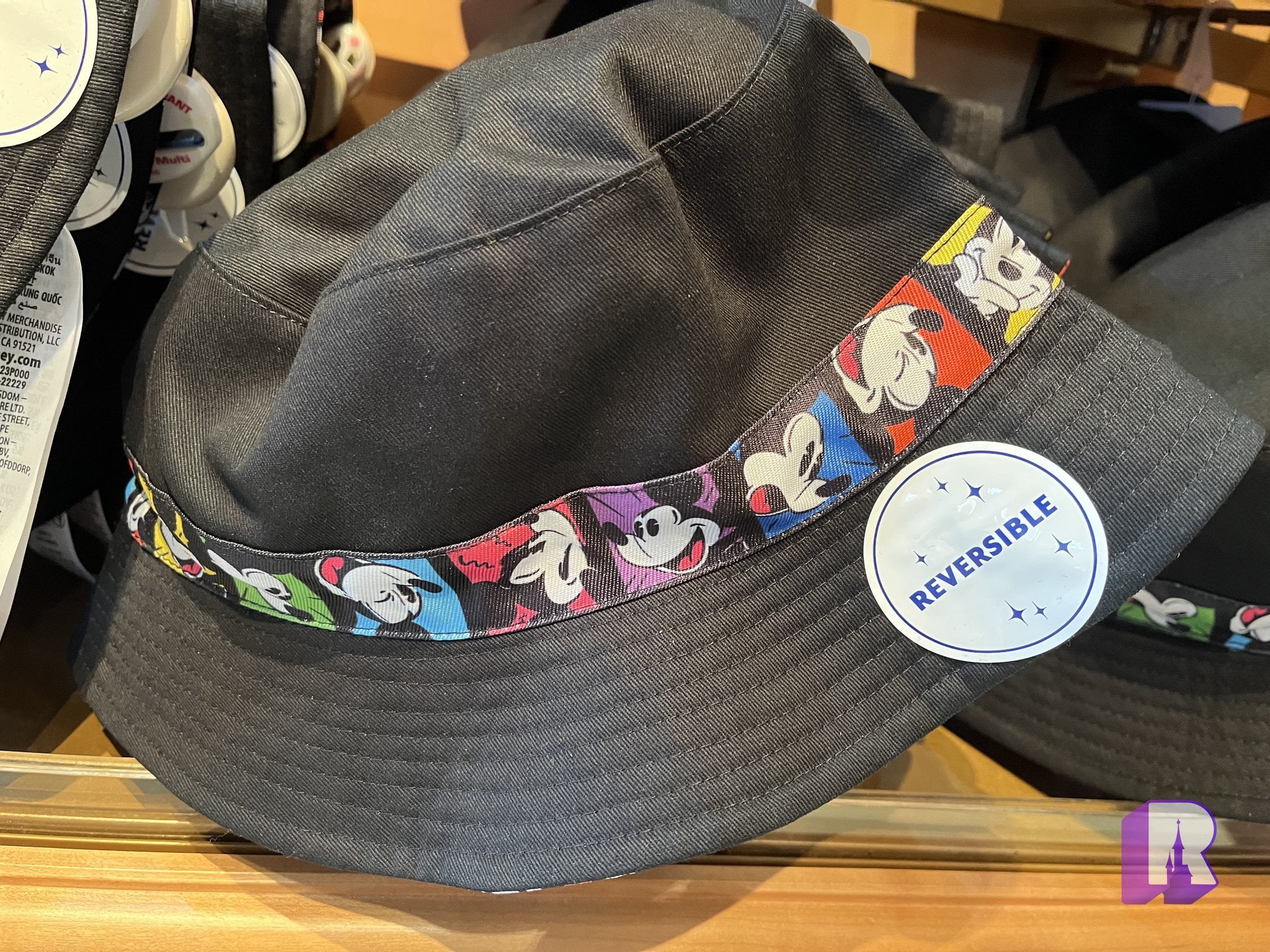 I guess the Resort needs this type of "modern" Mickey themed baseline.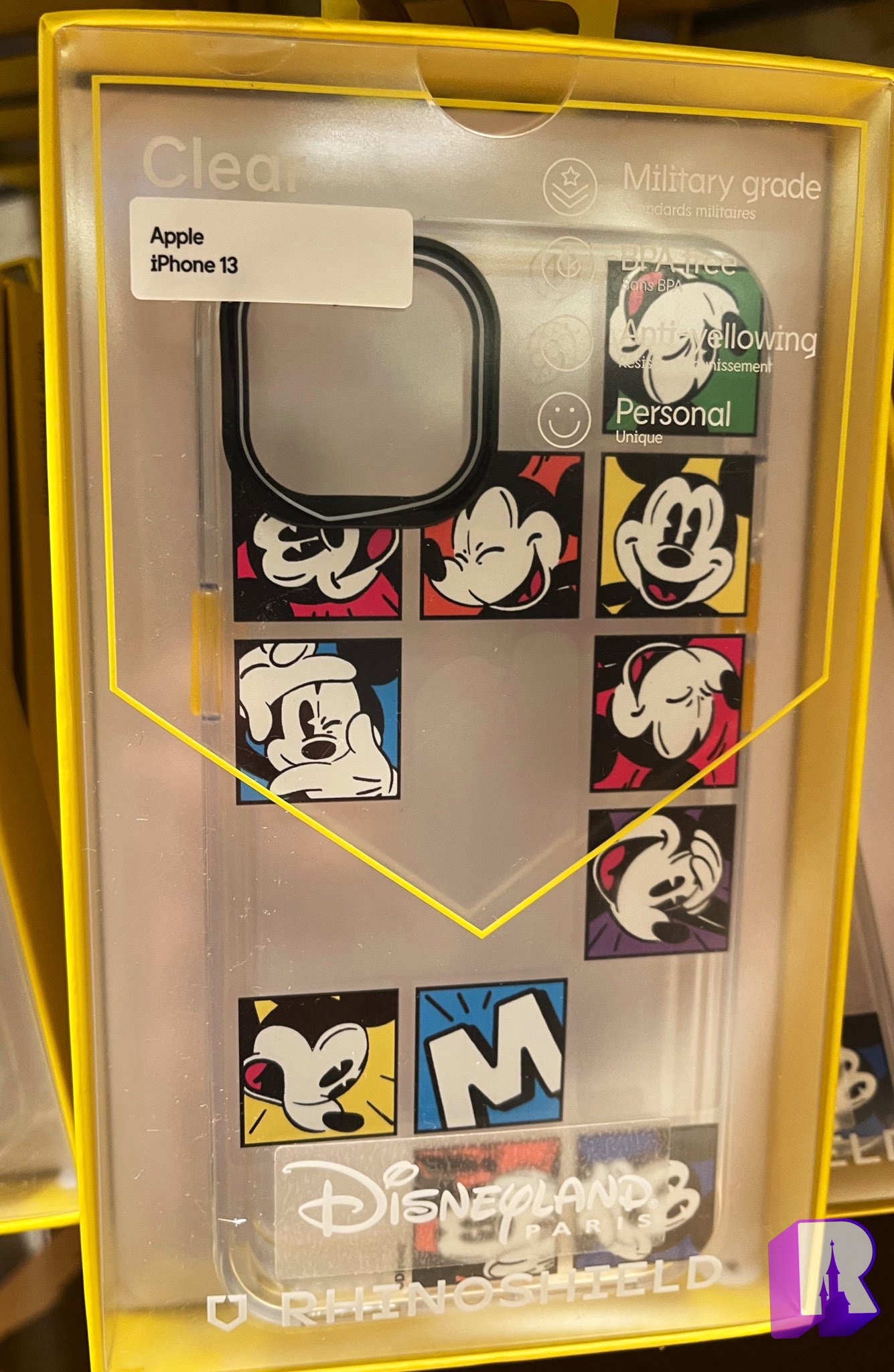 One thing to note is that the collection introduces the Resort's first custom AirPods Pro case design in partnership with RhinoShield.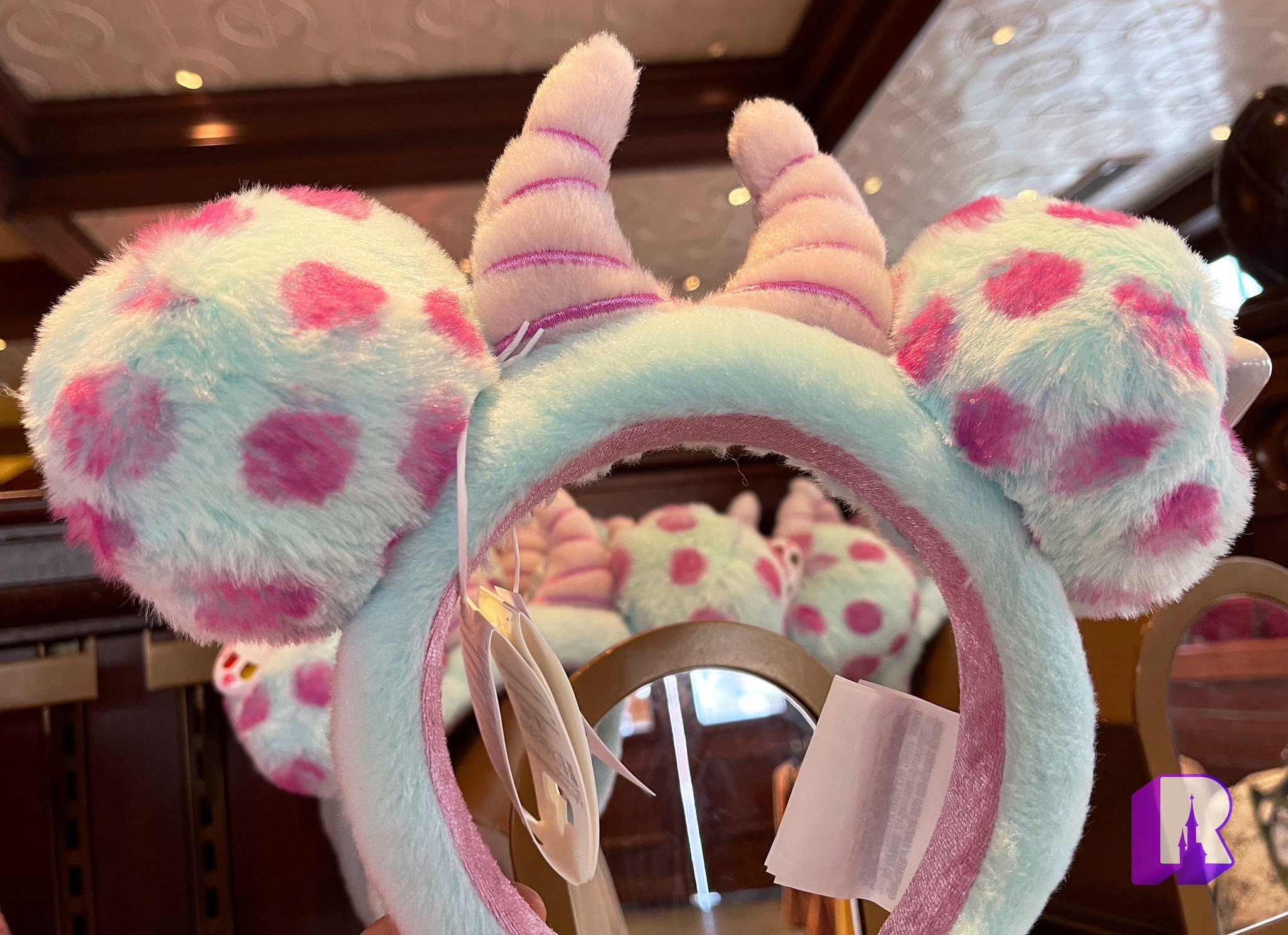 It was also a good week for colorful headbands when new fuzzy pixar designs, and an Ariel design.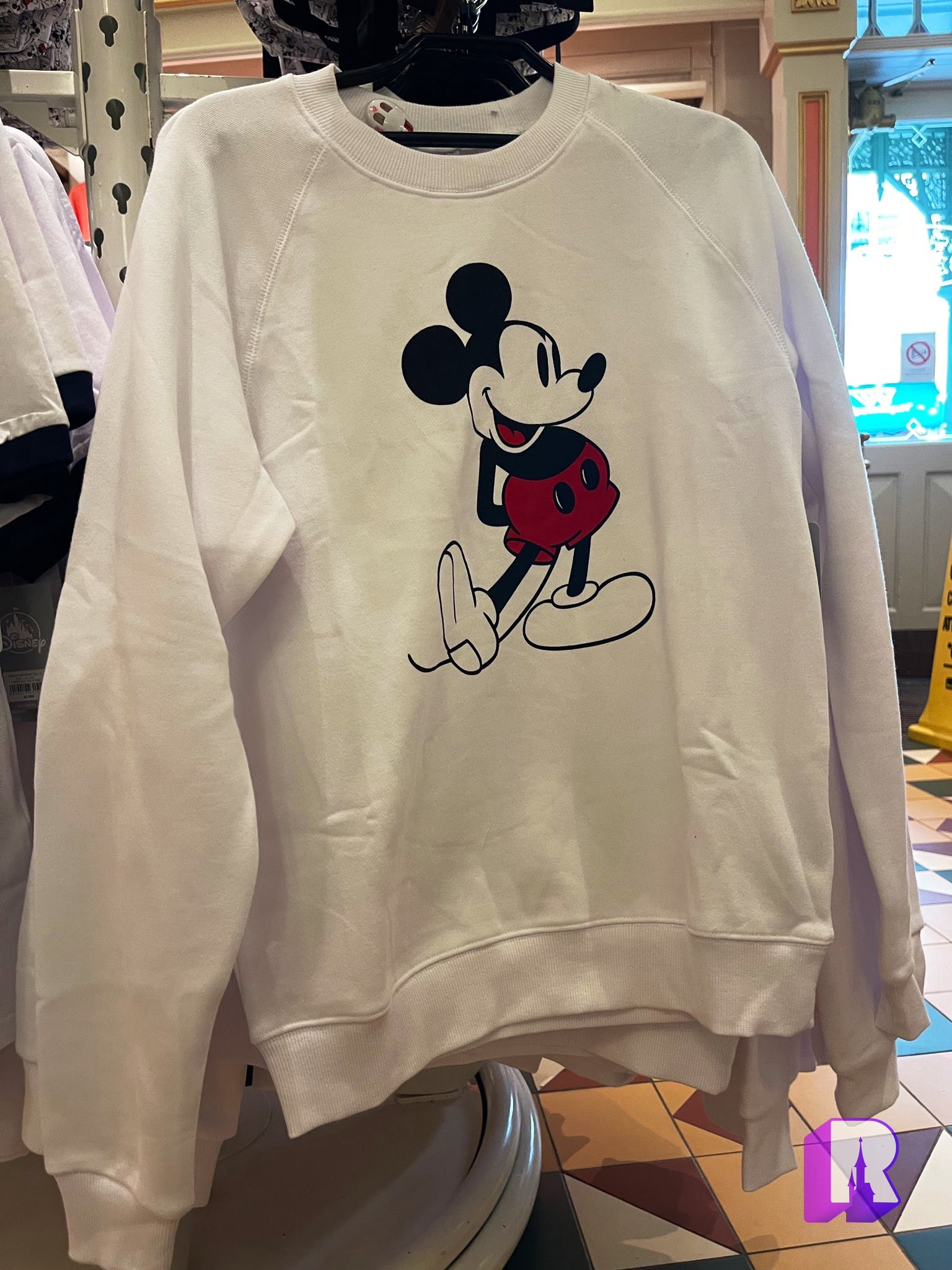 Disneyland Paris has also received this classic Mickey design which has also debuted a Disney World for example. Interesting that somehow the jumper didn't get the logo like it does in the other Resorts.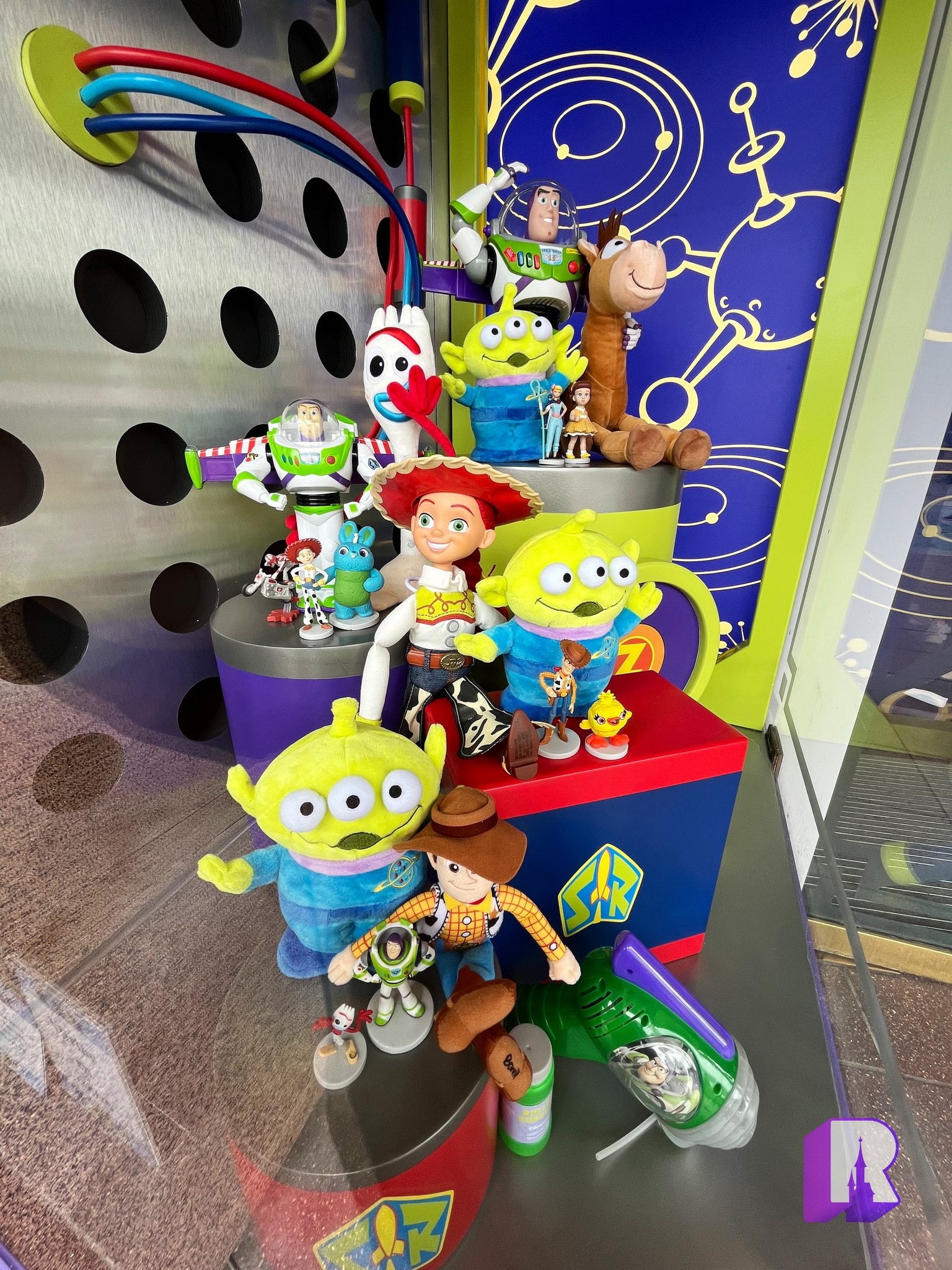 In "windows design" news, these new displays at Constellations are now filled with merchandise.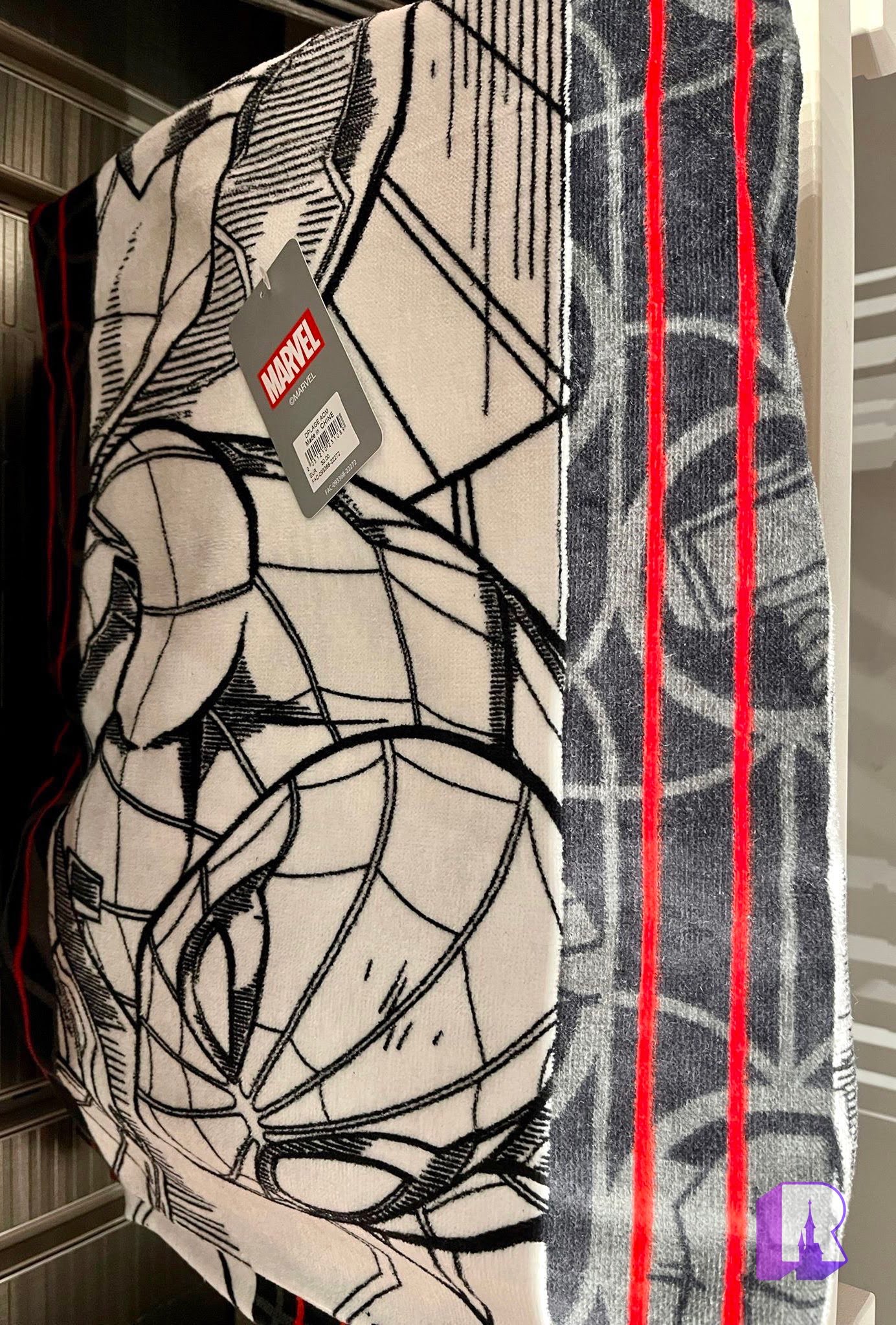 And Disney Hotel New York – The Art of Marvel is getting ready for summer with his new beach towel featuring 3 drawing and the hotel's logo.
This and That..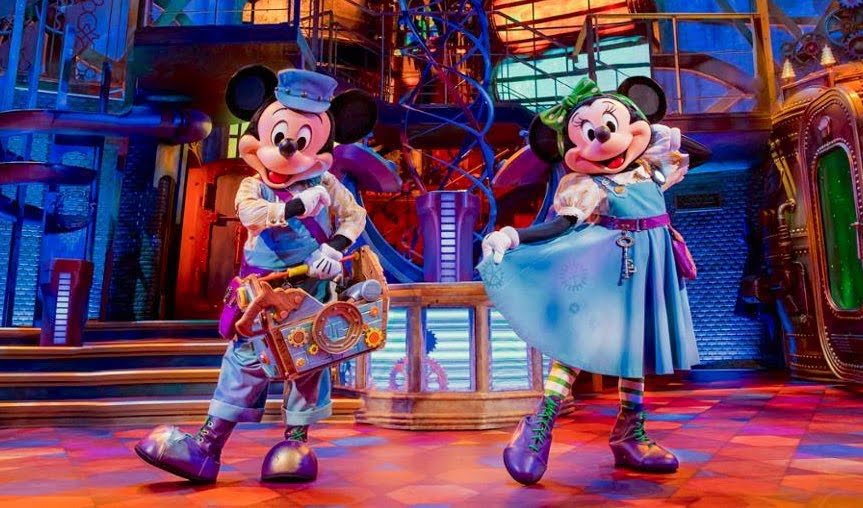 Hit show "Disney Jr. Dream Factory" will be taking a break from April 3 to May 26, 2023 included. This was a bit of a low key announcement.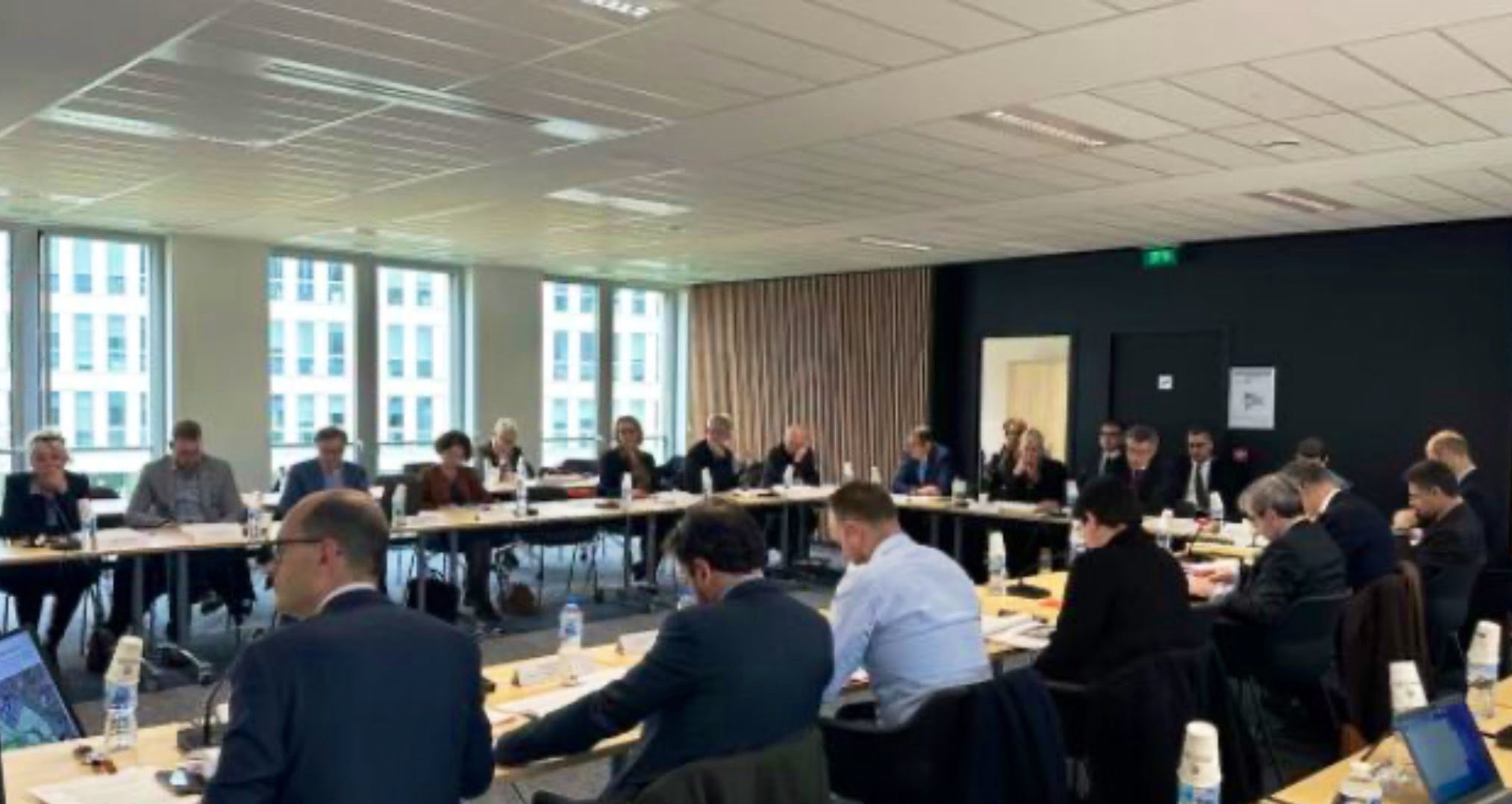 And this week, Paris region préfet Marc Guillaume, Natacha Rafalski and elected officials gathered the committee overseeing the development of the Euro Disney area. Focus was on "Phase 5" of future development of new infrastructure, housing, transport & more, to be signed by Summer 2024. Now don't go running around screaming "Third Park" with your hands in the air – while this does address the future of the area, it's still mostly about infrastructure planning. Still, it's good to see that those importent long term plans are still in the works for the Resort.
And that's our wrap up of all the news for this week! Join us again next weekend for a new look at everything new (and scandalous?) at Disneyland Paris !