Welcome back to a new edition of the DLP Report! This week we had a lot of micro events, from Valentine's Day to a new marvel release and the opening of a new restaurant at Disney Village. We also got a ton of merchandise news and of course the latest refreshments let's take a look:
Valentines Day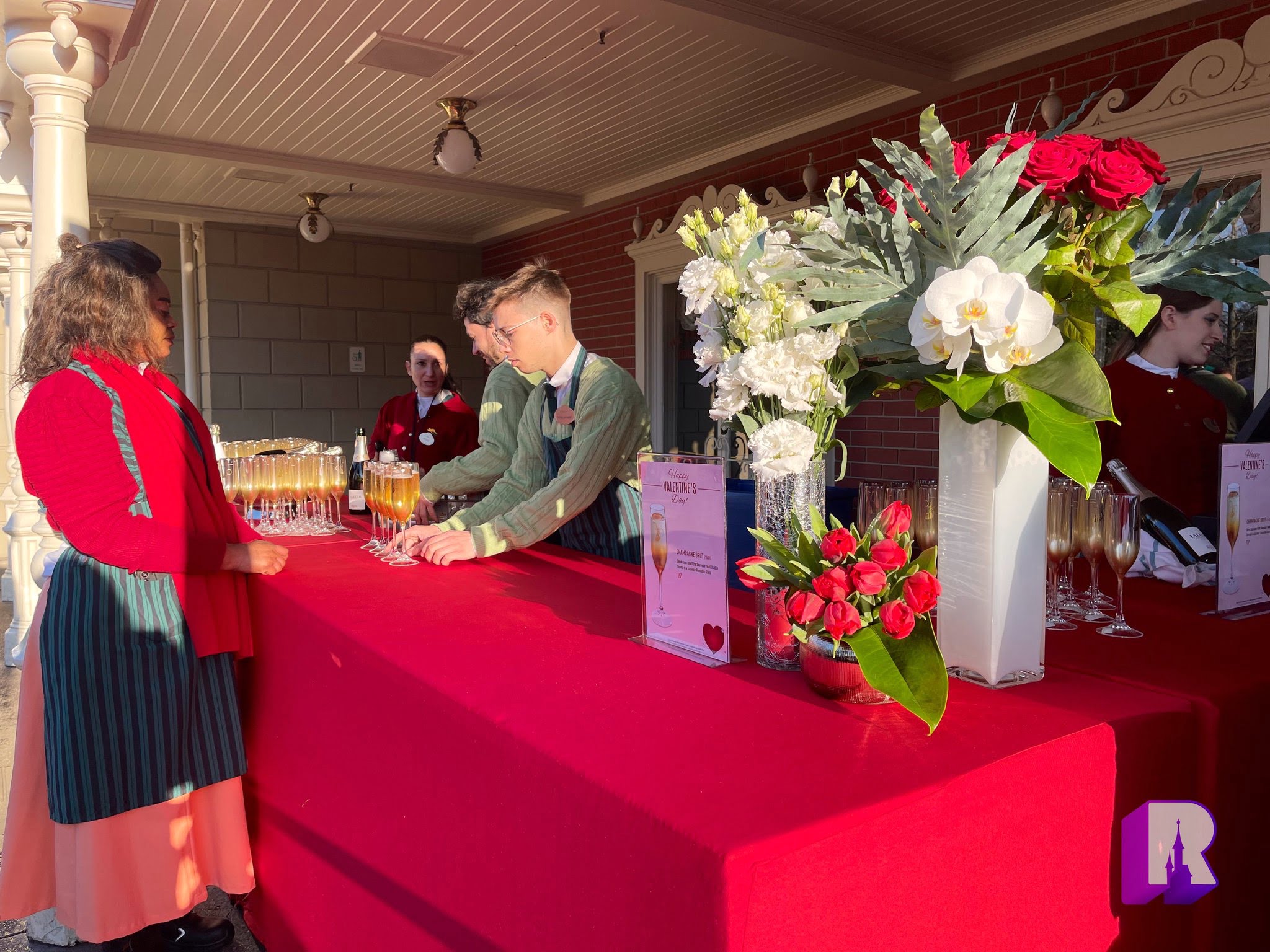 Valentine's Day is one of those weird occasions that has been celebrated in the past but it's kind of no longer celebrated these days. There was no special events in the parks and not even an extra Magicshot, but a bar it was installed at the end of Main Street to serve some champagne. It was the same deal as usual – €15 for a glass of champagne in a reusable plastic glass, but it was still nice to see a little effort.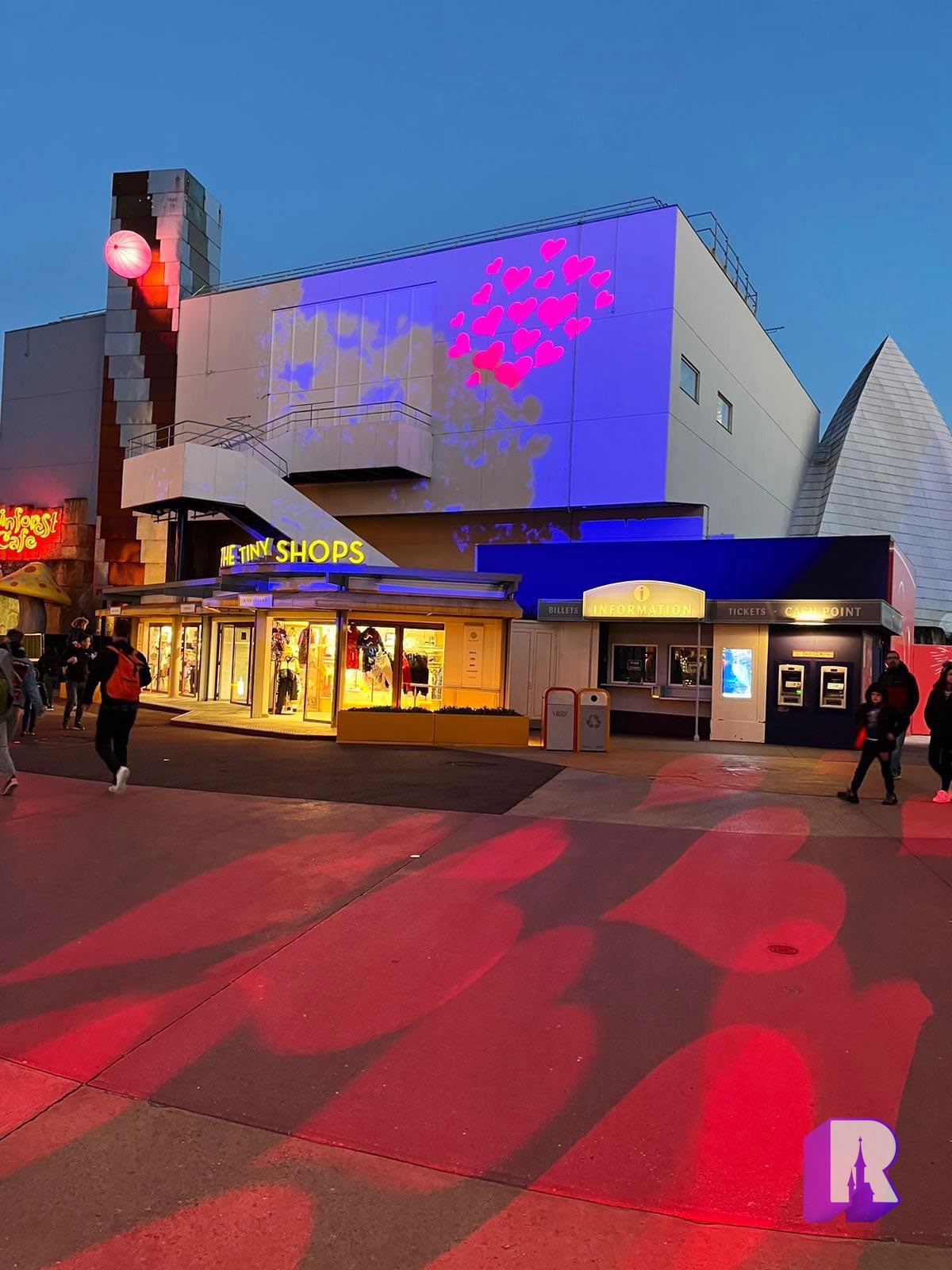 Disney Village did not forget the occasion and updated the globos patterns as they often do for Halloween or Christmas for example.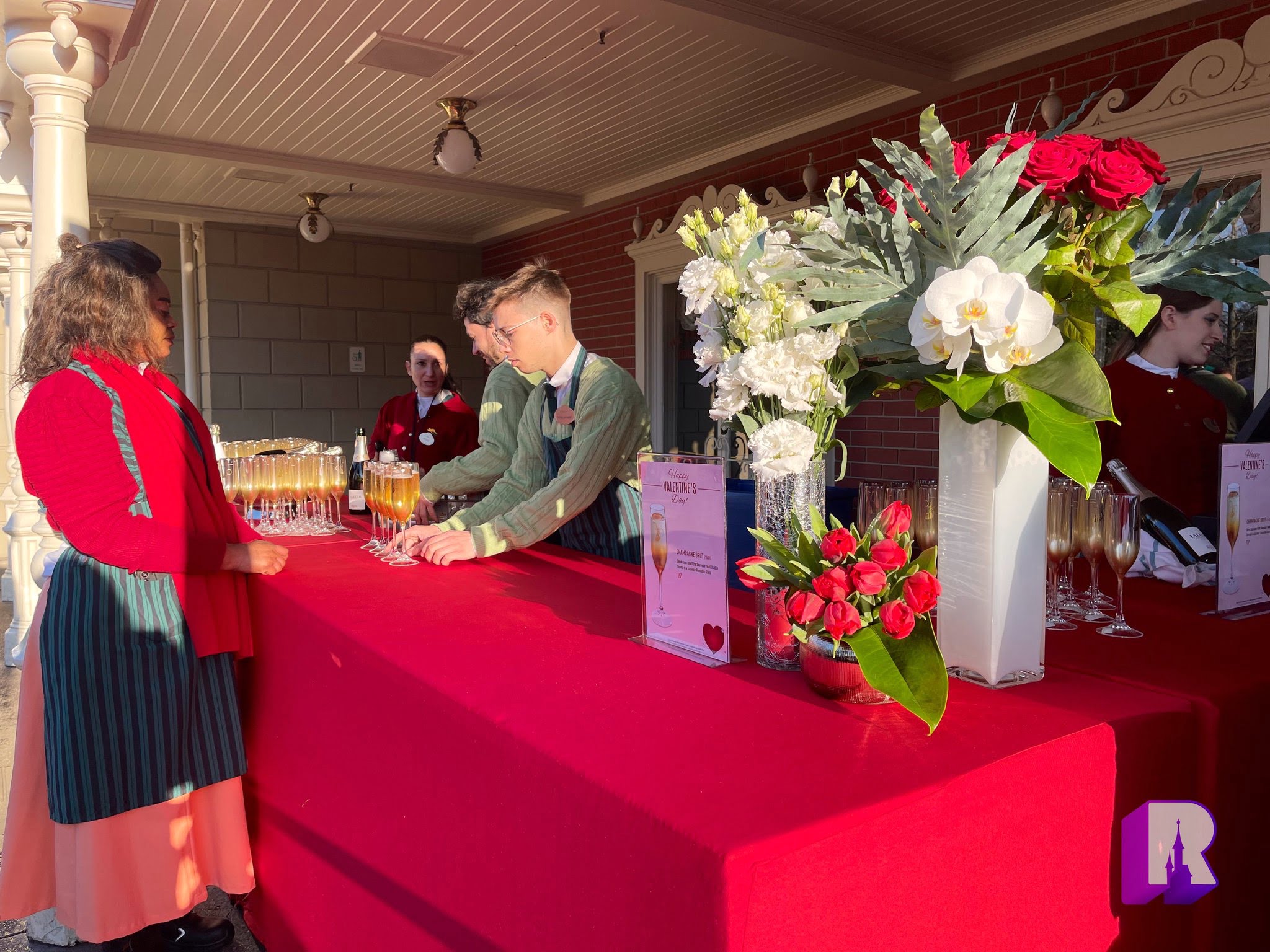 However, the surprise came from the Disney Hotels which made the most effort this year with some selfies, but with balloons across most of the properties.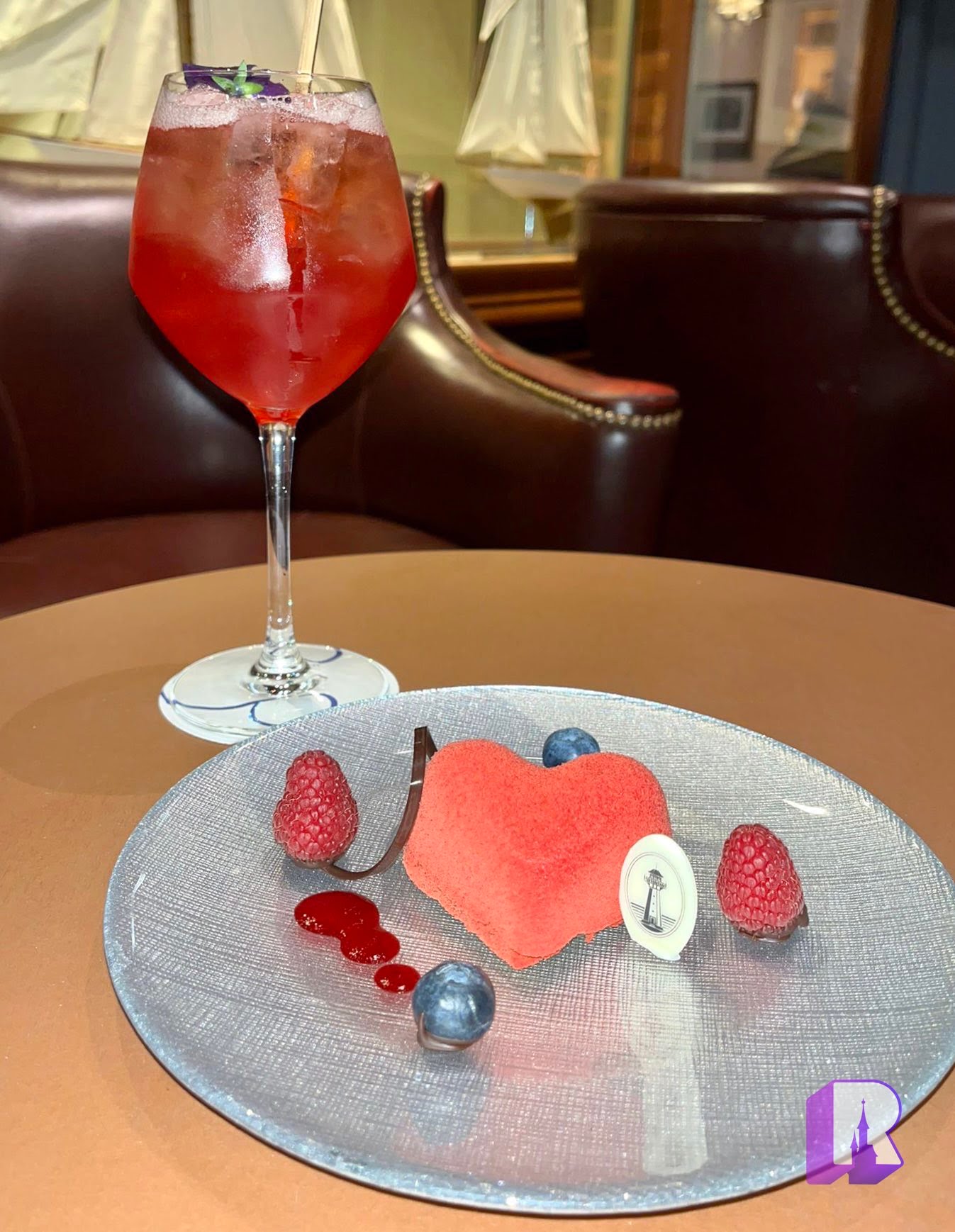 Over at Disney's Newport Bay Club there was even a special treat and two special cocktails at the Captain's Quarters bar. It's unclear if the hotel just went at it alone, as it was not available anyone else. It's too bad this was not advertised ahead of time. We only found out about it towards the end of the day and I'm sure most Guests did not even hear about this at all. Still, kudos to whoever is in charge of that kind of things at the Disney hotels as these little happenings have been improving a lot lately.
Quantumania
There's a new Marvel release in town, and as usual, building on the foundation of what is Avengers Campus, a special happening started on Wednesday, which was the day of the French release. The coolest part was a set of four collectible cards, which came in various sizes.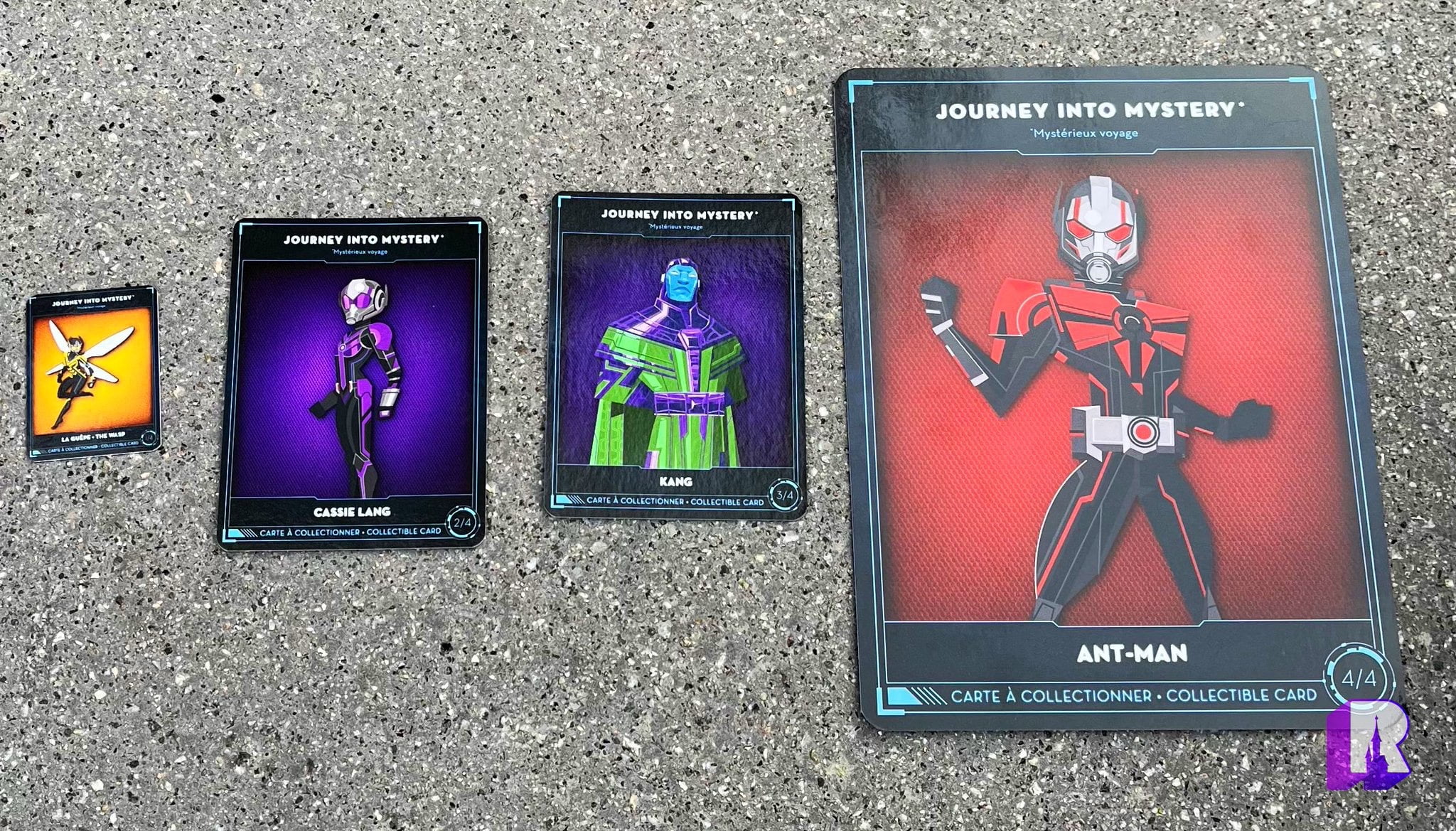 As you can see, the designers understood the assignment, and this is a pretty clever way to do things.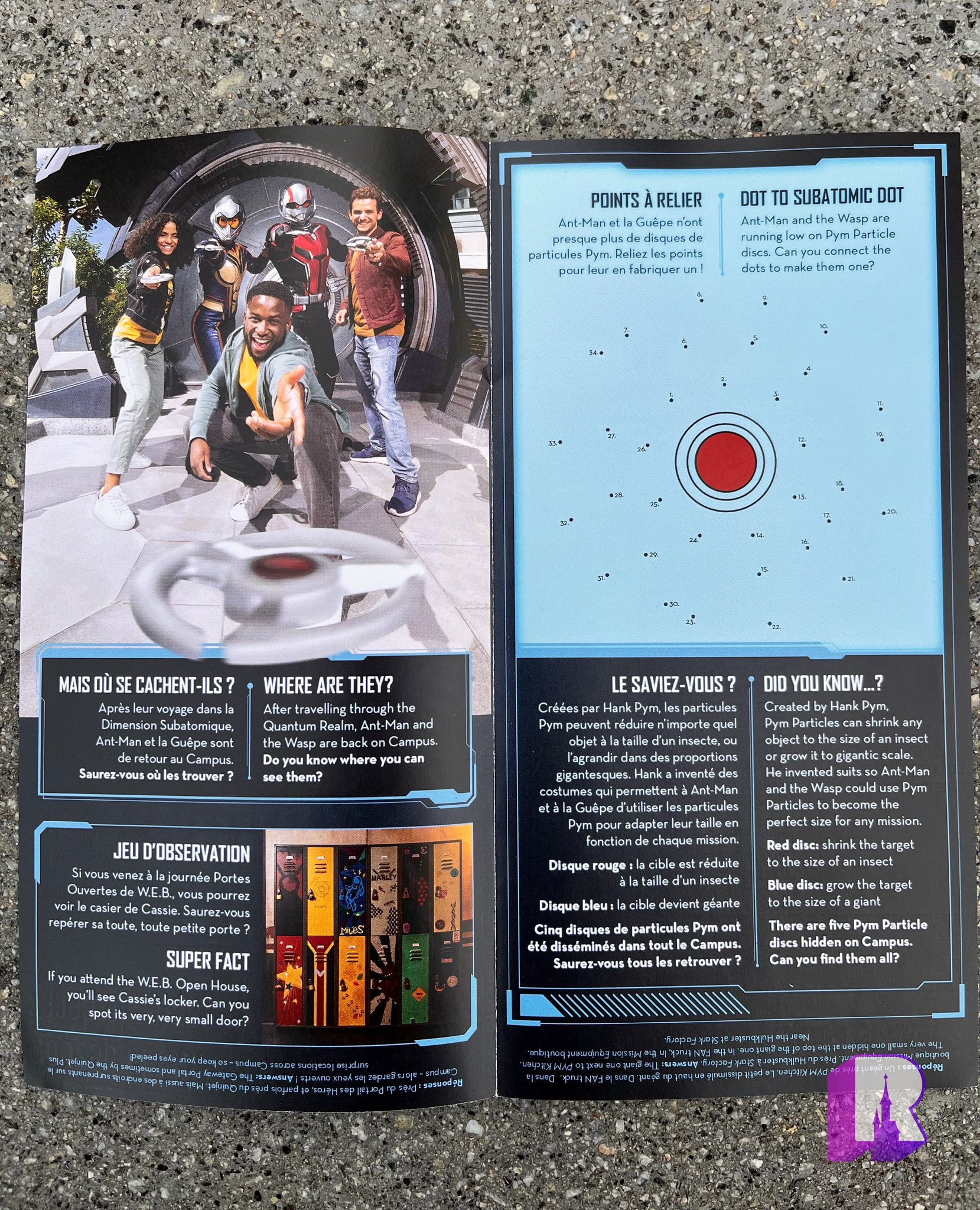 A free activity book was also created for the occasion.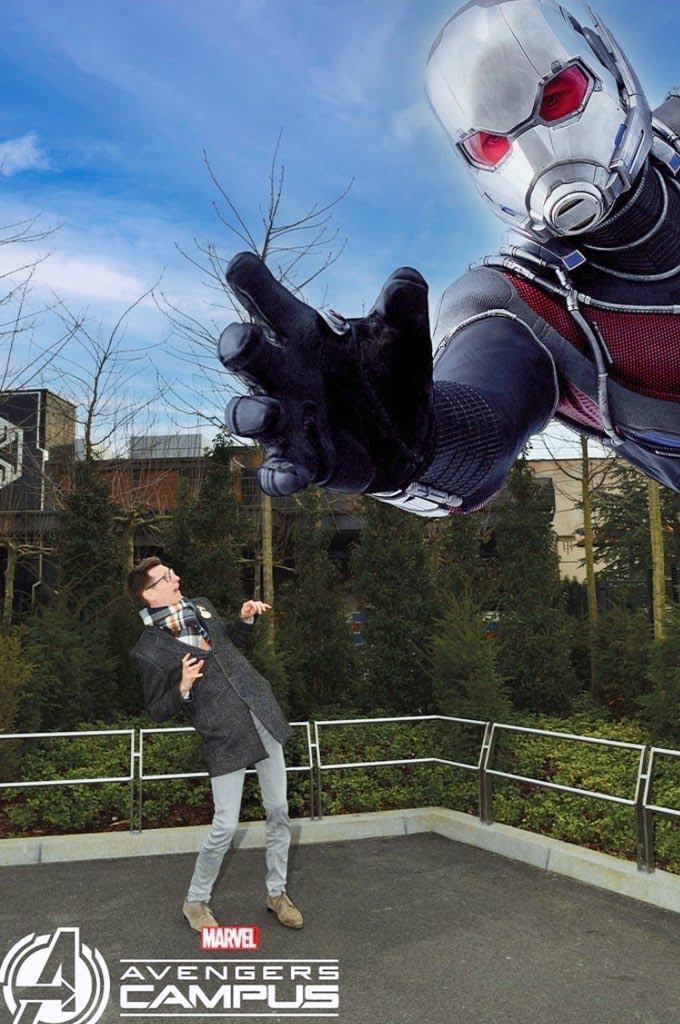 As well as this pretty cool, limited time Magicshot!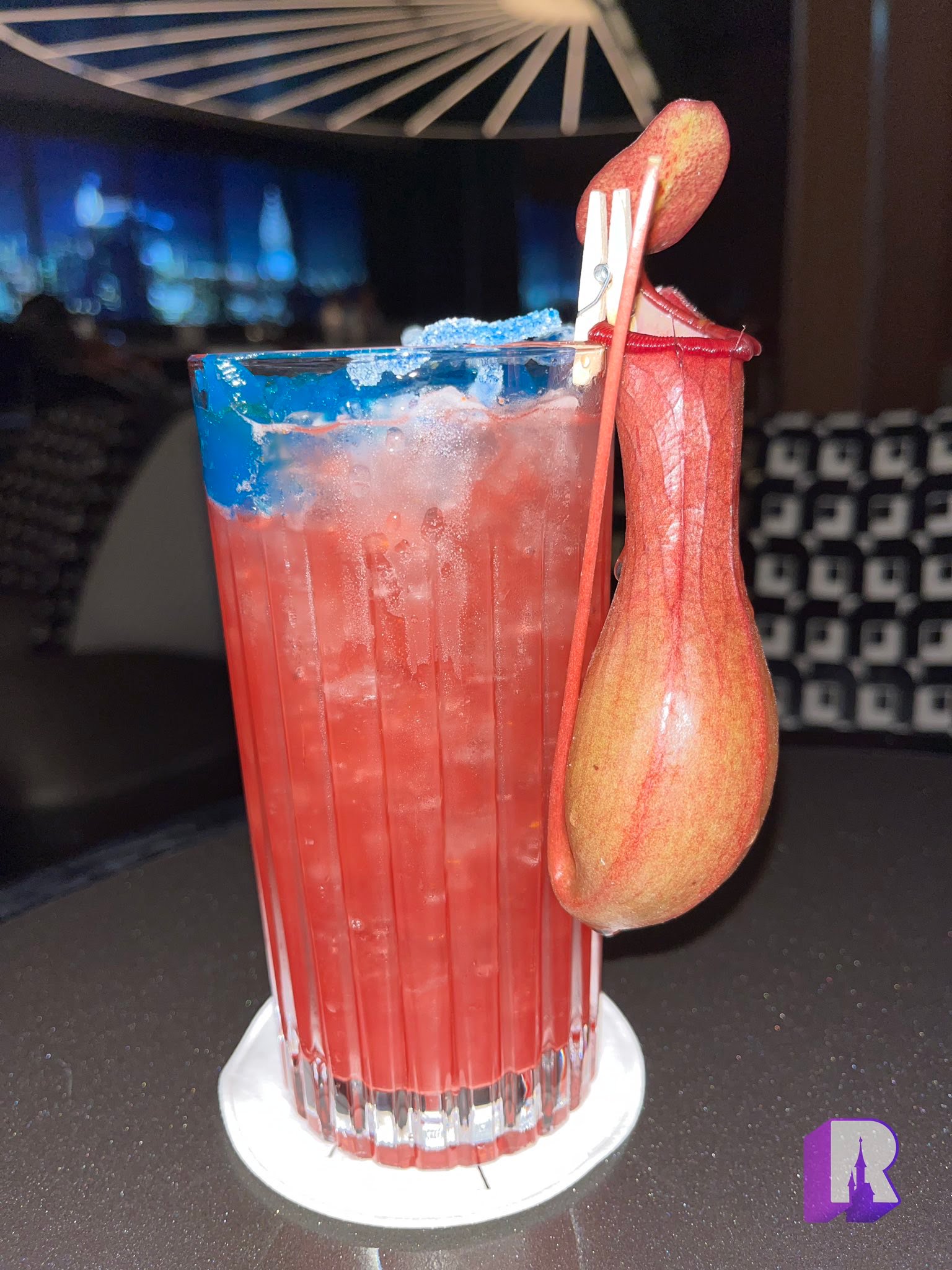 And at Disney Hotel New York – The Art of Marvel's Skyline Bar, two new cocktails were introduced straight out of the movie and one of them is a pretty cool: it has a carnivore plant that is poisonous! Still, as is tradition with Disneyland, Paris fan we cannot help but looking across the pond and see that California Adventure got a new character, and a pretty cool sipper that is also straight out of the movie.
The Royal Dud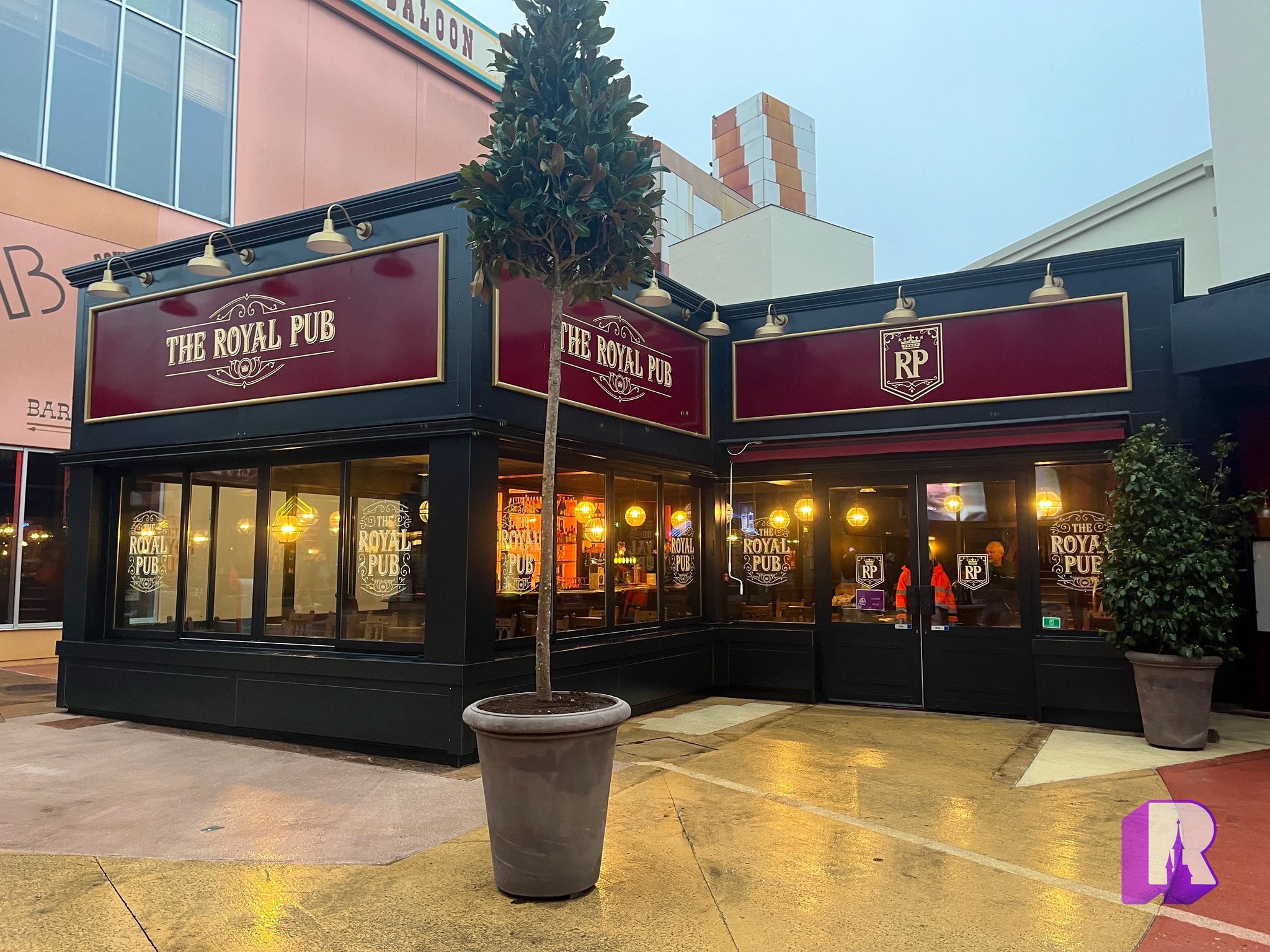 We've been following the remodeling of King Ludwig's Castle into the "temporary" Royal Pub for a couple months and it's ready! As you would expect for such a quick turnaround not a lot has changed, with mostly the indoor terrace, facade and the signage being redone in a rather "basic" manner.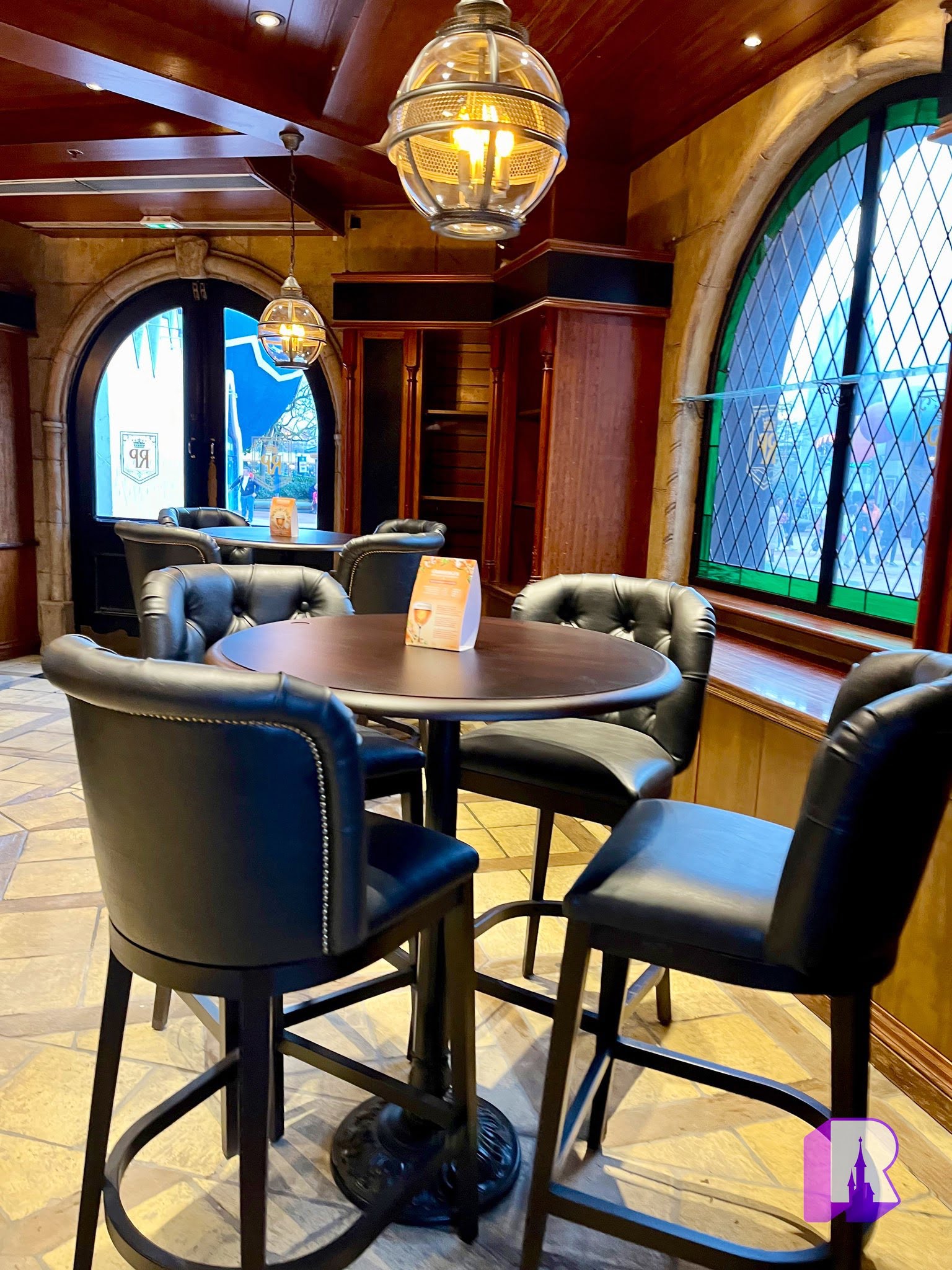 Indeed, as soon as you go past the bar, the main dining room is pretty much the same with just a couple of black signs covering the old murals. Given this is supposed to be a temporary re-theme while Disney Village gets a wider remodel overall, we really can't wait to see what is going to be done with the place because this isn't it.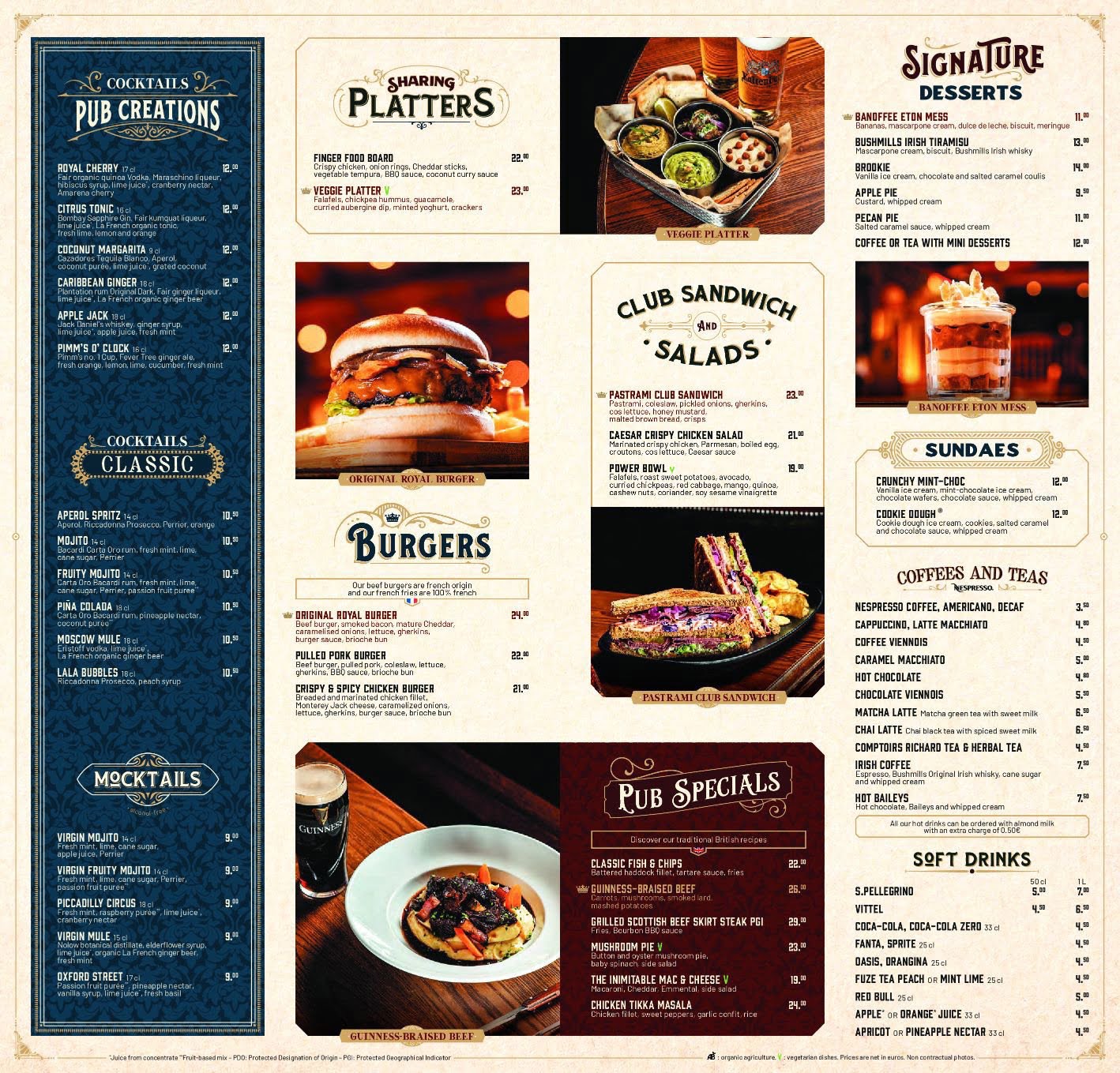 Here is the new menu for the location and the first thing they will jump at you is that the prices are very high, so you would expect that the food will be pretty amazing for that price point.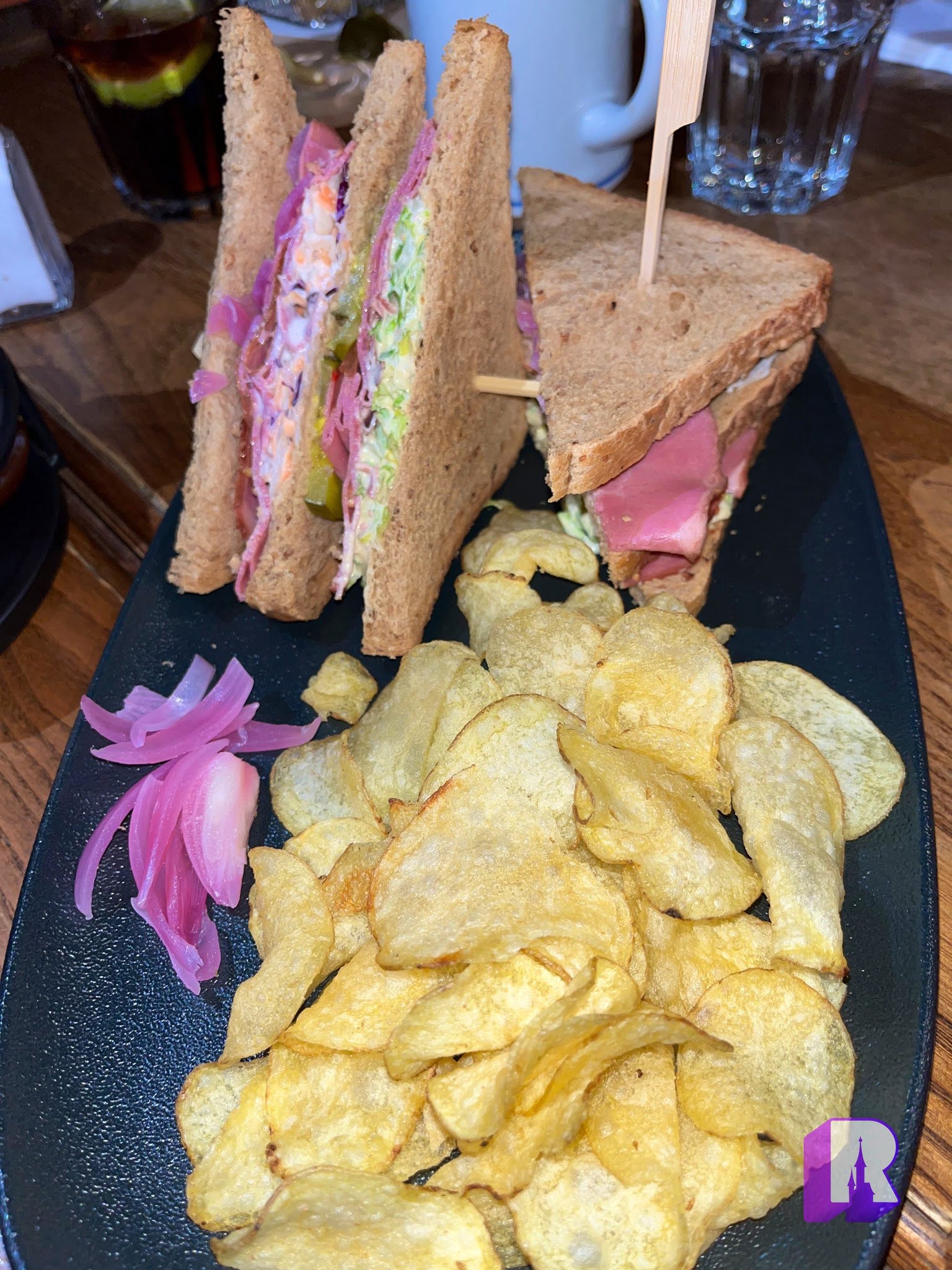 No. The food is very basic and nothing on this menu is worth more than 10 or €15 don't get me wrong it is not disgusting food but it is definitely not worth €23 for this triangle sandwich or €24 for this really basic burger.I understand the temporary nature of the place and the need to have some capacity for guests to eat but this is really taking a piss and turning this location into a pure tourist trap for unsuspecting guests. If you are going to charge that kind of prices that is fine, but at least offer some dishes that are plentiful and quality. Just because it is Disney village doesn't mean that they should get away with just about anything.
You would expect a lot of British beers but no , the beer selection has not really changed from the past of theming to a German tavern – but still the location remains a fun spot for happy hour and grabbing a beer so that's what I would recommend if you're gonna visit this location.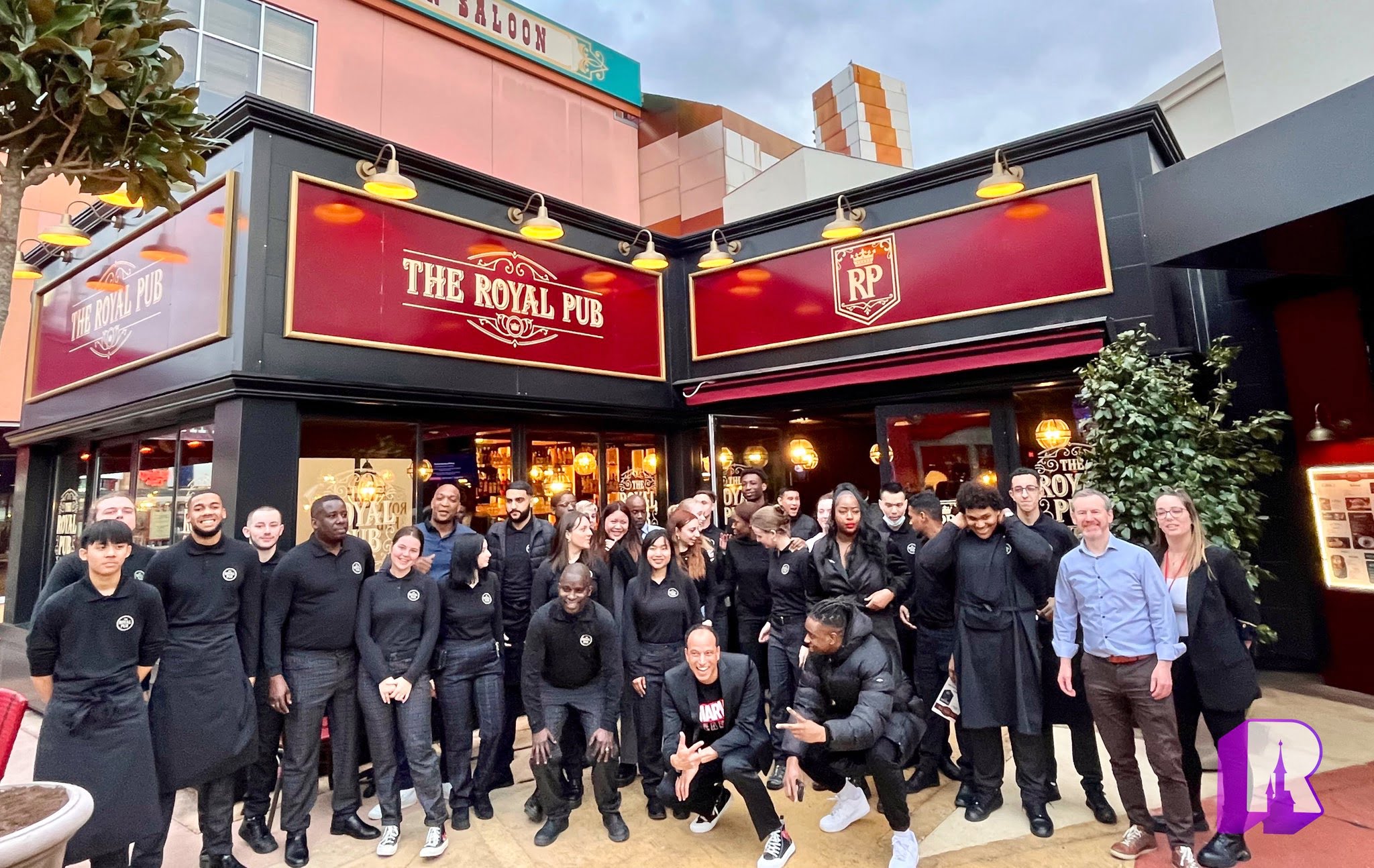 The lovely operational team seemed very happy to have reopened, and of course they have nothing to do with the menu and pricing so we wish them all luck, and welcome back!
Merchandise
what a week for merchandise news with two new collections unveiled, and a look at what's coming up later this year:
#Disney100 Eras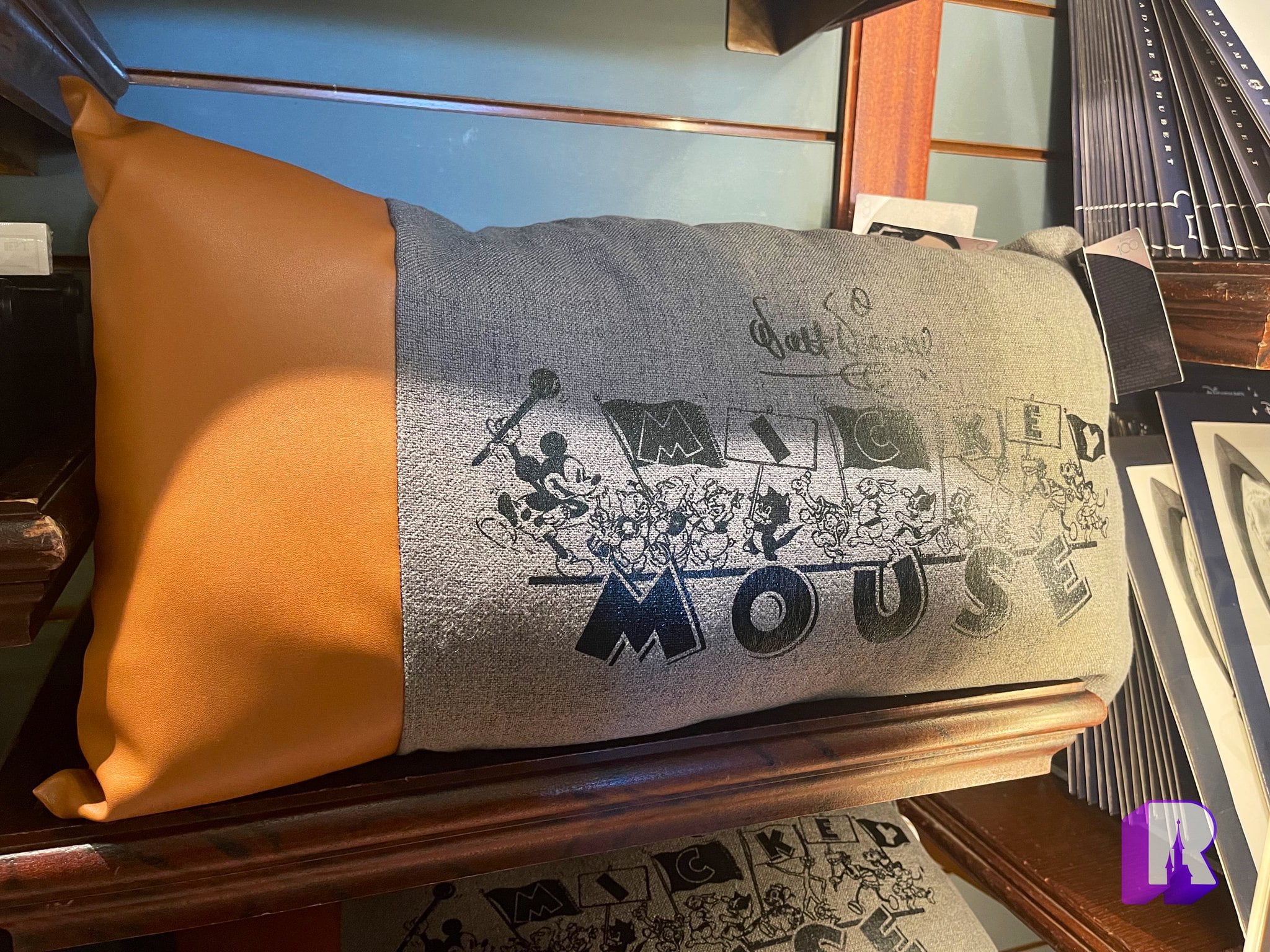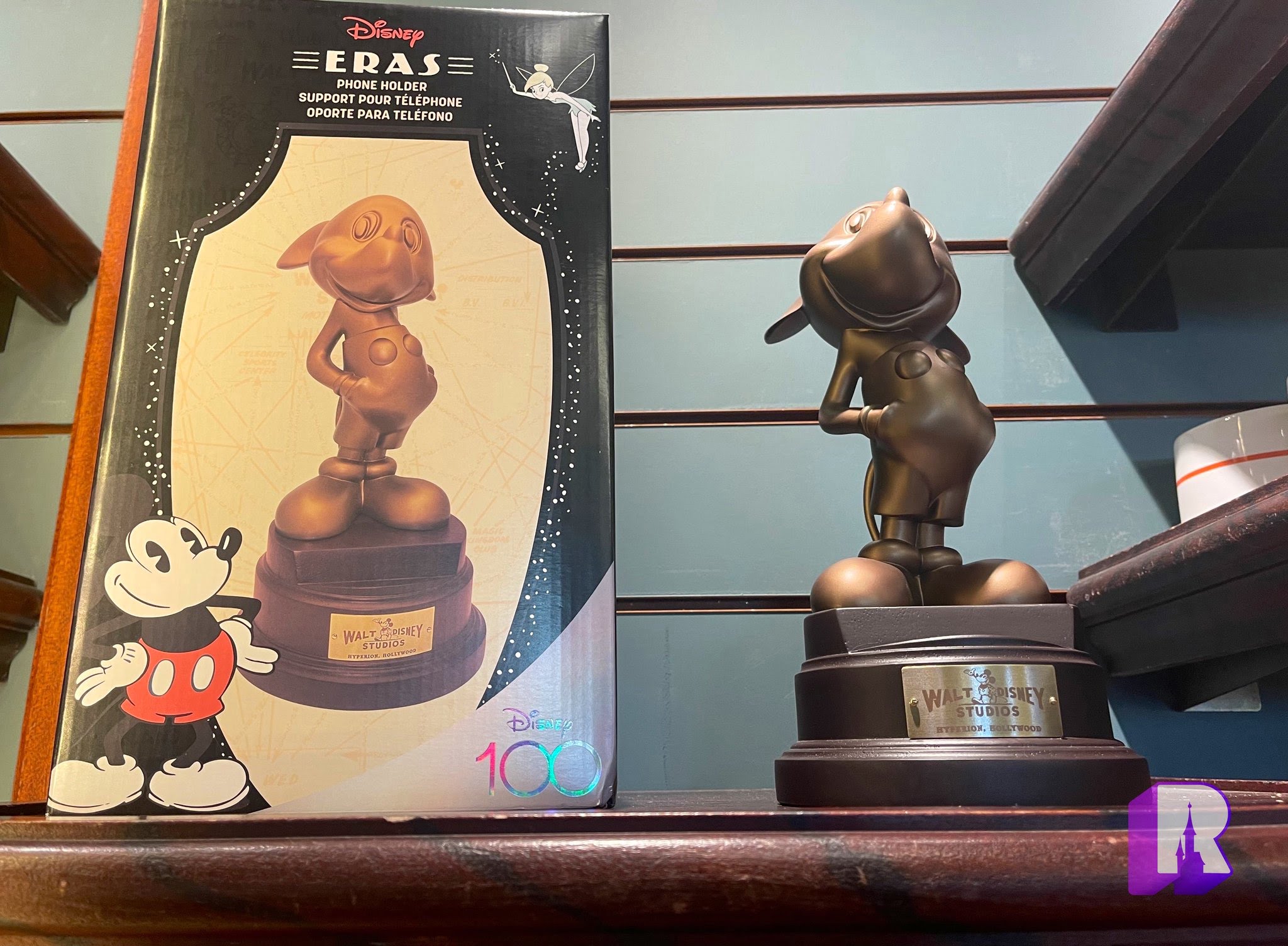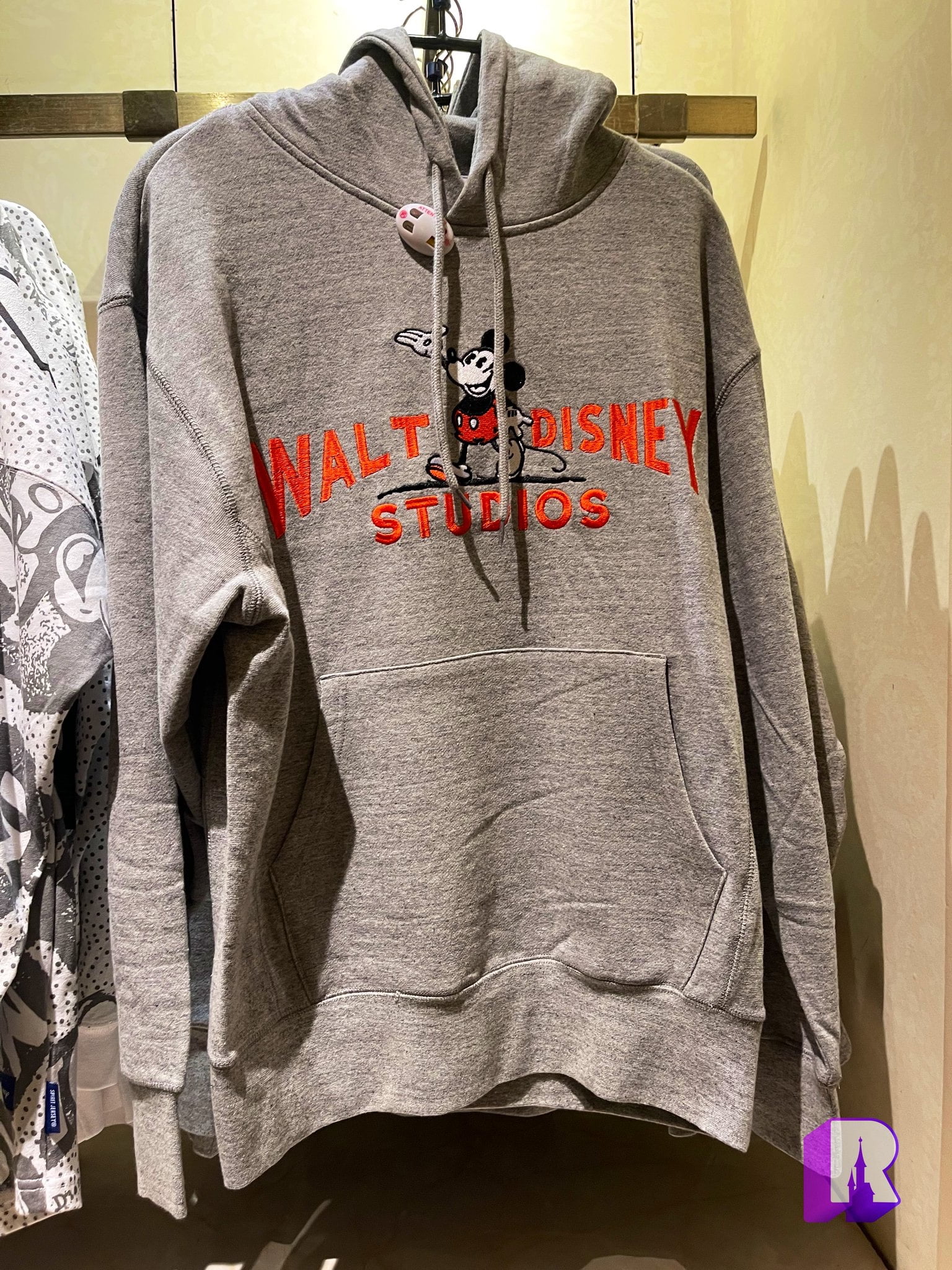 With the #Disney100 celebrations kicking off worldwide (but not really until October at Disneyland Paris), merchandise is starting to trickling in with the first "Eras" collection. We of course start at the beginning of the company's history with a great Walt Disney Studios theme.
Oswald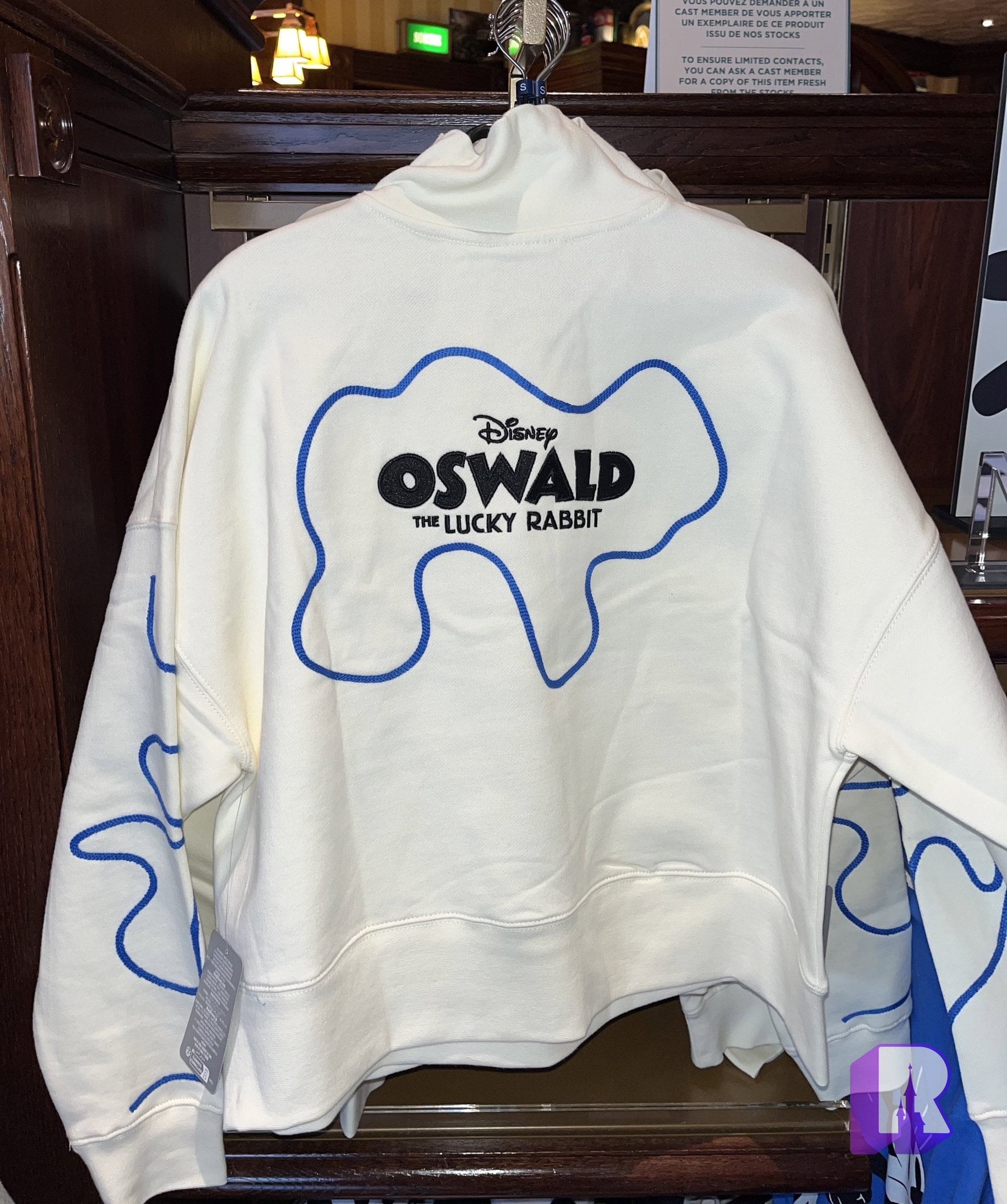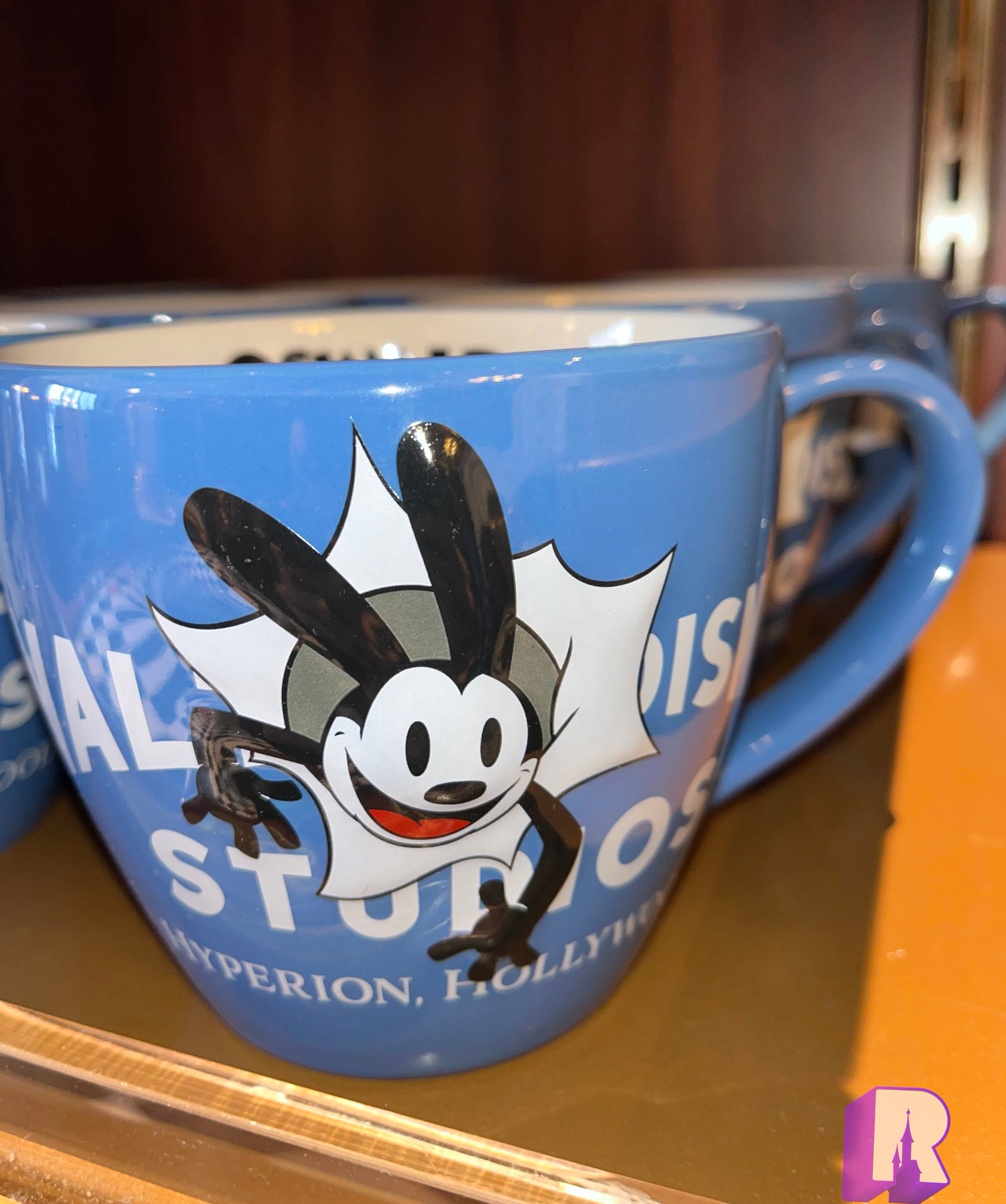 A brand new collection dedicated to Oswald the Lucky Rabbit has also arrived in stores. It features a lot of really fun designs that are not often seen on the shelves!
A look ahead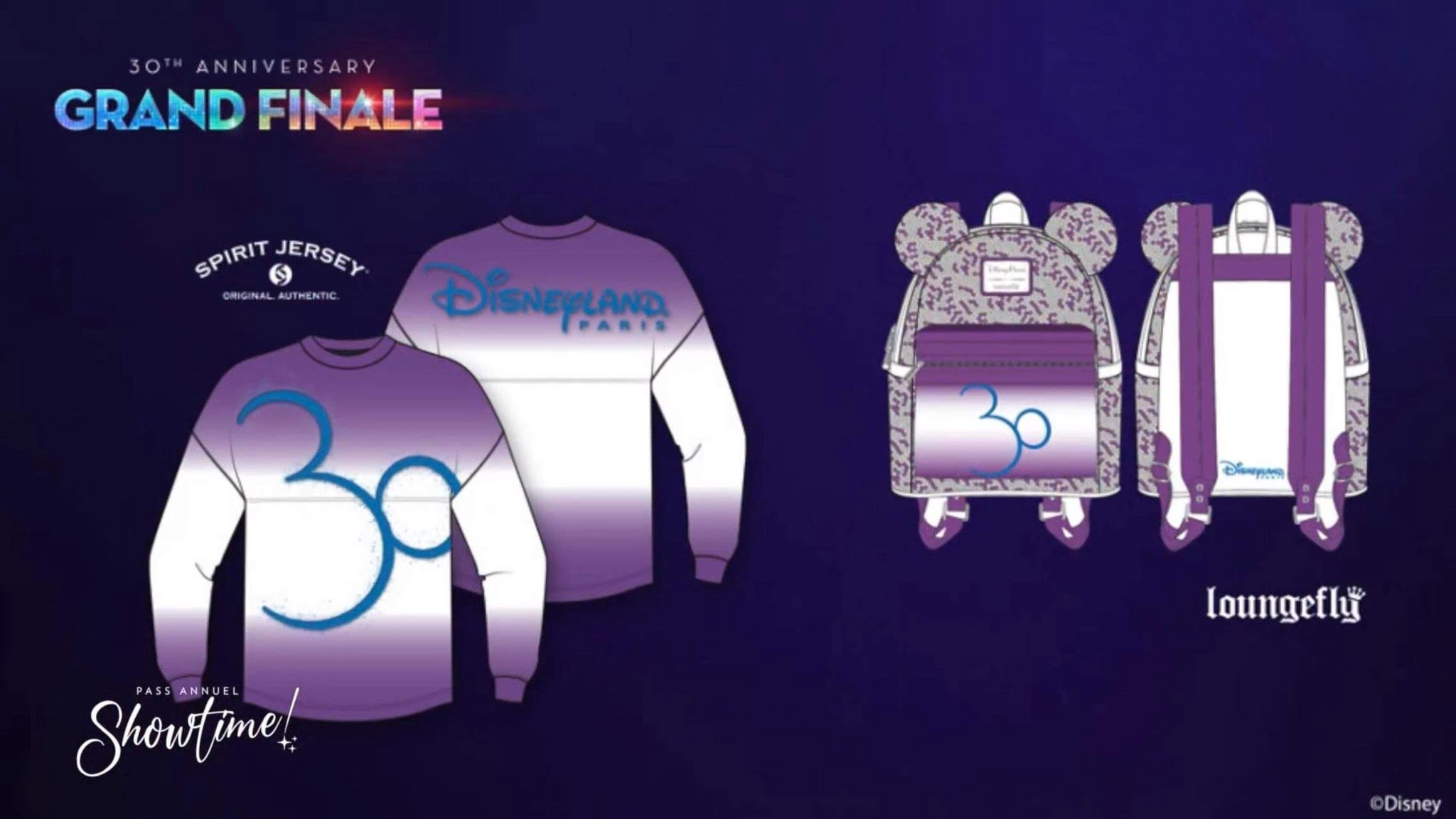 The latest AP Showtime episode was a chance to take a look at what is coming up in the world of merchandise for Disneyland Paris, starting with a new look at the line inspired by the show "Dream… and Shine Brighter" . It includes a gender neutral clothing line as well as accessories, including a Mickey headband and a Spirit Jersey.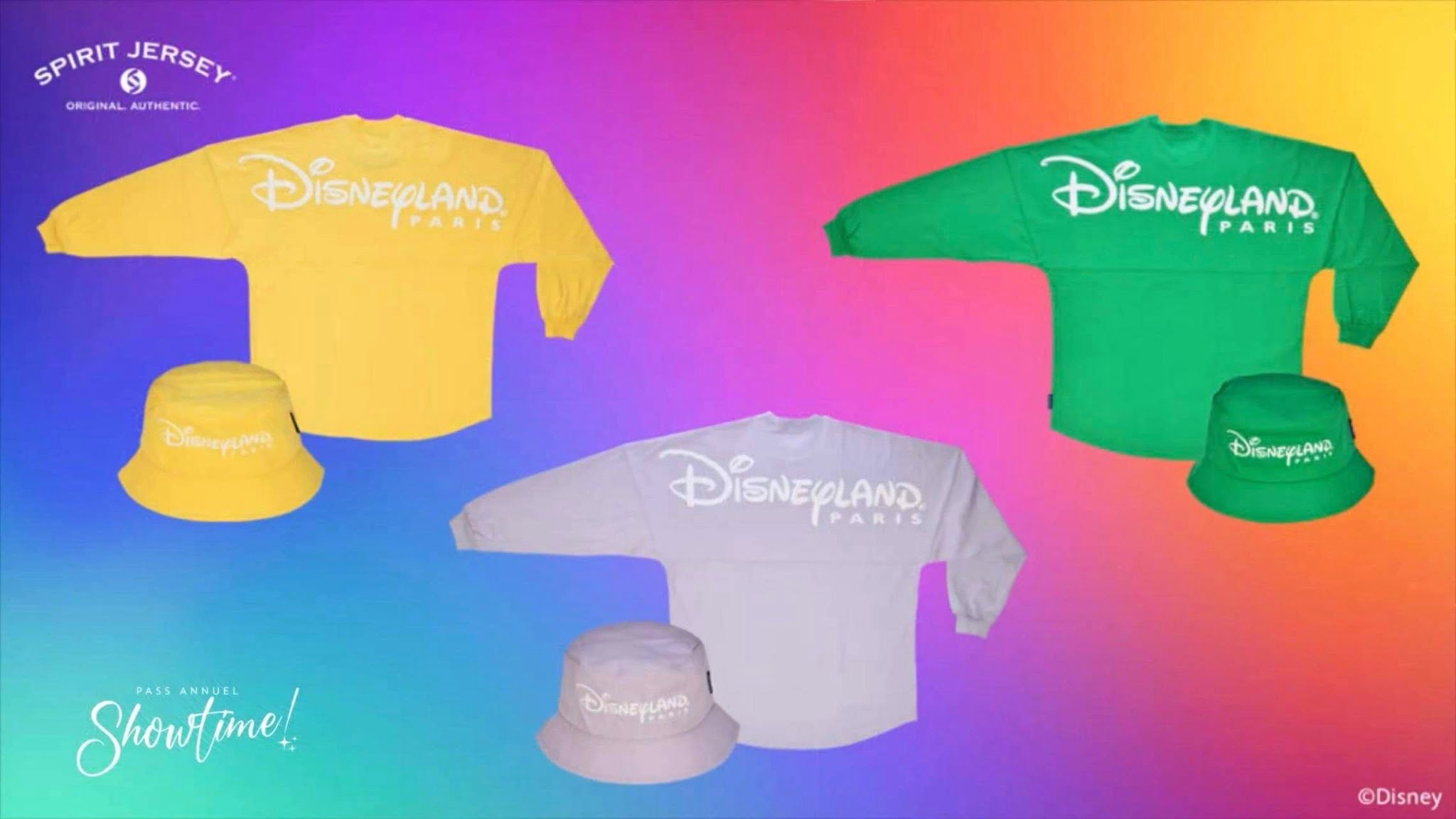 Talking about Spirit Jerseys, spring will bring 3 new plain colors for the classic Disneyland Paris jersey: yellow, green and – I think this is grey .. or maybe a lavender.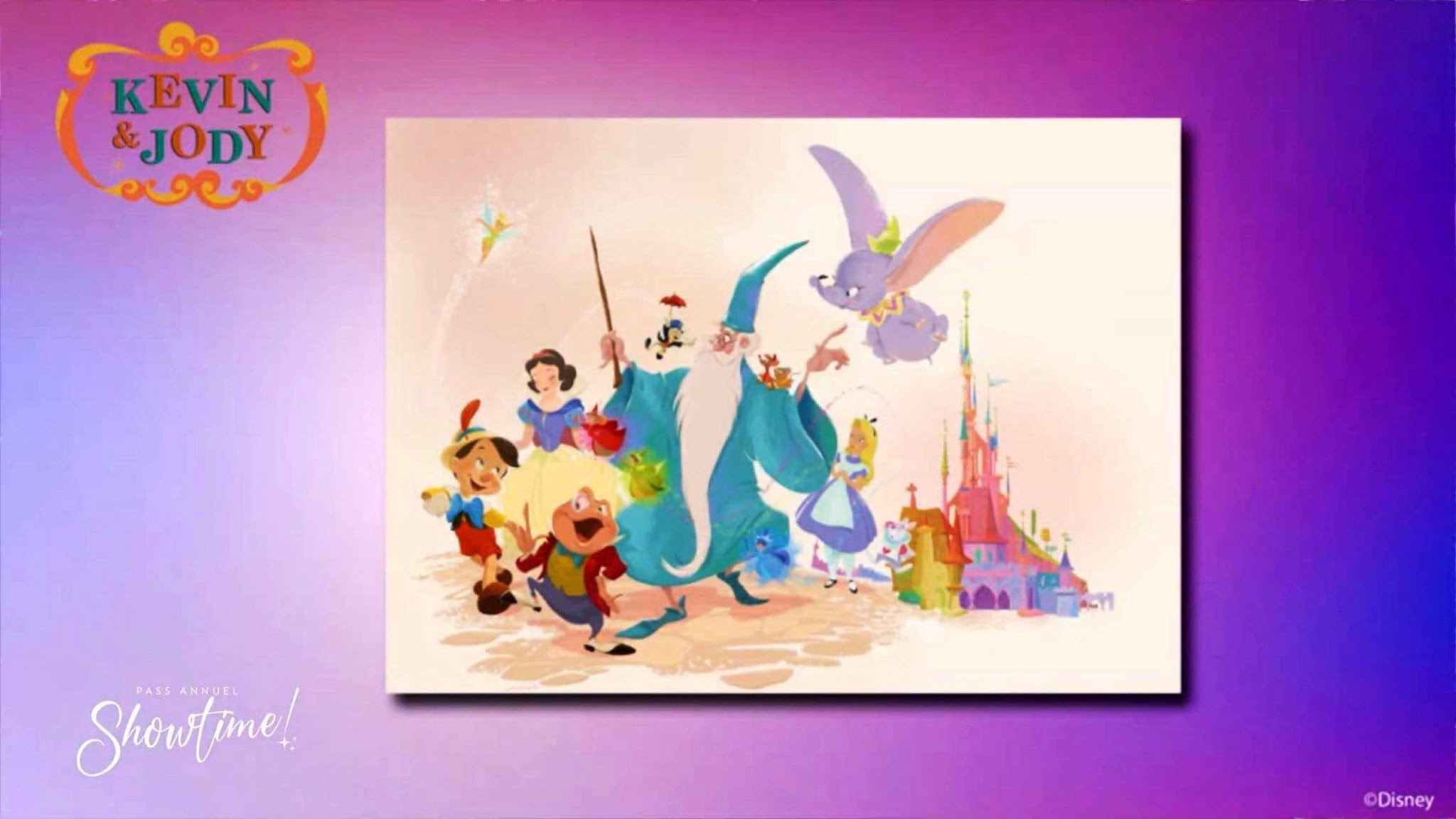 The new artwork by famed artists Kevin and Jody will also be on sale. This art was previewed in the Disneyland Paris grand finale teaser earlier in January.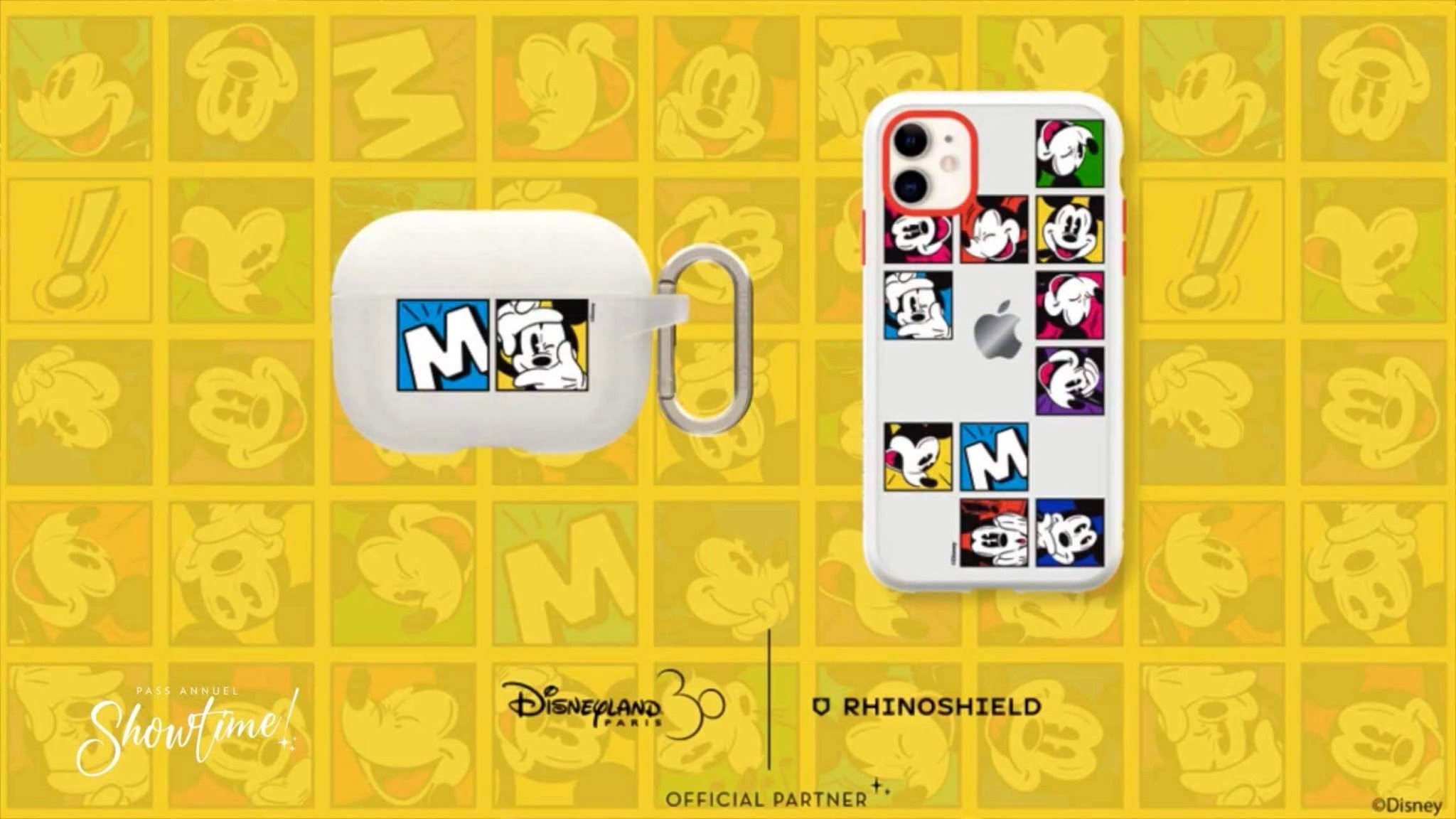 In terms of more "mainstream" merchandise line we will see the arrival of a new "colorpop" merchandise line with basic designs that appeal to most guests, but it will also be the very first AirPod Case for Disneyland Paris.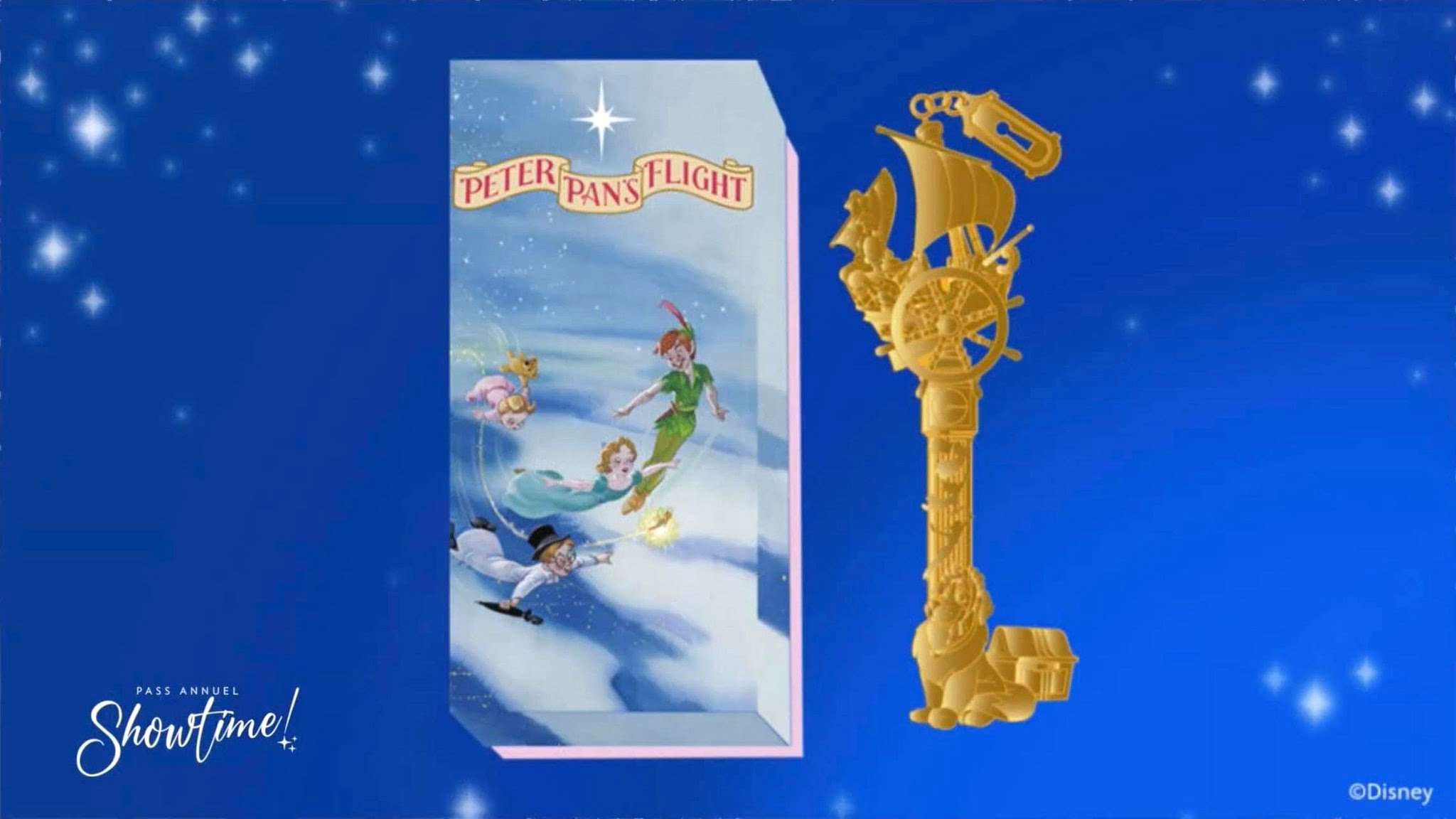 We will also be getting new collectible keys for this endless connection that never seems to stop and the next ones will be themed to Peter Pan's Flight and Main Street Transportation.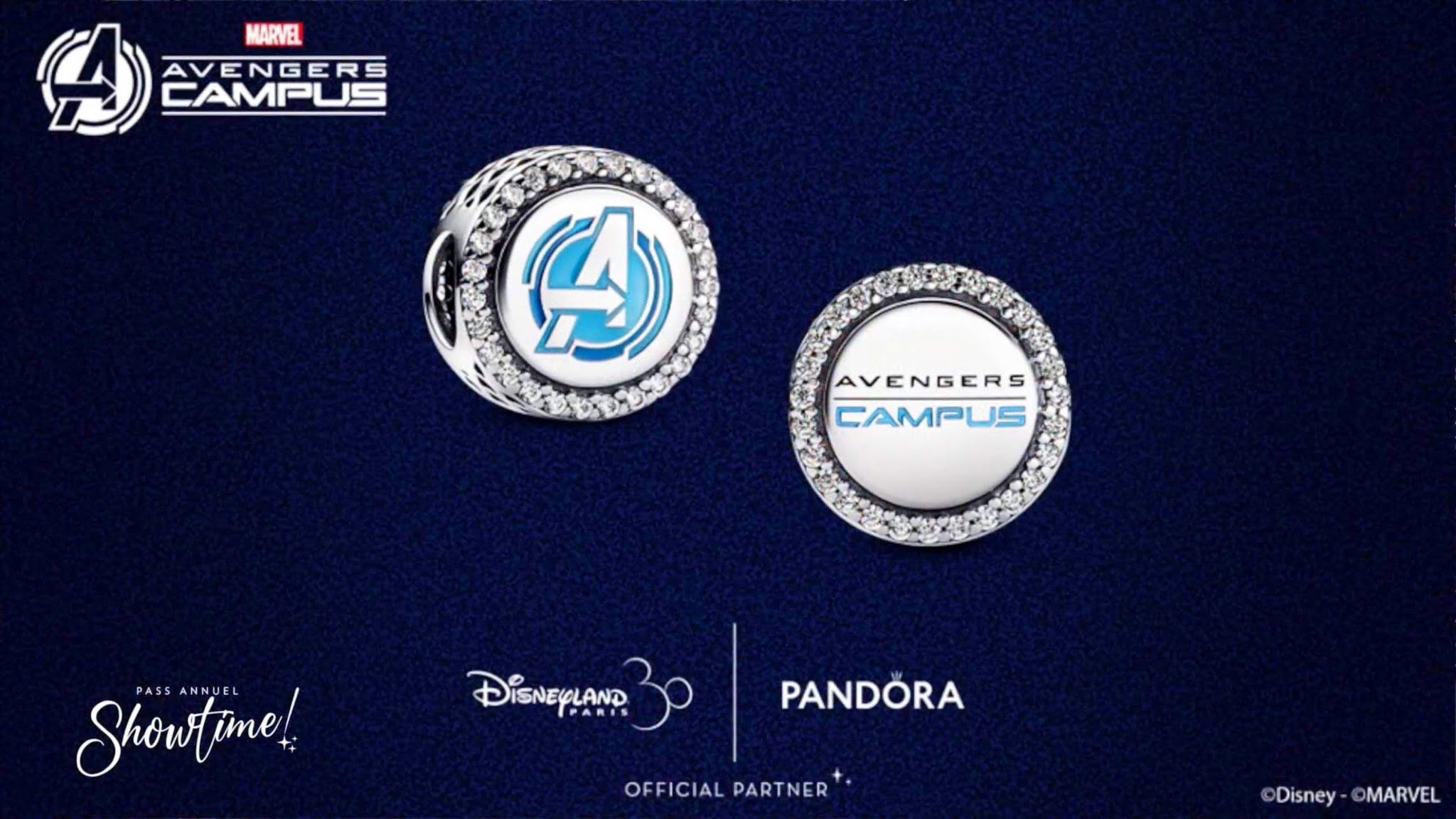 Can you believe in July will be already the first anniversary of Avengers Campus at Disneyland Paris? For the occasion, Pandora will be releasing new charms with the logo of the land and of Spider-Man web adventure's "WEB".
Construction and Refurbishments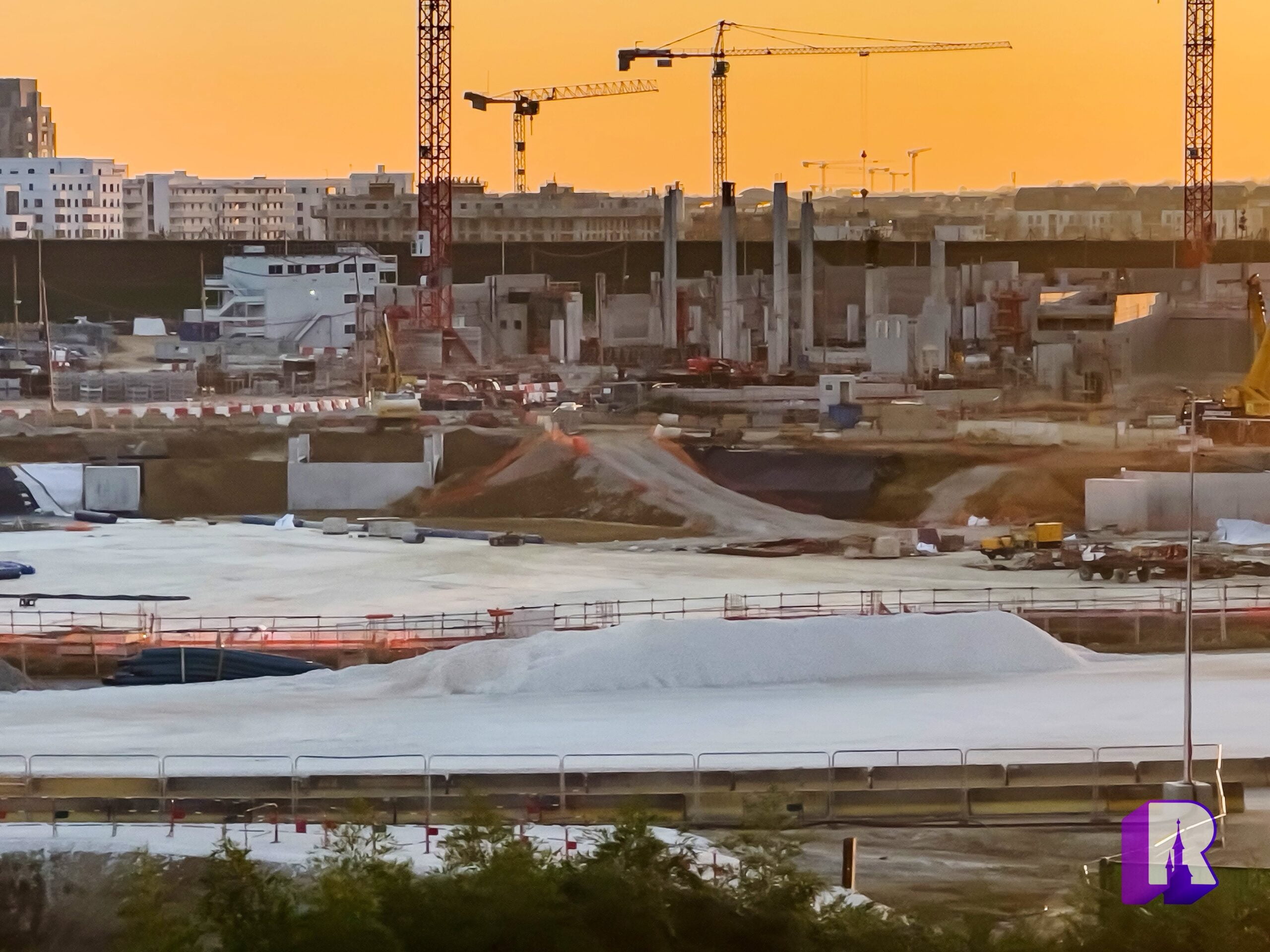 We start at Walt Disney Studios Park this week where the World of Frozen is really starting to take shape!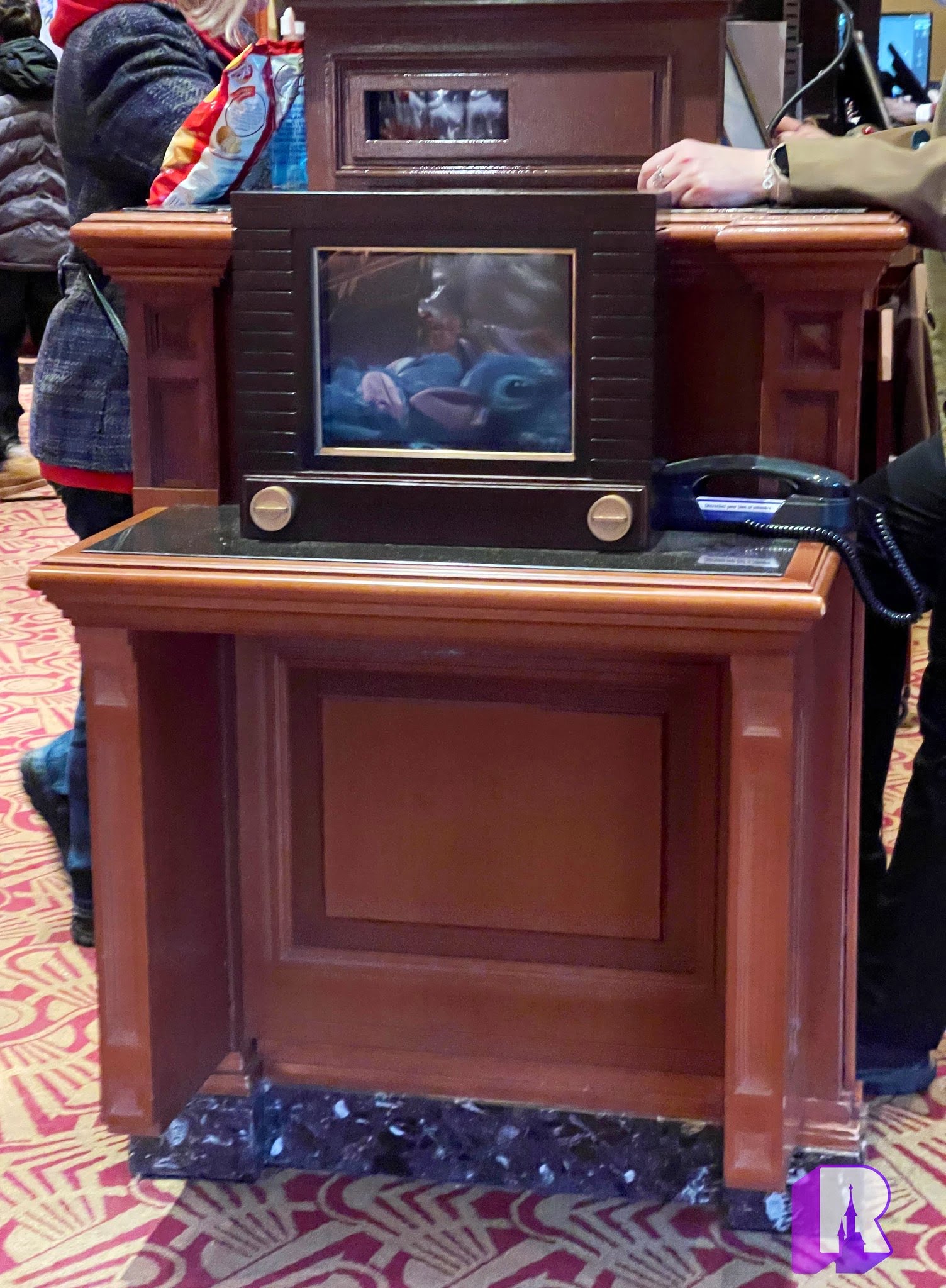 Inside the park at Tower Gifts, a new accessible counter has been installed. These counters have been popping up around the resort and it's great to see.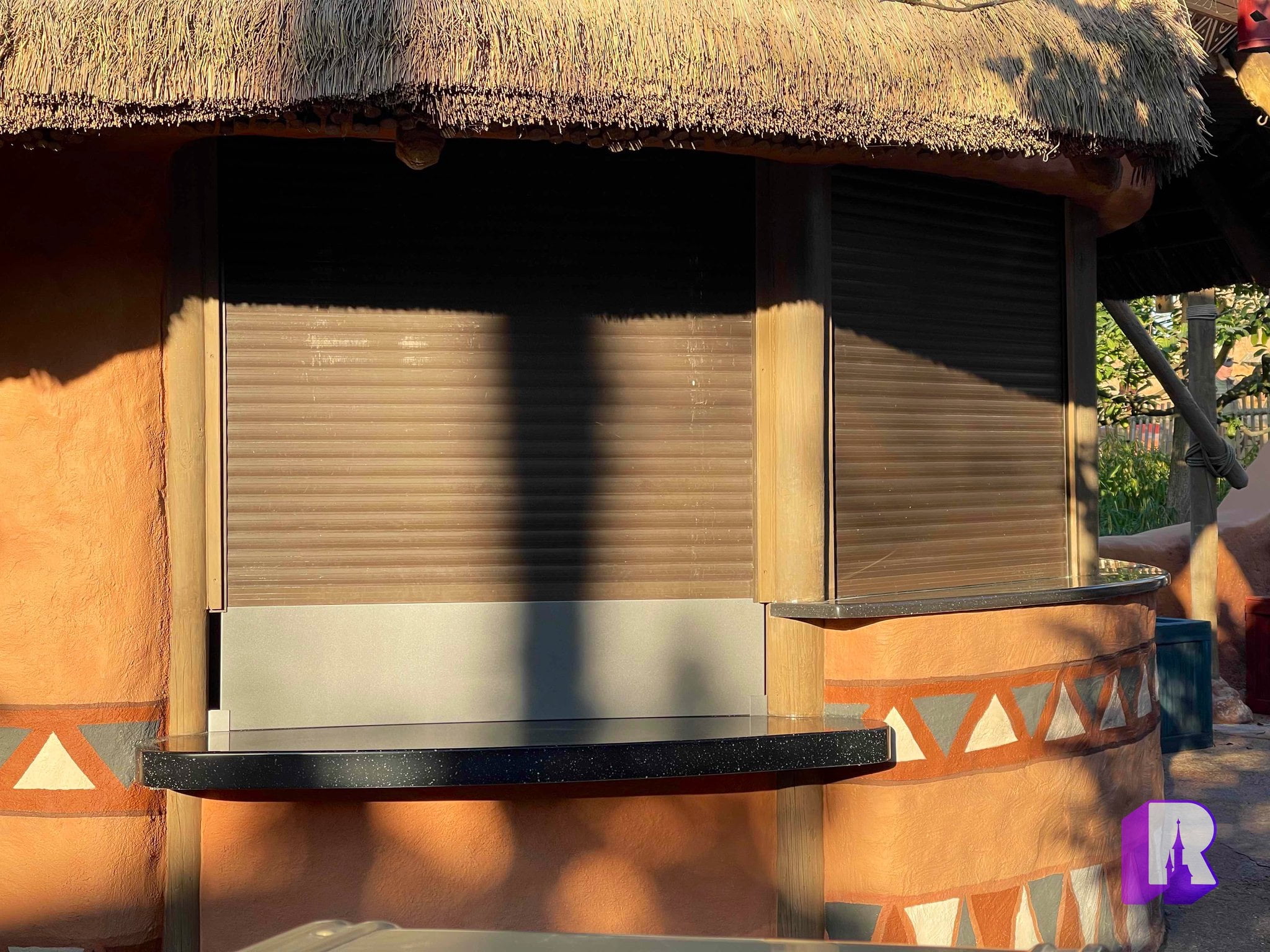 Over at Disneyland park, the Cool Post area has reopen after some repaving, stairs re-building an overall theming touchups.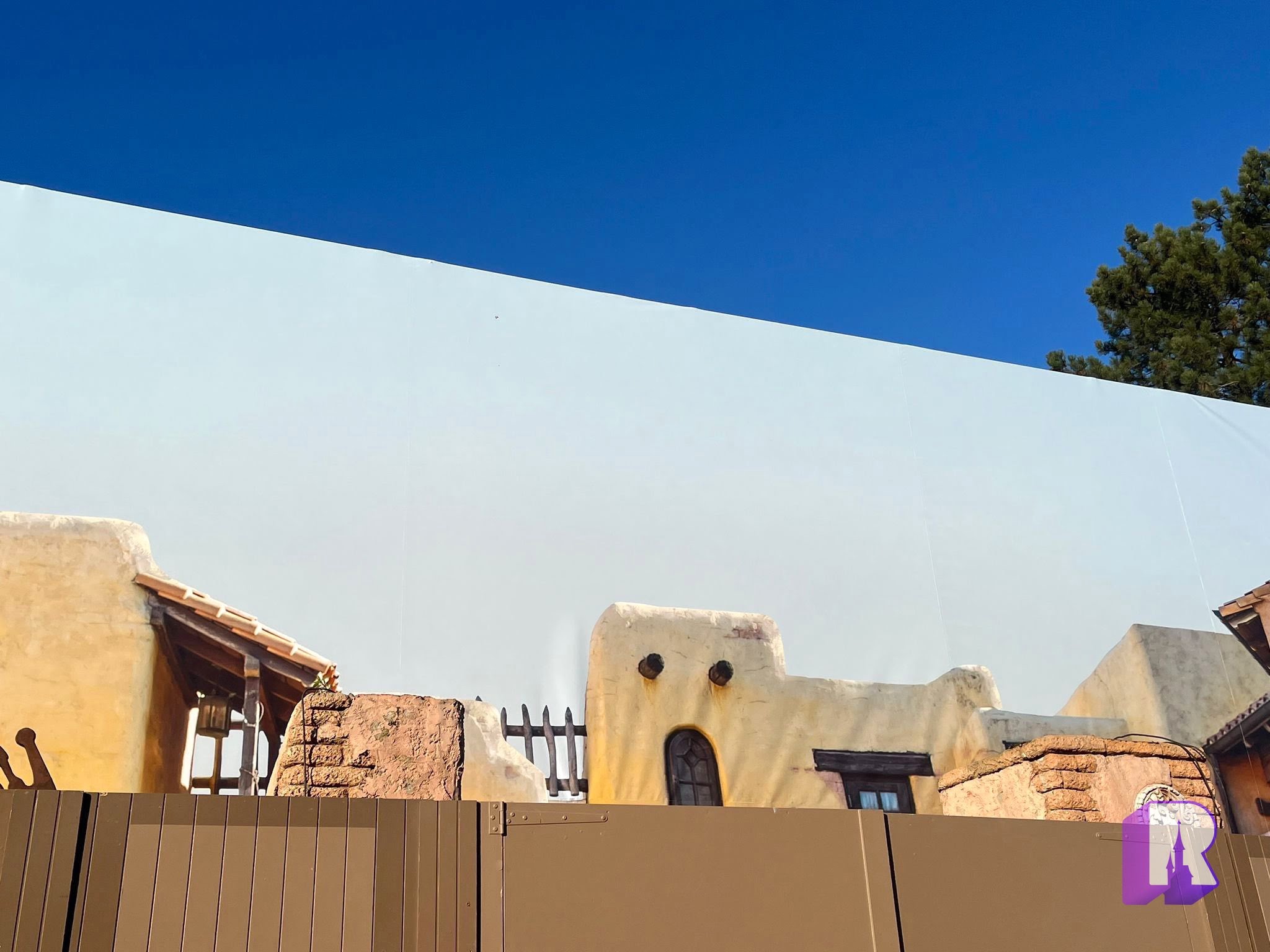 In Frontierland, most of the sign for Fuente Del Oro has now been removed. The location is being reimagining, and the terrace enclosed with works lasting for another few months.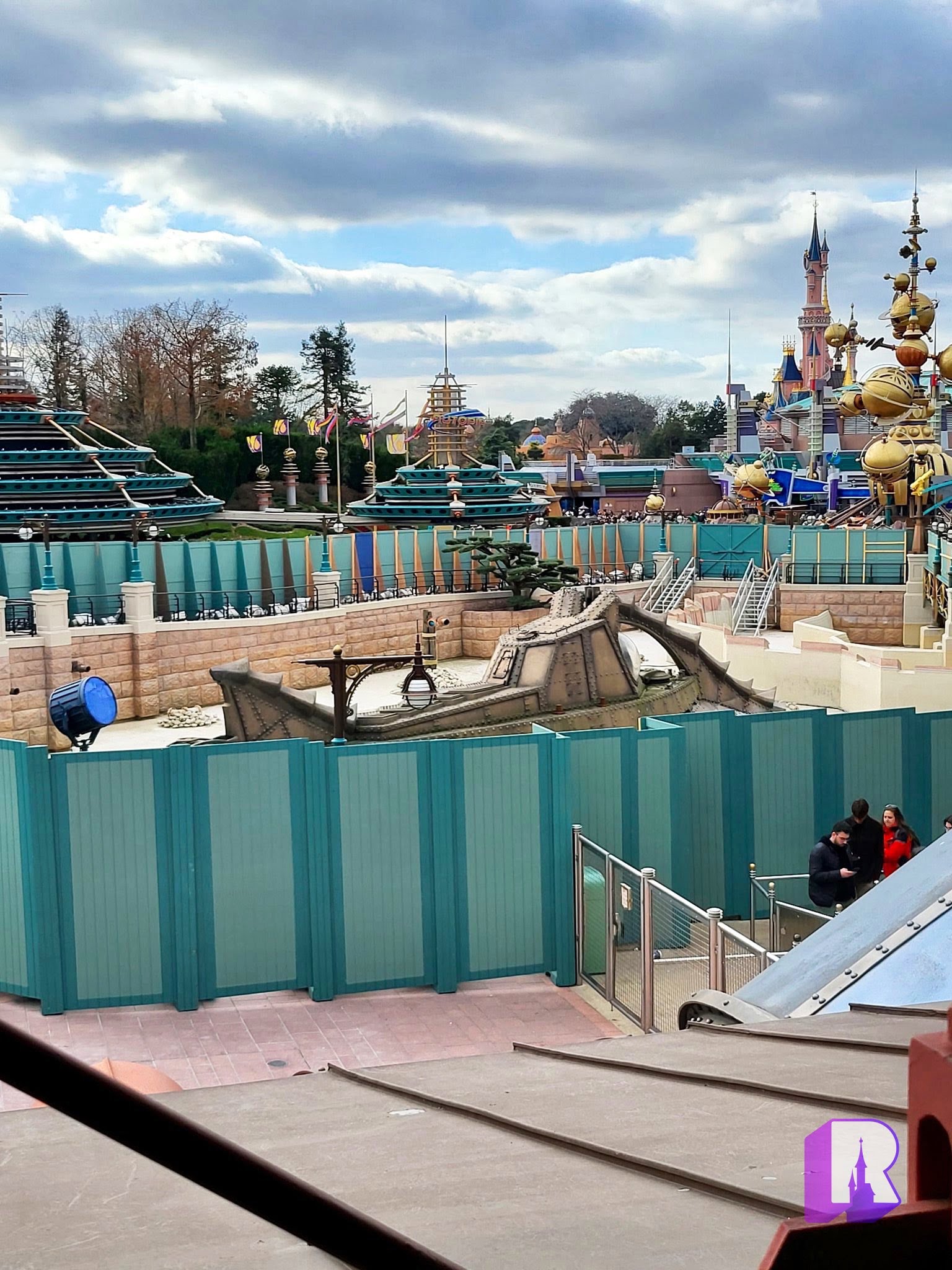 In Discoveryland, we can now see a little bit more about what's going on in the Nautilus basin. It looks like the entire basin has been emptied and cleaned, and stairs have been installed for a refurbishment that looks like it's going to be pretty in-depth. There's still no re-opening date for the attraction or any indication as to what exactly is being done inside. Or we can't tell you yet.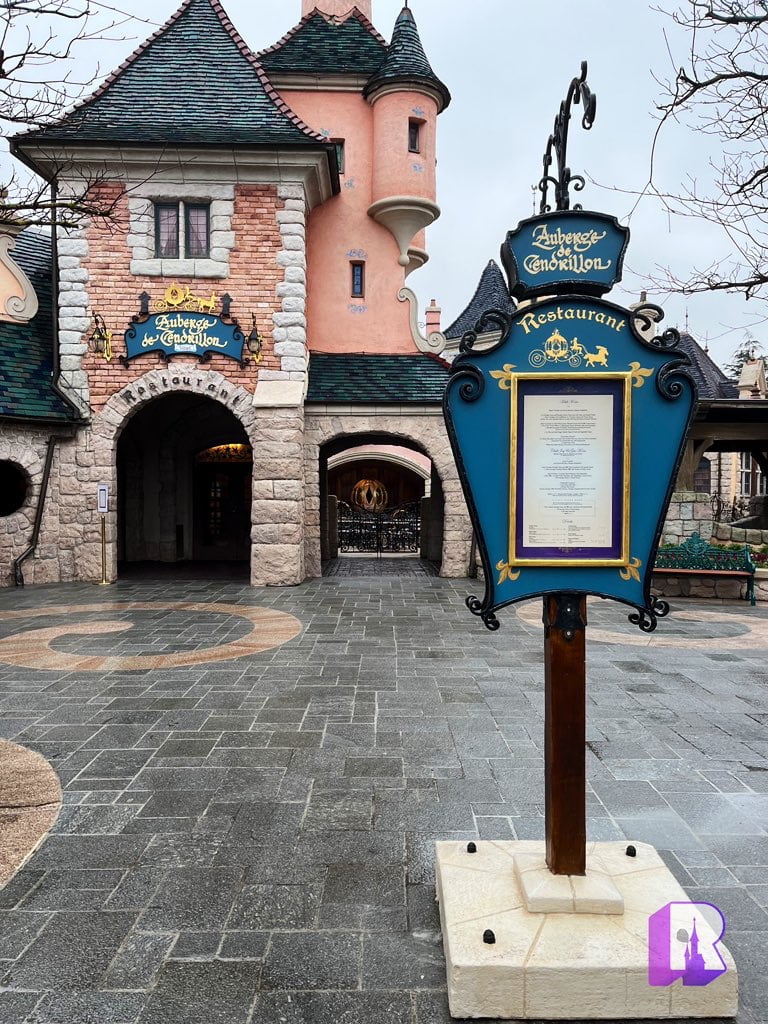 In Fantasyland, the Auberge de Cendrillon menu board has now returned, good as new.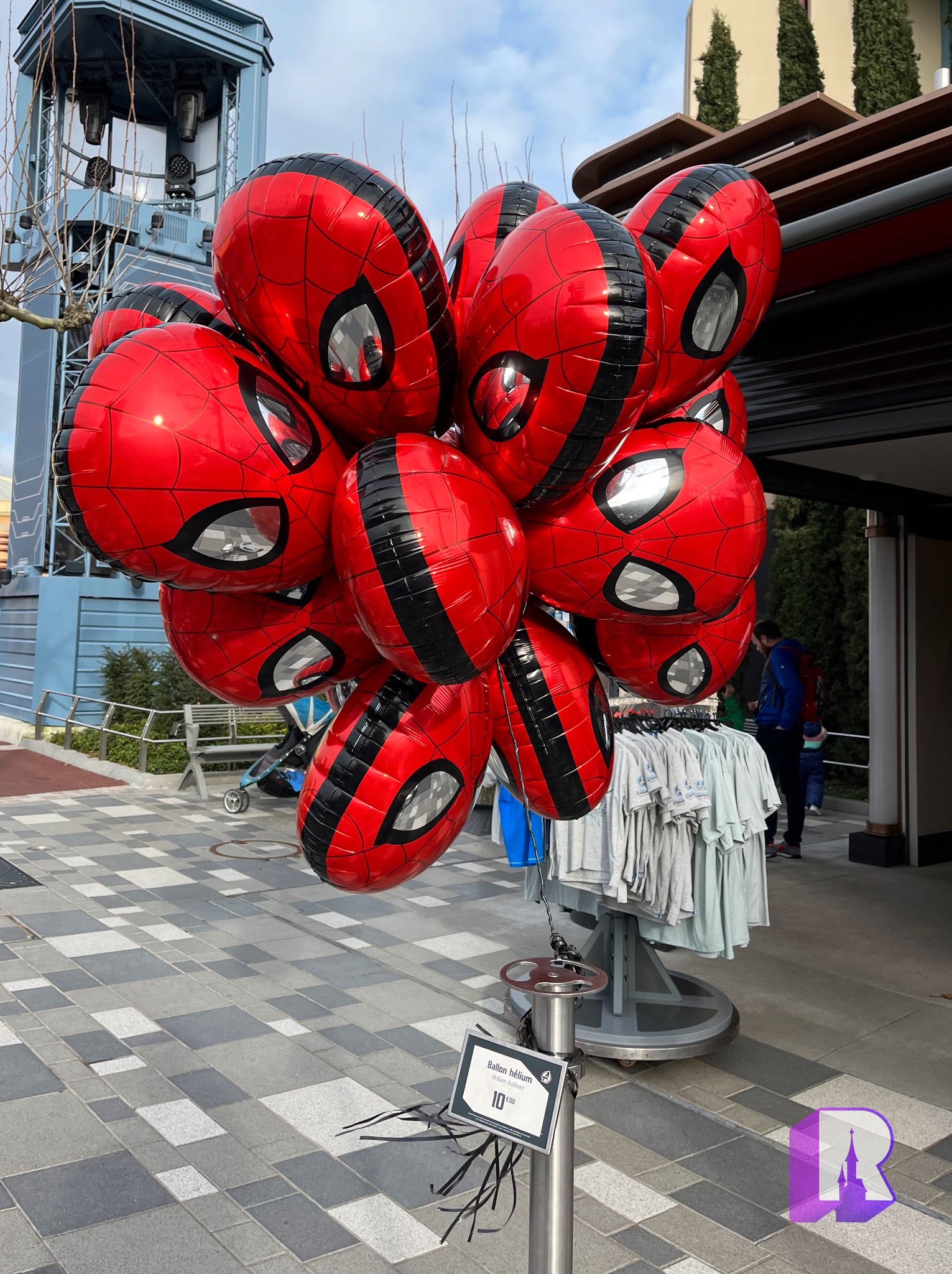 With the nicer days, helium balloons are returning to the parks you can find them in Avengers Campus , for example and of course, at Disneyland Park.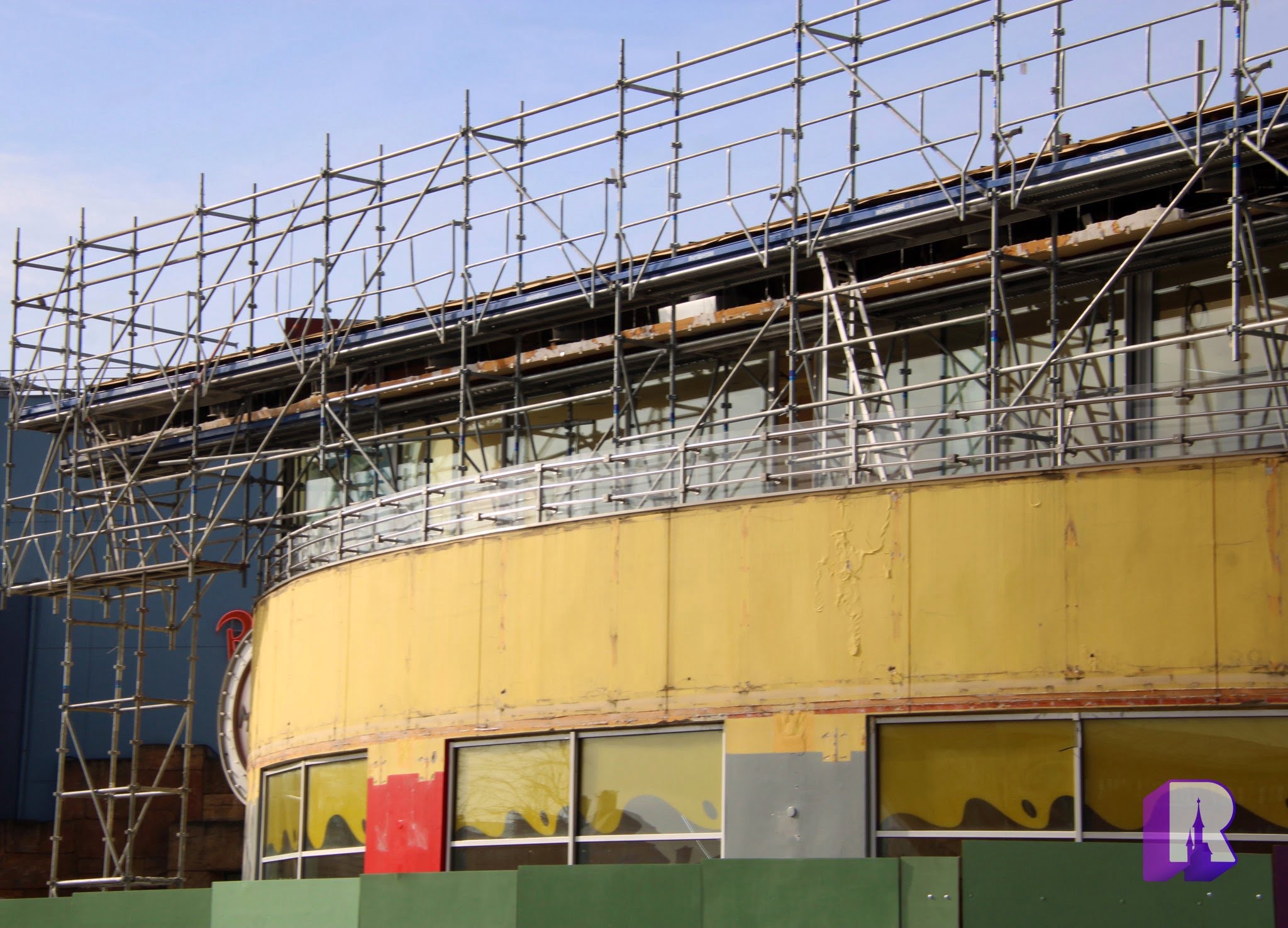 We covered the temporary Royal Pub earlier on, but of course the main event here is the transformation of Cafe into Rosalie and the transformation of Disney Fashion Jr. into the first location that will really show us the future of Disney Village. The awnings are literally being sliced off which means that the street might look a lot wider and also feel a lot different than now.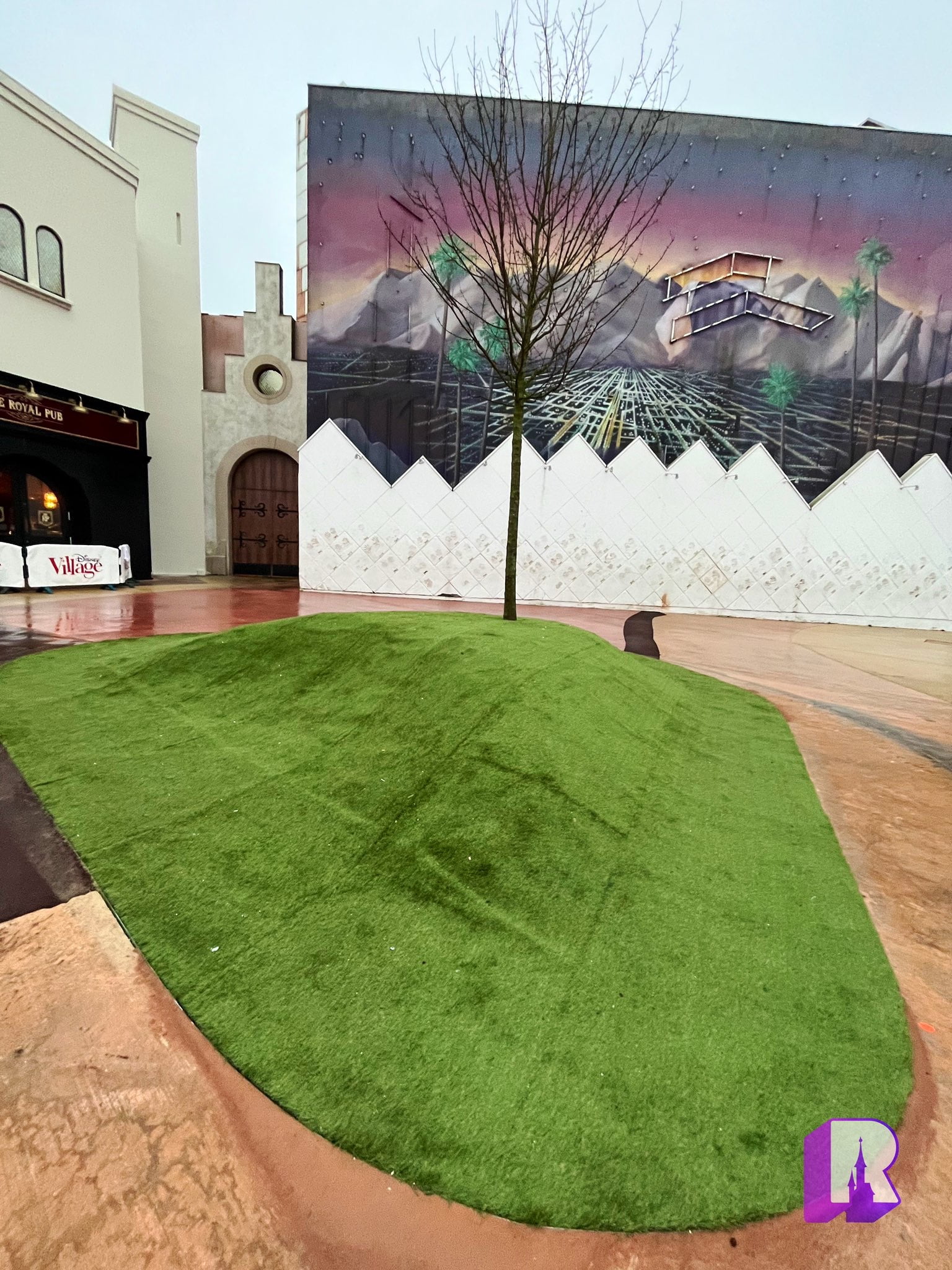 We finish this week with this hilarious photo of what is left of what was the Disney Village stage. That's right, it is now just a little hill with some Astroturf and one tree – how Disney Village!
Thank you for joining us once again for the latest news from Disneyland Paris. I will see you again next week for a fresh look at everything happening at the Resort, and until then: have a good week!