Happy New Year Everyone! This week we recap the big Disneyland Paris New Years Eve Party of course + AP Party News and merchandise arrivals. Let's go!
Disneyland Paris New Years Eve Party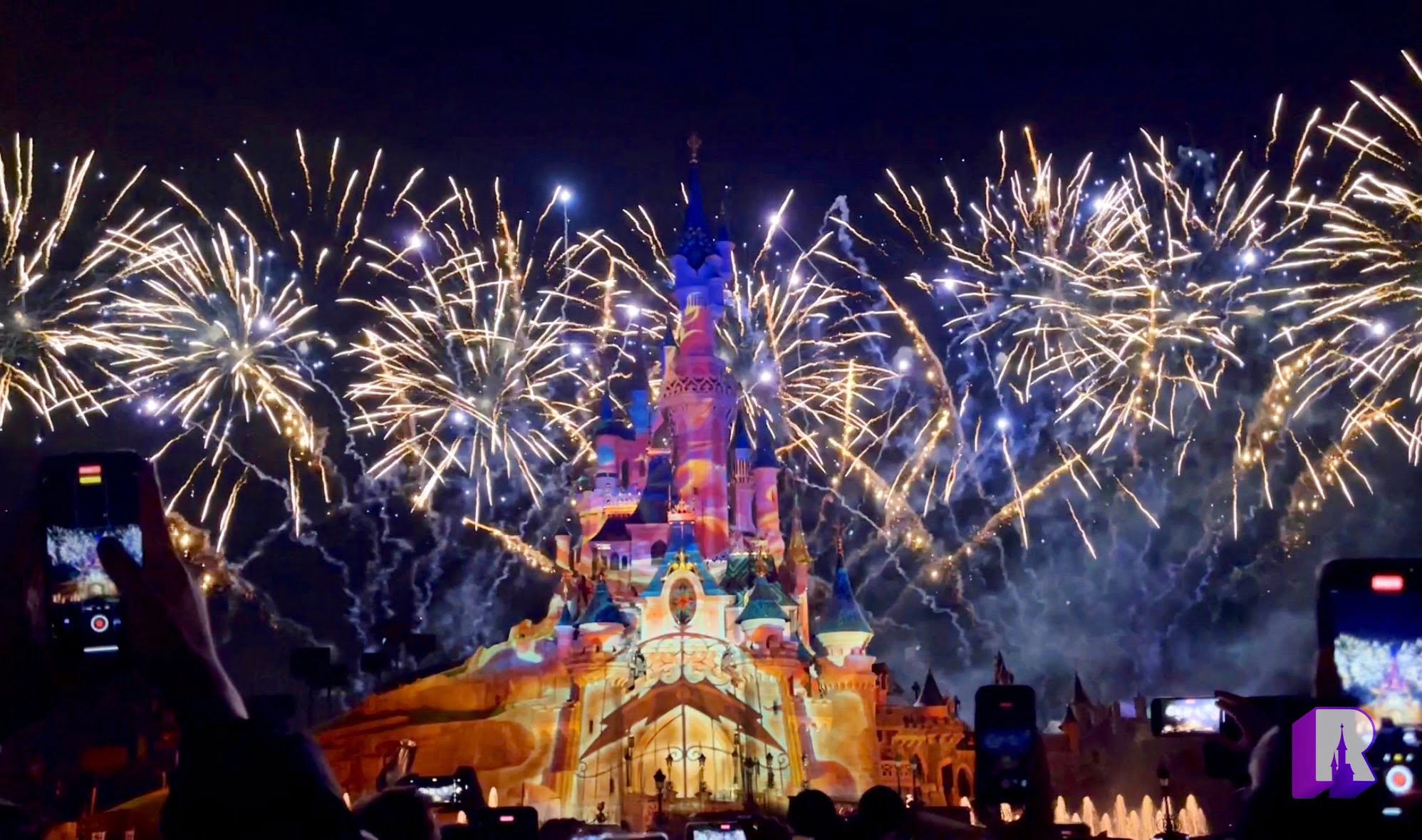 The key event of the week was of course the Disneyland Paris New Years Eve Party, let's take a complete look at the event!
Programme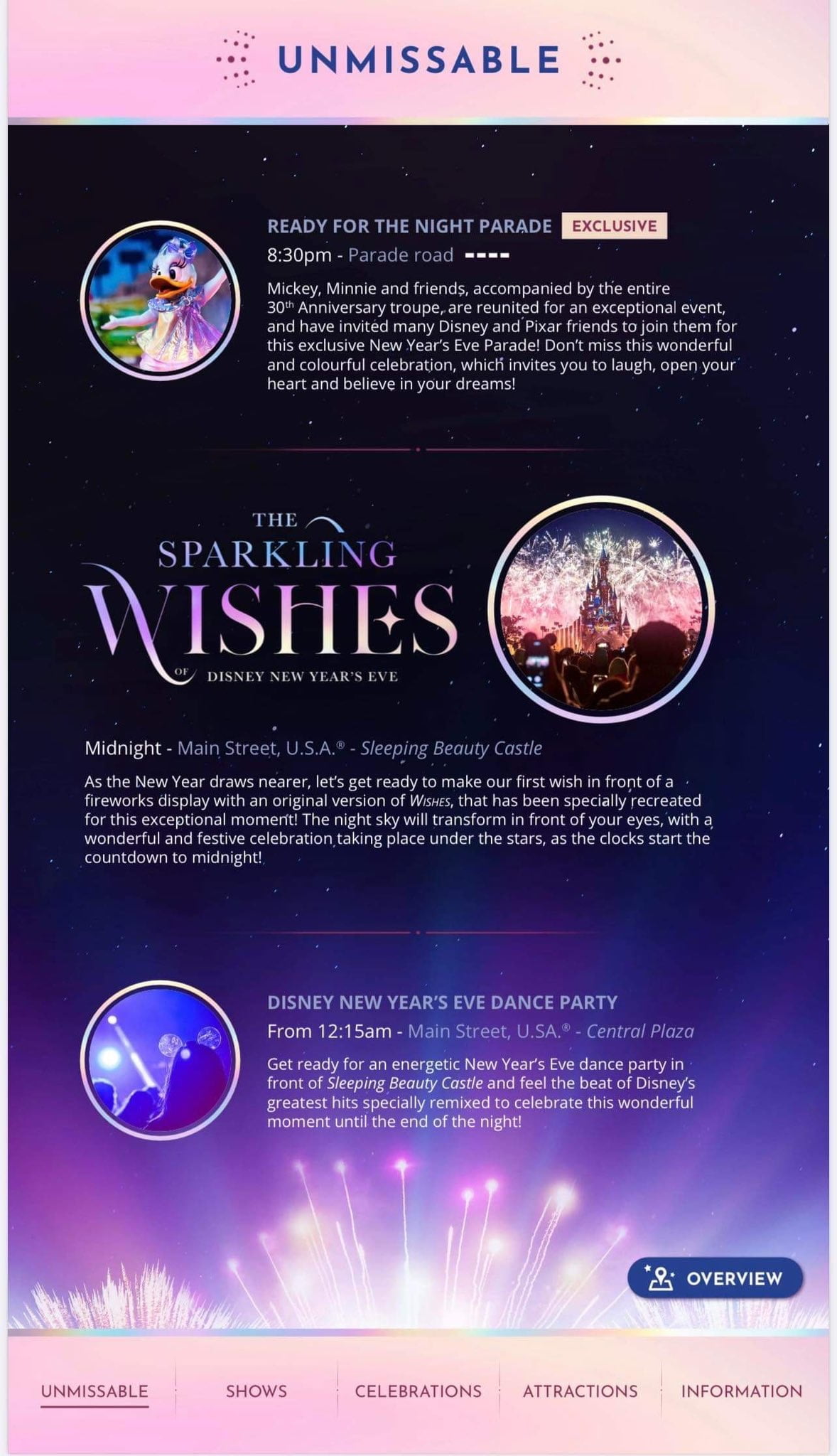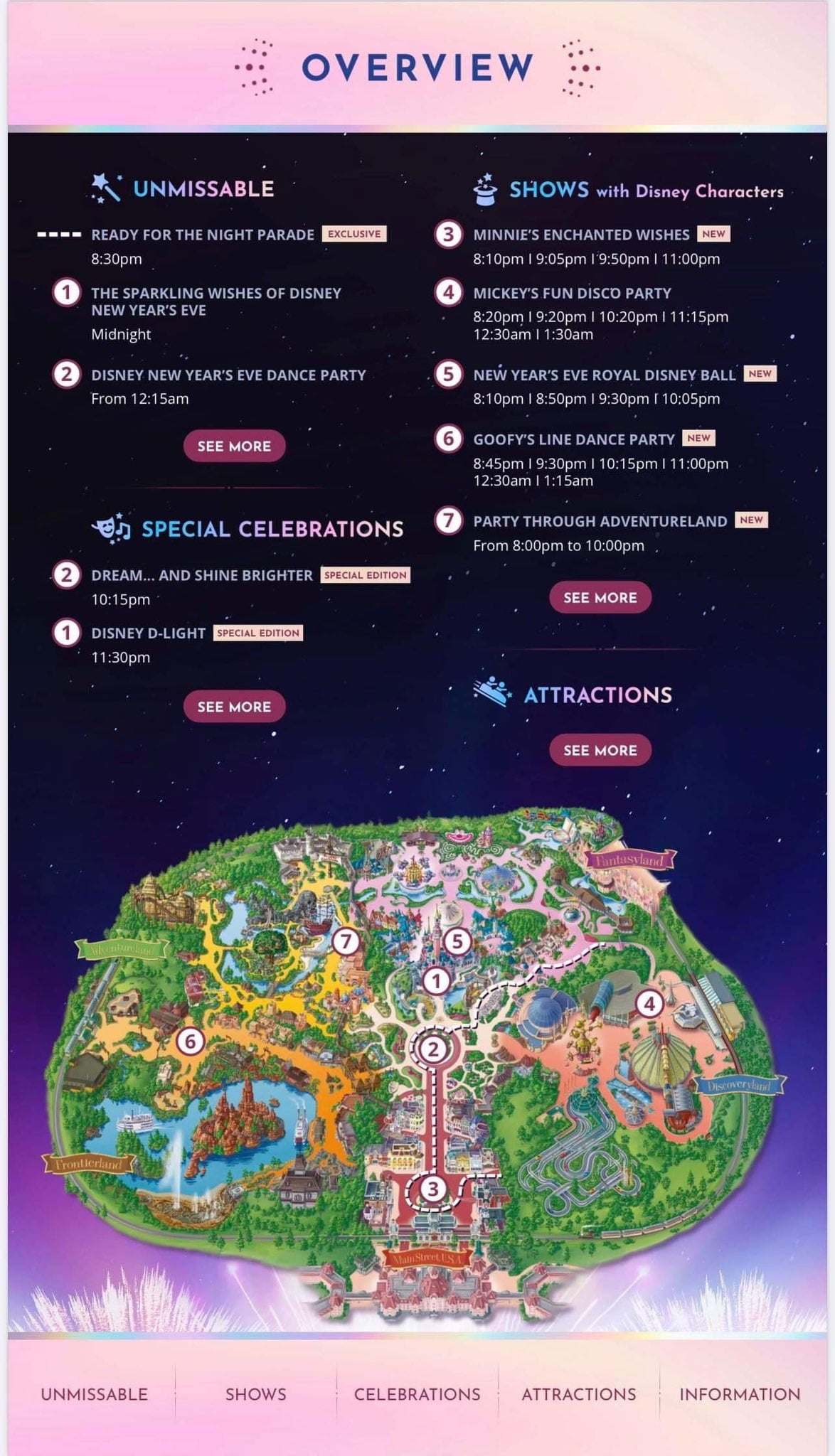 To everyone's surprise, the event featured a number of big and small shows across Disneyland Park, but absolutely no traditional meet and greets. A gamble from the producers – did it work? We'll discuss at the end of the section.
Set up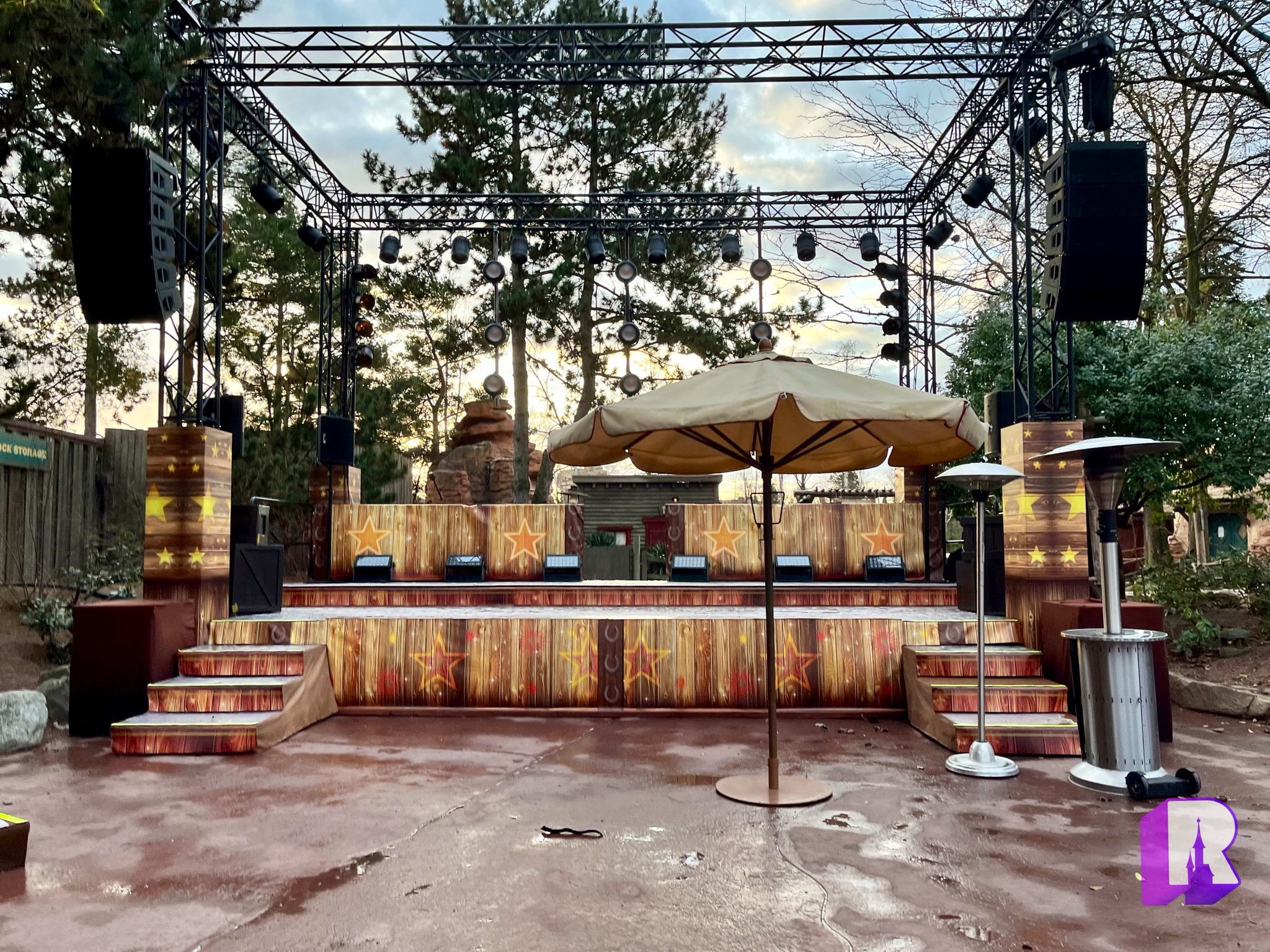 Quite a bit of equipment was wheeled into the park all week long, like in the cowboy cookout courtyard..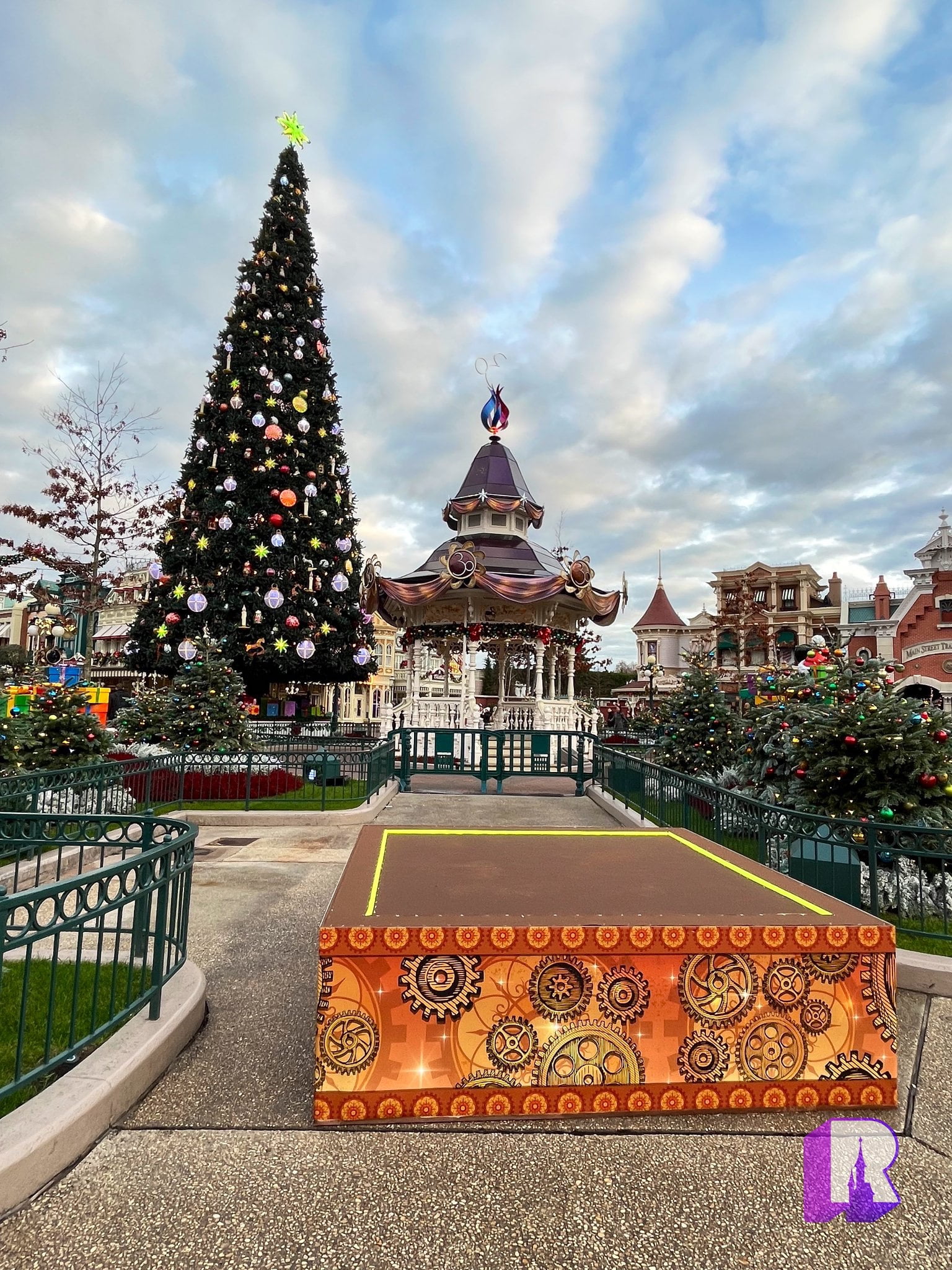 But also on Main Street..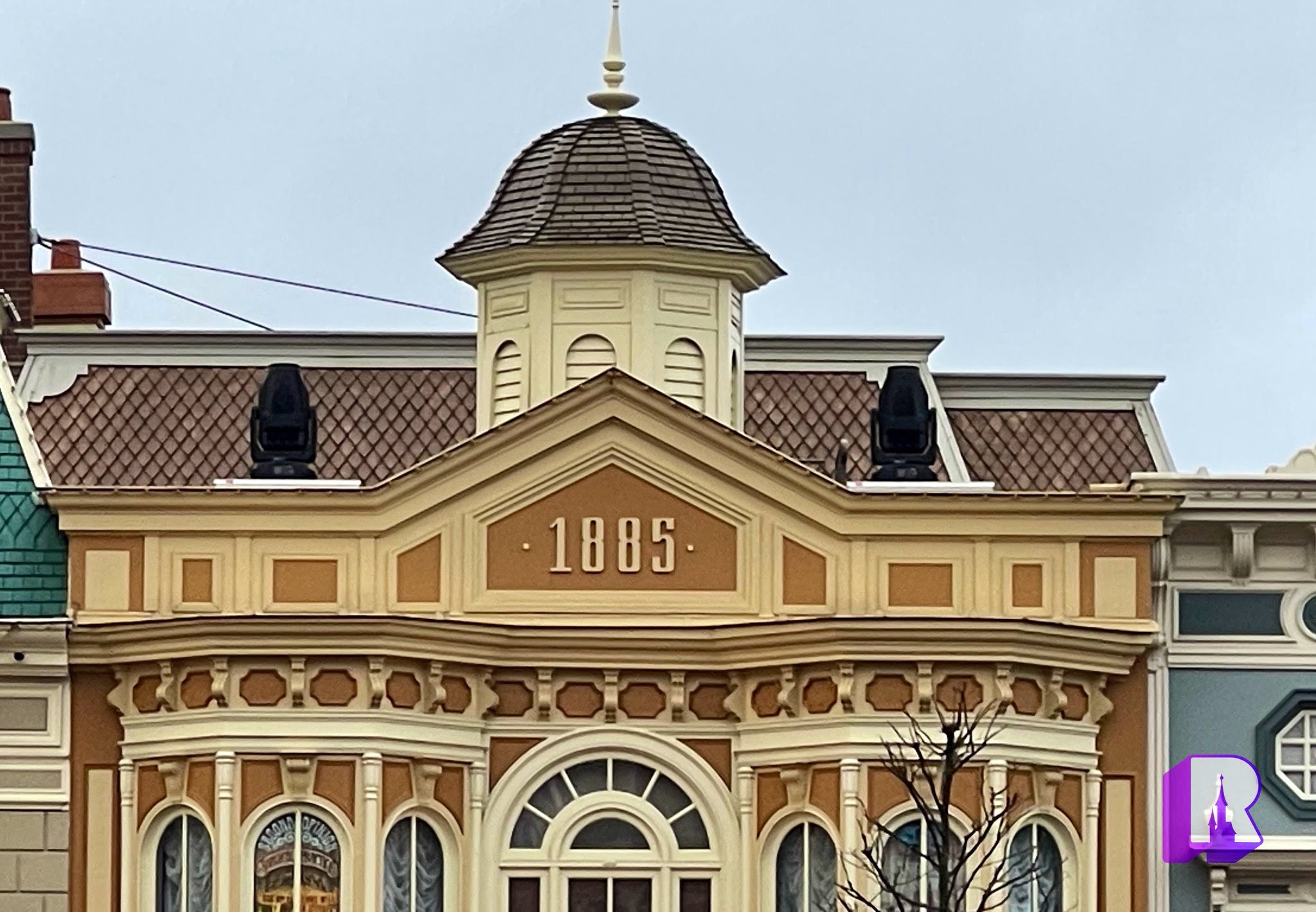 The Main Street roofs..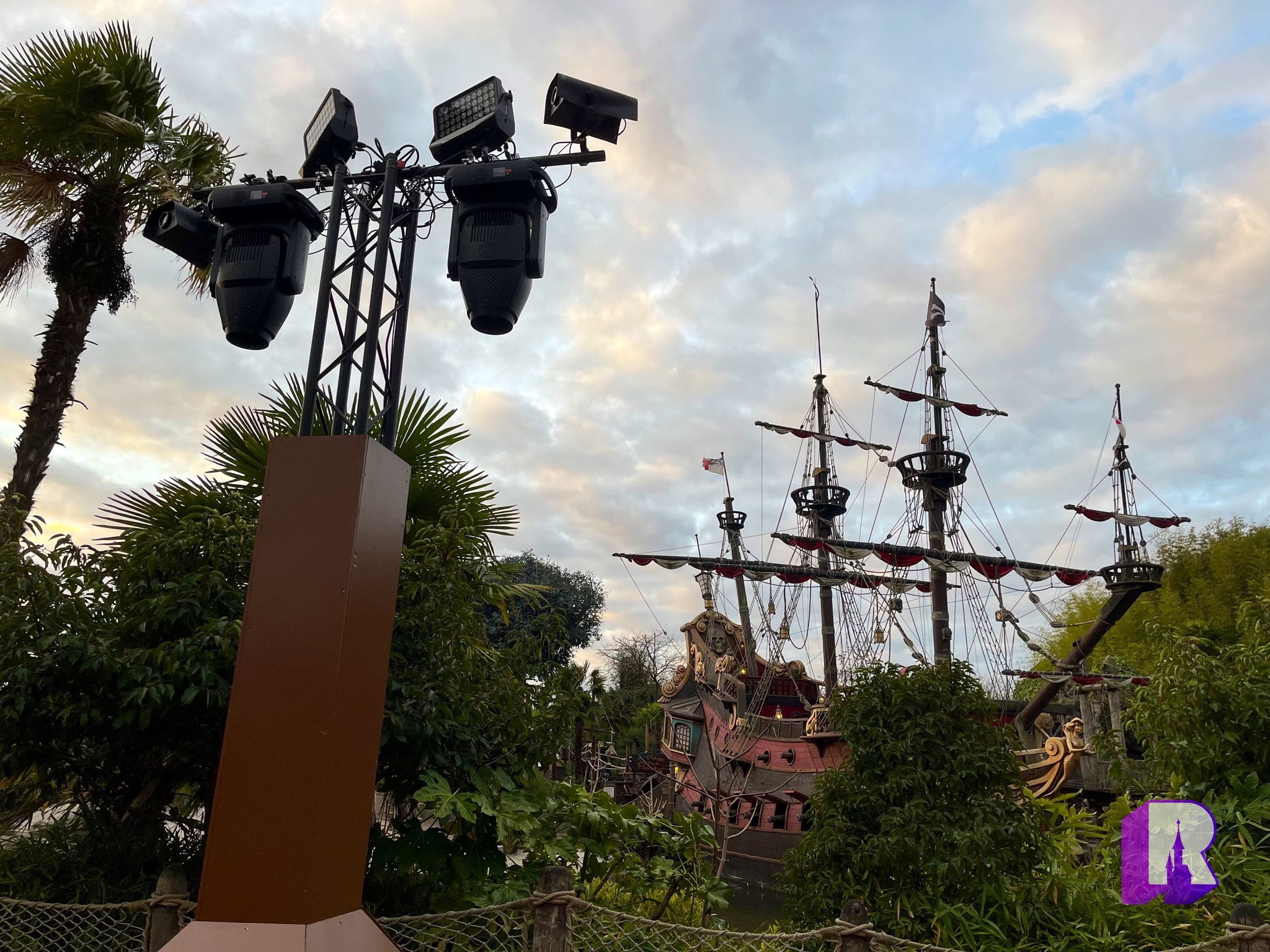 And even in Adventureland.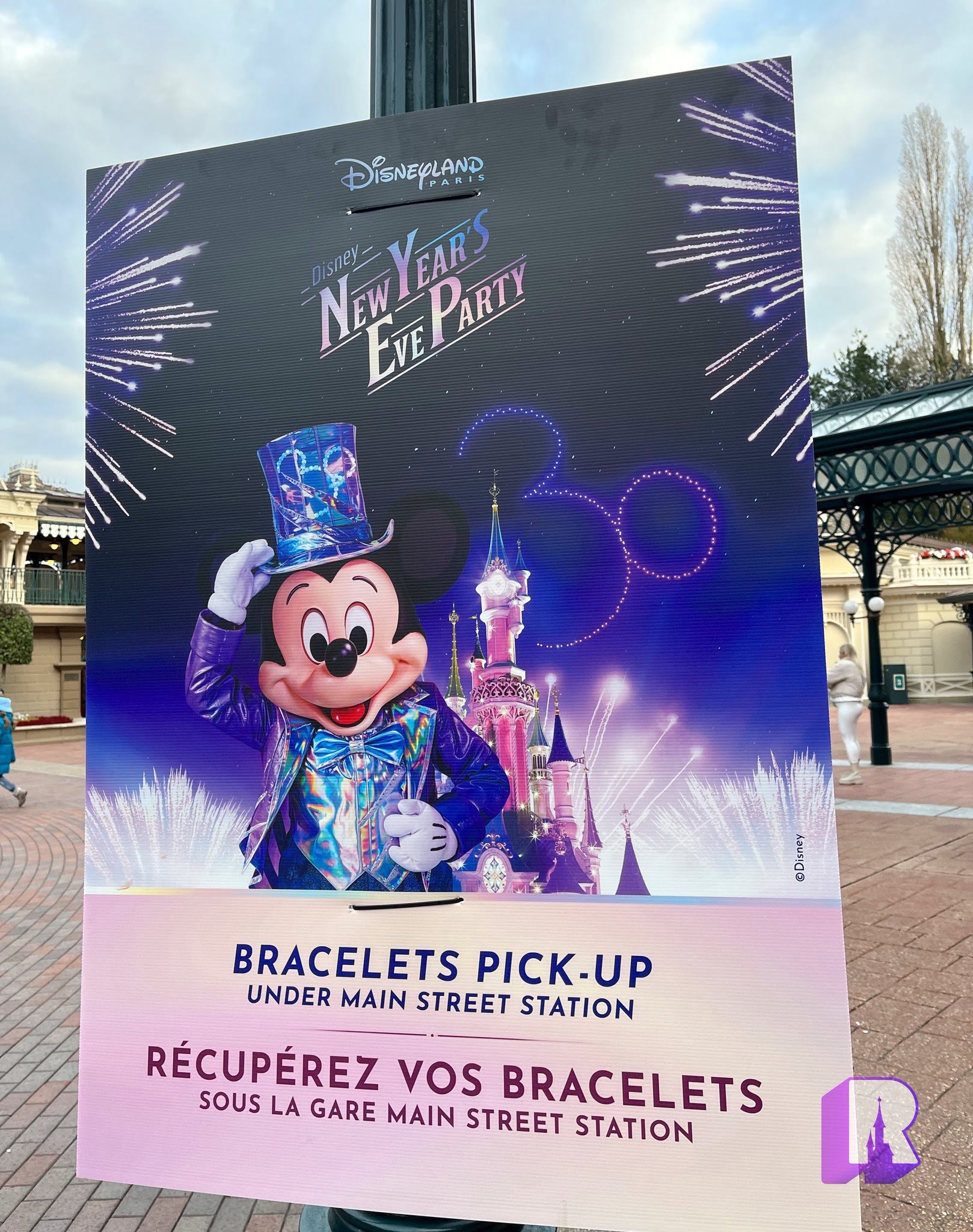 The party used a wristband system this year which is OH so much better than clearing the park and holding thousands of stressed out guests in Fantasia Gardens like cattle!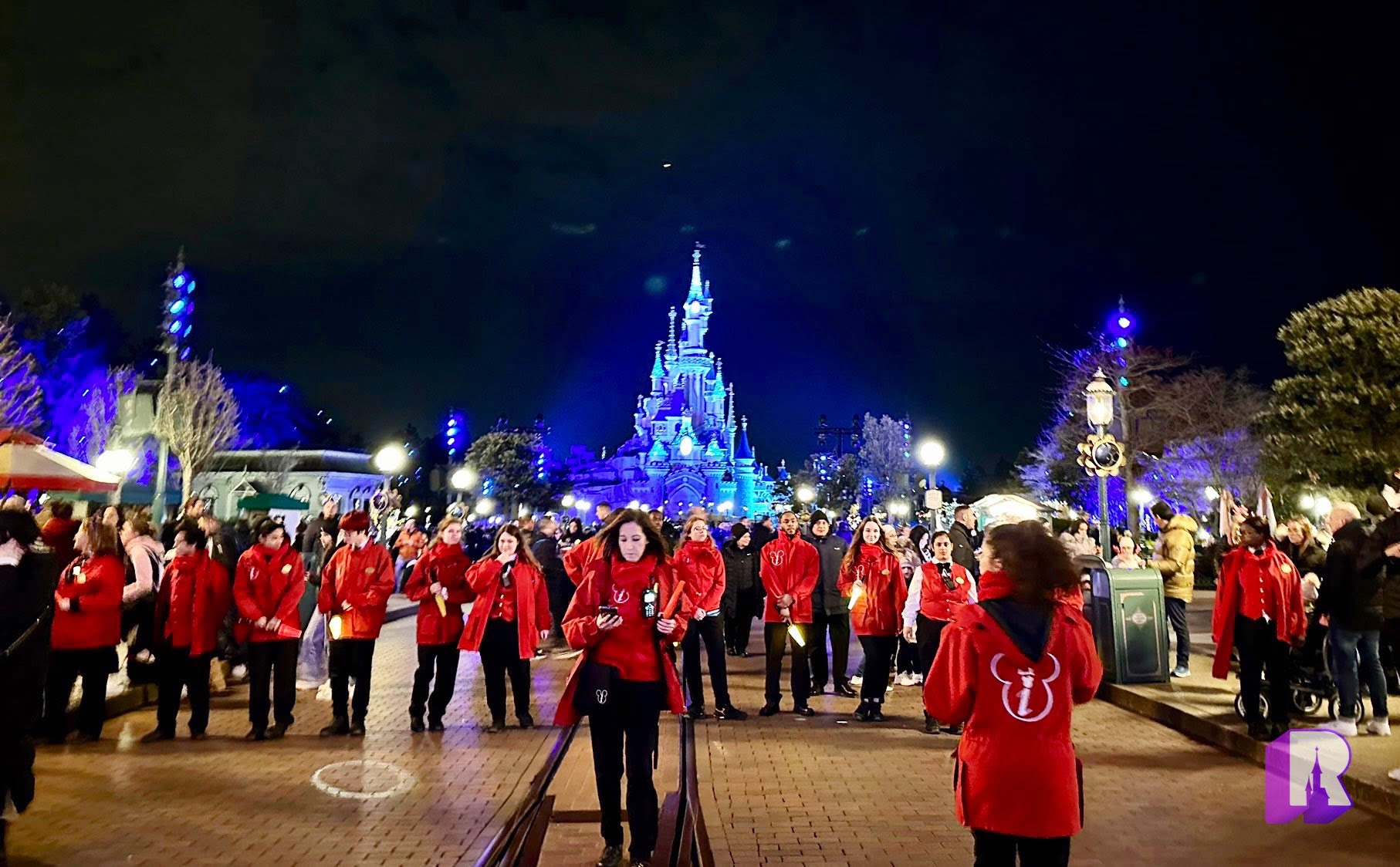 As the party started, Guest Flow teams filtered out the lands from 6:30pm. It's not a perfect sytème but works well overall and brings a much better experience to Guests. Good job!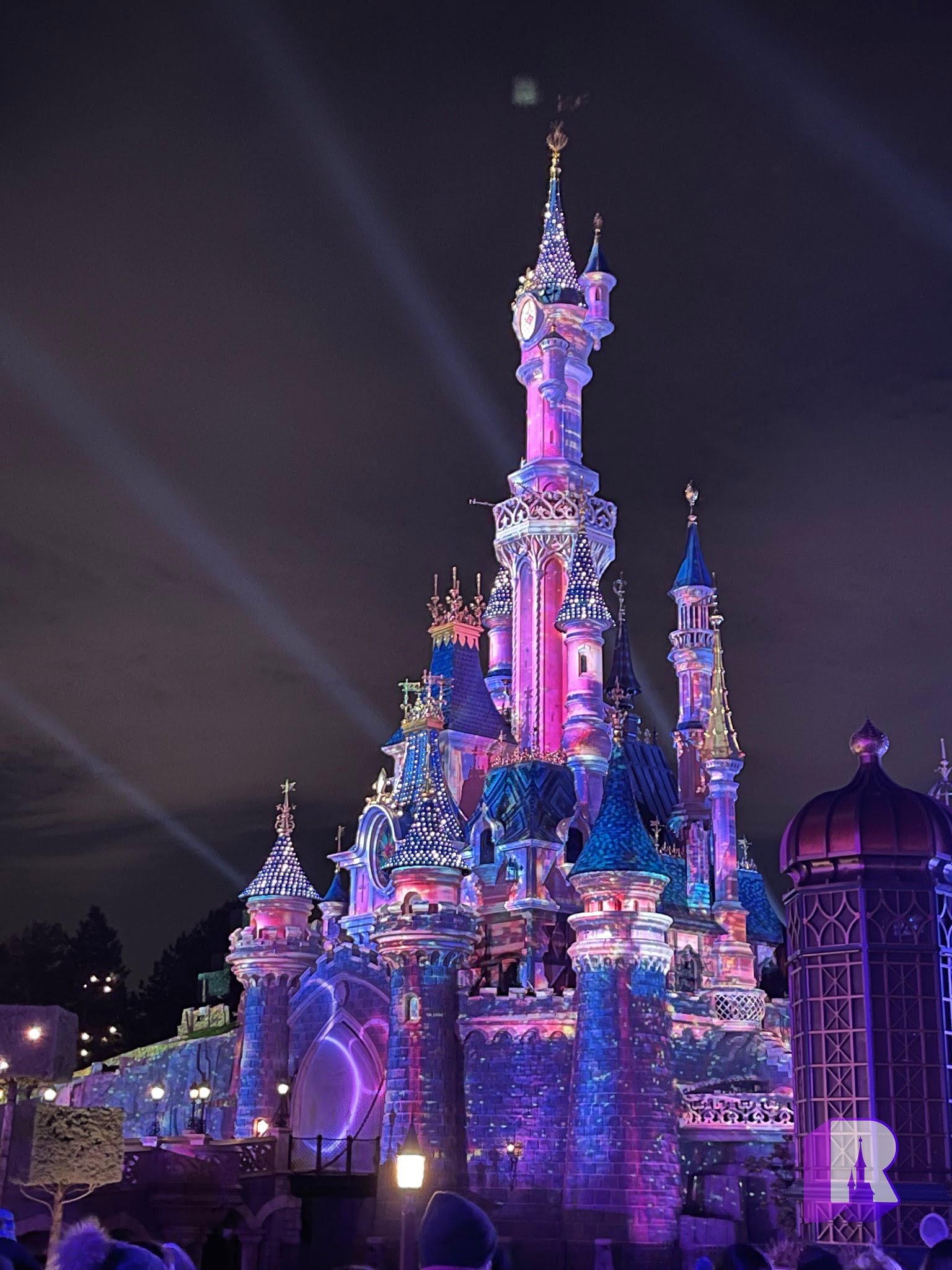 The party could then kick off, as a lovely projection mapping activated on Sleeping Beauty Castle.
Goofy's Line Dance Party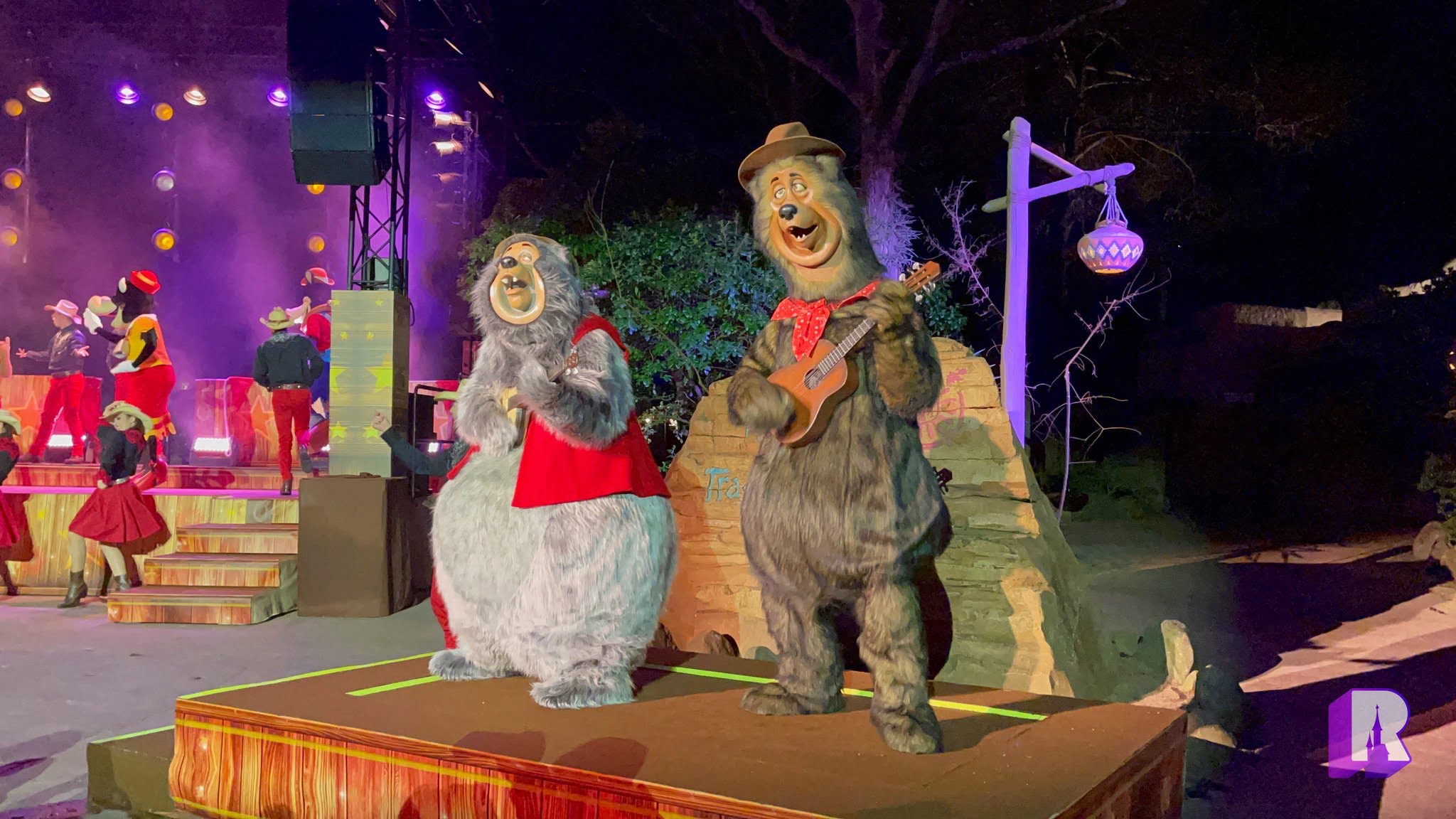 One of the best productions of the night was Goofy's Line Dance Party in Frontierland. With special Guests like the Country Bears and Clara Cluck, the show was fun and dynamic, with a big stage and notable production value. I say show because despite its name it was no dance party. That did not take away from the quality of the show but does little in terms of athmosphere between the performances. Given there was no meet and greet everyone expected the characters to stick around after the show for a few photos, but they did not.
Check out our full video:
Minnie's Enchanted Wishes
Over in Town Square, Minnie wasn't sure what to wish for this year – but Disney Friends stopped by to help her of course. The show featured iconic song "Do You Believe in Magic" from DLP20, a classic Mary Poppins Medley, a Tiana number and the jazzy "A Dream is a Wish" rendition by Eden Espinosa.
Overall a strong and heartwarming production. The stages helped the crowd see the performers but did little in terms of capacity and overcrowding. Town Square is big but when the show is only facing 50% of it, it fills up quickly and created traffic jams.
Royal Disney Ball
In Castle Courtyard we went back to the Disney Parks classic shows vibes with the Royal Disney Ball. An impressive display of royalty including a rare appearance of Queen Anna at Disneyland Paris set in the beautiful courtyard, enhanced with fantastic lighting for the occasion. A really lovely show !
Again here capacity was an issue and if you weren't at the front, you really were not getting the full experience. It's the same problem of producing shows in areas where shows of that size and appeal are not meant to be produced. The party's producers clearly had a nice vision but forgot one thing: the number of tickets sold!
Party Through Adventureland
Various happenings took place in Adventureland including a Neverland production, Agrabah production and a Jungle Book Jive inspired happening which we didn't catch. Obviously the details for these weren't revealed to prevent – you guessed it – overcrowding in all these tight areas.
Mickey's Disco Party
You know if it's camp and slightly off brand in the best way possible it's gonna be at Videopolis and this time was no exception! Mickey and the gang brought the disco vibes for a classic New Years Eve celebration, a fun medley of classic disco inspired songs with party outfits! Disney Friends are just like us – they dance to "Celebrate Good Times" on New Years. Cheers to that.
Ready for the Night Parade
Remember when the New Years Party had the longest parade ever? Not anymore. Ready for the Night was .. fine. It had a few rare characters like Baymax who was shoehorned into a tricycle (poor Bay!), the "Dream… and Shine Brighter" floats, and the classic cars with a new D100 wrap (more on that later). Maybe it was meant as a fun kick off for the night and in that case it did the job, but a parade it was not. Guests who waited for this instead of other shows like Goofy's Line Dance or the Royal Ball likely felt a bit cheated of their time.
D100
In 2023, Disney celebrates 100 years and in the first non- merchandise Disney Parks event, a lovely D100 show was presented, featuring iconic stories and characters. It's expected this show will become a preshow to the nighttime entertainment at some point this year, maybe in October but nothing has been announced so far as Disneyland Paris is very tight lipped about these D100 celebrations.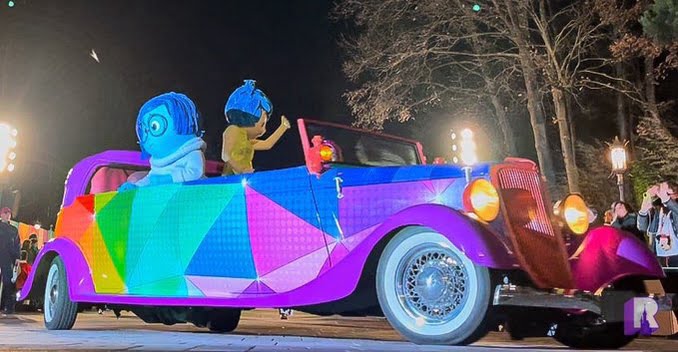 We noticed during the Ready for the Night parade that the cars received a D100 wrap as well as the tricycles which have now lost their roofs – so maybe that's also part of future plans.
Midnight Countdown and Wishes
After the traditional countdown to midnight, Disneyland Paris brought back a revamped production of classic show "Wishes", with added production mapping on Sleeping Beauty Castle (a feature that of course didn't exist back then!). It was lovely to see the show again and hear the iconic soundtrack resonate through the park to usher us into 2023!
Food and Drinks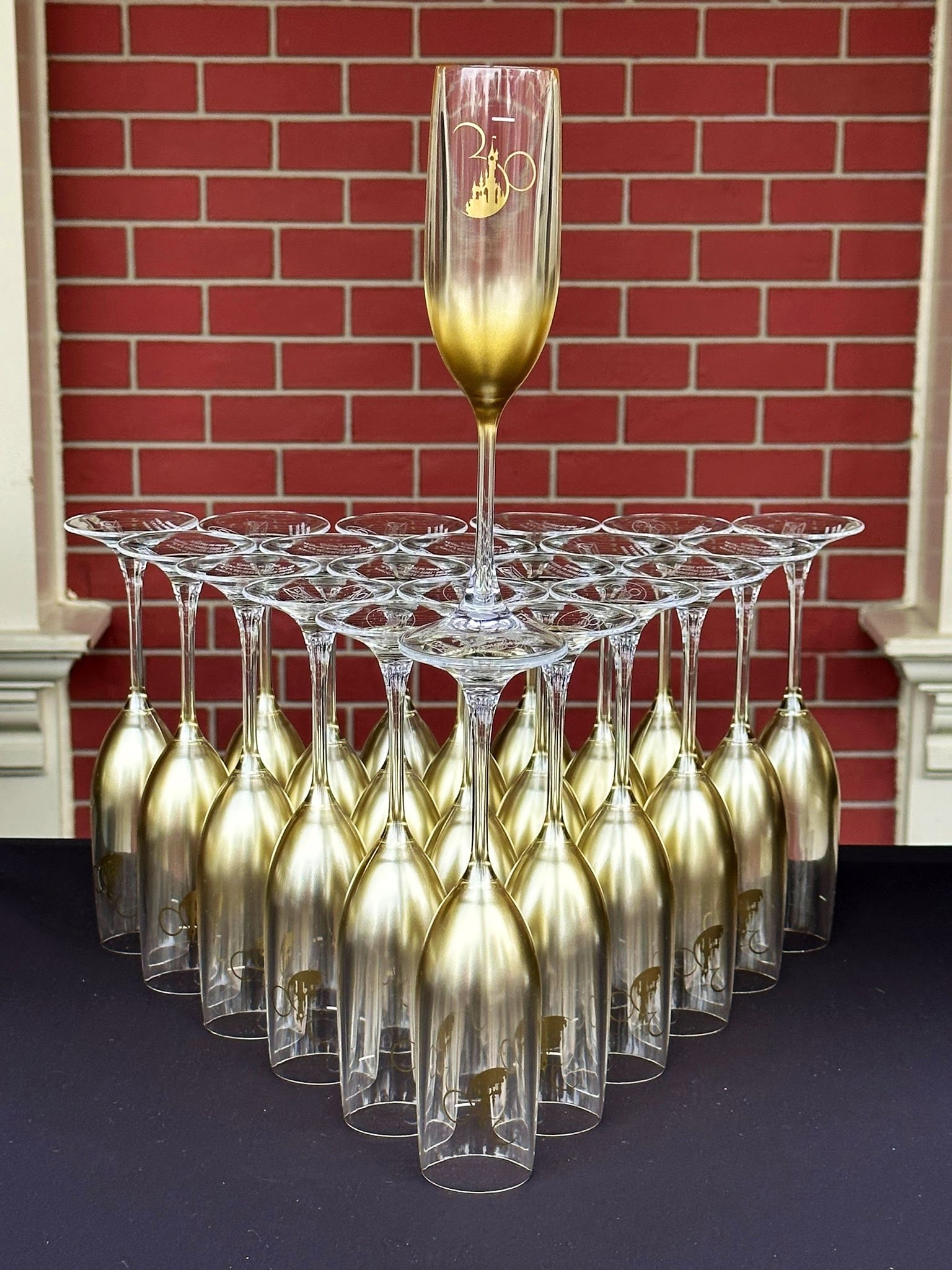 Champagne, of course !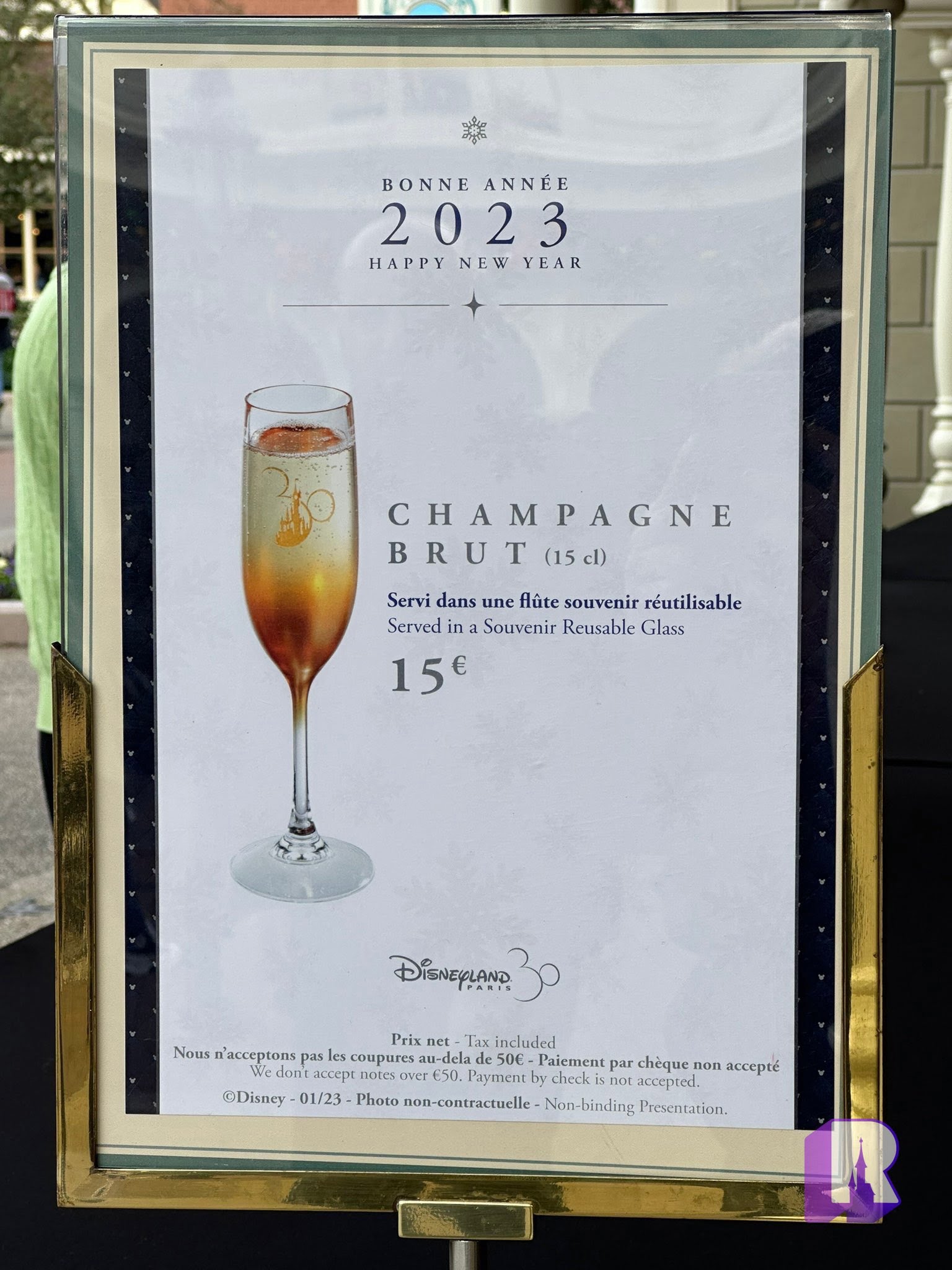 The classic Disneyland Paris glass of champagne was available at many locations for €15 with a souvenir reusable plastic glass. But no discount if you actually reuse your glass.
It was odd that Disney didn't release the details of these expensive meals at table service restaurants. That's because they are exactly the same as the usual ones with the addition of cheese, a "festive dessert" (what if you don't like it ?) and petits fours – all for a lot more money. Listen I get that it's New Years and that every restaurant around the world capitalizes on the occasion but the fact that the food team could not even whip out a special menu to at least try to pretend it was worth the extra cash is just sad.
Over at Plaza Gardens, it was the same set of characters as usual without any special outfits. The only special thing was the price : €150.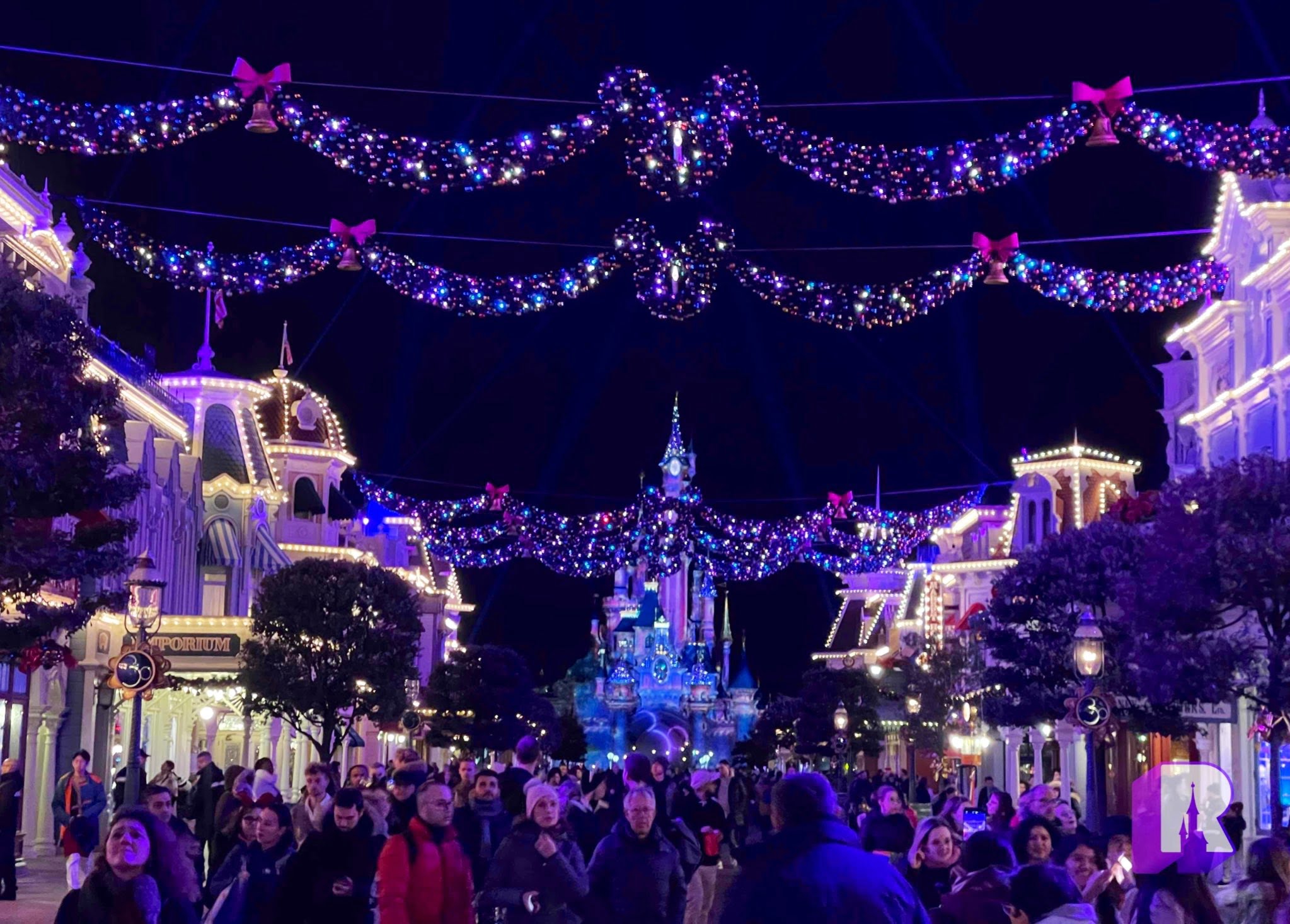 So – New Years at Disneyland Paris, yes or no? I would say yes!
Overcrowding in many show locations not designed to host shows of that size often degraded the experience – could it be that a lot of guests were not in massive queues for characters and as a result all the shows were descended upon? Additionally, the parade route entertainment fell flat, with an underwhelming "Ready for the Night" parade plus "Dream… and Shine Brighter" by night and Disney D-Light with added characters which we (as fans – which I realize is not everyone) have seen many times in their usual versions and could've been skipped.
On the plus side: Spending New Years in Disneyland Park is very special. The entertainment team did a good job overall with shows like Goofy's Line Dance Party, Royal Ball and Mickey's Disco Party – all great one-shot productions. The added bonus of the D100 preshow preview and shot of nostalgia with "Wishes" made for a night packed with quality entertainment! Well done cast and crew and see you in December to ring in 2024!
March 10 AP Party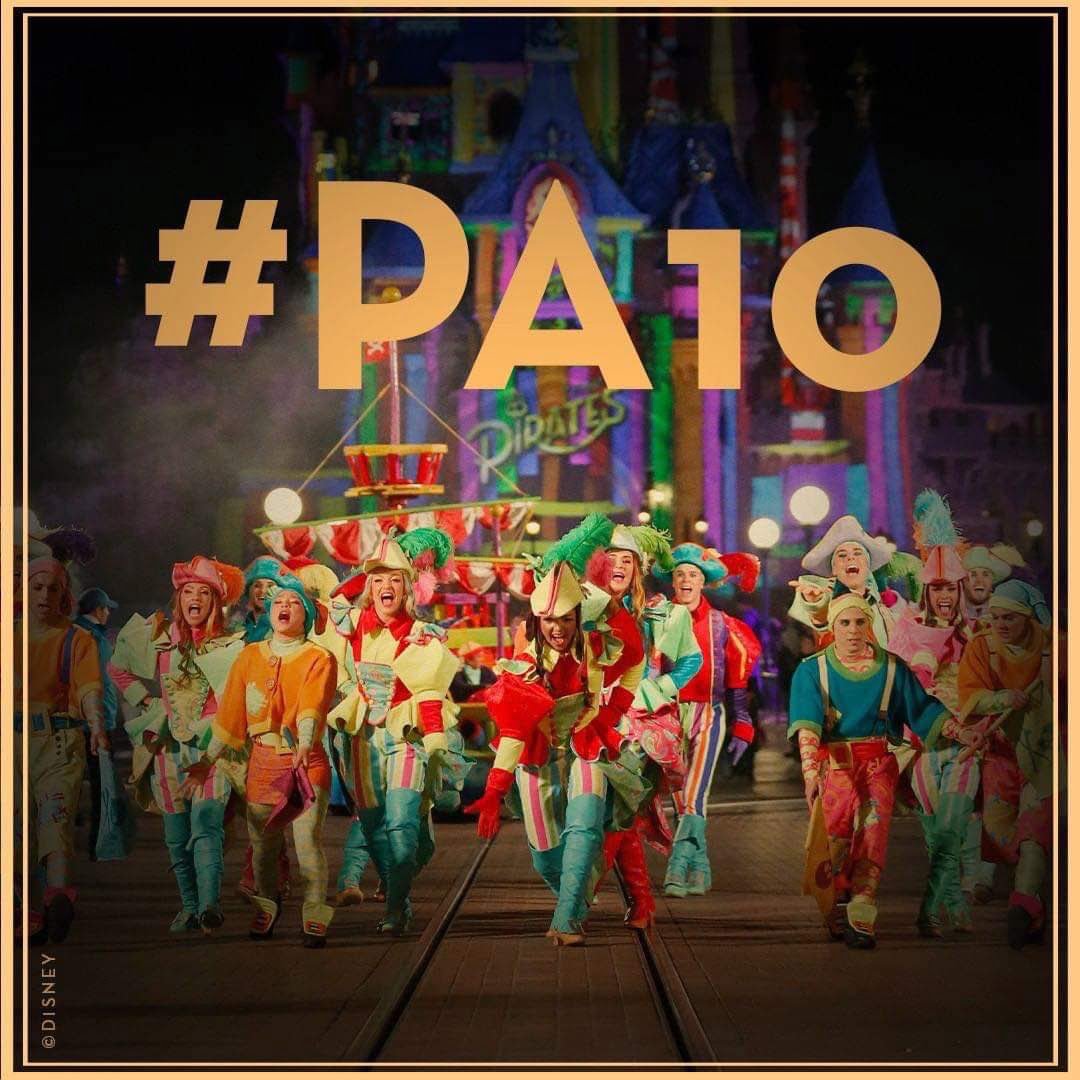 After a series of cryptic Instagram posts it was finally revealed that AP Parties will return on March 10! Tickets are not yet on sale but should be very soon.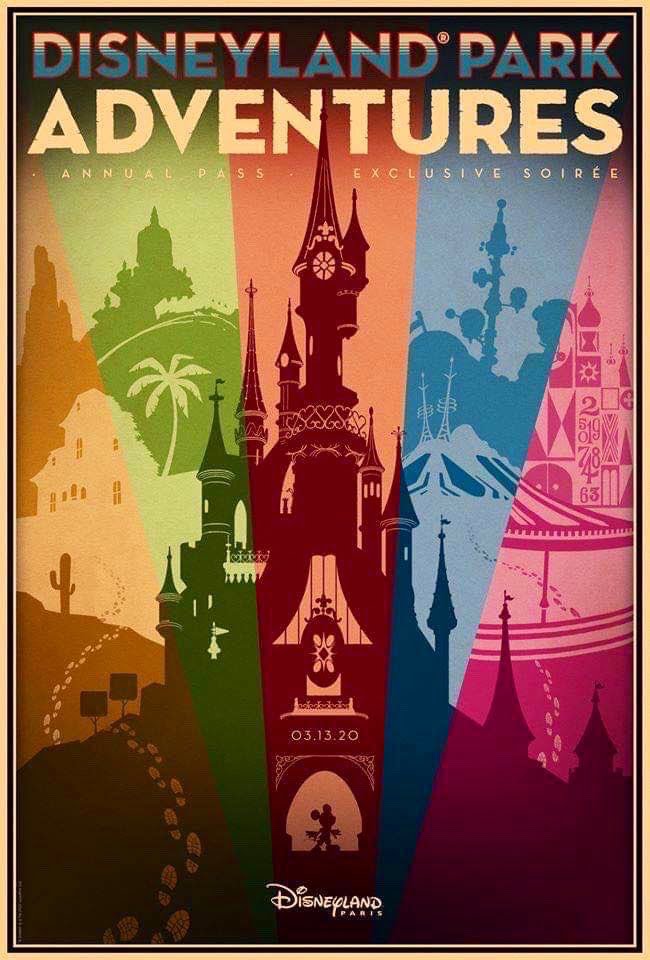 All the teasers point to a revival of the "Disneyland Park Adventures" concept that was prepared for March 2020 and sadly canceled for the reasons we all know. More info should be available soon.
Merchandise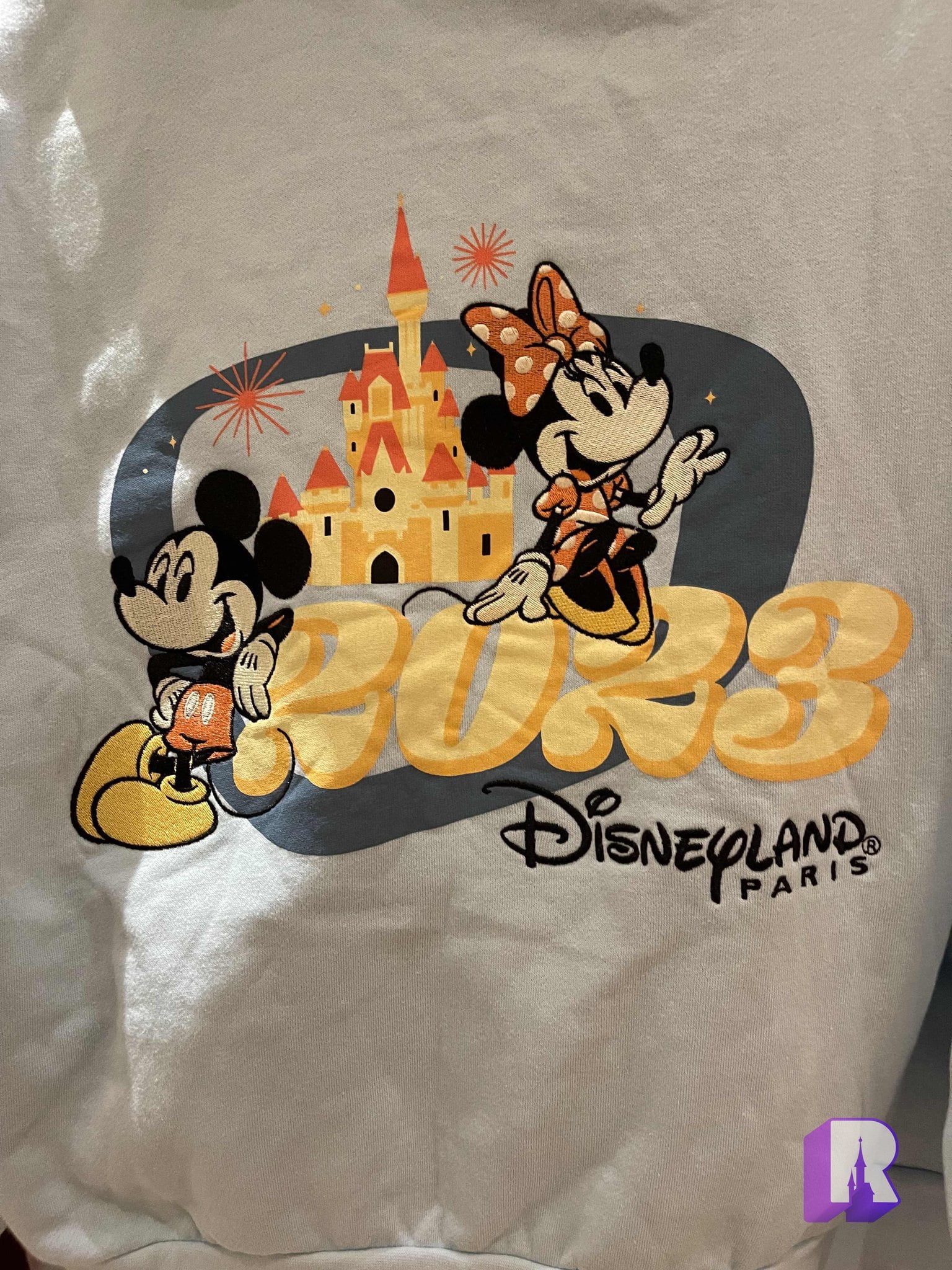 2023 is here and so is a basic line of 2023 merchandise. Castle designs may vary.
Is it Paris, is it WDW? Just squint it'll be okay.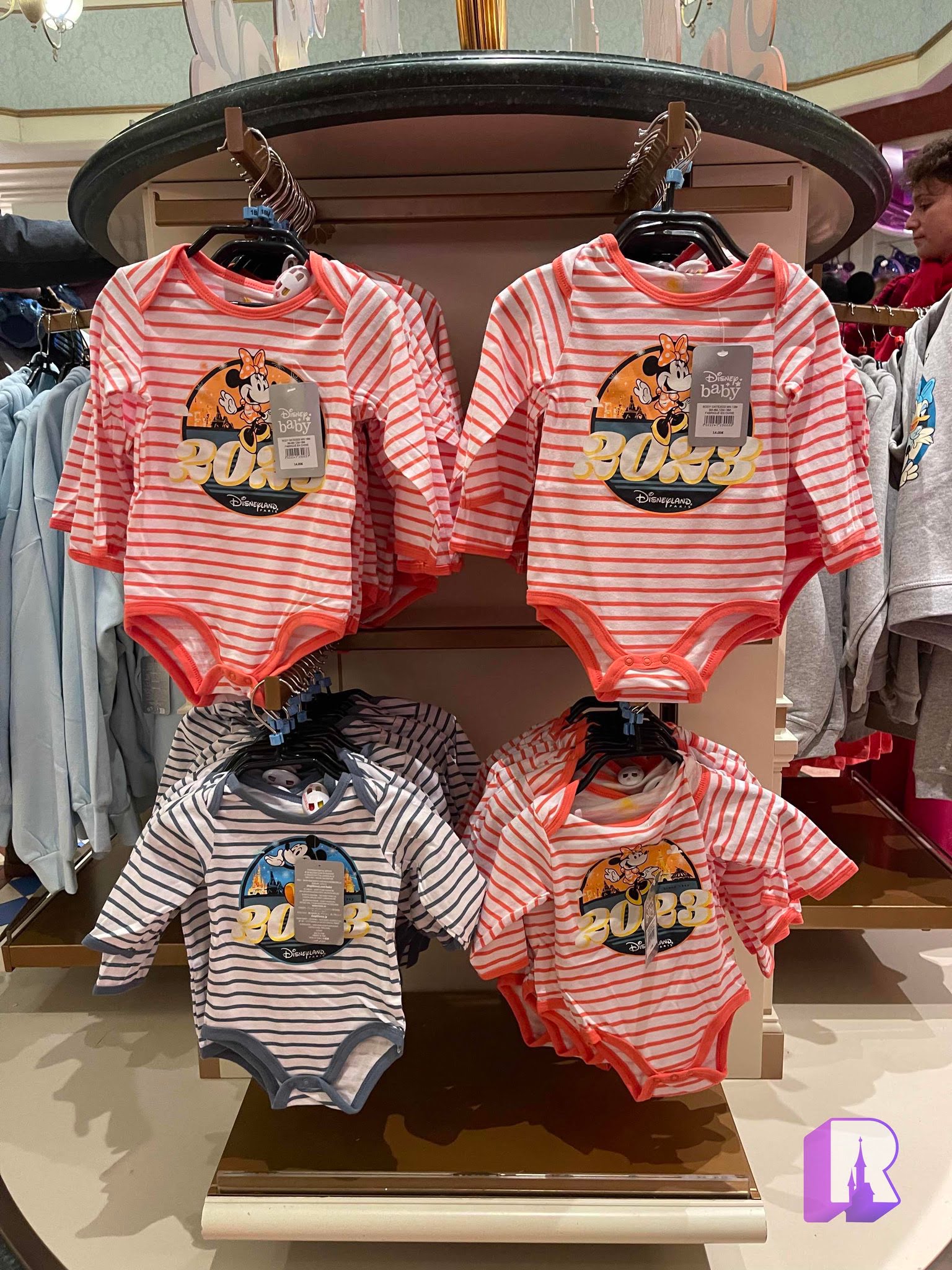 The baby line seems to get it right!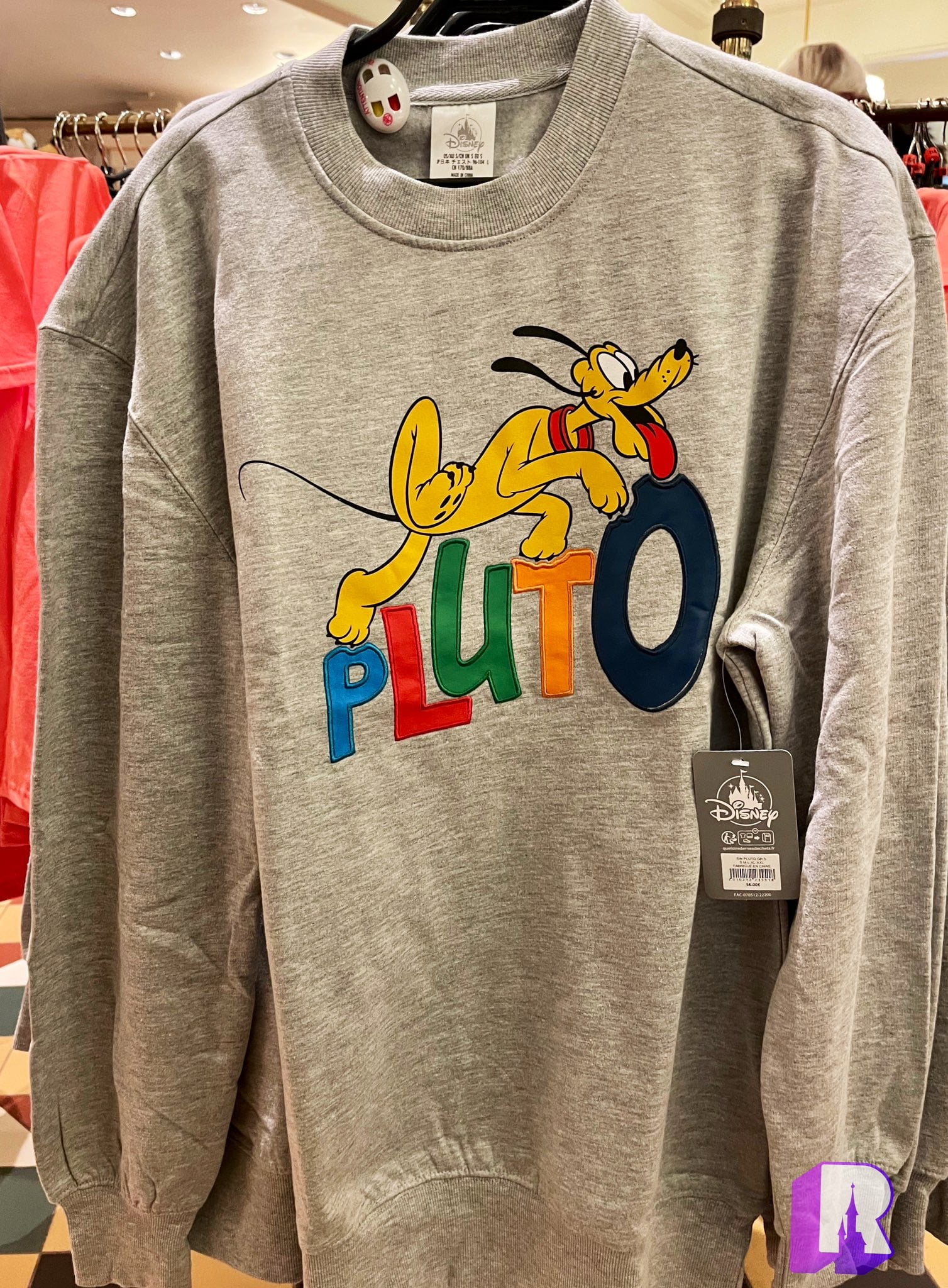 Love this vintage style Pluto jumper!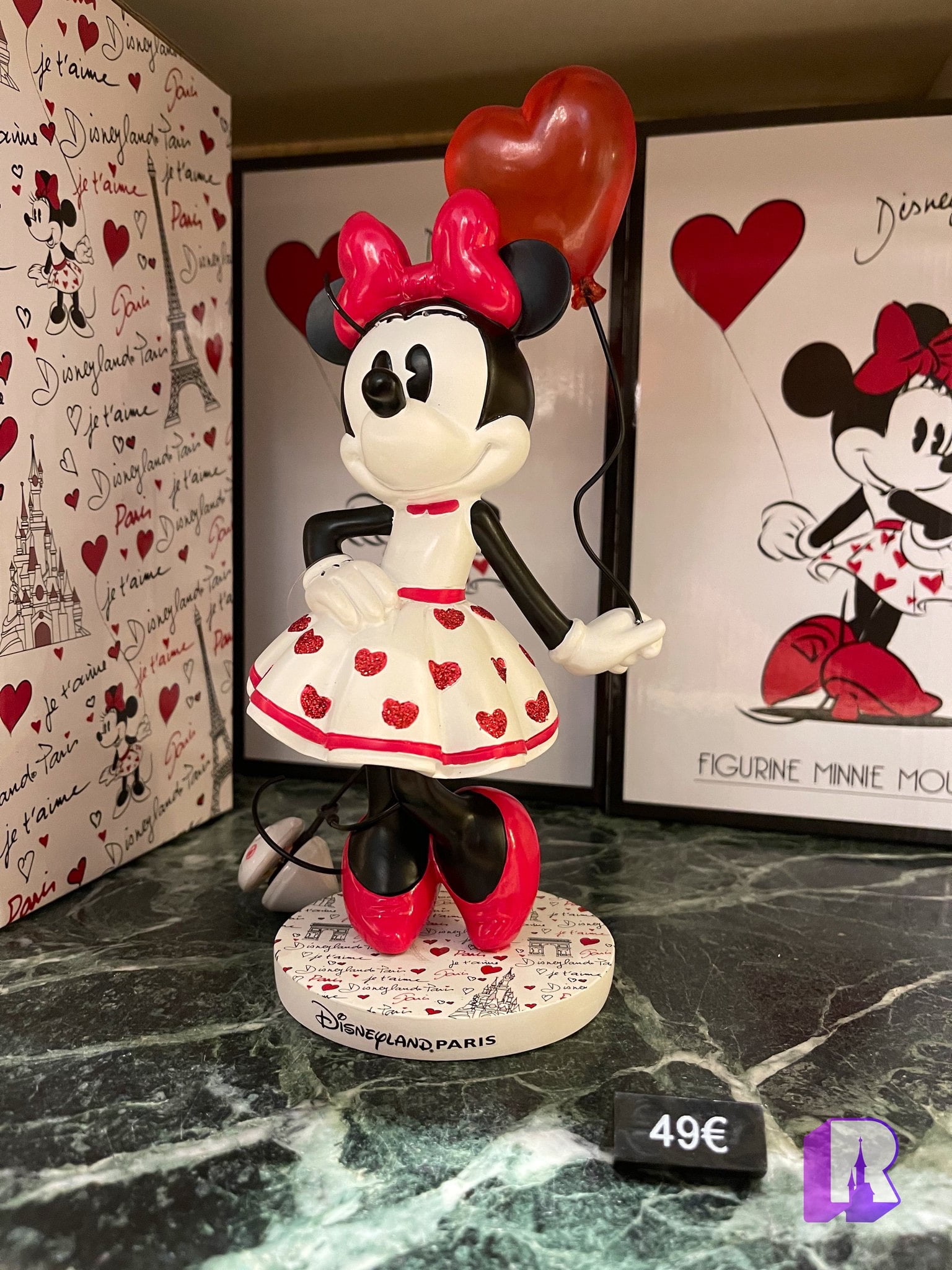 And at Harrington's, a "Minnie Loves Paris" figurine has arrived. It seems the entirely new Minnie/Paris merchandise collection has arrived at Epcot but not at Disneyland Paris. Go figure!
And that's our first report of the year! Thank you for reading and we wish you again plenty of Disney dreams and adventures in 2023. Catch you again next week for a new check on everything happening at Disneyland Paris !