As with most recent seasons, the Disneyland Paris Food & Beverage teams have cooked up some seasonal offerings.
Despite the (much appreciated) effort, it's fair to say that some creations have been a bit hit and miss in the past (love you, Yoda Cake) but Christmas 2019 is bringing a simple effective mix of snacks that may still not be on par with other Resorts but at least bring in some cute festive touch.
Let's dig in, by location type..
Carts are offering the Gingerbread Christmas Tree, and a selection of 3 iced shortbread cookies on a stick that are not cake pops at all, but they will look good on your insta (€3.99)
We got to check some of them in person and despite the snow flakes being a bit all over the place, they're fun and tasty: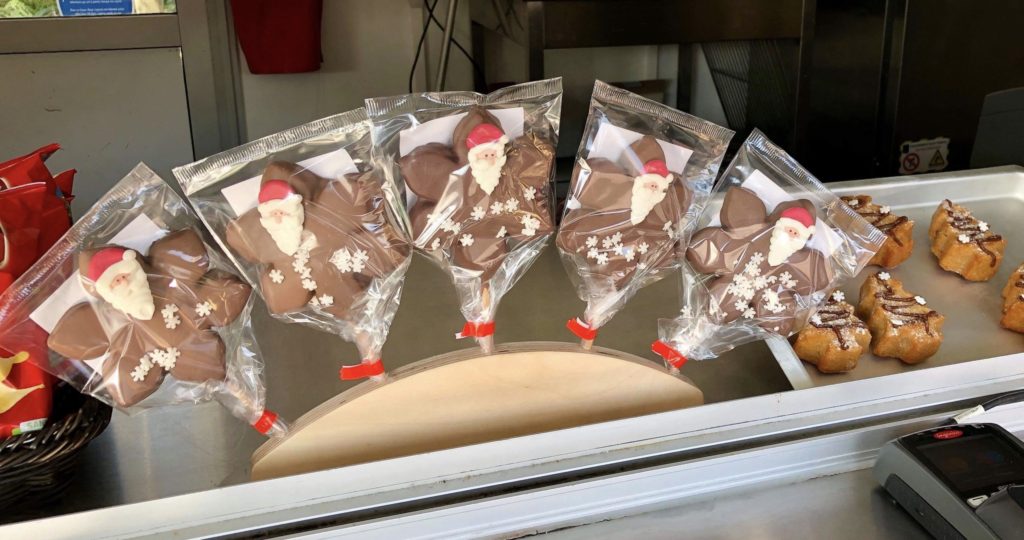 Grilled donut balls (okay..) with chocolate and nuts sauce are waiting for you at March Hare – note the seasonal packaging: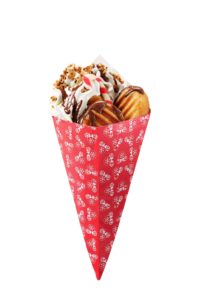 Seasonal food isn't just about sweet treats, and at the Lucky Nugget you'll find a brand new stuffed turkey platter with potatoes and chestnuts. It comes with a Yule Cake sundae and all you can drink soft drinks. Finally a bit of variety!
At most table service restaurants guests can choose this lovely Minnie bow dessert (almonds, black current red berries mousse) which is lovely but fails to scream "Christmas":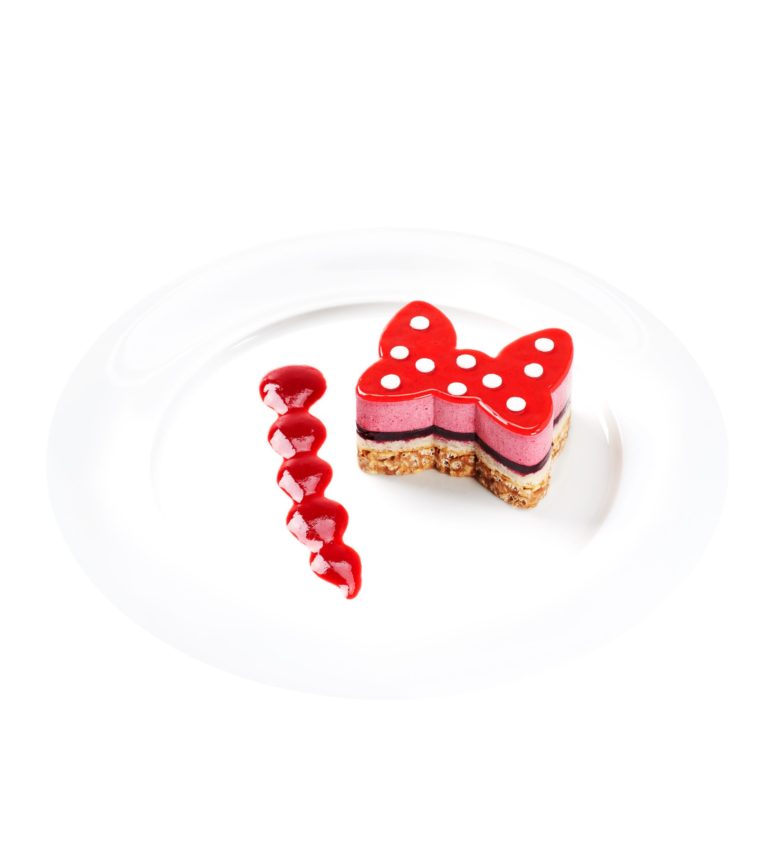 Cafe Hyperion and Restaurant en Coulisse share once again a seasonal menu. This year we're getting a burger with corn flakes (why not), red onions and "famous sauce", whatever that is. For dessert: a vanilla and red berries mousse cake:
Get Your Christmas Drink On
Let's face it, the holidays are also about having a nice drink. Disney Hotel bars have a selection of seasonal cocktails at a price that varies based on the hotel category – as per usual. You'll also find these at table service restaurants in the park: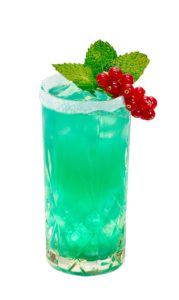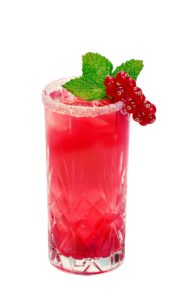 We got to try the "Nice n' Cozy Spicy" Christmas Cocktail: vodka, vanilla liquor, apple juice, pear nectar, and cinnamon syrup (€15.50, Captain's Quarters and other Disney Hotels bars). It's quite nice!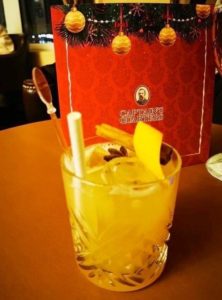 If alcohol isn't your thing you can also warm up with these chocolate drinks infused with orange or red fruit purée (also available at l'Arbre Enchanté and March Hare):
And finally, the Grimbergen seasonal beer is back. It's a very specific taste but quite festive and enjoyable.
At all buffet restaurants, also look for seasonal dishes (stuffed turkey, "Christmas pasta"..) and desserts (Yule log cake and more)
Happy Holidays, and Bon Appétit!