I like trains. They get me different places quickly and allow me to have fantastic views of the land around me. The trains I've ridden on from ranged from 9 minutes from Charles de Gaulle Airport to Disneyland to an 8-hour long journey across Switzerland, but I rarely go on trains "just for fun". That's where I differ from one of my heroes, Walter Elias Disney, the creator of Disneyland and the inspiration for the parks we know and love today. Disney was obsessed with trains. He even built a railroad in his backyard called the Carolwood Pacific Railroad and debuted it in 1950, five years before the opening of Disneyland. The trains were on a 1/8th scale and had steam-powered locomotives that took people around his property.
In this article, we're going to do things a little differently and take a look at each railroad from around each of the Disney Parks instead of just focusing on Disneyland Paris and the American Parks. Join me on my journey (like the reference?), and off we go!
Disneyland Railroad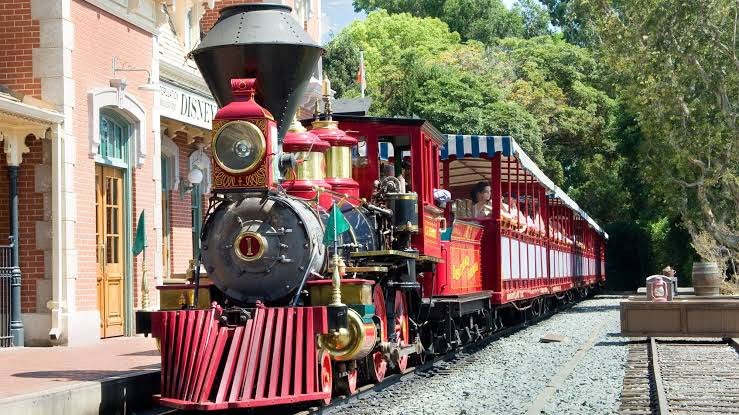 First, let's start with the classic railroad in the original Park – Disneyland Railroad in Disneyland. Located in Anaheim, California, the train was inspired by Walt Disney himself, who took inspiration from his own railroad in his backyard. The railroad was an opening-day attraction at Disneyland, opening on July 17th, 1955. There have been many changes throughout the years to the Disneyland Railroad as the park has expanded. The railroad has been closed several times, most recently in January of 2016 to accommodate the construction of Star Wars: Galaxy's Edge, which created a new route for the train around the northern edge of the Rivers of America.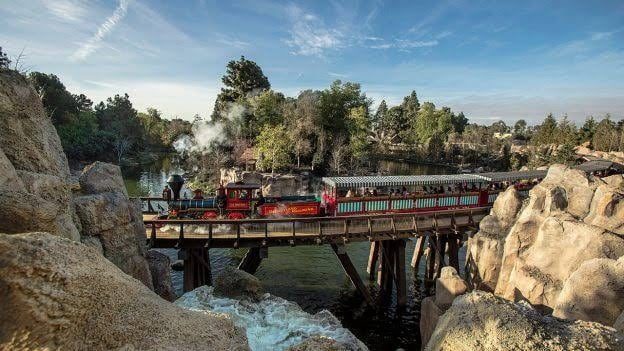 Currently, there are four stations – Main Street, U.S.A. Station, New Orleans Square Station, Mickey's Toontown Depot, and Tomorrowland Station. Guests pass by Adventureland, go through a tunnel in Splash Mountain, cross a bridge over Critter Country and then another bridge over Rivers of America, go under the Disneyland Monorail, and then enter a tunnel with Grand Canyon and Primeval World Dioramas.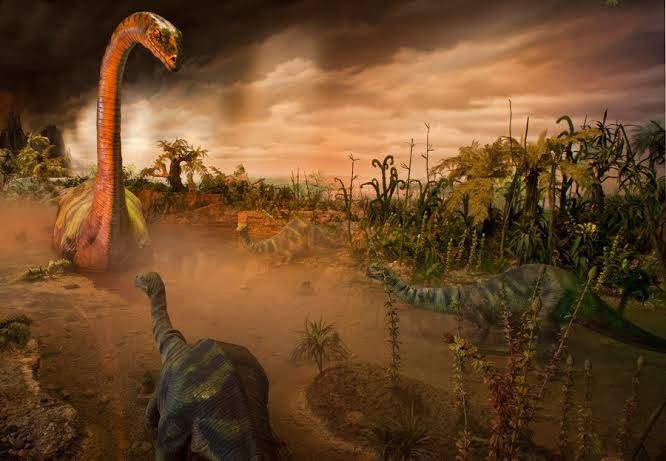 Walt Disney himself would sometimes drive the locomotives around the park for twenty minutes journey, wearing the classic engineer's outfit. The locomotives are named C.K. Holliday (First president of the Santa Fe Railway), E.P. Ripley (Fourteenth president of the Atchison, Topeka, and Santa Fe Railway), Fred Gurley (President of the Atchison, Topeka, and Santa Fe Railway from 1944-1957), Ernest S. Marsh (President of the Atchison, Topeka, and Santa Fe Railway from 1957-1966), and Ward Kimball (One of Disney's Nine Old Men). When they're not running, some of the locomotives are displayed at the Fullerton Railroad Days in Fullerton, California.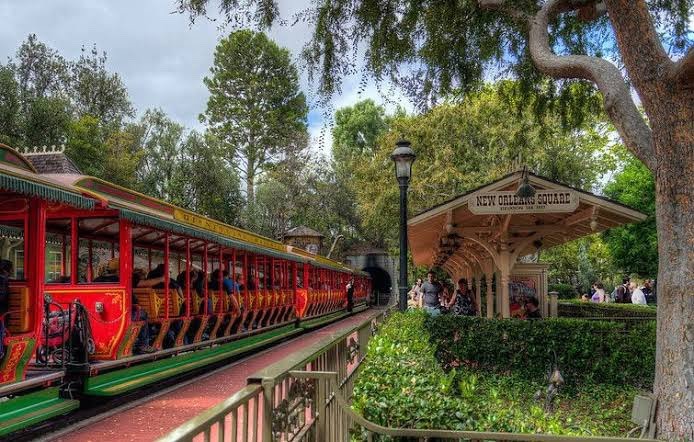 Fun fact about the Disneyland Railroad: When the train stops at the New Orleans Square Station, there is a sound effect of a message in Morse code sent from a telegraph playing from one of the old depot buildings. The Morse code is actually the first two lines of Disney's dedication speech for Disneyland in 1955 ("To all who come to this happy place; welcome. Disneyland is your land")!
(Euro) Disneyland Railroad (Paris)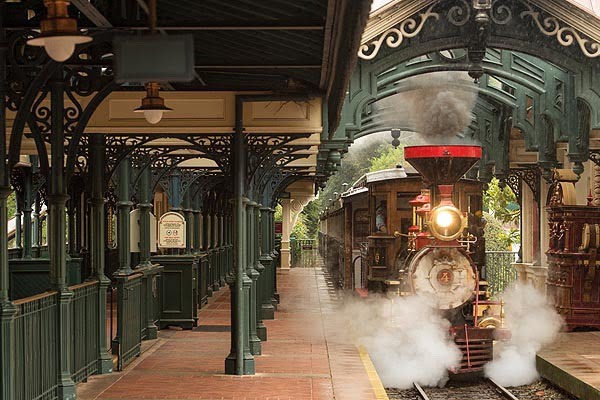 Originally called the Euro Disneyland Railroad (1992-1994), the Disneyland Railroad is one of the opening-day attractions at Disneyland Park in Paris. The stations are Main Street Station (above the entrance to Main Street U.S.A.), Frontierland Depot (TBD?), Fantasyland Station (right next to Meet Mickey), and Discoveryland Station (on top of Star Tours and Mickey's PhilharMagic). With narrations in both French and English, guests get a full tour of the parks and see many of the unique attractions around the different lands.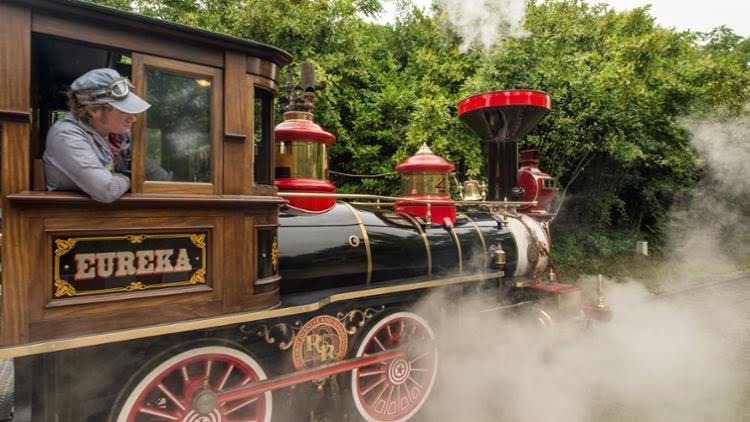 The locomotives are named W. F. Cody (after Buffalo Bill), C.K. Holiday, G. Washington (George Washington), and Eureka (named after the Eureka Locomotive in Las Vegas, Nevada from the 19th century). All of the locomotives are based on the original one from the Disneyland Railroad in California. The round trip takes around half an hour and gives some great views of the parks, including (but not limited to) a diorama of the Grand Canyon, the inside of Pirates of the Caribbean, the facade of it's a small world, and even the top of Star Tours!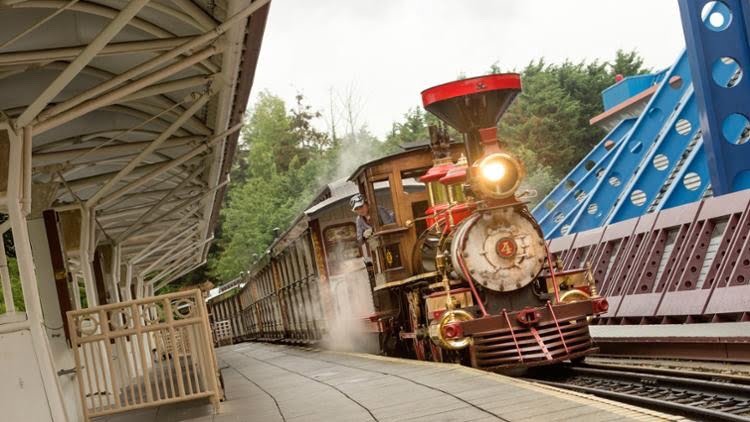 Unfortunately, as many of us know, the Disneyland Railroad has been under construction since November 5th, 2018, a long time period that rivals the infamous renovations at Phantom Manor in Frontierland. I only had the chance to go on it one time in 2018 before it closed, so I don't have much personal experience with it, but it was quite enjoyable. I especially loved seeing Goofy waving to guests right before it's a small world!
Walt Disney World Railroad and Wildlife Express Train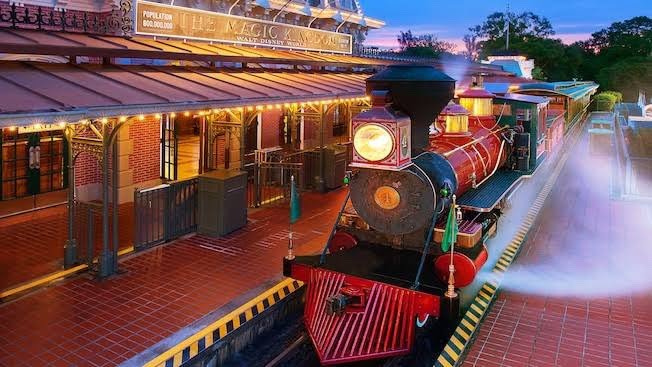 The Walt Disney World Railroad debuted on October 1st, 1971 as an opening-day attraction of Magic Kingdom. The round trip journey takes about 20 minutes to complete. At this time, there are three stations – Main Street, U.S.A. Station (at the entrance of the park), Frontierland Station (near Splash Mountain), and Fantasyland Station (on the site of Mickey's Toontown, RIP). Guests go through a tunnel in Splash Mountain, go across a swing bridge, see Audio-Animatronic Native Americans an animals, and even pass by the Space Mountain roller coaster.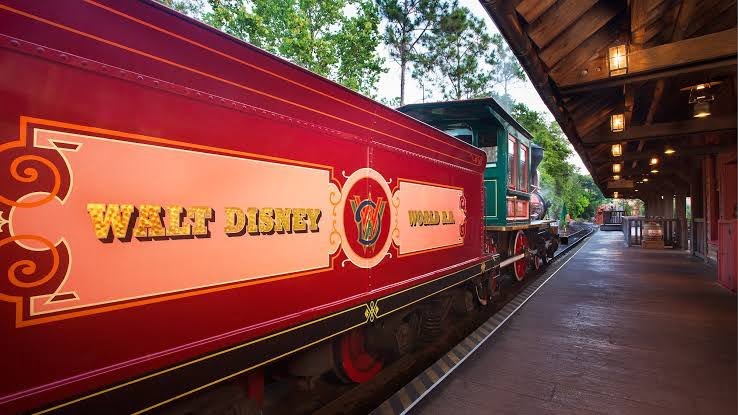 The locomotives were existing steam locomotives, unlike most trains at Disney that are built from scratch. While it's running, the railroad is one of the most famous (and visited) steam-powered railroads worldwide with nearly 4 million guests riding it per year. The train is not currently running at Magic Kingdom (and has not been running since December 3rd, 2018) due to construction of the Tron Lightcycle Run roller coaster in Tomorrowland, but it remains in the Main Street U.S.A. station for guests to take photos of it at the entrance. The locomotives are named Walter E. Disney, Lilly Belle (after Walt's wife, Lillian Disney), Roger E. Broggie (the first Disney Imagineer), and Roy O. Disney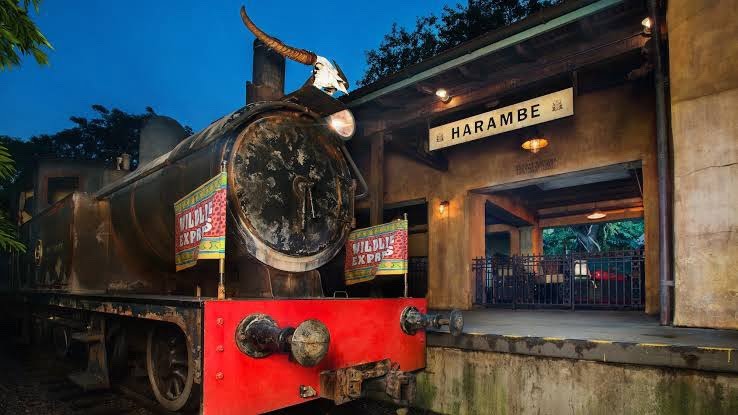 I'm sure most of you knew that the Walt Disney Railroad has a train in the Magic Kingdom, but did you know that there's also another one located in Animal Kingdom? That's right, the Wildlife Express Train is another locomotive in the Disney parks! At 1.9 kilometers (1.2 miles) and around a 12-minute round trip, the train transports guests from the Harambe (RIP) Station to Conservation Station, part of Rafiki's Planet Watch, AKA one of my favorites areas in Walt Disney World. These trains may look old, but they are actually quite new and simply designed to look like old trains from the Eastern Star Railway, a fictitious train line that runs through Africa. Joe Rohde (*moment of praise for my favorite Imagineer*) wanted the trains to look like ones you might see in Africa after they were used in the 19th century in Europe, which gives another reason for why the trains look a bit beat up.
Even though guests don't go through the Savannah as originally planned, there are still some chances to see some of the holding buildings for animals like rhinos and elephants (which as a zoo employee myself, is especially cool!). There was a temporary closure from October 21st, 2018 to July 11th, 2019, during which there were many rumors that Rafiki's Planet Watch (and the trains) would be closed permanently to make room for other projects at Animal Kingdom. Fortunately for fans of the attraction like me, the Wildlife Express Train is still taking visitors to see how they can help with conservation around the world!
Hong Kong Disneyland Railroad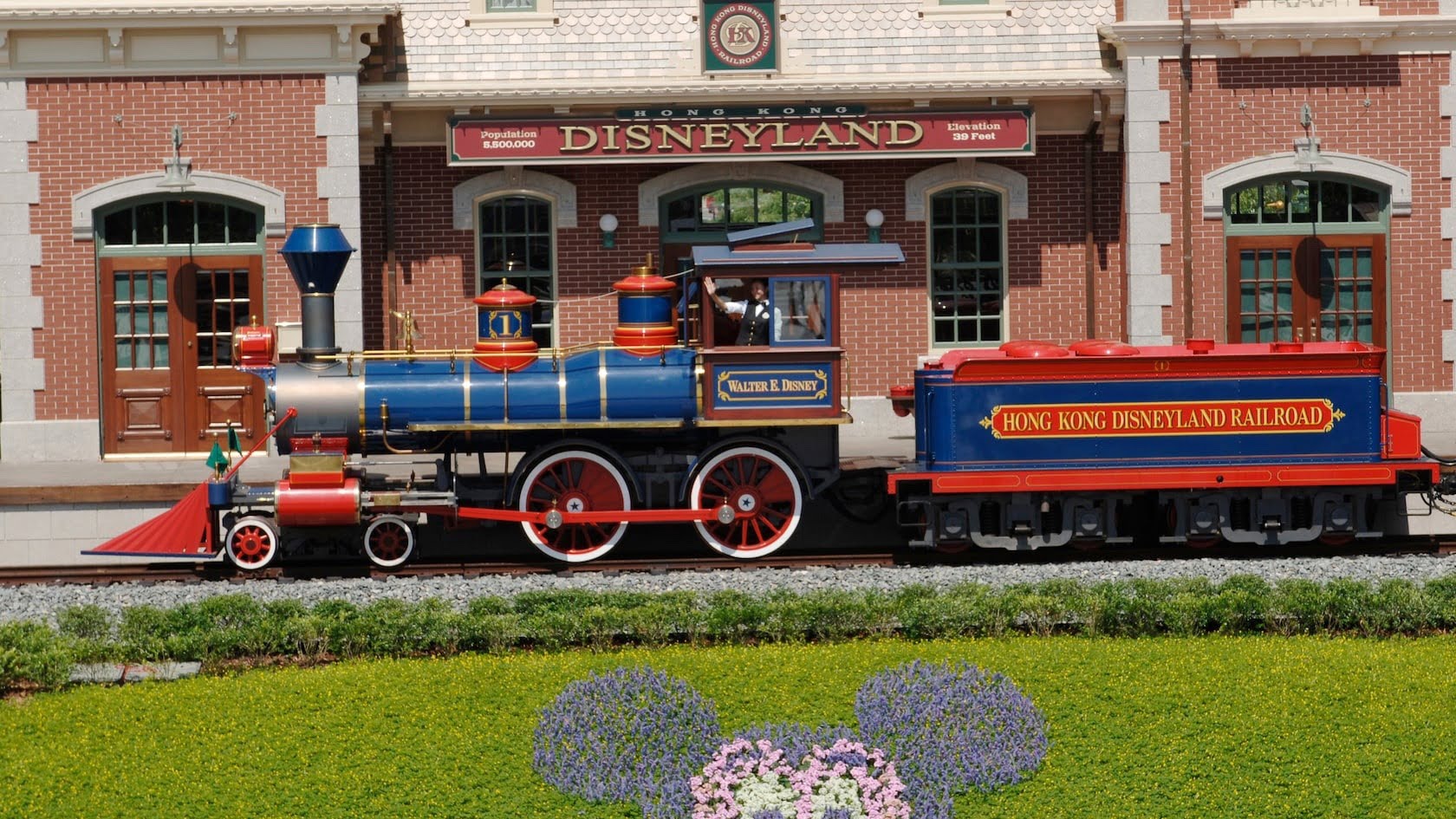 Hong Kong Disneyland follows the tradition of naming their railroad after the original Disneyland Railroad in California. The railroad has been open since September 12, 2005, when it opened as an opening-day park attraction. Like most railroads, the Main Street Station is one of the first things that guests see when they enter Main Street, U.S.A. Something that makes Hong Kong's train unique is that there is only one other station, with the second one being the Fantasyland Station. Even though there are only two stops, guests still get to see other lands like Adventure and Tomorrowland, passing over the rivers of the Jungle River Cruise and entering the show building of Ant-Man and The Wasp: Nano Battle!.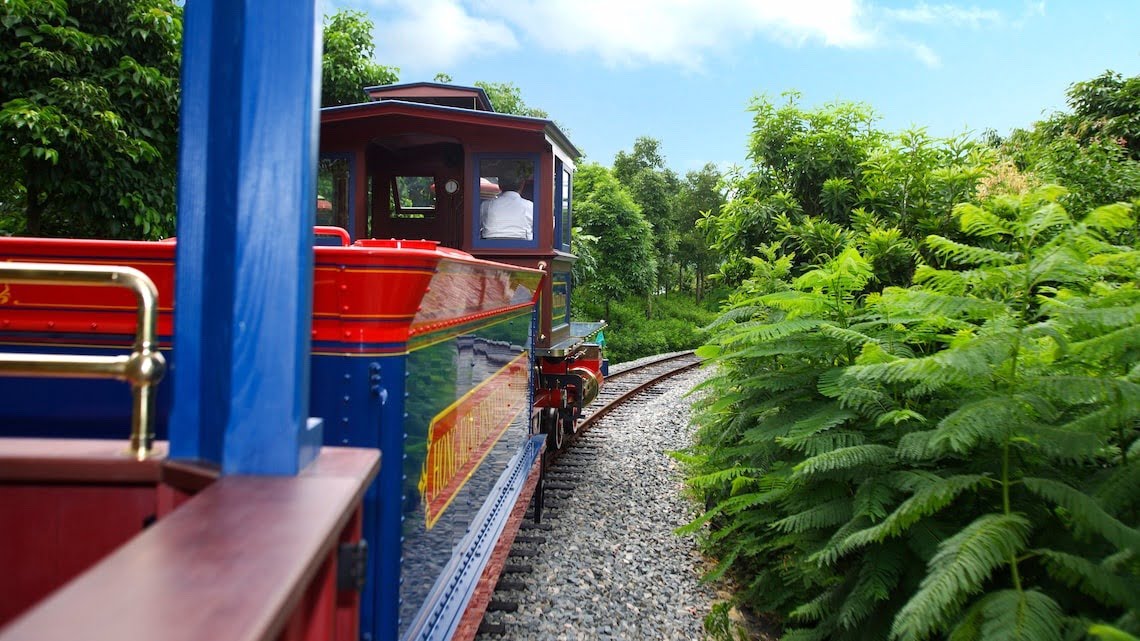 Another aspect of the Hong Kong Disneyland Railroad that makes it unique is that instead of being powered by steam locomotives, the trains are powered by diesel locomotives (that still have the appearance of the classic locomotives). Sounds like whistles are created by audio from hidden speakers on the train. The three locomotives are named Walter E. Disney, Roy O. Disney, and Frank G. Wells, each honoring past Disney presidents (including Disneys themselves). While the Railroad only totals about 1,500 meters in length (5,000 feet for you Americans out there), it is still one of the classic (and quite lengthy, with a duration of about 20 minutes) rides that never fails to make guests feel as if they are taking a journey throughout the entire park. Unfortunately, due to the Hong Kong Disneyland expansion project, the Hong Kong Disneyland Railroad has not been running since February 18th, 2019 (sounds familiar, huh?).
Western River Railroad and DisneySea Electric Railway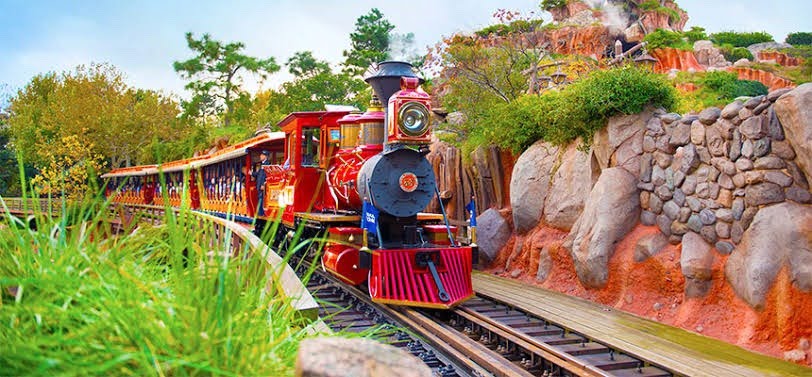 The Western River Railroad in Tokyo Disneyland is especially unique, maybe even unique than Hong Kong's railroad, because it only has one station! The reasoning behind this is due to a rule in Japanese rail regulations that requires any railroad with more than one stop to run on a timetable and collect fares, which wouldn't be quite effective for a Disney park. Even though the law was abolished in 1987, the railroad continues to only have one stop, even though it passes through a facade of a Western-themed train station.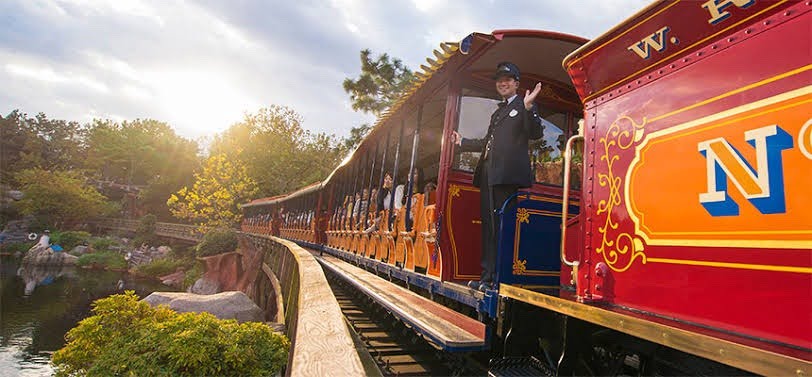 No worries, even with only one station the train delights quests with great views of Adventureland, a forest with animatronic animals and Native Americans, Critter Country, an animatronic dinosaur diorama, and even Big Thunder Mountain Railroad! Keeping with the Western theme, the four locomotives are named after American rivers – Colorado, Missouri, Rio Grande, and Mississippi.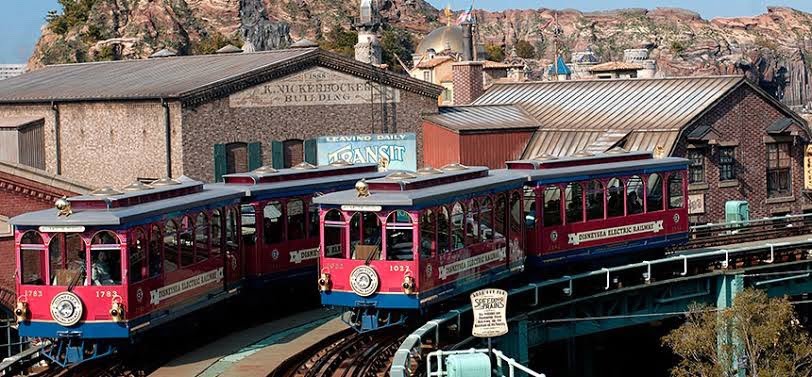 We can't forget Tokyo DisneySea! The park also offers another train known as the DisneySea Electric Railway. This train is the quickest one in the Disney parks, lasting only about two minutes and thirty seconds. Unlike the other trains, the DisneySea trains are modeled like elevated electric trains and do not look the same as the typical steam-engine locomotive. Luckily for Disney, the Electric Railway was developed after the Japanese train regulation law was abolished in 1987, so trains could be used as transportation in the park. Unfortunately, like the Hong Kong Disneyland Railroad, the DisneySea Electric Railway is also closed, with plans to open on February 2nd, 2020.
Ultimately, while it may not be my favorite attraction in the parks, I have to appreciate the Disneyland Railroad for its historic origins. Walt Disney's love for trains helped to inspire Disneyland, which has set a standard for not only the other Disney parks but also the theme park industry as a whole. Is it just me, or are there a lot of railroad closures at the same time right now?
So don't worry, I'll ride the train at least one time when it is taking passengers again in honor of Walt (#doitforwalt). So fingers crossed that the train will reopen by summer of 2020, or else you won't be seeing me finally getting to use the Frontierland Station!
Disclaimer: All of the beliefs stated in this series are my opinions, not the opinions of DLPReport and its associates. I only wish to give my thoughts and do not intend to hurt anyone with my words.