When most people think about what makes France famous, one of the first things that comes to mind is the gastronomy. Delicious macarons, incredible baguettes, sparkling champagne, and of course, the classic wine and cheese that appear in every stereotypical picture of a French person. And yes, most of these stereotypes are true for the country and its inhabitants. I myself can be found walking down the street after school with a baguette in the crook of my arm or sipping champagne at one of my university's galas. But unfortunately, the same cannot be said for Disneyland Paris, even though it is only a few dozen kilometers away from the city itself.
The food at Disney World and Disneyland may be expensive, but it has not disappointed me yet after over a decade. Even thinking of Dole Whip in front of the Enchanted Tiki Room brings a tear to my eye as I sit in my room, procrastinating studying for my finals. My main priority as soon as I return to one of the parks in the States? Grabbing a Mickey bar and chowing down on a Mickey pretzel as I wait for my Mickey waffle to finish cooking in the Mickey-shaped waffle iron. In case you couldn't tell, I love my Mickey-themed food, something only found in a few places in Disneyland Paris.
In this particular article, I'm going to dedicate each part to a different option of getting food in the parks in Paris, ranging from full sit-down meals to quick snacks from a stand. There are going to be a few strongly-worded opinions here as I have very strong feelings about food (especially cookies), but please remember that these are not facts. I'm just basing all of these on my own experiences, which can be totally different than what you may have seen during your time in the parks. Feel free to leave a comment with your thoughts down below!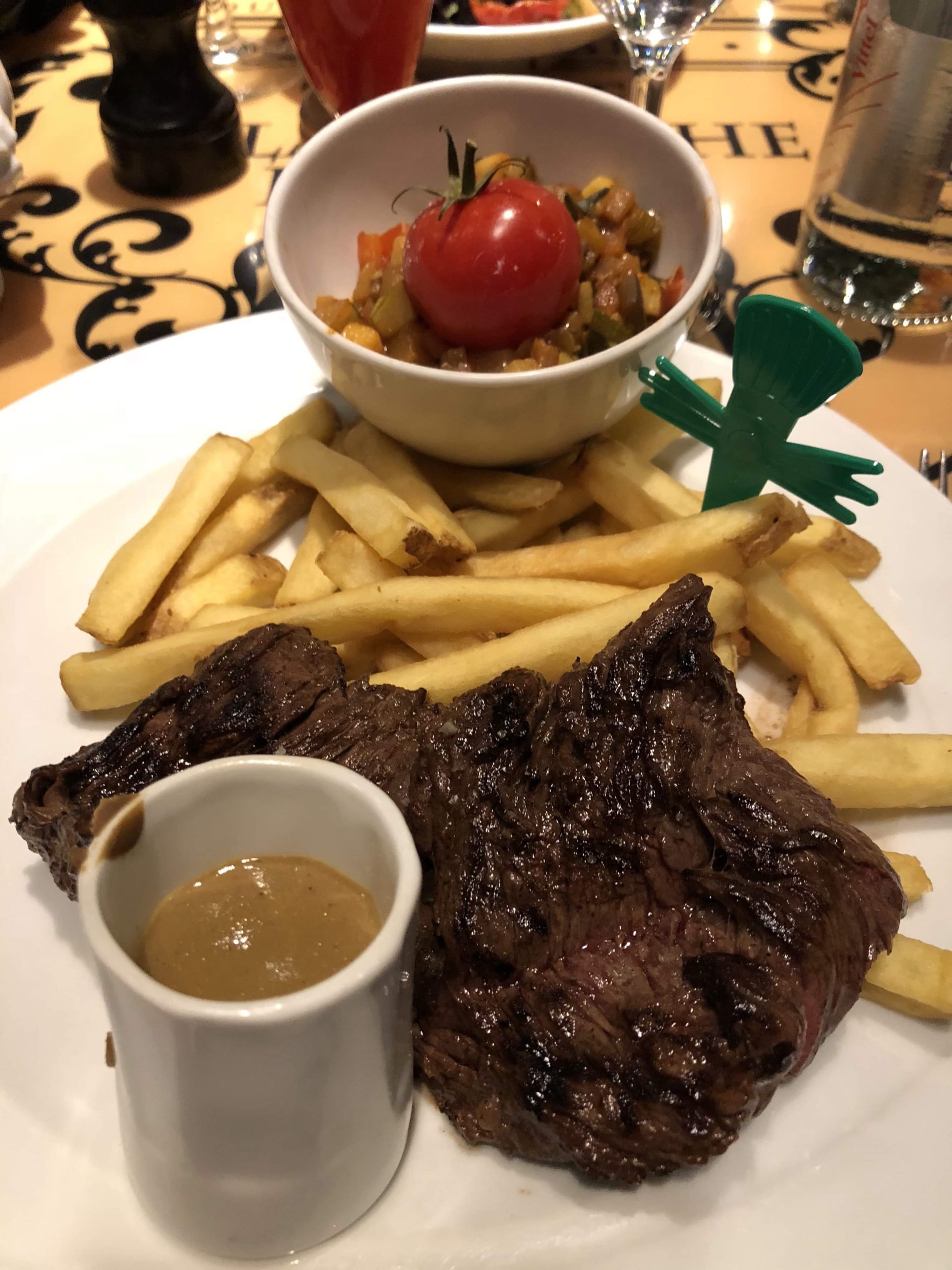 As an American with a stereotypical image of Paris in mind, the first restaurant I wanted to eat at in Disneyland was Bistrot Chez Rémy, the Ratatouille-themed restaurant in the Walt Disney Studios Park. This was actually the first restaurant I ate at in France when I arrived, so it was going to be the most stereotypical French meal I could get. In my head, I was imagining classic French foods with a Disney twist, like souffle in a Mickey-shaped cup or ratatouille in the same style from the movie. Maybe there would even be a cute little animatronic Rémy greeting us at the entrance!
Well, let's just say that my expectations should have been a bit lower. My main meal was steak with French fries (which I learned aren't actually French *le gasp*) and a small cup of ratatouille on the side. While the food was decent, there was much left to be desired, especially when it came to the ratatouille, something I thought would be more prominent due to the fact that it's literally the title of the movie the restaurant was based on. The desserts were not very French either, as I got tiramisu and didn't see any macarons in the display case.
My college student budget doesn't exactly leave many spare euros for going to sit-down restaurants a lot, but I also had the chance to go to Auberge de Cendrillon for my birthday and had a lovely experience. Again, the food was not the best, but the wonderful princesses and amazing Cast Members completely made the experience worthwhile. So when it comes to sit-down restaurants, the State theme parks are the clear winners. With a wide diversity of options and fantastic theming, it would be difficult to beat restaurants like The Hollywood Brown Derby and Cinderella's Royal Table.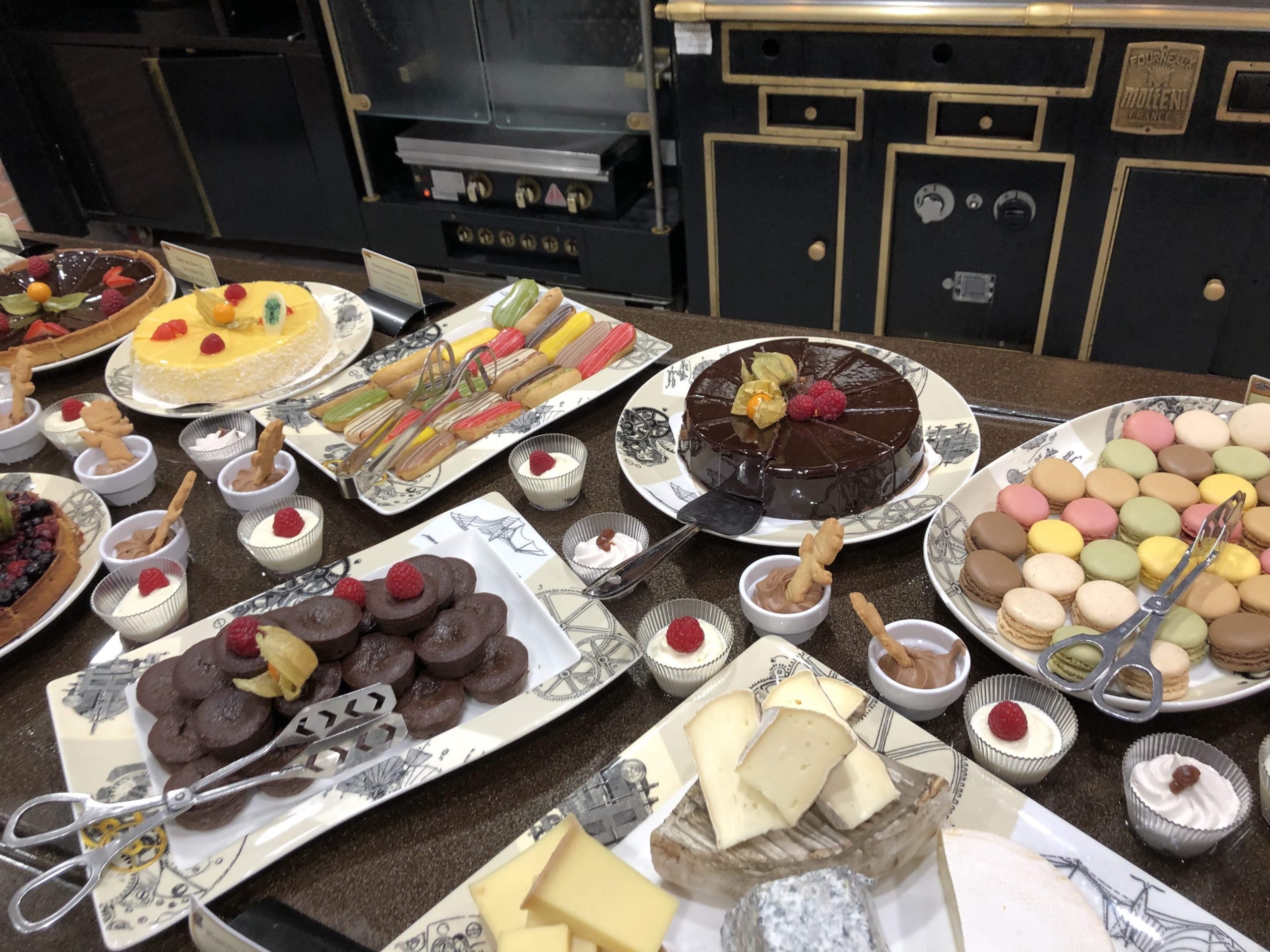 Another option for people in the parks (and in the hotels) is having a buffet-style meal. There are different opportunities for this at all three main meals, but most tend to be for lunch. A few restaurants like the Plaza Gardens are permanent buffet-style options. Some restaurants are transformed from sit-down restaurants into buffet meals like the Cowboy Cookout Barbecue. One of the most popular buffet meals is just outside of Disneyland Park in the Disneyland Hotel in a restaurant called Inventions. These meals tend to be quite expensive, but they also provide the most options and people can choose how much food they want instead of having the small restaurant servings of the typical restaurant.
I never went to a buffet restaurant in any of the other Disney theme parks so there is nothing to compare Disneyland Paris to, but Inventions was definitely the best restaurant experience I've had in the parks. There were plenty of different options for all types of palates, especially for those with a sweet tooth! Even though there wasn't a lot of Disney theming in the buffet itself, there were some desserts like the Groot cookie and pudding and the Han Solo carbonite shortbread that brought a smile to my face when I saw them at the buffet table. Character interactions always make things better, and dining experience are no exception.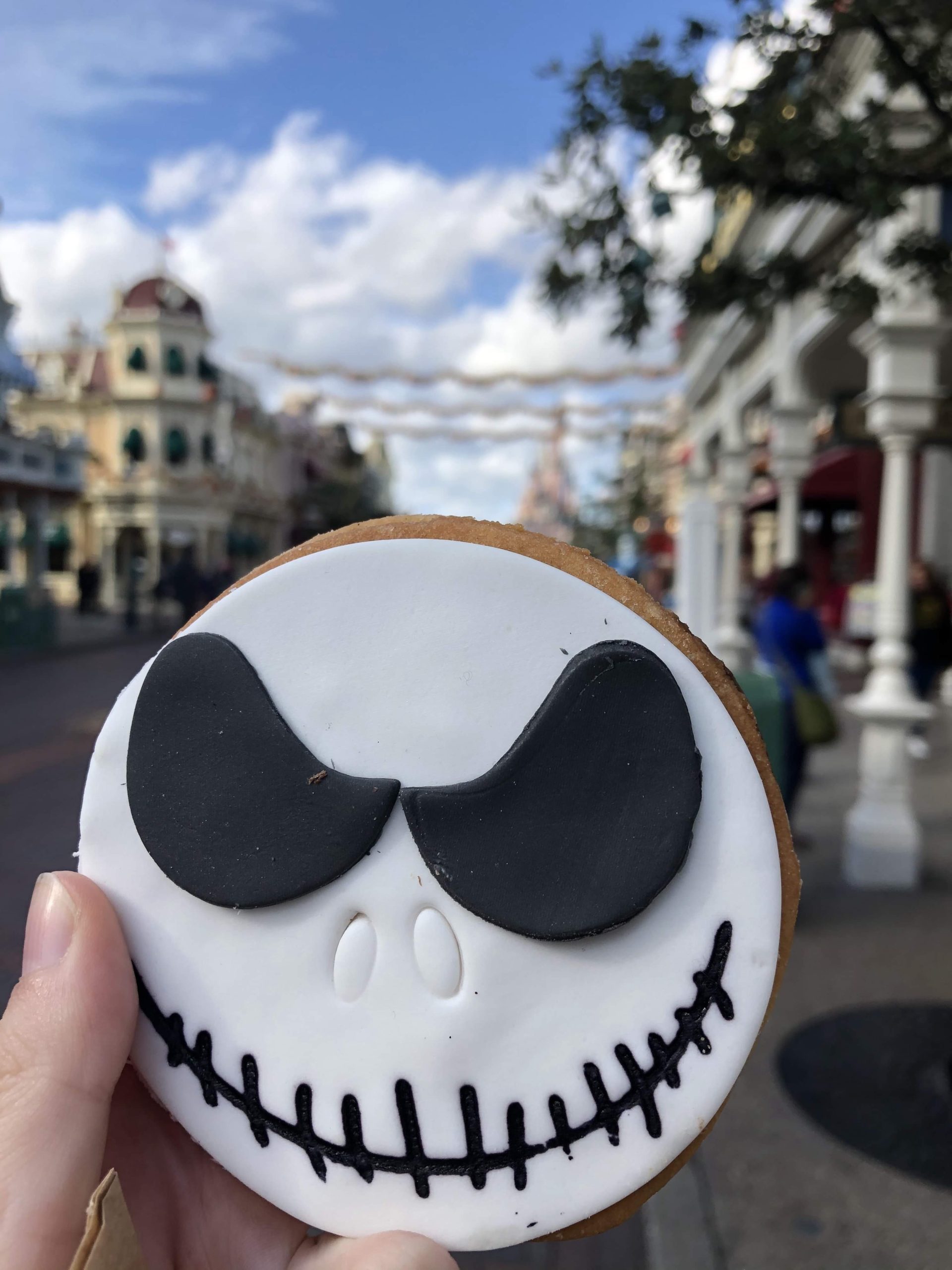 But when talking about the food in Paris, I must bring up the most disappointing fact that my favorite snack cannot be found in any of the kiosks – The Mickey bar. This snack is one of my favorites of all time and I was quite nearly heartbroken when I learned that there were only ice cream bars that I could find at my local Carrefour in the parks. In the United States, you can even buy the Mickey bars in grocery stores, even though they aren't nearly as good as when you're walking down Main Street toward the castle.
Some of the most well-themed food in the park tend to be the snacks found in kiosks and stores. Cookies are usually themed around the holiday with Jack Skellington fondant decoration, Chewbacca-shaped Wookie Cookies, or the classic Mickey-shaped hazelnut-filled cookie sandwiches. There are even themed containers for popcorn that are popular for collectors and casual fans alike. The shortbread snacks tend to be incredible along with most of the other themed snacks that appear in different areas of the parks like Frontierland in Disneyland Park or the Production Courtyard in the Walt Disney Studios Park.
Now, on to the most iconic snack that Disneyland Paris has ever created, a truly beautiful work of art that truly sums up the food situation at the French parks – The infamous Yoda cake.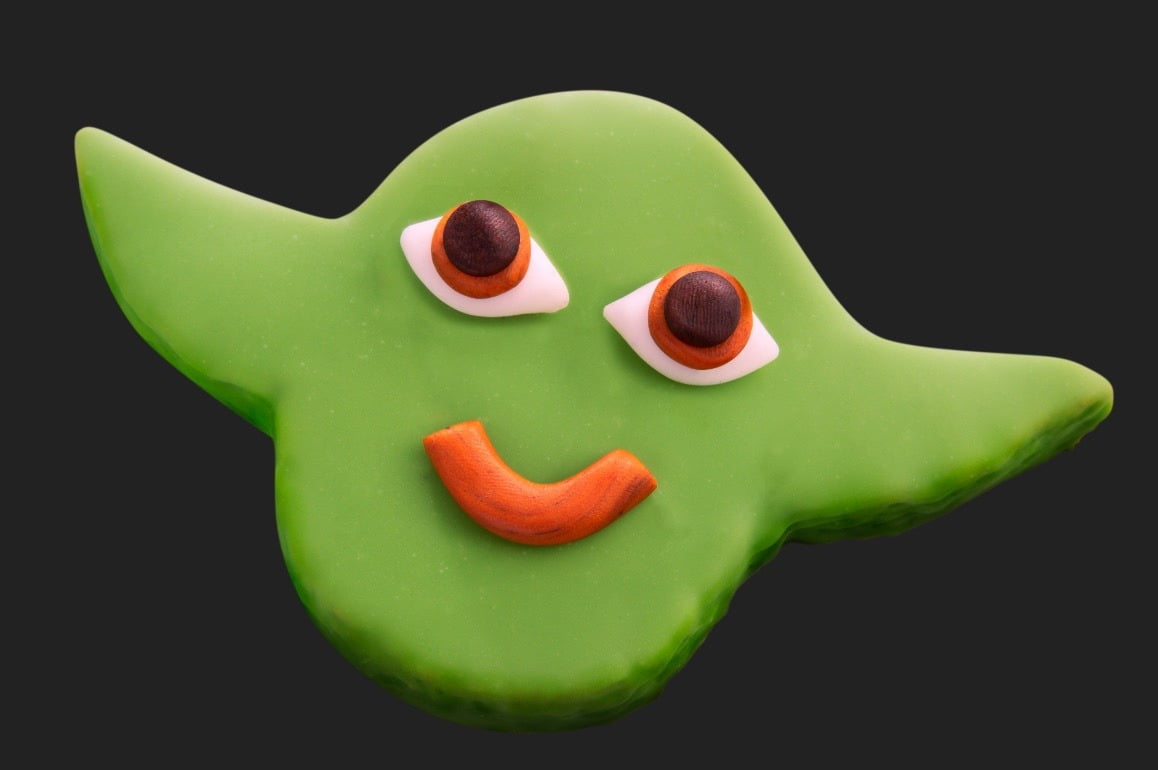 For those of you unfamiliar with this absolute masterpiece, the Yoda cake was available during the Star Wars Season of the Force in 2018 at the Walt Disney along with other Star Wars-themed snacks like Tie Fighter Shortbread, Stormtrooper Waffles, and Wookie Cookies (another one of my personal favorites). When the Yoda cake was first revealed, everyone knew that it was going to become a legendary snack in Disneyland Paris history for the simple fact that its eyes looked like they were staring into your soul. After a few weeks and thousands of hilarious reactions (including the creation of pins), the face of Yoda was removed from the cake, leaving only the green shape of Yoda's and a disappointed fanbase behind.
Yoda cake is truly symbolic of the food situation at Disneyland Paris. There is an attempt to theme but it tends to fall flat with fans who have higher expectations and want to get something worth paying nearly five Euros for. But even though the theming might be slightly horrifying and nightmare-inducing, the cake itself is actually quite delicious and made me rethink my life choice of making fun of the snack. Food in the French parks may not be as good as typical Parisian food, but there is an attempt to put in the effort and make it seem more Disney than your average restaurants.
In conclusion, while I was a bit put out at the food at Disneyland Paris, I was grateful that they put in at least some effort. The theming for fancy restaurants like Bistrot Chez Rémy and Captain Jack's is beautiful, even if the food does leave something to be desired. While average quick-service restaurants have decent food, the lines during meal times are absolutely ridiculous and make it impossible to have a relaxing break during the day. Instead of taking time to sit down and eat, the most logical option for me is to simply grab a few snacks during the day and continue filling my bottle of water from water fountains around the park.
Disclaimer: All of the beliefs stated in this series are my opinions, not the opinions of DLPReport and its associates. I only wish to give my thoughts and do not intend to hurt anyone with my words.