One of the most important things when looking at a part of society is its culture. Even among Disney fans, there are clear divides from the different parts of the world and how they act at their local theme parks. Of course, there are always the classic stereotypes – Disneyland fans are loyal to the classics, Disney World fans have everything planned down to the second, and Disneyland Paris fans are… well, French.
When I first told some of my Disney friends I was going to DLP and basically making it my new home park, I got many concerned comments:
"You know that they're super rude there, right? Not just the guests but the Cast Members too!"
"Oh honey, you're gonna be finished with that park in one day and never want to come back."
"Get ready to get second-hand lung cancer from all the smoking!"
"There's a reason it failed and I'm not saying it was because it was French… but…"
Even with all of these negative comments, I decided to give it a try and get an Annual Pass for the school year to see how it went. And, if it really did end up being as bad as everyone said, at least it'd be a fun social experiment that I could use for school (which I did later, but that's another story). Fortunately, the comments were over-exaggerated, even if they did come with a grain of truth. Being in Disneyland Paris has given me an entirely new view of the Walt Disney Company and Disney as a whole while being thrown into a new national culture with a different language.
For this article, I'm going to go through each of the four comments and see just how accurate they are when looking at the culture of Disneyland Paris. Of course, not everyone will have the same opinion as me, but I'll do my best to keep this as civil as possible. I've only been going to DLP for a little over a year now, so I don't have as much knowledge as many of the life-long fans. But hey, it's always fun to look at a new opinion!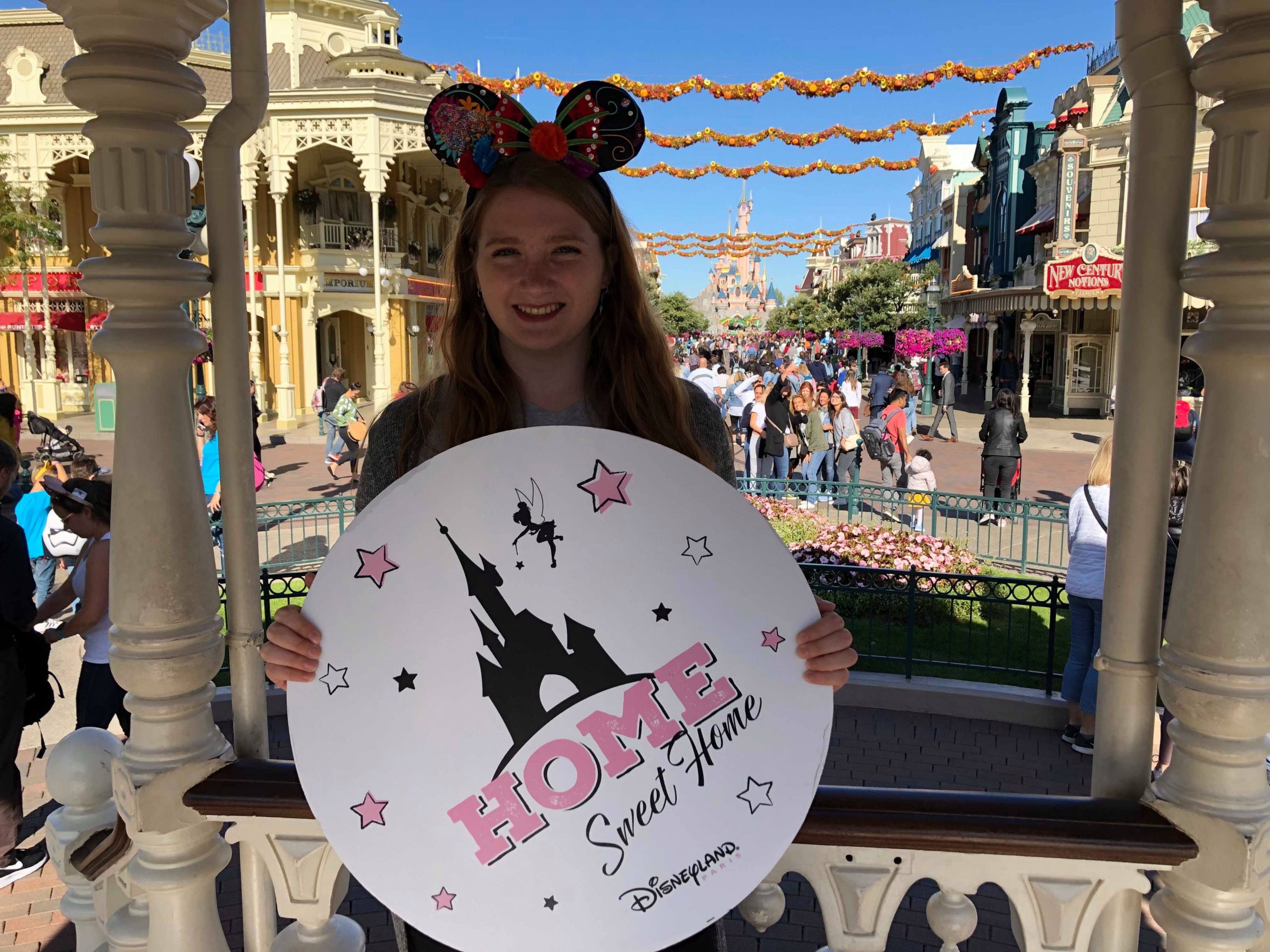 "You know that they're super rude there, right? Not just the guests but the Cast Members too!"
On quite a few Disneyland Paris fan sites I've seen complaints from Americans about the general atmosphere of the French park. People talk about getting shoved, watching people cut in line, and witnessing the occasional fight that breaks out. I too have had experiences like this, as the first time I was waiting for Stars on Parade I got kicked (quite literally) out of my seat onto the ground. If I had a euro for every time I've seen someone cut in line I could get myself an Ultimate FastPass.
Now, when I say that the attitudes of Cast Members in France are different than the ones in the States, I don't mean this in a bad way. The difference is simply a matter a culture, not of who's right and who's wrong. If someone from France visited Disney World, I could imagine that they might comment on Cast Members being "overly friendly" or something similar. Even I sometimes grow weary of the ever-cheery Cast Members at Disney smiling at me without fail, constantly asking me how my day is. French Cast Members aren't constantly smiling, but that doesn't mean they're not nice. Sure, they might not go out of the way to ask how you're doing, but that's just not how it goes in France. You're there to go on rides and meet characters and they're there to help you achieve these goals.
Let me give you a perfect example of some great Cast Members. As some of you may know, I am a big fan of Phantom Manor. I was there for the opening and make sure that I'm in front of the Phantom and Melanie every time the Halloween parade stops at the Hub. Whenever I bring someone to DLP for the first time I bring them onto the ride at least twice, once to experience it and the second time to whisper to them about all of the cool effects and my favorite parts. So I can say that at least a few Cast Members might recognize me with my ginger hair and Coco Mickey ears. When I was at DLP last week I decided to see how many times I could ride Phantom Manor in a row. The Cast Members were super nice and we came up with a code for me to say I'm going again and we would make jokes to each other as my Doom Buggy slowly went down the track.
Besides, I haven't even mentioned how kind Cast Members are to people on solo trips! When I was alone at Inventions for my birthday the Cast Member hosting gave me the perfect seat right in the middle with a view of the castle and made sure that the characters spent some extra time with me. One time while waiting to meet Chewbacca in the Studio I talked with a Cast Member for the whole hour and time flew by! There are so many little things that Cast Members do to make everyone's day better, and I always do my best to leave Cast Compliments at the end of the day so that they know that their actions are appreciated.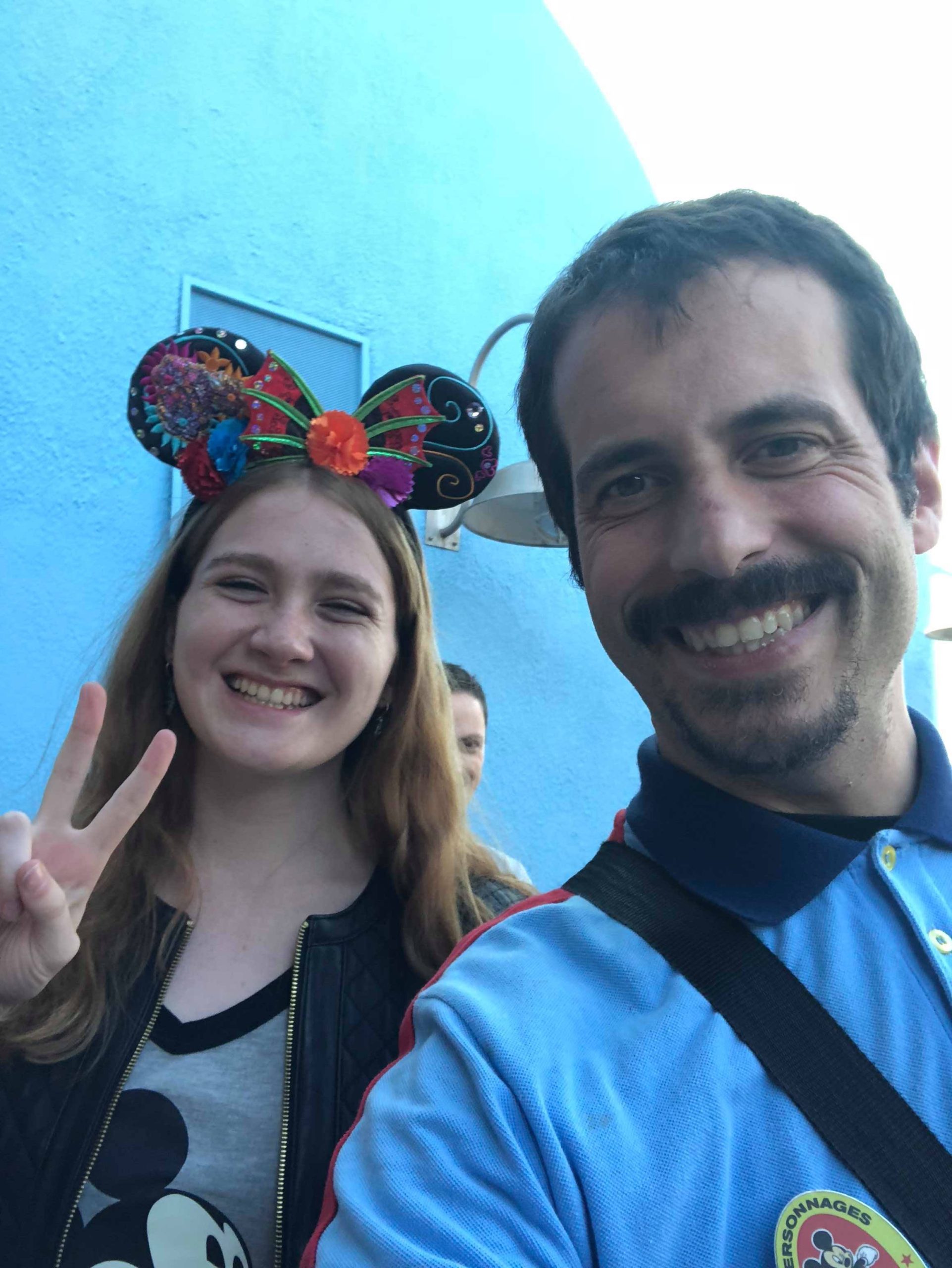 "Oh honey, you're gonna be finished with that park in one day and never want to come back."
When someone says that Disneyland Paris is small compared to Disney World, they're not lying. I've been known to plan a Disney World vacation a full year in advance, getting ready for the FastPasses 60 days before the trip and getting dinner reservations even earlier. For Disneyland Paris, I tend to just show up and have never had a problem not getting on the rides I wanted to (excluding Phantom Manor, but that was another thing entirely).
Even though I'm going to write a post on the size of Disneyland Paris in the future, I wanted to touch upon it in this post because it relates to culture for me. Americans have the tendency to rush through their days at the park, making it a challenge to get to as many rides as possible or to meet all of the characters they have on their list. For the first few times I was at DLP I was the same, rushing from park to park to use my FastPasses and desperately checking Lineberty every five minutes to see if any new spots had opened up to meet Mickey or Pluto at Toon Studio. But after a couple of months of living in France, I began to adapt to the culture of "living in the moment" instead of worrying about the future. I started to take my time in the parks, admiring the detail and enjoying some people-watching while sitting on a bench. Now I've been able to find a fine balance of getting FastPasses and relaxing while waiting for Stars on Parade.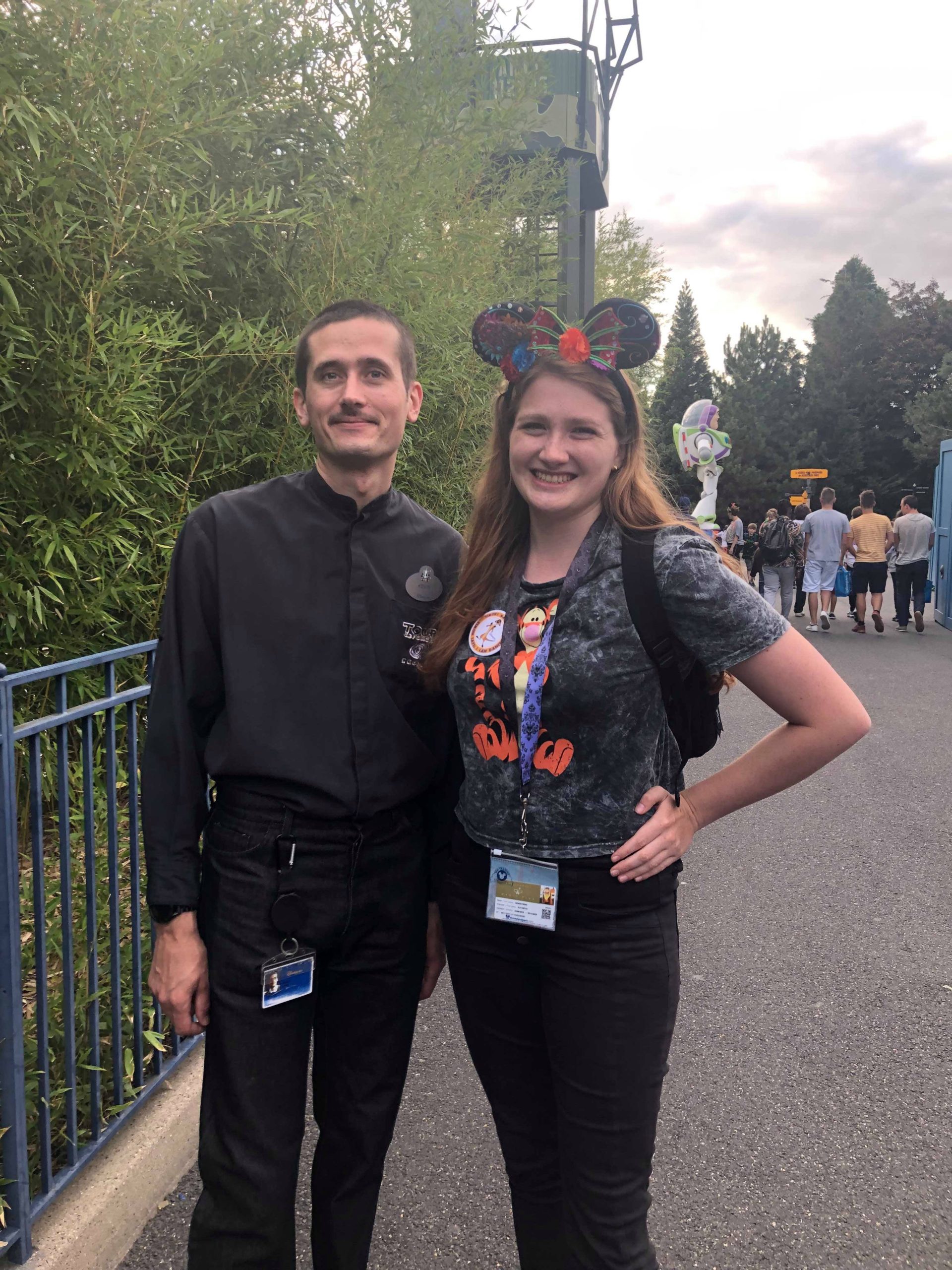 "Get ready to get second-hand lung cancer from all the smoking!"
If I'm going to be openly negative about anything related to culture in Disneyland Paris, it's smoking. Just a few days ago I was in line for Tower of Terror and some guy kept blowing vape smoke into my face even when those around him asked him to stop (in multiple languages, no less). Even though there are designated smoking spaces and there are sometimes public announcements that smoking is only permitted in those specific places, it is rare that you go five minutes without smelling either vape or cigarette smoke.
While vape smoke does smell better (and can actually smell really good), the clouds that it produces make it difficult to see, especially during a parade or a performance. Cigarette smoke may not be as bad from a visual standpoint, but catching a large whiff of it can leave you coughing for a few minutes. You do get used to the smell once you've lived in France for a while and a lot of your friends are smokers, but it's still annoying to see in a park with so many children. If there could be more enforcement of anti-smoking rules, that would be fantastic, but I'm not expecting anything to change.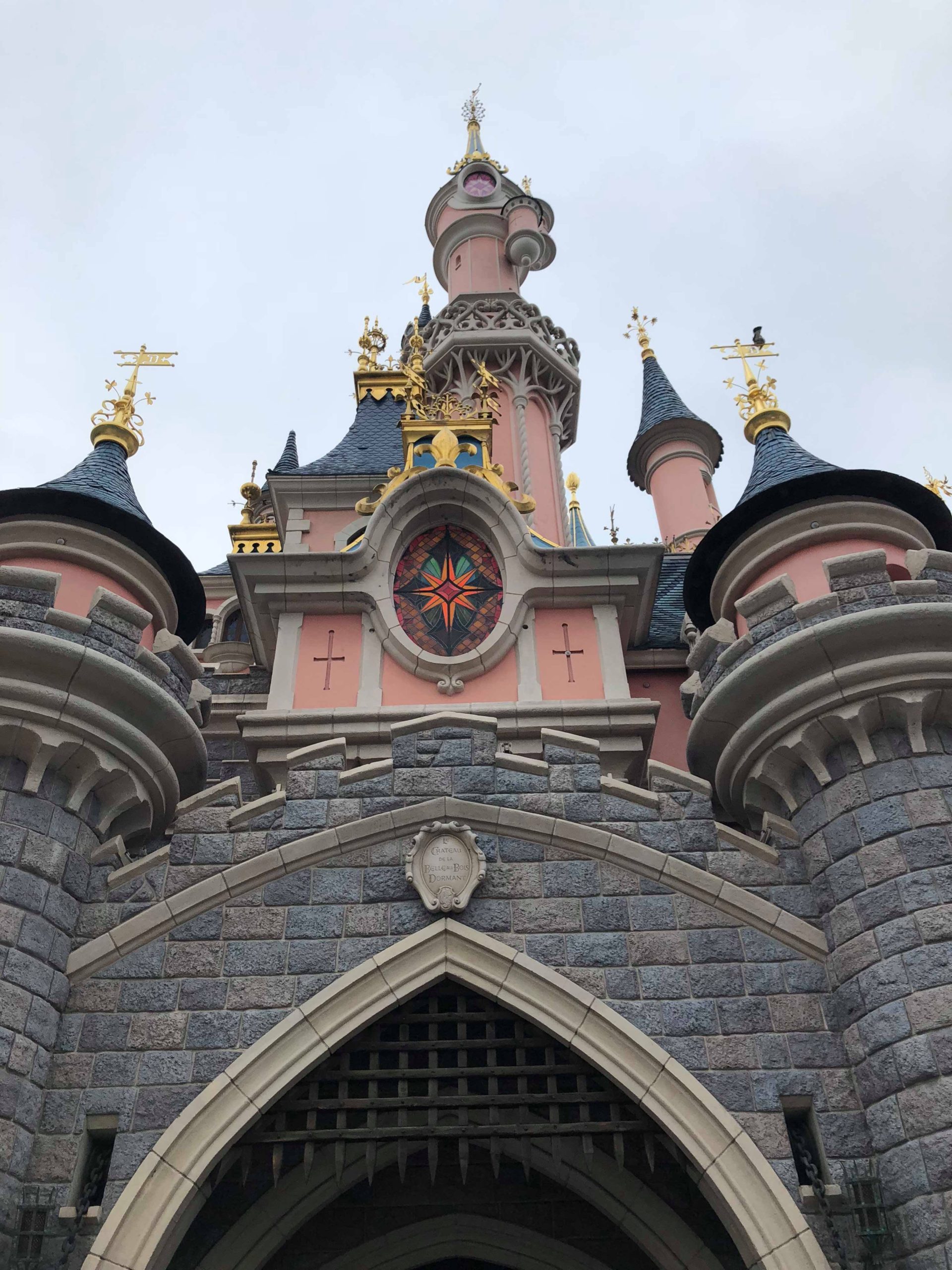 "There's a reason it failed and I'm not saying it was because it was French… but…"
Yes, Disney faced some problems when dealing with the French culture when creating EuroDisney. There is definitely a difference between the French and Americans that cannot be easily bridged.
But while Disneyland Paris was a fiscal failure, is it really a failure for fans? I've met people who've come from around the world to see the beauty for themselves and have left with nothing but praise. Whenever I bring friends to the parks their eyes light up when they see the castle and there's always a smile on their faces throughout the day as we explore the two parks. Even though I've gone through the gates and been greeted by that sweet, monotone "Welcome" from the turnstile dozens of times, there's always a sense of magic when you first see Sleeping Beauty Castle standing proudly in the distance (but actually not as far as you think, thanks to forced perspective).
Ultimately, every Disney park has its own culture, and Disneyland Paris is no different. Just like the city of Paris and the rest of France, DLP has a reputation for having a beautiful exterior but a cold interior. But as I reach my 16th month of living in France in a few weeks, I have learned that this couldn't be further from the truth. Sure, the majority of the French tend to be reserved at first, not asking too many questions and keeping to their own business. But if you really get to have a good conversation with a Cast Member or guest at DLP, there's a high chance you'll have a new friend for the day (or even longer)! Whether it's dancing together during Stars on Parade, chatting in the queue for the Frozen Musical Invitation, or even just talking at the cash register in a boutique, you'll see just how kind the Cast Members can be and how magical Disneyland Paris really is.
Disclaimer: All of the beliefs stated in this series are my opinions, not the opinions of DLPReport and its associates. I only wish to give my thoughts and do not intend to hurt anyone with my words.