Construction in the Disney parks is just a fact of life. No matter when you go, there's always going to be the disappointment of one of the rides you wanted to go on being closed, or your favorite restaurant not being open for the day, or a particular attraction that was supposed to be open after a year but ended up taking nearly two years to receive a refurbishment (wow, I wonder which one Kat's talking about? Definitely not Phantom Manor). But one of the most important aspects of Disney that keeps guests coming back year after year (or even month after month) is that the parks transport you into another world, where mere mortal things like construction and hard hats don't exist.
Typically, when an attraction is under construction (or intense renovation), construction walls are placed around the area. In some extreme situations, entire sections of the park are closed to guests, blocked by walls with signs pointing to other areas of the park to experience. If an attraction with an iconic look, like the castles, are under construction, Disney tends to put up a scrim over the facade with an idealistic image of the attraction. Phantom Manor had a spooky scrim that showed an eternal thunderstorm above the Ravenswood Manor in all of its glory, the gardens still uncovered for guests to see.
Recently, however, Disneyland Paris has been trying new tactics that are quite interesting and a unique way of getting guests excited for the reopening of the attractions that are currently under construction. But let's start with the iconic construction walls that have been a part of Disney for years, a type of paint that keeps guests looking away from the construction and instead focusing on more exciting things.
The Idea of "Go Away Green"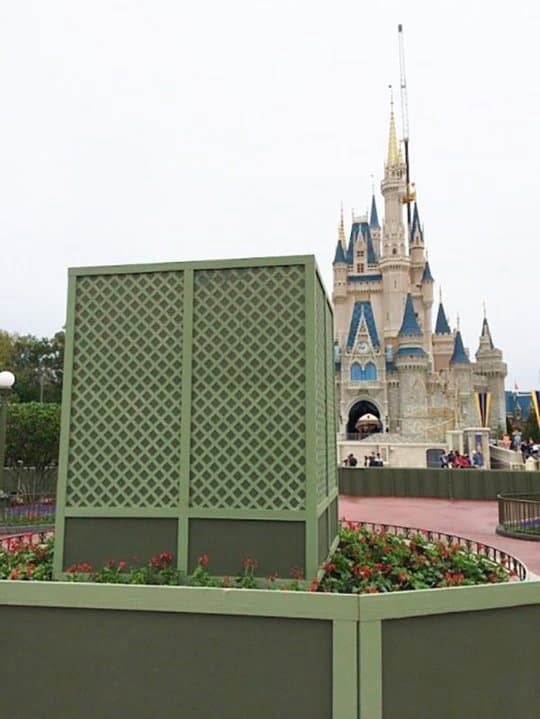 Disney has always been known for its innovations, but did you know that it also has its own paint color? That's right, the construction walls in Disneyland and Walt Disney World tend to be painted with a green color affectionately known to Imagineers and fans alike as "Go Away Green". This blueish-greenish hue is meant to allow the construction walls to blend in with their surroundings, averting guest's eyes to more colorful things around the park. The color is used not only for construction walls but also for different things like backstage buildings, fences, and even some garbage cans!

Graphic via apartmenttherapy.com
For years, fans have been trying to recreate the famous green in order to have a piece of the Disney magic at their own home. There was even one man who took different paint chips from the parks and went to Home Depot to try and find a color match! There is no exact formula that Disney has ever released, but there are some matches that have been discovered – Spice Garden from Behr, Cooking Apple Green from Farrow & Ball, Relish from Sherwin-Williams, Pale Jade from Glidden, and Aganthus Green from Benjamin Moore. It would be quite nice to have a fence color that would stop people from ringing your doorbell, but we'll just have to keep waiting for that to be invented.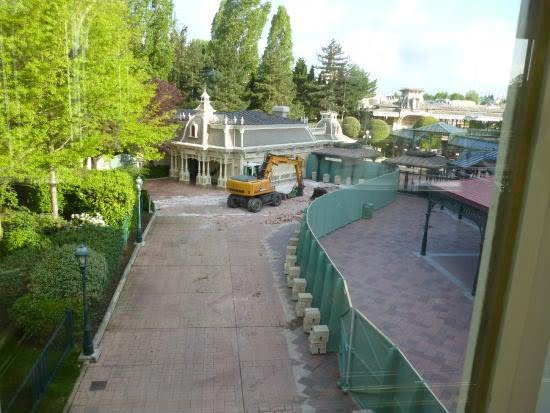 "Go Away Green" has been used in Disneyland Paris, not just the American parks. There is also another color that is rumored to be known as "No See Um Gray", but that has not been confirmed by Disney. While the color is quite effective in keeping guest's eyes away from the construction going on (unless they're specifically looking!), there are other tactics that Disneyland Paris has been using to have guests actually flocking to the walls themselves. Let's take a look at some of them, shall we?
Information with Style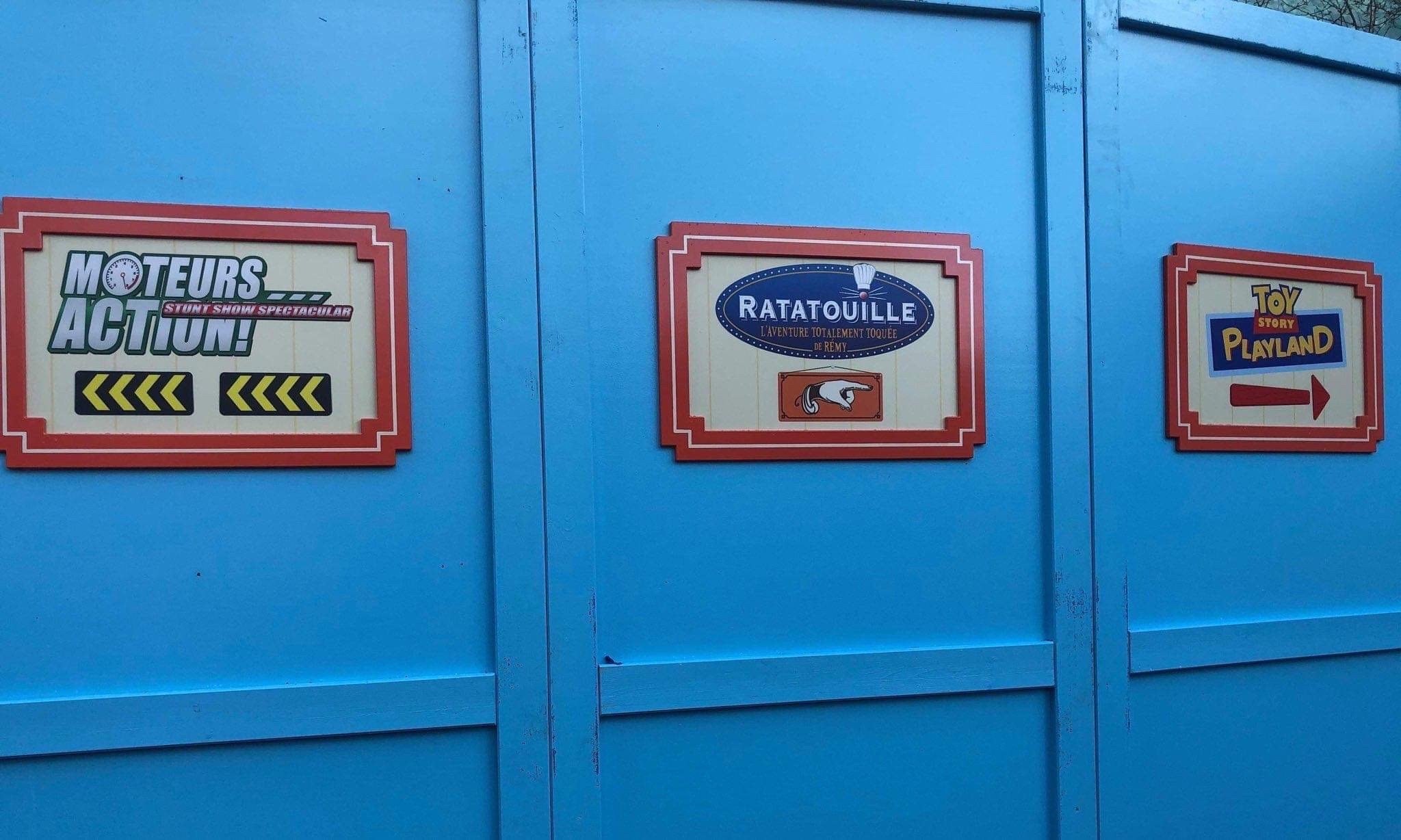 When walking around, there are times when guests need information and there is not a Cast Member is not readily available. This is when signs on construction walls can come in quite handy, especially when they don't need words to explain what is going on. On the new blue Tram Tour construction walls for example, there are signs for the Moteurs Action Stunt Show Spectacular, Ratatouille L'Aventure, and Toy Story Playland, each themed to the areas with the logos and arrows to help guests find their way. Even restaurants that are under renovation have maps in place of their usual outdoor menu signs that show guests other restaurants that are open that day.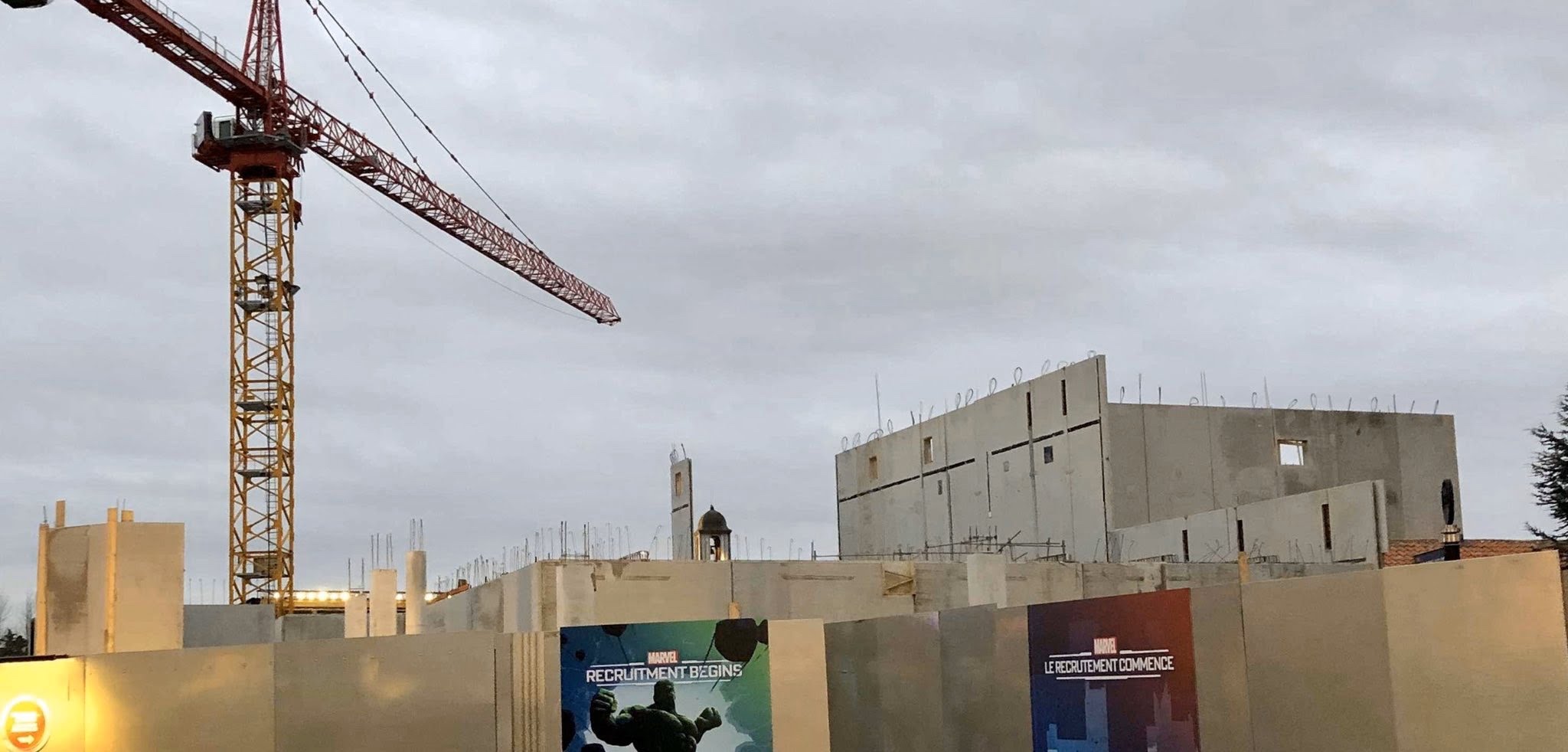 Another way that DLP helps inform its guests of what's coming next for the parks is how they theme the construction walls. Instead of simply painting walls with "Go Away Green", DLP sometimes decorates them in styles that are similar to what the new attraction (or land) will be like. In the Studios, the walls around the soon-to-be Avengers Campus look like metal and have posters advertising recruitment for the Avengers, with some of guests' favorite Marvel superheroes posing in the center.
On the topic of posters, why don't we go a little further into some examples of times they have been used around the park to get guests excited for what was going to open after construction.
Using Posters as Distractions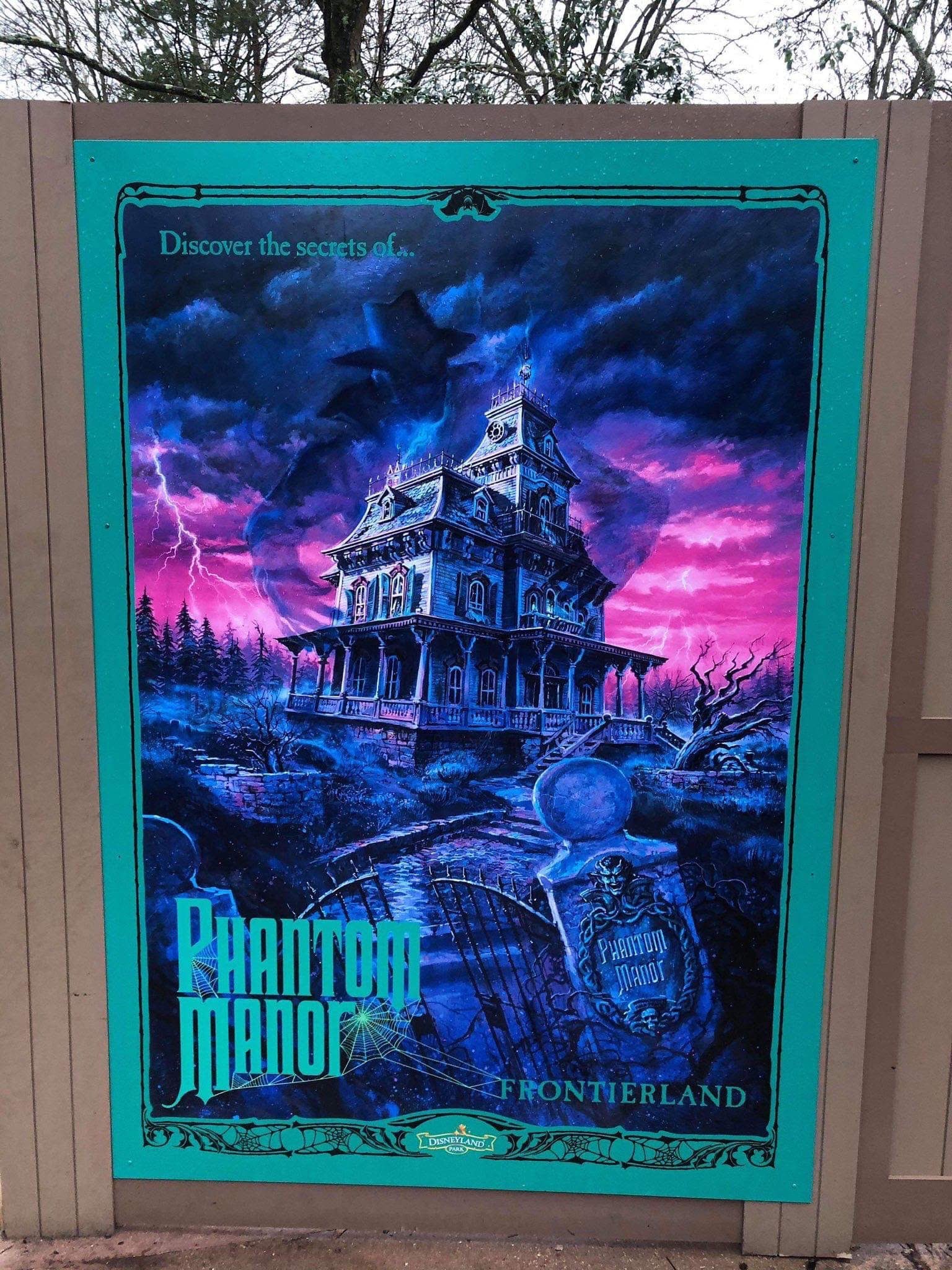 Of course, there are always going to be construction walls in DLP – There is no way to avoid that. But one of the tactics for the parks recently has been to put posters up on the construction walls in order to make them more appealing to the eyes of guests. Frontierland, in particular, has been using this tactic, with posters for not only attractions but also restaurants in the land. There is the classic poster for Phantom Manor with the Phantom hovering above the house, but did you know there is also another reference to the Ravenswood family in the posters? If you look at the Silver Sput Steakhouse poster, you'll notice that the woman in the yellow dress bears a striking resemblance to the original portraits of Melanie Ravenswood!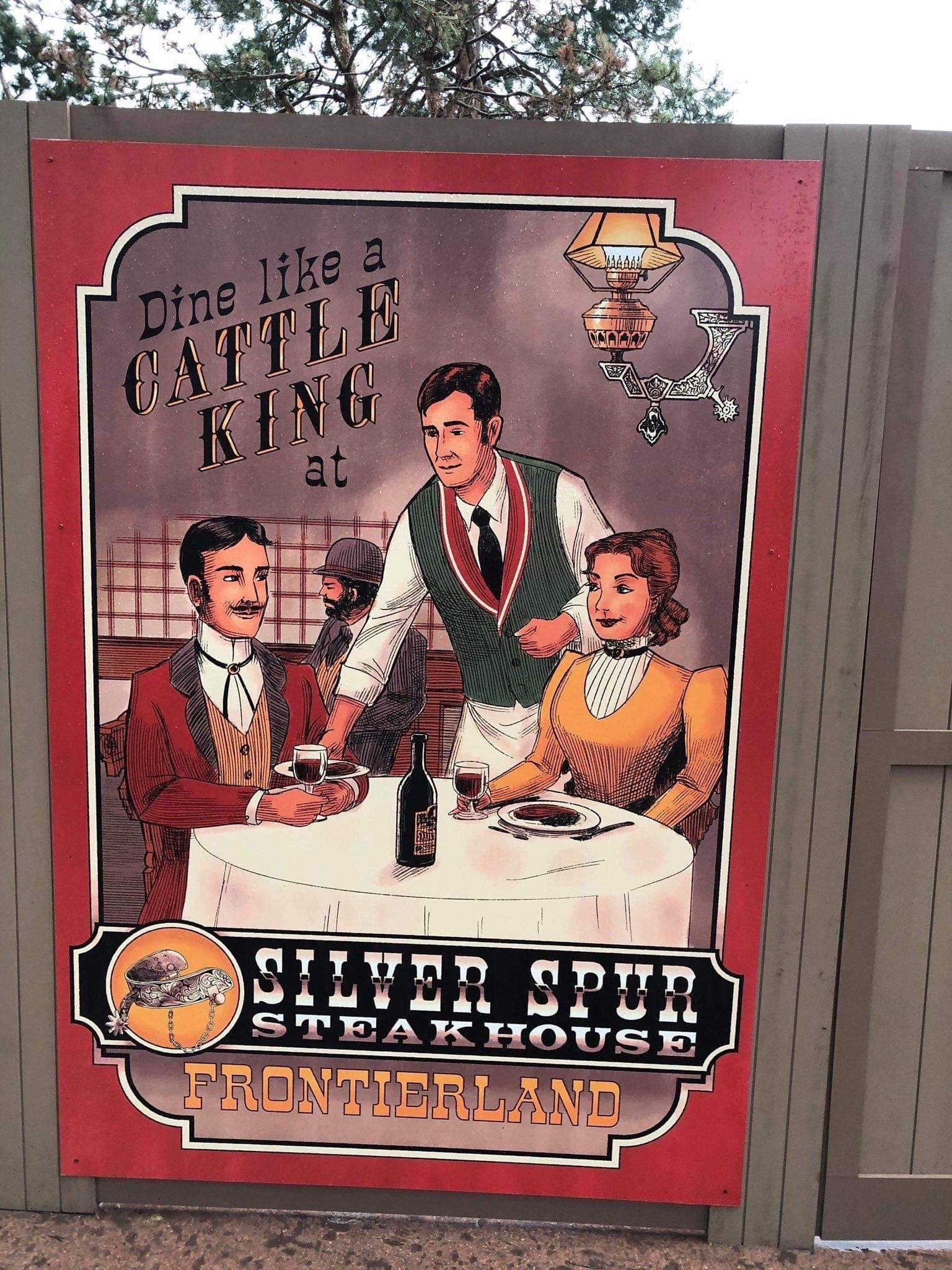 Hotel Construction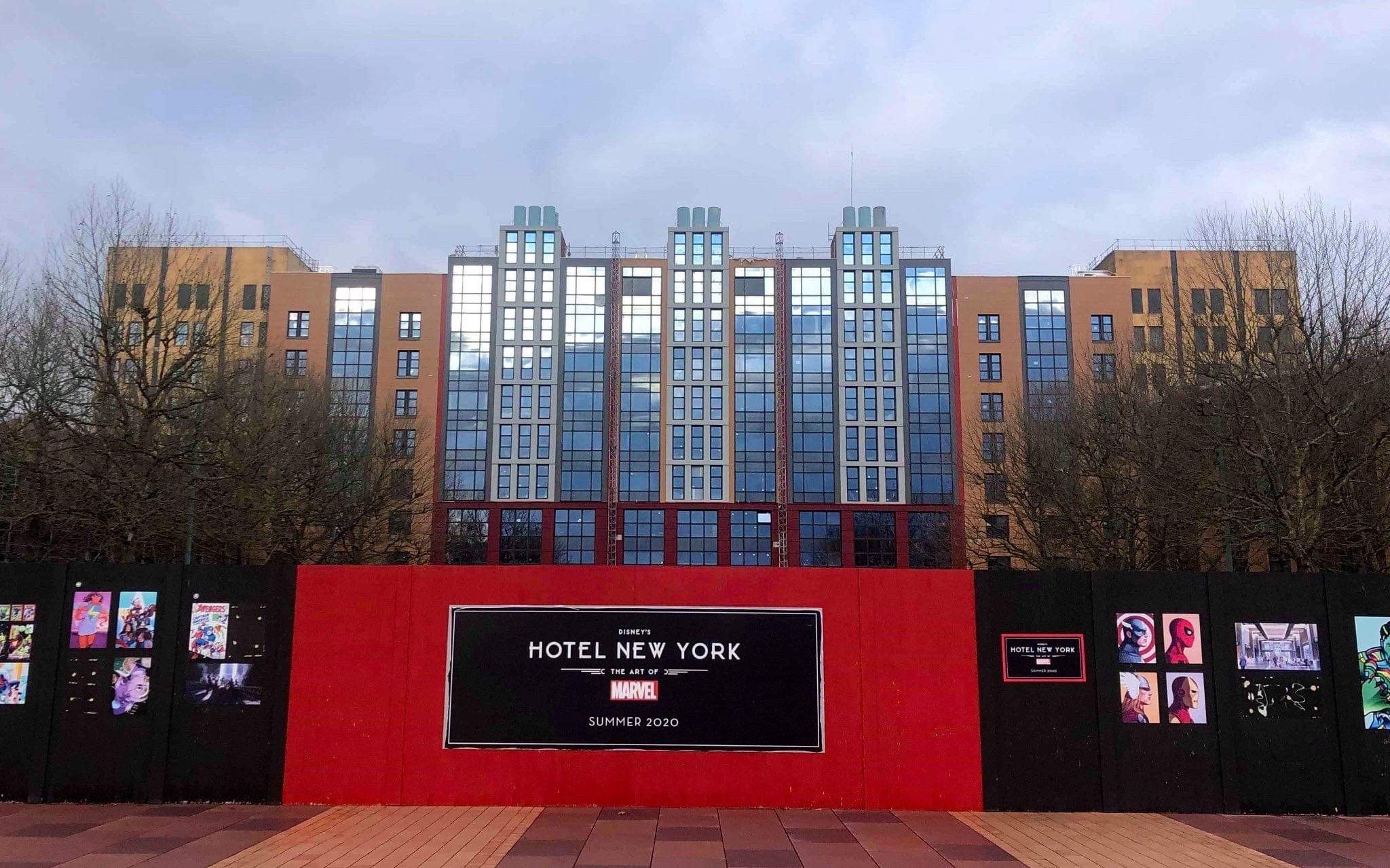 Currently, DLP is focusing on an ambitious renovation of the Hotel New York into the Hotel New York: The Art of Marvel, which will feature not only appearances from superheroes but also plenty of different styles of art guaranteed to keep guests interested throughout their stay. In order to keep with the theme of Marvel art, the black and red construction walls are covered in different artworks from the Marvel franchise. There are sketches of the classic Avengers like Captain America and Black Widow, but also more detailed drawings of more obscure Marvel heroes who do not have their own movies (someday, there will be a Squirrel Girl movie – I will make this happen).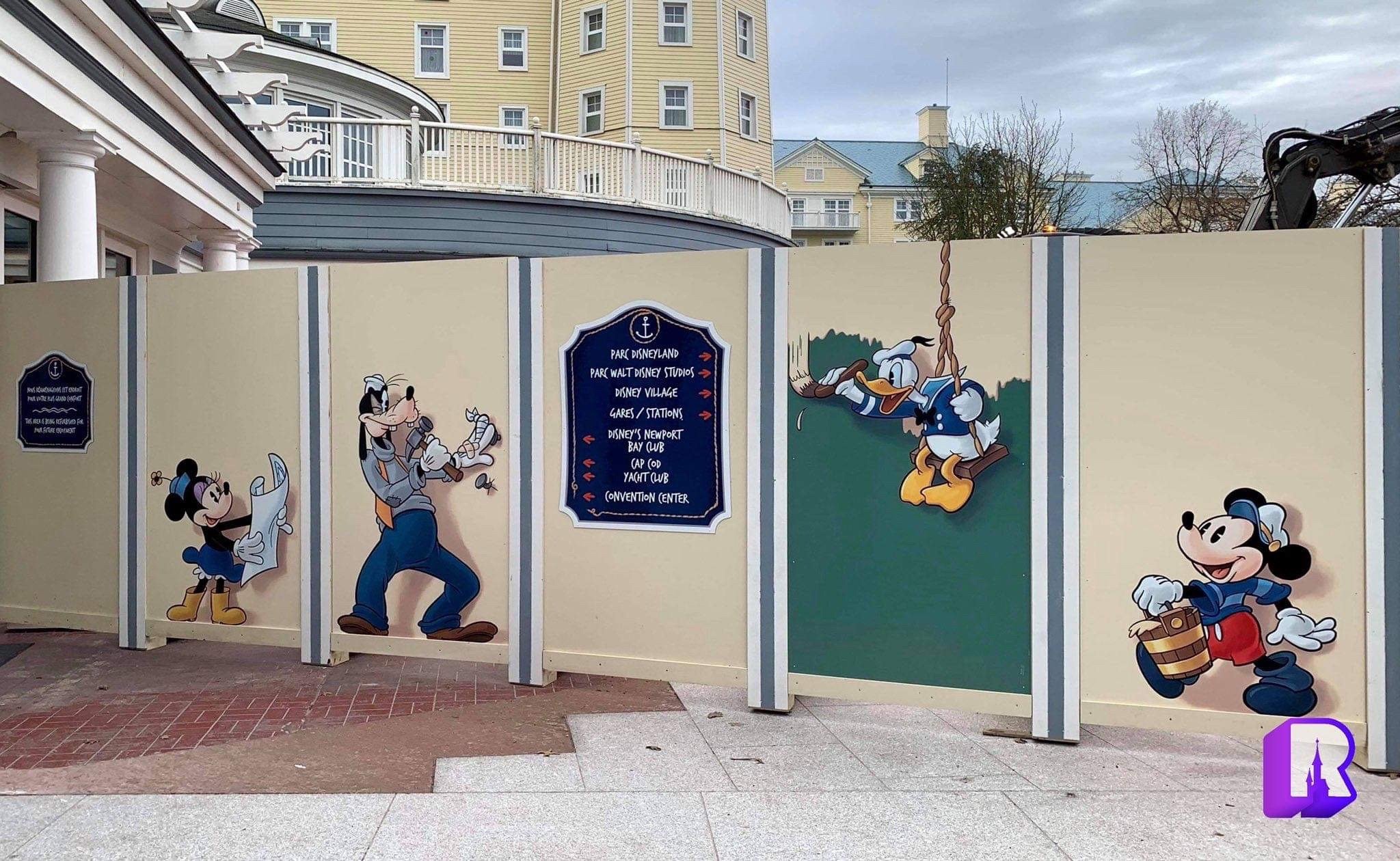 Unfortunately, DLP isn't always known for having stellar translations from French to English, even on construction walls. One mistake that stood out in particular when it came to hotel construction walls was "Cap Cod" at Newport Bay, which honestly could've been solved with a simple double-checking of the spelling on the sign. But hey, we're at Disney for a fun time, not for spelling lessons, right?
Fun Wall Photo Ops
Both Disneyland and Walt Disney World in the States have some walls in particular, not just construction walls, that are known for the "Instagrammable" factors. Disney's California Adventure has the iconic Sunset Wall in Hollywood Studios and the Blue Wall in the Hollywood Land Backlot, Disneyland is the location of the Minnie's House Polka Dot Wall and the Small World Wall, Magic Kingdom lays claim to the Purple Wall, as well as its own Blue Wall, EPCOT is home to the Bubblegum Wall and a cool Mosaic Wall, Animal Kingdom brings its walls to life with The Most Beautiful Wall and the Fichwa Fellow Wall, and Hollywood Studios encourages guests to take photos at the Tatooine Traders Wall. While DLP doesn't have nearly as many pretty walls as the American parks, there are some construction walls that have stood out as cute photo ops recently.

Complete mural montage by Twitter user @occulaire
Now, one of my favorite construction walls that DLP has had in recent history is the ones that were up around Animation Celebration during construction before it became home to Frozen: A Musical Invitation. Instead of just simply being the blue walls that many have become used to in the Studios, DLP decided to decorate a large portion of the walls with some of the most popular Disney animated characters. Guests have flocked to the wall to take pictures with their favorite characters, ranging from Ursula to Rapunzel and everything in between. There were even some characters whom guests were unable to meet in the parks, so this was a way for the guests to see them at Disney.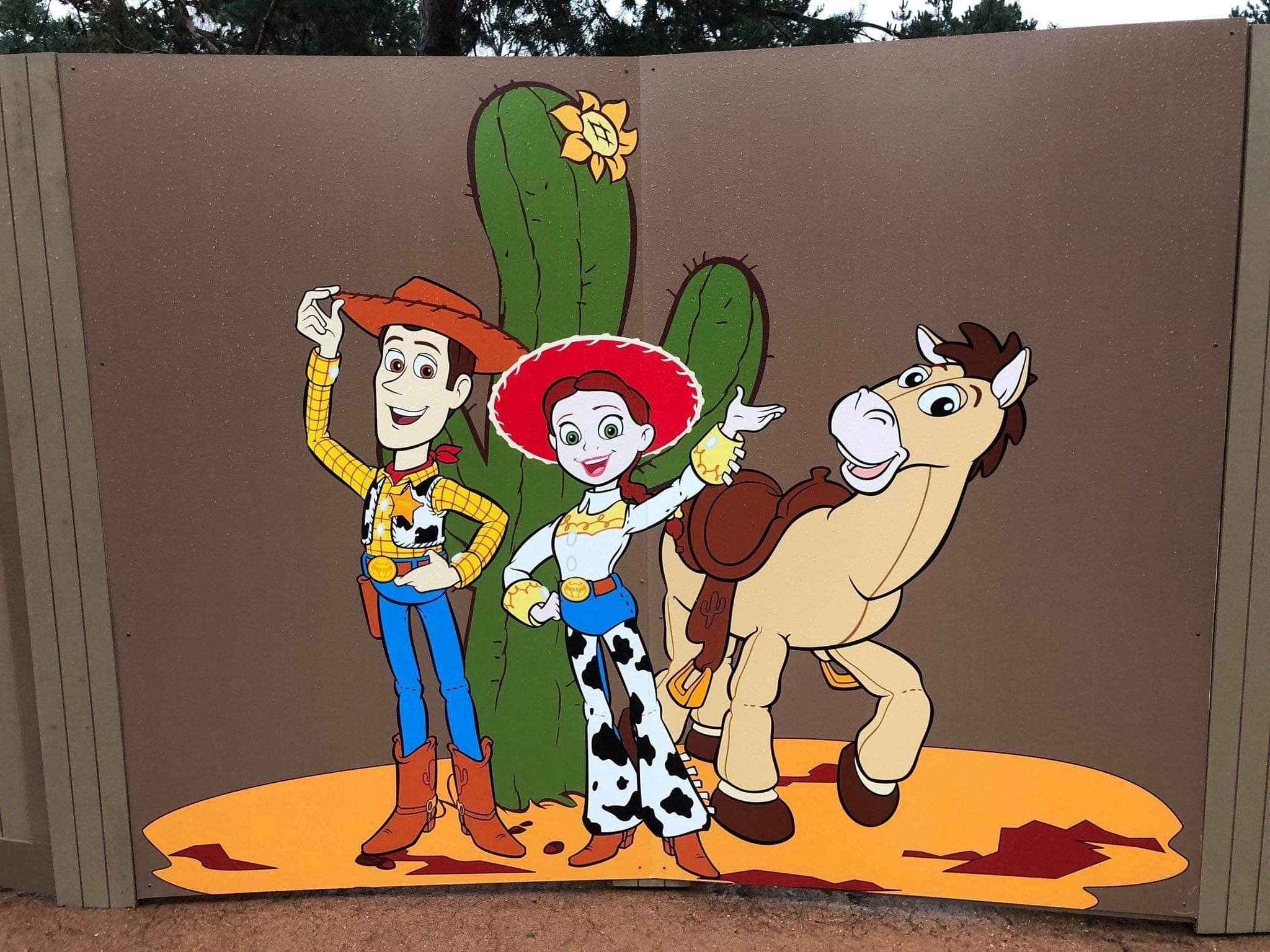 More recently, now that Animation Celebration has opened up and the pretty wall has been taken down, Frontierland has gotten some new art on its construction walls that are the perfect photo ops for Wild West-loving guests. One section of the wall has a cute picture of Woody, Jessie, and Bullseye posing in front of a cactus, ready to take photos with guests (which is quite convenient if you don't want to wait in line to actually meet the characters). Another section has the more classic characters of Mickey Mouse, Minnie Mouse, and Peg-Leg Pete standing around a similar cactus to the Toy Story characters.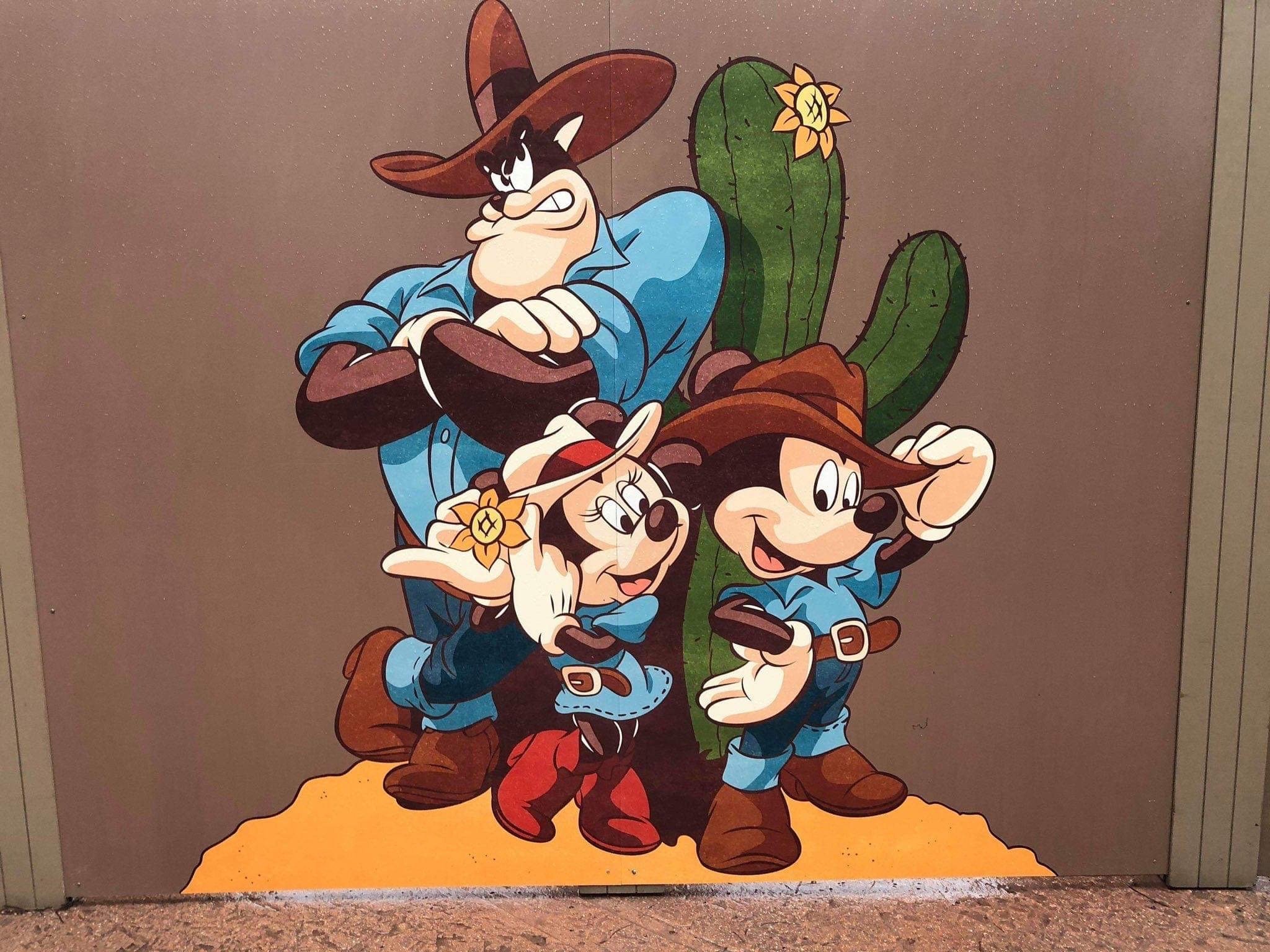 Some Recent Construction Walls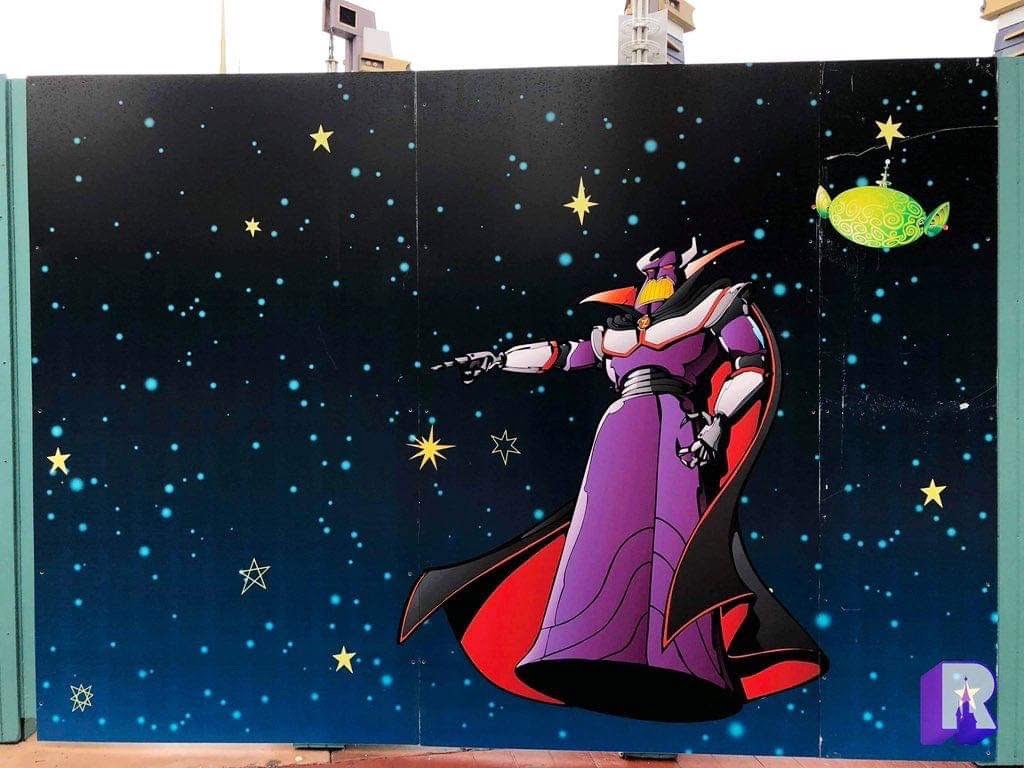 Even though I will have left France before Buzz Lightyear's Laser Blast reopens later in 2020 (or so they say…), I truly hope that this will be a fantastic renovation, as there are many things that need to be improved (not just the terribly dirty facade and dim lighting). Fortunately for those who are loving the decorated construction walls, there are plenty of different photo ops surrounding the large show buildings. One allows guests to pose with the evil Emperor Zurg pointing menacingly at them, another stars one of the robots stealing a battery (part of the very important plot to Laser Blast), and another one (my personal favorite) has hundreds of the adorable Little Green Men (AKA the three-eyed alien toys who worship "THE CLAW") greeting guests from what is presumably their home planet. DLP definitely won the award of being a "Galactic Hero" with these great construction walls.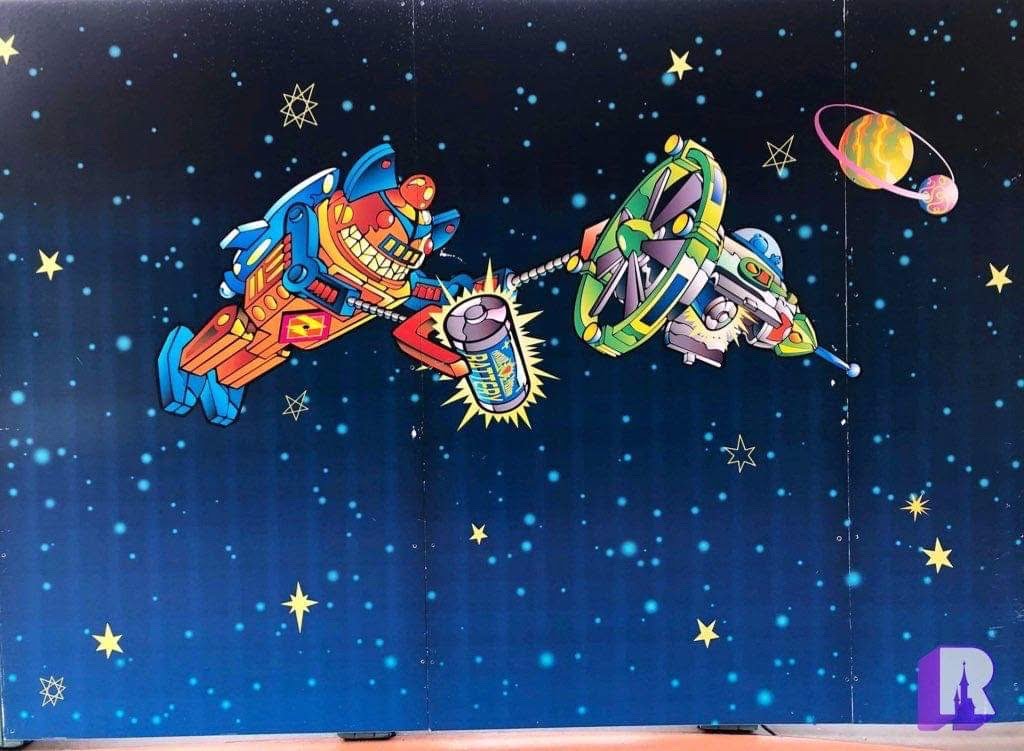 Now that the Studio Tram Tour: Behind the Magic has finally been put out of its misery after nearly two decades, Cars: Route 66 Road Trip is being constructed to take its place.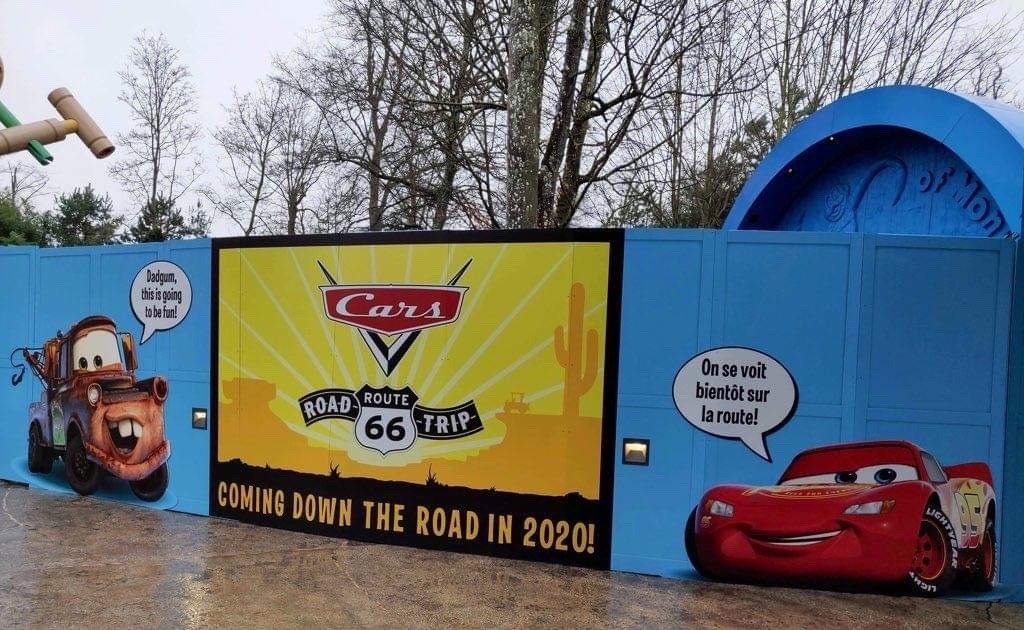 But while the construction walls around the area are mainly to hide the attraction's construction from view, they are also hiding the new park expansion that will be coming in the near future.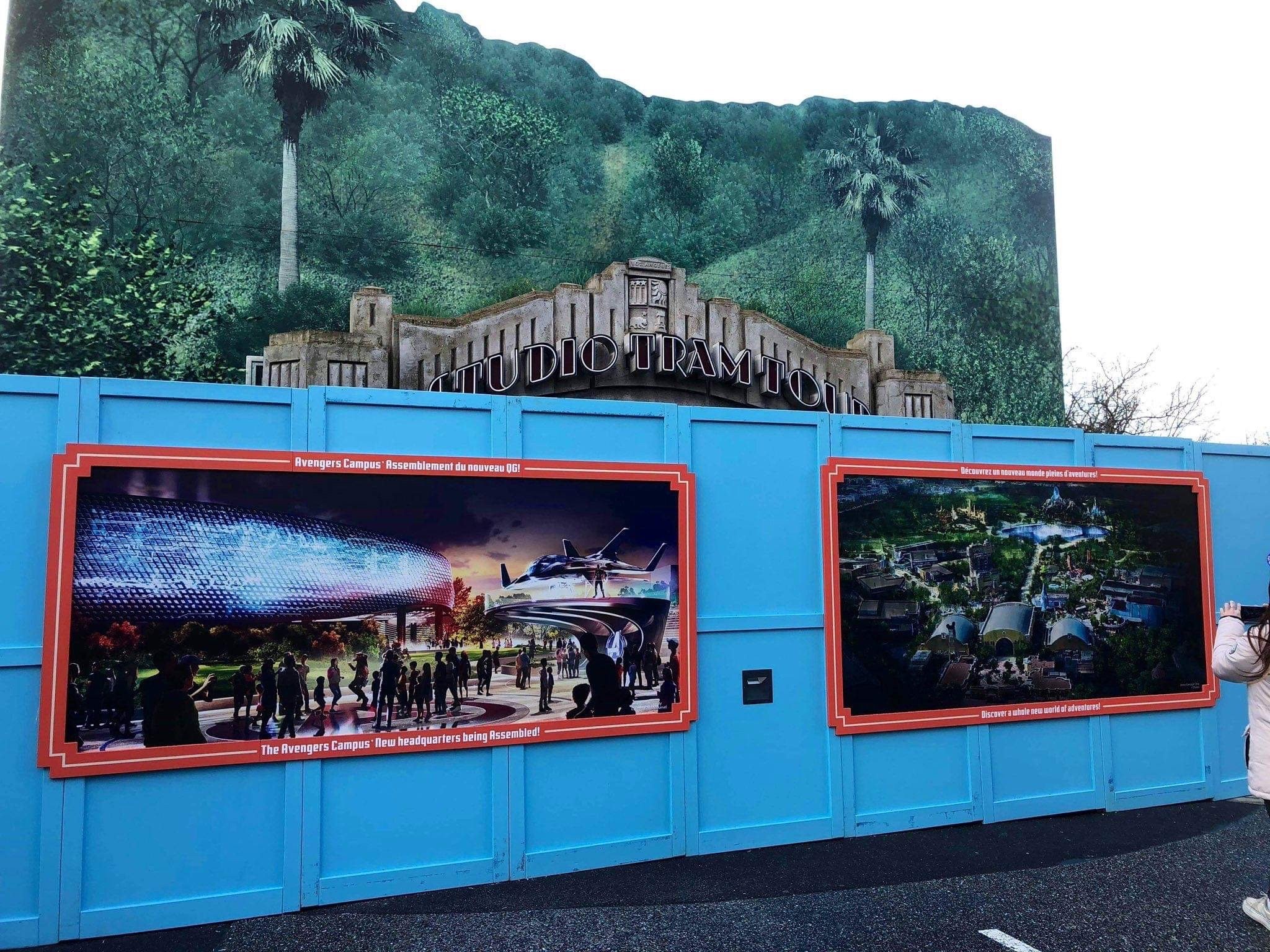 In front of the original entrance to the Studio Tram Tour, there are two giant pictures of concept art on the blue construction walls. One shows an illustration of part of The Avengers Campus, with guests wandering around the area and even seeing a Helicarrier. The other artwork is a bit more general, illustrating the future of the park with Galaxy's Edge and a land dedicated to Frozen, complete with a giant lake! I personally love this new idea as it allows guests to see why the construction walls are up and gives them something to look forward to.
In conclusion, Disneyland Paris is taking construction walls in a new direction with more enticing posters and artwork instead of simply painting the walls "Go Away Green" in the hopes that guests won't look at the construction. Maybe DLP will start creating some more colorful construction walls to draw in more Instagram users and to create more photo opportunities throughout the park!
Disclaimer: All of the beliefs stated in this series are my opinions, not the opinions of DLPReport and its associates. I only wish to give my thoughts and do not intend to hurt anyone with my words.