Last week on May 5th, the Walt Disney Company CEO Bob Chapek announced on an earning call that as Shanghai is beginning to return back to normal activities, Shanghai Disneyland will be reopening on May 11th.

Shortly after this announcement, Joe Schott, the President and General Manager of Shanghai Disney Resort, wrote a blog post to share more details about the announcement. Some areas of the resort, like shops and restaurants in Disneytown (the Shanghai equivalent of Disney Village), Wishing Star Park (a recreational area), and the Shanghai Disneyland Hotel have been open since early March for some activities. The Disney team in Shanghai will be using what they learned from the soft reopening of these areas to prepare the park itself to be open on Monday. The blog post contained an image of a masked Cast Member cleaning some of the props of an attraction and also showed off the new floor markings in front of the park encouraging social distancing.
Safety, Disney's top priority to reopen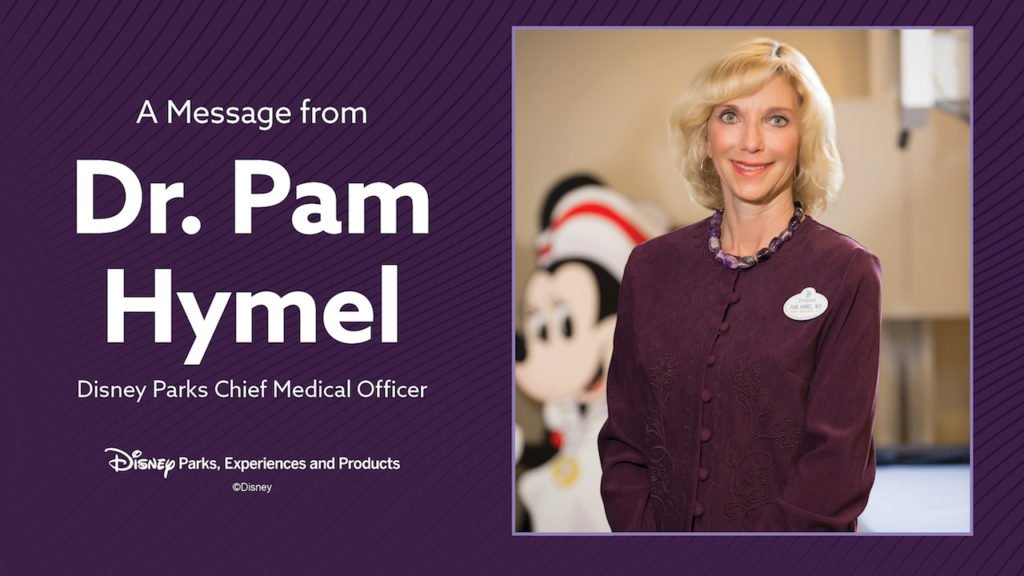 In another blog post on the same day, Disney released a message about the Disney parks in general from Chief Medical Officer Dr. Pamela Hymel. After the announcement of Shanghai Disneyland's reopening, Dr. Hymel informed guests that Disney is working with local health and government authorities to ensure the safety of guests and Cast Members. Disney will be following guidelines from health authorities like the Centers of Disease Control and Prevention (CDC) and other agencies to ensure safety for everyone. There are several things that are discussed in the blog post.
First, there is a debate over how parks around the world will reopen. The most likely path that Disney will take is a gradual reopening with only some places being partially open in order to have fewer people at the resorts than usual. Restaurants and stores in the resorts will probably open before the parks do. There will be "enhanced screening procedures and prevention measures" which will include face masks and other personal protective equipment (PPE).
There is also the reinforced importance of social distancing when it comes to different areas like lines, attractions, restaurants, hotels, and other places throughout the resorts. Guest capacity will be changed to help keep in regulation with guidelines from state and federal governments. Dr. Hymel even suggests that there may be virtual queues implemented at Disneyland in California and Walt Disney World in Florida, as well as changes to the Play Disney Parks App.
Dr. Hymel emphasizes in her blog post that the main focus of Disney is the "health and safety of the entire Disney community", including those who are at the parks and resorts right now while they are closed. Work areas are being cleaned and disinfected, social distancing is being put into place, and Cast Members have PPE including face coverings to keep themselves safe. Cast Members are also being given new training to prepare for reopening with a "strong culture of health and safety".
Preparing Shanghai's reopening
To prepare for May 11th, Shanghai Disneyland has released a video containing instructions for the reopening of the park. The instructions have been put in place in order to protect not only the guests but the Cast Members as well. First off, there will be a limited capacity each that guests can be a part of using "Advanced Reservation" by purchasing a dated admission ticket. Annual Passholders are not excluded from this rule and must make reservations for specific dates as well. Along with the dated admission ticket, guests must bring a physical valid government ID, a green "Health QR Code", and a mask to be worn during the entire visit to the resort (except when dining).
Health screening points will be at the entrance of the resort with markings on the ground to ensure that proper social distancing is being performed by guests. Once at the screening point, guests walk through a "temperature screening booth". Only guests with a temperature below 37.3°C/99.14°F will be allowed inside the resort. After showing the green "Health QR Code", guests then proceed into the security screening line where their reservation QR Code will be scanned and their bags will be searched. Finally, at the ticket turnstile, each guest must show their valid government ID to the Cast Member. Only once you exit the resort can you take off your mask, tear it in half, and dispose of it in a marked "face mask disposal bin".
Most attractions, stores, restaurants, and shows will be available to guests, but at a lower capacity than usual. Social distancing guidelines will continue in all queues and on attractions as well. Hand sanitizer will be provided at the exit of each attraction and some rides, like Buzz Lightyear Planet Rescue, will have gloves available for guests to wear. At restaurants, some tables must be left empty to encourage social distancing. When it comes to shopping, contactless payment options are encouraged and guests should only touch items they intend to purchase. For fans of character entertainment, there will not be any "close-up interaction and photo opportunities" available, but characters will still be in the parks in ways that ensure social distancing. One of these ways might be characters standing on the railroad platform above guests and waving down to the people below. There will be a parade of floats with characters so guest do not miss the opportunity to see some of their favorite Disney friends!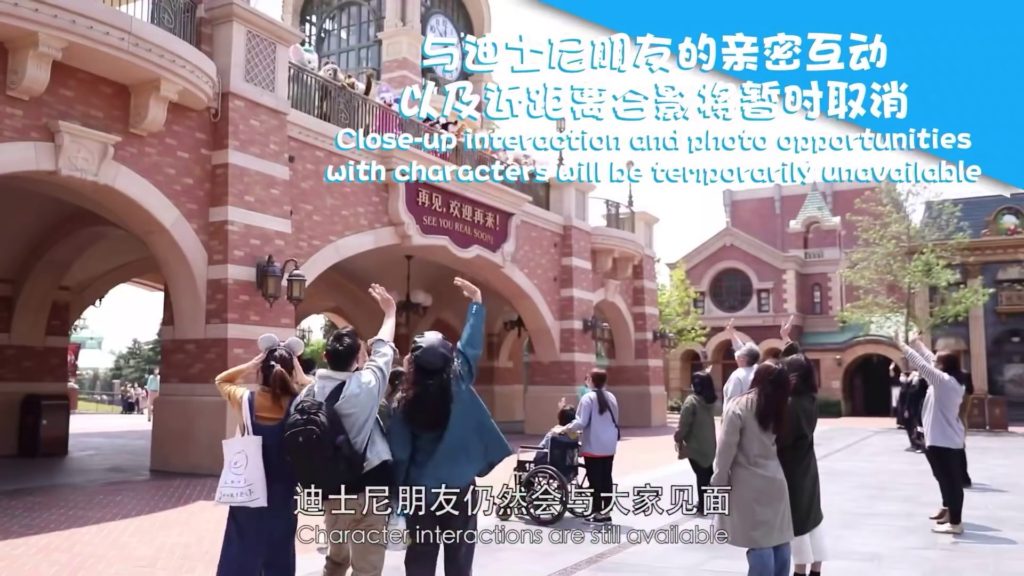 Along with the informative video, Shanghai Disney has also released a fun video showing Cast Members preparing for the opening of the park on May 11th. Viewers can watch decorations being put in place with cranes and manpower, flowers being planted in various flowerbeds, everything getting cleaned, attractions being inspected and tested, restaurants being prepared for opening with chefs making desserts, retail Cast Members stocking up stores and kiosks, performers putting on makeup and getting their costumes ready, and even beds in a hotel being made! The park looks ready to welcome guests with lovely Spring-themed decorations. The video ends with Rapunzel, Cinderella, Belle, Aurora, and of course, Mulan, all waving to guests with big grins, ready to welcome them back to Shanghai Disneyland.
On May 9th, New China TV released a video of Andrew Bolstein, Vice President of Operations, giving a tour of the park to reporters and showing off the different safety procedures to prepare for the reopening. Every location in the park that may have a queue has markers to get guests in different parties separate. This includes waiting in line for kiosks, attractions, and shops. For some shows, including the castle show, guests will stand in marked yellow boxes to encourage social distancing. For rides like Pirates of the Caribbean, guests will fill in every-other row to keep people distanced. Restaurants like Barbossa's Bounty will be open at a 50% capacity during the reopening and will have areas in the queue that guests cannot stand in. Vice President Bolstein emphasizes the fact that there will be less people, which will help in keeping people safe and distant from each other.
Of course, everything is up in the air based on how Shanghai Disney's reopening goes, so all of this information may change within the next few weeks. There are no certain dates for when the other parks will open, and that includes Disneyland Paris. For now, all guests can do is wait for official announcements and be sure to not be spreading false information on social media.
Feel like taking part in the magic even if you can't be at Shanghai Disney's reopening? There are plenty of different activities on DisneyMagicMoments.com, the official Disney website where you can watch fun videos, learn how to draw characters, and even read along with actors during storytime readings! Be sure to share your experiences on social media with the hashtag #DisneyMagicMoments.
Disclaimer: All information is based on official Shanghai Disneyland and Disney press releases. Information is subject to change. DLPReport takes no responsibility for any media shared with #DisneyMagicMoments.
Sources:
DisneyParks Blog


New China TV