As we are unable to transport you to the park through our live coverage, we decided to appeal to nostalgia and send you back to 1992, more precisely, in summer, just a few months after the opening of Euro Disney. Prepare your stay and discover or rediscover the disappeared attractions and restaurants, the incredible menus that have nothing to do with what the park offers nowadays and much more. Enjoy your visit to the brand new Euro Disney Resort!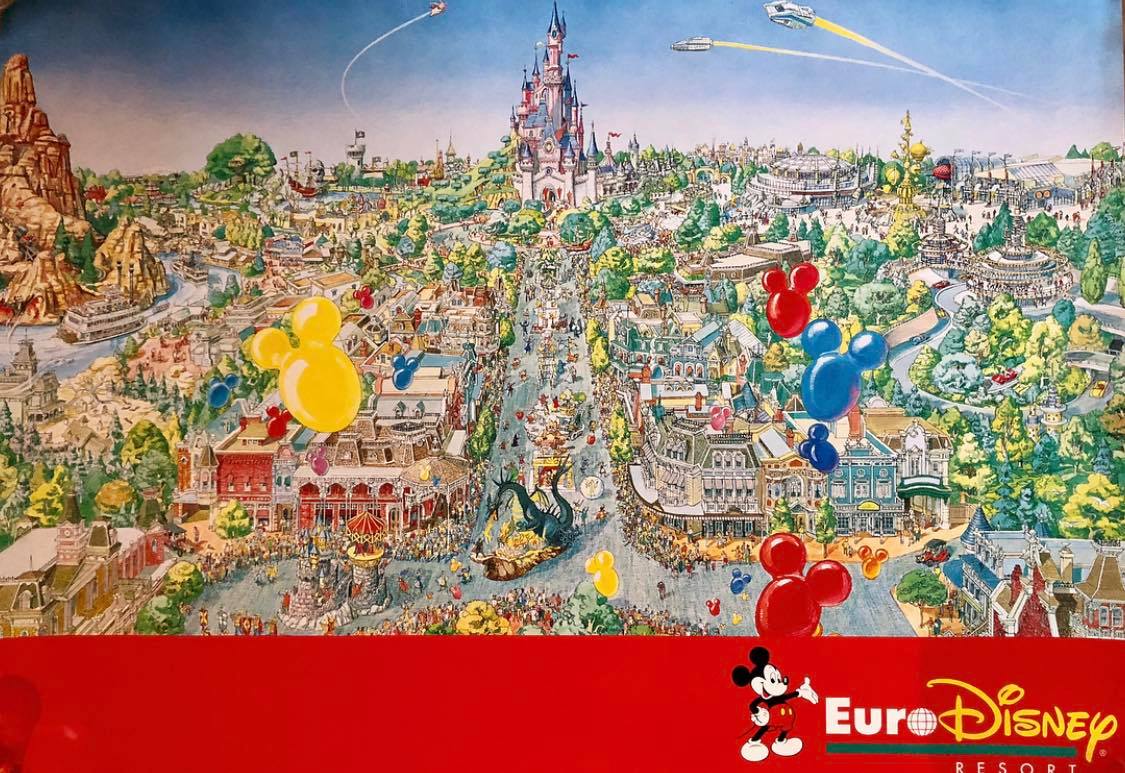 « To all who come to this happy place, welcome. Once upon a time… a master storyteller, Walt Disney, inspired by Europe's best loved tales, used his own special gifts to share them with the world. He envisioned a Magic Kingdom where these stories would come to life, and called it Disneyland. Now his dream returns to the land that inspired it. Euro Disneyland is dedicated to the young and the young at heart… with the hope that it will be a source of joy and inspiration for all the world. »
— Michael D. Eisner, April 11, 1992.
Open since April 12, 1992, the Euro Disneyland park offers Disney magic to young and old alike, just a stone's throw from Paris. This guide is there to help you organize your next stay. We wish you, in advance, an incredible stay on site!
Whether it's sunny, rainy, windy or snowy, Euro Disneyland is open all year long, Do not worry, the park is prepared for any type of weather. Even though we hope you'll be enjoying a sunny day in the park, in case of rain, you'll be able to procure a Mickey themed yellow poncho in any of the shops. 
Park opening hours are season dependent. 
Mid April to Octobre : opening at 9am and closing between 7pm and 12am
Novembre to mid April : 10am-6pm on weekdays and 10am-7pm for the weekend
Exceptions:
Mid December to early January :  9am-10pm ( or midnight on a couple of days)
School Holidays and July/August : 9am-12am
You can book a long stay by phone directly with the park or through your travel agency. You will benefit from the " Length of Stay Passeport ", a passport valid for the entire duration of your stay, priority access to the Park and free transport service throughout Euro Disneyland.
If you only want to go there for a single day, ticket offices are available at the entrance of the Park (here called Passports).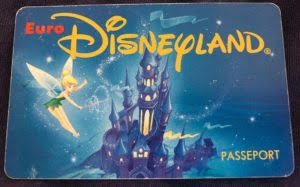 The Passport offers unlimited access to all attractions except  Rustler Roundup Shootin' Gallery  (extra costs) in Frontierland.
Children rate: 3 to 11 years old: £15
Adult rate: over 12 years old: £23
The park is free for children under 3 years old. Please note, all children under the age of 7 must be accompanied by an adult at all time.
The park is composed of a campsite and six hotels around Bunea Vista lake (except for the Disneyland Hotel situated at the entrance of the park)
Each one of them has a different theme to make sure to satisfy all tastes. The rooms are designed for a family of four, the check-in begins at 3pm and check-out must be done before 11am the day of your departure. Note that all rooms are smoke free
To make your stay as pleasant as possible, the Euro Disney Tram, with its blue and white roof and its pennants allows you to go around the lake for free and serves Disney Festival, the Newport Bay Club, the Sequoia Lodge and the New Hotel York.
The park is very accessible. You can get there by car via the A4 motorway or by taking the RER A, which has a new stop thanks to its new dedicated station. From June 1994, a TGV line will also serve Marne la Vallée-Chessy.
A 9,000-space car park is available on site for drivers. You will need to count £3 for a car, £2 for a motorcycle and £5 for a caravan or a motorhome. So don't forget to factor this cost into your budget. 
For foreign visitors arriving by plane, a direct bus to the park is accessible at all Roissy-Charles de Gaulle terminals every 30 minutes and every 45 minutes at Orly. You can get more details via Minitel or telephone.
If there is one thing you won't find at Euro Disneyland, it's boredom! The park offers enough activities to keep you busy all day! Whether it's attractions, shows, activities in hotels or its Disney Festival entertainment center, which includes numerous restaurants, a disco and a dinner show on the theme of the Conquest of the West. Adults and children will find plenty to have fun without interruption!
Golf enthusiasts can take advantage of the brand new eighteen holes course which will open this summer and will be enlarged by nine other holes in 1993. It will be open all year round from 8 am, 7 days a week. Access to the course will cost £56 during the weekend and £39 during the week, carts included. The Golf will also host a restaurant, the Clubhouse Restaurant, offering grilled meats, seafood, steamed fish accompanied by vegetables and a special tea time snack. Open from 8 a.m. to 11 p.m.
And if you want to see something other than the wonderful world of Disney, the Euro Disney Resort bus offer excursions to Versailles, Fontainebleau, Vaux-le-Vicomte, Champagne and Reims. You just need to go to Visitor Relations to obtain all the informations.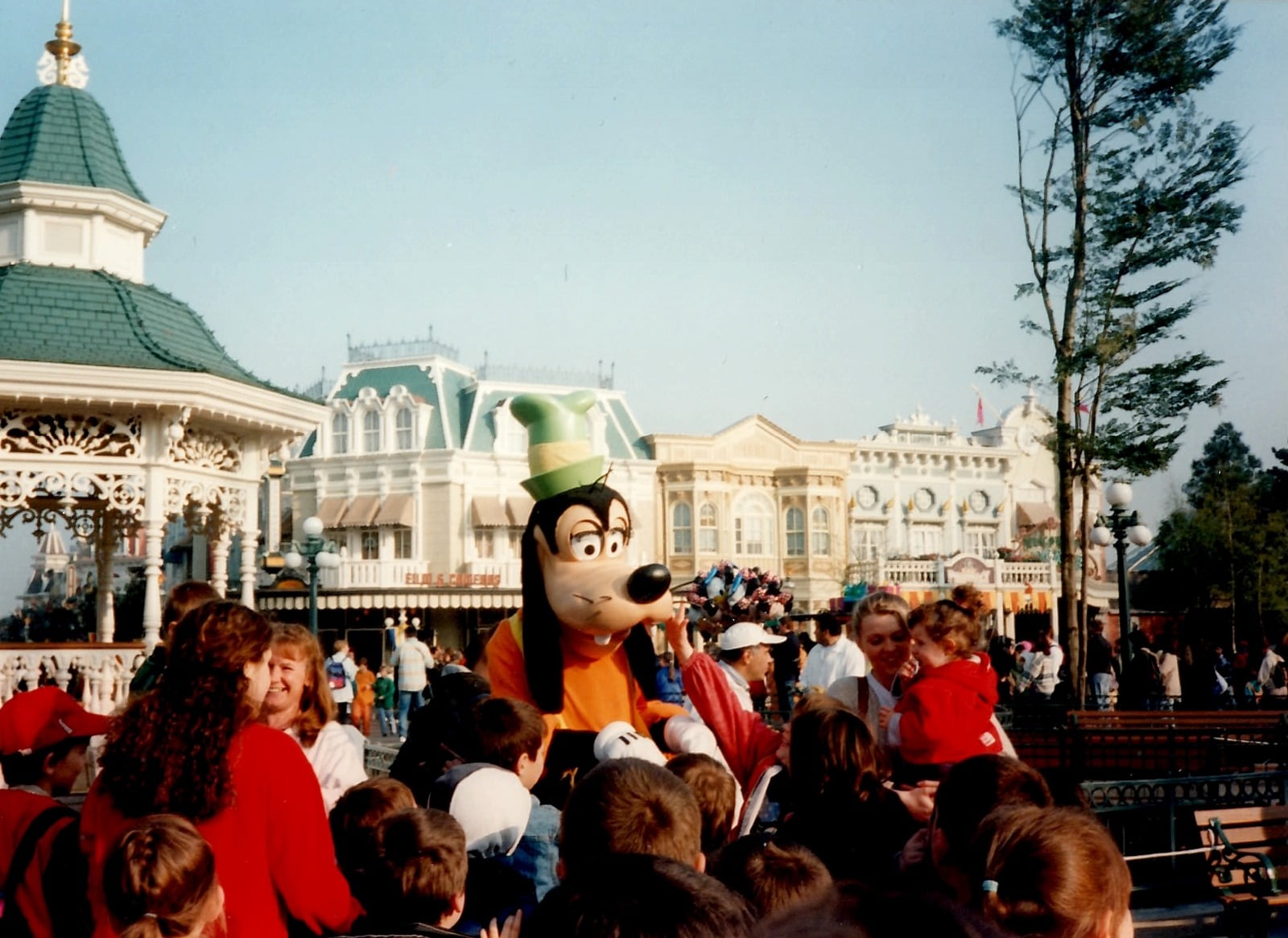 This is one of the main reason to come to Euro Disneyland! The possibility for young and young at heart to meet their favorite characters. Right as you step through the gates, the most iconic characters welcome you: Mickey and Minnie but also Donald, Daisy, Goofy, Pluto, Chip and Dale.
In Fantasyland, you will come across Snow White, Aurora, Cinderella, Pinocchio, Robin Hood, Winnie the Pooh and Alice.
In Adventureland, go on an adventure with Peter Pan, fight against Captain Hook and his faithful second Mr Smee. Head to Adventureland Bazaar if you prefer to learn about the bear necessities with Mowgli, King Louie and Baloo.
Want an inter-galactic change of scenery? C3PO, Chewbacca and the Ewoks, characters from the Star Wars trilogy, await you in Discoveryland to defend the Galaxy.
Throughout your day, many shows will come to life.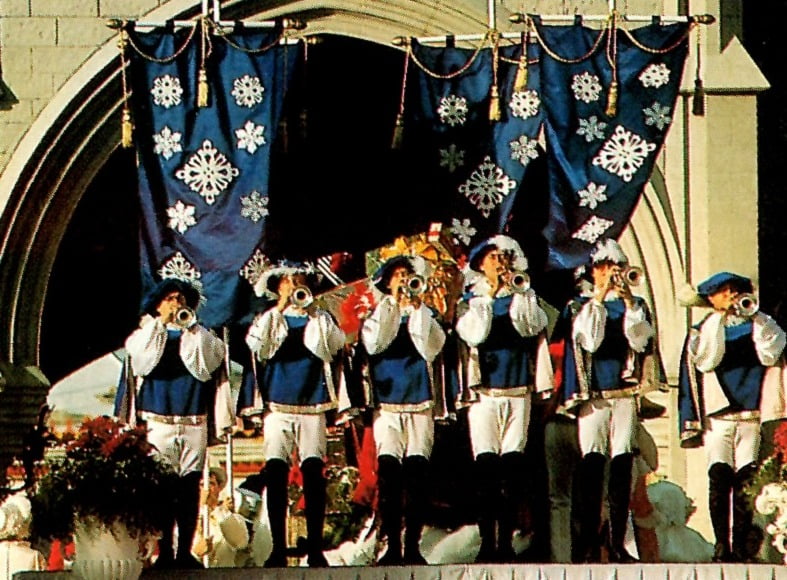 On Main Street, a municipal band, a pianist, a quintet of saxophonists in police uniforms playing tunes from silent films, suffragettes and other surprises are available.
In Frontierland, the Riverboat Gamblers Dixieland Band will greet you, the Card Shark will amaze you with its magic tricks while the law enforcement officials and bandits of the Gunfighters Stunt Show coming to plunder the bank will embark on a fierce revolvers shootout.
In Adventureland, you will hear the rhythms of African tam-tams and come across Dr. Livingstone as well as rowdy pirates who appear without warning to bring you into an exciting treasure hunt!  
In Fantasyland, the fairyland continues thanks to the presence of a lute player, jugglers and Merlin  who, during a daily ceremony, in the castle courtyard , chooses among the children present, the one who will try to extract Excalibur from the stone. If he succeeds, he will be crowned king of Fantasyland and will receive during his coronation, a scepter and will make an appearance on the balcony of the castle, greeted by the royal trumpets. 
Head into the future in Discoveryland where robomines creep through the crowd on roller skates and where Disney characters roam in incredible flying machines.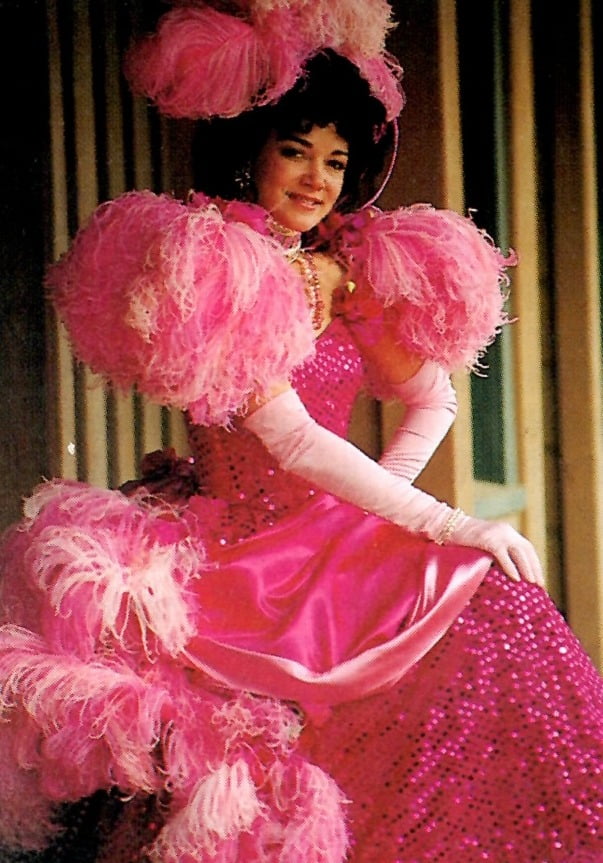 Indoor shows are also available in some of the lands:  
The Lucky Nugget Revue (Frontierland) stages Diamond Lil, the owner of the place alongside six dancers and actors in a frenzied French cancan accompanied by songs and jokes for 30 minutes.
At the Fantasyland Festival Stage, in a 500-seat performance hall located in the Fantasyland train station, played 5 times a day, the show C'est Magique, a musical review where dancers and singers perform with Disney characters and start a journey through all the lands of the park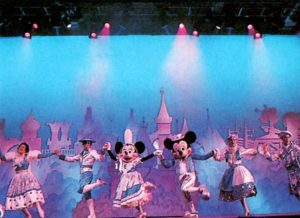 Next to the castle a theater offers you, five times a day, to relive the story of Sleeping Beauty. Next to a giant fairy tales book, a character pops out of a huge inkwell. The book opens, the pages turn by themselves and form the canvas on which the characters evolve.
Vidéopolis (Discoveryland) hosts a different show depending on the period and transforms into a nightclub when the park closes at midnight.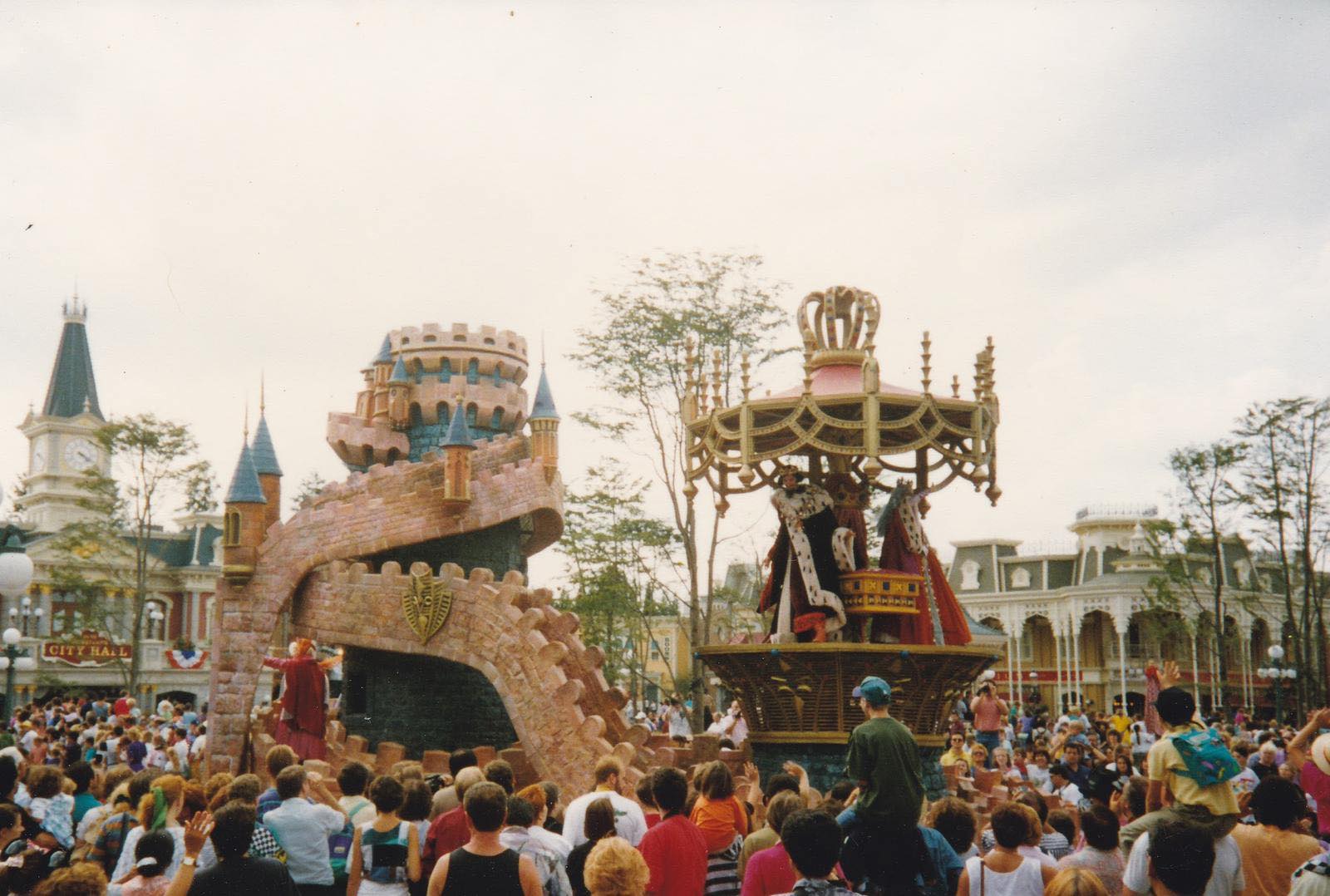 The park also offers several parades throughout the day. The opportunity to marvel at incredible floats and grandiose music. The day parade crosses from Fantasyland to Main Street twice in high season and once in low season. Discover the story of Sleeping Beauty, Pinocchio, Snow White, Dumbo, the Jungle Book, the Little Mermaid and Roger Rabbit.
The night parade, the Main Street Electrical Parade, which features light tanks, follows the same route.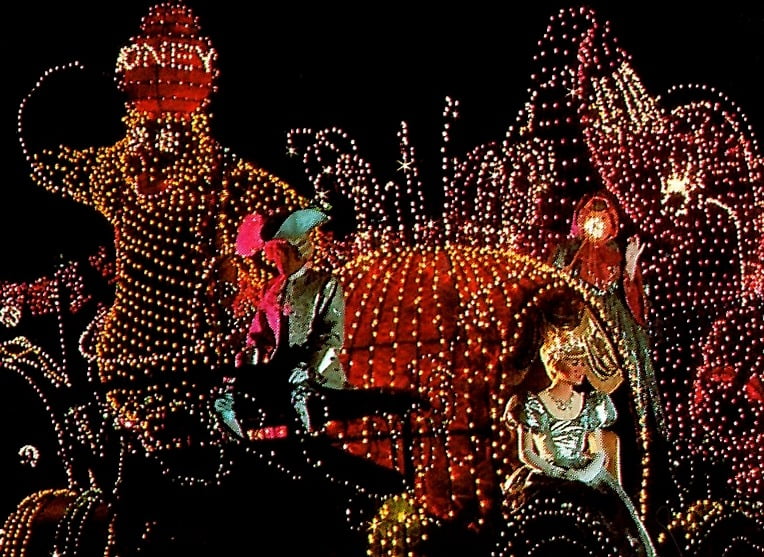 And what could be better than ending an incredible day with fireworks? The Fantasia in the Sky is a light and sound show using the theme of the masterpiece Fantasia .
Schedules and details about the shows can be found in brochures available at the Main Entrance, at information desks and at exchange offices.
There's plenty to do at Euro Disneyland! Attractions as far as the eye can see! A brief overview of the best attractions to try: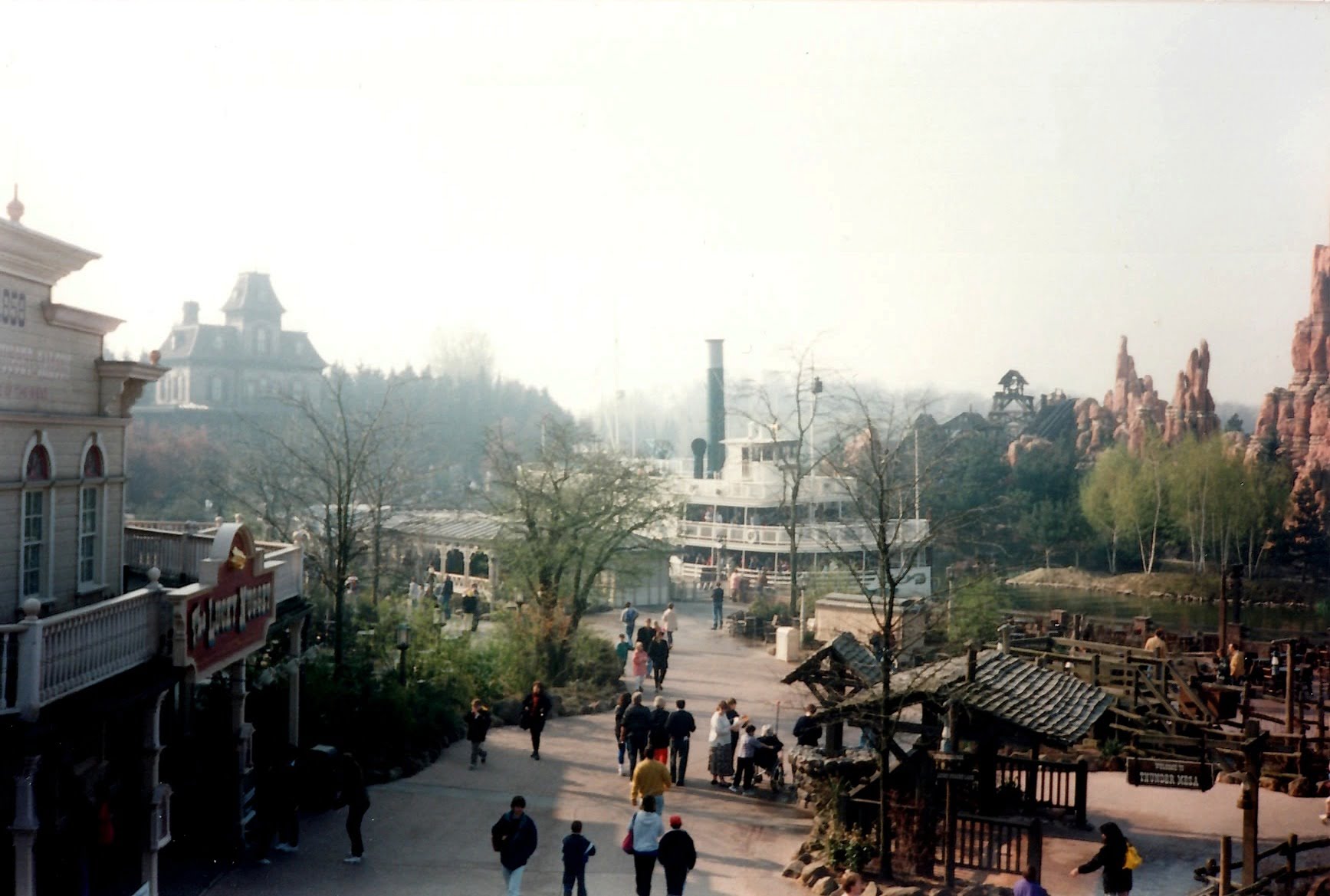 Take a ride on the rivers bordered by meadows and forests in the center of Frontierland. Canoes and Paddle steamers (The Molly Brown and the Mark Twain) cross the lake and retrace the history of the American frontier and the gold rush.
It is at the Smuggler's Cove pier that you will be able to embark on one of the two available boats: the Raccoon and the Coyote . There, the smugglers will take you on a jaunt along the Rivers of the Far West, following or intersecting the wake of the paddle boats.
Near the Pueblo Trading Post, at the very end of Frontierland, is a tree-lined sandstone path that leads you to a narrow cove. Canoes await you to discover the secrets of the Rivers of the Far West, where no other boat can venture. follow along the shores of Wilderness Island, cross waterfalls and pass under the graceful Rainbow Arch…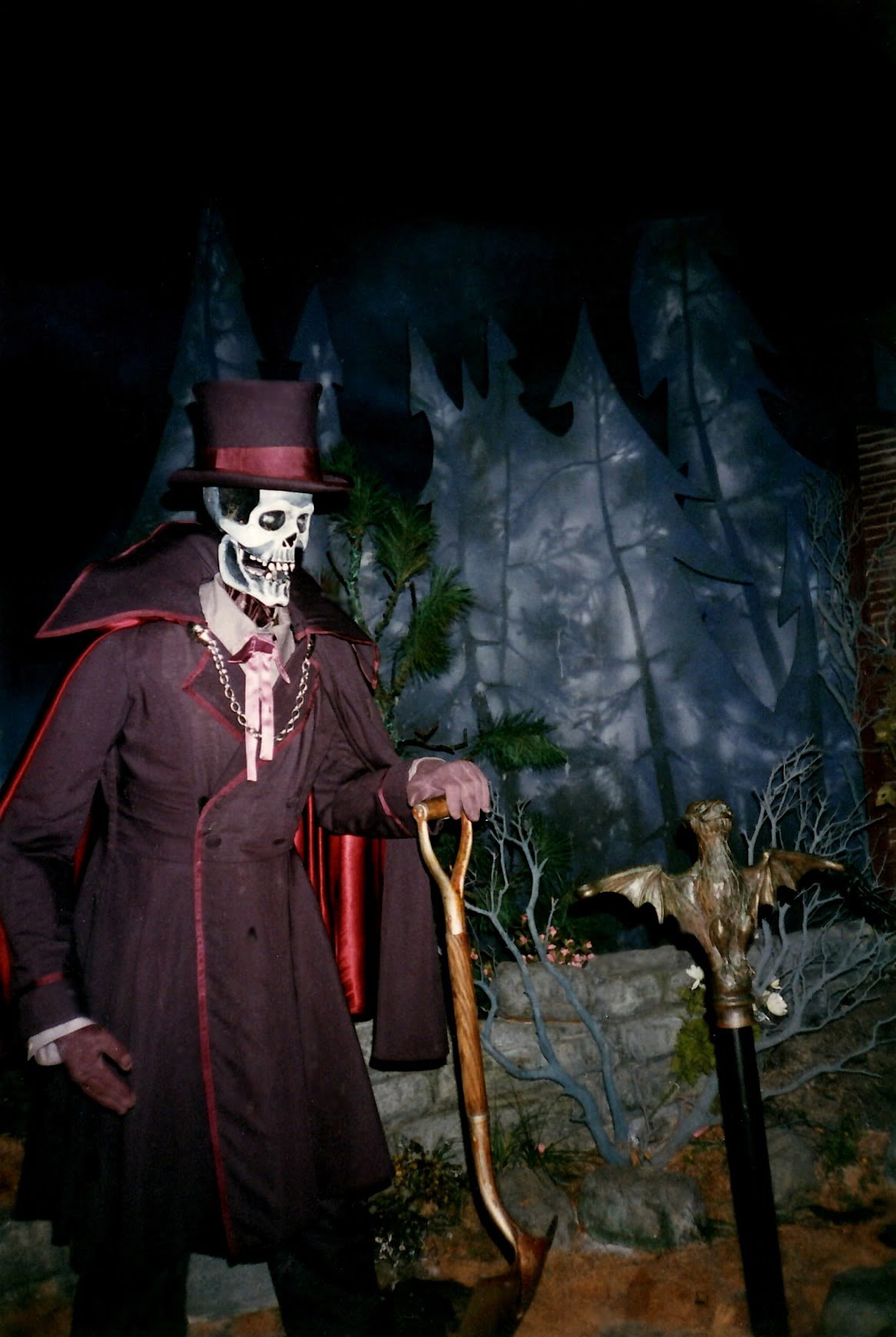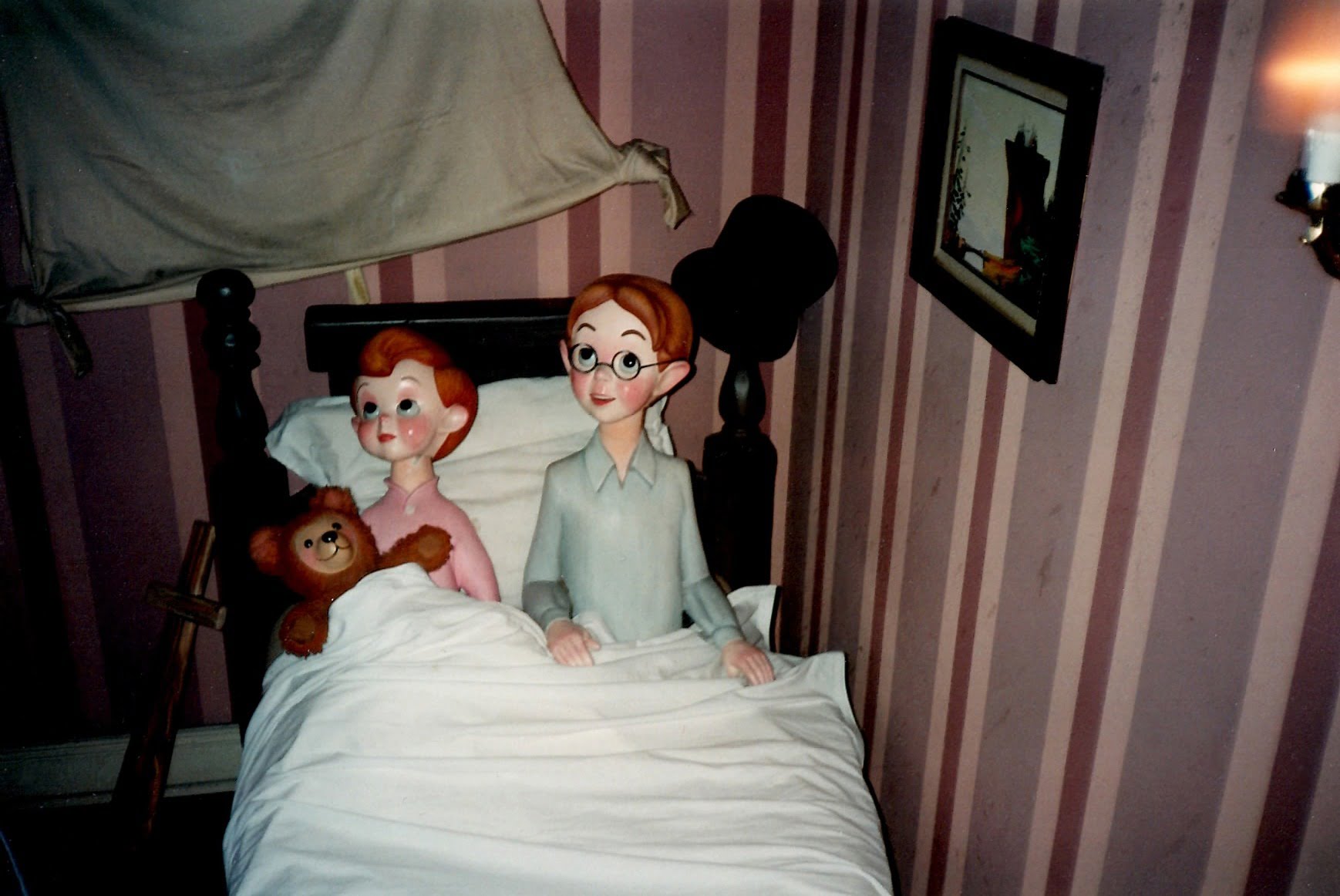 In addition to all its fantastic attractions, the Park offers several means of transportation to get from one land to another. The Euro Disneyland Railroad will delight fans of steam trains. It goes around the park and offers an incredible view of each land. Three stations are present along the way, allowing visitors to change universes as they please: Main Street Station, Frontierland Depot and Fantasyland Station. The train also sinks into a tunnel, the Grand Canyon Diorama and briefly crosses the Pirates of the Caribbean attraction.
If the train is not your thing, you can also go from Town Square to Central Plaza in authentic horse-drawn trams from Horse-Drawn Streetcar or in one of the old cars of Main Street Vehicles: the Paddy Wagon, a police van or the Fire Truck. Fancy a panoramic view? Board the Omnibus. Or, if you prefer something more exceptional, what could be better than a beautiful limousine with driver?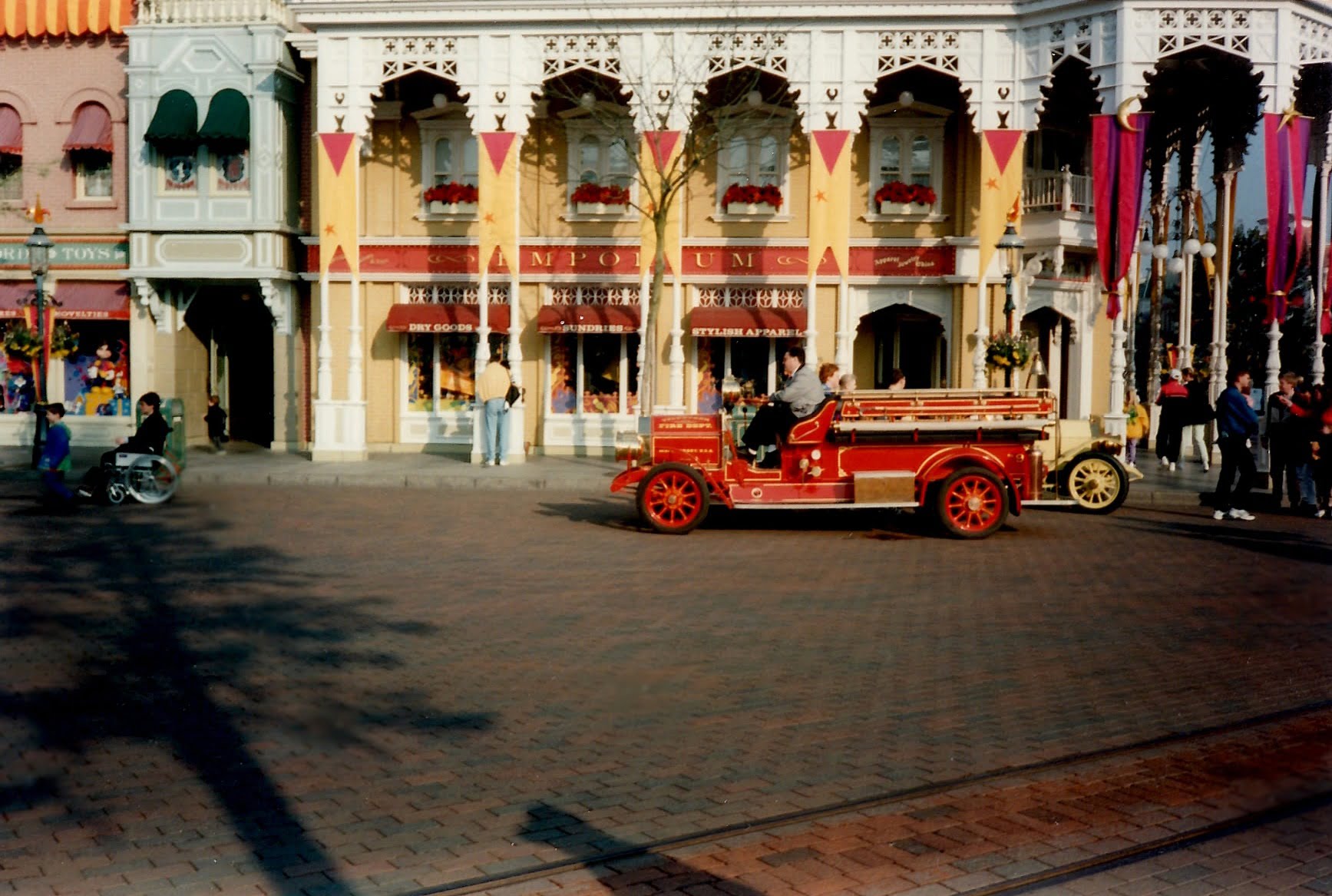 Having fun is good, but you might be getting hungry by now! Do not panic, many restaurants welcome you. The menus are varied and offer dishes from all countries suitable for everyone. You can ask for a birthday cake for special occasions or a personalized menu if you have a special diet. Some offer dishes served at the counter for more speed. Following the Mcdonalds model , they offer " Fun Meals " menus with main dish, dairy products, dessert and a surprise gift.
Others serve sandwiches, sausages, pretzels, etc., as well as refreshments. Restaurants operate around the clock. In case you are hungry, you can also find many Gourmet Chariots scattered across the park.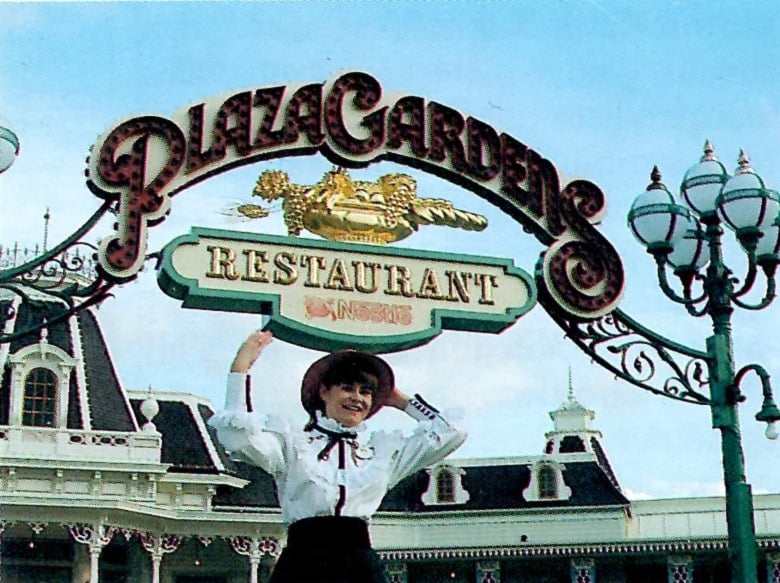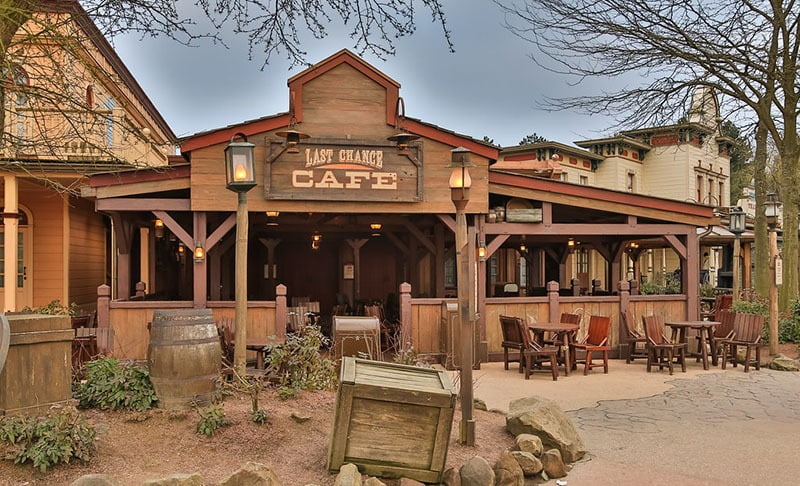 If you do not want table service but a wild west menu tempts you, this little café, located between the Lucky Nugget Saloon and the Silver Spur Steakhouse, allows you to order, between portraits of outlaws and their Wanted posters on the walls, a Texan sandwich or a barbecued steak that you can enjoy on the patio with a spectacular view of Big Thunder Mountain.
This Mexican cantina is facing the entrance of Big Thunder Mountain and offers a variety of Mexican dishes that will make your mouth water: fajitas, tacos, chili con carne, Mexican Club Sandwich (composed of guacamole, mashed red beans, tomatoes and cheese), alcohol-free margaritas, Mexican coffee…
This gourmet trolley offers baked potatoes with hot sauces and seasonings of your choice, served by waiters skilled in juggling rivets.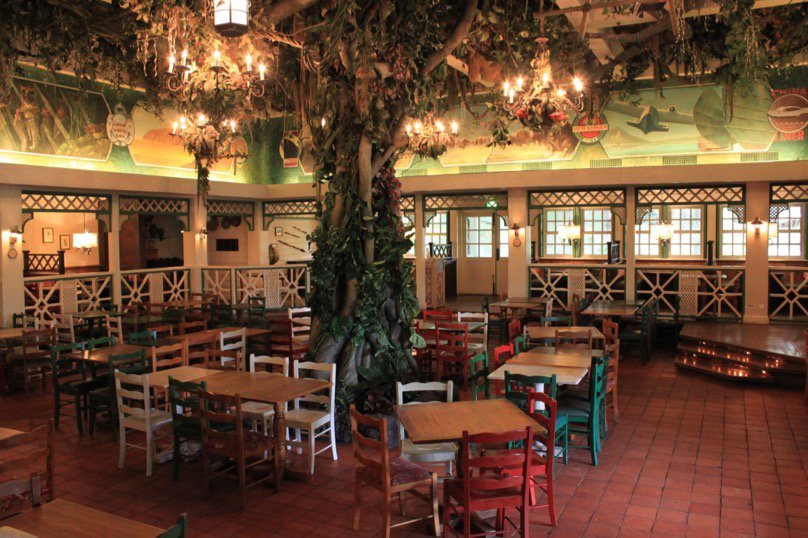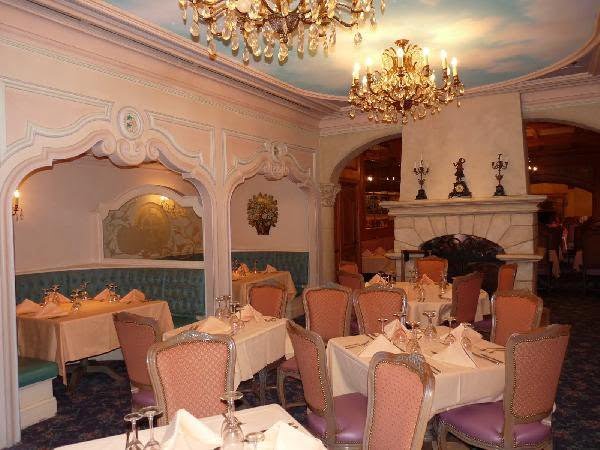 Shopping enthusiasts will be thrilled. The park offers many shops present in each of its lands. T-shirt, porcelain, costumes, video games, cassettes, etc. Each has its own atmosphere and its own particularity.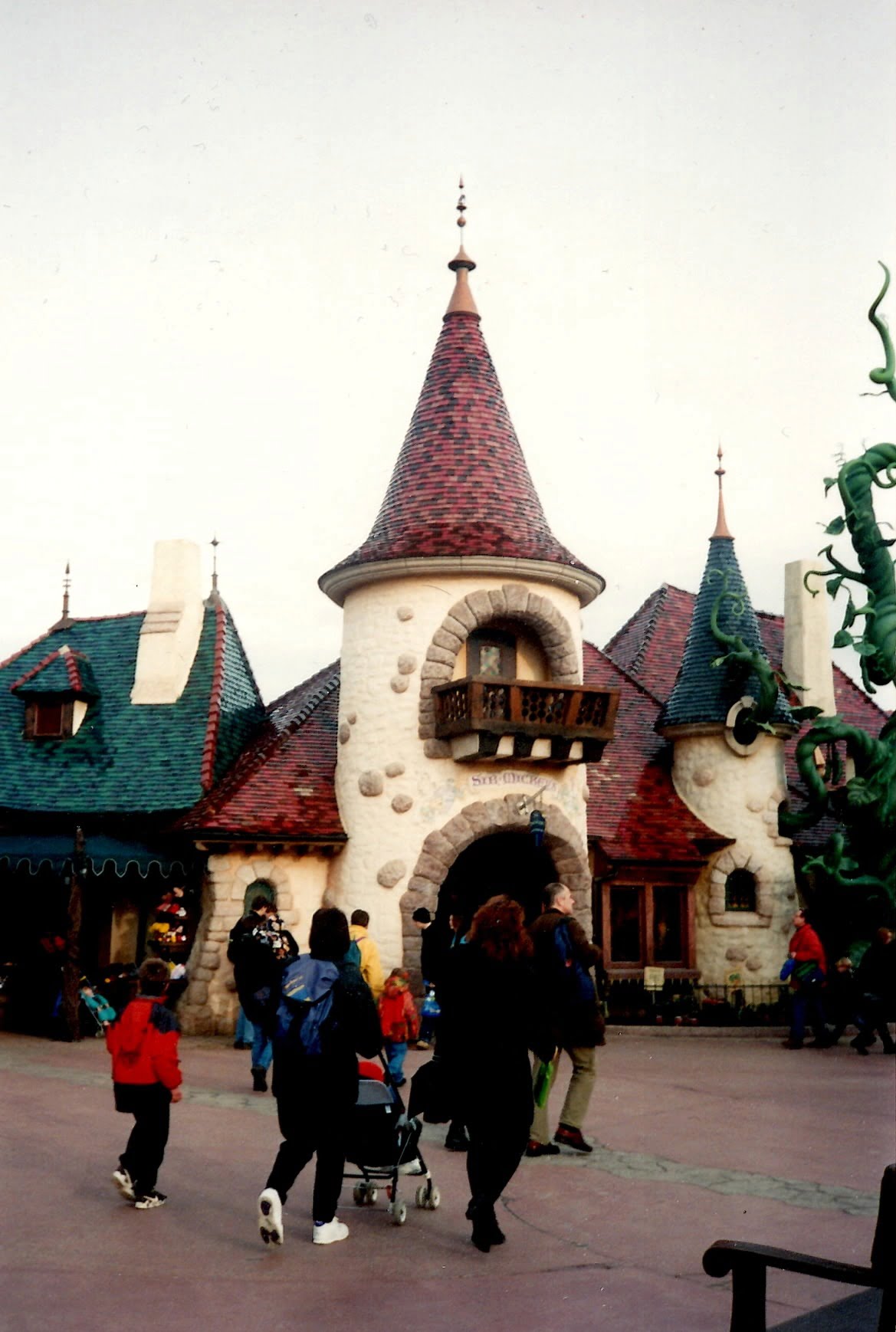 You can buy vintage cars at Main Street Motors , ask for a stamp from Tigger in The Storybook Store , have your profile cut at the Silhouette Artist of Town Square Photography , intercept the private conversations of the inhabitants of Main Street by picking up tone of the phones in the shops, as well as Harmony Barber Shop (where you can get a haircut or shave on a swivel chair like at the time), Market House Deli and Casey's Corner, visit the abandoned mine of Eureka Mining Supplies and Assay office , reading period newspapers at Newsstand , discover the Snow White cottage next to the Castle, explore the Star Traders spaceship and admire Mickey in his Ornithopter at Constellations.
In the workshop of the Brave Little Tailor in Fantasyland, Donald, dressed as a tailor from the Middle Ages, welcomes you. Sitting on a bench among the pieces of fabric, he is helped by Chip and Dale and creates clothes and hats which are presented on old wooden shelves. Daisy, in the corner of the room, puts a little atmosphere by playing the harp.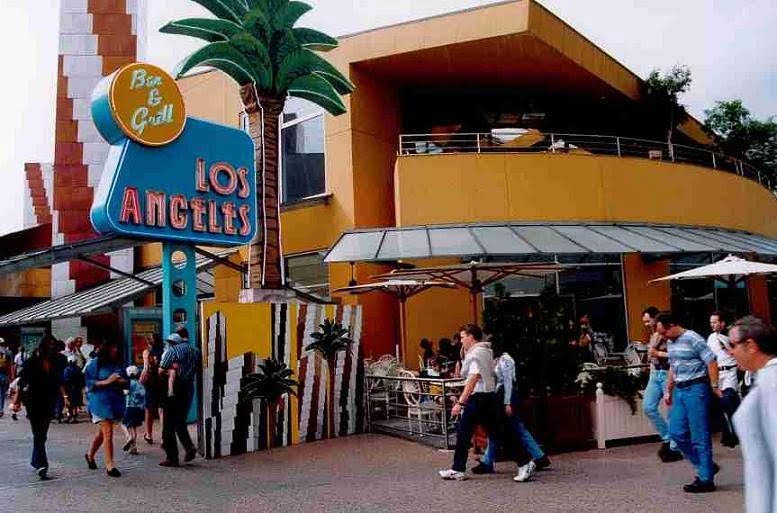 Open 7 days a week, located between the park and the Marne-la-Vallée-Chessy train station, Festival Disney consists of 6 shops, 5 restaurants, a kids' area, a post office, a Tourist Office, a boat rental counter, two bars, a nightclub and a dinner show: the Buffalo Bill's Wild West Show.
Never Land Club Children's Theater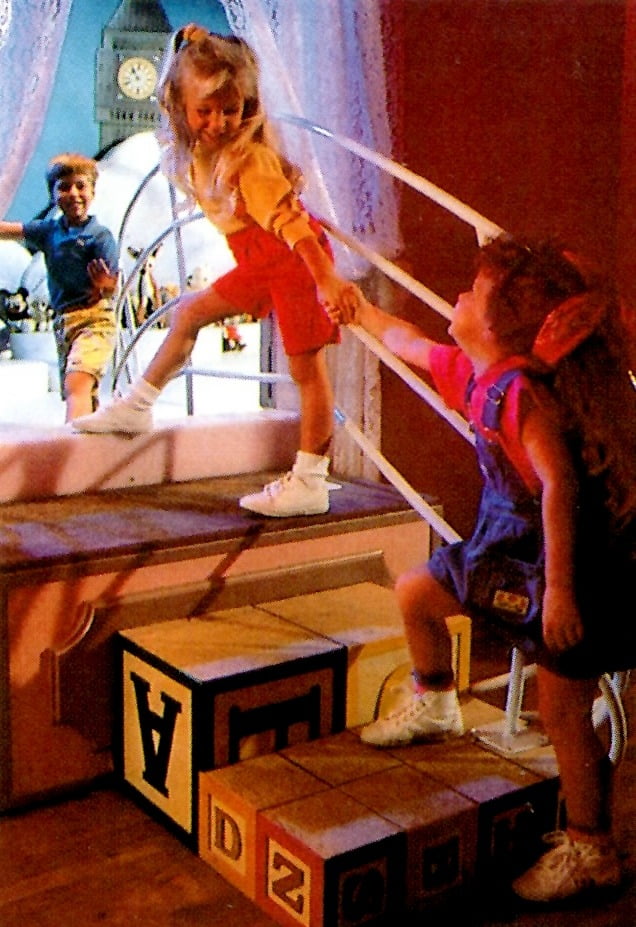 For adults who want a little time for themselves, away from their children, this playroom where you enter by the window, containing toys and videos is the solution. It welcomes children from 3 to 10 years old in the world of Peter Pan between 5 pm and midnight for a minimum of 3 hours and a maximum of 5. Drinks included in the entry price.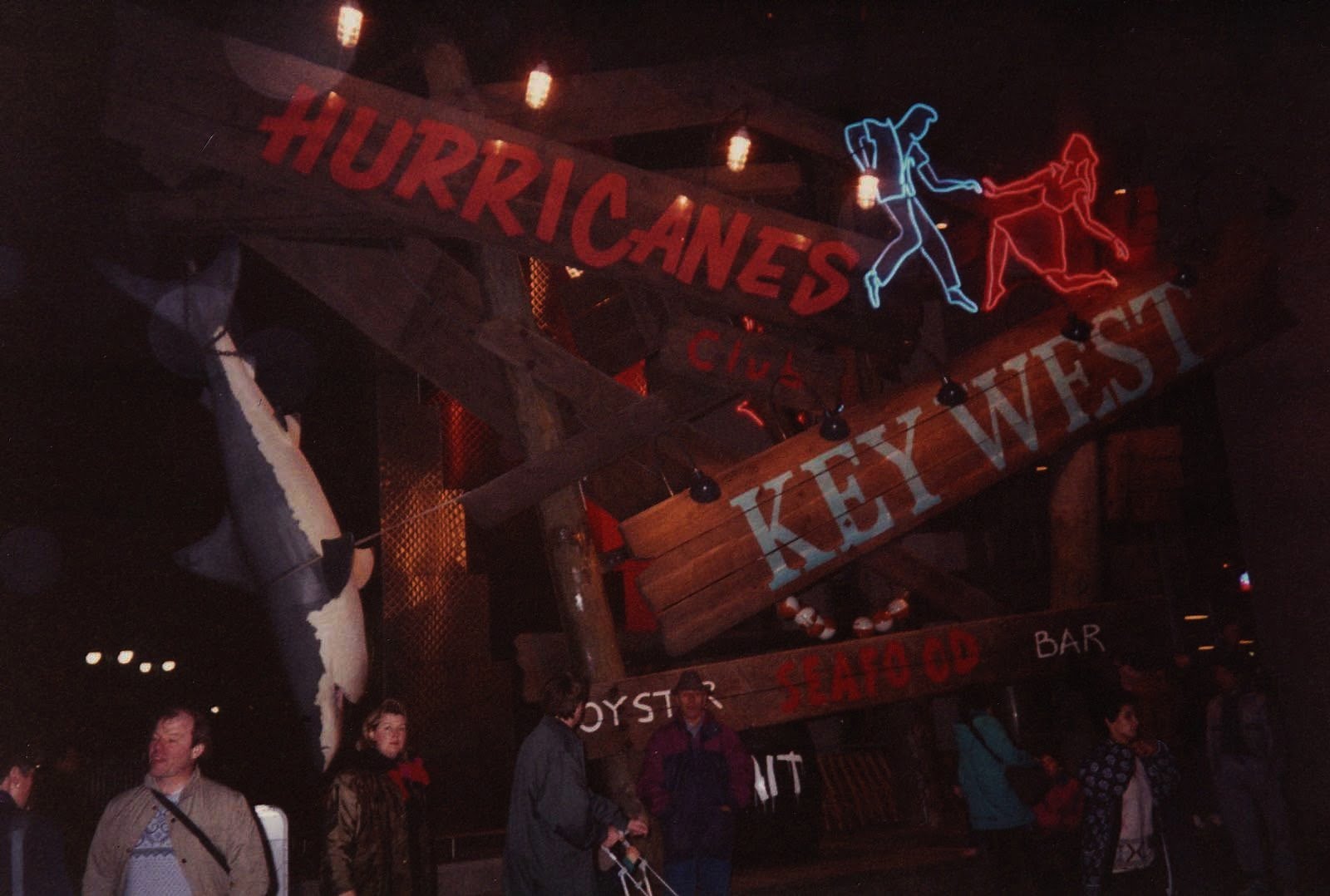 The Festival Disney discotheque is located above Key West Seafood and offers four different bars, one on a covered terrace, twenty screens showing video clips, a dance floor and quiet corners for those who would like to chat until 3 am.
Buffalo Bill's Wild West Show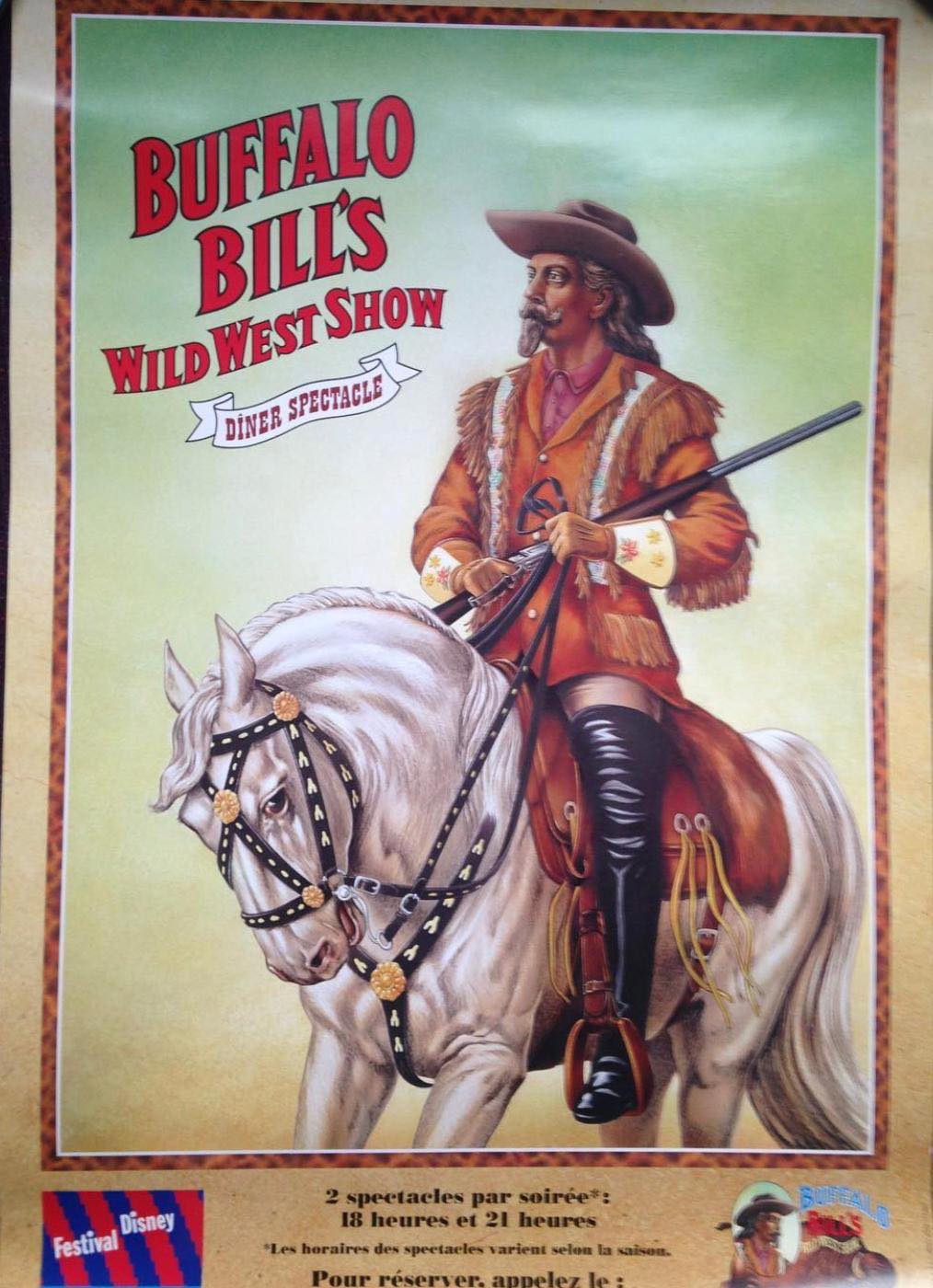 Almost identical to the one Buffalo Bill presented in the 1880s in Paris, this show features horses, bisons, cavalcades in an arena surrounded by tables where visitors will have a traditional meal: grilled chicken, sausages and pork ribs, corn on the cob, apple crumble. Two hours of show where emotion and nostalgia follow one another. Two sessions available: 5.30 p.m. and 8.30 p.m. Ticket prices (dinner included): £31 for adults and £20 for children from 3 to 9 years old.
This article has been produced thanks to the "Euro Disneyland Resort: Le Guide" (Hachette Editions) book and is intended to transport the reader in 1992. If most of the photos are from the period (A big thank you to Darren for some of them), others come from my personal collection and date from 1997 and the 5th anniversary of the Park. The prices mentioned are those of the period in Francs converted with the 1992 FRF<->GBP exchange rate, and therefore do not take inflation into account. All terminology errors have not been corrected in order to respect the content of the 1992 guide