Let's start this off by saying I'm a Star Wars fan. I grew up watching the original trilogy with my dad, then watched the prequels with my friends and cringed at the less than stellar lines and terrible CGI. During my years in high school, my dad and I would go to the cinema the morning after the midnight premiere to see both The Force Awakens and The Last Jedi. We also saw Solo and Rogue One (my dad's favorite) which were interesting spinoff movies. Finally, when The Rise of Skywalker premiered in France, my friend and I traveled to Disney Village to be some of the first to see it in IMAX 3D (and a few days before it came out in the US which gave me spoilers to hold over my American friends).
Getting the chance to experience the world of Star Wars at the Walt Disney Studios Park for two seasons was such an incredible experience. Walking through Production Courtyard with Stormtroopers and other characters made me feel a little immersed in the universe, even if it was only for a short time. Now that the rest of Legends of the Force has probably been cancelled, I'm considering this to be my goodbye to the season that brought us the beautiful gifts of getting to hug Chewbacca and of seeing some truly spectacular themed desserts. Let's dive right into it, shall we?
Engaging Star Wars Shows
Star Wars: A Galaxy Far Far Away was a fun way for guests to see all of their favorite Star Wars characters in one place at the same time in about fifteen minutes. While at times it felt forced, I have to admit that I let out a little squeal of delight every time BB-8 popped up onto the stage. The crowd definitely appreciated seeing favorites like C-3PO, Chewbacca, Boba Fett, and even Darth Maul (who is just going to keep on showing up everywhere, isn't he).
Unfortunately, I never saw Star Wars: A Galactic Celebration in person as I was usually waiting in line to ride Big Thunder Mountain at night or grabbing a spot for Illuminations. It's not that I have anything against the show, but I have my own DLP traditions. From what I saw of the projections on the Tower of Terror and the fireworks, it looked like a pretty cool show! The projections were topnotch and could clearly be seen from Disney Village, which made it a nice view as people were leaving the parks.
Marching Through the Studios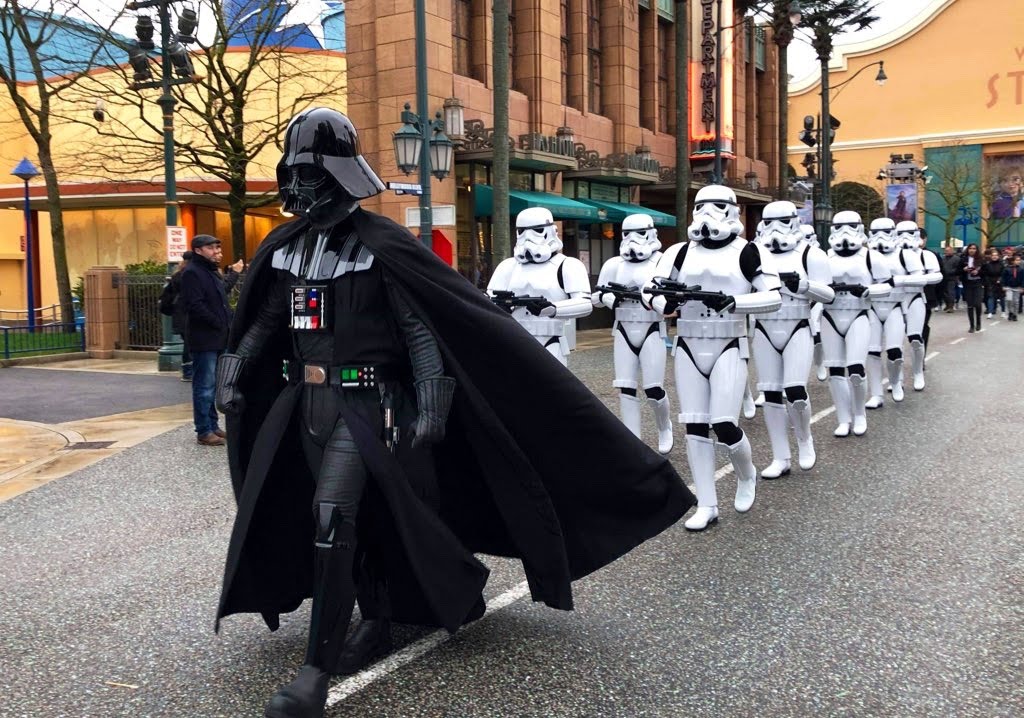 I decided to do a section on the marches in the Studios Park because both of them are fun events that deserve to be in a category of their own. First off, pun completely intended, the First Order March is a great way to incorporate the sequel trilogy into the parks while still keeping some of the original iconic Star Wars characters. I particularly enjoyed seeing Captain Phasma again, as even though she wasn't one of the main characters in the new movies, she certainly made a lasting impression for many.
When talking about Star Wars, one of the most iconic characters has to be the evil Darth Vader. In Darth Vader and Stormtroopers Imperial March, guests have the opportunity to watch the powerful Sith Lord lead his Stormtroopers into
Unique and Fun Meets: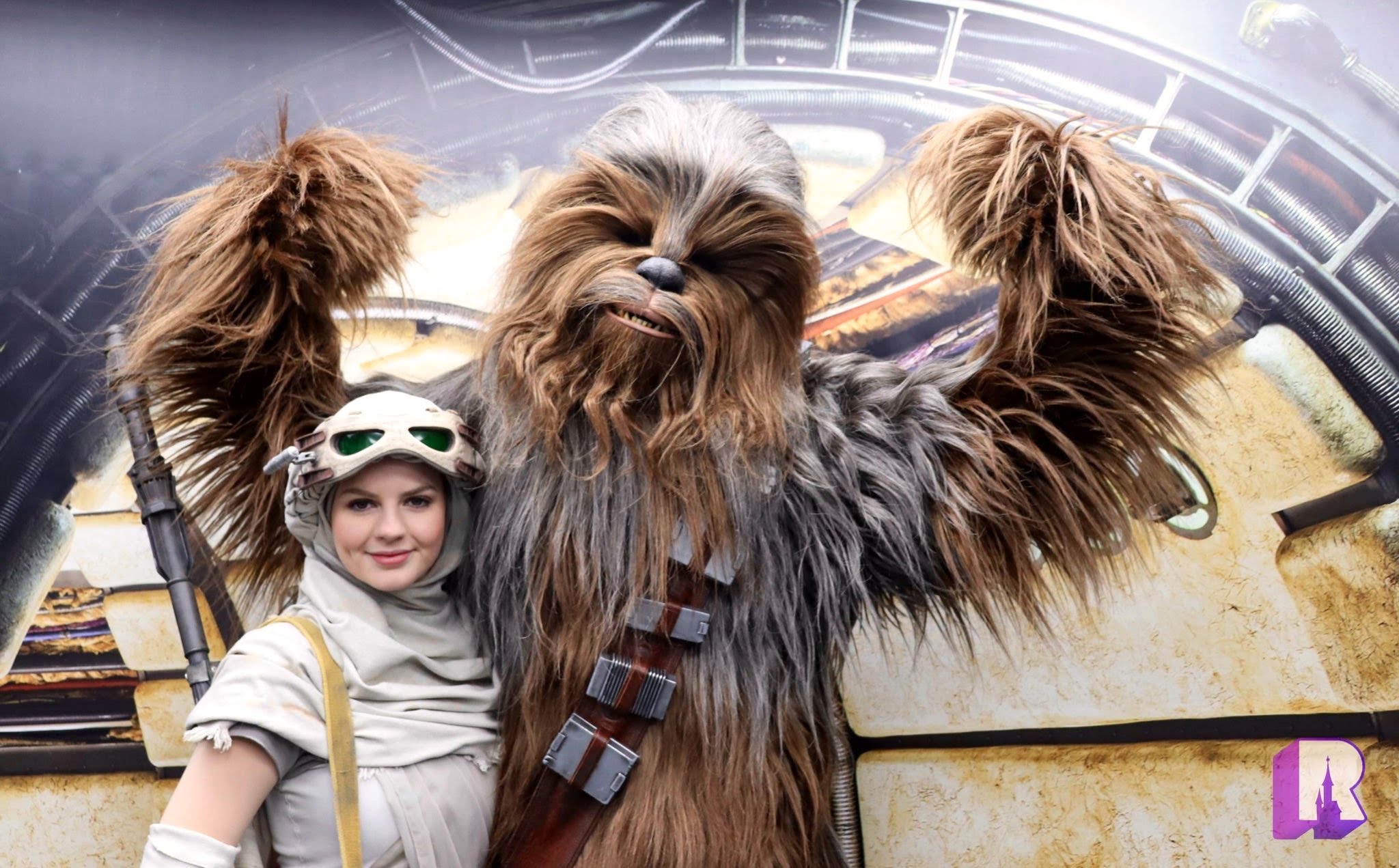 Last year I met Chewbacca (Rey wasn't doing meets last season) and it was honestly one of the best meets I've had during my time at Disneyland Paris. Wookie hugs are exactly what you'd expect – furry and encompassing, making you feel like you're hugging a nice blanket. Chewbacca is also very vocal which made me laugh quite a few times as we tried to communicate with my limited Shyriiwook and his limited English and French.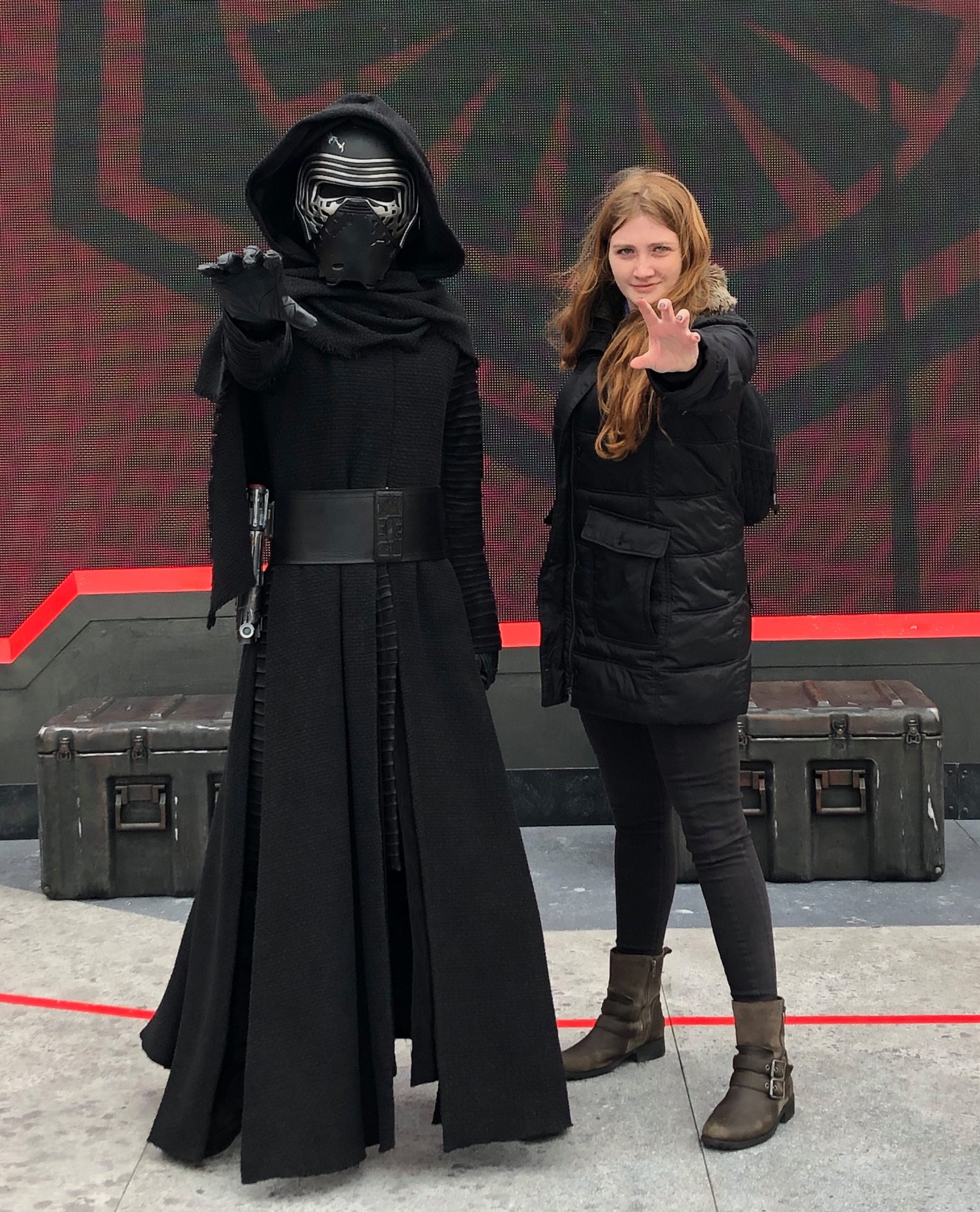 I'm sorry, but I have a confession. I'm one of those girls who fell in love with Kylo Ren the moment he took off his mask in Star Wars: The Force Awakens. Who can resist Adam Driver in a cape with an awesome crossguard lightsaber? During the First Order Recruitment, I was lucky enough to be chosen by Kylo to pose for a photo (my friend says it because I dress goth but I just happened to have a black jacket and black jeans on)! Kylo is just as intimidating in the Studios as he is in the movies, staring you down as you step up the platform stairs to stand next to him. The show itself isn't too exciting, but the chance to meet the Supreme Leader can't be missed!
While the Stormtroopers are not an official meet, they do provide for some fun interactions. I've seen several children dressed as rebels like Rey and Luke stopped by the soldiers as their parents laugh and take photos of their shocked children facing up against the Empire and the First Order. There was once even a little Ewok that was accused of being a spy by some Stormtroopers walking around near the Star Wars stages!
Delicious Snacks
Before I start the snack section, let's have a brief moment of silence for the beautiful creation known as the Yoda Cake. Rest in Peace, you strange creature. You are dearly missed by a select few who have a fondness for rejected Disneyland Paris snacks.
Okay, now let's get into the rest of the list. I won't be talking about all of the snacks, just the ones that stood out to me and some of the other DLPReport team members.
When it comes to having a snack that fills you up more than a quick cookie or a drink, the Imperial Stormtrooper Cheese Waffle was a good choice for Star Wars-themed snacks in the Studios. Like most snacks at Disneyland Paris, I haven't had the chance to try the Stormtrooper Waffle, but from what I've heard it's quite yummy, even though it takes a bit of time to make (which can hold up the line quite a bit).
As someone who survives on Starbucks and its sugary coffee, the Chewbacca Coffee was a nice alternative (and slightly cheaper than my usual Iced Venti Caramel Latte)! With a mixture of milk, pralines, whipped cream, almonds, and caramelized hazelnuts, the drink was a nice warm temperature with a sweet taste. If you're looking for a black coffee, this is not the thing for you. If you want something yummy with an adorable little Chewbacca chocolate on top, then this is what you should get.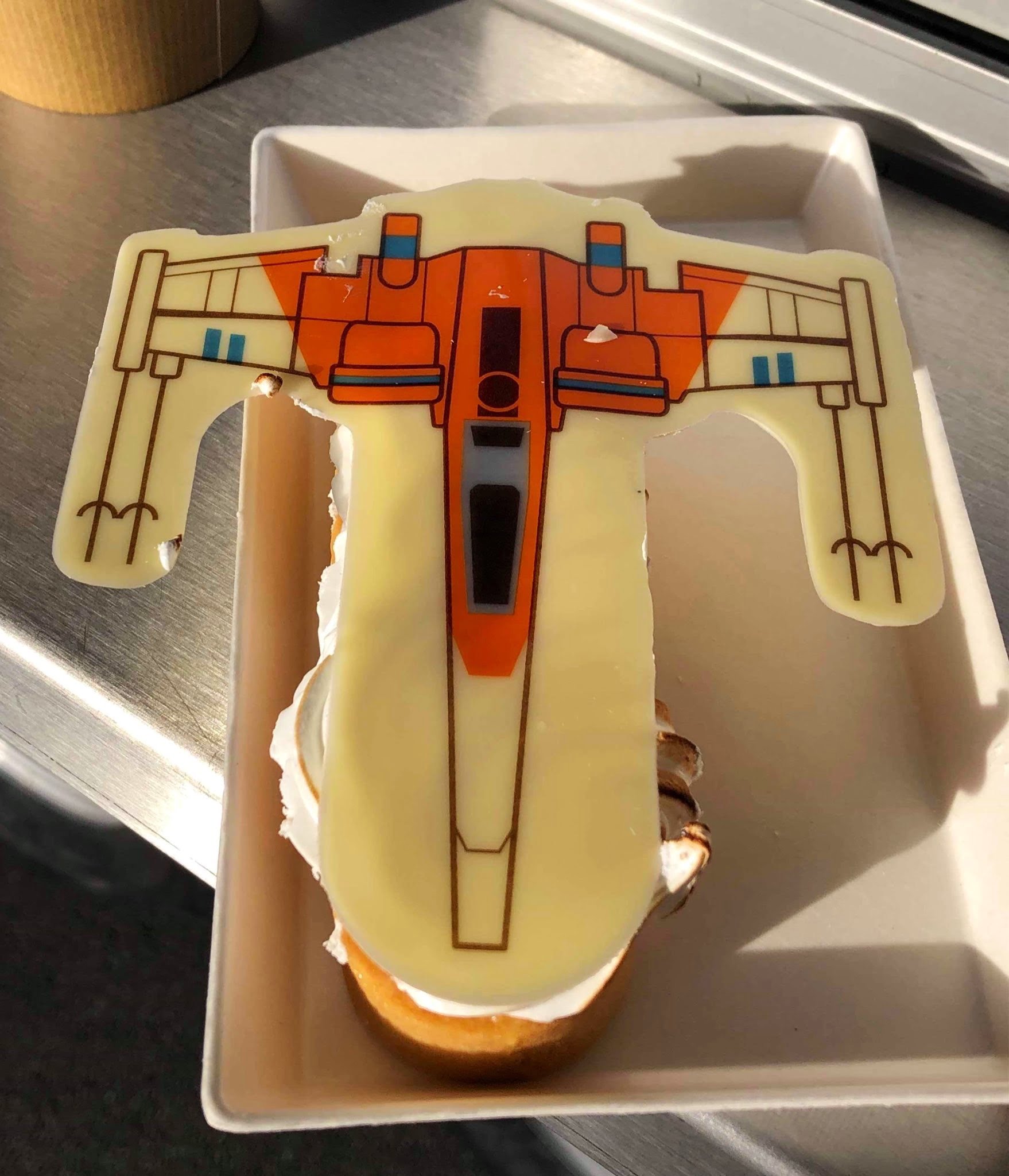 I had to mention the X-Wing Tartlet because for once, my dear friend Patrick actually enjoyed a Disneyland Paris snack. With a perfectly-themed white chocolate X-Wing on top, the lemon meringue tart had a unique taste and made for a refreshing break from all of the hazelnut-flavored snacks and drinks throughout the park. I never did try it, but maybe there will be more fruity desserts in the park now!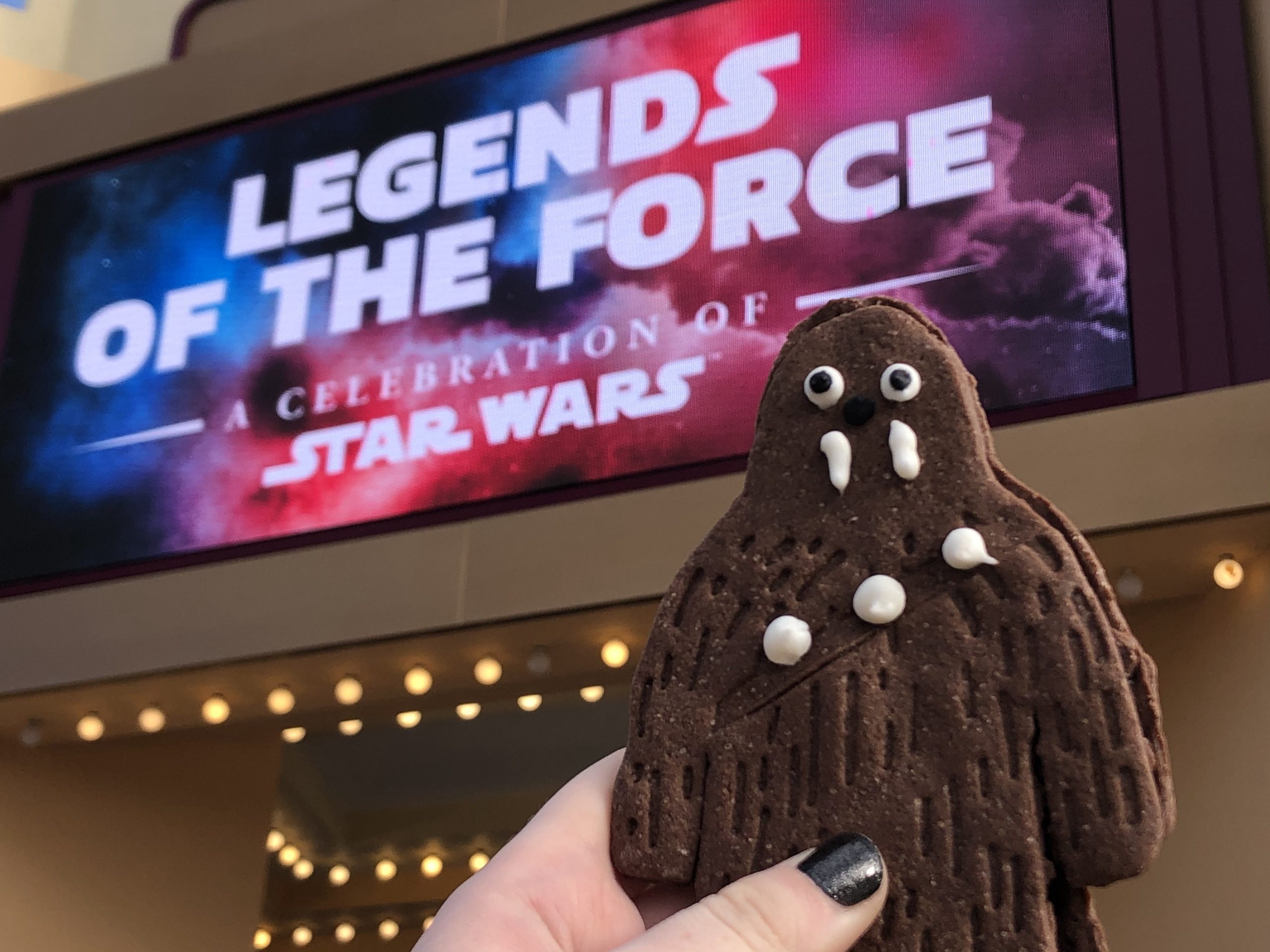 You didn't think that I was going to write an article about the Star Wars season without mentioning one of the best snacks of all time, right? To some, the Wookie Cookie is just another one of Disneyland Paris's hazelnut cookie sandwiches stuck together with, you guessed it, hazelnut spread. But oh no, the Wookie Cookie is much more than that. It is a symbol of what made the original Star Wars franchise so special
Legends of the Force – A Celebration of Star Wars will be dearly missed by me and many other fans of Star Wars and the Studios park. With awesome character interactions, fun shows, delicious snacks, and unique character meets, Legends of the Force was a great way to promote the sequel trilogy while also bringing an interesting season to the Studios that wasn't Marvel. Rest in Peace, Legends of the Force. You were one of the good ones.
Disclaimer: All of the beliefs stated in this series are my opinions, not the opinions of DLPReport and its associates. I only wish to give my thoughts and do not intend to hurt anyone with my words.