After 50 days of intense face-offs, it's time to reveal the winner of our very first #DLPEntertainmentLeague! In a final battle between « Disney Pirate or Princess: Make Your Choice » and « Mickey and the Magician »: the result is clear! « Mickey is the Magician » at Walt Disney Studios Park is your favorite show of the decade (with 71% of the votes!).
The podium is then completed by « The Jungle Book Jive » which won the bronze match against « #SurpriseMickey » by collecting 2348 votes (79%)!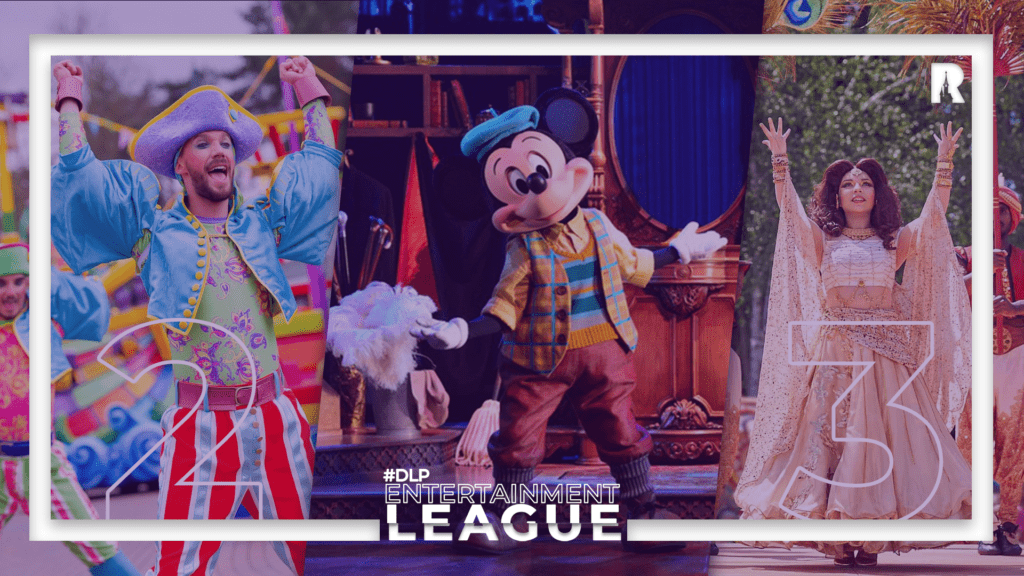 Some stats:
Number of face-offs : 32
Closest duel: « #SurpriseMickey » vs. « Mickey's Magical Christmas Lights » with a 23 vote difference (1079 vs. 1056)
Largest win: « Disney Jr. Live on Stage » vs. « Mickey and the Magician » with 142 votes to 2678.
Most votes in a face-off : 3207 votes for « Mickey's Halloween Celebration » vs. « Moteurs… Action! »
Total number of votes: 79650

As last year during the #DLPAttractionsLeague, our daily face-offs were extremely popular with a total of 80,000 votes! THANK YOU to everyone for participating!
Here is the complete ranking:
Mickey and the Magician – Animagique Theater | 9458 votes
Disney Pirate or Princess: Make Your Choice! – Central Plaza | 8201 votes
The Jungle Book Jive – Central Plaza | 6989 votes
#SurpriseMickey – Place des Stars | 4974 votes
Rhythms of the Pride Lands – Frontierland Theater | 4540 votes
Mickey's Christmas Big Band – Animagique Theater / Videopolis | 4093 votes
Mickey's Magical Christmas Lights – Town Square | 3512 votes
Merry Stitchmas – Royal Castle Stage | 3040 votes

Mickey's Halloween Celebration – Central Plaza | 3251 votes
Buffalo Bill's Wild West Show – Disney Village| 2676 votes
Mickey presents Happy Anniversary Disneyland Paris! – Royal Castle Stage | 2517 votes
Royal Christmas Wishes – Royal Castle Stage | 2311 votes
The Forest of Enchantments – The Chaparral Theater | 2046 votes
Mickey's Winter Wonderland – The Chaparral Theater | 1954 votes
Goofy's Garden Party – Parade Route | 1790 votes

Frozen Sing-Along – The Chaparral Theater | 1158 votes
Star Wars: a Galaxy Far Far Away – Place des Stars | 1136 votes
Brave Enough! – Royal Castle Stage | 1035 votes
Marvel: Super Heroes United – Studio Theater | 1030 votes
Welcome to Spring with Mary Poppins – Théâtre du Château | 991 votes
Tarzan The Encounter – The Chaparral Theater | 980 votes
Moteurs… Action! Stunt Show Spectacular – Walt Disney Studios Park | 879 votes
Guardians of the Galaxy: Awesome Dance Off! – Place des Stars | 785 votes
Timon's Matadance – Adventureland | 757 votes
Merry Jolly Jingles – Studio Theater | 756 votes
Stark Expo: Make Way for a Better Tomorrow! – Place des Stars | 752 votes
Frozen 2: Enchanted Journey – Central Plaza | 731 votes
Animagique – Animagique Theater | 725 votes
Frozen: A Musical Invitation – Animation Celebration | 565 votes
Winnie l'Ourson et ses amis – Fantasy Festival Stage | 521 votes
Playhouse Disney Live on Stage! / Disney Junior Live on Stage! – Studio D | 142 votes
For more details, check out: https://challonge.com/en/dlpentertainmentleague